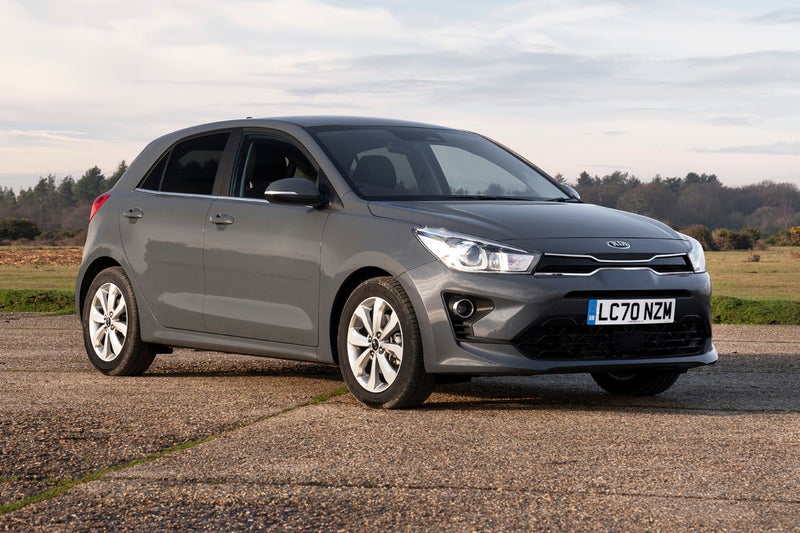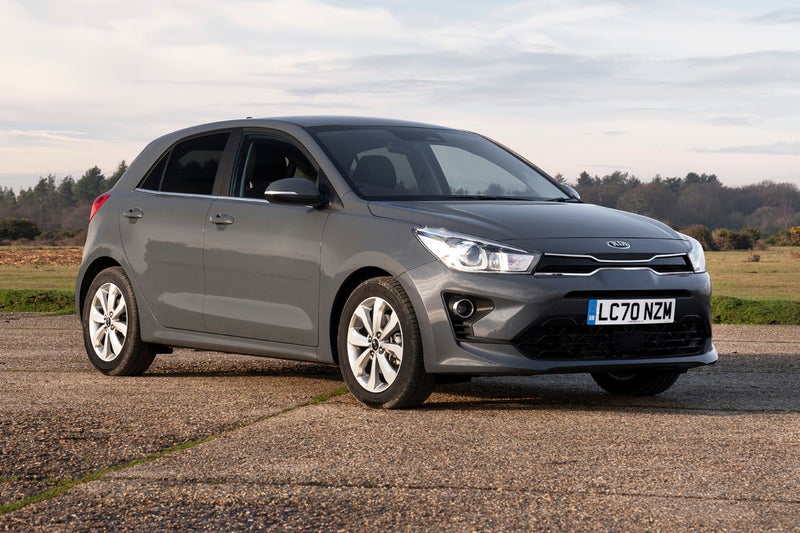 1/10
heycar rating
"Reliable, dependable, short on excitement"
Launched: 2017

Small hatch

Petrol, Diesel
Quick overview
Pros
Well equipped across the range
Keen pricing and fine warranty
1.0-litre petrol engine adds a touch of fun
Cons
Ride quality in town a little too firm
The 1.25-litre petrol motor feels dated
Anonymous image next to some rivals
Overall verdict
On the inside
Driving
Cost to run
Prices and Specs
Common questions
Overall verdict on the Kia Rio
"Like so many reality television stars, Kia has been on a journey over the past few years and the Rio that arrived in 2017 throws this into sharp relief. Where so many of Kia's cars are now among the sharpest-suited in their classes and unafraid to break with convention – Stinger, XCeed, ProCeed anyone? – the Rio is the counterpoint to all of this."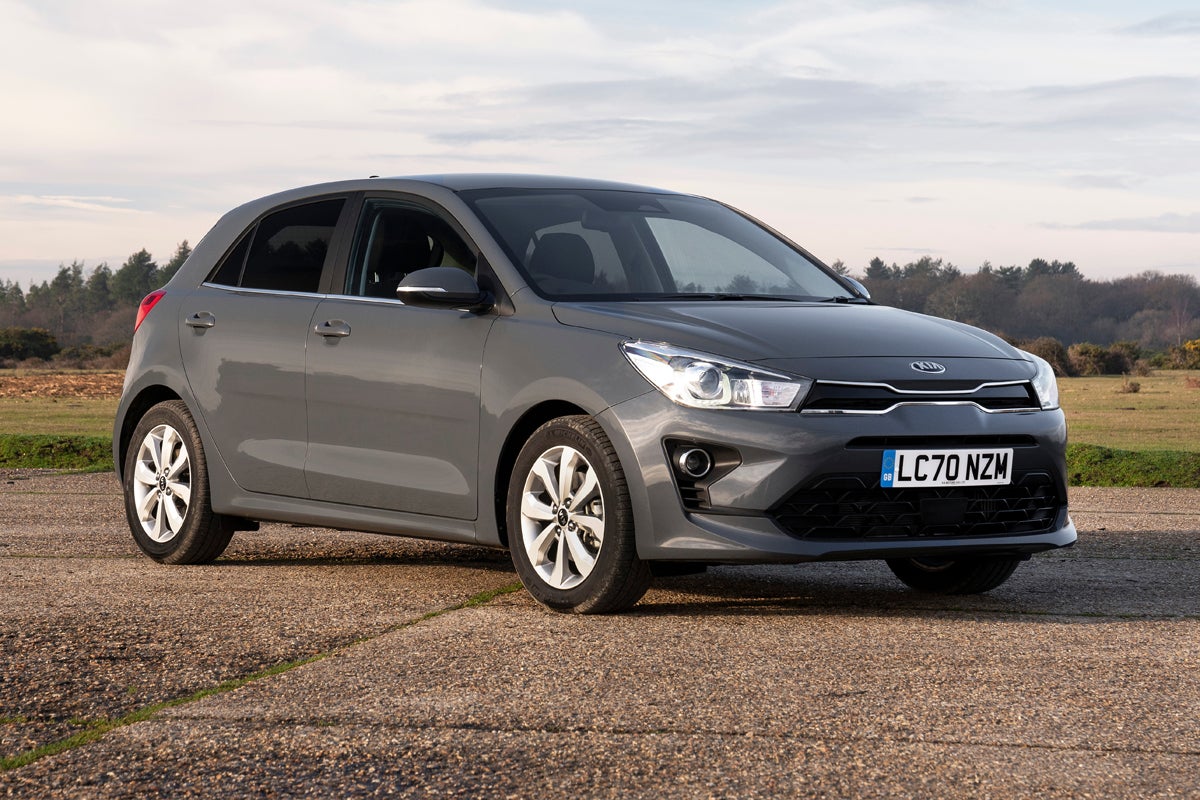 Does that make the Kia Rio boring and all Captain Sensible? Well, yes, but that's no bad thing when all you want is a very reliable, dependable and, well, sensible small car. The fact it comes with a superb warranty, good engines, plenty of equipment and keen pricing is all to the good as well. We'll explain all with our 2022 Kia Rio review.
Cost-effectiveness is at the core of the Rio's being and economy is strong, with almost every engine officially capable of more than 60mpg. Go for a diesel when buying used and the claimed figures rise upwards of 80mpg, but the real highlight is the 1.0-litre T-GDI petrol. It's punchy, quiet and economical whether you pick it the 100PS or 120PS version.
The Kia Rio is very easy to drive, with light, smooth controls. Around town it's good for the most part, but the suspension does have a tendency to thump over potholes. Fortunately, things get smoother and more comfortable at higher speeds with refinement good on the motorway.
Inside, the Kia Rio is nicely finished, with sturdy build quality and a clear and intuitive layout. The centre stack features a responsive 5.0-inch touchscreen system if you skip the basic '1' trim level, while the dials are simple and easy to read. There's plenty of adjustment in the driver's seat too.
The brand has also attempted to spritz up its Fiesta rival with the arrival of the Kia Rio GT Line in early 2018, followed by the Rio GT Line S. The GT Line comes with 17-inch alloy wheels, gloss black and chrome snout that Kia refers to as a 'tiger nose' and LED front lights. Okay, so it's no hot hatch to take on the Ford Fiesta ST, but the GT Line does add a modicum of pizzazz to what is, we'll grant you, a very worthy but somewhat dull line-up.
As small hatchbacks go, practicality is good. There's enough space in the back for a couple of adults, with surprising levels of hat room and - unless there are tall occupants up front - decent leg room too. The boot is sizeable with 325 litres of capacity, beating the Ford Fiesta and Volkswagen Polo.
It might not have the all-round classiness and capability of the SEAT Ibiza or the dynamic sparkle of the Ford Fiesta, but the Kia Rio is a very capable hatchback that does everything well enough. Factor in the seven-year warranty and the Kia Rio is a sound buy.
Is the 2022 Kia Rio right for you?
To get a measure of how many people reckon the Kia Rio is just right for them, consider this: it's the biggest-selling model of a company that is ranked third in the world for the number of cars it produces. Kia churns out Rios by the thousand and many people love them.
Why do they love them? Simple, really. The Kia Rio demands very little of its owner yet repays your trust in it with unerring reliability, ease of use and a level of equipment you'll find hard to match for the money elsewhere in the supermini class.

The fact the Kia Rio is decent to drive, comfortable, refined, safe and has engines that are good to use all add to its appeal. So, if you are in the market for a Ford Fiesta, Vauxhall Corsa or Volkswagen Polo, stop and take stock of the Kia Rio – it might just be the car for you that you've just not yet considered.
What's the best Kia Rio model/engine to choose?
There are plenty of engine options for the Kia Rio, but we'd recommend the 100PS T-GDI petrol. It has a decent 171Nm of torque from 1500-4000rpm, so there's lots of low-down punch to help with overtakes and slip roads, plus it's very quiet and has official economy of more than 60mpg.
It works very well with the Rio whether in town, on the motorway or on a country road. It's also available with 120PS, but there's not much need to pick that version, since the 100PS option is such a good all-rounder.
There is also 1.25-litre petrol engine, but if you want a diesel you'll have to look for one in the used market as Kia has dropped the 76- and 90PS 1.4-litre turbodiesels from the line-up. This is not especially surprising when they were very slow sellers and just plain slow.
What other cars are similar to the Kia Rio?
Kia's biggest threat for the Kia Rio comes from its sister company Hyundai with its i20 that was introduced in mid-2020. Not only is it a newer car with improved tech, it also comes with a good warranty and is very good to drive.
In the supermini sector, you can never discard the Ford Fiesta, Vauxhall Corsa or Volkswagen Polo from your deliberations. You should also give thought to the Peugeot 208, SEAT Ibiza and Renault Clio, as well as the MINI and Audi A1 if you want a bit of posh.
Comfort and design: Kia Rio interior
"It may not be the last word in the style stakes, but there's no doubting the Kia Rio's dash is very user-friendly. Big buttons and dials for the heating make it very easy to adjust while driving and the 7-inch touchscreen that comes with most models is clear to read and work your way through its menus."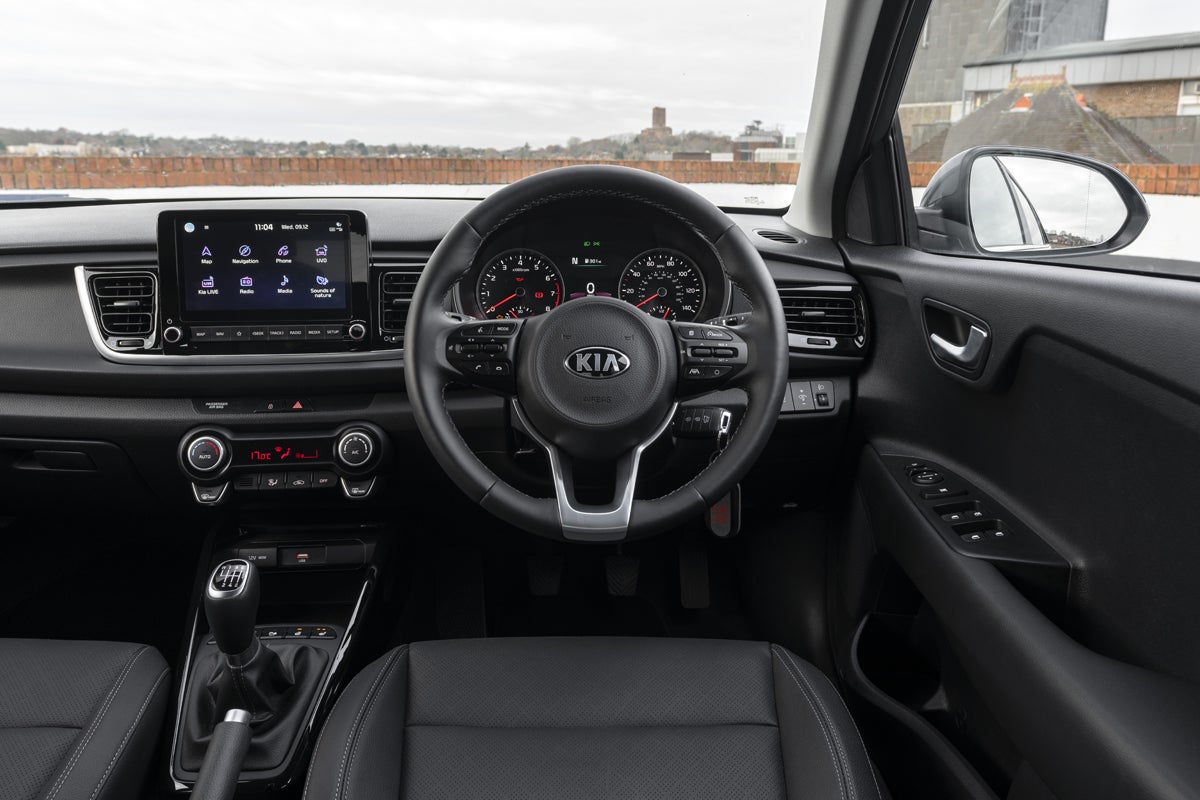 The main dash pod is just as good, with the speedo and rev counter in the driver's eye line as you glance down. Kia also provides plenty of storage for the driver and front passenger thanks to large door bins, a tray in front of the gear lever, twin cupholders and cubby between the front seats and a reasonable glovebox.
Kia has made an excellent job of making the driver comfortable thanks to a supportive seat with height adjustment as standard on all models. There's also reach and angle movement for the steering wheel to further finesse the seating position and on the 3 trim you also get a heated steering wheel for a touch a decadent luxury. Space isn't a problem thanks to generous head, leg and elbow room.
The view from the driver's seat is excellent to the front and sides, with little interruption to your sight lines from the windscreen pillars. Over the shoulder vision when changing lanes or reverse parking is on a par with most cars in this class due the thick rear pillars and only the Kia Rio GT Line S comes with a blind spot alert to address this issue.
Quality and finish
The difference between perceived quality and actual strength of construction is ably demonstrated inside the Kia Rio. At its launch in 2017, it was a little disappointing to note the cabin materials had not made a huge leap onwards from its predecessor, yet this was more about the look of them than the solidity of the plastics.
Time has told us the Kia Rio is, in fact, as very well constructed contender in the supermini class. It may not be the most stylish in terms of design or the textures used for much of its interior plastics, but you can be assured they will put up with all the use and abuse that a family and kids can throw at them.
There are also very few of the rough edges that mar some of the Kia Rio's big name rivals on areas such as the door pockets or lower reaches of the seat bases. It all goes to prove that Kia has elevated the Rio's build to a high standard and also that we expect a lot from this manufacturer in terms of fit and finish, which is delivers.
Infotainment: Touchscreen, USB, nav and stereo in the Kia Rio
The entry-level Kia Rio 1 has a simple 3.8-inch display for its radio and comes with Bluetooth, four speakers, and USB and aux-in ports. It also has a 3.5-inch black and white display in the main instrument binnacle to show a range of driver information such as fuel economy and range.
Move to the Rio 2 and GT Line trims and you get upgraded to a seven-inch touchscreen with DAB digital radio included. This also gives you access to music via Apple CarPlay and Android Audio, while the same screen is also used for a reversing camera. Another improvement over the 1 trim is the Supervision display between the main dials.
With the Kia Rio 3 and GT Line S models, you get the full seven-inch touchscreen with navigation and Kia Connected Services that uses TomTom to provide information on traffic congestion, speed cameras, weather and to search local area information.
In all cases, the Rio's 7-inch display large on-screen icons and easy pairing with your smartphone. It's not as simple to work as some rival systems, but is workmanlike.
Space and practicality: Kia Rio boot space
Measuring 4065mm in length, 1725mm wide and 1450mm tall, the Kia Rio is one of the larger cars in its class and this pays dividends when it comes to accommodating passengers. The front passenger doesn't have height adjustment for their seat but it does offer plenty of room for shoulders and head room, as well as the seat sliding back more than enough to let taller people stretch out.
Head into the back of the Kia Rio and access is good thanks to this supermini only being offered as a five-door. The flat cushion of the bench makes it easier to fit three people across the seat, even a trio of adults at push on shorter trips. This is something few of the Rio's rivals can achieve. One neat touch to note is the USB charger in the rear of all Rios other than the 1 trim.
Every Rio comes with a brace of ISOFIX child seat mounts in the back seats and there's lots of room to fit a rear-facing baby seat. You also get three-point seat belts for all rear occupants. As for space, it's good for two and they won't need to rub shoulders, but leg room is more restricted, though still good by supermini standards.
The same can be said of the Kia Rio's boot capacity that offers up 325-litres of cargo space to make it one of the more generous in the sector. Use the 60/40 split and tumble rear seat and you can open up the boot to a maximum of 1103-litres to make it one of the largest among superminis.
However, the boot is accessed over a high load sill with quite a drop to the load floor. Compounding this is the significant step created in the boot floor where the rear seats hinge forwards. However, at least the boot is deep thanks to no spare wheel. Instead, Kia supplies a tyre repair kit.
There's a small storage box on the left-hand side of the Rio's boot that is handy for storing small items like a bottle of de-icer and a scraper so they are not rolling around on the floor.
Handling and ride quality: What is the Kia Rio like to drive?
"Superminis have to fulfil a multiplicity of roles and the Kia Rio does its best to cover all the bases, from urban runabout to long distance cruiser. It doesn't quite pull off everything as successfully as a Ford Fiesta or Volkswagen Polo, so you will have to put up with a firm ride around town that can leave you wishing for a bit more compliance as you negotiate yet another speed bump or adjust the steering to avoid a pothole."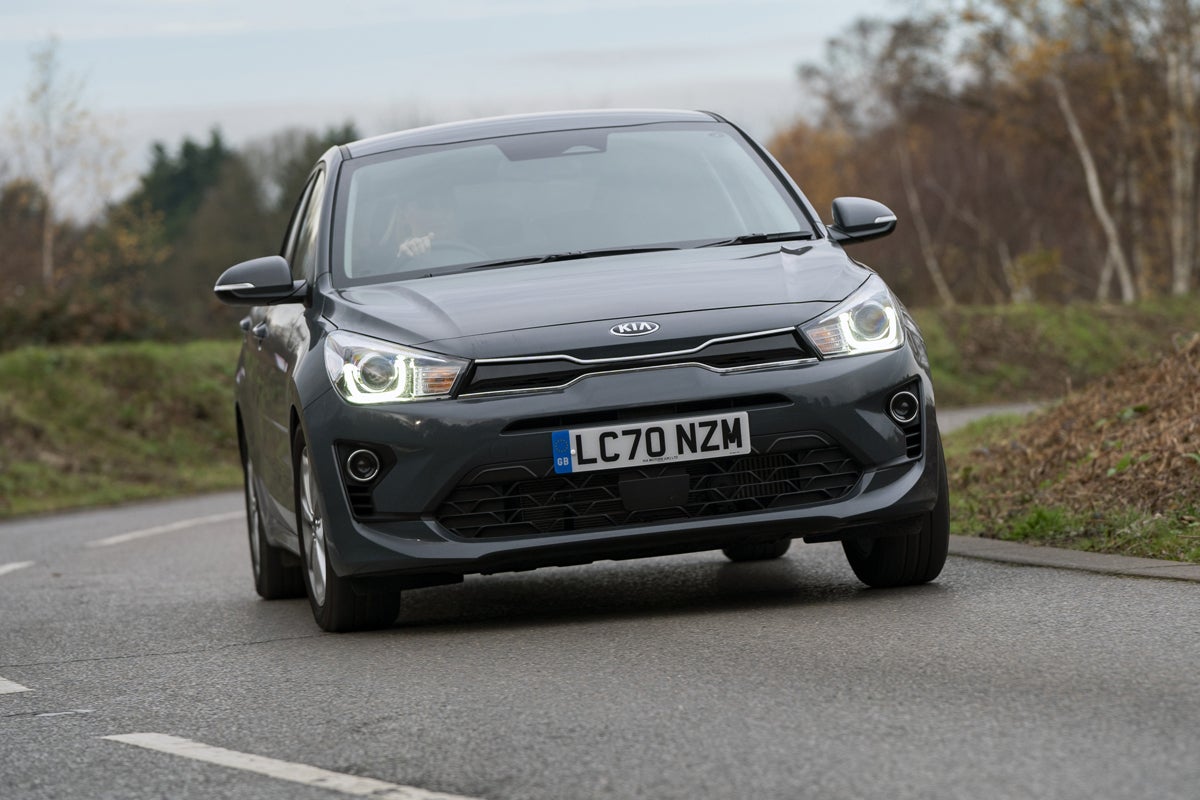 Head on to faster roads and the ride's firm edge turns into decent body control to make the Rio a much better car for cruising on the motorway. This set-up also gives it very good stability, even in crosswinds or when passing large trucks where the air blast can have some other small cars being blown about.
The firm ride at lower speeds is more obvious in Kia Rio GT Line models with their 17-inch alloy wheels that are standard. Go for the 1, 2 or 3 trims with their smaller wheel sizes and they cope better with the obstacles a typical street can throw at them. However, all of the Rio models are saddled with the same inert steering feel.
For most drivers, this won't be a particular issue as the wheel is light to turn, making the Rio easy to park even in the narrowest of gaps. However, step out of a Ford Fiesta into a Kia Rio and you will miss that greater sense of control the Ford's steering imparts.
It's a similar story where handling is concerned. There's nothing at all wrong with the safe, predictable nature of the Kia as it enters and exits a bend as it's very sure-footed and behaves with safety uppermost in its actions. It's just that a Fiesta or MINI does it with a bit more verve that means there's always a bit of fun in the offing if you want it whereas in the Kia Rio it's happy just to plot a route and leave the drama to other small hatches.
What engines and gearboxes are available in the Kia Rio?
Kia has dropped the diesel engine options from the Rio range, recognising their slow sales for Kia and the sector as a whole. What we're left with are a trio of small capacity petrol engines that starts with the 85PS 1.25-litre MPI.
The 1.25 motor comes with Intelligent Stop-Go tech to save fuel when the car would otherwise be idling when sat still in traffic, but that's about the most sophisticated it gets. It has to be worked quite hard to get much in the way of a turn of speed from it, which has the knock-on effect of making it quite noisy anywhere other than in town. Still, the five-speed manual has an easy shift action.
A five-speed gearbox is used with the turbocharged 1.0 T-GDI motor too. It comes with 100PS and it's a three-cylinder design, unlike the 1.25's four-cylinder configuration. Like so many of these titchy three-pot engines, it punches well above its weight when it comes to low-down shove, so it's 0-62mph time of 10.3 seconds is more than two seconds brisker than the 1.25's.
There's a little vibration that can be detected when the 1.0-litre engine is ticking over, but this disappears the moment you touch the accelerator pedal. From then on, it pulls keenly to make town driving fun and offer safe overtaking on faster roads, as well as cruising quietly on the motorway.
The 120PS version of the 1.0 T-GDI serves up more of the same thanks to its extra power and nips from rest to 62mph half a second quicker. This is for the six-speed manual version, which has a heavy change between gears. For this reason, we could be tempted into a Rio with the seven-speed dual-clutch DCT automatic that has seamless, rapid shifts with very little detrimental effect on acceleration.
Refinement and noise levels
There is a clear division in the Kia Rio when discussing refinement and it comes right down to which engine you choose. Opt for the entry-point 1.25-litre MPI motor and you will have to accept it's just not very quiet in operation.
Around town, the 1.25 does an okay job of ferrying its occupant around without making itself too noticeable. However, the moment you ask it to get a move on, this four-cylinder engine becomes coarse and shows its age with too much row from under the bonnet.
Take either of the three-cylinder 1.0-litre turbo petrol motors and it's a completely different story. They let you know of their cylinder count with a distinct aural burr, but it's a pleasant sound and smoothes out the moment you start to rev the engine. Wherever you drive these engines, they remain calm and easy on the ears. We only wish the six-speed manual gearbox in the more powerful 120PS version was a little less notchy in its action.
As for wind and road noise, both are admirably well suppressed in the Kia's cabin to make it one of the most hushed cars in the class. As such, it also makes the Rio one of the most capable when it comes to covering larger distances thanks to far less nerve-shredding whistles from around the windscreen and door mirrors.
Safety equipment: How safe is the Kia Rio?
The Kia Rio is one of the most comprehensively kitted out cars in its class when it comes to standard safety tech. As well as the expected ESP stability control, ABS anti-lock brakes and tyre pressure monitoring system, you get six airbags and a Hill-start Assist to prevent the car rolling backwards when driving off up an incline.
As well as this lot, every Kia Rio comes with three-point seat belts for all five occupants and a pair of Isofix child seat mounts for the two outer rear seats. Choose any Rio other than the base 1 trim and Kia includes autonomous emergency braking to instantly apply the brakes if the car senses the driver has not reacted to a potential danger in the road ahead. This is an option for the 1 model, along with the Lane Keeping Assist that is standard on all other Rio versions.
Again, every Rio except the 1 has a reversing camera and rear parking sensors. It's a pity neither of these is an option for the 1 model. Without these safety-enhancing features, the Rio only manages a three-star score in Euro NCAP tests, but with them it improves that to a full five-star rating with impressive showings for adult and child occupant safety.
MPG and fuel costs: What does a Kia Rio cost to run?
"From the current range of petrol engines in the Kia Rio, the 100PS 1.0 T-GDI is the most economical thanks to its official combined figure of 48.7mpg under WLTP testing. This is helped by all Rios with a manual gearbox using Intelligent Stop and Go technology to switch off the engine when the car is stationary. Using Real MPG figures, this engine delivers 46.1mpg."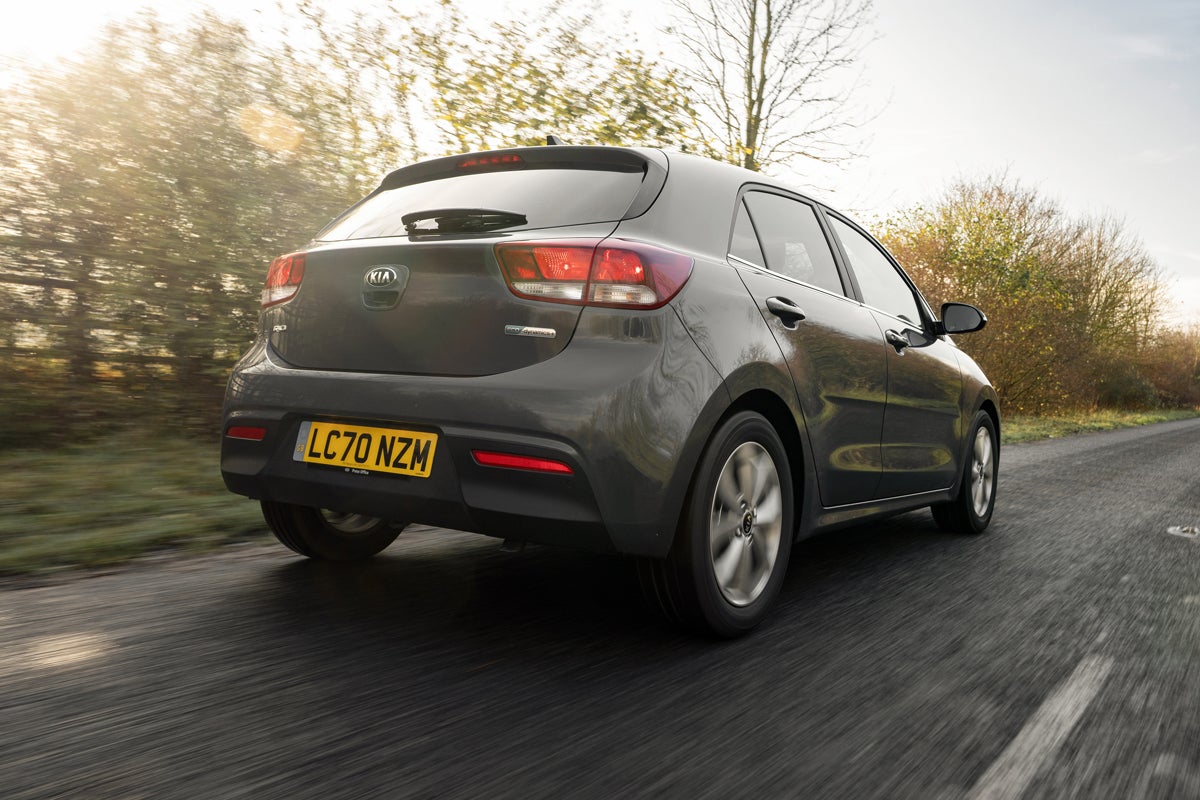 If you want a diesel-powered Rio, a used 1.1-litre CRDi model gives a Real MPG figure of 66.3mpg to get within 88 per cent of its claimed official average consumption of 78.5mpg.
How reliable is a Kia Rio?
The Kia Rio punches well above its weight in terms of reliability. Indeed, we'd say it's much less likely to let you down than a more mainstream competitor like the Vauxhall Corsa or Ford Fiesta.
As a brand, Kia ranked highly in the 2020 HonestJohn.co.uk Satisfaction Index. It scored an impressive 9.31 out of 10 for reliability. The transferable seven-year warranty should put you at ease, too.
Insurance groups and costs
Regardless of which model Kia Rio you pick, none of them are going to upset your bank balance much when it comes to insurance premiums. Oddly, the entry-point 1 attracts a group 6 rating where the 2 version with the same 1.25-litre petrol engine sits in the more affordable group 4.
Choose the 100PS 1.0-litre engine and it is ranked in group 8 regardless of trim level, while the more potent 120PS 1.0-litre motor sits in group 9 in GT Line form. Take the GT Line S and it edges into group 10.
VED car tax: What is the annual road tax on a Kia Rio?
Whichever Kia Rio suits your needs, they all fall into the same road tax banding that means you'll pay first year Vehicle Excise Duty of £215. The lowest carbon dioxide emitting model is the 100PS 1.0-litre with the 15-inch alloy wheels of the 2 trim, producing 132g/km.
The highest emissions of any Rio is the 120PS 1.0-litre with seven-speed DCT automatic gearbox with its 146g/km figure. None of these numbers are impressive for a supermini nowadays, so the Kia does trail its rivals in this respect by a considerable margin.
How much should you be paying for a used Kia Rio?
"A three-year old Kia Rio that still has four years left of its warranty to run will cost you from around £7,000. Cars at this price point will have around 30,000 miles on the clock and comes wit either the 1.25- or 1.4-litre petrol engine."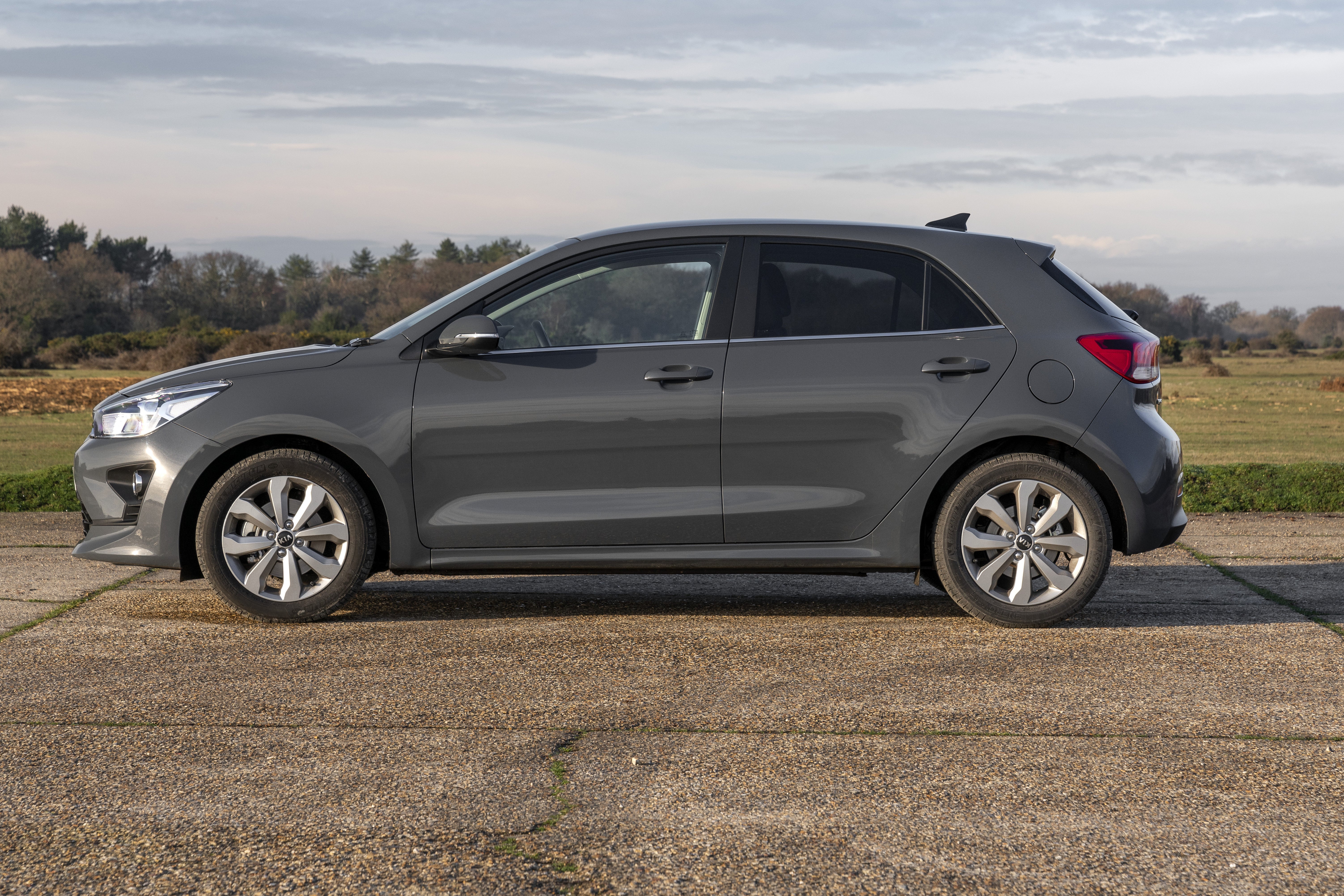 A younger Rio at the one-year old mark in 2 trim and with the 100PS 1.0-litre turbo petrol engine will cost you about £10,500. Cars at this level will have around 15,000 miles under their wheels.
Take the nearly new route and a Rio in the same specification can be found from Kia dealers with 5000 miles on the clock for £13,000 to represent a healthy saving over the list price of a brand new car.
 Trim levels and standard equipment
Kia keeps it simple and starts the line-up with the Rio 1 trim. It sits on 15-inch steel wheels and has plain black cloth upholstery. You get driver's seat height adjustment, air conditioning, electric front windows and a 3.8-inch black and white infotainment display with Bluetooth connection.
A better bet is the Kia Rio 2 with 15-inch alloy wheels and gloss black exterior detailing, rear parking sensors, and daytime running lights. Inside, there's Premium Black Cloth for the seats, leather-bound steering wheel, electric windows all round, cruise control, and the 7-inch infotainment touchscreen with reversing camera.
On top of this, the 3 gains 16-inch alloys, rain-sensing wipers and faux leather upholstery with heated front seats and steering wheel. Automatic air conditioning and infotainment with navigation and Kia Connected Services with TomTom updates for traffic and speed cameras completes the list.
Then there's the Kia Rio GT Line. This is based on the 2 model but with 17-inch alloys, 'Ice-cube' design LED headlights, and twin exhaust pipes for a sportier look. Half-leather-trimmed seats, flat-bottom steering wheel and carbon-effect trim inserts lift the interior feel. Choose the Rio GT Line S and you get all of this mixed with the luxury kit of the 3 trim.
Ask the heycar experts:
common questions
Is the Kia Rio a good, reliable car?
Yes. What the Kia Rio lacks in style, it makes up for in dependability. Kia routinely performs well in reliability surveys, while its seven-year warranty ought to provide a confidence boost, too.

Which is better: the Kia Rio or Hyundai i20?
If you're buying a new car, the Hyundai i20 is a generation ahead of the ageing Kia Rio. That means it's a more desirable hatchback with a plusher interior and the latest technology. You might be able to get a better deal on a nearly-new Kia Rio, though.

Has the Kia Rio been discontinued?
The latest Kia Rio has been on sale since 2017 and shows no signs of being discontinued. It's recently been updated with the latest technology, including mild-hybrid power, meaning it remains bang up to date.

Kia Rio cars for sale on heycar
2,687
Number of cars available
£6.5K - £21K
Price bracket of these cars
Colours available on heycar
Keep me updated by email with the latest advice, news and offers from heycar
By submitting, you agree to our
privacy policy
.
Popular models
Similar models