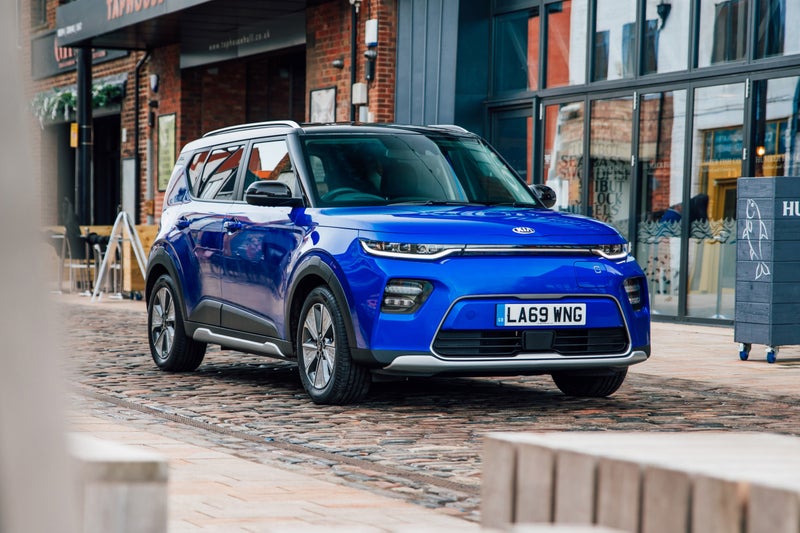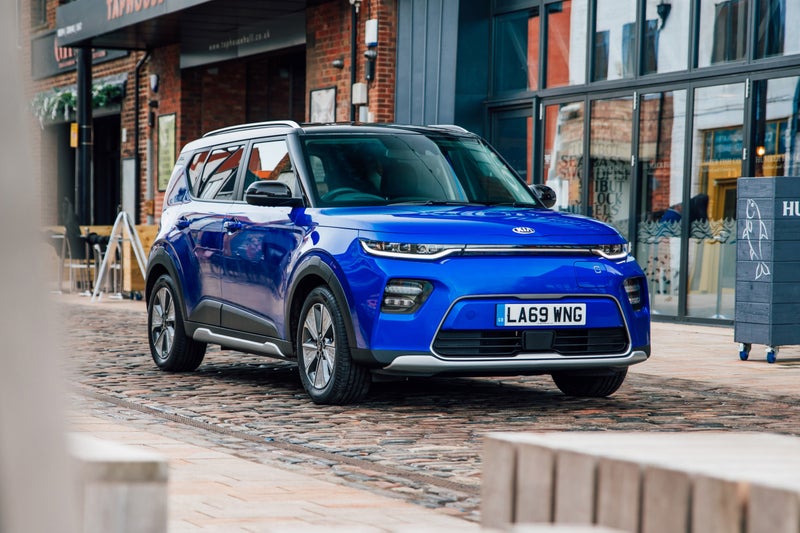 1/10
heycar rating
"Likeable EV with long range"
Launched: 2020

Small SUV

EV
Quick overview
Pros
Effortless performance
Loads of equipment and a seven-year warranty
Spacious for passengers
Cons
Expensive compared to a petrol or diesel
Small boot
Plain interior
Overall verdict
On the inside
Driving
Cost to run
Prices and Specs
Common questions
Overall verdict on Kia Soul EV
"The Kia Soul EV is a practical family car with an electric motor that gives you easy performance and a range that's achingly close to what a petrol or diesel can manage."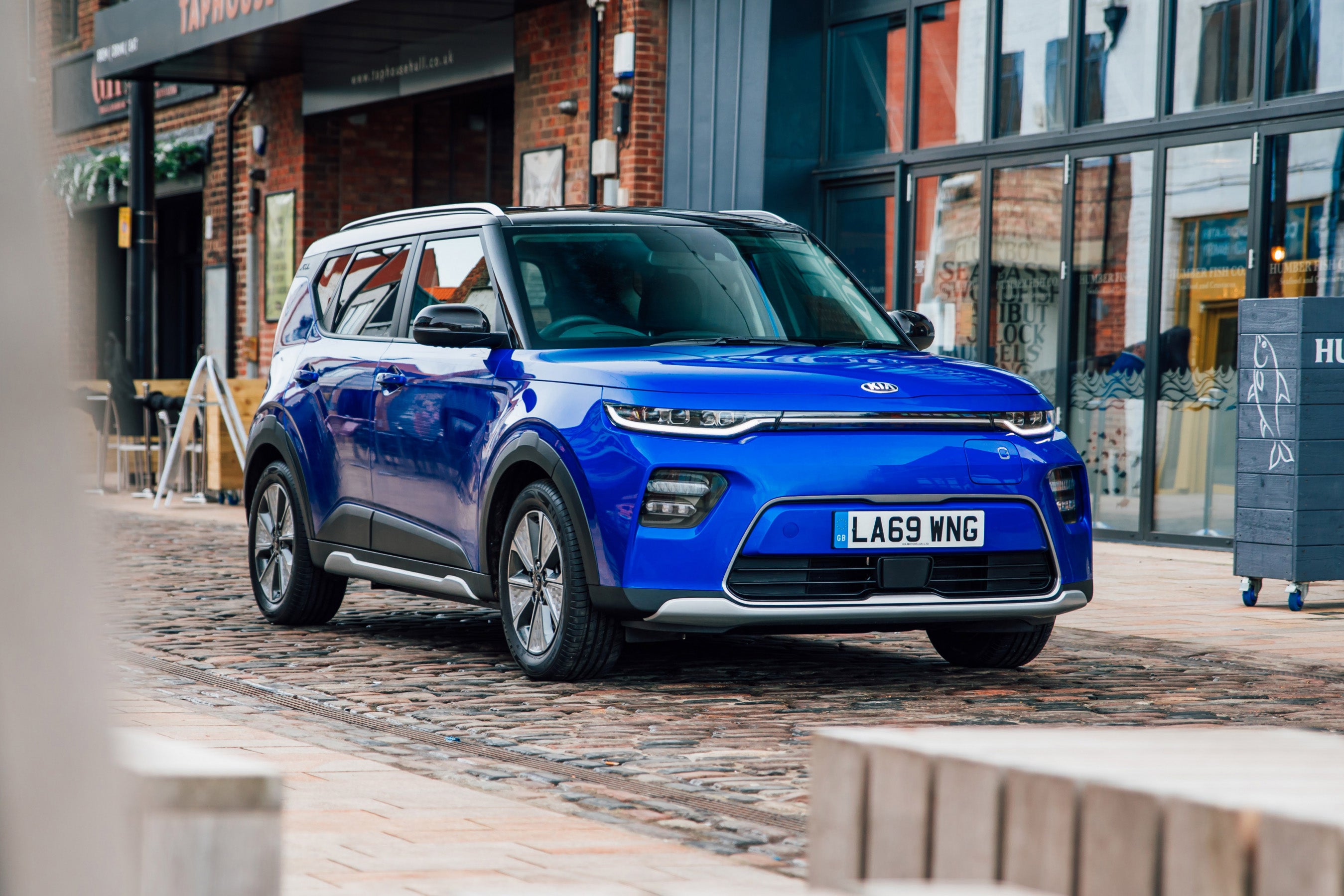 Kia and sister brand Hyundai have form with electric cars. The Kia e-Niro and Hyundai Kona Electric are two of the most in-demand EVs thanks to their long ranges - up to 282 miles - and relatively affordable price tags. So confident is Kia that electric cars are the future, the Soul is now sold exclusively as an electric vehicle. Let's see how it fairs in our 2022 Kia Soul EV review.
The Kia Soul EV uses the same 204PS electric motor and 64kWh battery pack as the e-Niro, travelling 280 miles from a charge. While other recent small electric cars like the Honda E and MINI Electric will struggle to cover more than 100 miles between top-ups, the Soul EV's range makes it a realistic proposition for all but the most high-mileage of drivers.
The Soul EV is also useable in terms of space. This isn't a small electric city car, it's a family car that could replace a Ford Focus or even a Nissan Qashqai on your driveway. The Soul's boxy dimensions means there's comfortably space for a pair of adults in the rear, although the Kia Soul EV's 315-litre boot is a little disappointing compared to the e-Niro's 451 litres.
While the interior is functional, it's not particularly interesting. There are lots of dark, drab colours and lots of buttons dotted around the dash, although the standard 10.25-inch navigation system is clear and easy to use.
Kia's initially offering the Soul EV in one First Edition trim level. This is very well equipped, with the aforementioned navigation system as well as a Harman/Kardon sound system, a seven-inch digital display behind the steering wheel, heated leather seats and a reversing camera amongst its long list of standard equipment.
Priced from around £34,000 after the Government's plug-in car grant, the biggest issue the Kia Soul faces is whether people can justify spending that kind of money on an electric car. But it's not something that's hampered sales of the e-Niro, and when you start to factor fuel savings into monthly payments it starts to make a lot of sense.
Is the Kia Soul EV is right for you?
The Kia Soul EV is right for you if you're looking for a practical electric car that has a long range and a price that won't break the bank. If you're looking for one of the cheapest electric cars, we think the Kia Soul EV is one of the best you can buy.
What's the best Soul EV model/engine to choose?
The Kia Soul EV is only available as one model, but it's a compelling mixture with a powerful electric motor that delivers plenty of lazy performance in a practical SUV like body.
What other cars are similar to the Kia Soul EV?
Electric cars have exploded in recent months so the Kia Soul EV has competition from the likes of the city-slicking Honda e, the frisky handling MINI Electric and the stylish Peugeot e-2008. There's also popular EVs like the Renault Zoe and Nissan Leaf.
Comfort and design: Kia Soul EV interior
"The first thing you'll notice, unfortunately, is its lack of soul. It's just not as bright and cheery as you'd expect from the car's exterior, with lots of dark materials and drab plastics. There are also buttons everywhere, although that just hints at the Soul's high level of standard equipment."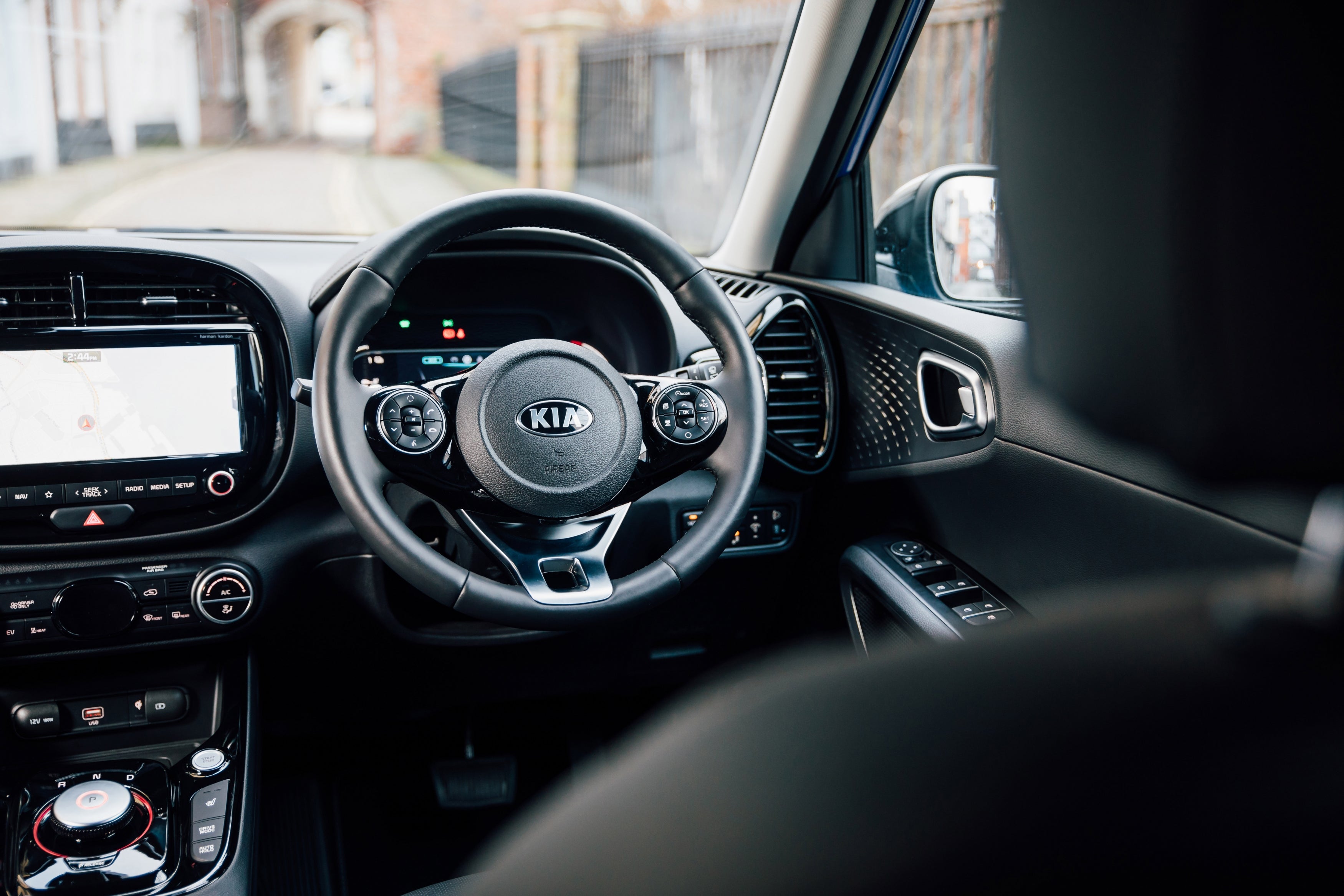 Getting comfortable in the Kia Soul EV's driver's seat is easy, thanks to eight-way power adjustment and upright, high driving position that many people want in a crossover SUV. There's plenty of room in the rear, too, although the 315-litre boot means you'll have to pack light if you're going away for a family holiday.
Quality and finish
The Kia Soul EV's interior is less striking than the exterior. It's dominated by a large infotainment screen but the next thing you'll notice is how plasticky it all feels. Sure, everything is sturdy, but the Kia doesn't have the premium feel or stylish design of the Mini Electric or the Honda E.
Infotainment: Touchscreen, USB, nav and stereo in the Kia Soul EV
To keep things simple, Kia was initially only be selling the Soul EV in First Edition guise. That means everything you could possibly want is standard, including a large 10.25-inch touchscreen navigation system in the centre of the dash. Like in other Kias, this is simple to use with clear graphics and quick responses. Apple CarPlay and Android Auto are standard, too - meaning you can access features from your phone on the move.
Kia has replaced the First Edition model with the Kia Soul EV Maxx and just like the First Edition, is the only trim level available on the Kia Soul EV. The good news is that all the infotainment features stay the same.
Space and practicality: Kia Soul EV boot space
The Kia Soul EV's interior is really spacious. There is a huge amount of headroom, even in the rear, thanks to its boxy dimensions.
Getting comfortable in the driver's seat is easy, thanks to eight-way power adjustment with the upright, high driving position that many people want in a crossover SUV. There's plenty of room in the rear, too, although the 315-litre boot means you'll have to pack light if you're going away for a family holiday. The rear seats do drop 60/40 if you need more space, while two sets of ISOFIX child seat tethers are fitted in the back.
The Kia Soul EV measures 4195mm long and 1800 wide, and as we've already touched, the Soul EV's boot capacity at 315 litres is a little disappointing.
Handling and ride quality: What is the Kia Soul EV like to drive?
"With 204PS, no Kia Soul EV driver is going to find themselves wishing it had more power. Hit the accelerator and it'll surge forwards instantly"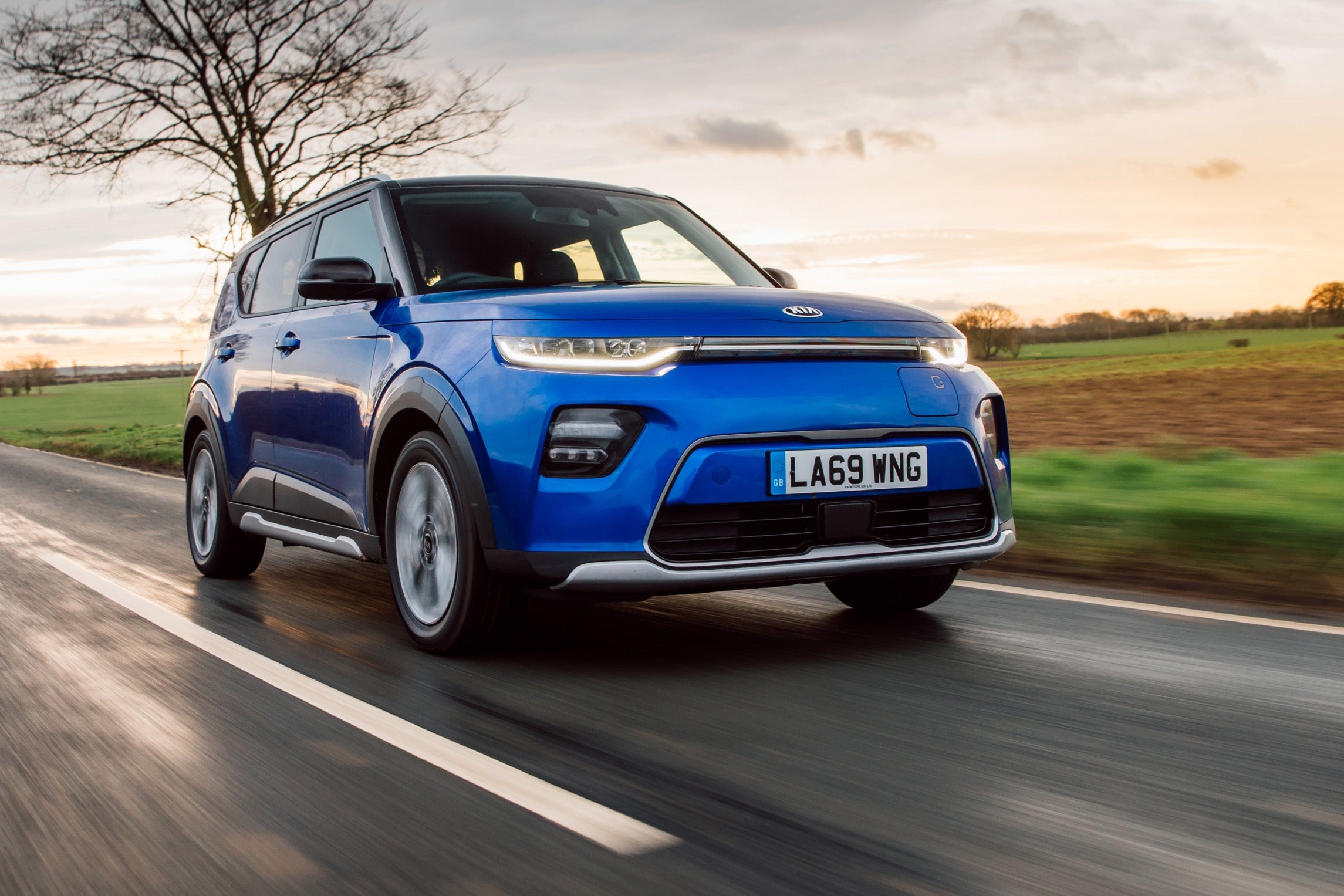 As with any other electric car, all of the torque is available as soon as you ask for it with the Kia Soul EV. There's no waiting for the automatic gearbox to drop a few cogs or patiently waiting for the revs to build, it just goes.
With all that power going through the front wheels alone, it is quite easy to overwhelm the front wheels. That means you'll get the traction control light flickering if you're heavy with the Kia Soul EV's throttle from a standstill, particularly in wet conditions. But you soon learn to drive within the Soul EV's limits - and a little bit of wheelspin through the front wheels isn't too disconcerting.
What engines and gearboxes are available in the Kia Soul EV?
In the UK, the Kia Soul EV is sold with just a 64kWh battery pack: a 64kWh. This delivers 204PS and a range of up to 280 miles, with the battery paired to a single speed automatic gearbox.
Maximum EV range in the Kia Soul EV
Officially the Kia Soul EV can cover 280 miles between charges. We're yet to spend a lengthy period of time with it to see how that translates in the real world, but it's fair to say you should see comfortably over 200 miles even with some brisk acceleration and use of the heated seats and headlights.
Refinement and noise levels
The Kia Soul EV is a very relaxing car to drive thanks to its lack of noise from the motor. You'll coast along in peace and tranquility, save for a little bit of wind noise at higher speeds.
Safety equipment: How safe is the Kia Soul EV?
The Kia Soul EV comes with a raft of standard equipment. It can accelerate, brake and steer itself on the motorway and also comes with auto-dipping headlights. The car's automatic emergency brakes will cut down on low speed shunts but, if it can't stop to avoid a collision, the car can also steer around it. All this safety kit means you'd expect the new Kia Soul EV to improve on the four star Euro NCAP rating scored by the old model.
Charging times: How much does it cost to charge the Kia Soul EV?
"Charging is simple, using a socket located behind a panel at the front of the car. An 100kW DC charger will top up the Soul's battery from 20 to 80 per cent in less than 45 minutes."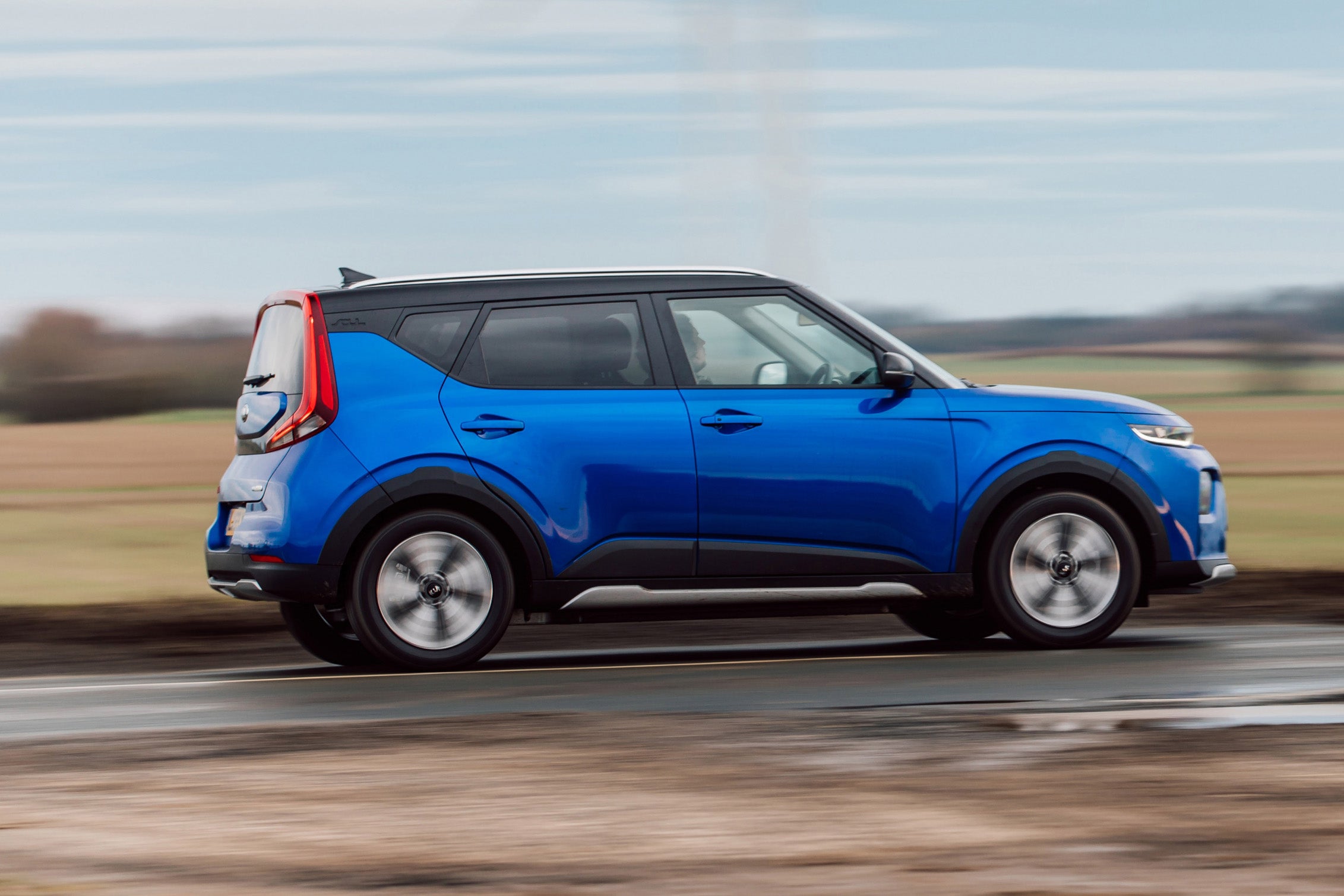 A 7.2kW home wallbox will take around 9.5 hours to provide a full charge. You won't want to charge it using a three-pin plug regularly, though, as that'll take a lengthy 31 hours.
How reliable is the Kia Soul EV?
While we can't speculate on how reliable the Kia Soul EV is likely to be as it hasn't been on the road long enough, what's reassuring is that all Kia cars come with some of the best warranties of any manufacturer.
Buy a Soul EV and you'll get a long seven year warranty (or 100,000 miles) as well as three years of roadside assistance. Buy a used Soul EV and as long as it's under seven years old or has covered less that 100,000 miles, the warranty cover is transferrable.
Insurance groups and costs
The Kia Soul EV sits in insurance group 18 meaning it'll cost about the same to insure as the Mini EV (group 18-19) and quite a lot less than the Honda E (group 25-29).
VED car tax: What is the annual road take on a Kia Soul EV?
One of the big appeals of buying and electric car is the low running costs and a big tick against the Kia Soul EV is that it's absolutely free to tax.
There are other benefits to, especially if you live in a city as chances are you'll get a free (or at the very least, discounted) parking permit. If you drive into London, you won't have to pay the Congestion Charge either.
How much should you be paying for a Kia Soul EV?
"The Kia Soul EV costs from £34,295 brand new and you won't save much off that by buying a pre-registered car."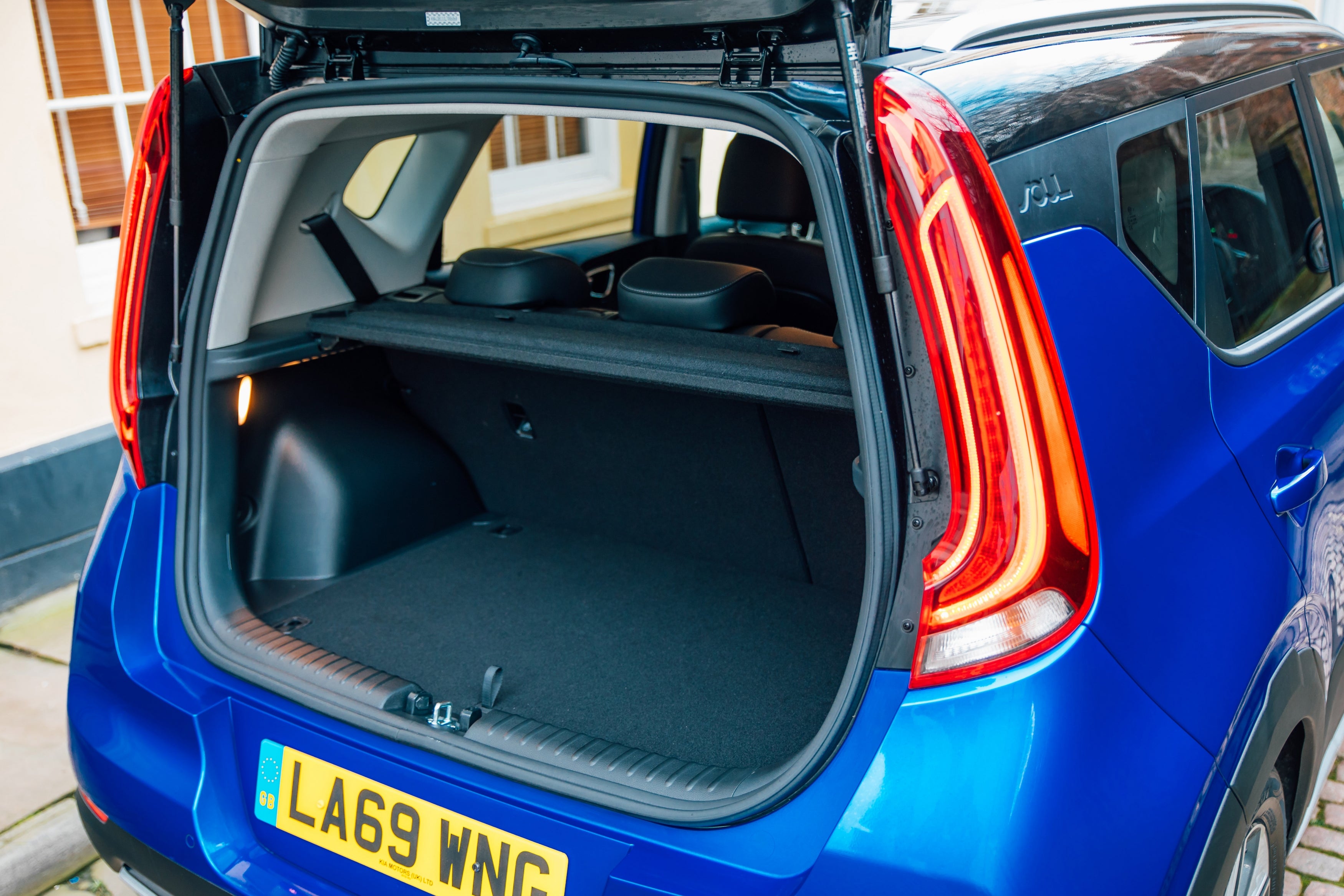 Go for the old model, though, and you stand to make some decent savings, we saw a 2018 car with less than 5000 miles on the clock up for sale for £18,000.
Trim levels and standard equipment
The Kia Soul EV is available in one trim level called First Edition (and later known as Maxx.
It features 17-inch alloy wheels, privacy glass, LED headlights and rear lights, electric heated door mirrors with LED indicators, rain-sensing front wipers, 60/40 folding rear seats, dual-height load floor, tyre mobility kit, black leather upholstery, heated front seats, heated steering wheel, electronic parking brake, automatic air conditioning, all-round electric windows and adaptive Smart Cruise Control (SCC).
Inside there are eight-way power adjustable driver's seat with power lumbar support, ten-speaker Harman/Kardon premium sound system, DAB radio with MP3 compatibility, Bluetooth, Android Auto and Apple CarPlay, 10.25-inch touchscreen navigation system with European mapping and traffic messaging channel (TMC), seven-inch colour display cluster and head-up display, reversing camera, rear parking sensors and a wireless phone charger.
Ask the heycar experts:
common questions
Is the Kia Soul EV a good car?
If you're looking for a small electric SUV for the family, then the Kia Soul EV is a solid choice. It does a lot of things well and will be a reliable companion for the family. The styling might not be to everyones taste, while the boot could be bigger.

Kia e-Niro vs Kia Soul EV
If you're deciding between either the e-Niro or Soul EV, then it'll likely come down to how each of these cars will fit into your lifestyle. With the slightly bigger boot, we'd favour the e-Niro over the Soul EV, but this boxy compact SUV isn't without its charms.

What is the range of the Kia Soul EV
The Kia Soul EV has a claimed range of up to 280 miles and taking up to 9 hours to charge from a 7.2kW home wall charger.

Kia Soul cars for sale on heycar
2,382
Number of cars available
£7.3K - £37K
Price bracket of these cars
Colours available on heycar
Keep me updated by email with the latest advice, news and offers from heycar
By submitting, you agree to our
privacy policy
.
Popular models
Similar models