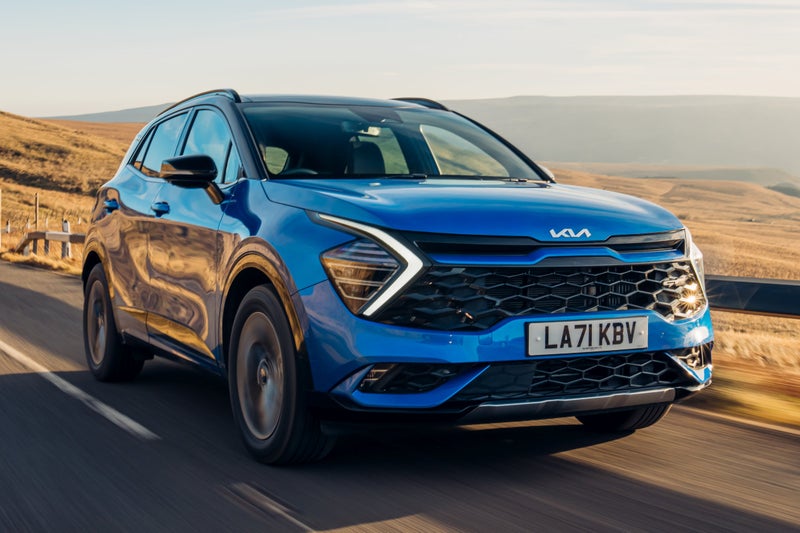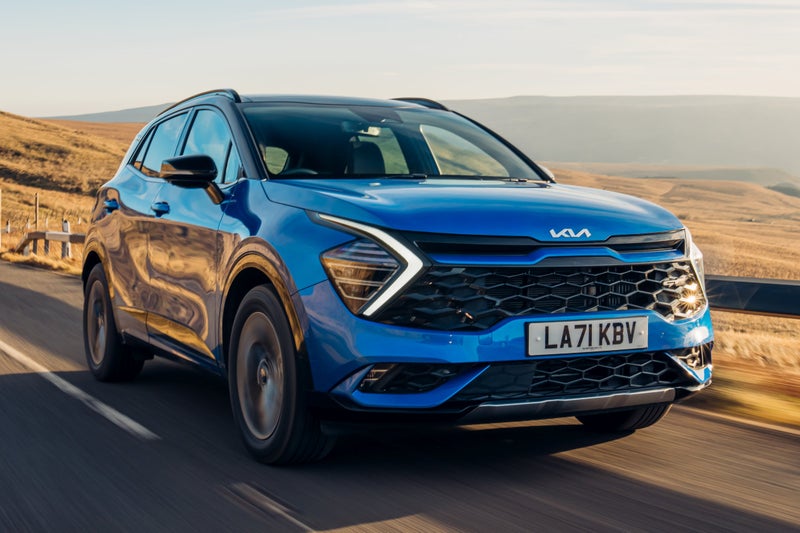 1/10
heycar rating
"Kia's surprisingly desirable family SUV"
Launched: 2022

SUV

Petrol, Diesel, Hybrid, PHEV
Quick overview
Pros
Does everything a family SUV needs to do with little fuss
Wide range of petrol, diesel and hybrid engines
Impressive interior with a generous amount of standard equipment
Cons
Noisy hybrid engine
Not as affordable as it once was
Does it need to look like that?
Overall verdict
On the inside
Driving
Cost to run
Prices and Specs
Common questions
Overall verdict on the Kia Sportage
"You'll love or hate the way the new Kia Sportage looks, but there's very little else to dislike about it. It's comfortable, practical and extremely well-equipped, while there's an extensive engine line-up to suit every buyer."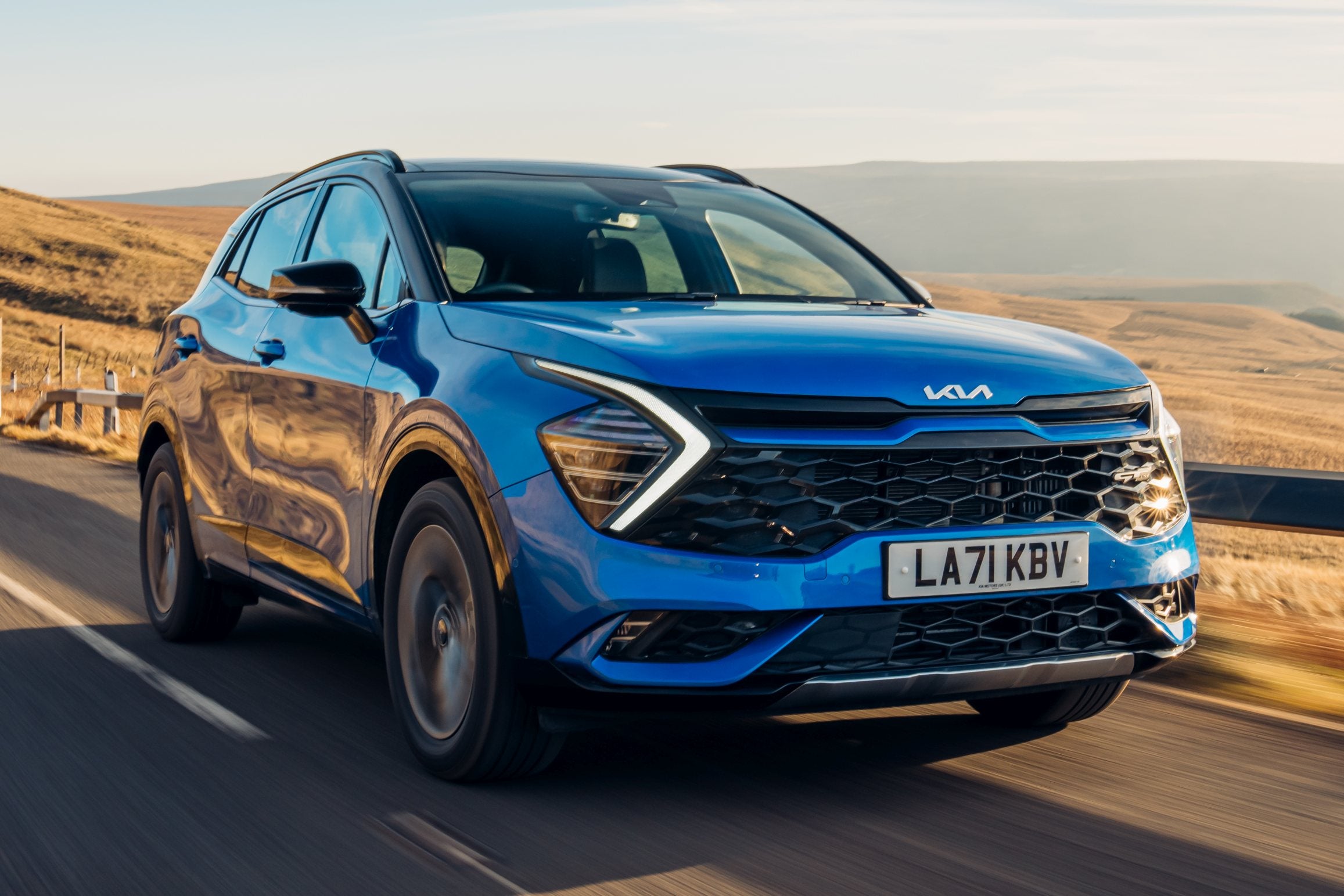 It takes a lot to stand out in a sector that also includes the likes of the Volkswagen Tiguan, Hyundai Tucson, Nissan Qashqai, Peugeot 3008 and Skoda Karoq. So Kia's gone all out with a bold design that has a clear resemblance to the Kia EV6 electric car as well as the upcoming Kia Niro. Continue to read out full Kia Sportage review to find out if it should be on the shortlist for your next family SUV.
One way the Kia Sportage stands out against rivals is its extensive engine line-up. This includes conventional petrol and diesel models, mild-hybrid petrols and diesels, a hybrid petrol and a plug-in hybrid petrol. Factor in the option to specify front or four-wheel drive and manual, six-speed auto or seven-speed dual-clutch automatic gearboxes and you'll probably be left asking just one question – is there such a thing as too much choice?
It's a fair point. But the long and the short of it is there's a model to suit most budgets, no Kia Sportage costs a fortune to run and some versions (notably the hybrid and PHEV) are quick. We've ranked the best hybrid SUVs in our expert guide if you want to find out more, while there's a broader guide to the best hybrid cars.
While the hybrid Kia Sportage is impressive (and ultra efficient), we actually quite like the entry-level 1.6-litre petrol. It's a turbocharged unit, which means it feels punchy in and out of town, while the smaller alloy wheels of the more affordable models help ride quality.
The Kia Sportage comes with a wide range of trim levels, too, but again - we don't think it's necessary to spend big bucks on the more premium models. The range kicks off with the Kia Sportage 2, which comes with a basic 8-inch infotainment system, 17-inch alloy wheels and a reversing camera. It's worth upgrading to the Kia Sportage 3, though, if only for the fancy 12.3-inch media system and crystal clear digital dials.
No matter which Kia Sportage you go for, it'll be a supremely practical choice. There's plenty of room inside for four tall adults, while the Kia Sportage's 590-litre boot space will laugh in the face of travel cots and pushchairs, and there are all manner of places to store odds and ends. It's a family's dream.
Looking for the older version? You'll need our used Kia Sportage (2016-2021) review.
Is the Kia Sportage right for you?
If you're looking for a versatile family car, the Kia Sportage is an excellent choice. It looks more distinctive than the Skoda Karoq and new Nissan Qashqai, while its interior is impressively spacious while also looking considerably more special than before. Standard equipment levels are impressive, while the Kia Sportage isn't going to cost a fortune to run - no matter which of the many engine choices you go for.
What's the best Kia Sportage model/engine to choose?
With standard equipment levels as impressive as they are, we see no reason to splash the cash on the priciest Kia Sportage models. A mid-spec Kia Sportage 3 comes with the flashy 12.3-inch media system, as well as heated seats, part-faux-leather upholstery and 18-inch alloy wheels. What more could you possibly want?!
In terms of engines, none of the options are bad, but we quite like the standard 1.6-litre petrol. Hybrid models are likely to be popular, though, and they'll be very efficient. Wait for the plug-in hybrid if you can charge a car at home and mainly cover short journeys.
What other cars are similar to the Kia Sportage?
Comfort and design: Kia Sportage interior
"From the useful hooks for carrying your shopping to the USB chargers in the back, the Kia Sportage has been cleverly designed to make family life easier."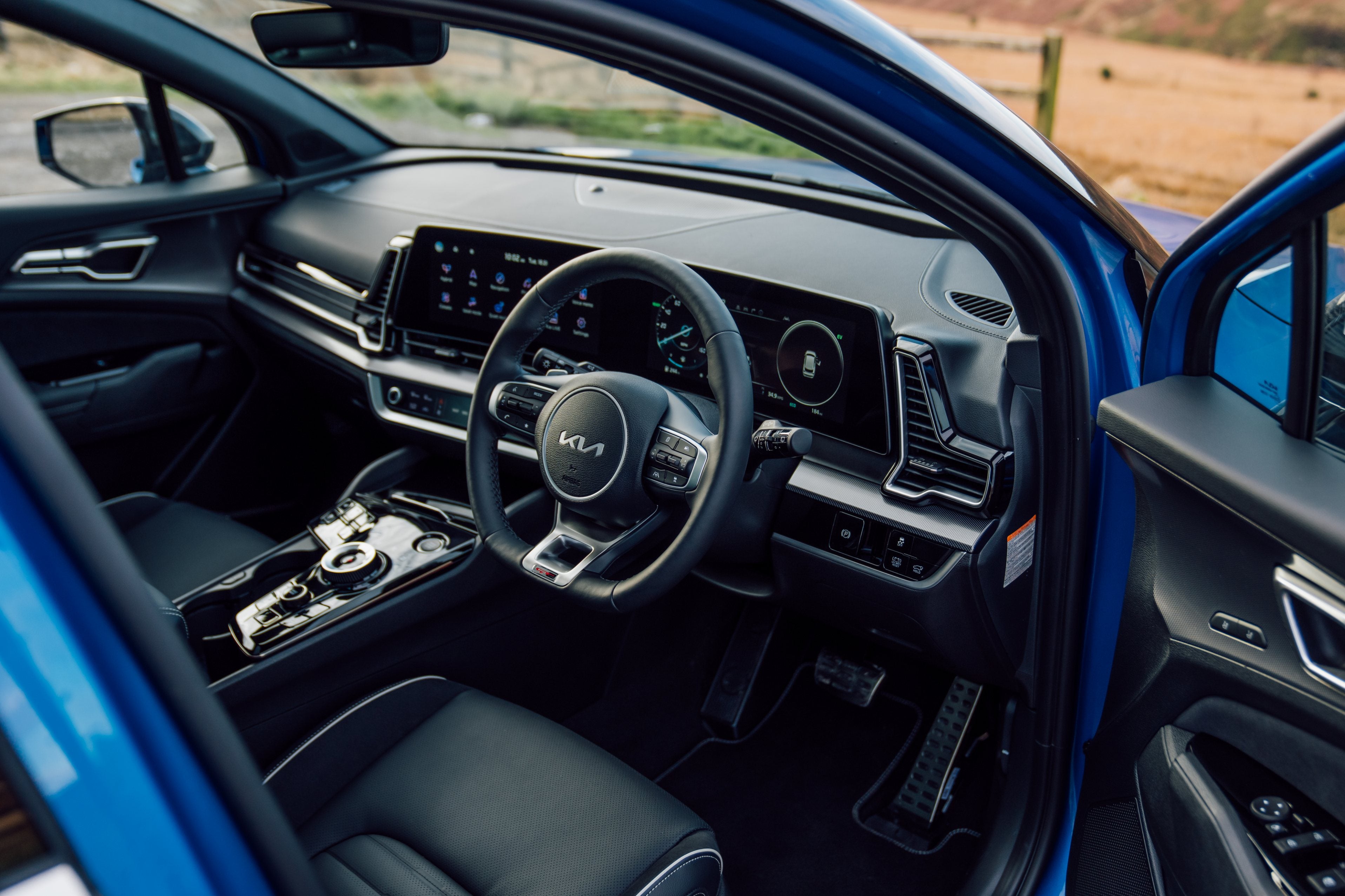 The Kia Sportage's cabin isn't just about functionality, though. It also looks and feels pretty upmarket, up there with the likes of the Volkswagen Tiguan and impressive new Hyundai Tucson. We like the touch-sensitive climate controls buttons sitting below the infotainment system, while the rotary shift-by-wire automatic gear selector looks pretty smart.
Getting comfortable is easy, while most models feature adjustable lumbar support on the driver's seat. There's loads of adjustment in the seats, meaning you can drop it low like a conventional hatchback, or crank it up to lord it over other motorists.
We'll cover the Kia Sportage's infotainment offerings below, but the 12.3-inch digital instrument cluster deserves a special mention for its crisp, clear and customisable graphics. It really adds to the Sportage's premium vibe.
Quality and finish
It's been a while since the Kia Sportage was a truly budget option, but the Sportage's interior is just as impressive as the latest Nissan Qashqai's in terms of interior quality. Our mid-spec Kia Sportage 3 test car had soft-touch materials in all the right places, while chrome interior highlights mean there's no danger of the interior looking a bit bland.
There is some hard plastic on the door panels but it feels like it'll last a decade or so of being thwacked by feet, while the centre console is all wipe-clean - important for a family SUV such as the Sportage.
Infotainment: Touchscreen, USB, nav and stereo in the Kia Sportage
Most Kia Sportage models (that's 3, 4 and GT-Line S variants) come with an impressive curved twin-screen display with a widescreen infotainment system sitting alongside crisp digital dials. Lower-spec models come with a simple eight-inch digital display which we're yet to sample.
We found navigation with the 12.3-inch touchscreen infotainment system that our test car came with to be a simple affair, although you do have to lean forwards to press it - not an issue on certain rivals (including the Mazda CX-5) with their twistable toggle controller on the centre console. You get Apple CarPlay and Android Auto as standard, while Kia Sportage 4 and GT-Line S models come with a wireless phone charger. There's even USB chargers on the back of the front seats, meaning the kids have somewhere to charge their devices.
Space and practicality: Kia Sportage boot space
At 4515mm in length, the new Kia Sportage is 30mm longer than the old model, while its 1865mm width is wider than before. Its height is up 10mm to 1645mm, while its wheelbase has been extended by 10mm to provide more interior space.
The front of the Kia Sportage is adequately spacious for an SUV of this size, with enough room between the driver and front-seat passenger to prevent any awkward arm bashing. You get a (fairly small) cubby box underneath the armrest, while the door bins are a little on the narrow side but big enough to lose various bits and pieces.
Rear-seat passengers have it pretty good in the new Kia Sportage. Knee room is a little on the tight side if you're a tall adult sat behind another tall adult, but kids will be pretty happy back there - especially when they learn how to recline the rear seats.
There's loads of headroom (especially on models without a panoramic sunroof) and decent visibility, although a rising window line might make things feel a little claustrophobic for young children. There's space in the middle for a third passenger, too, although a lump in the floor does make it a little awkward. It's certainly not as comfortable for three rear passengers as the Citroen C5 Aircross.
With an impressive 591-litre boot capacity, the Sportage's boot is just as functional as you'd want it to be. Access is high, like all SUVs, but a false floor means there isn't a lip for hoisting things over. You get tie-down points, a 12V socket and useful levers for dropping the rear seats. These split 40:20:40 and leave an entirely flat floor, providing up to 1780 litres of luggage space.
Fold down the back seats and you get a flat floor and a huge lipless opening that makes it easy to stow bulky luggage into the now 1780-litre space.
Handling and ride quality: What is the Kia Sportage like to drive?
"Despite its name, the Kia Sportage has never been a sporty choice. It's a shame, then, that Kia's tried to make it feel more agile by firming up the suspension. It's not uncomfortable, but it's certainly harsher than a Skoda Karoq - especially on high-spec models fitted with big alloy wheels."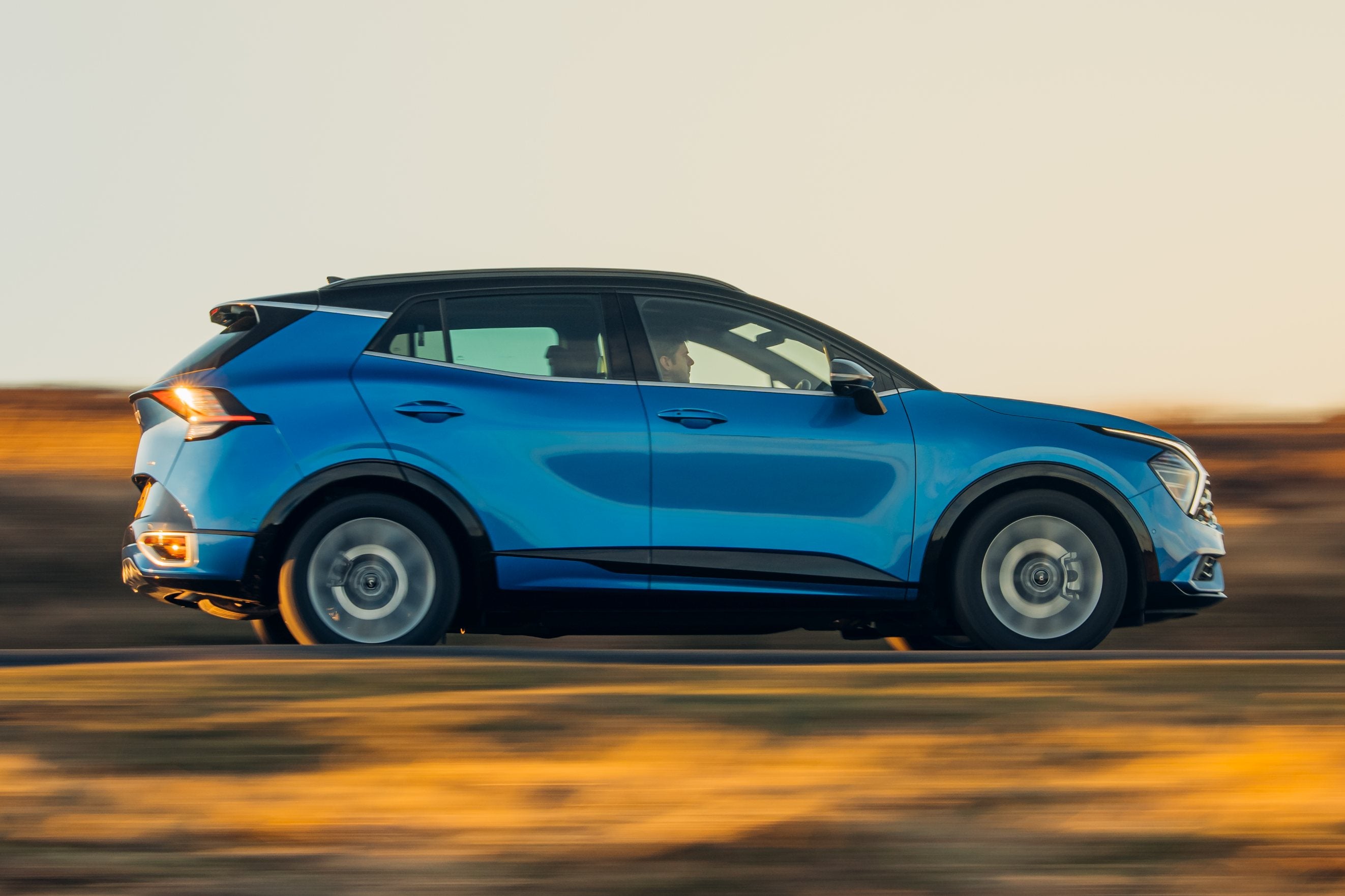 It still doesn't corner as keenly as a SEAT Ateca but it feels safe and there's a reassuring amount of grip available. You can even buy the Kia Sportage with four-wheel drive, although we wouldn't bother with this unless you really must venture off the beaten track. Not only are 4x4 models more expensive to buy, you'll be hit in the wallet in terms of running costs, too.
You get a good view from the driver's seat of the Kia Sportage, while its exterior dimensions are barely any bigger than a Ford Focus - meaning you can slot it into surprisingly tight parking spaces. There are systems on hand to make this easier, too, including a reversing camera and rear parking sensors as standard across the range.
High-spec models come with a clever 360-degree camera, while the priciest hybrid derivatives can even be driven in and out of tight spaces remotely using your key fob.
What engines and gearboxes are available in the Kia Sportage?
There's quite an extensive range of engines available in the new Kia Sportage. Aside from a pure-electric version (the Kia e-Niro and EV6 cater for that market), you can get an engine to suit every buyer - including petrol, diesel, mild-hybrid, hybrid and, soon, plug-in hybrid power.
So which should you buy? Well, the entry-level 1.6-litre petrol is pretty good. It's a turbocharged unit, representing a significant step up in power compared to the naturally-aspirated motor offered to buyers of the old Sportage. Indeed, with 150PS, it'll accelerate to 62mph in 9.9 seconds - swift enough for a car like this. It comes with a six-speed manual transmission which is fine, if not as slick as you'd find in a Mazda CX-5.
Although we're yet to sample it, we suspect it'd be worth hunting out a Kia Sportage with the 1.6 T-GDI petrol engine with a seven-speed dual-clutch automatic gearbox and 48-volt mild-hybrid tech. As well as providing improved fuel economy, the petrol Sportage MHEV is a bit quicker than the standard petrol, while - on higher spec models - this combination is also available with four-wheel drive.
If you cover a lot of motorway miles, you might be in the minority of Kia Sportage buyers who want one with a diesel engine. You can buy a 1.6 CRDi diesel with 115PS or a mild-hybrid version with 136PS (the latter with a seven-speed automatic gearbox and optional all-wheel drive).
A considerable chunk of Kia Sportage buyers are expected to plump for hybrid power. This is a 229PS petrol-electric unit which isn't quite as rapid as its figures suggest (it'll accelerate to 62mph seconds in 7.7 seconds) but will be very efficient. It's a bit noisier than we expected, with the engine causing quite a din under acceleration, and if you wish to trundle about under electric power, you might want to wait for the Kia Sportage PHEV (plug-in hybrid).
Refinement and noise levels
Generally, the Kia Sportage is a very quiet and refined car with little outside noise intruding into the calm of the cabin. There's a but, though - the Kia Sportage Hybrid can trundle off serenely, but once the petrol engine kicks in it makes quite a din. That's especially true under harsh acceleration, something you soon learn to avoid.
Safety equipment: How safe is the Kia Sportage?
If you're in the market for a family SUV like the Kia Sportage, safety's going to be high up in your priorities. Fortunately, the new Sportage comes with an extensive list of safety equipment across the range. This includes features such as the Forward Collision-Avoidance Assist, which can detect other vehicles, pedestrians and cyclists and apply the brakes to prevent (or reduce the severity of) a collision.
Lane Keep Assist will keep you in your lane on the motorway, while Intelligent Speed Limit Assist can adjust the speed of the cruise control based on the speed limit.
High-spec models add even more safety tech. Kia Sportage 4 and GT-Line S models come with a 360-degree camera (making parking a breeze), as well as a Blind-Spot View Monitor and Blind-Spot Collision-Avoidance Assist and Parking Collision-Avoidance Assist.
We'll update this review as soon as Euro NCAP announces crash-test results for the new Kia Sportage - although we'd be very surprised if it achieved anything less than the full five stars.
MPG and fuel costs: What does a Kia Sportage cost to run?
"Despite the hybrid offerings, if you want a frugal Kia Sportage, you should be looking for one with a diesel engine. You could average up to 54.3mpg from the 1.6 CRDi according to WLTP fuel economy tests."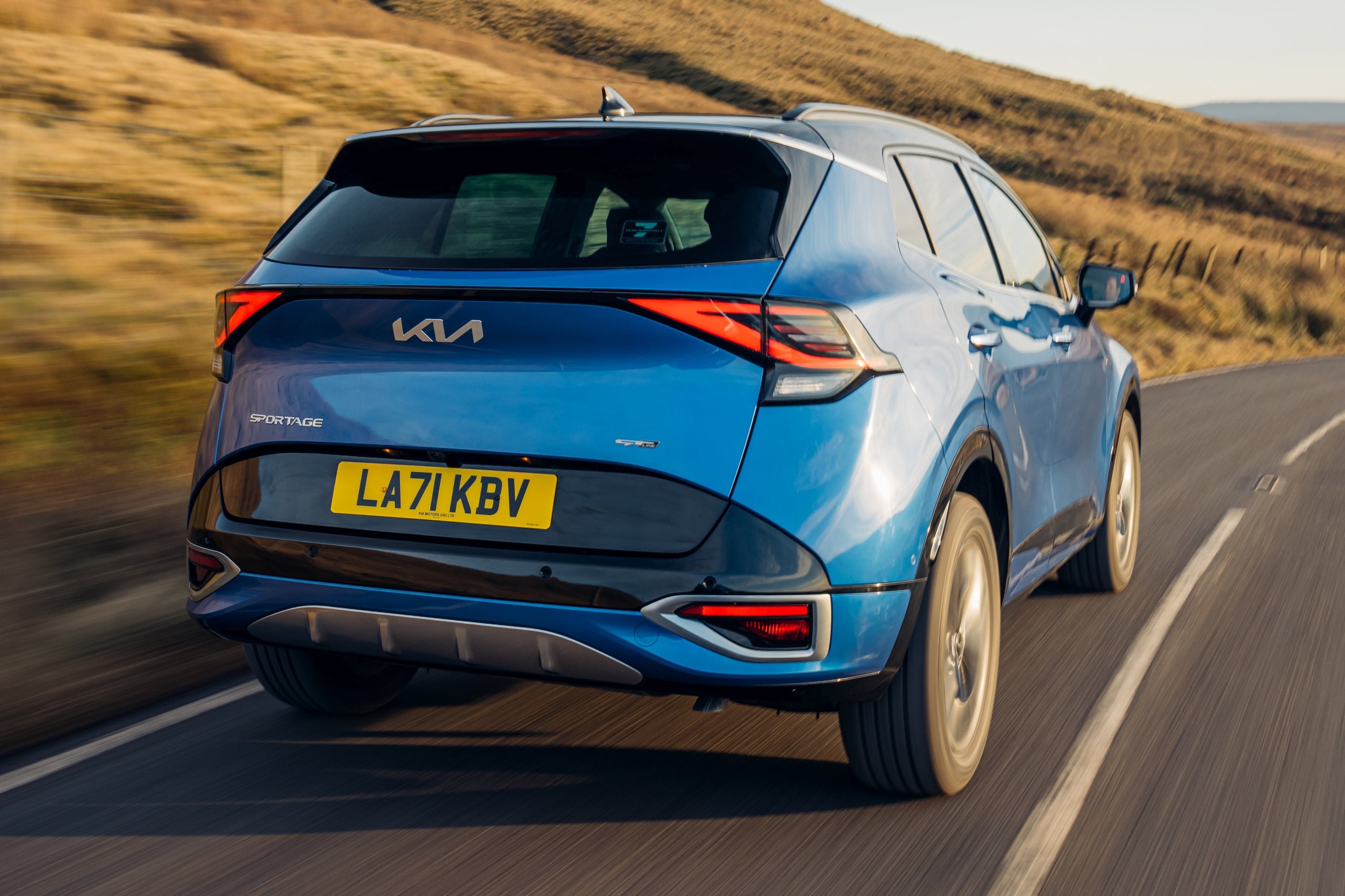 Diesel power is out of favour, though, and we'd only really recommend a diesel Sportage if you cover a lot of long journeys out of town. Otherwise, one of the many other offerings should prove pretty efficient anyway.
The mild-hybrid petrol returns up to 44.1mpg in WLTP tests, while the regular petrol is good for up to 42.2mpg. A Kia Sportage Hybrid returns a very respectable 49.6mpg, falling to 44.1mpg with all-wheel drive.
Final details about the new Kia Sportage PHEV (plug-in hybrid) are yet to be confirmed, but it'll be able to run for short journeys under electric power alone. That means it will be very efficient if you can charge it at home and mainly use it for popping to the shops or taking the kids to school.
How reliable is a Kia Sportage?
The new Kia Sportage is so fresh from the factory it's difficult to say how reliable it'll be in the long run, but we would be surprised if it proved to be troublesome. Previous models are exceptionally reliable, while Kia's seven-year/100,000-mile warranty should put your mind at rest, too.
Insurance groups and costs
The cheapest Kia Sportage to insure will be the entry-level 2 grade with the diesel engine which sits in insurance group 15E. The petrols start from insurance group 17E. The more powerful hybrid derivatives are likely to be a little more expensive to insure, but insurance groups are yet to be confirmed.
VED car tax: What is the annual road tax on a Kia Sportage?
The first year's VED (car tax) is lumped into the on-the-road price, so you don't really have to worry about the cost of that. After the first year, you'll pay a flat rate of £155/year for petrol or diesel models, or £145/year for hybrids.
Be careful, though. Cars with a list price of more than £40,000 will be subjected to an extra £335 in tax for five years. This is the price when the car is new - so it doesn't matter if you bought it second-hand or with a discount. That means the top-end Kia Sportage models could cost as much as £480 a year in tax.
How much should you be paying for a used Kia Sportage?
"Prices for the new Kia Sportage start from around £27,000, meaning it's a smidgen more expensive than a Skoda Karoq or Nissan Qashqai - yet it undercuts the Hyundai Tucson and Peugeot 3008. Hybrid models start from £33,245, while the Kia Sportage Plug-in Hybrid is priced from £38,395."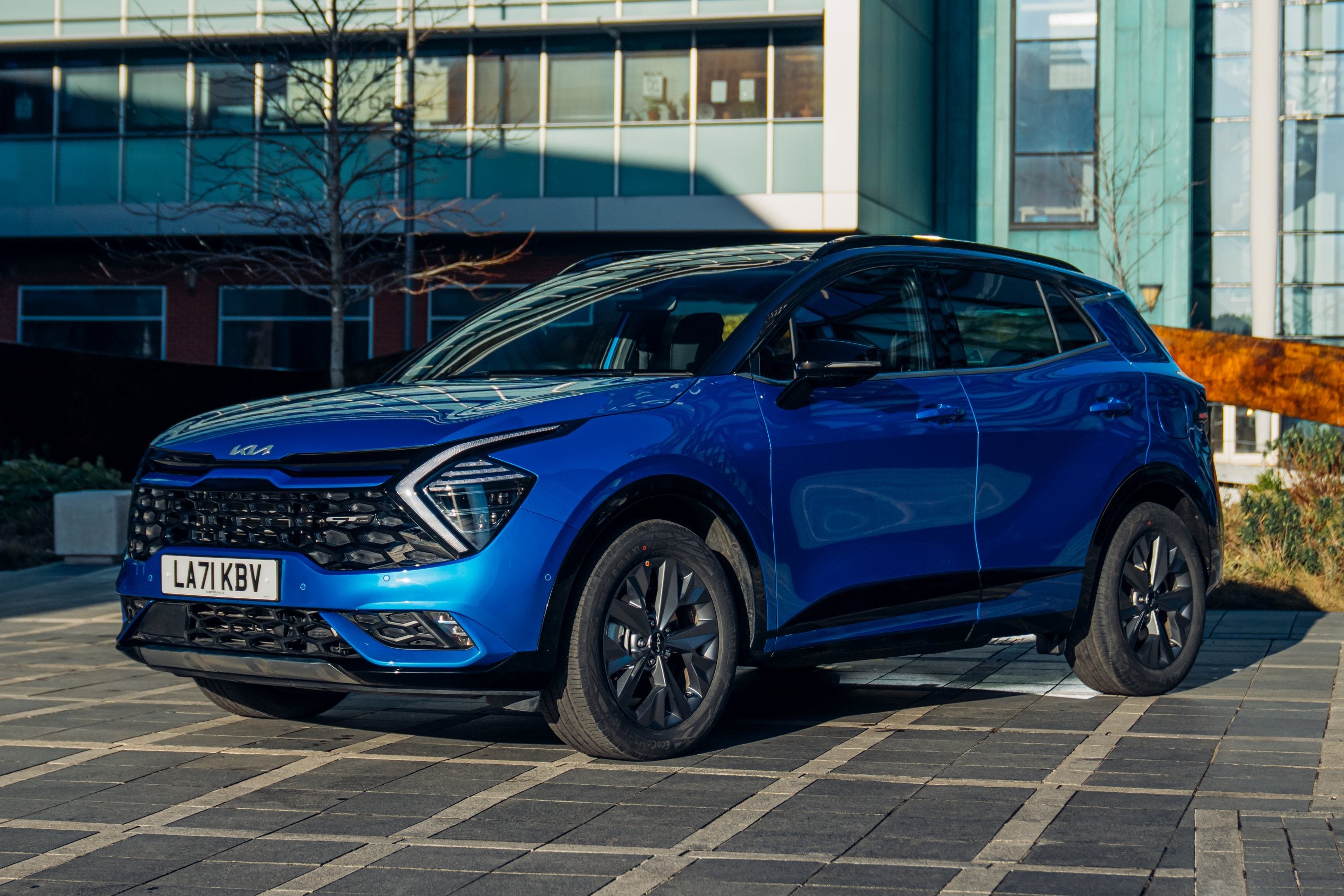 It's still a very new car so there's not a huge amount of used Kia Sportage models on the market, but you can make a saving (and skip the queue) by looking for a pre-registered or ex-demonstrator car. We've seen dealers advertising as-new Kia Sportages that are physically in showrooms with savings of around £500 off list price.
Trim levels and standard equipment
The range kicks off with the Kia Sportage 2. Standard equipment on this model is pretty comprehensive, including 17-inch alloy wheels, front and rear parking sensors, a reversing camera and cruise control. You also get an eight-inch touchscreen infotainment system with DAB radio.
The slightly sportier Kia Sportage GT-Line adds 19-inch alloy wheels (18-inch on the hybrid), chrome exterior highlights and a gloss black radiator grille, side sills and wheel arch mouldings. Rear privacy glass is standard, while inside there's a 12.3-inch navigation system, suede leather seats, sports pedals and a D-shaped perforated leather steering wheel.
The mid-range Kia Sportage 3 is also based on the 2 but adds 18-inch alloy wheels, rear privacy glass and LED front fog lights. Inside, you'll find black cloth and faux-leather seats, a heated steering wheel, heated front and rear outer seats and a 12.3-inch navigation system. There's also a 12.3-inch digital instrument display.
Things start to get a bit premium with the Kia Sportage 4. Standard equipment includes a panoramic sunroof, Harman Kardon premium sound system and a wireless phone charger. The 4 trim level also comes with a range of driver-assist tech, LED tail lights and ambient interior lighting, while cosmetic exterior highlights include a gloss black radiator grille and chrome garnishes.
Topping the range is the Kia Sportage GT-Line S, which adds bespoke exterior styling, 19-inch alloy wheels (18-inch alloys on the hybrid), artificial leather and suede upholstery and ventilated front seats with 10-way power adjustment. There's also an electric tailgate and an optional two-tone black roof.
Ask the heycar experts:
common questions
Is the Kia Sportage a 4x4?
Not all Kia Sportage models are 4x4. You can buy AWD versions of the Sportage with the petrol, diesel or hybrid engines, though, while the plug-in hybrid is exclusively four-wheel drive.

Is the Kia Sportage a good family car?
With a big boot and low running costs, the Kia Sportage is an excellent family car. We rate it highly against competitors including the new Skoda Karoq and Hyundai Tucson.

What problems does a Kia Sportage have?
There are very few common issues with the Kia Sportage. It should be a very reliable choice, while Kia's seven-year warranty is one of the best on the market.

Kia Sportage cars for sale on heycar
2,382
Number of cars available
£8.5K - £45K
Price bracket of these cars
Colours available on heycar
Keep me updated by email with the latest advice, news and offers from heycar
By submitting, you agree to our
privacy policy
.
Popular models
Similar models