Written by
heycar editorial team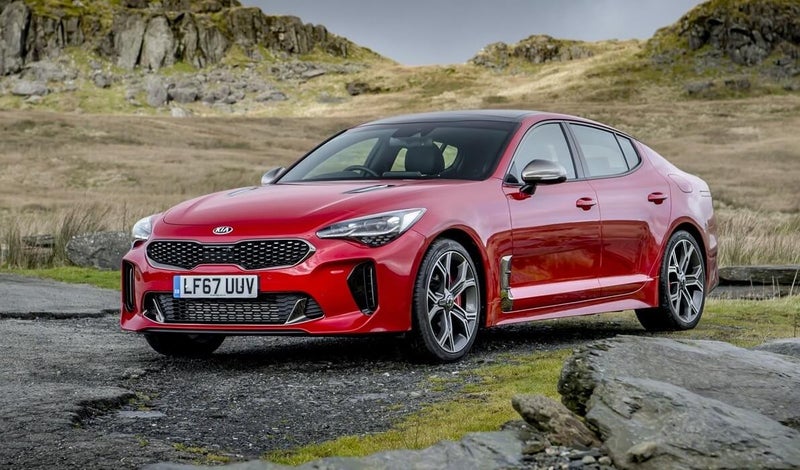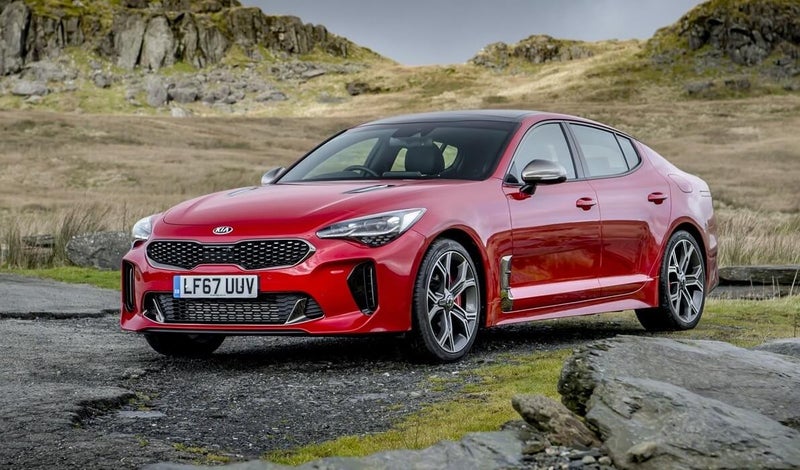 1/10
heycar rating
"Kia's flagship equals big smiles"
Launched: 2017

Large family

Petrol, Diesel
Quick overview
Pros
Handsome machine
Lairy performance and handling of flagship
A standard equipment list to make the competition weep
Cons
There's no premium badge
Interior quality not quite as impressive as in rivals
Sloping roofline compromises back seat headroom
Overall verdict
On the inside
Driving
Cost to run
Prices and Specs
Common questions
Overall verdict on the Kia Stinger
"Kia might not be the first brand that will spring to mind if you're after an engaging, rear-wheel drive family saloon, but that's exactly what it delivers with the Kia Stinger. Launched in 2017, no car better represents Kia's aspirations to be taken seriously, not just in the mainstream sphere, but also in the upmarket segment."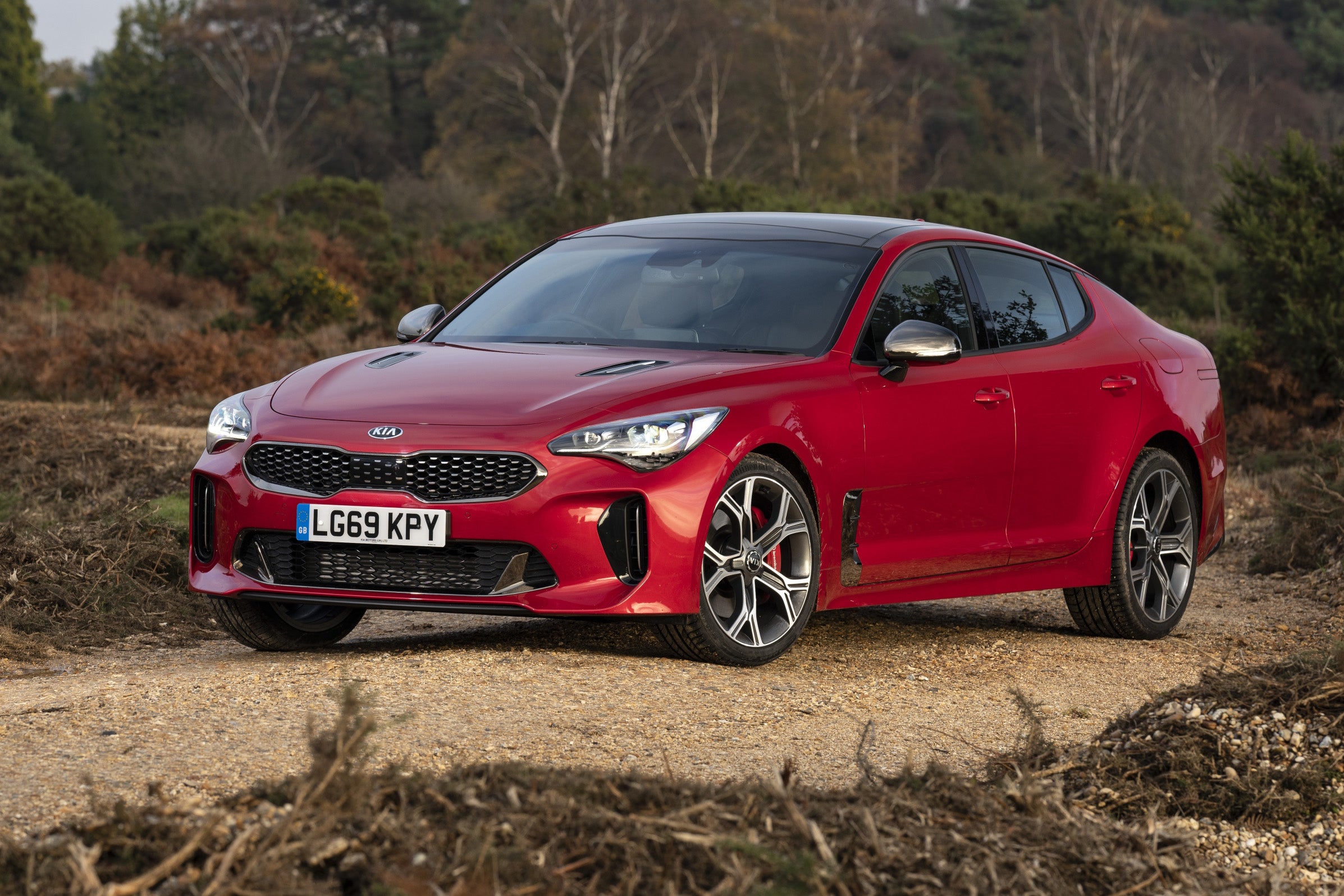 Kia describes as a 'five-seater, fastback-style grand tourer' and it's a car that covers a number of bases. Its price and positioning put it up against some established and tough rivals from the likes of BMW, Audi and Mercedes-Benz, as well as that middle-ground represented by Alfa Romeo, Volkswagen, Mazda and Volvo.
Ambitious, perhaps, but with the Stinger Kia's certainly created a convincing alternative, and not just because it looks so good. The company pinched one of BMW's acclaimed engineers to develop the Stinger, and that's abundantly clear when you drive it – its an entertaining, agile and engaging drivers' car, with fine chassis balance and good steering, mated to a decent engine line-up.
Heading it – and gaining all the headlines when the Stinger was launched – is a 3.3-litre twin-turbo V6, which produces 365PS, reaches 0-62mph in 4.9 seconds and goes onto a 168mph top speed. Aside, from the impressive figures, it makes the rear-wheel drive Stinger extremely playful on the limit. This, from a company that as recently as five years ago was only really notable for the length of its warranties.
While it's the range-topping engine that grabs all the attention there's also a 200PS diesel and a 255PS four-cylinder petrol. We'd ignore the former, which is rough and not as quick as you might expect, while the latter is smooth and has plenty of power if not the charisma of the V6.
With five doors and a large hatchback the Stinger's surprisingly practical, too, so buying one for fun doesn't necessarily impact on its usefulness as a family car. There's plenty of room for tall adults in the back and the boot will happily swallow a set of suitcases.
Okay, so the interior doesn't shout 'premium' quite as loudly as in a German rival, but it feels like it's built robustly and comes as standard with plenty of equipment. It also feels sporty thanks to the circular air vents and large transmission tunnel that runs between the two front seats and helps you feel cocooned.
And if that's not enough to convince you then there's always Kia's brilliant fallback of its very appealing seven-year warranty, but, really, the Stinger's better than that, considerably so.
Is the Kia Stinger right for you?
It won't be for everybody, that's a certainty, as while the Kia Stinger is a genuine rival for cars like the BMW 4 Series Gran Coupe and Audi A5 Sportback, you might not like the Stinger's lack of a premium badge. If you can see past that, then the Stinger is likely to be right up your street.
What's the best Kia Stinger model/engine to choose?
If you're determined to be different then you might as well pick the best Stinger available, and that's the range-topping GT S with the 365PS 3.3-litre twin-turbocharged V6 and handling that's right up there with its BMW 4 Series Gran Coupe rival. On the flip side, the Kia's diesel is a little bit too boomy and unrefined and the 2.0-litre petrol lacks the excitement of the V6.
What other cars are similar to the Kia Stinger?
Comfort and design: Kia Stinger interior
"Kia has erred on a fairly conservatively designed interior with the Stinger, which is no bad thing when you're trying to attract new customers to the brand. "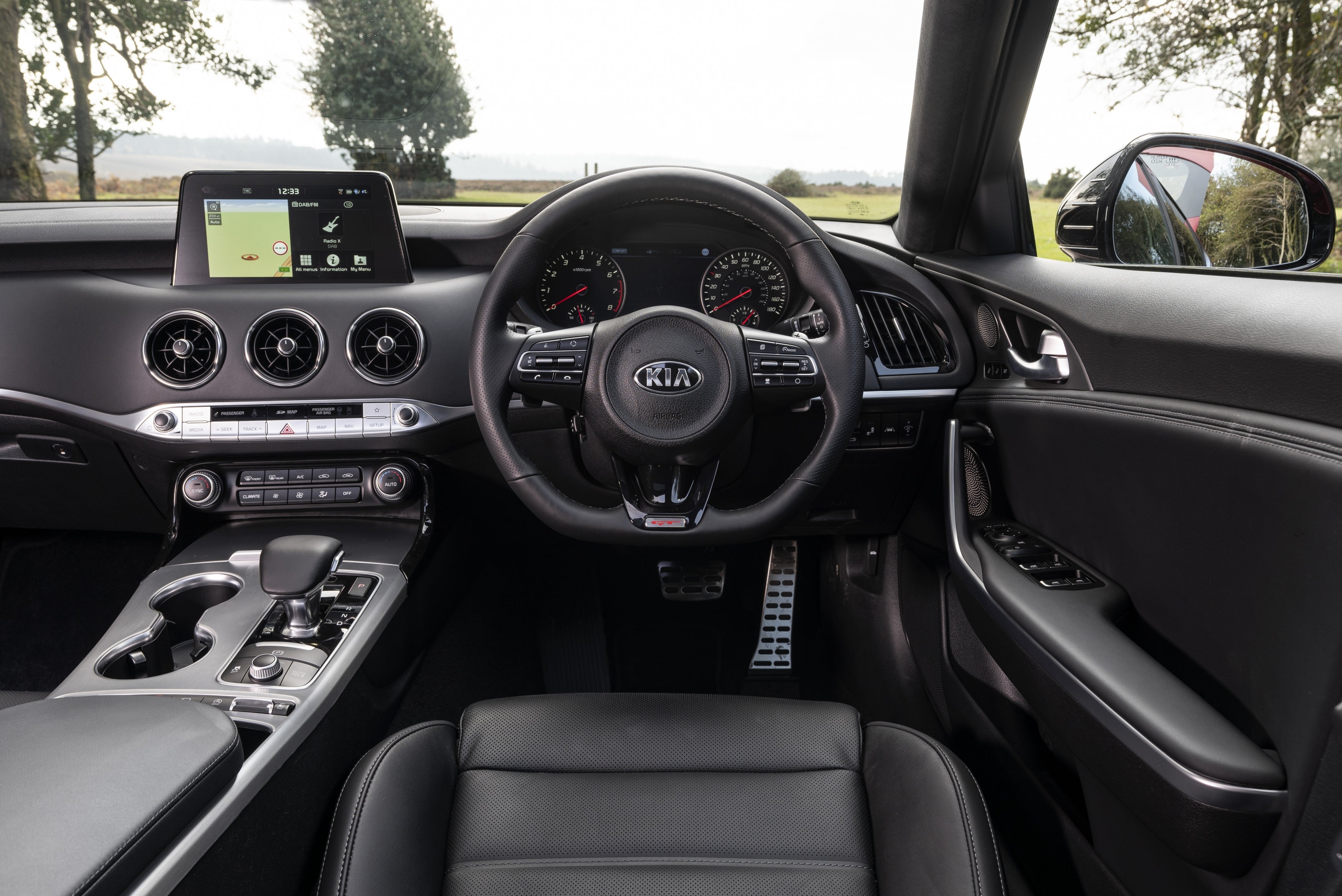 It's mostly well laid out and getting comfortable behind the wheel is helped by standard eight-way powered seats up front, with the GT S trim also benefits from four-way electrically powered lumbar control that's manual in other models. All have a memory function, controlling the driver's seat, door mirrors, head-up display and instrument cluster, allowing two or more drivers to save their setup.

Front seat heating is standard, with GT Line S and GT S get heated rear seats too, these two trims also benefit from ventilated front seats as standard. Keyless go, with smart entry is also standard across the entire line-up, as is an electric tilt and reach steering column, a heated steering wheel and dual-zone climate control.
Quality and finish
All come with leather upholstery throughout, with the GT S flagship gaining softer Nappa leather. It's a partially successful attempt at making the Stinger feel posh, because while there are some nice touches like satin chromed door handles, stainless steel kick plates and standard aluminium finishes on the pedals, it doesn't take too long to find cheaper, less upmarket feeling materials in the cabin.
Nobody from the interior design and materials departments in Audi or BMW are likely to be losing any sleep over this new contender in the class, even if some in the ride and handling department might be.
Everything works though, and while the switches lack the sort of precision weighing and feel of the best of its upmarket competition, the Kia's certain to be reliable, the company's commitment to that underlined by the provision of a seven-year/100,000 mile warranty, which is still the benchmark in the industry.
Infotainment: touchscreen, USB, nav and stereo in the Kia Stinger
An eight-inch touchscreen in the centre top of the dashboard takes care of the Stinger's infotainment. It looks a little bit small compared to its premium rivals, but operates easily enough, with simple sub menus working in its favour.
In the GT Line models it powers a nine-speaker audio system with a subwoofer under the front seat, though pick the GT Line S and GT S and that HIFI is upgraded to a 15-speaker harman kardon premium system, which sounds excellent. Either stereo comes with standard DAB with MP3 connectivity with USB, aux-in and Bluetooth. There's standard sat nav, too, as well as Kia connected services including local search, traffic details and weather updates.
All come with Apple CarPlay and Android Auto as standard, which is something that's often a cost extra on rivals, likewise, the Stinger comes with a customisable head-up display on every model.
All feature a reversing camera, with GT Line S and GT S benefitting from a full 360-degree around view monitor. Indeed, there are few omissions from the standard specification, with only the lack of a full digital instrument panel – or even the option of one – being an obvious miss.
Space and practicality: Kia Stinger bootspace
How grand the touring you'll be doing in the Kia depends entirely on where you're sitting in the cabin. Up front there's plenty of space, and with those electrically adjusted seats, plenty of comfort.
In the rear it's less impressive, with the coupe-like exterior lines meaning headroom is limited even for those of average height, so if you're on the taller side you'll feel pretty cramped. There's decent legroom back there, though. The middle rear seat, as with all its rivals, is better thought of as an emergency option, not least because there's a sizeable transmission tunnel eating into where you should put your feet.
The outer two rear seats come with ISOFIX child seat mounts, and if none of the rear seats are occupied there's the possibility to drop the seatbacks in a 60/40 split to increase the boot space from 406 litres to 1114 litres, which isn't quite as big as either its Audi or BMW rivals. The boot is accessed by a good-sized hatchback, which is electrically powered from GT Line S models and above.
In terms of smaller storage space, there's a good-sized glovebox up front, a pair of sizeable cup holders and usefully shaped door bins, while the rear middle seat armrest has a pair of cupholders and there are map net pockets in the back of the front seats, too.
Handling and ride quality: What is the Kia Stinger like to drive?
"While the Stinger might lack some of the attributes of a real premium model when it comes to the interior trim materials it more than makes up for it on the road."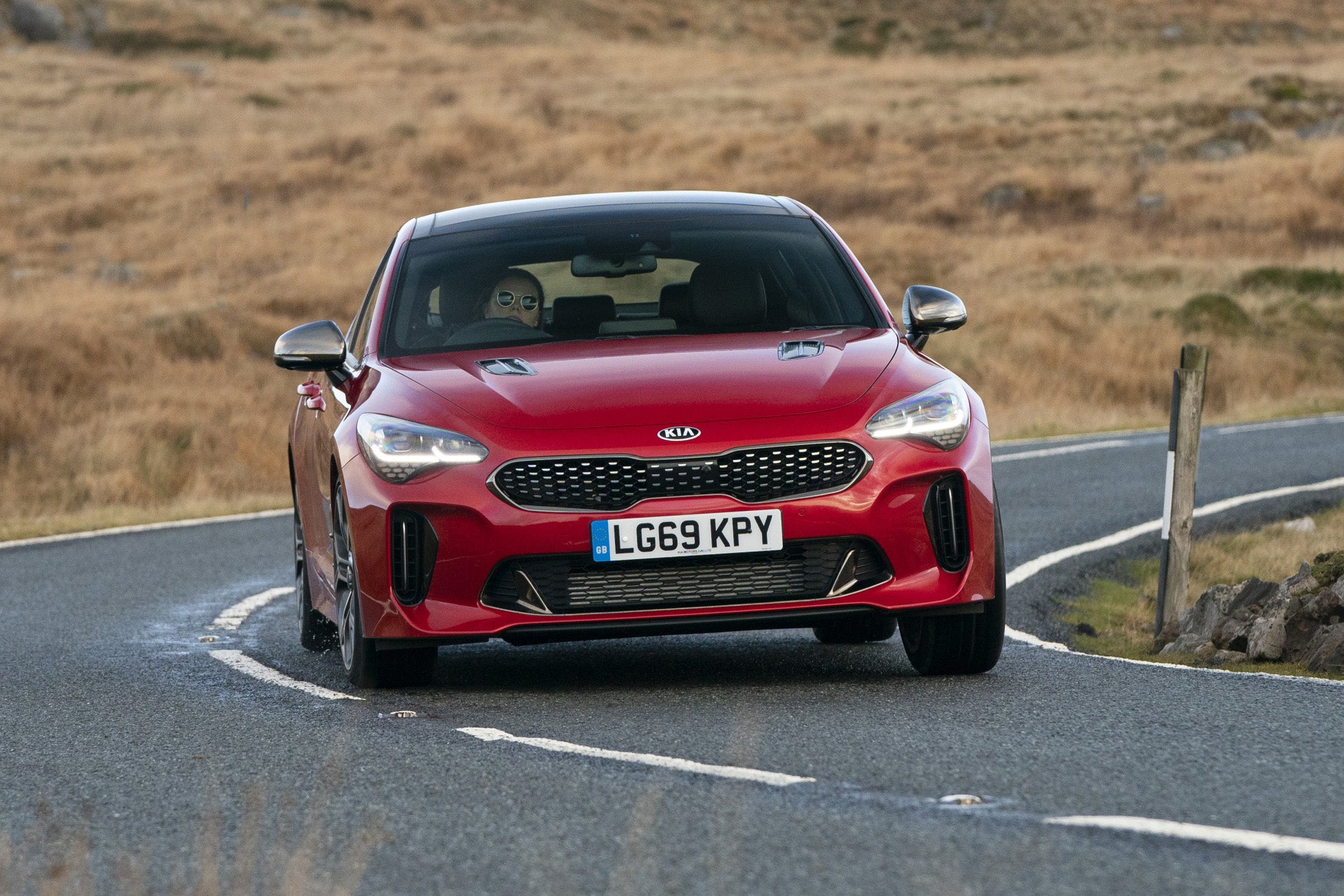 The company poached one of BMW M ( that's M for Motorsport) department's most celebrated engineers to develop the Stinger, and that's obvious from the way it goes down the road. The steering is very accurate, with fine weighting and decent feel.
Rear-wheel drive obviously helps when providing an appealing drivers' car, and that's apparent here, because the Stinger has a finely judged chassis balance with the adjustability that's most easily achieved in the most powerful twin-turbocharged V6 engine.
All models come with a grip-finding limited slip differential so even with the lesser-powered engines, make for a rewarding, engaging drive – way more fun than front-wheel (or four-wheel) drive rivals like the Audi A5 Sportback or Volkswagen Arteon.
The ride is commendably good across the range, too. GT Line and GT Line S models come with passive suspension as standard, while the range-topping GT S has electronically controlled variable dampers and rides on 19-inch wheels – an inch larger than on the rest of the range. In all the ride quality is good, with only rougher surfaces upsetting its composure.
Body roll is well contained in the bends and, as is befitting of its range-topping status, the GT S gains powerful Brembo brakes over the already good standard set-up.
What engines and gearboxes are available in the Kia Stinger?
We're unapologetic in focussing on the 3.3-litre twin-turbo V6 engine with the Stinger as it's the powerplant that both shows the bold Kia in its best light, and demonstrates the ambitions of the brand.
It's a smooth, muscular performer, with peak power of 365PS arriving at 6,200rpm, but its 510Nm of torque – available from just 1,300rpm through to 4,500rpm – that delivers its excellent low-rev flexibility and mid-range shove. It'll get from 0-62mph in 4.9 seconds and top out at 168mph.
Like all Stingers, it is only offered with an eight-speed automatic transmission, which can be manually overridden with steering wheel mounted paddle-shifters. It's a smooth enough transmission, though it's best to use those paddle shifters if you're in a hurry, as it can be a bit reluctant to upshift, holding onto revs unnecessarily, to the detriment of refinement.
The 2.2-litre turbodiesel is a poor relation in comparison to the V6, which is hardly surprising, though it will provide decent if raucous pace if you want it to, with its 197PS backed by a useful 440Nm of torque.
The 2.0-litre turbocharged petrol delivers 242PS and 353Nm, allowing it a 0-62mph time of 6.0 seconds – 1.6 seconds quicker than the turbodiesel.
Refinement and noise levels
The V6 is, if anything, a little bit too muted, it could do with a little more character from its exhaust given its driver-focussed goals. That's in contrast to the turbodiesel, which is a bit noisy and sends some vibrations through the Stinger's cabin, it lacks the sophistication of its premium rivals' diesels.
The 2.0-litre petrol is a decent compromise, being smooth and powerful, but lacking the drama of its V6 relation.
Safety equipment: How safe is the Kia Stinger?
The Stinger achieved a full five-star rating in the Euro NCAP crash tests when it was tested in 2017.
All Stingers come with ABS brakes, stability control, forward collision avoidance, lane keep assist, auto dipping headlights, traffic sign recognition which puts road sign info on the infotainment display and an Active Bonnet that pops up to protect pedestrians in a collision.
Should all of that not be enough to avoid an accident, then there's twin front airbags, a pair of side front airbags, a driver's knee airbag, twin curtain airbags, ISOFIX child seat mounts in the rear two outer seats, and doors that unlock after an accident. Blind Spot Detection with Rear Cross Traffic Alert isn't fitted to GT Line models, but is standard on the rest of the range.
MPG and fuel costs: What does a Kia Stinger cost to run?
"We've championed the V6 throughout, but it's not going to win your heart if you're after excellent fuel economy."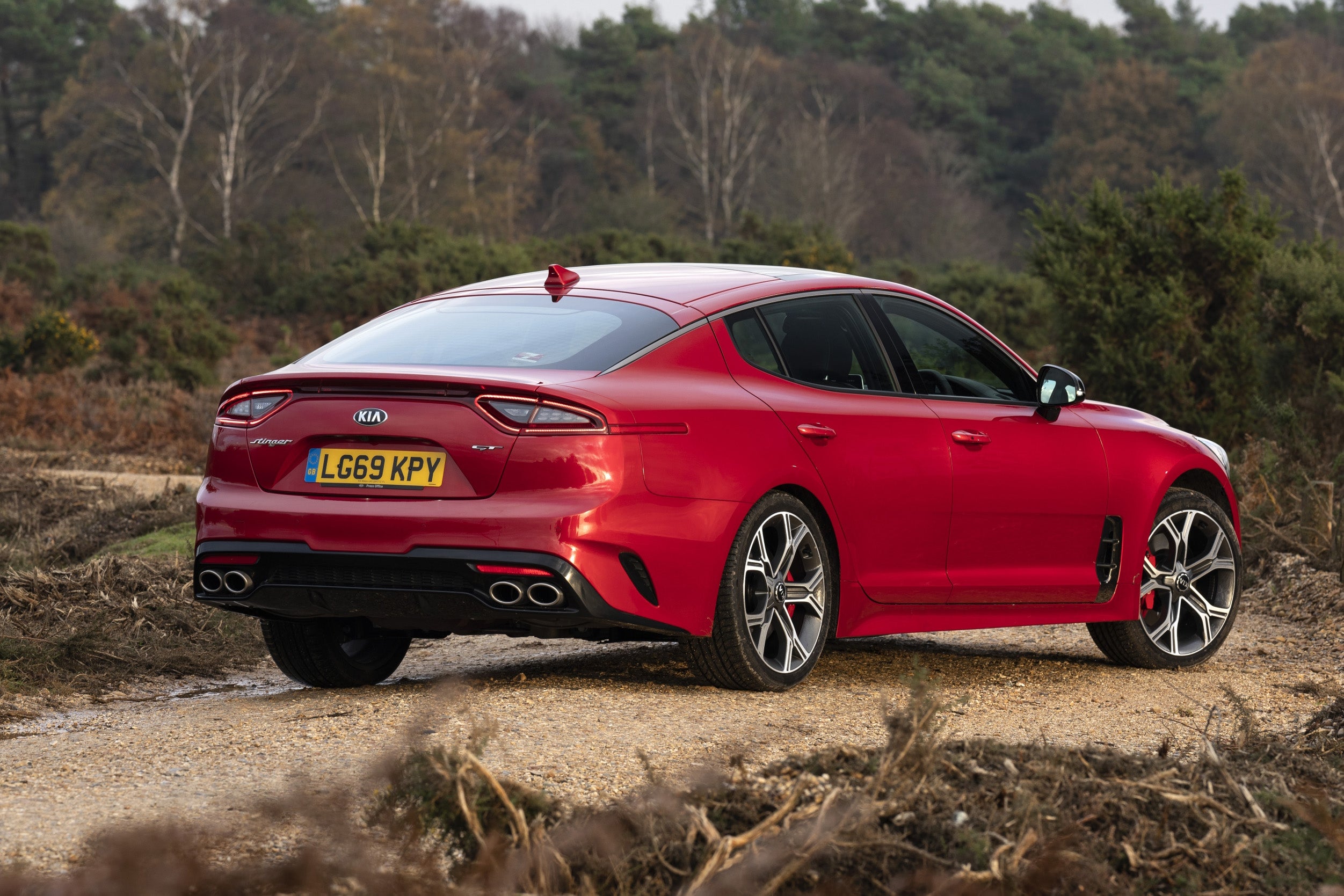 Officially, as tested to the most recent WLTP schedule, the V6 manages 27.7mpg on the official combined cycle, though that's close enough to the 30.3mpg of the 2.0-litre petrol to still give the V6 the nod. The diesel, obviously, does better still, with an official combined consumption figure of 40.9mpg, but it's still not the engine we'd pick.
Insurance groups and costs
The diesel attracts the lowest insurance groups, with the GT Line attracting a 32 rating, and the GT Line S seeing that rise to group 34.
That's the same group as the 2.0-litre petrol in GT Line trim, it increasing to 36 for the GT Line S. The V6, which is only offered in GT S specification, attracts a group 41 insurance rating.
Kia offers fixed-price servicing, which might be useful given the short 12 month, 6000 mile requirement on either of those petrol choices, that rising to 12 months or 10,000 miles on the turbodiesel. All come with Kia's excellent, and transferable seven-year/100,000-mile warranty.
VED car tax: What is the annual road tax on a Kia Stinger?
All but the GT S slip beneath the £40,000 VED barrier, so with the diesel you'll pay £1305 for the first year of VED and £150 annually thereafter, that same amount payable with the 2.0-litre petrol. The GT S will attract a premium thanks to its price, with a first year payment of £1805 and £475 for the five years thereafter.
How much should you be paying for a used Kia Stinger?
"The highest mileage models in the classifieds are now available for less than £20,000 in 2020, with the majority of those being 2.2-litre diesel models in GT Line trim."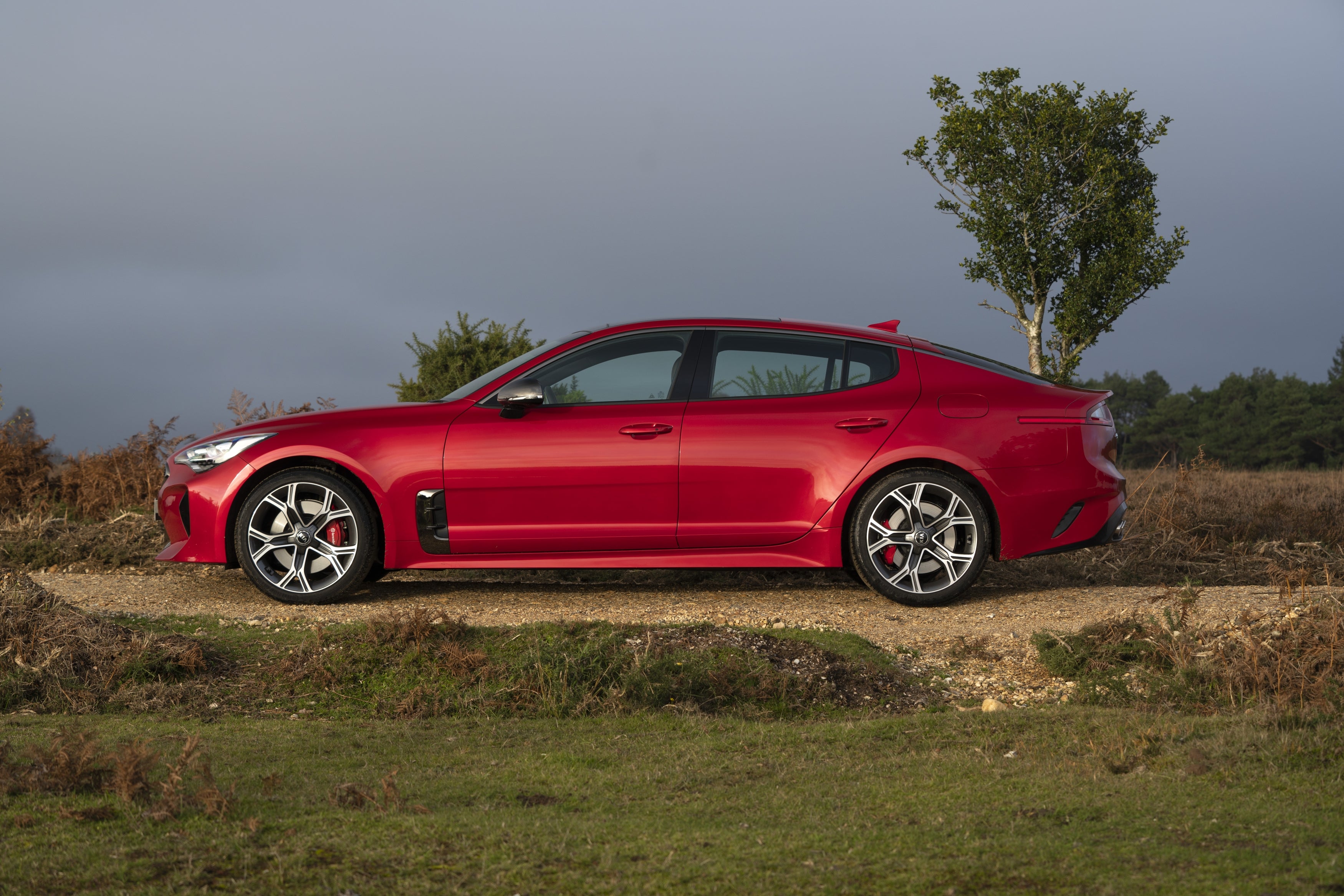 If you're after the 3.3-litre V6 then you'll start to find these in the classifieds from around £26,000. Kia offers the Stinger in some fairly wild colours, with oranges and yellows possible, these certainly eye-catching, but if you're buying one remember you'll be limiting your potential pool of buyers significantly when you come to sell it.
Trim levels and standard equipment
GT Line models come with 18-inch alloy wheels on the outside, while inside they get leather upholstery, an eight-way powered memory driver's seat, eight-inch touchscreen sat-nav with Apple CarPlay and Android Auto, a head-up display, front and rear parking sensors, a rear parking camera and heated front seats.
To that long list, GT Line S cars add Heated outer rear seats, a sunroof, wireless phone charging, a 360-degree camera, 15-speaker Harman Kardon stereo, LED headlights with dynamic cornering function and a powered tailgate.
GT S trim is only available with the V6 engine. In addition to GT Line S trim, it adds 19-inch alloy wheels, adjustable suspension, soft Nappa leather upholstery, two-way adjustable driver's side bolster support and powerful Brembo brakes.
Ask the heycar experts:
common questions
What is the Kia Stinger based on?
The Kia Stinger is based on the luxurious Genesis G80 saloon which is sold in the USA.

Is Kia owned by Hyundai?
Yes. Hyundai bought a 51% controlling share of Kia in 1998.

Are Kia Stingers fast?
Kia Stingers are fast for the money. You can have a 365PS twin-turbocharged petrol Stinger – which will get from 0-62mph in 4.9 seconds and hit 168mph flat out – for the price of an entry-level rival like the Audi A5 Sportback.

Kia Stinger cars for sale on heycar
2,947
Number of cars available
£23K - £45K
Price bracket of these cars
Colours available on heycar
Keep me updated by email with the latest advice, news and offers from heycar
By submitting, you agree to our
privacy policy
.
Popular models
Similar models