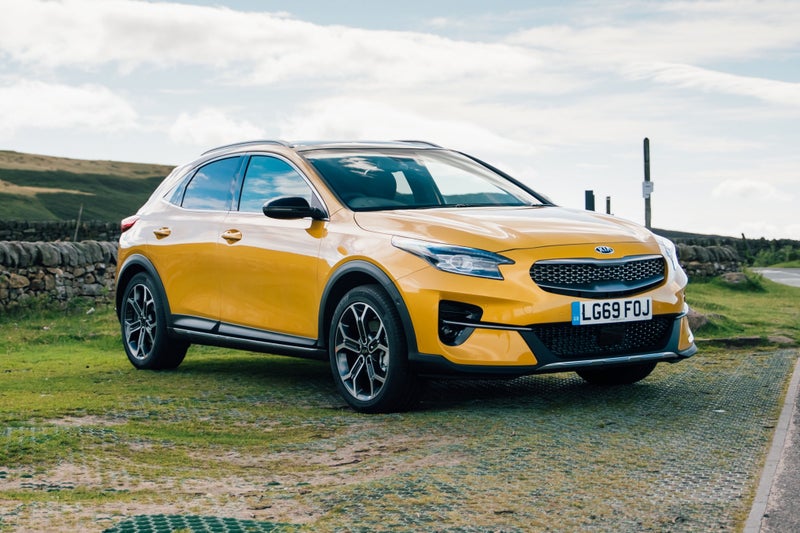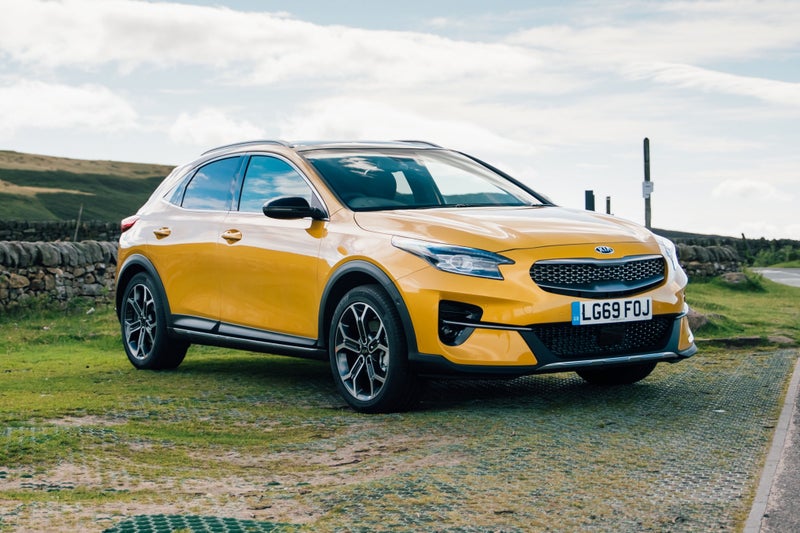 1/10
heycar rating
"Stylish, affordable SUV lacks practicality"
Launched: 2019

Small SUV

Petrol, Diesel
Quick overview
Pros
More comfortable than a standard Kia Ceed
Stylish looks
Seven-year warranty is transferable to second owner
Cons
Only First Edition models get the most desirable features
Not as practical as the Kia Sportage
Kia Ceed pretty much does the same job
Overall verdict
On the inside
Driving
Cost to run
Prices and Specs
Common questions
Overall verdict on the Kia Xceed
"With a high seating position and desirable small SUV looks, the Kia XCeed is a very appealing choice. It represents good value for money with loads of standard equipment and a quality interior. Practicality isn't on its side but it's good to drive and more comfortable than the standard Ceed on which it's based."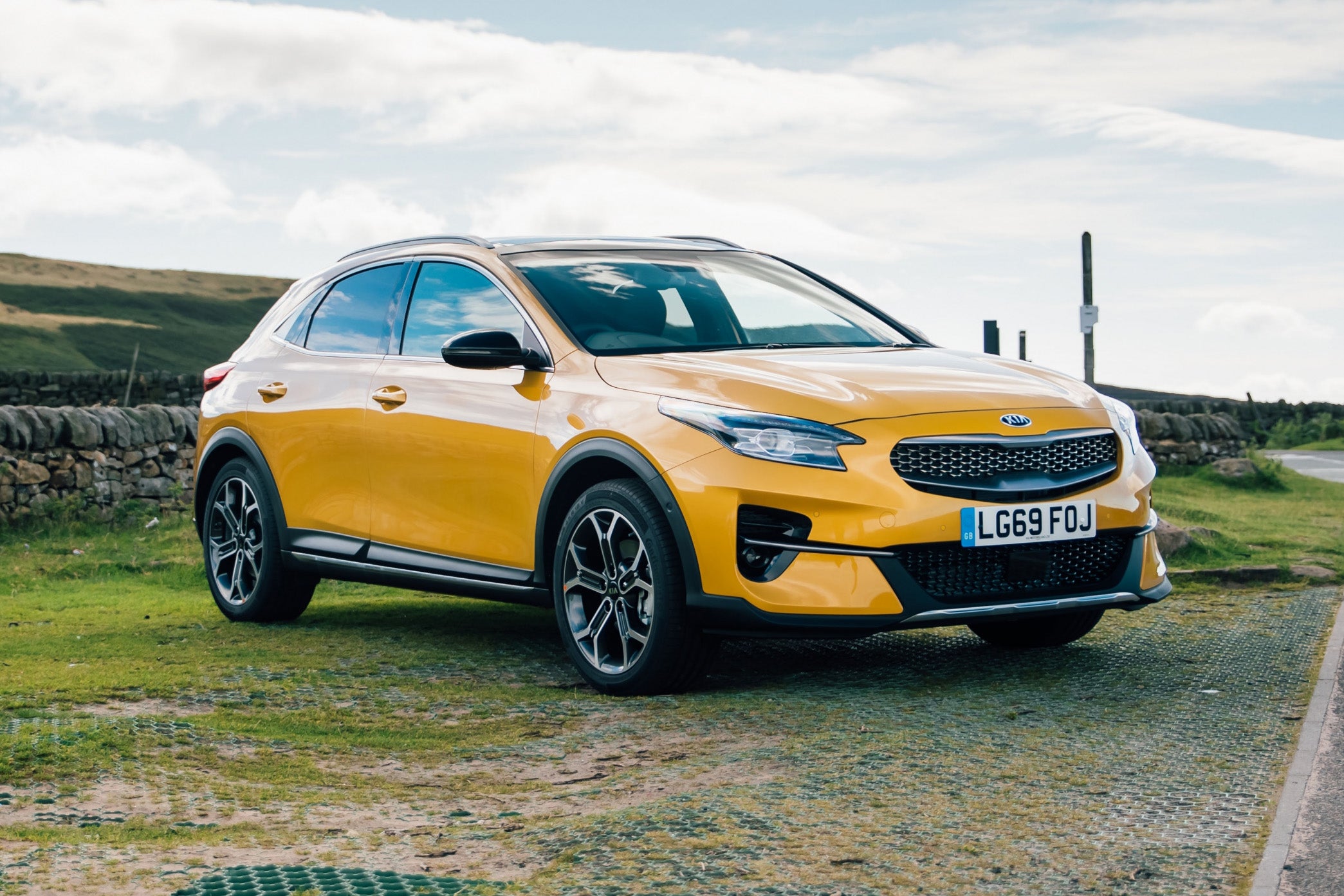 Our Kia XCeed review will find out if this car is a true alternative to an SUV. If you want a car that's more stylish than a hatchback but don't need something as big (and expensive) as a full-sized SUV? That's where the small SUV comes in. It's a booming segment - and for good reason - with contenders ranging from the Dacia Duster to the Porsche Macan.
An easy way for carmakers to provide yet another offering in this popular sector is to take a family hatchback, increase ride height and provide a few SUV-esque touches like black arch surrounds and off-roadified bumpers. That's what Ford's done with its Focus Active, what Volkswagen did with its Golf Alltrack, and it's what Kia's done with its XCeed.
Kia says there's more to the XCeed than that, however. While it looks and feels an awful lot like a Ceed on stilts, the only body panels it shares with the hatch are the front doors. As well as being higher than the Ceed, it's also ever-so-slightly longer and wider, too.
You'd struggle to tell inside with the Kia XCeed. It really does look like a carbon copy of the Ceed's cabin, although that's not necessarily a bad thing. It's a comfortable car, with supportive seats and a well-designed cabin. There's plenty of standard equipment, with all models getting alloy wheels, a reversing camera and a touchscreen media system with Apple CarPlay and Android Auto.
Look for a Kia XCeed First Edition model if you want desirable features like a fancy digital instrument cluster, a panoramic sunroof and a premium JBL sound system. The First Edition sold in limited numbers and now attracts a premium on the used market, but it does feel significantly more special than the standard XCeed.
A downside of the XCeed's car-like approach is that it's not much more practical than something like a Volkswagen Golf or Ford Focus. Or, indeed, a Kia Ceed.
Adults in the back will feel a bit cramped in the Kia XCeed and the 426 litre boot capacity is nothing to shout about. If practicality's important, you'd be better looking at a Kia Sportage or the estate version of the Ford Focus Active.
The increase in ride height and means the XCeed is more comfortable to drive than the Ceed, with its soft suspension absorbing lumps and bumps in the road nicely. It's not quite as agile as the Ford Focus Active but few drivers will have any complaints about how the XCeed drives.
While the Kia XCeed is sold with a diesel engine, the majority are fitted with either a 1.0- or 1.4-litre petrol motor. These are quick enough for day-to-drive driving and won't cost a fortune to run either.
Is the 2022 Kia XCeed right for you?
If you don't need anything more practical than a conventional family hatchback but want something a little more SUV-like, the Kia XCeed is a good choice.
It's got a slightly higher seating position than the Kia Ceed and its raised suspension copes well with bumpy roads. In true Kia form, it represents good value for money, although certain high-end models are surprisingly expensive to buy. Still, a transferable seven-year warranty and an extensive list of standard equipment combine to help the XCeed make a strong case for itself on the used market.
What's the best Kia XCeed model/engine to choose?
In terms of engines, either of the petrols are fine. We rate the little 1.0-litre highly but, if you regularly drive at motorway speeds, the extra power and refinement of the 1.4 make it a tempting choice.
All trim levels are well equipped. The Kia XCeed First Edition is loaded with kit which makes it very appealing, but you'll pay strong money for one. The mid-range XCeed 3 is probably the one to go for, with features like the desirable 10.25-inch navigation system, adjustable lumbar support and rear parking sensors. If you're on a budget, you won't be disappointed with the Kia XCeed 2 - its 16-inch wheels provide a more comfortable ride, while its standard eight-inch media system comes with Apple CarPlay and Android Auto.
What other cars are similar to the Kia XCeed?
There are plenty of stylish small SUVs that are a similar size to the Kia XCeed. Obvious competitors are the Ford Focus Active and Mazda CX-30. Both are more enjoyable than the XCeed to drive, while the CX-30 has a more premium interior. There's also the Volkswagen T-Roc, which has the desirable Volkswagen badge but isn't as well-equipped for the cash, while the Toyota C-HR is a hybrid alternative.
Comfort and design: Kia XCeed interior
"Kia's interiors are getting better and better, and the XCeed's cabin is noticeably more stylish than the standard Ceed's. It even looks smarter than the bigger (more expensive) Sportage, with bright chrome trim, smart touch-sensitive buttons and lots of snazzy design features."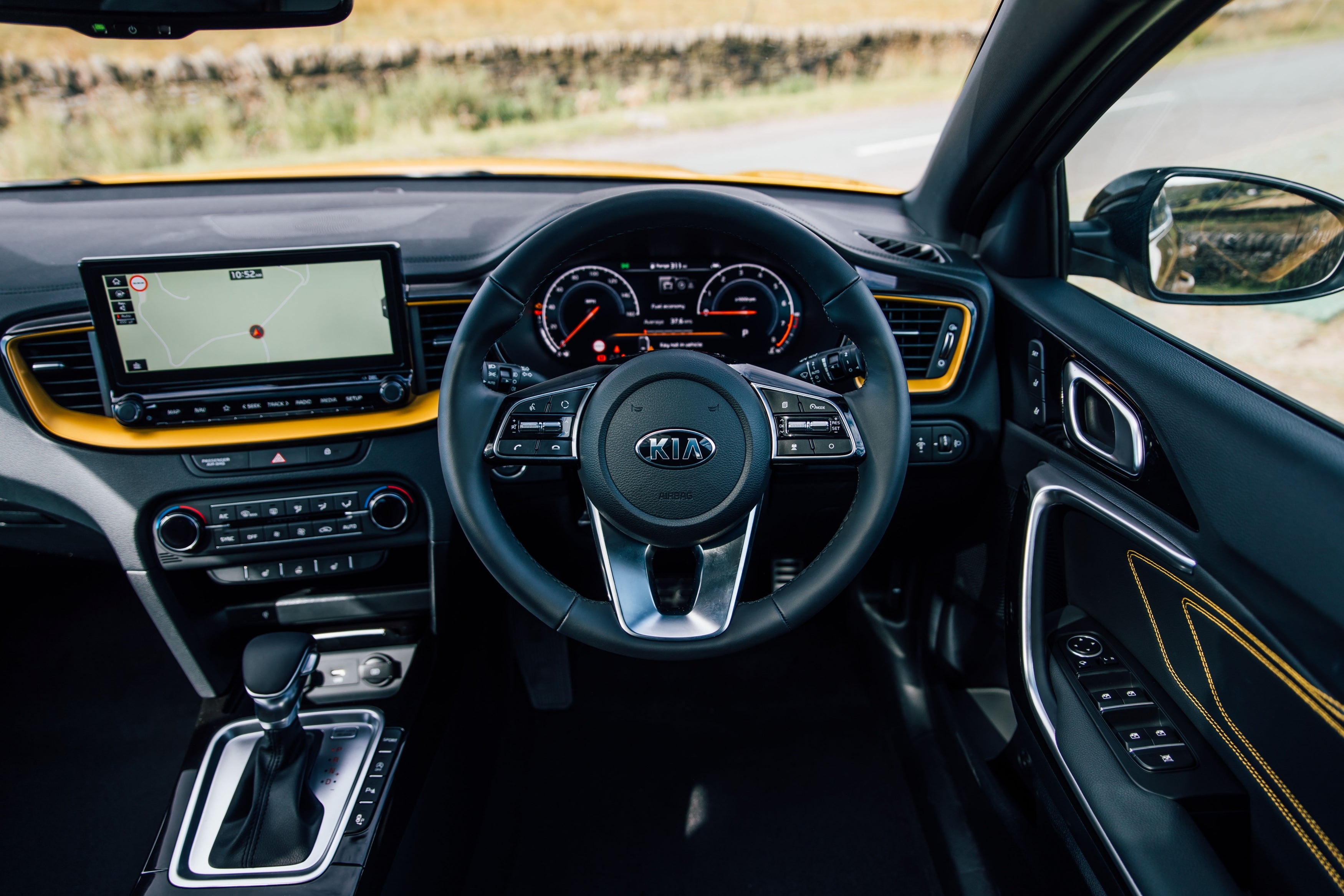 The Kia XCeed is comfortable, too. There's a decent amount of adjustment in the driver's seat and steering wheel, meaning you should be able to find a comfortable driving position - albeit perhaps not as high as other small SUVs. You'll need a Kia XCeed First Edition if you want electric height adjustment in the driver's seat, although this isn't really an issue unless you change driver regularly.
The XCeed 2 does without adjustable lumbar support for the driver and front passenger, although the rest of the range has it - making it easier to keep comfortable on long journeys. The entry-level car doesn't have height adjustment for the passenger seat, either.
Higher-spec trim levels (including the Kia XCeed 3 and First Edition) come with heated front seats and a heated steering wheel, while the First Edition also comes with heated outer rear seats. Don't underestimate the attraction of these features on a cold winter morning.
Quality and finish
The Kia XCeed's cabin is certainly a step up from the dank and dark interiors of older Korean cars. It's easily in the same league as the Ford Focus Active in terms of quality, while it's got more soft-touch materials and glossy finishes than the Toyota C-HR.
We wouldn't go as far as saying the XCeed feels premium inside (even the Volkswagen T-Roc isn't that plush), but it does give the impression that it'll wear well over time.
Higher-spec Kia XCeed models get cloth with faux leather seats which add a touch of class, and we like the yellow stitching on the First Edition models. Little things like the sliding armrest on the front centre console storage box manage to make the XCeed feel like a more upmarket offering.
Infotainment: Touchscreen, USB, nav and stereo in the Kia XCeed
As standard, the Kia XCeed comes with an eight-inch media system that does without sat-nav but does feature Apple CarPlay and Android Auto, meaning you can use navigation apps on your phone instead (they're usually better than in-built systems, anyway).
This is functional rather than fancy, although the screen is just as big as the one used in even the priciest Volkswagen T-Roc models. It's perched on the dash, flanked by two air vents and looking a bit like a tablet that's been glued in as an afterthought. It's well-placed for glancing at during driving although, relying solely on its touchscreen for navigating menus, it's not the safest system to use on the move.
For a more upmarket infotainment experience, look for a Kia XCeed 3 or First Edition model, which comes with a 10.25-inch display and navigation. This is no easier than the smaller system to use on the move, but its menus are laid out logically and you can split the screen into three (great for having access to the radio and navigation at the same time). It's quicker to use than the standard system and has sharper graphics, while its bigger screen helps the XCeed feel like a more premium car.
The Kia XCeed First Edition uses a 12.3-inch screen in place of conventional dials. A cut-price version of Audi's Virtual Cockpit, this looks pretty swish but its customisation options are limited. Other tech highlights include a premium JBL sound system and wireless phone charging - again, both of which only come on First Edition models. It's a shame they're not even offered as an option on other trim levels.
Space and practicality: Kia XCeed boot space
The Kia XCeed does a good impression of being a spacious car, particularly up front where there's plenty of room for a pair of tall adults and loads of handy storage areas. There's a big cubby box underneath the central armrest, two generous cup holders between the front seats and a roof-mounted sunglasses holder. Even the door bins are usefully large.
Things aren't so great in the back where there's no noticeable difference in space between the XCeed and the Ceed hatchback on which it's based. Headroom is quite limited, especially on cars with the panoramic sunroof fitted. Adults will find their knees digging into the front seats, and fitting three in the back will be a squeeze.
Still, access is easy thanks to the slightly higher seating position than the standard Ceed while the doors open usefully wide. This'll help when fitting child seats, too - as will Isofix points which are fitted to the outer rear seats.
The Kia XCeed's boot space is adequate rather than impressive. It's quite shallow because of that sloping roofline, while it has quite a high lip which could be a nuisance if you're loading bulky items. It can carry 426 litres of luggage which is more than the Ford Focus Active (although this is available as a more practical estate model), but slightly less than the Volkswagen T-Roc.
If you need more boot space, you might be disappointed to find there isn't a sliding rear bench on the Kia XCeed, but the rear seats split 60:40 (40:20:40 on First Edition models) and fold down easily, providing up to 1378 litres of luggage space. An electric tailgate is yet another feature that was only offered on First Edition models.
On the plus side, most Kia XCeed models come with a space-saver spare wheel, which isn't something you can take for granted these days. The Edition model is an exception - this uses one of those annoying tyre repair kits instead.
If you're planning to squeeze the Kia XCeed into your garage, note that it's 4395mm long, 1826mm wide and 1495mm high.
Handling and ride quality: What is the Kia XCeed like to drive?
"By taking the Ceed and dialling up the ride height (it's up to 44mm higher depending on the wheel size), you'd expect the XCeed to have a more comfortable ride and slightly soggier handling compared to the standard car."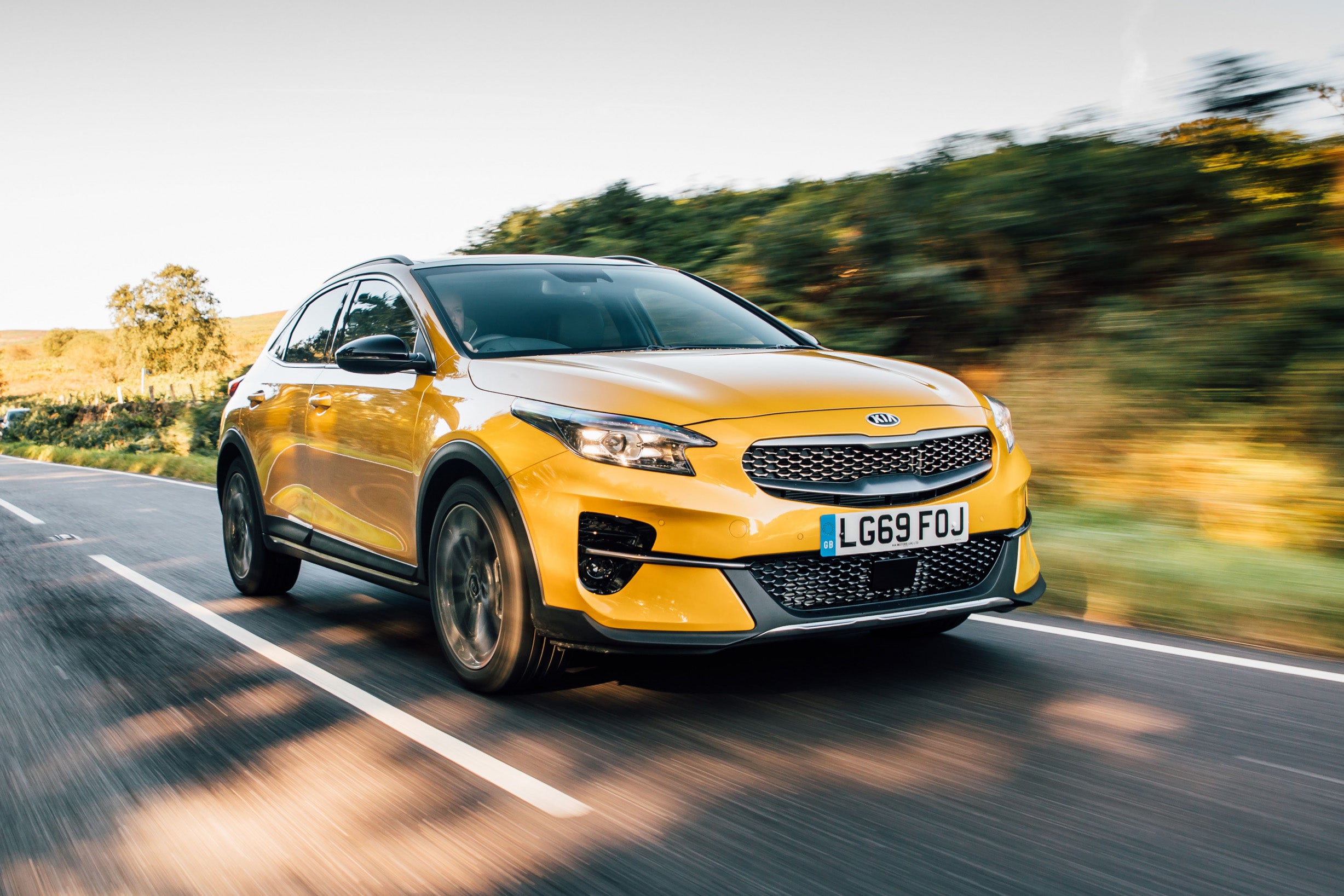 And that's pretty accurate, really. Its electric power steering system hasn't been tweaked at all so it's still pretty direct (if not quite as precise as a Ford Focus Active), and the XCeed still feels agile enough for most drivers. Of course, a higher centre of gravity means it'll lean a bit more in bends, but you'd probably have to drive the XCeed back-to-back with the Ceed to really notice the difference.
You will be able to tell the difference with the suspension, though. Kia's fitted softer springs and new hydraulic bump stops to provide a soft, compliant ride on even the bumpiest of roads. Whether you want to tackle potholed town centres or broken rural roads, the XCeed provides a superb ride that's significantly better than the standard Ceed.
Despite sitting higher than the standard car, it's still more car-like than alternatives like the Volkswagen T-Roc and Toyota C-HR. That means you don't sit particularly high and certainly don't get an SUV-like driving position, helping you see over city traffic. Visibility's pretty good and it's not a particularly big car (although it is slightly larger than the standard Ceed), so it's pretty easy to squeeze through gaps in urban areas. All models get a reversing camera, which helps when parking.
Some buyers might be disappointed that, despite the Kia XCeeds off-roady looks, you can't get a four-wheel-drive version. We doubt you'll really miss this in the real world, though - if you're concerned about bad weather, buy a set of winter tyres. If you actually want to traipse through mud, buy a proper off-roader like a Suzuki Jimny.
What engines and gearboxes are available in the Kia XCeed?
You'll find that most Kia XCeeds are powered by petrol. That's fine as, for the majority of buyers, a petrol XCeed makes a lot more sense than a dirty diesel.
We really like the buzzy little 1.0-litre turbocharged petrol. It's an eager little three-cylinder unit that packs plenty of punch, accelerating to 62mph in a perfectly acceptable 10.9 seconds. It's combined with a six-speed manual gearbox which is pretty decent, if a bit woollier than the gearchange you'd find in a Ford Focus Active.
If you need a bit more performance, the four-cylinder 1.4 petrol has a bit more oomph for national-speed-limit driving, covering 0-62mph in 9.1 seconds when paired with the manual transmission. A seven-speed dual-clutch auto is also available, adding an extra tenth of a second to the acceleration time - not that you'll really notice the difference. This is a pretty good auto gearbox and takes some of the pain out of city centre driving, but it can occasionally get a bit flustered.
High-mileage drivers should look for a Kia XCeed powered by the 1.6 CRDi diesel engine, available with 116 or 134PS. Both feel quite gutsy with plenty of mid-range torque, but you might struggle to find one. They're quite expensive to buy new and, as there aren't many available, you'll pay a premium on the used market too.
Refinement and noise levels
Being a small three-cylinder engine, the entry-level 1.0-litre makes quite a distinctive noise. You'll notice it, especially if you're darting around town and working the engine hard, but we wouldn't describe it as annoying. It just adds character.
The 1.4-litre is a more grown-up engine but still sounds a bit thrashy at high revs. The solution here is to change gear earlier - something you can do in the 1.4 thanks to its extra torque over the 1.0-litre. And of course, the 1.6-litre diesel is a little grumbly like all diesels, but soon settles down at higher speeds.
The softer springs and chunkier tyres (particularly on the 16-inch wheels) help refinement as well as ride quality. There's not much in the way of noticeable road noise, although the XCeed's increased height does mean there's a bit more wind noise. It's a very comfortable cruiser, though, and soon settles down into a refined long-distance companion once up to speed. If the wind noise turns into an issue, just turn the radio up - the JBL premium sound system fitted to First Edition models is particularly good.
Safety equipment: How safe is the Kia XCeed?
There's a whole heap of the latest active safety technology available on the Kia XCeed although, if we're being picky, it's a bit of a shame that it's only standard on the pricier models in the line-up.
That's not to say the standard car goes without. The Kia XCeed 2 has features like the Forward Collision-Avoidance Assist (City), which uses a camera and sensors to detect an impending low-speed collision with another car and alert the driver. If you don't respond, it can apply the brakes to mitigate the impact. As standard, this doesn't look out for cyclists and pedestrians, although this can be activated as an option when new (although it's standard on the XCeed First Edition and manual 3 trim levels).
It also gets Hill-start Assist Control - which will prevent you from clumsily rolling backwards during a hill start - and a Driver Attention Warning which will tell you off if you're showing signs of drowsiness or inattentiveness. Lane Keep Assist will nudge you back into your lane if you stray, while Lane Following Assist - standard on automatic First Edition models only - can use vehicles ahead to control acceleration, braking and steering when you're in stop/start traffic.
If a crash can't be avoided, you'll find plenty of airbags to keep you safe, while Isofix points on the outer rear seats will keep your young ones secured in place.
The Kia XCeed hasn't been crash tested by Euro NCAP, however the standard Ceed's five-star rating applies here. That means it's a very safe car to travel in.
MPG and fuel costs: What does a Kia XCeed cost to run?
"As is usually the case, the diesel Kia XCeed models are the most frugal. The lower-powered 116PS 1.6-litre diesel officially returns 52.3mpg, while the 136PS model is slightly more efficient, returning 53.3mpg in official WLTP fuel economy tests."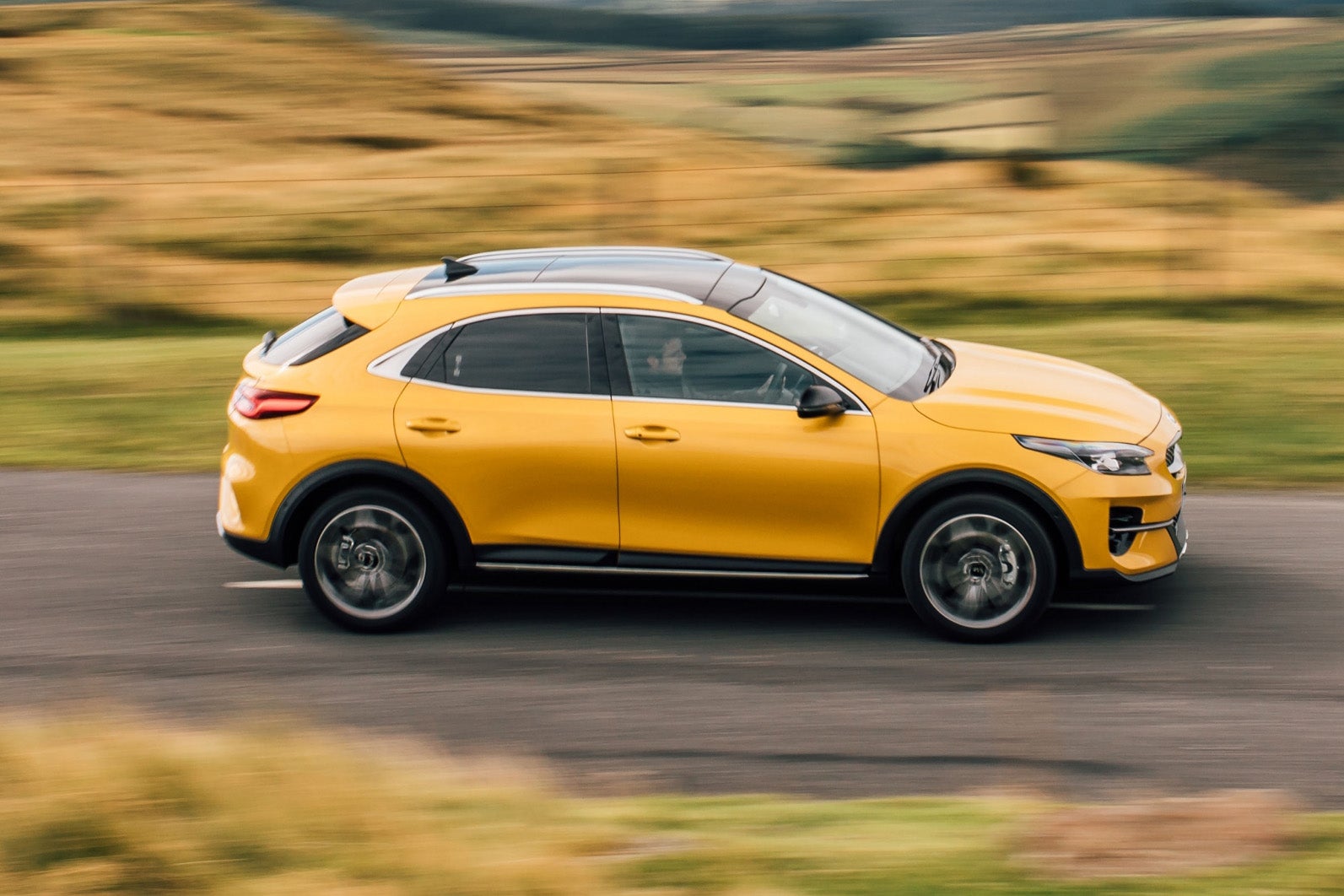 The petrols aren't particularly thirsty, though. Buy an XCeed with the 1.0-litre T-GDi engine and you can expect to see around 45.6mpg with the 16-inch alloy wheels, dropping to 44.1mpg with the bigger 18-inch wheels. Again, that's according to WLTP tests - the difference is likely to be negligible in the real world.
Even the 1.4-litre petrol won't consume that much fuel. With the manual gearbox, it officially returns 42.8mpg, dropping to 40.9mpg with the auto transmission (or 40.4mpg in First Edition trim with its fancy alloy wheels).
How reliable is the Kia XCeed?
Kia is a very dependable car brand, scoring 9.31 out of 10 for reliability in the HonestJohn.co.uk Satisfaction Index.
The Kia XCeed comes with a seven-year manufacturer warranty, while we're not aware of any common issues. Servicing should be affordable, too.
Insurance groups and costs
The Kia XCeed shouldn't be much more to insure than the standard Ceed and certainly no more expensive than rivals. The cheapest will be the 3 model with the 1.0 T-GDi model, as this falls into group 12. The priciest will be the First Edition models which, with the 1.4 engine, are classed as group 16. If you're concerned about the cost of insurance, it's always worth shopping around for quotes.
VED car tax: What is the annual road tax on a Kia XCeed?
The Kia XCeed will cost £150 a year in tax after the first registration. That's a flat rate that'll also apply to rivals, except for hybrid alternatives like the Toyota C-HR which'll save you £10 a year. You could also look at the plug-in hybrid XCeed, too, which costs £140 a year in tax.
How much should you be paying for a used Kia XCeed?
"The Kia XCeed is still a relatively new choice but there are still some excellent deals to be had - especially as all trim levels are loaded with kit. A six-month-old Kia XCeed in entry-level 2 guise with the 1.0-litre T petrol engine will cost around £17,000, while a 3 model with the 1.4 engine starts from around £19,000."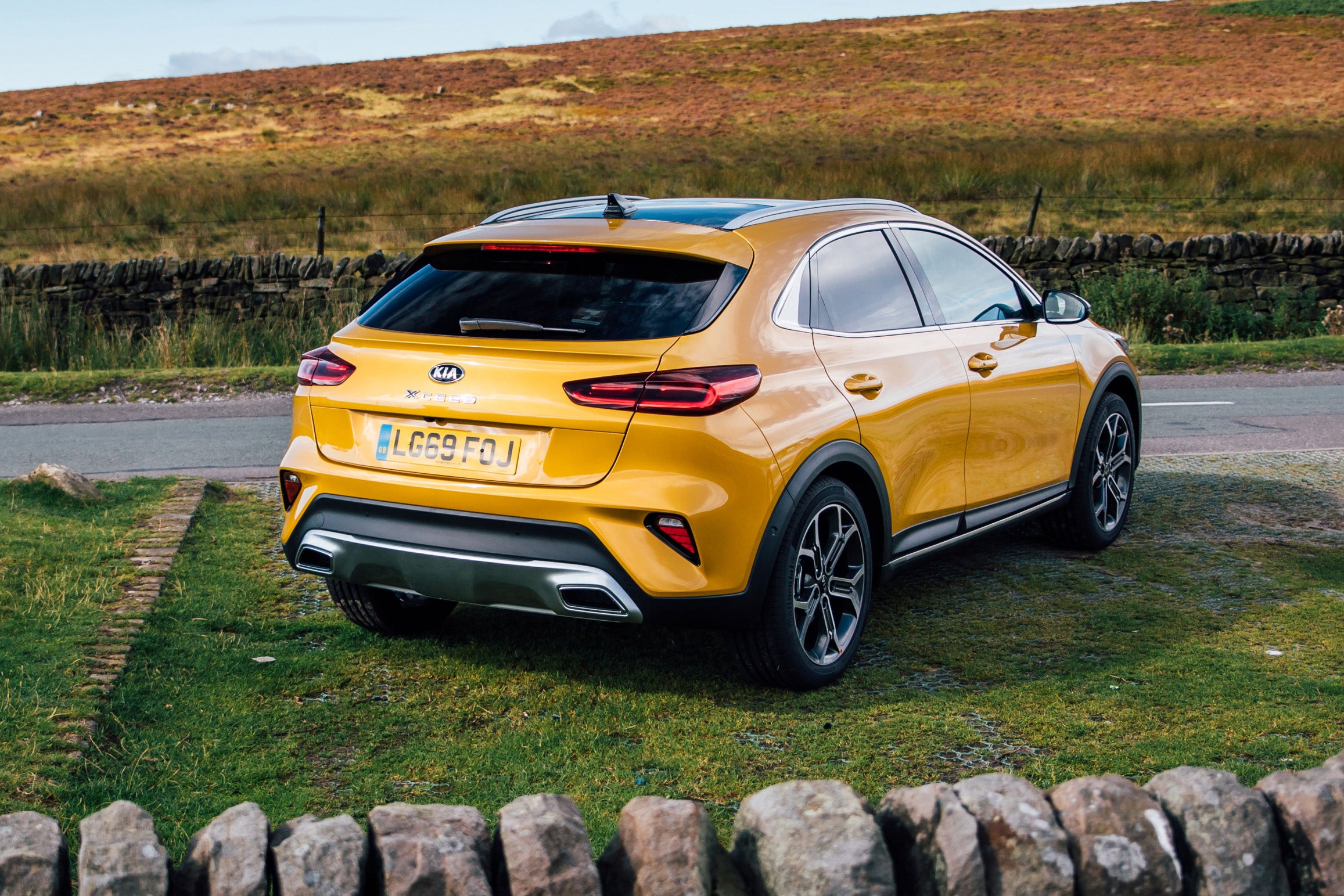 If you want a new car without a new price tag, look for a pre-registered model. These are cars that have been ordered and registered by dealers, so will be in as-new condition and ready to go - meaning you can beat the waiting list.
£18,000 will get you a pre-reg Kia XCeed 2 with the 1.0-litre petrol engine, representing a saving of around £2000 off list price. There are even bigger savings to be had on high-spec models - we've seen First Edition cars with delivery miles selling for as little as £20,000. That's a saving of more than £7000.
Trim levels and standard equipment
There's no properly basic entry-level Kia XCeed sold in the UK. The most affordable Kia XCeed 2 comes with things like 16-inch alloy wheels and LED headlights. There's also an eight-inch touchscreen media system (with Apple CarPlay and Android Auto) and even a reversing camera. In truth, you probably don't need much more.
The XCeed 3 is packed with desirable 'nice to have' features and won't cost a great deal more on the used market. Standard kit includes 18-inch alloy wheels, a 10.25-inch navigation system and privacy glass. It's a very comfortable choice, with heated front seats (with half faux-leather upholstery), a heated steering wheel and power-adjustable lumbar support (for the driver and front passenger).
Kia loves a special edition model. Look for an XCeed Edition for things like premium paint (Lunar Silver, Quantum Yellow or Blue Flame), 18-inch alloy wheels and privacy glass, although it's not as well kitted out as the Kia XCeed 3.
The Kia XCeed First Edition, meanwhile, is ultra-desirable and packed with goodies. Standard kit includes a panoramic sunroof, yellow detailing on the seat upholstery, an electric tailgate and a swish 12.3-inch TFT supervision cluster display. It also gets a JBL premium sound system and a wireless phone charger. It's loaded with safety kit, too - ranging from a Blind Spot Collision Warning to Smart Cruise Control (on models fitted with the DCT automatic gearbox).
Ask the heycar experts:
common questions
What is the Kia XCeed?
The Kia XCeed is a sporty compact SUV. It's based on the Ceed hatchback, but with a higher ride height and some extra body cladding to give it a robust look.

Answered by
Georgia Petrie
Is the Kia XCeed Electric?
There is a plug-in hybrid version of the XCeed. It's not available as an electric vehicle, though.

Answered by
heycar editorial team
Is the Kia XCeed 4 wheel drive?
No. The Kia XCeed is two-wheel drive only.

Kia Xceed cars for sale on heycar
2,654
Number of cars available
£14K - £32K
Price bracket of these cars
Colours available on heycar
Keep me updated by email with the latest advice, news and offers from heycar
By submitting, you agree to our
privacy policy
.
Popular models
Similar models