Land Rover Discovery 4 Review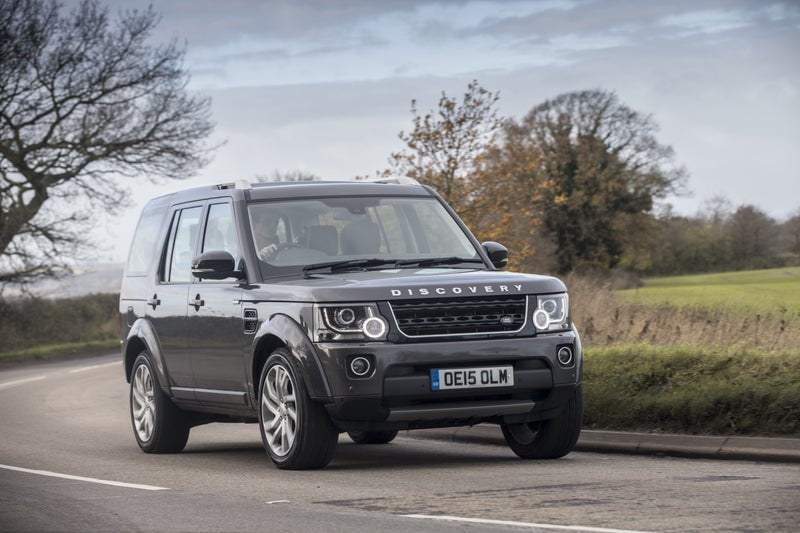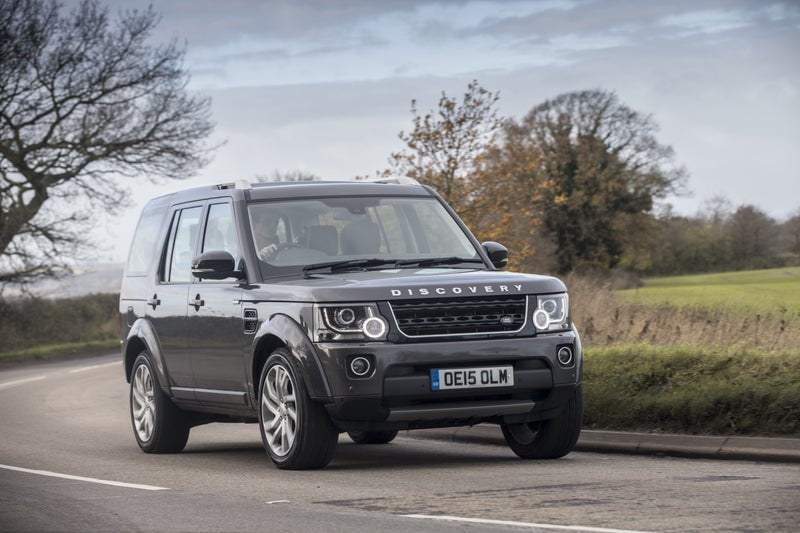 1/10
heycar rating
"Versatile and luxurious family workhorse"
Launched: 2009

SUV

Petrol, Diesel
Quick overview
Pros
Very desirable vehicle with a wide range of attributes
Quality, feel-good interior
High standards of ability both on the road and off it
Cons
Reliability concerns
High running costs
Too big and heavy for some
Overall verdict
On the inside
Driving
Cost to run
Prices and Specs
Overall verdict
"The Discovery 4 isn't perfect, and some of the negatives are rather major ones. But if you get a good one, its list of desirable attributes far outweighs them. Land Rover got the formula right with this one, something it arguably lost with the latest Discovery. Three years after production ended, the Discovery 4 is still worth a look."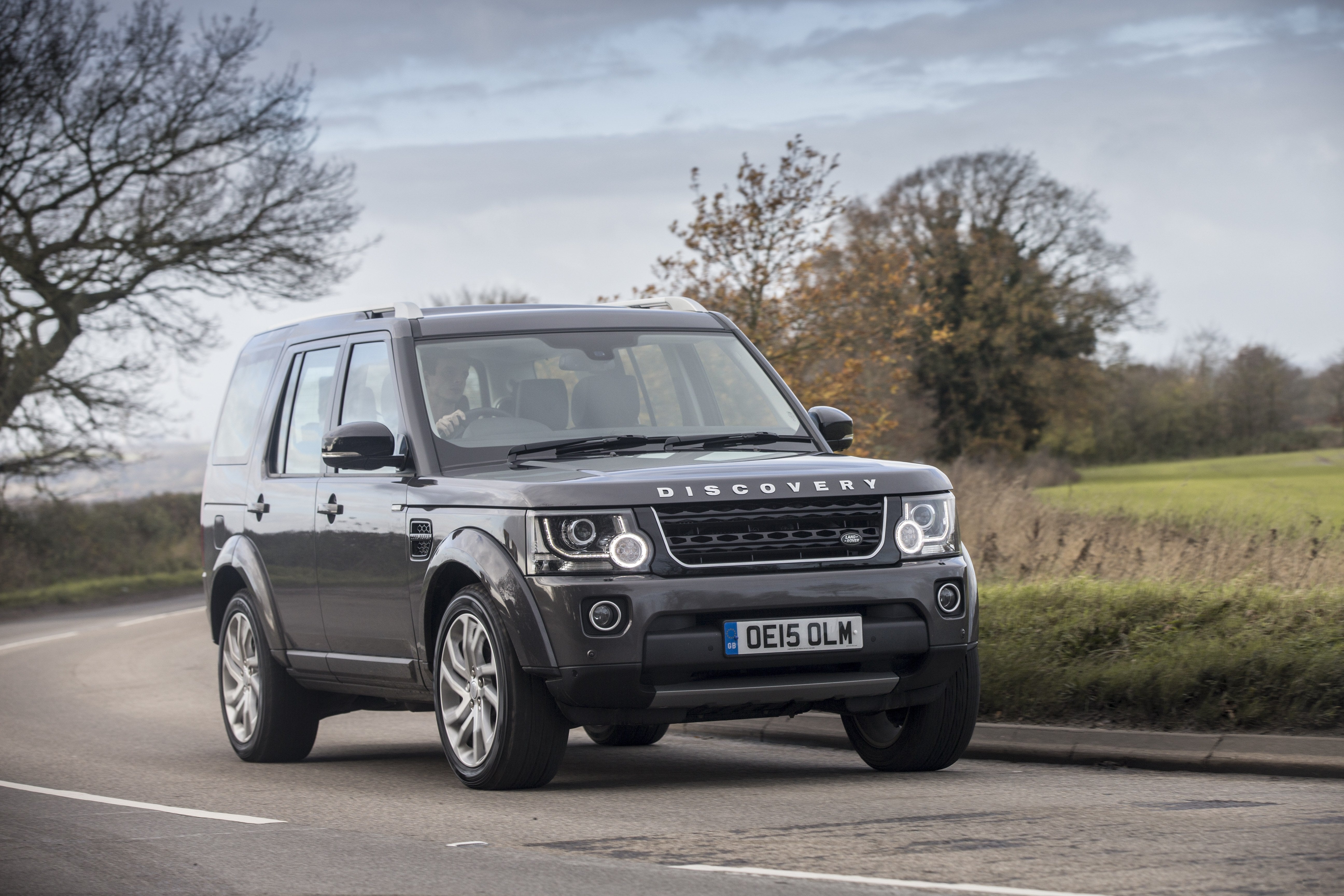 The Land Rover Discovery 4 was a very successful and very comprehensive update to a modern design classic: the Discovery 3. This vehicle was right in so many ways, outside and in, so instead of chucking it out and starting again, Land Rover went through it with a fine-tooth comb and improved it in as many ways as possible.
Whereas the Discovery 3 was minimalist and purist, the '4' reflected the upward trajectory of the Land Rover brand – and the growing influence of the Range Rover division. Some aspects of the Disco 3 were beloved by car designers wearing black polo shirts, but they seemed a bit too principal-driven for some owners. The Disco 4 brought in the bells, whistles, chrome and soft-touch surfaces. It was warmer and more welcoming as a result – and allowed Land Rover to charge higher prices.
This uplift in perceived quality and comfort was signalled on the outside with a full overhaul of the design. Formerly, the Discovery 4 was about tough black plastic set within simple, blocky lines, with the look of a giant Tonka toy. This time around, the black plastic was painted, the profile was smoothed off and the more Range Rover-like headlights gained a snazzy set of LED running lights.
One of the biggest changes was found beneath the wraparound bonnet. Instead of the slightly underpowered 2.7-litre V6 diesel engine of the Discovery 3, the Discovery 4 gained a 3.0-litre version, designated TDV6. It was more powerful and refined – and also, because it didn't have to be worked as hard, more economical and less polluting.
All the core strengths of the Discovery remained in place, such as an enormous interior with three rows of very spacious seats. They folded flat into the floor when not in use, making the massive Discovery one of the most practical SUVs out there.
It's also exceptional off-road – one of the best 4x4s in the world, in fact. Land Rover prides itself on its reputation for making peerless off-roaders, and a brilliant mix of electronic gadgetry and old-fashioned mechanical hardware make this the workhorse that can go places few others can.
Owners love sitting behind the wheel, because it feels so incredibly commanding and robust. They sit up high, with a lofty view across the bonnet, and the side windows are low so it's an almost panoramic view to the front and side. You feel invincible when inside a Discovery.
Invincible isn't quite the word we'd used to describe the Land Rover's reliability record, though. It's far from perfect, so you have to buy carefully. This is where the advantage of picking a car from an approved dealer comes in – these vehicles need regular maintenance to be at their best.
Still, if you can swallow the bills and the occasional reliability issue, you'll have a very desirable car indeed. The Discovery 4 was so good, it stuck around for eight years, and Land Rover has arguably replaced it with a less desirable model. Let's go through the range and explain what you need to know.
If you're looking for the newer version, you need our Land Rover Discovery review.
Is the Land Rover Discovery 4 right for you?
If you love the idea of a Range Rover but want something that's a bit less precious for everyday use – and has space for seven and a dog or two behind – you'll certainly be drawn towards the Discovery 4. It's the perfect blend of ruggedness and luxury that Land Rover still hasn't quite matched with this vehicle's replacement.
We stress, it's a big machine. If you live in the city, you might find it a bit intimidating, particularly when parking or threading through narrow streets. And it feels substantial to drive, with fairly low-geared steering and a heavyweight attitude on the road. No wonder, when it weighs more than 2.5 tonnes.
But this is also key to its appeal for some. It feels unstoppable, and extremely safe and secure. Discovery fans love how solid and robust the big seven-seater is, and this blend of quality, robustness and space is why the Discovery 4 is the right vehicle for so many.
What's the best Land Rover Discovery 4 model/engine to choose?
You can't get a petrol engine with the Discovery 4: the only option is the V6 turbodiesel. In early 3.0-litre twin-turbo models this was designated TDV6, but it was upgraded later on with more power and even better fuel economy. If you can stretch to this SDV6 version, it's highly recommended.
In early cars, you could still get the old 2.7-litre single-turbo diesel, but the 3.0-litre was such a big step on, we'd strongly urge you to track one down. All early Discovery 4s used a six-speed automatic gearbox, but this was upgraded for the 2012 model-year with the excellent ZF eight-speed automatic. Again, it's a big step forward, so again worth tracking down if you're able.
What other cars are similar to the Land Rover Discovery 4?
The Discovery 4 is a rugged off-roader that's very much of the '4x4' school, rather than the more modern SUV-style of off-roader. Equally tough-as-old-boots alternatives include the Toyota Land Cruiser and, at a much higher price, the Mercedes-Benz G-Class. A more affordable mud-plugger is the Mitsubishi Shogun.
There are other large SUVs that don't quite match what the Land Rover does off-road, but do offer a nice, luxurious ride – cars such as the Volvo XC90, Volkswagen Touareg and even the BMW X5. Prices crept up throughout the Discovery 4's life, meaning comparison with large premium SUVs is entirely valid.
Comfort and design
"Land Rover upped comfort levels considerably with the Discovery 4. The previous version was not uncomfortable, and featured all the fundamentals such as armchair-like seats and that high-up seating position. However, Land Rover turned up the dial a few notches with this one, while also making the design less stark and brutalist."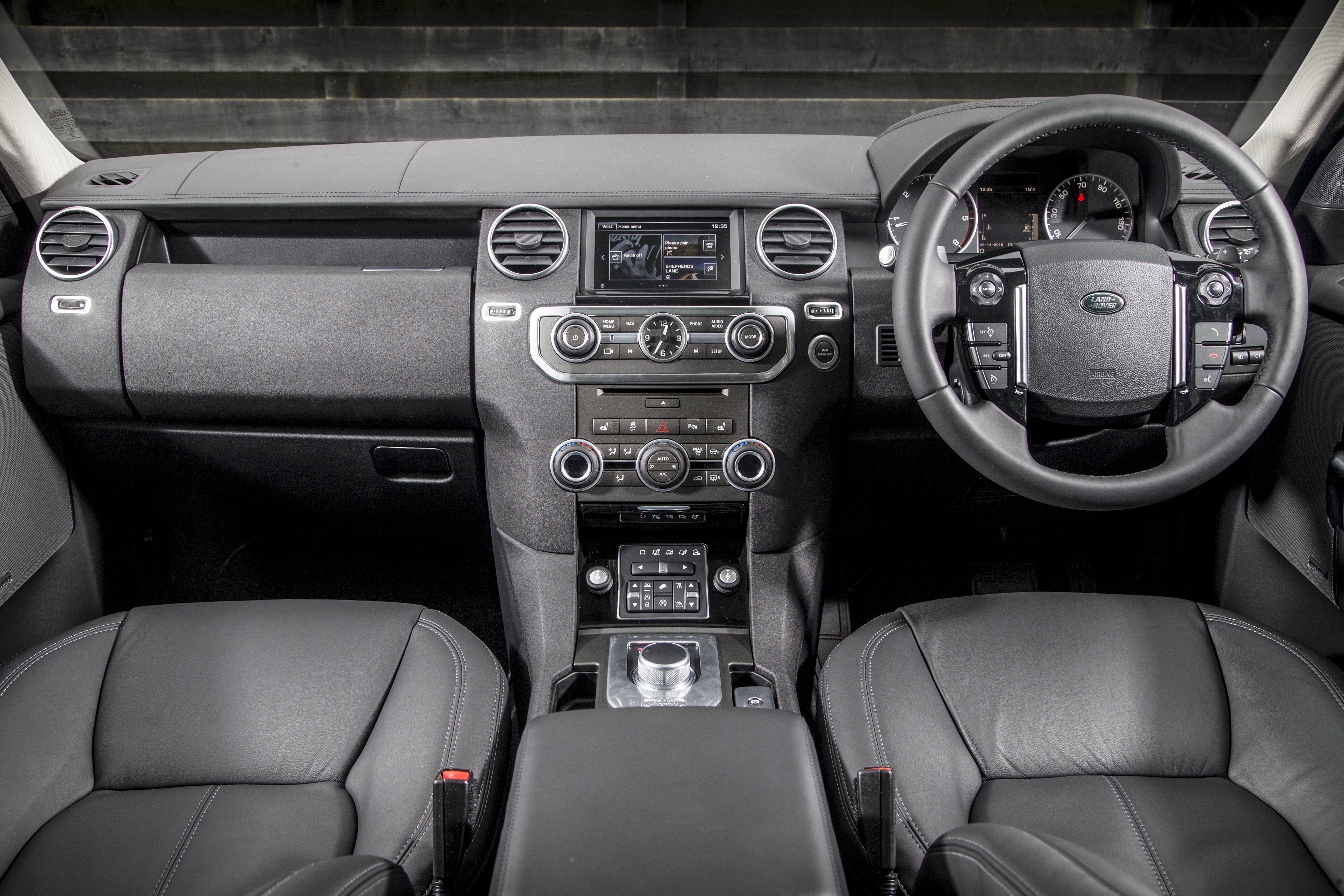 Everything became just that bit richer and more pleasant. It feels less Land Rover and more Range Rover, particularly as you move up the model range and the upholstery becomes more decadent and the trims yet more special.
The Discovery 3 interior could be a bit gloomy, with lots of dark, monochromatic plastics and trims. Colours in the Discovery 4 were brightened up considerably, and highlighted further with liberal use of polished aluminium-effect inlays and simple chrome dials on the centre console (where previously there was a mass of buttons).
This clean-up made it easier to use, with the touchscreen taking on more functions that the daunting old layout masterminded. There was even an analogue clock in the centre of the dashboard, instead of having to peer into the corner of a muddy green LCD display.
A broad array of colours and trims gives plenty of choice across the range. We like the brighter ones and even think some of the wood-effect trim inlays work well in the Discovery 4. You'll enjoy exploring the second-hand marketplace, as there are a lot of different options out there.
Quality and finish
The lift in quality for the Discovery 4 was obvious, particularly inside. Everything is just that bit smoother and more upmarket than the Discovery 3. The interior is really nice to the touch and you'll struggle to find any hard and scratchy plastics, which is an impressive feat.
This is matched on the outside: the Discovery 4 looks a high-quality machine, with deep paint and excellent attention to detail. Some of the panel gaps are a bit on the large side, but that's a reflection of the type of rugged 4x4 this is; all the body-colour plastics and the jewel-like headlamps underline the premium quality.
If you peer closely, it is possible to find areas where fit and finish are a bit more hit-and-miss. This is a complex vehicle needing plenty of engineering input during assembly and some of Land Rover's techniques aren't quite a match for premium rivals such as BMW and Mercedes-Benz.
This can lead to niggles further down the line, so when you're checking a Discovery out, make sure you don't get too carried away by the overall lavish feel. Look carefully at the details, too.
Infotainment
For years, Land Rover lagged in terms of infotainment. Earlier Discovery 4s were still saddled with a rather complicated and cumbersome media system that had a small screen and a fiddly, frustrating menu structure. It seemed almost custom-designed to frustrate. Land Rover did improve it over the years, though.
There are some neat features. Some models have 'dual view' technology, so the driver can look at the sat nav directions while the passenger watches a film. The screen is well placed high up on the dashboard, although it does look a bit on the small side versus more modern systems.
Physical 'hard' keys giving direct access to radio, media, navigation and phone menus do help make it more straightforward to use, and we'd also advise looking out for a Discovery fitted with the optional Harman Kardon Logic7 premium sound system. This has 17 speakers and delivers brilliant sound for all seven passengers. It's a breathtaking set-up.
Space and practicality
For many, this is the best bit of the Land Rover Discovery. Inside, it's huge. It feels big for the driver, with loads of headroom, large side windows and a sense of superb forward visibility. You know right away this is a car with substance – even if that central transmission tunnel might steal more space than those with big feet will like.
The front seats are wide and, with an adjustable armrest on one side and massive flat window sills on the other, it feels imperious from behind the wheel. You won't get any complaints from those in the second row either, each of whom gets their own sliding, folding and well-shaped seat. Again, space is adult-friendly and middle-seat passengers also get a decent view out, with climate control vents in the centre console and roof to keep them nicely heated or chilled.
Pull a few levers and the outer middle seats fold to allow access into the rear. It's a bit of a climb up there – the Discovery 4 is a tall, wide vehicle – but once there, third-row passengers will find much nicer chairs than the seven-seater norm. They're not full-size, but they're still pretty decent, and there's a surprising amount of space for knees and feet in there – plus lots of cupholders and air vents. Even the side windows have heated elements so those in the back can see out on frosty days.
Boot space normally disappears when seven-seaters are used by seven people. Not in the Discovery 4. OK, so 280 litres isn't exactly mammoth, but it's still almost as large as a Ford Fiesta, and will be enough for a load of backpacks or shopping. The rear seats fold fully flat into the floor, and this opens up the boot to a far more useful 1214 litres – in other words, around twice the size of even a large estate car. With a wide, well-shaped load bay and the option of a tough rubber floor mat, it makes the big Land Rover endlessly practical. This feature alone is why many owners swear by them.
Fold the middle row of seats and a staggering 2558 litres of space is yours. Never mind estate cars, this is on a par with some small vans, it's so commodious.
As standard, the Discovery 4 comes with a space-saver spare wheel, but a full-size spare is available as an option. It's slung beneath the boot floor, so doesn't take up any space. Just make sure you get a locking device fitted to ensure it's not stolen.
The Discovery 4 has three Isofix child seat mounting points, one on the front passenger seat and one on each outer middle-row seat.
Handling and ride quality
"The Land Rover Discovery 4 has lots of clever technology beneath the surface that helps give it a noteworthy and more than class-competitive drive. All models come with four-corner air suspension, which right away ensures the sort of ride quality you associate with a luxury limo. The Discovery wafts along in cushioned comfort, soothing occupants over long distances with its bump-absorbing prowess."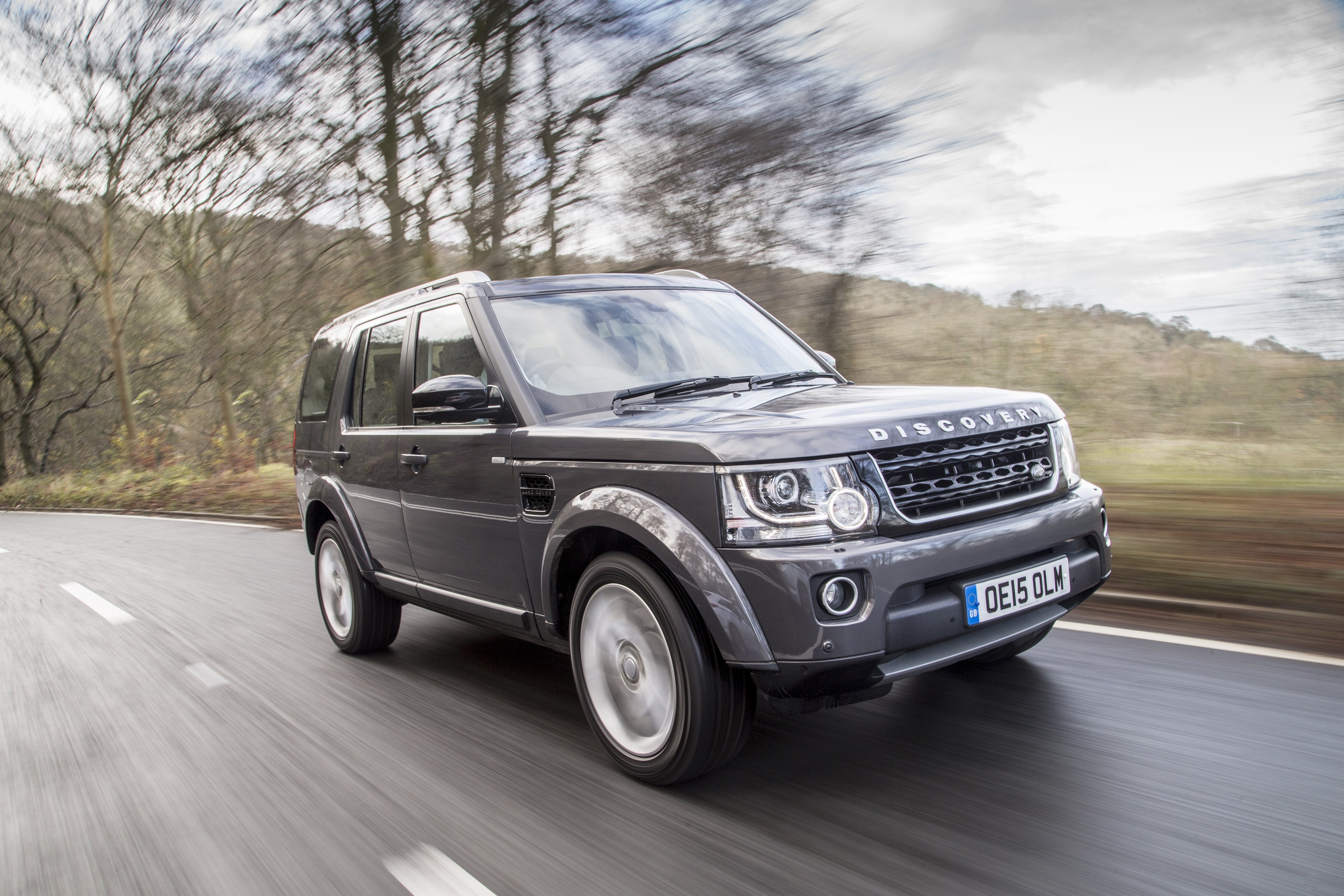 Only later models with ultra-large alloy wheels might get a bit clattery over bumps in town, and they could also thump into broken roads at speed. Generally, though, the big Landie smothers every obstacle it comes into contact with.
High-tech Roll Stability Control and Dynamic Stability Control systems help keep things settled through corners. It's a tall and heavy machine, but doesn't roll excessively into bends, as the gadgetry works its magic. The steering requires more wheel-turning than most new cars, but the effort required is light.
The Discovery 4 has such a steering set-up to aid it off-road, an area that Land Rover still places enormous emphasis on. And when off-roading, it really comes into its own. Height-adjustable air suspension can manoeuvre over most surfaces, and the tenacious all-wheel-drive system is virtually unstoppable. Land Rover's Terrain Control adds some electronic wizardry to the mix, too.
The brakes are pretty good for a vehicle of this size. There are huge 360mm front discs, with twin-piston callipers, and even the rear gets 350mm discs. You sense the Discovery's weight when you're braking heavily, but the anchors generally hold up. The electronic parking brake is a handy feature – although you don't need it off-road, as you have Hill Start Assist instead.
Engines and gearboxes
The 3.0-litre 245PS TDV6 is excellent. Thanks to twin turbochargers, it offers ample response and pulling power, with a muscular 600Nm of torque to make light work of the big Disco's weight. Zero to 62mph takes 9.6 seconds which, for something this vast, is pretty impressive going. It feels reassuringly strong when overtaking, too.
The TDV6 is much better than the weaker 189PS 2.7 TDV6. Because it has only a single turbocharger, it doesn't have anything like the grunt, and is particularly susceptible to a lack of responsiveness away from the line – for example, when joining roundabouts.
The later 3.0 SDV6 engine is even better. This was uprated to 255PS, which cut the 0-62mph time to 8.8 seconds. Like the 245PS version, it is impressively clatter-free on the move, with a nice V6 hum that's rarely strained or intrusive (a more regular complaint for the 2.7-litre). It gives the Discovery 4 a classy, premium feel.
It's automatic gearboxes only with this era of Discovery. The earlier six-speed automatic is fine, but we prefer the eight-speed auto that arrived in 2012 (you can spot eight-speed models from their rotary gearshifter and paddleshifts behind the steering wheel). With more gears, it's better able to keep the engine in its sweet-spot, rarely revving hard, and the gear changes themselves are brilliantly smooth (almost imperceptible).
Refinement and noise levels
For a big, bluff design, wind noise isn't too bad at speed. The Discovery 4's chassis is also very well isolated by its 'body on frame' design, so road noise isn't excessive when cruising. Just be prepared for some road rumble in models with 20-inch alloys.
You'll be much more aware of the 2.7-litre. It will often be working at higher revs, transmitting more of a roar into the cabin, because it doesn't quite have the everyday power to drive the vehicle. The engine will sound more strained under acceleration and you'll have to work it harder to keep pace with traffic.
The 3.0-litre V6 is quieter in everyday use, with the best of all being the SDV6 with the eight-speed automatic gearbox. What's more, the noise it does make is rather expensive-sounding – and certainly nicer than a four-cylinder diesel, such as those in the Toyota Land Cruiser and Mitsubishi Shogun.
Safety equipment
Discovery 4s have all the safety essentials as standard, such as front and side airbags, stability control and three Isofix mounting points for child seats. A standard space-saver and optional full-size spare wheel ensure you won't get stranded dangerously miles from home. But it has plenty more besides to bolster its safety credentials.
Take, for example, its tenacity across all road surfaces. It's likely never to get stuck, and will even shrug off deeply-flooded roads with ease. It's no wonder Highways England used them as patrol cars for so long – and a mammoth 3.5-tonne towing capacity leaves plenty in reserve for lugging a trailer (there's a dedicated trailer stability assist system, too).
Off-road electronic aids are vast and varied, with the Terrain Response system allowing you to pick the best traction control system for every type of surface. And on-road, new features were progressively added, including all-round-view reversing cameras, an ingenious back-up camera for reversing caravans and trailers, blind-spot monitoring and T-junction cameras – really useful with a vehicle as large as the Discovery 4.
Later models came with wade sensing, so they could actually detect how deep the water was ahead, and tell you whether it was safe to drive through it or not. It's a feature that has likely saved a few owners from peril during freak weather conditions.
MPG and fuel costs
"The Land Rover Discovery 4 weighs two and a half tonnes, and has blunt, bluff aerodynamics. It's not a vehicle designed with fuel efficiency foremost in mind. For this reason alone, the V8 petrol version that's offered in other countries was never sold here in the UK."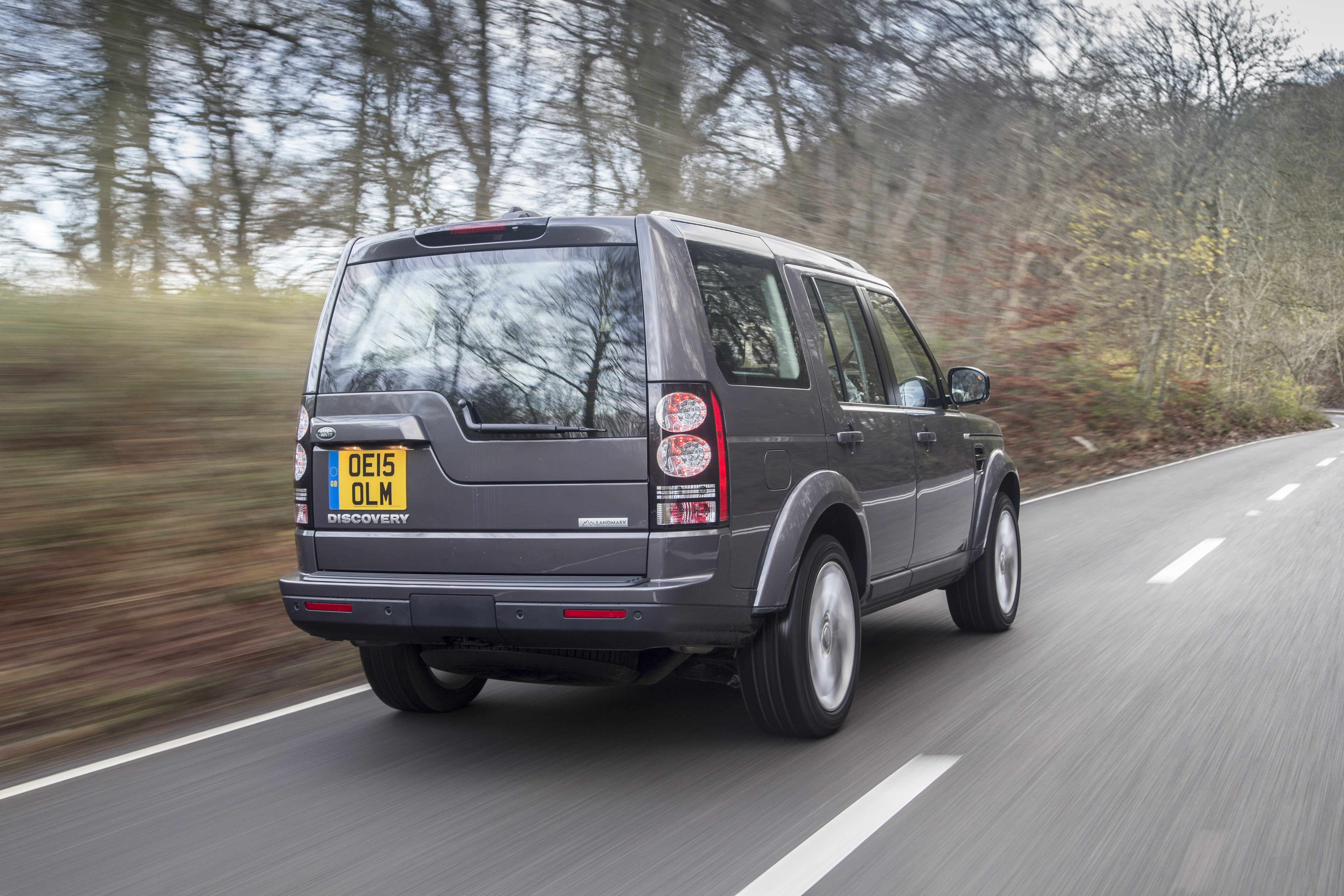 The least efficient is the 2.7-litre TDV6. This officially averaged just 27.7mpg, which is a sign of how hard it had to be worked. The comparable 3.0 TDV6 was rather better in comparison, averaging 30.4mpg. It's still poor, but the better overall performance means owners stand a better chance of replicating this figure in real-world use.
When the 3.0 SDV6 was introduced in 2012, the diesel engine gained a particulate filter, helping it meet the latest tough emissions standards. The improved motor also had a third-generation common-rail injection system, which not only gave better response, but also further improved fuel economy, to 32.1mpg. Further improvements were made in late 2013 that pushed fuel economy up to a pretty impressive 35.3mpg, later boosted to 36.7mpg for runout models. The difference in fuel costs for high-mileage Discovery drivers will be considerable.
Insurance groups and costs
The Discovery 4 is a fairly expensive vehicle to insure. It is complicated beneath the surface, it's big and heavy, and its off-road prowess encourages owners to go off-road. Even the cheapest model to insure thus comes with a group 38 insurance rating, with the most premium and expensive versions slotting into group 40.
We'd also advise fitting a spare wheel security device, as the underfloor wheels are frequently stolen. A few hundred pounds could save you a lot of hassle.
VED car tax
Just as insurance costs are high, so too is VED car tax – at least for early models. They were rated in road tax band M, which equals £580 a year. That's the price you pay for CO2 emissions in excess of 255g/km.
Updated cars from late 2013 are the ones to go for if you want to save on tax. CO2 emissions dropped from 230g/km to 213g/km, which had the welcome effect of reducing tax to £330 a year. Still a lot, but much better than £580…
How much should you be paying for a used Land Rover Discovery 4?
"Our favourite Discovery 4 is the 3.0 SDV6, and prices for these start from around £16,000 for 2013 models."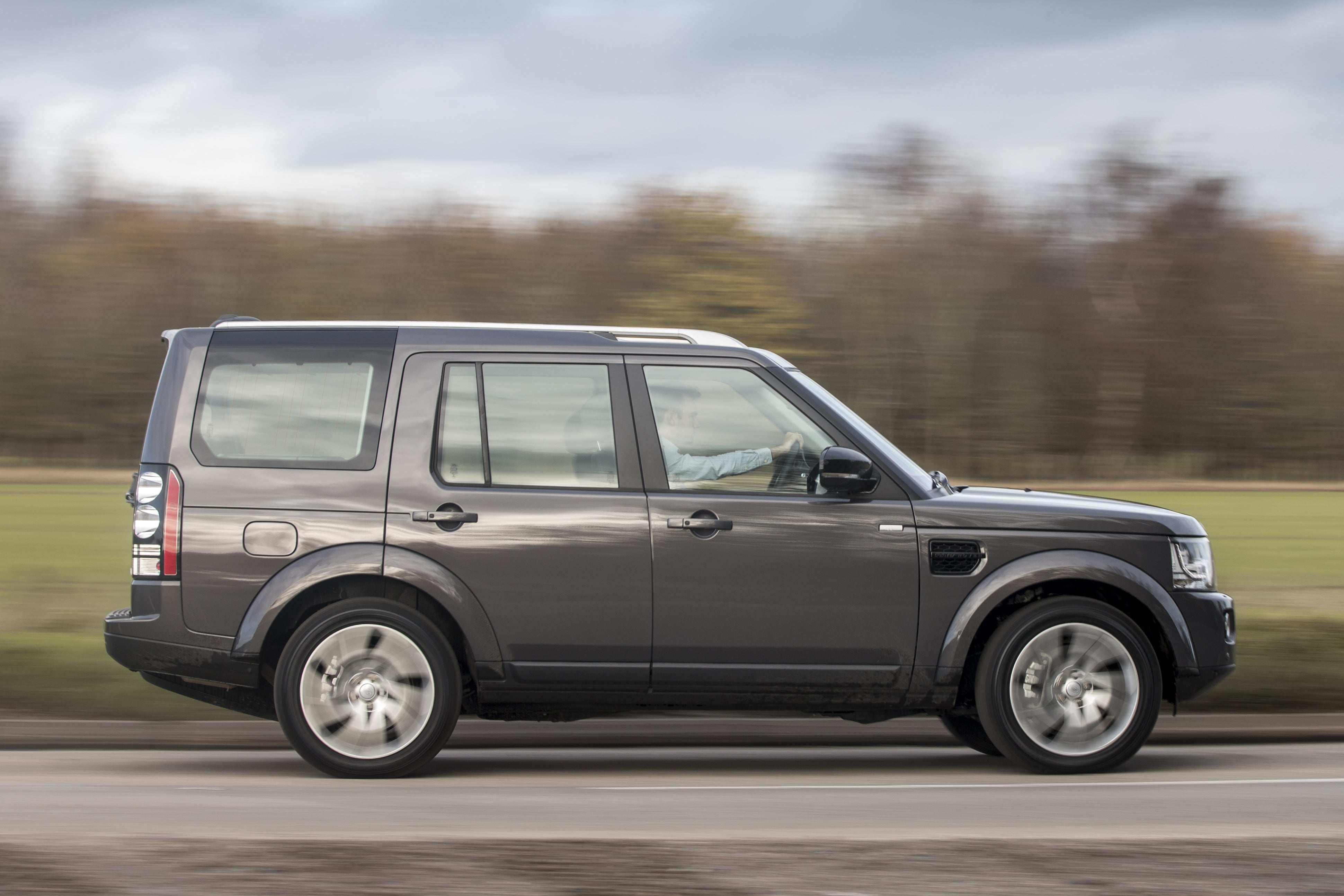 To guarantee you get into a vehicle with the cheaper rate of annual car tax, look for a 2014-on version, which can be found for upwards of £19,000, although you'll have to budget from around £21,000 if you want one with lower miles.
With early current-spec Discoverys now on the market for less than £35,000, upper-end Discovery 4 values are starting to be capped. Certainly, if you have around £30,000 to spend, you have the pick of some of the best three- and four-year old models out there.
Trim levels and standard equipment
The Discovery 4 range launched in GS, XS and HSE trim lines. All came with 18-inch alloys, those LED front running lights, air suspension, Bluetooth keyless go and seven seats – although leather wasn't standard on base variants. Interestingly, 3.0-litre GS models gained 19-inch alloys. Leather seats came on XS grade, along with auto headlights, touchscreen sat-nav, front foglamps and a nine-speaker Harman Kardon sound system. GS added bi-xenon headlights, electric front roof, premium Windsor leather, an enhanced 14-speaker Harman/Kardon sound system and Range Rover-style carpet mats.
Things became even more indulgent in April 2012 when the HSE Luxury arrived. This had even more glitz and glamour, plus 20-inch alloys and Windsor leather covering more surfaces. The Harman Kardon 825W Logic7 sound system was fitted, too – which included rear-seat entertainment with dual 8.0-inch screens in the front headrests.
Runout models from 2015 were called Landmark and Graphite, and added a plethora of standard features. Today, they're well worth searching for as they represent great value for money.
Keep me updated by email with the latest advice, news and offers from heycar
By submitting, you agree to our
privacy policy
.