Discovery Sport Review 2022
Land Rover Discovery Sport Review 2022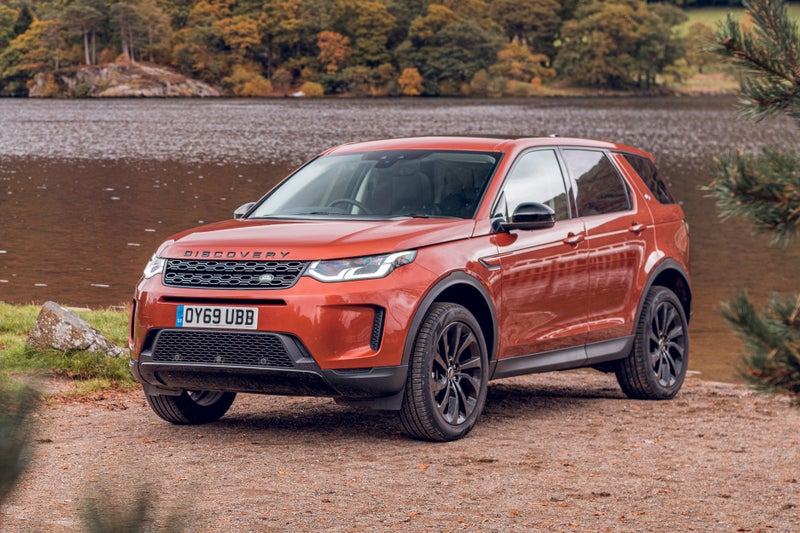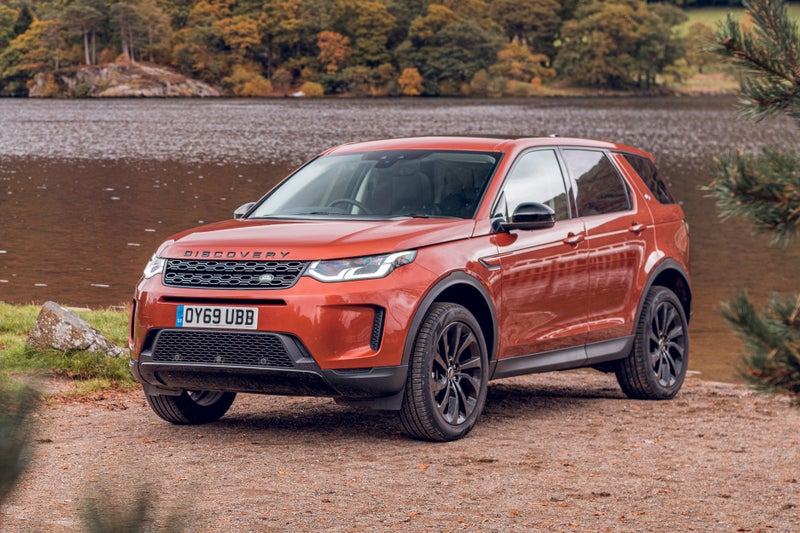 1/10
heycar rating
"Roomy, versatile, and refined SUV"
Launched: 2015

SUV

Petrol, diesel
Quick overview
Pros
Generously equipped as standard
Excellent off-roading ability
Seven-seat flexibility
Cons
No six-cylinder engines
Poor real world fuel economy
Tiny boot in seven-seat mode
Overall verdict
On the inside
Driving
Cost to run
Prices and Specs
Common questions
Overall verdict on the Land Rover Discovery Sport
"The Land Rover Discovery Sport combines seven-seat versatility with really impressive off-road abilities, and premium styling inside and out. It's comfortable and easy to drive, and doesn't pretend to be sporty, which we like. Still, it's not the last word in agility or fuel economy, and there are lingering questions about its reliability."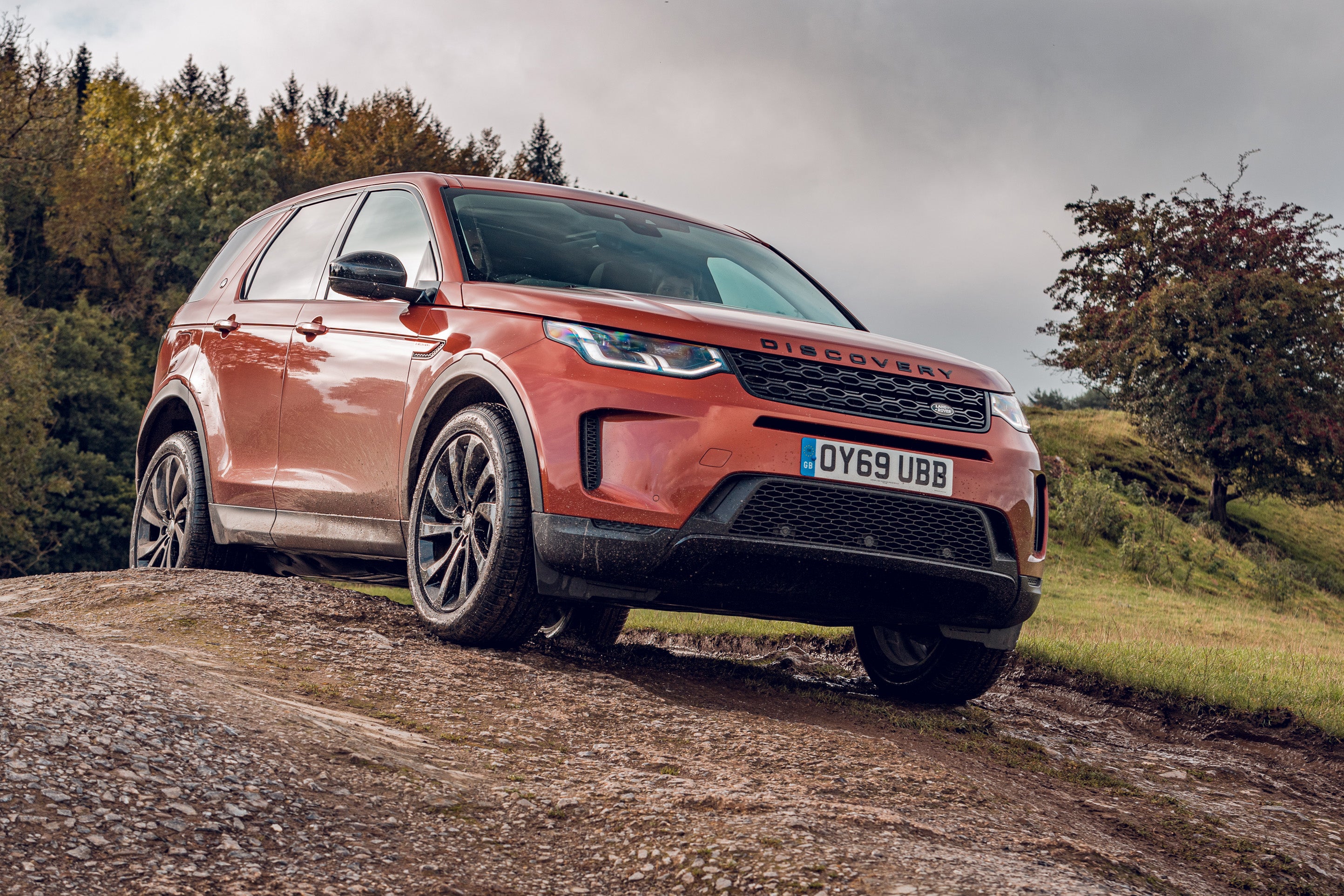 The Land Rover Discovery Sport is a premium SUV with real go-anywhere ability, and the option to fit seven seats. Don't be fooled by the 'Sport' in its title however, since this is a car that puts comfort and class-leading off-road capability well ahead of any pretensions of delivering a high octane driving experience. It's no surprise with such a rich heritage that this is one of the best 4x4s available.
Launched in 2015, the Discovery Sport replaced the Freelander and added seven-seat practicality and better refinement to Land Rover's medium-size SUV offering. But it wasn't until its mid-life update that the Discovery Sport felt like a true rival to the BMW X3. In 2019, it was given a proper set of major styling and mechanical upgrades, as well as a raft of visual tweaks inside and out. This refresh saw the introduction of mild-hybrid fuel saving technology on most of its engines, too.
There are two standard engines to choose from, but unlike some rivals, they use four-cylinders, and not six. A 2.0-litre diesel model is available with either 150, 180 or 240PS, and all but the least powerful version are paired up with a smooth nine-speed automatic transmission and four-wheel drive system. As this car tips the scales at close to two tonnes, none of these feel especially fast, but the D180 has adequate grunt for most.
On the petrol side, there's a 2.0-litre turbo unit with either 200 or 249PS, both of which are near silent on the motorway, but lack the guts to make the best use of the automatic gearbox. If you drive them with gusto or when fully loaded, the mediocre fuel economy will also come as quite a shock.
For those keen to cut their fuel bills, Land Rover added a plug-in hybrid version badged as P300e, with a 1.5-litre three-cylinder engine and a 109PS electric motor. This is good for about 25 miles of electric driving, but comes with the usual caveats about charging, a high price, and unrealistic 168mpg claim.
On the road, the Discovery Sport won't shrink around you or hunker down like some sportier SUVs. Wearing its utility with pride, it handles like a large, heavy 4x4. So it leans over in the bends, and can be sensitive to poorly surfaced roads, but the precise control weights and planted, grippy sensation make it very reassuring.
There are four trim levels: the base Discovery Sport, S, SE, and HSE, in either standard or R-Dynamic guise. All come well equipped as standard though, with heated seats, a slick 10-inch touchscreen, LED headlights, cruise and climate control, and a reversing camera - although you need to upgrade to get leather or touchscreen navigation.
Almost every version comes with seven seats. However, Land Rover calls this seating layout '5+2' because the third row is a pretty tight squeeze. However, the versatility they offer is unmatched by any premium rival, and in the sliding middle and front seats, this is one of the roomiest and most practical SUVs at this price.
The boot is excellent too, and while some non-premium rivals can carry even more luggage than the Land Rover's impressive 1794 maximum, none of these cars feel as nicely finished or robust as the Discovery Sport. It'll appeal to anyone with an overgrown sense of adventure, who doesn't mind paying extra for its capability.
Is the Land Rover Discovery Sport right for you?
Buying a Land Rover means you're the sort of person who might actually need some off-road capability. It's one of the few premium SUVs that's been engineered to genuinely excel once you leave paved surfaces.
It has excellent ground clearance, and some clever electronic aids to help tackle the rough stuff, and would be our first choice if you're the adventurous type with a hiking rucksack and a muddy pair of boots at home.
Luckily, this doesn't hamper its on-road performance, where it's a fairly quiet, relaxed motorway cruiser. The firm ride on larger wheels and some pronounced body lean do mean there are several sportier alternatives.
Even though they are strictly for kids, having a third row of occasional seating gives the Discovery Sport an extra level of versatility normally found on MPVs, and only the Mercedes-Benz GLB offers similar passenger room.
It's best to choose one of these only if you're able to make use of its rugged and practical qualities, since you do pay a penalty in fuel economy for the extra weight of its seven seats and four-wheel drive paraphernalia.
What's the best Land Rover Discovery Sport model/engine to choose?
There is a significant gap in price between what you'll pay for a front-wheel drive, manual Discovery Sport and the rest of the range, so think very carefully about what your individual needs before taking the plunge.
Still, without four-wheel drive, or seven-seat versatility, this version strips away the qualities that make this car stand out from its premium SUV rivals, and for that reason (plus the fact it's quite slow) it wouldn't be our pick.
Instead, most buyers should stretch up to the D180 diesel. It's not setting any speed records either, but will require a lot less effort to get going, and is more relaxing to drive thanks to its standard automatic gearbox. While it's not as refined at the petrols in town, the everyday running costs are considerably more palatable, and unless you're a company car driver who has space to charge it at home, the PHEV will be far too pricey.
As for the specification, it's worth upgrading to at least the S trim. The leather upholstery and touchscreen navigation help the cabin feel really plush, and that still leaves you with a bit of cash leftover for a few choice options on top.
What other cars are similar to the Land Rover Discovery Sport?
For a similar price, a few big five-seater SUVs nail the on-road handling and interior luxury part of the brief with a level of finesse that this Land Rover can't quite match; leading that pack are the BMW X3 and Audi Q5.
If you're not too fussed by badge snobbery, the Skoda Kodiaq and Hyundai Santa Fe are worth a try. Both offer more space in the third row, are larger inside when fully loaded, coming with all the toys for less cash.
As for less obvious premium rivals, the Volvo XC60 and Lexus NX both bring something unique to the table. The former is one of the safest cars in this class, the latter a petrol-electric hybrid that's surprisingly frugal.
However, the Mercedes-Benz GLB is the only upmarket competitor to offer seating for seven. It feels more compact and car-like to drive on busy thoroughfares than the wide Discovery Sport. The design has some clever features, but it's unlikely to be able to tackle the kind of rough terrain the Land Rover can breeze over.
Comfort and design: Land Rover Discovery Sport interior
"Where many premium SUVs have complicated, double-layered dashboards that curve towards their drivers, in the Discovery Sport things are simpler, with just a series of deep horizontal lines dividing up the interior."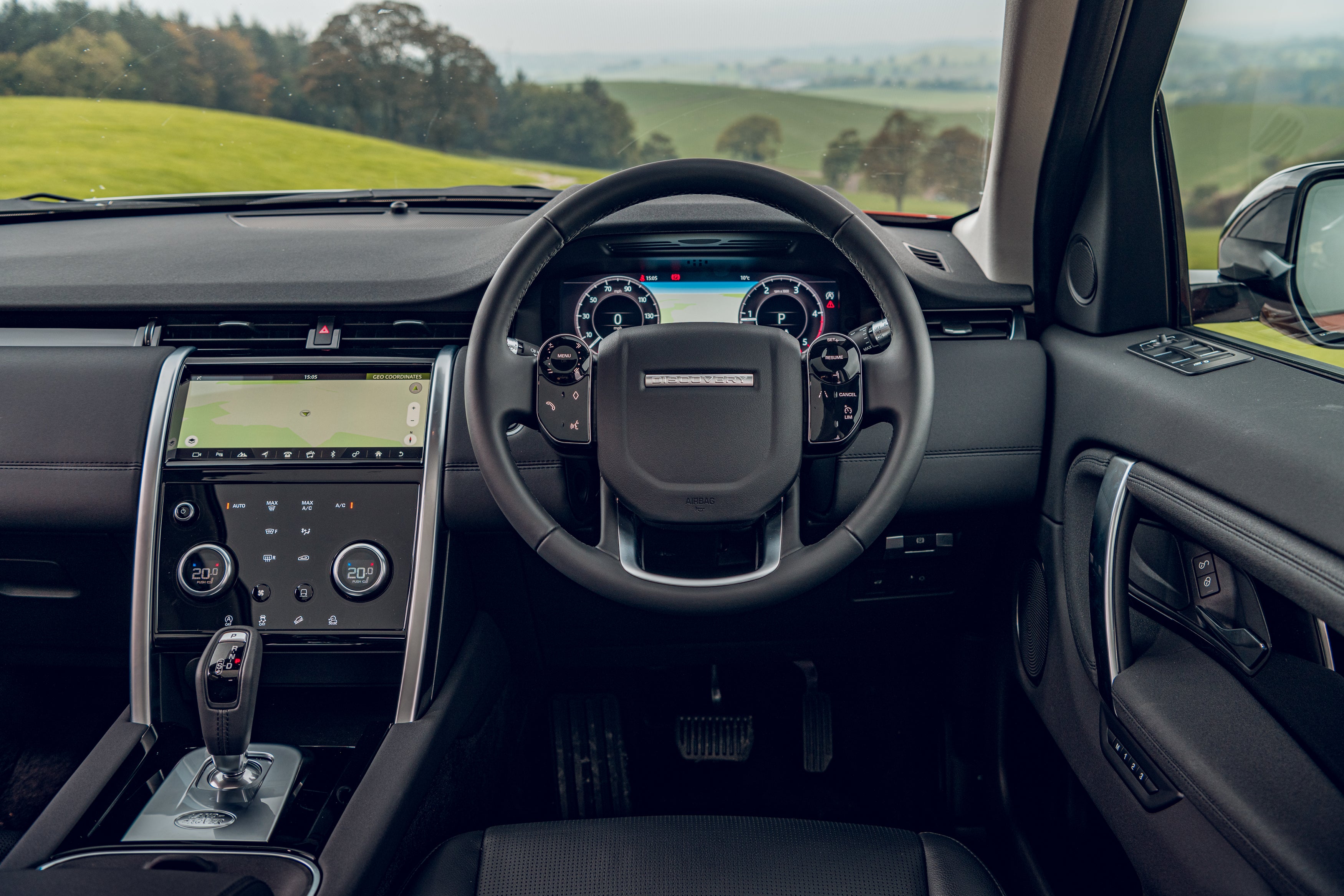 Land Rover chiselled off a lot of the unnecessary switchgear as part of the Discovery Sport's mid-life update in 2019. It refined the layout, too, so that it's still chunky but a bit more intuitive to use.
The seats are brilliant, with a wide base, great support, and a wide range of manual (on standard cars) or full electric adjustment (S, SE, HSE) to help you find a comfortable driving position. You sit nice and high, and it has great visibility despite being bulkier than many five-seat rivals, and parking sensors come as standard.
It features the same impressive 10-inch touchscreen display as the latest Range Rovers, with a second screen (with physical dials that can change their functions) set below it, both inside the wide centre console. This panel looks great when it's clean, but catches a lot of glare in sunlight, and gets covered in fingerprints.
Some of the changes, including the new 'joystick' style gear selector has replaced the rotary one that used to rise from the dash, are positive. In other areas though, things have gone backwards. Changing the light and wiper settings for example, is done via the indicators, but the left and right stalk function differently, why?
The window and mirror switches are also high on the door tops (instead of close to your hand in the armrest) and some of the touch sensitive buttons in the climate control stack disappear when you change its modes. These ergonomic foibles are clear examples of form over function, not something we expect of Land Rover.
Quality and finish
Where the original Discovery Sport felt sturdy in a rustic, forestry commission first responder sort of way, the 2019 model looks genuinely premium, surrounding its occupants with nicely chosen, plush materials. The top of the dash board is covered with really squidgy plastic, there is plenty of stitched leather (but a non-animal based suede-like alternative is available for no extra cost) and cool metal strategically placed inside.
Details like the glossy black climate control panel and engraved Land Rover emblem below the gear selector add a real touch of class, and help make up for some flimsier feeling material hidden lower down the cabin.
Everything on the centre console operates with smooth precision, although the large touch sensitive pads up on the steering wheel are a bit plasticky to touch, sometimes failing to register your inputs, which is irritating.
Still, they're miles better than the ugly grey plastic items you got in older versions. In fact, the clean simplicity of the redesign is part of the reason the Discovery Sport now feels so upmarket. It has put a healthy distance between itself and mainstream seven-seaters from SEAT, Kia and Hyundai, but not overtaken the class best.
Infotainment: Touchscreen, USB, nav and stereo in the Land Rover Discovery Sport
If you're looking at the pre-facelift Discovery Sport, then we hope you have a tinge of nostalgia. It does have a touchscreen infotainment system, but the graphics appear to have come straight from the pages of Ceefax.
Ok, we're exaggerating, but it does feel hopelessly outmoded, with ponderously laggy responses, a very low resolution display, and a set of irritatingly small on-screen icons that make it a pain to use while on the move. Fortunately, this all serves to demonstrate just how far the brand has come with the system in the current model. Every version now has a 10-inch 'Touch Pro' screen with sharp graphics, much larger menus, and snappier responses. It looks modern then, but the software isn't as lighting fast or intuitive to pick up as BMW's iDrive.
It includes a six-speaker setup, audio controls on the steering wheel, and a proper smartphone linkup in the form of Apple CarPlay and Android Auto, allowing you to hi-jack that gorgeous display with your own phone apps. On pricier trims you get uprated sound from Meridian, wireless charging pads, sat-nav, and on-board Wi-Fi, plus a set of digital instruments that allow you to customise the driver's view, and include current route info.
However, it's not as easy to use as some rivals. Navigating the menus with the touch sensitive pads on the steering wheel can be a frustrating process, and we wish Land Rover provided a proper rotary controller too. Still, it does have some party pieces. The climate control panel has a built-in screen beneath it, so you can press a button to alter its function, from changing the temperature, to fan speed, or swapping driving modes.
As an option, you can fit a widescreen camera, which sends a live feed of the road behind you to the rear view mirror; perfect for if the back screen is all mucky, or the boot is loaded with stuff obstructing your view.
Space and practicality: Land Rover Discovery Sport boot space
SUVs this size with seven seats are rare, but the Discovery Sport is no one-trick pony. The whole interior has been crafted with usability in mind, and there are plenty of neat little touches to make its owners lives easier.
Those in the front are treated to acres of head and leg room. In fact, we doubt even the most unfeasibly tall driver would feel cramped in here, and the cabin feels wide and airy. Rubberised grips in the cupholders will keep your coffee upright, and there's a vast cubby under the armrest with two USB ports for phone charging.
If you like, you can remove the cupholders, leaving a massive stowage area big enough for a handbag, even a small toolbox, depending on who is driving. The door pockets and glovebox are both oversized, so you can fill them with about a week's worth of supplies. The former are rubberised to stop things rattling around.
In the second row of seats, things are just as roomy. The middle bench slides, so you can arrange the chairs for increased boot space or maximum legroom, and with them set all the way back, things feel really palatial. The back rests recline too, and it's roomier for carrying three abreast than almost all its premium competitors.

The wide doors and tall suspension means you don't need to stoop down when fitting a child seat. There are three Isofix points, two in the middle row and one up front. Since it has such generous dimensions though, you'll have no trouble locking a seat base into place, and even the bulkiest rear-facing designs will easily fit.
It's far less spacious in the final row (standard on all but the D150 model) but great for giving a lift to a gaggle of kids on the school run, or for occasionally carrying seven on shorter trips. They stow away neatly when not in use, which is good because with all seven up the boot is tiny, with barely enough room for shopping bags (you'll have about 115 litres of boot space to play with).
That's true in all but the largest seven-seaters though. With them folded, you've got heaps of luggage space (the Land Rover Discovery Sport has a boot capacity of 840 litres), a flat loading bay with no loading lip, and your choice from a variety of seating formations. While some rivals can cram even more stuff inside in a pinch, most owners are unlikely to find fault with the Land Rover's boot.
Handling and ride quality: What's the Land Rover Discovery Sport like to drive?
"The Discovery Sport drives in a laid-back, relaxed manner that used to be very common to high-riding cars. It makes a refreshing change from the current trend towards ever firmer, sharper, and sportier handling SUVs."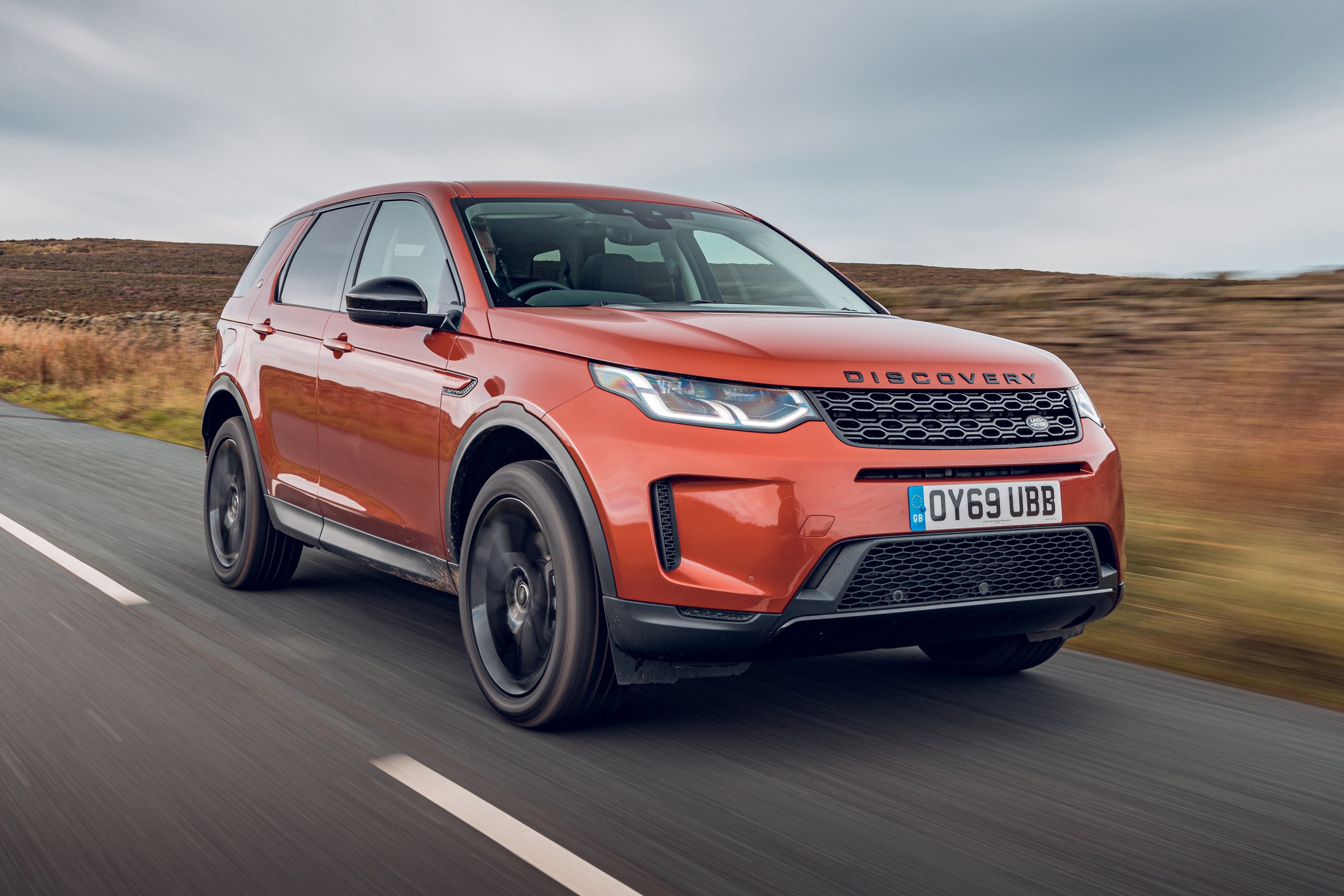 For starters, the Discovery Sport features a very high driving position, elevating you well above the eye-line of other cars, giving a fantastic view down the bonnet. This is helpful when placing the car off-roading, but proves just as useful for judging gaps in traffic, or manoeuvring carefully around the barriers in a congested multi-storey car park.
The steering is a tad slower to respond than in say, an Audi Q5, but wonderfully progressive. It gains weight naturally through corners as the tall body starts to lean over, keeping its driver aware of what's going on. This makes it quite enjoyable, but in a different way to its more alert rivals; it encourages you to take things slow.
At medium and higher speeds, the suspension breathes nicely with the surface of the road. It'll smooth out undulations nicely, and although it floats around a little more than a BMW X3, it's fairly well controlled. There's decent grip (especially in four-wheel drive cars) and its sure-footedness inspires a lot of confidence.
What's less impressive is the low-speed ride. On large wheels the beefy off-road ready suspension seems to find cracks and ridges that you simply wouldn't notice in some of its rivals, which you can feel inside the car. Sticking to a smaller set of alloys means you'll experience this less often, but it's not as supple as it could be.
That's the price you pay for its off-road talents. Most buyers won't ever feel the need to test them out, yet if they did they'd discover a car with remarkable approach and departure angles, a 600mm wading depth, and an ability to find traction and drag itself forward through pretty much anything you care to throw into its path.
How much value you place on those abilities will vary, but the Land Rover's stability, smooth control weights and strong grip make this an excellent tow car, and one that's well suited to long trips, just not a B-road blast.
What engines and gearboxes are available with the Land Rover Discovery Sport?
Land Rover took the Discovery Sport out of the oven a little undercooked. It launched with a bold design inspired by the popular Evoque, but under the bonnet was the 2.2-litre motor from the ageing Freelander.
This made it hard to recommend, until a new pair of 2.0-litre four-cylinder diesels came along a year later. Entry-level cars had 150PS, and came with a six-speed manual and front-wheel drive layout as standard. It was the best choice for business users, but the 180PS automatic with all-wheel drive was a better performer.
For buyers after a bit more performance, a 240PS version was introduced in 2018. Yet even this rarely feels quick. It's got decent grunt, but needs time to get going, falling well short of the scintillating performance and effortless character you get from the six-cylinder versions of its competitors from Audi, BMW and Mercedes-Benz.
Since 2019, all of these engines (apart from the entry-level manual) come with mild-hybrid tech to help improve their mediocre fuel economy. This system makes small efficiency gains, but doesn't alter the way they drive, and we still reckon the D180 mid-range model offers the best balance of performance and value for most buyers.
Later in its life, a pair of petrol engines were added, both with a turbocharger and either 200PS or 250PS. If you want the most refined version of the Discovery Sport, these are you best bet, but they'll cost a lot to run. And a lack of mid-range muscle means that they can struggle to move the car's considerable bulk with conviction.
Finally, a plug-in hybrid model was recently added to the range. As with its peers, the P300e pairs a small engine (a 1.5-litre three-cylinder petrol) with an electric motor on the rear axle, creating four-wheel drive. It makes a combined 307PS, with a two-thirds split in favour of the engine, so it's quite quick, but very efficient.
Refinement and noise levels
Land Rover shares its engine range with Jaguar, and the trio of diesels have all earned a reputation for being gruff and uncivilised, especially when extended to try and build up speed. That was definitely the case in the first Discovery Sport, but in the latest model (thanks to some minor mechanical tweaks) they're much quieter.
Pairing them with the optional (on the D150) nine-speed automatic gearbox helps to keep things hushed on long motorway trips, although this gearbox is not as responsive when kicking down as the best in this class. You'll still notice a distinct rumble from under the bonnet as you accelerate though, and the 2.0-litre engines in the Audi Q5 40 TDI and BMW X3 20d are both smoother, whether you're just cruising or really pushing on.
The petrol models are quieter - barely audible at 70mph in fact - and sound more pleasant when you do have to drop a cog or two and get a shift on, but you're more likely to notice this refined character in town driving.
In older cars, intrusive tyre roar was a real problem on cars fitted with larger diameter alloys. This spoilt its credentials as a cosseting tourer, but it's another area that has been rectified by the extensive facelift. It still creates a little wind whistle around its large door mirrors, but no worse than any other high-riding off-roader.
Safety equipment: How safe is the Land Rover Discovery Sport?
The pre-facelift Discovery Sport received a full five-star rating from crash testing body Euro NCAP in 2015. It gained particularly high scores for protecting adults and its safety assistance, but the tests are stricter now.
Rivals such as the Mercedes-Benz GLC and Volvo XC60 both eclipse it for safeguarding adults and children in an accident, although only by fine margins, and the Land Rover is impressively kitted out to help prevent one.
Every model in the range comes with a lane keep assistant to stop you from drifting over the road lines, a driver monitor that will warn you if you start to drive in a tired or erratic fashion, and auto-emergency braking (AEB). The latter uses a camera to scan the road, sense potential collisions, and intervene if it senses a collision. If you fail to spot a cyclist or pedestrian or hear the warning, the car will slam on the brakes to help avoid a hit. That's on top of a plethora of passive gear that should come into its own if the worst does happen, such as nine airbags, complicated on- and off-road stability controls to help prevent wheel slip, and anti-lock brakes.
All but the standard model get traffic sign recognition, which displays the local speed limit on the dash, while the priciest versions benefit from blind spot monitors, adaptive cruise control, and a high-speed AEB system. This is a big car, but avoiding parking scrapes is made easier by a standard set of acoustic parking sensors, and a reversing camera. You can pay extra for a clever parking assistant, and a 360 degree surround view setup.
For those with the cash, the full suite of semi-autonomous active systems will set you back over £2000. Still, it's comprehensive, including radar-guided cruise control that can steer for you in heavy traffic, a system that alerts your passengers to any passing cars before they exit the vehicle, and even a full wading depth sensor.
MPG and fuel costs: What does a Land Rover Discovery Sport cost to run?
"The Discovery Sport is heavier than its five-seat rivals, and as a result, it can't really compete when it comes to fuel economy."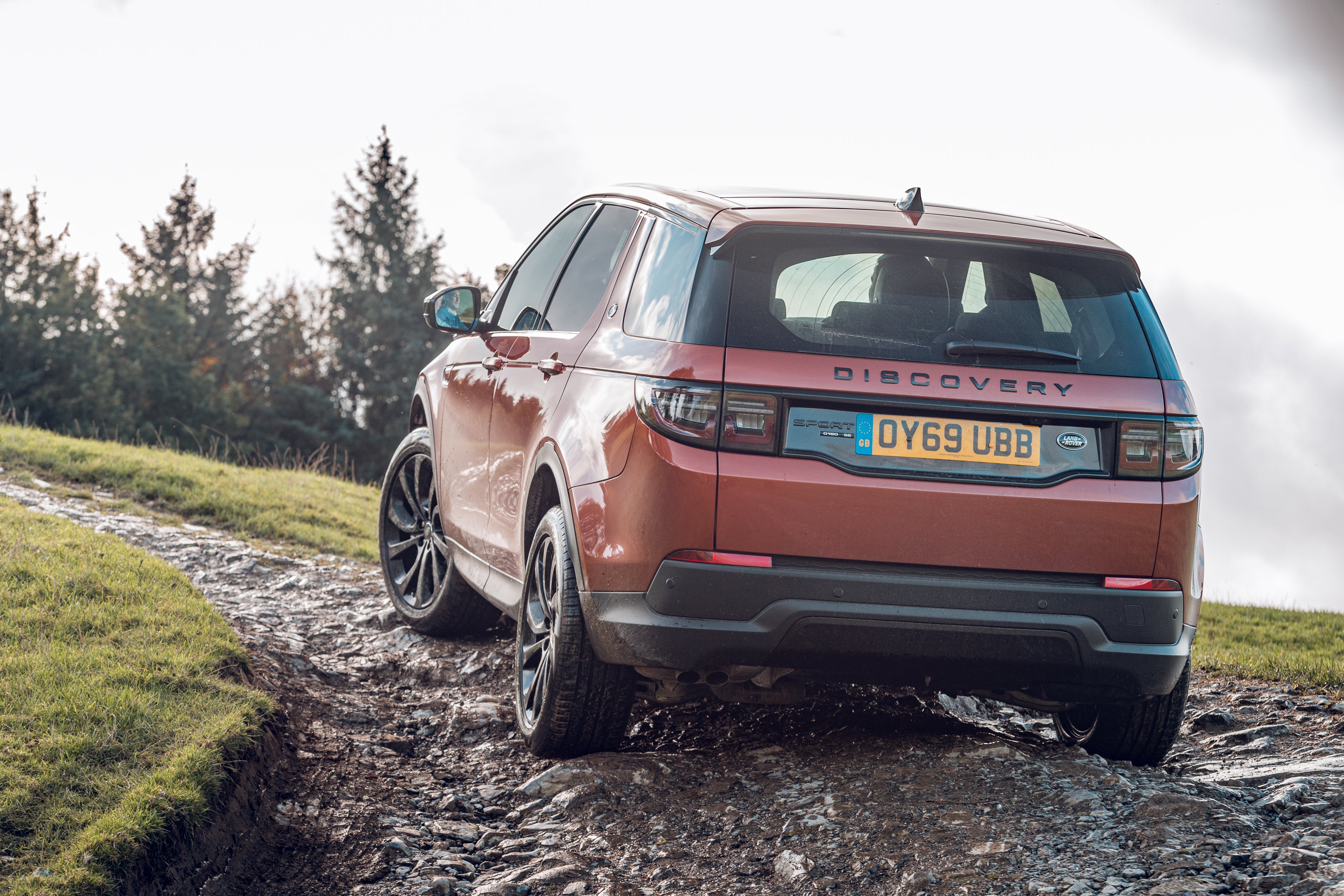 All the other engines in the range will return considerably less than that in real world driving, and emit quite a bit more CO2 than other SUVs in this class. Especially the petrols, which will be lucky to see over 30mpg.
The one exception is the plug-in hybrid, but you can take its official 168mpg figure with a large pinch of salt. It'll only get that figure if you charge the battery after every journey. Land Rover claims you'll be able to juice up its power pack from 0-80% in half an hour using a public 32kW charger, add an hour from a 7kW wallbox.
It can drive up to about 25 miles without troubling its petrol engine, but once it does you're unlikely to better the fuel economy of the diesels, as the weight of the system counteracts its ability to help you save fuel.
Remember that used versions built between 2015 and 2019 don't have the same mild-hybrid technology as the newer car (and have a 20 per cent smaller fuel tank) so will need to stop a lot more regularly for fill-ups.
How reliable is a Land Rover Discovery Sport?
As a brand, Land Rover finished 15th out of 30 manufacturers in the latest HonestJohn.co.uk Satisfaction Index. It's a big improvement on previous years, suggesting the brand has focused on improving quality control and reliability.
That said, the Land Rover Discovery Sport was one of the most unreliable cars to own according to owners, with numerous build quality issues.
Insurance groups and costs
Finding insurance cover for your shiny new Discovery Sport will have you reaching deeper into your pockets than mainstream alternatives such as the Skoda Kodiaq and Kia Sorento, but in-line with its premium rivals.
The yawning gulf in price between the front-wheel drive diesels and the rest of the range means that (in this spec at least) it should be relatively affordable. The D150 sits in group 27, where most rivals start at over 30.
That's exactly where the D180 four-wheel drive model starts (31), while the most expensive option and therefore one to avoid if you've had a few recent claims or tickets, will be the P300e, as it's up in group 37.
VED car tax: What is the annual road tax on a Land Rover Discovery Sport?
If you're buying a used Discovery Sport from before April 2017 you'll need to pay a variable rate of road tax (VED) based on its CO2 emissions. The oldest versions fitted with the 2.2-litre unit from the Freelander are the most expensive (around £240) where the low-powered 2.0-litre diesels with five seats will cost you £130.
Newer cars registered after that date pay a standard flat-rate of £150 per year. However all models that cost over £40,000 with options will incur a 'Premium' rate, and be charged an extra £325 until the car is six years old.
Watch out for the steep first-year rate if you're buying new. It gets rolled into the purchase price, and is based on a car's efficiency, but on all four-wheel drive versions of the Discovery Sport it'll set you back over £1200.
These relatively high emissions hamstring this model's viability for company car users too. Only the P300e PHEV makes financial sense, with a low BIK bracket of 10%; almost all the other models attract the top 37%.
How much should you be paying for a used Land Rover Discovery Sport?
"The Land Rover badge on its nose does a lot of work to ensure that the Discovery Sport holds onto its value. If you want the cheapest possible entry to ownership, you can find the earliest examples from around £12,000."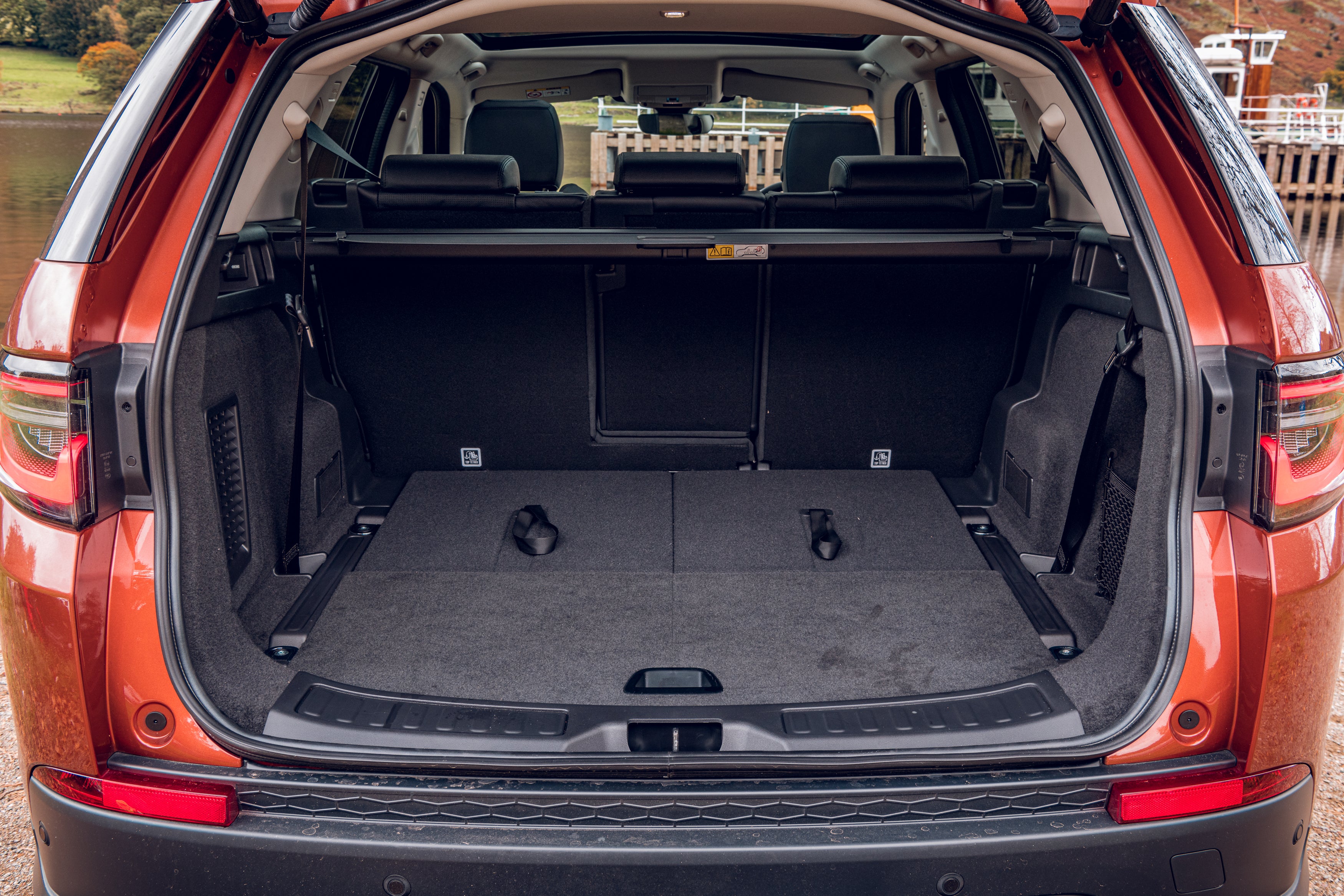 A £12,000 Discovery Sport will have over six figures on the clock, and many will feature the older 2.2-litre diesel engine, which is two generations behind, and even less efficient than the newer 2.0-litre unit introduced late in 2015.
We would up the budget to around £16,000 to secure yourself a four-wheel drive car, with the newer engine, under 50,000 miles, and a full service history (quite important on a car with such a patchy reliability record).
The vast majority of pre-owned Discovery Sports are diesel, giving you a wide choice of trims, colours and specs. Petrol buyers should brace themselves to pay through the nose for one, with prices from £27,000.
For the newest shape, with its nicer interior, improved infotainment and mild-hybrid engines, you'll struggle to find one under £30,000. That's even if you pick up a 2019 ex-demonstrator with a few thousand miles on it.
Trim levels and standard equipment
One thing Land Rover does brilliantly compared to its German premium brands is provide loads of equipment. Naturally, there are a lot of buyers who will choose to upgrade anyway, but you don't certainly don't have to.
Every model has all-round parking sensors, dual-zone climate control, a reversing camera, cruise control, and full smartphone connectivity through a slick 10-inch touchscreen, heated seats, and LED headlights. You can choose to add to that impressive kit roster with a series of 'Packs' that are essentially trim levels. Upgrade to the S and you also get full leather upholstery with 12-way electric adjustment, and navigation.
The SE grade introduces fully digital dials, a powered tailgate, and fancier headlights. Top spec HSE adds cool gadgets like the 'ClearSight' digital screen rear view mirror, keyless entry, and a Meridian sound system.
Predictably, there are a tremendous number of option boxes to tick if you want your Discovery Sport to cost roughly the same as a Range Rover. You can add these extras individually, or as part of larger kit bundles.
The Technology Pack for example includes digital dials, a head-up display that projects key driving info onto the windscreen, a wireless phone charging pad and the trick rearview mirror for just under £1500. The Park Pack gives nervous drivers a rear-traffic monitor, self-steering into parallel spots, and a 360 degree camera system.
Ask the heycar experts:
common questions
Is a Land Rover Discovery Sport bigger than an Evoque?
Yes. Although they share a lot of engineering and technology, the Discovery Sport is longer, taller, and comes with either five or seven seats, and it has more passenger and boot space.

What is a Land Rover Discovery Sport?
Previously called the Freelander, the Discovery Sport is supposed to be more practical and comfort-oriented than its siblings wearing a Range Rover badge, but it's still quite luxurious.

Does a Land Rover Discovery Sport have seven seats?
Yes. In fact, most versions of the car come with seven seats, with only the front-wheel drive manual 148bhp diesel model getting five seats as standard, to help lower its CO2 emissions. However, Land Rover calls its seating layout '5+2' because the third row is a tight squeeze.

Is the Land Rover Discovery Sport a good car?
It's comfortable, practical and better than most rivals if you do a lot of off-roading. Having seven seats makes it unusual, since most competitors only have space for five on-board. Still, there are cheaper alternatives if you're willing to step away from a 'premium' brand.

Answered by
heycar editorial team
What is the Discovery Sport Landmark Edition?
A special edition of the pre-facelift Discovery Sport, the Landmark edition commemorates the 70th anniversary of the brand, and the fact that this is its best-selling model. It came in a choice of three colours; Grey, Black or White, with some choice visual upgrades as standard.

Land Rover Discovery Sport cars for sale on heycar
2,314
Number of cars available
£16K - £58K
Price bracket of these cars
Colours available on heycar
Keep me updated by email with the latest advice, news and offers from heycar
By submitting, you agree to our
privacy policy
.