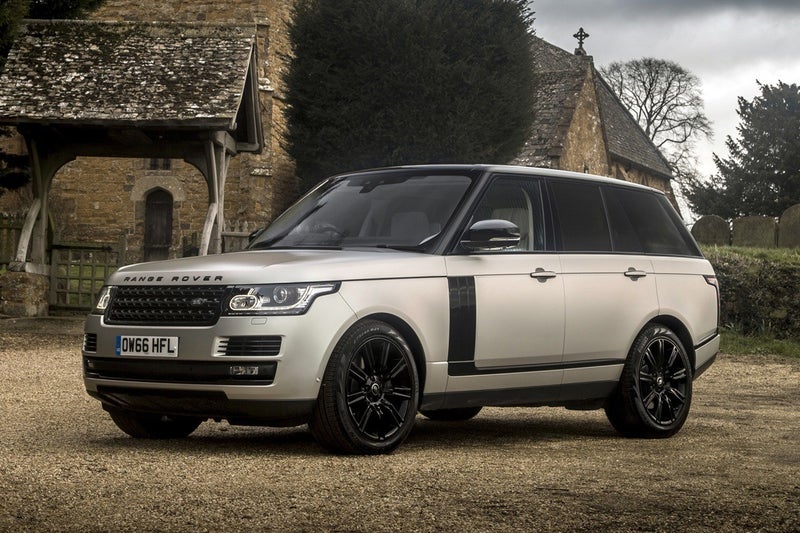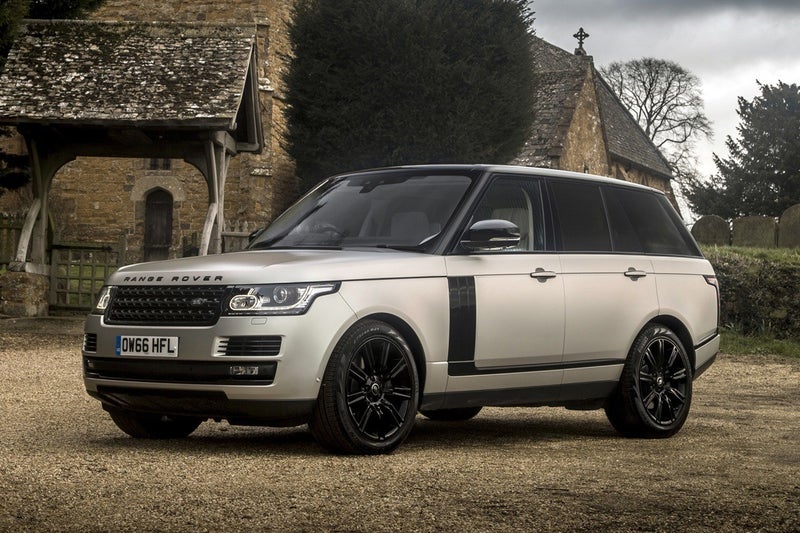 1/10
heycar rating
"The yardstick of luxury SUVs"
Launched: 2013

SUV

Petrol, Diesel, PHEV
Quick overview
Pros
Absolutely brilliant off-road, and really comfy on it
High-quality interior and lots of kit
Masses of space for people and luggage
Cons
Infotainment system could be a bit slicker
Doesn't handle as sharply as rivals
Iffy reliability record down the years
Overall verdict
On the inside
Driving
Cost to run
Prices and Specs
Overall verdict
"Huge luxury SUVs are everywhere these days, but this is a trick that the Range Rover has been pulling for decades."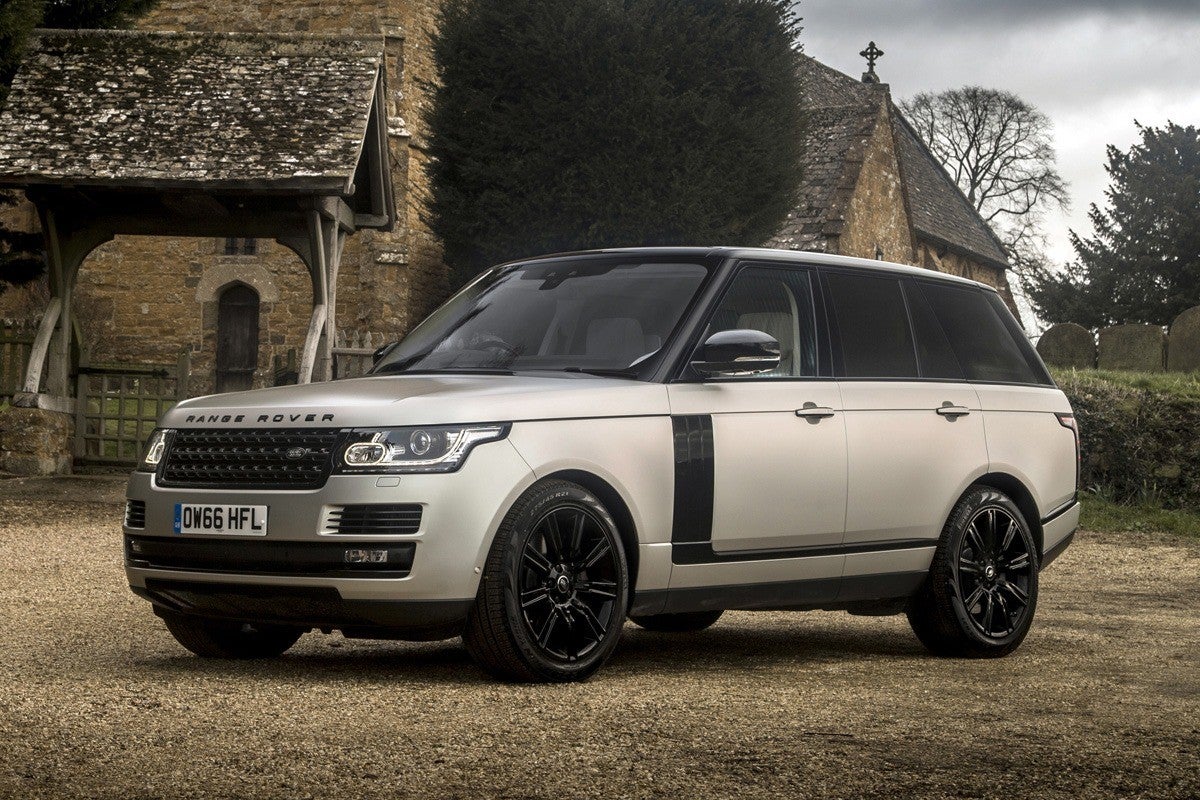 There's some debate over whether Land Rover's flagship was the very first luxury 4x4, and that's not a debate we're going to wade into right now, but what's certain is that the Range Rover is very much the yardstick by which all other cars of this type are measured.
The latest version follows the same recipe written by its predecessors: have the off-roading ability needed to tow a horsebox off a muddy polo field by day, and by night (after a hose-down, naturally), have the luxury, sophistication and image to let you 'arrive' at your favourite Kensington Brasserie.
What's more, the latest car does all that better than ever before. Land Rover's flagship has every ounce of the firm's considerable off-roading know-how thrown into it, so when you're deep in the countryside, it'll do things and take you places you might not think possible in a car. Put it on a road, meanwhile, and it'll waft you gently along with all the comfort and refinement of a luxury limousine. Granted, it's not the sharpest-handling car of its type, but who cares when it's this imperious?
The interior is also the definition of what a luxury car should be. It's incredibly well made from wonderfully classy materials, and it comes stuffed with all the creature comforts you could possibly think of. There's bags of space for its well-heeled occupant to spread themselves out, and there's room in the enormous boot for any number of Burberry bags.
These days, the Range Rover has even gone eco-friendly. Well, kind of. The car is around half a tonne lighter than its predecessor, meaning much better fuel economy across the board (although still not brilliant), and now, there's even a plug-in hybrid version that's capable of doing around 25 miles on electric propulsion alone. Diesel engines still represent the mainstays of the range, though, the entry-level V6 being our favourite. There's even a supercharged 5.0-litre petrol V8 with 565PS. Yikes.
Yes, whichever version of the Range Rover you pick, it's expensive, both to buy and to run. But when a car has such an enormous breadth of abilities and genuinely does something no other car can do, don't you think it's worth it?
Is the Range Rover right for you?
If your posh outdoorsy lifestyle isn't just for show, and you genuinely need a car that'll tow a horsebox off the gymkana field and to your stables, or your speedboat to your favourite luxury holiday resort, then the Range Rover is the only choice for you. There are plenty of other luxury SUVs out there, but none of them perform such tasks anywhere near as well (if at all) as the Range Rover.
And fear not: despite this impressive go-anywhere ability, the Range Rover also has the luxury part more than covered, with a sumptuously finished interior, huge passenger and luggage space, and lashings of luxury equipment. Yes, you'll pay handsomely for it, but you'll never feel short-changed.
What's the best Range Rover model/engine to choose?
If your commute or most of your journeys are short ones, you might want to consider the P400e plug-in hybrid version. It's not too much more expensive to buy than the entry-level version, yet it has the ability to travel up to 25 miles on electric power alone, which could save you plenty of cash on fuel. There are some pretty tempting tax breaks, too, especially for company car drivers.
However, the engine we think will suit most folk is the entry-level diesel, the SDV6. It's powerful enough to pull the car along with purpose, and it's smooth, quiet and muscular, so it really suits the car. It'll also provide you with the best balance of performance, economy and cost.
On the trim front, there isn't much you'd want in a luxury car that the entry-level Vogue trim doesn't give you. However, the step up to Vogue SE trim does earn you quite a bit of extra safety kit on top of a few more niceties, which is well worth having.
What other cars are similar to the Range Rover?
Bit of a tricky one, this. There are dozens of luxury SUVs from a handful of manufacturers to choose from, some bigger, some smaller, some with five seats, some with seven. So which of them compete directly with the Range Rover?
Well, we'd say that being a rival for the Range Rover isn't about size or the number of seats, it's about being the flagship of your maker's stable, the very pinnacle of what's offered. Take Audi for example. We reckon both the seven-seat Audi Q7 and five-seat Audi Q8 qualify as rivals, and to an extent, so too does the A8 limousine. There's also the BMW X7, the Mercedes GLS and the Porsche Cayenne, to name but a few.
Comfort and design
"One of the things people like about SUVs is their lofty driving position. Once you've climbed up - and it is quite a climb - into the Range Rover's helm, you'll find one of the loftiest there is."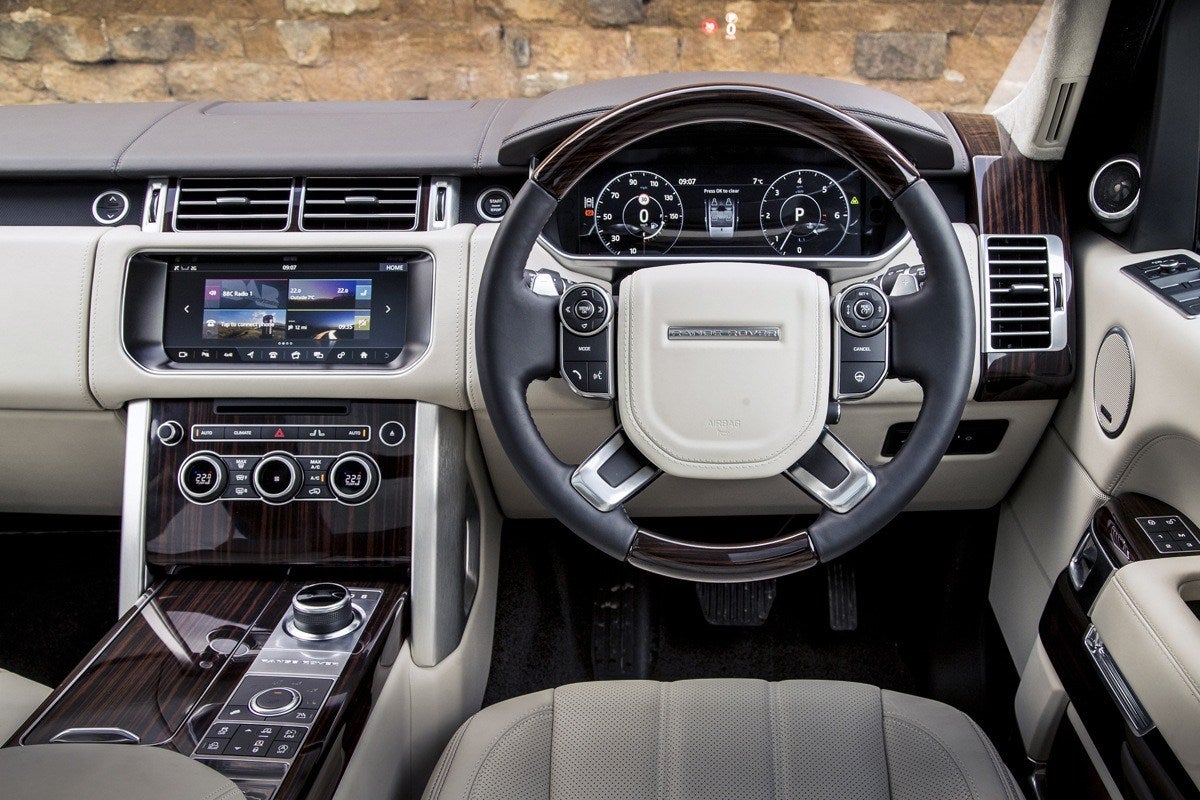 What's more, your all-round view is brilliant thanks to the huge windows and the car's easy-to-see extremities, so threading this enormous car down tight urban street is actually a lot easier than you might think.
Getting comfy in the Range Rover is also easy because all versions have electric adjustment for the steering wheel and the driver's seat. The precise amount of directions that the seats move in will vary from trim to trim, but nobody is going to struggle to find their preferred position.
All versions have digital instruments in place of traditional analogue ones, and they're pretty easy to read. All versions also get a touchscreen infotainment system that we'll talk more about in a moment (see the Infotainment section). Earlier examples had a collection of buttons and dials to operate things like the ventilation and off-roading systems, and these were all logically placed and clearly marked.
During the 2018 facelift, these were swapped for another screen - with inset rotary dials - that changed its functionality according to what menu you're in at the time. It looks very cool, and lends the interior an even more high-tech feel, but it's rather more distracting to use on the move than the old arrangement.
Quality and finish
The Range Rover may be capable of hardcore mud-plugging, but it's a luxury car first and foremost. And by crikey, does it feel like one. All the materials and finishes on show are of really impressive quality - with squidgy bits and sparkly bits in all the right places - and even if you go prodding and poking around in the lower reaches of the cabin, you'll do very well to find any evidence of cost-cutting. Cars don't come a lot posher than this.
Judged in isolation the standard of assembly feels top-notch, too, with slick switches and flush-fitting panels that are joined together in a very substantial-feeling way. As good as it is, though, it's fair to say that rivals from Audi and BMW do even better on that score.
All versions have leather upholstery as standard - naturally - and this leather gets upgraded with every step up the range, and each version also has a subtly different selection of trim finishes (various woods or carbon fibre) for a unique feel. Whichever one you go for, though, you'll hardly feel like you're slumming it.
Infotainment
Even early Range Rovers of this generation had a twin-screen setup to manage infotainment functions, those being a central touchscreen and a configurable display behind the steering wheel instead of conventional analogue dials.
The arrangement worked reasonably well overall, with more logical menus, sharper graphics and faster responses than earlier iterations, but reaction speed and screen transitions still had the tendency to be a little clunky at times.
This didn't improve much after the 2018 facelift, when the system was swapped for the one found in the Velar, which replaces the buttons and air-con dials found below the central screen with - you guessed it - yet another screen. This lower one mainly handles the ventilation and off-road systems, but its functionality does change according to which menu you're in at the time. It works quite well once you've got used to it, and it looks great, but it is a little distracting on the move.
The scale of your infotainment system depends on which trim grade you go for, and we'll take the post-facelift cars as our example. Even the entry-level Vogue trim's system is fairly complete, bringing together DAB radio, Bluetooth, voice controls, sat-nav, Apple Carplay, Android Auto, a 4G WiFi hotspot and a Digital TV. However, each step up the trim structure brings a higher-grade sound system, while long-wheelbase versions also get 10-inch entertainment screens in the back.
Space and practicality
Very few cars of any size struggle to provide enough room for those in the front, so it's no surprise that something as vast as the Range Rover has plenty. Headroom and legroom are in generous supply, and the cabin is so wide that the driver and front passenger will feel like they're sitting in different postcodes.
That width also helps when sitting three across the rear bench, which many cars can struggle to do comfortably, but there's very little reason for complaint in the Range Rover. Headroom and legroom are also very generous here, while if you go for the long wheelbase version, you'll get even more of the latter, as much as in a Mercedes S-Class or Audi A8. Opt for a version with the executive rear seats, and your rear bench is replaced by two individual rear chairs that recline electrically and massage your aching limbs.
In fact, the rear seats recline electrically in all versions, and that's great, but it does mean that the rear seats don't go fully flat when you need to fold them down. Not that you'll need to very often, mind you, because the regular boot is absolutely enormous. It's not quite so enormous in the hybrid version, though, as a little space is lost to the batteries and motor, but you'll still have more luggage room than you'll know what to do with.
You also get a two-piece split tailgate that opens electrically with the wiggle of a foot underneath the rear bumper. The bottom section protrudes over the rear bumper and folds down flush with the boot floor, helping you to lift in heavy items and providing a handy bench for the putting on or taking off of muddy wellies. That said, it does make reaching items at the very back of the boot rather difficult, even for tall people.
The big elephant in the room is that - unlike many big SUV rivals - a maximum of only five seats is offered in the Range Rover. If you want the option of seven, you'll have to go for the Range Rover Sport, or rivals like the Audi Q7, BMW X7 or Mercedes GLS.
Handling and ride quality
"As an alternative to a conventional luxury saloon, the focus of the Range Rover's dynamic ability is very much on comfort, and it's a role the car performs extremely well."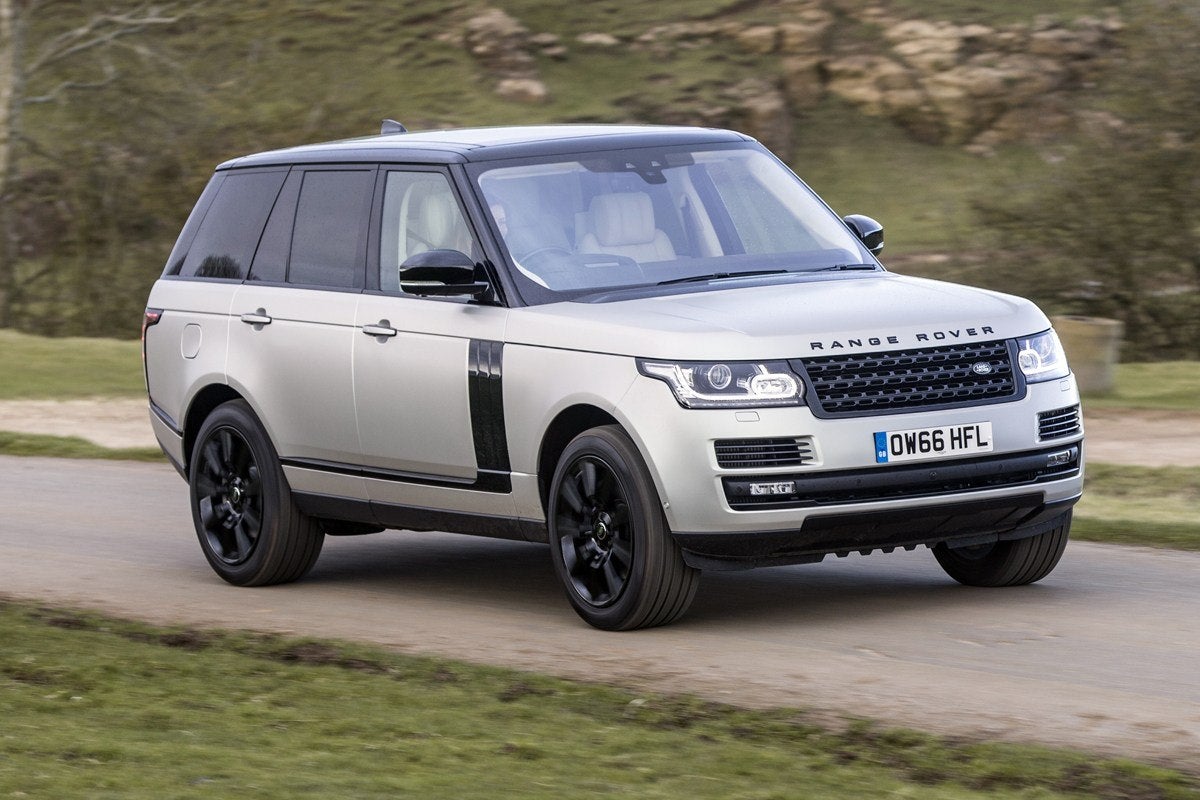 All versions get air suspension as standard, and you waft along very peacefully at all speeds. There are a couple of exceptions. The extra weight of the hybrid version's batteries means that the suspension needs firmer settings, so it's not quite as cosseting as the others (don't worry, it's still very comfy).
Also, cars with the biggest 22-inch wheels pick up a bit more on bumps and ruts, so they're worth avoiding. Keep your wheels as small as you can if ultimate comfort is your goal.
The soft suspension and tall, heavy body mean you will feel plenty of roll in the corners, even at moderate speed, while undulating roads will have the body bobbing around a fair bit. Neither is troublesome or unsettling, and the standard four-wheel drive means there's loads of grip and traction, but it's true that many rivals change direction with considerably less drama than the Range Rover. And, if you get too optimistic with your cornering speeds, things get very much more dramatic, very quickly.
Land Rover's pedigree in off-roading is well documented, and the firm's luxury flagship is no exception. With massive ground clearance and all sorts of clever off-road gadgetry, it'll scamper up slopes and over rocks that'll have its rivals beat, and it'll find traction in places you wouldn't think possible.
Engines and gearboxes
Depending on the vintage of the car you're considering, you'll have the choice of petrol, diesel, mild hybrid and plug-in hybrid power.
The diesels are the most popular, and the range kicks off with a 3.0-litre V6 - badged SDV6 - developing 275PS. We reckon it's the best of the bunch, too. Its power delivery is strong and muscular from low down in the rev range, allowing this enormous car to get up to speed impressively briskly and easily, and it even responds positively when you need to pick up the pace at speed. The SDV8 - a 4.4-litre V8 diesel with 339PS - is even faster and feels properly savage, but the V6 is so good that you might as well save the extra cash it costs to buy.
The P400 has a 3.0-litre six-cylinder petrol that's helped out occasionally by a supplementary electric motor, making it a mild hybrid. With 400PS, it's quicker against the stopwatch than both the diesels, but because you have to work it quite a bit harder to achieve the extra performance, it's actually not as relaxed and doesn't suit the car as well.
It's pretty much the same story with the similar-in-character P400e, which is a plug-in hybrid that combines a 2.0-litre four-cylinder petrol engine with a much brawnier electric motor to deliver 404PS. Despite the hike in power, it's slower than the P400, but it's still quicker against the clock than the diesels. It also allows you to drive up to 25 miles on electric power alone.
Ultimate performance comes in the form of a couple of supercharged 5.0-litre V8 petrols known as the P525 and P565. And yes, the numbers in the names correspond to their horsepower. Gulp. Both are brutishly rapid and sound fab, but you could argue that they're a little (well, a lot) out of step with the socially and environmentally responsible world we live in today.
All versions come with an eight-speed automatic gearbox as standard, and it's the one slightly weak link in the Range Rover's powertrain chain. It slushes between gears very smoothly, but it's rather slow to respond when you ask for a sudden burst of acceleration.
Refinement and noise levels
All of the engine choices deliver an impressively refined driving experience. All are smooth and quiet under the vast majority of circumstances, and most sound good when you give them some welly. The plug-in hybrid is a bit different to the rest, but not in a bad way.
It's almost silent when you're plodding around town in electric-only mode, and even when the petrol engine cuts in, it does so really quietly and smoothly, so much so that you might struggle to detect it. However, when you pile the revs on, the four-cylinder engine does sound a wee bit coarser than the rest.
Otherwise, exterior noises are impressively well isolated for an extremely hushed and serene driving experience. The standard laminated windscreen and side glass mean you barely hear a whisper from the wind, while the tyres and suspension keep themselves to themselves, too.
Safety equipment
This generation of Range Rover has been crash tested by Euro NCAP, and achieved the full five stars, but that was way back in 2012 shortly before the car's release. The testing standards have become a lot more stringent since then, with new parameters being added each year, so we can't say for sure whether it'd be as safe as one of today's five-star cars.
As of the 2018 facelift, all cars had automatic emergency braking, lane departure warning, front and rear parking sensors and cruise control with a speed limiter as standard, alongside a shedload of airbags. However, stepping up to Vogue SE brings a whole lot more safety gear, including a 360-degree parking aid, traffic sign recognition with automatic speed amendment, a blind spot monitor, a driver condition monitor and clear exit monitors front and rear. That alone might be worth the upgrade for some.
Autobiography cars add some semi-autonomous features like lane keep assist, adaptive cruise control with steering assist and a parking assistant, while SVAutobiography cars add a full-size spare wheel to replace the space-saver you get in other versions.
Maximum EV range
According to the official figures, the P400e plug-in hybrid should be able to travel a maximum of 24 or 25 miles (depending on trim grade) on a full charge. This full charge takes approximately six hours from a domestic three-pin plug, or two hours from a 7kW wallbox.
Remember, though, that this range figure is a maximum delivered under laboratory conditions, and that the range you get in the real world will depend on things like temperature, traffic, driving style and a host of other factors. Still, you can reasonably expect 20 miles on a warm day, and upwards of 15 miles in the winter.
MPG and fuel costs
"You wouldn't expect a huge car like this to offer fuel-sipping economy - and indeed it doesn't."
The best regular version is the V6 diesel with a maximum official return of around 31mpg, with the V8 diesel a way behind on 26mpg. It's a similar figure for the P400, while the V8 petrols are laugh-out-loud thirsty at 20mpg or less. And that's if you drive them super-carefully. Which there's absolutely no chance you will.
Unsurprisingly, it's the P400e plug-in hybrid that delivers the best figures. The official WLTP combined cycle offers up between 75mpg and 85mpg, although that's a laboratory figue, and what you'll get in the real world will depend on how much of the time you spend running on electric-only power and how often you rely on the petrol engine. Maximise the former if you want the best economy you can get.
Insurance groups and costs
If you didn't know, insurance groupings run from 1 to 50, with cars in group 1 the cheapest to insure, and group 50 cars the most expensive. And guess where the Range Rover sits? Yep, right at the top. Groupings for the car start at around 45, but you don't have to go too far up the range before you hit the top of the scale. So, whichever version you pick, it'll be costly to insure. But if you can afford to buy one, you can probably afford to insure it, too.
VED car tax
New car buyers will be stung for a first year tax bill of around £2000 (except on the hybrid, which is £100) which will be rolled up into the on-the-road price of their car, so as a used buyer, be thankful that you've swerved that.
If your car was registered after April 1, 2017, the next five years will be paid at £475. That's £150 as a flat rate for petrol and diesel cars, plus a £325 surcharge for the car costing more than £40,000 when it was new (as all Range Rovers did). After year six, it'll drop to the £150 flat rate.
If your car was registered before that, you'll pay either £565 or £580, depending on your car's CO2 emissions. Company car drivers will pay tax on 37% of the car's value, which is extremely steep. Unless, of course, they choose the hybrid, which falls between 18% and 20%.
How much should you be paying for a used Range Rover?
"New car prices for the Range Rover - at the time of writing - started at around £84,000 for the most basic SDV6 Vogue, so this really isn't a cheap car."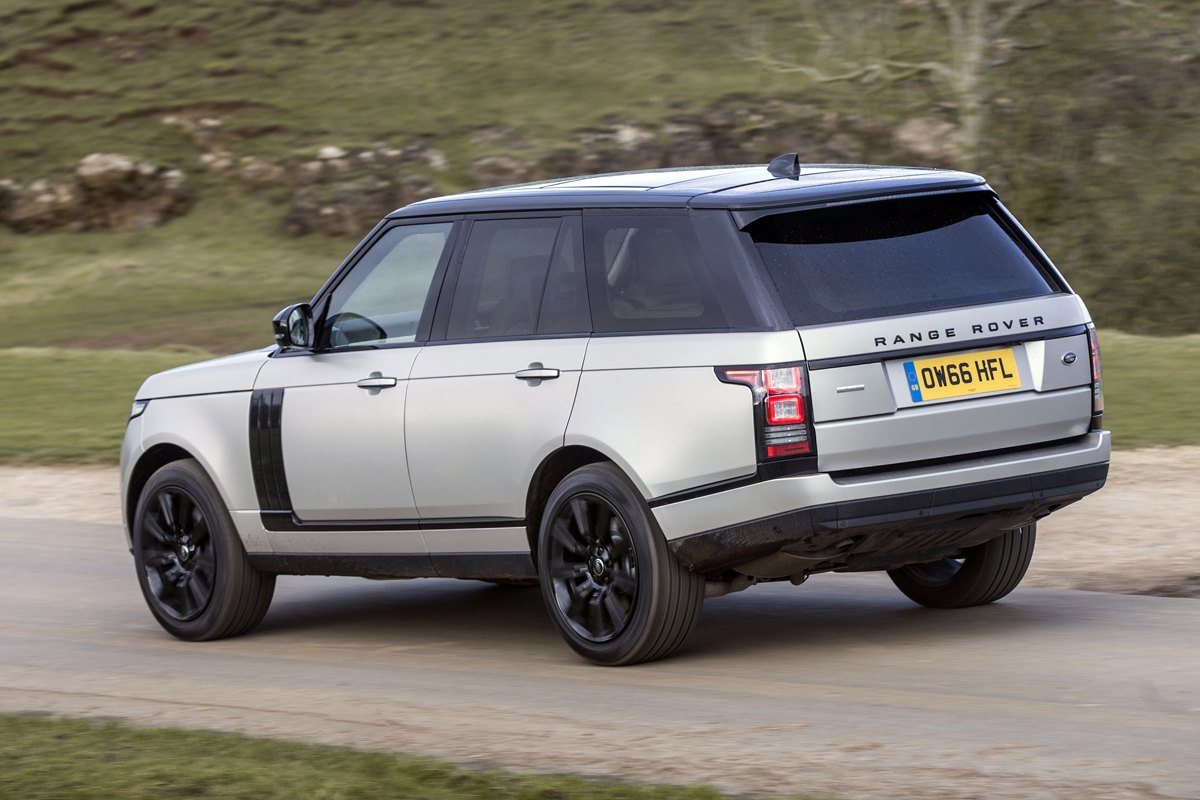 What's more, they rose to a truly eye-watering £180,000 for the range-topping P565 SVAutobiography LWB. All the more reason for choosing the SDV6, we'd say.
Meanwhile, the upgrade from the SDV6 to either the V8 diesel or the plug-in hybrid cost around £6000. That's a lot of money, but considering how expensive the car is, it's a drop in the ocean.
Compare those prices with those of rivals, and they do look a bit, well, pricey. Not quite as pricey as a Bentley Bentayga, perhaps, but pricier than everything else from Audi, BMW, Mercedes and Porsche. Worse news for private buyers of new examples was that the Range Rover had weaker resale values than most of its competitors, meaning heavier depreciation losses.
However, the new buyer's loss is the used buyer's gain, because it means that prices for second-hand examples will be closer to those of rivals. Obviously the prices of pre-reg examples won't have had enough time to tumble too much - although will still provide a very hefty discount on what is essentially still a very new car - but find one that's three years old, and you can expect considerably less than half of the new cost.
Trim levels and standard equipment
There's not a lot you'd want from even a luxury car that the entry-level Vogue trim doesn't give you. Three-zone climate control, automatic lights and wipers, a fixed panoramic roof, keyless go, four powered windows, powered rear-seat reclining, a hands-free powered tailgate and leather upholstery are all provided as standard, along with heating for just about anything you could think to heat in a car: front seats, back seats, steering wheel, windscreen, door mirrors, you name it.
Vogue SE cars come with a few luxurious nice-to-haves, but we wouldn't call any of them must-haves: upgraded leather, ventilated front seats, soft-close doors and an upgraded off-roading system. However, this version's upgraded safety kit might well make it worth the step-up for some.
Autobiography trim gives you four-zone climate, a sliding panoramic roof, massaging front seats and upgraded rear seats, while long-wheelbase versions also get 10-inch rear entertainment screens and electric sunblinds, while SVAutobiography cars add quilted leather, leather headlining and even posher rear seats.
Land Rover Range Rover cars for sale on heycar
2,314
Number of cars available
£33K - £145K
Price bracket of these cars
Colours available on heycar
Keep me updated by email with the latest advice, news and offers from heycar
By submitting, you agree to our
privacy policy
.