Range Rover Evoque Review 2022
Range Rover Evoque Review 2022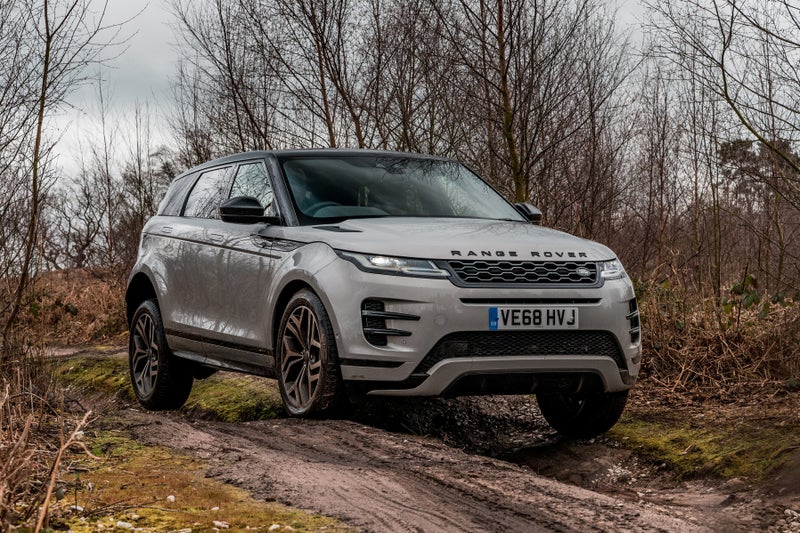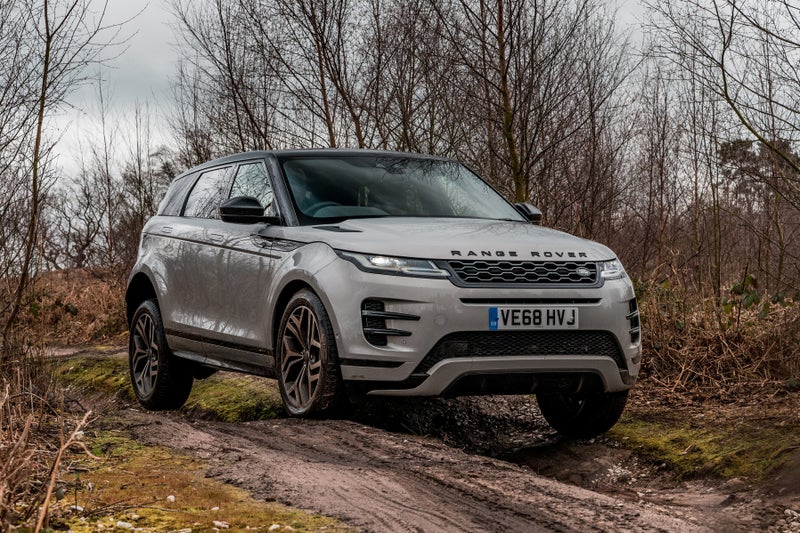 1/10
heycar rating
"Popular and affordable Range Rover"
Launched: 2019

SUV

Petrol, Diesel, PHEV
Quick overview
Pros
Looks fabulous inside and out
Loads of luxury equipment provided
Nice to drive in every way
Cons
Pricey compared with rivals
Efficiency figures aren't that great by comparison
Land Rover's reliability record has to be a worry
Overall verdict
On the inside
Driving
Cost to run
Prices and Specs
Common questions
Overall verdict on the Range Rover Evoque
"The Range Rover Evoque has always been one of the most stylish SUVs in its class, but the latest version now has the substance to back up the style. Not only is it great to look at inside and out, but it's also comfortable and enjoyable to drive, practical enough for a small family, and comes loaded with luxury equipment."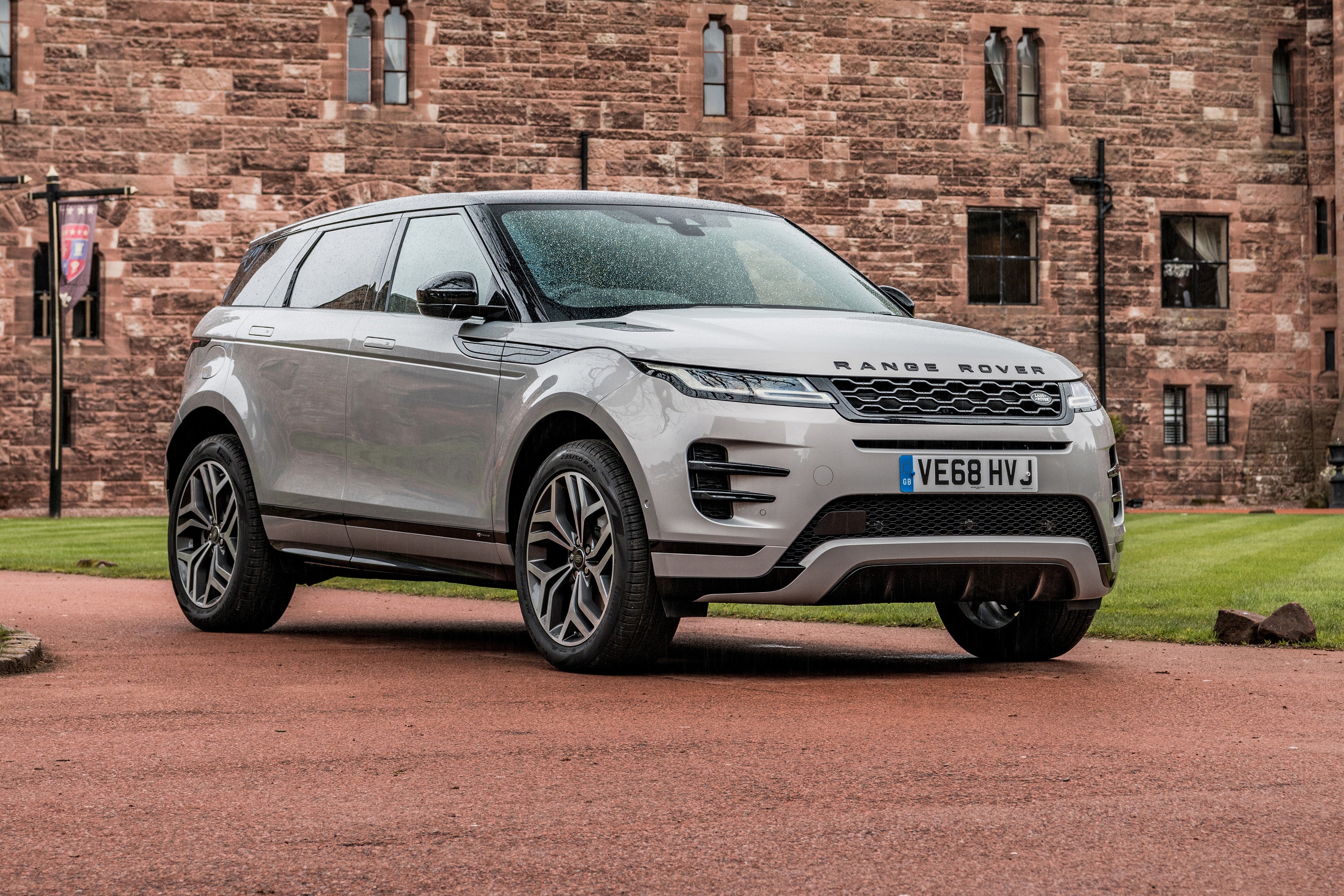 There's something to be said for making an entrance, and when the first Range Rover Evoque (the model before the one we're reviewing here) came along in 2011, it certainly did that. The small premium SUV craze had yet to take off at quite the same rate as it has done since, primarily because the offerings of the day - including the Audi Q3 and BMW X1 - awkwardly resembled jacked-up hatchbacks rather than scaled-down off-roaders.
When the Range Rover Evoque rocked up, it was a complete revelation. Among the awkwardness, there was suddenly elegance. The bold, angular details and crisp lines of the baby Range Rover made it stand out a mile against pretty much any car, let alone the humdrum competition, and pretty much anyone who gave a hoot about cars at that time wanted one for that reason alone.
In truth, it wasn't that brilliant a car in a lot of other ways, but its jaw-dropping looks ensured it was an enormous success nonetheless.
Fast-forward to 2019. Small SUVs - prestige or otherwise - are all the rage. The competition from Audi and BMW has seriously upped its game, in terms of its styling and in a whole host of other areas, and the popularity of this type of car means that there are more contenders than ever before. That means the second-generation Evoque really has its work cut out in keeping the affection of a spoiled-for-choice public.
It's just as well, then, that the 2022 Range Rover Evoque is an absolute cracker of a car. The competition may have upped its game, but don't go thinking that Land Rover has rested on its laurels.
The first big improvement comes in the form of the driving experience. Where the first Range Rover Evoque was rather lacklustre on both ride and handling, the latest car rides with a plushness to match most other cars in the class, and also deals with corners in an impressively secure and controlled way. Big strides have also been made on refinement, with quieter, smoother engines and really good suppression of exterior noises.
Practicality was once a weak, point, too, and again, the new Range Rover Evoque now has what it takes on that score to match most rivals, with a roomy cabin and a very decent boot. Quality has also been kicked up a notch, with really impressive cabin materials, and on SE trim and above, a cool-looking twin-touchscreen arrangement for the centre console adds a real touch of glamour. What's more, most versions come with all the luxury and safety kit you need.
Yes, it's not a cheap car, costing a shade more than most of its rivals, and it's not a particularly efficient choice in comparison, either. However, for style-conscious buyers - which SUV customers most certainly are - the glamorous Range Rover Evoque might well be the only choice.
If you're looking for the older version, you need our used Range Rover Evoque (2011-2019) review.
Is the 2022 Range Rover Evoque right for you?
The whole reason that buyers love premium SUVs - even small ones - so much is that they provide the practicality you need in a family car with a level of style, image and desirability that you don't get with other kinds of car. And, if it's the style aspect of that equation that you're particularly interested in, then the Range Rover Evoque is arguably the most stylish car of a very stylish bunch.
The car might not look as mind-blowingly unique as the original did when it first rocked up in 2011, but it's still a very handsome car that stands out against rivals. And if the rest of the car isn't handsome enough, all versions come with retractable door handles that sink flush into the bodywork when not in use for a bit of extra visual theatre. If you're looking to 'make an entrance', no car of this type does it better than the Evoque.
But unlike the old Range Rover Evoque, this is now a car you can buy with your head and your heart. There's a good amount of space for family buyers, it drives well and quality seems to have improved significantly. However, it's still balanced towards style over practicality, so buyers after a Land Rover with more of the latter might want to check out the Land Rover Discovery Sport.
What's the best Range Rover Evoque model/engine to choose from?
Most buyers could probably live with the entry-level D150 diesel engine, but in a glamorous car like the Range Rover Evoque, it's not about living with things, it's about feeling spoiled. That's why we reckon you'll want to upgrade to the D180 (or the even more powerful D200 or D240), which is faster, more muscular and more refined because it doesn't need to be worked as hard.
There's three petrol engines on offer: the P200, P250 and P300. There's a bit of a Goldilocks theme with these, as the P200 is a bit strained and out of its depth in the relatively heavy Evoque, while the P300 is a bit excessive given it isn't a car that encourages spirited driving. The P250 is just right, balancing price and performance nicely.
The P300e plug-in hybrid version is very impressive, with its 34-mile range making it an appealing option for those with short commutes, or for company car drivers looking for low tax bills. We think it's one of the best hybrid cars you can buy.
In terms of trim, you could probably live with the entry-level version or the S trim, because each has a fair amount of luxury kit, but you probably won't want to. That's because you'll want the funky-looking twin touchscreens on the dashboard that look so glamorous, and these only enter the range from SE trim and upwards.
What other cars are similar to the Range Rover Evoque?
The Range Rover Evoque wasn't the first car offered in the small luxury SUV class, but it was arguably the one that made it so popular. Even today, the Evoque still dusts it with its original rivals in the form of the Audi Q3 and BMW X1, both of which have also come on leaps and bounds.
And you can bet that wherever Audi and BMW go, Mercedes is sure to follow, and although it was slightly later to the party than the rest, the firm is represented in this class by the GLA, and to some extent the stylish seven-seat GLB too.
Meanwhile, the Lexus UX offers buyers a self-charging hybrid choice, while the Volvo XC40 is a similarly style-led alternative that's also fairly practical. Sister brand Jaguar has also greatly improved the E-Pace in the last couple of years, meaning it's a strong alternative.
Comfort and design: Range Rover Evoque interior
"The interior of the Range Rover Evoque has always been a stylish place to sit, but the old car lacked substance. Now, it's attractive but also well-made and posh-feeling, with a classy twin-screen infotainment system on high-spec models. We've yet to try the single-screen system, however."
Describing the dashboard layout of the Range Rover Evoque is a little tricky. As you'll discover in the infotainment section below, high-spec Evoques have a twin-screen infotainment arrangement, plus a digital instrument screen in place of traditional dials. And, we've described that below.
However, lower-spec versions get only one screen for the infotainment system, plus conventional instruments. Land Rover has never let us anywhere near a low-spec car, presumably because they don't look anywhere near as posh (the twin-screen arrangement has plenty of wow-factor, to be fair), so we can't tell you what the basic setup looks like, or how easy it is to use. Sorry about that.
The seats are wonderfully supportive, though, and thanks to bags of adjustment for the steering wheel and seat (on the latter, that adjustment is electric on all but the entry-level trim), you won't struggle to find a comfortable driving position. You also sit higher up than you do in rivals from Audi and BMW, which dedicated SUV fans will really appreciate.
This gives you a cracking view out at the front, too, and although the rear end is styled quite flamboyantly, resulting in a slightly shallow rear window, you can see a decent amount out of the back thanks to well-placed rear quarter light windows. What's more, all versions come with all-round parking sensors and a reversing camera as standard.
Quality and design
When you're competing in a class of car that includes Audis, BMWs and Mercs, famed for their Germanic solidity and class, it might be very easy to get left behind in this area. Don't worry, though, because there's not a bit of that with the Range Rover Evoque.
The materials on show feel plush and tactile, and the surfaces and finishes are of a uniformly high standard throughout. The glossy, shiny-fronted touchscreens certainly do their bit to jazz things up, too, and the assembly feels sturdy and solid. This is a cabin that's a match for anything else in the class in terms of poshness.
While the entry-level car makes do with cloth upholstery, every trim from S upwards gets standard leather of some variety or other, while HSE cars get an extended leather package which puts hide finishes just about everywhere you could think to put them. If you're not a fan of animal products, though, the car is also available (as a no-cost option) with what Land Rover calls the 'Eucalyptus' interior trim - a more envionmentally-friendly fabric that feels surprisingly nice to the touch.
The steering wheel cover, although made from recycled plastic, looks and feels like suede, while the seats are trimmed in a denim-like fabric, and it all looks and feels as high-grade as the leather. However, no matter which model you choose, we think you will not be disappointed with the quality. And you have to look very hard to find anything that looks or feels under par for a luxury car.
Infotainment: Touchscreen, USB, nav and stereo in the Range Rover Evoque
All versions of the Range Rover Evoque have a 10.0-inch central touchscreen system that brings together Bluetooth, DAB and Apple Carplay/Android Auto. Upgrade from the basic spec to S trim, and the system is upgraded to also support navigation, a wifi hotspot and a variety of connected services.
However, most buyers will upgrade a stage further to SE trim. That's because this adds a second screen underneath - this time with inset dials - which can change its functionality according to which menu you're in at the time, although as a default, it mainly handles the ventilation and off-road systems. It looks the absolute business, and it also works reasonably well once you've got used to it, but it is a little distracting on the move. At least you get near physical dials to adjust the temperature and fan speed, which also double as controls for the heated seats.
The step to SE also brings a configurable digital display behind the steering wheel instead of the conventional analogue dials found in more humble Evoques, and it displays a wide range of information in a clear, easy-to-digest way. Upgrading to HSE trim also brings an upgraded Meridian sound system that sounds pretty good.
Whichever grade of car you go for, though, the central touchscreen isn't perfect. The graphics are sharp and the on-screen icons are big enough, but the menus could be more logical, while the screen could be a little quicker in both its reactions and its transitions. Having said that, it does boot up much more quickly than Land Rover's previous generation system.
Space and practicality: Range Rover Evoque boot space
The Range Rover Evoque does a thoroughly respectable job in this area. There's loads of space in all directions up front - as you'd expect - and in the back, there's a very similar amount of headroom and legroom to what you get in rivals.
Six footers will fit comfortably, and because the rear of the cabin is also a little wider than in rivals, things won't feel quite so pinched when you have to sit three across the rear bench. A pair of billy child seats will fit in no problem, and there are ISOFIX tetherings to secure them with. That said, the back seats don't slide or recline or anything clever like that, which they do in some rivals.
The boot is a very decent size. Land Rover claims it can carry up to 591 litres with the seats up and 1,383 litres with them down, although this is measured from the floor to the roof so isn't a comparable figure with rivals.
Nevertheless, it should cope with most of what a family needs from it, including the ability to swallow pushchairs or golf clubs, depending on your day's activities. It is marginally smaller than those of rivals, though. The rear seats fold down in a versatile 40-20-40 configuration, and they go down more or less flat, leaving you with a flush load area. There's no boot lip to contend with when loading heavy items, either.
In terms of external dimensions, the Range Rover Evoque is 4,371mm long, 1,904mm wide and 1,649mm tall. This means it's slightly shorter (but wider and taller) than the BMW X1 and Audi Q3.
Handling and ride quality: What is the Range Rover Evoque like to drive?
"The Range Rover Evoque now offers a much better driving experience than its predecessor, with a focus on offering comfort that is almost on a par with larger Range Rovers. The handling is composed rather than exciting, but few SUVs can claim to be the latter."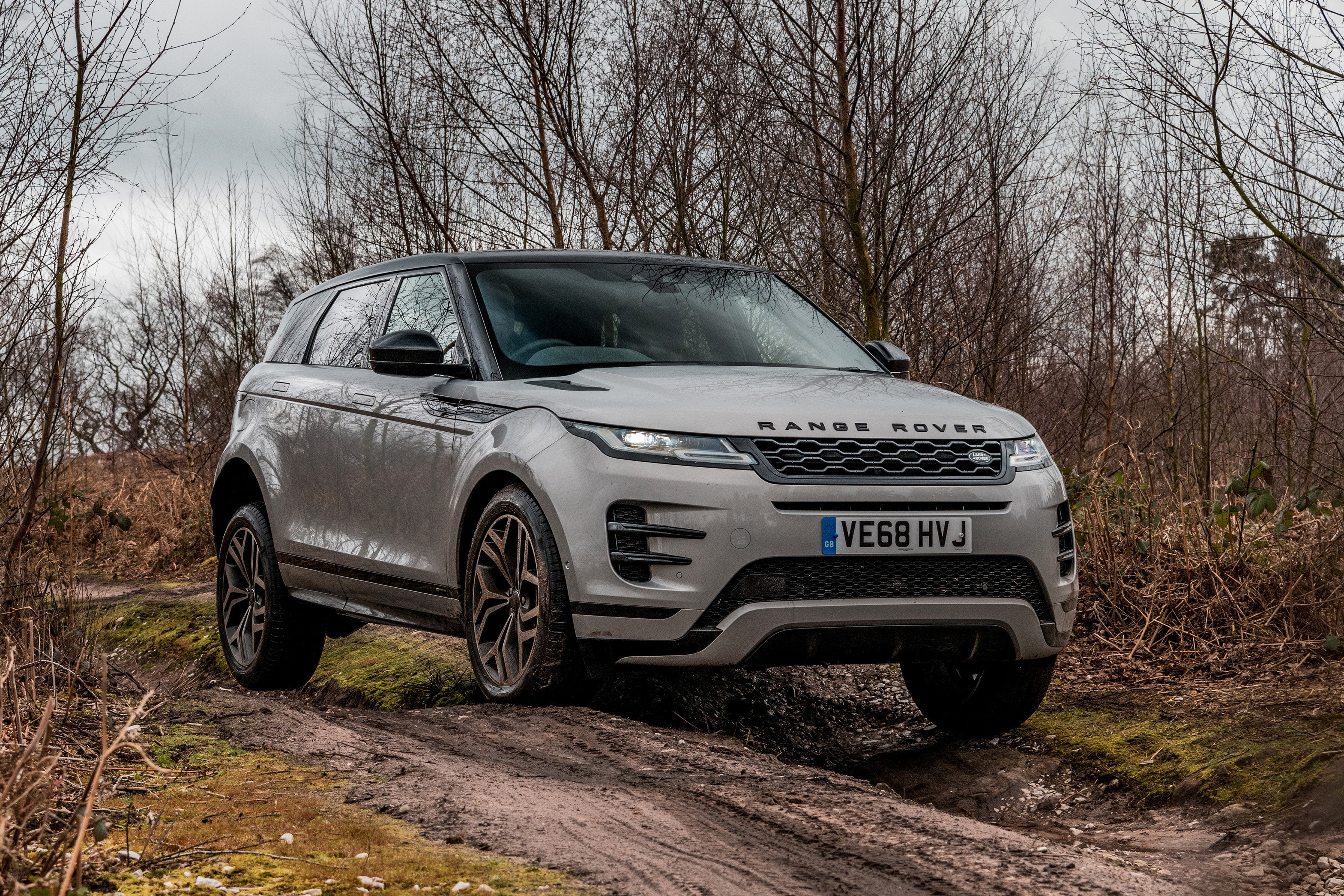 This was an area in which the previous Range Rover Evoque was merely so-so, but this version does much better, providing an impressive balance of abilities. The suspension is fairly absorbent, so it can deal with most potholes and sharp-edged bumps with minimal fuss, yet the ride is still pretty well controlled, so the body doesn't bounce around wildly over crests and dips.
Things feel settled and serene on the motorway, too, making this a comfortable way to munch through the miles. We'd certainly advise sticking with smaller wheels, as things get appreciably more lumpy if you specify the big 20-inchers, but even then, the Evoque isn't an uncomfortable car.
The handling is assured and capable rather than electrifying, but that's fine in a car like this. You do feel the body leaning over a bit in corners, but there's lots of grip and traction on hand, especially in the four-wheel drive models. The steering is responsive and nicely weighted, so placing the car where you want it is always easy.
You'd expect any Range Rover - even a little one like the Evoque - to be good when venturing off the beaten track, and sure enough, it'll take you where rivals from Audi, BMW, Mercedes and Volvo fear to tread thanks to its clever off-roading system. The four-wheel drive diesels will also tow up to 2000kg, although that figure can drop to 1600kg on some of the plug-in hybrid models, so check before you buy.
An adaptive suspension is available as an optional extra, but we haven't had the chance to try it.
What engines and gearboxes are available in the Range Rover Evoque?
All of the Range Rover Evoque's regular engines - petrol and diesel - are 2.0-litre units. The diesels come with 150PS, 180PS or 240PS, while the petrols come in 200PS, 249PS and 300PS forms. The entry-level 150PS diesel can be had with front-wheel drive and a notchy manual gearbox, or with all-wheel drive and a slick nine-speed automatic, but from then on, all other Evoques are of the latter persuasion.
The entry-level diesel will be muscular enough for many drivers, with enough urge to pull you around reasonably easily, and you won't struggle to keep up with motorway traffic. However, the D180 provides a good bit more urge making life a bit easier in many day-to-day driving situations, so we'd definitely say it's worth the upgrade. We've not tried the most powerful diesel, but it's quite a bit quicker than the others on paper.
The petrols are quicker still, with only the entry-level 200PS version failing to outpace the most powerful 240PS diesel. However they don't deliver as much low-down pull as the diesels, meaning you have to work them much harder to extract that kind of performance, so they don't actually feel as eager. This is definitely a car that suits a diesel engine.
There might be an exception to that, though, in the form of the P300e. This plug-in hybrid variant teams a 1.5-litre petrol engine with an electric motor to give a combined output of 309PS, making it the fastest Evoque on paper. Admittedly, the P300e doesn't feel quite as rapid as its numbers suggest on the road, but it is a very smooth car to drive and a fully charged battery will carry you up to 34-miles on pure electricity - perfect for short runs around town or a modest commute.
Refinement and noise levels
As you'd expect, the PHEV version of the Range Rover Evoque is whisper-quiet when running on electric-only power. The 1.5-litre turbocharged petrol engine is smooth and hushed, too, which means it can be quite difficult to tell if the car is running on electricity or combustion power at low speeds - it's that good. Things can get a little more vocal at high speeds, particularly if you thump the throttle, with the engine emitting a low rumble, but the P300e is a very refined package.
Where the diesels are concerned, the D150 is a little noisier than the D180, not least because you have to work it quite a bit harder to make progress, but both engines compare well to those of rivals noise and vibration.
Treated gently, the petrols are smoother and quieter still, but again, they have to be worked more mercilessly than the diesels to haul you around at the rate you'd like. And, when you oblige, they can start to sound a little thrashy.
All the engines melt away into the background once you're up to cruising speeds, and you won't hear too much in the way of wind- or road noise, either, making life very peaceful on the motorway.
Safety equipment: How safe is the Range Rover Evoque?
Whichever version of the Range Rover Evoque you go for, you'll get safety kit that includes LED headlamps, tyre pressure monitoring, lane-keeping assistance, automatic emergency braking and six interior airbags. There's even an airbag on the outside to help protect any pedestrian that has the misfortune to become overly-acquainted with the front of your car. From then on, the amount of safety kit changes with each step up the trim structure.
S trim cars have traffic sign recognition with automatic adjustment of the cruise control, while SE trim gives you upgraded LED lights with high beam assistance, plus front- and rear cross-traffic alerts and a system to help steer you into a parking space.
HSE cars also add blind-spot monitoring, adaptive cruise control and high-speed automatic braking. Euro NCAP has diligently and scientifically smashed the Evoque into things, and the car emerged with a full five-star rating. Some won't like the fact that no spare wheel is provided, though, with a pot of sealant your only protection against being stuck in the event of a puncture.
Maximum EV range of the Range Rover Evoque PHEV
The P300e plug-in hybrid version is capable of up to 34 miles of electric-only range on a full charge of the batteries, according to official figures, and because it can travel at up to 84mph on the batteries alone, those with short commutes should be able to get to work without using a drop of petrol. That commute will need to be far less than 34 miles, though.
That's a figure gleaned from laboratory testing where various real-world variables (wind resistance, traffic, ambient temperatures) aren't accounted for, so you'll get less in reality. We'd work to around 30 miles, and less than 25 in cold weather. Besides, you'll probably never put a full charge in your battery, because only charging to 80% prolongs the usable life of this expensive part.
Land Rover quotes charging times between 0-80% of around an hour and a half on a 7kw wallbox charger, and around half an hour on a DC public charger rated at 32KW. If you want to charge up your P300e via a three-pin plug then you will be waiting over six hours.
MPG and fuel costs: What does a Range Rover Evoque cost to run?
"Fuel economy is why the diesels are most popular in the Evoque, especially among high-mileage drivers. The D150 diesel in front-wheel-drive form will return a maximum combined figure of almost 45mpg according to the official WLTP figures, but you don't pay too much of a penalty for adding four-wheel drive and an automatic gearbox, that version having a figure of 42mpg."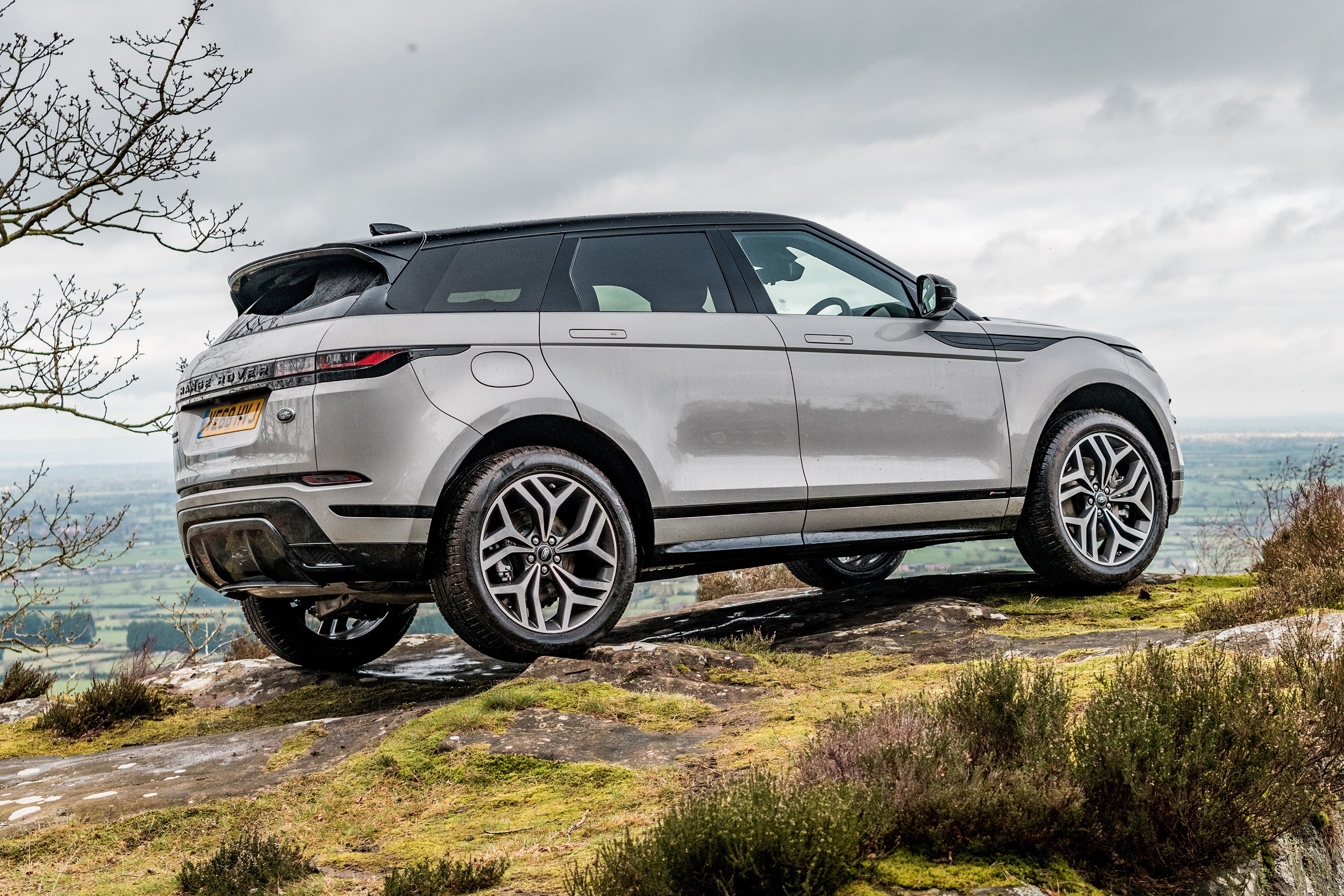 The D180 returns about the same, where the D240's output drops to around 40mpg. Whichever version of the 2.0-litre petrol engine you pick, you'll get a very similar fuel return of around 31mpg, according to the official figures.
Remember, though, that these official figures are derived from laboratory tests, and matching them in the real world could be very difficult. In the case of the P300e, to get anywhere near the maximum average figure of 141mpg, you'll need to drive the car with a fully charged battery most of the time and reserve the use of the petrol engine for Christmas and birthdays only.
How reliable is the Range Rover Evoque?
Land Rover, along with its sister brand Jaguar, finished slap bang in the middle of the manufacturer table in the latest HonestJohn.co.uk Satisfaction Index. That's a definite improvement on previous years, suggesting the brand has focused on improving quality control and reliability.
The previous generation Range Rover Evoque had its fair share of quality niggles and mechanical problems reported, which took the shine off the ownership experience for many. However, it does seem that the brand is moving in the right direction, and we'd expect this new version to be more dependable as long as the maintenance schedule is kept up to date.
Insurance groups and costs
The Range Rover Evoque isn't a cheap car to buy, so it won't be cheap to insure, either, but it shouldn't be any steeper on that score than its major rivals. Groupings range from 26 at the bottom of the scale to 40 at the top (1 being the cheapest group and 50 being the most expensive).
Keeping your choice of engine modest will help minimise your costs. Pound for pound, the D180 engine sits around three groups higher than the D150, and we'd say that's an upgrade worth making.
VED car tax: What is the annual road tax on a Range Rover Evoque?
This generation of Evoque was released in 2019, after the Government introduced tax rules that applied a flat rate of £155 to petrol and diesel cars rather than taxing them according to their CO2 emissions. The P300e plug-in hybrid is classed as an 'alternatively fueled car', which means you save a tenner and pay £145 a year for VED.
As such, you'll pay that flat rate on many versions. On others, though, you'll be required to pay an additional £325 per year between years two and six of the car's life, and that'll be on versions that cost more than £40,000 when new. And beware: if you pick a version that was cheaper than that threshold, but optional extras were added that took it over £40k, then you'll still be liable for the surcharge. It's always worth a quick online search of the car's registration to see what the situation is.
How much should you be paying for a used Range Rover Evoque?
"Although it's still relatively new, enough time has passed to allow the latest Range Rover Evoque to become more affordable on the used market. A one or two year-old car will have taken a decent depreciation hit, saving you money."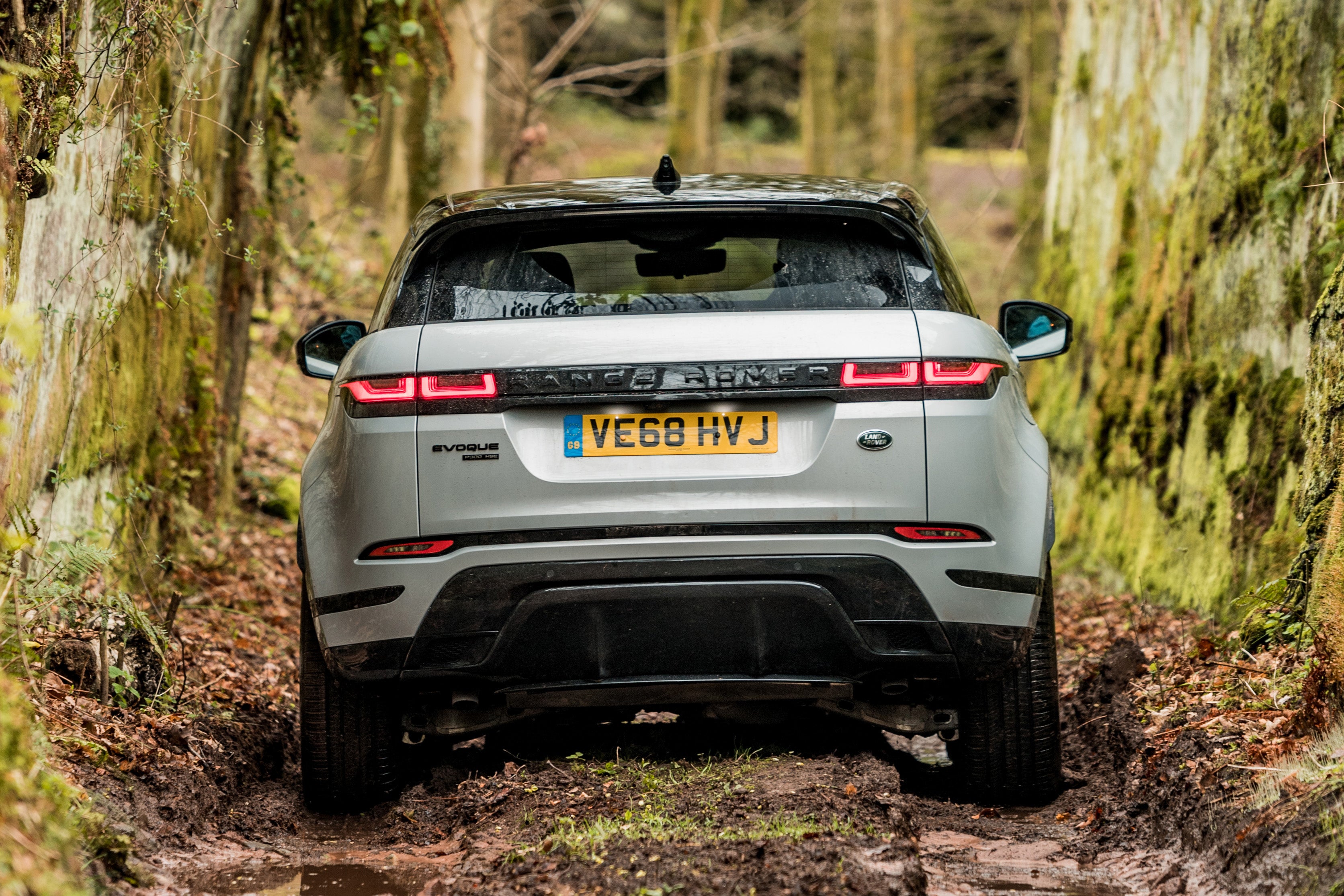 At the time of writing, prices for brand new Evoques began at £32,000 for the D150 front-wheel drive manual in standard trim, and rose to a maximum of almost £52,000 for the P300e R-Dynamic HSE.
The one we reckon most buyers will want, the D180 SE, came in at just over £37,000, while the cheapest PHEV version, that being the S, set buyers back £45,000.
Compare these prices with those of rivals, and they're quite a bit higher. Worse news for used car buyers is that the Evoque also has stronger residual values than its rivals, so second-hand examples will also be that much more expensive. And also, having only been released in 2019, prices haven't had the chance to fall too far yet. A quick flick through our listings will show you the cheapest examples (mostly of the entry-level manual version) coming up at around 30 grand.
Trim levels and standard equipment
All versions of the Evoque come with those jazzy electric door handles, along with alloy wheels, automatic lights and wipers,, a heated windscreen, two-zone climate control, heated fabric seats, a leather steering wheel, front- and rear parking sensors, a reversing camera, cruise control and four powered windows.
Upgrading to S trim brings leather, electrically-adjusting front seats, navigation and a wifi hotspot, but most buyers will upgrade a step further to SE for those funky twin screens, digital dials and a powered tailgate.
HSE trim adds keyless entry, upgraded leather, a hands-free powered tailgate and the upgraded Meridian sound system, while if you find a First Edition car, it'll be tooled up with a head-up display, panoramic roof and a heated steering wheel that adjusts electrically. At every stage of the game, you can also add an R-Design Pack that brings a variety of exterior and interior design embellishments and varies the nature of the leather upholstery you get.
Ask the heycar experts:
common questions
Is the Range Rover Evoque four-wheel drive?
Most high-end Evoques are four-wheel drive, but there is a few front-wheel drive variants available lower down the range. What you need depends on what you'll use it for, but front-wheel drive models do without much of the clever Land Rover off-road gadgetry.

What problems does the Range Rover Evoque have?
There's no doubt that the previous generation Evoque had numerous quality and reliability issues that weren't always addressed throughout the car's life. If surveys are anything to go by, however, it seems Land Rover is making considerable efforts to improve reliability, meaning the new car should be more or less on a par with its rivals in that respect.

Is the Range Rover Evoque worth buying?
We reckon so, yes. It's a much better all-round car than the previous generation, and its focus on style doesn't mean you need to compromise on quality, comfort and space. Having said that, there are more practical premium SUV offerings on the market.

Land Rover Range Rover Evoque cars for sale on heycar
2,314
Number of cars available
£14K - £60K
Price bracket of these cars
Colours available on heycar
Keep me updated by email with the latest advice, news and offers from heycar
By submitting, you agree to our
privacy policy
.