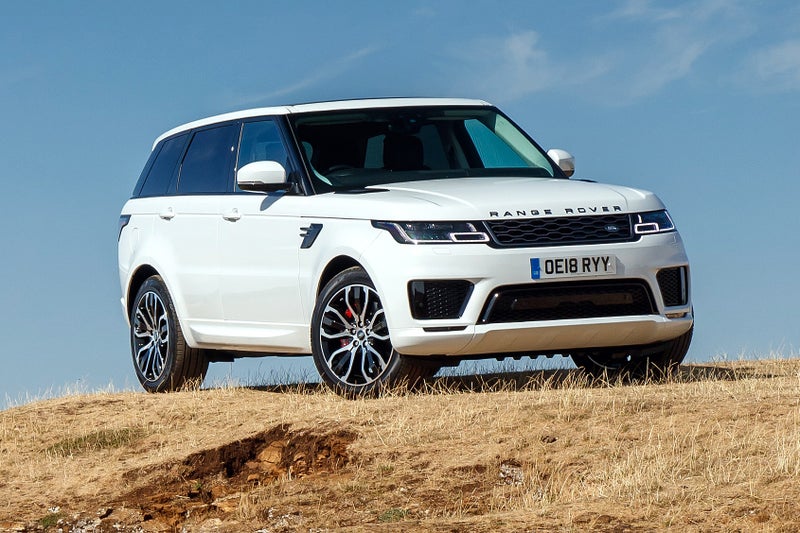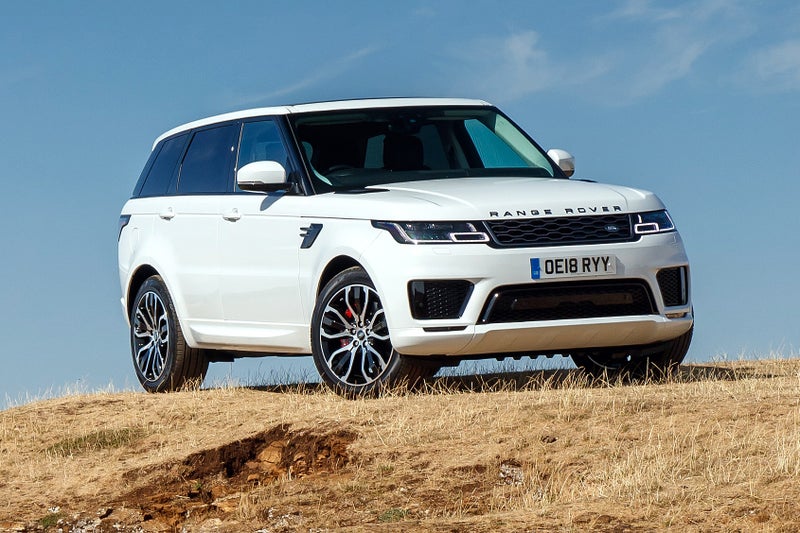 1/10
heycar rating
"Serene, luxurious long-distance SUV"
Launched: 2014

SUV

Petrol, Diesel, PHEV
Quick overview
Pros
Refined and powerful engine range
Very comfortable on all terrains
Luxurious interior and great driving position
Cons
Punitive running costs in most versions
Optional third row of seats is cramped
Highly questionable reliability record
Overall verdict
On the inside
Driving
Cost to run
Prices and Specs
Common questions
Overall verdict on the Range Rover Sport
"Despite its name, the Range Rover Sport is actually more comfortable and refined than most sporty SUVs. It feels extremely luxurious inside, comes with some wonderful engines, and we like the latest new technology. Few rivals are as competent off-road, but it's very expensive to buy and run, despite coming well-equipped."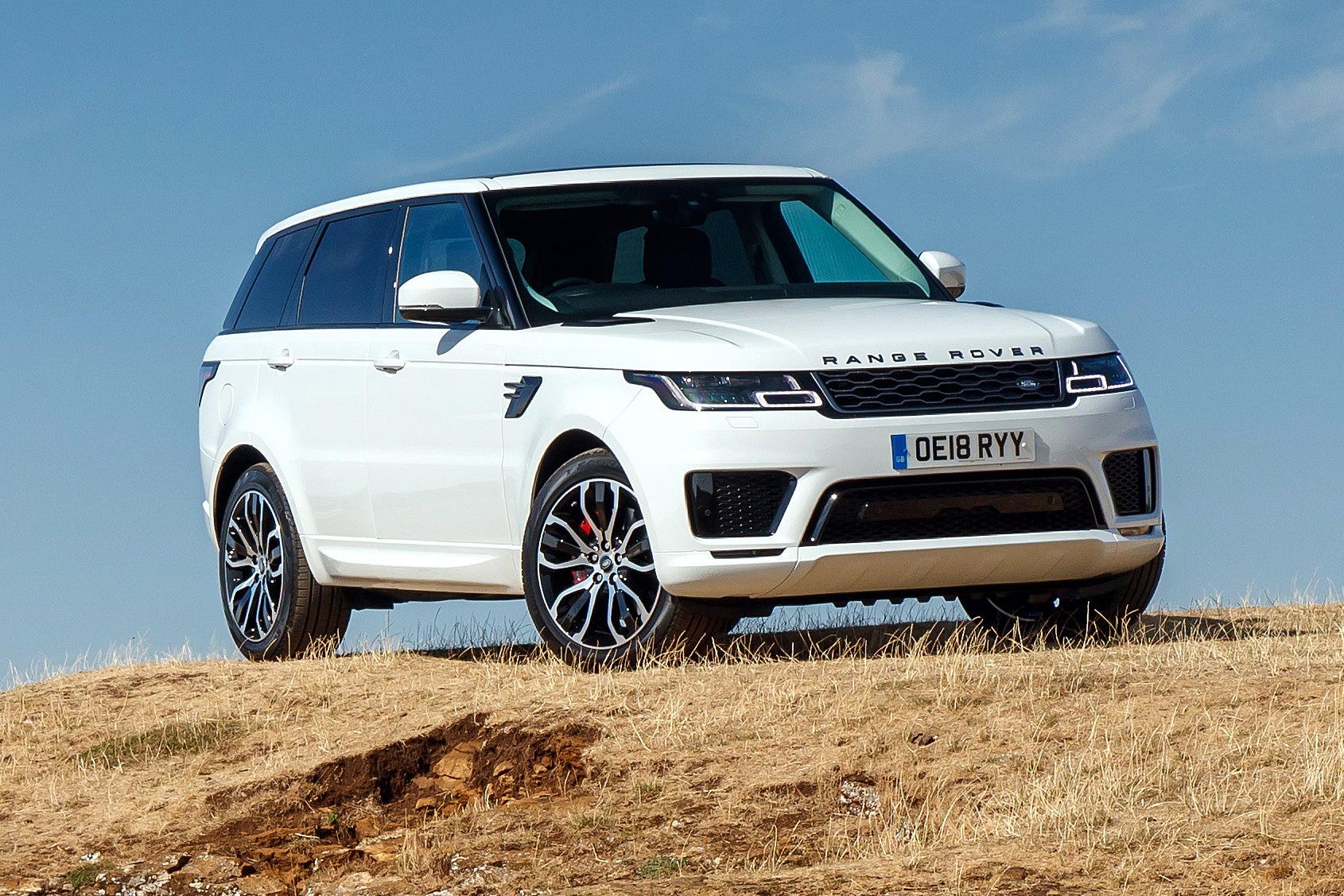 Has there ever been a car that embodied the 'SUV' name better than a Range Rover Sport does? It's one of the sportier, and yet most utilitarian (in terms of its off-road ability) vehicles money can buy, yet its prestigious badge adds serious luxury into the mix. It's supposed to combine the lavish interior features of the flagship Range Rover with the sportier handling traits of rival German 'SUV-coupes' from Porsche, BMW and Audi.
This second generation model was launched in 2014, but given a facelift in 2018, including a styling refresh and lots of new on-board technology. It's available with seating for five or seven, but every version comes with a proper four-wheel drive system, sophisticated air suspension and an eight-speed automatic gearbox.
Although it's getting on a bit, this car still has one of the broadest repertoires of any luxury model, with decent cornering and composure for such a large car, remarkable cruising comfort, and incredible off-road capability. It drives very well, with consistently weighted controls that reward smooth inputs, but it's not as alert or grippy as some of its competitors on a really twisty road. Still, we think the trade-off for a pillow-soft ride is worth it.
It now comes with a very broad spread of engines, with by far the most popular being the powerful V6 and V8 diesel models. These suit the Sport's relaxed nature, and are brilliant for towing, with superb refinement. In fact, apart from its high running costs, this car is an exemplary long distance cruiser, perfect for road trips.
As for petrols, there's the P300, which is a 2.0-litre four-cylinder turbo with 300PS, and a pair of hybrids. The first is the P400, featuring a 3.0-litre straight-six engine with 400PS and mild-hybrid tech to help it save fuel. The second (and most efficient Range Rover) is the P400e plug-in hybrid, featuring a smaller petrol unit but a bigger electric motor and battery pack, so it has the ability to travel shorter urban distances in its EV mode.
For buyers who don't give a fig about their environmental impact, the SVR is the high-performance flagship version of the Range Rover Sport, equivalent to the Audi RS Q8 and X6 M. It's powered by a supercharged 5.0-litre petrol V8 with 575PS and accelerates alarmingly fast for such an enormous car, and sounds terrific.
Despite its imposing size, the tight packaging of its tough four-wheel drive system means it's not as roomy as some other seven-seat SUVs, although passengers in the first two rows won't struggle for head- or legroom. The boot is similar, with plenty of space, but not the cavernous luggage capacity of less showy, sorted 4x4s.
That's the rub with the Range Rover Sport. It feels wonderfully expensive, because it is. You'll pay a steep premium for the privilege of its plush cabin, off-road prowess, and desirable image. Buyers who are prepared to do so will get a very generously equipped car, so at least there is less temptation to splash out on options.
Is the Range Rover Sport right for you?
This is the ultimate go-anywhere posh family car. It's less opulent than the full-fat Range Rover (so you'll feel slightly less guilty when you get it dirty), incredibly capable in all weathers and types of terrain, and quick too.
It's built in the same mould as cars like the Audi A6 Avant Allroad, perfect for ferrying landowners across their small holding, muddy wellies piled in the back, yet equally at home pulling up outside a swanky metropolitan hotel.
Not many cars have that kind of range, but it doesn't come cheap. As long as you can stomach the high purchase price and running costs, it's a remarkably comfortable long distance cruiser, with space for seven.
With a new plug-in hybrid model, huge variety of powerful petrol and diesel engines to choose from, and the rapid high-performance SVR flagship, there really is a model to suit many different (but very affluent) buyers.
What's the best Range Rover Sport model/engine to choose?
While there is a huge amount of choice for what goes under the bonnet, we can't see a reason to ignore the excellent SDV6. There's a reason it's been the most popular version for years, as it's fast, smooth, and has loads of the sort of low-down grunt you need for mud-plugging, towing a horse box or stress-free overtaking.
On paper the new P400e PHEV certainly looks attractive, especially for business users, but in real world use its limited electric range (compared with the hybrid BMW X5) and smaller petrol engine mean it lacks appeal.
From the petrol range, we would pick the straight-six P400, or go the whole hog and get the wildest SVR. It is a truly singular experience, and one of the few sporty hotrod SUVs that refuses to take itself too seriously.
Apart from the latter, which comes with its own bespoke specification, we'd stick firmly to the normal HSE car and spend the money saved from the HSE Dynamic on a couple of choice options, it's not worth upgrading.
What other cars are similar to the Range Rover Sport?
With a heady mixture of luxury, performance, and desirability, not many cars have the presence of the Range Rover Sport. Few of its rivals can compete with its off-road prowess either, except for the Mercedes G-Class.
Many competitors can match its glamorous interior and sporty on-road handling though. Some of the best of the bunch include the latest Porsche Cayenne, BMW X5, and Audi Q8, and most have a lower starting price.
If you have a genuine need for extra seating, then both the Audi Q7 and BMW X7 come with that third-row as standard. Both have superior passenger space in general, but the BMW is in a league of its own in the back.
For buyers who like the look of the Sport but are too intimidated by its sheer size, we'd advise checking out its little brother, the Velar. It's almost as plush, cheaper to buy, and easier to drive in town and park everyday.
Comfort and design: Range Rover Sport interior
"The Range Rover Sport's cabin certainly has the 'wow' factor you would expect of such an expensive SUV. Climb up into the lofty driver's seat and you are greeted by a slick, minimal design that (from 2018) wears its impressive armoury of in-car tech on its sleeves, since the revised model has a very slick dual-screen setup."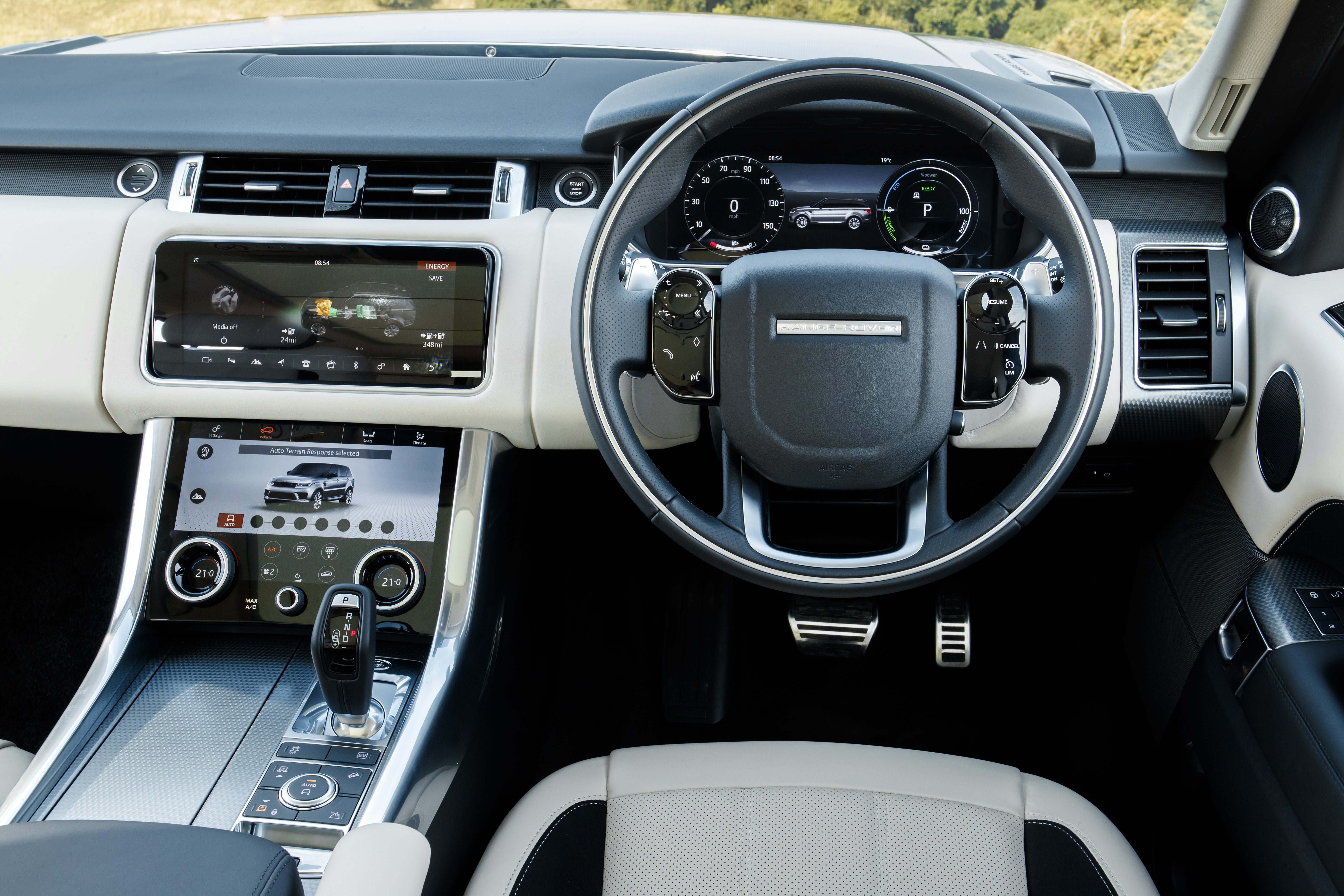 The dashboard is divided into three clear horizontal lines, with the air vents, digital instruments and starter button at the top, and the 10-inch media touchscreen in the middle, which you can adjust to change its angle.
A wide centre console separates you from the front passenger, and holds a second 10-inch screen, which also has a set of physical dials that change their function. You use the lower display to change the Terrain Response off-road settings and climate controls, while the top screen takes care of media and navigation.
This system looks amazing, and it works brilliantly when you're sitting still, but it can be quite distracting to use while driving, with small on-screen buttons for switching functions and too many button presses required.
Still, the driving position is fantastic. The figure-hugging seats are narrower than the wide armchairs you get in the full-size Range Rover, but still very comfortable, with electric seat and steering wheel adjustment and heating as standard. We defy anyone to struggle finding a suitable seating posture, and visibility is excellent.
Quality and finish
Some of Land Rover's cheaper models do not enjoy the best reputation for solidity, but in the Sport the brand has brought out its big guns, with a beautifully appointed interior that feels expensive and plush throughout.
The attention to detail impresses, with fine stitching on the seats, closely fitting trim panels, and a sharp set of smartly integrated screens. It combines the sturdy feel of an off-roader and luxury of a top executive saloon.
All models feature leather upholstery, brushed metal inserts, and sumptuous soft-touch plastics on the dash. Stepping up the range adds satin chrome gear shift paddles, alloy pedals, and softer 'Windsor' hide, while the priciest trims have suede roof linings, two-tone seats, thicker carpets, LED lighting and wooden veneers.
If you'd prefer something more modern, then the sportier versions give you the option of carbon fibre instead, but we think the Sport is one of the few cars where traditional materials feel entirely appropriate and stylish.
If we're being hypercritical, the one area of weakness is the plasticky switchgear, especially in older cars that don't get the benefit of the latest minimalist design. They feel oddly lightweight, and don't operate with the same level of precision and tactile feedback that rival brands such as Audi and BMW have mastered.
Infotainment: Touchscreen, USB, nav and stereo in the Range Rover Sport
How modern and responsive the media setup in your Range Rover Sport is will depend on the car's age. Every model will feature a touchscreen and digital dials, but the size, resolution and speed is going to vary wildly, from the laggy, low-res mess and titchy screen of the old InControl setup, to the flash Touch Pro Duo.
The latter is the dual-screen system from the smaller Velar, transplanted into its big brother as part of a very extensive mid-life facelift, with a pair of touchscreens, one central and the other built into the centre console. It also includes a 12.3-inch instrument cluster that is clearer and more configurable than the older versions.
It comes packing an impressive set of features, with DAB radio, navigation, on-board Wi-Fi and (a recent addition) full Apple and Android smartphone mirroring, to give you access to you favourite apps on the go. All cars include a premium Meridian Hi-Fi with 13 speakers, but you can upgrade its power in the options list.
The clarity and sharpness of the graphics, and the integration of the newer system are its biggest strengths, as it can be counter-intuitive and confusing trying to change the function of the lower screen while driving. It also attracts a lot of greasy fingerprints, and the glare from direct sunlight renders it impossible to read too.
You'll adjust to its foibles over time but Audi and BMW's latest systems are better resolved, with a shallower learning curve, a less distracting method of controlling their various functions, and even quicker responses.
Space and practicality: Range Rover Sport boot space
The vast proportions and boxy styling mean there is plenty of space inside the Range Rover Sport. In fact, it is the only Range Rover to offer the flexibility of seven seats, although unlike in many rivals, they're optional.
The brand calls this additional third row a '5+2 layout' which should give you a clear idea of how small those seats are, meaning they're only useful for younger kids or on shorter hops, and can be tricky to clamber into. With all seven seats in place, the boot is a fairly paltry 221 litres, with just enough space for a bit of shopping.
Still, they fold away into the boot when you're not using them, and the extra flexibility they bring may come in handy, although the BMW X7 is far superior if you need to carry adult passengers in all three rows of seating. Be aware that the P400e PHEV is five-seat only, since the batteries live in the floor where they'd normally lie.
Space in the first two rows is excellent, and the broad cabin means carrying three across the middle will not start any arguments, since the foot wells are nice and flat. The centre perch is quite slim and harder than the figure-hugging buckets the other passengers enjoy though. Smaller children or elderly passengers might find it hard to climb aboard, even with the suspension lowered, but at least the doors open almost to 90 degrees.
That should make it easier to fit a child seat, but the tightly packed leather padding means you have to use trial and error to try and locate and mount the Isofix points, whilst trying not to mark up the expensive cowhide.
In other ways though, the Sport is brilliant family transport, with two glove boxes (one hidden in the dash) yet another cubby under the cupholders, and large door pockets, but these are obstructed by the thick armrests.
A powered tailgate is standard across the range, swinging open to reveal a decent boot that's wide and tall. It has a generous 784-litre capacity (to the roof), expanding to (a slightly below average) 1,705 litres when you drop the middle row down. They don't lie completely flat though, and there are no levers to make this easier.
Handling and ride quality: What is the Range Rover Sport like to drive?
"Every Range Rover Sport comes with sophisticated air suspension that offers a wonderfully supple ride. This is adjustable, so it can be tightened up or slackened off using the car's driving modes, but comfort is its forte."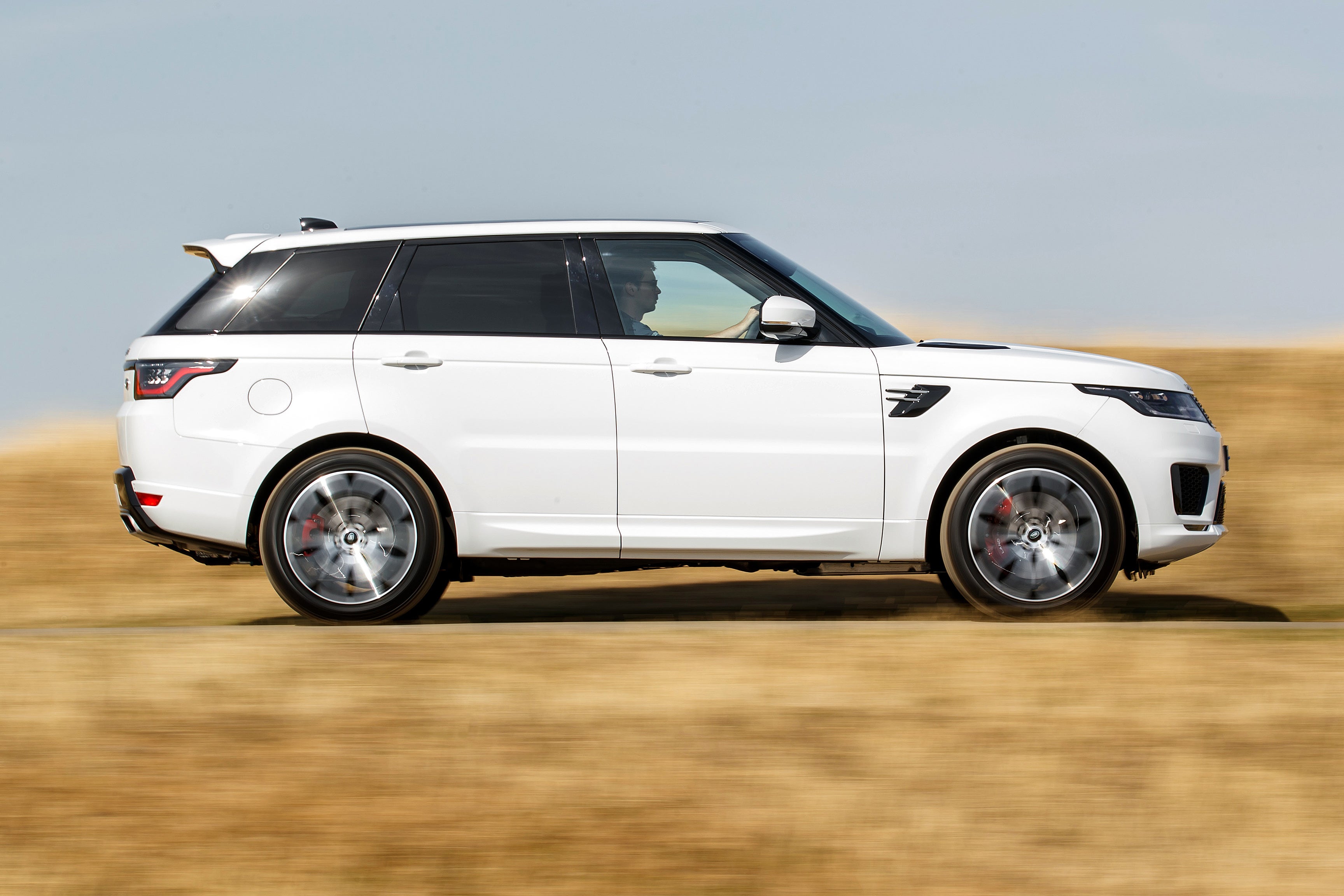 Its hefty kerb weight comes into play here, helping smother any imperfections you encounter to the point that they are barely perceptible in the cabin. It wafts over bumps and ruts with an aloofness rare in sportier SUVs.
That makes it an exceptionally comfortable car to cover long distances in. At this price, only a Mercedes GLE on optional air-springs can compete for pliancy, yet can't match the body control and composure of the Sport. Stick to the smaller wheels if you want the plushest ride over properly broken Tarmac, or plan to go off-road.
If that sounds like a fine description for a corner sofa, fear not. While the Range Rover lacks the finesse and physics-defying agility of lighter rivals such as the Porsche Cayenne and BMW X5, it handles itself very well. Its size and bulk are often the limiting factors that prevent you from hustling it down a narrow road, not grip.
The steering is precise, not too heavy at low speed, but gaining reassuring weight at high speeds, and while it leans over in bends dives when you brake too firmly, it never feels unstable, with bags of cornering grip. If you want it to feel a bit sharper, the SVR has a bespoke suspension setup which is firmer, but less cosseting.
Unfortunately, the extra weight carried in the battery pack of the plug-in hybrid has a detrimental effect on its comfort and cornering ability, with a noticeably firmer ride, and stodgier responses than the standard models.
While the suspension is height-adjustable, allowing you to raise and lower it for tackling all kinds of surfaces, we would invest in the more advanced electronic aids from the options list if you plan on serious off-roading. Even without them, the Sport is one of the most impressive mud-pluggers in its class, with serious capability.
What engines and gearboxes are available in the Range Rover Sport?
This is a huge, heavy car that's been built with towing, off-roading and adventure in mind, so it's no surprise that diesel engines dominate the line-up, prized for a blend of low-down grunt and reasonable fuel economy. All models come with a complex four-wheel drive system, and a traditional eight-speed automatic gearbox.
However, there are a wide range of alternatives for those that wish to avoid the black pump, including a new plug-in hybrid with a punchy electric motor providing almost as much oomph as a diesel, a mild-hybrid, and a four-cylinder petrol that's one of the lightest, most affordable versions of the Range Rover Sport you can buy.
The latter has a 300PS output, but a lack of shove makes it unsuitable for the sort of use most owners are likely to require, while it'll cost you nearly as much in fuel as the far more characterful, smoother V8 petrols. The P400e pairs this engine with an electric motor and battery pack, but the electric range is rather limited.
Previously, you could get a supercharged V6 petrol, four-cylinder 'SD4' diesel, and a V6 diesel hybrid, but we think most buyers are still better off sticking with the SDV6 model at the heart of the range. It feels incredibly strong in the mid-range, so it surges up to (and can maintain) the motorway speed limit with minimal effort.
The SDV8 has the same character, and is marginally quicker (for a lot more money), while neither of the new hybrids can match the sheer brawn of the six-cylinder car, although both an Audi Q7 and BMW X5 are faster.
Still, if it's performance you are after, look no further than the flagship SVR. The 5.0-litre V8 lurking under its bonnet is supercharged to give it instant urge from any revs, and with close to 600PS, it's extravagantly fast. Hugely exciting to drive, this engine dominates the driving experience in a manner few rivals can truly match.
Almost all of the engines are impressive, but the eight-speed transmission doesn't like to be rushed. It's great for blending the ratios in town or on the motorway, but grows flustered and hesitant when you ask it for more.
Refinement and noise levels
Long distance touring is exactly what the Range Rover was designed for and where it excels. At any speed, in any specification, this is a superbly refined, quiet car that is relaxing to drive for hours on end. True, since it has the aerodynamic qualities of a pile of bricks, there is a flutter of wind, but that's all.
On the standard 20-inch wheels and all season tyres, road noise is virtually non-existent (you can thank the standard-fit acoustic windscreen for that) but if you fit massive 22-inch rims this will inevitably have an effect.
All the six- and eight- cylinder engines are really well isolated, sending barely any noise into the cabin when you are just cruising, especially the popular SDV6 and SDV8 diesels, the V8 petrols are throatier and sporty. That's most true of the SVR, which you'll hear coming long before you see it thanks to a thunderous exhaust.
Of course, nothing beats the plug-in hybrid P400e for creeping silently around town. It's whisper quiet when it is using battery power alone, and unlike many hybrid you can't even hear the electric motor. However, once it fires up its four-cylinder petrol motor the transfer from one power source to the other isn't particularly smooth.
Safety equipment: How safe is the Range Rover Sport?
The Range Rover Sport has never been crash tested by Euro NCAP but all the other models in the line-up received the maximum five-star rating, including the full-size model, so we have no doubts about its safety.
Every model comes with a full suite of systems to protect you if the worst does happen, mitigate the damage, or prevent it in the first place. There are front, side, and curtain airbags, a highly advanced traction control program with a trailer stability assistant and off-road modes including hill descent control, and cruise control.
Active safety gear (from 2017) includes autonomous emergency braking. It monitors surroundings, and will warn the driver if a collision is imminent, intervening and braking hard if they fail to react in time. It's active below 50mph, and can identify cars and pedestrians, but you can increase its range to 100mph as an option.
This works in conjunction with the lane departure warning system that'll bong gently if you wander out of line, and a full set of parking aids to help manoeuvre that enormous body around without leaving a single scratch. An autonomous parking aid, 360º camera setup, and rear traffic monitor can be fitted as a pack for £1,420.
All the top end versions (HST, Autobiography and SVR) get additional active gear that is optionally available on lesser cars, including blind-spot monitors, a driver fatigue sensor, traffic sign reader to show the current limit on that stretch of road, and an adaptive speed limiter that'll automatically keep the car sticking under it.
However, only the priciest models come with adaptive cruise control, a great feature for taking the stress out of long motorway drives, which uses radar to follow the car in front at your set speed, and can stop and start.
Unlike the vast majority of off-roaders, all but the SVR are fitted with a space saver spare wheel and tool kit.
MPG and fuel costs: What does a Range Rover Sport cost to run?
"For business users, or indeed anyone eager to try and cut their consumption, the plug-in hybrid model is the standout choice.The P400e emits an official 74g/km of CO2, and returns a claimed 75mpg, but only if you start every single journey with a full battery. As soon as the engine is doing all the work, expect closer to 25mpg."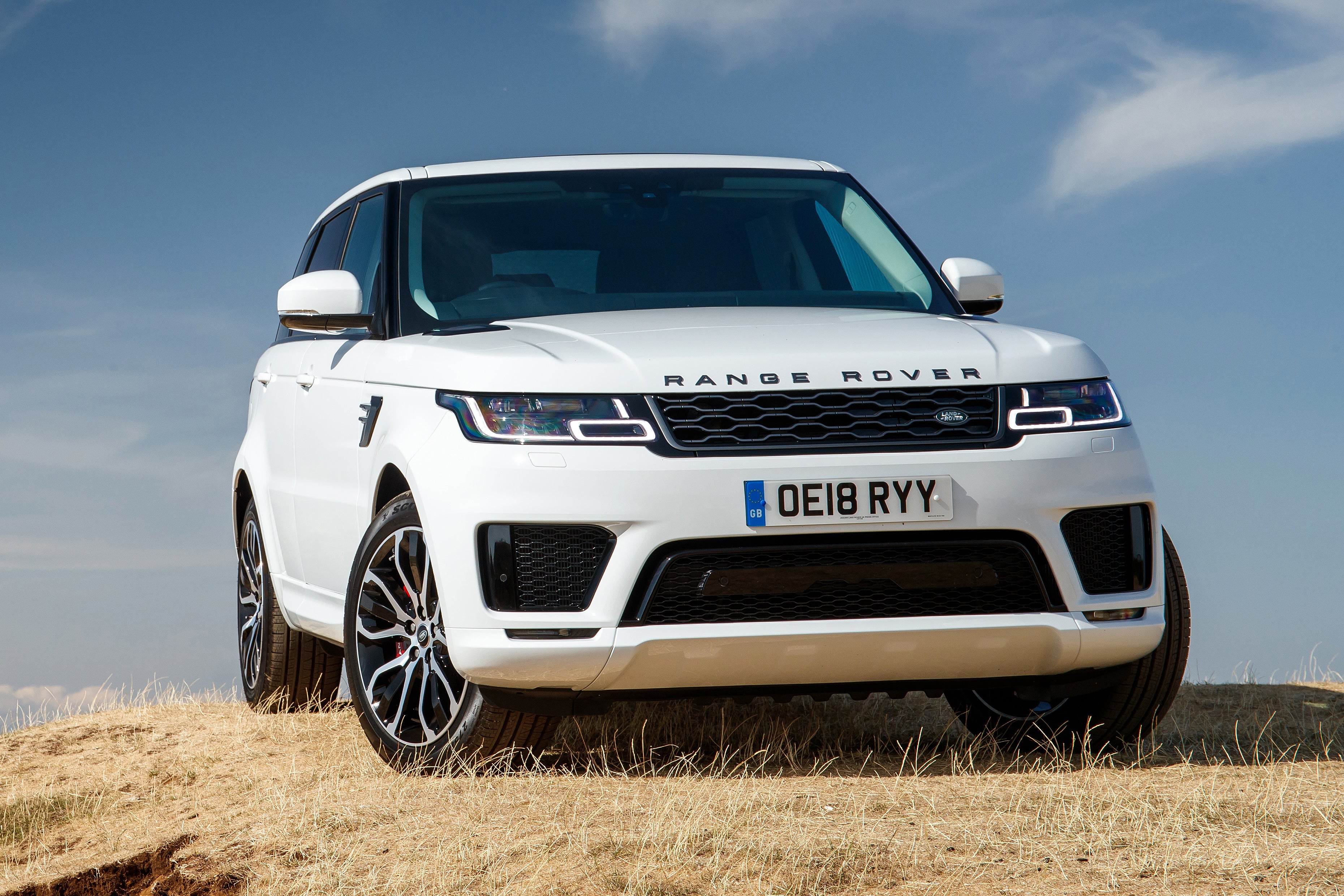 It has an all-electric range of around 25 miles, just about long enough for a commute, and recharging from a public fast charger using a Type 2 cable will take less than three hours - but the cable you'll need is optional.
On the diesel side, the 3.0-litre SDV6 gives the best balance of performance and economy, with over 300PS but a claimed economy of around 32mpg, even under the new stricter WLTP testing, so that's a realistic stat.
All the other engines will struggle to return mid-twenties in mixed conditions, and the bad news doesn't end there. It's got one of the largest fuel tanks fitted to any new car, giving it a touring range to at least 400 miles. The downside? That means on the high-performance SVR model, each tank of super is going to cost £130.
Insurance groups and costs
Glamorous SUVs such as the Range Rover Sport are coveted by thieves. Combine this fact with their steep list prices and towering performance, and these are some of the highest risk category vehicles on the road.
So insuring your pride and joy every year might not cost as much as the premium for a supercar, but it'll be pretty close. The cheapest model to cover is the older SD4 four-cylinder diesel, but it's still up in Group 44.
The rest of the engine line-up neatly populates the gap between this band and the most expensive Group 50 bracket, occupied by all the V8-powered models, and the sportier HST version of the newest mild-hybrid car.
VED car tax: What is the annual road tax on a Range Rover Sport?
As with the rest of the running costs for this car, taxing it is going feel like an assault on your bank balance. Still, if you can afford to buy one in the first place, then this will be one of the smallest drops in a big bucket.
Cars registered before April 2017 are required to pay a variable rate of road tax (VED) based on their CO2 emissions, but since these are high across the board, the minimum you'll pay is £205 a year, rising to £560.
Newer models from after that date pay a fixed rate for petrol and diesel cars - currently £150 - but will also be liable for a £325 surcharge applied to all 'luxury' models costing over £40,000 when new, for a total of £475.
How much should you be paying for a used Range Rover Sport?
"The barrier to ownership falls sharply on the used market from the £64,000 asking price when new, and due to the Range Rover Sport's enduring popularity, there's a lot of choice on offer so it's easy to find a nice spec."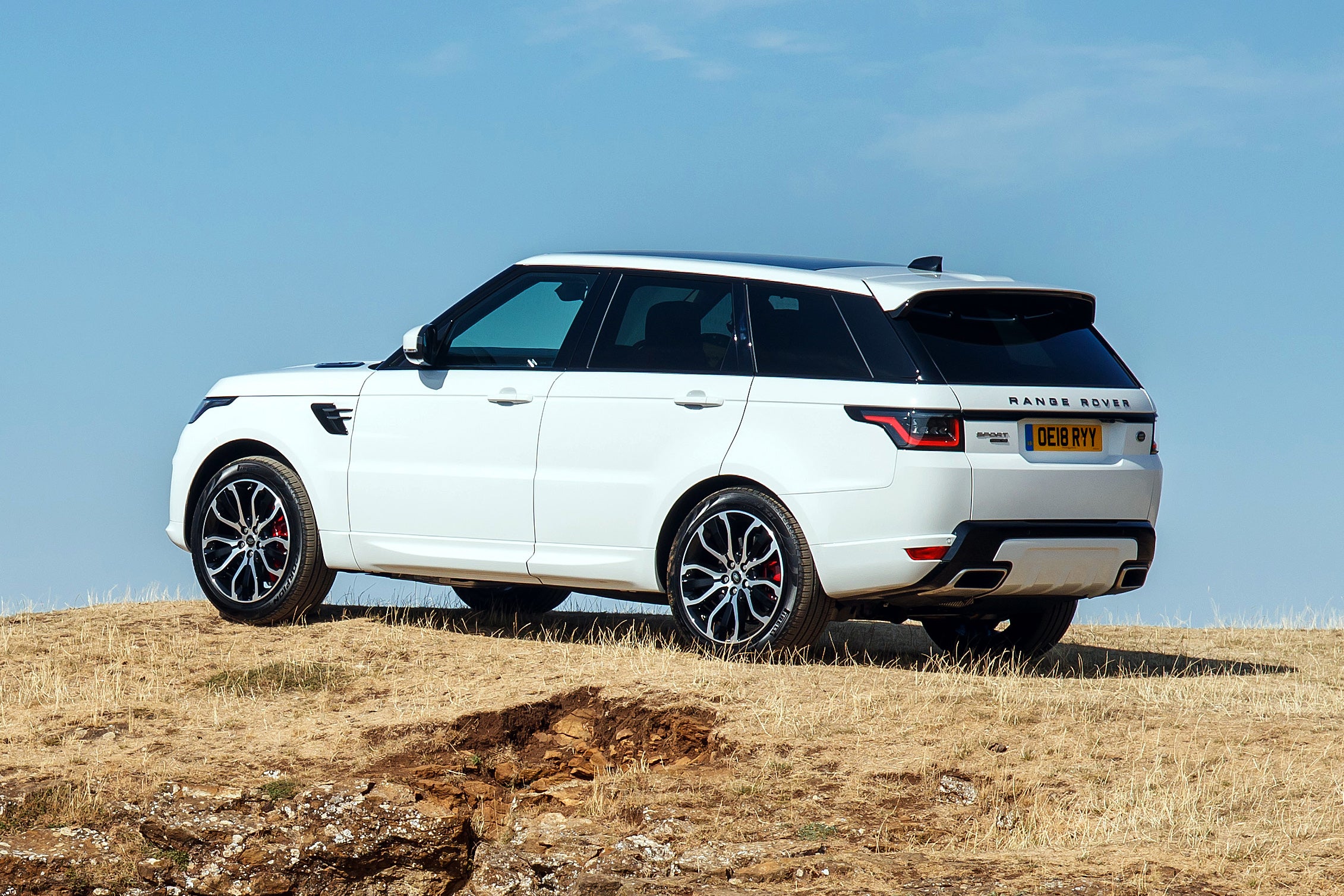 You'll still need a tidy £25,000 sum to get yourself behind the wheel of a decent example. Cars at this end of the spectrum will be from 2014, and most will have covered over 100,000 miles, so reliability may be patchy.
Anyone shopping for a bargain would do well to seek out a car with a meticulous service record, or consider paying for an extended warranty to avoid a big unwanted repair bill. To secure a car with average mileage, it will cost you at least £27,000 for an early 3.0-litre SDV6 diesel in a choice of HSE and HSE Dynamic trims.
Expect to pay somewhere in the region of £35,000 for any of the V8 petrols, or a newer 2016 or 2017 model. Finally, if you want to get your hand on the current shape car, be prepared to up the budget to £40,000 or so.
Trim levels and standard equipment
There are five trim levels to pick from in total: HSE, HSE Dynamic, HST, Autobiography Dynamic, and SVR. None of them want for equipment, but moving up the range increases the visual drama and number of toys.
All Range Rover Sports come dripping with the luxury trimmings befitting such an exclusive high-end model. The standard spec sheet reads like the options list for other cars, with soft leather upholstery, a slick media system with sat-nav, digital driver's display, heated front and rear seats, parking sensors, and Meridian Hi-Fi.
We'd stick to this HSE trim, since the Dynamic is mainly comprised of styling upgrades, and a few posh bits of trim inside the cabin, while the sportier HST is only available with the new P400 mild-hybrid petrol engine.
Splash out on the more expensive Autobiography, and you'll add adaptive cruise control, a heated steering wheel, configurable ambient interior lighting, seat cooling, and a sliding glass roof, and 21- or 22-inch alloys.
To turn your Range Rover into the ultimate people carrier, adding a third row of seats is a box worth ticking for £1620. The upgraded Meridian surround sound Hi-Fi (£1,060), Towing Pack (£1,270) and Off-Road Pack (£950) with high-low range transfer box and rock crawl mode, are desirable extras, depending on your use.
Ask the heycar experts:
common questions
How much is a Range Rover Sport?
A brand new Range Rover Sport costs upwards of £64,000 while the SVR tops out at more than £100,000. It's been on sale for a while, though, so used examples of the latest model are available for as little as £25,000. Earlier Range Rover Sports could be yours for just £3,000.

Are Range Rover Sports reliable?
Range Rover Sports aren't known for their reliability record. Common issues include electrical gremlins, defective differentials and excessive oil consumption. Ultimately, it's a premium car and you'll have to be prepared for expensive running costs as it gets older.

What car should I consider alongside a Range Rover Sport?
Popular Range Rover Sport rivals include the Mercedes GLE and BMW X5, while the Audi Q8 (or more practical Q7) should also be on your shortlist. The Porsche Cayenne is a sportier alternative, while the Volvo XC90 should be on your radar if you'd prefer an ultra comfortable SUV.

Land Rover Range Rover Sport cars for sale on heycar
2,305
Number of cars available
£30K - £172K
Price bracket of these cars
Colours available on heycar
Keep me updated by email with the latest advice, news and offers from heycar
By submitting, you agree to our
privacy policy
.