Range Rover Velar Review 2022
Range Rover Velar Review 2022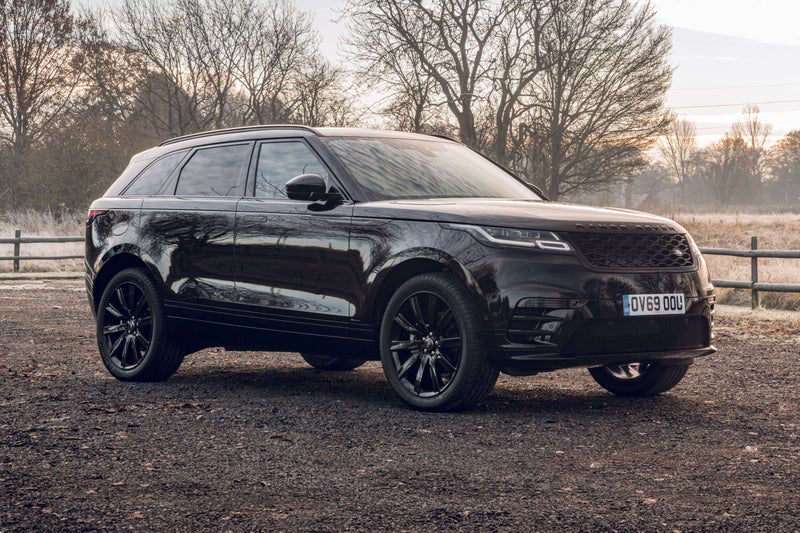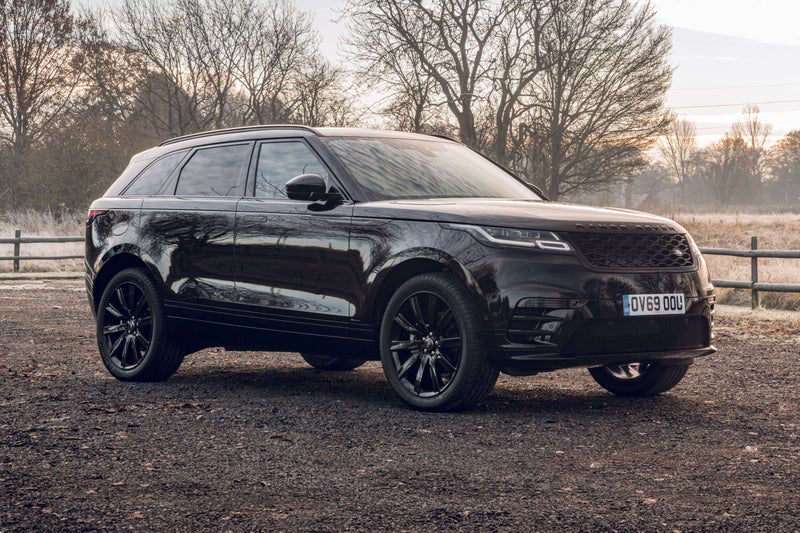 1/10
heycar rating
"Expensive but stunning premium SUV"
Launched: 2017

SUV

Petrol, Diesel, Hybrid
Quick overview
Pros
Gorgeous exterior styling
Plush, modern interior with lots of tech
Relaxing to drive on the road, very capable off it
Cons
Grumbly four-cylinder diesels lack grunt
Very expensive compared to rivals
Not as practical as its seven-seat alternatives
Overall verdict
On the inside
Driving
Cost to run
Prices and Specs
Common questions
Overall verdict on the Range Rover Velar
"If style is your passion the Range Rover Velar should be at the top of your list. It's stunning on the outside, and feels slick and modern on the inside. It's a refined and comfortable cruiser rather than a sporty drive, but has the traditional SUV strengths of a big boot and great off-road ability, we just wish it came with more kit."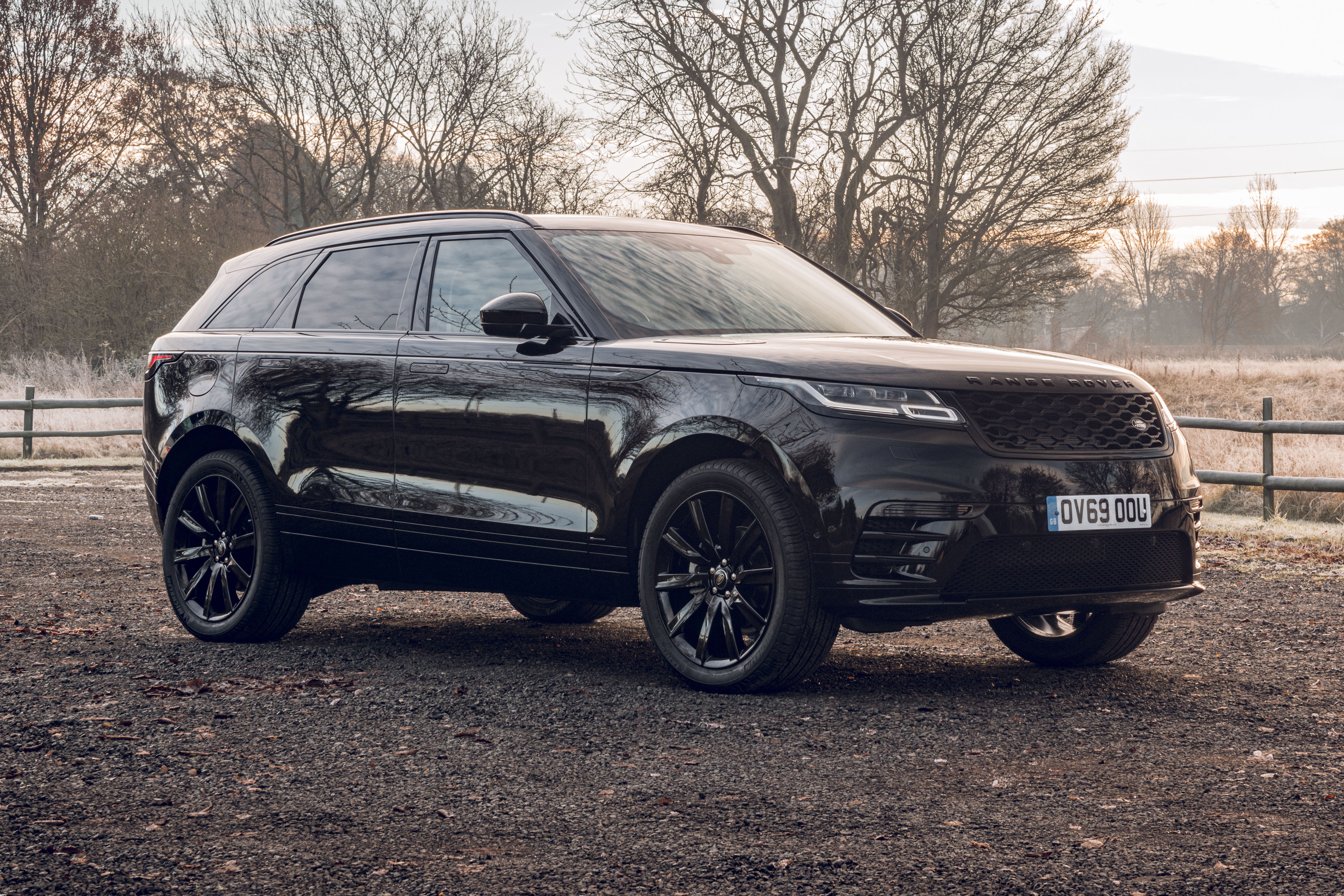 The Range Rover Velar is a style-conscious SUV with serious off-roading credentials that commands a high price to go with its fashionable looks. Slotting in between the smaller Evoque and larger Range Rover Sport, it comes with all the capability you'd expect from a Land Rover, loaded with the latest on-board technology. Find out if it's the family SUV for you in our 2022 Range Rover Velar review.
The Range Rover Velar has a wow-factor that few SUVs can match - an undeniable part of its appeal - and the main reason buyers in this price range pick one brand over another. You can further enhance its looks with the R-Dynamic styling pack, transforming the car from smart 4x4 to glitzy bauble, with a pandora's box of additional bling available.
None of this stuff represents great value though, and it feels as if Land Rover has skimped on the equipment list with the Range Rover Velar. Standard models get all the usual essentials, but sat-nav and leather upholstery are both missing. That's forgivable in an entry-level family hatchback, less so a luxurious SUV with a starting price north of £45,000.
The Range Rover Velar does look impressive inside, with a flash pair of 10-inch touchscreens, attractive interior design and wide range of different trim finishes with names like 'Satin Umber' and 'Copper Weave' should you wish to indulge.
Poke around a little, and the veneer of quality starts to slip, with a few cheap-feeling plastics above the dials and in the lower reaches of the cabin. You'll need to upgrade to our preferred 'S' trim for it to feel really plush.
Even though the Range Rover Velar is priced to match larger seven-seaters cars such as the Audi Q7, Volvo XC90 and BMW X5, the Velar only has room for five. That's understandable given the presence of the Discovery in Land Rover's line-up, but if practicality is a top priority, it could be a deciding factor in picking one of the rivals we mention.
The Range Rover Velar does make up for this with a seriously large boot. In fact, few owners will find it wanting for luggage space, towing capacity (all Velars can haul up to 2.4 tonnes) or off-road capability. It has an array of electronic aids to help you tackle mixed terrain should you wish to explore the great outdoors, and a set of all-season tyres.
Every Velar comes with four-wheel drive and an eight-speed automatic gearbox as standard. There's a choice of efficient four-cylinder petrol and diesel engines, while there's also the option of either self-charging and plug-in hybrid engines if you're in the market for a hybrid SUV. Land Rover has dropped the powerful V6s from the current range, but you'll find these on the used market, while you might be tempted to search out a used Range Rover Velar with a stonking 5.0-litre V8 engine with a towering 550PS.
We like the Range Rover's softly-sprung suspension, precise steering and reassuring stability, but it's not as engaging on a twisty road as a Porsche Macan, and only models fitted with air-suspension glide over bumps.
Since the Range Rover Velar looks so striking, this lack of cornering agility is unlikely to matter too many buyers. If you can afford it, then the Velar is a compelling package, but the further up the range you go, the harder it gets to justify the high price.
Is the 2022 Range Rover Velar right for you?
First and foremost the Range Rover Velar is an SUV for the style-conscious, with concept car looks and a high price to match. It is stunning to behold, and has a glamour few of its rivals can match. It's for you to decide if it's really worth it.
Why do we say that? Well, the Velar has one of the broadest ranges of any model, and in the mid-range this car competes with seven-seat rivals that trump if for practicality, standard equipment and fuel efficiency too.
That doesn't mean the Range Rover Velar is more style than substance though. With the right engine, this is a smooth and refined motorway cruiser, with useful off-road ability. It's just not the most practical choice, even if you do get it dirty.
It'll suit buyers who don't mind paying a premium for its sleek aesthetic. Since it's at its best when fitted with one of the 3.0-litre V6 engines and the upgraded 'S' trim, we do hope those people have very deep pockets.
What's the best Range Rover Velar model/engine to choose?
Although the Velar is priced like a luxury SUV, it doesn't come with the standard equipment to match. In its entry-level guise you won't get sat-nav or leather trim, and only SE and HSE cars get a digital driver's display.
It's easy to get confused by the numerous configurations on offer, but if you want a car with reasonable fuel economy that is priced roughly halfway between an Evoque and the full-fat Range Rover Sport, get a D200 2.0-litre diesel with self-charging mild hybrid tech.
While this engine isn't as smooth as the older V6 models, it's got a huge amount of pulling power and great round town as it shuts the engine off when travelling under 11mph to be moved along under electric power alone.
There's a 250PS 2.0-litre petrol engine badged P250, while there's also the choice of a mild hybrid P400 or a plug-in hybrid P400e. This will deliver a claimed range of 33 miles under electric power and will hit 60mph in just over five seconds.
If you're looking at a Velar that's a couple of years old, take a look at either the D275 or D300 diesels. Both engines give the Velar effortless pulling power and superior refinement, without crippling running costs.
What other cars are similar to the Range Rover Velar?
As we've alluded to, Land Rover designed the Range Rover Velar to fill the yawning gap between Evoque and Range Rover Sport in price. It aimed to combine the catwalk style of the former with the sporty handling poise of the latter.
That means at the lower end of the range the Velar competes with other sleek, premium coupe SUVs, such as the entry-level Porsche Macan, and the flagship versions of both the BMW X4 and Mercedes GLC Coupe.
The Range Rover Velar certainly doesn't feel as sporty as the Porsche to drive, but the British car is lavishly appointed inside when compared with either the BMW or Mercedes. If you're after a thrilling experience at the wheel, Alfa Romeo's racy Stelvio Quadrifoglio could be worth a look, as this 510PS model uncuts the V8-powered Velar by £15k.
However buyers who merely want a large SUV for its practicality will be better off with a posh seven-seater. The Audi Q7 and BMW X5 are two of the best, with gorgeous interiors, and superior infotainment systems. These models are available as plug-in hybrids too, helping significantly cut running costs for business users.
Comfort and design: Range Rover Velar interior
"Just like its show-stopping exterior, the cabin of the Velar has been designed to impress. It has a rotary gear selector that rises from the centre console when you start it up, a two-tone finish for the broad dash and seat upholstery, and beautifully integrated tech. It looks impeccably modern and very luxurious, and suits the car."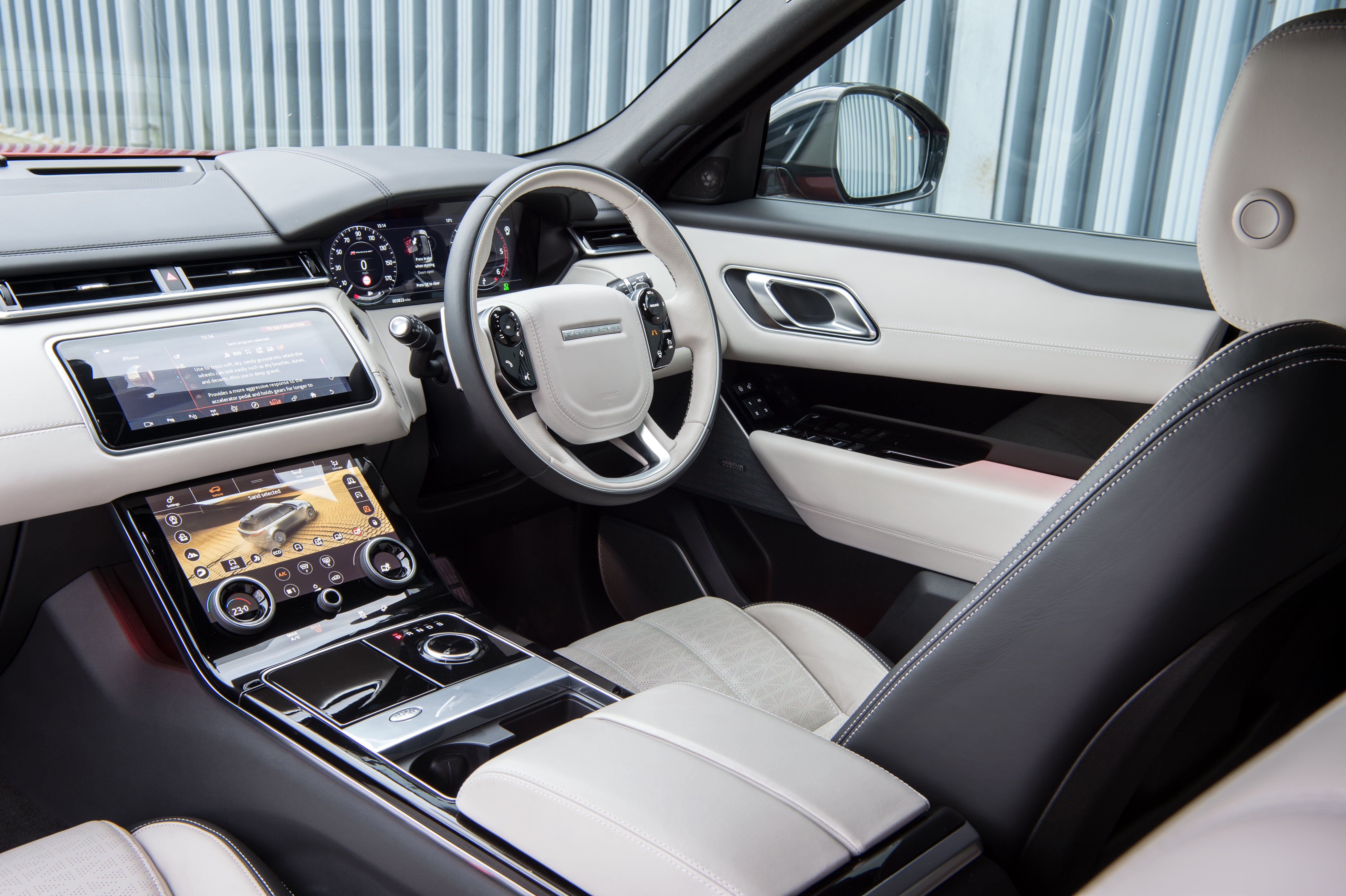 However, the party piece of the Range Rover Velar is the clever dual-screen infotainment system. It features a pair of touch-sensitive displays mounted flush in the dashboard and centre console. They look brilliant, and make the Velar feel very futuristic, but they aren't as intuitive as the best systems in the class, and a magnet for greasy fingerprints. At least you get a pair of physical dials for the climate controls, in combination with some fiddly on-screen icons.
As you would expect from a proper SUV, the driving position of the Range Rover Velar gives a lofty view ahead, and getting settled into your preferred posture is easy. Standard models have a wide range of (manual) adjustment to the seats and steering wheel, while S and SE cars allow you to fine-tune things electrically, including extra lumbar support.
For those who want to arrive at their destination totally unruffled, top spec Range Rover Velar HSE models have heated, cooled, seats with a massage function. So whatever the weather or prevailing traffic conditions, you'll be stress-free. Rearward visibility is hampered by the rakish design, and the sweptback windscreen also means thick pillars, so you'll find yourself relying on the sensors and rear camera when reversing or trying to neatly parallel park.
Quality and finish
The Range Rover Velar is a lovely environment to travel in, whether you're just popping to the supermarket to pick up the weekly shop, or crossing continents escaping to your mountain chalet and the overall impression is really upmarket.
Posher trims on the Velar have stitched leather panels covering the wide dash and some sections of the doors, with bright metal pedals and gearshift paddles, but even the standard Velar feels luxurious and suitably well-appointed.
We particularly like the chunky steering wheel, but the glossy touch-sensitive pads on either side aren't quite as robust or precise as similar items in the Mercedes GLE Coupe, and this inconsistency does set the tone.
It helps that the design of the Velar's interior is so crisp and clean, and most of the materials feel great pleasingly tactile, as long as you don't reach too far down. If your hand wanders nearer the deep door pockets or central transmission tunnel, it's greeted by some harder, scratchier plastic that feels rather out of place in such an expensive car.
Many rivals offer flawless cabins at a similar price, with no rough edges to smooth over. While they might not look as stylish, the Audi Q8 and BMW X6 are finished to a higher standard, giving a greater feeling of solidity.
We also can't think of any other premium brands that would dream of selling an SUV that costs £45,000 that came without leather seat upholstery, as Land Rover does with the Velar. It's a sour note in an otherwise pleasant mixture.
Infotainment: Touchscreen, USB, nav and stereo in the Range Rover Velar
The snazzy 'Touch Pro Duo' dual-screen setup in the Velar marks a major technological revolution for Land Rover. The brand has often struggled to get a toe-hold competing with German rivals for on-board gadgetry.
Every Velar comes fitted with these matching 10-inch displays, which have crystal clear graphics and bright, colourful menus to navigate through. The top one is for media playback and the sat-nav, and (where fitted) parking cameras, while the angled lower panel controls climate settings, driving mode and off-roading setup.
This system comes packed with connectivity, including DAB, Bluetooth, eight speakers and perhaps most importantly, Android Auto and Apple CarPlay smartphone mirroring, so you can bypass the built-in software. The latter lets you use a selection of your mobile apps via the sharp built-in display, and is very intuitive.
As for Land Rover's software, it's certainly an improvement, with a logical menu structure. It responds fairly swiftly to your presses on the glass, but it's harder to use when driving than BMW's brilliant iDrive system.
Higher spec Velars come with an attractive 12.3-inch screen in place of conventional dials. This migrates some of the current route information and media settings to right below the driver's eye-line, aiding usability.
Travelling up the Velar range also brings you a richer, more powerful Meridian stereo, satellite navigation, and a Wi-Fi modem for keeping you connected on the move. Dabble your feet in the lengthy options list, and it's possible to fit media screens in the front seat headrests, a heads-up display, and even a digital TV tuner.
Space and practicality: Range Rover Velar boot space
Looks can be deceptive, so while the Range Rover Velar appears sleek and delicately proportioned, it's still a very big car, measuring 4808mm long and 1930mm wide. That's good news for whoever is sitting up front. The seats go a long way back, and headroom is generous.
The wide centre console of the Velar puts a comfortable distance between the driver and front passenger, and each gets their own individual arm rest. Underneath, you'll find a smaller storage cubby with a pair of USB ports and 12v socket (so the dash will be kept free from untidy power cables) while the glovebox is nice and large.
There are three cupholders - including a square one that's big enough for the largest of smoothies - but there are fewer places to stash valuables and loose items than you'll find in the larger adventure-ready Discovery.
However, the rear of the Range Rover Velar is not as palatial as you might expect. The side windows are shallow, and don't let much light in, the middle seat is narrow, and taller people sat behind a six-foot driver will find legroom rather tight. Avoiding a dark headliner or fitting a fixed panoramic glass roof really helps to increase the feeling of space.
Audi's Q8 gives its passengers more room to stretch, although the Range Rover does beat it for headroom. The Velar has the Audi licked for luggage capacity too. The brand quotes a modest boot space of 513 litres for the Range Rover Velar under the parcel shelf, but in truth you'll be able to squeeze a lot more in, with over a square metre of flat load bay.
For those rare occasions that do call for even more space, the Range Rover Velar has three-way 40/20/40 spilt-folding rear seats. This allows you to carry long, awkward items while having two passengers ensconced in the outer chairs. In this configuration, the Velar can carry an impressive 1,705 litres, still a long way shy of its seven-seat rivals.
Mercifully, there is no load lip to negotiate on the Velar, and the parcel shelf is easy enough to remove. Cars fitted with air suspension can lower the ride height to make it less of a workout when unpacking. If you are buying a Velar for family duty, it's worth fitting the Convenience Pack. This includes remote levers for folding the rear seats, extra charging sockets in the back, and means you can open the tailgate by waving a foot under the bumper.
Handling and ride quality: What is the Range Rover Velar like to drive?
"The Velar is supposed to be the sportiest, most road-biased Range Rover yet, but don't believe all the hype. Its standard suspension is still setup to be soft and comfortable, favouring a plush ride over sharp handling."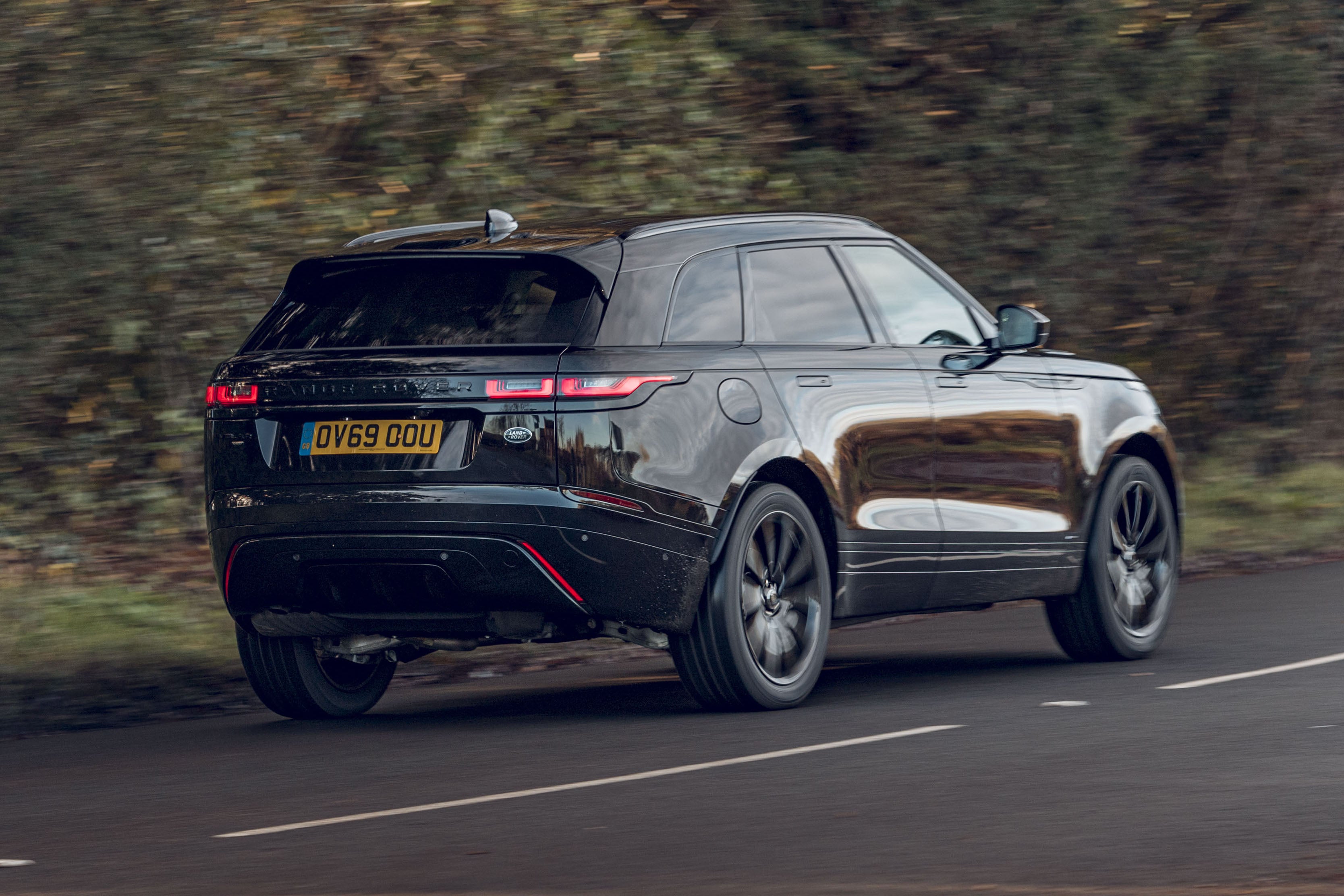 The steering of the Range Rover Velar is slower than in some sportier German SUVs, but accurate, and consistently weighted to give you a good sense of how much grip the car has. It's light enough to make the Velar easy-going in city traffic.
On the motorway, the Range Rover Velar feels exceptionally stable, where its weight, four-wheel drive grip and planted nature give the driver full confidence in its ability to stick to the road, but you can hustle it along country lanes if needed.
The ride is plush, cushioning its passengers from lumps and bumps, filtering out poor surfaces with aplomb. As long as you avoid the temptation to fit arch-filling 21-inch wheels, which can make it fidgety over the latter.
To improve its bandwidth, you can fit adaptive dampers as an option across the Velar range, or for a truly majestic and supple ride, the most powerful engines in the range are available with adjustable air suspension as well. This can be raised (for intrepid excursions off-road) or lowered to improve the cornering and lessen body roll.
Cars riding on air springs feel wonderfully polished to drive, gliding over rougher Tarmac in a fashion that the standard Velar can't quite match, but it's a very pricey option, so only worth it if you also plan to fit big alloys. Regardless of the setup you go for, the Velar feels heavier and less nimble than rivals such as the BMW X4.
That's not necessarily a bad thing. We think many buyers will prefer this gentler approach to the overly stiff setup on some competitors (e.g. Porsche's Macan) which feel unforgiving on British roads. If you do want to ratchet up its agility, the flagship SVA gets a sportier suspension setup that sheds comfort in favour of poise.
What engines and gearboxes are available in the Range Rover Velar?
Land Rover makes its engine range very simple to understand. Diesels are badged 'D' with a number that matches their exact power output, petrols get a 'P' and the same; so it's easy to tell what's under the bonnet.
All models get four-wheel drive and an eight-speed automatic gearbox, so your choice effectively boils down to whether your priorities are decent fuel economy, or hair-raising performance – the Velar has plenty of both.
Propping up the range is the D200 MHEV four-cylinder diesel with 200PS and self-charging tech for improved fuel economy round town. On the used market you'll also find the D180 and D240 four-cylinder diesels. Although not hugely powerful, both have really strong mid-range grunt (good for overtaking) building up speed gradually before fully hitting their stride.
These suit the laidback character of the car, and will suit buyers eager to keep the initial purchase price (and their everyday running costs) under some measure of control. Still, if you can afford it, the 3.0-litre V6 fitted to the D275 and D300 brings with it a noticeable performance upgrade, with truly effortless cross-country pace.
For those keen for an even greater turn of speed (and astonishingly high price) the supercharged 5.0-litre V8 in the P550 is gloriously silly, with a melodramatic exhaust, indecent straight-line speed, and a thirst for fuel. Having said that, the punchiest diesel actually has more torque, so it'll be better for towing and a lot cheaper.
Unless you're fiercely committed to avoiding diesel entirely, we'd skip the four-cylinder petrols. They don't haul the Velar's bulk around with the same conviction as the diesels, and feel strained if you push them hard. Do take a look at the new P400e though, which thanks to its plug-in hybrid technology delivers 33 miles of electric-only power that is equivalent to a combined 130mpg. To achieve that though, you'll need to religiously plug it in to charge when the battery gets low.
Refinement and noise levels
The Range Rover badge brings with it a certain expectation of serene cruising ability, and the Velar certainly doesn't disappoint in this area. There's a fair amount of wind flutter from around the mirrors than you'd get in say, an Audi Q8, but it does an excellent job of filtering out tyre roar, especially compared to the Porsche Macan.
That makes the Range Rover Velar an accomplished touring machine, and you'll emerge from a long drive still feeling fresh. None of the engines really interfere with this sense of calm, although the four-cylinder diesels grumble under load. The petrols are quieter in town, but their highly-tuned character means they're more vocal at higher revs.
For buyers who really want to tread softly, the 3.0-litre V6 engine is incredibly smooth and well balanced. It never sounds harsh, sends no nasty buzz up through the controls, just a deep, sonorous growl if you floor it. The 5.0-litre V8 in the flagship is more raucous and dramatic, roaring like a NASCAR in its sportiest settings.
All Velars use the same eight-speed automatic transmission to shift through the gears. It's unobtrusive, and feels smooth and seamless, keeping revs down as long as you don't rush it, since it can be hesitant to shift.
Safety equipment: How safe is the Range Rover Velar?
The Range Rover Velar is a newer model that packs in plenty of active and passive safety equipment beneath those svelte looks. When it was crash tested by independent safety experts Euro NCAP, it got a maximum five star rating.
It performed well in each of the four individual categories, with a higher score for adult protection (93%) than either a Porsche Macan or BMW X6, but the Alfa Romeo Stelvio (97%) or Volvo XC60 (98%) lead the class.
Every model comes with a complement of six airbags, a driver fatigue monitor that'll warn tired bodies when it's time to take a break, cruise control with a speed limiter, and lane keep assist to gently steer you into line.
Not a bad haul then, especially considering that the standard spec of the Velar includes autonomous emergency braking. This system may help you avoid ever having a crash in the first place. It'll scan the road ahead, and if the car ahead stops abruptly or a pedestrian has stepped into the road, it warns you before slamming on the brakes.
Obviously, not everything that can cause damage to your vehicle is quite so dramatic. Lots of dings and nicks to the paint work happen at low speed during manoeuvres. Luckily the Velar has parking sensors fore and aft to help guide you into tight spaces or weaving around underground car parks, and a clear reversing camera.
Step up to the Velar S model and Land Rover adds a traffic sign reader that displays the current speed limit on the dash to remind you to stay under it. SE cars have an automated parking assistant, and 360 degree cameras.
Fully-loaded Velar HSE models get the full suite of state-of-the-art active safety systems (you can pay to add them onto cheaper cars as part of the Driver Assist Pack) to keep a steady electronic hand on your right shoulder.
This extensive bundle adds adaptive cruise control with a semi-autonomous self-driving functionality. It will brake, accelerate and even steer for you in heavy traffic, just as long as you keep you hands on the wheel. It extends the speed range of the emergency braking system too, so it can help mitigate high-speed shunts.
MPG and fuel costs: What does a Range Rover Velar cost to run?
"Pick a Velar with a four-cylinder diesel engine and the running costs will be surprisingly modest. The D180 is capable of over 41mpg (accordingly to official WLTP tests), matching the BMW X5 and beating the Audi Q5."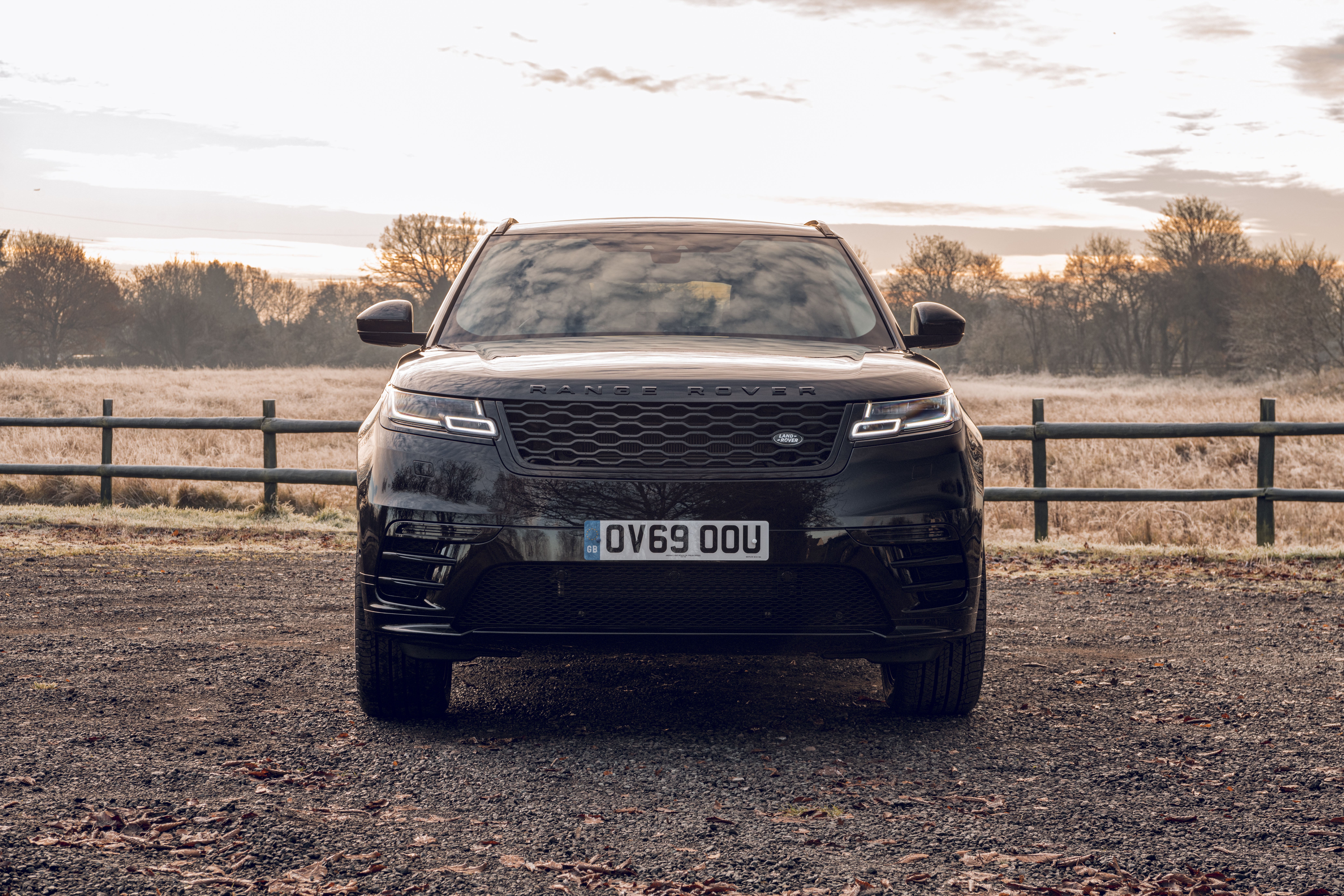 Our Real MPG owners averaged 39mpg using this engine in normal traffic, so you should expect to get near the official stats. Just as long as you're driving it in the kind of laid-back manner befitting a big Range Rover.
What's even better is that the super smooth D275 and D300 diesel V6s aren't much worse on fuel, giving you a lot of extra performance for a small hit to mpg (expect high thirties on a motorway run) not so in the petrols. Neither of the four-cylinders can muster more than 30mpg, and need working harder than the torquey diesels to get going. The supercharged V8 - quelle surprise - will be ruinously thirsty, over 20mpg will be a rare sight.
How reliable is the Range Rover Velar?
While we haven't seen any significant common problems related to the Range Rover Velar, Land Rover does have a bit of a reputation for patchy reliability. As a brand, Land Rover was one of the poorer-performing manufacturers in the Honest John Satisfaction Index, with an average score of 8.71 out of 10.
Insurance groups and costs
On the surface the Range Rover Velar is relatively cheap to insure. The most affordable D180 diesel is in insurance Group 31 - the same rating as the Audi Q5 and BMW X4 ranges start off - but the costs increase sharply from there.
Put the same engine in the pricier S trim specification and it's Group 35, while the powerful V6 versions get up to the mid-forties, making this medium-sized SUV just as expensive to run as big seven-seat alternatives. Naturally, the range-topping V8 flagship is in the highest possible insurance band, sitting way up in Group 50.
VED car tax: What is the annual road tax on a Range Rover Velar?
All Velars cost more than £40,000 when new, so it attracts the higher 'premium' rate of road tax (VED). It'll cost £475 a year for the first five years of ownership after first registration, before dropping down to £150.
That's in-line with most luxury SUVs, but its relatively high CO2 emissions mean that if you're buying new, the first-year rate (based on tailpipe output) will be seriously steep. For the V8 model this charge is £2,175.
How much should you be paying for a used Range Rover Velar?
"The prestigious badge on the Velar's bonnet and its premium image ensure very strong residual values. That is good for keeping monthly PCP rates under control, but bad news for used buyers looking to pick up a deal."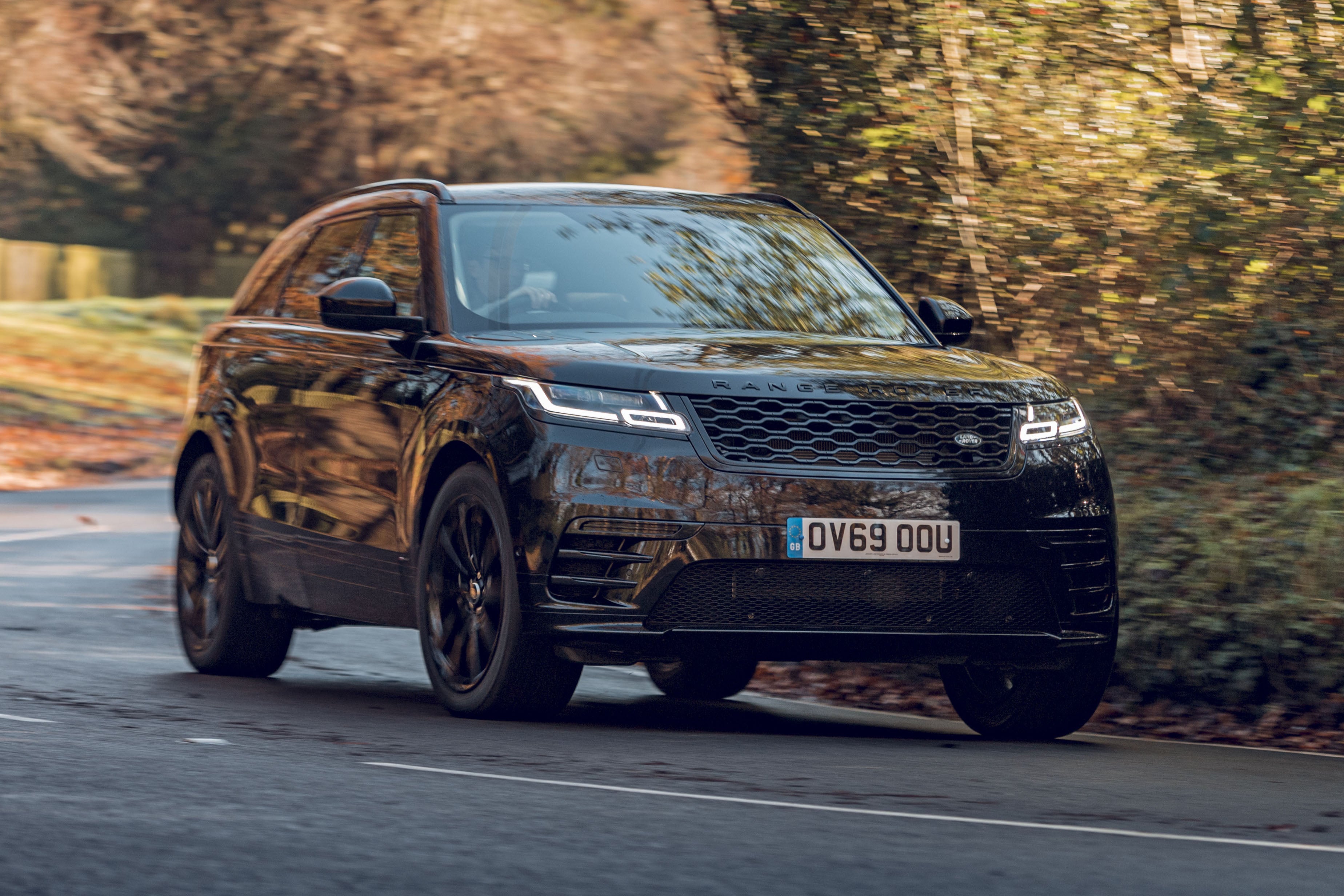 To get a rakish used model on your own driveway, you'll need at least £31,000 for a four-cylinder D180 in the standard trim (so no leather, or sat-nav) from 2017, probably with higher than average mileage for that year.
You won't need to widen your search too much to find a wider range of engines, with our preferred D300 V6 starting from around the £33,000 mark, and £3,000 on top of that for the sportier R-Dynamic S specification.
The minimum you'll part with (at the time of writing) for a petrol is £37,000 although many of these examples have covered lower mileages and come in a higher trim than the diesel models, with some cars from 2018.
It's possible to get some large discounts from brand new stock too - up to around £8,000 - with similar deals on pre-registered cars with only a few thousand miles, a great way to save money on those optional extras.
Trim levels and standard equipment
Your first task when shopping for a new Velar is a question of aesthetics. Would you like the stylish standard car, or something with even more visual garnish? The Velar R-Dynamic spec offers plenty of the latter, for a price.
It comes with bespoke bumpers, rose gold (you read that right - just like a luxury watch) accents on the grille, side vents and air intakes, different alloy wheel designs and some attractive upmarket tweaks to the interior.
Once that's out of the way, there is a single standard grade (simply called Velar) that Land Rover then lets its buyers add three specification 'packs' to, perhaps a rather complicated way of describing four trims, but fine.
Being a luxurious premium SUV, there's no shortage of equipment, even in the default spec. All cars get the important creature comforts, climate control, heated seats, front and rear parking sensors, and keyless entry.
However for it to feel properly plush (and to protect the resale value) we would recommend upgrading to the 'S' model, which adds sat-nav and a Meridian Hi-Fi to the standard 10-inch touchscreen infotainment system.
It has leather upholstery too, with electric adjustment and memory function for the front seats, and a powered tailgate for added convenience, so you won't work up a sweat changing seating position, or loading the boot.
That's where we'd stop. The next rung up is the SE, and includes swish digital instruments, matrix LED lights that can adjust their beam pattern to avoid dazzling other drivers, and 20-inch alloys. However it's properly expensive. As is the HSE, which benefits from softer leather, massage seats, and a full suite of driving aids.
Of course there is also a plethora of optional extras for those with cash to burn. Some worth considering are the panoramic glass roof to help lighten up the rear cabin space (£1,340), adaptive air suspension (£1,980), or the 'Park Pack' as this bundles together a self-park assist and 360º cameras to keep your wheels pristine.
Ask the heycar experts:
common questions
How much is a Range Rover Velar?
A new Range Rover Velar is priced from £45,925, which is a smidgen more than rivals including the BMW X4 and Mercedes GLC Coupe. You can save money by looking for a used Range Rover Velar, though – with prices starting from around £33,000 for an early example.

How many seats does a Range Rover Velar have?
While the Range Rover Velar only has five seats, there are a number of other Land Rover models that are available with seven seats. These include the Range Rover Sport, Discovery, Discovery Sport and Defender.

Should I buy a Range Rover Velar?
If you're looking to buy a luxurious SUV that'll stand out – and don't mind paying the price for exclusivity – the Range Rover Velar should be high on your shortlist. It's surprisingly practical for such a stylish SUV, but the Land Rover Discovery is still the more versatile choice. The Porsche Macan, meanwhile, is more enjoyable to drive.

Land Rover Range Rover Velar cars for sale on heycar
2,612
Number of cars available
£29K - £80K
Price bracket of these cars
Colours available on heycar
Keep me updated by email with the latest advice, news and offers from heycar
By submitting, you agree to our
privacy policy
.