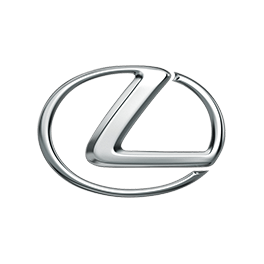 Lexus
Lexus is the premium sub-brand of Toyota which began in 1989 with the introduction of the LS executive saloon. Subsequent years have seen the Lexus brand expanding its range, which mixes some shared elements with Toyota vehicles but a unique design language, more luxurious interiors and a focus on quality.
Which is Lexus right for me?
The Lexus range entry point is the CT, a compact hatchback that shares a hybrid system with the Toyota Prius and offers impressive fuel economy. The IS saloon is designed to compete with cars like the BMW 3 Series with a quality cabin and smooth hybrid powertrain, while the bigger ES and GS saloons combine luxury and refinement with comfort for passengers. Lexus also has a big SUV range, starting with the compact UX model, the mid-sized NX and the largest RX which also comes in bigger L form. Sports cars fans may be interested in the RC coupe and the LC GT, both of which offer engaging performance in a stylish exterior. Crowning the range is the LS model, an executive saloon that showcases the ultimate in Lexus technology and refinement.
Tell me something I don't know about Lexus
Lexus advertised the smoothness of the V8 in the original LS model by stacking an arrangement of champagne glasses on the bonnet while the car was driven to its maximum speed on a rolling road, without causing any disturbance to the glasses.