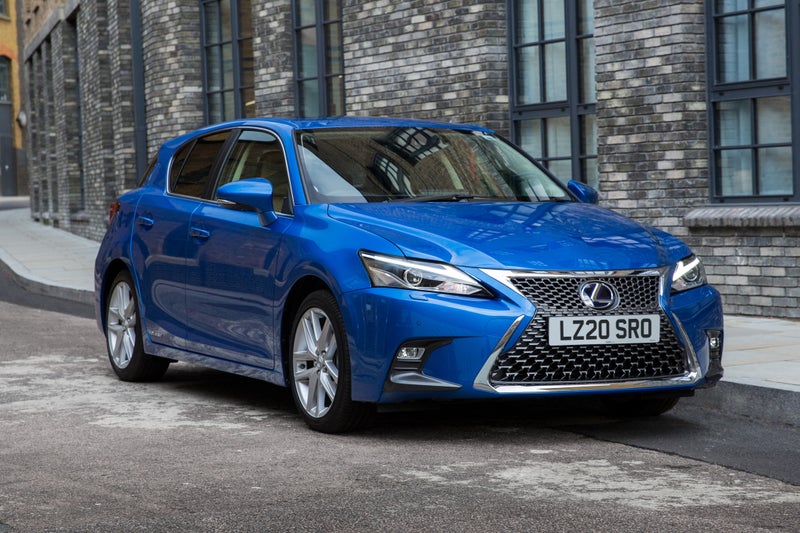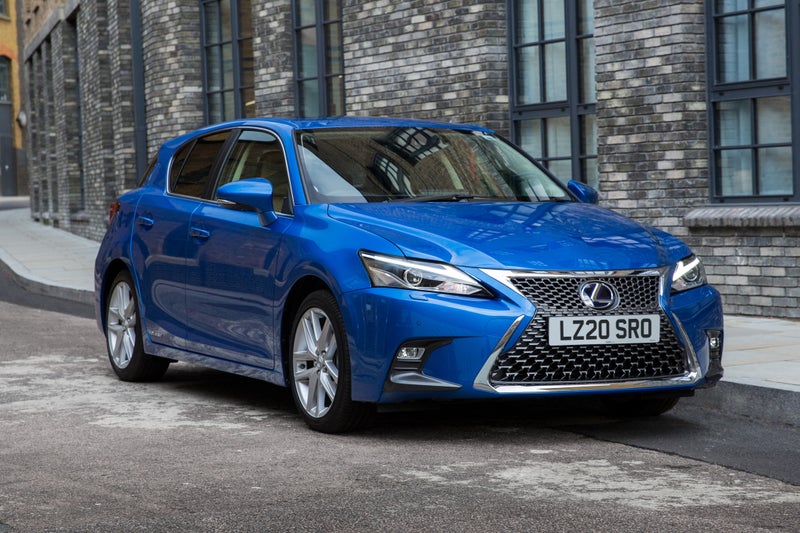 1/10
heycar rating
"Reliable but dated hybrid hatch"
Launched: 2011

Family hatch

Hybrid
Quick overview
Pros
Epic Mark Levinson audio – if you pay for it
Standard safety equipment is comprehensive
Quiet around town and relatively inexpensive
Cons
It's far from its first flourish of youth
Infotainment controller is needlessly fiddly
Never much fun to drive, it's seriously out-classed on the road by its competition
Overall verdict
On the inside
Driving
Cost to run
Prices and Specs
Common questions
Overall verdict on the Lexus CT 200h
"The time for the CT was around when it was launched, and even then it wasn't particularly resolved against its premium hatchback rivals on anything other than tax-efficiency. The goalposts for that have moved, too, and the hybrid market has caught up and significantly surpassed the CT. We're actually surprised Lexus still puts the CT on a boat and brings them here, outclassed when new, its age hasn't done it any favours."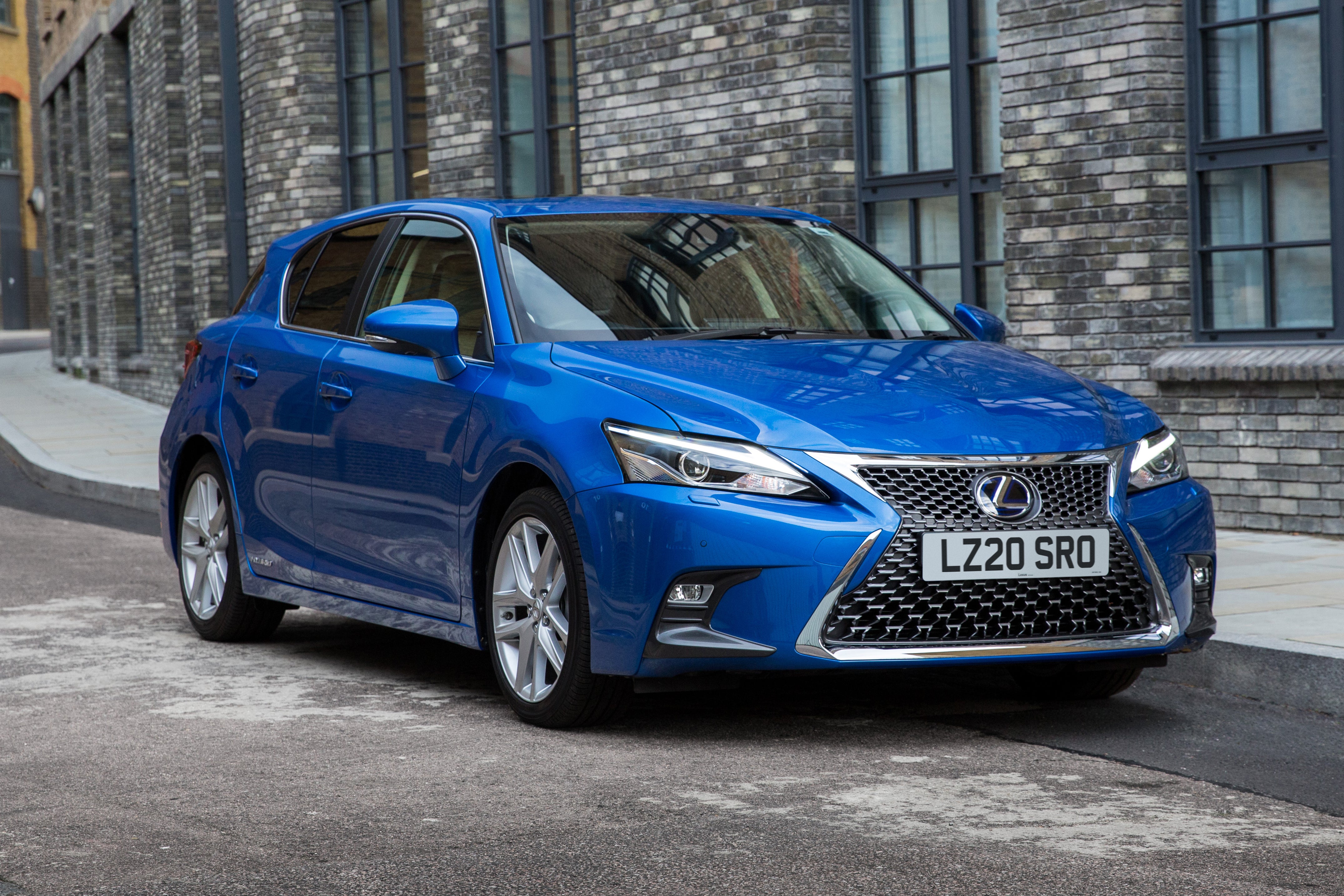 A lot has happened in the world in the near ten years since the Lexus CT (then CT 200h) was launched by diminutive pop princess Kylie Minogue. Lexus's smallest car, it brought a self-charging hybrid option to the premium hatchback marketplace, giving buyers of the Audi A3, BMW 1 Series and Mercedes-Benz a low-emission, tax-dodging petrol-electric alternative to Germanic thrusting turbodiesels.
That economic and environmental pragmatism was mixed with a bit of hope from Lexus that the CT would appeal to a more youthful audience, which goes some way to explaining Miss Minogue's part in its introduction. We're not sure that ever really happened, or it may have, but in the ensuing years those youthful buyers have grown up.
The Lexus CT has had work done to it during those ten years to keep it up-to-date, with revisions in both 2014 and 2018, but even when fresh-faced and new in 2011 it was a choice mired in compromises.
It borrows its tech from that most familiar of hybrids, the Toyota Prius, Toyota being the parent company of upmarket Lexus, in the CT it mating a 1.8-litre petrol engine to an electric motor. Unlike the plug-in hybrids that are increasingly the norm, the CT's hybrid system is 'self-charging,' scavenging back otherwise wasted energy when coasting, braking, or diverting some from the engine, to charge its small onboard battery pack.
The CT defaults to electric drive when possible – at speeds up to 28mph – but the limitations of its hybrid system mean you'll flatten those batteries in around a mile, and even then you'll need to be driving like a saint to achieve that.
The best of its rivals offer commuting range EV potential, with cars like the plug-in Mercedes-Benz A-Class A250e able to cover as much as 42 miles on electricity alone, though we concede that the Mercedes-Benz's starting price is where the CT's range price tops out. That it's bettered by Toyota's own Corolla hybrid is perhaps more of a concern, and start putting turbodiesels into the mix and the CT's case becomes even more difficult to justify.

Lexus dared to be different with it though, but it's never felt like it really knew what it wanted to be, with excellent refinement – at town speeds at least – ruined by over busy suspension that promised sharp handling but never really delivered it. Given the strength of its rivals, all of which have at least been replaced once in the CT's lifetime, that's meant it's always been a relatively low-volume, obscure seller in the market it aims to compete in, despite its low emissions status, and the advantageous tax position that puts it in for company car drivers.
Even Lexus seems to have forgotten about it, it more than likely, like its bigger IS300h relative, that it'll quietly depart the price lists and showroom floors soon, with the few potential buyers for it pushed into Lexus's UX crossover instead.
Is the Lexus CT 200h right for you?
If you've gotten this far, then you might still be considering it, so there's a chance. If anything, the CT was too far ahead of its time, with the backlash against diesels now suiting its petrol-electric hybrid drivetrain.
The thing is, in the years since it was introduced, its rivals have all caught up, with most able to offer some sort of mild hybrid, if not a superior plug-in hybrid, wrapped in bodies that are more contemporary than the CT. It's decently equipped as standard, while the interior feels superbly built and Lexus dealers apparently treat customers incredibly well, so if that appeals, and you're not too fussed about having the newest, latest car on your driveway then the CT could be just the thing, though we'd suggest if you are buying one new that you haggle a massive discount for it.
What's the best Lexus CT 200h model/engine to choose?
There's only one engine and transmission so the concept of choice is out of the window, leaving you with the decision between the entry-level CT, the more sporting looking F Sport or the range-topping Takumi. With the CT and F Sport you can get mired in some option box ticking for things like the biggest screen infotainment screen, auto headlights and suchlike, which are available via a number of add on packs, with titles like Tech Pack, Sport Pack or Premium Pack.
If you're mad enough to go for a CT anyway, then go all-in and have the Takumi, which comes fully-loaded as standard, and, crucially, comes with the superb Mark Levinson premium surround sound system which will make anything you listen to, even Kylie, sound incredible.
What other cars are similar to the Lexus CT 200h?
As a compact, premium hatchback its most obvious rivals come from the same class, which encompasses rivals like the BMW 1 Series, Audi A3, Mercedes-Benz A-Class, as well as more mainstream rivals like the Volkswagen Golf and Mazda 3 among many others.
There are a number of plug-in hybrid choices to rival it, but its closest 'self-charging' hybrids hail from its parent company, Toyota. The Prius and the Corolla hybrid are in the same sort of price bracket, and both feel far newer – because they are – and actually drive far better than the CT.
Comfort and design: Lexus CT 200h interior
"The Lexus CT wasn't exactly cutting edge design when new, the interior has always had a whiff of '90's compact HIFI design about it, particularly around the centre console."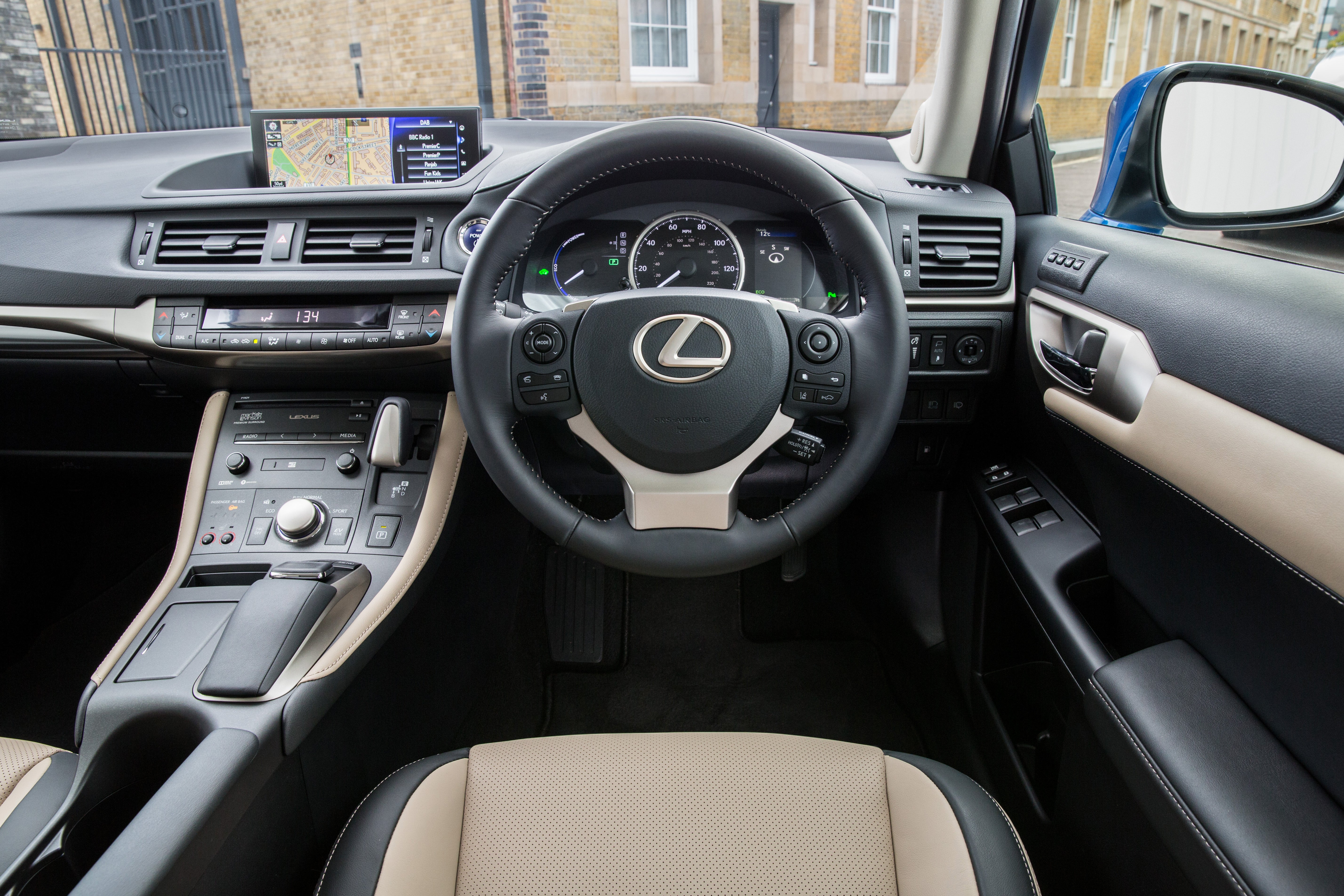 It's old enough to actually feel retro inside, which might actually appeal if you're not entirely sold on the touchscreens that now dominate not just the premium class, but the mainstream one. In fairness, slightly old-school styling aside, it all works really well, it actually pleasing to be able to operate controls like ventilation without having to scroll through touchscreen submenus – as is increasingly the frustrating norm - the Lexus CT unambiguous in its controls, or at least the ones you need regularly. We'll get the infotainment later...
The seats in the base CT model are 6 way manually adjustable for the driver, and 4 way for the front passenger, with an eight-way electrically adjustable driver's seat with lumbar support and memory, and four-way electrically adjustable passenger seat with the top line Takumi trim level. Whether it's manually or electrically adjusted, the driver and front passenger seats offer great comfort and support, the reach and rake adjustable steering column meaning getting a comfortable driving position is easy, too. The rear-view mirrors are electrically adjustable (and heated) on all, too.
Those seats are heated from the F Sport trim upwards, it offered on base spec as part of a Premium Pack, which also usefully adds Smart Entry, front and rear parking sensors and rear privacy glass. All come with dual-zone climate control air conditioning as standard, too.
Quality and finish
It might have the interior look of a car that's from another era, but you could get in one from back in 2011 and find it feels much the same as a new one sitting in a Lexus showroom today. That's testament to the build quality, the Lexus CT always having had an interior that feels like it'll outlive any of its rivals, and indeed, many of its owners.
That solidity isn't achieved thanks to hard materials, either, the CT's interior featuring enough soft-touch surfaces to make it feel genuinely luxurious, in a peculiarly Lexus manner, at least. For the best of that, you'll need to go for the Takumi spec, which has all the finest finishes, with full leather upholstery and smart 'Naguri' trim inlays, while going for that Takumi means you get the superb Mark Levinson HIFI as standard, which is so good you'll forgive the CT its many other shortcomings against on the road against its rivals.
Infotainment: Touchscreen, USB, nav and stereo in the Lexus CT 200h
We've established that the CT is the automotive equivalent of a Coelacanth - we were genuinely surprised to find it still on sale at the time of writing this - but Lexus has at least attempted to keep the infotainment offering up to date.
There's DAB with the six-speaker audio system (upping to 13 speakers on the incredible Mark Levinson premium HIFI that's optional on F Sport and standard on Takumi), a CD player (remember those?) satellite navigation, Bluetooth connectivity, twin USB connections and an aux-in socket. All that is displayed on a 7-inch screen as standard, with the option of upgrading that to a larger 10-inch screen that better fills the position at the top and middle of the dashboard.
All pretty good, then, but there's no Apple CarPlay or Android Auto, but given the CT pre-dates Apple CarPlay, and was around when people were queuing to buy the iPhone 4S, that's perhaps forgivable. What's not is the way you operate the infotainment, that smaller 7-inch screen controlled by a rotary dial, which is just about acceptable in the way it works.
Compared to the 'Remote Touch Interface' that comes with the 10-inch option that rotary control looks like a paragon of user friendliness and ease. Remote is right, because it's improbable that you'll ever manage to get the cursor remotely near what you're wanting it to point at, let alone clicking on it.
It's difficult to use if you're stationary, and near impossible to do so on the move, it a truly woeful means of controlling the otherwise decent infotainment system. Set it up before you leave, or better still have your passenger do it, likely for the entire journey, and just use the steering wheel controls for the basic controls on the move.
Space and practicality: Lexus CT 200h boot space
There's decent space up front for the driver and passenger, with ample room and adjustment to stretch out. But it's not quite so clever in the back, where rear seat passengers will find that unless they are short then they will be short on both leg and headroom.
There is a third, middle, rear seat, but good luck finding someone slim enough to use it, Kylie perhaps? Children under 12 will need to be in child seats in the back, their width making that middle rear seat all but redundant. Those outer rear seats do offer ISOFIX mounts for child seats, should you be carrying (grand)children in the back.

There are no door bins in the back, while those up front are more Nokia 8210 mobile phone-sized than iPhone 11 Pro Max or Galaxy S20 Plus sized. There's a pair of cupholders between the seats, but cubby stowage is limited to the glovebox, and an ashtray-sized lidded compartment in front of those cup holders. The boot's volume is an okay 375 litres, and its floor is flush with the hatchback access, while folding the rear seatbacks (in a 60/40 split) sees that boot volume rise to 985 litres. Not as capacious as some rivals, particularly conventionally powered ones, but for most, the boot space will be plentiful.
Handling and ride quality: What is the Lexus CT 200h like to drive?
"In a class where good, enjoyable driving dynamics is the norm rather than the exception the Lexus CT falls short. There's some promise, with the CT cornering flatly, but other than that, there's little of note - for the right reasons at least - about the CT's ride and handling."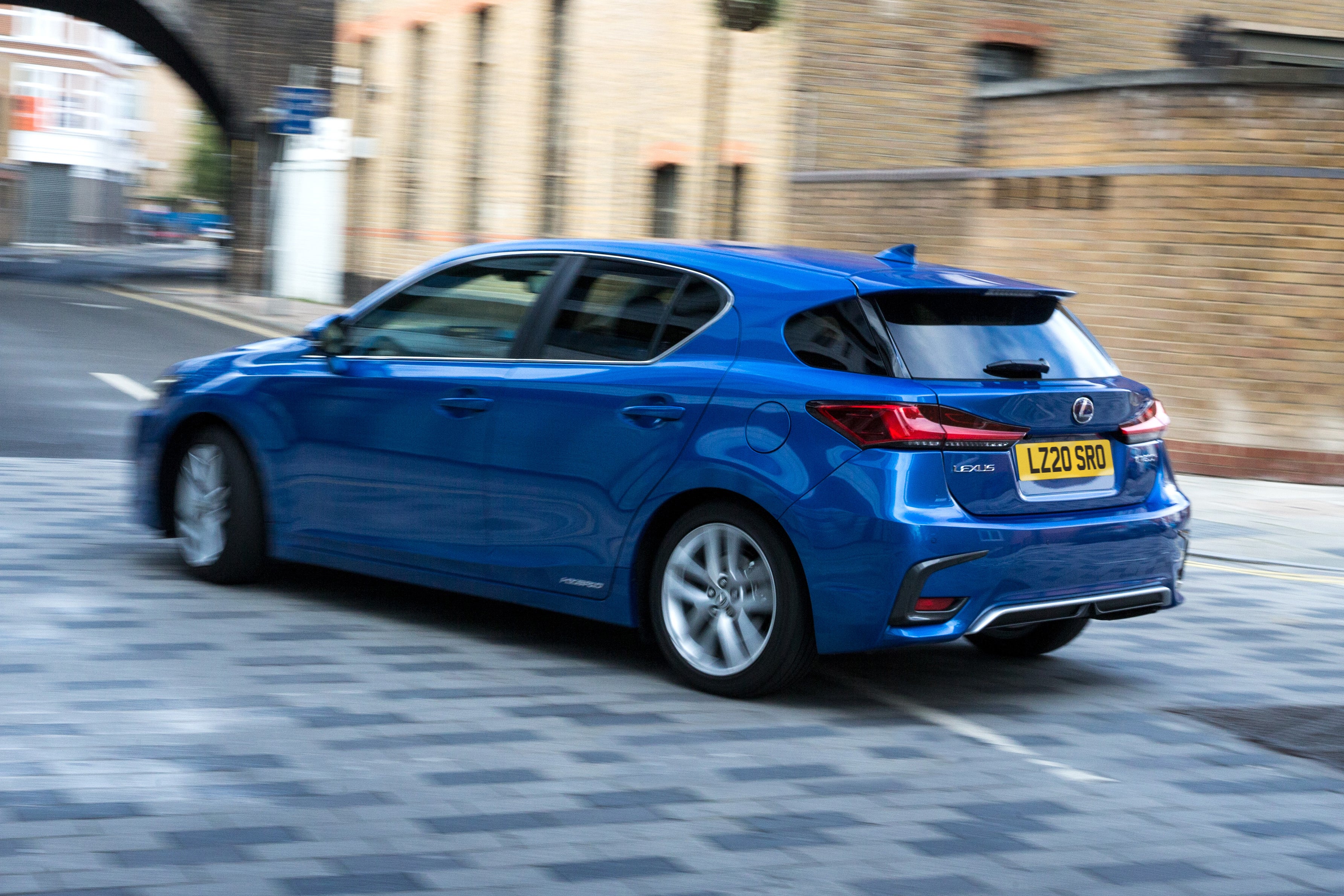 The steering leaves you guessing as to what the front wheels are doing, there being zero feel through the steering wheel. Grip levels aren't especially high, meaning you'll push those front wheels into understeer if you're pushing hard, but, in reality you're unlikely to be doing so. The chief criticism with the CT's suspension is its inability to provide a cosseting ride comfort in absence of dynamic prowess, it would be far more agreeable if Lexus just conceded that it's not sporting, and softened everything off to provide plush, cushioned, if less controlled comfort on less than perfect road surfaces.
Larger wheels only upset the ride quality further, while you'd have to be certifiable to want the Sport Suspension with its 'lateral performance damping system' that comes as standard with the F Sport model. That sport suspension is akin to putting running spikes on your granddad, upping control at speed, but being hugely compromised and uncomfortable. Even if it were a dynamic delight, which it isn't, the CT driver would quickly run out of incentive to press on anyway, because of what follows…
What engines and gearboxes are available in the Lexus CT 200h?
There's one engine, actually two in combination, mated to a single automatic transmission driving the front wheels. The petrol engine is a 1.8-litre four-cylinder with an output of 99PS and 142Nm of torque, its modest performance supplemented by a 81PS/207Nm synchronous electric motor. Simple maths might suggest a healthy combined output of 180PS and 349Nm of torque, but the reality of how these things work, and are calculated, sees the combined output rated at 136PS. Lexus doesn't quote a combined torque figure, but it's nowhere near that simple, incorrectly, calculated 349Nm.
As a result the performance modest, with 62mph arriving in 10.3 seconds, and if you have the run up space, and happen to be in Germany on an unrestricted autobahn, it'll achieve 112mph. Your enthusiasm to do so will have run out before the Lexus gets you there, because while the CT's powertrain is commendably smooth and seamless in its operation at normal town speeds, it's raucous and revvy if you start asking any more from it.
That's down to the CT's standard fitment of Lexus's E-CVT automatic transmission, which rather than having conventional gear ratios is constantly variable, seeing it sit in the engine's peak powerband – high revs – and hold it, to the detriment of refinement, and also not necessarily resulting in performance to match the cacophony. Compared to the low-rev flexibility of modern turbodiesels, or the slick operation of the CT's plug-in hybrid alternatives, it's seriously outclassed.
Refinement and noise levels
We've touched on it above, the Lexus CT able to provide decent refinement at town speeds, where the powertrain works its best, and in relatively hushed silence. Indeed, with a lot of effort, you can enjoy brief moments – up to about a mile before the battery is depleted – of serene electric-only motoring.
There's not much road noise, even if the suspension is a bit busy, while wind noise is decently contained at speed, too. Like elsewhere the CT is feeling its age, as while it can be refined some of the time, it's not all of the time, with most rivals able to offer a more rounded overall experience in relation to isolating you all the time from the associated noises of moving through the air and down the road, with explosions occurring under your bonnet.
Safety equipment: How safe is the Lexus CT 200h?
The CT's age could count against it in the provision of standard safety equipment, but, commendably, Lexus has continued to add kit to keep it as safe as its newer rivals. The last time it did so was 2018, where it added Lexus Safety System+ to all, it consisting of Dynamic Radar Cruise Control, Pre-Collision System, Lane Keep Assist, Road Sign Assist and Automatic High Beam headlights. That joins ABS brakes with Brake Assist and Electronic Brake Force Distribution, traction and stability control systems, electronic tyre pressure monitoring and a Lane Departure Alert.
To that, there's a host of airbags, with driver and passenger front, side and knee airbags as well as a curtain airbag spanning the front and rear seats. The front seats are designed to reduce whiplash, there's a pair of ISOFIX child seat mounts for the outer rear seats as standard on all. Indeed, Lexus hasn't left anything that can be described as safety equipment on the options list, which given the relatively low starting price of just over £26,000 is impressive.
MPG and fuel costs: What does a Lexus CT 200h cost to run?
"Under the WLTP fuel consumption testing the CT achieves a combined consumption of between 53.2 and 55.3mpg, that better mpg achieved by those models with the smallest wheels."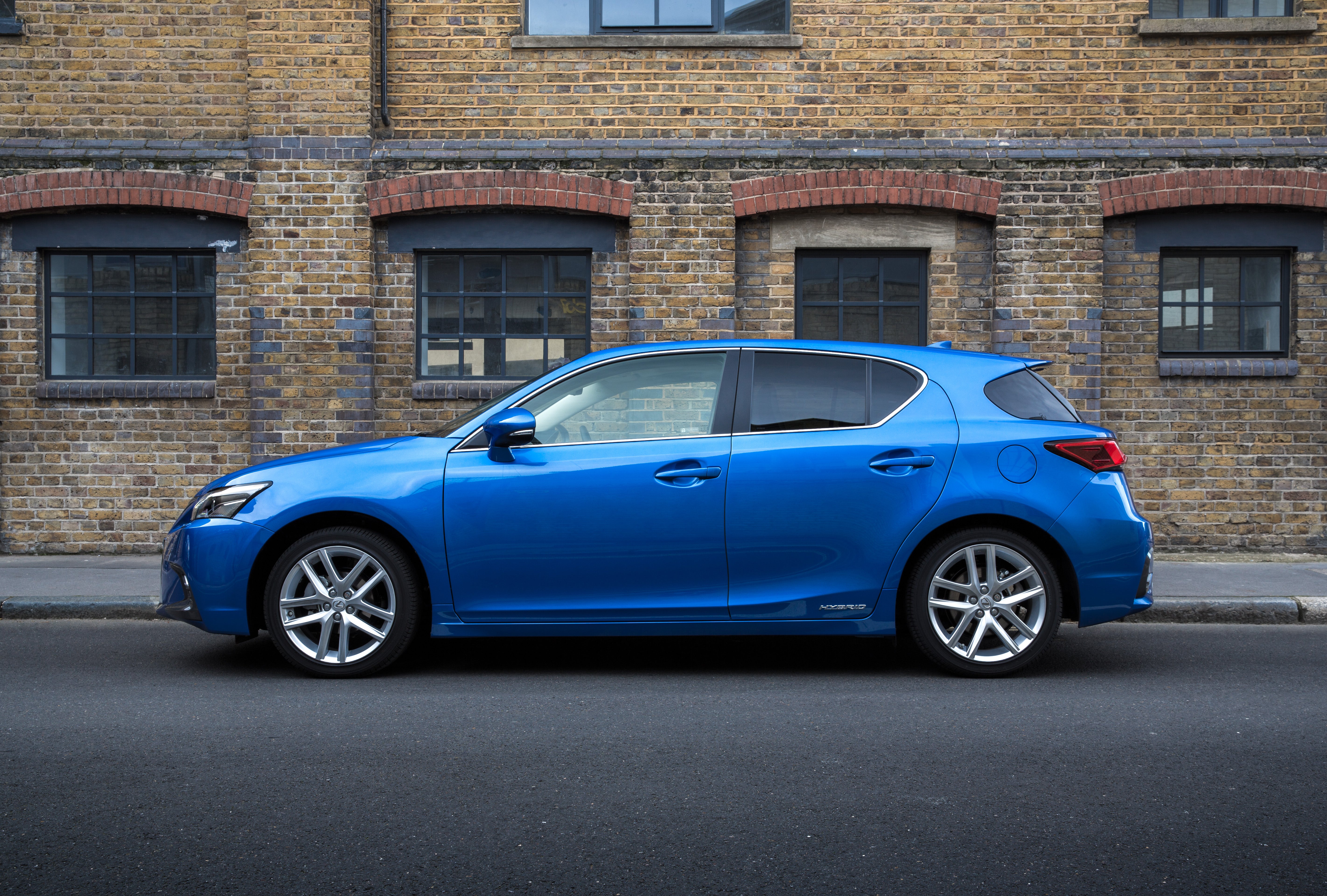 That's okay, but real-world it'll be a bit less, which means if you're looking for ultimate fuel consumption you'll be better served by a newer plug-in hybrid, a turbodiesel, or indeed Toyota's Corolla hybrid or Prius.
Insurance groups and costs
Insurance groups for the Lexus CT start at group 17 for the base CT model, rising to group 21 for the range-topping Takumi. Servicing shouldn't be expensive, either, and the hybrid system isn't going to be a worry long-term, either, Lexus offering an annual hybrid health check to ensure it's working to its maximum potential.
VED car tax: What is the annual road tax on a Lexus CT 200h?
The CT's VED band is 20/21, which means you'll pay £165 for it in its first year and £150 thereafter. It's in the BIK 26-27% range for company car tax if you're having the business buy it for your, its emissions ranging from 115g/km to 120g/km, that higher than the figures it Lexus used to quote, not because of any changes to the drivetrain, but because of the more recent, more realistic WLTP emissions and economy testing.
How much should you be paying for a used Lexus CT 200h?
"With nearly a decade of sales means there's a decent choice of used stock out there, and while it's changed in its look slightly – with the new 'spindle grille' being added – like Kylie, it's still recognisable after ten years of facelifts. A budget of £6000 will get you into the still firm driver's seat of a CT, even if it's had a huge number of miles roll under its wheels."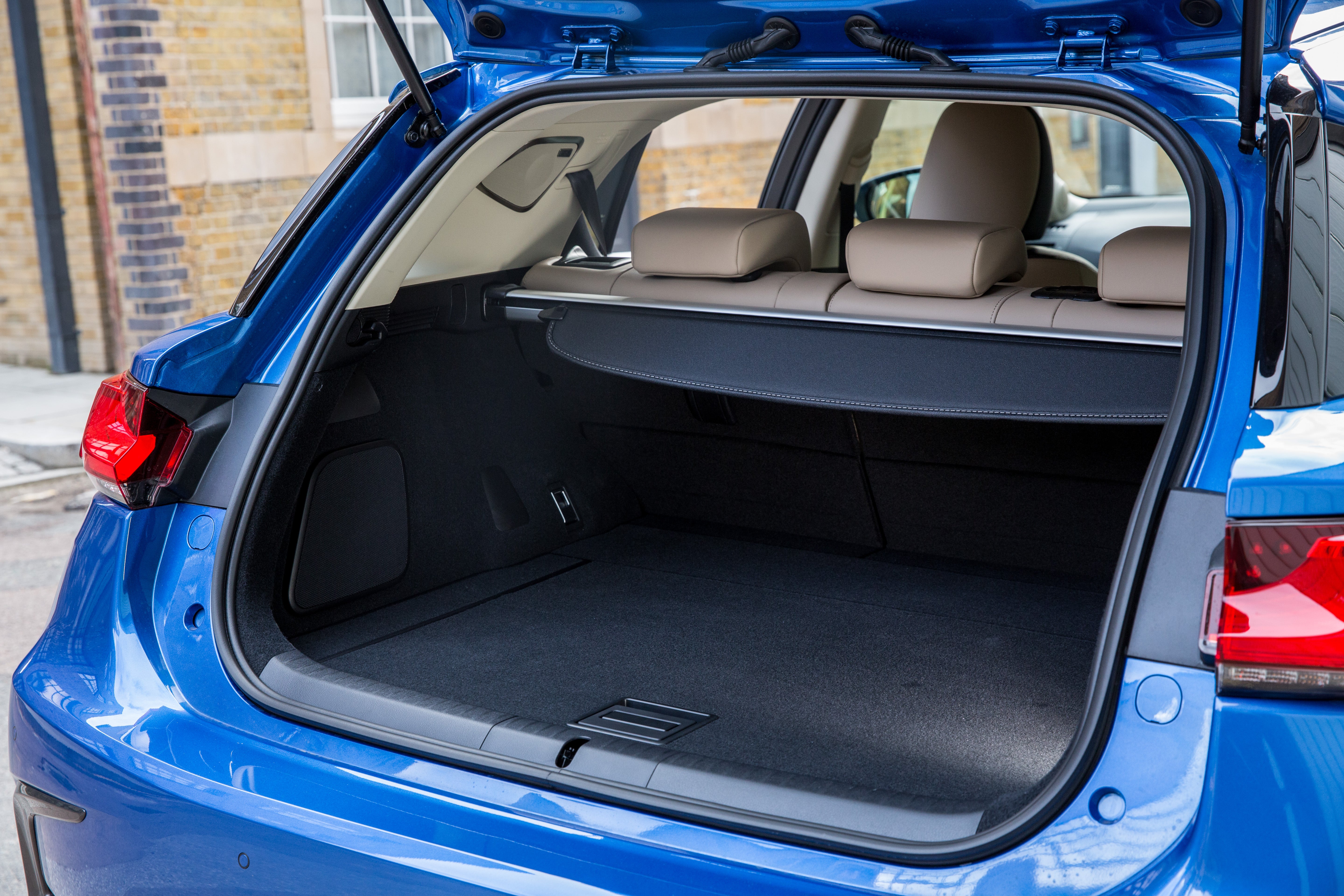 Indeed, you can buy a CT with confidence of reliability, and at used prices it's a rather appealing alternative to the rivals it listed when new. Up your budget to around £10,000 and you'll have plenty of choice, with post-14 models getting a less anonymous look thanks to the addition of that sharper front grille.
Keep upping the budget to the £20,000 region and you'll be welcomed at a Lexus dealer like you're one of the family, and get into a nearly new, low mileage example that'll do you a decade of service without breaking a sweat.
Trim levels and standard equipment
Three trims are available as the CT enters its twilight years in the UK, we're not sure whether it'll be replaced directly here, or its buyers expected to migrate to models like the Lexus LC crossover. Time will tell, but until then, here's what you can still buy. Just.
CT – Lexus Safety System+ Push-button start, 7-inch display with rotary controller, 2-Zone climate control, reversing camera, Bluetooth connection, rain-sensing wipers and 17-inch alloy wheels. F-Sport adds – Sports Suspension, F Sport styling, Sports Suspension, heated front seats, F Sports seats.
Takumi adds – (removes Sports Suspension – good thing, too) Sunroof, 13-speaker Mark Levinson premium surround sound system, 10.3-inch display with remote touch interface, powered driver and passenger seats, leather upholstery.
Ask the heycar experts:
common questions
Where is the Lexus CT 200h manufactured?
The Lexus CT 200h was produced at the brand's Miyawaka factory in Fukuoka, Japan. If you'd prefer a British-built alternative, take a look at the latest Toyota Corolla. This is produced for the UK market at TMUK's plant in Burnaston, Derbyshire.

Is the Lexus CT 200h reliable?
Yes, the Lexus CT 200h has an excellent reputation for reliability. Very few issues have been reported by readers of HonestJohn.co.uk, while Lexus regularly comes top in the website's yearly Satisfaction Index.

How expensive is the Lexus CT 200h?
When you could still buy a new Lexus CT 200h, it'd cost upwards of £25,000. It's been on sale for a while, though, with used examples now dropping below £6,000.

Lexus CT cars for sale on heycar
549
Number of cars available
£15K - £26K
Price bracket of these cars
Colours available on heycar
Keep me updated by email with the latest advice, news and offers from heycar
By submitting, you agree to our
privacy policy
.