Written by
heycar editorial team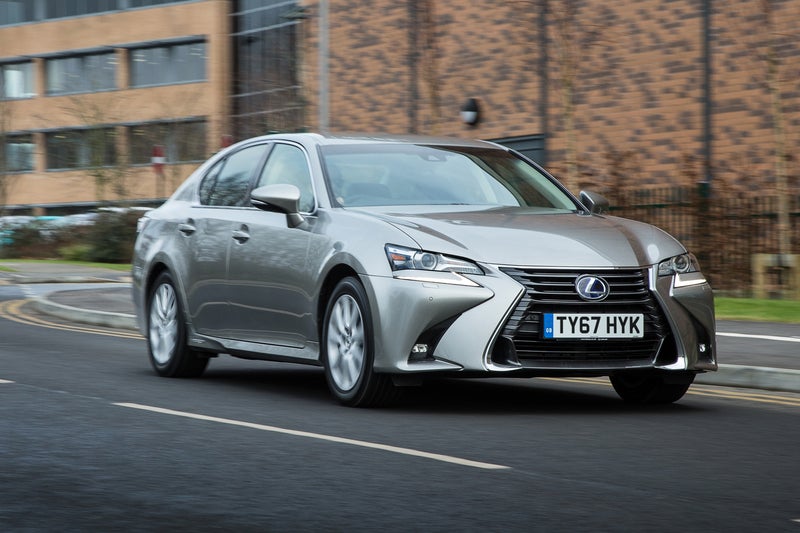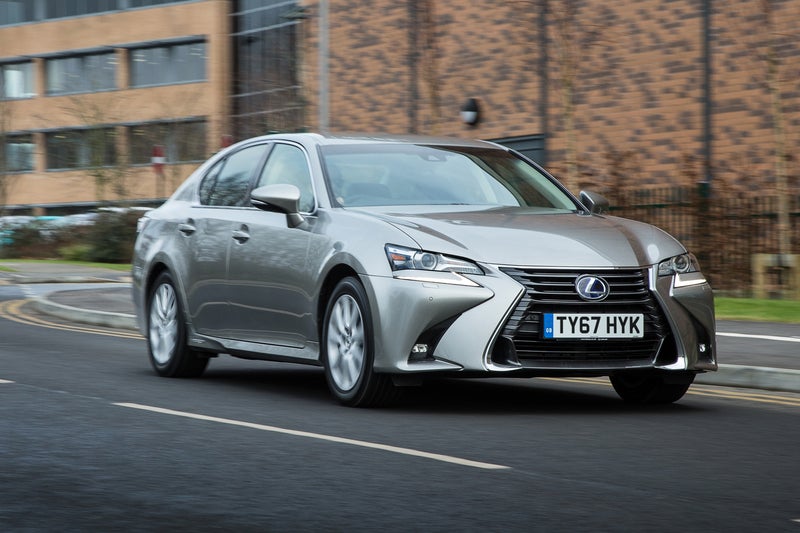 1/10
heycar rating
"Superb quality, underwhelming to drive"
Launched: 2012

Premium

Petrol, Hybrid
Quick overview
Pros
Hybrid engine options
Superb build quality
Reliability
Cons
No estate option
250 is sluggish
Drive is short on involvement
Overall verdict
On the inside
Driving
Cost to run
Prices and Specs
Overall verdict
"The Lexus GS carved out its own niche within the executive sector as an upmarket and somewhat left-field alternative to large saloons like the BMW 5 Series and Mercedes-Benz E-Class."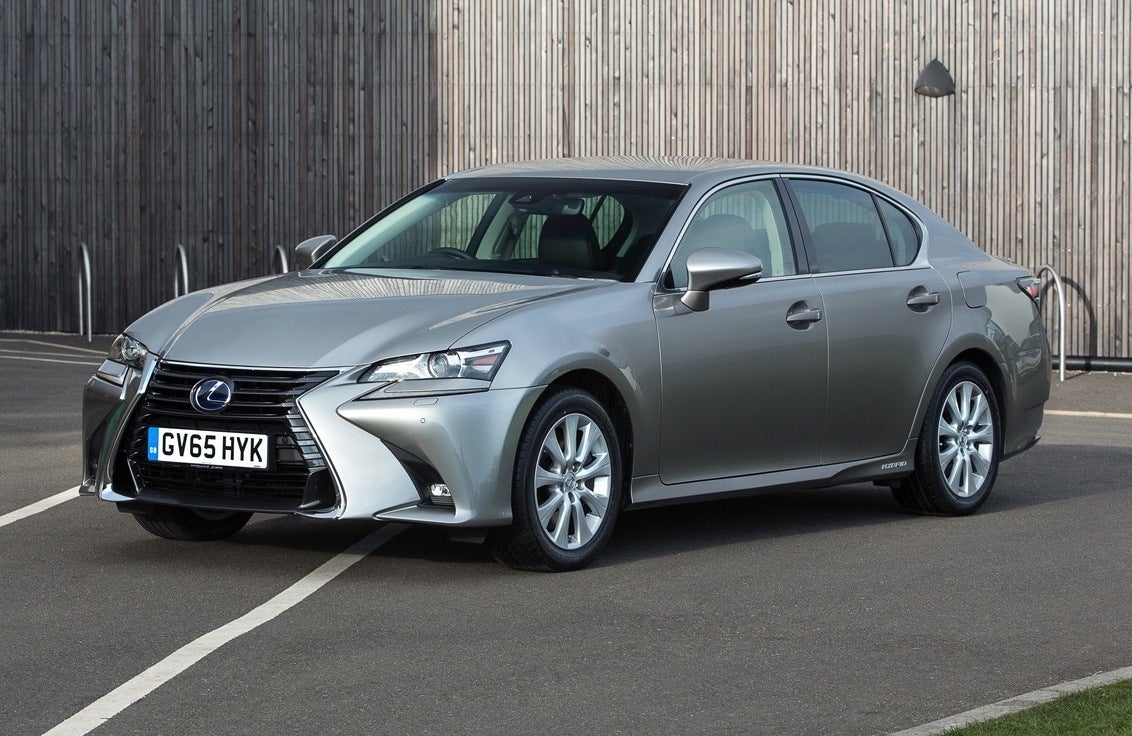 For those who value quality and refinement, the Lexus ticks a lot of boxes. It's helped by Lexus dealers, who are widely recognised as the best in the business for customer service and this is backed up by top marks in the various customer satisfaction surveys like JD Power. It's no surprise the brand has one of the highest rates of repeat buyers.
The GS launched in 2012 built on the same qualities of the old model but Lexus worked hard to add a dash of style and driver enjoyment to the mix. It didn't quite hit the mark, which has been the case with the GS throughout its life. What we got instead was a very comfortable, competent cruiser that much prefers to make unruffled progress than be hustled down a country road in the way you can with a BMW 5 Series.
In terms of looks, it's a lot more angular at the front and it's a similar story at the back where the stretched lights make it appear wider. Overall, it has a lot more road presence than its bland predecessors.
The improvements over the generations than went before are most noticeable inside with a far better interior in terms of design and quality. There are less obvious Toyota elements and a far more stylish feel with features like the solid metal controls for the stereo and the analogue clock between the air vents. There's more space than earlier GS models too and it feels much more like a premium car than the older GS generations did. There is also plenty of space for those in the front and Lexus piled in the technology, which is thankfully easier to comprehend and use than some of its later offerings.
As before, Lexus didn't fit a diesel engine to the GS range, something which will mean many buyers immediately rule it out. Instead, it sticks with standard petrols and a hybrid version. The GS450h is the impressive hybrid and it combines swift performance with low carbon dioxide emissions and decent fuel economy considering its power.
There's also a GS250 powered by a 2.5-litre V6 petrol with more than 200bhp which is significantly cheaper than the hybrid model. Starting prices are fairly high, but all models come highly equipped as standard although entry-level versions don't get sat-nav. You could also GS F that came with a 471PS 5.0-litre V8 petrol motor to give Lexus a rival to the BMW M5. It's a rare beast, but it can deliver 0-62mph in 4.6 seconds and sounds amazing.
However, most buyers will be looking to either the 2.5-litre petrol or hybrid models and they make an intriguing alternative to the main German contenders in this class. Lexus was ahead of the curve with its hybrid offering, so used buyers can take advantage of this now.
If you're looking for the newer version, you need our Lexus ES (2018-) review.
Is the Lexus GS right for you?
Buyers looking for an executive saloon are spoilt for choice, so the Lexus GS has its work cut out to tempt them in with its charms. It used to be the Lexus did enough by offering a hybrid model as an alternative to the diesel engines used in rivals and which dominated company car sales.
As time moved on, so did the GS's rivals and they began to included hybrid versions, such as the BWM 530e. However, the Lexus' superb refinement and the way its hybrid drive system works in such a discreet way makes it very appealing for those looking to be a bit cleaner and greener.
As a used car, the GS also appeals for the way it weathers its miles and age with remarkable ease. It's a testament to Lexus' build quality that so many GS models still look fresh and shiny after high mileages. They also have a reputation for excellent reliability, which is always a welcome trait in any used car you are considering.
Just don't go looking for a Lexus GS and expect to find driving Nirvana. It's more of a laid back cruiser, but never mind.
What's the best Lexus GS model/engine to choose?
Anyone looking for the Lexus GS F is not going to entertain anything other than this rarity, and we wouldn't blame them for seeking out this 471PS super saloon.
However, most buyers will seek something a lot gentler on the wallet for running costs. The four-cylinder GS250 is the most affordable way into this Lexus thanks to its four-cylinder petrol engine, though it's worth bearing in mind it's also the slowest and least economical by some margin.
At the other end of the scale is the GS450h that is swift and offers BMW 530d rivalling pace coupled to a claimed economy of 45.6mpg. It's a sound bet, but we'd choose the 300h model as the pick of the bunch for its better fuel efficiency and blend of power, pace and refinement.
There are SE, Luxury and F Sport trims to choose from, with the latter riding on 19-inch alloy wheels that bring an unwanted firmness to the ride quality. So, we'd make for the Luxury model that comes packed with equipment including sat-nav, blind spot detection, and one of the best stereos you would wish for.
What other cars are similar to the Lexus GS?
Look at the Lexus GS and you can see it's aimed squarely at the BMW 5 Series and Mercedes E-Class. Lexus even admits these are the two cars it considered as key competitors when designing the GS. The BMW is the most enjoyable to drive in this sector and offers a broad range of engines, though most will come with a diesel motor. The E-Class errs more towards comfort and also has a fine spread of motors.
The Audi A6 is a big rival to the Lexus, especially for anyone who values Fort Knox levels of built quality. Jaguar's XF is another key rival and, like all of the GS's competition, can be had as an estate as well as in saloon form. Lexus never did build a GS estate.
Comfort and design
"Comfort is one of the key pillars of the Lexus GS, so it's encouraging to find the driver's environment is so sumptuous. The front door opens wide to allow unhindered access and the thickly padded seat has more give and cushioning than you find in some of the GS's German rivals. Choose the F Sport version and its more heavily bolstered seats give better support during cornering but are perhaps a little less cosseting on longer trips."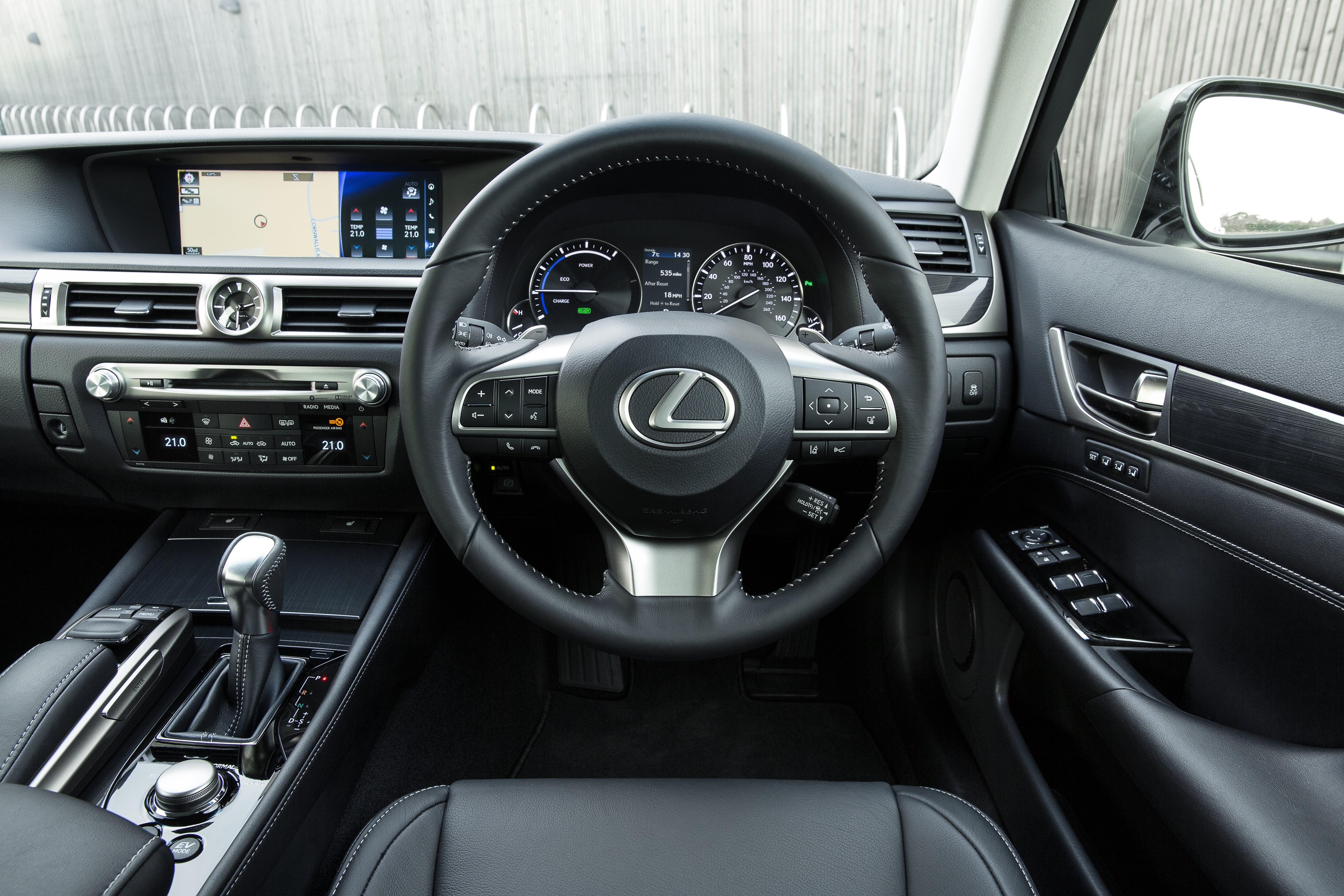 There's more than enough room for the driver in every direction and, as you 'd expect of a Lexus of this class, there is more than enough adjustment in the seat to fine-tune the driving position. You also get angle and depth adjustment for the steering wheel, which is a smaller size than you might expect and when compared to some of the GS's competitors.
Vision for the driver is good to the front and sides, but the view over your shoulder is blocked to a large degree by the sweep of the rear pillar, making lane changing and parking more of a hassle than it might otherwise be.
Unlike the BMW 5 Series, the Lexus' dash is not curved around the driver and instead it's positioned in a way to create a feeling of greater space> However, the simple white markings on a black background make the dials easy to read, while the infotainment screen is also positioned high the centre console for at-a-glance reading.
The other buttons on the centre console are a little more cluttered, but at least there's some storage in the centre tunnel in front of the gear lever to add to the door pockets and glovebox.
Quality and finish
The interior of the Lexus GS improved dramatically compared to the previous model. While there was never a question mark over quality, the GS gained the premium design and upmarket feel that was previously missing. Given the price tag when new, this is the sort of cabin you'd expect. Gone are the shared Toyota components. While it's no secret Lexus is part of Toyota, you don't expect to see buttons from an Avensis in a luxury saloon.
Luxury certainly describes it well. The fit and finish are superb, while the design is different enough from the likes of the Audi A6 to be distinctive or risk Lexus losing focus of the basics. That means clearly labelled and easy to understand buttons, a good driving position and plenty of adjustment in the steering column and driver's seat.
There are some nice details too like the metal volume dials and CD slot surround along with a nice clock between the central air vents.
Infotainment
The Lexus GS comes with a 12.3-inch colour screen that was been moved up in the console and is neatly incorporated into the dash top. Lexus stuck with its rather odd control system though. Rather than a dial system like BMW's iDrive or the Audi MMI, the Lexus has a mouse-like control which lets you move a pointer around the screen. The problem is that it's not that easy to use on the move and quite distracting as it can be much too sensitive to the smallest of inputs.
The system itself is straightforward and the sat-nav that is standard on all models apart from the entry-point SE works well. It's not the slickest or best looking in-car system and the looks have dated alongside similar ones from Audi or BMW. That aside, the GS's infotainment is still up to most modern needs and comes with Bluetooth for easy pairing with your phone for hands-free calls.
The screen also doubles as a monitor for the reversing camera that is standard with the Luxury trim, while later Premier versions gained a 17-speaker set-up with Mark Levinson stereo.
Space and practicality
All of the space that is devoted to the driver and front passenger comes at the expense of rear legroom in the Lexus GS. A little like the BMW 5 Series of a couple of generations back, Lexus has put so much effort into the front of the cabin that it seems to have forgotten normal-sized humans might want to sit in the back.
The result is the rear quarters of the GS feel cramped for anyone but children if there are front occupants of normal height in residence. This is a disappointment for family buyers and anyone who routinely carries more than one passenger. It also means the GS is not able to compete with the generous space served up by the Audi A6 or Mercedes E-Class, or later BMW 5 Series models that finally addressed this same issue.
If legroom is not such an issue for those in the rear of the GS, you will find it has plenty of room for shoulders and also serves up sufficient headroom for all but the tallest of occupants. The middle seat comes with a three-point belt but is very much a get-you-home measure as the cushion is narrow and raised, which is not a recipe for long-distance comfort.
On the upside, the window line of the GS's back doors is lower than in some of its competitors, so the view out is good even for kids and that can help enormously on longer drives.
Step round to the rear of the GS and it has a relatively low load sill and wide aperture when the powered lid is opened. A small drop from the sill to the boot floor is not an issue, but the overall size of the boot is more of a problem. It's not tiny, but the hybrid power for the GS means there's a space for batteries under the rear seat and this eats into load volume. As a result, the GS's boot comes in at 420-litres compared to 510-litres for the BMW 5 Series.
There is some storage space to the sides of the Lexus' boot with netted pockets, but the rear seat does not split or fold, so what you see is what you get when it comes to luggage capacity.
Handling and ride quality
"The Lexus GS F Sport and Premier models come with a system called AVS (adaptive variable suspension) which lets you tune the ride with two settings."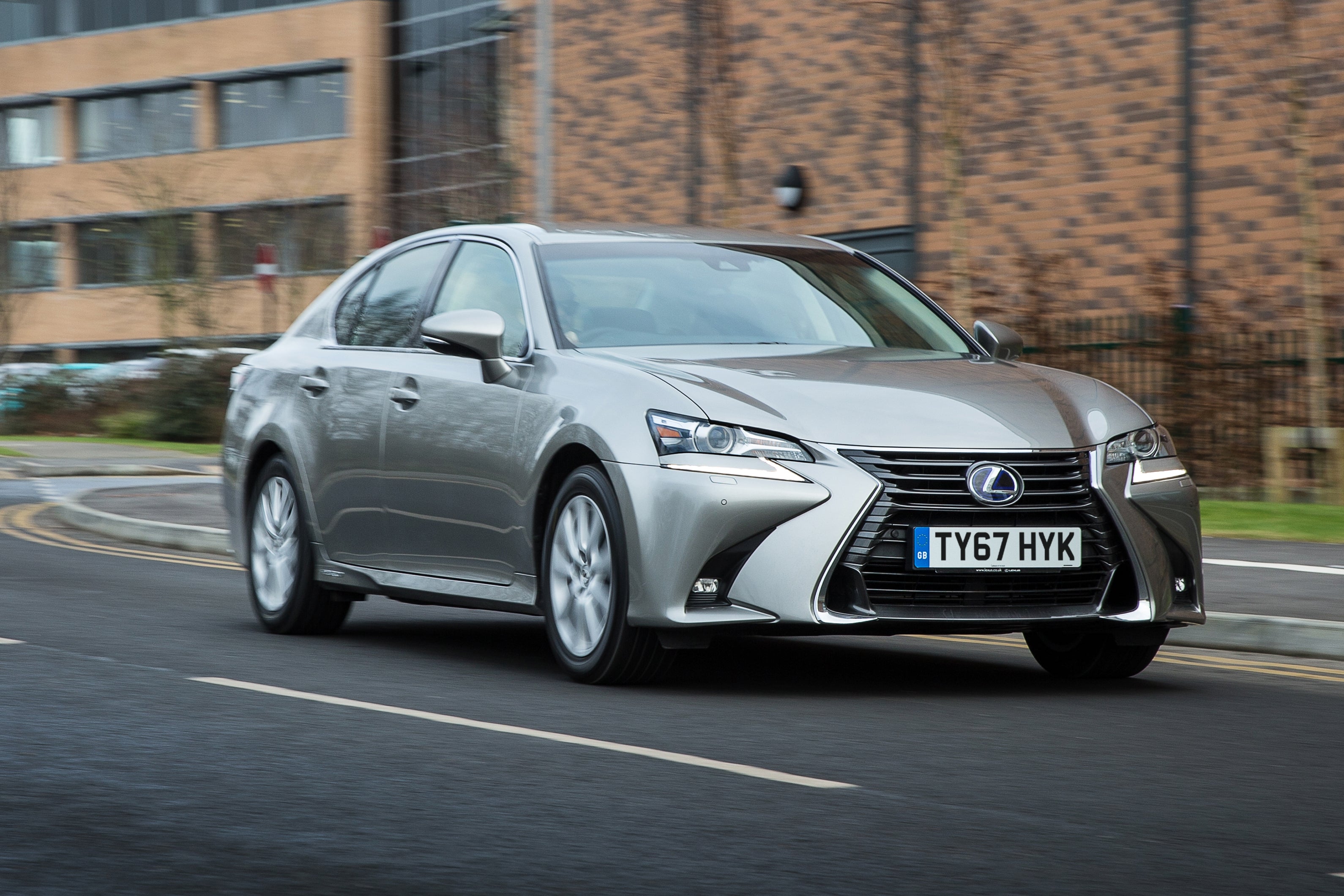 They comprise Normal for everyday driving and Sport Plus for improved body control and precise steering responses when cornering. The system automatically adjusts suspension at all four wheels independently, activating the adjustable damping force shock absorbers, in response to the way the car is being driven, vehicle body motion and road surface conditions.
The F Sport version certainly handles well with impressive control and direct steering. It's very agile for what is a large saloon and, although the steering feels quite artificial, it still gives you plenty of confidence with good grip from the front tyres.
One thing that lets it down is the ride. The F Sport models with their large alloys, low profile tyres and stiffer suspension mean it's not as smooth as you'd expect of a Lexus, especially in Sport Plus mode. Poor quality country roads really highlight the problem where it struggles to settle down and tends to tram line a lot. It's better in Normal mode but still not great.
If you value comfort, stick to the SE and Luxury models. They have a much plusher ride, but it's still not in the same league as a Mercedes E-Class, Jaguar XF or BMW 5 Series. Small indentations in the road can be felt too often and too much.
Another criticism is the brakes. The electronically controlled braking system has been modified to give greater responsiveness and it's certainly an improvement over the old GS. However, the brakes still lack progression and often feel either fully on or off, so it's difficult to drive the GS450h smoothly. The other models are less prone to this distraction.
 Engines and gearboxes
There's no diesel in the Lexus GS range. Instead, there's a standard petrol engine along with the hybrid models. The petrol is a 2.5-litre V6 and was the first time an engine this small had featured in the GS. The VVTi unit has direct injection and delivers 209PS to offer smooth and okay performance, but it's unlikely to be very popular with official fuel economy of just 31.7mpg.
Lexus added the GS300h to the range using this engine but with its hybrid power system too. It resulted in 220PS and the sort of performance that will keep you happy in all circumstances. It has lively acceleration and cruises happily, though its CVT (continuously variable transmission) gearbox can be a little jerky in its actions at town speeds.
The GS450h made up the vast majority of GS sales. The hybrid system is carried over from the previous GS but with improvements across the board. As before, it used a 3.5-litre V6 petrol engine alongside a water-cooled permanent magnet electric motor. Combined they have 341bhp, similar power to a 4.5-litre engine, hence the name.
It certainly delivers the kind of performance you'd expect from a big engine. Accelerating from 0-62mph takes just 5.9 seconds and as the torque from the electric motor is available from a standstill, so it's like a rocket away from the lights. The V6 engine delivers a nice note too, sounding more like a V8 and giving the GS450h a sporty feel on the move.
Refinement and noise levels
At low speeds, the Lexus GS is the epitome of refinement. In traffic and at low speeds, it can run on electric power alone with the petrol engine only kicking in when needed. As a result, there's no engine noise or vibration when the car is working in this manner, so it makes for whisper quiet progress through city streets.
As the car passes above 25mph, the petrol motor will kick in for both the 300h and 450h models, but it does so in an unobtrusive fashion. There's no obvious clunk or engagement from the engine, it just blends into the power easily.
If you want the full force of acceleration offered in any of the GS models, there's a cultured growl from the V6 motors. Once up to speed, they are happy to settle into the background and keep their own counsel. Choose the outrageously fast GS F with its 5.0-litre V8 and you enjoy one of the crispest engine notes on the planet when it's in full flow.
In the F Sport models, the big 19-inch alloy wheels stir up a fair amount of road rumble, which is at odds with the calm serenity of the GS's cabin. Other models are much less prone to this with their smaller wheel and tyre combinations. Thankfully, all GS models do a very sound job of keeping wind whistle to a very low level at high speeds.
Safety equipment
Lexus did not get around to putting this 2012-on generation of GS up for assessment by Euro NCAP, but it's safe to bet it would have performed very well. Every GS comes with no less than 10 airbags as standard, surrounding its occupants with twin front, side, front and rear curtain, and front knee airbags.
This comprehensive suite of airbags is complemented by an early version of autonomous emergency braking that can detect a hazard in the road ahead using radar. If the driver doesn't make a move to avoid the obstacle, the car's system will perform an emergency stop to avoid a collision or reduce its effects.
As well as this, you get the expected ESP traction and stability controls, ABS brakes with post-collision braking to lessen the car's speed after an accident, and a tyre pressure monitoring system. Lexus also fitted a Driver Monitor Camera that can spot if the driver is becoming tired or fatigued. It will alert the driver and recommend you stop for a break.
There are five three-point seat belts in the GS and Isofix child seat mounts on the two outer rear chairs to securely fit a kiddy seat in place.
Maximum EV range
The Lexus GS is a hybrid, not a plug-in hybrid, so its batteries are charged solely by regenerative braking and drawing power from the petrol engine. As a result, even with a fully charged battery, the GS450h can only travel up to 0.6 of a mile on electricity alone. Even then, you can only drive at speeds up to 25mph before the petrol engine joins in.
So, rather than thinking of the GS as an EV, it's much more of a car that can pull away in near-silent electric mode and offer some of the lower emissions benefits of an EV.
MPG and fuel costs
"The most efficient Lexus GS model is the 300h, which is the one we'd recommend. It came with an official best combined economy of 64.2mpg, but the GS rarely go close to its claimed economy figures and the 3400h is no different. So, Real MPG shows you're more likely to see 45.7mpg, which is on a par with most of the GS's diesel-fuelled rivals."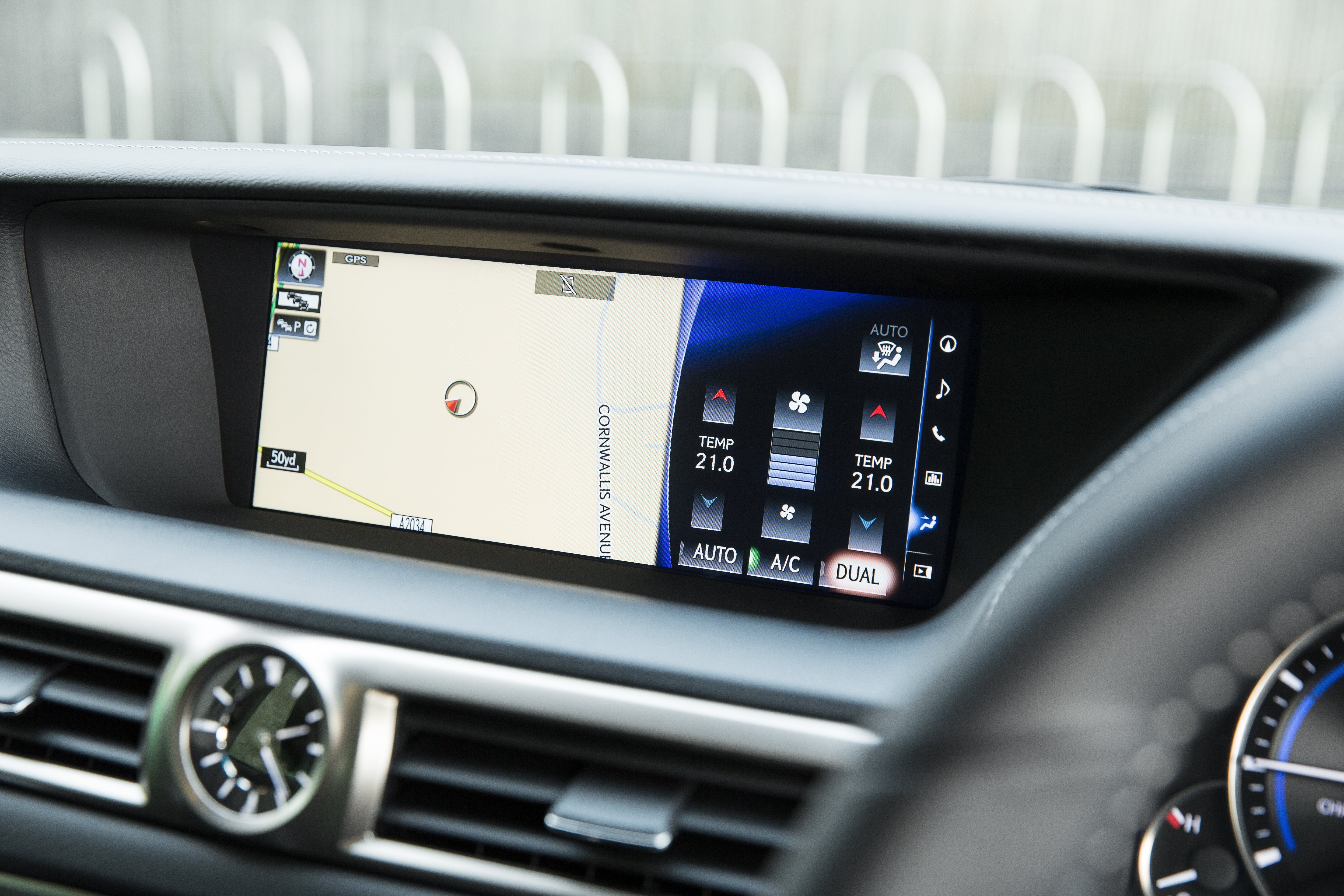 The GS250 manages to get near its claimed 31.7mpg with a Real MPG result of 30.2mpg, while the GS450h claims 46.3mpg but delivers a real-world 38.7mpg.
Insurance groups and costs
For the cheapest insurance for the Lexus GS, you need to hunt down an Executive Edition GS300h model as this sits in group 26. More likely is you will choose the GS300h Luxury which resides in group 27 or the Premier trims that sits in group 28.
The GS450h is in group 30 for the Premier model and group 42 for the Luxury version. If you go to the F Sport model, this GS450h is in group 40.
As for the 5.0-litre V8-powered GS F performance saloon, it's in group 48, so premiums will steep even if you have plenty of no-claims and a spotless driving record.
VED car tax
The Lexus GS300 is the cheapest model in this generation's range when it comes to Vehicle Excise Duty. You will pay £20 per annum for this version thanks to its 113g/km carbon dioxide emissions and qualifying as an alternative fuel vehicle with its hybrid power.
Surprisingly, the GS450h is the next cheapest for road tax, again thanks to its hybrid power and 141g/km CO2 output. So, road tax is paid at £155 per year for this version.
The GS250 with its petrol-only power and 207g/km CO2 emissions needs you to pay £330 per year, while the mighty GS F with its 5.0-litre V8 engine demands a £580 yearly sum for its road tax.
How much should you be paying for a used Lexus GS?
"A GS450h from early in this Lexus' lifespan will cost you from £11,500, but that will be for a car with very high mileage. Look for one with around 80,000 miles on the clock and it will be around the £15,000 mark for whichever trim you decide is right for you."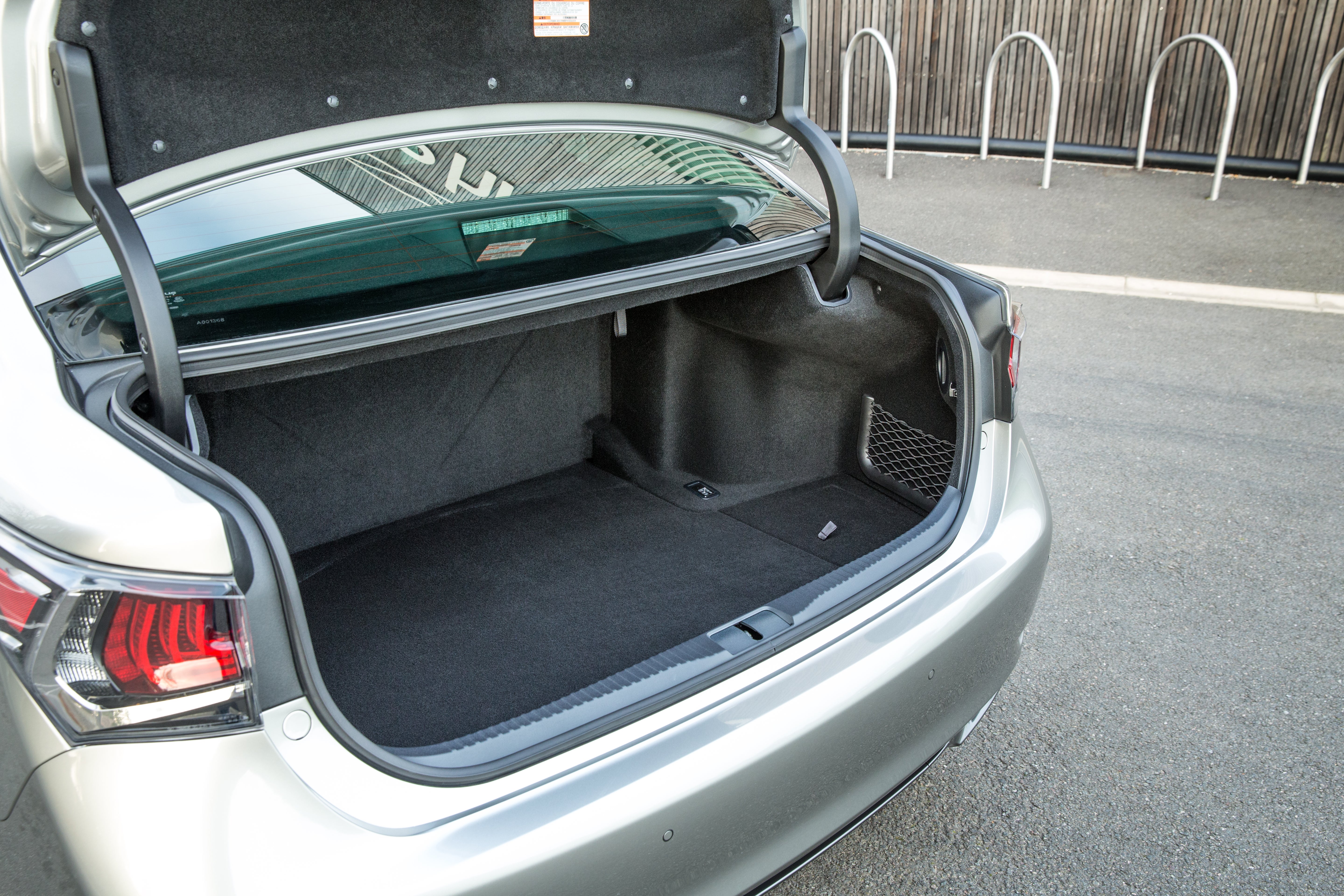 The GS300h was launched a year after this generation of GS arrived. Although cheaper than the 450h when new, you will pay about the same for a similar mileages 300h as for a 450h as the lower running costs of the 300h make it more popular, which keeps used prices higher.
A late 300h with 20,000 miles will cost around £25,000, while a 450h of the same age and mileage will be the same sort of price.
As for the GS250, £11,500 will get you into a 2013 model with 70,000 miles on the clock.
Trim levels and standard equipment
The Lexus GS range kicked off with the SE that came with 17-inch alloy wheels, automatic xenon headlights and rain-sensing wipers. It also had LED daytime running lights and a rear-view camera. There's climate control and leather upholstery inside, along with electrically adjusted front seats and steering column, 12.3-inch infotainment screen and 12 speakers for the stereo.
The Luxury model gains 18-inch alloys, parking sensors front and rear, blind-spot detection system, and satellite navigation with the Remote Touch Interface controller. Premier versions upped this with bi-xenon headlights and the same adaptive suspension set-up as the F Sport.
Choose the F Sport and you get 19-inch alloy wheels, sports body kit, mesh front grille, and Adaptive Front Lighting with automatic high beam dimming. The interior boasts front sports seats with extra adjustment and lumbar support. On the driving front, the F Sport improves with the Dynamic Handling Kit, Dynamic Rear Steering, Vehicle Dynamics Integrated Management, and Variable Gear Steering.
Lexus GS cars for sale on heycar
623
Number of cars available
£9.7K - £29K
Price bracket of these cars
Colours available on heycar
Keep me updated by email with the latest advice, news and offers from heycar
By submitting, you agree to our
privacy policy
.