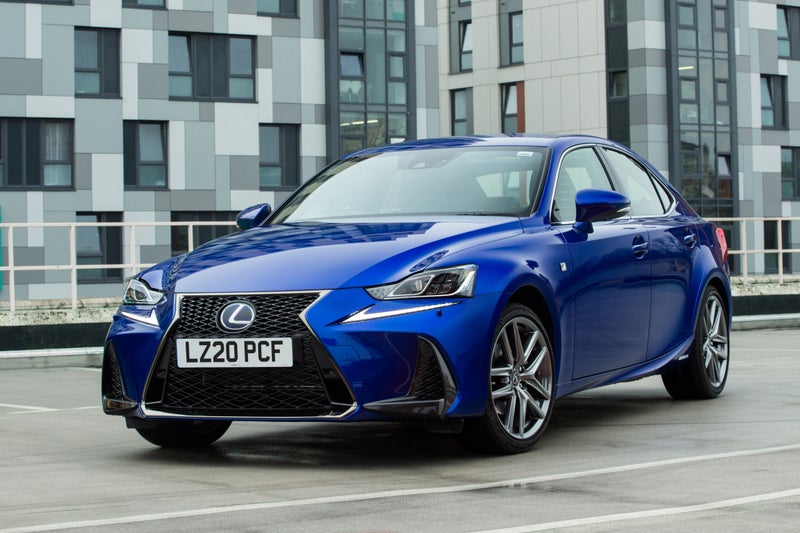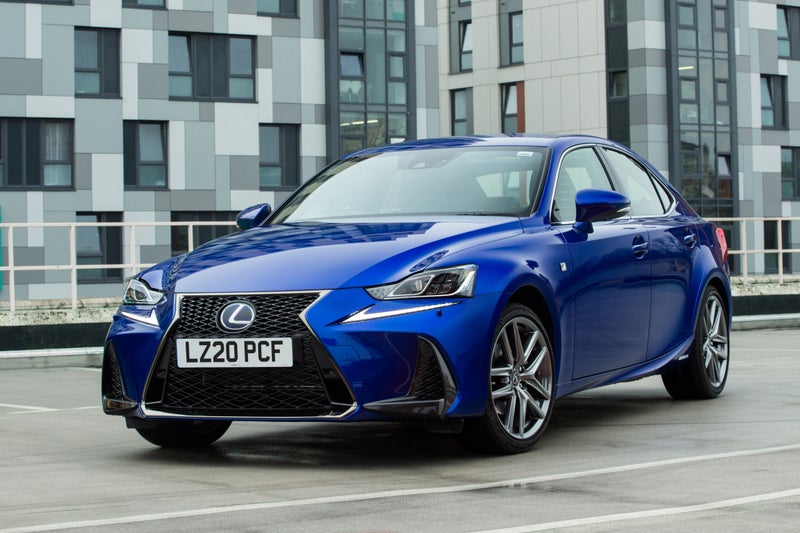 1/9
heycar rating
"Forgotten premium contender from Lexus "
Launched: 2013

Premium

Petrol, Diesel, Hybrid
Quick overview
Pros
Bold styling
Excellent standard safety equipment
Incredible stereo in the range-topping model (or optionally)
Cons
Hybrid no longer a unique selling point in this class, and plug-in rivals do it better, too
Hopelessly fiddly controller for the infotainment
Drivetrain and the dynamics lack the sparkle and driver appeal of its polished, newer rivals
Overall verdict
On the inside
Driving
Cost to run
Prices and Specs
Overall verdict
"Age, market forces and the undeniable quirkiness of the Lexus IS have conspired to ensure that however competent the Lexus IS is, it's never made a huge impact on sales in the UK. Departing soon, if you're sold on it regardless, then bargain hard with dealers for delivery stock, or buy a used one with a substantial discount. Never a big hitter in a tough marketplace, the IS isn't without appeal, but its quirkiness counts against it for what's, after all, a somewhat conservative marketplace."
The Lexus IS has been around since 1999, it Japan's take on the premium mid-sized executive sports saloon which offers an alternative to the all-too-obvious Audi A4, BMW 3 Series and Mercedes-Benz C-Class. To that, you can add the Jaguar XE and the Alfa Romeo Giulia, and a host of other mainstream saloons with upmarket aspirations.
The IS has always been the car that's been mentioned in passing, rather than a serious buying proposition among its such competition, its appeal stymied not just by its quirkiness, but also its advancing years.
The current IS was introduced way back in 2013, and was revised for the 2017 model year, and, Lexus has already announced its replacement in 2020. Tellingly, the new car won't be reaching the UK or European marketplace, instead Lexus focussing its efforts with the IS on countries where its sales have traditionally been stronger, those being the US and its Japanese home markets.
That's despite the IS regularly winning awards for customer satisfaction in the UK, those few buyers who do buy the IS are seemingly delighted with it, and evidently only too happy too to tell people about how good it is. Lexus dealers have an impeccable reputation for customer service, while reliability is also a given with the brand, too.
The IS has always dared to be different, not just in relation to its bold styling and quirky interior, but also its powertrains. The engine line-up has changed over its lengthy production run, but not much, with a V6 2.5-litre petrol in the IS250 and a self-charging hybrid IS300h topping the model line-up. A 2.0-litre turbocharged petrol was briefly offered, but for a few years now the only engine choice has been that sole hybrid IS300h.
No diesels, which might look like an inspired decision in the current anti-diesel marketplace, but over the course of the IS's life it's meant it's been discounted from most buyers' lists, even if that hybrid could match and better its diesel rivals for CO2 emissions – and hence minimise company car tax liability.
That it's not being replaced isn't really a surprise, with compact SUV sales decimating the traditional compact saloon marketplace, as well as fierce competition from better established rivals in both the premium and mainstream sectors, it's a tough car to recommend. With many rivals also offering excellent plug-in hybrids that better the older self-charging tech in the IS Lexus has sensibly called time on its IS model here, and we're not sure anybody is really going to miss it.
Is the Lexus IS right for you?
When the original IS200 was launched back in 1999 it took a bold shot at more sporting saloons in the premium segment, delivering a drive that was a convincing alternative to the BMW 3 Series. Evidently, that ambition has diluted with time, with the current, soon to leave us, IS seemingly revelling in being a leftfield choice rather than one that can genuinely be mentioned against its more sporting rivals.
That's despite Lexus' ample bluster at its launch of countless Nurburgring laps and further dynamic tweaks for its 2017 facelift. Lexus has its excellent dealer service in its favour, while the IS300h does emit commendably low CO2 and feels different inside and looks it outside.
It's pretty refined, too. If you like the idea of all that, then yes, take a look at the IS, and if you are seduced by it be sure to negotiate a huge discount for a new one, or save the hassle and buy a nearly new used IS where somebody else has already taken a sizeable hit on depreciation.
What's the best Lexus IS model/engine to choose?
Once a range of engines has been pegged back to a single engine choice, and that's the IS300h, with a 2.5-litre four-cylinder petrol engine mated to an electric motor housed in the automatic transmission.
Trims are a little bit more expansive in their offerings, with the IS offered in three grades, these being IS, F-Sport and Takumi. Even though it's the priciest, that Takumi is the one we'd suggest, because it's fully loaded with equipment as standard, including a reversing camera, blind spot monitoring and the exceptional Mark Levinson premium surround sound 15-speaker audio system, which, if you like your music, is almost reason enough alone to buy an IS. Just make sure you negotiate a hefty discount.
What other cars are similar to the Lexus IS?
We've already mentioned a few, the IS traditionally a car that's been touted as a rival for cars like the BMW 3 Series, Audi A4 and Mercedes-Benz C-Class, as well as a huge number of mainstream and upper mainstream saloons.
As time's passed the IS's hybrid unique selling point has been eroded significantly, with most rivals now able to offer not just similar mild, self-charging hybrids as alternatives, but far superior plug-in competitors that offer genuine commuting range electric-only range and performance – both environmentally and against the stopwatch.
Comfort and design
"With its interior instrumentation referencing Lexus' LFA supercar and a design that's daringly different to the all-too-similar Germanic norm, the IS's cabin is a pleasing diversion in the class it competes in."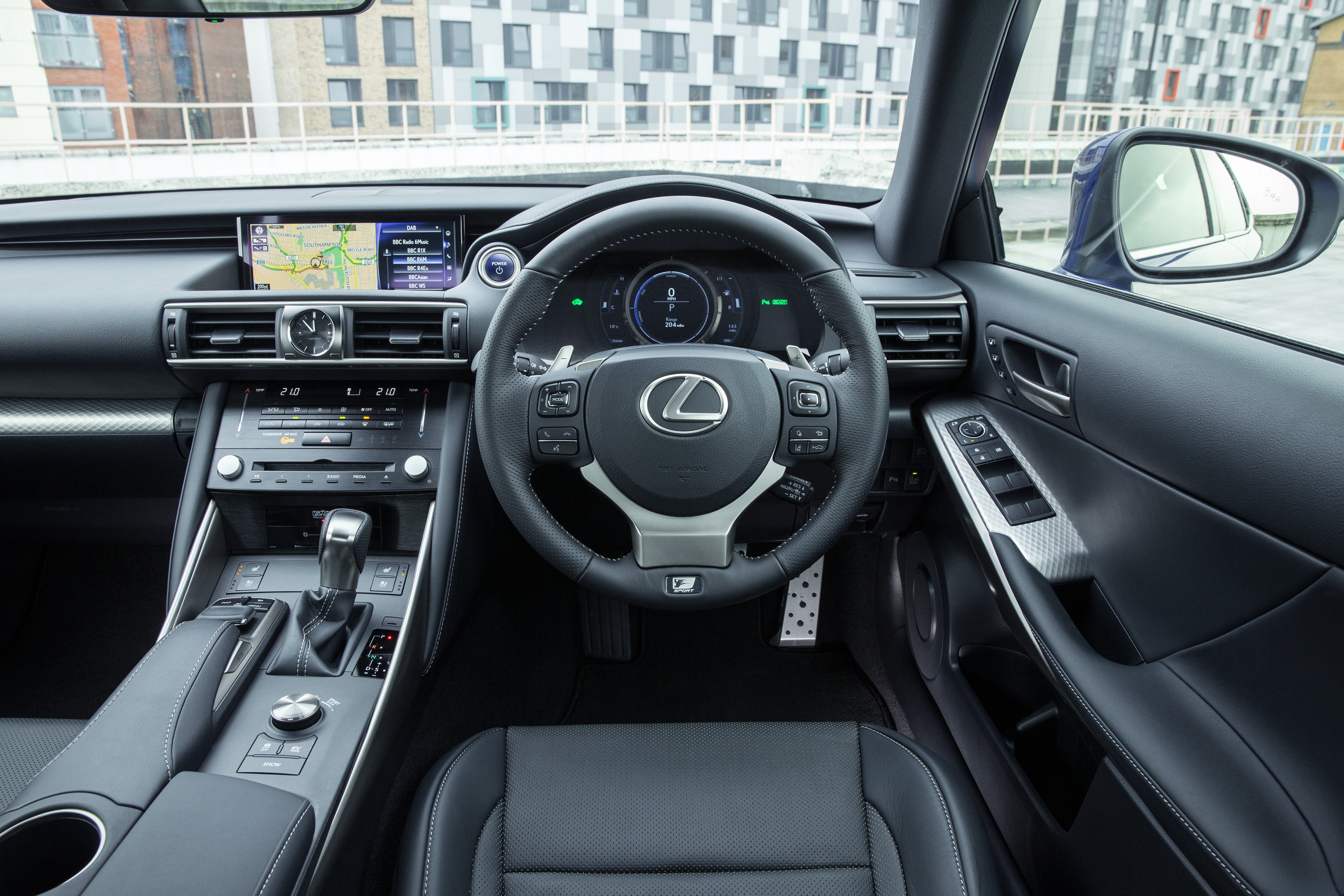 There's a substantial centre console running between the driver and passenger, with large soft knee-pads either side of it from 2017, these substantial enough that Lexus referenced them repeatedly as one of the features of the revised IS. That sizeable centre console doesn't impact on the feeling of space up front, with plenty of room for even taller occupants to stretch out, with comfy knees, too.
All come with dual-zone climate control as standard, so each front seat can select their desired temperature – via the somewhat fiddly sliding touch button either side of that centre console.
Heated seats are standard on the IS, with the F-Sport these being part of an option pack, with Takumi trim's front seats being both heated and ventilated as standard. There's electric adjustment for the driver's seat on all, with 6 way control on the IS, that upping to 8 way on the F Sport and Takumi.
There's a manually adjustable steering column on the IS and F Sport, with Takumi gaining electric adjustment, all have front and rear parking sensors, a push button start and interior LED lighting, with the entry-level IS getting the option of the Comfort Pack, which adds Tahara fabric upholstery, a rear-view camera, smart entry, rain-sensing wipers and an auto-dimming rear-view mirror.
Quality and finish
Lexus is famed for its reliability and the interior exhibits the company's incredible attention to detail and build quality. It's undeniably busier inside visually, the Japanese take on car interiors more differing to the slightly more restrained style of European premium alternatives, but you can't deny the pervading feel of solidity inside.
There are some really nice finishes inside, with a choice of metals and even laser cut wood trims – which Lexus sources from Yamaha's musical instrument building division. Only the Takumi has leather upholstery as standard, the others requiring some option box ticking for leather, which is regrettable, with most rivals able to offer leather, or at least convincing fake leather, upholstery at the IS's price point.
Infotainment
The march of progress is no better demonstrated by the IS's infotainment system. As standard, it comes with a 7.0-inch Lexus Media Display with 6-speaker audio, a CD player, DAB, full European mapping, 2 USB sockets, an aux-in socket and Bluetooth telephone connection. Compatible phones can be mirror-linked to the screen, but the IS doesn't support Apple CarPlay or Android Auto, though you can have aftermarket installers fix this for you.
All that is controlled by a remote dial control, or, if you opt for the Lexus Premium Navigation with 10-speaker audio, you get a Remote Touch Interface control and a larger 10.3-inch display. Neither control method is perfect, the IS hailing from a time when screens were still in their infancy, and, even then, it was a bit behind in its operational simplicity and slickness.
While we're not the biggest advocates of touch screens here, they're hugely better to use than Lexus' Remote Touch Interface solution, it almost impossible to select things at standstill, let alone while the car is on the move. If you can get it to work, the stereo is good, though the navigation graphics do betray the system's advanced years. We'd suffer all that for the optional (on F Sport) and standard on Takumi, Mark Levinson 5.1 channel surround sound system, which brings incredible high-end HiFi to the IS's cabin.
Space and practicality
When the IS was launched Lexus was quick to point out its longer wheelbase, which in conjunction with recesses in the backs of the front seats, brought far greater legroom to the rear of the IS. The class here isn't exactly defined by commodious rear accommodation, and while a couple of adults can get reasonably comfortable back there, if you want lounging space you'll be better served by a Skoda Superb.
That's true of all the IS's rivals, though, and where it really matters, in the front seats, there's ample room for both the driver and passenger, with decent cubby storage, too, with a lidded bin in the centre console and sizeable door pockets up front. A pair of deep cupholders are also in the centre console, but if you do fill them with anything taller than a short coffee, you might find them further hampering the control of the already fiddly infotainment system.

There are three seatbelts in the back, but really, as with all rivals, the IS is better for two in the back, not least because of the sizeable transmission tunnel that eats into foot space.
There's a pair of Isofix child seat mounts for the outer rear seats, while all have a split-fold backs in a 60/40 format to load longer loads through from the boot. Being a hybrid the bootspace is slightly compromised thanks to the battery under the floor, this also necessitating the removal of a spare wheel – the IS driving on run-flat tyres – but the boot's volume of 450 litres is respectable, and it's a good shape, likewise the opening is relatively large for a saloon.
Handling and ride quality
"The IS has the right ingredients for this class, that being rear-wheel drive, with the choice of drive modes to suit, these adjusting the Adaptive Variable Suspension to provide sharper responses, flatter cornering and better control."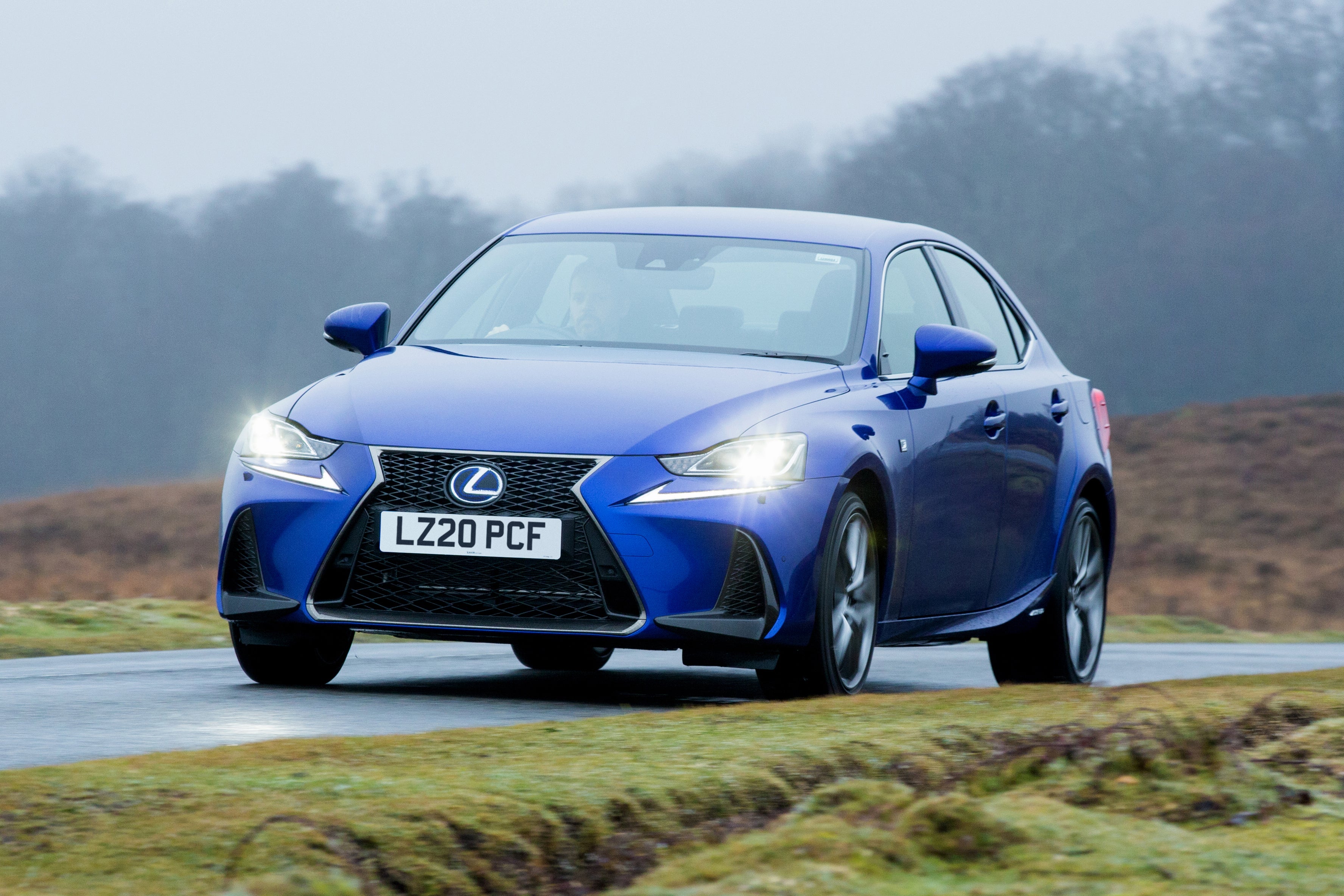 Indeed, as part of the 2017 revisions to the IS, Lexus seriously revised the suspension and steering in a bid to improve the overall dynamic responses, in a bid to address the criticism that the car before lacked driver engagement. It went as far as changing suspension assemblies from steel to aluminium, these lighter yet stronger, all while completely overhauling the spring and damper rates, on the double wishbone front and multi-link rear suspension.
That did improve the IS, delivering a more accomplished ride quality, while also benefitting accuracy and feedback behind the wheel. The chassis is good rather than remarkable in this respect, and even if it were exceptional it would still be working with a powertrain that's not best suited to exploiting it.
That's regrettable, as there's talent, grip and control on offer, but there' just no real incentive to try and exploit it, which in a class where fine handling, mixed with engaging, enjoyable powertrains is the norm rather than the exception, goes some way to explaining why the IS never made a huge impact against its fine-driving rivals.
Engines and gearboxes
At this late stage in the IS's lifecycle, or should that be death spiral, it's only offered in IS300h guise. That's h for hybrid, though unlike so many of its electrically assisted competition now, it does without a cable for charging it, instead being a 'self-charging' system, scavenging back power to charge its small battery when it can, via brake recuperation, or by diverting a little bit of engine power to the battery pack when it's not needed elsewhere.
If you've driven a Prius (from Lexus' parent company Toyota) you'll be familiar with this type of hybrid. The promise is of diesel-like economy, without diesel-like emissions, that electric motor also having the benefit of allowing some infill to broaden the responsiveness of the 2.5-litre petrol engine it assists, and very occasionally, completely replaces. It works smoothly enough, the combined output being 223PS, allowing it to reach 62mph in 8.4 seconds and a top speed of 125mph.

That all drives through an E-CVT, which is a continuously variable transmission, and, arguably the IS's most unappealing feature. There's a huge disconnect between what you ask from the accelerator and the response you get, with the CVT particularly unruly if you ask for all the performance, while pulling away at the paddle-shifters to take over yourself via stepped ratios seems to make no difference, either.
It's this that hampers the IS so much, it feels a generation, or two, behind the quick-shifting accuracy, smoothness and speed of rivals' twin-clutch automatics, at all but the most moderate speeds.
Refinement and noise levels
The cabin is comfortable, refinement, too, is impressive, Lexus having worked hard to bring premium levels of hushed quiet to the IS's interior. A good deal of that is down to the aerodynamics, it very quiet in relation to wind noise, though all that's ruined if you start pushing the drivetrain and the engine's revs rise and hold thanks to that E-CVT transmission.
Take it easier, then, and the IS is dignified in its refinement, which all gives you a better platform to enjoy the excellent listening experience of the Mark Levinson HiFi, if you've optioned it, of course. Tyre noise suppression on the road is decent, too, despite the IS having standard fitment of run-flat tyres, the short spurts of electric-only motoring the hybrid system allows underling just how hushed the IS can be.
Safety equipment
All IS come with driver and front passenger front, side and knee airbags, while there's a curtain airbag running the length of the cabin. ABS with Electronic Brake Force Distribution and Brake Assist, and a traction and stability control system are standard on all, too.
There's a pop-up bonnet to help protect pedestrians in an impact, ISOFIX child seat mounts in the outer rear seats, a tyre pressure monitoring system, while Lexus also bundles a lot of safety equipment into all under its Lexus Safety System+ banner. That contains Dynamic Radar Cruise Control, Pre-Collision Assist, Lane Keep Assist, Road Sign Assist, Sway Warning System and Automatic High Beam for the headlights, on every trim level.
The range-topping model benefits from a standard reversing camera with Rear Cross Traffic Alert and a Blind Spot Monitor and back in 2013 when it was tested by EuroNCAP, it scored a full five star rating in crash testing.
Maximum EV range
In a world where you can buy plug-in hybrids that will cover your daily commute in electric-only modes, the IS300h's hybrid system's potential EV only range is very limited. Lexus doesn't actually quote a figure, but it does default to EV on start up, and you might, if you try hard, get a couple of miles out of battery running alone.
MPG and fuel costs
"Think of the hybrid system in the 300h as a means to generate greater fuel economy rather than a means of propelling you on your local journeys, here."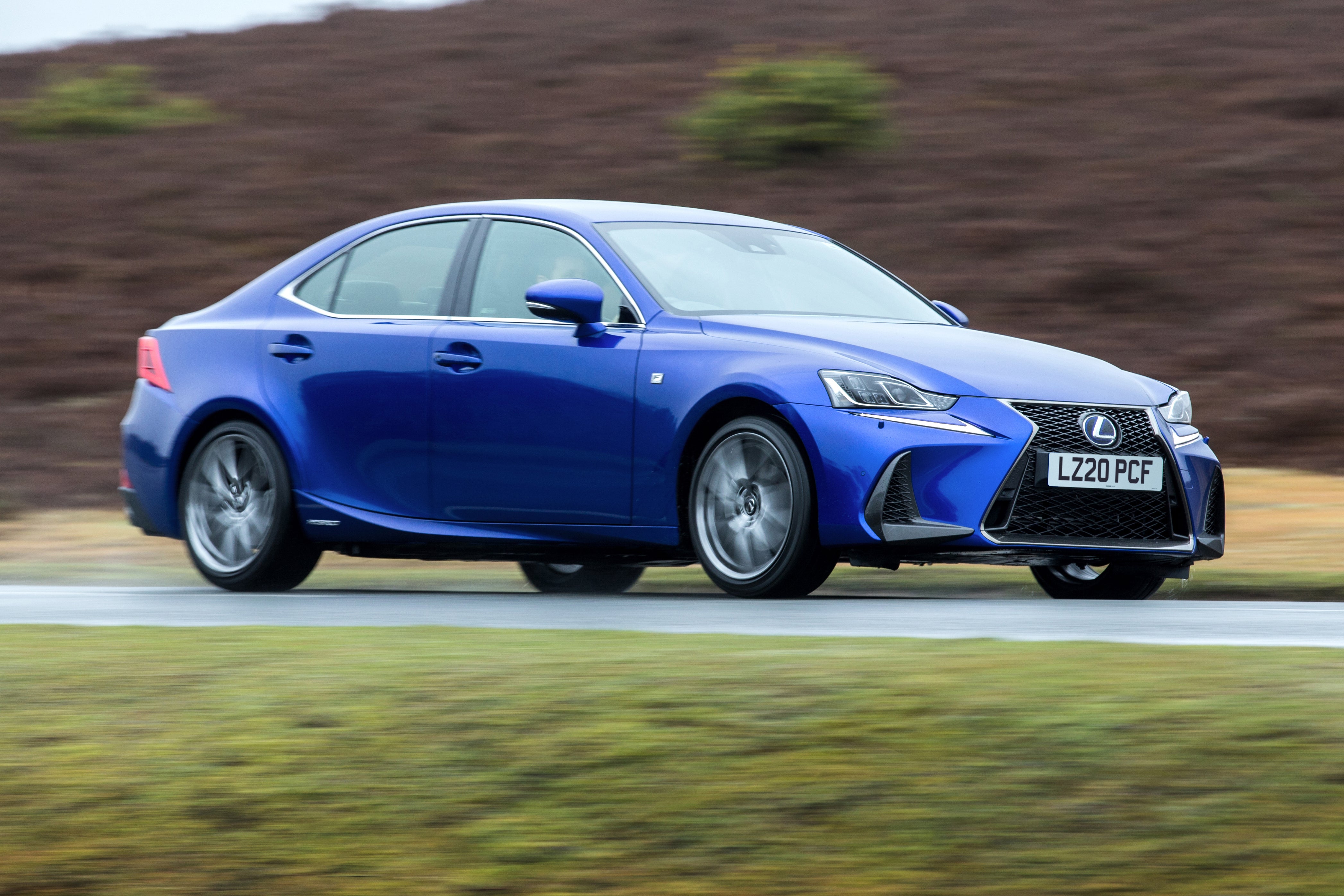 On the official WLTP test cycle, the IS300h manages between 44.8-48.7mpg, which isn't that impressive these days. A diesel rival will easily significantly better that, while newer plug-in rivals can genuinely double that. There's no charging time, or cost, because there's no means of charging it, the IS300h, filling its batteries on the move, or when braking.
Insurance groups and costs
The IS300h is listed in groups 28 E to 30 E for insurance, which is broadly similar to its rivals, so insuring the Lexus shouldn't be any more troublesome or expensive as doing so with its more familiar competition.
VED car tax
By the old measure, the IS300h could boast CO2 figures of under 100g/km with the obvious benefits to VED and company car tax payments. That's no longer the case, with the lowest emitting IS300h being the standard IS with the Comfort Pack (smaller wheels) returning a combined CO2 figure of 133g/km on the WLTP test cycle. That rises to 144g/km with the F Sport mode with the largest wheels. That means you'll pay £215 first-year VED, and £150 a year thereafter.
How much should you be paying for a used Lexus IS?
"Having been around for so long there's a sizeable choice in the used classifieds, to suit almost any budget. You can pick up a high mileage 2.0-litre turbo IS200 from £10,000, but the majority are about £15,000 and up."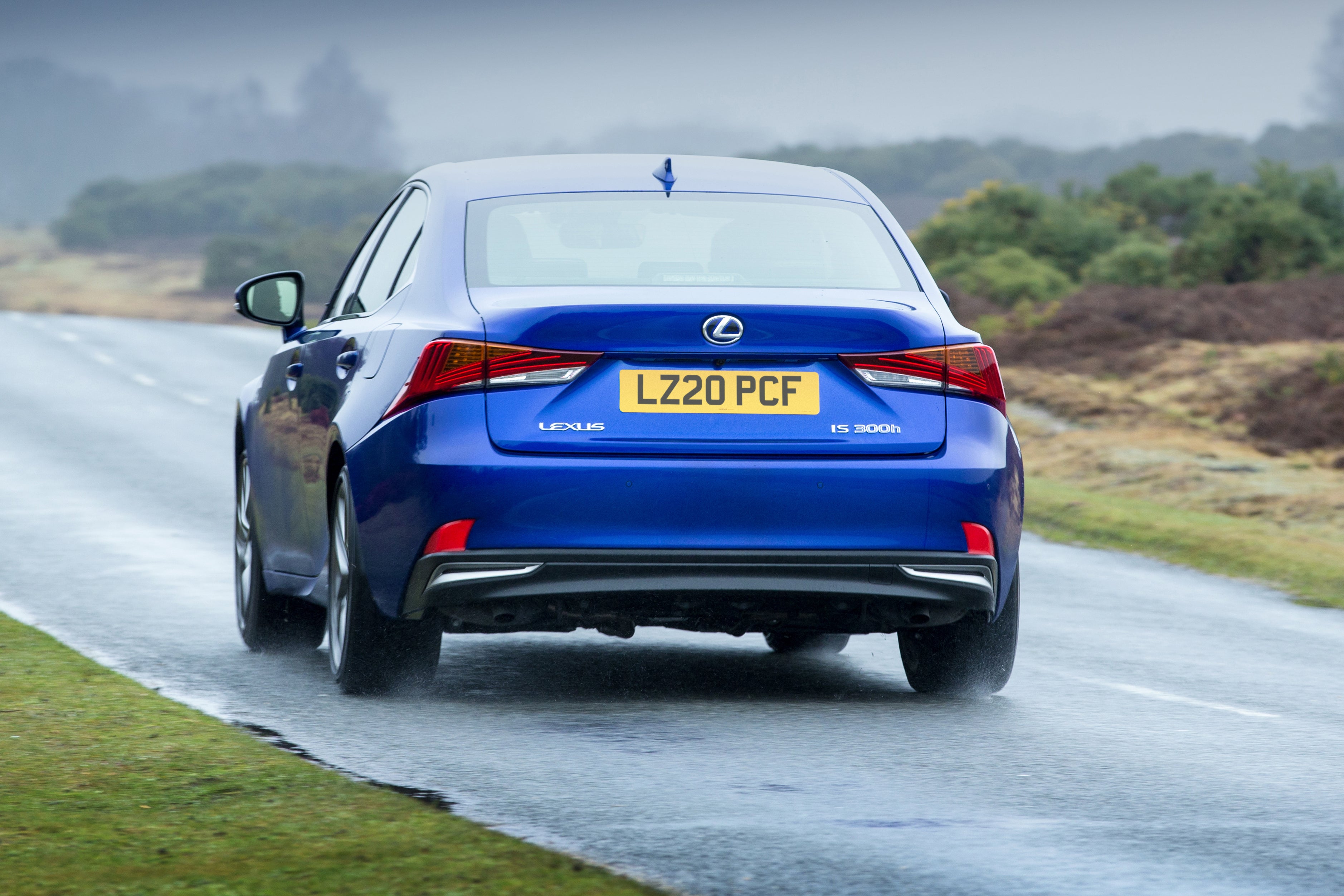 Hybrid models start at about the same price, thanks to the fact they've been around for seven years now. With all, there's a certain expectancy of good reliability, so you should be able to buy older, higher mileage cars with a degree of confidence.
Trim levels and standard equipment
At the time of writing, mid-2020, the IS's replacement has been announced, and it's not coming to the UK. Trim levels available are now run-out, with Lexus only listing the IS and F Sport models for sale.
IS – Heated front seats, alloy wheels, Sat Nav, DAB, twin-zone climate control, parking sensors and Lexus Safety System+ containing Dynamic Radar Cruise Control, Pre-Collision System, Lane Keeping Assist and Automatic High Beam Control.
F-Sport adds – Sports Suspension, driver and passenger eight-way electrically adjustable seats, 18-inch alloy wheels, rain-sensing wipers, auto-dimming rear-view mirror and F-Sport specific styling inside and out.
Lexus IS cars for sale on heycar
583
Number of cars available
£16K - £30K
Price bracket of these cars
Colours available on heycar
Keep me updated by email with the latest advice, news and offers from heycar
By submitting, you agree to our
privacy policy
.