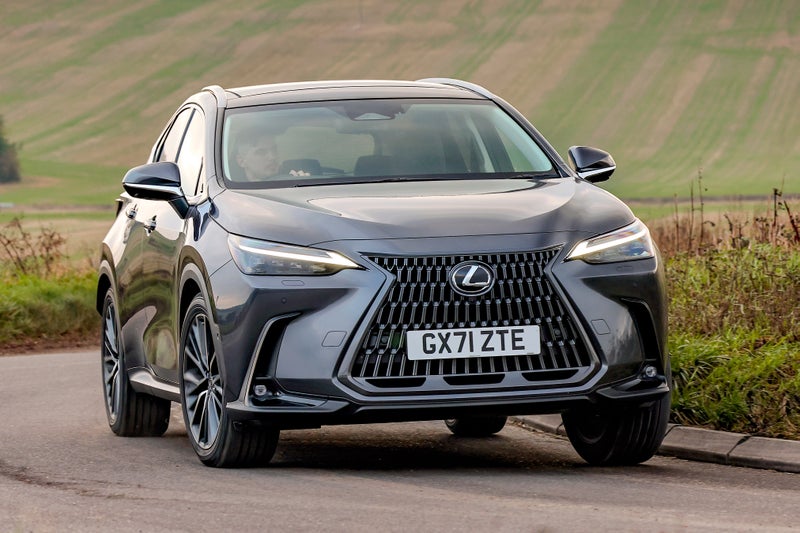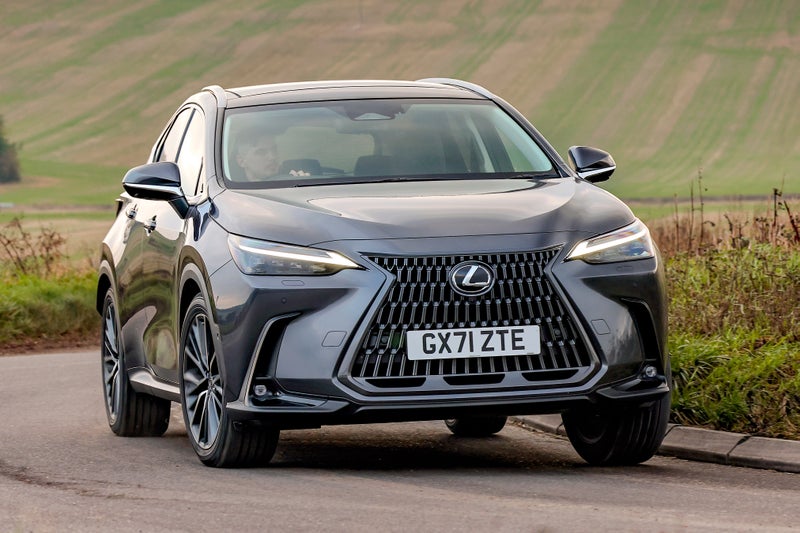 1/10
heycar rating
"It's like the Japanese Mercedes"
Launched: 2022

SUV

Hybrid, PHEV
Quick overview
Pros
Very comfortable with impressive ride quality
Generously equipped across the range
Likely to be very reliable and cheap to run
Cons
Plug-in hybrid Lexus NX 450h+ is pricey
Still very new so few deals available
Giant 14-inch media system won't be to everyone's taste
Overall verdict
On the inside
Driving
Cost to run
Prices and Specs
Common questions
Overall verdict on the Lexus NX
"The original Lexus NX hardly caused a splash in the SUV market when it arrived back in 2014 – but it proved to be a bit of a win for the Japanese premium car brand. Owners loved its premium (yet far from ostentatious) image while its excellent reliability record also built it a firm following."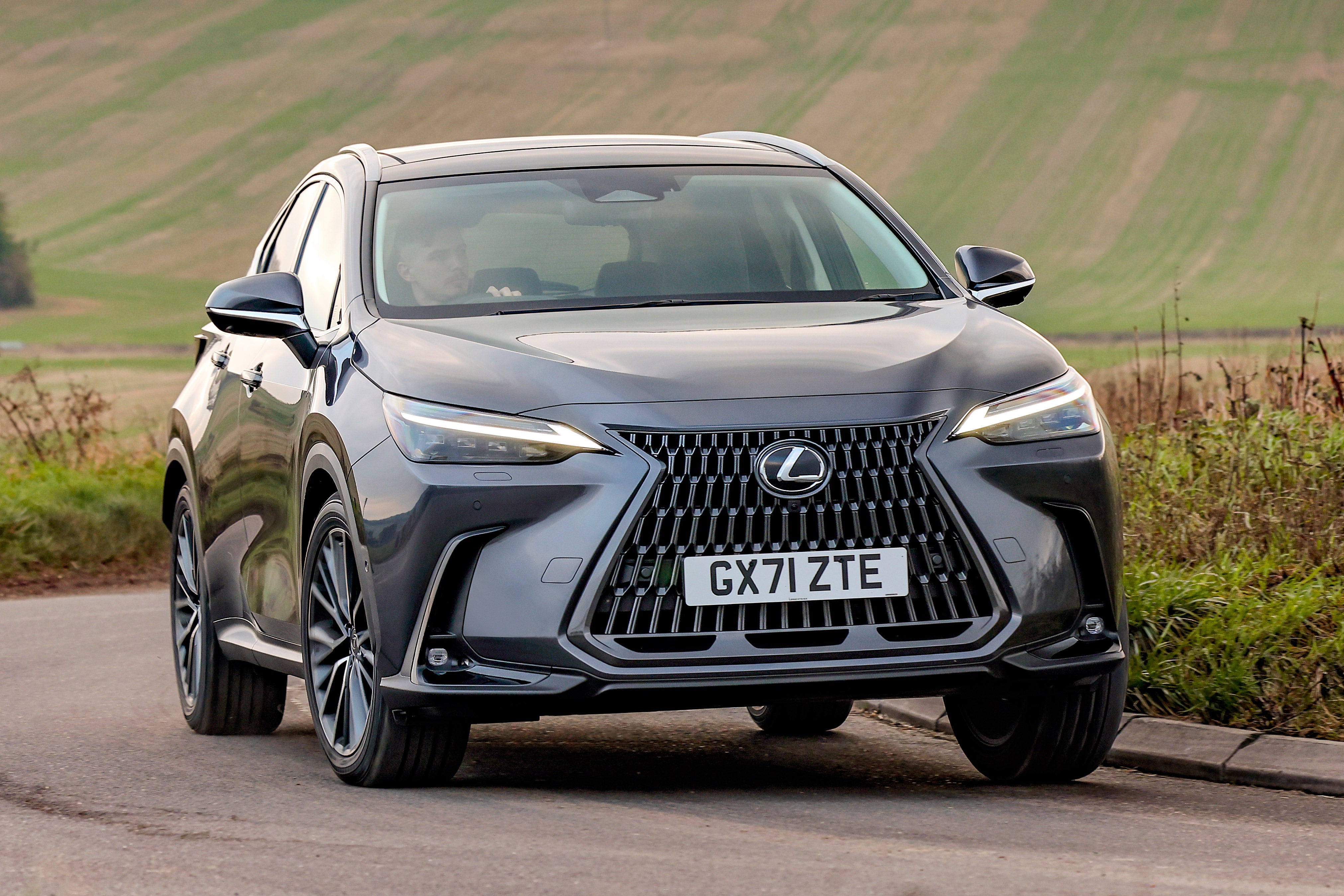 As you'll read in our full Lexus NX review, the new model is set to build on the surprising success of its predecessor. It's grown in dimensions, of course, while the big news is the addition of a plug-in hybrid model – a first for Lexus.
Set to rival the likes of the Mercedes GLC, BMW X3, Audi Q5, Jaguar F-Pace, Volvo XC60 and stave off fresh competition in the form of the Genesis GV70, the new Lexus NX has retained its rather conservative image. That's bad news if you're buying a premium SUV because you want to be noticed, but if you're happy to go about your business in quiet comfort, the Lexus NX could be the SUV for you.
The changes are a bit more obvious inside. At the centre of the dashboard of our Lexus NX F Sport test car is a huge 14-inch tablet-like infotainment system. That's a bold move when we still hear from Lexus owners appreciating their in-built CD players, but you needn't be too worried. It's really easy to operate, while Apple CarPlay and Android Auto are both standard meaning you can peruse your Spotify playlists while you're out and about.
Despite the mega touchscreen display, the cabin of the Lexus NX has retained its functionality. There are still a comforting amount of buttons dotted about, including knobs for adjusting the temperature of the climate control. The wide, supportive seats will keep you feeling fresh on the longest of journeys, while the high seating position provides a good view of your surroundings.
There are three core models available: NX, F Sport and Takumi. All are well equipped, while there are also optional Premium and Premium Plus Packs available. The latter makes the Lexus NX feel particularly opulent, with features like heated and ventilated seats, smooth leather upholstery and customisable ambient lighting with no fewer than 64 colours.
As you'd expect for one of the original ambassadors of hybrid tech, you can't buy the Lexus NX with a diesel engine. The options are the Lexus NX 350h 'self-charging' hybrid or – as we touched on above – a Lexus NX 450h+ plug-in hybrid. Both use a 2.5-litre petrol engine combined with a pair of electric motors to provide four-wheel drive and low running costs.
A hefty price premium for the plug-in hybrid means the majority of private buyers are likely to opt for the Lexus NX 350h in the first instance (at least until the NX 450h+ trickles down onto the used market). It's a 'self-charging' hybrid, so you don't have to plug it in to extract the best from it. It juggles its two power sources very impressively, with the NX 350h able to creep away in silence before the 2.5-litre petrol engine kicks in.
If you want to travel further on electric power, you'll need to look at the Lexus NX 450h+ plug-in hybrid. Its electric range of up to 47 miles is quite impressive, and more than enough for covering a short commute or the school run. It's pretty quick, too, with enough power on hand to make for easy, relaxing progress. Emphasis on 'relaxing' – that's what the Lexus NX is all about. It's the kinda car that isolates you from the outside world and won't stress you when it comes to servicing and maintenance, either. It's appropriate, then, that it comes with the brand's Relax warranty, which means you're covered for up to 10 years/100,000 miles if you have the car serviced at Lexus dealerships.
While any premium SUV is an extravagant purchase to an extent, the Lexus NX is a relatively sensible choice. Sure, you could save money and buy a Toyota RAV4, but the NX feels special enough that you can't tell it shares mechanical bits with the Toyota. Prices are no higher than competitors (although the plug-in hybrid NX 450h+ commands a painful premium) but, if you're on a budget, we'd recommend waiting until you can pick up a used Lexus NX.
Looking for the old Lexus NX? You'll need our Lexus NX (2014) review.
Is the Lexus NX right for you?
If you're looking for a slightly left-field competitor to the flashy German SUVs, the Lexus NX is an excellent choice. You don't really lose out in terms of standard equipment or interior quality (it feels just as upmarket as competitors) and it also has the advantage of two very efficient hybrid engines. Sure, it's quite expensive (but so are rivals) and you'll get more space if you're willing to compromise on the premium badge. It's cheap to run, though and Lexus has a legendary reliability record.
What's the best Lexus NX model/engine to choose?
Deciding between the NX 350h and NX 450h+ depends on your requirements. If you're looking for hassle-free motoring, without the need to plug the car in, go for the Lexus NX 350h. It's a very efficient choice with little effort and also has a significant price advantage over the NX 450h+ plug-in hybrid.
If you cover a lot of short journeys, have the ability (and desire) to charge a car at home and the idea of silent running appeals, push the budget for the NX 450h+. It's also quicker than the NX 350h, if that matters.
In terms of trim levels, again, it probably comes down to your personal desires. We've only sampled the Lexus NX F Sport but we suspect it'll be at its best in a more comfort-minded trim. The NX Takumi is the most desirable model, in our eyes, but it's not cheap...
What other cars are similar to the Lexus NX?
While Lexus might have been the original hybrid premium brand, there's now no shortage of very impressive electrified competitors. The BMW X3, Audi Q5, Volvo XC60, Jaguar F-Pace and Mercedes GLC are all available with some sort of hybrid power. You may also want to look at the new Genesis GV70 (if you're in the market for an SUV that'll stand out from the crowd), while, if you're not fussed about a premium badge, there are some excellent mainstream competitors. These include the Hyundai Santa Fe, Kia Sorento and even the NX's close relation, the Toyota RAV4.
Comfort and design: Lexus NX interior
"Pretty much the only thing inside you'll spot carried over from the old car is the big Lexus badge on the steering wheel. It's a huge improvement – no longer does it feel dated inside, it's now chic and modern."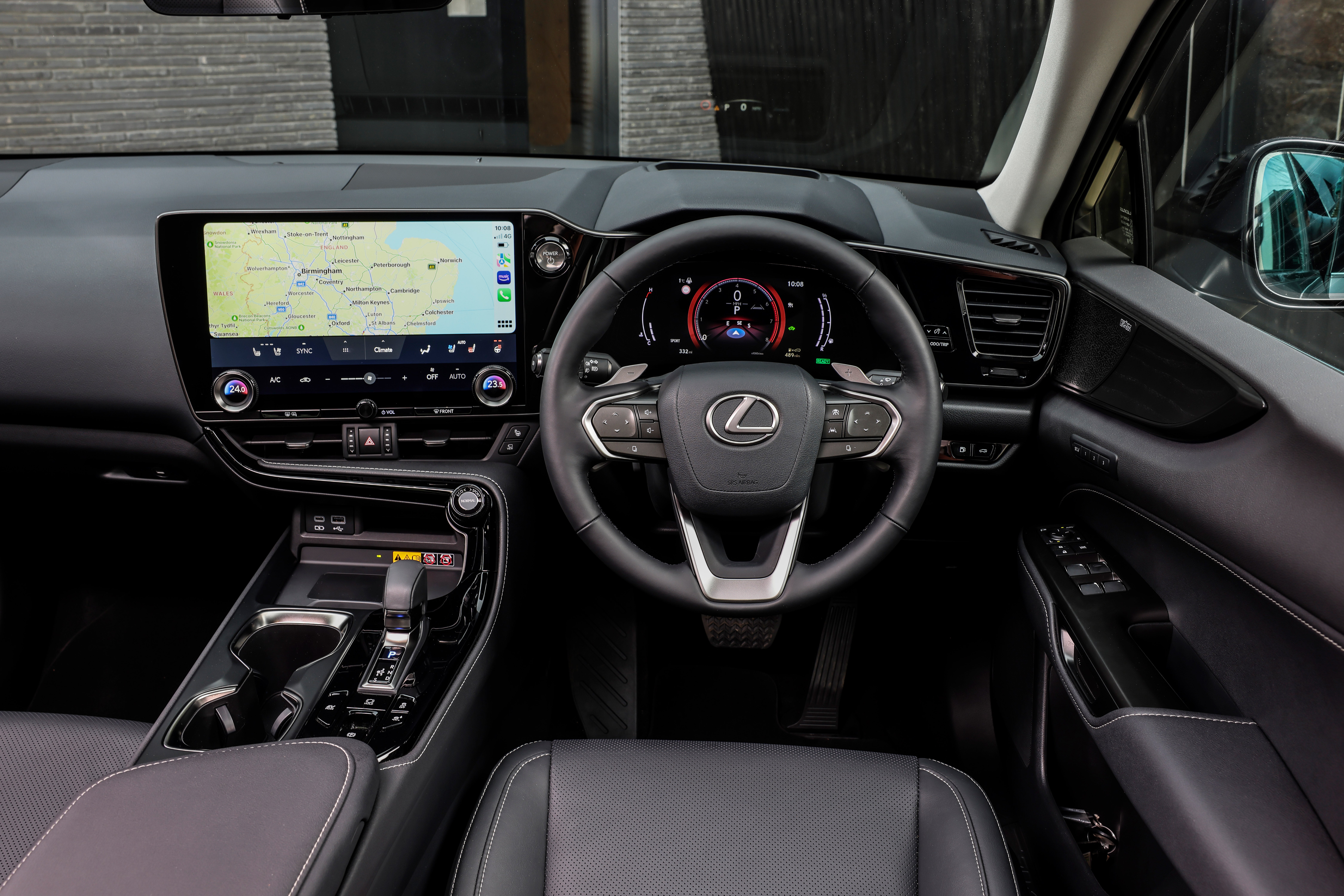 It's a very chunky cabin. By that, we mean the dashboard is a big, upright affair (it has to be to accommodate the huge infotainment screen – we'll come onto that in a moment). There are enough tactile buttons to ensure you don't have to operate everything via the touchscreen display, while a wide centre console means there won't be any awkward arm bashing between the driver and front-seat passenger.
You'll no doubt find it very comfortable, too. We found the leather seats of our F Sport test car to be very supportive, with no hint of an ache or pain after an extended period behind the wheel.
You sit high up, which adds to the feeling of invincibility you get in the NX's cabin, while the level of seat adjustment depends on which specification you go for. The most basic Lexus NX 'makes do' with six-way manually adjustable front seats, while the F Sport and Takumi trims feature eight-way power adjustment. The F Sport gets two-way power-adjustable lumbar support, while the Takumi gets four.
One feature we particularly like is the LED ambient lighting. Standard on the Lexus NX F Sport and Takumi, it comes with a choice of 64 colours, allowing you to customise the interior as you fancy. Another highlight – standard only on Takumi models (optional on the NX Takumi) – is the digital rear-view mirror. This is very useful for seeing what's going on behind you when your view would ordinarily be blocked by passengers in the back or flat-pack boxes.
Quality and finish
If you're splashing £50,000 (or more) on a premium SUV, you want it to feel a bit special. And the new Lexus NX certainly ticks that box.
Standard NX models come with artificial leather seats, while pricier trim levels come with actual cow skin. A lever gear shift lever is standard across the range, while spec-dependent inlays brighten up the dash.
Everything feels well finished and there isn't a flimsy finish to be found in the cab of the NX. Going by older Lexus models, we have no doubt that it will still be feeling fresh years down the line – the brand's reputation for dependability extends to the quality of its cabins.
Infotainment: Touchscreen, USB, nav and stereo in the Lexus NX
If you want evidence that the Lexus NX has moved on significantly compared to its predecessor, look no further than the infotainment.
High-spec models come with Lexus Link Pro, a huge 14-inch HD touchscreen navigation system. If you prefer a TomTom stuck on the dash and a CD player providing your tunes, you'll hate it, but it's actually one of the more intuitive systems we've used. It's quick, too, while you can shout 'hey Lexus' at it when it would be too distracting to scroll through menus on the move.
Apple CarPlay and Android Auto are standard which means you can mirror apps from your phone onto the car's in-built display. On lower-spec Lexus NX models, you'll find a smaller (but not actually that small) 9.8-inch display which we're yet to sample.
Space and practicality: Lexus NX boot space
The Lexus NX is slightly bigger than its predecessor so, unsurprisingly, it's a bit more spacious inside. The boot can handle 545 litres of luggage, which is pretty standard for a premium SUV of this size (the BMW X3, Mercedes GLC and Audi Q5 can all take 550 litres). Lexus knows its market, saying that the NX's boot is big enough for three golf bags or two large suitcases. If you need a bit more space, you might be better looking at a mainstream alternative like the Kia Sorento.
Front-seat passengers aren't going to have any gripes with the space on offer in the Lexus NX. You sit high up (not something that can be taken for granted in all SUVs), while there's a wide centre console separating the driver and passenger. There's a decent amount of storage under the centre armrest, while two chunky cup holders will prevent any awkward spillages.
There's a reasonable amount of room in the rear, while the seatbacks can be reclined for extra comfort. That's a bit of a novelty in this class.
Handling and ride quality: What is the Lexus NX like to drive?
"We winced at the sight of our Lexus NX 450h+ F Sport test car with its 20-inch alloy wheels – experience tells us that big, heavy, hybrid SUV with oversized rims aren't going to ride particularly well. Fortunately, though, the Lexus NX strikes a really good balance between sharp handling and a comfortable ride quality."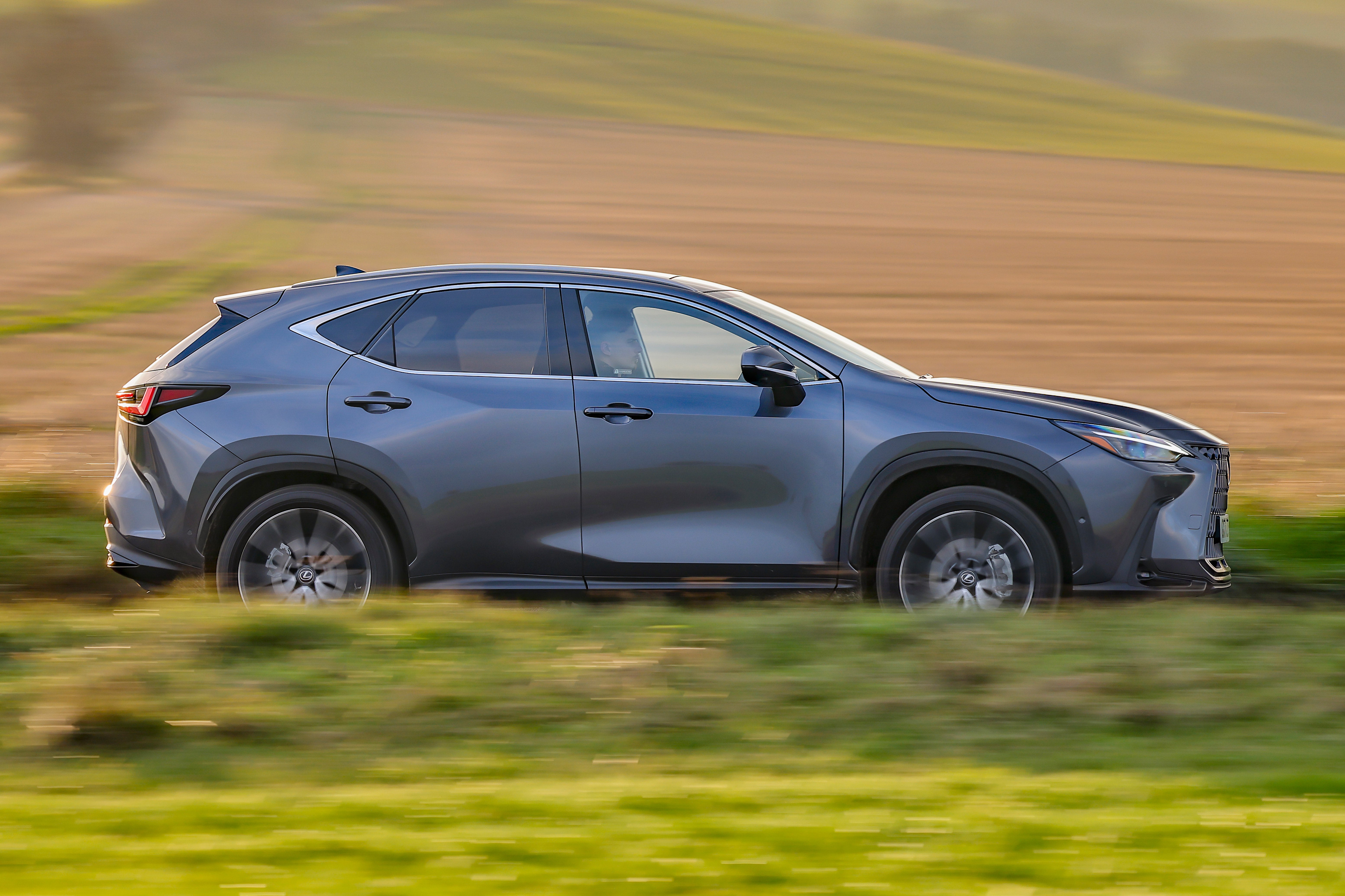 Of course, we should have known better. The Lexus NX shares its platform with the Toyota RAV4, and that handles well with plenty of grip and reassuringly weighty steering. The NX is no different and, while it's not as agile as a BMW X3, few drivers will have any complaints about how the Lexus goes around corners.
Four-wheel drive is standard on the Lexus NX in the UK. While it's not a true off-roader, it should provide you with a little bit of reassurance when things get a little bit slippery (whether it's a rural road in winter or a boggy campsite in summer). We certainly found that, even with a big dollop of power, the Lexus NX 450h+ isn't too keen to lose traction.
There are other systems on hand to make you feel safer, too. All models come with front and rear parking sensors, which is a good thing as the Lexus NX isn't a particularly small SUV. A 360-degree camera is standard on NX F Sport and Takumi models, while the latter even comes with a fully automated parking system. You should have no fear about negotiating a multi-storey car park with the Lexus NX.
What engines and gearboxes are available in the Lexus NX?
There are two engine setups available in the Lexus NX: a hybrid (badged the Lexus NX 350h) and a plug-in hybrid (badged the Lexus NX 450h+). Both use the same 2.5-litre petrol engine paired with an electric motor. The Lexus NX 350h has a total power output of 244PS while the NX 450h+ produces a combined 309PS.
The Lexus NX 350h is likely to be bigger seller. It's refined and genteel to drive, with the CVT automatic gearbox only creating a din during sharpish acceleration. The Lexus NX 450h+ is equally impressive and, despite its heavy weight, will cover 0-62mph in a fairly brisk 6.3 seconds. The Volvo XC60 T8 is quicker, but you're much better to sit back and enjoy the slightly more relaxed nature of the Lexus NX.
The majority of Lexus NX models sold in the UK will be four-wheel drive. It's the only drivetrain available in the Lexus NX 450h+, although entry-level NX 350h models are offered with power going to the front wheels. That's fine if you're on a budget, but the fuel consumption penalty of a four-wheel-drive Lexus NX is minimal.
Refinement and noise levels
For those seeking a quiet, comfortable and refined SUV, the Lexus NX ticks those boxes very nicely indeed. You're well insulated from any outside disturbance, with very little in the way of wind or road noise making its way into the cabin.
The Lexus NX uses an e-CVT transmission, which isn't usually good news for refinement. We found that the Lexus NX 450h+ test car has enough power for building speed fairly rapidly, though, without the need to floor the accelerator pedal. This avoids the usual din of a CVT gearbox during maximum acceleration.
Safety equipment: How safe is the Lexus NX?
The Lexus NX is the brand's first model to be fitted with the third generation of its Safety System+. This brings with it an extensive list of driver-assist functions intended to prevent a collision. Highlights include lane keep assist, dynamic radar cruise control and a pre-collision system.
A blind spot monitoring system and rear cross traffic alert are standard on F Sport and Takumi models (optional on the base Lexus NX), while an extended safety pack with front cross traffic alert and lane change assist is standard on the Takumi (optional on the F Sport).
On top of this, there are lots of airbags dotted around the cabin, while the outer rear seats are fitted with Isofix child seat mounting points.
One clever safety feature we haven't seen before (on any model) is the e-latch electronic door opening system. To open doors from inside, you press a button, which then checks with the car's blind spot monitoring system to see if there are any vehicles approaching on the outside. If there is, it stops you from opening the door and, hopefully, prevents a collision.
The Lexus NX was awarded a five-star Euro NCAP safety rating in 2022.
MPG and fuel costs: What does a Lexus NX cost to run?
"The plug-in hybrid Lexus NX 450h+ has an electric range of up to 47 miles. That means you could drop the kids off school without the petrol engine kicking in at all, or glide through Sainsbury's car park while basking in the silence of electric running."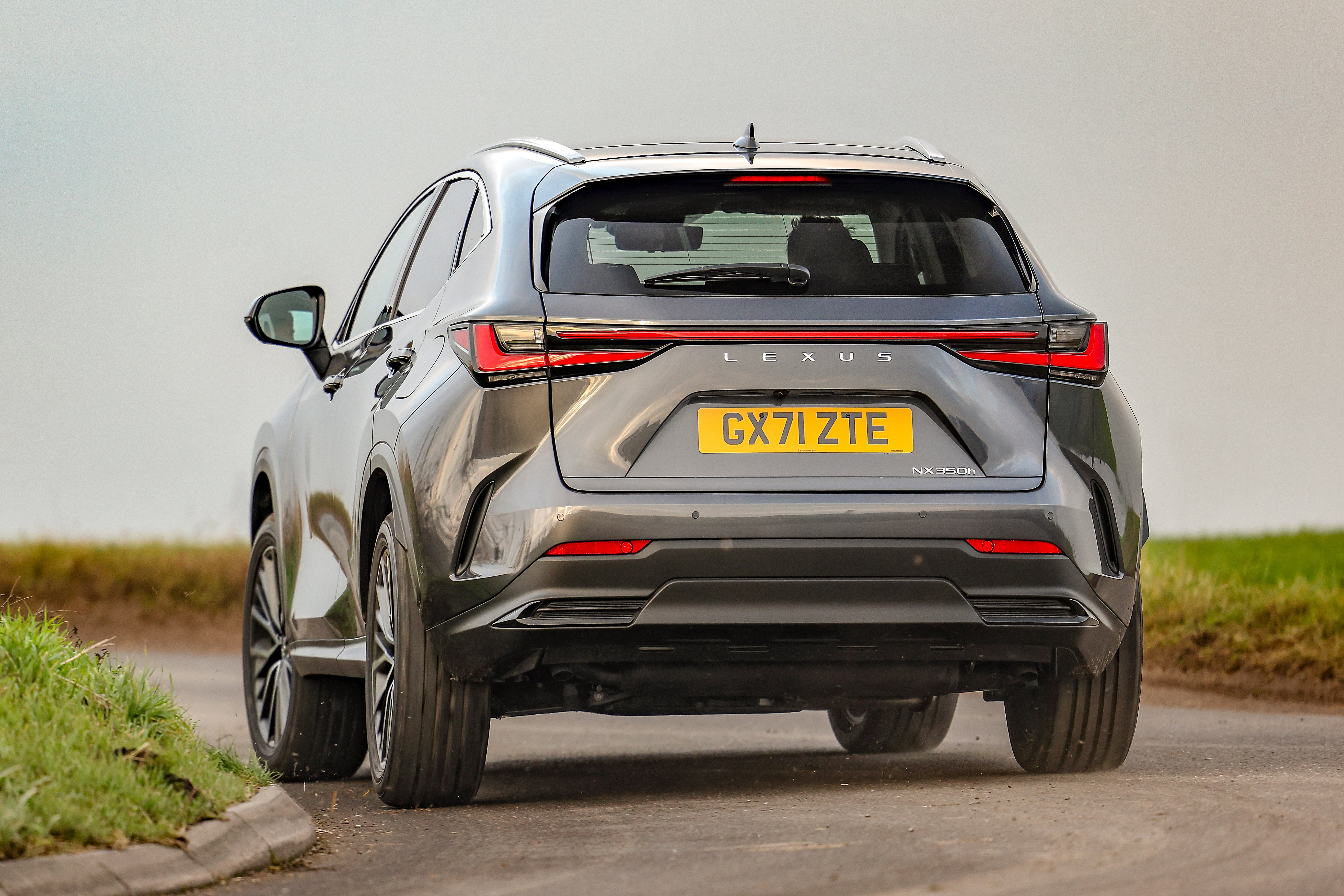 As ever, to get the best from the plug-in hybrid model, you'll need to charge it regularly. This is best done via a 7kW home wallbox charger, which will top up the battery in around 2.5 hours at a cost of around £3 (depending on your home electricity tariff).
If you charge a car at home (or just don't want the faff), look at the 'self-charging' Lexus NX 350h. With a much smaller battery, this doesn't need topping up with electricity to get the best from it. While it isn't capable of running for any great distance under electric power, it does return an impressive 47.9mpg in official WLTP fuel economy tests.
How reliable is the Lexus NX?
If you're looking for a reliable SUV, your search should end here. Lexus always performs well in reliability surveys and regularly comes top for reliability in the HonestJohn.co.uk Satisfaction Index. Lexus (and sister brand Toyota) has decades of experience making hybrid cars that have earned a strong reputation for dependability.
Insurance groups and costs
Insurance groups for the Lexus NX 350 or NX 450h+ are yet to be confirmed.
VED car tax: What is the annual road tax on a Lexus NX?
Whether you choose the hybrid NX 350h or plug-in hybrid NX 450h+, all Lexus NX models are classed as alternatively fuelled vehicles. That means you'll get a £10/year discount in your annual road tax, bringing it down to £145/year (after the first year).
That's the end of the good news. Any car with a list price of more than £40,000 (that's almost all Lexus NX models) gets stung by an additional premium car tax for five years (from the second time the car's taxed). That means you'll pay £480 a year in VED. That's no worse than rivals, though – and if you want to avoid this, you might want to consider a pure-electric alternative like the BMW iX3.
How much should you be paying for a used Lexus NX?
"While a new Lexus NX 350h starts from £38,300, expect to pay considerably more than £40,000 for some of the more desirable trim levels. Go to town with option packs and you could be handing over close to £55,000. Ouch."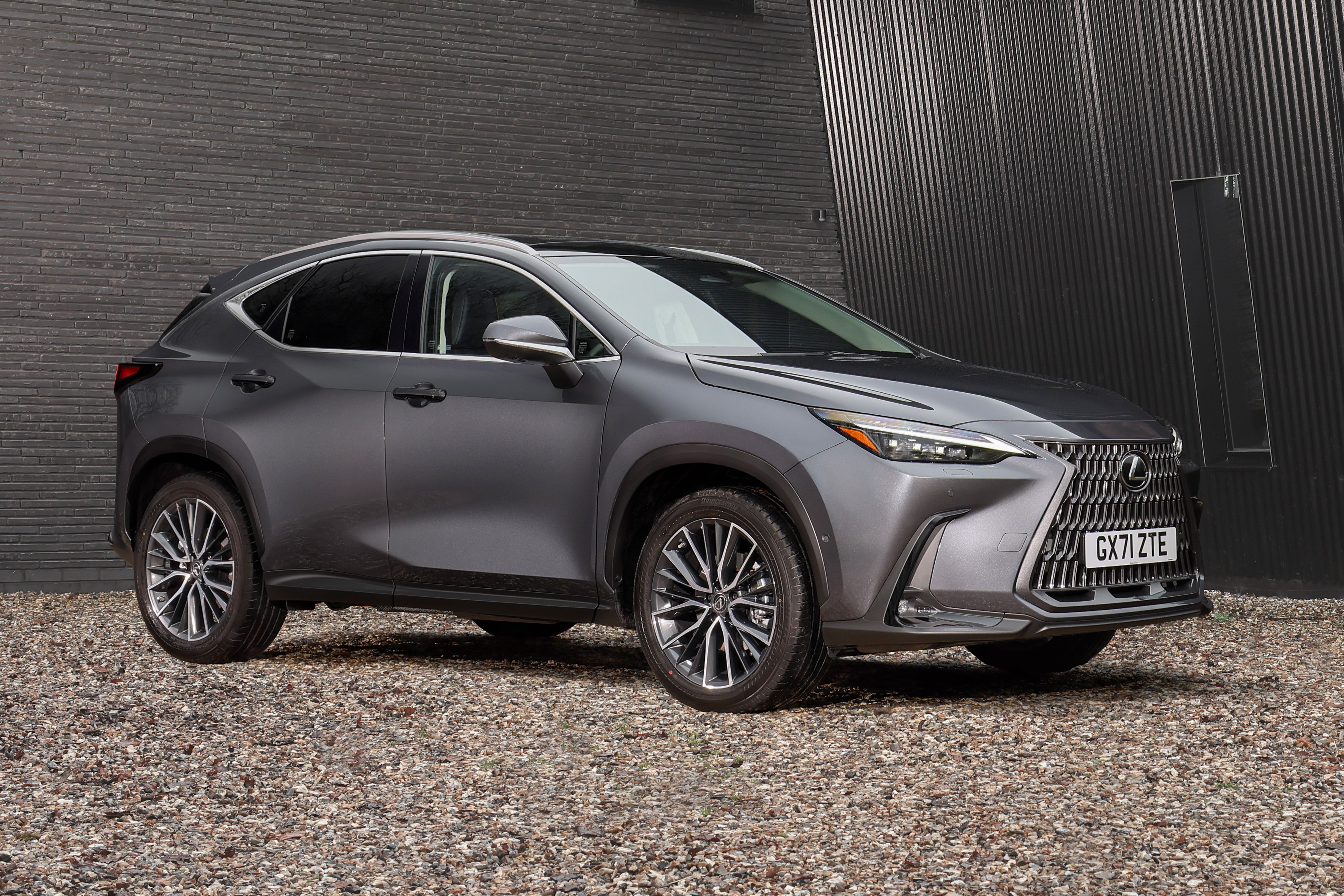 If you think that's expensive, wait until you look at prices for the plug-in hybrid Lexus NX 450h+. The range starts from £48,800, while top-spec models are nudging a hefty £60,000.
Of course, no one hands over that kind of money outright for a new car. And it's no more expensive than rivals; less so, in fact – a Volvo XC60 Recharge plug-in hybrid starts from £53,225.
The second-generation Lexus NX is still a very new model and, as there's currently a great deal of demand (not helped by the global microchip shortage), there aren't any nearly-new discounts just yet. Give it time, though, and you should be able to bag yourself a discount by looking for a pre-registered Lexus NX on heycar.
Trim levels and standard equipment
Standard equipment on the entry-level Lexus NX includes a 9.8 touchscreen infotainment system (with Apple CarPlay and Android Auto), a 10-speaker Pioneer audio system (including CD player) and leather seats (heated in the front). You also get a powered tailgate, 18-inch alloy wheels, bi-LED headlights with automatic main beam, rain-sensing wipers and the Lexus Safety System+ suite of safety and driver assistance systems.
You can build on the standard Lexus NX grade with the Premium Pack, which adds privacy glass, keyless entry, LED cornering lights and front fog lights, one-colour ambient interior lighting, a heated steering wheel and a wireless phone charger. The Premium Pack also adds a Blind Spot Monitor, Rear Cross Traffic Alert and Safe Exit Assist, as well as front and rear sensors with approaching vehicle detection, eight-way electrically adjustable front seats with two-way power lumbar support for the driver (Lexus NX 450h+).
On top of that, there's the Premium Plus Pack. That adds four-eye LED headlights, headlight cleaners, 20-inch alloy wheels with run-flat tyres, smooth leather upholstery, eight-way electrically adjustable front seats (NX 350h), heated rear seats, heated and ventilated front seats, digital cockpit, panoramic camera, head-up display and customisable ambient lighting.
The Lexus NX F Sport builds on the Premium Plus Pack with 20-inch F Sport alloy wheels and adaptive suspension. F Sport exterior styling includes a black mesh grille, black roof rails and black door mirror covers. Inside, you'll find an F Sport leather steering wheel, a leather gear lever and aluminium sports pedals. You can also build on the Lexus NX F Sport with the Takumi Pack, which adds a 17-speaker Mark Levinson premium sound system (on the Lexus NX 350h), a digital rear-view mirror, automated parking and additional features of the Safety System+ (Front Cross Traffic Alert and Lane Change Assist). There's also a panoramic sunroof on the NX 350h and a standard sunroof on the NX 450h+.
The top-spec Lexus NX Takumi features the same specification as the Premium Plus Pack but builds on it with 20-inch Machined alloy wheels, a 17-speaker Mark Levinson premium sound system (on the NX 350h), a digital rear-view mirror and automated parking. The Lexus Safety System+ is expanded to include Front Cross Traffic Alert and Lane Change Assist, while you also get a card key in addition to the standard key. Inside, there's a black wood inlay on the dash, four-way adjustable lumbar support, and a panoramic sunroof on the NX 450h (a standard sunroof on the NX 450h+).
Ask the heycar experts:
common questions
How much is the new Lexus NX?
Prices start from £38,300 for a new Lexus NX 350h, while the plug-in hybrid Lexus NX 450h+ start from around £48,800.

Is the Lexus NX a plug-in hybrid?
The new Lexus NX is available as a self-charging hybrid (the Lexus NX 350) or a plug-in hybrid (Lexus NX 450h+). It's the first PHEV ever offered by Lexus, with a rechargeable 18.1kWh lithium-ion battery providing a generous electric range of up to 47 miles.

Is the Lexus NX based on the same platform as the Toyota RAV4?
Yes, the new Lexus NX shares Toyota's TNGA-K platform with the RAV4 as well as the Lexus ES and new Toyota Highlander.

Lexus NX cars for sale on heycar
637
Number of cars available
£21K - £56K
Price bracket of these cars
Colours available on heycar
Keep me updated by email with the latest advice, news and offers from heycar
By submitting, you agree to our
privacy policy
.