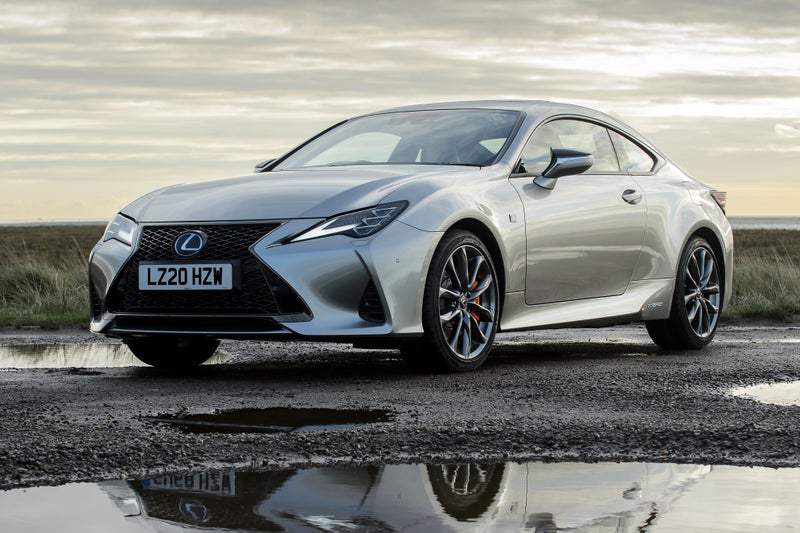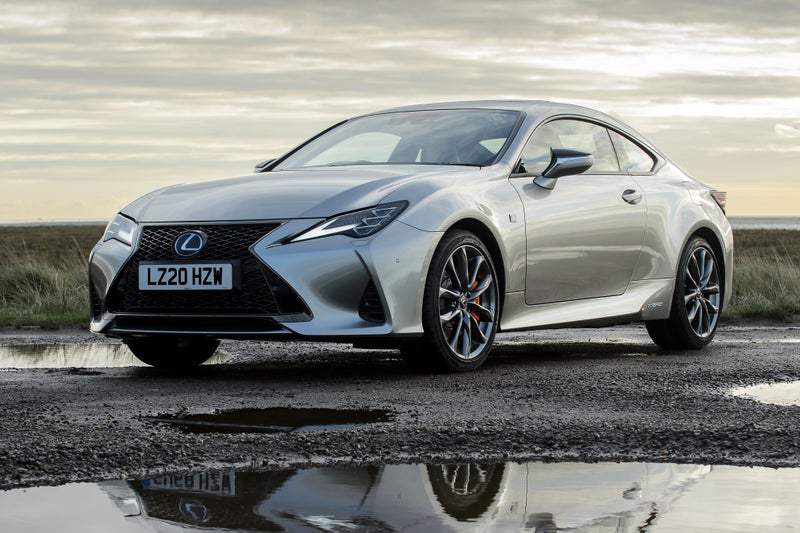 1/10
heycar rating
" Yin and yang Lexus coupe "
Launched: 2014

Coupe

Petrol, Hybrid
Quick overview
Pros
The RC is a real head turner
Hybrid delivers decent economy
Brilliant reliability and dealer service
Cons
Flagship RC F is not able to match rivals for driver appeal
RC hybrid might manage decent economy, but it's at the expense of performance
Lexus infotainment system not as slick as rivals'
Overall verdict
On the inside
Driving
Cost to run
Prices and Specs
Common questions
Overall verdict on the Lexus RC
"The Lexus RC and the RC F take the idea of niche models to the extreme by offering you a GT coupe fitted with either a 223PS 2.5-litre hybrid petrol engine that sips fuel or a 464PS naturally-aspirated 5.0-litre V8 petrol, which definitely doesn't."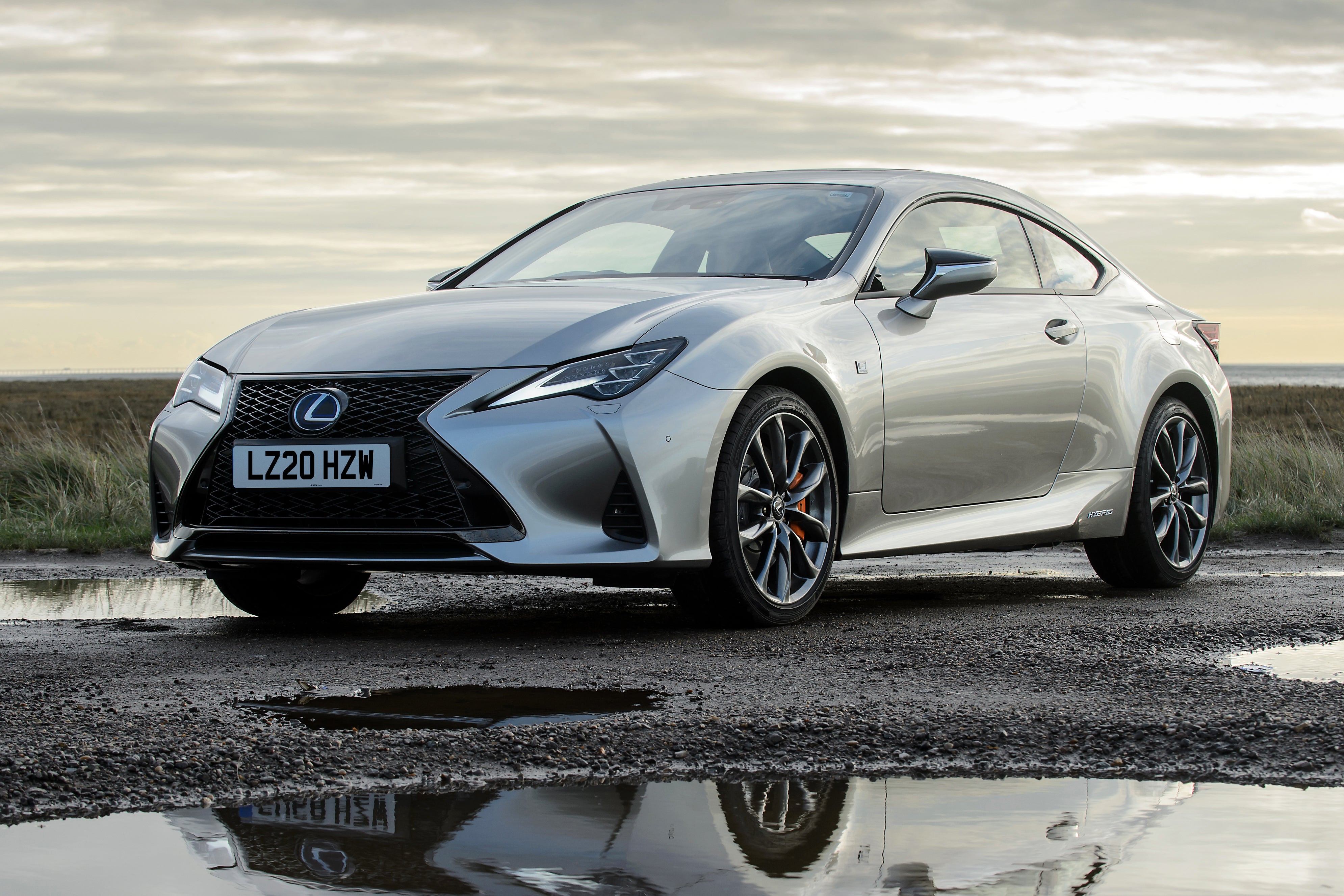 At one end the RC self-charging hybrid promises relatively palatable running costs if you can't bring yourself to buy one of its German, diesel alternatives. It's also quick and quiet if not as engaging as a sporty GT like the RC should be. At the other end, the V8 RC F goes for bombastic, high-revving indulgence in a package that's not as polished – or as quick – as the turbocharged German models that line-up against it.
It's also a tale of 'close but no cigar' when you take in the interior. The RC has loads of room for tall adults in the front and its seats are comfortable and supportive. The back, though, is only really suitable for kids and even they'll find it's a gloomy place to sit.
Then there's the infotainment. Its graphics aren't as pretty as you'll find in a Mercedes or a BMW but that's excusable, what's harder to ignore is how tricky it is to operate when you're driving.
The RC and RC F are a rare sight in the UK and Europe. That's despite them being introduced six-years ago, and recently facelifted in 2019. With well established rivals like the BMW 4 Series, Mercedes-Benz C-Class Coupe and Audi A5 offering a far more expansive choice than the RC line-up, it's little surprise that the Lexus coupe is overlooked by so many buyers.
That obscurity might appeal to some though, and while overall it's difficult to really recommend the RC over premium alternatives, they're not without some merit, the RC making some sense in hybrid form if you're looking to keep your company car taxation as low as possible. They're good looking too, the hybird car RC less overt than its more aggressively sporting V8 brother, but either will certainly have you turning more heads than any of their respective competitors.
Add Lexus's superb customer service, certain reliability and decent levels of standard equipment and you might be tempted, but, really, in the UK at least, the RC will always be a bit part player in an already relatively small niche in the market.
Is the Lexus RC right for you?
It might be, if you're not keen on the oh-so-obvious Germanic norm in the premium class and have previously nailed your colours to Lexus's mast.
The likelihood, then, is you've had Lexus cars before – perhaps an IS or GS as your company car, or an RX SUV for the family – the kids have grown up and you want something a bit more indulgent, but still with four seats, just in case.
You'll be used to the driving characteristics of the hybrid system and the quirky controls you'll find in the otherwise finely finished interior, so they're no surprise, and, likewise, you'll have a great relationship with your Lexus dealer. If that's the case, they'll be only too happy to sell you an RC, and the chances are, you'll be more than happy with it, too.
What's the best Lexus RC model/engine to choose?
The standard RC with the 300h 2.5-litre hybrid will please your sensibilities, and pocket, drive reasonably well and look good. No it's not got the F's screaming 5.0-litre V8 under the bonnet, but if you want it to look a bit like it does, you can have your RC with the F Sport trim, which goes some way to replicating the looks of that range topper.
What other cars are similar to the Lexus RC?
Key rivals for the Lexus RC are as familiar as it is unusual and include the excellent BMW 4 Series Coupe, the stylish Mercedes C-Class Coupe or Mercedes E-Class Coupe and the classy Audi A5.
Taking the high performance RC F into the consideration means you'll be looking at those excellent German rivals again, but wearing sporty M, AMG and RS badges respectively, so the Audi RS5 and BMW M4 are strong contenders here.
Comfort and design: Lexus RC interior
"If you've owned a Lexus before you'll be familiar with the stepped dashboard that its designers seem to favour, with different areas quite clearly defined rather than the more flowing cohesiveness of some of its rivals. "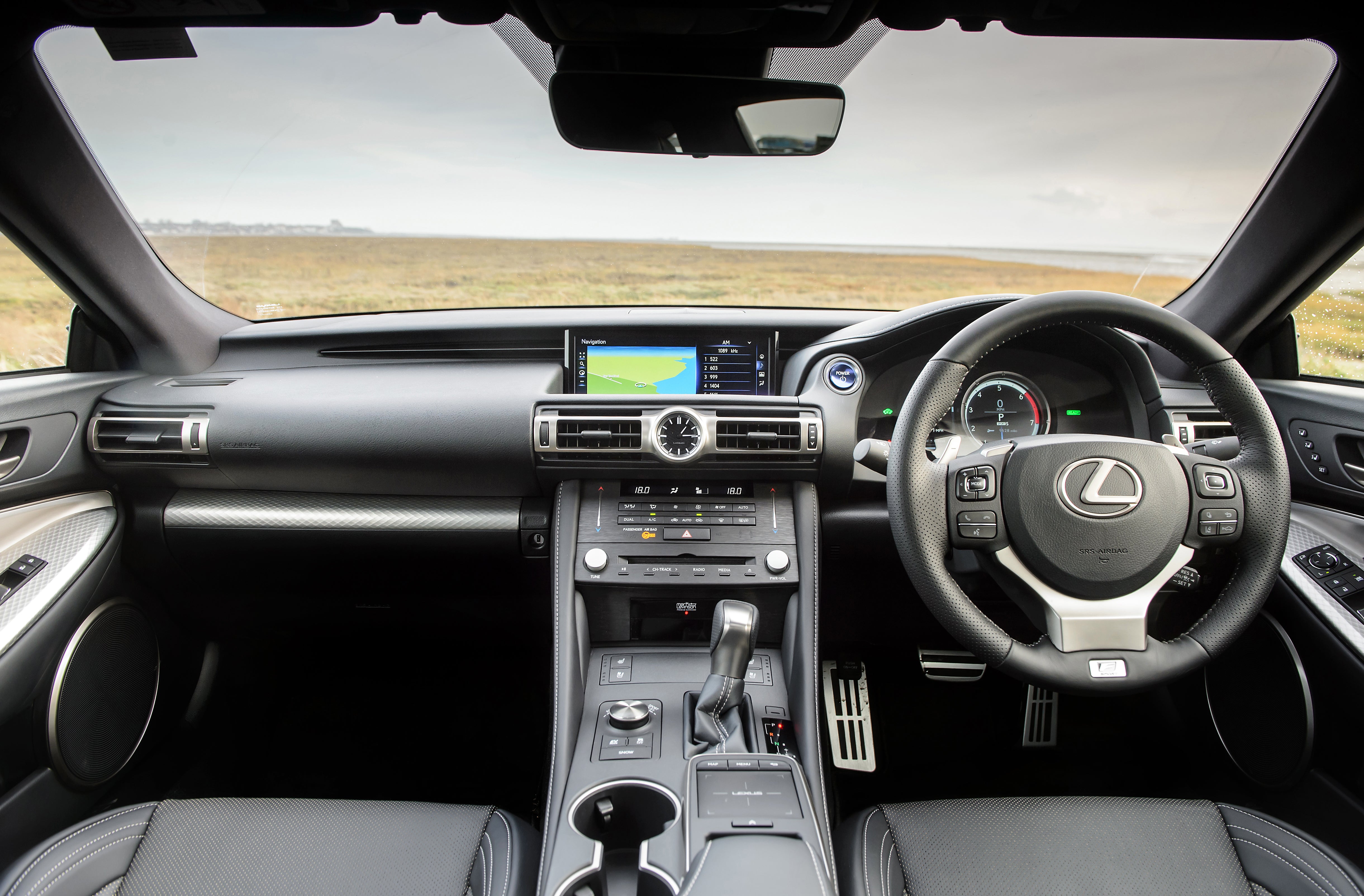 We like that, the infotainment screens are visible but don't utterly dominate, and while the cabin is littered with buttons their operation is unambiguous, and doesn't require sub-menu navigation via screens to do everyday tasks. The temperature control would be better served by a knob though, rather than the odd touch bar, but otherwise the controls are all pretty sensibly laid out and clear in their operation.
Those touch bars do operate standard dual-zone climate control, while all RCs come with heated and electrically adjusted front seats. These can be ventilated as part of the Leather Pack option for the base RC, which comes as standard on F Sport and Takumi trim levels.
Pick the RC F and its flagship status means it comes fully loaded with equipment, though the Track Edition throws out stuff like heated/ventilated seats as well as things like the rear seat centre armrest in a bid to drop a bit of weight.
Quality and finish
The RC might look a bit different to the premium norm inside, but there's no question about the quality of the materials, at least most of them. All the touch areas are of high quality, while smooth plastics, soft leathers and the weighting of things like the volume knob scream premium, but there's the odd lower rent plastic that you'd be hard pushed to find on something like an Audi A5.
Infotainment
There might be a CD slot in the centre console, but the RC isn't entirely mired in old tech when it comes to its infotainment offering – it comes with Apple CarPlay and Android Auto as standard, which is a relief because the inbuilt system is a pain to use.
The 10.3-inch centre screen isn't, like in all rivals, a touchscreen, instead it has been substituted for a touchpad with haptic feedback, which is at best fiddly and at worst downright frustrating, particularly when you're trying to use it while driving. Get it all set-up before you head off then, and use the steering wheel controls for any changes on the move.
There's Bluetooth phone and music streaming connectivity, and a 10-speaker Pioneer sound system. The range-topping Takumi model and – oddly, given its stripped out other bits and pieces for weight reduction – the Track Edition RC F have the incredible 17-speaker premium Mark Levinson surround sound system.
Space and practicality: Lexus RC bootspace
The Lexus RC is a coupe, and with that comes the usual compromises of tight interior space in the rear, with access to the back seats not exactly easy, either. Best reserved for a couple of children then, or, flexible, smaller adults on the shortest of journeys.
That's not really a negative though, as the RC is no different in this respect than any of its competition, likewise it's much the same in only offering a pair of rear seats, with the area in between them not offering a third seatbelt. There's a pair of ISOFIX child seat mounts in the back for the (grand)children though, and the boot's a decent size, with a respectable 340 litre volume in the RC. The RC F's a bit bigger (no hybrid battery to house) with 366 litres.
If that's not enough space for all your stuff the seatbacks do fold (in a 60/40 split) making it a good bit more practical, those wanting the RC F, though, are denied folding rear seats, and instead get a small access hatch to the rear, while the Track Edition doesn't even get the hatch.
You should find yourself comfortable enough up front, though the seats are quite high for a coupe, which means headroom does become a bit of an issue if you're on the taller side.
Oddment storage is decent, with a couple of door pockets, a good-sized glovebox and a pair of sizeable cupholders in front of the useful lidded cubby between the front seats.
Handling and ride quality: What is the Lexus RC like to drive?
"With its striking exterior looks you might think that the RC delivers a thrilling, engaging drive, but you'd be wrong. Compared to its rivals Lexus seems to have erred on the side of comfort, this a coupe that's more adept at cruising than seeking out demanding driving roads, and it's arguably all the better for it, in standard RC form at least."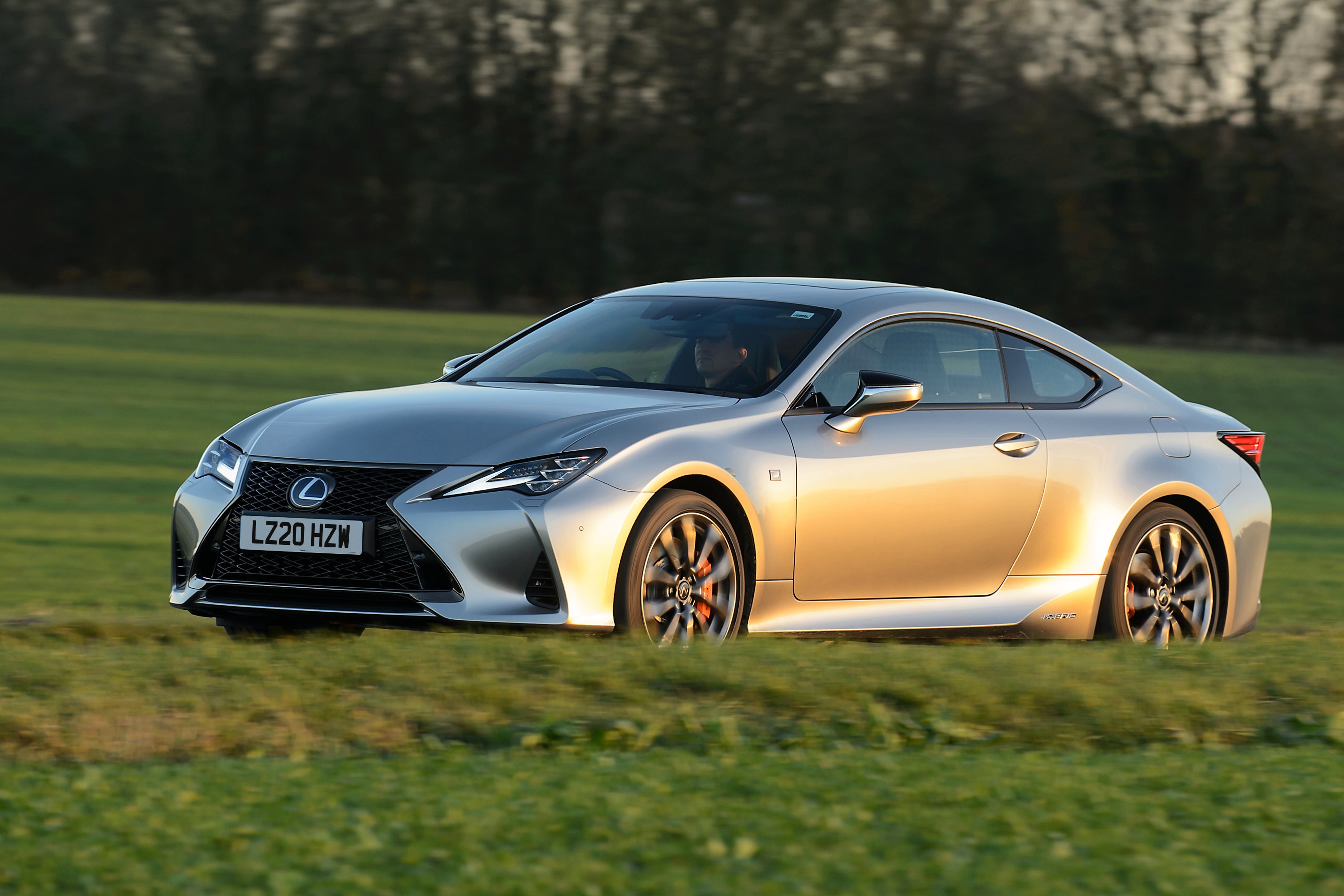 The surefooted, predictable handling is backed by suspension that provides a fine ride quality, being supple enough to soak up the worst bumps on the road, without losing control of the body and having the RC roll overtly in the bends or be upset by bigger lumps and bumps on the road.
Pick the RC F Sport hybird and you gain Adaptive Vehicle Suspension with Sport and Sport+ driving modes, even these offering a nicely judged balance between comfort and control. The steering doesn't offer much, if anything in the way of actual feedback, which is fine in the RC but more of an issue in the RC F.
That's because the RC F is a sportier animal or at least, it's supposed to be. It features RC F tweaked Adaptive Vehicle Suspension too and gets a limited slip differential for extra grip powering out of corners. The Track Edition, meanwhile, (and RC F and Carbon trims optionally) has an electronically controlled Torque Vectoring Differential with a choice of settings covering Standard, Slalom and Track.
Even so, the RC F lacks the playfulness and engagement of its direct rivals, while losing out on the standard RC's fine ride comfort.
What engines and gearboxes are available in the Lexus RC?
Like the ride and handling, the RC's choice of engines really are at two ends of the spectrum.
The 2.5-litre petrol four-cylinder in the standard RC is assisted by an electric motor and battery pack, to produce 223PS for a 0-62mph time of 8.6 seconds and a 118mph top speed.
The RC F sees that capacity double, and the cylinder count, too, with a 5.0-litre V8 under the bulging bonnet, which more than doubles its relation's output to 464PS. That's enough to exactly half the time the RC takes to get to 62mph, with the RC F managing the benchmark sprint in 4.3 seconds and reaching a 168mph maximum.
So, the RC F is the one to have, then? Simply, no. While the Lexus's naturally-aspirated V8 engine is brilliant, the RC F never lives up to its promise, not least because it needs all the revs, all the time, to feel like it's anything like as powerful as the figures associated with it.
That duality might suit some, but it only really feels special when you're extremely committed, and opportunities to do so on the road are limited. BMW, Audi and Mercedes-Benz's powerplants all feel far more eager, engaging and exciting even at moderate speeds. The RC F's powertrain is also hampered by the lethargic automatic transmission.
Refinement and noise levels
The RC's hybrid is the relaxed, more refined choice thanks to its less compromised set-up, it's smooth and quiet the majority of the time, though it can be noisy if you're asking for all its power, say on an overtake, where the CVT automatic transmission seeks out high revs and maintains them.
Around town it's far better, and that hybrid system does allow moments of electric-only serenity, and even when the petrol engine assists, it cuts in quietly and smoothly.
Naturally, the RC F is a bit more compromised, its larger wheels and tyres and the more focussed suspension inevitably results in a bit more road noise, while the engine's a good bit louder too, though if that's an issue, you've perhaps missed the point…
Safety equipment: How safe is the Lexus RC?
Lexus hasn't scrimped on the safety equipment, with all RCs coming with ABS, automatic high beam lights, active cruise control, lane assist, front and rear parking sensors, a pre-collision system, road sign recognition, a tyre pressure warning system, traction control, stability control and Brake Assist.
The airbag count, meanwhile, includes driver and front passenger front two-stage airbags, kneebags and sidebags with a further curtain airbag running the length of the interior. There's a pop-up bonnet to help protect pedestrians, and a pair of ISOFIX child seat mounts in the rear seats.
The RC hasn't been crash tested by EuroNCAP, but it's closely related to the Lexus IS saloon, which was awarded a 5-star EuroNCAP rating back in 2013.
Maximum EV range
The RC hybrid, will run briefly on electricity alone but for no more than three miles.
MPG and fuel costs: What does a Lexus RC cost to run?
"The RC hybrid manages 44.1-45.5mpg on the official combined consumption cycle according to the latest WLTP testing methods, which is decent, if not exceptional, when compared to faster German diesels."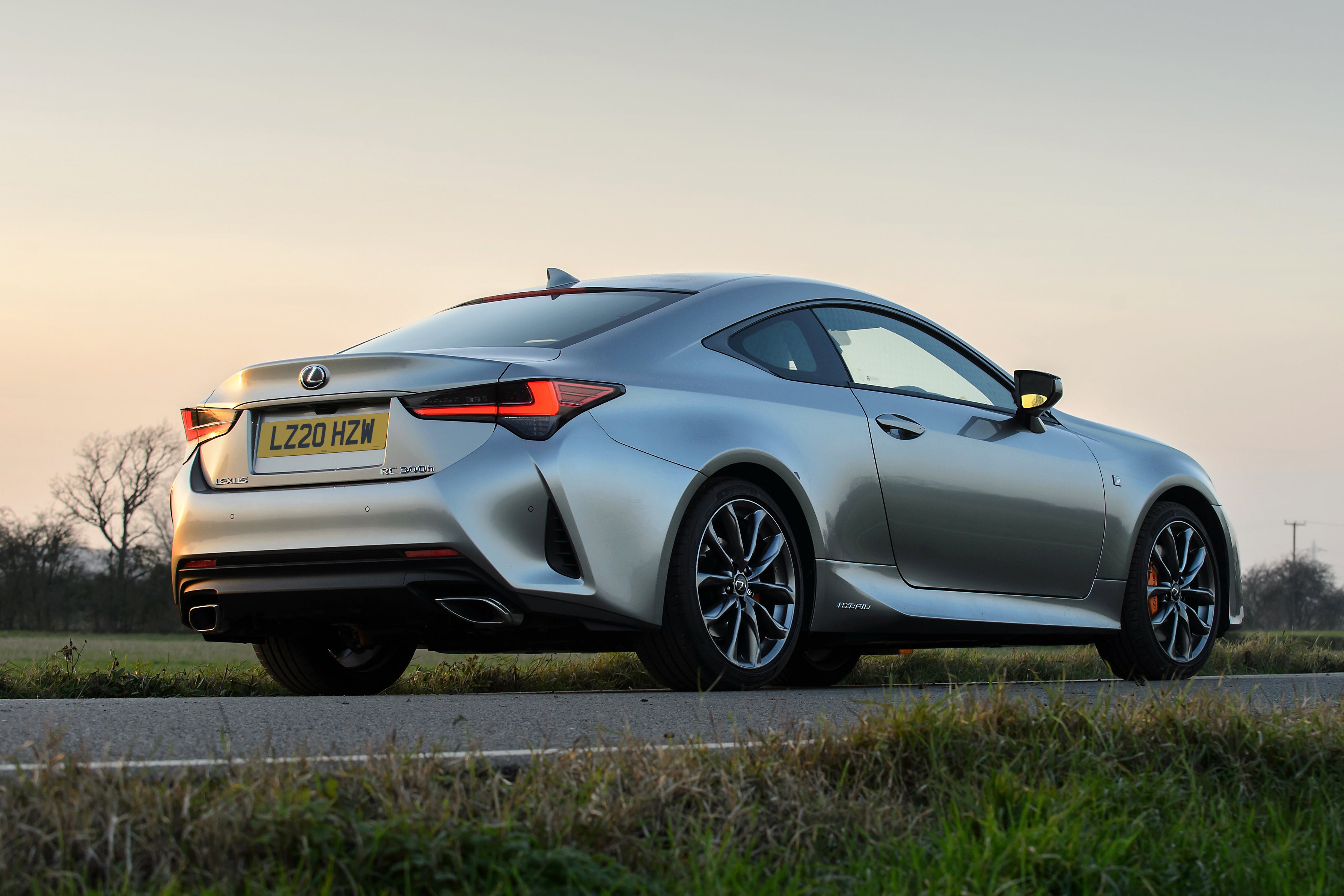 The RC F is never going to be cheap to run, it's quoted at 23.9mpg, but you'll be doing well to achieve that particularly because – unlike the turbocharged competition – the RC has to be worked hard to get the best from it.
Insurance groups and costs
The regular, hybrid RCs sit in insurance Groups 31-35 depending on the trim levels, which is competitive with its class rivals.
Unsurprisingly, with its more sporting intent and twice the RC's power the RC F attracts a more sizable grouping, it sits in Group 45-50, with the Track Pack car being the priciest of the lot to insure.
VED car tax: What is the annual road tax on a Lexus RC?
All RCs come in above the £40,000 upper limit for VED payments, so attract the higher rate for the first five years.
The hybrids pay a first year rate of £215, followed by 5 years at £475, before reverting to £150 a year. Emissions for it are between 141 and 146g/km.
The RC F, which emits 268g/km, is in the highest category, costing £2,175 for the first year, then £475 a year for five years, then £150 annually thereafter.
How much should you be paying for a used Lexus RC?
"Age plays into the used car buyer's favour here, with the earliest RCs available for under £20,000. The £20,00-£30,000 provides decent choice in the classifieds, with sensible mileage, relatively new examples of the hybrid are easily available, and, given Lexus' reliability, should be a good buy. "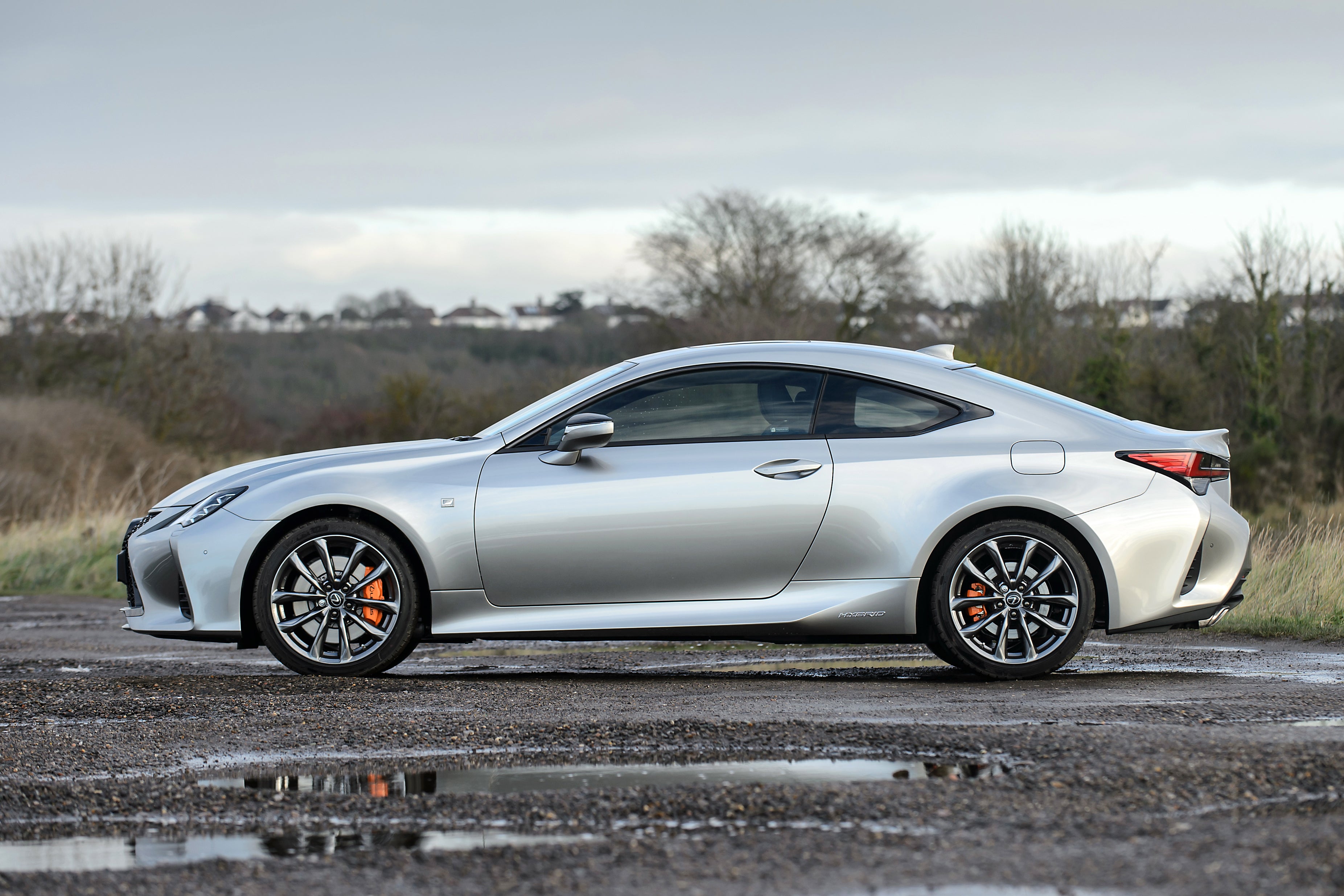 There are a few RC 200t models in the classifieds, for around £20,000, these all typically low mileage, so worth considering.
The RC F starts around £35,000 used, and here it's a more compelling buy than it is new, as someone else has taken a substantial hit on the depreciation – with a starting new price of £63,000.
Trim levels and standard equipment
Even basic RC models get a healthy list of kit that includes Lexus Safety System +, Smart Entry, 8-way electrically adjusted, heated, seats, 10.3-inch sat nav with Apple CarPlay and Android Auto and 18-inch alloy wheels.
RC F Sport models look and feel sportier. They come with five driving modes, variable suspension, 19-inch alloy wheels, LED headlights and F Sport styling inside and out.
Takumi models are the luxurious choice. Over the standard RC, they add 19-inch alloy wheels, a Mark Levinson premium stereo, ventilated front seats with a memory function, heated steering wheel, sunroof and blind spot monitoring with Rear Cross Traffic Alert.
RC F are most notable for their V8 engine, but they also get sporty upgrades such as 19-inch forged alloy wheels, a sporty body kit, Adaptive Variable Suspension, heated and ventilated front seats, a heated steering wheel, 10-speaker Pioneer stereo and a 10.3-inch infotainment screen.
RC F Carbon models look even sportier. They add 19-inch polished forged alloy wheels, a carbon fibre bonnet, spoiler and roof and an active rear spoiler which is also carbon. Carbon trim inlays finish off the look.
Track Edition models are the most hardcore of the lot. They have 19-inch BBS alloy wheels, carbon ceramic brakes, a torque vectoring electronic differential with three modes, a fixed rear carbon wing and red Brembo brake callipers. Oddly, given this is basically a track car, you also get the Mark Levinson stereo.
Ask the heycar experts:
common questions
What does Lexus RC stand for?
According to Lexus, RC stands for 'Radical Coupe' which is a fair assessment given its radical looks.

How fast is the Lexus RC F?
The Lexus RC F has a top speed of 168mph and can get from 0-62mph in 4.3 seconds, although to get the best from it you'll need to work it harder than you do turbocharged rivals like the Mercedes-AMG C63 Coupe.

Answered by
heycar editorial team
What is the fastest Lexus?
While the RC F is fast, the fastest Lexus is the LFA which has a staggering 202mph top speed.

Lexus RC cars for sale on heycar
624
Number of cars available
£23K - £64K
Price bracket of these cars
Colours available on heycar
Keep me updated by email with the latest advice, news and offers from heycar
By submitting, you agree to our
privacy policy
.