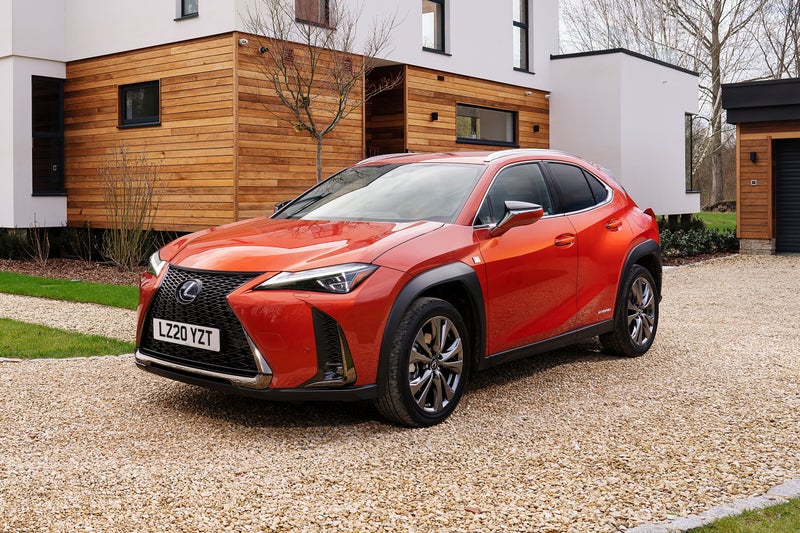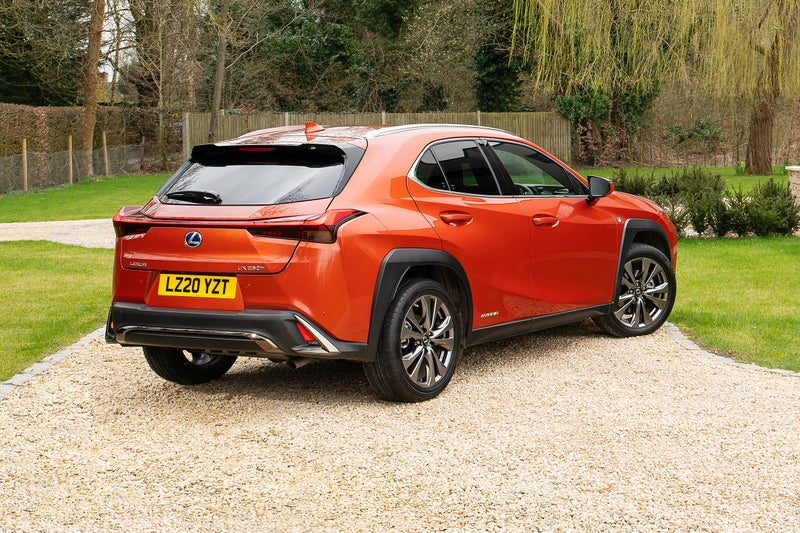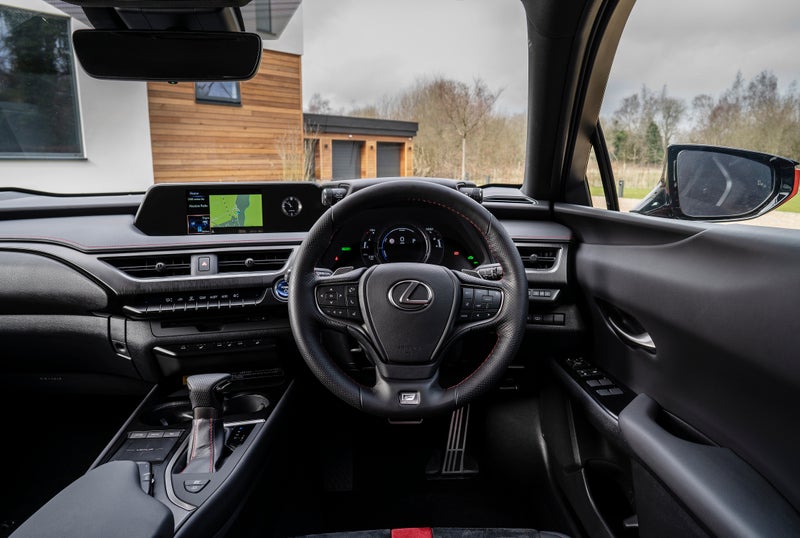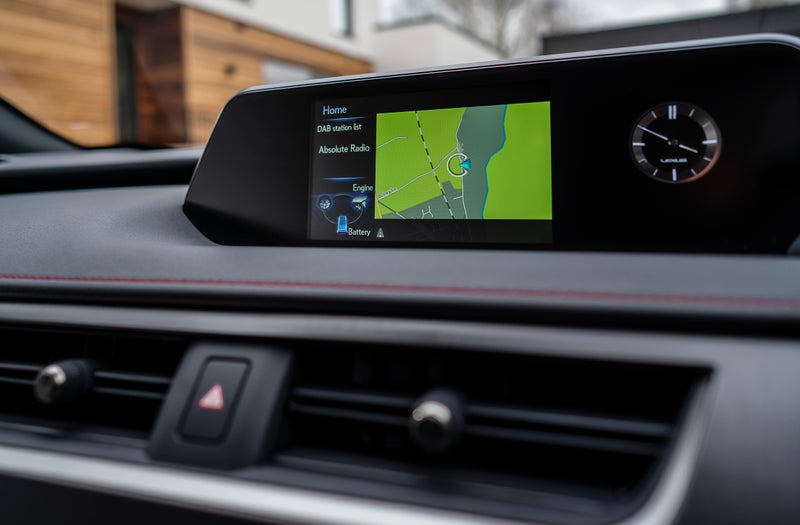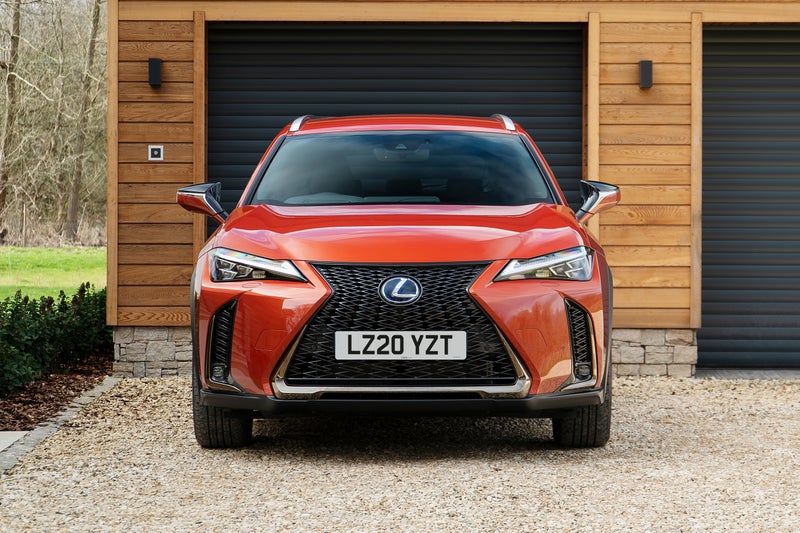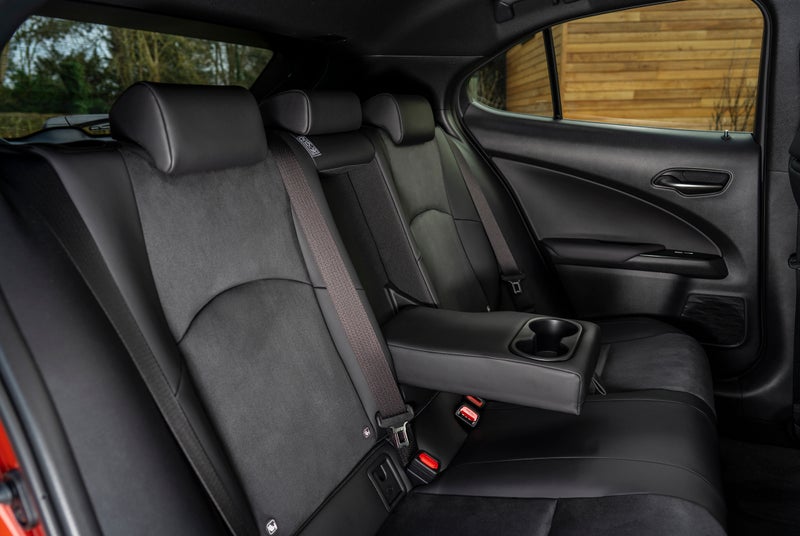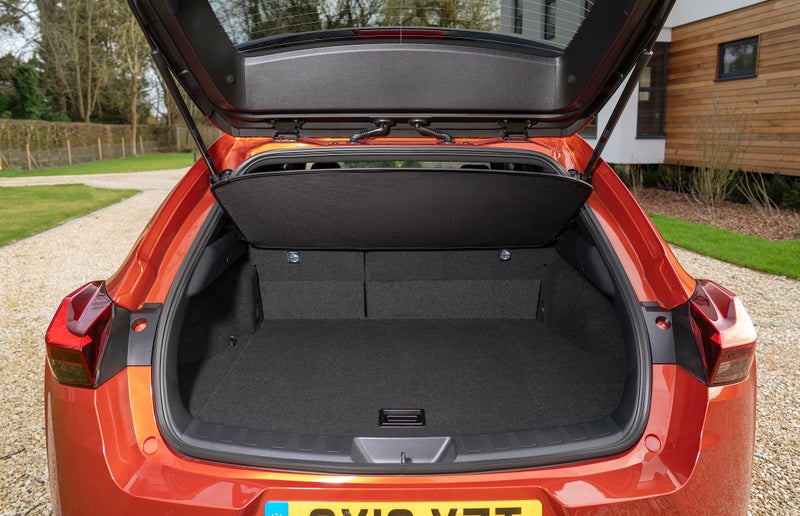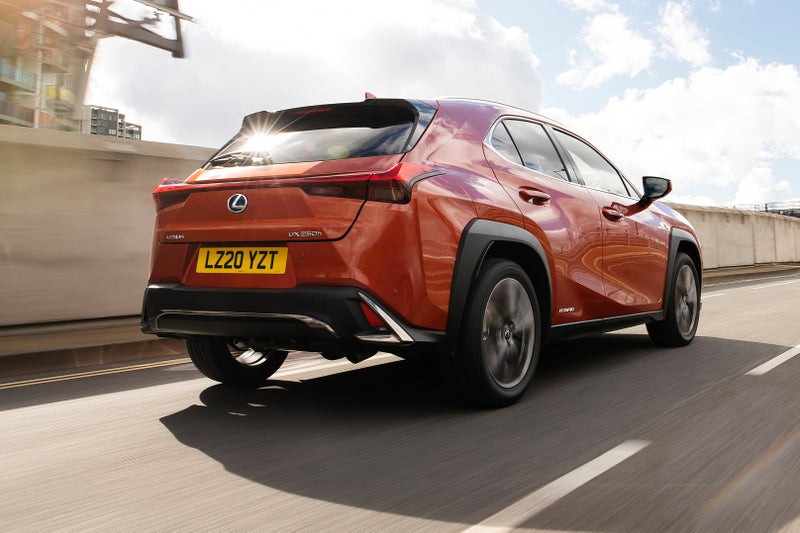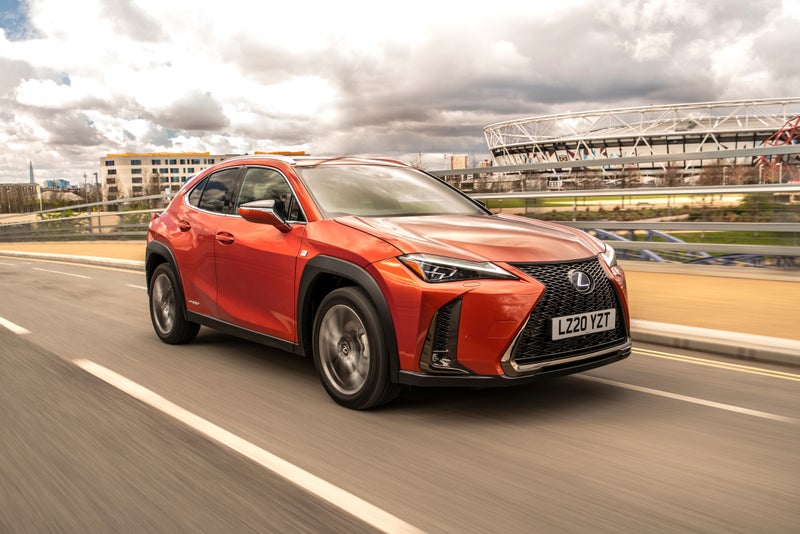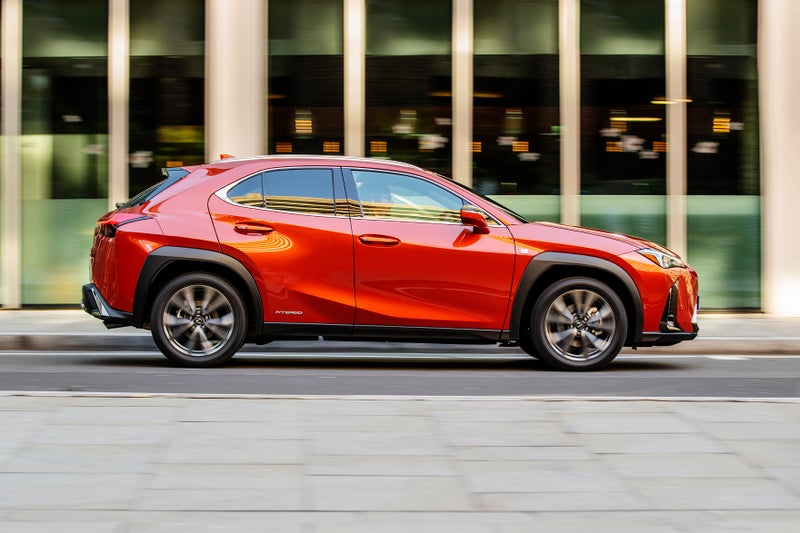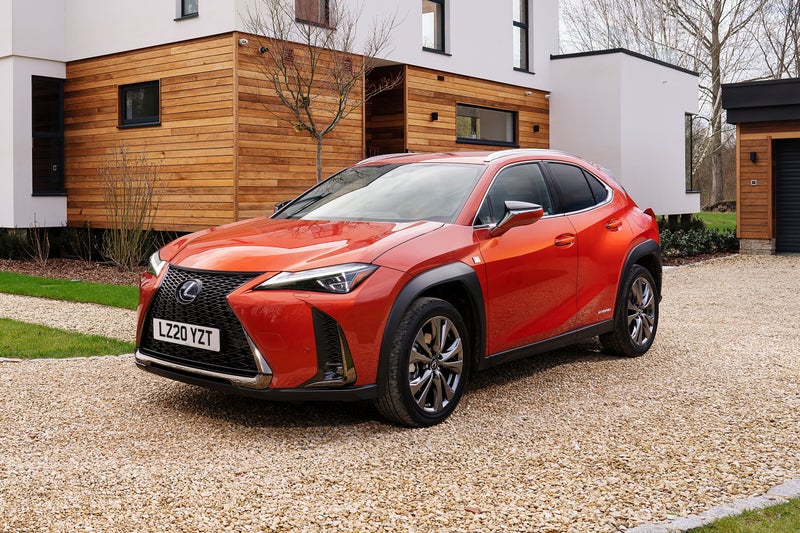 1/10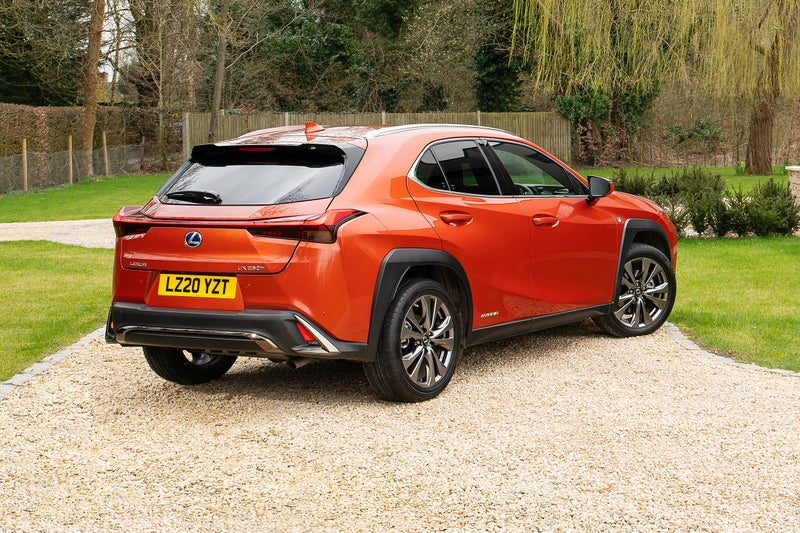 2/10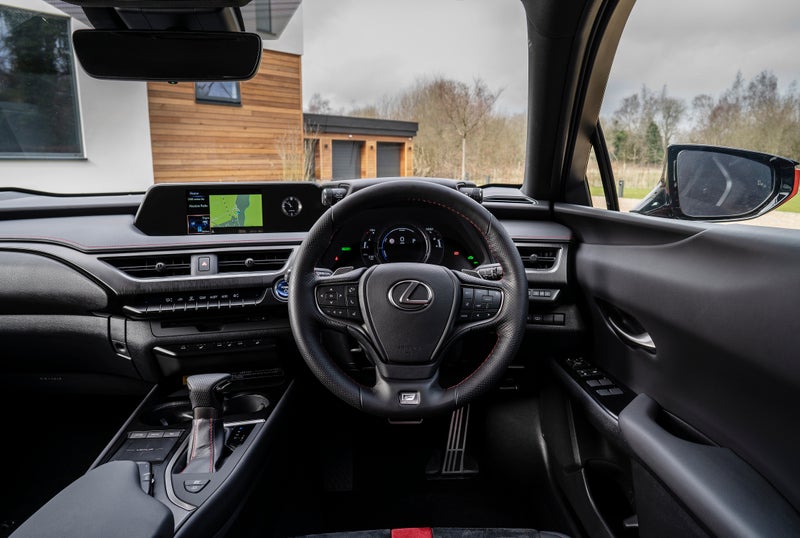 3/10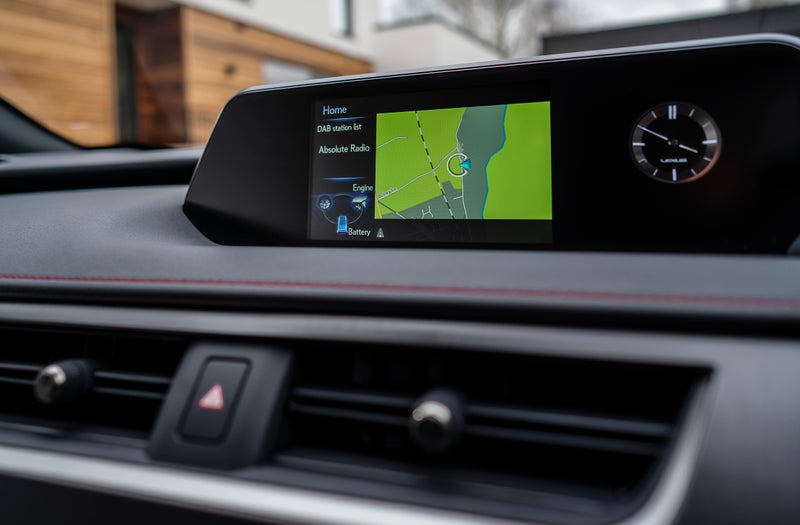 4/10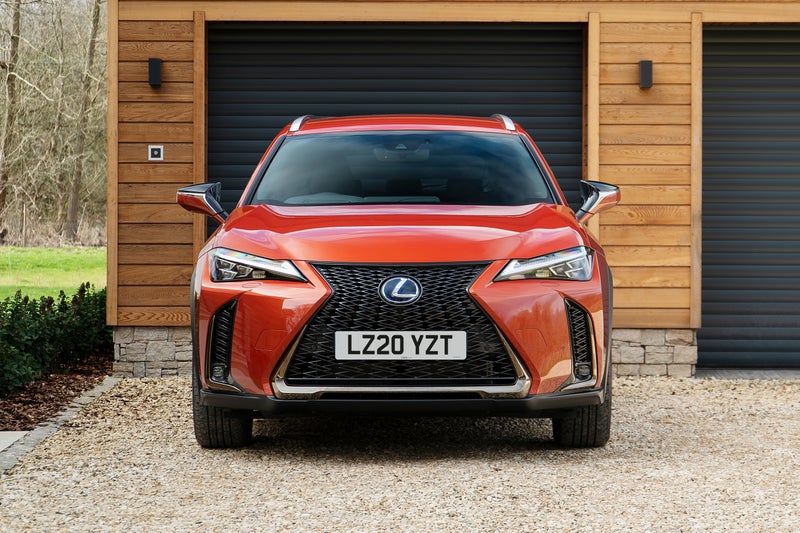 5/10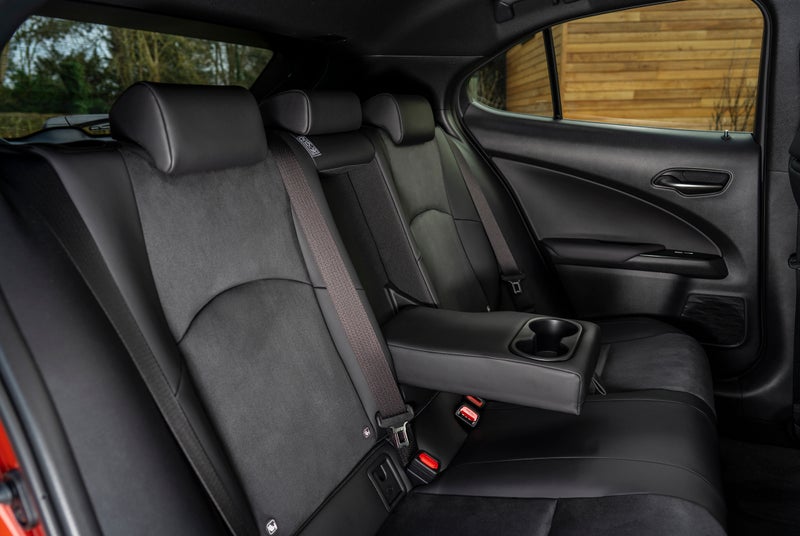 6/10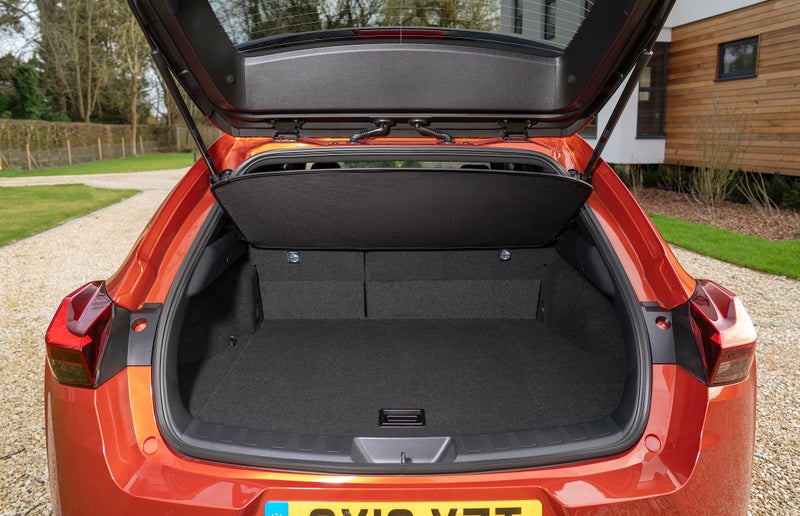 7/10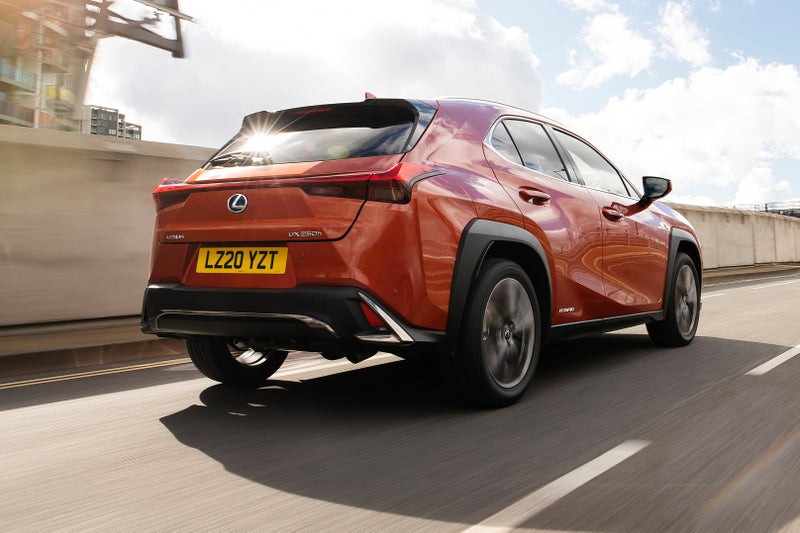 8/10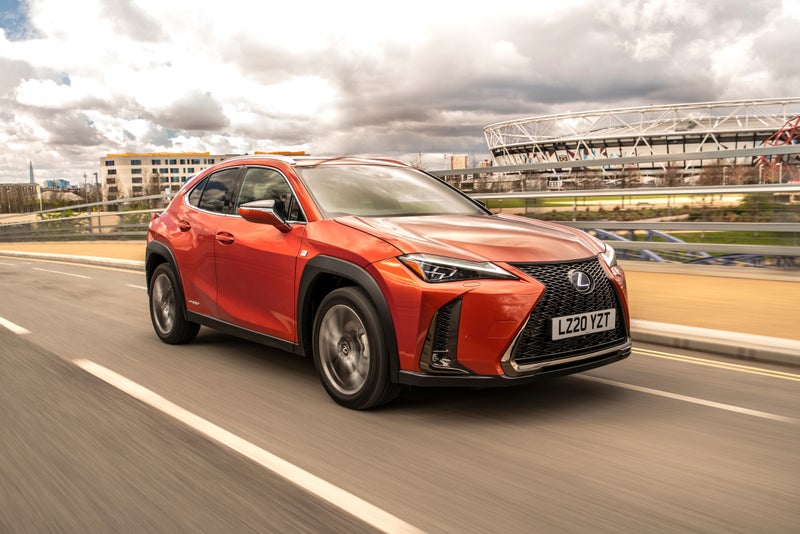 9/10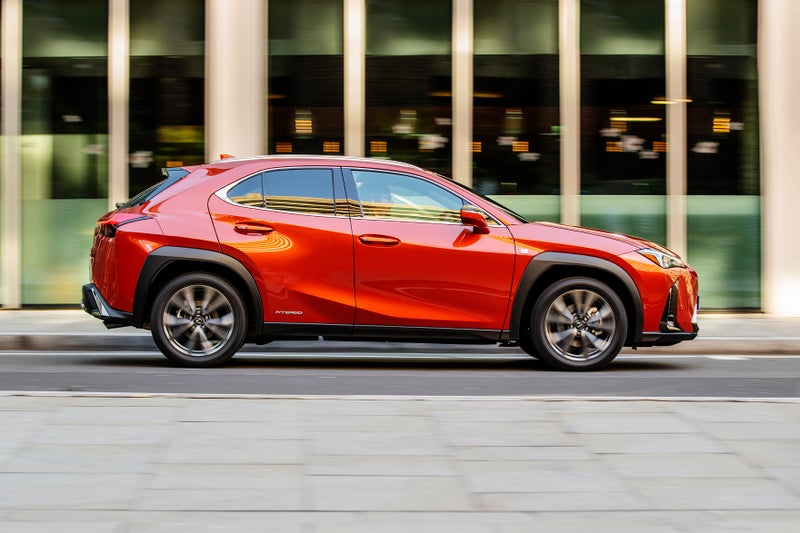 10/10
Launched in 2019

Crossover

Hybrid
Launch year

2019

Body type

Crossover

Fuel type

Hybrid

heycar rating
Posh and frugal family SUV
Best bits
Sips fuel in town
Excellent reputation for build quality and reliability
Eye-catching looks
Not so great
Feels inert on twisting country roads
Tight back seat and criminally small boot
The suspension is bumpy on all roads
Read by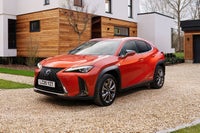 Overall verdict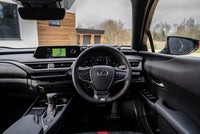 On the inside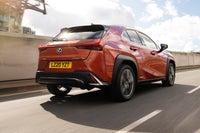 Driving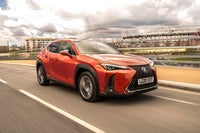 How much does it cost to run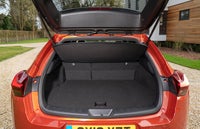 Prices, versions and specification
Overall Verdict on the Lexus UX
"There is no shortage of posh SUVs to choose from – there is the BMW X1, Audi Q3, Volvo XC40, Mercedes CLA, Jaguar E-Pace, Range Rover Evoque and Land Rover Discovery Sport – but if you're looking for a posh hybrid SUV your choice is more limited. Sure, some of these cars offer hybrid versions, but none have a range that is entirely hybrid like the Lexus UX."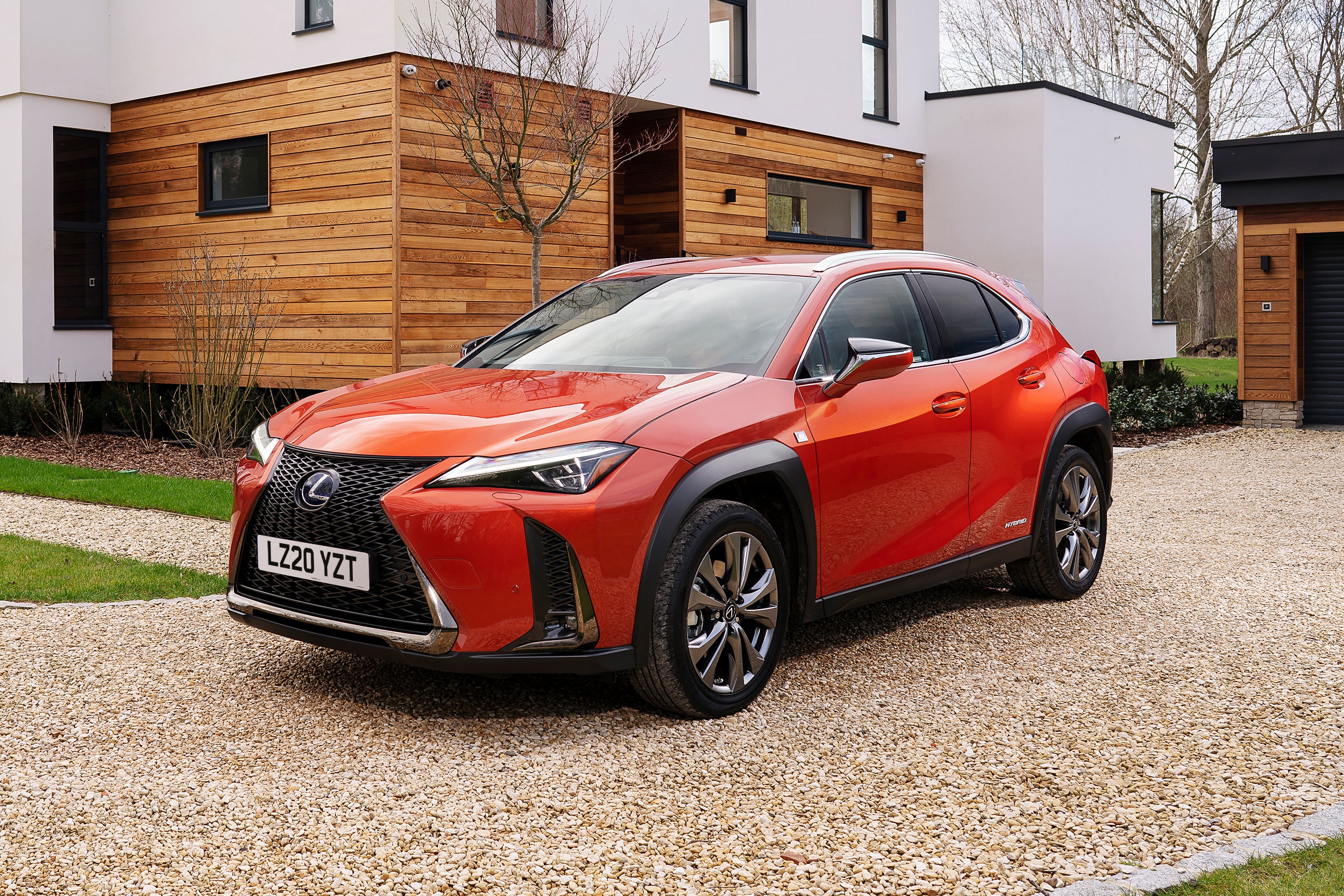 And, to a large extent, this is the UX's biggest selling point. Its combination of a petrol engine that's boosted by an electric motor makes it an ideal SUV for driving in town because it's capable of fuel economy that a diesel or petrol SUV wouldn't get near. It also has light controls that make it easy to drive and a reversing camera comes as standard for bump-free parking.
On more open roads the hybrid setup doesn't make quite so much sense. In the country, the UX's heavy batteries make it feel inert in bends, there's plenty of body roll and the lifeless steering doesn't give you confidence when you're turning into corners. Factor in the standard CVT automatic gearbox's slow responses and the UX can't entertain like a BMW X1.
It also loses out on the motorway. At these higher speeds, the UX won't get better fuel economy than a diesel version of its rivals and it's quite noisy at a cruise. The CVT again gets a mark against it because it makes the engine drone and the car also suffers from tyre and wind noise.
Jump inside and the Lexus feels like a high-quality product. There are no rattles and squeaks, trim pieces have consistent gaps and the design is smart to look at. Okay, so there are cheaper plastics used in the lower half of the cabin but you get the sense that the Lexus is a quality product – a conclusion that's backed up by the brand's consistently high scoring in consumer surveys.
The tricky infotainment system is much more of an issue. It uses a touchpad control in between the two front seats which require a Crystal Maze winning level of hand-eye coordination just to use it. That said, Apple CarPlay and Android Auto come as standard so you can avoid the car's controls and use your phone's voice activation system instead.
What's harder to get past is the fact that the Lexus isn't that practical for an SUV. Sure, the front seats are spacious but jump in the back and even average-sized adults will find themselves stuck for knee room and dreaming of larger rear windows that make the Lexus feel less claustrophobic.
Factor in the incredibly shallow boot and, if you're looking for a practical posh SUV, you are much better off with any of the Lexus' competitors.
If you don't need acres of space, though, there's much to like about the UX. Its otherworldly body styling hides a hybrid engine deserving of the looks and capable of spectacular in-town fuel economy, and it's a very relaxing car to drive.
If that all sounds up your street then it's worth breaking from the flock and considering the Lexus UX.
Comfort and design: Lexus UX interior
"The Lexus UX's interior is quite different to what you'll find in a BMW, Mercedes or Audi SUV."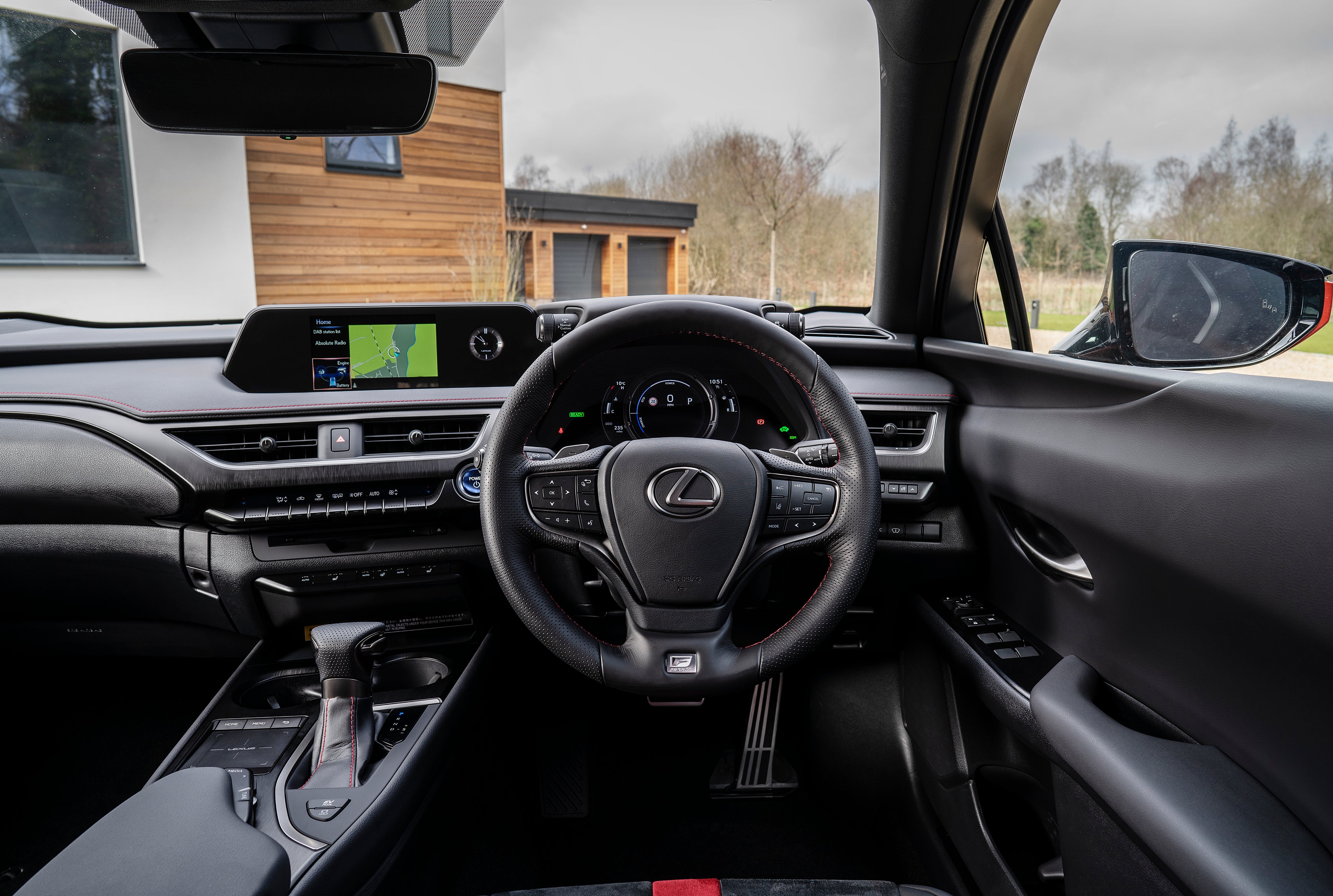 Instead of the homogeneous design you get in the German cars, the Lexus' cabin serves up a mix of shapes and textures with a dashboard that points towards you.
It has a central infotainment screen that sits right in your eye line and below it, a classy piece of trim runs the length of the dashboard split by the Lexus' pod-like instrument binnacle. You get conventional buttons for the ventilation system and buttons on the steering wheel for the stereo.
The downside of the unique approach is that the Lexus has controls you won't find in other cars like the secondary stalks that sprout out of the sides of the instrument binnacle and a strange touchpad control for the infotainment system. More on that later.
If you're expecting the Lexus to have a high-set driving position like a BMW X1 or Audi Q3 then you'll be surprised, it's barely taller than a normal car and, while we're on the subject, rearward visibility isn't great.
Getting a comfortable driving position shouldn't be an issue, mind. Okay, so the steering wheel could move further towards you, but it has plenty of height adjustment, as does your driver's seat.
Standard UX models get a six-way manual adjustment for the driver's seat, while F Sport cars and above get eight-way electrically adjustable heated front seats with lumbar support. Takumi versions go another step further with ventilated seats that have a memory function so you can save your exact setup if someone else uses the car.
Handling and ride quality: What is the Lexus UX like to drive?
"The way the Lexus UX drives is dominated by its petrol-electric powertrain."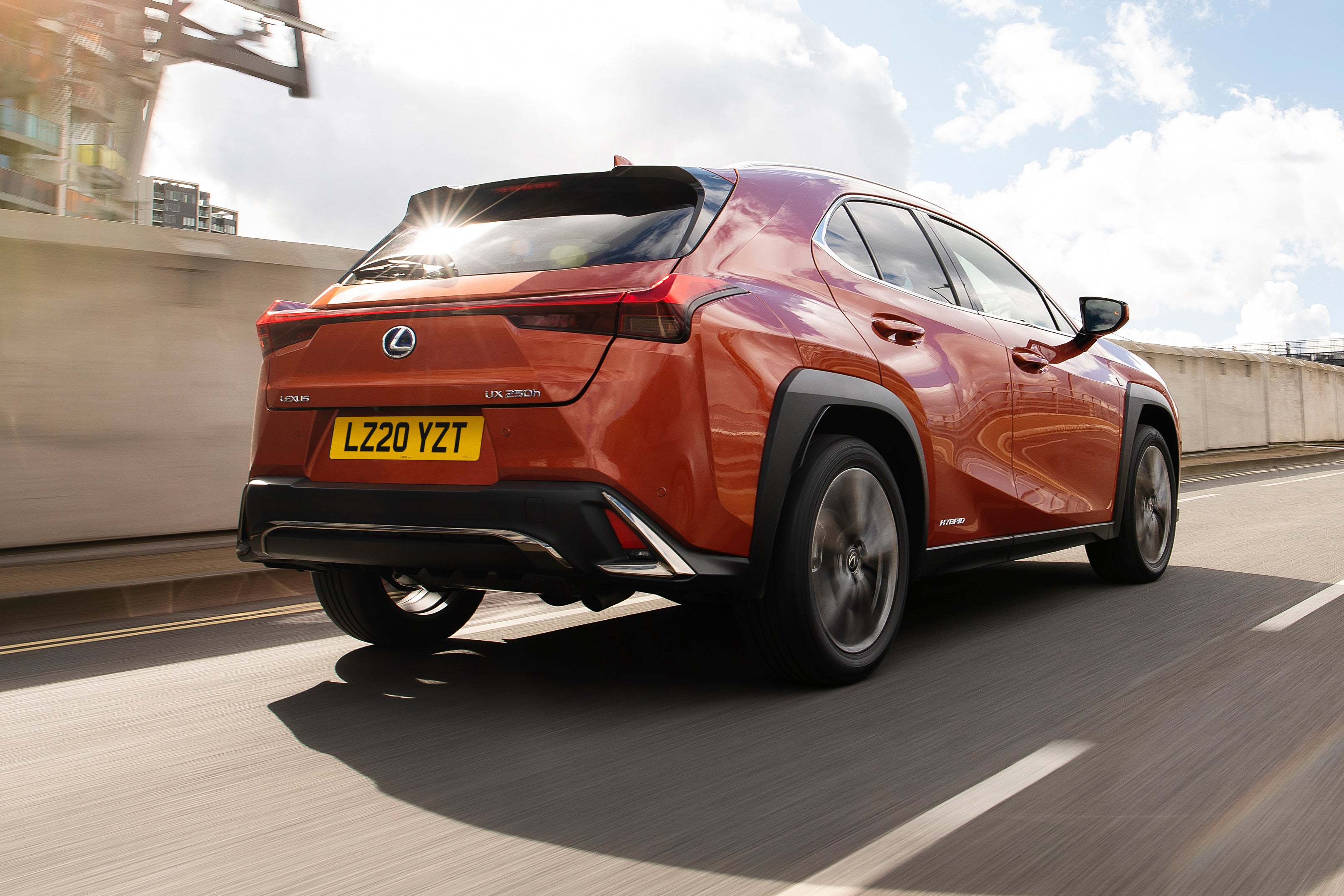 In town, the Lexus will happily bumble about using electricity alone. It's almost silent and will happily take the UX up to 30mph. Sure, it's not a full hybrid so the electric-only range is negligible but when the petrol motor does cut in, more often than not it's only acting as a generator and barely ticking over. It's only when you need a sharp burst of acceleration that the petrol engine will make itself noticed.
It's not just the engine that makes the UX an excellent town car. It's got an automatic gearbox as standard so you don't need to worry about the clutch pedal, you'll not get knackered twiddling the light steering and the UX's raised suspension and meaty tyres means you don't need to worry about damaging the car on speed humps and potholes.
Okay, so the rearward visibility isn't great, but reverse parking is helped by the standard rear-view camera and if you go for the Driver Assistance Pack you get front and rear parking sensors, while top-of-the-range Takumi models have a 360-degree camera.
Out of town, the Lexus starts to feel like it's less in its comfort zone. It's not great at absorbing bumps at slower speeds and on the motorway, it fidgets over expansion joints and surface changes. Large bumps, meanwhile, can feel quite sharp, especially in F Sport and Takumi cars which are fitted with larger 18-inch wheels.
The engine noise under acceleration is worse, though. Instead of going through the gears as the engine's tone rises and falls like a normal auto, the Lexus CVT essentially has one gear that gets larger and smaller as required, with the engine holding a constant speed. All of which means that, under prolonged acceleration, the Lexus emits a steady engine note that quickly becomes an annoying drone.
On country roads, this also means there's not much fun to be had working the UX's gearbox. Which is fine because the light steering and significant body roll mean you're unlikely to be going some in corners anyway.
Even with the optional Adaptive Variable Suspension fitted to F Sport models – which allows you to stiffen the car's dampers from more control – the Lexus doesn't get close to being as fun to drive as a BMW X1.
And what of the four-wheel-drive system? Well, it'll give you extra grip on slippery roads, but doesn't turn the low-slung UX into an off-road hero and its max tow weight of 750kgs is less than half a Range Rover Evoque can manage.
MPG fuel costs: What does a Lexus UX cost to run?
"The advantages of Lexus' hybrid powertrain is clear when you see the fuel economy it's capable of – Lexus claims it'll return just over 50mpg in a mixture of driving and, in our experience, that should be readily achievable."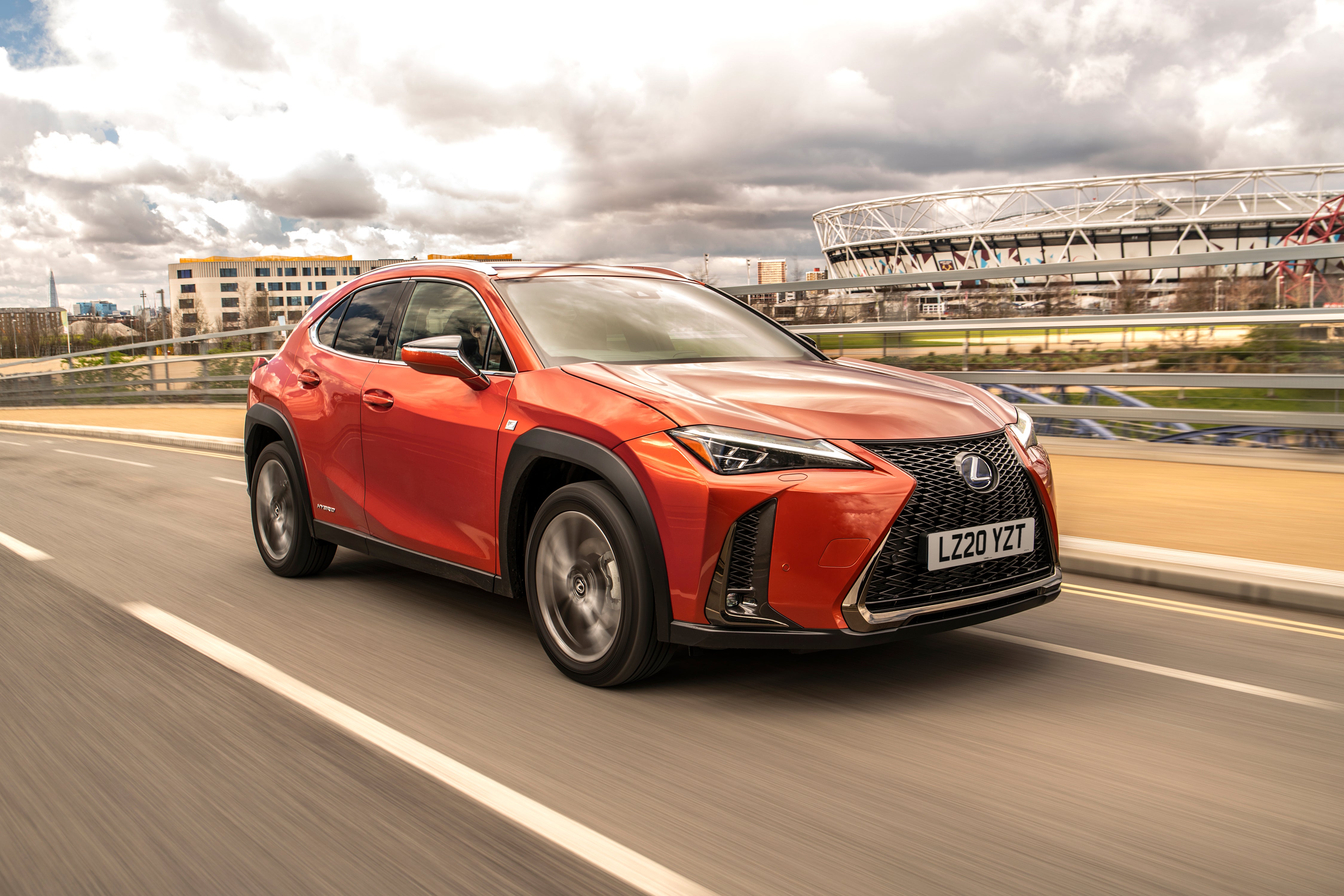 It's most impressive in town where even the most economical diesel SUVs' fuel economy will drop like a stone. In the Lexus, though, it stays steady, it's the ability to run on electric power alone paying dividends and the stop-start nature of city driving allowing the UX to recoup maximum energy from its regenerative brakes.
How much should you be paying for a Lexus UX?
"The Lexus UX is priced from just under £30,000 for the standard model rising to £41,500 for a top-of-the-range Takumi car fitted with the company's optional four-wheel-drive system. "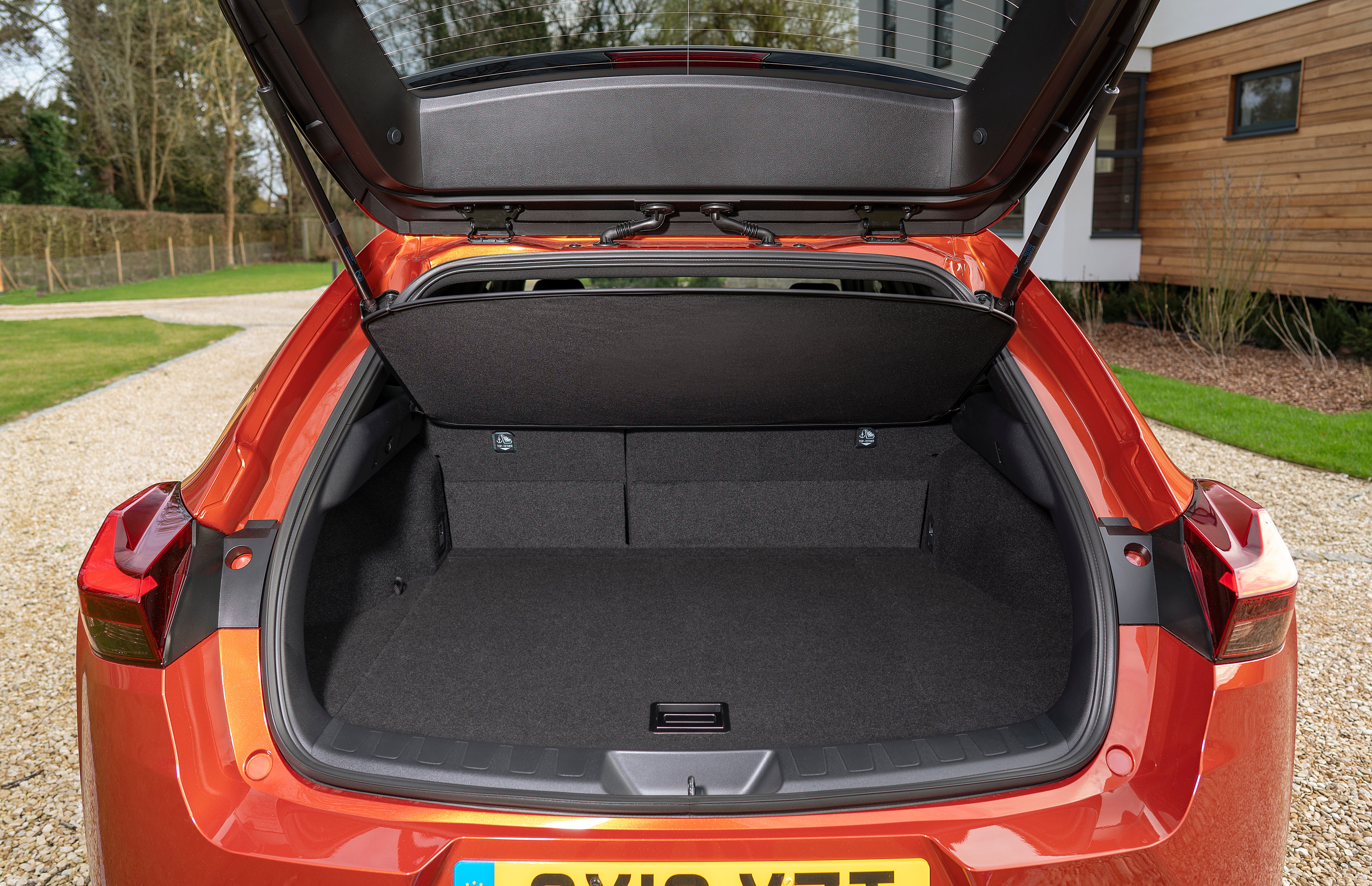 Popularity is split almost 50/50 between the standard car and the F Sport model. They're mechanically identical, but the F Sport adds a sporty body kit and larger alloy wheels that suit the UX's eye-catching styling.
The Lexus was only released last year and remains sought after so you won't see the crazy savings that you will have on more mainstream models. That said, we saw an ex-demonstrator standard UX model with just 500 miles on the clock up for sale for just £26,000, while an F Sport with a slightly higher mileage costs less than £31,000.
Ready to get your top quality Lexus UX?
All cars come with a warranty
Selected dealers only
All quality checked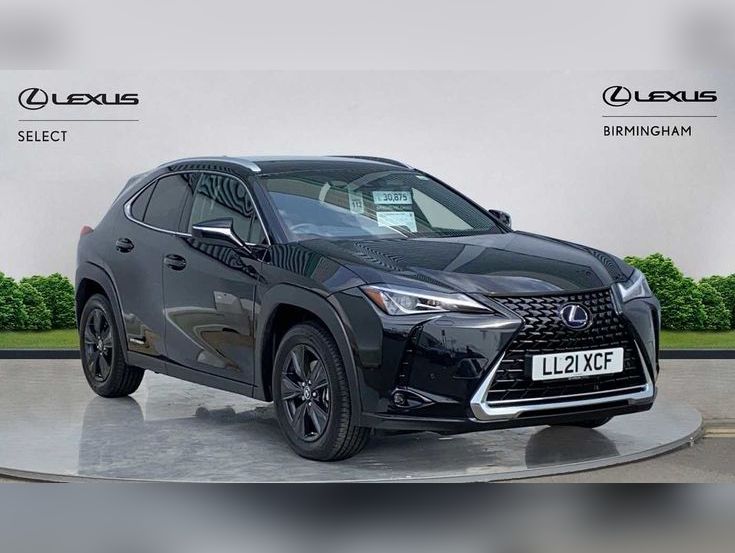 Lexus UX
250h 2.0 5dr CVT [Nav]
Manufacturer Approved
Steven Eagell Lexus Birmingham

Birmingham, B249HF
PCP: £456.51/mo
Representative example: Contract Length: 36 months, 35 Monthly Payments: £456.51, Customer Deposit: £4,766.00, Total Deposit: £4,766.25, Optional Final Payment: £13,996.50, Total Charge For Credit: £2,965.60, Total Amount Payable: £34,740.60, Representative APR: 4.9%, Interest Rate (Fixed): 3.66%, Excess Mileage Charge: 12ppm, Mileage Per Annum: 10,000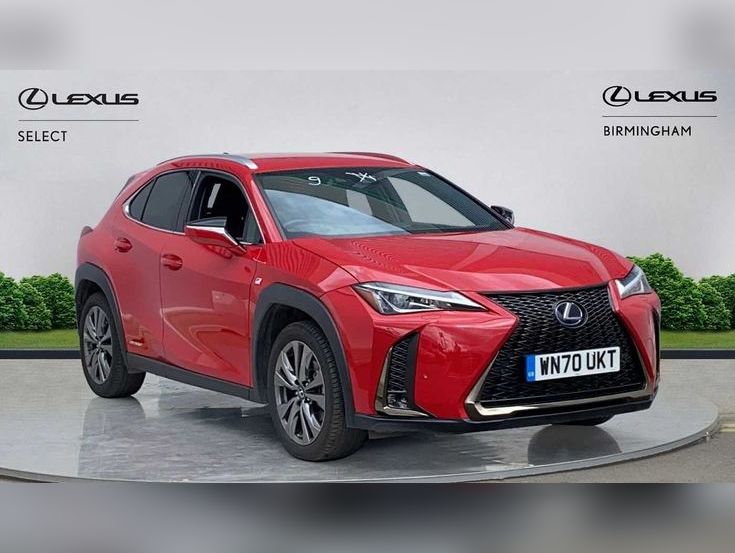 Lexus UX
250h 2.0 F-Sport 5dr CVT [Nav]
Manufacturer Approved
Steven Eagell Lexus Birmingham

Birmingham, B249HF
PCP: £441.91/mo
Representative example: Contract Length: 36 months, 35 Monthly Payments: £441.91, Customer Deposit: £5,021.00, Total Deposit: £5,021.25, Optional Final Payment: £16,213.75, Total Charge For Credit: £3,226.85, Total Amount Payable: £36,701.85, Representative APR: 4.9%, Interest Rate (Fixed): 3.78%, Excess Mileage Charge: 12ppm, Mileage Per Annum: 10,000
Is the Lexus UX right for you?
The Lexus UX is right for you if you want a hybrid SUV that's cheap to run and relaxing to drive in town – it does this better than any of its rivals.
Okay so, relatively speaking, it's not that spacious inside, but it does feel well-built and posh and you get plenty of standard of equipment – including Apple CarPlay and Android Auto – which makes up for the lacklustre performance of the standard infotainment system.
So the Lexus isn't without fault – it's not that spacious or all that great to drive out of town – but if you're looking for a trendy looking SUV that's ideal for the city, it's got to be top of your shopping list.
What's the best Lexus UX model/engine to choose?
Answering the first half of that question is simple – the Lexus is only available with one engine, a petrol-electric hybrid that's frugal on fuel. That said, we'd avoid the specifying the optional four-wheel drive which is largely pointless in a car you'll probably never take off-road.
There's more to consider when it comes to trim levels. The standard car comes with all the equipment you need and is a popular choice as a result, but nearly as many people go for the F Sport model which looks sportier outside and in and has extra equipment such as posher interior upholstery and heated front seats.
What other cars are similar to the Lexus UX?
The question should almost be "What other cars aren't similar to the Lexus UX?" there are so many car's like this to choose from.
The BMW X1 is a great all-rounder. It looks smart, is posh inside and also a lot more practical than the Lexus. Sure, it can compete with Lexus' in-town fuel economy, but it's a more well-rounded package out of town and diesel models are still very cheap to run.
Fancy something more comfortable, then consider the Range Rover Evoque. Its suspension soaks up bumps better than the Lexus' and it's also quieter in town. It's also better offroad and a more accomplished tow car.
Quality and finish
There's no denying the Lexus UX is solidly constructed. Main plastics feel like they'd withstand a nuclear strike, gaps between materials are consistent and there are no squeaks or rattles.
What isn't consistent is the material quality. Sure you find nice materials on the dashboard and door tops but the further down you poke the cheaper the materials seem to be. By comparison, a BMW X1 feels more consistently well-built.
Perceived quality improves depending on what model you go for. The standard UX makes do with fabric seats that look fine, so long as you avoid the Cobalt (blue and white) colour scheme.
F Sport models get posher looking Tahara Fabric seats (available in a range of tasteful and not so tasteful colour schemes) and sport aluminium pedals.
Top-the-range Takumi models trump the lot, though. They have a leather interior as standard and also get a Washi Paper inspired centre console trim.
Infotainment: Touchscreen, USB, nav and stereo in the Lexus UX
Another area that lets down the UX's interior is its infotainment screens.
As standard, you get a seven-inch centre-screen which is smaller than you get in most rivals and also features clunky old-school graphics that look dated compared to what you get in a BMW, Audi or Mercedes.
While the graphics aren't great, the biggest problem with the Lexus' infotainment screen is its touchpad controller. In theory, it should allow you to control the screen without having to take your eyes off the road.
The reality, though, is that the cursor is extremely hard to control accurately, especially when you're focused on driving, and the menus are also confusingly laid out and not very intuitive.
All in all, you're much better off ignoring Lexus' controls and heading straight for the car's Apple CarPlay or Android Auto systems. They mirror your smartphone's display – for things like sat-nav and music playback – using your phone's more intuitive menus and voice activation system.
F Sport models get a revised instrument binnacle with an analogue rev counter that moves electrically to reveal a digital display hidden behind.
For a proper infotainment upgrade, though, you'll need the Takumi model that has a 10.3-inch central display (optional on F Sport cars) and built-in sat-nav, although the graphics are no clearer than the standard system's. As well as the larger screen, Takumi cars also add a head-up display that can project important information – such as speed and sat-nav directions – onto the car's windscreen.
As well as upgrading the infotainment system, Takumi cars also swap the standard car's decent six-speaker stereo for a Mark Levinson system. It has 13 speakers and sound quality that even the stereos fitted to luxury cars – such as the Mercedes S-Class –struggle to better.
Space and practicality: Lexus UX boot space
Adults aren't going to feel short of space upfront in the Lexus and both you and your front-seat passenger's seat has height adjustment.
The electrical adjustment on F Sport models makes it less of an effort to get the seat just how you want it, and it also comes with robust lumbar support, heated seats and a heated steering wheel. Takumi models go a step further by adding ventilated front seats that send a cooling breeze up your legs and back on sticky summer days.
Unfortunately, you don't get that luxury in the back. Anyone above average height will feel their knees pressing hard on the seats in front and there's not a lot of foot room either. Okay, so headroom's okay, but the small windows make the back seat feel dark and dingy. On a positive note, you do at least get a rear centre armrest with two cup holders.
And you'll want to use it because the Lexus isn't great with three people in the back. It feels plain crushed and your mates in the outer seats will find their heads being pressed up against the roof.
The limited space also makes its presence felt when you fit a child seat. The small rear doors don't open that wide, hampering access and manoeuvring the chair into position is tricky with such limited room behind the front seat. On the upside, the Isofix points are marked behind removable plastic covers.
What's not so good is the Lexus' tiny boot – at 320 litres, it's nearly 20% smaller than you get in a Volkswagen Golf and miles off the 530 litres you get in a comparable SUV such as the Audi Q3.
There's worse to come when you see the boot's shape, though.
It's very shallow so you can forget about sticking your labrador in there and, although there's no boot lip, the boot itself sits very high which makes loading heavy luggage a pain. Sure, you get storage areas under the floor (except in four-wheel-drive models, where space is taken up by an electric motor) but, with no spare wheel, that's not a surprise.
What engines and gearboxes are available in the Lexus UX?
Despite the 250h badge, the UX uses the same 2.0-litre self-charging system as found in the Toyota Corolla and not the 2.5-litre from the RAV4. Not that it's any poorer for using the smaller engine. We think the 2.0-litre is the better hybrid.
When it comes to hybrids, Toyota has more experience than any other manufacturer and it shows. The UX is incredibly smooth. You pull away in electric power and the engine kicks in when needed. However, the transition is so polished, you will hardly notice.
There are no problems with performance when the UX is driven in standard hybrid mode. It's never short on power and accelerates with plenty of gusto if required, getting from 0-62mph in 8.5 seconds.
Refinement and noise levels
The Lexus UX's hybrid powertrain's ability to run on electric power alone makes it very quiet in town but with a soft right foot, it'll get to 71mph without having to engage the noisier petrol engine, although it'll only manage it for a few miles.
One oddity is the Active Sound Control fitted to F Sport models and above, which actively amplifies the engine noise using a loudspeaker hidden in the dashboard, it'll even fake engine noise when you're in full electric mode. It's controlled using a dedicated volume button.
Unfortunately, the news isn't so good in other areas. The Lexus suffers from more wind noise than the Audi Q3 – with noticeable flutter around its wing mirrors – and you'll hear quite a lot of tyre rumble, too, especially in F Sport and Takumi models that have the larger 18-inch alloy wheels.
Safety equipment: How safe is the Lexus UX?
The Lexus UX was awarded five stars for safety when it was crash tested under Euro NCAP's extremely tough 2019 test conditions.
Even standard UX models come with plenty of safety kit. You get active cruise control that can brake and accelerate the car on the motorway and automatic emergency brakes that can detect cars as well as pedestrians and cyclists.
To that lot you can add bright-shining, auto-dipping LED headlights, lane-keep assist and road-sign recognition which display roadside information – like the current speed limit – onto the car's big screen.
Top-of-the-range Takumi models have even more safety kit. They get upgraded LED headlights, swapping the bi-LED lights fitted to the rest of the range for more powerful 3-eye LED headlights that give you a larger field of vision and are also better at cutting through fog.
On top of that, you get a Blind Spot Monitor system that'll warn when a car is hidden in your blind spot on the motorway and Rear Cross Traffic alert which will sound a warning before braking the car if you try to pull out in front of traffic from a perpendicular parking space.
Insurance groups and costs
The Lexus UX insurance groups range from Group 22 for a basic UX model to Group 26 for the top-of-the-range Takumi car. That makes it slightly cheaper than a BMW X1 which occupies Group 25-34 although, in fairness to the BMW, the cars that are at the higher end of the scale are more powerful than the Lexus.
It's also interesting to note that the Lexus UX is significantly more expensive to insure than the mechanically-identical Toyota C-HR which sits in Group 14.
VED car tax: What is the annual road tax on a Lexus UX?
The Lexus UX was launched in 2019 so it falls under the latest taxing regime, however low CO2 emissions mean tax is cheap across the range. As a result, it'll cost £165 across the range in the first year and £140 thereafter. The only time that changes is if you specify the optional four-wheel-drive system which increases the first-year charge to £205, although the annual cost is £140 after that.
If you're buying the UX as a company car, the BIK rate sits at 27% for the standard car, 28% for cars fitted with 18-inch alloy wheels and 30% if you fit the optional four-wheel-drive system.
Trim levels and standard equipment
You won't find a Lexus UX that's been short-changed when it comes to standard equipment.
Even the basic model comes with active cruise control, automatic emergency braking, lane-keep assist and traffic sign recognition. The seven-inch infotainment screen comes as standard and includes Apple CarPlay and Android Auto, and is hooked up to a reversing camera. Finally, you get LED headlights that dip automatically.
F Sport models have all of the above and add sporty looks into the mix courtesy of a unique body kit and 18-inch alloy wheels. Relatively speaking, they have a sportier drive, too, thanks to their stiffer suspension. Additional kit, meanwhile, includes front and rear parking sensors, a heated steering wheel and heated front seats with electrical lumbar support.
Takumi models sit at the top of the range and have extra safety kit including a blind-spot monitoring system and automatic emergency brakes that work when you're reversing. Its intelligent parking sensors can also brake the car if you're about to have a bump and you get a 360-degree camera that projects a view of the car's surroundings onto the Takumi's larger 10.3-inch screen. You also get a head-up display that projects info, such as your current speed, onto the car's windscreen and an electrically operated boot lid.
What Takumi models really add, though, is a more luxurious feel than you get in the standard car courtesy of its full leather interior (including ventilated front seats) and it's Washi paper-inspired centre console trim.
Learn more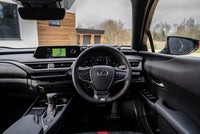 On the inside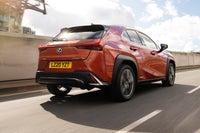 Driving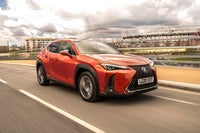 How much does it cost to run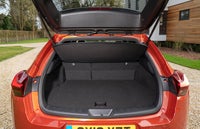 Prices, versions and specification
Ask the heycar experts:
common questions
Is the Lexus UX a good car?
The Lexus UX is smooth, quick and economical - but it's a bit cramped inside.

Answered by
Georgia Petrie
What does Lexus UX stand for?
Lexus UX stands for urban.... crossover. Spelling is clearly not a Lexus strong point.

Answered by
heycar editorial team
Is the Lexus UX all wheel drive?
A four-wheel drive version of the Lexus UX compact crossover is currently available.

Answered by
Russell Campbell
Reviews of similar cars
Quality checked, all cars less than 8 years old and warranty included
Looking for other Lexus cars?
Quality checked, all cars less than 8 years old and warranty included
Keep me updated by email with the latest advice, news and offers from heycar
By submitting, you agree to our
privacy policy
.