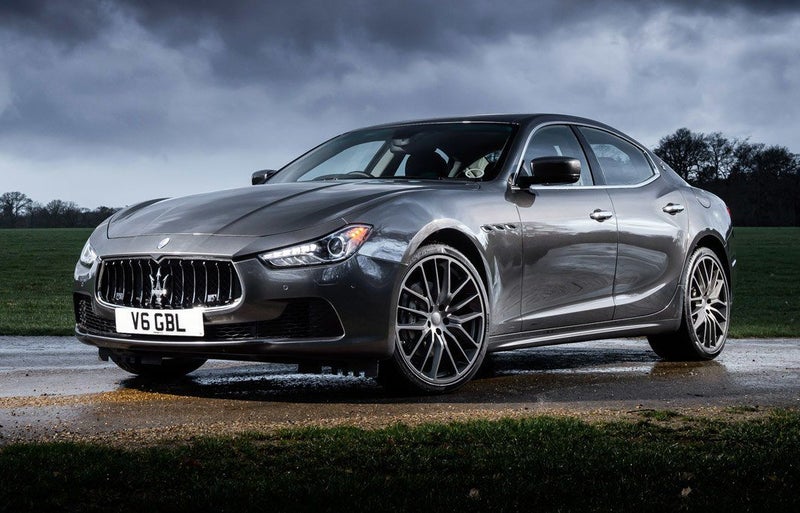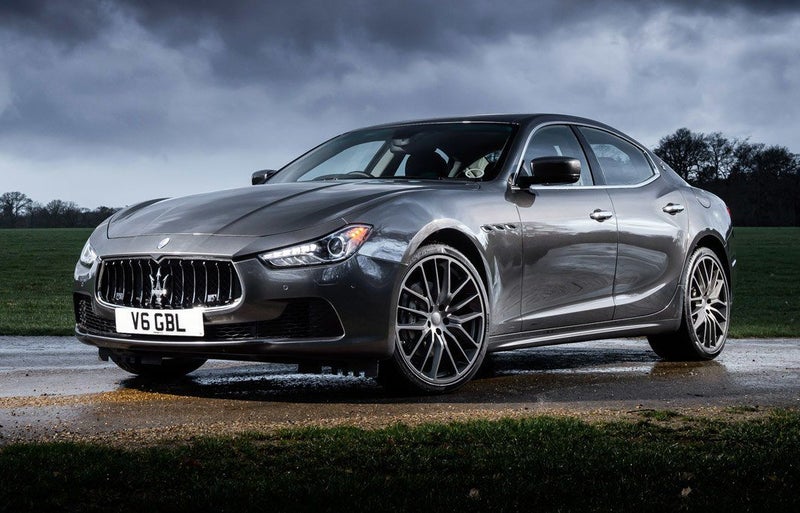 1/10
heycar rating
"Audi A6 rival from Italy"
Launched: 2013

Premium

Petrol, Diesel, Mild Hybrid
Quick overview
Pros
Glamorous styling inside and out
An interesting, left-field choice
Petrols are satisfyingly quick
Cons
High running costs
Not as good to drive as you'd expect
Diesel versions are noisy and unrefined
Overall verdict
On the inside
Driving
Cost to run
Prices and Specs
Overall verdict
"Traditionally, Maserati has been a brand associated with style, glamour and exclusivity. With the Ghibli, however, the Italian manufacturer looked to change things up a bit."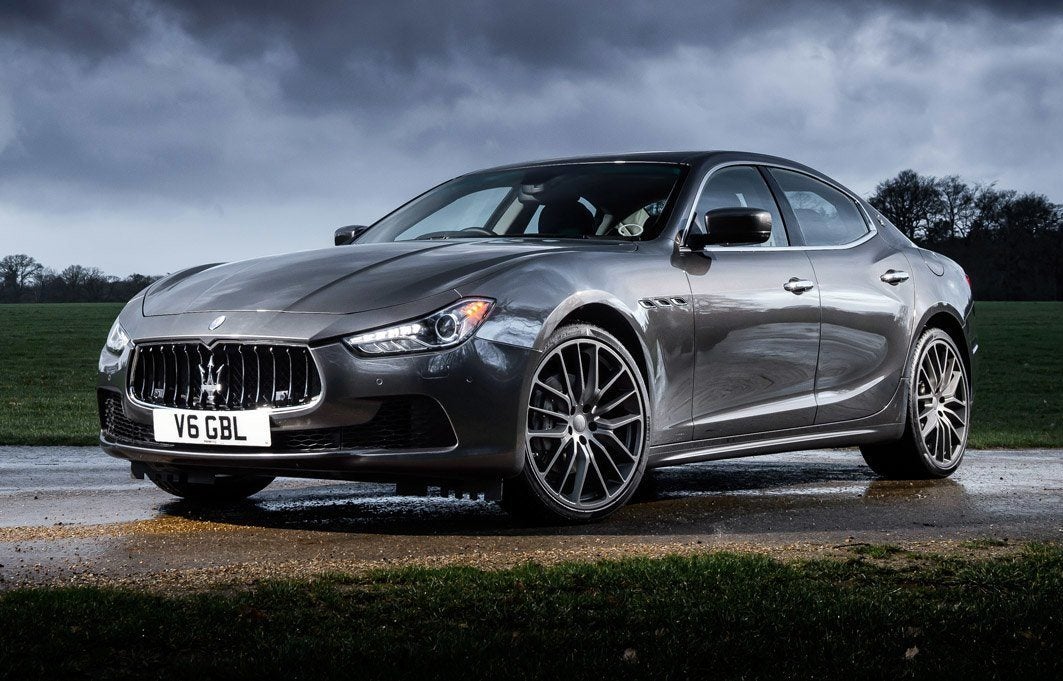 A more affordable offering to rival executive saloons like the Audi A6, BMW 5 Series and Mercedes E-Class, this car represented the beginnings of Maserati's attempt to become less of a niche player, and more of a mainstream name.
There was already plenty of heritage behind the Ghibli name, too. It dates back to the 1960s, although back then, the Ghibli was a grand tourer designed to compete with cars like the Ferrari Daytona, rather than an executive saloon.
To keep Maserati purists happy, two Ferrari-built 3.0-litre V6 petrol engines with eight-speed automatic gearboxes were offered. However, success in the executive saloon market hinges on the availability of a diesel, and the Ghibli was the first ever Maserati model that could be fuelled from the black pump. The engine was the same 3.0-litre V6 unit used in the Jeep Grand Cherokee, but unfortunately, from the noise it made, you'd think it came from a combine harvester. In 2021, Maserati axed the diesel from the Ghibli line-up and replaced it with a 2.0-litre petrol mild hybrid.
To be honest, the Ghibli wasn't ideal in other areas, either. The ride was firm and lumpy, the handling was only so-so and the steering was vague. Inside, meanwhile, there wasn't that much luxury or safety equipment, or that much space, the infotainment system on early cars was a mess and the quality of the materials and assembly wasn't quite good enough. It's not a bad car by any means, but remember, these are all areas in which the Ghibli's German rivals really excel, so the differences are brought into even starker contrast.
That said, the car isn't completely without appeal. It looks good for starters, with a long bonnet and short rear-end, and aggressive, angular features similar to those seen on the Quattroporte luxury car. It makes much of the competition look distinctly ordinary. Its rarity is also guaranteed to create plenty of interest and admiration, and if that sounds good to you, then it might well be worth a look.
Is the Maserati Ghibli right for you?
Have you already made your way through all of the various offerings in the executive saloon market? Have you already tried A6s, 5 Series', E-Classes and XFs, and you just crave something a little bit, well, different? Something a bit more glamorous? Well, the Ghibli could well be worth a try.
It's certainly a much rarer sight than its rather ubiquitous rivals, and that alone is likely to stir up a fair amount of admiration, and so is the aggressive Italian styling reminiscent of the Quattroporte limousine's. The interior has a fair amount of individuality, too, and what it lacks in sheer quality, it makes up for in style and elegance.
Yes, it's a pricey option compared with rivals, and it trails behind most of them in several key areas, but, it's interesting and appealing nonetheless.
What's the best Maserati Ghibli model/engine to choose?
We can't see much reason to go beyond the entry-level trim, as these versions come with most of what you need including two-zone climate control, leather upholstery, cruise control, four powered windows, powered front seats, keyless entry and automatic lights and wipers. The only thing that's really missing is front and rear parking sensors, but upgrading to GranLusso or GranSport trim just to get those is pointlessly expensive. Well, we say 'only thing that's missing'; another big omission from the Ghibli's standard equipment roster is automatic emergency braking, but unbelievably, none of the trims get this unless optional extras are added. Maserati corrected this in 2021, with most models getting this important safety tech as standard.
The diesel version will suit most buyers from a rational point to view, but it's not all that fast and it's rather noisy. The diesel was axed from the Ghibli line-up and replaced with a 2.0-litre petrol mild hybrid in 2021, which pairs excellent straight-line performance with reasonable fuel economy figures. However, purists will prefer one of the V6 petrols, which are more impressive on pace, but they're still a little unrefined and very thirsty.
What other cars are similar to the Maserati Ghibli?
As an executive saloon, the Ghibli is aimed squarely at rivals such as the Audi A6, BMW 5 Series, Mercedes E-Class and Jaguar XF. You can forget the regular cooking versions of those cars, though: the Ghibli has no intention of dusting it with a 520d SE or an E220 CDI Avantgarde. No, it's the higher-end, higher-performance variants of these cars that need to watch out, so the 530d M Sports and the E350d AMG Lines. You might also consider a Porsche Panamera or Lexus GS.
Comfort and design
"The Ghibli's traditional analogue instrument dials are clear and easy to read, and there's a digital screen between them that clearly presents other useful driving data, so things are all good here."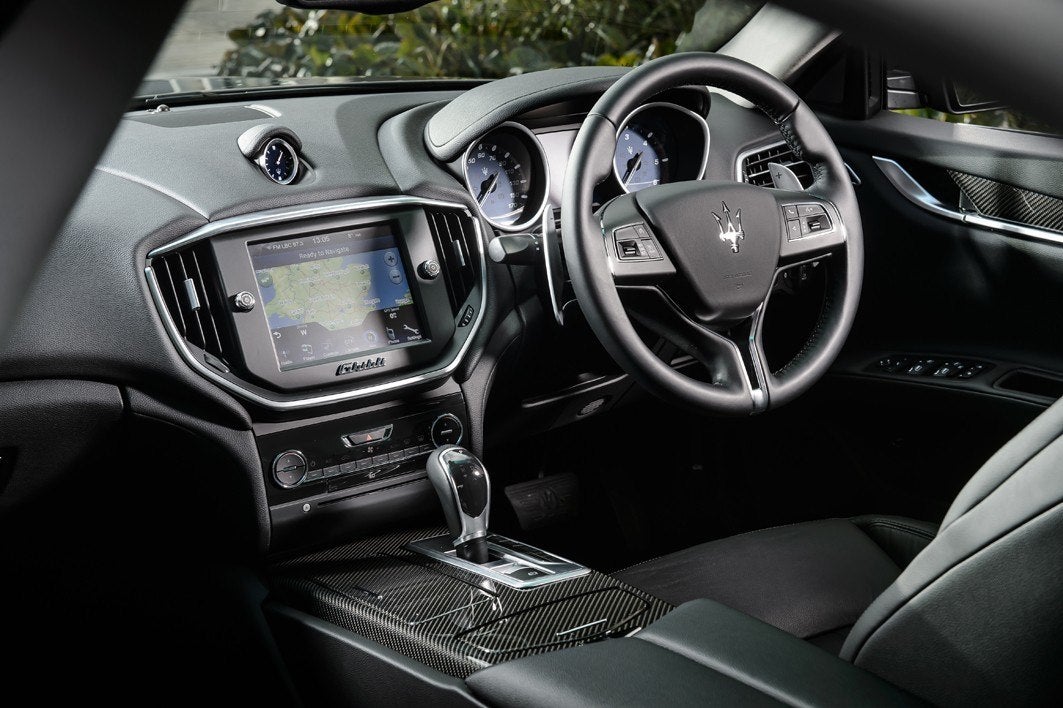 Otherwise, the dashboard layout is fairly conventional, with separate ventilation controls placed on the centre console beneath the touchscreen infotainment system, and these are reasonably easy to figure out. There are a couple of oddities, though. The gear selector has a pointless trigger on the back that allows you to engage the drive, but if you forget to press it (the lever still moves if you don't), or you don't quite press it hard enough, nothing happens. This can get super-annoying. The starter button is tucked away behind the steering wheel for some reason, too.
All versions get electric adjustment on the front seats, making it easy to fine-tune your driving position, and there's a good range of movement in both the seat and the steering wheel (the latter moves electrically in the GranLusso and GranSport, manually on the other one), which should allow drivers of all shapes and sizes to get comfy. The seats are supportive and well aligned with the main controls. The view out is good at the front, but the high rear haunches and shallow rear screen mean things aren't quite so clear at the rear. What's more, the entry-level car misses out on parking sensors, and you have to pay extra for a parking camera on all versions.
Quality and finish
The Ghibli's interior has many choices of colour scheme, and the more lurid and dramatic of these certainly give a more flamboyant feel than the conservatively designed cabins of rivals from Audi, BMW and Mercedes. Choose the GranLusso trim, and the upgraded leather kicks up the flamboyance a notch further.
Unfortunately, though, the Ghibli simply can't match the rest for sheer quality. You'll recognise many of the switches and buttons from much cheaper Fiat-group cars, which when you've forked out top-dollar for a Maserati, is a little bit galling. They look rather cheap and aren't hugely tactile. The quality of the other materials on show varies as you look around the cabin, wherein rivals, everything is of a uniformly high standard. What's more, the standard of the Maserati's assembly doesn't feel as dense or as substantial as the German cars', either.
Infotainment
Buy an early Ghibli, and the infotainment system is pretty poor. Trawling your way through the various menus was too difficult, the touchscreen functionality had hit-and-miss responses to inputs and was overly distracting, while the graphics looked too dated for a premium product.
However, the overhauled system brought in with the 2017 facelift improved things considerably. The graphics were smarted up, the menus became more logical, the screen became more responsive and - perhaps most importantly - a BMW-style rotary dial controller was added so that you didn't have to bother jabbing at the touchscreen at all. Much more like it.
The later system has all the functionality you'd expect too, with navigation, DAB radio, Bluetooth and Apple Carplay/Android Auto. The standard eight-speaker stereo is pretty good, but there are two optional ones - a Harman Kardon one and a Bowers & Wilkins one - that are much, much better.
The best infotainment is fitted to cars from 2021 onwards, with Maserati fitting a swish 10-inch touchscreen. The quality of the graphics is far superior to the old system and you also get wireless Apple Carplay/Android Auto connectivity, which means you do not need to plug your phone into the car to pair the display. You can also access your car remotely with Maserati Connect. The new feature lets you monitor the car's health, locate it in a busy car park and unlock it using just your phone.
Space and practicality
Not an area in which the Ghibli excels, we're afraid. Those in the front will have no worries, with head, leg and shoulder room to spare. However, those in the back aren't nearly so well looked after. Legroom is tight when compared with rivals, and if those up front are six foot or more, a similarly sized rear passenger will find their knees digging into the back of the chairs ahead.
Headroom is fine, but the high window line makes sitting in the back quite a claustrophobic experience, because you're surrounded by too much metal and not enough glass. That makes the back seat a wee bit short on natural light too. A comparatively narrow cabin makes seating three across the rear bench something of a squeeze too, and because there's a big hump running down the middle of the floor (caused by the transmission tunnel) and a middle seat that's harder and higher than those either side, whoever finds themselves in the centre seat will not be in for a comfy time.
The Ghibli is more competitive with its rivals on boot space, but it's still slightly behind, and the space isn't as easy to get at, with an opening that's narrower and shallower. The rear seats can be folded in a 60-40 configuration, but the backrests don't go flat, leaving you with a sloped load area. There's a small, awkwardly-shaped aperture to push items through as well, although that's also the case in all the Ghibli's saloon-car rivals.
Handling and ride quality
"So far, we've only tried Ghiblis with the 'Skyhook' adaptive suspension fitted. This is standard on the GranSport model, but optional on the others. Even with it fitted though, the Ghibli is less impressive than many of it's excellent executive saloon rivals."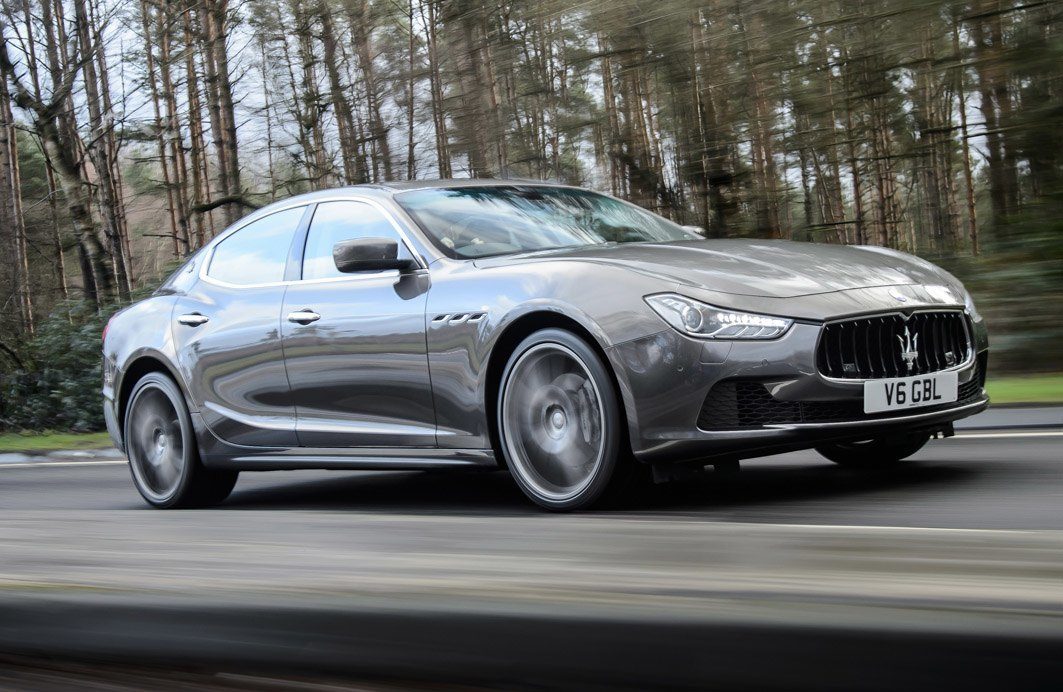 Regardless of whether you select the sporty driving mode or a more relaxed one, the car shimmies and shudders over bumps and ruts that simply wouldn't phase a BMW 5 Series or Jaguar XF, and that's the case whether you're plodding through town or blasting up a motorway.
The unsettled ride would be more forgivable if the firmness in the suspension turned the Ghibli into some sort of thoroughbred in the corners, so how does it do on that score? Well, it's better, feeling assured and stable in a set of twists and turns. However, weighing the thick end of two tonnes, you can feel the car's considerable mass shifting about as you change direction, and the steering feels rather numb, so it's not a match for the best executive saloons here, either.
Engines and gearboxes
Most Ghiblis come with a 3.0-litre V6 engine, the entry-level one being a 275PS diesel, the first diesel engine ever used in a Maserati. However, despite its generous output, it doesn't really feel all that quick, certainly not as quick as you'd expect a Maserati to feel, and that's the case whether you're getting away from a standing start, or picking up speed on the move.
The other choices are petrol-powered, and these feel much better suited to a sports saloon. The V6 has 350PS, while the S version uses the same engine, but with the wick turned up to 430PS. We haven't tried the S, but even the lesser engine makes the car feel properly quick, with plentiful pull right throughout the rev range.
The Ghibli Hybrid was added to the range in 2021 as a replacement for the V6 diesel. The hybrid doesn't have any plugs or leads; instead, it uses a 'mild hybrid' system that combines a turbocharged four-cylinder 2.0-litre petrol engine with a battery, a belt starter generator that acts as an alternator and an eBooster unit.
The hybrid system doesn't allow the Ghibli to run on electric power, but it does provide V6-rivalling performance with the eBooster assisting the engine under heavy loads. Advertised fuel economy is also reasonable for a petrol Ghibli, up to 33mpg.
All cars come with an eight-speed automatic gearbox, and it's pretty good, swapping gears smoothly and briskly. It reacts swiftly when you use the manual override too. However, only the GranSport version gets paddleshifters on the steering wheel as standard. Using the manual override on the other versions involves mucking about with the gear selector.
Refinement and noise levels
All the engines we've tried are disappointing in this area, especially the diesel. It clatters away uncouthly, even when idling or at low revs, and the noise levels increase as the revs rise. The grumble doesn't fade away once you're up to motorway cruising speeds either, and all the while, too many vibrations are sent through the controls to the driver's hands and feet. Consider the super-impressive engine refinement in rivals from Audi and BMW, and this becomes all the more disappointing.
The petrol engine we've tried is better, staying quieter for more of the time. However, although it sounds suitably fruity when you pile the revs on, you'll feel vibrations making their way into the cabin that you just don't feel in rivals.
The Ghibli's slippery shape helps it cut through the air reasonably cleanly, although you do hear a wee bit of wind noise fluttering around the door mirrors, and the fat tyres do kick up a bit of road noise.
Safety equipment
The Ghibli scored the full five-star rating in Euro NCAP crash tests when it was assessed way back in 2013, but we're sure it wouldn't score the same rating if it were tested now. The standards, requirements and thresholds for these tests get tougher year on year, and there are one or two things missing from the Ghibli's roster of safety kit that would prevent older models getting a perfect score under the latest standards.
The biggest omission by far is automatic emergency braking. Yes, you can have it if an option pack is fitted that also includes active cruise control, lane-keep assist and blind spot monitoring, but you couldn't get it as standard on most models until 2021. On a car that costs this much, that's borderline scandalous. Seven airbags, stability control and tyre pressure monitoring are included, but there's a tyre repair kit rather than a spare wheel.
MPG and fuel costs
"You wouldn't expect fuel-sipping economy from a high-performance sports saloon like the Ghibli, so the following figures should come as no great shock."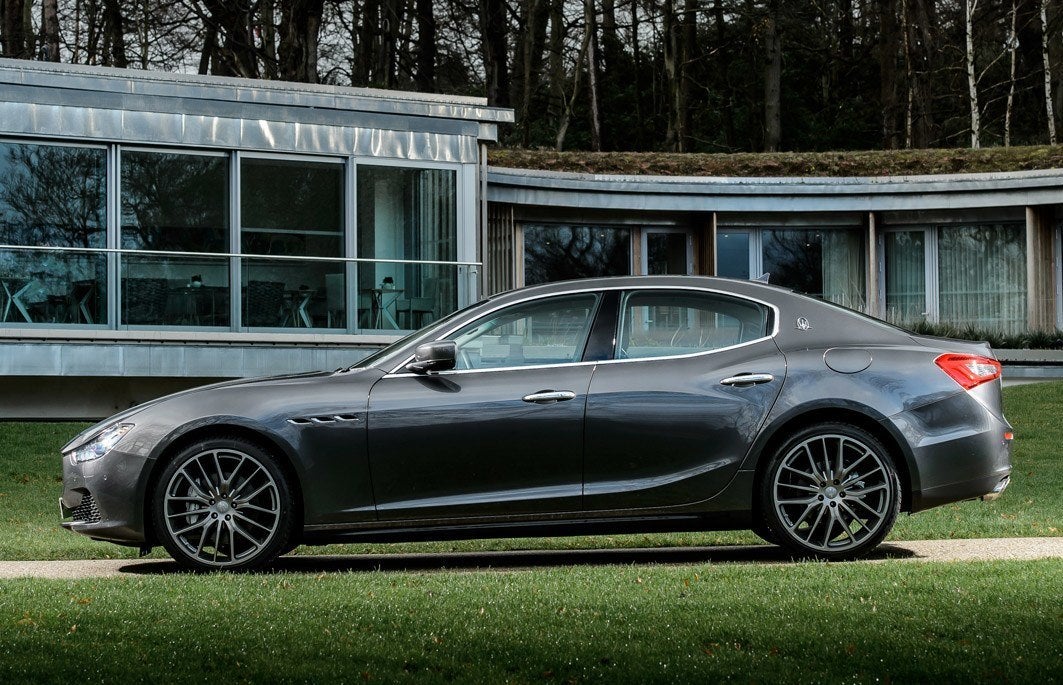 Obviously, the diesel will be best for high-mileage drivers, but even its best WLTP figure of 35mpg is no great shakes, especially when compared with those of rivals. The petrols are said to get around 25mpg, meanwhile, but if you get anywhere near that in the real world, you're not driving them like a Maserati should be driven.
The four-cylinder petrol hybrid promises a halfway house between V6-rivalling performance and diesel-like economy, with the advertised fuel figures peaking 33mpg. However, there is no escaping from the fact that all versions of the Ghibli Hybrid are expensive to fuel compared to German saloon rivals with a diesel engine.
Insurance groups and costs
It's expensive. It's got lots of power. It's a Maserati, for heaven's sake. No surprise then, that all versions of the Ghibli lie in the most expensive group - group 50 - for insurance. However, if you can afford to buy a high-end car like the Ghibli, then forking out a few quid on insurance probably isn't going to ruin you.
VED car tax
All Ghiblis registered after April 1st 2017 will cost £475 per year to tax between years two and six of the car's life, and then £150 per year thereafter. That's due to a £150 flat rate applied to petrol and diesel cars on that date, plus a five-year £325 surcharge applied to cars that cost over £40,000 when new. Cars registered before that are taxed based on their CO2 emissions. Most versions will cost £330 per year in tax, but a couple of the diesels drop as low as £205, while some versions of the S rise as high as £565.
How much should you be paying for a used Maserati Ghibli?
"At the time of writing, a brand new Ghibli would've set you back somewhere between £53,000 for an entry-level diesel, and £65,000 for a petrol GranSport/GranLusso."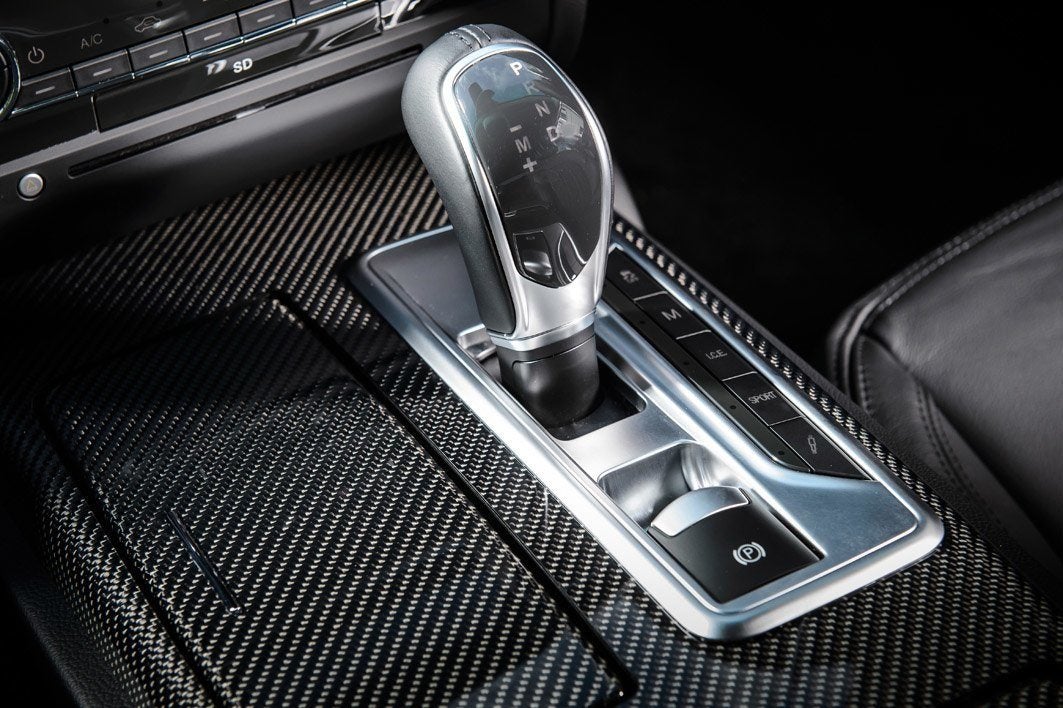 Compare prices to those of equivalently powered high-end versions of the Audi A6, BMW 5 Series, Jaguar XF and Mercedes E-Class, and the Maserati is the priciest car of the bunch, only a little bit more than the Merc, but considerably more than the rest. The Maserati sheds its value marginally quicker than the rest, too, but the difference isn't big enough to make a huge impact on prices on used examples. Look through our listings, and you might find the odd early example at around the twenty grand mark, but most later ones will start in the high twenties or early thirties.
Trim levels and standard equipment
Three trims are available, and the basic one provides most of what you need. That includes two-zone climate control, leather upholstery, cruise control, four powered windows, powered front seats, keyless entry and automatic lights and wipers. That's as well as the safety and infotainment gear mentioned earlier. Both the GranLusso and GranSport trims add soft-close doors, additional styling bits, a powered steering column and LED headlights with automatic high-beam assistance, but the GranLusso up the luxury with upgraded leather and heated front seats, while GranSport cars take a sporty approach, with the Skyhook suspension and paddleshifters for the automatic gearbox.
Maserati Ghibli cars for sale on heycar
70
Number of cars available
£20K - £114K
Price bracket of these cars
Colours available on heycar
Keep me updated by email with the latest advice, news and offers from heycar
By submitting, you agree to our
privacy policy
.