Maserati Quattroporte Review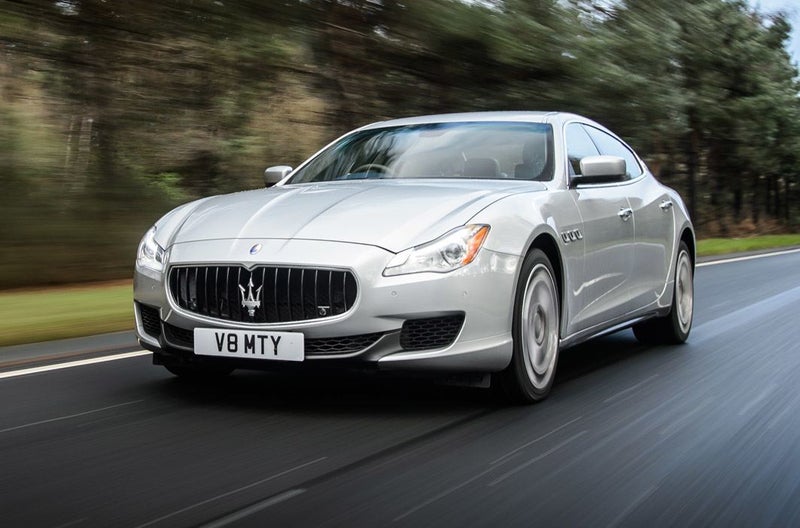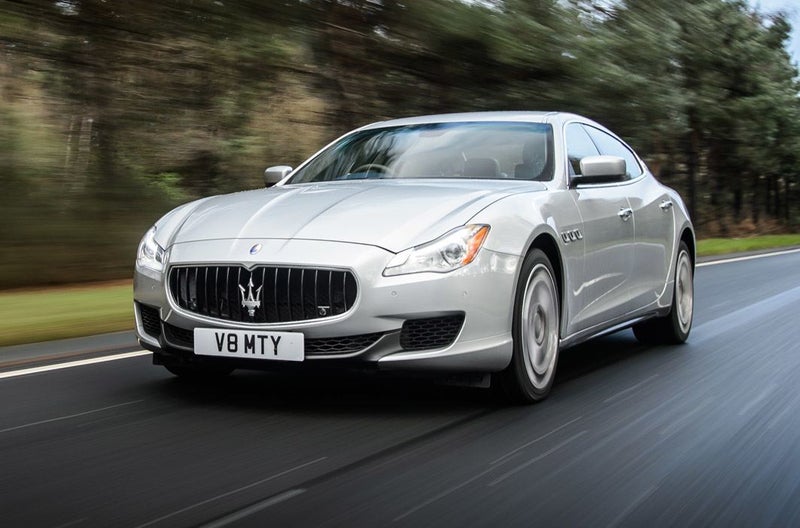 1/10
heycar rating
"Sporting take on luxury travel"
Launched: 2013

Luxury

Petrol, Diesel
Quick overview
Pros
Surprisingly good value
Eager diesel engine
Rear seat space
Cons
Ho-hum fuel economy
Ride errs on firm side
Some interior quality details
Overall verdict
On the inside
Driving
Cost to run
Prices and Specs
Overall verdict
"Maserati's Quattroporte name doesn't sound as exotic when translated into English, simply meaning 'four door'. Yet, this is one high performance luxury saloon that has all the Italian charisma and style you'd expect from the famous brand."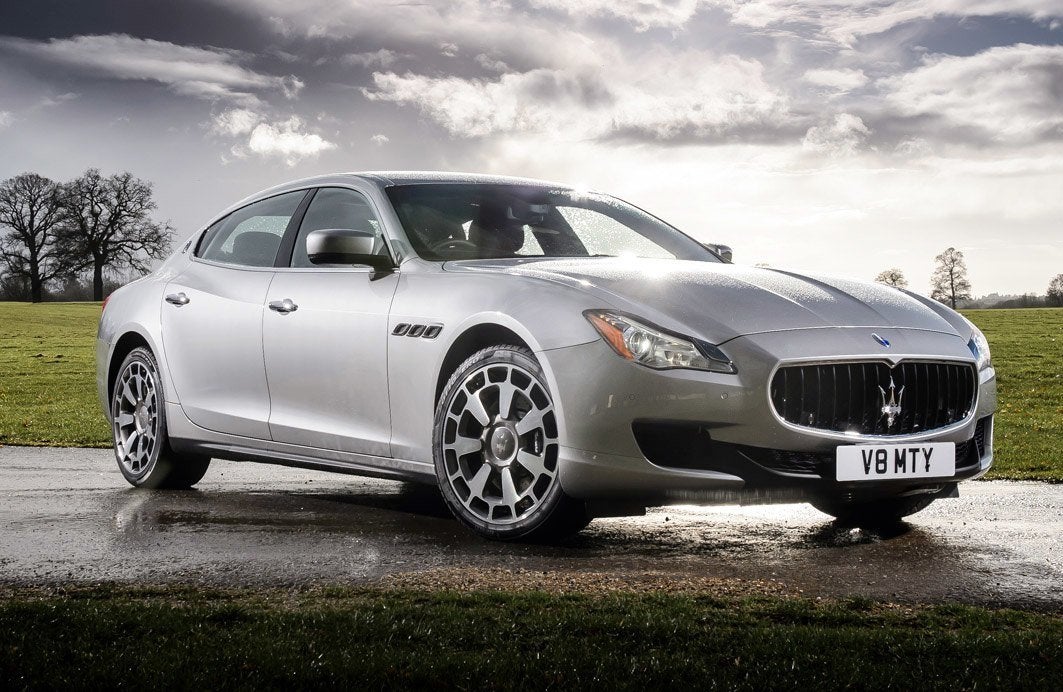 Maserati has made some big changes for this generation of its luxury saloon, with a better quality interior, more space and, for the first time, a diesel engine.
The 3.0-litre V6 diesel is shared with the smaller Ghibli but has its roots as a Chrysler unit from the Jeep Grand Cherokee. Despite these more modest beginnings, this engine makes the most sense for long distance drivers thanks to its claimed economy of 35.8mpg. It also means that many people can consider the Quattroporte alongside the likes of the Jaguar XJ and Porsche Panamera.
While the Quattroporte diesel has strong pace, for outright performance you need to look to the petrol-powered models for the full-on Maserati experience. The Ferrari-built V8 has been dropped from the line-up in the UK and Europe as it's simply too thirsty, dirty and expensive, but it does continue to be offered in the USA.
What you can pick from, instead, is a pair of 3.0-litre V6 turbo petrol motors. They offer 350PS in the standard car or 430PS with the Quattroporte S. That's a boost of 20PS from what this engine started with when the car was launched back in 2013 and it's enough to see this two-tonne luxury motor from rest to 62mph in 5.0 seconds flat. It will also carry it on to a top speed of 179mph, so you're hardly going to feel short-changed at not having a V8 motor to choose.
Thanks to adaptive dampers, the Quattroporte rides well, absorbing rough roads and speed bumps with ease. It's also very quiet on the move, even at higher speeds, helped by an acoustic windscreen and the same at the back. With sumptuous seats and ample legroom in the back thanks to a wheelbase that's even lengthier than a Jaguar XJ long wheelbase model, the Quattroporte is a serious contender in the luxury saloon market for those that like being chauffeured.
The cabin is a very handsome, opulent place to be. The quality of the leather used on the seats and dash is top notch, as are the various wood or carbon fibre trims available. On closer inspection, you do come across some switches that feel below par, especially for a car at this level. Similarly, the navigation touchscreen system isn't as sophisticated as the competition. Given the price, we'd expect better.
Ah yes, prices. The diesel is priced at £76,000 give or take a few quid, while the 350PS petrol is just shy of £80,000. Move up to the S model and you'll need almost £90,000 to enjoy Maserati ownership, but that does compare favourably to the likes of the faster Porsche Panamera models and others such as the Mercedes S-Class in AMG trim. There is also the fact the Maserati name carries a good deal of exclusivity to consider.
The Quattroporte has a sense of occasion that few large saloons can match. All three engines offer strong performance and as an alternative to the usual suspects, we can think of little better than having a Maserati on your drive.
Is the Maserati Quattroporte right for you?
Given the Maserati Quattroporte will be very much outside of most luxury car buyers' usual vision of choices, you need to make a conscious decision to pick this Italian saloon over the likes of the Mercedes S-Class or BMW 7 Series. Make that leap, though, and you enter a world of luxury driving that is a good deal more exclusive and, perhaps, more satisfying.
The way the Quattroporte drives is very much at the heart of its appeal. Sure, it irons out wrinkly roads as well as a Jaguar XJ, but it also handles and drives with an enthusiasm that only a Porsche Panamera really rivals. It is very much a limo where the owner will spend as much time behind the wheel as sat in the back seats.
Given its comfort, driving enjoyment and opulent cabin, the Quattroporte is surprisingly good value when stacked up against the likes of the Panamera and quicker AMG versions of the Mercedes S-Class. In fact, there's a good chance the Quattroporte is the right luxury saloon for a lot more people than they realise.
What's the best Maserati Quattroporte model/engine to choose?
While the Quattroporte makes all the right moves in its styling and drive, Maserati is also savvy enough to know owners still need it to make fiscal sense. The petrol motors are huge fun, but there is also a diesel with plenty of oomph that makes a passable stab at economy and efficiency.
This twin-turbo 3.0-litre V6 diesel comes with 275PS and 600Nm of low- and mid-rev shove. To put that in perspective, this is the same sort of urge that a BMW 730d provides and nobody ever complained about its performance. Nor will Quattroporte drivers as the diesel sees off 0-62mph in 6.4 seconds and tops out at 157mph while also being capable of up to a claimed 35.8mpg combined economy.
Of course, some buyers will want the petrol-powered experience and the entry-point here is the 350PS twin-turbo V6. It revs with glee and sounds crisp and keen, yet it will also cruise quietly and works through the eight-speed automatic gearbox used in all Quattroportes with polished ease. Give this engine its head and it will clear its way to 62mph from rest in 5.5 seconds and top out at 168mph.
Or you could go all in with the S model and its 430PS version of the same motor. It cracks 62mph from a standstill in 5.0 seconds on the nail and will travel on to 179mph on an autobahn. More importantly, it's also smooth and hushed in more everyday driving situations.
What other cars are similar to the Maserati Quattroporte?
The Audi A8, BMW 7 Series and Mercedes S-Class that take up most of the bandwidth in the luxury class don't really stack up as rivals to the Maserati Quattroporte. Its buyers are more likely to also consider a Porsche Panamera or Jaguar XJ.
The Porsche is offered with a variety of engines and trims, so you can hone it to your taste, but they all come with significant price tags. However, there is also the option of all-wheel drive and an estate version of the Panamera.
The Jaguar XJ's looks are an acquired taste, its rear seat is short on headroom and the ride can be fidgety. So, the Jag is feeling its age more than the Maserati.
Comfort and design
"Where some rivals in the luxury sector try to convince their driver of comfort with broad but thinly padded seats, the Maserati takes a more old-school approach with thickly padded seats. It works, too, as the Quattroporte's driver's seat is a very comfortable place to spend longer journeys yet it also provides the right kind of support when you are making the most of the car's handling ability."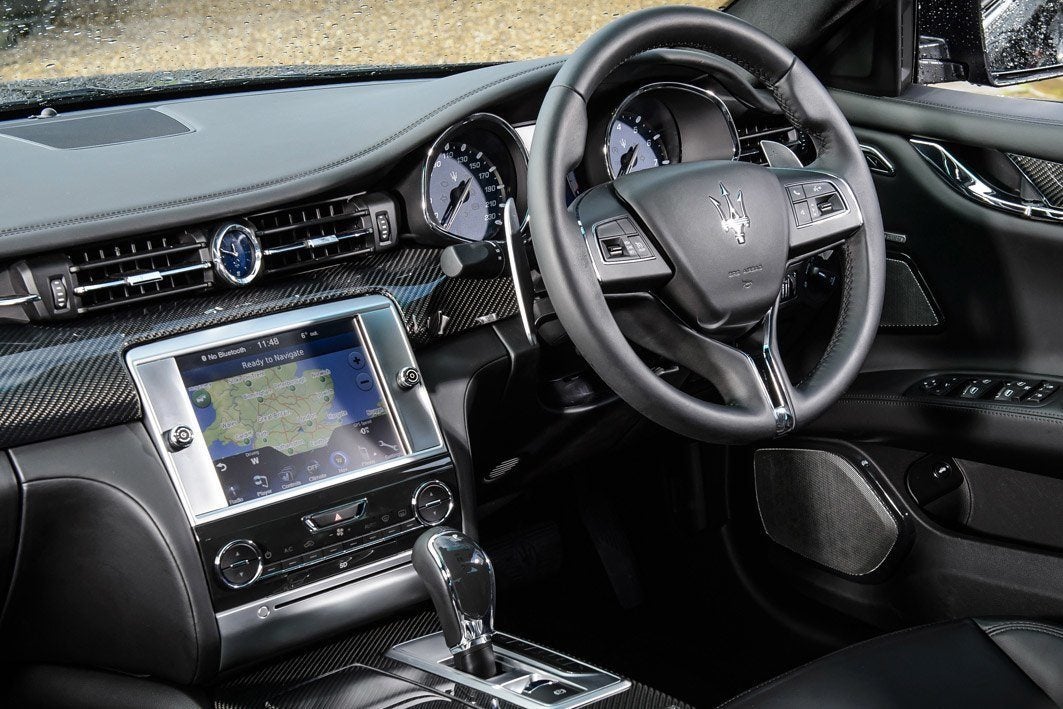 Space is another strong suit for the Quattroporte's front cabin accommodation as there is loads of room for heads, legs, and shoulders. You also get electric seat adjustment with a wide range of movement. You can also alter the steering wheel's position for height and depth to find the ideal seating set-up regardless of how tall you are.
One area where the Maserati does lag behind most in this class is the size of its driver's foot well. There is quite a bit of intrusion from the front wheelarch, so you can feel your right foot is being shoved to the middle of the car.
From the driver's pew, there's a good view to the front and sides, and it's no worse than most in the sector for over-the-shoulder vision when changing lanes. However, the length of the Quattroporte can make reversing a delicate business, so just as well there are all-round parking sensors and a rear-view camera to help out when backing into a space.
Quality and finish
If there's one area that lets the Maserati down, it's the cabin. There's nothing fundamentally wrong with the interior, but given the price tag of the Quattroporte, you'd expect better attention to detail. And considering the Quattroporte is up against the likes of the Mercedes-Benz S-Class and Jaguar XJ, the shortcomings are even more noticeable.
The problem is that for all the flair and Italian style of the exterior, the interior of the Quattroporte seems a bit ordinary. There are areas where the quality is under par and some of the switches feel flimsy, such as the instrument cluster brightness control. Also, the single column stalk is distinctly dated and will be familiar to anyone who's driven a big Chrysler or a Jeep Grand Cherokee.
As for the fit and finish, Maserati has made dramatic steps forward in this area and the Quattroporte is now screwed together in a way that warrants comparison with most rivals. You won't hear any creaks or rattles, and nor will items such as the centre console cubby's lid work loose over time as it could in the earlier generation.
Infotainment
Maserati has upped its game with the Quattroporte's infotainment since the car was revised in mid-2016. Gone was the clunky old version and in came the Touch Control Plus system with its 8.4-inch touchscreen and much clearer graphics.
This system has fewer onscreen buttons than the older version, so it's easier to recognise what function you need and to select it while driving. You can also use the rotary controller in the centre consoles, which is similar in action to the BMW iDrive, and you can also make use of voice commands for a fully hands-free operation.
Every Quattroporte comes with sat-nav as part of this infotainment package, as well as Bluetooth, DAB digital radio and easy connection to your smartphone with Apple CarPlay and Android Auto.
Also included with all models of the Quattroporte is a 7-inch screen in the main dash binnacle to show journey information, radio settings and sat-nav directions as well as other options using a variety of screens.
Space and practicality
The Maserati Quattroporte has a wheelbase that betters even a Jaguar XJ Long Wheelbase. Much of this space is devoted to those in the back of the Quattroporte, so you are guaranteed a huge amount of legroom.
Before that, getting into the back of the Maserati is easy thanks to rear doors that are long and swing open through a wide arc. It offers a generous opening to step through and the Quattroporte's rear bench is not as low-slung as the car's styling might suggest. It makes entry and exit from the Maserati very easy and just as you would hope for in a luxury saloon, which is more than you can say for a Porsche Panamera.
Once installed, rear occupants will find the Quattroporte provides more than ample leg space, as well as plenty of room for heads and elbows for two. A third passenger can be accommodated in the middle pew and is provided with a three-point belt for safety. However, nobody in their right mind would want to perch here in the extremely raised central cushion and thin seat back.
It's far better to snuggle into the sculpted chairs on either side and enjoy the way the Maserati seems to envelope its passengers to make them feel comfortable. However, it's also worth pointing out that only the GranLusso trim comes with full four-zone climate control as standard, so you'll have to stump up extra for this in the standard and GranSport models.
When it comes to fitting luggage into the Quattroporte, it has a boot that's as big as most in this sector with a capacity of 530-litres. However, this is squandered to some extent because of the shape of the cargo space with too many lumps, bumps, nooks and crannies. Still, you can slot in a set of golf clubs across the back of the load space.
The rear seats of the Quattroporte split and tip forwards to give greater room for items like skis, but the boot opening is quite narrow, so you won't be stashing anything too bulky in here.
Handling and ride quality
"Those choosing the Maserati Quattroporte over the more usual offerings in the luxury car market will most likely be doing so in the full knowledge this car has a more sporting outlook than it rivals. As a result, they will also be more accepting of a car with a slightly firmer ride than would be usual in the likes of a BMW 7 Series or Mercedes S-Class."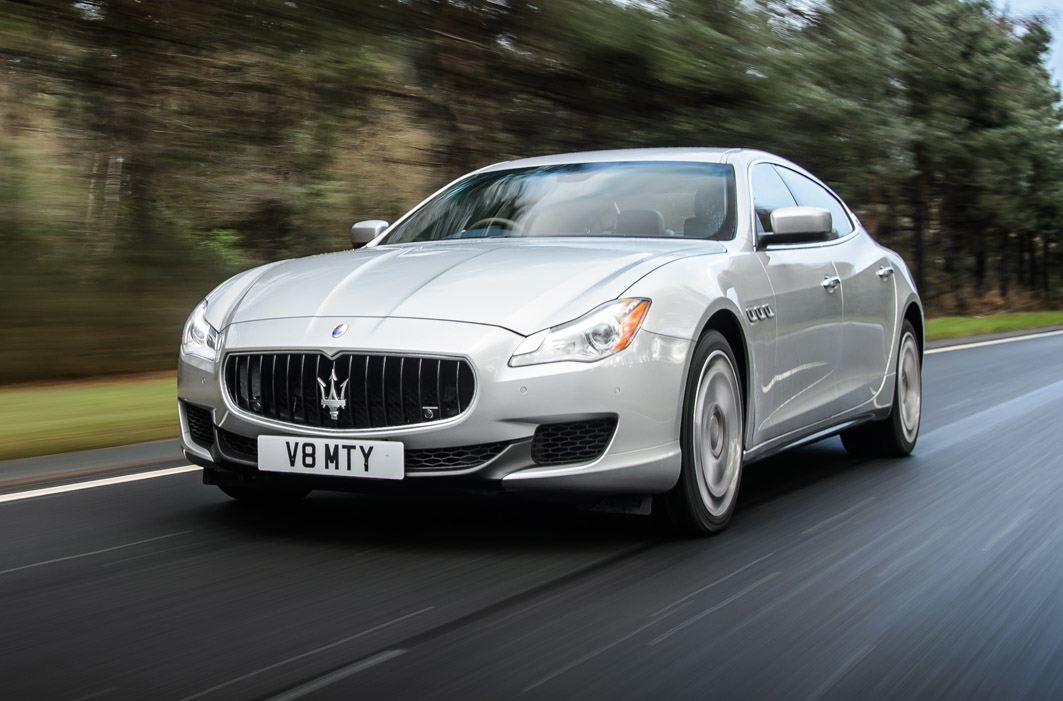 Even so, the Maserati Quattroporte's ride is quite noticeably fidgety at low speeds. Part of this is down to the size of the alloy wheels, which are 19-inch items on the standard model and rise to 20-inches on the GranLusso and a whopping 21-inches on the GranSport.
This still doesn't excuse the way the Quattroporte often picks up on minor imperfections in the road's surface all too often where an S-Class would glide over them. As the pace increases, the Maserati's ride smooths out and it comes into its own as a high-speed grand tourer thanks to the excellent body control though long, sweeping bends and also in tighter corners.
Maserati supplies all Quattroporte models with its Skyhook suspension, which allows the driver to choose between two settings. We'd stick with the softer mode unless you are determined to make the most of the car's composure on a challenging back road. In this instance, the Quattroporte is only every rivalled by the Porsche Panamera for the levels of driver enjoyment and involvement it offers.
However, there is a small fly in the ointment here as the Quattroporte's steering does not have the same consistency of feel and feedback as the Porsche's. It won't wrong-foot you and it's not tiring on long trips, but travelling down switchback roads needs the driver to trust in the car's actions rather than sensing exactly what is going on at the wheels.
Engines and gearboxes
While some might mourn the passing of the sonorous V8 engine from the Quattroporte's line-up, there is still a great deal to be enjoyed and indulged in with the V6 motors. The twin-turbo petrol pair come in 350 and 430PS versions, depending on whether you choose the standard or S models respectively.
Starting with the 350PS entry-point Quattroporte, it dashes off 0-62mph in 5.5 seconds and will whisk you to 168mph, so you can hardly accuse it of being a slouch in the luxury sector. It comes with a pleasing bark when asked to sing for its supper, yet it will also settle into a background burr when cruising along.
Like all Quattroporte models, this engine is coupled to an eight-speed automatic gearbox that works very smoothly when left to its own devices. There are paddle shifters behind the steering wheel for the driver to have more say in gear selection, but most will let the transmission do all the work.
The more potent 430PS 3.0-litre petrol V6 in the S model shares the same traits as the 350PS unit, but with added purpose when you press on the accelerator. It deals with 0-62mph in 5.0 seconds and has some extra wallop in the mid-range for even more authoritative overtaking.
Despite this, the 3.0-litre turbodiesel V6 is the best-seller in the Quattroporte line-up and it's easy to see why thanks to markedly better fuel economy and lower carbon dioxide emissions. These are not the only reasons to choose this motor, though, as it still covers 0-62mph in a brisk 6.4 seconds and maxes out at 157mph. There is also plenty in reserve for passing slower vehicles, while the engine keeps its quiet and smooth.
Refinement and noise levels
Anyone worried that a diesel engine in a Maserati Quattroporte might not deliver the sort of svelte calm and refinement you'd hope for can rest easy. It's a very smooth, quiet and capable engine, and it also has an aurally tuneful note when pushed hard. Okay, it's not as pleasing to the ear as the petrol V6s, but it's no grumbly, coarse diesel.
The petrol engines are both as you'd hope and expect in a Maserati in that they come with a suitably sporting edge when worked hard but keep schtum when you are wafting through town or along the motorway. Like the diesel, they work well with the slick eight-speed automatic gearbox, which is the same as the one used in the BMW 7 Series.
There is some road noise to be heard inside the Quattroporte and it rises in direct proportion to the size of the wheels fitted depending on which trim you choose. Stick to the standard model's 19-inch items and its acceptable but the GranSport's 21-inch rims stir up too much noise for our liking.
On the other hand, the Quattroporte does a superb job of sealing out wind noise from the cabin, which is just as well for a car with such far-flung top speed ability.
Safety equipment
Every Maserati Quattroporte is equipped with twin front, side and curtain airbags. There are also three-point belts for all five occupants, but there are no ISOFIX mounts for child seats in the rear.
Euro NCAP has not crash tested the Quattroporte and this luxury limo does not come with autonomous emergency braking as standard. That counts against the Italian as most of its major rivals now have this collision-avoiding technology as part of their standard kit list. As a result, you need to pay extra to have this in the Quattroporte and you also need to fork out more money to have adaptive cruise control, lane departure warning or blind spot assistance.
Other advanced safety systems that are common on many cars in this class, such as cross-traffic alert and driver fatigue warning, are not even options for the Quattroporte.
Yet more money is needed for the package that includes traffic sign recognition, Highway Assist, and the Surround View Camera. However, all Quattroportes come with front and rear parking sensors and a reversing camera.
You also get automatic headlights and wipers, cruise control, hill holder, and a tyre sealant kit in place of a space-saver or full-size spare wheel.
MPG and fuel costs
"The diesel-engined model is the easiest on fuel from the Maserati Quattroporte range, which is hardly shocking news. It delivers a combined best of 35.8mpg under WLTP testing and Real MPG figures show this works out to 32.7mpg in everyday driving conditions."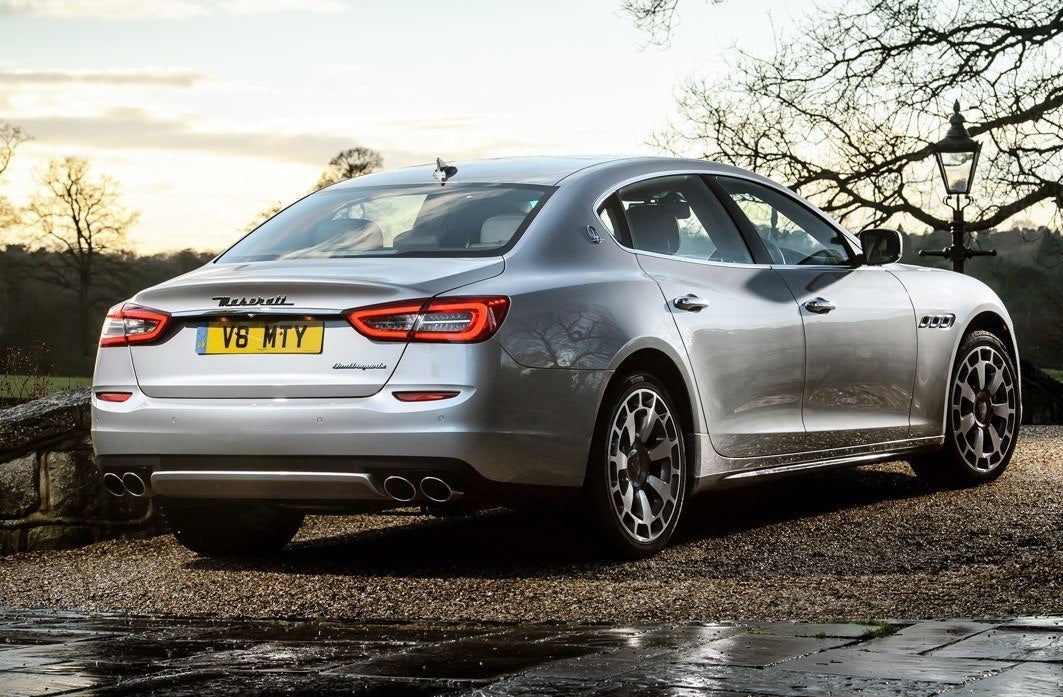 That's reasonable for a luxury saloon with a sporting bent like the Maserati. choose the petrol engines and the 350PS unit offers an official combined best of 25.0mpg, while the 430PS S model manages the same despite its increased performance and power.
Insurance groups and costs
Luxury saloons rarely come with bargain insurance rates and the Maserati Quattroporte is no different from its competitors in this respect. Whether you choose the diesel engine or either of the petrol motors, you'll be facing a hefty premium as all Quattroportes sit in the highest group 50 banding. It may be cold comfort, that's the same as for the BMW 7 Series and most Mercedes S-Class models, so you're not being unfairly penalised for choosing the Maserati in this respect.
VED car tax
You are staring down the barrel of a big first-year Vehicle Excise Duty bill whichever Quattroporte you choose from the Maserati dealer. The diesel will come with a £1305 bill if it's on the smaller alloy wheels, but bigger rims tip it over the 191g/km carbon dioxide emissions threshold into paying the higher £1850 rate.
With the petrols, you will be paying £1850 for those on the smaller wheels and a hefty £2175 for anything on bigger wheels.
Subsequent years will cost you £475 due to the Quattroporte range all comfortably exceeding the £40,000 limit for the £150 per annum rate, leaving you liable for the £375 excess payment.
How much should you be paying for a used Maserati Quattroporte?
"A five-year old diesel-powered Maserati Quattroporte can be yours from £20,000. This will have around 30,000 miles under its wheels and have a full service history. A GranSport or GranLusso version will add £10,000 to that asking price."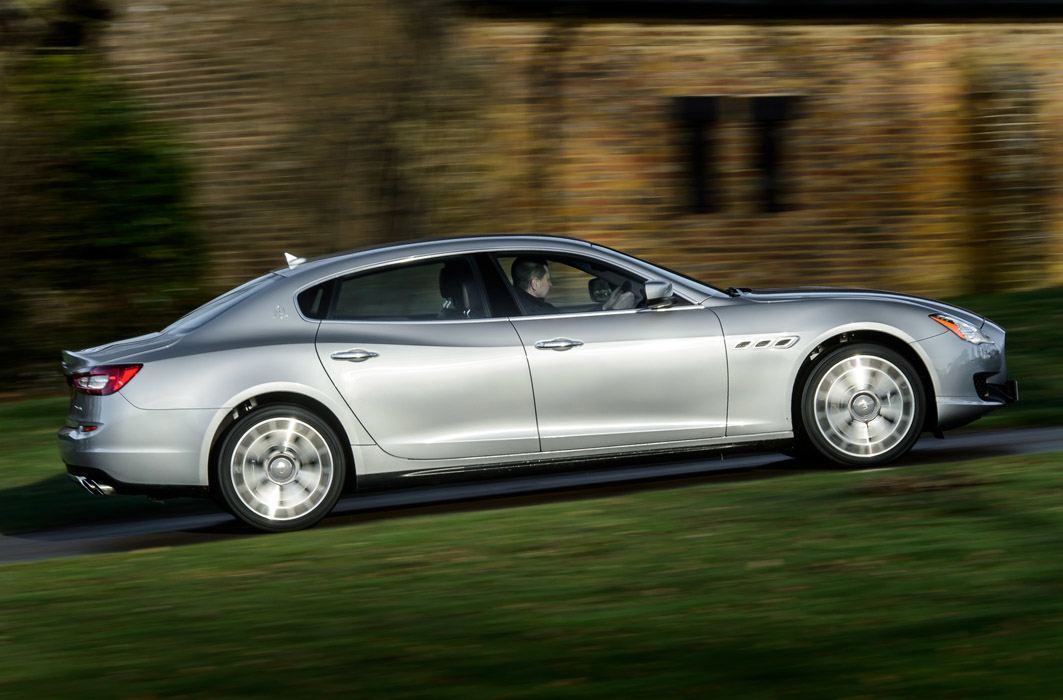 Petrol-powered Quattroportes start from £25,000 for one at five-years old and with 30,000 miles. Or, a year-old version could be yours from £55,000 with 5000 miles in standard or S trim.
A diesel at one-year of age and with 5000 miles comes in at around £52,000, which saves you about a third of the cost of a brand new model.
Trim levels and standard equipment
The standard Maserati Quattroporte rides on 19-inch alloy wheels and has a Sport mode to sharpen the gearbox, exhaust and steering response, while metallic paint is an option. On the inside, you get electrically adjusted front seats and steering column, leather upholstery, wood trim, and the 8.4-inch infotainment touchscreen. Also included is climate control, powered rear sun blinds, heated front seats, and automatic windscreen wipers.
The GranLusso model adds 20-inch wheels and black-painted brake calipers, chrome details in the front bumper, and soft-close doors. You also get heated outer rear seats, upgraded leather seats with silk inserts, four-zone climate control, and full keyless entry.
The GranSport sits on 21-inch wheels and has front sports seats. It also has piano black interior trim, and sport steering wheel with paddle shifters.
Maserati also offers a number of packs, such as the Convenience Package with powered boot opening, while the Comfort Package brings heated rear seats and steering wheel to Quattroportes that don't have these luxuries.
Maserati Quattroporte cars for sale on heycar
77
Number of cars available
£38K - £38K
Price bracket of these cars
Colours available on heycar
Keep me updated by email with the latest advice, news and offers from heycar
By submitting, you agree to our
privacy policy
.