1/10
heycar rating
"Sporty, smart but flawed hatch"
Launched: 2015

Small hatch

Petrol, Diesel
Quick overview
Pros
Decent fuel economy
Smart interior with bags of kit
Brilliant fun to drive
Cons
Weedy petrol engines
Cramped rear seats
Firm ride in town
Overall verdict
On the inside
Driving
Cost to run
Prices and Specs
Common questions
Overall verdict on the Mazda 2
"In the incredibly competitive world of small cars, manufacturers are under constant pressure to deliver value for money and sell as many vehicles as possible to maximise profit margins. The Mazda 2 does things a bit differently, hoping to attract buyers with its sharp design, keen handling and premium levels of equipment."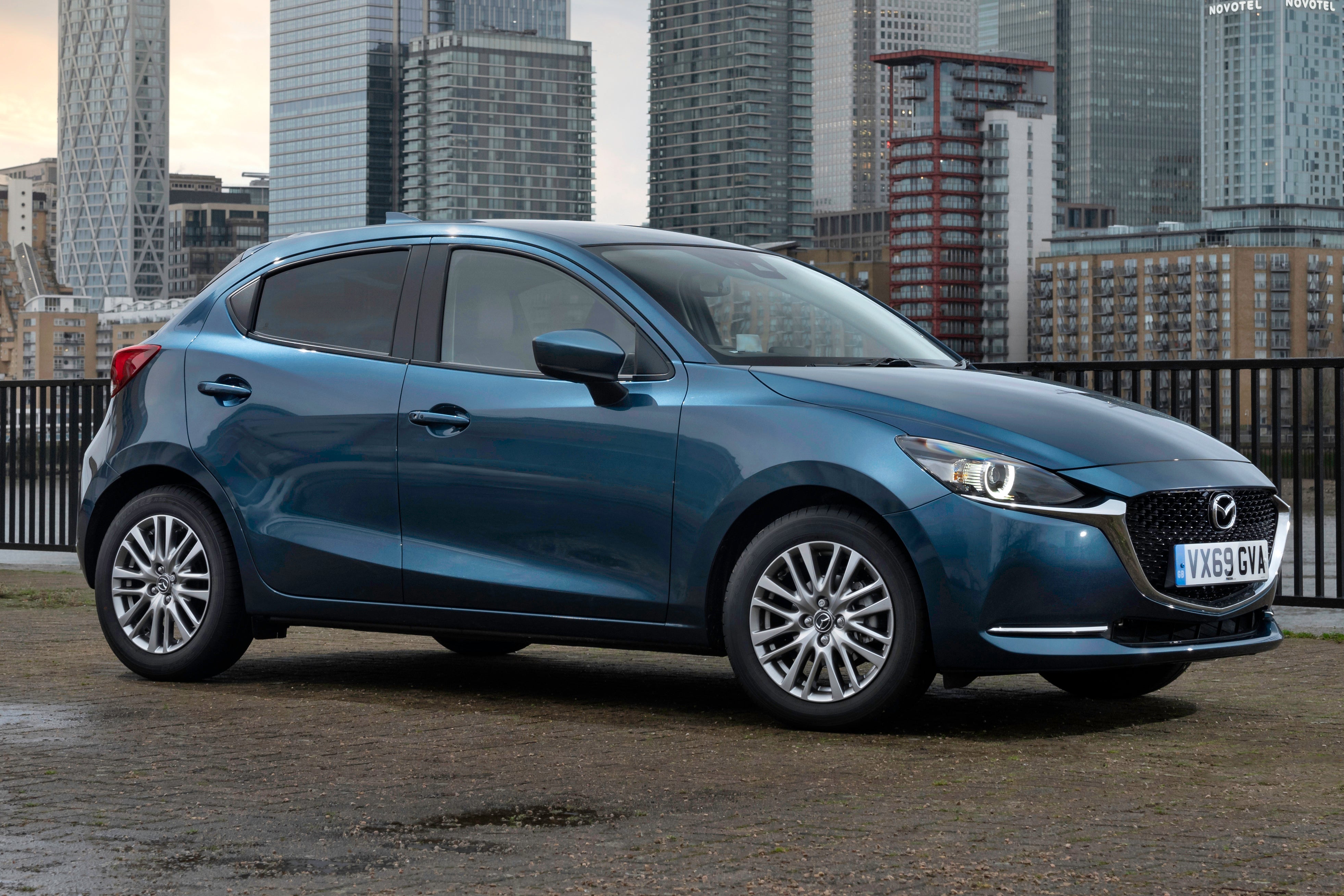 Many of the Mazda 2's rivals are better known (and bigger in all directions), but the comparative rarity shouldn't put you off this fun five-door small car. The Mazda 2 is frugal, should prove reliable and is decent value in the correct trim level. If you avoid the pricier versions and head straight for the SE-L, you're getting a car packed with features.
It has a thoroughly modern media system that's more intuitive and less distracting than most touchscreen setups, with sat-nav, LED headlights, smartphone connectivity and a lot of active safety gear all standard. Build quality is impressive too, with newer models getting upgraded material trims and comfier front seats.
However, it comes unstuck in the practicality stakes. There is no escaping its compact dimensions, and most small hatches can carry more shopping, luggage and people than you'll be able to squeeze in the dinky Mazda. The boot is well below average for the class, with limited functionality while the cabin has fewer cubbies too.
It claws things back a little out on the road. The consistently weighted controls, positive mechanical shift of the six-speed manual gearbox and accurate steering mean it's a good car for weaving through town traffic. The Mazda grips nicely in corners and keeps a tight leash on its compact body, so it doesn't lean or bounce.
However, the tidy handling does mean compromises to comfort. There is a firm edge to the ride at low speed that never really goes away and you'll feel small imperfections filtering from the road's surface into the cabin. Cars on larger wheels will jostle you around even more and combined with so-so refinement, it can be tiring.
Although it was previously available with diesel power, the current Mazda 2 comes with a mild-hybrid 1.5-litre petrol engine in a range of different power outputs. Entry-level cars get a modest 75PS, but the rest of the range benefits from a 90PS version that feels considerably quicker in all driving conditions - there is also the option of an auto. There's a 115PS if you're after warm-hatch thrills.
Unusually, none of the Mazda 2's engines feature turbocharging. This means it needs to be constantly kept on the boil to make meaningful progress, something that's made harder by the tall higher gears. It's smooth in town, but quite flat and gutless at low revs, plus it grows coarse once the performance does finally pick up.
This odd character makes the Mazda 2 tricky to recommend. It doesn't feel nearly as premium or grown-up as its big brother the Mazda 3 inside. Most buyers will prefer the brisk performance and flexibility you get from a turbo engine to this car's strangely gutless 1.5-litre motor and despite its decent fuel economy, we'd tend to agree.
Is the Mazda 2 right for you?
The Mazda 2 is on the smaller end of the scale in this class. That means it's great for parking and negotiating the cut-and-thrust of inner-city traffic, but makes it a less practical choice than roomier models from its rivals.
It will suit younger drivers or retirees who rarely need to carry more than two people, but the latter group might not appreciate its firm ride, nor this engine's constant need for revs to make steady progress on faster roads.
Its nicely designed cabin and classy materials do make it feel plush plus on most models it's very generously equipped too, but can't quite compete with premium rivals in terms of feel-good factor and perceived quality.
The counterpoint to its upmarket aspirations are higher prices and insurance costs, but it should prove light on fuel thanks to its mild-hybrid system. Still, budget-conscious buyers should probably give this one a miss.
What's the best Mazda 2 model/engine to choose?
Picking the best Mazda 2 is straightforward since the engine range is now so narrow. The 75PS model is too slow and inflexible to recommend, so we'd choose the 90PS car, paired with the excellent six-speed manual.
You'll still need to wind this engine up to coax it up hills or keep up with motorway traffic, but it has identical economy figures to the lesser version thanks to its mild-hybrid technology and will deal with long trips better.
Although top-spec models come with big car features like leather seats and keyless entry, they don't offer the best value and the larger wheels exacerbate the Mazda's jiggly ride. Pick the Mazda 2 SE-L for the right balance of equipment and affordability plus it comes with our favourite engine, but still won't break the bank.
What other cars are similar to the Mazda 2?
The smallest car in Mazda's line-up competes with some of the most popular models in the UK. The likes of the Ford Fiesta, Vauxhall Corsa and Volkswagen Polo dominate sales charts and all are newer than the 2.
As the UK's best-selling car, it's hard to ignore the Ford Fiesta. Like the Mazda it features new mild-hybrid engines, yet is more efficient than the Mazda and a lot faster in the real world. The Volkswagen Polo is the comfier option, with excellent refinement and a superbly built interior, even if Volkswagen is a little stingy with its equipment.
For a little less you could pick up practical options like the Skoda Fabia or Hyundai i20, while premium buyers can spend a bit more on an Audi A1 or MINI hatch.
That's before we even mention its pure-electric rivals like the Peugeot e-208, Renault Zoe and Honda e.
Comfort and design: Mazda 2 interior
"The Mazda has a surprisingly sporty interior that feels refreshingly different from the small car norm. The driver-focused cabin has deeply set cockpit-style dials on one side and crisp unbroken lines on the other."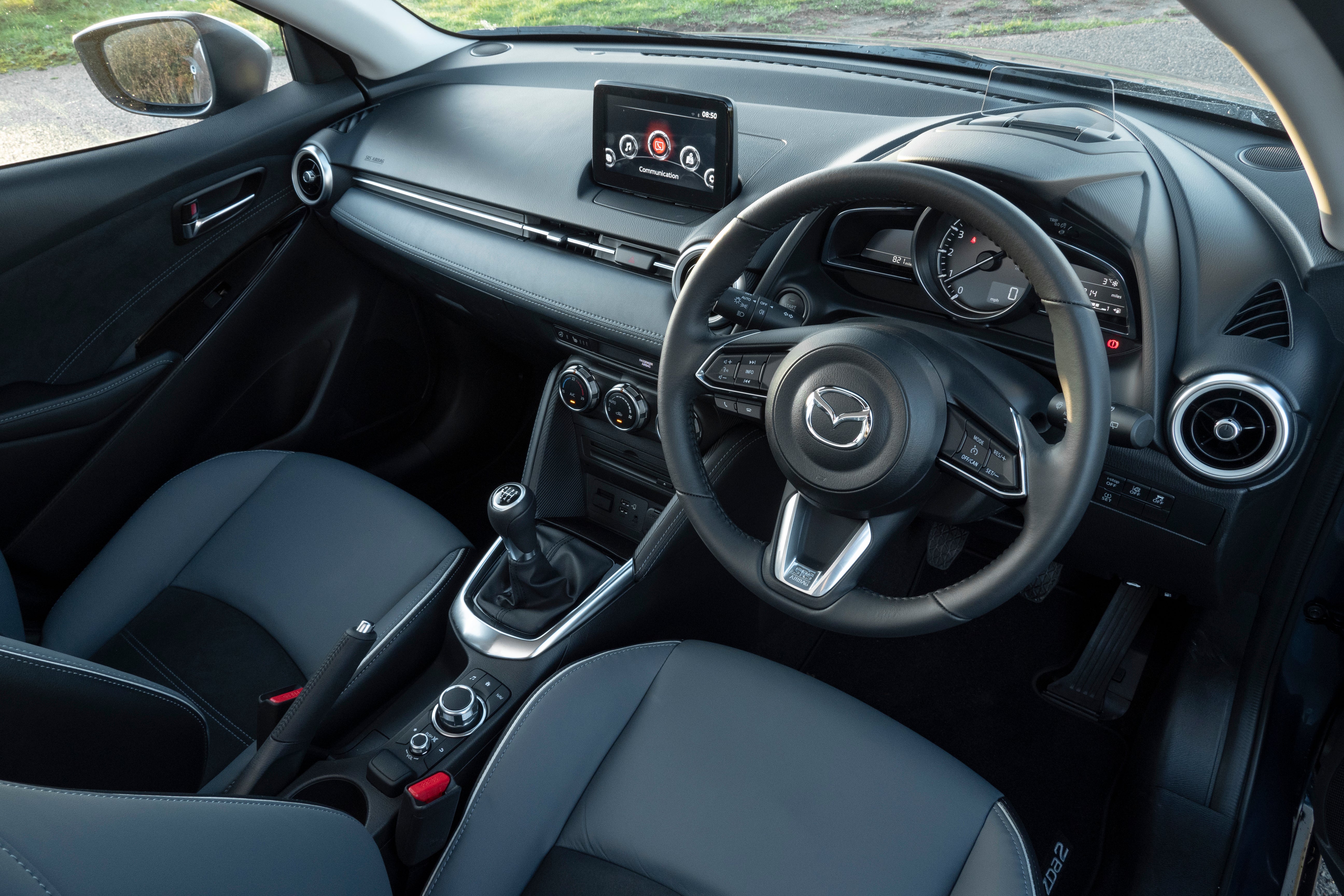 The electric window and mirror switches are canted upwards and placed close to the steering wheel, while the rotary controller for the Mazda Connect media system (where fitted) sits just below the gear selector. The screen itself it mounted very high, so it's easy to read, but that makes pressing the screen a bit of a reach.
Still, chunky climate control dials are easy to set and overall the layout feels very logical. It looks very smart, but the design doesn't come at the expense of usability. In fact, the clean, minimal look just helps enhance it.
We have no complaints about the driving position, with pedals that line-up perfectly with the seats and a full range of manual adjustment for the base, backrest and steering column. No model gets lumbar support, but neither do most of its rivals and Mazda has redesigned its seats to make them more supportive. That's good news for drivers who need to spend a lot of time on the motorway, as the old seats were quite firm.
Forward visibility is fine, but the sloped roof and sporty design impeded the view out the back. We're glad to see that Mazda now fits rear parking sensors across the range, while top-spec cars get a reversing camera.
Quality and finish
With prices for the Mazda 2 SE-L starting at around £16,500, the Mazda is certainly not the cheapest small car on sale. It does feel suitably premium inside though, especially in the top trim levels, which benefit from plusher materials.
Previous problem areas like the flimsy manual air-conditioning controls, hood of the instruments and door cards have been improved on later models. You now get nicer finishes in these areas, with a pleasing mixture of glossy, soft-touch and silver-finished plastics plus a nicely sculpted leather steering wheel that feels sturdy.
There are still some telltale signs of cost-cutting, including the cheap black plastic covers for the USB ports, but everything seems robust and it fits together really nicely, with tight shut lines between the dash panels.
More affordable versions still have attractive seat fabrics with contrasting stitching to brighten up the cabin, while with full leather upholstery, heated seats and a heated steering wheel, the GT Sport Nav is very plush.
This spec also gets a soft leather covering for the swept dashboard that further enhances the upmarket vibe. True premium models, such as the MINI hatch or Audi A1, feel a lot posher though, as does the Volkswagen Polo.
Infotainment: Touchscreen, USB, nav and stereo in the Mazda 2
On older, lower-spec Mazda 2 models, you get a monochrome AM/FM radio with just four speakers, a CD slot, and USB and AUX ports - welcome to the 90s. The basic system does at least have Bluetooth, and lets you control the volume and track selection with buttons on the steering wheel.
The thing is, the cabin layout has been designed for the upgraded touchscreen, so the radio is mounted a bit too far back on the dash to reach without stretching and the actual controls are really slim and fiddly to use.
We would avoid this system if you can. Later models (and those with 'Nav' in the name) feature a 7.0-inch colour display, which brings with it DAB digital radio, navigation with live traffic updates plus Android Auto and Apple CarPlay phone mirroring. It's not the sharpest screen and the menus take a little getting used to, but it's miles better than the basic setup.
You also benefit from six speakers, better sound quality and an extra USB for charging two devices at once. It's a no brainer and we really like the fact that Mazda gives you a rotary controller to navigate its menus. It has a touchscreen, which is fairly responsive, but it's less distracting to use the scroll wheel when driving.
Space and practicality: Mazda 2 boot space
Small cars need to be good all-rounders, but unfortunately cabin space is an area the Mazda fails to shine. It's simply not as spacious inside the back seats or boot as the class leaders, limiting its range of practicality.
We're talking fine margins of course. You can still fit adults in the rear and every model has five doors, but if your passengers are long-limbed, they may find their knees resting on the backs of the front seats. There is less headroom than in rivals too and the lack of rear door pockets along with small windows make it feel cramped.
The body is narrower than most, so trying to squeeze three into the back will involve an impromptu game of twister as everyone tries to dig out their seat belt buckles from under each other - we wouldn't recommend it. There's a less than ideal amount of storage, with one map pocket to share and no cupholders in the back.
Up front, there is more room to stretch out, with enough space to accommodate all shapes and sizes. Again though, there are some niggles. The door pockets are small and hard to access, while the cubby behind the gear knob is too slim for a smartphone or even a chunkier wallet. Apart from loose change, it's redundant.
It's a similar story in the boot. Overall capacity is 280 litres, which trails most other small cars and it's harder to load bulky, heavy items than it would be in those rivals. It has a high load lip to contend with and there is no false floor option to flatten out the luggage area when you've stowed away the 60/40 split/fold rear seats.
The opening you actually have to lift things through is narrow too, which means you have to carefully place longer heavier stuff to avoid scratching the paintwork. It can carry 950-litres in two-seat mode, which would be quite impressive for a city car, but makes the Mazda 2 one of the least commodious small hatchbacks on sale.
That might not be a deal-breaker, but for those who do need space, a Skoda Fabia or Citroen C3 is a better choice. Fact fans, take note. The Mazda 2 measures 4070mm in length, 1695mm in width and 1515mm in height.
Handling and ride quality: What is the Mazda 2 like to drive?
"Mazda is the brand that builds the MX-5 sports car and is known for fun driving dynamics. The little 2 uses the same philosophy and tries to put its driver at the centre of the action, turning every trip into an event."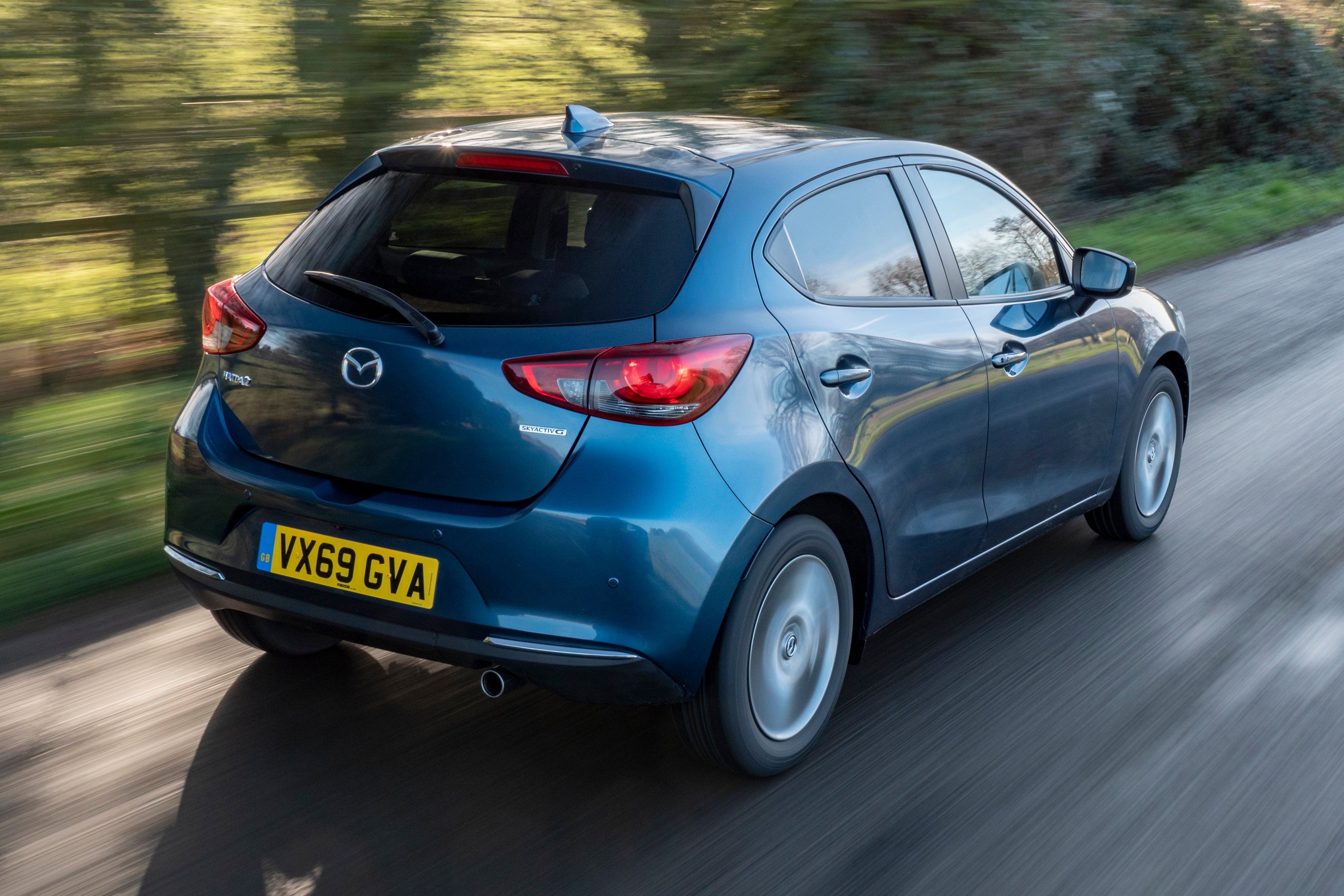 The Mazda 2 has all the traits you'd want from a sportier model, with strong cornering grip, nice accurate steering that's a touch heavier than in most competitors, keeping its body movements neatly in check as it changes direction.
The Mazda feels light (because it is) but stays planted when you tackle challenging roads and this sensation of stability gives you plenty of confidence at the wheel. It also doesn't float or bounce like some small cars.
However, it also has some qualities that are less welcome in a sensible small hatch. The ride is on the firm side and if you choose a model with 16-inch alloys, rough roads will send a buzz of vibration up inside the cabin.
It's not uncomfortable by any means and with relatively fat tyres fitted as standard, it does do a good job of dealing with obstacles like speed humps, but it's smaller imperfections that it won't filter out as well as rivals. We would advise sticking with the SE-L model if you want to help alleviate some of this firmness in town.
The steering is also a bit numb and the Ford Fiesta is sharper to drive and more comfortable, which makes you wonder what you actually gain from Mazda's sporty approach apart from an unnecessarily fidgety ride.
Some buyers will struggle to notice the difference, but since there are several small cars that can soften out poor surfaces and still get your heart racing on the right piece of road, we wouldn't accept the compromise.
What engines and gearboxes are available in the Mazda 2?
One things that Mazda does differently is the clever use of something it calls 'SkyActiv' technology to boost fuel economy. This means that it uses larger engines than most other small cars and doesn't feature turbos.
On paper at least, the combined fuel economy figures of around 54mpg are nothing special, but it's likely to get a lot closer to that number on a regular basis than a highly tuned, much smaller capacity turbo engine.
That's the theory at least. In practice, this approach gives the 2 a very different character from most rivals. It now comes with one engine, a 1.5-litre petrol, available with 75PS, 90PS and 115PS – and with or without mild-hybrid assistance.
Those power figures are modest compared with pricier versions of the Fiesta (140PS) and Clio (130PS), and the Mazda makes you work for every ounce of performance. You have to rev the engine really hard to get it going and while it feels willing and eager to do so in the mid-range, at lower revs it feels flat and breathless.
Unless you rarely venture out of town, we'd go for the 90PS model, but don't expect many fireworks. Its six-speed manual gearbox (now standard across the range) has very long ratios. That's good for cruising, but means you can put your foot right to the floor in fifth or sixth gear and the car will barely move any faster.
On the plus side, the change is wonderfully positive. All that's required to slot between the gears is a flick of the wrist, so at least you'll be having fun as you constantly shift - but it makes the 2 frustrating on long trips. You can add a six-speed automatic to this version, but it accelerates even slower than the manual model.
Refinement and noise levels
Small cars like this one often struggle to suppress wind and road noise, purely because there's less metal between you and the scenery rushing past outside. Unfortunately, the Mazda holds true to form in this area.
On the motorway, it's less peaceful than a SEAT Ibiza or Ford Fiesta. Wind noise is kept at a reasonable level, but the rumble from the tyres gets pretty intrusive, especially on cars fitted with larger 16-inch alloy wheels.
Since its engine is down on torque compared to the three-cylinder turbos common in its rivals, it can be hard to keep the revs down. Once they climb past 4000rpm, the motor adds its coarse voice to the rising hubbub.
That's a pity, since at low speed the 1.5-litre unit is so smooth that it's often difficult to tell if it's even running. All cars now get a six-speed manual gearbox as standard. It's slick and really precise to use, but tall gearing and general lack of puff mean you'll be making a lot of changes to try and keep the engine in its sweet spot.
If you're not up for the workout, the optional six-speed automatic on the 90PS motor is a smooth operator. It doesn't benefit from the mild-hybrid system on the manuals though, so its start-stop system is not as slick.
Safety equipment: How safe is the Mazda 2?
Keeping you protected in an accident is just as important in a small car as bigger ones - arguably more so. It's not ideal then, that the Mazda 2 received four out of a possible five stars when it was tested by Euro NCAP back in 2015.
It got decent individual scores for adult and child protection, although the Renault Clio, Ford Fiesta and Volkswagen Polo all do even better in the former category, helping to secure that extra star. The main issue is that SE-L models still miss out on important active safety systems that cannot be added, even as part of an optional pack.
The brand has fitted an impressive haul of safety gear to the rest of the range. Every model apart from the one mentioned comes with lane departure warning and a lane keep assistant, plus auto-emergency braking.
We have to give Mazda credit for the latter. Where some of these systems only work at very low speed in this car there is a laser that can detect obstacles and will even brake for you to prevent a collision below 50mph.
The Mazda 2 SE-L still has a decent set of features, including a hill-hold assistant to stop you rolling backwards, front, side and curtain airbags on both sides, stability and traction control, plus tyre pressure monitors and ABS.
All cars feature rear parking sensors, which should help mitigate unwanted low-speed prangs, and cruise control that includes a speed limiter function, ensuring you stay below the legal maximum. All very sensible.
While it's not possible to enhance the protection or assistance on board with optional extras, there are a few items of equipment reserved for the most expensive GT Sport Nav (later GT Sport Tech) model. It gets a driver tiredness monitor and a head-up display, which projects key driving information onto a pop-up screen above the normal dials.
MPG and fuel costs: What does a Mazda 2 cost to run?
"If you want a fine layer of dust to gather on your fuel filler cap and to drive hundreds of miles between stops, the discontinued 1.5-litre diesel will be your efficiency champion. Although it claimed to achieve over 80mpg, Real MPG owners on HonestJohn.co.uk recorded a (still impressive) average of 67.3mpg in mixed everyday driving conditions."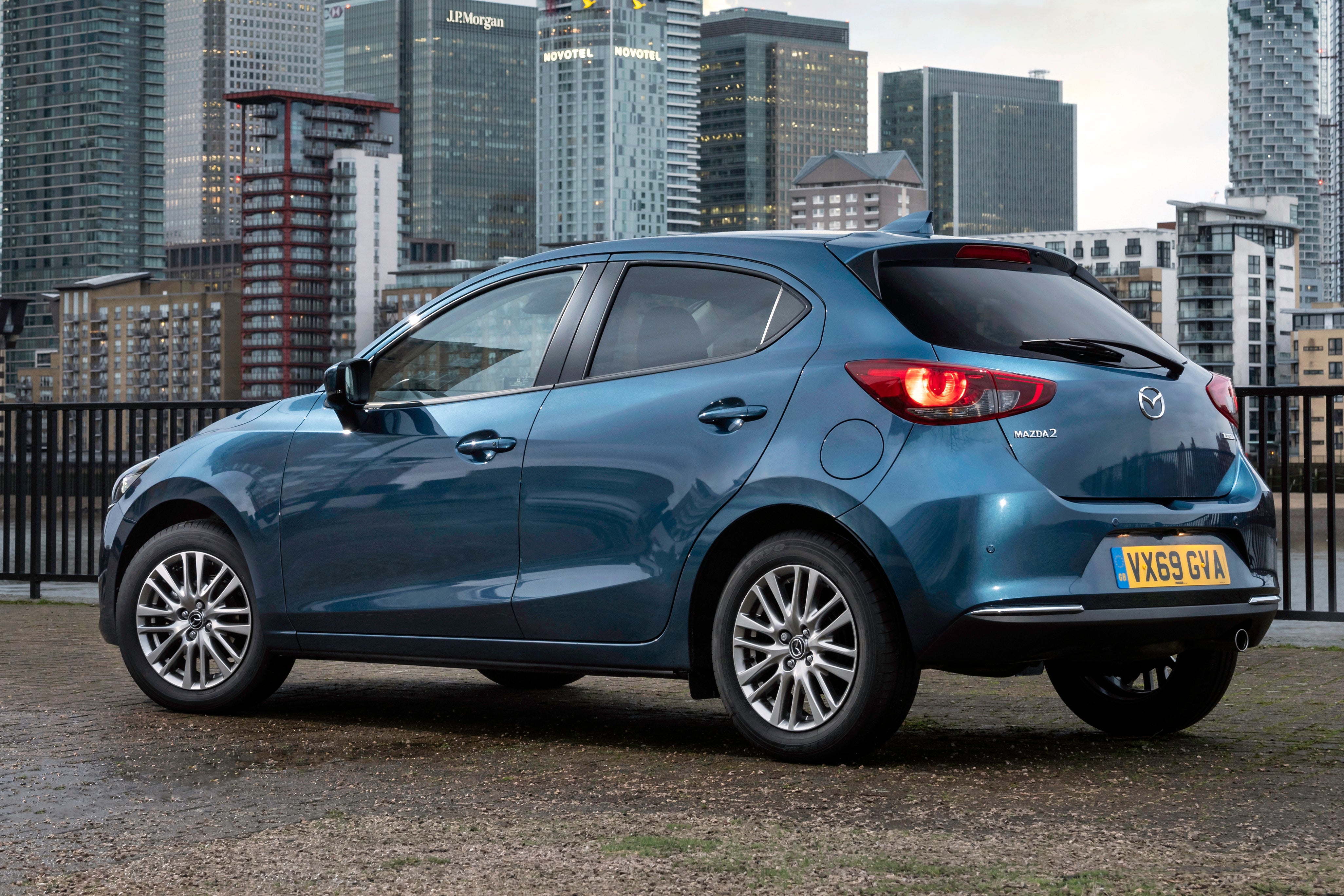 Even with the introduction of new mild-hybrid technology in 2020, the current line-up of modern petrols can't match the frugal older models. There's a reason diesels are unpopular in small cars though - they're too expensive and aren't really suited to regular town driving.
The most efficient Mazda 2 currently on sale is the 90PS 1.5-litre mild-hybrid with the manual gearbox. This officially returns 60.1mpg in WLTP fuel economy tests. Without hybrid assistance, the same engine with the automatic gearbox returns 52.3mpg, while the entry-level 75PS unit manages 58.9mpg. The 115PS e-Skyactiv G mild-hybrid has a combined figure of 56.5mpg.
In our experience, these engines need working quite hard, so around mid-forties is a more realistic target. Those figures make the Mazda middle-of-the-road for the class. Expect to go around 400 miles on one tank.
How reliable is a Mazda 2?
Mazda generally has a good (if not exceptional) reliability record – although we have heard of a few build quality issues with the Mazda 2. These includes squeaks and rattles from the cabin, while a few HonestJohn.co.uk readers have reported gremlins with the infotainment system. Rusty suspension parts are quite common, too.
Insurance groups and costs
Insurance companies make some calculations based on engine size, so although the Mazda's 1.5-litre unit doesn't pack the biggest punch, it will cost you more than smaller-engined rivals with similar power outputs.
Even the cheapest 75PS model sits in Group 13, a few bands higher than a Volkswagen Polo and a massive eleven more than a Skoda Fabia with identical oomph. The 90PS model starts off in Group 15, while the quickest 115PS version will be off-limits for inexperienced drivers or those with a patchy record, as it's up in Group 19.
VED car tax: What is the annual road tax on a Mazda 2?
Before the rule changes made to the system in April 2017, taxing your Mazda 2 was a painless experience. It emitted less than 120g/km across the range, so the maximum it would set you back was just £30 every year.
Later models now have to pay the same £155 flat-rate of tax as all other petrol cars, regardless of emissions, while mild-hybrid versions will be charged £145/year.
On the plus side, its new mild-hybrid technology gives certain versions of the Mazda a low(ish) BIK tax rate of 27% which should save company drivers a bit of cash, even though it's not as cheap as a Fiesta (25%).
How much should you be paying for a used Mazda 2?
"You might get more choice if you're in the market for a used Ford Fiesta or Volkswagen Polo, but there are still plenty Mazda 2s to choose from. Prices for early examples start from around £7000, while there are still savings available on the very latest 2021 models."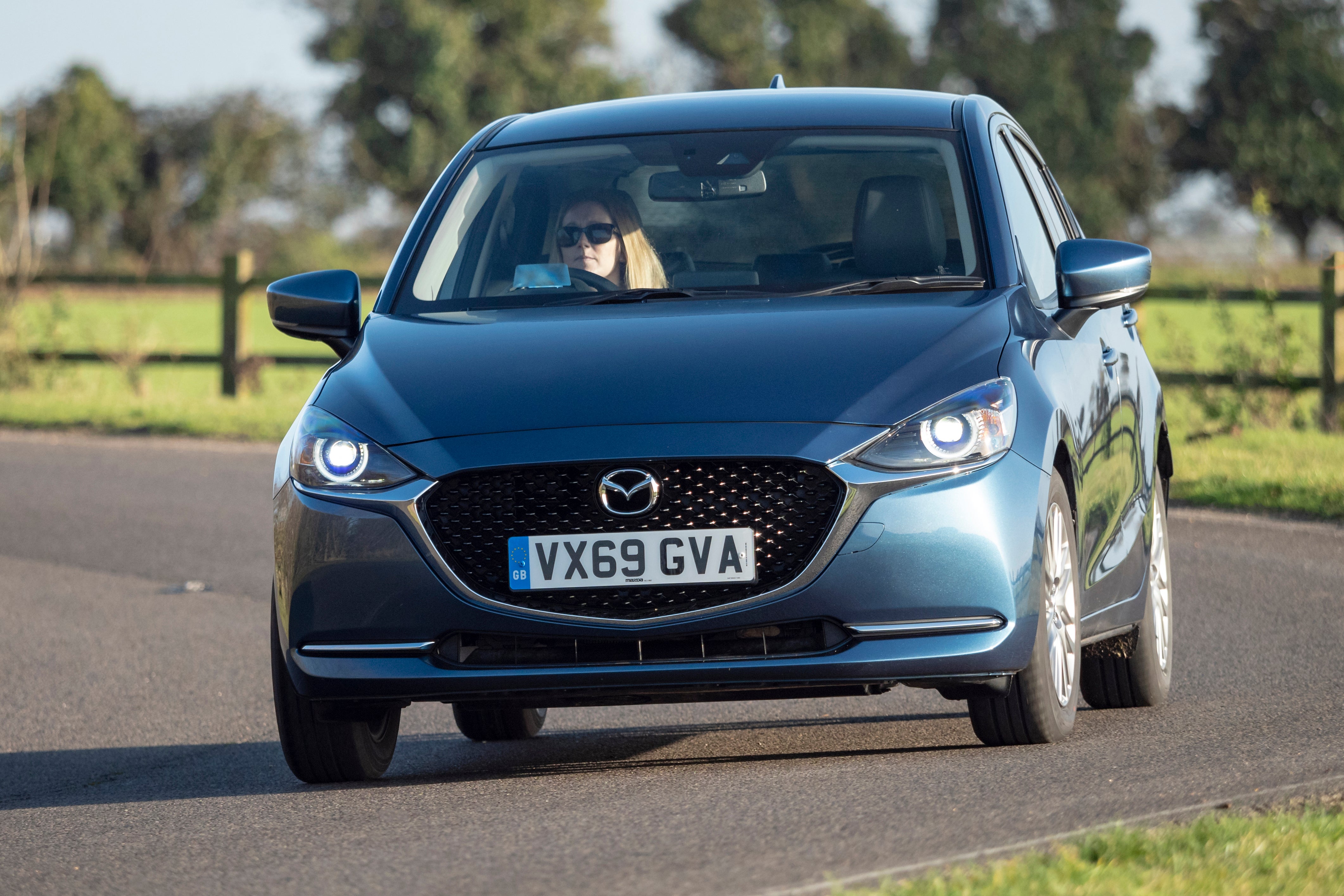 The cheapest cars will feature the weakest 75PS version of the 1.5-litre petrol engine and many are the basic SE model. If you shop around, though, you won't pay a lot more for an SE-L or one with the more powerful motor.
Diesels are near-impossible to find (over 95% of used models are petrol) but if you do track one down, expect to part with about £8500 for the pleasure of taking it home. Our favourite engine, the punchier 90PS petrol, starts at roughly £8000, but if you want it paired with an automatic you'll need to add £2000 on top.
There are some great deals on lightly used cars too, which is a great way to get into one of the posher trims. A 2019 model in GT Sport trim, with the quickest 115PS engine, could be yours for around £12,500.
Trim levels and standard equipment
The Mazda 2 trim line-up has changed a number of times over the years, but currently the range is made up of just four key models: SE-L, Sport, GT Sport and GT Sport Tech.
Standard equipment on the Mazda 2 SE-L includes a seven-inch sat-nav (with Apple CarPlay and Android Auto), brown cloth seats with black inserts and a leather steering wheel. LED headlights are also standard, as well as rear parking sensors, cruise control and 15-inch alloy wheels. Buy an SE-L with the mild-hybrid engine and it'll also come with an emergency braking system, lane departure warning and lane-keep assist. Not too shabby for an entry-level car.
For a sportier look, the Mazda 2 Sport adds tinted windows, a chrome exhaust trim, black radiator grille and 16-inch alloy wheels. You'll also find smart keyless entry and wireless Apple CarPlay.
The Mazda 2 GT Sport features a reversing camera, blue/grey leather, heated steering wheel, heated front seats and a colour head-up display. Sitting at the top of the range, the Mazda 2 GT Sport Tech adds front and rear parking sensors, adaptive LED headlights and a 360-degree camera. A blind spot monitoring system (with rear cross traffic alert) is standard, as well as a rear smart city brake support system and driver attention alert.
In the past, there were five different trim levels: SE, SE-L, SE-L Nav, Sport Nav, and GT Sport Nav.
The old Mazda 2 SE was quite basic, with air-con, but winding electric windows, steel wheels and little else. We won't be mourning its loss, and the SE is best avoided if you're shopping used, even though it's cheap.
If you're on a budget, we'd look for a Mazda 2 SE-L, which comes positively stuffed with kit. LED headlights, alloy wheels, rear parking sensors, automatic lights and wipers, cruise and climate control, all it's missing is a big touchscreen.
Of course, that's exactly what you get when you upgrade to the 'Nav' version, along with a properly modern infotainment system that includes DAB radio, Apple and Android smartphone pairing, and sat-nav.
Mazda 2 Sport Nav adds some sleeker LED headlights with integrated day lamps, 16-inch alloys, darker privacy glass, and keyless entry. Meanwhile, top-spec cars feature a reversing camera, head-up display, plus heated leather for the seats and steering wheel.
There have been tonnes of special editions over the course of its life too. Most are more about a few styling tweaks or exclusive colours like red or black, and not an increase in the amount of equipment on board.
Ask the heycar experts:
common questions
Is the Mazda 2 a good car?
The Mazda 2 offers decent fuel economy and is fun to drive, but its petrol engines are underpowered and its ride around town is far too firm.

Is the Mazda 2 a Ford Fiesta?
While it's true previous generations of the Mazda 2 were based on the Ford Fiesta, the current model actually uses a tweaked version of Mazda's CX-5 platform.

Answered by
heycar editorial team
Is the Mazda 2 made in Japan?
The Mazda 2 is made in Japan, as well as Thailand and Mexico.

Mazda 2 cars for sale on heycar
902
Number of cars available
£6.5K - £58K
Price bracket of these cars
Colours available on heycar
Keep me updated by email with the latest advice, news and offers from heycar
By submitting, you agree to our
privacy policy
.
Popular models
Similar models