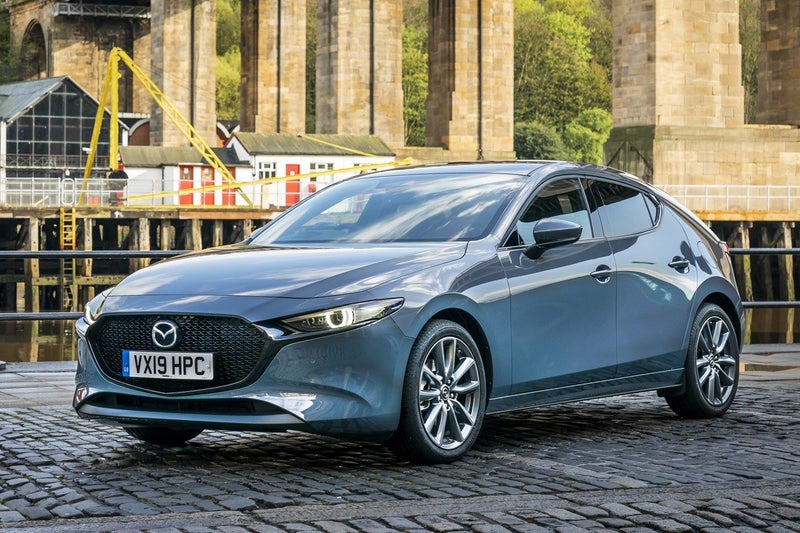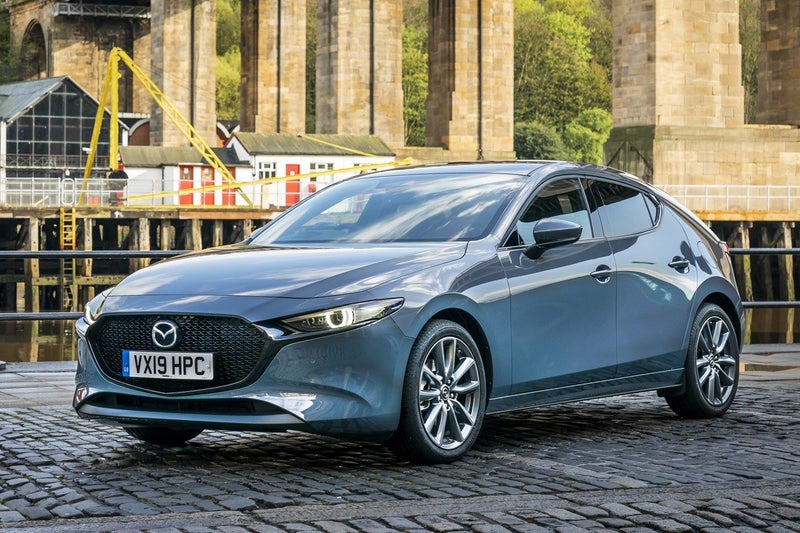 1/10
heycar rating
"Super stylish Volkswagen Golf alternative"
Launched: 2019

Family hatch

Petrol, Diesel
Quick overview
Pros
Stylish hatchback which is guaranteed to turn heads
Drives just as well as it looks
Classy cabin which is loaded with kit
Cons
Not the most spacious choice
Petrol engines lack grunt compared to turbocharged rivals
The diesel was great but sold in limited numbers before it was axed
Overall verdict
On the inside
Driving
Cost to run
Prices and Specs
Common questions
Overall verdict on the Mazda 3
"It's a shame that car buyers are so quick to part with their cash for a Volkswagen Golf or Ford Focus when the Mazda 3 is, frankly, such a brilliant alternative. It's great to drive, cheap to run and has an interior that could genuinely tempt you out of an Audi A3 or Mercedes-Benz A-Class - provided you're not fussed about a premium badge on your bonnet."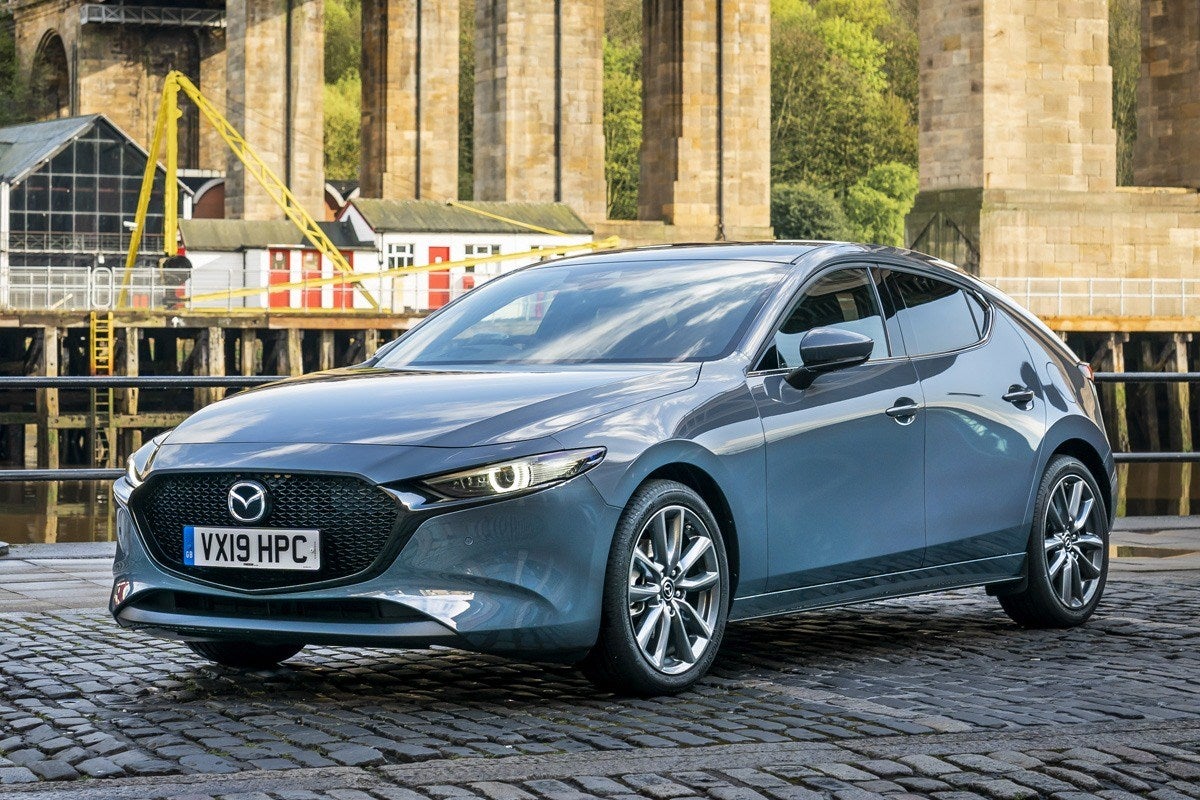 Sure, the Mazda brand might not have the cachet of a German manufacturer, but it does make a statement that you're prepared to think outside of the box. It also makes the Mazda MX-5 sports car and that's cool, right? Let's to a more detailed look in our 2022 Mazda 3 review.
And boy does the Mazda 3 look the part. While most manufacturers like to play it safe with the design of their family cars, Mazda really has given it all. The result is a car that genuinely looks stylish enough to make you think twice about a trendy SUV. We think so, anyway.
The interior doesn't disappoint in the Mazda 3, either. Even the most affordable models feel stylish and upmarket, with lots of nice-to-touch materials and classy features. You'll want a GT Sport model if you'd like leather seats, but all Mazda 3s come with an 8.8-inch navigation system on the dash. Unusually, this is operated via a rotary dial rather than a touchscreen display. This might sound a little old school, but it actually works very well - particularly on the move.
Talking of 'old school', most models come with a CD player. We can't say that about many modern cars. Apple CarPlay and Android Auto are standard, too, as is Bluetooth - so you really won't be short of ways to listen to your favourite playlists. It stops short of having a tape player, though.
The engine line-up is rather limited. Basically, you can choose from two 2.0-litre petrols. And, erm, that's about it.
Mazda did briefly offer a diesel with the Mazda 3 but it argues the fancy Skyactiv-X petrol, which uses diesel-like technology, is so efficient that a diesel isn't necessary. It's certainly an impressive engine: efficient and refined, with enough power for getting a wiggle on when you feel the need. The entry-level Skyactiv-G is even more refined but lacks punch compared to turbocharged alternatives like Ford's EcoBoost.
Engines aside, the Mazda 3 is great to drive, with direct steering and a compliant ride (albeit not quite as comfortable as the Volkswagen Golf). Rear visibility is its main downfall, but all models come with rear parking sensors as a minimum (you'll get a camera, too, on high-spec models).
Indeed, the Mazda 3 does represent style over substance in a few key areas. As well as poor rear visibility, it does feel quite claustrophobic for rear-seat passengers. Adults sitting in the rear will be nagging front-seat passengers to shuffle their seats forward, while the boot's nothing to shout about either (does anyone shout about a boot?).
If you don't need to carry anyone in the back and aren't fussed about a big boot, the Mazda 3's a great choice. The interior feels classy, it's great to drive and, on the used market, it represents decent value for money thanks to a generous amount of standard equipment.
The Mazda 3 is an easy car to recommend. Buying used counters its high new price tag, and it's well-equipped across the range so you don't need to go hunting for one with specific options. The Mazda 3 looks great, has a superb interior and is excellent to drive.
If you're looking for the older version, you need our used Mazda 3 (2014-2019) review.
Is the 2022 Mazda 3 right for you?
So, we've established the Mazda 3 probably isn't a wise choice if you're looking for a practical hatchback to carry all of the family (and the associated paraphernalia), but a used Mazda 3 is still an excellent choice for many buyers.
Like many Japanese manufacturers, Mazda has a reputation for reliability and owners are generally very happy with their cars. It's had a blip in recent years with its diesel engines, but the majority of Mazda 3s are powered by unstrained petrol engines which ought to be very reliable (and efficient).
While the Mazda badge won't appeal to the image-conscious, the Mazda 3 is still a very stylish choice with a superb cabin. It's up there with the ubiquitous Volkswagen Golf in many ways and, while new prices are strong, it represents very good value for money second-hand.
What's the best Mazda 3 model/engine to choose?
Most buyers will want the extra power of the Skyactiv-X petrol engine, particularly as Mazda claims it can return diesel-like economy (and the diesel was axed within a year). The cheaper Skyactiv-G is fine if you're on a budget and don't need the extra power, but it does feel lacking compared to turbocharged contemporaries.
All models of the Mazda 3 are well-equipped - the entry-level Mazda 3 SE-L really doesn't feel like a basic car. You won't find any blanking plates and steel wheels here. The SE-L Lux adds some desirable features like a reversing camera and heated seats but won't cost the earth on the used market. Trim levels with the word 'sport' in their name are - surprisingly - sportier, but the flashier 18-inch alloy wheels come at the expense of ride quality.
What other cars are similar to the Mazda 3?
The Volkswagen Golf is seen as the car to beat in this category - and the Mazda 3 is just as is good, if not better, in many areas. You should also consider a Ford Focus, which is great to drive and offers good value for money, while the Skoda Scala is a budget-friendly alternative.
Consider the underrated Peugeot 308, too, and affordable contenders like the Kia Ceed and Vauxhall Astra. At a push, you could even consider the Mazda 3 as an alternative to premium hatchbacks like the Audi A3 and BMW 1 Series.
Comfort and design: Mazda 3 interior
"No matter which Mazda 3 model you buy, it has a superb cabin that's almost as plush as premium rivals like the Audi A3. OK, it lacks a bit of wow factor compared to an Audi or Mercedes-Benz, but it's certainly comparable to a Volkswagen Golf."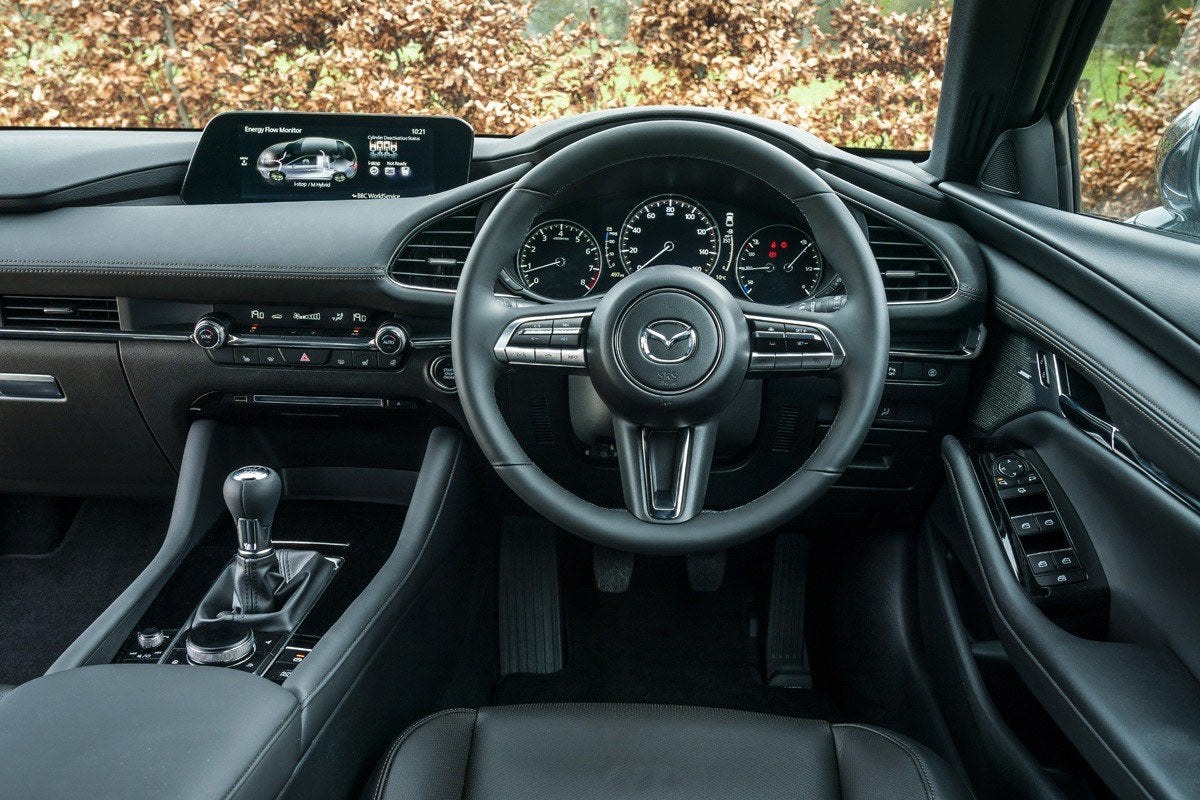 It feels like a cabin that's been centred around the driver. You sit relatively low down in the Mazda 3, with a big steering wheel and a large centre console (with a fairly high gear lever). There's loads of adjustment in both the steering wheel and driver's seat, so you should be able to get comfortable.
The dash feels modern and uncluttered, with enough buttons to control important features - but not enough to become overwhelming. The media system is perched on top of the dash, ideally positioned for glancing at navigation directions while driving.
The seats are supportive, although you'll have to buy a GT Sport or GT Sport Tech model for adjustable lumbar support and electric seat adjustment. Mazda doesn't offer a great deal in terms of options, but a new Mazda 3 can be ordered with red leather seats for an extra £200. It's a bold choice but, well, we think they look the business.
Quality and finish
You'll have no complaints about the quality of the Mazda 3's interior. It feels every bit premium, with plush materials and classy chrome finishes in abundance.
Everything you touch - from the electric window switches to the steering wheel and the buttons for the heated seats - feel a step above other cars in its class. The doors close with a satisfying 'thunk', and you won't find any stray stitching or hastily-finished seams in the seats.
Even the most affordable models feel classy. Sport models and above get more chrome trim highlights, while you'll need a GT Sport for leather seats. But even the standard cloth seats feel well-finished.
While the latest Mazda 3 is still very new (so it's difficult to say for sure how it'll wear), Mazda's generally take day-to-day abuse from family life pretty well.
Infotainment: Touchscreen, USB, nav and stereo in the Mazda 3
If you've got the sense of direction of a headless chicken, don't fear - all Mazda 3 models come with the same excellent navigation system. This is displayed via an 8.8-inch display positioned on top of the dashboard.
This isn't a touchscreen system. Instead, it's controlled with a rotary controller (Mazda calls it a 'multimedia commander', which we quite like), positioned in the perfect place to operate with your left hand. Or your right hand, if you're in the passenger seat.
It makes scrolling through menus and inputting addresses on the move much easier than with a touchscreen system. It seems to well work with Apple CarPlay and Android Auto (both of which are also standard), too.
A head-up display is projected onto the windscreen and also standard across the Mazda 3 range. This displays information such as navigation directions, vehicle speed and traffic signs. A surprising highlight of this is the clarity - we're used to head-up displays often being a bit blurred and, well, rubbish… especially on 'mainstream' cars like this.
Space and practicality: Mazda 3 boot space
We've mentioned the wide range of adjustment in the front seats and that includes allowing you to sit nice and low - ideal if you're tall and need the headroom. There's plenty of legroom, too, while a relatively wide cabin means you won't be brushing shoulders with your passenger.
There are plenty of little cubbies for storing odds and ends in the Mazda 3, while the door pockets are big enough to squeeze a water bottle in. The central cubby box is particularly useful.
Things aren't so great in the back. The Mazda 3's swooping roofline eats into headroom, so anyone over six foot will be in danger of banging their head on the roof. Adults will find their knees pushing into the front seats, while small rear windows mean it feels quite claustrophobic back there.
The outer rear seats have ISOFIX anchor points, which help when fitting child seats. Access isn't the easiest, though - the doors are relatively narrow and you obviously have to bend down to strap a child in. An SUV like the Mazda CX-30 might be a better choice if you're looking for a family car (although that's not the most versatile option, either).
Capable of carrying 358 litres of luggage, the boot is adequate but far from the biggest in its class. It's a usefully square shape but there's quite a high lip for lifting heavy items over when lifting. The seats drop easily enough, providing a relatively flat load bay.
There isn't any room for a spare wheel under the boot floor, so you'll have to make do with a tyre repair kit in the case of a puncture.
Fact fans note, the Mazda 3 measures 4460mm in length, 1795mm wide and 1435mm high.
Handling and ride quality: What is the Mazda 3 like to drive?
"While we wouldn't go as far as saying the Mazda 3 is an MX-5 hatchback, the brand's certainly used its sports car know-how when developing the family hatch. It's up there with the Ford Focus and better than a Volkswagen Golf when it comes to driver enjoyment."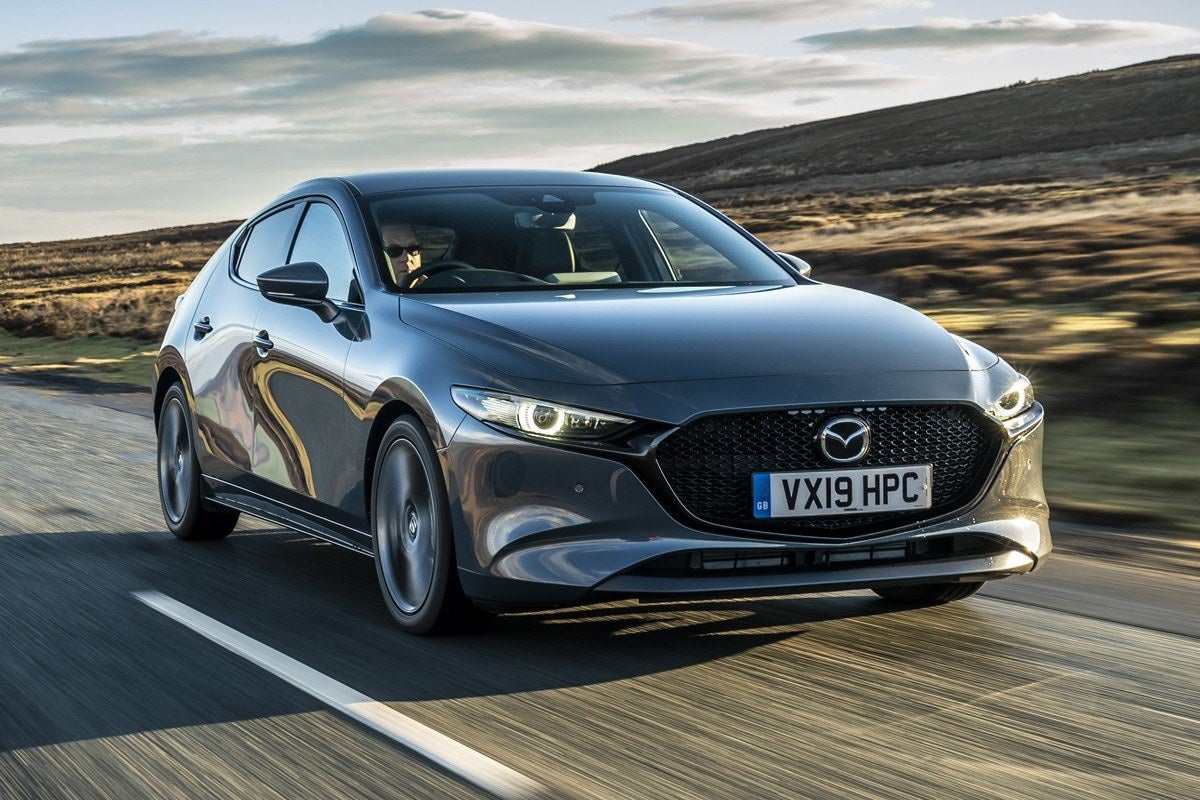 It remains very composed during cornering on rural roads, with the body remaining relatively flat (great for preventing travel sickness) and the steering full of feedback. There's plenty of grip, although you won't really notice much of a difference between two- or four-wheel-drive models unless the weather's really bad. The four-wheel-drive Mazda 3 isn't really worth the extra expense (and fuel costs) - you'd be surprised at the difference a set of winter tyres make.
Of course, most buyers will be more concerned about how nimble the 3 feels around town or how composed it is on the motorway. And the good news is that it does both very well.
It's relatively compact, which helps around town, although rear visibility is pretty terrible. Entry-level models come with rear parking sensors, while the rest of the range gets a rear-view camera - which is useful. You could end up relying on it too much, though. We did - and reversed the Mazda 3 into a low wall that looked further away than it was. Oops.
On the motorway, it feels like a very grown-up, much bigger car. In fact, one of the most impressive features of the Mazda 3 is how it combines agile handling with superb ride quality. Even on bumpy roads, it's not easily unsettled, only lacking behind the Volkswagen Golf in terms of ride comfort. We'd recommend looking for a Mazda 3 with 16-inch alloy wheels (standard on SE-L and SE-L Lux models) if you want the ultimate in cosseting ride quality.
What engines and gearboxes are available in the Mazda 3?
There are two petrol engines available in the Mazda 3: both 2.0-litres, one a Skyactiv-G with 122PS and a Skyactiv-X with 180PS. Both have mild-hybrid technology to help out the engine, while both are available with six-speed manual or automatic gearboxes. The more powerful model is also sold with four-wheel drive.
The entry-level engine does feel a bit lacking. It's a naturally-aspirated unit which means it hasn't got a turbo like most rivals. So, while a 2.0-litre might sound speedy, it actually feels slower than a 1.0-litre Ford Focus. This is because it lacks punch low down in the rev range - you really need to work it hard to make progress, and that comes at the expense of fuel economy.
You'll probably find it up to the job if most of your driving is around town and you're not looking for performance but, even then, it feels hard work.
The Skyactiv-X does without a turbo too, but 180PS means it feels healthier than the entry-level engine. It'll still take some getting used to if the engine in your previous car was turbocharged but, covering 0-62mph in 8.2 seconds, it'll be quick enough for the majority of buyers.
So what about diesel? It might be seen as the devil's juice these days, but diesels still make a lot of sense for those of us who cover a lot of miles. Mazda initially offered the latest 3 with a 1.8-litre diesel which actually suited the car very well and was our pick of the range. When the Skyactiv-X arrived a few months after launch, the diesel was deemed redundant so was dropped for the range.
If you do want a diesel (and you should only really consider it if you cover more than 12,000 miles a year, predominantly on the motorway), you'll have to look for a 2019 model. There are a few about so you might get lucky.
Refinement and noise levels
If you've driven an alternative with a three-cylinder turbocharged engine, you may have noticed how buzzy and unrefined it is. The advantage of a big 2.0-litre petrol like those used in the Mazda 3 is how quiet they are. You'll barely notice the noise of the entry-level engine, while its mild-hybrid system means the stop-start system operates seamlessly. It's not a 'proper' hybrid, though - don't go expecting to mooch around town under electric power.
The more powerful Skyactiv-X engine is a little less refined. Mazda says it uses diesel-like technology to provide incredible efficiency for a petrol. As such, it does sound quite distinctive - not quite as rumbly as a diesel, but not far off.
Mazda's engineers have ensured you won't notice any nasty vibration through the pedals of gear lever. Talking of which, both the manual and automatic gearboxes are easy to recommend - it just comes down to personal preference, really.
The manual is direct, with a light clutch pedal. The torque-converter automatic, meanwhile, might not be quite as quick to respond as the Golf's DSG dual-clutch transmission, but it rarely gets flustered and should be a reliable choice.
Safety equipment: How safe is the Mazda 3?
The Mazda 3 is one of the safest cars of its class, with a five-star Euro NCAP safety rating. It was awarded a near-perfect 98 per cent for adult occupants, along with a very impressive 87 per cent for child occupants. NCAP gave it 81 per cent for protecting vulnerable road users, while its extensive list of standard safety technology meant it scored 73 per cent for safety assist.
There's no need to go hunting for a high-spec example for all the latest safety systems. They all come with a lane-keep assist system with lane-departure warning, as well as blind-spot monitoring with rear cross-traffic alert. This'll alert the driver of approaching vehicles when reversing out of a parking space.
An autonomous emergency braking system, known as front smart brake support, is standard across the range. This can alert the driver before applying the brakes if it detects an impending collision. Rear and rear-cross smart brake support systems are standard on GT Sport Tech models, as well as a driver-monitoring camera which'll suggest you take a break if it detects signs of tiredness.
Isofix child seat anchorage points are fitted as standard to the outer rear seats.
MPG and fuel costs: What does a Mazda 3 cost to run?
"Capable of mid-50s mpg, the most efficient Mazda 3 was the diesel, but that was scrapped within a matter of months."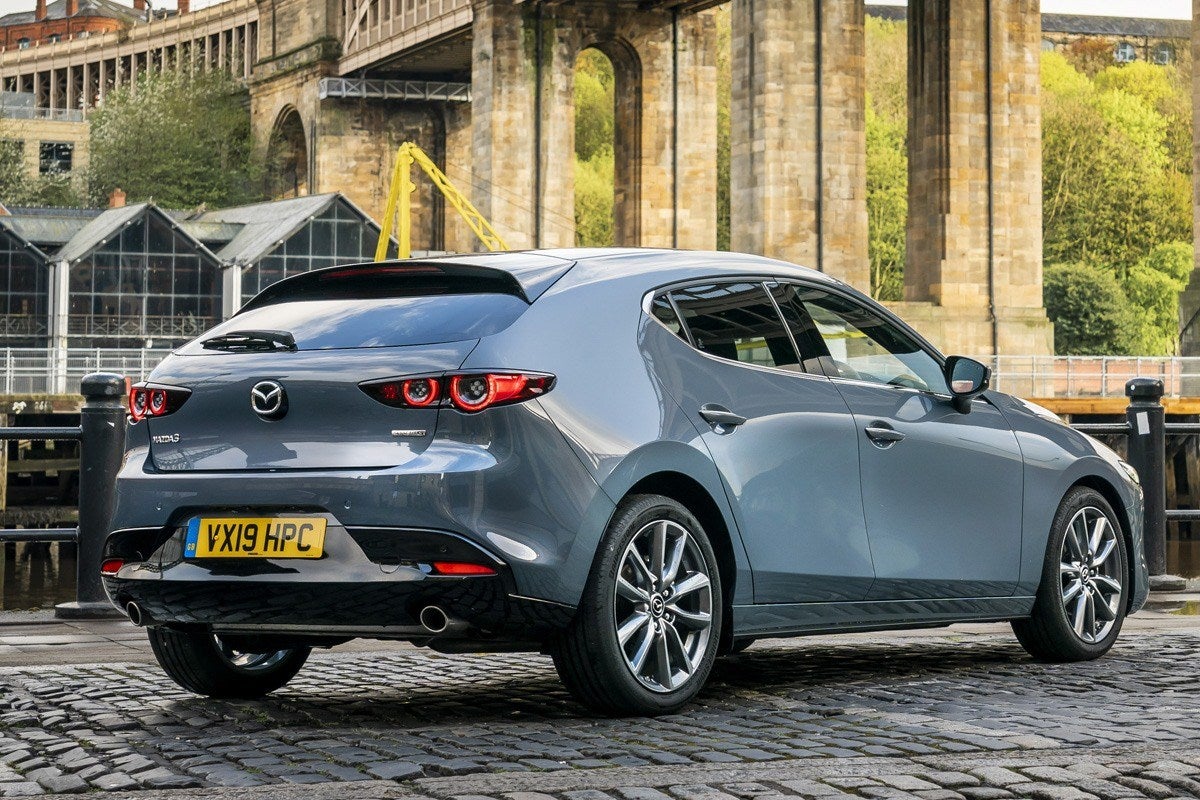 Mazda claimed that its fancy Skactiv-X engine could return diesel-like economy and, with a combined WLTP figure of 51.4mpg, that's not far off the truth. As you'd expect, automatic and four-wheel-drive versions are thirstier, but all return upwards of 40mpg in official tests.
The entry-level Skyactiv-G officially returns 45.6mpg with the manual gearbox and 43.5mpg as an auto. The good thing about these engines is that, as they're relatively large unstressed engines (compared to small turbocharged units), these figures should be fairly achievable in the real world.
How reliable is a Mazda 3?
Mazda sells some extremely reliable cars, and we have no reason to believe the latest Mazda 3 will buck this trend. The only issues we've seen in Mazda models in recent years have been related to the diesel engines. As most Mazda 3 models are petrol-powered, that shouldn't be an issue.
Although the latest Mazda 3 was too new to be included in the latest HonestJohn.co.uk Satisfaction Index, the old model scored an impressive 9.56 out of 10 for reliability.
Insurance groups and costs
Insurance groups range from 15 to 23. That's pretty high (the Volkswagen Golf starts from group 7 while the Ford Focus starts from group 8), but reflective of the Mazda 3's high equipment levels and large-capacity engines. Like-for-like, the difference isn't that big but it's still worth getting quotes before you commit if you're concerned.
VED car tax: What is the annual road tax on a Mazda 3?
The first owner will have taken care of the first year's VED, so you'll pay a flat rate of £140 a year in tax. That's including a £10 discount because, as all Mazda 3s sold are mild-hybrids, they're classed as 'alternative fuel' vehicles.
How much should you be paying for a used Mazda 3?
"While the latest Mazda 3 is a desirable choice, there are still some good savings available on used vehicles. We've seen as-new pre-registered models (these are cars ordered by dealers in order to meet targets) with delivery models on sale from £18,000. That's for a Mazda 3 SE-L with the Skyactiv-G petrol engine - a car that would cost £21,840 new, meaning you'd save nearly £4000."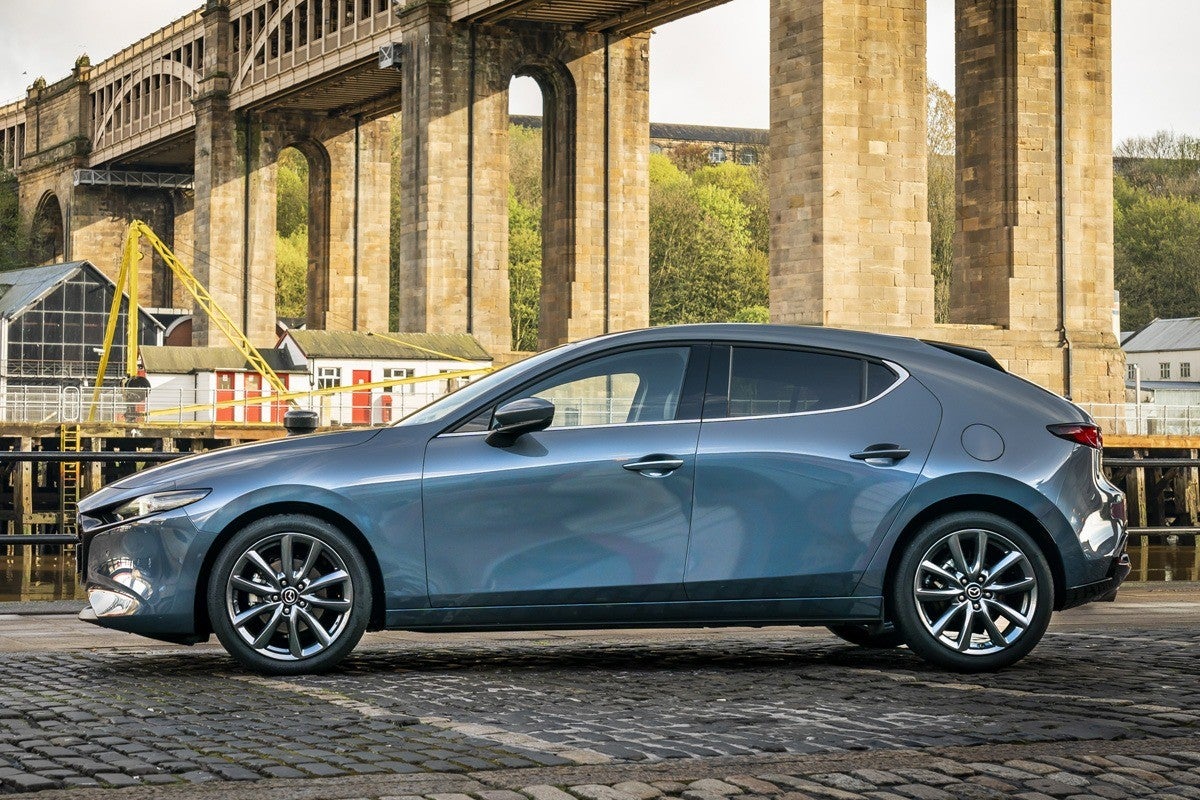 A pre-registered Mazda 3 Skyactiv-X in SE-L Lux trim will cost you around £22,000 (a saving of around £3500), while high-spec GT Sport derivatives start from around £23,500 (£4000 off new).
The diesel Mazda 3 was scrapped within months going on sale. They're desirable second-hand purchases for high-mileage drivers, though. £17,000 will get you a year-old model in SE-L or SE-L Lux trim.
Trim levels and standard equipment
A used Mazda 3 will cost you slightly more than the equivalent Ford Focus or SEAT Leon, but it does offer good value for money in terms of standard equipment.
Highlights of the entry-level Mazda 3 SE-L include automatic headlights and windscreen wipers, 16-inch alloy wheels, LED headlights and rear parking sensors. Even the most affordable model gets the same 8.8-inch infotainment system as the rest of the range, comprising of navigation, DAB radio, Bluetooth and Apple CarPlay/Android Auto.
The SE-L Lux builds on this with a long list of desirable features including an auto-dimming driver door mirror, an auto-dimming rear-view mirror, front parking sensors, a reversing camera, smart keyless entry, dual-zone climate control, heated front seats and - perhaps most surprisingly - a CD player.
Mazda 3 Sport models feature a sportier look thanks to 18-inch alloy wheels and rear privacy glass. They also feature adaptive LED headlights, a frameless auto-dimming rear-view mirror and various chrome interior trim highlights. Automatic models come with paddle-shifters for changing gear.
GT Sport trim comes with black leather seats, a power-adjustable driver's seat (with memory linked to the door mirror and active driving display), power driver lumbar adjustment and a heated steering wheel. It also gets a 12-speaker Bose premium surround sound system.
Tech fans should look for a Mazda 3 GT Sport Tech which adds a 360-degree view camera, driving monitoring, cruising and traffic support, rear crossing smart brake support, rear smart brake support and front cross-traffic alert.
Mazda doesn't offer much in the way of options. Stone or Burgundy leather costs £200 extra when new (and is desirable on the used market), while metallic paint is a £550 option. Machine Grey and Soul Red Crystal paint finished are both more expensive (£670 and £790 respectively).
Ask the heycar experts:
common questions
Is the Mazda 3 a reliable car?
Yes, the Mazda 3 is a reliable car. The brand scores highly in the HonestJohn.co.uk Satisfaction Index, while we've heard of very few common issues with the latest Mazda 3. You won't be on first name terms with your mechanic if you buy a used Mazda 3.

Is the Mazda 3 better than a Volkswagen Golf?
The Mazda 3 is a left-field alternative to the popular Volkswagen Golf hatchback. We think its interior is better than the Golf's, while it's also more fun to drive and arguably more stylish. Some buyers will prefer the Golf's image, though, while the Volkswagen Golf is slightly more practical (especially as you can buy an estate model).

How expensive is the Mazda 3?
Mazda 3 prices start from £21,805, rising to more than £30,000 for high-spec models. You can save money by looking for a used Mazda 3, with prices of nearly-new models dipping below £19,000.

Mazda 3 cars for sale on heycar
1,104
Number of cars available
£8.2K - £30K
Price bracket of these cars
Colours available on heycar
Keep me updated by email with the latest advice, news and offers from heycar
By submitting, you agree to our
privacy policy
.
Popular models
Similar models