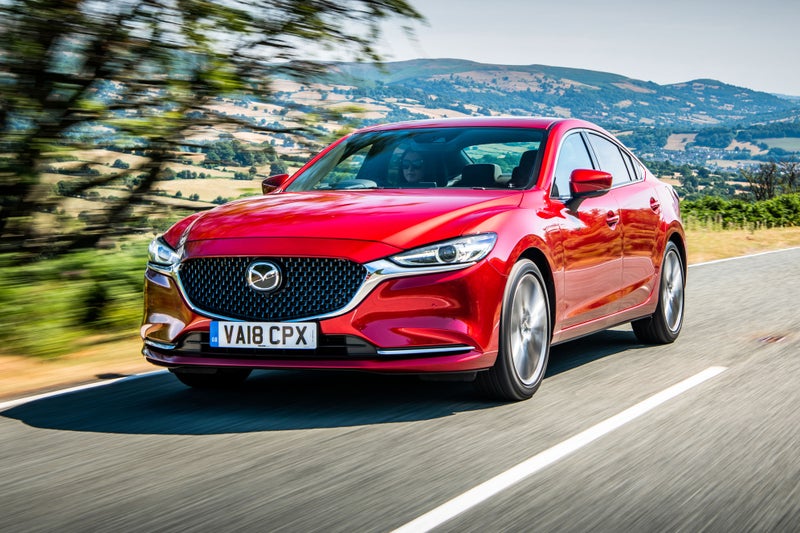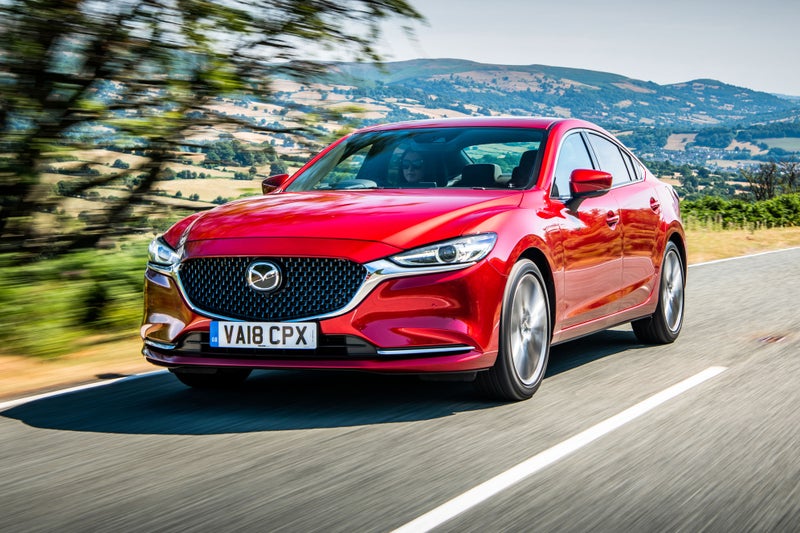 1/10
heycar rating
"Smart, fun to drive saloon "
Launched: 2013

Large family

Petrol, Diesel
Quick overview
Pros
Good looks allied to an enjoyable driving experience
The 2.2-litre turbodiesel is an excellent engine
Plentiful standard equipment, particularly safety kit
Cons
Saloon-style boot limits outright practicality
There's no hybrid offering
Newer rivals are cheaper to tax
Overall verdict
On the inside
Driving
Cost to run
Prices and Specs
Common questions
Overall verdict on the Mazda 6
"The Mazda 6 is good enough to potentially tempt you away from one of those SUVs everyone else is buying. And if you like your family car with a bit of driving pleasure, the Mazda 6 has it covered, without any real compromises."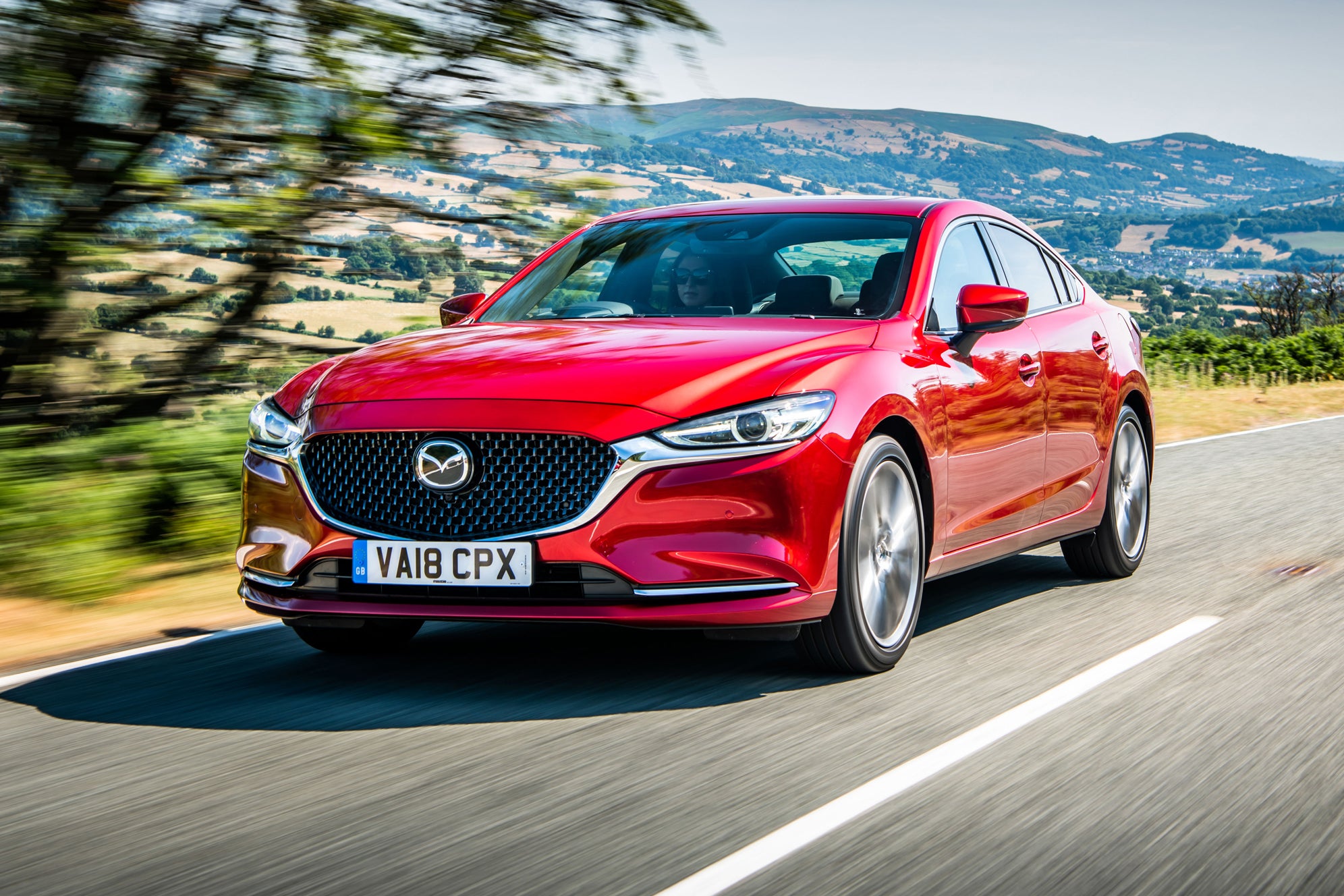 It might now fight for a smaller pool of buyers, then, but there are still buyers who want a saloon car, and the Mazda 6 makes a fairly convincing case for itself against not just those premium saloon car rivals, and its core, mainstream saloon competition, but those SUVs, too.
First up are the Mazda 6's looks. It's a handsome car, the curved and creased surfacing, slim lights and neat tailgate are particularly attractive, elevating the Mazda 6 above the humdrum looks of the Ford Mondeo or the understated Volkswagen Passat. Its relative rarity means it'll turn more heads than any of its premium rivals – their ubiquity's their undoing – which makes the Mazda 6 even more appealing.
It's not just the Mazda 6's style that marks it out as different, Mazda has traditionally done things its own way, bucking industry conventions, not to the point of compromise, but simply taking a different approach and engineering stance.
That's evident with the Mazda 6, which Mazda has engineered tirelessly to make as light as possible, while its petrol engines, too eschew the current trend for downsized turbocharged units, and instead rely on natural aspiration and larger capacities.

Those two facets in the 6's make up create a car that's both agile and fun to drive, but it is also able to compete when it comes to fuel economy and drivability. The 6 is so enjoyable to drive it's arguably knocked the long held Ford Mondeo champion for driver fun from its top position, the 6's dynamics also meaning it's as engaging as its premium competition.
That's impressive, given the 6 has been around now for a while, it was originally introduced in 2013, but having received a couple of overhauls mean it remains competitive. In the most recent 2018 facelift it benefitted from improvements to the engine line-up, as well as revised trim, specification and infotainment, ensuring the 6 remains a worthy, admirable even, choice in the saloon car market.
Is the Mazda 6 right for you?
If you're even considering a saloon, then the Mazda 6 should certainly be on your shortlist, and arguably up near the top of it. That's particularly true if you enjoy driving, thanks to its agile chassis and responsive engines. If you're looking at a Mazda 6 there's a good chance you've owned Mazdas previously, perhaps graduating from a Mazda 3 hatchback or having an MX-5.
If you want more practicality than those, and aren't interested in the current trend for SUVs as family cars, the Mazda 6 is a fine choice, even if it's not able to offer quite the classy interior of the Volkswagen Passat it closely rivals, or the snobbish badge appeal of something like a BMW, Audi or Mercedes-Benz. Indeed, that it's not one of those oh-so-predictable German cars is part of its appeal, as is a comprehensive specification from the base model upwards.
What's the best Mazda 6 model/engine to choose?
The entire Mazda 6 range broadly falls into the same CO2 emissions bandings, or at least much the same BIK tax liability, so you really can pick on budget and specification. All come comprehensively equipped but the SE-L Lux Nav+ has the best balance of all, with luxuries like a heated steering wheel and seats, both being leather covered. Sport Nav+ above it might appeal, too, adding some more body-coloured exterior trim and larger alloy wheels as standard, but that does impact slightly on the ride comfort.
The engine choice is less complicated, as even though diesels have received a bad press of late, the 2.2-litre turbodiesel is a superb engine, with good economy and emissions allied to fine refinement and good driving characteristics. It's down to which power output you want, that too dictating the trim, as with the 150PS model you can have that SE-L Lux Nav+ or Sport Nav+, picking the more powerful 184PS version limits you to the Sport Nav+.
As for the transmission, we'd go with the slick manual, as the auto impacts on economy, robs the 6 of some of its driving appeal, and isn't as good as its rivals' twin-clutch automatics.
What other cars are similar to the Mazda 6?
Comfort and design: Mazda 6 interior
"The Mazda 6 might have been around for a while now, but it's received a number of revisions to keep it competitive among its numerous rivals. The styling inside is pleasingly detailed, certainly better than its Japanese rivals, if not quite able to match the restrained sophistication of something like a Volkswagen Passat. "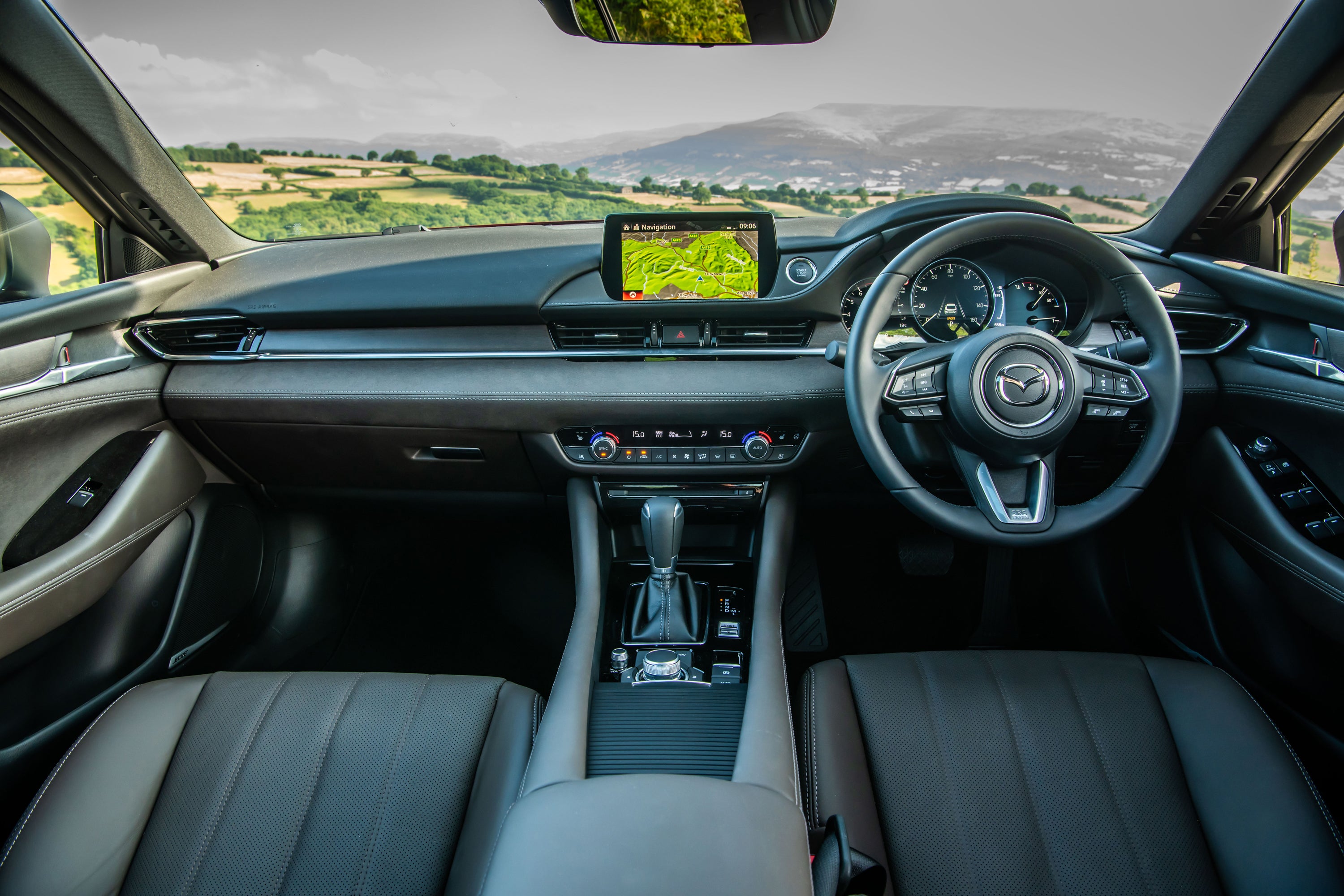 Getting comfortable in the cabin is easy enough, though, with all Mazda 6's having a rake and reach adjustable steering wheel, which offers plenty of movement. That, combined with the driver's seat's ample adjustment – which, along with the passenger side, is powered from SE-L Lux Nav+ trim and above – makes getting a comfortable driving position a real cinch.
SE-L Lux Nav+ also brings some luxuries to lift the comfort even further, with leather upholstery and seat heating front and rear, and a heated steering wheel. Comfort is good, with all Mazda 6's coming with dual-zone climate control, as well as cruise control with a Stop & Go function.
Quality and finish
Nobody at Volkswagen or Audi is going to be too worried about the Mazda 6's interior materials, as while it's pleasant enough inside, it doesn't reach the lofty status of the German powerhouses. Overall, the material quality is good, with any hard surfaced plastics largely out of sight and the reach of your hands. There's also a neat rear-view frameless mirror. The materials might not match the very best, then, but in the mainstream class they're more than acceptable, and the interior does feel like it'll last forever.
Infotainment: Touchscreen, USB, nav and stereo in the Mazda 6
As standard all Mazda 6s have an AM/FM/DAB radio with a single CD (remember those?) and MP3 capability which powers a six-speaker system. There's Bluetooth connectivity for both audio streaming and phone calls. All that's operated by a standard eight-inch colour display, using the controller between the driver and passenger or the buttons on the steering wheel.
The 6's touchscreen lacks the slickness of the best of its newer rivals, but with familiarity it's fine, while the retention of a rotary controller is welcome if, like many, you're not entirely convinced that a touchscreen is the best solution when driving. A head-up display is fitted to all, too – unusual that such equipment is fitted as standard across an entire model line-up.
All Mazda 6s also benefit from Android Auto and Apple CarPlay interfaces for mirroring your smartphone, an aux-in socket and a pair of USB sockets. Sat nav is standard in all, too, though if you want the full premium connected services that includes live traffic, weather info and fuel prices you'll need to pay Mazda a subscription charge after an initial 60-day free trial.
From Sport Nav+ upwards you gain a premium stereo, with a BOSE Centrepoint 2 system driving 11 speakers.
Space and practicality: Mazda 6 bootspace
You'll not find space lacking inside the Mazda 6, with the two front seat passengers having generous space, aided by the slim pillars that give a fine view out. There's plenty of head and leg room, with a good range of seat adjustment to make sure even the tallest or widest front seat occupants are accommodated easily.
The rear offers good legroom, but the Mazda's rakish roof does impact on headroom, meaning you'll likely be brushing your head off the headlining if you're taller than 5ft 10. If you need greater headroom in the rear, the estate will better suit you.
The rear seat bench, is, like all its rivals, best for two, the middle seat being a flat afterthought that's best left for occasional use. The two outer seats come with ISOFIX mounts for child seats. Drop the rear armrest and there's some useful cubby space within, and, usefully, a pair of additional USB plugs.
Oddment storage throughout is decent, with a useful bin between the front seats, a couple of cupholders and door bins, a glovebox, map pocket on the passenger seat back and a sunglasses holder in the roof.
Luggage space is good, if not as impressively capacious as rivals like the Passat saloon, but 480 litres of space – albeit accessed by a relatively narrow opening – will be enough for most buyers. The rear seats split and fold in a 60/40 fashion, for through loads.
Handling and ride quality: What is the Mazda 6 like to drive?
"Any concerns you might have about the Mazda's interior quality and practicality will diminish as soon as you drive it."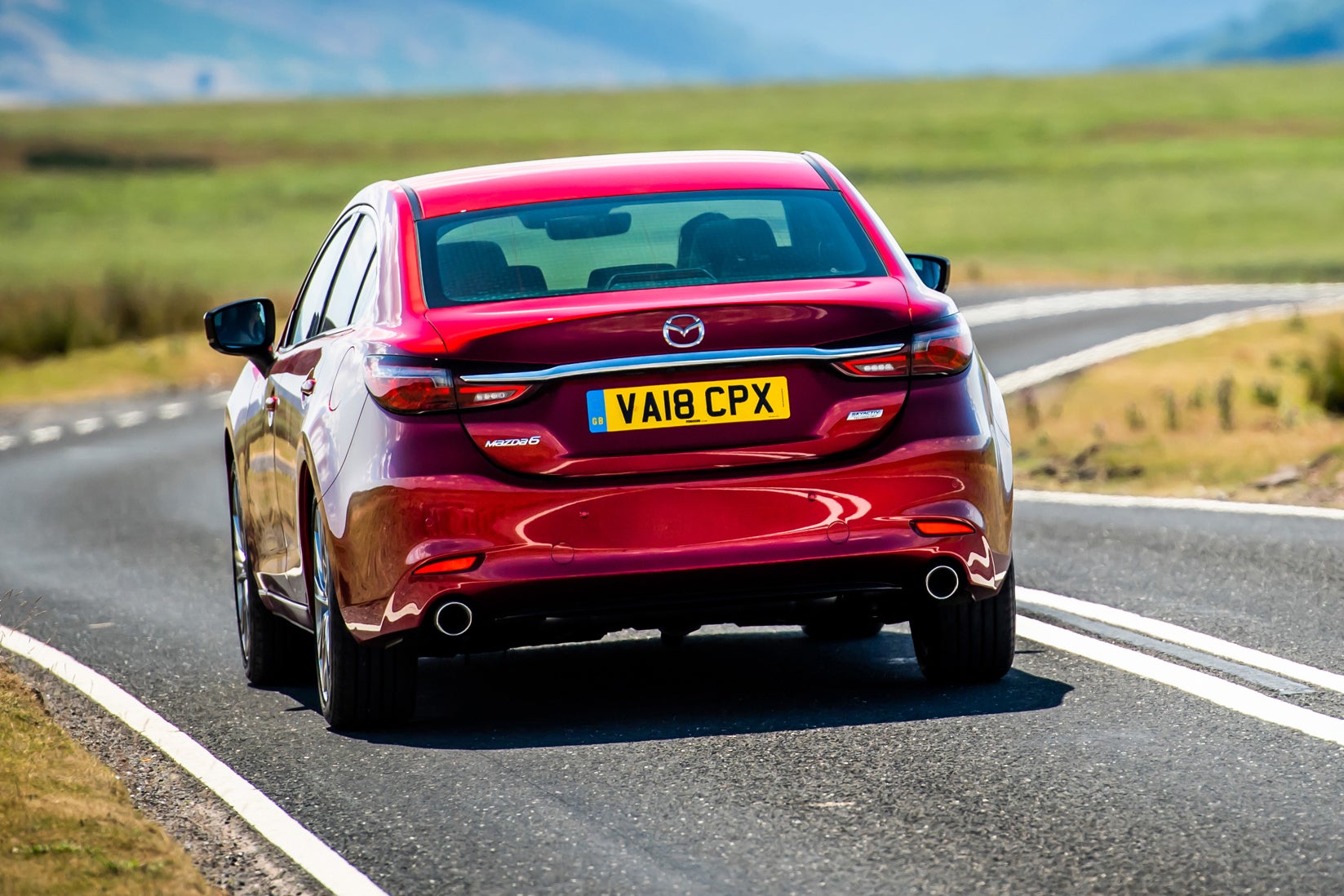 There's a real polish to not just the Mazda 6's chassis and suspension, but the engines and the slick manual transmission. It's here you might concede that there's some substance to Mazda's oft-referenced 'Jinba Ittai' or 'car and driver as one' ethos. The 6 really does involve its driver far more than is the class norm.
Don't think for a moment though that you've got to be a card-carrying gearhead to appreciate this, no, the 6 goes about the business of driving with such a lightness of touch and accuracy that it'll be appreciated by any driver.
Mazda's obsession with weight pays dividends here, with the 6 being light for its size, and that's to the benefit of its agility. All 6s feel sharp and interesting to drive as a result with direct steering that's both quick, well-weighted and accurate, the suspension doing a fine job of juggling excellent control with a comfortable ride. Smaller wheels enhance this, though even the largest wheel sizes don't impact on the ride quality to the point of distraction.
A good deal of attention was paid to the chassis for the 6's 2018 revisions, Mazda's engineers doing all sorts of things with bump stops, dampers and bushes, none of which us mere mortals are likely to really comprehend.
What is easily understood are the tangible results on the road. The Mazda offers an impressive mix of accurate, engaging driving behaviour, combined with a fine, supple ride quality. When it comes to being rewarding to drive, it's among the very best in its class.
What engines and gearboxes are available in the Mazda 6?
Bucking convention, instead of offering smaller, turbocharged petrol and diesel engines Mazda sticks to a bigger capacity and – in the case of its petrol choices – non turbocharged units.
Mazda dubs its engines Skyactiv-G or -D, with the G for gasoline and D for diesel. The petrol range offers a choice of 2.0-litre four-cylinder engines, with outputs of 145PS and 165PS. Above that there's a sole 2.5-litre engine, with 195PS.
If you're used to turbocharged petrol engines of rivals then you might find the Mazda's petrol engines have a lack of low-rev urgency that's tiresome, as they need working hard to produce their best performance. Though the nice action of the manual gearbox makes up for this.
The Skyactiv-D diesels are both 2.2-litres in capacity, with outputs of 150PS and 184PS. They're all turbocharged and gain more low and mid-range flexibility as a result.
That makes the Skyactiv-D engines easier, more of the time. The 184PS 2.2-litre turbodiesel is a fine choice, with good performance, it's able to reach 62mph in 8.5 seconds, and onto a 141mph top speed. The lower powered versions of both the petrol and diesels can be fitted with either six-speed manual or six-speed automatic transmissions, with the 2.5-litre petrol only available with the six-speed automatic gearbox.
The automatic does a decent job of shifting, but it's not quite as seamless as its rivals.
Refinement and noise levels
The Mazda 6 wasn't particularly lacking in relation to refinement prior to its 2018 revisions, but Mazda engineers couldn't help but fiddle, improving it further still, while adding sound deadening and stiffening up areas of its structure.
The 6's suppression of wind and road noises is admirable – at least as good as its rivals. Where it's really different to its competition is in relation to the refinement of the diesel engines, with all the diesels very hushed and free from vibrations.
Safety equipment: How safe is the Mazda 6?
Commendably, Mazda equips virtually all its safety equipment as standard. All come with dual front, front side, plus front and rear curtain airbags. There's ABS with Electric Brake Force Distribution, traction and stability control, blind spot monitoring, an active bonnet that pops up to stop pedestrians hitting the hard engine in a collision.
To that list, you can add traffic sign recognition, rear cross traffic alert, automatic emergency brakes, a tyre pressure monitoring system, hill hold assist, lane keep assist, and a pair of Isofix child seat mounts.
The only safety equipment not available across all models as standard is Driver Attention Alert which warns when you're getting sleepy behind the wheel and rear smart city brake support – or automatic emergency brakes that work when you're reversing. They're only available on the top line GT Sport Nav+ specification. All feature a head-up display, too, which is unusual to be fitted as standard equipment across an entire range.
Independently tested by Euro NCAP in 2018, the Mazda 6 still managed a top five star score, that impressive given it was introduced back in 2013.
MPG and fuel costs: What does a Mazda 6 cost to run?
"The model range consumes anywhere between 38.2mpg and 55.4mpg, with CO2 emissions from 137-167g/km. "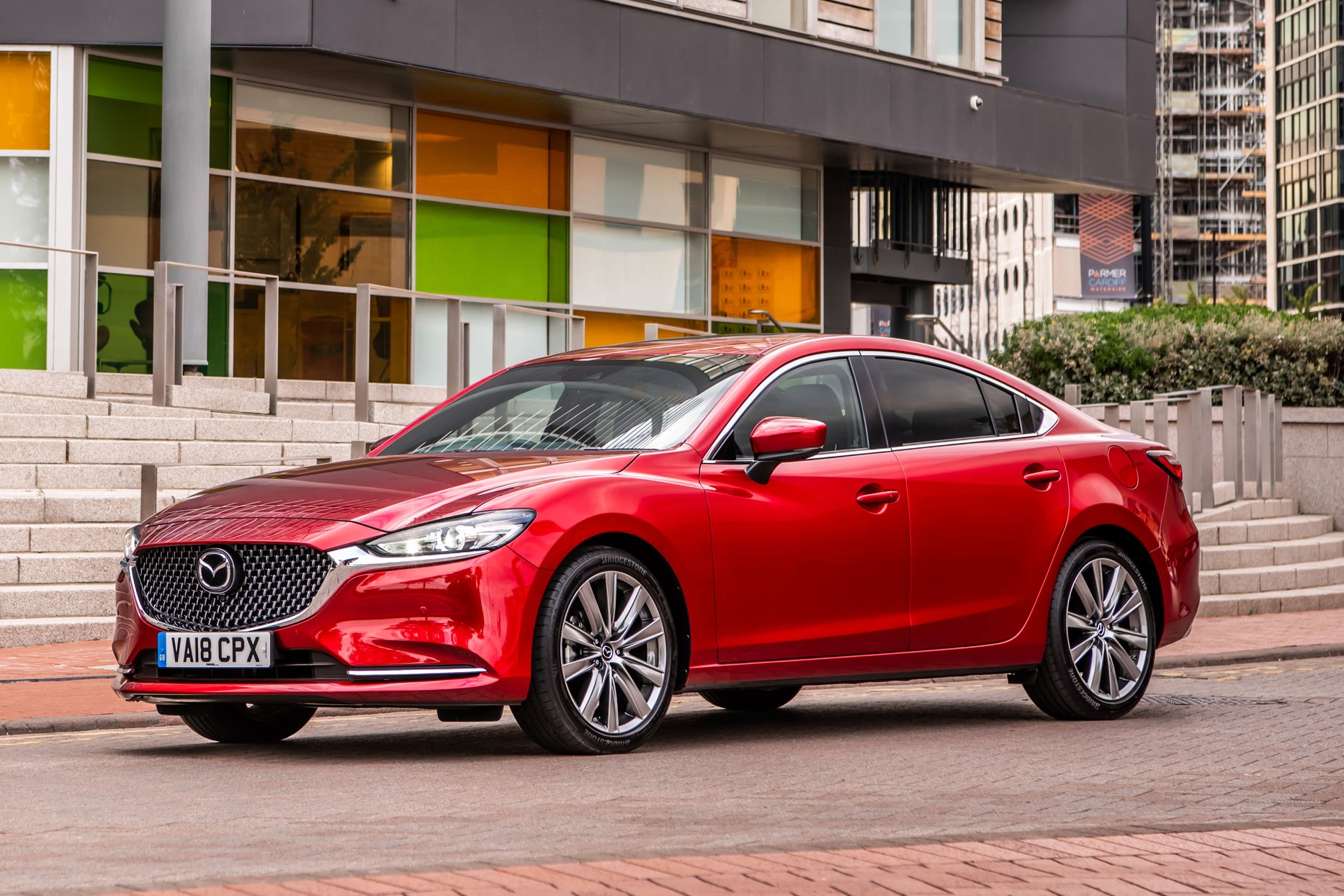 Unsurprisingly it's the diesel models that do the best in regards to economy and emissions, that 55.4mpg figure relating to the manual 150PS model, with the worst economy being the 2.5-litre automatic petrol choice.
The 6 isn't able to offer quite the tax-cheating emissions and pump-dodging economy of the best of its rivals, but it's not so far off that you should discount it from your potential purchases.
Insurance groups and costs
The Mazda 6 range spans insurance groups 25E to 31A, so insurance costs shouldn't be too expensive.
Mazda offers five days free driveaway insurance with any 6, while in the first year of ownership Mazda also offers an excess return voucher of up to £250 should you have to make any claim on your insurance – no matter who you've insured it with.
There's also fixed price servicing available for the first three years, those service intervals being 12,500 miles or 12 months, whatever's sooner.
VED car tax: What is the annual road tax on a Mazda 6?
The Mazda 6's emissions are widely competitive with the majority of its rivals, with its lowest 137g/km CO2 rating putting it in the £540 first year diesel VED bracket and £150 annually thereafter.
The highest emitting petrol automatic actually pays the same £540, like the diesel (and the majority of its rivals) it doesn't pass new RDE2 emissions standards – if it did it would attract a lower £215 first year tax payment.
How much should you be paying for a used Mazda 6?
Our report focuses on the 2018 and onwards version of the 6, but it's actually been around since 2013, albeit having evolved during the intervening years.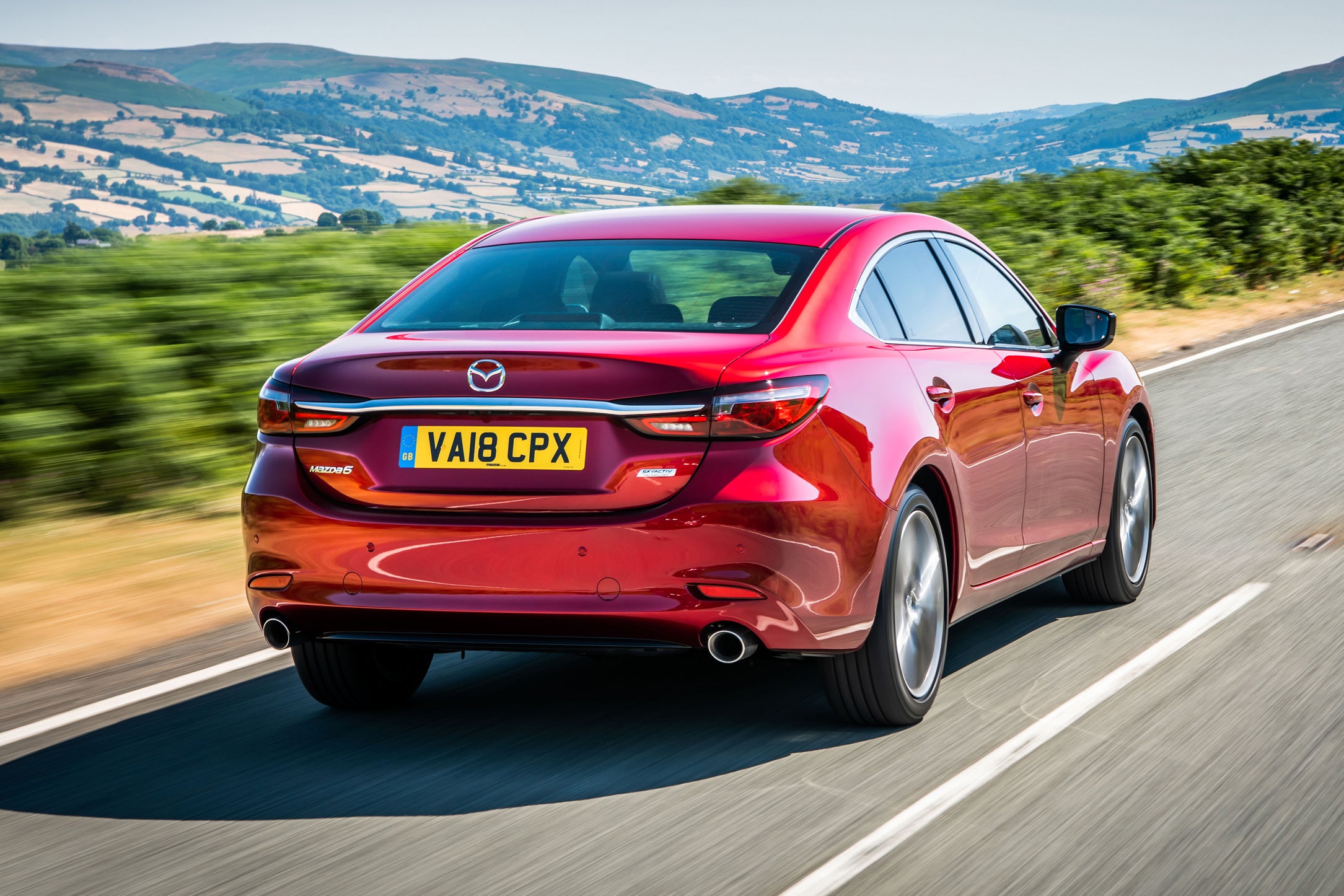 Prices for the earliest cars start at around £5000 for the oldest, higher mileage examples. Up to £7000 increases the choice and sees those mileages tumbling, with some mid-late 60,000 mile cars falling into this price bracket. Above that, up to £10,000 and you can start to be pickier, with plenty of choice, though the most common engine and transmission is the 150PS 2.2-litre turbodiesel mated to a manual transmission.
Trim levels and standard equipment
All Mazda 6s come very well specified, with sat-nav, climate control air conditioning, alloy wheels, Apple CarPlay and Android Auto and DAB.
SE-L Lux Nav+ are one step up from basic but it's a worthwhile step, the add black leather upholstery, heated and electrically adjustable front seats and a reversing camera.
Sport Nav+ look more distinctive. They get 19-inch alloy wheels, revised Sport Nav+ styling, keyless entry, an 11-speaker BOSE stereo and LEDs that are adaptive at the front.
GT Sport Nav+ models get all the kit including a power tilt sunroof, softer Nappa leather upholstery, ventilated front seats, heated outer rear seats and a Safety Pack including a 360 degree View Monitor, LED Adaptive Headlights, Rear Smart City Brake Support and Driver Attention Assist.
Ask the heycar experts:
common questions
What problems do Mazda 6 have?
The current Mazda 6 has been known to suffer from engine and gearbox failure.

Is the Mazda 6 a luxury car?
We wouldn't say the Mazda 6 is a luxury car – like say a Mercedes or BMW – but it does reside in the middle ground, looking and feeling nicer inside than the likes of the Ford Mondeo, Vauxhall Insignia or Kia Optima.

Answered by
heycar editorial team
Which is better the Honda Accord or Mazda 6?
If you want a new car then there's a clear winner – the Mazda 6, because the Honda Accord is no longer sold new in the UK. Even as secondhand option, we'd choose the Mazda because it's nicer inside and better to drive.

Mazda 6 cars for sale on heycar
1,104
Number of cars available
£9K - £30K
Price bracket of these cars
Colours available on heycar
Keep me updated by email with the latest advice, news and offers from heycar
By submitting, you agree to our
privacy policy
.
Popular models
Similar models