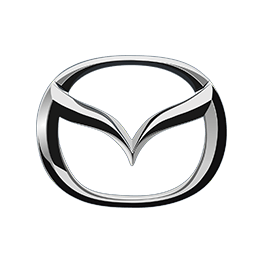 Mazda 6 Tourer Review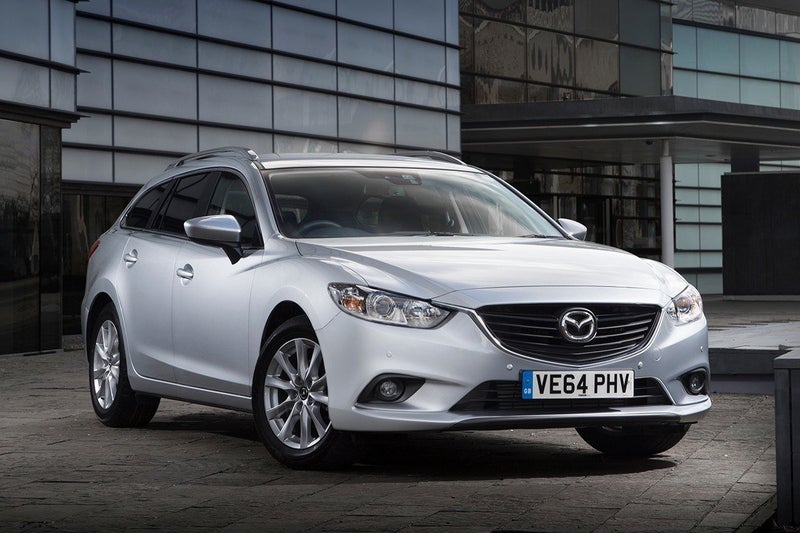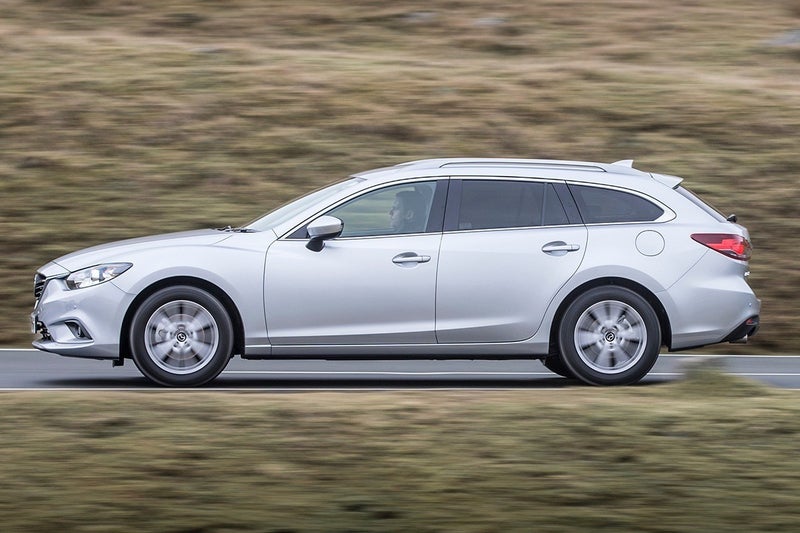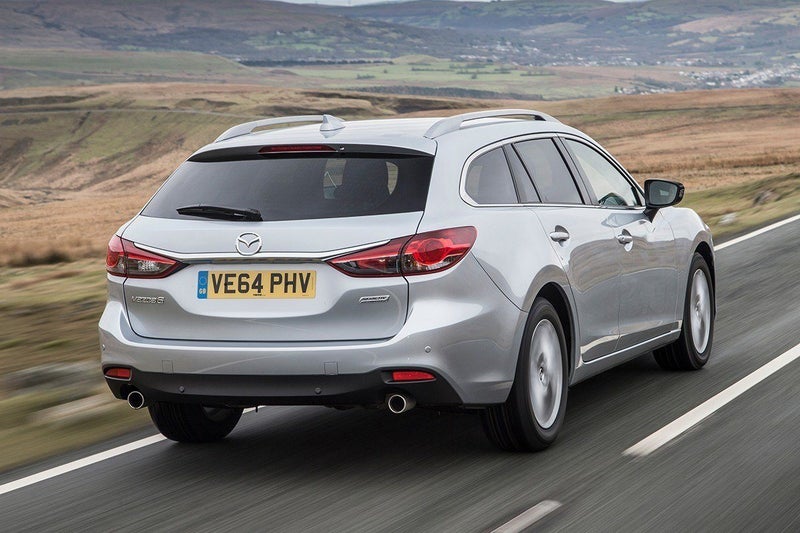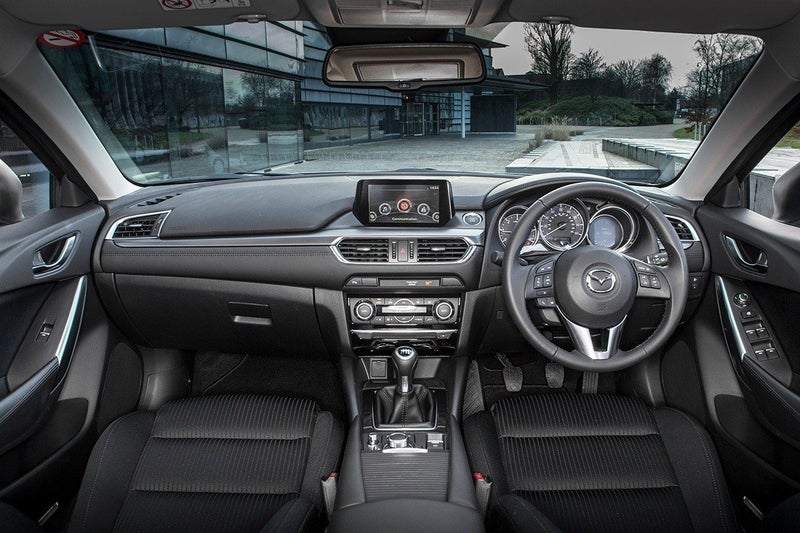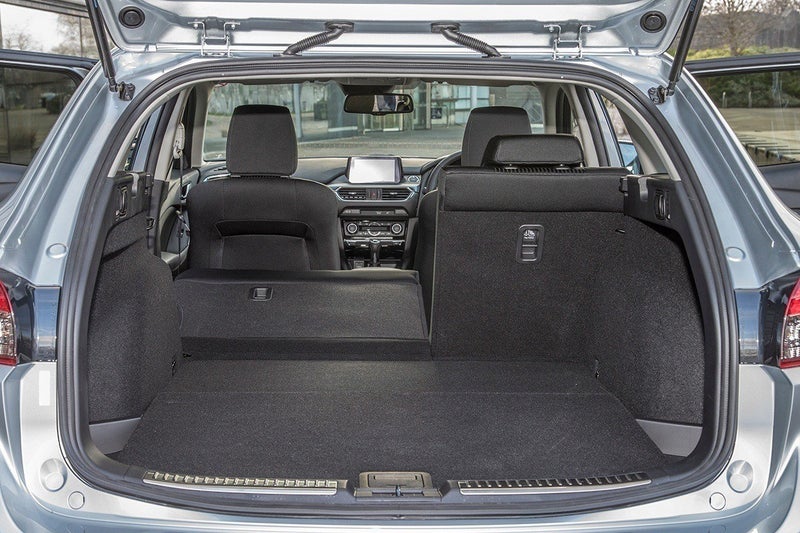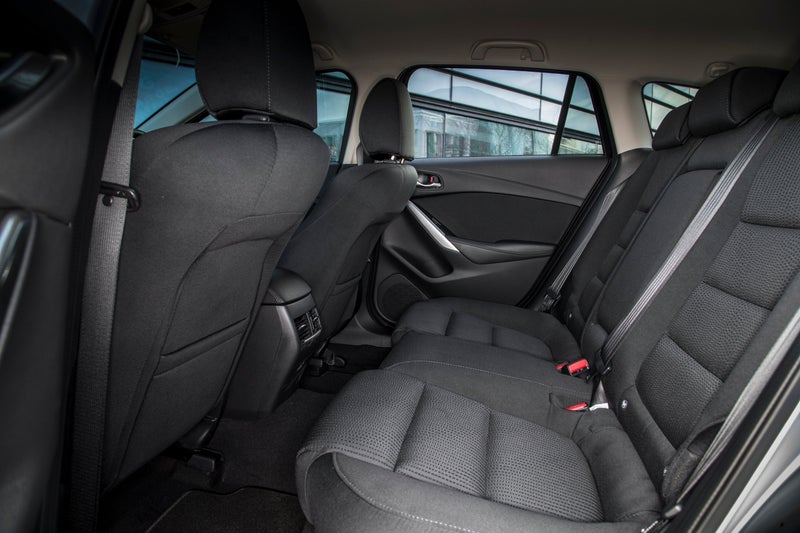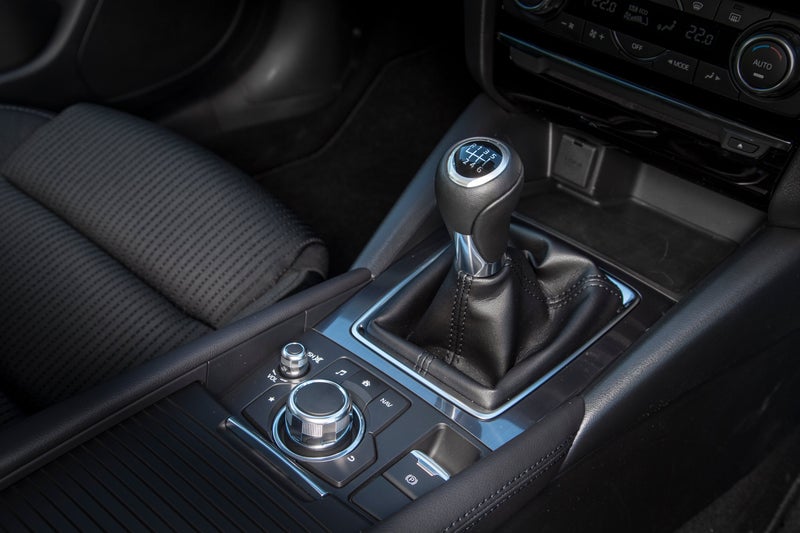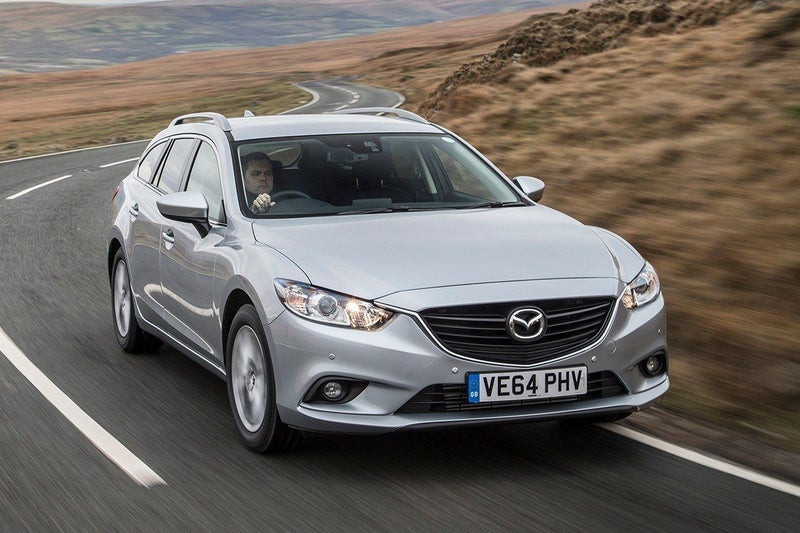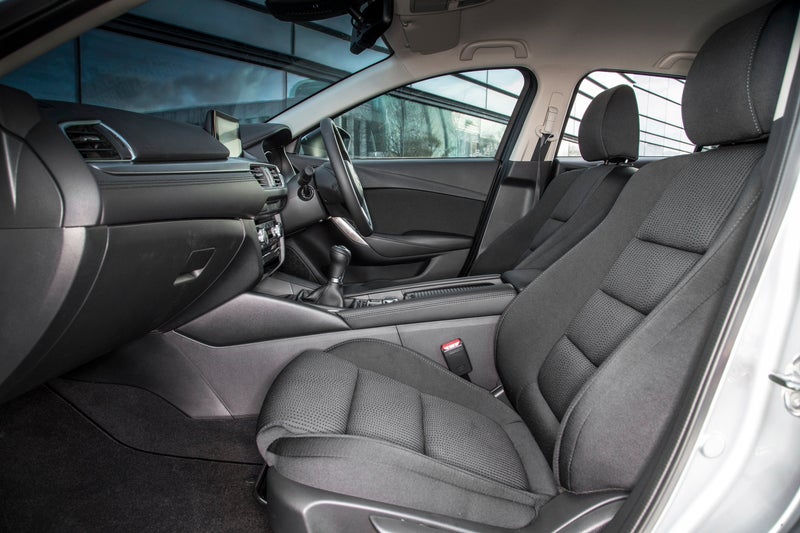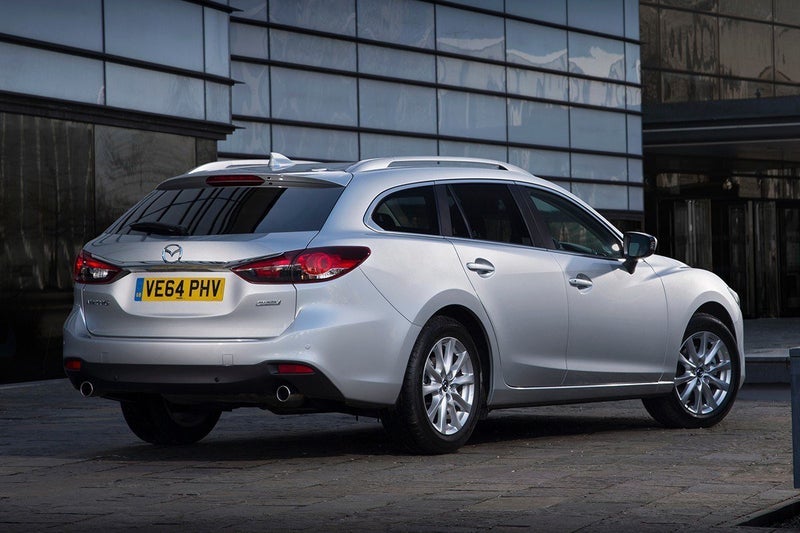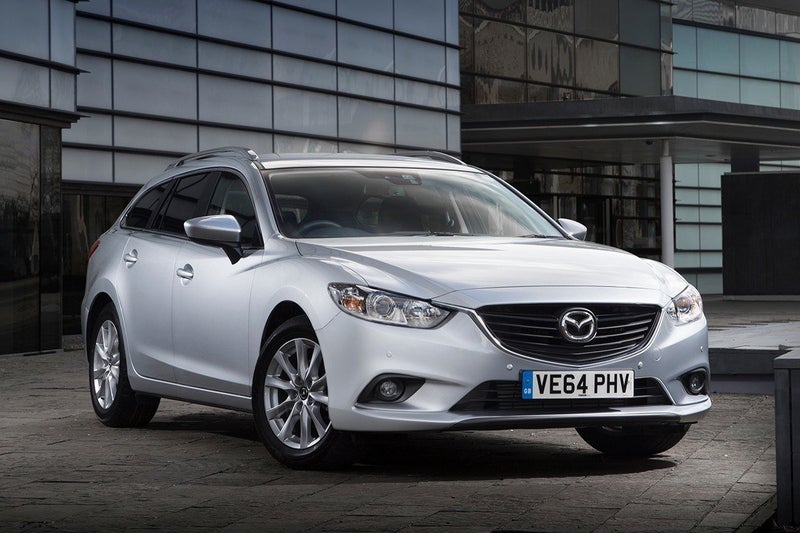 1/10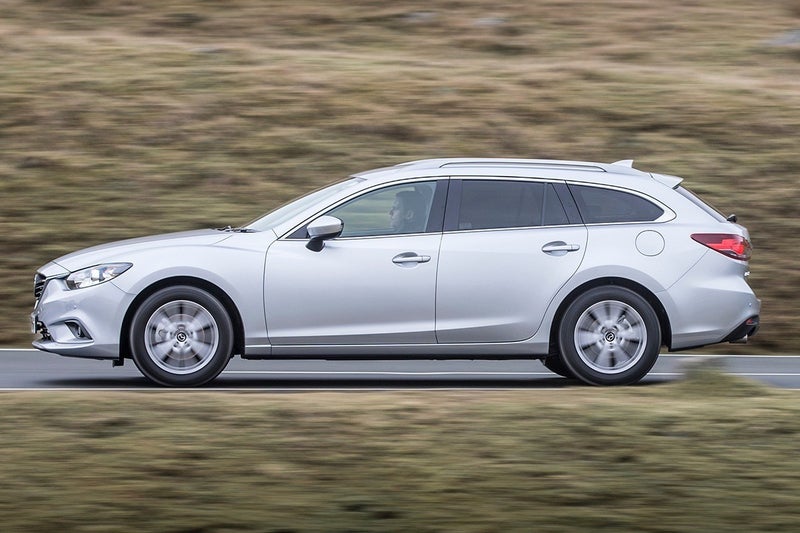 2/10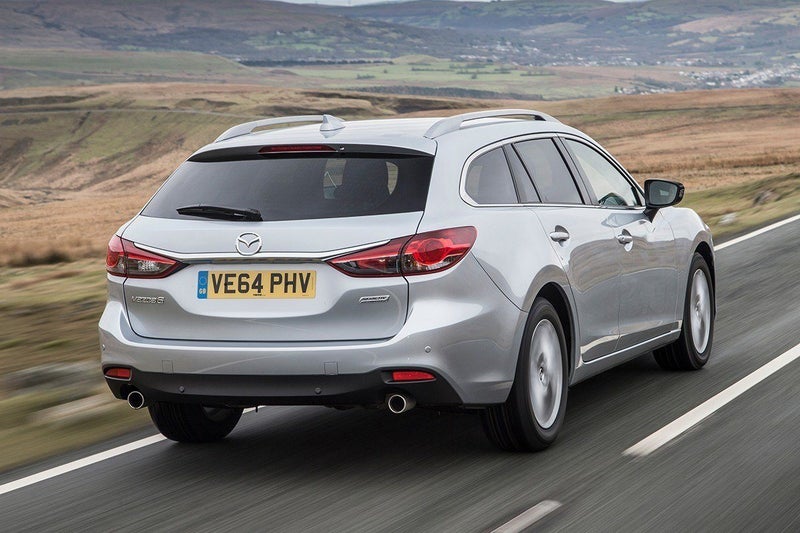 3/10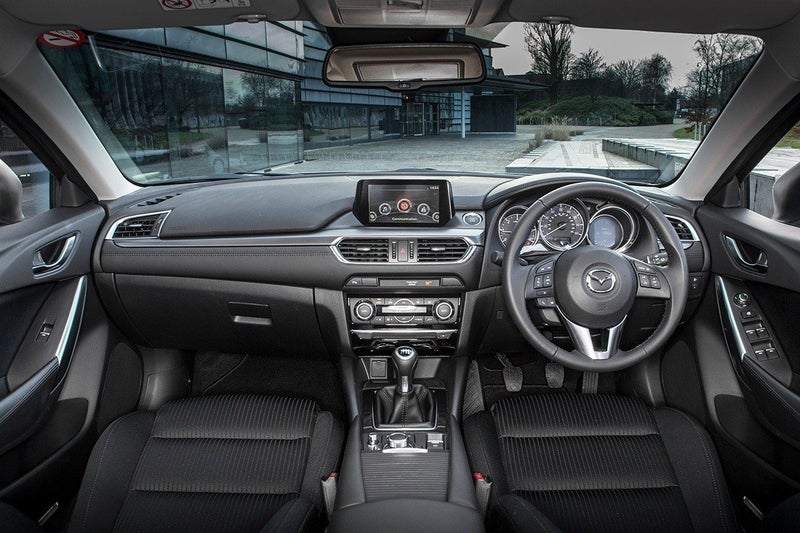 4/10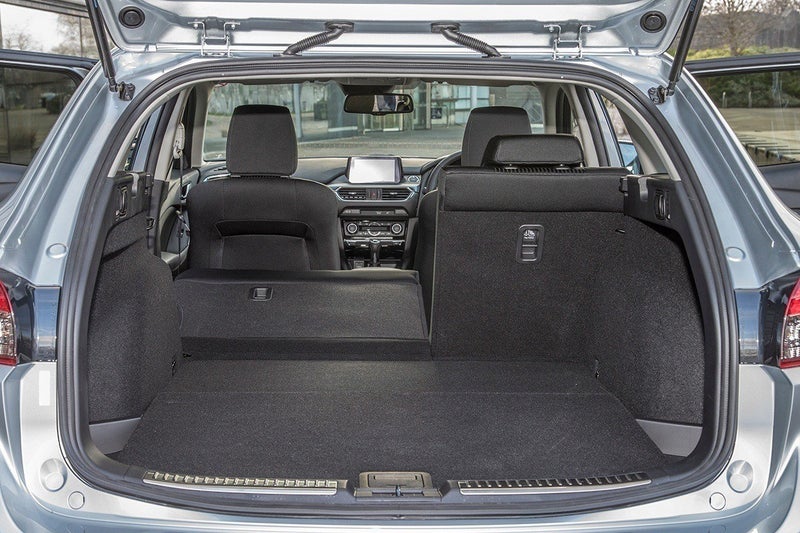 5/10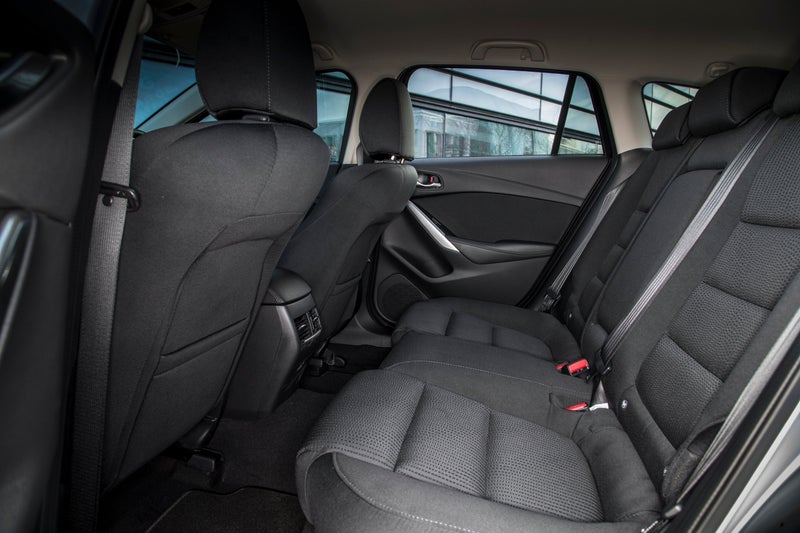 6/10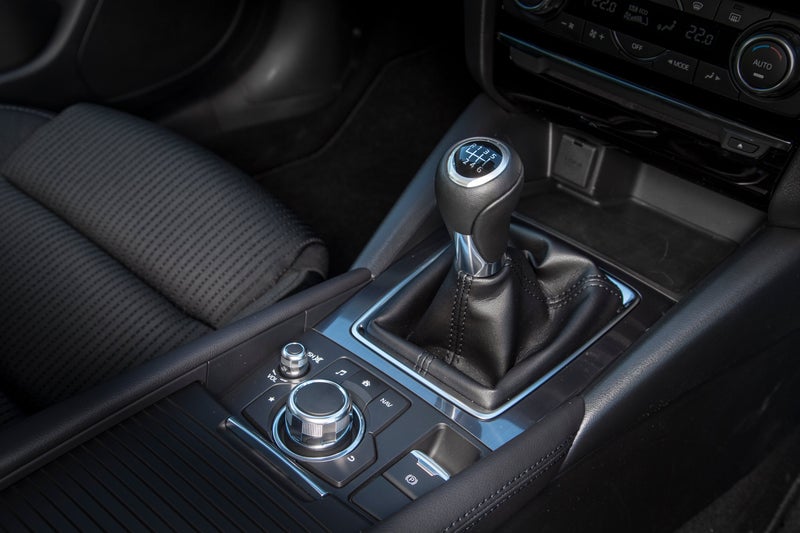 7/10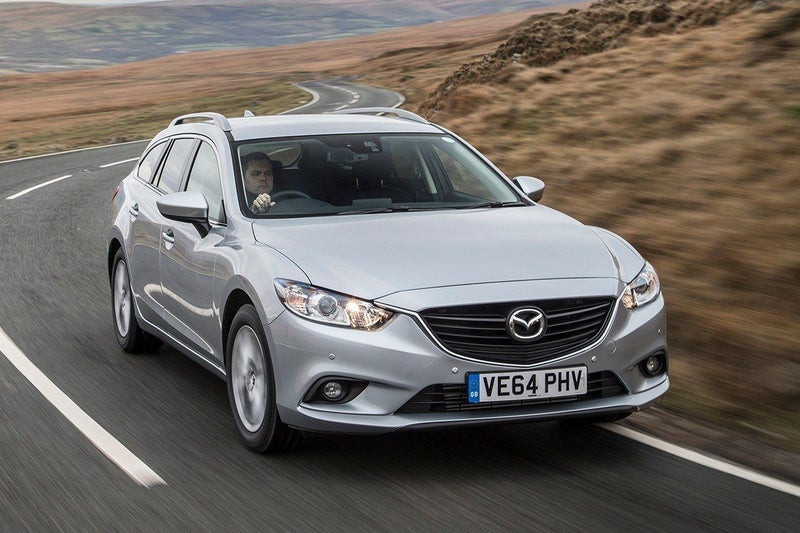 8/10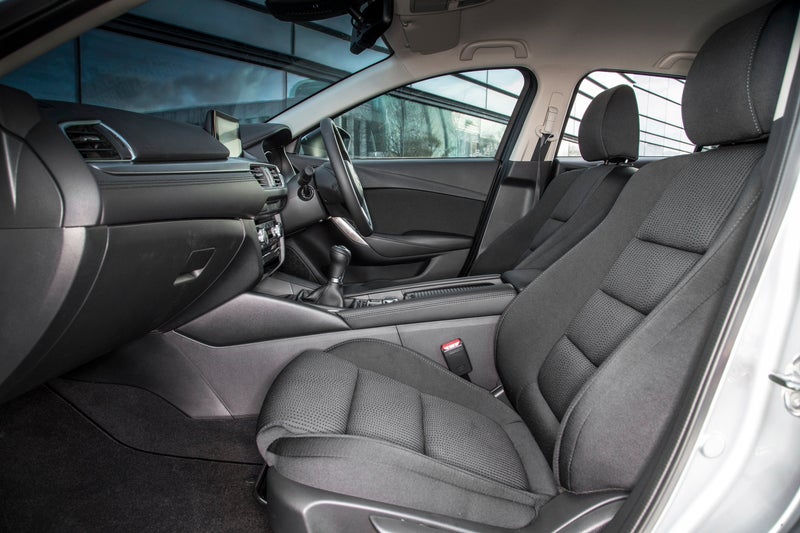 9/10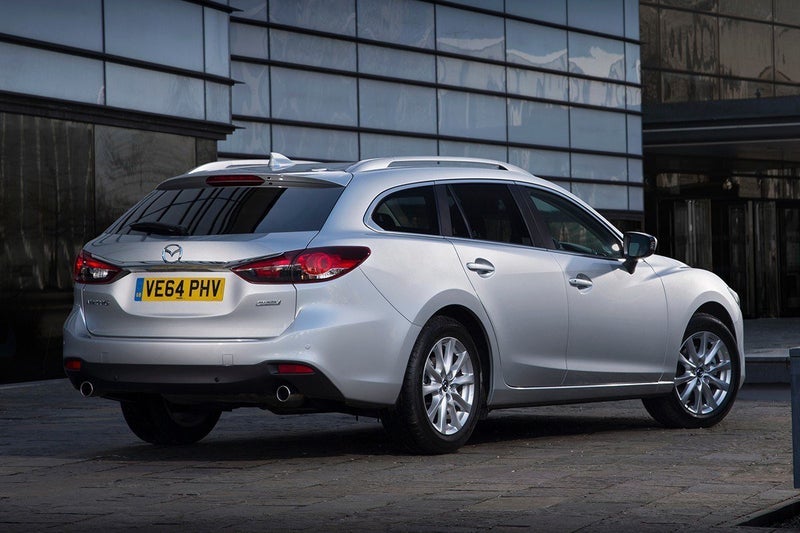 10/10

heycar rating
"Smart, capable and attractive estate"
Launched: 2012

Estate

Petrol, Diesel
Quick overview
Pros
Attractive inside and out
Good to drive
Useful load space
Cons
Ride is firm on models with larger wheels
Stodgy automatic gearbox
No hybrid or electric version available
Read by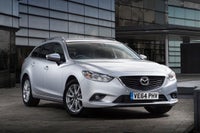 Overall verdict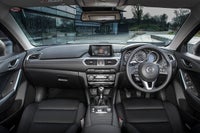 On the inside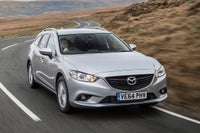 Driving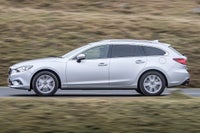 Cost to run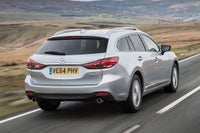 Prices and Specs
Overall verdict
"What the Mazda 6 Tourer manages to do is provide you with all the practicality and versatility that you buy an estate car for, but is also appealing for the way it looks and the way it drives. It's not the biggest car in the class, nor is it the absolute best to drive, but the combination of qualities makes for a compelling package."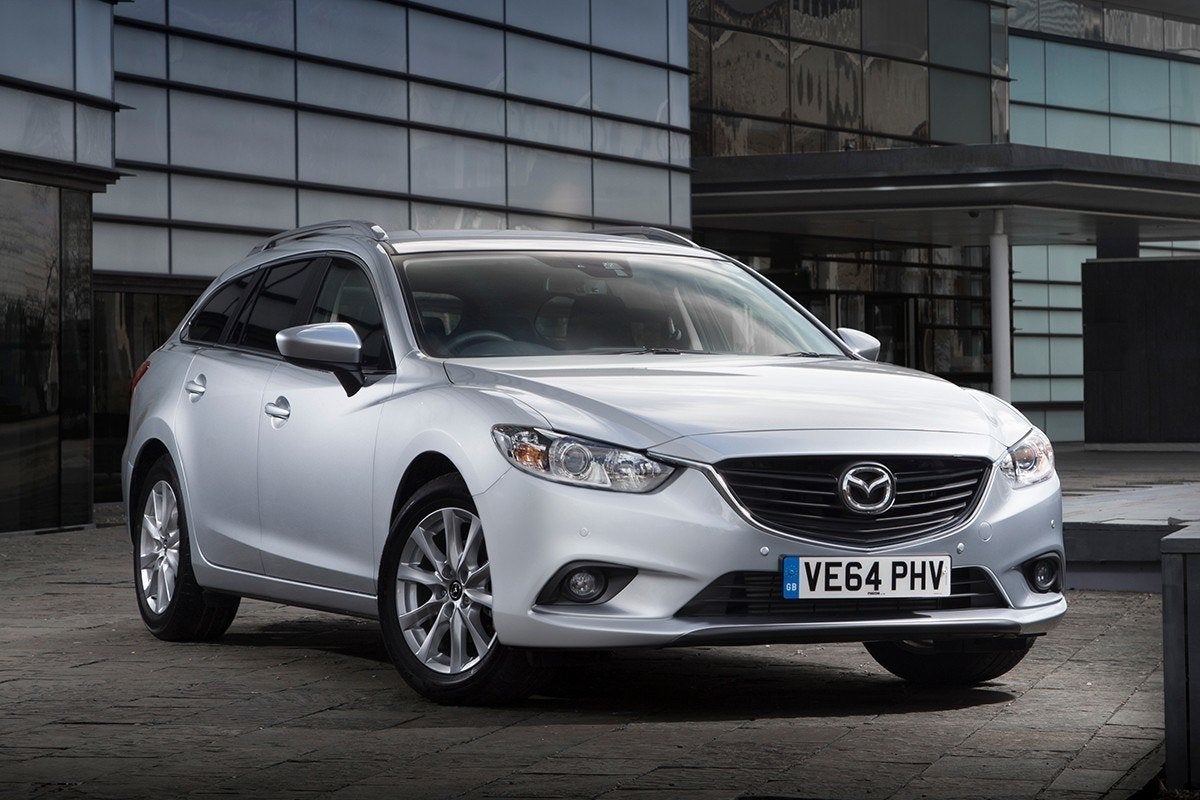 If you ever needed proof that some people will choose a car based on a badge and not on the quality of the product, then Mazda is it. Its recent products have been consistently of a high standard, matching or beating the competition in many areas, yet they don't appear to be as popular as their excellence would merit.
The 6 Tourer is certainly one of those cars. First introduced in 2012, then updated significantly in 2016, it was designed to take on cars like the Ford Mondeo Estate and Vauxhall Vectra but also more premium-level cars like the Volkswagen Passat. Combining an attractive exterior with a quality interior, good engines, an enjoyable driving experience and good practicality, it is very strong in a number of areas and is certainly worthy of consideration if you need a medium estate car.
The 6 Tourer cuts quite a distinctive dash; particularly the latest models, which have a more prominent grille design and tend to sit on larger alloy wheels. If you thought there was no way an estate could look as good as a saloon, then this should change your mind. It's an attractive design in its own right, and yet still manages to incorporate the bigger rear end without it looking tacked on.
Inside th 6 Tourer the good news continues. There's plenty of space in here of course, enough to travel with four or even five adults on board plus a hefty load of luggage, but the cabin is also attractive and well-made. It's pleasingly low-key in here too, with an infotainment screen that doesn't dominate the dashboard, discreet switches and buttons, and nice materials too.
The engine range is broadly conventional, with a choice of three petrol and two diesel engines. The earliest models come with a 2.0-litre petrol in 145PS or 165PS versions and a 2.2-litre diesel in 150PS and 175PS guises, this was supplemented in 2016 with the addition of a 2.5-litre petrol with 192PS and an automatic gearbox as standard. The smaller petrol options offer useful performance and good economy for their size, but the 2.2-litre diesels make for a more relaxed drive with superior fuel consumption too.
The 6 Tourer is surprisingly good fun to drive for a car that's designed to be practical. The steering is responsive, the car feels light on its toes and it is keen to turn into a corner, remaining impressively flat and level in the process. The downside to this is that ride quality is slightly compromised as a result, particularly on cars wearing larger wheels, but this is only really an issue on very poor roads.
There's a great deal to like about the 6 Tourer. It makes a strong case for itself as a car you would choose with your heart rather than simply because you need a medium estate car. It can do all the practical stuff comfortably, but is still a car that you should enjoy driving.
Comfort and design
"Climb into the 6 Tourer and you're immediately welcomed by a cabin that is both spacious and attractive - so much so that you might think twice about actually letting the kids get in the back. It should also be easy for virtually anyone to get comfortable behind the wheel, as the 6 Tourer has a good range of adjustment in the seats (including height adjustment) as well as a good amount of reach and rake adjustment for the steering wheel."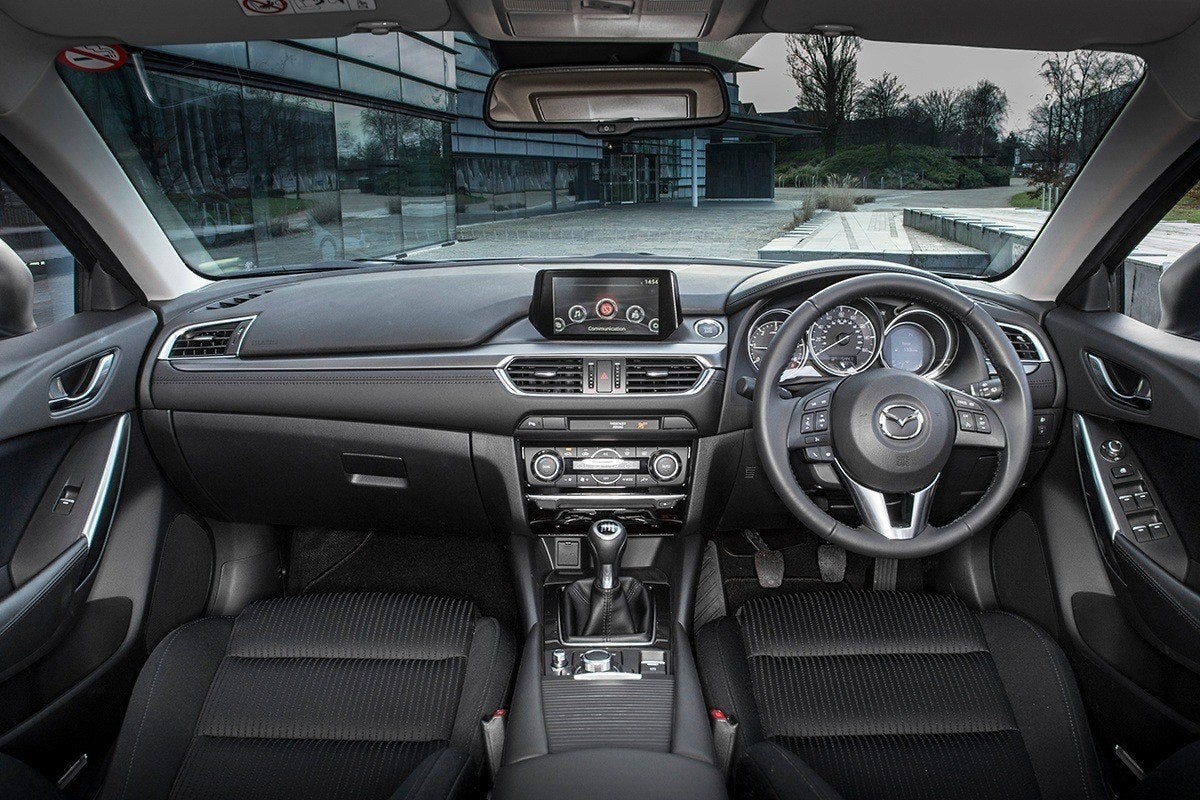 Another feather in the 6 Tourer's cap is the good visibility. Partly this is down to the relatively low-set dashboard (many cars have towering dashboards with display screens that almost obscure your view), but also it avoids the trap of fat pillars too, which helps to give the cabin a light and airy feel.
The whole cabin has a satisfying low-key feel to it. Calling it minimalist would probably be taking it too far, but the cabin is not dominated by a big screen or swathes of buttons. The air con controls are housed in a slim panel of buttons right in the centre, while control of the infotainment system is handled by a sensible rotary controller on the centre console. These features means there are few distractions for the driver, which is always a good thing.
You can apply the same logic to the steering wheel too. There are some buttons on it for audio, telephone and cruise control functions but they don't get in the way and are easy to operate, but just as easy to ignore when you're driving. It feels like a cabin that was designed to work best for the driver.
Handling and ride quality
"Although Mazda cars might not be generally regarded as being a good drive, the truth is actually quite different. For starters, Mazda is responsible for the superb MX-5 sports car, while the CX-3 SUV and 3 hatchback are both amongst the best to drive in their class. The same can be said for the 6 Tourer; it drives with the enthusiasm of a smaller car, and brings a little extra pleasure to even the dullest of drives."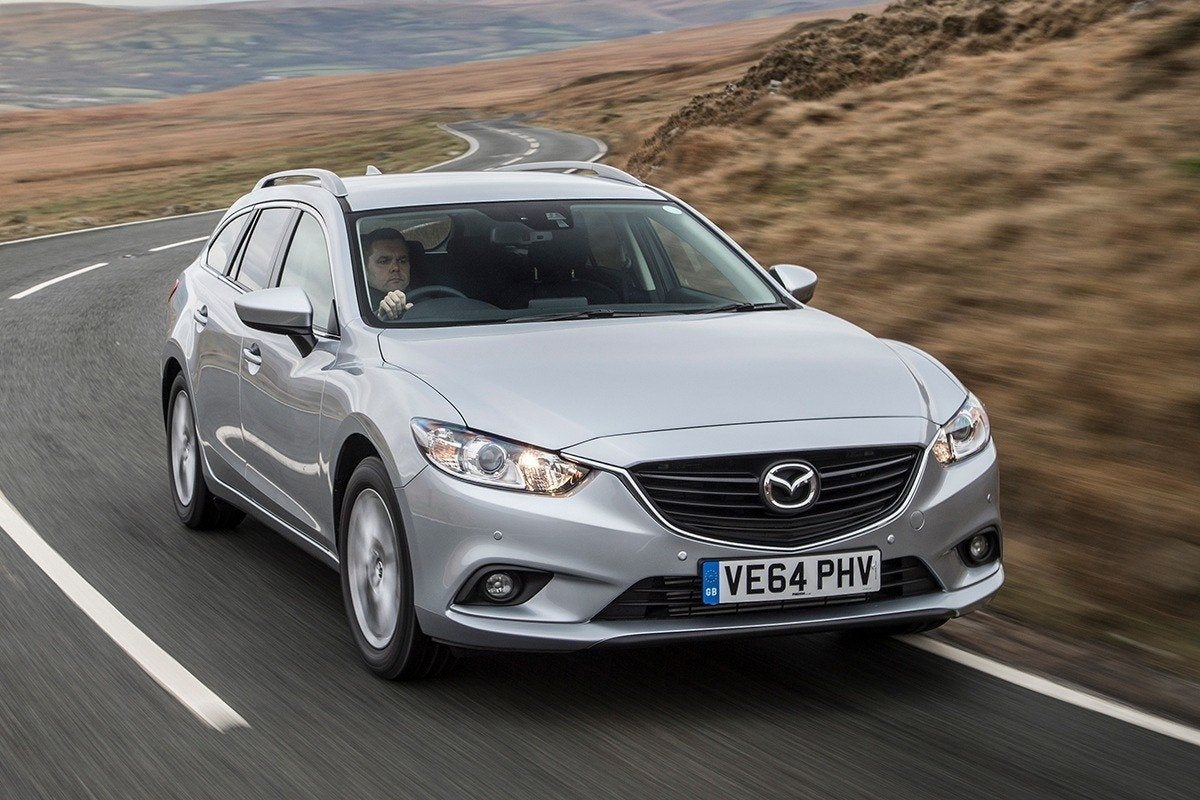 Part of this is down to the steering, which is pleasingly light at all speeds but also quick to respond to driver inputs and accurate with it. It may not offer as much feel as is ideal, but it insulates you well from road imperfections and helps you feel like the car has shrunk around you. There's very little bodyroll too, with the 6 Tourer remaining flat and composed through corners. It gives you the licence to hurry along a challenging road, and it's easy to forget this is quite a big estate car designed primarily for lugging people and stuff.
It is also worth noting that the 6 Tourer features a system called G-Vectoring Control, a form of torque vectoring. What this does is electronically adjust the amount of torque going to each front wheel through a corner in order to improve control and balance - a feature not common on cars in this class.
Where the 6 Tourer falls a little behind is on ride quality. The base specification cars riding on the smaller 17-inch wheels are better, but there is a little more pick-up of lumps and bumps than is ideal, particularly on urban roads. If anything it shows that the balance between ride and handling is tipped slightly in favour of the latter, which is unlike most of the competition, so it is worth considering before taking the plunge.
MPG and fuel costs
"Given that the 6 Tourer is quite a big car and its petrol models do without the extra performance and efficiency of a turbocharger, the claimed fuel consumption figures are actually quite impressive. The two 2.0-litre petrol engines, despite offering different outputs of 145PS and 165PS, are quoted the same combined fuel consumption figure of 41.5mpg under the more strit WLTP rules. However, the individual figures are better for the lower-power version, so in the real world you can expect slightly better consumption from the 145PS model."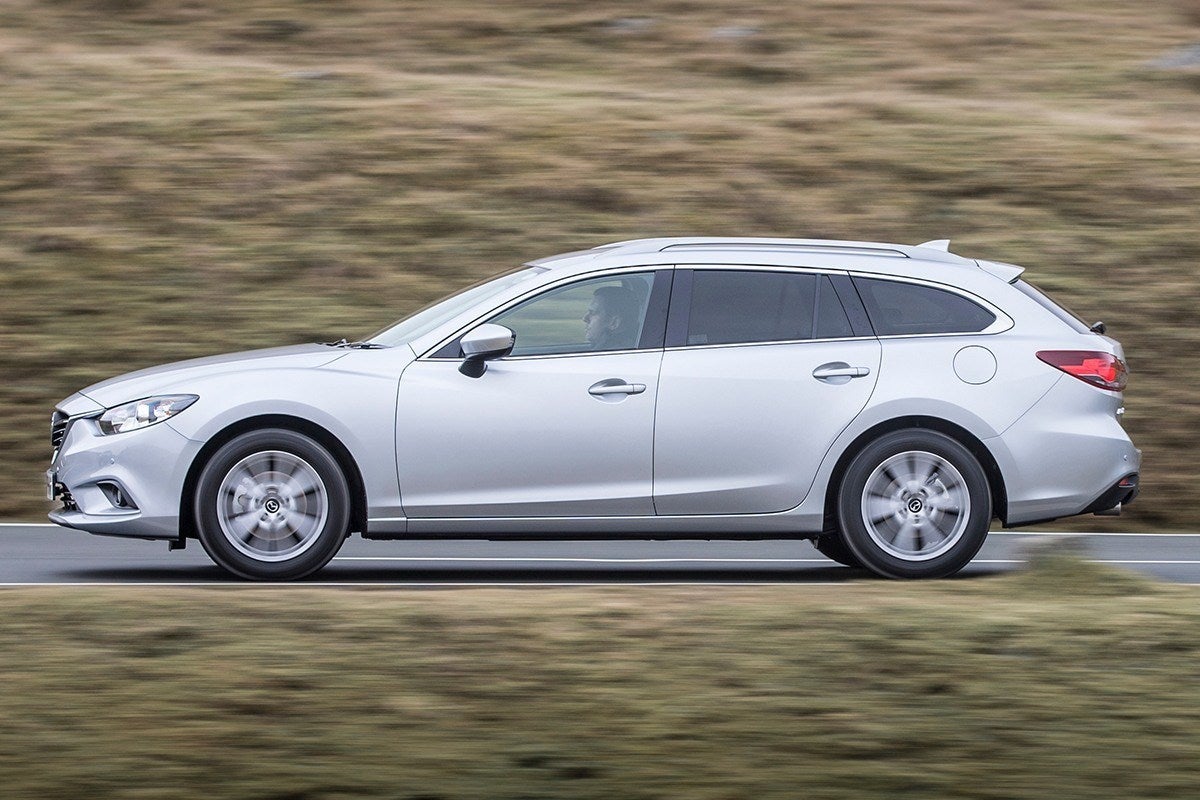 As for the diesels, it's a similar story, with both outputs of the 2.2-litre unit providing similar figures. The claimed combined WLTP figure is 46.3mpg, but the more powerful 184PS version has a slightly higher CO2 figure of 144g/km versus 141g/km. Either way, as long as you avoid the 2.5-litre petrol, fuel economy is impressive.
How much should you be paying for a used 6 Tourer?
"A version of the 6 Tourer has been on sale since 2012, so you shouldn't have any issues in finding a suitable candidate. As it is still available as a new car, there are pre-reg and nearly-new versions on the market. A quick look at the HeyCar classifieds turned up a 2020-registered 2.0-litre petrol Sport Nav+ with less than 2000 miles on the clock for £23,000, or a 2.2D Sport Nav+ with delivery mileage for £26,000."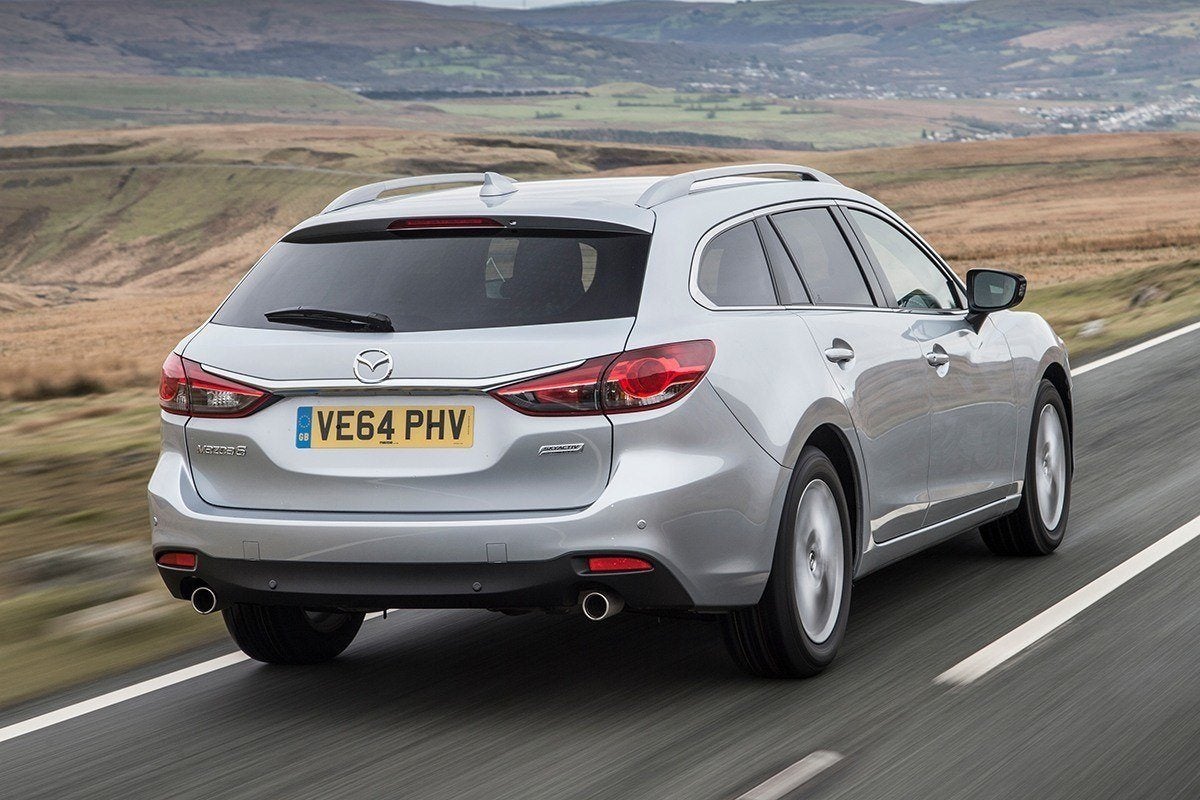 As for older cars, the earliest 2014 cars look like potential bargains. We found a 2014 2.2D SE-L Nav with 75,000 miles on the clock for less than £7500.
Is the 6 Tourer right for you?
If you need a medium-sized estate car then the Mazda 6 Tourer should definitely be on your shortlist. It has the luggage capacity and all-round practicality to haul large amounts of stuff on a regular basis; if you have to do lots of miles and carry things while doing it, the 6 Tourer can do so with ease. Similarly it makes for an excellent family car, with an appealing cabin, a good standard of overall refinement and a strong specification too.
The 6 Tourer would also suit someone who was chopping in a sportier car in favour of something more practical. It's no performance car, but it does provide enough driving pleasure to keep an enthusiastic driver happier than some of the alternatives in the segment. It would also make a good alternative to a similarly-sized SUV, providing a better driving experience and superior economy too.
What's the best Mazda 6 Tourer model/engine to choose ?
Although there is quite a wide choice of engines for the 6 Tourer, the only one that really is best avoided is the 2.5-litre petrol. It's the thirstiest engine in the range and only comes with the six-speed automatic gearbox that isn't a great performer - and if you really need an automatic you can specify it on the other engine options.
We would recommend either of the 2.0-litre petrol engines - both offer a good mix of performance and economy and are the cheapest models in the range. If you regularly carry big loads or need to tow, the 150PS diesel is a sound choice.
As for trim levels, the basic SE model has a good specification but we would suggest stepping up a level to SE-L, which adds useful features such as automatic emergency braking, front and rear parking sensors and climate control. SE-L Nav also adds navigation to this if you don't want to use your smartphone for nav duties.
What other cars are similar to the Mazda 6 Tourer?
There are plenty of competitors vying for your money in this segment. The most obvious rivals are the Ford Mondeo Estate and the Vauxhall Insignia Sports Tourer, which both offer good load space and a broad range of engines and specifications, although neither are as nice to look at, or to drive as the Mazda.
Volkswagen's Passat Estate offers a more high quality experience with nicer materials and greater refinement, and although it is also very spacious it does tend to be a little more expensive on a model-for-model basis. For the ultimate in load carrying it has to be the Skoda Superb Estate however, which is truly cavernous as well as being good value and well specified.
Quality and finish
Mazda might not be seen as a premium brand by many buyers, but it's worth taking a look at the inside of the 6 Tourer before making that judgement. If this cabin wore a different badge you wouldn't think twice about seeing it as a touch of luxury. There's a good mix of materials to start with, including flashes of metal trim, gloss black panels and good quality cloths and leathers.
A further bonus is that, if you choose to do so, you can have a cabin that isn't universally grey or black; the pale leather option extends to the dashboard and across the doors. That might seem like a nightmare to keep clean, but it does boost the feeling of quality and luxury.
The quality of build and the operation of the switches and buttons is of a high standard too, if not quite as good as the best cars in the class. The vast majority of the controls operate with a reassuring solidity and feel as though they would last for many thousands of miles, even though some of the more minor switches feel like they have been skimped on to save a few pennies.
Infotainment
The good news here is that all versions of the 6 Tourer come with a near-identical infotainment system with a good specification, so you won't feel short changed if your budget can only stretch to the entry-level model.
All versions come with a radio/CD unit that includes DAB, satellite navigation, Bluetooth, Apple Car Play and Android Auto, which for most people will tick all the required boxes. Older used cars may not have the same specification, so it is important to check what is fitted. On new models, Sport Nav+ and GT Sport Nav+ trim levels get an upgraded Bose system with 11 speakers that offers superior sound quality.
Whichever version you have the system functions the same way, with a 8-inch touchscreen mounted centrally as well as a rotary controller with shortcut buttons mounted on the centre console. Although the system does have a touchscreen control it feels far more natural to use the rotary controller, particularly when on the move. One slight demerit is that the quality of the graphics is relatively low, but this is less of an issue if you're using Apple CarPlay or Android Auto.
Space and practicality
More than for most types of car, space is the big issue for estates and inadequate provision for people and luggage makes them pretty pointless. The 6 Tourer is well in contention with rivals in this respect, with enough space to perform most of the tasks that an estate buyer could reasonably expect.
For front seat passengers there is a good deal of space available. Legroom is excellent for both driver and passenger, and although headroom is not the best in class it is generous enough to suit those at the taller end of the scale. There's decent shoulder room too, and the centre console doesn't hog a lot of space so you won't feel penned in either.
In the rear, there's actually more headroom than in the 6 saloon because of the longer roofline, which makes it even more useful as a prospective family car. Legroom back here is good, although it can't match that of the Skoda Superb which takes advantage of its longer wheelbase. It's still spacious enough to carry adults though, even if it may be a slight squeeze to sit one six-footer behind another.
Head for the boot and there's class-competitive space here too, with 522 litres available with the rear seats in place, rising to a generous 1,664 litres with the rear seats folded. Again, that's not the best in the segment but it is on a par with most of the competition. The space itself is well-shaped too, with little in the way of intrusion and a flat loading floor. There's also handy levers in the rear so you can drop the back seats (with a 60/40 split) without having to run around to the rear doors.
The 6 Tourer also manages to offer a number of useful storage areas around the cabin too. The door bins are big enough to swallow larger bottles and the glovebox is a good size. There are a couple of storage cubbies too which are relatively hidden so your precious items aren't on display.
Engines and gearboxes EV - Battery versions
While the 6 Tourer has a relatively broad engine range, choosing between them is not as difficult as it might seem. The top-spec 2.5-litre petrol unit is actually the most disappointing. It may be the quickest petrol model but it is paired up to the six-speed automatic transmission as standard, which blunts the performance and diminishes the driving experience.
The two 2.0-litre engines are better choices if petrol is required. There's not much difference between them in terms of performance; the 145PS version is half a second slower in the 0-62mph acceleration test than the 165PS version, while there's also only a difference of 2mpg between them on official consumption figures.
Both engines behave identically on the move; they are happy to rev and are relatively refined, with useful if not searing performance. Given they do without a turbocharger, as many petrol engines offer these days, they are impressive performers and make for a sensible choice.
On the diesel front there is a 2.2-litre four-cylinder unit in a choice of power outputs. The 150PS version provides a strong blend of performance and efficiency. It's as quick as the more powerful 2.0-litre petrol engine thanks to strong torque from low engine speeds, but has impressive fuel consumption and low emissions.
The more powerful 175PS version is quicker still, but has slightly higher emissions for not much return - there's no harm in choosing this option, but the lower-power engine is just as good and should cost less to buy too. Other than the automatic, all models are fitted with a slick six-speed gearbox as standard, which has a positive and satisfying shift action.
Refinement and noise levels
Whether it's being used for family duties or regular long-distance trips, the 6 Tourer provides a reasonable level of refinement thanks to the quality of the engines and good body insulation. In particular the diesel engines are impressively quiet, especially as diesels are frequently more noisy than petrol counterparts. The 2.0-litre petrol engines are refined too, only really making their presence felt when revved hard. Less impressive is the 2.5-litre engine however, which is noisier than the 2.0-litre when extended.
As for road noise, this is partly affected by which wheel option you go for. The smaller 17-inch wheels have narrower tyres so road noise is less prevalent, while the bigger 18 and 19-inch versions do create a bit more rumble at speed. Another small issue is wind noise, which begins to pick up at higher speeds and on motorways. It's not hugely intrusive, mainly coming from the tops of the doors and around the door mirrors, but it is true to say that it is somewhat average in the class in this area.
Safety equipment
EuroNCAP has tested the Mazda 6 both in 2013 and more recently in 2018 following the latest updates.
In 2018 the 6 Tourer was awarded the maximum five stars by EuroNCAP, with an exceptionally high score of 95 per cent for adult protection and 91 per cent for child protection. Less impressive was the 66 per cent score for vulnerable road users (formerly pedestrian mitigation), but the safety assist score of 73 per cent is strong, contributing to the impressive overall result.
As standard, all 6 Tourer models have a high safety specification, with front, side and curtain airbags for front seat occupants as well as curtain airbags in the rear too. ESC is standard as are front and rear parking sensors, but the 6 Tourer also features blind-spot monitoring with rear cross traffic alert and autonomous emergency city braking as standard, both of which are driver assistance aids that can play a significant part in accident prevention.
Higher specification models also include features such as lane keep assist, driver attention alert and rear smart city brake support, which warns the driver in the event that the car detects an imminent impact from the rear. This gives the 6 Tourer one of the highest standard provisions of safety equipment - there are no safety options available on the higher grades - which makes it an appealing option for the safety conscious.
Insurance groups and costs
The 6 Tourer is quite a large and relatively expensive car, but the gap between the lowest and highest insurance groups is actually quite large. On new models the SE-L Nav+ is in group 22 for the 2.0-litre 145PS petrol, and group 25 for the 150PS 2.2-litre diesel. Move up to SE-L Lux Nav+ and the diesel moves up a group to 26, and on the Sport Nav+ (which has a wider engine choice) it ranges from group 24 to 31 for the more powerful 2.2-litre diesel. The top-spec GT Sport Nav+ is no more expensive than the model below either, so you could save on your premium as well as fuel bills by choosing the lower-power engine options.
VED car tax
All new models of the 6 Tourer fall into the same VED bracket, so you will pay £150 per year regardless of which engine option you choose. It's a bit more complicated if you buy used, as pre-April 2017 cars will pay a lower rate depending on which engine you choose.
Choose a 2.2-litre diesel that is registered on or before March 31st 2017 and it falls into the £30 per year VED rate, yet if you choose the same car registered after the date it costs the same £150 per year as every other engine option, so if you are buying used look carefully at the available options.
Trim levels and standard equipment
The 6 Tourer model range is made up of SE-L Nav+, SE-L Lux Nav+, Sport Nav+ and GT Sport Nav+.
SE-L Nav+ models come with 17-inch alloy wheels, dual-zone climate control, automatic headlights, rear privacy glass, cruise control, front and rear parking sensors and the 8-inch infotainment system including DAB, Bluetooth and satellite navigation.
SE-L Lux Nav+ models add leather interior trim, electrically adjustable and heated front seats and steering wheel, and a reversing camera.
Sport Nav+ models add 19-inch alloy wheels, the 11-speaker Bose audio system, LED headlights and keyless entry.
GT Sport Nav+ models add a 360-degree camera system, Nappa leather trim, adaptive LED headlights, a 7-inch digital driver instrument display, heated rear seats and ventilated front seats.
Learn more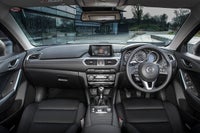 On the inside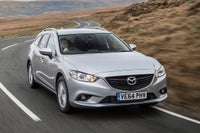 Driving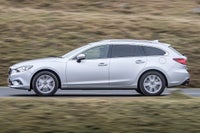 Cost to run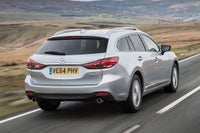 Prices and Specs
Reviews of similar cars
Quality checked, all cars less than 8 years old and warranty included
Looking for other Mazda cars?
Quality checked, all cars less than 8 years old and warranty included
Keep me updated by email with the latest advice, news and offers from heycar
By submitting, you agree to our
privacy policy
.
Popular models
Similar models