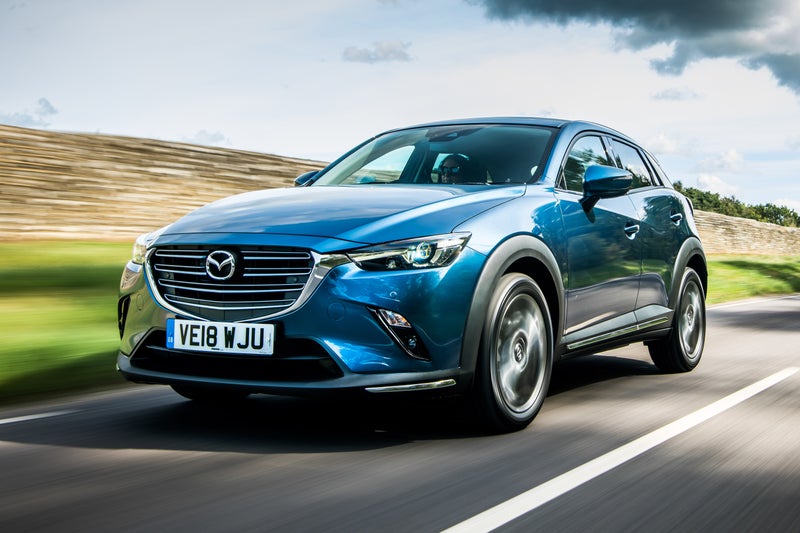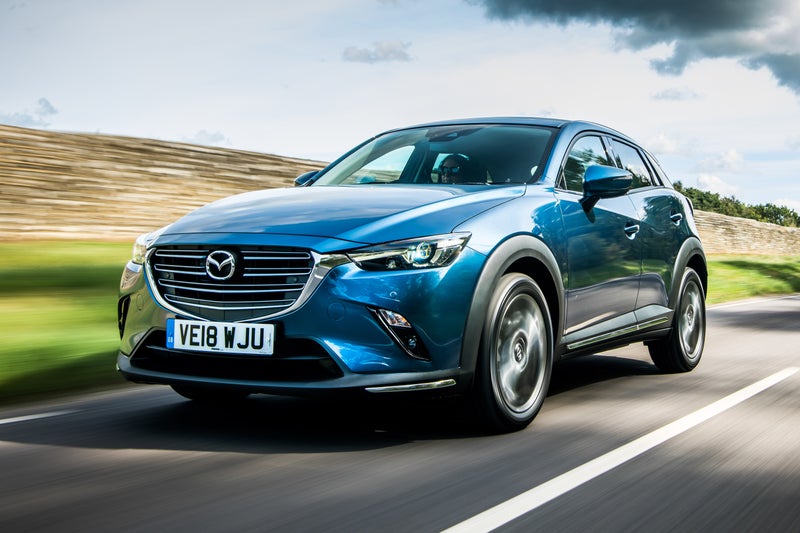 1/10
heycar rating
"Stylish but slow small SUV"
Launched: 2015

Small SUV

Petrol, Diesel
Quick overview
Pros
Stylish looks and a minimalist interior
Fun to drive
Available with four-wheel drive
Cons
Lacks the grunt of turbocharged alternatives
Diesels are rare
Not particularly spacious
Overall verdict
On the inside
Driving
Cost to run
Prices and Specs
Common questions
Overall verdict on the Mazda CX-3
"The Mazda CX-3 has a great cabin, looks the part and is fun to drive. Like most modern Mazdas, its engine line-up lets it down slightly, while it's not as spacious inside as a Honda HR-V. Still, if you can live with these niggles, the CX-3's a very sensible (and desirable) choice."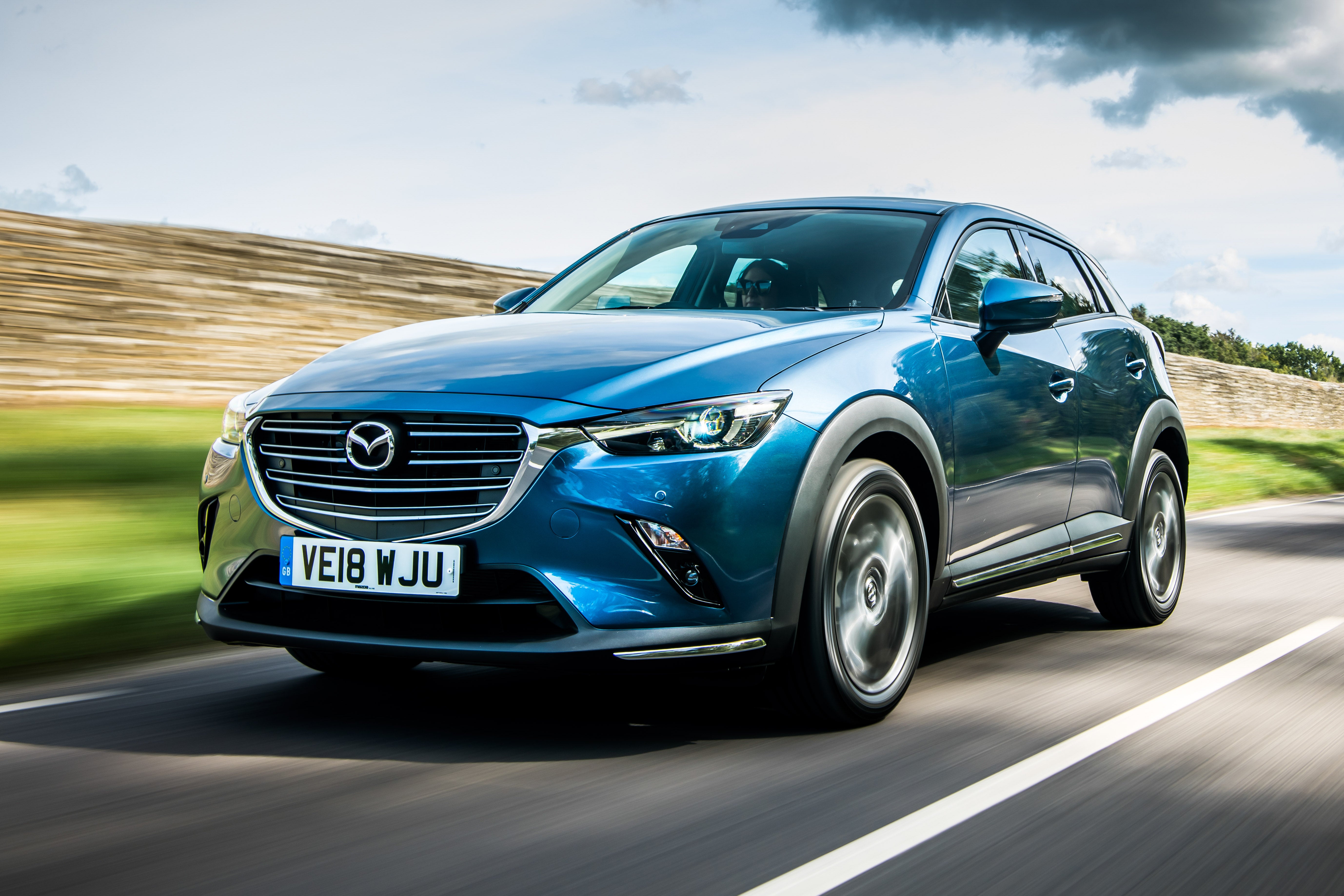 The Mazda CX-3 is a slightly left-field alternative to small SUVs like the Nissan Juke, SEAT Arona and Renault Captur. It offers attractive looks and a classy interior, while it's more fun to drive than most of the competition. We'll explain all in our in-depth 2022 Mazda CX-3 review.
Like most cars in this class, the Mazda CX-3 is essentially a small hatchback (in this case, it's based on the Mazda 2) with an increased ride height and slightly more practical cabin. However, it's not as versatile as some rivals, and you don't sit particularly high either. So, well, what's the point?
While it's easy to be sceptical about the Mazda CX-3 (and, indeed, most small SUVs), there's also an awful lot to like about it. The cabin feels modern and sporty, with lots of neat touches which make it feel more like an MX-5 than a Nissan Juke rival. If you hunt for them, you'll find a few less-than-perfect finishes, but this reflects the Mazda CX-3's position in the Mazda hierarchy. If you want more soft-touch finishes, you'd be better with the newer Mazda CX-30 or bigger CX-5.
The Mazda CX-3 cabin feels pretty cramped in the rear, but there's plenty of space in the front and the seats are comfortable enough for long journeys. The Mazda CX-3 has a pretty average boot capacity at 350-litres, although access is easy and you can always drop the rear seats if you need more space.
The Mazda CX-3 feels pretty sporty to drive. The steering is pleasingly direct while it doesn't lean too much in corners and there's plenty of grip on offer. You can buy a four-wheel-drive version too, but that's a bit pointless unless you live in the Highlands of Scotland with snowy winters. Honestly, we'd just buy a set of winter tyres if you're concerned about snow or icy conditions.
The engine line-up is pretty typical of the Mazda range. Don't expect the 2.0-litre petrol to offer the performance of the small turbocharged units used in rivals. Despite its big capacity, it produces just 120PS, and you'll have to rev it really hard to keep up with day-to-day traffic. If you're used to modern turbo alternatives with punchy performance from low revs, you might find the petrol Mazda CX-3 hard work.
The diesel engine is a better choice in some ways, but they're relatively rare on the used market. And, unless you cover lots of motorway miles, you don't really want a diesel. They can be less reliable as they get older and will attract dirty looks if you drive one in a town centre.
While the Mazda CX-3 has never sold in the same numbers as the Nissan Juke or Renault Captur, it was in production for five years and there are plenty on the used market. We'd look for a post-2018 model if budget allows as the CX-3 range was updated with revised suspension and fresh technology (such as Android Auto and Apple CarPlay). You can recognise facelifted models as they'll have a plus symbol in their trim level (e.g. SE-L Nav+).
Is the 2022 Mazda CX-3 right for you?
If you want a stylish small SUV that's great to drive, the Mazda CX-3 should be on your shortlist. The underpowered petrol engines won't appeal to everyone, but they ought to be reliable and fairly cheap to run. We like its minimalist interior and equipment levels are generous, although some rivals are more spacious.
What's the best Mazda CX-3 model/engine to choose?
Unless you cover a lot of miles or really need four-wheel drive, we'd recommend the standard 120PS 2.0-litre petrol engine. Mid-spec SE-L (and later SE-L Nav) CX-3 models are popular and represent good value for money, so that's probably what we'd be looking for.
What other cars are similar to the Mazda CX-3?
Comfort and design: Mazda CX-3 interior
"The Mazda CX-3 has quite a stylish, minimalist interior which isn't all that different from the one you'd find in the MX-5 sports car."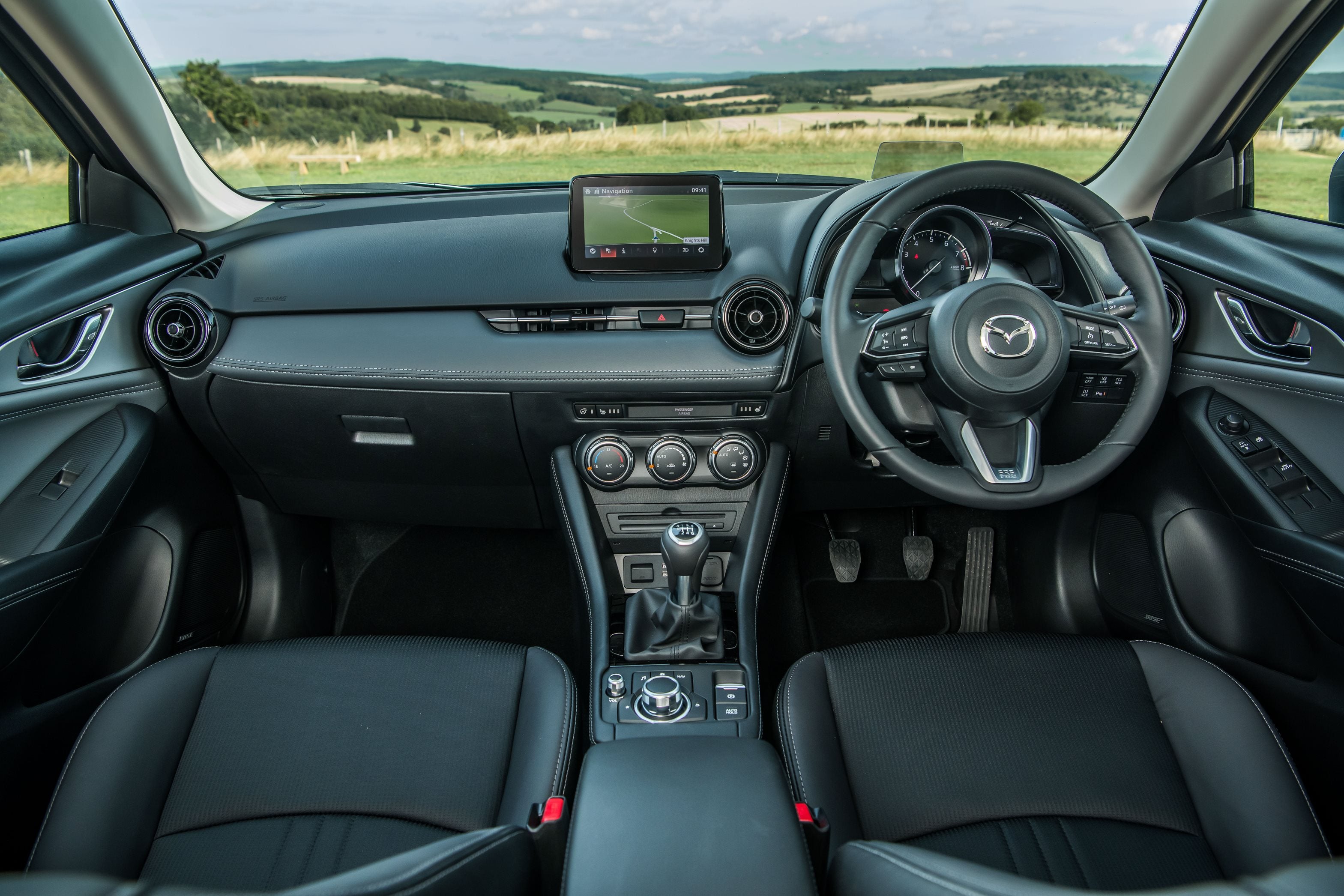 You sit lower down in the Mazda CX-3 than in most small SUVs, which makes it feel sporty but won't appeal to those looking for a Range-Rover-like seating position. You'll find the front seats nice and comfortable though, while there's little to moan about the CX-3's driving position. This is certainly helped by the widely adjustable steering column and seating positions.
Continuing the sporty theme is the large, central rev counter, while the rest of the dashboard is a fairly minimalist affair. The neat design sees a 7-inch touchscreen infotainment system positioned in the centre of the dash, which just leaves the ventilation controls to fill the centre stack.
The standard sound system is fine, but in Sport Nav spec, the CX-3 enjoys a 7-speaker Bose stereo that delivers a quality audio experience for a small SUV. This spec also sees a colour head-up display as standard, and can be a useful feature, especially when using the sat nav.
Quality and finish
As we've come to expect with Mazdas, the material quality used in the CX-3 is really rather good. Though the CX-3 uses a hard plastic for the dashboard, it still feels nice and sturdy, and not at all flimsy. This is complemented by nice little touches like soft leather dashboard inlays, and for those opting for one of the higher end trim levels, there's also suede door inlays and leather seats.
All these elements contribute to the Mazda CX-3's premium feel, and it certainly enjoys one of the best interiors found in a small SUV - something that rivals like the Nissan Juke and Renault Captur can't quite match.
Infotainment: Touchscreen, USB, nav and stereo in the Mazda CX-3
What ever trim level you pick with the Mazda CX-3, all models come with a 7-inch touchscreen infotainment system as standard. Perched centrally on top of the dashboard, it's nice and easy to glance at during driving.
Although it is a touchscreen system, you'll probably find it easier to control using the rotary dial down between the front seats. This is much less distracting than leaning forward and trying to use the touchscreen on the move.
It's a decent system, with DAB radio and Bluetooth connectivity (as well as USB points), while most also come with navigation (only the base model Mazda CX-3 SE model doesn't feature built-in navigation. Later Mazda CX-3 models have Apple CarPlay and Android Auto, while Sport Nav+ trim level comes with a fancy Bose media system.
Space and practicality: Mazda CX-3 boot space
I've there's one area that the Mazda CX-3 can't quite compete with its rivals, it's in the practicality stakes. If space is you're prime concern (and if you're looking at a SUV, it's certainly a key consideration) and if you regularly carry passengers, then you're much better looking at a Renault Captur or Honda HR-V.
Measuring just under 4.3m long and a little narrower than 1.8m wide, the Mazda CX-3 provides plenty of space up front. However, those in the back will feel pretty hard done by, with the sloping roofline of the CX-3 not making it the most comfortable place to be for a tall adult on longer journeys. Chances are though the rear seats are going to be filled with car seats and children, so the ISOFIX child seat mounting points on the outer rear seats of the CX-3 will come in handy.
While a typical family hatchback will offer more space for luggage, the Mazda CX-3's 350-litre boot capacity isn't too bad for a small SUV, but not quite as large as some rivals. If you opt for the Sport Nav model, then boot capacity shrinks to 287 litres to make way for the Bose sound system's subwoofer. Fold the seats down and you've got 1,197 litres of space, while there's decent underfloor storage.
Handling and ride quality: What is the Mazda CX-3 like to drive?
"The Mazda CX-3 has to be one of the best handling small SUVs going, though not the most refined option out there."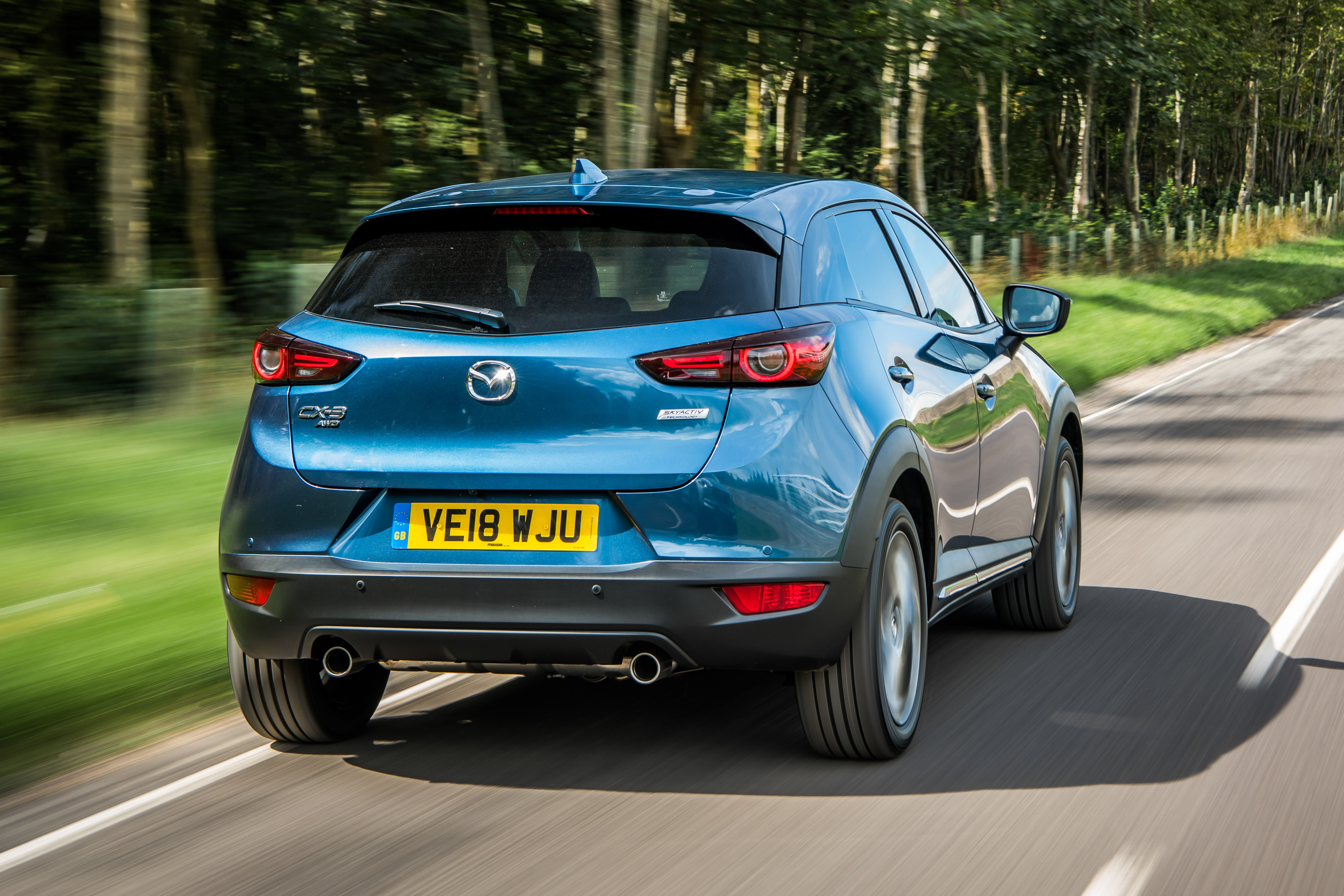 The sporty design flourishes of the Mazda CX-3 follow through on the road as well. Don't expect it to chuck it corners like an MX-5 sports car, but the CX-3 is still very good going round corners. Despite the raised ride height of the CX-3, body control is impressive, but just as importantly perhaps, it's still a comfortable ride.
You're probably not going to be tearing round B-roads all the time with the CX-3, with town driving likely to be it's natural habitat. Opt for the manual and expect an accurate gear change and light clutch, while the auto 'box delivers a pretty seamless gear change.
Unless you're planning on towing a caravan regularly, you won't see much benefit opting for a CX-3 fitted with four-wheel drive. The two-wheel-drive models deliver plenty of grip and we reckon you'd be hard pressed to notice the difference in day-to-day driving between the two.
What engines and gearboxes are available in the Mazda CX-3
You won't find any small, turbocharged engines in the CX-3 line-up. Mazda prefers to 'right-size' its engines, an approach which leads to realistic fuel economy figures and impressive reliability.
Most Mazda CX-3s are powered by a 120PS 2.0-litre petrol engine with front-wheel-drive. This is good news as, for most buyers, it's the pick of the range - returning decent fuel economy and fairly punchy performance (although you'll have to work it harder than the 1.0 TSI used in the SEAT Arona, for example). A more powerful version of this engine was offered, with 150PS and four-wheel drive. This is fine, but thirstier - we wouldn't bother unless you really need a 4x4.
The diesel offering was initially a 1.5-litre diesel with 105PS (available with two- or four-wheel drive), which was replaced by a 115PS 1.8 in mid-2018 (front-wheel drive only).
You'll find six-speed automatic and manual gearboxes on the market. Both are very good - the manual offers a slick change, while the auto transmission provides almost seamless gear changes without impacting fuel economy too much. Which one you opt for comes down to personal preference, really.
Refinement and noise levels
For those after a refined drive with the Mazda CX-3, we'd point you in the direction of the six-speed automatic gearbox which makes for a much more relaxed drive with pretty seamless gear changes. Like the CX-30, it uses a torque-converter transmission, so should be more reliable than a dual-clutch system favoured by the like of Volkswagen Group cars.
Those attracted to the sportiness of the CX-3 shouldn't ignore the manual, delivering one of the most satisfying gear changes in a small SUV - something you'll be doing a lot with the engines on offer. However, these four-cylinder engines are much quieter than the growing number of three-cylinder alternatives being used by a lot of rivals.
Once you're up and moving and things are nice and refined, making quiet progress on motorway journeys once up to speed. We'd recommend opting for models with 16-inch alloy wheels as while the 18-inch alloy wheels on some pricer models may enhance the overall look of the CX-3, they can make the ride that bit firmer.
Safety equipment: How safe is the Mazda 3
The Mazda CX-30 scored four out of five stars when it was crash tested by Euro NCAP in 2015, scoring 85% adult and 79% child occupant protection scores, as well as an 84% pedestrian protection score. While it's a little surprising to not see a five star rating, this test was completed under Euro NCAP's latest assessment criteria that sees a certain degree of emphasis placed on safety assistance, with the Mazda CX-3 scoring 64%.
That said, the CX-3 does come with a good amount of safety features as standard, including electronic stability control (ESC), while all models sport plenty of airbags to keep you and your passengers safe. This includes two front airbags, as well as side chest and pelvis airbags, while all occupants get side head airbags.
The CX-3 features a front passenger airbag cut-off switch, essential if you're going to fit a rear-facing child seat in the front passenger seat. There's also two ISOFIX child seat mounting points fitted to the outer rear seats.
MPG and fuel costs: What does a Mazda CX-3 cost to run?
"Of course, the most frugal CX-3s are diesel-powered. The original 1.5-litre diesel returned an impressive 70.6mpg in 2WD guise with the manual gearbox, dropping to 60.1mpg with all-wheel drive. Choosing the auto drops this to 54.3mpg."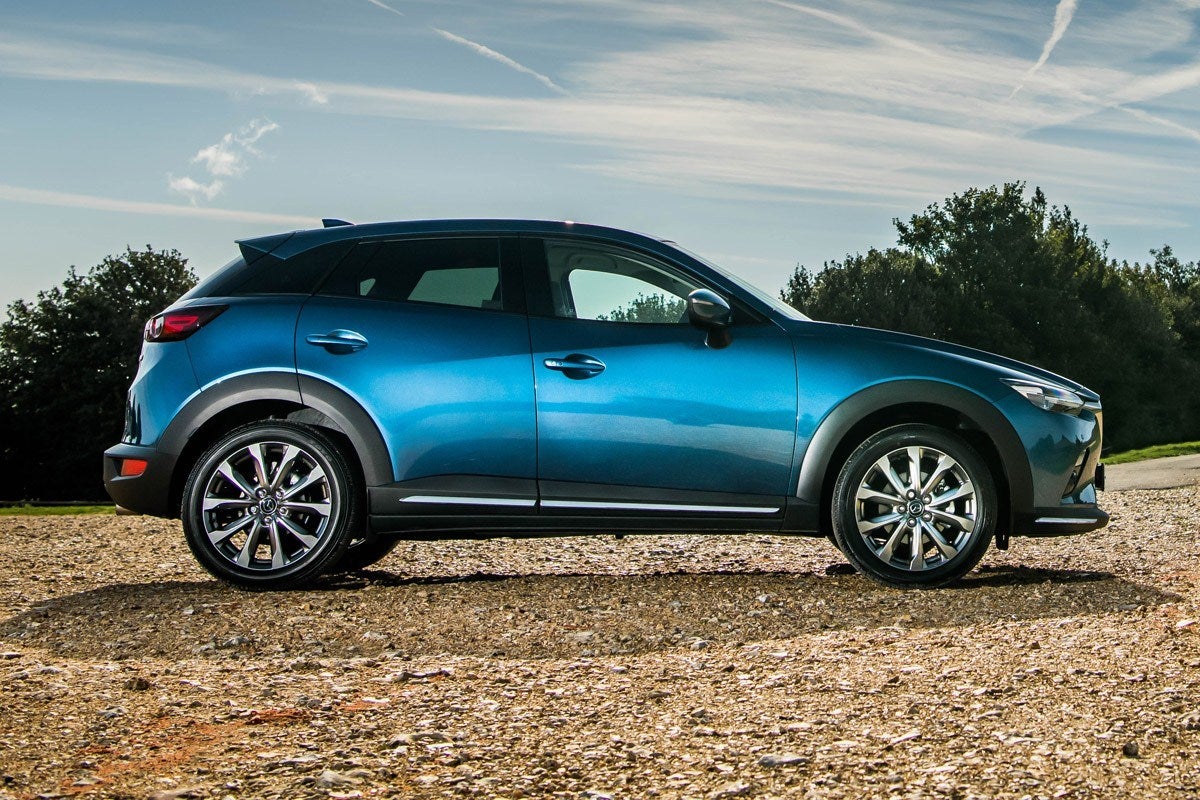 These figures are from the old NEDC fuel economy tests so might not be as achievable in the real world as the latest WLTP figures. You should be able to see around 58mpg from the two-wheel-drive CX-3 1.5 diesel with the manual gearbox. That's pretty good. The later 1.8 diesel officially returns 54.3mpg under the latest WLTP fuel economy tests.
Most buyers will find the petrol models suit their needs better. The popular 120PS 2.0-litre petrol officially returns 42.9mpg (dropping to 39.2mpg with the auto gearbox), while the more powerful four-wheel-drive model officially achieves 38.2mpg (34.9mpg for the auto).
How reliable is the Mazda CX-3?
Mazda makes some of the most reliable cars available in the UK, with the only real issues we've seen in recent years related to some diesel engines. Mazda also performed very well in the latest HonestJohn.co.uk Satisfaction Index, with the brand coming in 17th overall, with a very good satisfaction score of 86.5%. The larger CX-5 scored very well for reliability, with an average score of 9.83 out of ten.
With the exception of the diesel engine issues, the only other thing we've seen of note on the CX-3 is an issue with the air con failing and not getting the cabin as cool as desired, this will be something to check on a test drive.
Insurance groups and costs
The cheapest Mazda CX-3 to insure is the 1.5-litre diesel in SE-L trim. This falls into insurance group 13, with the 2.0-litre petrol variants categorised as group 15.
The good news is if you're looking to pick up a plusher CX-3, you're not going to see it rocket up insurance groups, with the top-of-the-range Sport Nav + classed as insurance group 18 (with Mazda's SkyActiv-G 150PS petrol engine and four-wheel drive). That's a little higher than the top-of-the-range Nissan Juke, but the CX-3 does come with a more powerful engine.
VED car tax: What is the annual road tax on a Mazda CX-3?
Mazda CX-3 models registered since April 2017 will be taxed at a flat rate of £150 a year after the first year. Earlier models will be taxed based on their CO2 emissions, so you could save money on car tax by buying an older CX-3.
How much should you be paying for a used Mazda CX-3
"There's plenty of choice when it comes to used Mazda CX-3, with prices ranging from £10,000 to just over £20,000."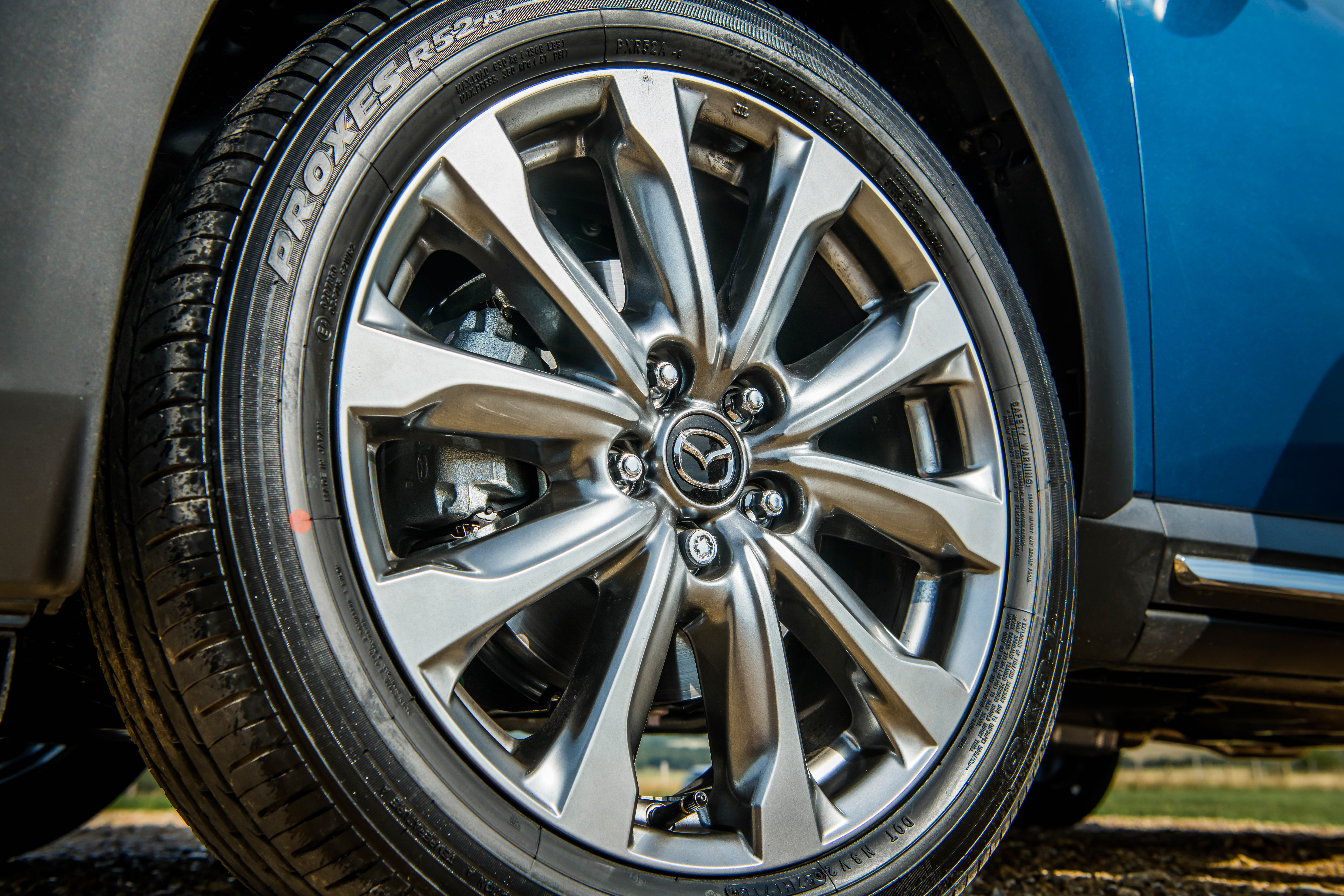 As they sold in relatively small numbers compared to rivals, there's not quite the same amount of choice when looking to buy used, but you can still bag yourself a great car and a decent price. For just over £10,000 you'll be looking at a 2015 car in SE or SE-L with a 2.0-litre petrol engine and around 50,000 miles covered since new.
If you're looking for something newer with a better spec, then a budget of around £17,500 will get you a three year old car in Sport Nav + trim with around 30,000 miles on the clock. Prices top out at just over £20,000 and for that expect a two year old car in Sport Nav + trim with around 15,000 miles under its belt.
Trim levels and standard equipment
Few people will find the entry-level Mazda CX-3 SE lacking. Standard kit includes 16-inch alloy wheels, a leather-trimmed steering wheel and gear knob and manual air conditioning. There's cruise control and a seven-inch touchscreen media system with Bluetooth and DAB radio.
CX-3 SE-L adds front LED fog lights, dusk-sensing lights and rear privacy glass. Rear parking sensors are standard, as well as heated front seats, climate control and rain-sensing front wipers. It also comes with some additional driving-assist features including a lane departure warning system and smart city brake support.
The top-spec Sport Nav comes with 18-inch alloy wheels, chrome exterior highlights as well as LED headlights and tail lights. There's a reversing camera, while the interior gets half leatherette seats with red piping. Fancy.
There's also a head-up display, keyless entry, and paddle shifters on automatic models. The media system now has navigation, while there's also a premium Bose surround sound system with seven speakers.
In 2017, the SE and SE-L models became SE Nav and SE-L Nav meaning, as their names suggest, they gained navigation as standard. At the same time, a new top-spec GT Sport model arrived, adding 18-inch alloy wheels, bespoke exterior styling and leather upholstery.
In mid-2018, the Mazda CX-3 was updated. Standard kit remained pretty much the same, but the SE Nav, SE-L Nav and Sport Nav models were renamed SE Nav+, SE-L Nav+ and - you guessed it - Sport Nav+.
Ask the heycar experts:
common questions
How much is a Mazda CX-3?
You can buy a used Mazda CX-3 for as little as £10,000, while high-spec examples of the very latest models (sold in 2020) are around £22,000.

Has the Mazda CX-3 been discontinued?
The Mazda CX-3 is no longer on sale in the UK. If you're looking for a new small SUV, take a look at the slightly bigger Mazda CX-30. It's a very stylish SUV with low running costs and a superb interior.

Is the Mazda CX-3 a good small SUV?
The Mazda CX-3 is fun to drive and has a quality interior, even if it is now looking dated alongside newer competition. It's not the most spacious small SUV on sale, but it could be a good used purchase if you're willing to compromise.

Mazda CX-3 cars for sale on heycar
890
Number of cars available
£10K - £19K
Price bracket of these cars
Colours available on heycar
Keep me updated by email with the latest advice, news and offers from heycar
By submitting, you agree to our
privacy policy
.
Popular models
Similar models