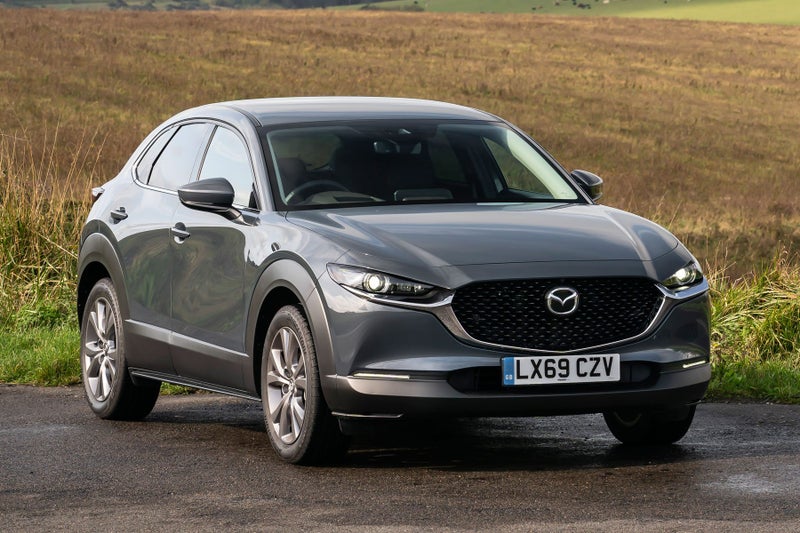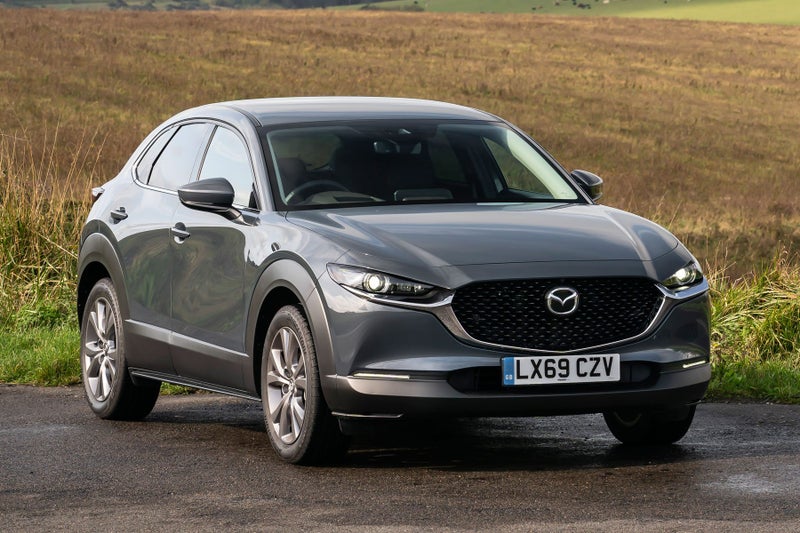 1/10
heycar rating
"Classy SUV, fun to drive"
Launched: 2019

Small SUV

Petrol
Quick overview
Pros
Attractive, left-field choice in a crowded market
Great to drive with superb balance of enjoyment and comfort
Interior feels totally premium
Cons
Not sold with a diesel engine in the UK
Pricier than more popular alternatives
It's not the most practical small SUV...
Overall verdict
On the inside
Driving
Cost to run
Prices and Specs
Common questions
Overall verdict on the Mazda CX-30
"The Mazda CX-30 won't suit every buyer but it's got an awful lot going for it. We think it looks great and the cabin is up there with much more expensive rivals. It's great to drive too, with direct steering and a comfortable ride. The biggest downside is the limited (diesel-less) engine line-up, while the CX-30's practicality is nothing to shout about either."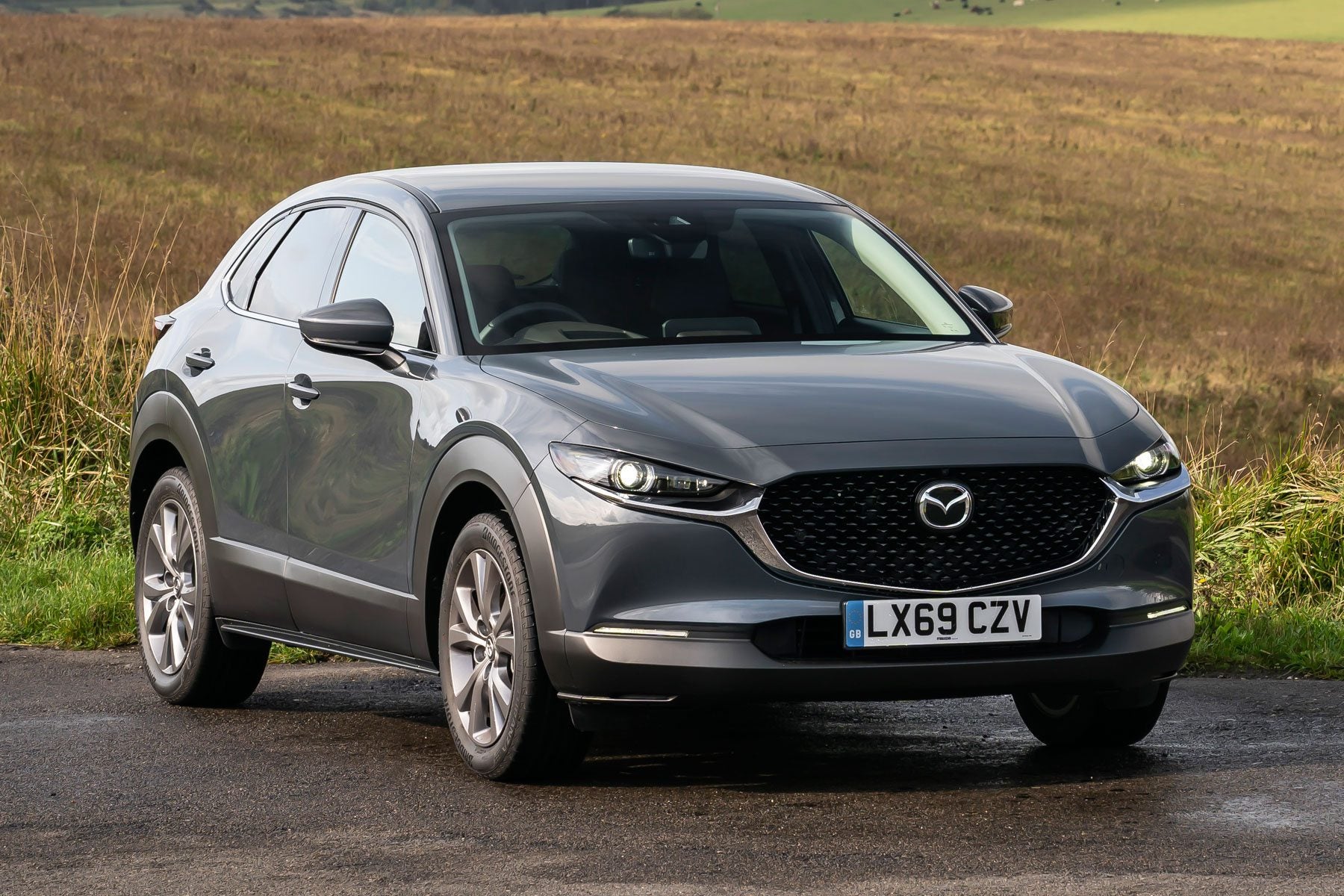 Some of the best cars on sale are the ones that have no reason to exist at all. Mazda already had the (slightly average) CX-3 - a small SUV rivalling the Nissan Juke and SEAT Arona. The bigger (and better) CX-5, meanwhile, ticked the family SUV box, taking on the Volkswagen Tiguan and Honda CR-V.
But then the Mazda CX-30 came along in 2019. It slotted between the CX-3 and CX-5 (there are reasons why it wasn't badged the CX-4, apparently) and ticked the sporty crossover box, in a similar fashion to the Volkswagen T-Roc and Toyota C-HR.
It has all the traits that will make a crossover SUV a success. It combines stylish looks with a relatively affordable price tag and shouldn't cost the earth to run. It's also more versatile than a conventional hatchback (in this case, a Mazda 3).
But to suggest that the Mazda CX-30 simply ticks all the boxes is doing it a disservice. Its cabin is as good as alternatives from premium manufacturers like Audi and Mercedes-Benz, while it comes loaded with standard equipment. Even the most affordable models on the market don't feel remotely like they're more suited to a hire car compound.
The entry-level SE-L models come with the same 8.8-inch navigation system as the rest of the range (with Apple CarPlay and Android Auto as well as DAB radio and Bluetooth), as well as rear parking sensors, LED headlights and stylish 16-inch alloy wheels.
The SE-L might be the most affordable version on sale but no Mazda CX-30 is cheap. It's a car that's in demand, selling in comparatively small numbers and with a high retail price. That means the used market isn't flooded with them, but you can still save a decent wedge compared to a new example. We've seen ex-demonstrator models selling for a little more than £20,000.
The engine line-up is, er, limited. You won't find a diesel or hybrid here (not a proper hybrid, anyway). There's a choice of two engines: both 2.0-litre petrols; the Skyactiv-G with 122PS or the 180PS Skyactiv-X. They're both mild-hybrids (although you'll struggle to tell the difference), while the Skyactiv-X uses clever spark-controlled compression ignition to provide diesel-like economy. In theory, anyway.
The entry-level engine is gutless but fine for town driving, provided you don't mind working the engine hard (it lacks punch from low revs compared to turbocharged rivals). The Skyactiv-X has more guts but you pay the price for refinement - it sounds weirdly like a diesel at times.
Engines aside, the Mazda CX-30 is great to drive. It's easy to place on the road, while it strikes the right balance between sporty handling and comfort. Even on the largest 18-inch wheels, it'll happily skip over bumpy roads without too much discomfort.
Is the Mazda CX-30 right for you?
If you want a stylish crossover with a superb cabin and don't feel the need to impress your neighbours with a premium badge (spoiler alert: they probably won't care anyway), the CX-30 is an excellent choice. It comes loaded with kit, while a limited options list makes it an easy second-hand purchase. It sells in relatively small numbers so you're less likely to park next to one at Waitrose compared to, say, a Volkswagen T-Roc.
There are some caveats. If you cover lots of miles, you'd be better looking for a diesel-powered alternative. And if you need a spacious interior, there are much more practical options. If neither of these are an issue, we'd highly recommend the Mazda CX-30.
What's the best Mazda CX-30 model/engine to choose?
Neither engine is particularly strong and deciding between them is difficult. The Skyactiv-G is slow, but cheaper to buy and very refined. We also suspect it'll go on forever with little more than regular maintenance. The Skyactiv-X has a useful amount of extra power, but doesn't necessarily feel as quick as you might expect. It also loses a bit of the G's refinement and is a fair chunk pricier to buy.
In terms of trim levels, all are well-equipped. We don't think you'd be disappointed with the entry-level SE-L, although the SE-L Lux isn't much more expensive on the used market and brings such niceties as a reversing camera, an electric tailgate and heated front seats. If you want a sportier choice with a plusher cabin, look for one of the Sport Lux or GT Sport models.
What other cars are similar to the Mazda CX-30?
Comfort and design: Mazda CX-30 interior
"The cabin is a classy, well-designed affair, not dissimilar to that in the Mazda 3 hatch."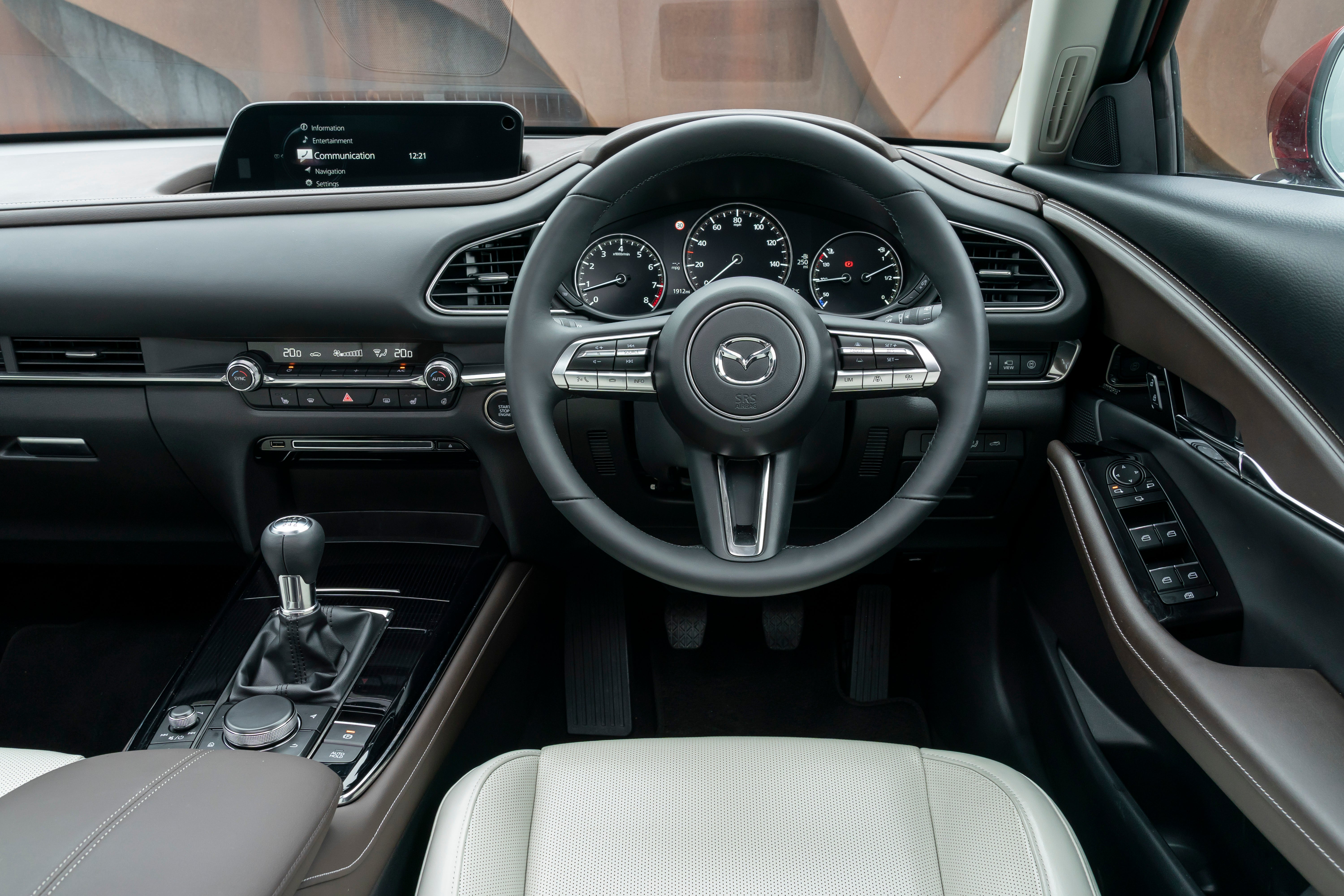 You get the impression that it's been designed with a lot of thought, centred around the driver, with a high centre console and big steering wheel. It kind of cocoons you, feeling very cosseting with everything positioned within easy reach.
You may be disappointed if you're expecting a high seating position, though. You're not going to be lording it over lesser vehicles in the CX-30; you sit barely any higher than in a hatchback. That's good if you want to feel close to the road (like a racing driver), but not so good if you'd like to see over traffic. And hedges.
There's loads of adjustability, with manual tilt, slide, recline and height adjustment as standard for the driver's seat across the range. That means it's very easy to find a comfortable seating position that should prove supportive for many hours behind the wheel, but you'll have to look for a GT Sport model for electric seats. These include adjustable lumbar support too.
Quality and finish
The build quality of the CX-30's cabin is nothing less than superb. Soft-touch materials and stylish chrome finishes mean you simply can't compare it with the likes of the Volkswagen T-Roc or Toyota C-HR. The CX-30's interior is in the same league as the Audi Q2 and BMW X2 in terms of finish.
Even inquisitive fingers won't find any harsh finishes, and all the buttons operate with a pleasing tactility. The doors close with a meaty 'thunk' and it all feels like it'll last for a very long time.
As is always the case, pricier models feel more upmarket, but the more affordable trim levels are far from sparse. All come with a leather-wrapped steering wheel and gear shift, while the dark grey cloth trim feels about as classy as cloth gets. You'll need to hunt out a GT Sport or GT Sport Tech model for leather seats.
Infotainment: Touschreen, USB, nav and stereo in the Mazda CX-30
Although the Mazda CX-30's button-heavy approach is a little old school, we think it works perfectly well. Refreshingly, the media system isn't the focal point of the interior and you don't need to use a central touchscreen display to control, well, pretty much everything.
You get actual buttons to adjust things like the climate control or the volume of the stereo. And then there's a 'multimedia commander' (Mazda's words) positioned between the front seats to navigate the slim 8.8-inch display which is perched on top of the dash.
We'd go as far as saying this is a brilliant setup. The TFT display is perfectly positioned for glancing at while driving, while the rotary controller makes navigating menus easy. Anyone who's ever tried prodding a touchscreen system on the move and accidentally called their mother-in-law will appreciate this.
Navigation is standard across the range, as is Apple CarPlay and Android Auto. These are great for accessing your phone's features (from Google Maps to your music playlists) on the move. While sometimes the integration of these leave a lot to be desired, they work flawlessly in the Mazda.
The graphics of the infotainment display are clear and it's quick to respond. If we're being picky, the relatively slim display is smaller than alternatives, but we can forgive it that.
It's also worth noting that the CX-30 comes with a CD player on most models. That's unusual but if you've got a back catalogue you're not prepared to give up, it might well appeal.
Space and practicality: Mazda CX-30 boot space
If you're looking to buy an SUV for carrying all the family and the associated luggage that goes with that, you'd be better looking at versatile alternatives like the Skoda Karoq or the bigger Mazda CX-5. While the CX-30 is a classy choice with a superb cabin, it's not exactly spacious.
Things are fine up front. All that adjustment in the seats means there's loads of room for even the tallest of drivers, while the CX-30's relatively wide cabin means you won't be lacking shoulder room, either. There's also a reasonable amount of storage space, including generous door pockets and a useful cubby box under the central armrest.
Just like stylish rivals like the Toyota C-HR, the Mazda CX-30 feels quite claustrophobic in the back. The doors are relatively small, making access difficult, while the windows are also quite compact. That's not great for travel sickness if you have young kids.
Teenage children will complain about legroom - especially with tall adults in the front - while headroom is best described as 'adequate'. There are Isofix points fitted to the outer rear seats which, theoretically, means it ought to be fairly easy to fit child seats. Actually getting them through the tight rear doors could be a mission in itself, though.
Capable of carrying up to 430 litres of luggage, the CX-30's boot is usefully bigger than the Mazda 3's. It's bigger than the Toyota C-HR's too, although not as big as a Volkswagen T-Roc or BMW X2. A hefty boot lip is amplified back the lack of an adjustable boot floor.
The rear bench splits 60:40, enabling it to be dropped down easily, providing up to 1406 litres of space.
Handling and ride quality: What is the Mazda CX-30 like to drive?
"Whether you're tackling stop-start city centre traffic, bimbling along a country road or eating up the miles on a motorway, the CX-30 is great to drive."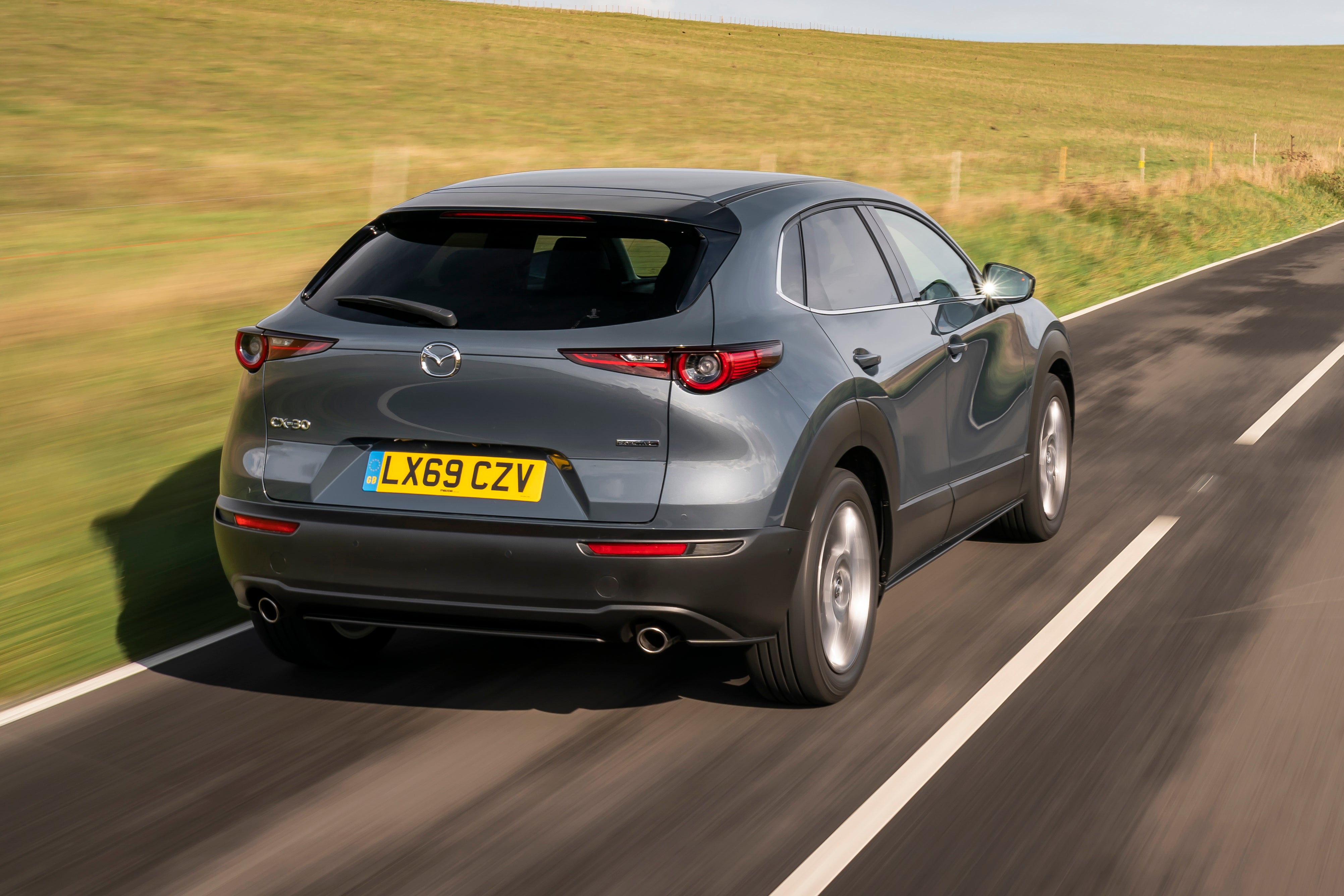 It feels much more of a driver's car than something like a Nissan Qashqai, with well-placed pedals, satisfying steering and a snickety gear change on manual models. On a country road, it'll lean more than the equivalent Mazda 3, while it's not quite as agile as the SEAT Ateca.
That said, the balance between dynamic handling and a soft, comfortable ride is almost perfectly judged. Even on the bigger 18-inch alloy wheels, it won't crash about over bumpy roads. It's not quite as soft as a Skoda Karoq, but it'll be compliant enough for most buyers.
Four-wheel-drive versions of the Mazda CX-30 are rarer than standard front-drive models on the used market and are more expensive to buy as well as a run. The extra grip on offer might put your mind at rest if you regularly tackle snowy rural roads, but that's a small minority of people. If you're concerned about cold-weather driving, we'd recommend a two-wheel-drive model with a set of winter tyres.
What engines and gearboxes are available in the Mazda CX-30?
You can have the Mazda CX-30 with any engine you like as long as it's a 2.0-litre petrol.
If you opt for the entry-level version - known as the Skyactiv-G - don't go expecting thrilling performance. It might have a big engine but, with only 122PS and not a turbocharger in sight, it's pretty sluggish. Officially it'll reach 62mph in 10.6 seconds with the manual gearbox (11.2 with the auto). It's quite a rev-hungry engine, needing a lot of work to do make progress, and could be a shock to the system if you're used to a turbocharged rival with dollops of low-down torque.
The more powerful engine is an 180PS unit, known as the Skyactiv-X. Mazda makes quite a song and dance out of this engine, thanks to its unusual spark-controlled compression ignition. All that really matters is that it's significantly quicker than the lethargic Skyactiv-G, reaching 62mph in as little as 8.5 seconds.
While this would be our engine of choice if the majority of your driving is out of town, it'll still need a little getting used to compared to punchy turbocharged offerings. It simply doesn't feel as quick as the figures suggest.
Mazda's so invested in naturally-aspirated engines that we won't be seeing a turbocharged CX-30, and we think that's a bit of a shame, really. On the plus side, the unstrained petrol engines should be relatively reliable and frugal in the real world, although the Skyactiv-X engine hasn't been around long enough to judge its dependability in the long-term.
There's no diesel engine, either - at least not in the UK. Mazda says the Skyactiv-X has enough diesel-like traits to tick that box, but we'd be inclined to disagree. If you spend all your time covering motorway miles or plan to tow a caravan, we'd look for a diesel-powered alternative."
Refinement and noise levels
If you're after luxury, we'd recommend the six-speed automatic gearbox with the Mazda CX-30 which takes a lot of the chore out of driving. It's a traditional torque-converter transmission which, in plain English, means it should be more reliable than complicated dual-clutch systems (i.e. those used in Volkswagen Group rivals). It's fast enough to respond and provides pretty seamless gear changes.
Don't dismiss the manual, though. It provides the most satisfying gear change in a car of this type, with a direct throw and a light enough clutch. That's good news as the sluggish engines mean you'll be changing gear a lot.
The fact that the engines need to be worked hard does impact refinement, especially with the Skyactiv-X which provides a strange diesel-like clatter in the mid-range. That said, they're much quieter than noisy three-cylinder alternatives which are often described euphemistically as 'characterful'.
Indeed, once settled into a cruise, most engines are very quiet and refined, helped by the soft suspension which won't pass too many bumps into the cabin.
Around town, the mild-hybrid setup helps with refinement, allowing the stop-start engine to kick in before the car rolls to a complete stop. Don't go expecting it to drive under electric power alone, though.
Safety equipment: How safe is the Mazda CX-30?
The Mazda CX-30 is an extremely safe car to travel in. When it was crash tested by Euro NCAP in 2019, it scored an incredible 99 per cent of adult occupants, and 86 per cent for children. It achieved an 80 per cent score for vulnerable road users and 77 per cent for its safety assist features. The overall result is an impressive five-star safety rating.
There's a whole host of safety equipment that's standard across the range. Lane-keep Assist will keep you in your lane on the motorway, while Smart Brake Support will apply the anchors if it thinks you're about to be involved in a crash.
Look for a top-spec GT Sport Tech model if you want the ultimate in safety equipment. A clever 360-degree view monitor uses cameras at the front, rear and side of the car to help you when manoeuvring. Cruising and traffic support will operate the brake and accelerator (and even the steering) when you're in slow-moving traffic.
The GT Sport Tech also comes with a Driver Monitoring system which can detect when you're getting drowsy and warn you to take a break, while Smart City Brake Support helps to prevent low-speed impacts by applying the brakes if it detects a potential collision - whether you're going forward or in reverse.
MPG and fuel costs: What does a Mazda CX-30 cost to run?
"While more power usually means bigger fuel bills, Mazda says its clever Skyactiv-X engine uses diesel-like technology to return diesel-like economy."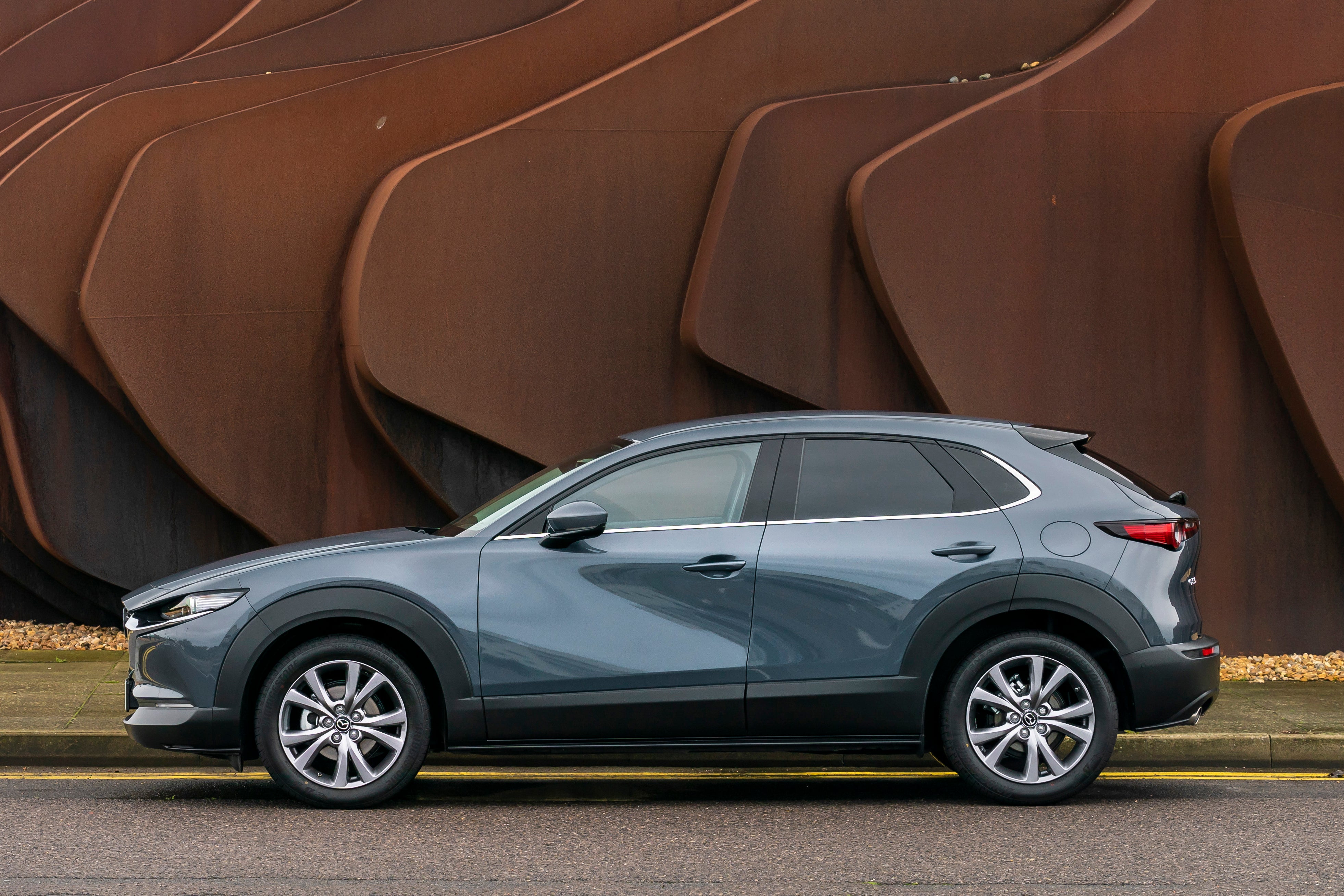 The most frugal Mazda CX-30 is the Skyactiv-X 2WD with a manual gearbox, which officially returns 47.9mpg. With the auto gearbox, this drops to 43.5mpg, while four-wheel-drive and the automatic transmission reduces this to 40.4mpg. A four-wheel-drive manual model officially returns 43.5mpg.
The Skyactiv-G is pretty efficient, too. With the manual gearbox, it's officially good for 45.6mpg, while the auto returns 42.8mpg.
The nice thing about Mazda's unstrained, none-turbocharged engines is they should be very efficient in the real world. Small, turbo engines often struggle to return their official figures but, with some careful driving, any Mazda CX-30 should be able to see 40+ mpg on a run.
How reliable is the Mazda CX-30?
The Mazda CX-30 should prove to be a very reliable car. Not only is Mazda as a brand one of the most reliable manufacturers in the UK, but the CX-30's more established sister car, the CX-5, has also been rated one of the most reliable cars in the latest HonestJohn.co.uk Satisfaction Index.
Insurance groups and costs
If you're looking for cheap car insurance, you'd be best looking for a CX-30 with the Skyactiv-G engine. Trim level won't make a huge difference, and neither will deciding between an automatic or manual gearbox: all CX-30 Skyactiv-G models fall into insurance groups 12 or 13.
With the Skyactiv-X engine, the CX-30 is placed into insurance groups 18 or 19. Again, it doesn't really matter which trim level or gearbox you opt for, and four-wheel-drive models should cost any more to insure, either. Insurance shouldn't be particularly expensive (unless you're a young or inexperienced driver), with the CX-30 stacking up well against rivals in this regards.
VED car tax: What is the annual road tax on a Mazda CX-30?
As a mild-hybrid, the CX-30 qualifies for a generous £10 discount on your annual car tax. So, you'll pay £140 a year, rather than £150.
You're not going to find a Mazda CX-30 with a list price of more than £40,000, so you needn't be concerned about the premium car tax.
How much should you be paying for a used Mazda CX-30?
"The Mazda CX-30 is still a relatively new model, but there are some trickling down onto the used market."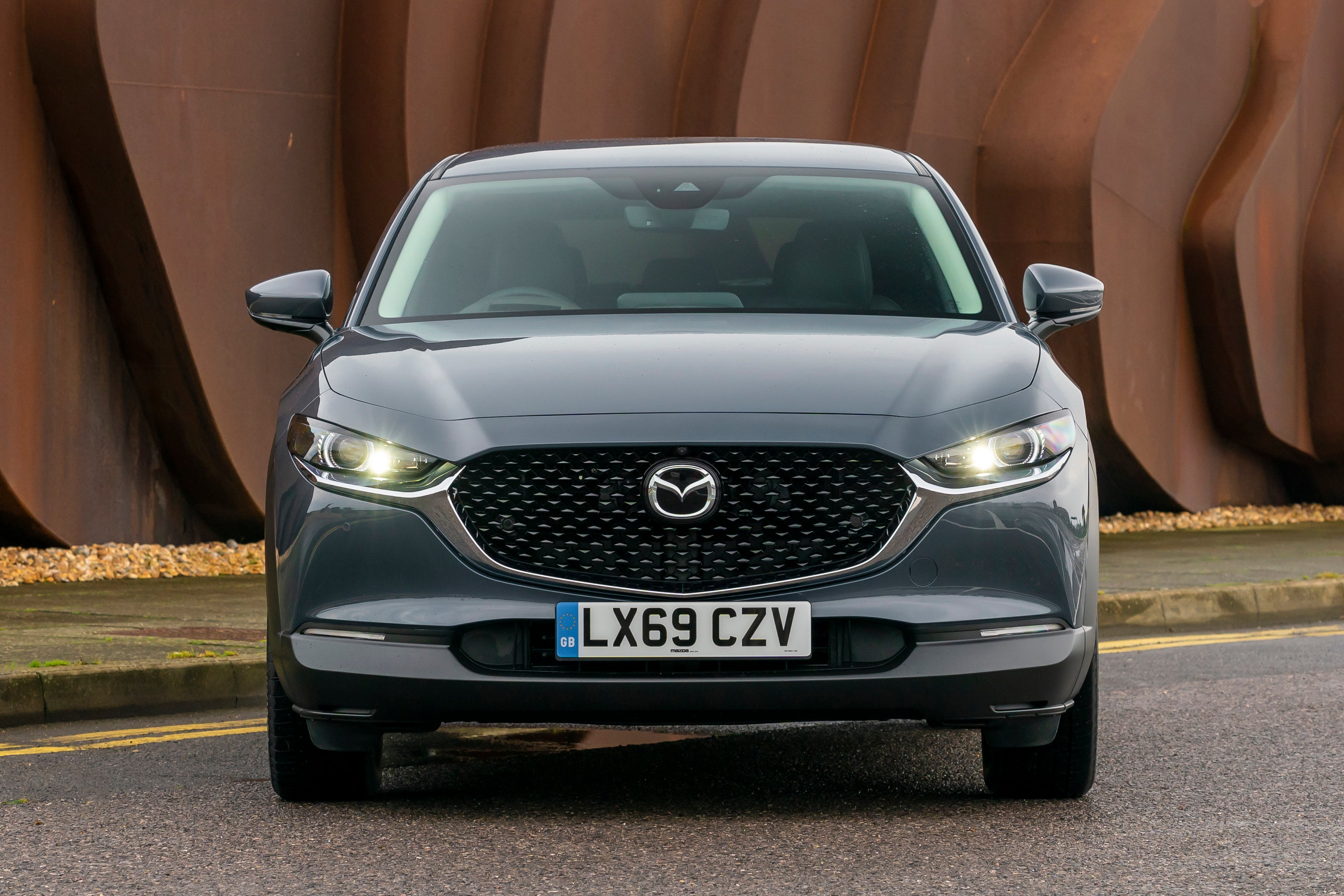 A little over £20,000 will get you an ex-demonstrator with the Skyactiv-G engine in SE-L trim, while £21,000 stretches to a more desirable Sport Lux model. That represents a saving compared to new of around £3000 for an SE-L and £4000 for the Sport Lux - not to be sniffed at.
If you want the better Skyactiv-X engine, you'll pay around £24,000 for a nearly-new Sport Lux model, which is a saving of more than £3000. At the top end of the market, a GT Sport Tech model with four-wheel drive and an automatic gearbox with only a handful of miles on the clock starts from £30,000 - a saving of nearly £4000.
Trim levels and standard equipment
All Mazda CX-30 models are pretty well kitted out as standard. Highlights of the entry-level SE-L model include LED head and taillights, 16-inch alloy wheels and rear parking sensors. Inside, there's dark grey cloth seats with manual adjustment, a windscreen-projected head-up display and a seven-inch TFT colour instrument panel. An 8.8-inch infotainment system with navigation is standard along with Apple CarPlay and Android Auto.
The SE-L Lux adds an auto-dimming driver door mirror, front and rear parking sensors, a reversing camera and an electric tailgate. Inside, you get an auto-dimming rear-view mirror, heated front seats, dual-zone climate control and keyless entry. There's even a CD player.
As the name suggests, Sport Lux models add a sportier touch: with 18-inch alloy wheels, various black exterior highlights, rear privacy glass and an electric sunroof (when paired with the Skyactiv-X engine). Inside gets chrome interior trim and a frameless auto-dimming rear-view mirror.
The GT Sport features black leather upholstery with electric adjustment in the driver's seat, a heated steering wheel and a premium Bose surround sound system. The top-spec GT Sport Tech adds a 360-degree view monitors and various useful safety features: from cruising and traffic sport to rear cross-traffic brake.
Ask the heycar experts:
common questions
Is the Mazda CX-30 bigger than the CX-5?
Comparing the Mazda CX-30's dimensions with the CX-5, the CX-30 is 4,395mm long (155mm shorter than the CX-5), 1,795mm wide (45mm narrower) and 1540mm high (140mm lower). While the Mazda CX-30 is a small SUV, the CX-5 is a family SUV designed to compete with the Volkswagen Tiguan and Honda CR-V.

Is the Mazda CX-30 a replacement for the CX-3?
The Mazda CX-30 is an indirect replacement for the CX-3. It's slightly bigger than the CX-3, rivalling similar small SUVs like the Volkswagen T-Roc. The CX-3 was removed from sale in the UK in 2020, around the same time as the CX-30 went on sale.

What does the Mazda CX-30 rival?
The Mazda CX-30 rivals a whole host of small SUVs, including the Volkswagen T-Roc, Toyota C-HR and Nissan Juke. You might also consider the Ford Puma, Skoda Kamiq, Kia XCeed and Peugeot 2008.

Mazda CX-30 cars for sale on heycar
1,104
Number of cars available
£16K - £29K
Price bracket of these cars
Colours available on heycar
Keep me updated by email with the latest advice, news and offers from heycar
By submitting, you agree to our
privacy policy
.
Popular models
Similar models