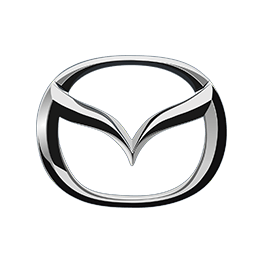 Mazda CX-5 Review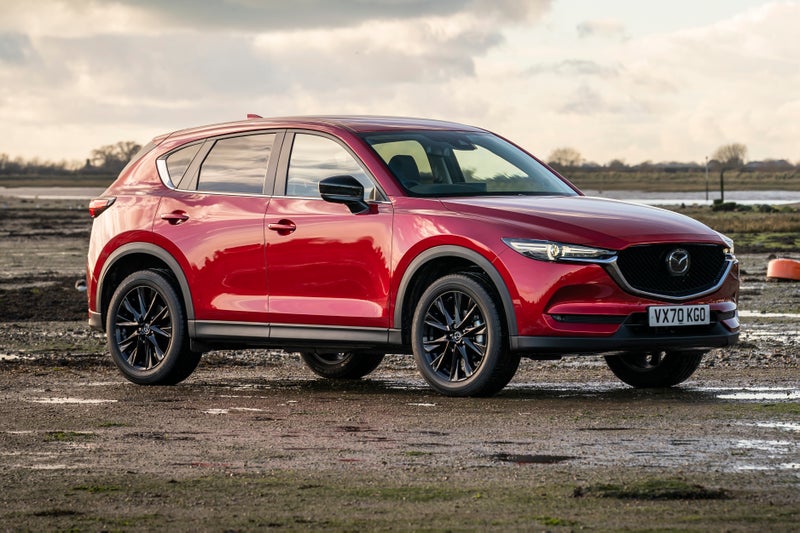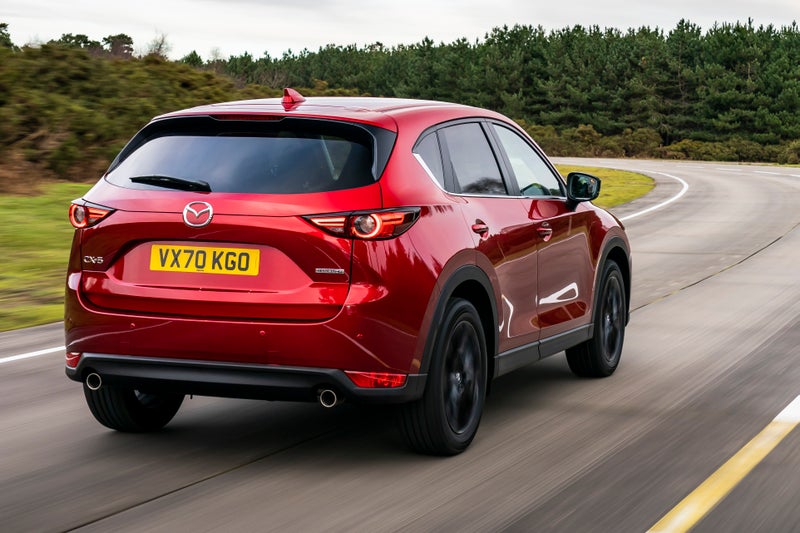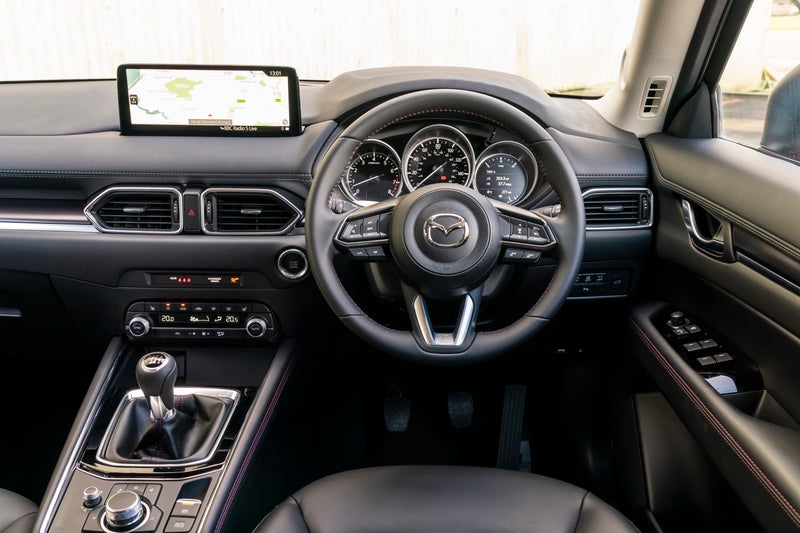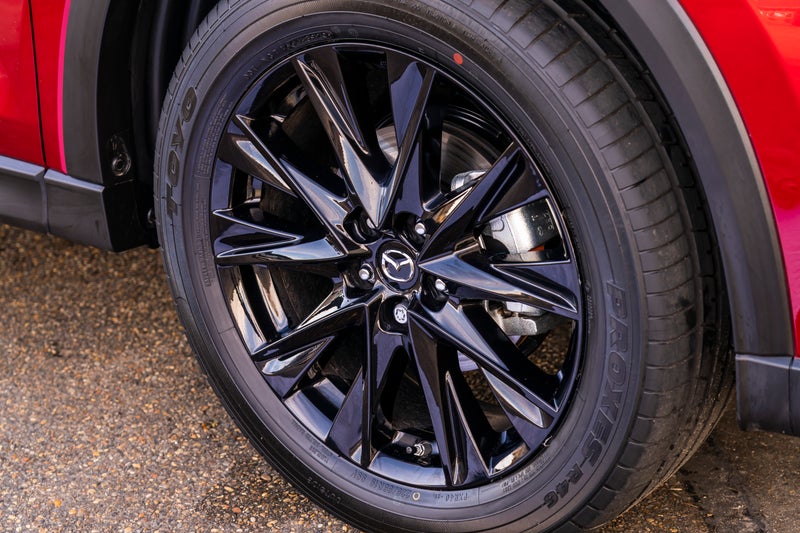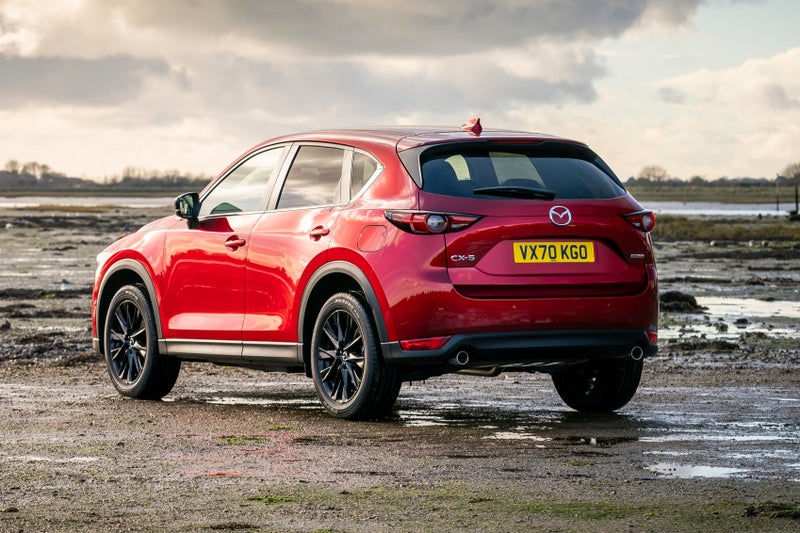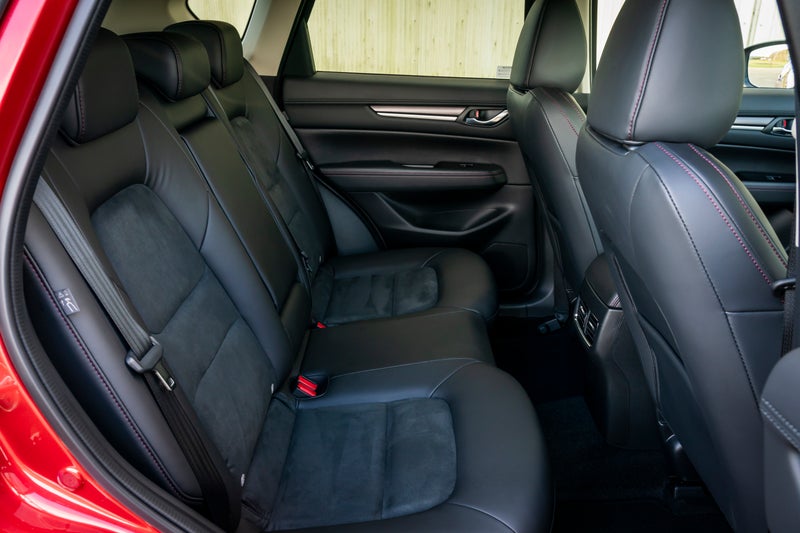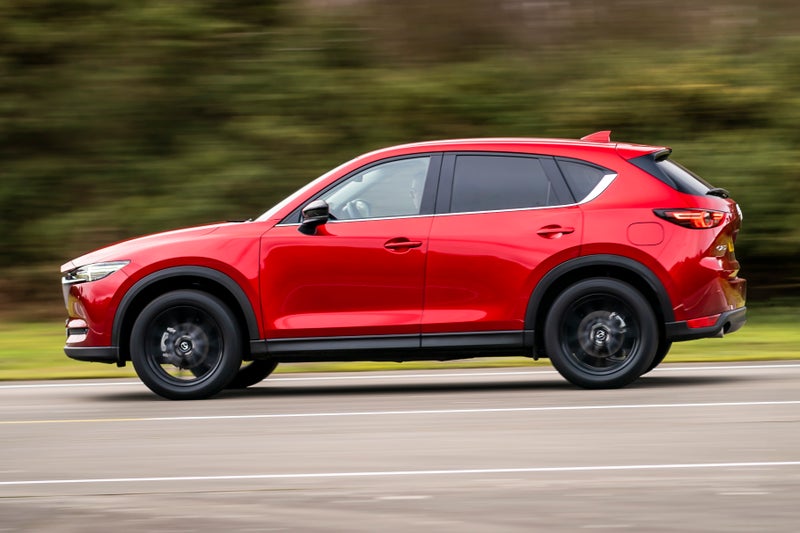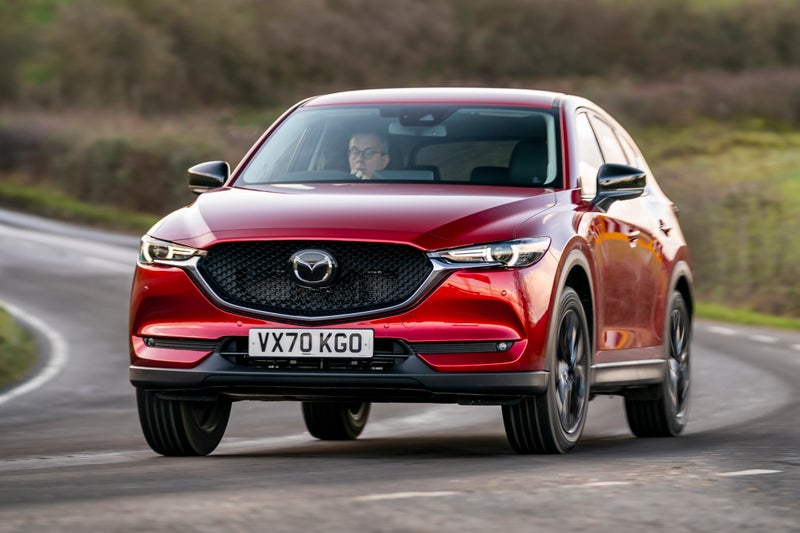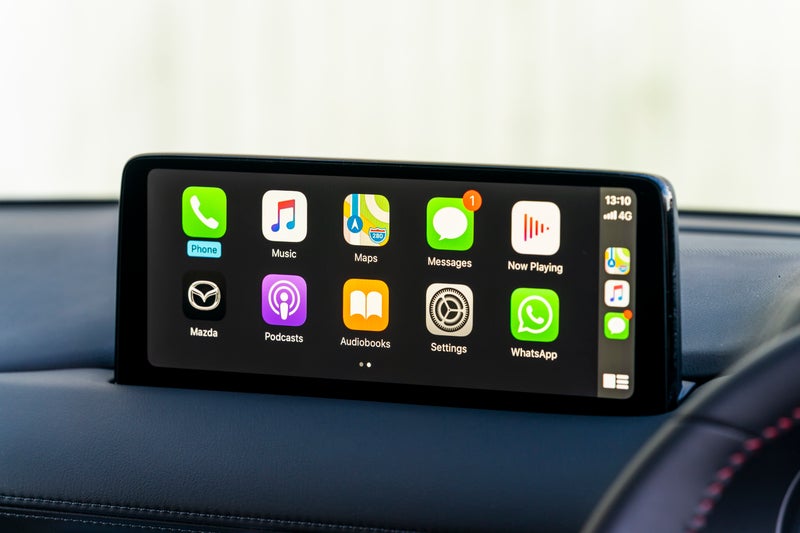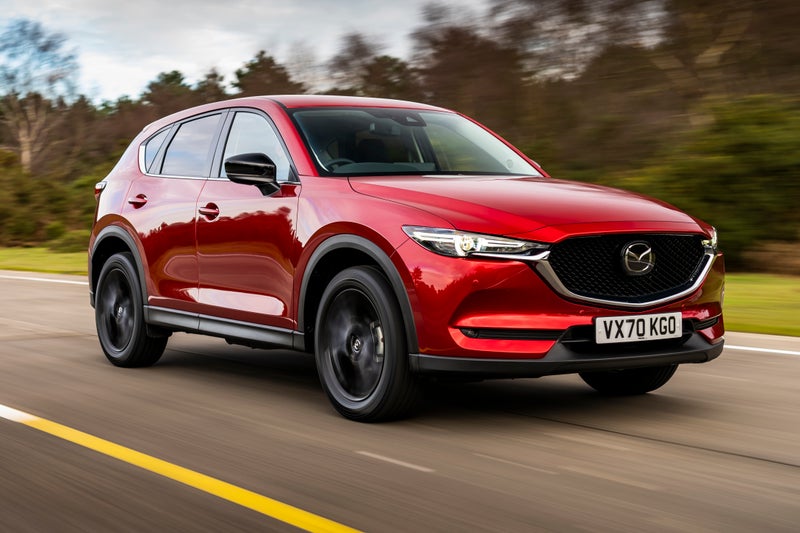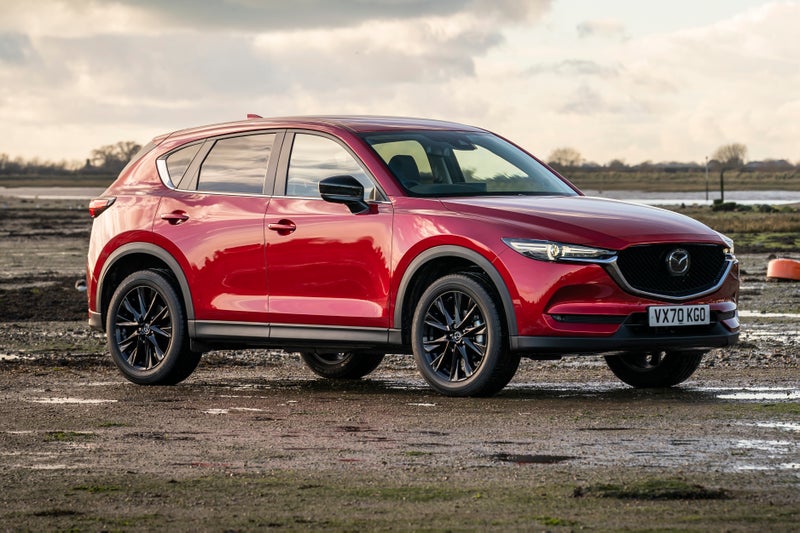 1/10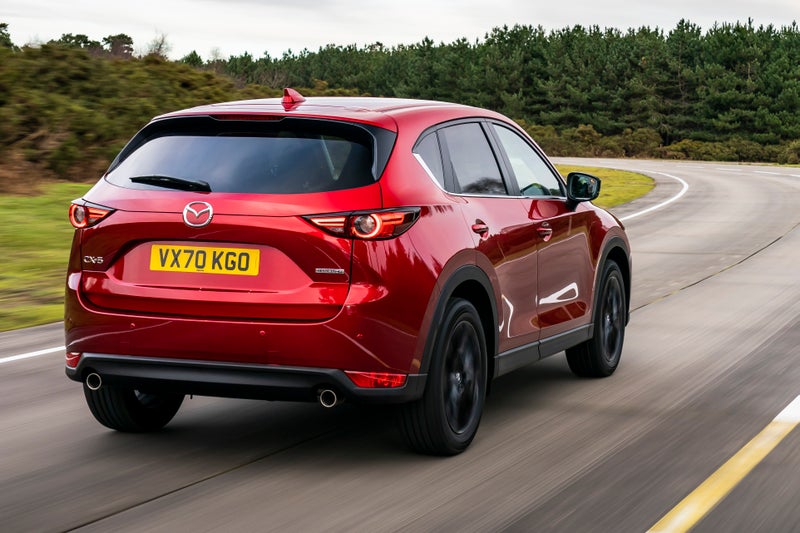 2/10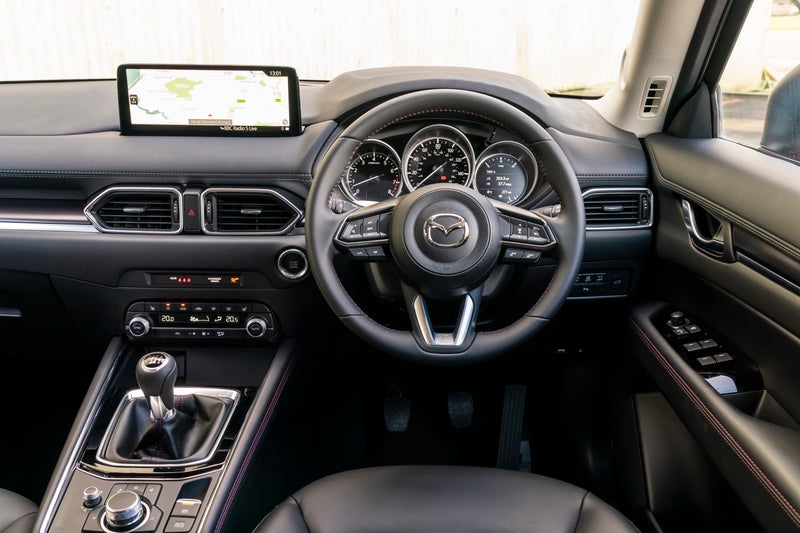 3/10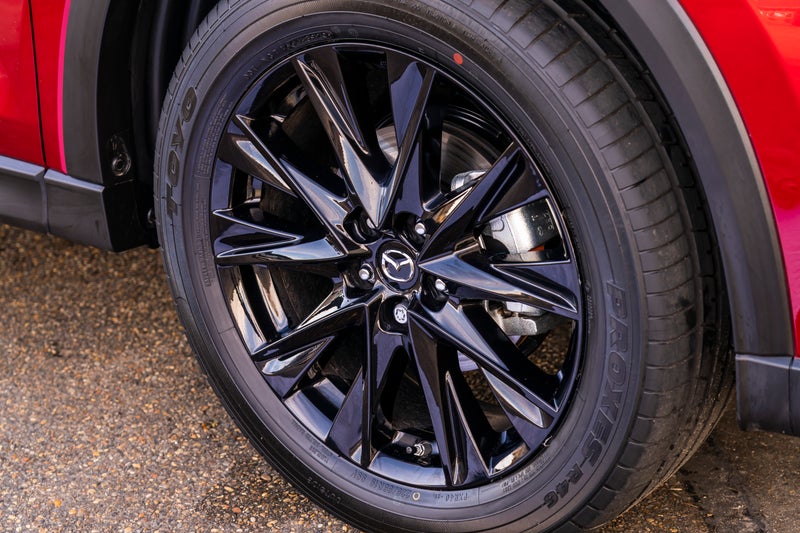 4/10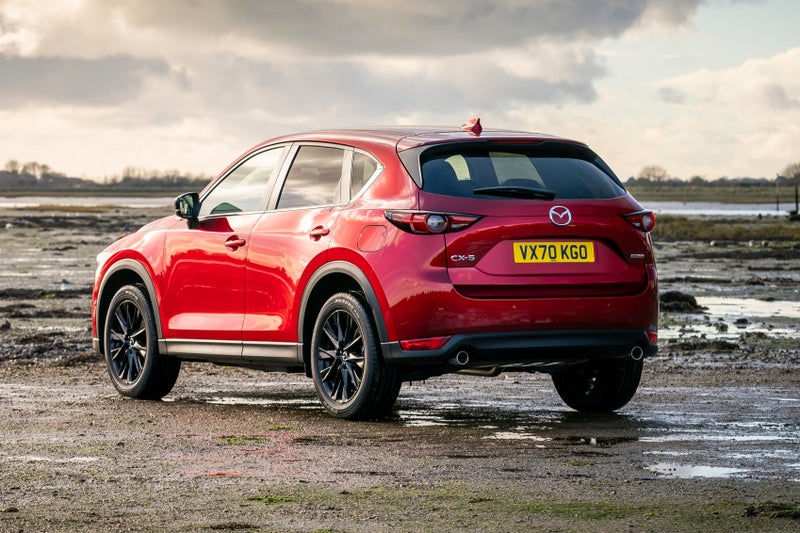 5/10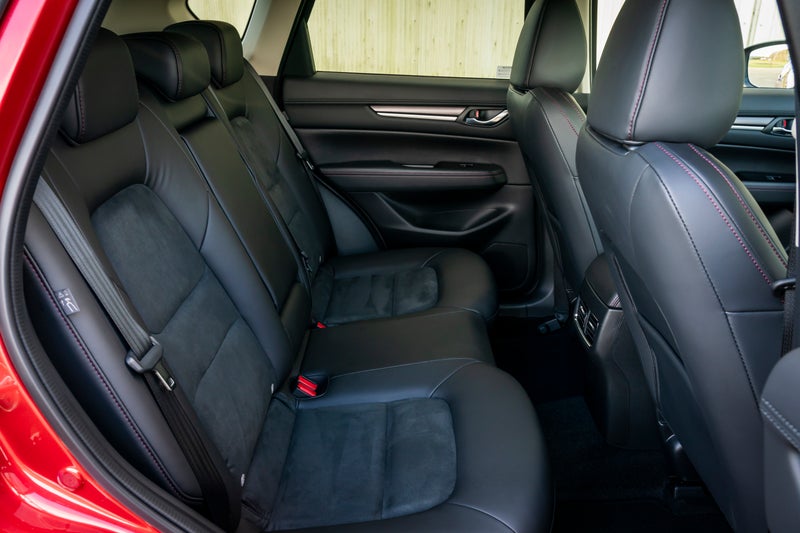 6/10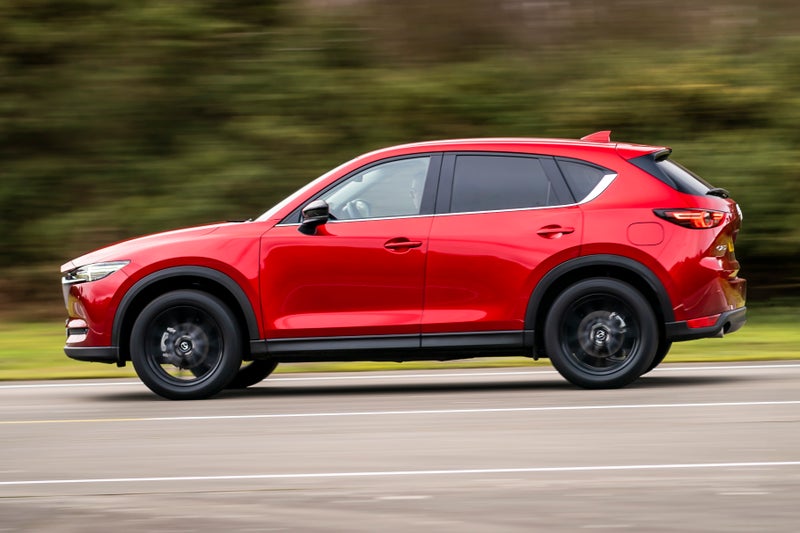 7/10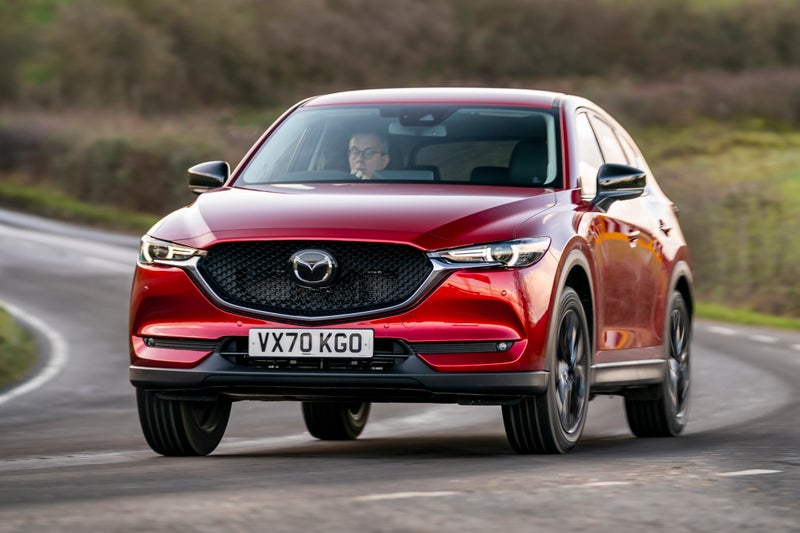 8/10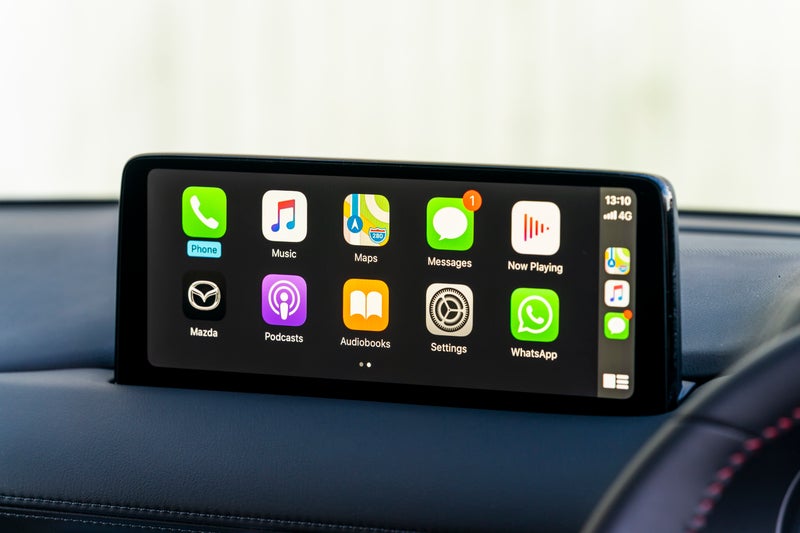 9/10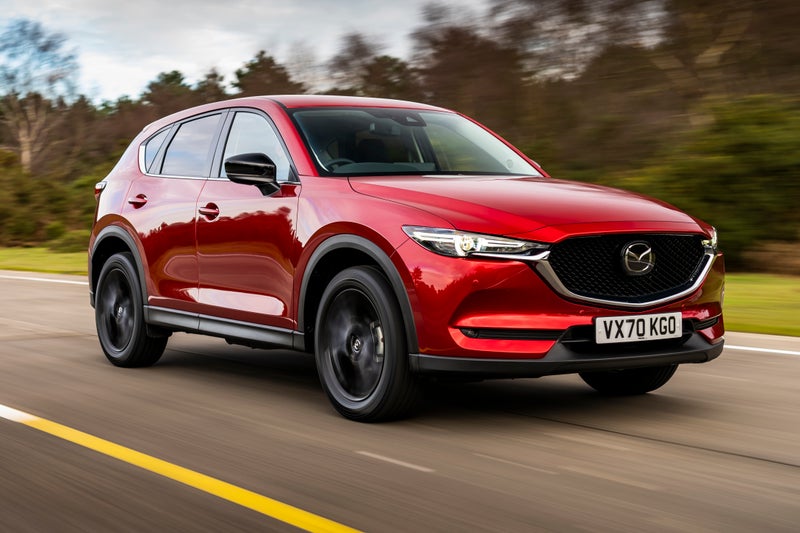 10/10

heycar rating
"Family SUV with stylish cabin"
Launched: 2017

SUV

Petrol, Diesel
Quick overview
Pros
Ultra stylish and comfortable interior
Great to drive with strong diesel engines
Very safe with five-star Euro NCAP safety rating
Cons
Petrol engine's a bit weak
Media system in early models isn't as good as rivals
No seven-seater
Mazda CX-5 cars for sale on heycar
158
Number of cars available
£9.8K - £34K
Price bracket of these cars
Colours available on heycar
Read by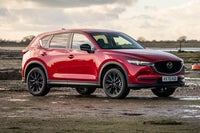 Overall verdict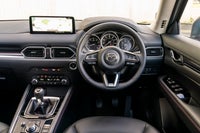 On the inside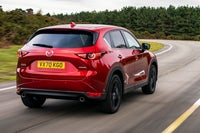 Driving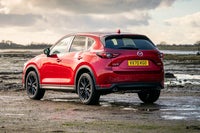 Cost to run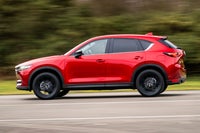 Prices and Specs
Overall verdict on the Mazda CX-5
"The latest Mazda CX-5 really is as good as it looks. The interior is superb, with high-quality materials, plenty of space and generous equipment levels on even the most affordable models. It's also great to drive, although it's a shame the petrol engine feels a little underpowered."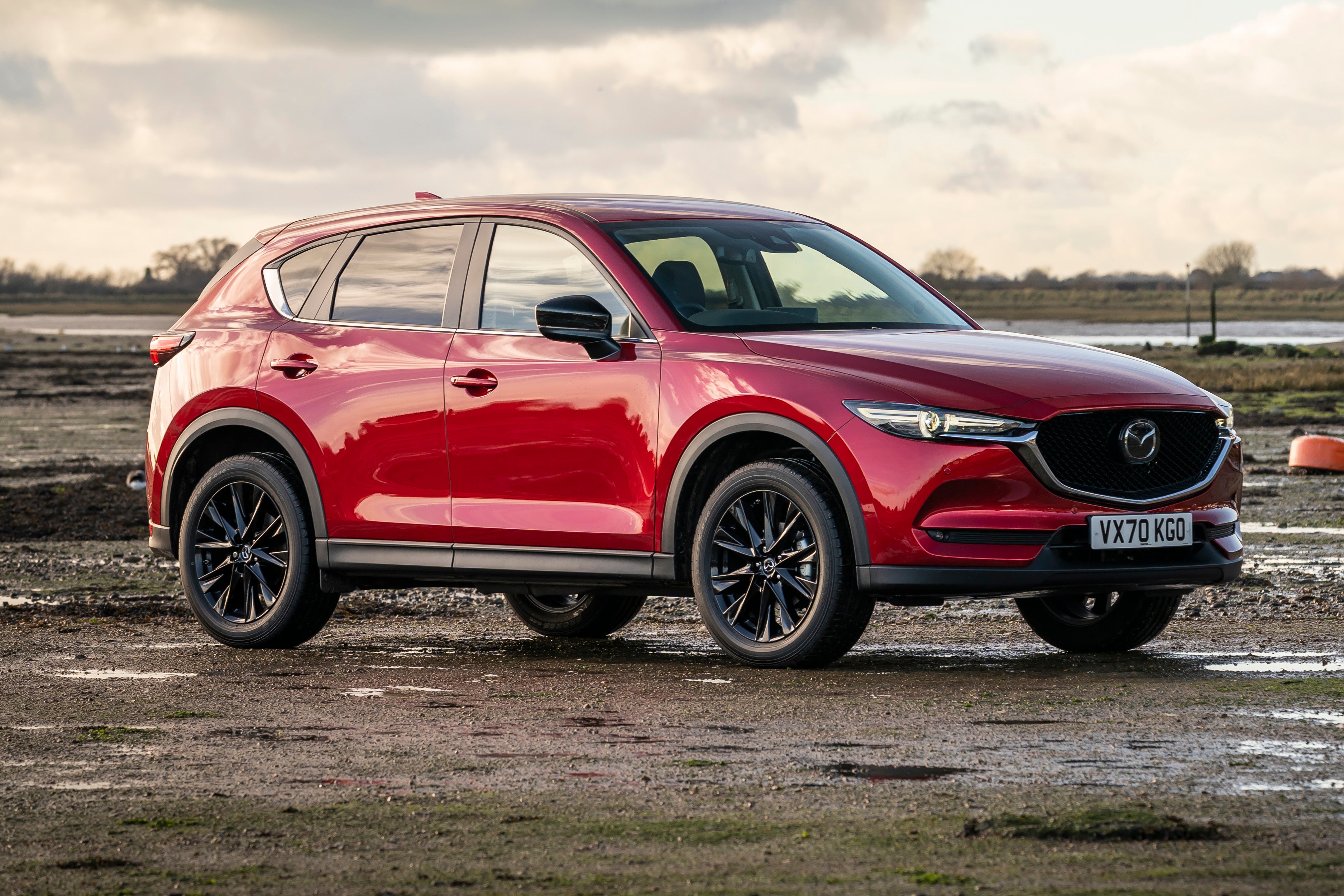 Admit it. You're here because the CX-5's stylish looks have caught your attention. Can you have your cake and eat it? Could the stunning CX-5 carry all your family in comfort, while being good to drive and without costing the earth?
The answer is a resounding 'yes'. Launched in 2017, the latest Mazda CX-5 really is a superb family car. It has an interior which is far better than mainstream alternatives like the Ford Kuga and Skoda Kodiaq, with plush materials and lots of neat touches. It's not an exaggeration to say it's in the same league as pricier alternatives like the BMW X3.
It's generously kitted out, too. Mazda doesn't offer extensive options lists, yet all used CX-5s will have pretty much everything you could wish for. The exact model line-up has changed a few times over the years but, generally, trim levels with 'SE-L' in their name are the more affordable models. Those containing 'Sport' are more upmarket, with the GT Sport being the current range-topper.
Some buyers will be disappointed that the CX-5 isn't offered with seven seats. There's not much you can do about that - if you need as many seats as possible, you'd be better looking at the Skoda Kodiaq. Or, even better, an old-fashioned people carrier (remember them?) like the SEAT Alhambra.
A shortage of seats aside, the CX-5 is a fairly practical choice. There's plenty of space for rear-seat passengers, while those in the front get uber-comfortable seats and plenty of useful storage features. The boot's not quite as big as the Kodiaq's, and you can't have clever sliding rear seats (although they do recline), but you're unlikely to find this a big problem.
Unlike a lot of SUVs of this size, the CX-5 isn't remotely boat-like to drive. It feels just as agile as smaller SUVs like the SEAT Ateca, with superb steering and little in the way of lean through the bends. Ride quality's pretty good, too, although not as forgiving as the Citroen C5 Aircross - especially if you get one with 19-inch alloy wheels.
The 2.0-litre petrol will probably come up a lot in your search for a CX-5, and it's not a bad engine. Indeed, it should be fairly frugal and no doubt very reliable. It just lacks a bit of urgency compared to turbo'd rivals.
The diesels are better, especially if you cover a lot of miles. We'd recommend the 150PS unit, unless you really need four-wheel-drive (in which case, there's a more powerful model).
So, while it's not without its flaws, we rate the Mazda CX-5 very highly. If it meets your needs (i.e. you don't have lots of kids and you're not fussed about having a powerful petrol engine), it's a really superb choice. Rivals like the Ford Kuga might be cheaper on the used market, but you get what you pay more. And the CX-5 is up there with more premium alternatives.
Comfort and design: Mazda CX-5 interior
"A high seating position combined with a wide centre console, meaty dashboard and thick-rimmed steering wheel makes the CX-5 feel like a car that isn't to be messed with. It seems much more substantial than car-like SUVs like the smaller CX-30."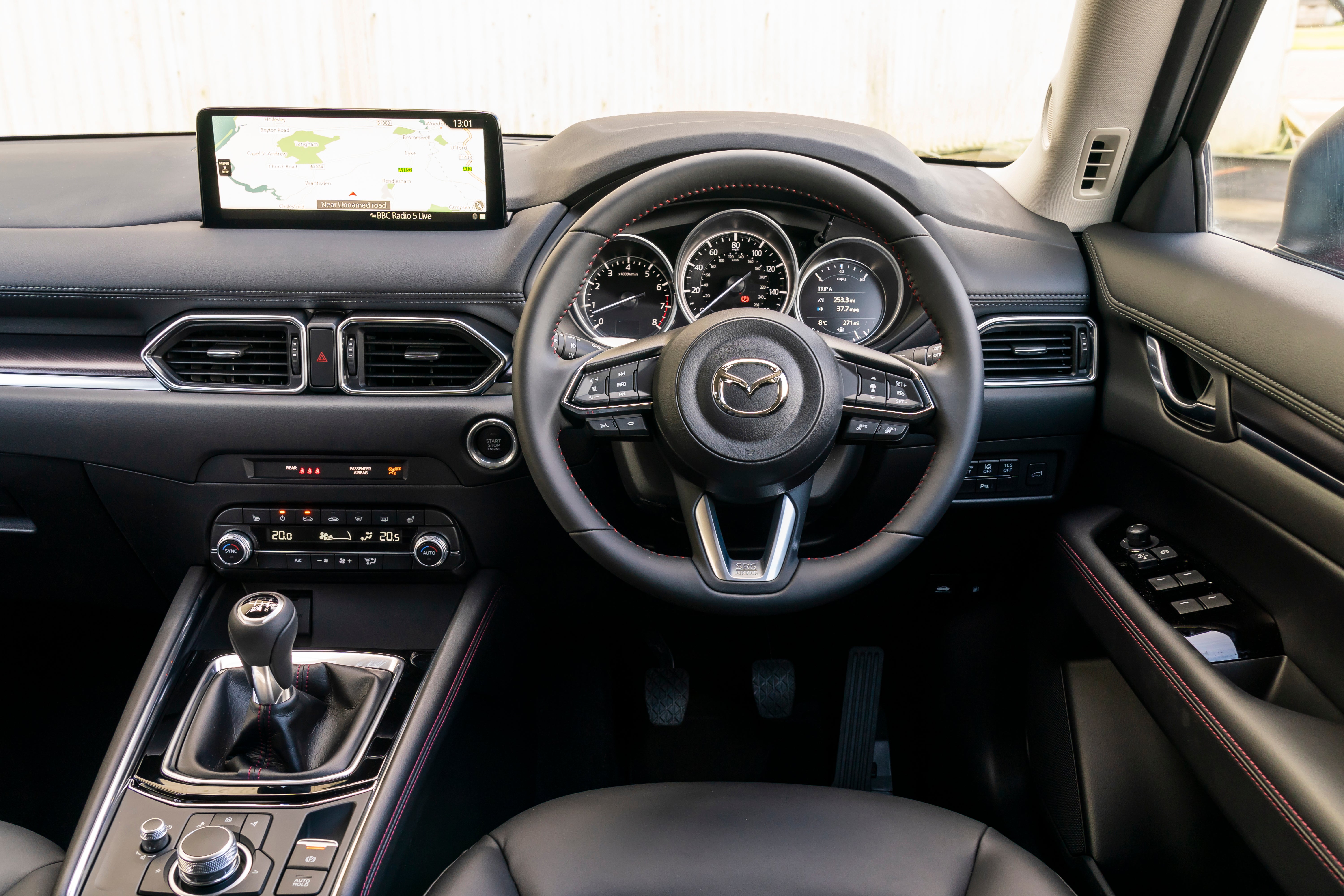 That said, it also takes quite an upmarket approach. It's an attractive cabin to look at, with smart chrome air vents and leather in all the right places (including the seats, on all but entry-level models). GT Sport models even come with real wood inlays which, genuinely, don't look naff at all. You can even get fancy brown Nappa leather upholstery.
The seats are delightfully comfortable. There's loads of adjustment in the driver and front passenger seats, including adjustable lumbar support - meaning you're unlikely to complain about aches and pains after a long journey. Most models also come with electric seat adjustment, which is useful if you're regularly swapping drivers.
Handling and ride quality: What is the Mazda CX-5 like to drive?
"The Mazda CX-5 is significantly bigger than, say, a SEAT Ateca - and that'll soon become evident when you try and thread it through congested city streets or into a multistorey car park."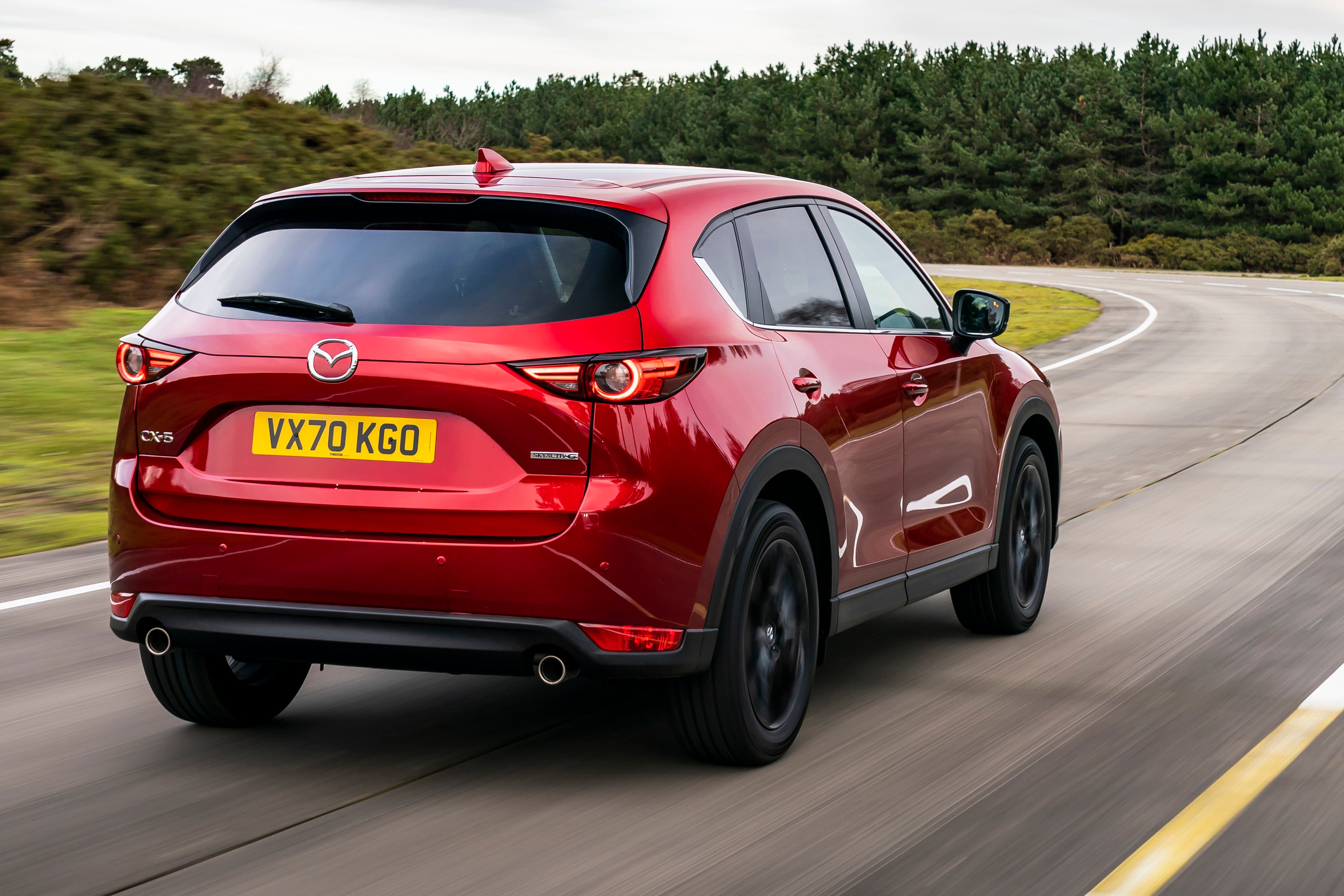 Visibility is pretty good, though, thanks to thin pillars and a high driving position. All CX-5s come with front and rear parking sensors, which are a massive help when reversing into tight parking spaces. Mid-range models also have a reversing camera while top-of-the-range Sport Nav+ (and later, GT Sport) models feature a very useful 360-degree camera.
Once you're out of town, the Mazda CX-5 is incredibly agile for a car of its size. It's much happier to be chucked around than a Toyota RAV4 or Honda CR-V. Not that you need to be driving quickly to appreciate its precise steering and stiffer body compared to the old CX-5.
Even the two-wheel-drive models have plenty of grip. In fact, you won't notice much of a difference in day-to-day driving between these and those fitted with four-wheel drive. We probably wouldn't bother with the latter unless you're planning to lug a caravan onto a wet field.
While the CX-5 is generally quite a comfortable car, you'll notice imperfections in the road more than you would in a Skoda Kodiaq or Citroen C5 Aircross. Those fitted with 17-inch alloys will be compliant enough for most drivers, but you'll notice bumps more in a high-spec model with the 19-inch wheels.
MPG and fuel costs: What does a Mazda CX-5 cost to run?
"If outright economy is high on your wishlist, look for a lower-powered 150PS diesel with the manual gearbox. Officially this returns between 47.9 and 49.6mpg under WLTP fuel economy tests, which is pretty impressive for a car of this size. Of course, it depends on a number of factors, so don't expect such frugality if you're heavy with the throttle or mainly drive around town."
The more powerful, all-wheel-drive diesels are a little less efficient, returning 42.8mpg with the manual gearbox and 39.8mpg as an auto.
The petrols are a bit thirstier, returning 39.2-39.8mpg as a manual and 36.7mpg with the automatic gearbox. The good news is that Mazda's naturally-aspirated petrol engines tend to return pretty close to their official figures in the real world, so you should see mid-to-late 30s mpg with little effort.
How much should you be paying for a used Mazda CX-5?
"With new prices starting in the region of £27,000 and rising to nearly £40,000, the Mazda CX-5 is quite an expensive SUV considering it hasn't got a premium badge. There are some very tempting bargains to be had on the nearly-new market, though."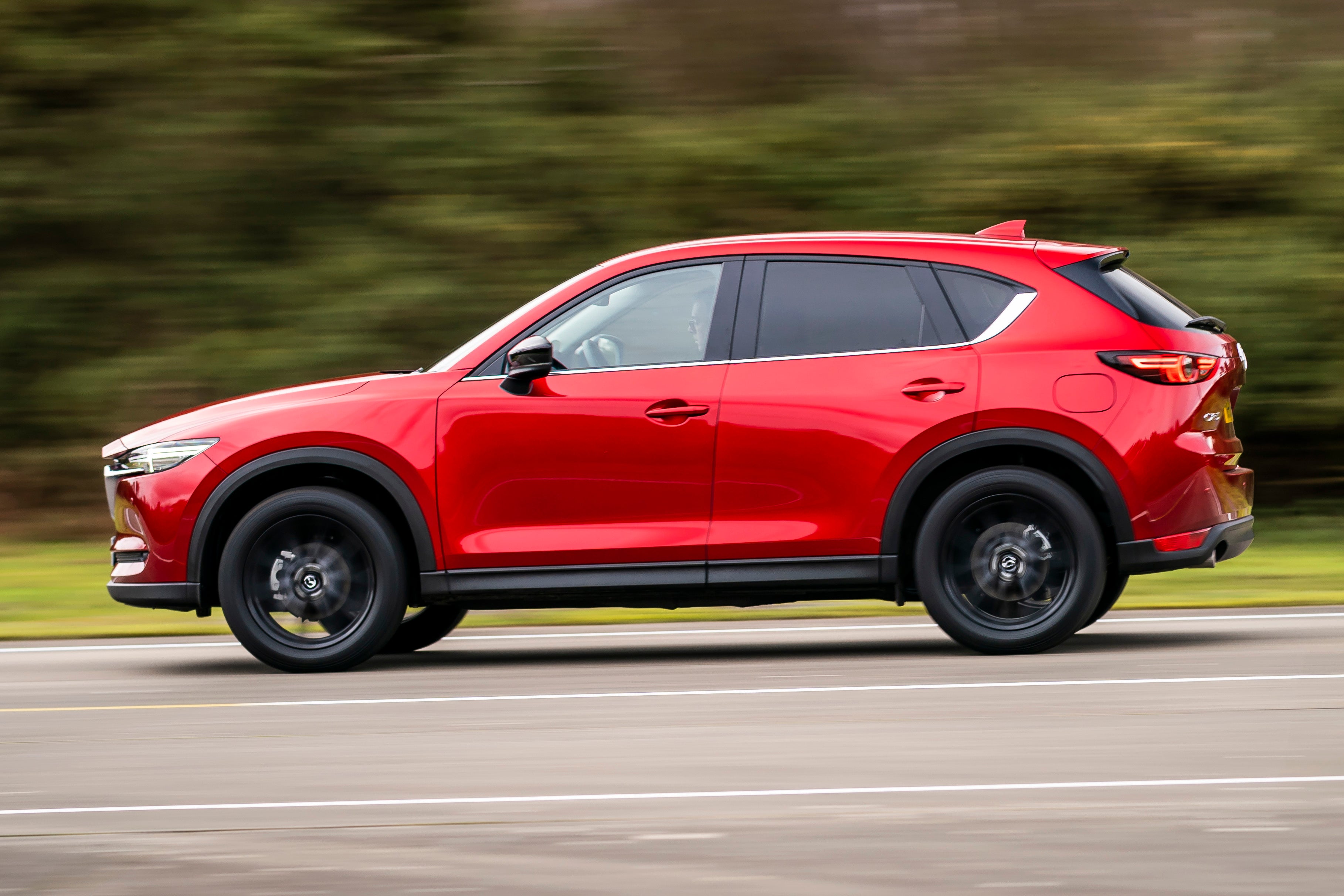 If you want a car that's like new, consider a pre-registered example. These are cars that have been ordered and registered by dealers to help them meet targets, before being sold for less than retail price. You can get a bargain this way and skip the waiting list, although you won't be able to pick things like colours and options. As Mazda doesn't offer much in the way of options, that's not a huge loss in this case.
We've seen petrol SE-L nav models with double-digit mileages selling for £22,000 - a saving of more than £5000 compared to list. A top-spec GT Sport Nav with the same engine can be had for around £27,000 - £5500 below the retail price.
There are good offers to be had on older examples, too, with lots hitting the market as they come out of lease and finance deals. A three-year-old petrol SE-L Nav with average miles can be picked up for around £16,000, while a diesel will set you back an extra £1000 or so.
Is the Mazda CX-5 right for you?
If you're after a stylish SUV with a superb cabin and aren't too fussed about a premium badge, the Mazda CX-5 is a superb choice. It's not quite as practical as the Skoda Kodiaq - not least because it's only available with five seats - but it'll be big and spacious enough for the majority of buyers.
One of the CX-5's biggest let-downs is its petrol engine. It should be a reliable choice but, if you want performance without having to work for it, we'd recommend looking for a turbocharged alternative like the Peugeot 5008 or Skoda Kodiaq.
What's the best Mazda CX-5 model/engine to choose?
All CX-5 models are well equipped so we'd be inclined to look for a lower-spec model. Not only will this save you money, but you'll also get the smaller 17-inch wheels for a more compliant ride and less road noise. Go for a higher-spec model (such as the current Sport and GT Sport trim levels) if you don't mind a firmer ride and want an even classier interior.
In terms of engines, the 150PS diesel is our choice. It suits the car better than the lethargic 2.0-litre petrol, although a diesel won't be the most appropriate choice for every buyer.
What other cars are similar to the Mazda CX-5?
You should also look at the Toyota RAV4 and Honda CR-V - both of which will be very sensible and reliable used choices and are available as hybrids, which might appeal if you cover a lot of town driving. You could also consider the Ford Kuga, which represents good value for money but feels dated and has a drab interior compared to the plush CX-5.
Then there's the quirky and comfortable Citroen C5 Aircross which has a softer ride and punchier petrol engines while, if you think you might need to occasionally carry extra passengers, we'd recommend seven-seat alternatives like the Skoda Kodiaq and Peugeot 5008.
Quality and finish
You won't have any complaints about the quality of the CX-5's cabin. It feels every bit the premium car - a significant step up compared to cut-price alternatives like the Ford Kuga.
The materials used are first-rate and we have no qualms with the general fit and finish of the cabin. You won't find any harsh plastics here, while all the switchgear feels more Audi than Skoda. Whichever model you buy, it feels just as well-made, although touches like a frameless rear-view mirror and Nappa leather seats (with seat ventilation!) make the top-of-the-range GT Sport trim feel extra special.
We doubt you'll hear any creaks or rattles from the CX-5's interior on the move, and it's sure to stand up well to day-to-day family life.
Infotainment: Touchscreen, USB, nav and stereo in the Mazda CX-5
When the CX-5 first arrived in 2017, it used a seven-inch navigation system which wasn't quite up to the same standards as the superb interior. It did the job, but the screen was a little weedier than those found in rivals, and its graphics were a bit below-par. It was slow to respond, too.
Things improved early in 2019 when Apple CarPlay and Android Auto was added as standard across the range. We rate these systems highly - just connect your phone via USB and your phone's screen will be mirrored onto the infotainment screen. This is great as it lets you use your own navigation apps (Waze is highly recommended) and access things like your Spotify playlists or audiobooks.
Further improvements were made in 2020, when the media system was expanded to eight-inches with clearer graphics and sharper responses. Finally, the CX-5 got the media system it deserved.
While rivals use touchscreen systems which provide an uncluttered cabin but can be a little distracting, the Mazda's infotainment can be controlled via a 'multimedia commander' located between the front seats. This is easily operated by the driver's left hand, allowing you to control the navigation system on the move without having to lean forward and prod the touchscreen display. It's a set up that works very well indeed.
As well as the infotainment system, most CX-5 models come with a windscreen projected head-up display which displays things like your current speed and navigation directions without having to take your eyes off the road. There's a Bose surround sound system across all but the most affordable trim levels, too.
Space and practicality: Mazda CX-5 boot space
While rivals like the Skoda Kodiaq, Peugeot 5008 and Honda CR-V are all available with seven seats, the Mazda CX-5 makes do with five. That'll be disappointing if you have many children, but it's not really a huge loss. In truth, the rear-most seats in most SUVs of this size are only really for occasional use and eat into valuable boot space.
Talking of boot space, the CX-5 can carry plenty of luggage. Officially, it can fit up to 506 litres of 'stuff' in the back - that's a little less than a Skoda Kodiaq or a Peugeot 5008 (when the third row of seats isn't in use), but more than smaller SUVs like the Nissan Qashqai and Kia Sportage. Drop the rear seats (using handy handles on the side of the boot) and you get a huge space, capable of carrying up to 1620 litres of luggage.
With the rear seats left up, there's a decent amount of space in the back. The seats recline, offering a little more comfort for rear-seat passengers but, unlike some rivals, you can't slide the seats back and forth to let you prioritise boot or rear-passenger space.
Adults in the back will find a generous amount of headroom but legroom is a little restricted, especially if there are tall people in the front and rear. The middle seat is quite tight in terms of width (the Citroen C5 Aircross is much more generous), and there's an annoying lump in the floor which eats into foot room.
There's a good view out of the side windows, even for young children, while Isofix points on the outer seats help when fitting child seats. Access is easy, too, with wide-opening rear doors and the high seating position helping when strapping kids in.
Up front, there's loads of room. Adults won't complain about a lack of head or legroom, and the high centre console means you won't be awkwardly touching your passenger's knee whenever you change gear. There's plenty of storage for your bits and bobs with deep door pockets, generous cup holders and a big glovebox.
What engines and gearboxes are available in the Mazda CX-5?
The best engine in the CX-5 is the 150PS Skyactiv-D diesel. The 2.2-litre turbodiesel is a gutsy unit, feeling surprisingly quick off the line thanks to all that torque available from low down in the rev range. It's a little clattery when you give it some beans - like a lot of diesels - but it's generally a very refined engine that copes well with a big SUV like the CX-5.
Four-wheel-drive models get a more powerful version of this engine. This produces 175PS (later boosted to 184PS in mid-2018). The extra power might sound tempting, but it's balanced out by the extra weight of the four-wheel-drive system. It'll accelerate to 62mph fractionally quicker but it doesn't feel that much more powerful in the real world.
While we rate the diesels in the CX-5, a petrol will make more sense for a lot of drivers. If you regularly cover short journeys, drive in town or rarely venture onto the motorway, it won't cost you much more to run and will be more reliable than a diesel in the long-term.
The only petrol offering is the 2.0-litre Skyactiv-G petrol. With 165PS, it'll accelerate from 0-62mph in 10.3 seconds (9.8 seconds with the automatic gearbox). That's comparable to rivals but, as it lacks a turbocharger, you don't get the same mid-range surge in power as you would in a 1.5 Skoda Kodiaq.
Refinement and noise levels
As is usually the case, the petrol engine is the most refined. When you're bimbling around town, the 2.0-litre petrol is very relaxed and less noticeable than the smaller turbocharged engines used in rivals. That changes as soon as you want a bit of performance, though, as you need to really build the revs to make any sort of progress. That's fun in a sports car like the MX-5, but knocks refinement in a family SUV like the CX-5.
The diesel engine is a little grumbly, particularly when it's getting up to temperature. By the time it's warmed up and you're settled into a cruise, it's less noticeable.
No matter which engine you choose, there's a fair bit of road noise from the 19-inch alloy wheels. As well as providing a more comfortable ride, the 17-inch rims transfer less noise into the cabin.
All engines come with a choice of six-speed manual or automatic gearboxes. We'd argue that the automatic probably suits the car better, providing a relaxed driving experience with smooth changes. As a traditional torque-converter automatic gearbox, it should be a reliable option, too - although you'll pay more for it compared to manual examples. If you're happy to change gear, the manual gearbox is ace - with a short, direct throw that's straight out of the MX-5 sports car.
Safety equipment: How safe is the Mazda CX-5?
The Mazda CX-5 is an extremely safe family car, scoring a maximum of five stars when it was crash test by Euro NCAP in 2017. It was awarded an impressive 95% rating for adult occupants and 80% for children. Its pedestrian impact protection score was 78%, while it received a 59% rating for its safety assist features.
In the case of a crash, there are, of course, plenty of airbags to keep you and your passengers safe. All models come with dual front airbags, front side airbags and curtain airbags in the front and rear. There's also a front passenger airbag cut-off switch, which is vital if a rear-facing child seat is fitted. Talking of which, there are Isofix child seat mounting points fitted to the outer rear seats.
There's also plenty of technology to prevent you from being in a crash in the first case. Lane-keep Assist and Lane Departure Warning systems are standard across the range, intended to keep you in your lane on the motorway, while Hill Hold Assist makes clumsy hill starts a thing of the past.
All models come with Mazda's Advanced Smart City Brake Support, which can apply the brakes if it detects an impending low-speed collision. This also works in reverse on GT Sport models as part of the Rear Smart City Brake Support system (optional on Sport trim as part of the Safety Pack).
Said Safety Pack was an £800 feature when new and is desirable on used models. As well as the Rear Smart City Brake Support system, it also added adaptive LED headlights, Driver Attention Alert and a 360-degree view camera. The latter is very useful when parking.
Insurance groups and costs
The cheapest Mazda CX-5 to insure is the Skyactiv-G petrol in SE-L trim. This falls into insurance group 14, while plusher petrol models are categorised as group 15 or 16. The difference between them will be negligible but shop around for quotes if you're concerned.
Diesel models are a little more expensive to insure, starting from group 19 for the SE-L with the 150PS, increasing to 23 for the more powerful engine with four-wheel drive. This isn't monstrosity high, though, and is pretty much in line with rivals.
VED car tax: What is the annual road tax on a Mazda CX-5?
All Mazda CX-5s registered since 1 April 2017 will be subject to tax at a flat rate of £150 a year. That's the same as rivals - unless you look at a hybrid model like the Honda CR-V, which will save you £10 a year.
There is a premium tax of an extra £325 a year for all cars with a list price of more than £40,000 (that's how much it retailed at when new). With a limited options list, you'd struggle to spend that much on a new CX-5, but ask the question if you're looking at a particularly fully-loaded example.
Trim levels and standard equipment
The Mazda CX-5 line-up has changed a few times since it first went on sale in 2017, so you'll have to pay attention.
It was initially offered in just two trim levels: SE-L Nav and Sport Nav. Both were loaded with kit, including LED headlights, auto power-folding door mirrors, dual-zone climate control, DAB radio and a seven-inch colour touch-screen display with Mazda's integrated navigation.
The Sport Nav added to this with a host of premium highlights including a reversing camera, eight-way power-adjustable driver's seat and Smart keyless entry, plus heated front seats and steering wheel. Sport Nav models also featured a power lift tailgate, plus a new head-up display (HUD) that projects directly onto the windscreen and features Traffic Sign Recognition.
There was a minor update in 2018, when the SE-L Nav became the SE-L Nav+ and the Sport Nav became, you guessed it, the Sport Nav+. The main changes in terms of the specification is the addition of extra active safety equipment as standard, with Mazda Radar Cruise Control, Advanced Blind Spot Monitoring with Rear Cross Traffic alert, Smart Brake Support, High Beam Control and Lane Keep Assist with Lane Departure Warning now standard across the range, while the optional safety pack on Sport Nav+ models now features a 360 view camera and Adaptive LED Headlamps.
From 2020, the most affordable model in the current CX-5 line-up is the SE-L. This is pretty well equipped, with highlights including 17-inch alloy wheels, LED headlights and rear privacy glass. Inside, there's black cloth trim, an electronic parking brake and an eight-inch navigation system. Front and rear parking sensors are also standard, as is a host of safety technology such as hill hold assist, lane-keep assist and intelligent speed assist (that's a lot of, er, assists…).
Sport starts to feel like a more premium choice, with 19-inch alloy wheels, a reversing camera, electric tailgate and, with certain engines, a sunroof. It also gets electrically-adjustable heated front seats, a heated steering wheel, keyless entry and a premium Bose surround sound system.
Topping the range is the GT Sport model which adds Nappa leather seats, ventilated front seats (don't knock 'em until you've tried them) and heated outer rear seats. There's wood trim, bespoke steering wheel stitching and interior LED lighting, while the Safety Pack brings with it adaptive headlights, Driver Attention Alert, Rear Smart City Brake Support and a 360-degree view monitor.
Learn more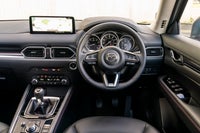 On the inside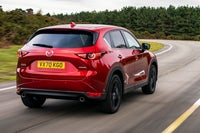 Driving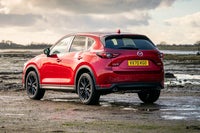 Cost to run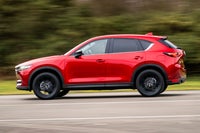 Prices and Specs
Ask the heycar experts:
common questions
Is the Mazda CX-5 a good car?
It is hard to find a car that does everything you need it to, but the CX-5 comes mighty close. It looks good, drives really well, is comfortable, practical, and good value for money too.

Answered by
heycar editorial team
Where is the CX-5 made?
For the European market, the CX-5 is manufactured and built in Hiroshima, Japan. This is the headquarters of Mazda, although other markets get cars built in Malaysia, Russia and China.

Is the Mazda CX-5 reliable?
The previous generation had teething problems with the braking system, but the engines in the new CX-5 are tried and tested, and the brand has an excellent reputation for durability.

What is Skyactiv technology?
This is the name Mazda gives to its fuel-saving technology, so despite using relatively large capacity engines, this SUV will return very reasonable economy and lower CO2 emissions.

Answered by
Russell Campbell
Reviews of similar cars
Quality checked, all cars less than 8 years old and warranty included
Looking for other Mazda cars?
Quality checked, all cars less than 8 years old and warranty included
Keep me updated by email with the latest advice, news and offers from heycar
By submitting, you agree to our
privacy policy
.
Popular models
Similar models