Written by
heycar editorial team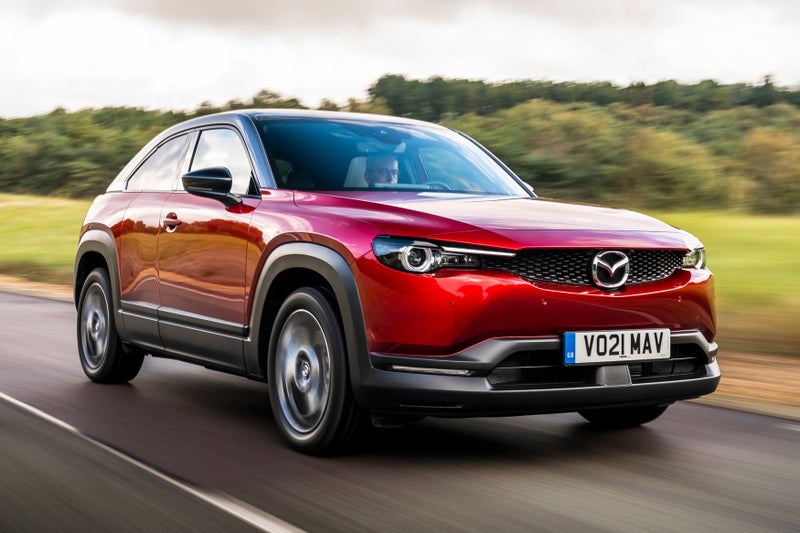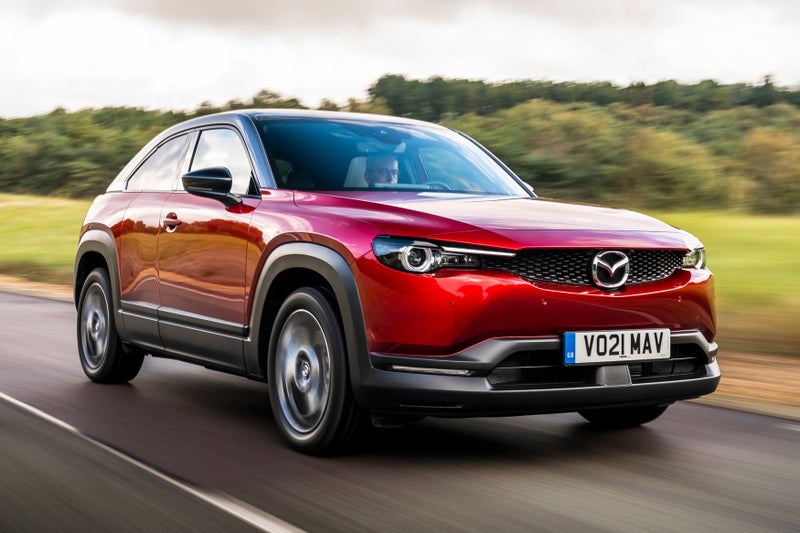 1/10
heycar rating
"Sustainable EV with funny doors"
Launched: 2020

Small SUV

EV
Quick overview
Pros
Fun (ish) to drive
Use of sustainable materials
Quick to charge
Cons
Poor range
Feels slow
Awful rear doors
Overall verdict
On the inside
Driving
Cost to run
Prices and Specs
Common questions
Overall verdict on the Mazda MX-30
"Mazda's first all-electric vehicle has a range of 124 miles from its battery so you could argue it's a big step in the wrong direction, but the MX-30 can make a strong case for itself as round-town runabout."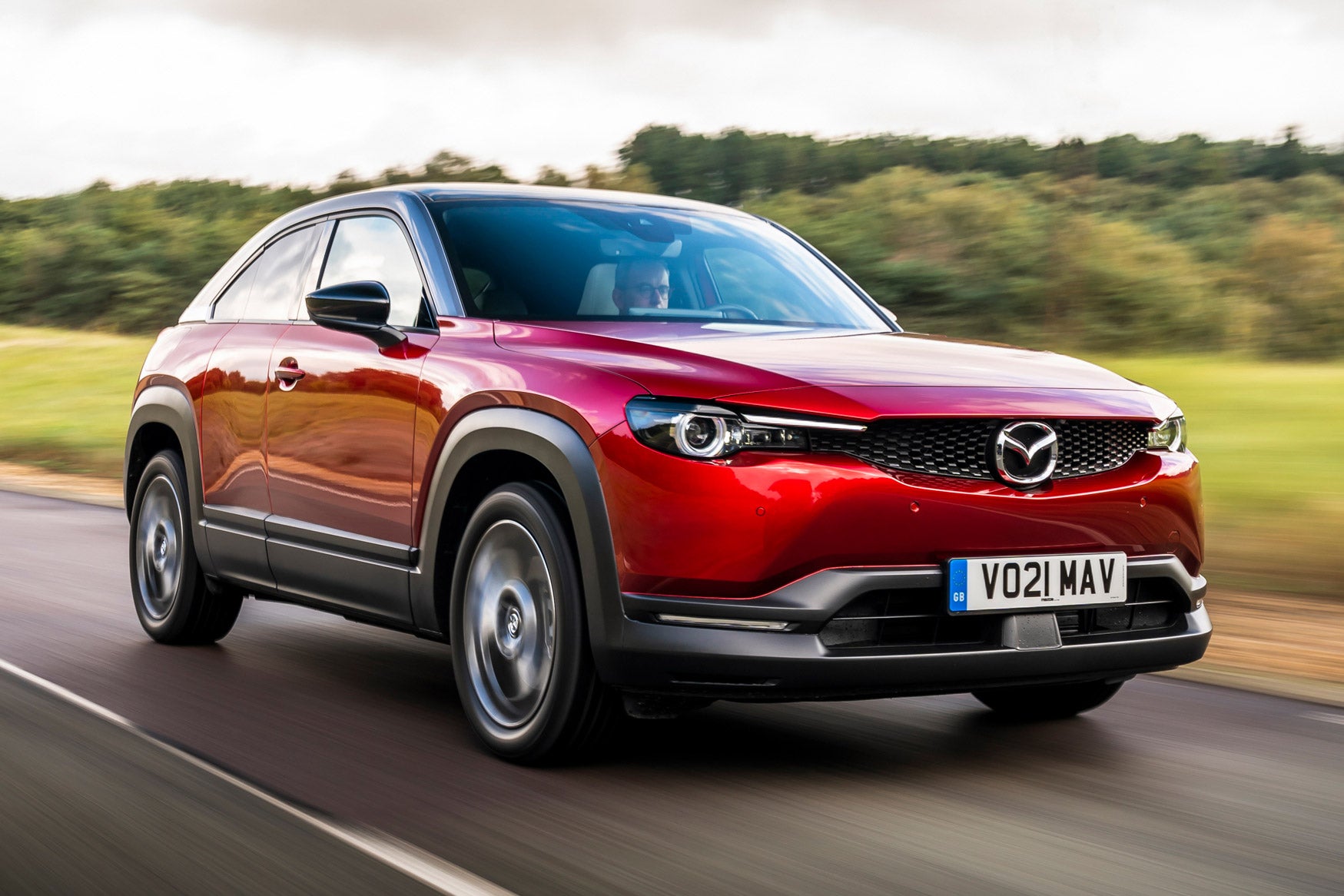 You see, Mazda has done the research and worked out that producing a smaller battery is actually better for the environment than chasing range with an electric car. Then there's the fact the MX-30 is a small SUV – traditionally used by many as a second car that clocks up most of its miles around town. Another bonus is the quick charge time – under half an hour at the services or six hours from a wall box. Will it fit in with your lifestyle? Read our full 2022 Mazda MX-30 review to find out.
Granted, not everyone likes being told what's right for them, so Mazda has made sure the MX-30 has plenty to recommend it. Like some of the sustainable cabin materials which are made from cork and recycled plastic bottles.
Then there's the small battery itself. At just 33.5kWh it's lightweight and means that the MX-30 can at least make a claim to being sporty, fun and full of character. It doesn't quite nail all of these, but it's definitely not the worst-handling EV we've driven, although it is slow. If you're used to the instant shove of electric power you'll probably curse the MX-30's 9.7 seconds 0-62mph time, especially on A-roads and motorways where it feels very slow.
At least you won't be cursing its practicality… much. As a runabout, space is very much focussed on driver and passenger, with plenty of room up front. Next on the pecking order is the boot, which has 366 litres of very usable space, thanks to a small boot lid lip and rear seats that fold (not very flat).
In fact, it's the rear seat passengers that seem to come off worst. The addition of 'freestyle' doors should mean that access to the rear is easy, but in reality it's not. If you're a taller driver who needs more legroom, you'll end up sliding your seat forward every time someone gets in or out the back for better rear passenger access, which means it may as well be a two-door.
The design team like to talk about a 'light and airy' cabin which owes a lot to the lack of a B-pillar, but we're not convinced. For a start, it's pretty claustrophobic in the rear thanks to the massive door hinges and windows that don't open. And then there's the fact that not everyone will appreciate the clamshell doors, with concerns raised about visibility and cyclists that seems at odds with Mazda's focus on safety. They didn't get the nickname 'suicide doors' without a good reason.
Still, there's certainly plenty of safety kit on board, including new sensors that hit the brakes if they pick up something you've missed as you're turning right out of a T-junction. The sensors and safety kit are welcome, but we'd have definitely preferred better visibility.
From launch, there's only one trim level – the Mazda MX-30 First Edition – but all models are well kitted out with the entry-level SE-L Lux trim boasting 18in wheels, dual-zone climate control, electric folding door mirrors, automatic lights and wipers and an auto-dimming rear-view mirror.
Is the 2022 Mazda MX-30 right for you?
The Mazda MX-30 is aimed squarely at those who want an EV but only as a low-mileage second car. It's perfect for people who like short trips (like taking the kids to school) and while its small battery means you'll only get about 100 real-world miles on a charge, plug it in at the motorway services and it'll be full in under half an hour.
What is the best Mazda MX-30 model/engine to choose?
From launch, there's only the First Edition available – but all models are well specified. You'll be more than happy with the entry-level SE-L Lux which comes with 18-inch wheels, climate control, auto lights and wipers – all for a price that undercuts the Renault Zoe.
What other cars are similar to the Mazda MX-30?
The Mazda MX-30 competes in a busy market that includes the popular Renault Zoe, Peugeot e-2008, retro-styled Honda e, the MINI Electric, the Hyundai Ioniq and of course the Nissan Leaf. All offer similar ranges in packages that are very much designed for use as a second car. Where the MX-30 stands out though is in its use of sustainable materials and half-decent driving dynamics.
Comfort and design: Mazda MX-30 interior
"The Mazda MX-30's driving position is excellent. The seats are supportive yet comfortable while the raised ride height offers a better view of the road. The seats and steering wheel also plenty of adjustment so it's easy to find a position that feels natural."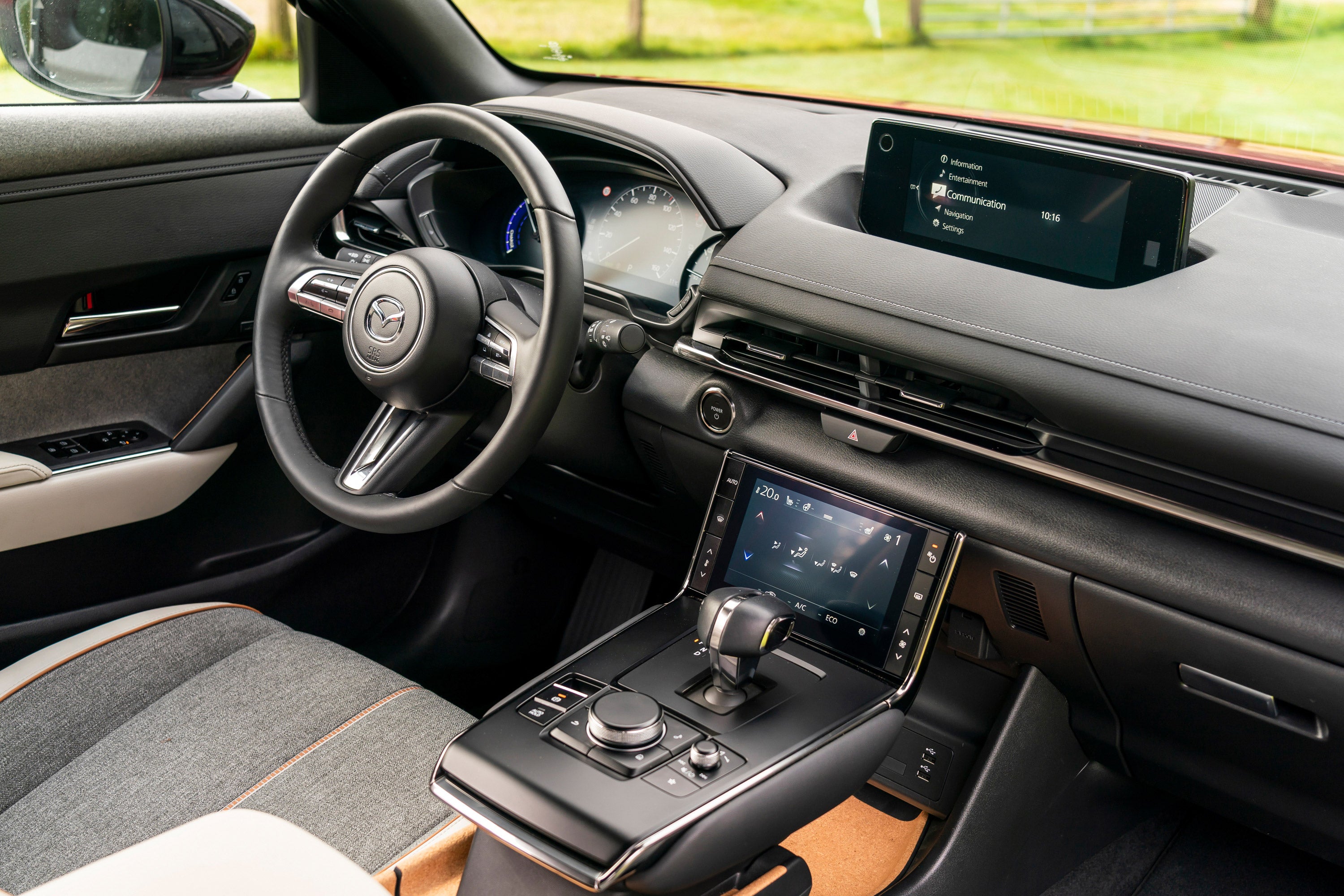 We've driven a left-hand drive pre-production model, but even so the interior feels familiar with an array of logically laid out controls.
Some people might complain about the Mazda's lack of a touchscreen. Here, the 8.8-inch centre console display is controlled by a rotary dial. Personally, we feel this is a much better option than taking your eyes off the road and leaning across to jab your index finger at a constantly moving target. Although not everyone agrees…
Bafflingly, Mazda has added a seven-inch touch screen below for the air-con and heating controls. With physical buttons either side, it's totally pointless and we fail to see the reason for its inclusion. It doesn't even look nice.
Which, unfortunately, is something that can also be said about floating console. It is intrusive and unnecessary. And it doesn't even offer any useful space behind it – although it does bring some of the controls closer to the driver.
Quality and finish
Hats off to the design team for their focus on sustainable cabin materials, though. You'll find cork dotted all over the cabin. Sourced from left-over bottle stoppers, no trees are cut down to make the cork (instead the bark of the tree is stripped away). This means it is low-impact and environmentally sustainable.
It's not just the cork, either. The upper door trim uses recycled fabric, specifically recycled plastic bottles. Unlike the cork, it doesn't leap out at you and it definitely doesn't make the cabin feel cheap, unfinished or badly put together. We can't vouch for how well it'll hold up over the life of the car, though.
Does it work from a design point of view? The jury's still out on that. Initially, it's quite jarring – the contrast of the dark plastics against the light, grainy cork. But as you spend more time with the car you do get used to it. And it's certainly a talking point.
Infotainment: Touchscreen, USB, nav and stereo in the Mazda MX-30
While it might not be as slick as some of its German rivals, the Mazda's infotainment system certainly isn't bottom of the league. It's a solid performer that offers everything you need in way that's easy to find.
Early examples were slow to start up, but that seems to have been sorted while the support for Apple CarPlay and Android Auto will be welcomed by drivers who prefer to use their own familiar tech like Waze and Spotify.
The big news is the new services for the MyMazdaApp. This promises to notify driver's if they haven't plugged in the charging cable, and give them the ability to set charge times to take advantage of off-peak electricity. And, of course, they'll be able to see how much charge is left in the battery as well as remotely switch the heating on. Handy.
But the thing that we, personally, always appreciate is the optional Bose sound system, which offers excellent audio sound and in this car allows you to make the most of the EV's peace and quiet.
Space and practicality: Mazda MX-30 boot space
Let's cut to the chase – what were they thinking with those doors? The so-called 'freestyle' rear doors open backwards, much like those on the Mazda RX-8, MINI Clubman, or a Rolls-Royce. The thinking is that they allow better, easier access for rear seat passengers, but that's not the case here.
The MX-30 may as well be a two door because it's almost impossible to gain access to the rear seats without sliding the driver's seat forward. Critics also argue that aerodynamic forces could cause the doors to open at speed and that there's a greater chance of hitting a cyclist of pedestrian as visibility is so poor. Granted, if you're in a Rolls-Royce you'll probably have a chauffeur to check the coast is clear but the MX-30 doesn't come with one as standard.
Mazda reckons the freestyle doors give the car a sense of space because it allows the removal of the B-pillar. We don't agree, especially as the rear passengers will most likely feel claustrophic because of the enormous hinges and arm rests, and the fact the rear windows don't open. It's a nice party trick, but that's all it is. The car would've been much better off with normal rear doors like on the CX-30 (which, by the way is the same length, width and wheelbase as the MX-30).
That said, Mazda reckons this will very much be a second car or a runabout, which we're inclined to agree with given the limited range. In which case, the lack of rear seat space probably won't be an issue on the school run... but you will have to put up with children struggling to get in and out and getting annoyed when they can't open their door. Just sayin'.
It's not a totally impractical car, though. The 366 litres of rear boot space is perfectly usable – there's no load lip and when you drop the rear seats the space is almost flat. So if you, er, need a two-seater with a big boot then it works.
If you're planning to squeeze the Mazda MX-30 into your garage, you'll want to know the exterior dimensions. It's 4395mm long, 1795mm wide and 1570mm high.
Handling and ride quality: What is the Mazda MX-30 like to drive?
"Straight off the bat, Mazda has gone out of its way to make sure its first proper EV is fun."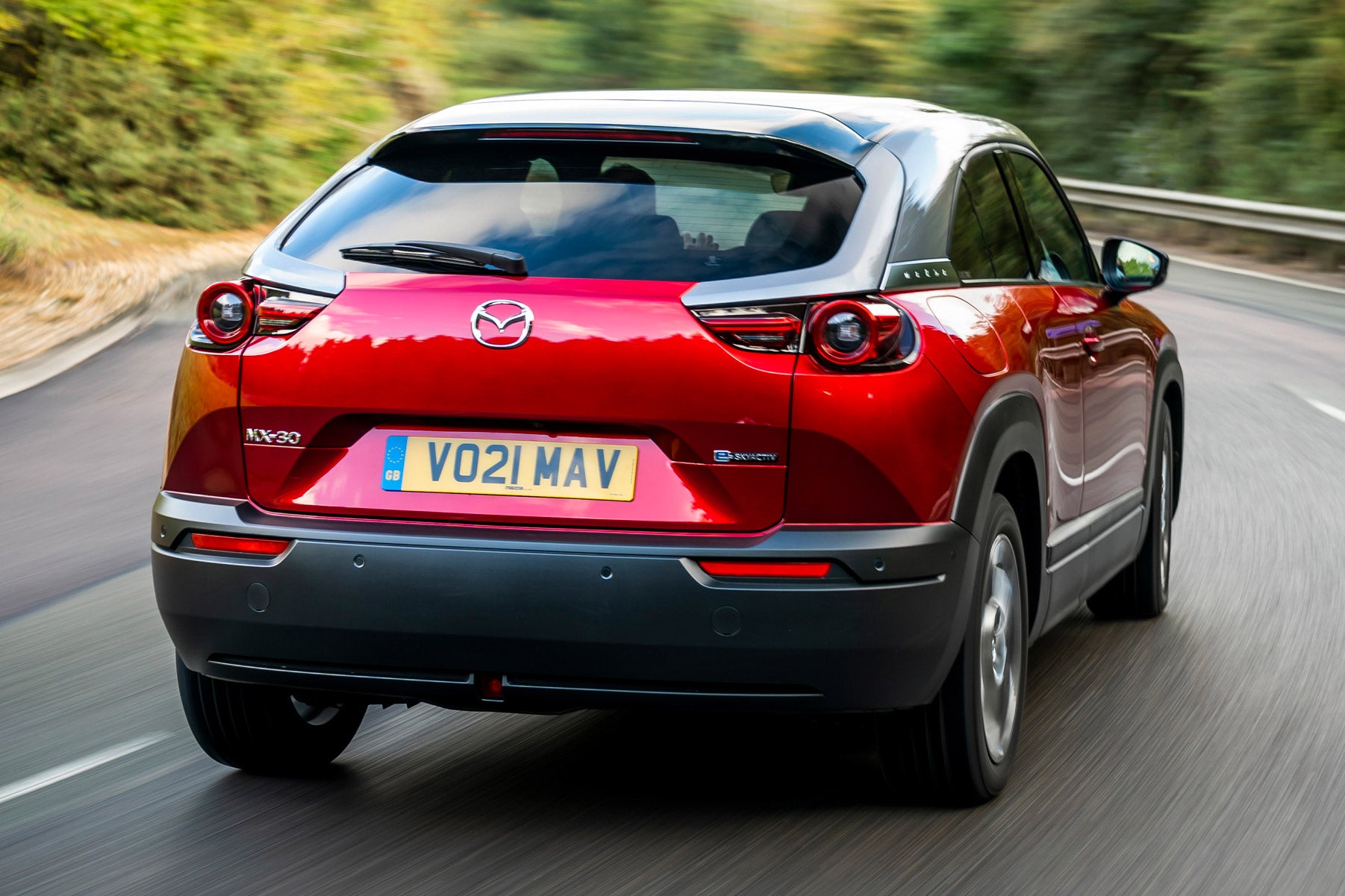 As the 'MX' name suggests, driving dynamics are important but by benchmarking cars such as the electric MINI and the Honda e they've tried to give the MX-30 some character as well (not entirely successfully, granted).
It's here that the company is able to make the most of its decision to use a smaller battery. The car doesn't feel heavy or weighed down by all the lithium-ion cells, instead it retains a degree of nimbleness.
Sort of. Any nimbleness is somewhat compromised by its tall ride height, but the suspension does a decent job of being soft on bumpy roads but minimising the bodyroll through the corners. Still, if you're really pressing on that high centre of gravity will leave you feeling a little sea-sick.
Paddle shifts keep the sporty theme going, but rather than offering drivers the chance to change gear, they give you the chance to dial in the amount of 'engine braking'. At full resistance, you can pretty much pootle around town just using the throttle although it's not as good as the Nissan Leaf's one-pedal system.
So this 'MX' is a driver's car, right? Not quite. The steering is vague on the limit and has a nasty habit of going to sleep and waking up when the car's on a different part of the road. And if you're trying to make progress along back roads, there's the sense that undulations are never truly dealt with by the suspension so things get very bouncy.
Arguably the worst part about the MX-30 is the utter lack of power compared to almost all its EV rivals. It's like being stuck in a 1.0-litre petrol where any potential overtake assessment ends with the words 'I'm not going to risk it'. For a car that's meant to be fun, the MX-30 is anything but.
What engines and gearboxes are available in the Mazda MX-30?
When designing the MX-30, Mazda made a conscious decision to opt for a smaller battery and, of course, a smaller range. Which seems really odd when the number one issue that stops people getting in an EV is range anxiety.
But Mazda is committed to lowering its carbon footprint and studiously worked out that EV's with smaller batteries produce lower CO2 emissions than equivalent diesel engine cars. So while rivals like the Kia e-Niro boast a 64kWh battery with an official 250+ miles of range, the Mazda makes do with a 35.5kWh battery that has 124 miles of range.
And therein lies the struggle because although a small battery might be 'the right' thing to have, we don't really want one. Like, I know avocado is good for me, but I only eat it if I absolutely have to because I think it's disgusting. Or I know I should read War and Peace, but I'm quite happy with a breezy page turner right now thanks for asking.
Ultimately, this means that the MX-30 will suit someone who is looking to pay penance and own an EV as a second car used only for short journeys and can easily charge at home overnight every night.
As with all EV's, the MX-30 is an automatic and the shifter here will feel very familiar to anyone who has driven a Mazda automatic (or any auto) with simple positions for park, reverse, neutral and drive. This sets it apart from other EVs that have done away with the shifter altogether, which can make it hard to figure out what gear you're in if you're not used to it. No problems here.
Refinement and noise levels
While EVs can offer better acceleration than their petrol or diesel counterparts, their stealthy progress means they can lack a bit of drama to match that performance. Curiously, the MX-30 is neither particularly quick nor particularly quiet in a kind of 'worst-of-both-worlds-but-I'm-okay-with-that' way.
And you can see what they've done. Like the electric MINI and the Honda e they've tried to give the MX-30 some character and make it "fun" to drive. The faux-sporty suspension set-up and big wheels mean that road roar is perhaps a bit more intrusive than you might expect, while a 'virtual' engine noise is piped in under acceleration. This sounds a bit like something from the 1980s arcade game 'Out Run'. Needless to say, we were a fan but it would be much better if you could customise it to, say, a TIE fighter. Right? Or a Vulcan.
Safety and equipment: How safe is the Mazda MX-30?
The MX-30 is loaded with both active and passive safety equipment with its smart brake support grabbing the headlines. This system, which already helps mitigate (definition 'make less severe') against vehicle, pedestrian and bicycle collisions now includes a turn across traffic function.
That means when you turn right in a right-hand drive car the sensors will slam the brakes on if they pick up on something the driver hasn't spotted. Along with lane keep assist and blind spot assist, occupants will feel well looked after. Or they could have just improved visibility.
Here, Mazda is trying to offset any potential worries caused by a missing B-pillar in the middle of the car. As well as reinforcing the roof and the sills, the structure has been designed to absorb an impact and diffuse the energy. In the event of a collision, the drive system shuts down while the batteries are enclosed in a case to protect occupants from electric shocks.
Of course, there's more familiar systems on board such as adaptive LED headlights, adaptive cruise control and driver monitoring. All of which helped it score five out five in the Euro NCAP crash test.
Maximum EV range in the Mazda MX-30
Mazda says the MX-30's battery range is good for 124 miles, but there's just one problem. If you're using the vehicle as Mazda intended, which is to say enjoying the sporty flavour, you'll never see that figure. Ever. Realistically, you'd be lucky to get 100 miles if you were trying.
Mazda says most people don't need a long battery range anyway and those that buy the MX-30 will be using it as a second car. They also argue that making big lithium-ion batteries creates a lot of carbon-dioxide, which sits slightly at odds with the EV ideal. Perhaps not as odd as making a sporty car that doesn't go very fast, though.
Charging times: How much does it cost to charge the Mazda MX-30?
"Mazda have focussed on delivering a car with a small battery that can be quickly charged."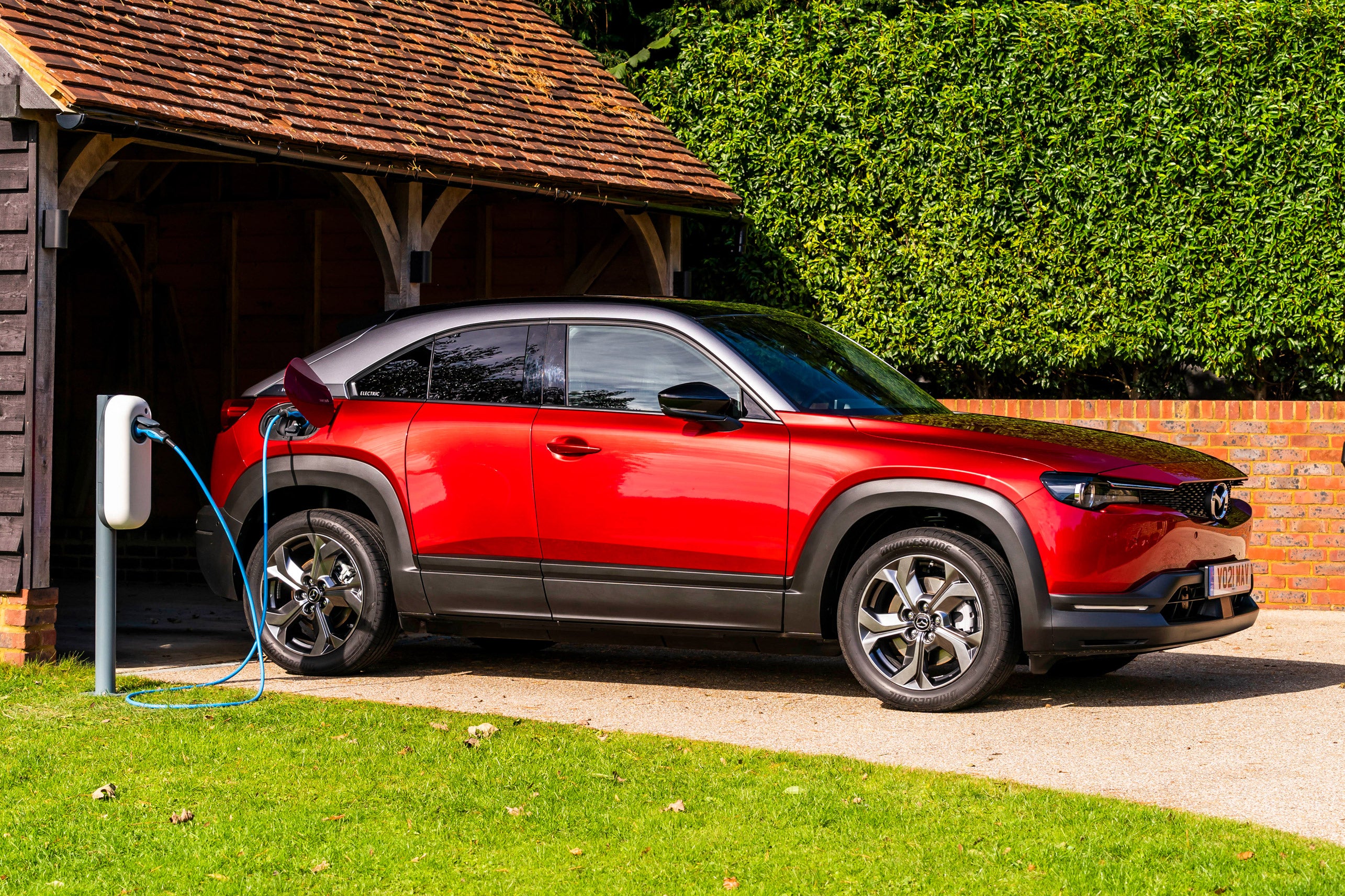 That means the MX-30's battery will go from 0 to 80% charge in about 30 minutes using a 50kW charger (some fast chargers are 100kW and even 150kW but these high-power ones aren't compatible). If you're charging at home from a wall box, you're looking at a six-hour charge to go from flat to full.
If you want to travel long distances, Mazda says you'll have a second car. Like a CX-30. Or you'll buy the range-extender MX-30 (due out later in 2021), which uses a small rotary petrol engine to charge its battery while you drive along. Wait, what? A rotary engine range extender?
Granted they're small and powerful enough but they reliability track record is pretty poor and given that Mazda discontinued them due to emissions issues… surely both of those two options will create more CO2, and that rather undermines the MX-30's small-battery principle.
How reliable is a Mazda MX-30?
Mazda generally has an excellent reliability record and – with fewer moving parts to go wrong – the electric MX-30 should be more dependable than a petrol or diesel equivalent. While it's too new to know for sure, we wouldn't have any concerns over the long-term reliability of the Mazda MX-30. While the car comes with Mazda's standard three-year warranty, the battery is covered for eight years or 100,000 miles.
Insurance groups and costs
Mazda hasn't released insurance groups for the MX-30 yet, but given its an EV with the emphasis on sporty then we'd expect it to be slightly higher than its petrol rivals sitting in the Group 22-30 bracket.
VED car tax: What is the annual road tax on a Mazda MX-30?
Like all zero-emissions vehicles, you won't have to pay road tax (or VED to give it its proper name) on the MX-30. The Government has promised that this status is guaranteed to last until 31 March 2025, but don't bank on it.
If you live in London, the MX-30 will also get you a free pass into the Congestion Charge and Ultra-Low Emissions Zone giving you the freedom of the city… just don't forget to register online or you'll get a fine.
And if you're a company car driver then you're laughing. Like all EV's, the MX-30 will cost you nothing in salary contributions for 2020/21 plus there are the savings you'll make electricity compared to petrol or diesel. Just have a reality check first though – if you do 350 miles a day the 100-ish range of this Mazda EV might not be the car you're looking for unless you like spending time at depressing services stations like Fleet, Toddington, Gloucester...
How much should you be paying for a used Mazda MX-30?
"Right now, Mazda is only giving drivers the chance to pre-order the First Edition model."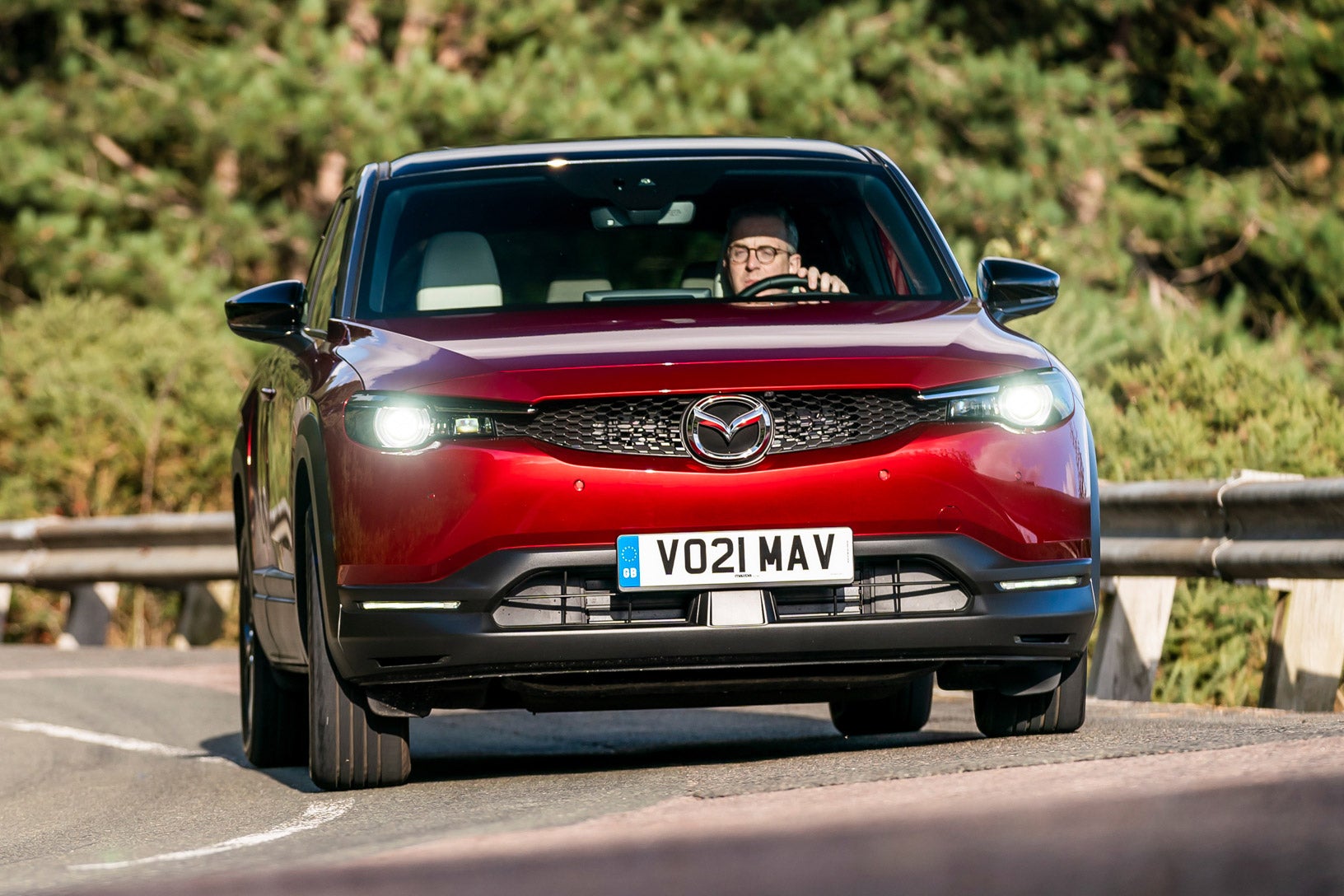 With about 500 ear-marked for the UK, it's unlikely you'll be able to get a bargain on a pre-reg model so if you want one you'll have to pay £800 to reserve the car, which should be with by the end of March 2021.
Trim levels and standard equipment
All MX-30s come with a decent level of standard kit which makes the entry-level Mazda MX-30 SE-L Lux a great choice. Here you get 18-inch alloys, LED headlights, a head-up display with traffic sign assistance, radar cruise control, an 8.8-inch touchscreen display with navigation, Apple CarPlay and Android Auto mirroring, and a separate 7.0-in climate touchscreen.
The Mazda MX-30 First Edition (which is the only model currently available to pre-order) boasts new colour options, adaptive LED headlights, different LED rear lights, an orange-and-stone leatherette interior and eight-way adjustable and heated front seats.
Next up the ladder is the £27,545 Mazda MX-30 Sport Lux with its heated electric seats and yet more colour options (including the chance to create a three-tone combo). If you're a fan of privacy glass and head-up displays then it's worth a look.
Finally, the top of the range Mazda MX-30 GT Sport Tech adds a power and tilt sunroof, heated wheel, sweet 12-speaker Bose surround sound system and 360-degree rear-view camera, which is pretty handy considering the car's poor visibility.
Ask the heycar experts:
common questions
Does Mazda do a hybrid?
Mazda currently offers a range of mild hybrids, which recover energy from the braking system to assist the engine, reducing fuel costs.

How much is the Mazda MX-30?
Prices for the Mazda MX-30 start from £25,545, which includes the £3000 Government grant, but currently you can only order the Mazda MX-30 First Edition.

Is there an electric Mazda?
The MX-30 is Mazda's first fully-electric car. It's been designed from the ground up to be kind to the planet sustainable interior materials and a smaller EV battery.

Answered by
heycar editorial team
Mazda MX-30 cars for sale on heycar
902
Number of cars available
£23K - £32K
Price bracket of these cars
Colours available on heycar
Keep me updated by email with the latest advice, news and offers from heycar
By submitting, you agree to our
privacy policy
.
Popular models
Similar models