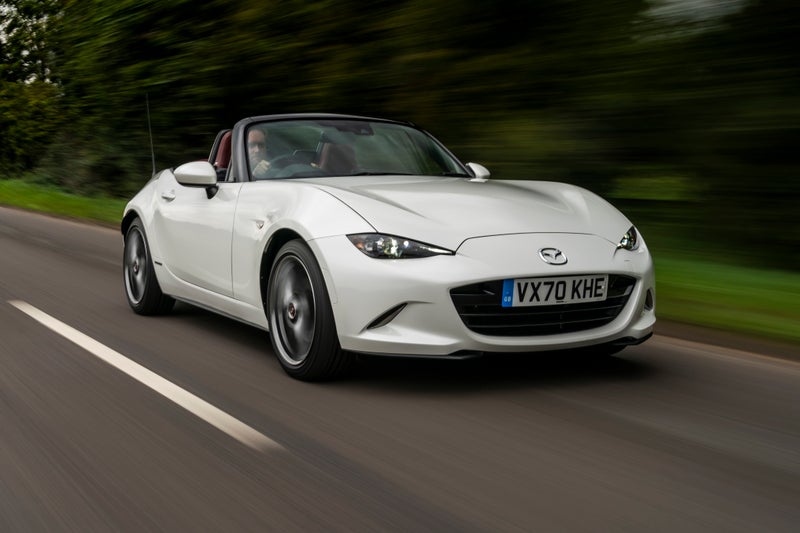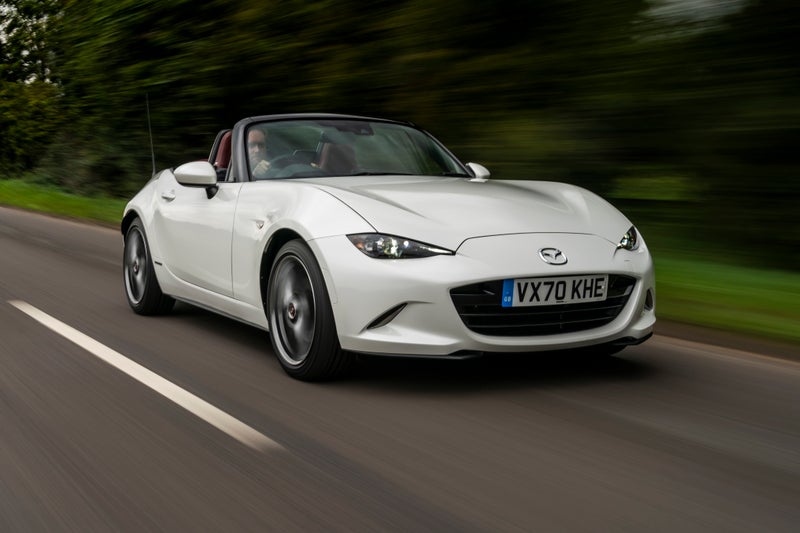 1/10
heycar rating
"Pure, irresistible sports car brilliance"
Launched: 2015

Convertible

Petrol
Quick overview
Pros
Pretty styling and appealing interior
An impeccable and outstanding drive
Generally good value
Cons
Only two seats and a tiny boot
Range-topping models are starting to look expensive
Might be a shock to those used to isolated modern cars
Overall verdict
On the inside
Driving
Cost to run
Prices and Specs
Overall verdict
"A modern classic in every sense, the Mazda MX-5 is the best real-world roadster currently on sale. It looks distinctive and feels charismatic to sit in, while the way it drives will take you straight back to a rose-tinted view of the 1960s (rather than the breakdown-prone reality)."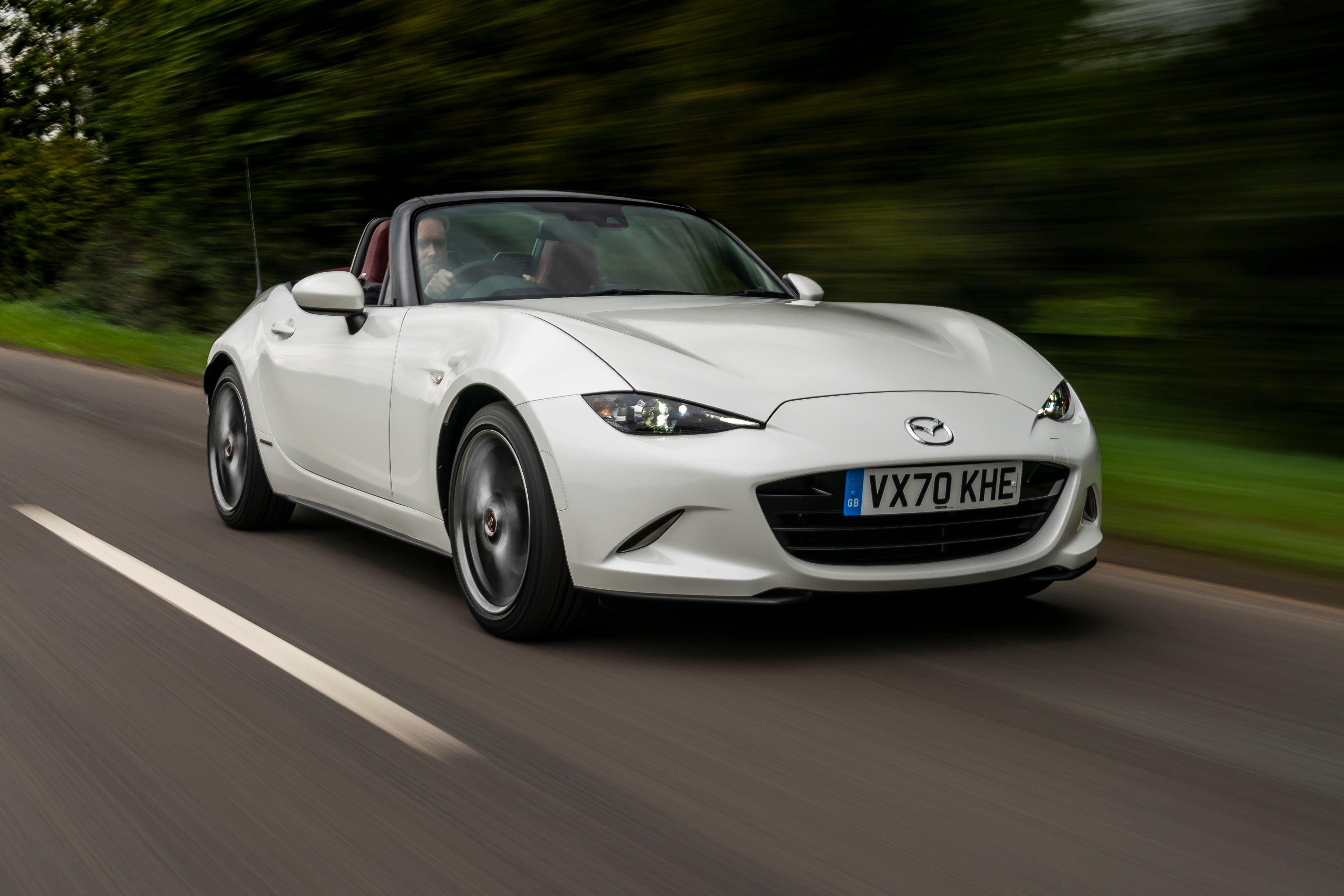 The Mazda MX-5 was launched in 1990 as the modern-day tribute to the classic Lotus Elan. So successful was Mazda in achieving this, the MX-5 is now a classic in its own right – even the latest fourth-generation model, despite its more pronounced nod to modern car design, is a joyous collectible that anyone passionate about driving should relish. It's certainly one of the best convertible cars out there for the money.
The secret is its simplicity. This is a purist, two-seat, rear-wheel-drive roadster, and anything that's not central to the driving experience simply isn't there. In a world where cars are becoming ever more complex, the minimalist Mazda MX-5 (it weights barely more than a tonne) is a refreshing contrast – and enthusiast drivers adore it because of this. Mazda got the formula right straight out the box and has simply worked on perfecting it in the decades that followed.
Mazda doesn't even fit a power roof to the MX-5. The lightweight soft-top instead drops down manually, most often by the driver while sat behind the wheel – and this near-effortless action can be carried out faster than even the world's speediest electric folding roof.
Two engines are available, both normally-aspirated petrol motors. There's not a turbo in sight, with Mazda requiring drivers to shift gears and use revs rather than relying on the boost of a turbocharger. The smaller engine is a 1.5-litre, but our favourite is the 2.0-litre, which these days revs sky-high and produces more power than ever.
You can also buy a Mazda MX-5 with an automatic gearbox, but unless you have to, you shouldn't. The six-speed manual 'box is utter perfection, with a brilliant action and a feeling of race-bred precision that makes it one of the best manual gearboxes you'll ever experience.
Inside, it's cosy, as all good roadsters should be. The fundamentals are spot on: the driving position is low, with legs stretched out far ahead and the steering wheel perfectly positioned. The interior is simple and neat, while the instruments are easy to read. And, aside from a well-positioned colour infotainment system, that's it. No distractions, nothing unnecessary.
Entertainment comes from the drive. And what a drive it is. The MX-5 is light on its feet, packed with feel, and terrifically well balanced. It's a car that handles like cars used to, flooding you with feedback and making even slow-speed pootles a pleasure. It can't fail to put a smile on your face – particularly as it blends this tenacity through the corners with a surprisingly supple and pliant ride quality.
Of course, being a Mazda means it runs like clockwork. You feel you can thrash it all day long and it will keep coming back for more. This is another part of the MX-5's better-than-the-real-thing allure: British sports cars of the 1960s were anything but dependable.
Value is the icing on the cake. A new MX-5 costs from less than £20,000, and the brilliant range-topping 2.0-litre comes in at well under £30,000. It's well equipped for the money, too. For enthusiasts, there's little not to like about the Mazda MX-5 – one of the most honed and perfectly developed cars on sale.
Is the Mazda MX-5 right for you?
If you're looking for motoring the way things used to be, the Mazda MX-5 is absolutely right for you. It delivers the joy of owning a classic without the headaches and wintry evenings stranded at the roadside waiting for a recovery truck. It gives you all the good bits of retro motoring, with none of the downsides.
It also reminds you why we love driving cars. So many models these days feel remote and isolated, but the MX-5 is a refreshing contrast. You have to put a bit of work in, but it rewards you enormously when you do.
It's also a surprisingly cost-effective purchase. The 1.5-litre is fuel-efficient, and even the 2.0-litre isn't a gas-guzzler. Prices are sensible and retained values are high, particularly for some of the rare special editions. It shows you don't need to spend a fortune to get a car that's a damn sight more interesting than the norm. Rediscover the spirit of driving with a Mazda MX-5.
What's the best Mazda MX-5 model/engine to choose?
Even the baby 1.5-litre MX-5 is worth checking out. Because it's so light, this 131PS engine still delivers a decent turn of speed, while also returning extremely impressive economy figures – more than 46mpg is unheard of in a rear-wheel-drive sports car.
Still, we'd be lying if we said it was the best MX-5 you can buy, because the 2.0-litre version is such a gem. This magnificent engine can't help but thrill, thanks to its endlessly revvy vibrancy and eye-opening turn of speed when you work it hard. Fuel economy is hardly disastrous either, with almost 41mpg in official tests.
It's best paired to the top-line Sport version, which has exotic suspension dampers and a limited-slip rear differential to make the most of it. All MX-5 are brilliant, but this version is particularly so.
What other cars are similar to the Mazda MX-5?
Back-to-basics sports cars are thin on the ground these days. Until recently, Fiat offered the 124 Spider – actually, a Mazda MX-5 with a different body and turbocharged engines – plus there's its even sportier sibling, the Abarth 124 Spider. The Audi TT Roadster is also an alternative, although its focus is more on style than driving thrills.
Cars such as the Porsche 718 Boxster and BMW Z4 are much more expensive, which is why most looking for fun in this price bracket will actually choose a hot hatchback instead. Think cars such as the Fiesta Fiesta ST or Volkswagen Polo GTI.
Comfort and design
"With the original MX-5, Mazda basically copied the British Lotus Elan, two decades after Norfolk's finest was phased out. And why not? Nobody else was doing it at the time, and demand for the classic English sports car was still high, particularly in the US. The fact the MX-5 was an instant sales success bore this out."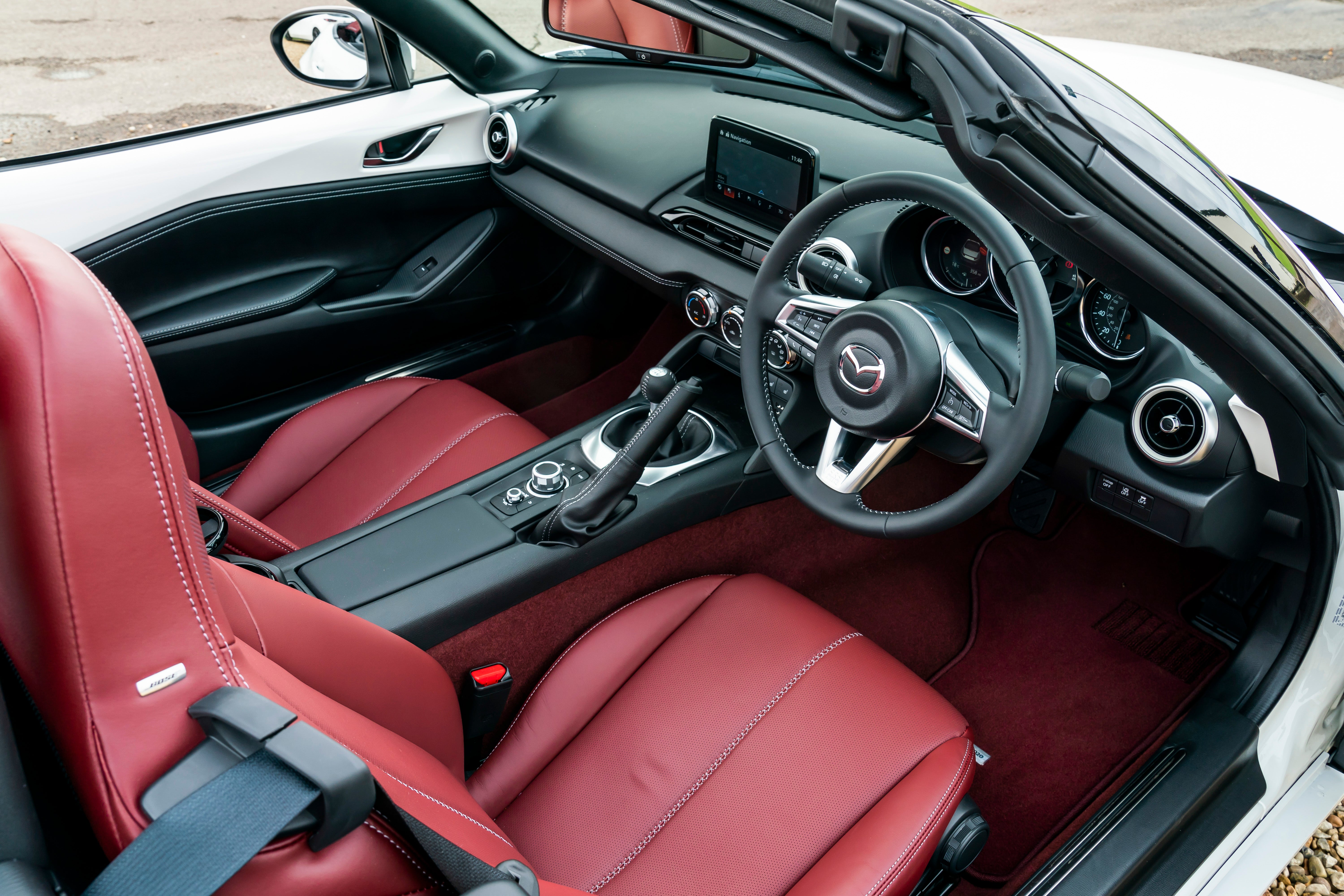 For three generations, Mazda has stuck to the template. But with this fourth-generation version, the company started to divert from the original formula – with some success. This is a more aggressive interpretation, with angular headlights (in stark contrast to the original's pop-ups), distinctive LED running lights and creases where once there were only curves.
It's still a classic-looking machine, with its long bonnet, long wheelbase and occupants sat far back, but is more fit for the 2020s and a successful blend of retro and modern. The same can be said for the interior, which isn't overwhelmed with screens – but still has one in place for the now-essential smartphone pairing.
We love the body-colour panels throughout the interior, and adore the low-slung driving position that feels so very different to a 'normal' car. The steering wheel is gorgeous to hold, and the rev counter takes pride of place in the centre of the instrument pack, larger and more prominent than distractions such as the speedo and fuel gauge. It's a refreshing contrast to a more formulaic hot hatch, and very much the better because of it.
Quality and finish
Mazda is one of several Japanese brands well known for its high quality standards. The MX-5, its most famous model, is exemplary in this regard, with fit and finish worthy of a car costing twice the price. Thankfully, this is one way it contrasts completely with British sports cars of yore, which were generally thrown together in the most hit-and-miss of ways.
The paintwork gleams, particularly the vivid Soul Red special-order hue (we also like the newer Polymetal Grey), and all the body panels are aligned with millimetre precision. Inside, it's similarly solid, with great attention to detail and a feeling it will last forever.
OK, quality isn't quite up to premium car standards. The plastics are more mainstream and not quite as luxurious to the touch as, say, a Porsche 718 Boxster. But they're still good enough for this price bracket, and the fact everything has such an obvious sense of quality helps the MX-5 stand out.
Infotainment
All Mazda MX-5s (apart from early base-spec models) come with a 7.0-inch multimedia screen in the centre of the dashboard. It's controlled by a rotary wheel down on the centre console and is broadly straightforward to use – once you get used to the necessary combination of wheel twiddles and button presses. Mazda navigation is standard, as is both Apple CarPlay and Android Auto.
For older models, Mazda actually offered a dealer-fit upgrade to equip the infotainment system with Apple CarPlay, and it's almost certain that cars sold through an approved used dealer will be fitted with this. If not, it's certainly worth asking. More expensive variants also use the infotainment screen to display a reversing camera.
The standard audio is a six-speaker system with built-in driver's headrest speakers. It's OK, but we prefer the premium nine-speaker Bose system, which has the power to ensure Taylor Swift remains crisp and clear even when you're driving at higher speeds with the roof down.
Space and practicality
Being a two-seater will, we realise, rule out the Mazda MX-5 for many people. Even if you rarely actually carry rear-seat passengers, the fact you sometimes have to means the little Japanese sports car isn't a viable replacement to your everyday hot hatch. It's for this reason that many MX-5s are used as second cars.
However, accept this limitation and it can make a case for itself. The wonderful driving position, for example, is not only inch-perfect and evocative of a classic racing car, it's also roomy enough for taller people to get comfortable. The seat has a large range of fore-aft adjustment and the steering wheel moves both for height and (from 2020) reach. You can have an endearing 'legs-stretched' seating position yet still get the steering wheel nice and close, just like Lewis Hamilton in his F1 car.
The transmission tunnel is rather intrusive, but this only adds to the allure – it's quite nice, having your left leg resting against the car's structure. It's less impressive for oddments space, with narrow door pockets and small cubbies, but again, its focused nature helps make this manageable. Yes, it's a bit cramped-feeling with the roof up, and tricky for tall people to get in and out – but folding the hood down resolves this instantly.
We can't make a convincing case for the boot being so small, though. At just 130 litres, it's microscopic, less than half of what a Ford Fiesta offers. It'll take a few bags of shopping, but not much more. And if you're hoping to carry anything particularly large or oddly shaped, you'll be ditching your passenger and trying to squeeze it alongside you. At least the folding roof also helps here…
In fairness, the MX-5 does have an Isofix child car seat mounting point on the passenger seat, but it doesn't come with a spare wheel. If it did, there would literally be no boot space whatsoever.
Handling and ride quality
"Here's the bit you've been waiting for: driving the Mazda MX-5. It's the reason this car exists – pure driving pleasure through peerless handling and exceptional involvement."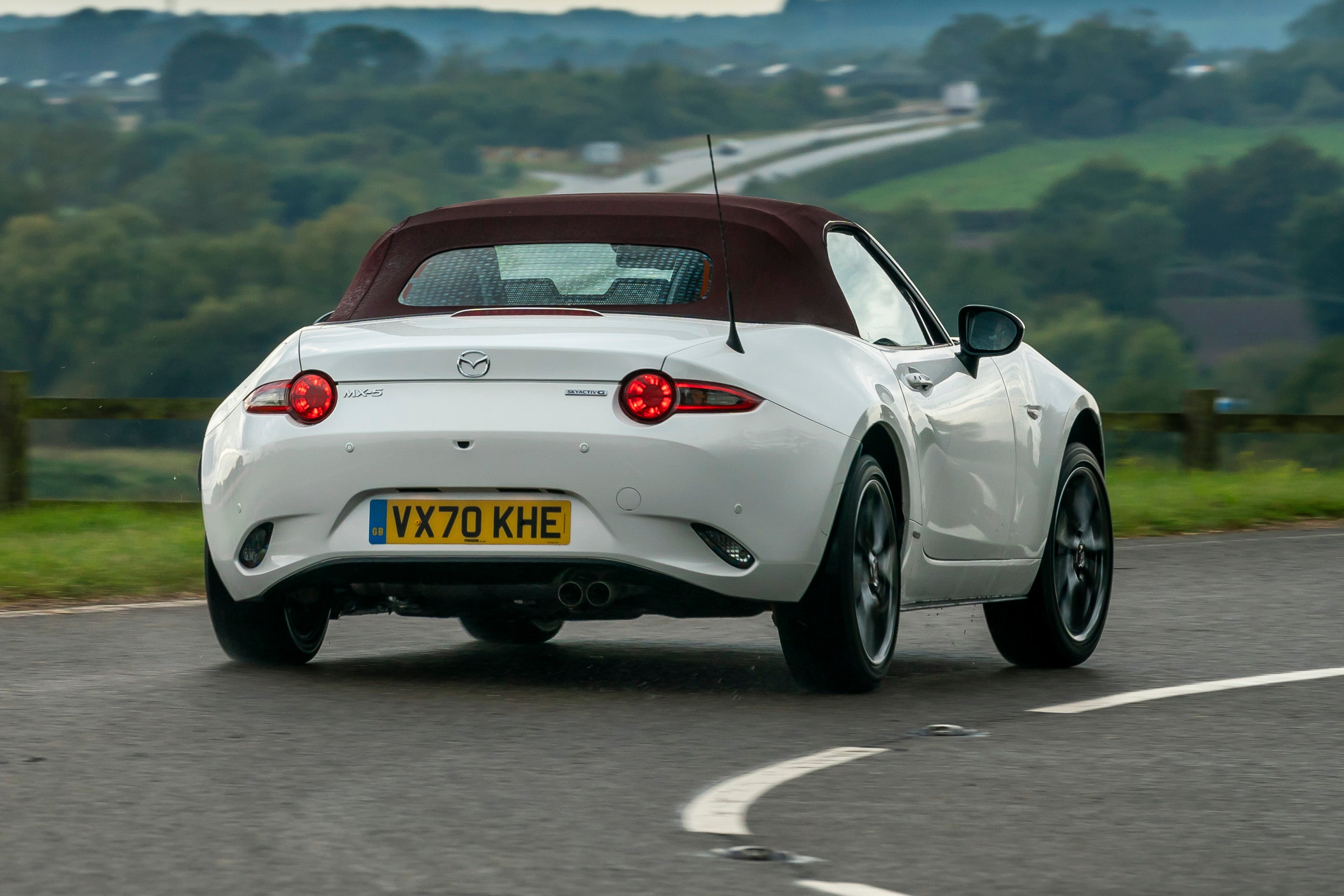 It's joyous, with the rear-wheel-drive chassis serving up incredible balance, magnificent feel and tremendous interaction. Even if you've never experienced a car that drives through the rear wheels, there's little to fear here, because it all feels so natural and intuitive.
The brilliant steering serves up lots of feedback and tactility. The steering wheel itself is also placed at a very natural angle, and it really does seem like even your smallest inputs generate an immediate reaction at the wheels. Our favourites are the sportier versions, which have BBS alloy wheels, Bilstein dampers and a front strut brace. They are even more focused and pure.
Because the MX-5 is so light, it can get away without having over-firm suspension. This means the ride quality is surprisingly good – there's a fair chance you'll find it more supple and compliant than a similarly priced hot hatch. Sport models are stiffer, but they're still not overly harsh, and offer very good high-speed stability. Naturally, all MX-5s come with a comprehensive stability control system that's never intrusive.
Look out for 2.0-litre models with the limited-slip differential. These put down their power with even more confidence, giving the bite of a race car through the bends. We promise you these will be among the most fun and engaging cars you have ever driven: that's the magic of a Mazda MX-5.
Engines and gearboxes
The little 1.5-litre engine is a fun thing and will be quite fast enough for many – particularly if they use the exceptional six-speed gearbox to keep the revs high. For something that can be so fuel-efficient, it's a real surprise to find the smallest-engined MX-5 is so nice to drive. Owners shouldn't feel short-changed.
Nonetheless, the 2.0-litre is a class apart, with an incredible rasp at higher revs and the ability to spin right round to 7,500rpm with the most wonderful blare. It's brilliant, and with 0-62mph in just 6.5 seconds, more than fast enough for British roads. Earlier models with 160PS were good, but the enhanced 2019 184PS version with this higher redline is a modern classic.
Even changing gear is rewarding. The six-speed manual transmission is uncommonly feel-good, with a short, snappy action that snicks between gears with watch-like precision. Test it, and it's soon clear why enthusiasts still clamour for an old-fashioned manual gearbox. You'll be changing up and down just for the sake of it.
Mazda does offer an automatic alternative, but unless you absolutely must have an auto, we'd steer clear of it. Compared to the manual, it's simply not in the same league.
Refinement and noise levels
Sports cars long traded on being throaty, vocal things; older readers will almost certainly remember the charismatic woofle of a classic MG. Modern cars can't get away with this though, not least because they have to pass strict noise limits imposed by authorities.
So, although the Mazda MX-5 is less refined than a comparable hot hatch, it's hardly loud or uncomfortable. Roof up, it's a perfectly pleasant place to be, with the engine humming away audibly, but not enough to become annoying. There's far more noise with the roof down, but even here, good work in the wind tunnel means it doesn't become too ravaged by blast or roar.
Probably the most surprising thing for your passenger will be the frenetic howl made by the 2.0-litre engine at higher revs. You will probably be enjoying it too much to notice.
Safety equipment
Although it's a two-seat sports car, the Mazda MX-5 still comes with a decent amount of safety equipment. Front and side airbags are standard, the cruise control has a speed limiter and the hazard warning lights flash automatically when you come to a sudden halt. A top-spec Thatcham category one alarm and immobiliser is also fitted as standard.
Some models have blind-spot monitoring and traffic sign recognition, while autonomous emergency braking is a useful add-on for a car that sits lower to the ground than many. Advanced safety features also include lane-departure warning and driver attention alert.
Unusually for a sports car, Euro NCAP crash-tested the Mazda MX-5 in 2015, awarding it a decent four-star rating. It scored 84 percent for adult occupant protection, 80 percent for child safety, 93 percent for pedestrian safety and a less impressive 64 percent for active safety assist features – probably because Mazda reserves them for more expensive versions, rather than fitting them as standard to all models.
MPG and fuel costs
"For a car with such an obviously sporty focus, the MX-5's fuel economy really isn't bad. Only the 2.0-litre automatic dips below 40mpg, with the 1.5-litre averaging over 46mpg. And here aren't many cars so engaging, fun and fast as the 2.0 manual that will average nearly 41mpg."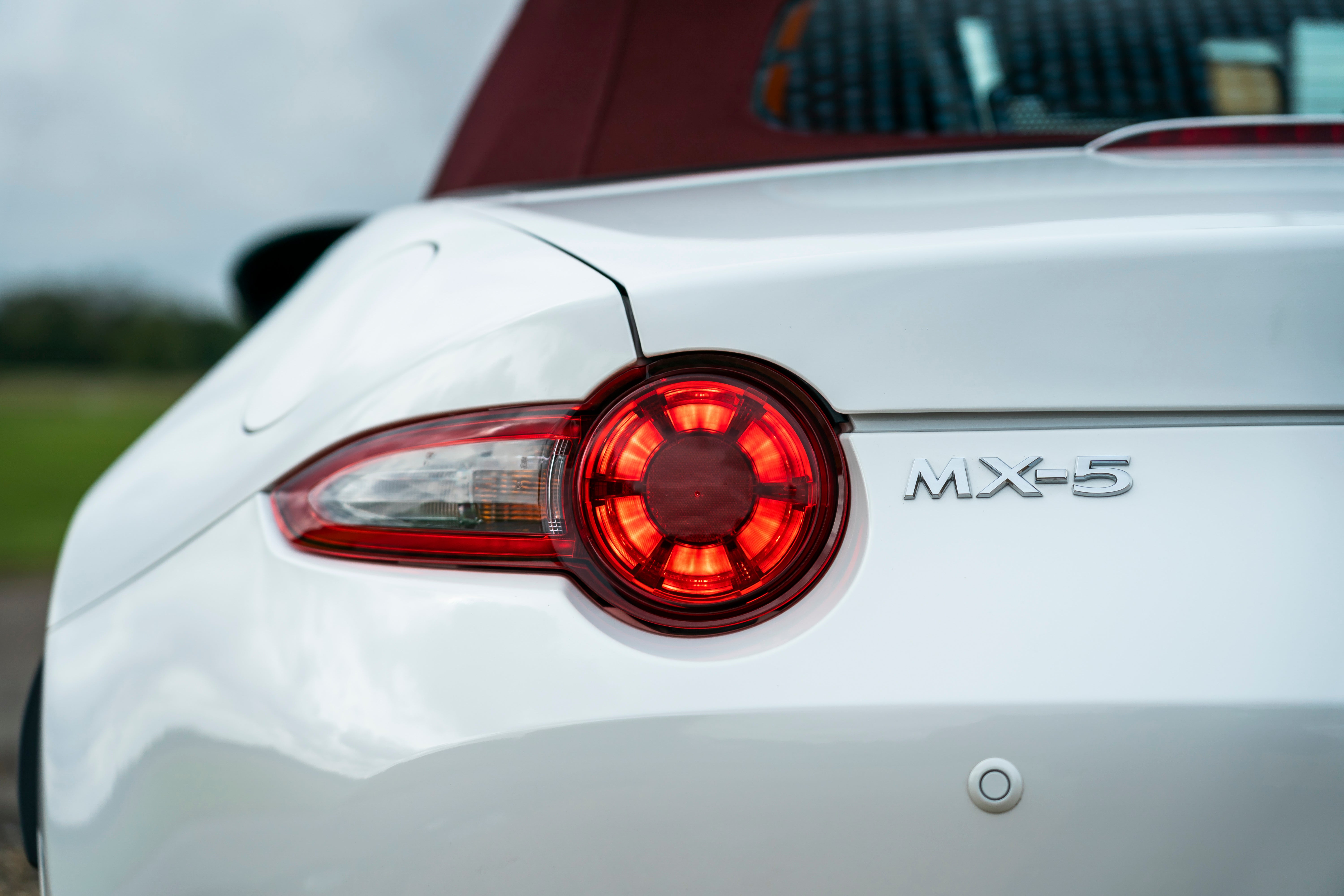 It means running an MX-5 shouldn't' cost you a fortune, and fuel costs are almost certain to be lower than if you chose a classic British sports car. The 45-litre fuel tank won't cost a fortune to fill, but should still ensure a decent range of at least 300 miles between fill-ups.
Insurance groups and costs
You pay a bit more to insure a sports car than for a comparable hot hatch, it seems. They're not quite as secure and they're a bit more bespoke. Plus the sheer focus of the car means it's more likely people will drive them in a racy, exuberant way.
Saying that, group 24 car insurance for the entry-level 1.5-litre MX-5 isn't bad, and even group 30 for the all-singing 2.0-litre stands up to scrutiny when you consider what you could pay for a Porsche. This should help keep car insurance costs in check – particularly if you make clear to your car insurance company that you'll use it as a second car with a lower annual mileage.
VED car tax
A pre-March 2017 1.5-litre MX-5 is rated in VED (road tax) band E, and will cost £150 a year. The 2.0-litre models jump up to band G, but they're still a manageable £205 a year. Sadly, prices are hiked for cars registered from April 2017. The 1.5-litre, thanks to its meagre 139g/km CO2 emissions, still has an clear advantage, with a £215 annual VED bill – but the 2.0-litre versions leaps to £540 per year. This is where the MX-5 2.0-litre's higher CO2 emissions of over 160g/km start to have an impact.
How much should you be paying for a used Mazda MX-5?
"Early fourth-generation Mazda MX-5 are very temptingly priced on the second-hand car market."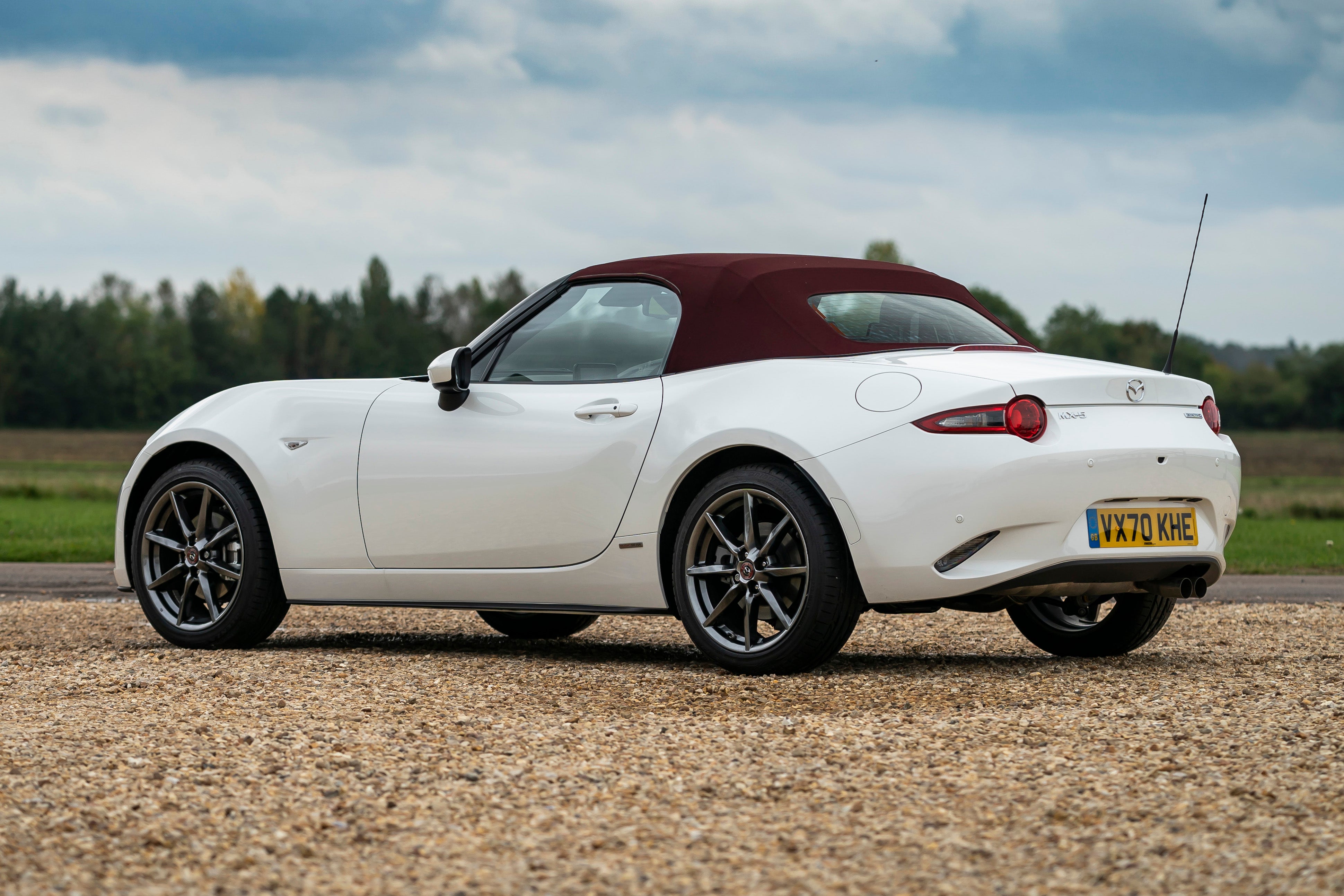 The 1.5 in SE and SE-L Nav guises is edging closer to £10,000, with the appealing Sport trim coming in from just over £11,000. You'll need to budget £13,000 upwards for a 2.0-litre version, though, with the 2.0 Sport typically starting from around £14,000.
The latest 184PS Sport (from 2019 onwards) is more expensive, but bargain hunters may still be able to pick one up for less than £20,000 – and they'll probably come with an approved used car warranty from a Mazda dealer, too.
Trim levels and standard equipment
Basic Mazda MX-5s come with slightly weedy-looking 16-inch alloy wheels, distinctive LED headlights, a leather steering wheel and air conditioning. Move up to SE-L and the air conditioning becomes (a rather basic form of) climate control, plus you get the Mazda MZD-Connect media system that became standard across the range later. You can pick out 2.0-litre SE-L versions by their bigger 17-inch alloys.
Sport models received keyless entry, auto headlights and wipers, heated leather seats and the desirable Bose sound system, while 2.0-litre variant got Bilstein dampers, a limited-slip differential, a strut brace and bright-finish alloy wheels. In early 2016, an enhanced Sport Recaro limited edition was launched, with Alcantara (man-made suede) trim that stretched to the dashboard, piano black door mirrors and diamond cut alloys.
Mild revisions in summer 2018 introduced the more powerful 2.0-litre engine, enhanced active safety equipment and the option of a brown soft-top roof. The most recent update in spring 2020 introduced a luxurious GT Sport Tech range-topper, which has BBS alloy wheels and burgundy Nappa leather seats. 2020 models also come with reach-adjustable steering.
Mazda MX-5 cars for sale on heycar
1,104
Number of cars available
£11K - £33K
Price bracket of these cars
Colours available on heycar
Keep me updated by email with the latest advice, news and offers from heycar
By submitting, you agree to our
privacy policy
.
Popular models
Similar models