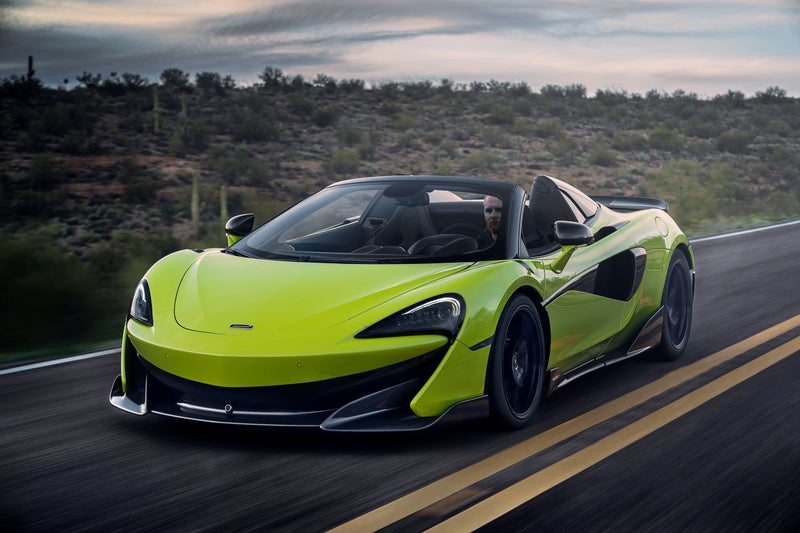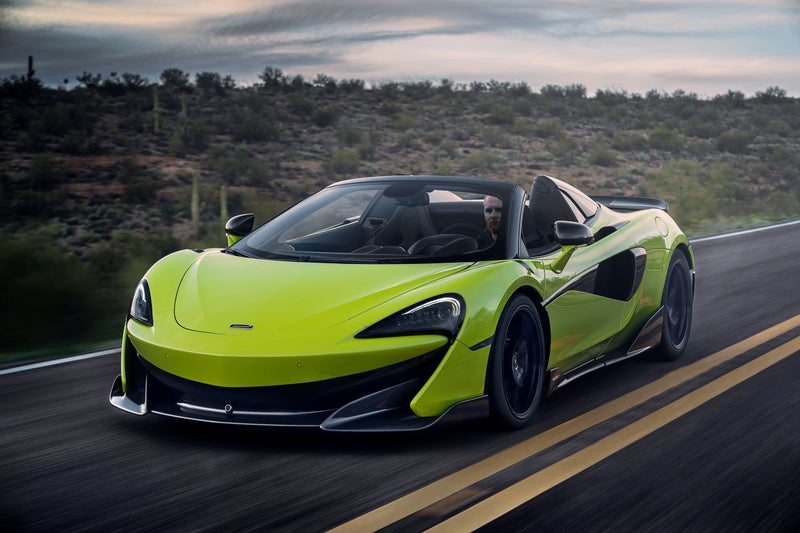 1/10
heycar rating
"McLaren's best car, it's incredible "
Launched: 2018

Performance

Petrol
Quick overview
Pros
Super, near hyper, car performance in a sports car package
Not just fast, but so rich in detail and feel, too
If a £185,000 car can be called a bargain then this is it, you'll need to pay £1m for similar thrills in McLaren's own Senna model
Cons
McLaren doesn't have the best reputation for reliability, so you'll appreciate the warranty
In Sport mode the gearbox's downshifts are needlessly brutal and jerky
McLaren trails its rivals when it comes to infotainment, its system fiddly and buggy, if, it's actually working
Overall verdict
On the inside
Driving
Cost to run
Prices and Specs
Overall verdict
"The 600LT is an incredible performance car, raw, visceral but useable, it's capable of outrageous performance, but delivers a thrilling driving experience at any speed. It's so good we'd not bother looking at any of the models above it, and that includes McLaren's occasional, huge money, limited edition hypercars. The 570S was already exceptional, but the 600LT elevates it to another level altogether, a sensational car."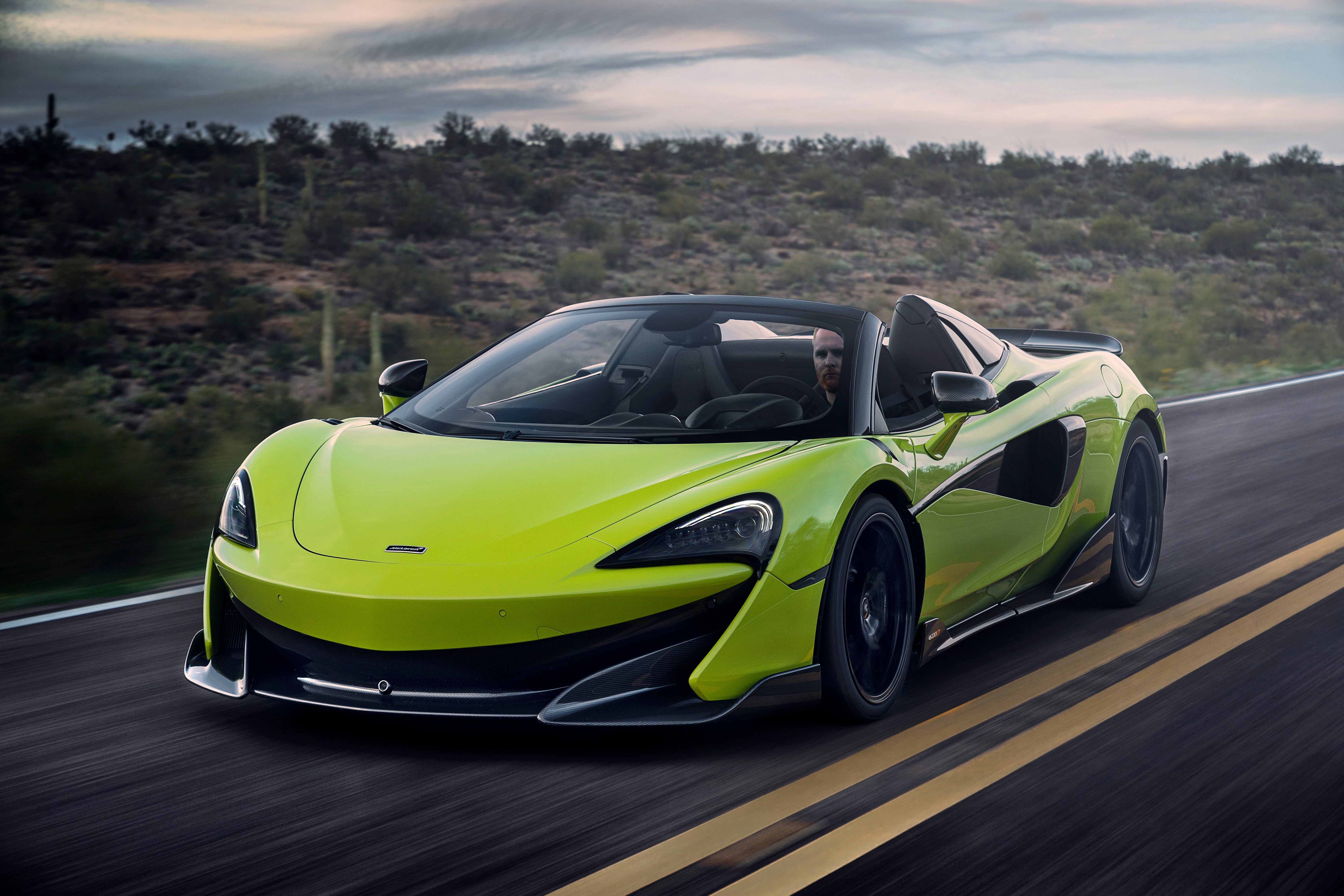 In the short time McLaren Automotive has been in business it's created some incredible sports and supercars, and the 600LT is arguably one of its very finest. It heads the company's so-called Sports Series range, which can be considered the feeder models into the line-up below McLaren's Super Series, which contains cars like the 720S, and the Ultimate Series, which is reserved for occasional hypercars or track specials like the P1 and Senna.
That Sports Series model choice starts with the 540C, followed by the 570 S and 570 GT, with the 600LT heading up the range as the most focussed, sporting choice for buyers. McLaren's naming here is fairly unambiguous, at least partially, that 600 referring to the horsepower, or, PS.
And the LT? That refers to Long Tail, which is a reverential nod back to the company's earliest road car, the F1, in its ultimate Long Tail racing guise, where some length was added to the rear to aid high speed stability at faster tracks. The LT names has been adopted previously by McLaren, on its 675LT coupe and Spider, but with the 600 LT it's the first time it's been adopted in the Sports Series cars.
That LT tag is descriptive, too, though it's not as overt as the F1 race cars it pays homage too, the 600LT increasing in length by a scant 74mm, that made up of a combination of its slightly longer rear spoiler around the back and more assertive aerodynamic splitter on the front. It is longer, then, but marginally.
Like that 675LT the 600 LT can be had in either closed coupe form, or open to the sky above as a Spider. The difference between them just that, as the stiff carbon fibre construction of the Spider means there are no discernible trade-offs behind the wheel for optioning the open topped car, unless, of course, you dislike sun cream, or hats.
As the most focussed, track biased car in the Sports Series range the 600LT doesn't just get those aerodynamic changes to live up to its LT billing, but has been on a strict diet, shedding weight to up its dynamic ability, while gaining power – up 30PS over its 570S relation.
That 570S wasn't short of performance to begin with, with a 3.2 second 0-62mph time 204mph top speed, but the 600LT shaves a not inconsiderable 0.3 seconds from that time, and feels notably quicker throughout its entire performance range, that's evident if you keep accelerating, the 600LT reaching 124mph from standstill 8.2 seconds compared to 9.5 seconds in the 570S.
Much of those gains are down to McLaren's obsessive detail changes, there's around 100kg less weight in its most extreme specification – but who wants their car to have no audio or air conditioning equipment? Changes to McLaren's 3.8-litre twin turbocharged V8 which McLaren snappily dubs the M838TE, also help, with not just the power increasing to that 600PS, but torque gaining 20Nm for a 620Nm maximum.
The cumulative effect of McLaren's revisions are little short of incredible, not just in the raw performance it offers, but the level of excitement and involvement it delivers, too.
Is the McLaren 600LT right for you?
If you like fast, incisive sports cars then, yes, the McLaren 600LT is certain to appeal. The 570S was already one of the most accomplished sports cars in McLaren's range and against its rivals, but the 600LT really did elevate its status to another level altogether.
Unlike the 675LT before it, in McLaren's Super Series range, the 600LT wasn't restricted in build numbers, but that doesn't impact on its desirability one bit. That it's faster around a track than its more powerful, significantly more expensive LT predecessor tells you everything you need to know about how committed McLaren is to performance, all of which makes its before options price of £185,500 look like a relative bargain.
It'll likely be a weekend indulgence, be that on road or for trackdays, but for all its focus the 600LT is an adept daily driver, with a few provisos relating to practicality, of course.
What's the best McLaren 600LT model/engine to choose?
With the 600LT there's only one engine available, a 3.8-litre twin turbocharged V8 with 600PS and 620Nm of torque. The choice for a 600LT buyer is limited to whether you prefer your sharper, faster McLaren Sports Series model with or without a roof, as McLaren also offers the 600LT in Spider from.
Do that and you'll have the opportunity to enjoy the sun on your neck while not losing out too much on performance, the Spider taking the same 2.9 seconds to reach 62mph but adding 0.2 seconds to the 0-124mph time and losing out 3mph over the coupe's top speed.
Small differences, but being open to the elements does mean for all the quantifiable differences it'll sound, and feel just as fast and intense, if not more so. Even so, we'd probably steer you towards a coupe, but if open-topped sports cars are your thing, the 600LT Spider does widen the gap between it and its direct rivals significantly, as it's stiffer and sharper than any of them.
What other cars are similar to the McLaren 600LT?
The 600LT sits at the top of McLaren's Sports Series, so it's the company's rival to cars in a similar position. Think Porsche 911 GT3 or GT2 RS, the Ferrari 488 Pista, Lamborghini Huracan Performante - basically any sports or supercar's most thoroughbred choices with a track bent.
McLaren asks £185,500 for it before options, which places it significantly above the GT3 RS, but under the GT2 RS, that Lamborghini and the Ferrari, too. Don't think you're going to walk out of the McLaren dealer having paid just that, with options we'd be amazed if any 600LT costs less than £200,000, and significantly more if you tap into McLarens MSO (McLaren Special Operations) skill set and ask for even greater personalisation.
Comfort and design
"The 600LT isn't a car you'll buy with comfort in mind, but, likewise, you'll notice it if its uncomfortable. It might be all about focus, then, but that includes connection, and the seats you're in play a hugely significant role in that."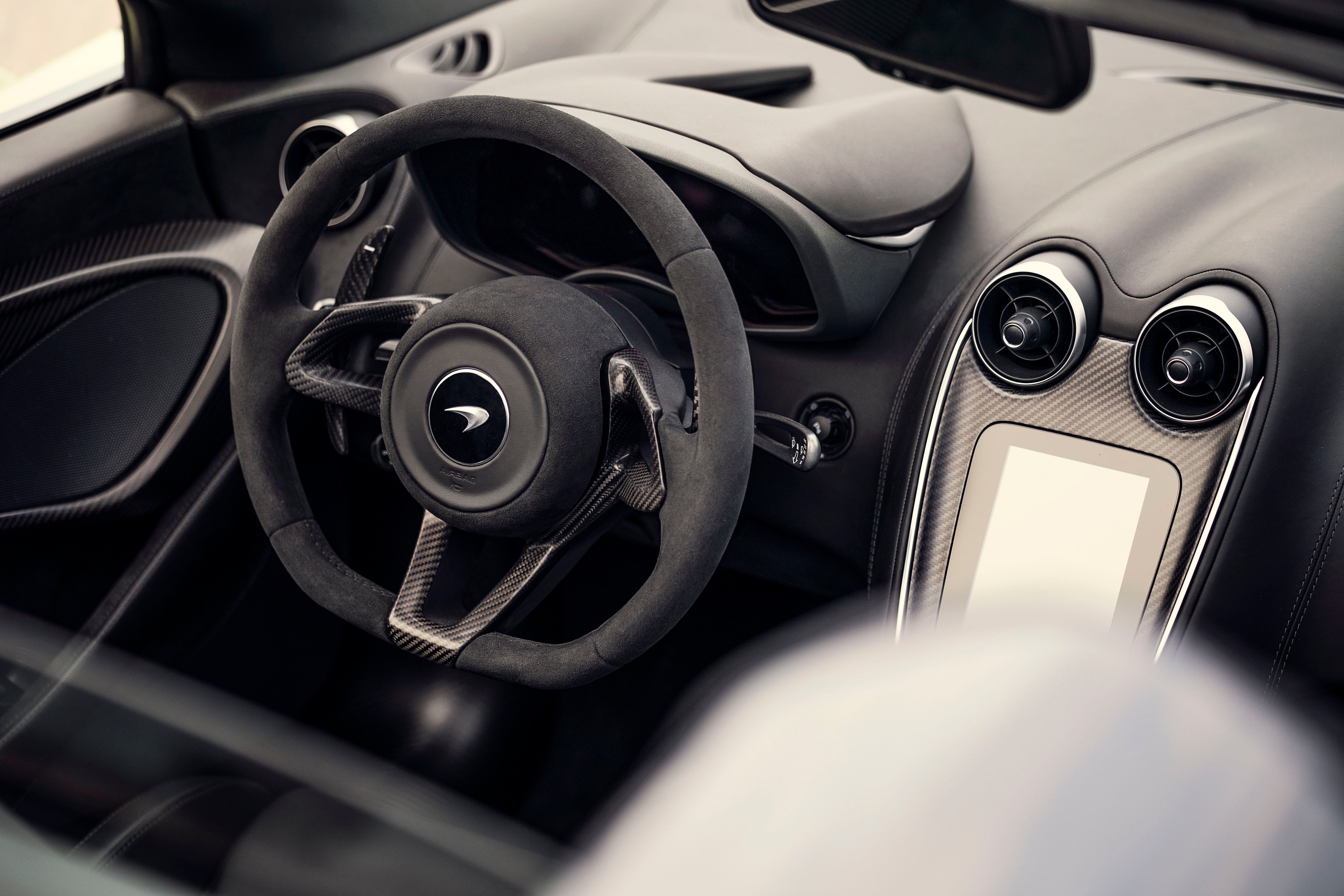 McLaren understands that, which is why you can have your 600LT with a variety of seat choices encompassing Sports Seat, Carbon Fibre Racing Seat and a Super-Lightweight carbon fibre racing seat – these borrowed from McLaren's Ultimate Series Senna model. Those three seat choices are offered in Regular (think slim) and Touring (think burgers) fits, McLaren even offering the option of fixing the passenger's seat in position, rather than offering adjustability.
We've tried all of the seats, and it's the more extreme-looking racing choices that suited us best, holding you with a supportive embrace, and proving comfortable even on a longer drive. Getting in and out of them isn't quite as easy, though with practice you'll achieve it with grace.
Elsewhere in the interior the design is pleasingly different, McLaren, as ever doing its own thing, it looking, and feeling very racer in its design simplicity and purity, assuming you avoid going overboard with wild contrasting colour choices for the finishes inside, of course.
As standard there's manual adjust steering column, it's able to option power adjustment to it. Being McLaren's most focussed and weight-obsessed model it's possible to specify your 600LT without air conditioning or a stereo – for ultimate weight savings. Don't, you'd have to be some sort of masochist to live with a car like this without A/C.
Quality and finish
The 600LT is handbuilt in the UK, McLaren a company that's known to be absolutely obsessive when it comes to detail. Looking at the 600LT everything seems to be in order, the panel gaps are consistent, the materials all of high quality, especially if you've chosen some of the beautifully finished carbon fibre trim pieces.
But, anecdotally we repeatedly hear from McLaren owners that reliability isn't quite what it could be. That's applicable to any number of small volume sports, GT and supercar makers, and not just McLaren.
There are some McLaren quirks inside, when you're attempting to switch between the various drivetrain and chassis modes you need to press an Active button before doing so, though it's something you quickly adjust to. Admirably, McLaren hasn't simply borrowed parts from other manufacturers inside, things like the slim and beautiful column stalks being unique to McLaren, though there's one area where McLaren might have been better served buying in proven technology…
Infotainment
McLaren has always carved its own path, and from its first MP4 12C model, it's tried to create its own infotainment system, with only limited success. The upright 7-inch portrait screen in the centre console is a very cool idea, indeed, it's a wonder no other firm has adopted it, as it's better for mapping and saves a good deal of space between the front seats.
That's where the applause ends, as the operation of that screen is hugely buggy, slow and just downright frustrating at times. We've yet to drive a McLaren where the infotainment hasn't been a frustration, though, we concede, that it's improved on more recent cars.
You'll not find Apple CarPlay on the 600LT, indeed, as standard the 600LT does without any infotainment, though it's a no-cost option to have DAB and AM/FM radio, Bluetooth telephony and audio player USB and aux in connection to a 4 speaker audio system, or, if you want to pay for it, a Bowers & Wilkins 12 speaker system.
Being a track-focussed car, that infotainment contains a telemetry package, which will record your lap times, which can be downloaded should you want them. If you're really serious, you can have a three camera system added to that track telemetry, so you've got visuals to go with the data from your fast lapping to analyse.
Space and practicality
You don't buy a circa £200,000, 600PS 204mph capable track-focussed car and worry about practicality, you'll have other cars that'll do carrying things far, far better. That said, for all the 600LT's track focus and intent, it's decently spacious inside, for people at least, things, less so.
The feeling of space is undoubtedly aided by McLaren's focus on creating good visibility, the strong carbon fibre construction of the passenger area – which McLaren refers to as MonoCell II – allows a low scuttle (bottom of the windscreen) as well as very slim window pillars, so the view out is significantly better than most of its mid-engined rivals.
That clever, in position, not operation, centre screen for the infotainment also frees up space, likewise the digital displays ahead of the driver are compact and efficient, that efficiency evident throughout the entire interior, to the benefit of the impression of space.
There's precious little storage space inside, though, indeed, small covered door-bins are on the options list, the lids required because McLaren's doors lift up and forward rather than conventionally outwards. Oddly, pick McLaren's optional Volumetric Alarm and you gain those interior storage compartments.
Unlike some mid-engined cars there's no rear boot as the rear area where one might be is full of fancy aero wings and a cool top-mounted exhaust. If you're after a more practical Sports Series car, McLaren will build you a 570GT, with a side hinged stowage boot over the engine compartment behind you.
In the 600LT there is a luggage compartment up front, which will carry a couple of helmets and your race suits to a track day, or a couple of squashy travel bags for a weekend away. Any more and you'll need to take one of your other, more practical cars instead.
Handling and ride quality
"This is what the 600LT is about. Forget the 30PS increase in power, or the 20Nm swell in torque, it's dynamically where the 600LT has made a leap over its 570S relation. That's initially difficult to comprehend, as the 570S is an incredibly competent, beautiful handling sports car. The 600LT elevates the handling to another level, McLaren's detailed revisions to the suspension key here, every element being looked at to trim weight, sharpen response and increase feel. "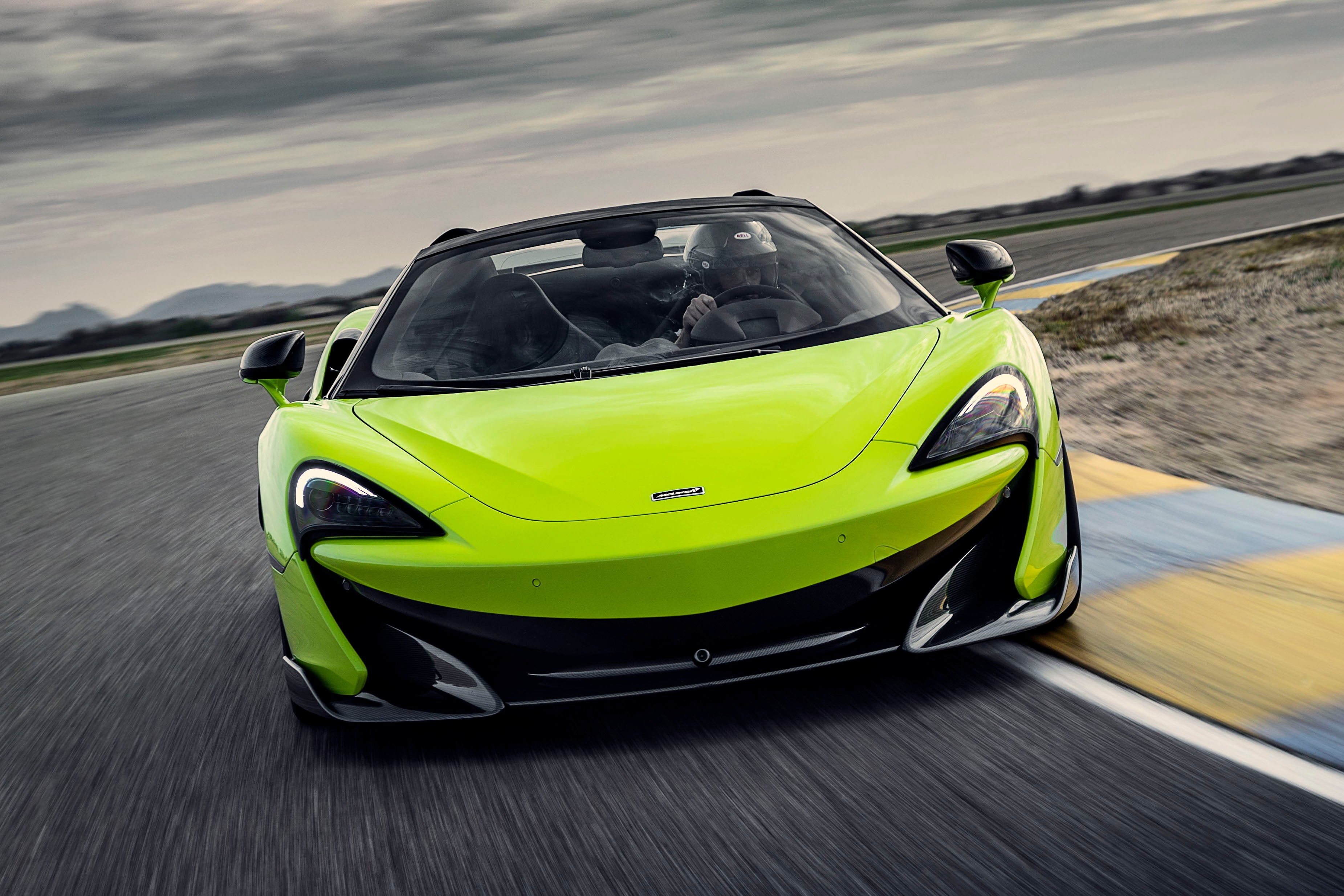 It's worked, the 600LT rides on a more focussed set-up sitting lower, on stiffer spring and roll bars, but McLaren's trimmed a good deal of weight from the suspension, reducing unsprung and rotating masses, that evident in a tangible increase in accuracy and precision.
That's achieved without sacrificing ride quality is testament to the company's expertise in damper tuning. The suspension offers three damping modes, the first being Normal followed by Sport and Track. Normal is perfect for the majority or roads, it providing mesmerising ride quality, yet still allied to superb feel, the control it offers, even on poor road surfaces is remarkable.
Dial it round to Sport and there's a perceptible change in the chassis, the tauter setting seeing the dampers transmit more of the road's imperfections through the 600LT's stiff structure. It's not necessarily uncomfortable, but it's noticeable, it manifesting as a shimmering frequency, which doesn't add anything to the driving experience.
Save Sport, then, for the smoothest Tarmac you can find, as Normal does such a fine job that you'll rarely, if ever, feel inclined to switch out of it. Track mode does what you'd expect it to, being best left for circuit use.
If the ride is incredible, so too are the steering and brakes, McLaren hanging onto hydraulic assisted power steering, to good effect, the detail feel and weighting it offers making rival's electrically assisted power steering systems feel mute in comparison.
The brakes, too, borrow a booster Senna hypercar, and the feel under your foot is so detailed, so confidence inspiring you'll find yourself braking like an F1 driver. Combine all the 600LT's outstanding balance and finesse with beautifully judged traction and stability aids and it'll make anyone look like a fantastic driver, without being restrictive to limit the enjoyment of those drivers with the genuine ability to exploit the 600LT's incredible dynamic capabilities.
Impressively, the Spider, despite its open roof, is equally as agile and involving, McLaren's super stiff structure meaning it doesn't flex like its open-topped rivals, meaning you can pick it without compromise over the coupe.
Engines and gearboxes - (EV - Battery versions)
If you've just read the gushing praise we've heaped on the 600LT's chassis above you could be forgiven for thinking that the engine and transmission are mere supporting acts.
They're not, indeed McLaren's gone through the engine to increase its responsiveness, the gains in power more of a by-product of that than the developmental goal. The 3.8-litre V8 is an incredible engine, which might feature twin turbochargers, but feels very naturally aspirated in its nature. There's real incentive to rev it, its character notably changing above 6,000rpm and sounding incredible when doing so, thanks to the 600LT's fitment of top-exiting exhausts.
Despite its ferocious appetite for revs, it'll still pull convincingly at low engine speeds, thanks to those turbochargers, this making the 600LT's engine a credible all-rounder, that's as adept at low to moderate speed cruising as it is being wrung out to its maximum revs on a circuit. That it rewards everywhere in between is a huge part of its appeal.
Like the chassis there's a choice of modes for the engine and seven-speed twin-clutch paddle-shifted gearbox. These follow the Normal, Sport and Track settings of the chassis, though unlike the chassis settings the transmission's best experienced in Track mode on the road – at least if you're enjoying it, Normal is fine for mundane motoring.
You might think Sport would be the best compromise, but it features 'inertia push', which is forceful in upshifts, to the point where it's unnecessarily jolty, for the impression of sportiness, but it's unsettling, both to the occupants and the 600LT's chassis. McLaren's engineers conceding that it's divisive, and, tellingly, Track mode does without it.
Refinement and noise levels
Take your luxury car if you're out for an evening and want hushed refinement, though the 600LT doesn't do too badly for its type in regard to refinement and noise levels. Most of the sounds it makes are welcome, indeed, the bark and crackle of the over run on the exhausts is magnificent, so too is the sound it makes when you're wringing it out to its 8,500rpm redline.
On a longer drive it all settles down, pop the chassis, transmission and engine in Normal modes, wind up the optional Bowers & Wilkins 12 speaker stereo and the 600LT will do a decent impression of a long distance cruiser.
There's some tyre slap and road noise on poorer surfaces, but that's hardly surprising, the 600LT's carbon fibre construction also resonating noise a little more readily than aluminium constructed rivals. It's marginal, though, and, frankly, worth it for the huge advantages it brings. Avoid the MSO roof hood scoop if you intend on doing bigger mileage in it, as however cool it might look, it generates a good bit of wind noise directly above our heads at speed.
The coupe, without that optional scoop, is a bit quieter than the Spider, though the open-topped Spider does offer advantages elsewhere, insomuch as you feel closer to the brilliant sounds emanating from the engine. Indeed, you can drive the Spider with the roof up and the rear window down to hear the engine but shaded from the elements, allowing the best of both worlds.
Safety equipment
There's no independent crash test results for the 600LT, or its 570S relation, but that's not unusual among low-volume sports car manufacturers.
That McLaren is allowed to sell the 600LT globally underlines that it's passed all the national and international crash test standards, though, so it'll be safe. Indeed, with an F1-derived carbon fibre 'MonoCell 2' making up the core of its structure, surrounding the driver and passenger, it should be safer than its more conventionally constructed alternatives from other manufacturers.
Its mighty brakes are fitted with ABS, there's brake steer to aid the LT's agility, while electronic stability control and traction control systems help maintain progress, and control if there are any surprises on the road ahead. Six point racing harnesses can be optioned (with the regular inertia seatbelts remaining, too) while you can option the Security Pack which adds a rearview camera and front and rear parking sensors, as well as a nose lifting system to help you get it over steep driveways and dropped kerbs.
Should the 600LT's agility and brakes not be enough to avoid an accident, that tough MonoCell 2 structure, allied to driver and passenger front and side airbags and kneebags in the lower dashboard will help protect you. McLaren does without any active driver aids like lane keeping or variable speed cruise control (cruise control fitted, but it's a rudimentary system) and it's all the better for it, the 600LT a car you should be driving, not having it take over some of that for you.
MPG and fuel costs
"If you've paid the £185,500 for a 600LT, and a sizeable additional outlay on personalising it with carbon trim and suchlike, regular fill ups with premium unleaded fuel just isn't going to be an issue."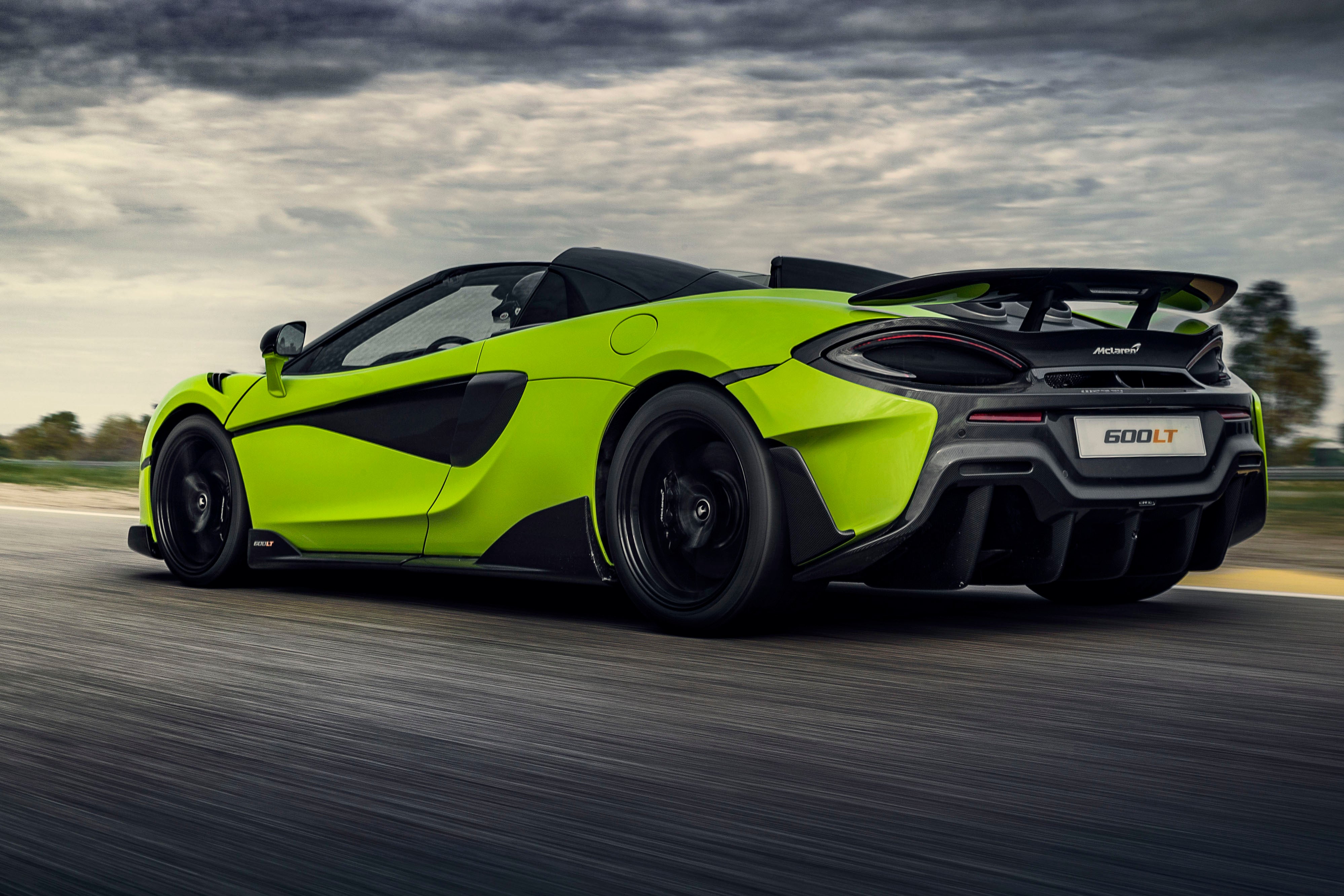 In the unlikely event it's going to be a deal breaker between the McLaren and one of its rivals, the WLTP tested combined consumption figure is 23.2mpg. It'll do that too, if you take it easy.
Expect a more realistic figure in the mid-late teens, and if you're at the track, you'll burn through fuel quicker than a fighter plane with the afterburners on. You'll be having too much fun to care, though.
Insurance groups and costs
Added to your multicar policy with all your other playthings, the 600LT is never going to attract anything but sizeable premiums. They all come with a standard three year warranty, that's unlimited in the mileage cover. If you want even more peace of mind, recommended, McLaren offers the ability to increase that warranty to as much as 12 years.
It'll need servicing annually, or every 10,000 miles if you use it a lot, it unlikely that a McLaren service isn't going to be considered expensive for mere financial mortals, but considered a reasonable running expense for those fortunate enough to be able to afford to buy it in the first place.
VED car tax
You'll pay all the tax, because, really, cars like these are a frivolous indulgence, so you'll have to pay for the privilege. CO2 is quoted at 276g/km and no amount of clever accounting is going to allow you to escape the tax that's payable because of that.
How much should you be paying for a used McLaren 600LT?
"Prices for used examples are all over the place, at one end of the spectrum some sellers are hoping to achieve a premium on delivery mileage cars, but they're optimistic, particularly as there's a decent stock of cars for well under list prices with a few thousand miles having rolled under their bespoke developed Pirelli tyres."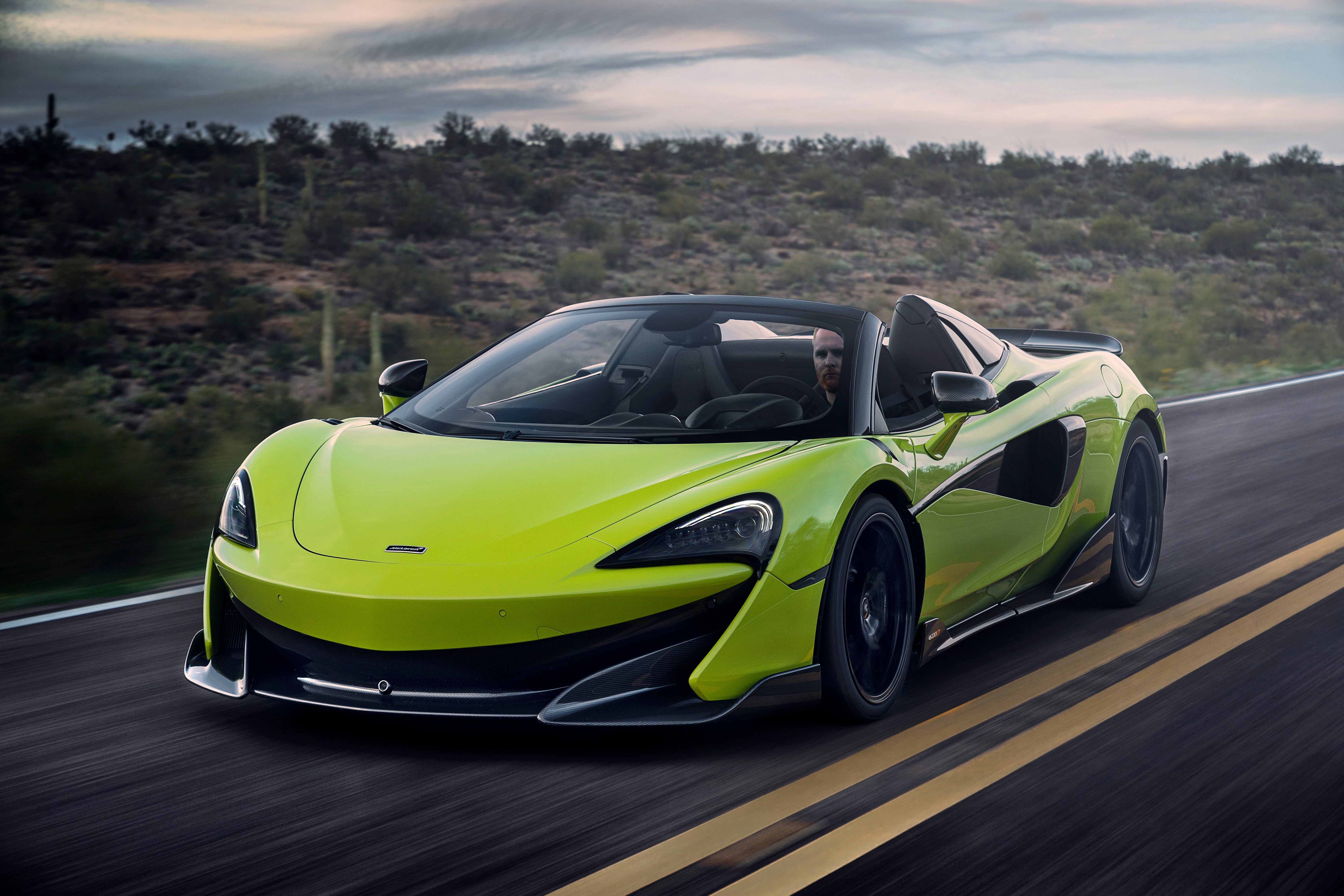 Spiders seem to be more prevalent in the classifieds, and, hence a bit cheaper than similarly specified 600LT coupes. Used, presently, that being early 2020, a 600LT will have a used starting price of around £160,000.
Trim levels and standard equipment
The 600LT as standard is only a starting point to specifying your ideal 600LT. There are no trim levels as such, but McLaren does offer a number of options packs, the Luxury Pack adding power sports seats that are heated as well as power to the steering column adjustment, soft close doors and the top spec Bowers & Wilkins stereo.
MSO Clubsport packs add to the 600LT's racer feel, adding racing seats, visual carbon fibre finishes, the Clubsport Pro Pack adding things as detailed as lightweight titanium wheel bolts, racing harnesses and even more carbon fibre inside. Anyone selling you an LT should be able to list the lengthy options added.
Make sure you check the car you're looking at hasn't been left without the stereo and air conditioning, most haven't, but a few purist buyers might have taken the masochistic option in the pursuit of the most thrilling, lightweight, and permanently damp back on your t-shirt in the summer, choice.
Keep me updated by email with the latest advice, news and offers from heycar
By submitting, you agree to our
privacy policy
.