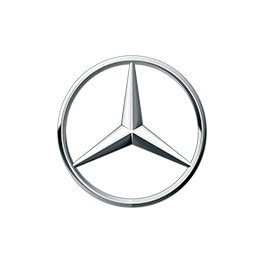 Mercedes-Benz
Mercedes-Benz is the third of the big German premium manufacturers, and has played a significant role in the history of the motor car as a whole. Under the name of its co-founder Karl Benz, the 1886 Patent Motorwagen was produced and is regarded as the world's first production car, while Mercedes introduced a number of firsts to the industry, including the first diesel production car, direct fuel injection, ESP and traction control.
Which Mercedes is right for me?
With a substantial range of vehicles, powertrain options and trims there should be a Mercedes to suit every need, although not necessarily every budget. The A-Class is the current entry point to the range, a classy hatchback that is also available as the CLA saloon and estate, which use the same basic platform but with coupe-like styling. The GLA is a crossover SUV of a similar size. Next comes the B-Class, a compact but spacious MPV, and above that is the big-selling C-Class range. Available in saloon, estate and coupe guises, it is good to drive and packed with safety and convenience technology.
The E-Class is another stalwart of the Mercedes range, also available in saloon, estate and coupe, and offers comfort and luxury as well as generous space inside. Filling in the gaps are more SUVs - the GLB and GLC are similar in size to the hatchback counterparts while the GLE and GLS are at the large end of the scale, with coupe versions of the GLC and GLE also available. At the top of the range is the CLS four-door coupe and the luxurious S-Class saloon, alongside the sporty SL-Class and AMG GT coupes. The G-Class might also be your vehicle of choice if you want an impactful but highly-capable 4x4, and the EQC SUV is the first pure EV Mercedes.
Tell me something I don't know about Mercedes-Benz
Although it is premium car manufacturer, Mercedes-Benz also produces vans, trucks and buses.