Mercedes-Benz A-Class Review 2022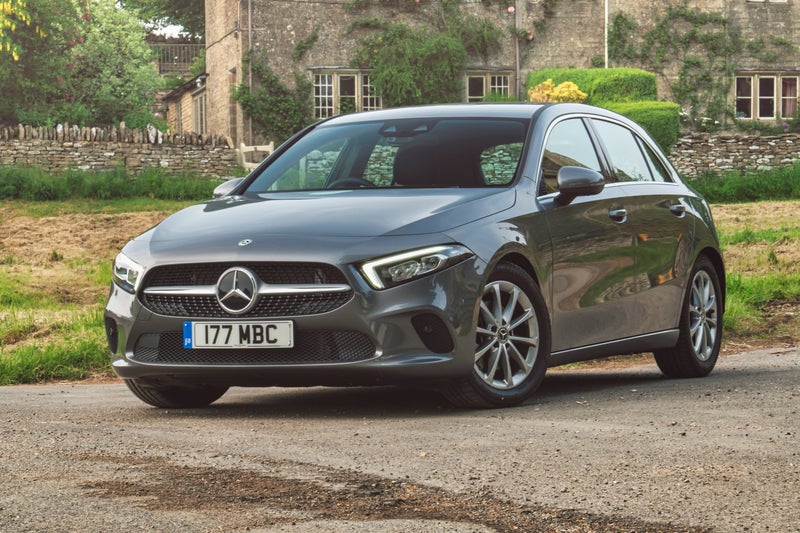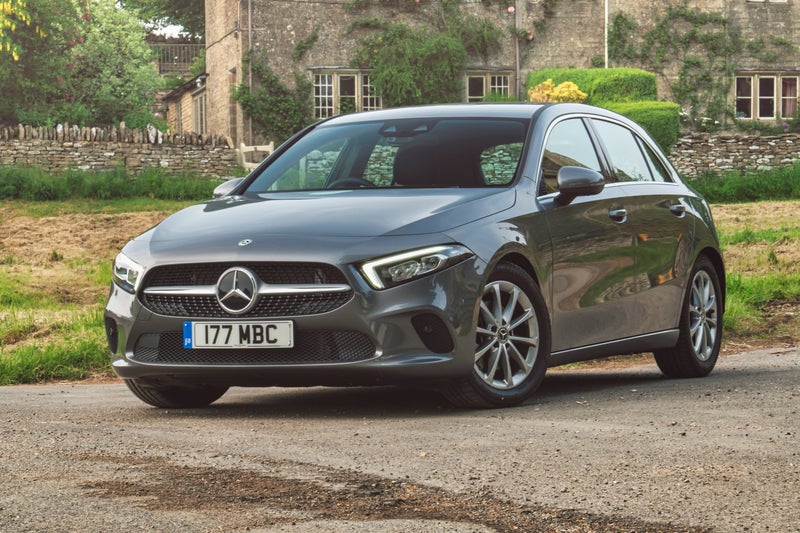 1/10
heycar rating
"Handsome and desirable premium hatchback"
Launched: 2018

Family hatch

Petrol, Diesel, PHEV
Quick overview
Pros
Innovative infotainment system that looks great
Really posh-feeling interior
Comfortable and secure to drive
Cons
Merely so-so on practicality
Smartphone integration should be standard across the board
A200 petrol engine not refined enough
Overall verdict
On the inside
Driving
Cost to run
Prices and Specs
Common questions
Overall verdict on the Mercedes-Benz A-Class
"The A-Class has come a long way since the early days. First introduced in 1997 as an upright scaled-down MPV-type model that was roomy, if a little unusual, it would gradually morph over the years into a more conventional prestige hatchback that would form the entry-point into the Mercedes-Benz club."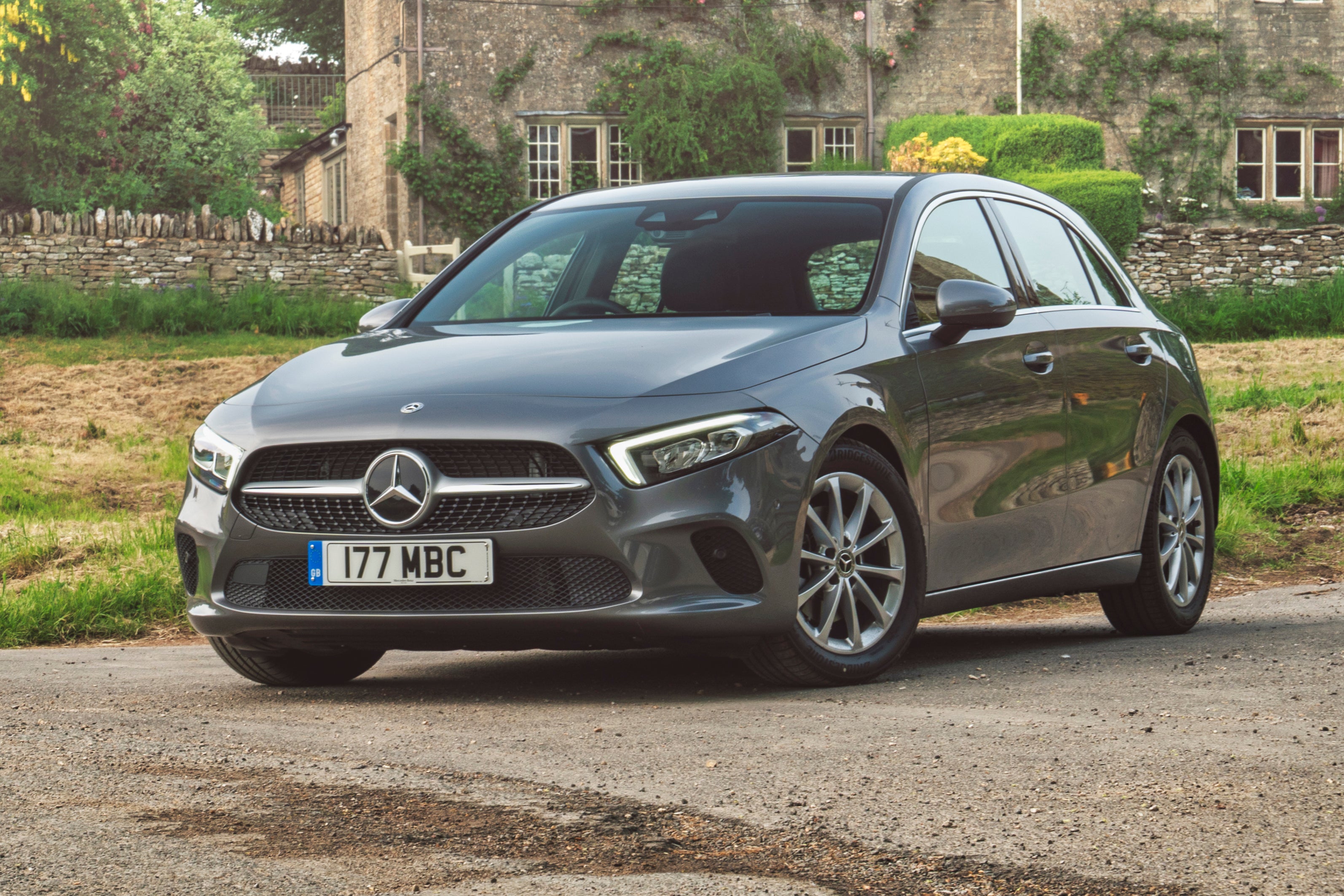 This fourth-generation Mercedes-Benz A-Class really moves things along. While the Audi A3 and BMW 1 Series are better and more desirable than ever, the baby Benz has really caught up. It delivers the comfortable, sophisticated driving experience that you expect from a Mercedes-Benz, while it also has its rivals matched on space and versatility. Where quality is concerned, it still doesn't have quite the bullet-proof solidity of assembly that its rivals do, but if anything, it has them beaten for poshness and theatre. Read on to mind out everything you need to know in our 2022 Mercedes-Benz A-Class review.
The party piece of the Mercedes-Benz A-Class has to be the high-tech infotainment system that dominates the cabin, with its twin screens, sharp graphics and feature-rich functionality.
The list of standard equipment on the Mercedes-Benz A-Class is a little bit hit-and-miss (not all versions have Apple Carplay/Android Auto, for example), but most of what you need is provided, plus more besides. Safety kit is also well catered for on the Mercedes-Benz A-Class, and with a range of punchy and efficient engines, running costs will be on a par with those of the key rivals, as will purchase prices.
Is the Mercedes-Benz A-Class the best premium small family car in the class? Well, it runs the BMW 1 Series very, very close indeed and the two cars share that prize once all things are considered. If you're after a comfortable car that dazzles with its infotainment kit and its luxurious interior, then the Mercedes-Benz A-Class might well edge it for you.
If you're looking for the older version, you need our used Mercedes A-Class (2012-2018) review.
Is the 2022 Mercedes-Benz A-Class right for you?
If you've decided to buy a premium hatchback like the Mercedes-Benz A-Class, then you've probably already made the decision - consciously or subconsciously - that a more mainstream alternative like a Ford Focus or a Vauxhall Astra just won't do. Indeed, not even the Volkswagen Golf - a car that straddles the gap between classes - will cut it for you, and only something with a premium badge will suffice.
Once your thought process has come that far, then it's basically a toss-up between three cars: the Audi A3, the BMW 1 Series and the Mercedes A-Class. So, what does the A-Class give you that the others don't? Well, the margins are very fine, but there are differences. The Mercedes-Benz A-Class is a slightly more comfortable, more easy-going car than its rivals, while impressive quality and cool design give its interior some serious visual clout. The clever infotainment system will be what seals it for most buyers, though.
What's the best Mercedes-Benz A-Class model/engine to choose?
For most buyers, we reckon the entry-level engine, the A180d diesel, will be the one to go for. It's the more appealing of the two engines we've tried (the other being the A200 petrol), with a perky power delivery and decent refinement, and it keeps purchase prices down.
There's also the option of a hybrid engine, with A250e delivering one of the longest electric ranges in the business at up to 44 miles on a charge. We reckon that is plug-in hybrid is one of the best hybrid cars you can buy.
In terms of trim, it's a tricky one with the Mercedes A-Class. Entry-level SE trim gives you everything you really need, including climate control, cruise control, part-leather upholstery, built-in sat-nav and a clever infotainment system, but the one thing it's missing is Apple Carplay/Android Auto. If you're desperate for that - and we think most buyers will be - then Sport Executive trim is the cheapest way to get it. If you can live without smartphone integration, though, stick with the SE.
What other cars are similar to the Mercedes-Benz A-Class?
Any car from Mercedes-Benz will always have its eye on rivals from two companies more than any other, and those companies are Audi and BMW. Competition between this German trio is fierce, and in the shape of the Audi A3 and BMW 1 Series, respectively, Audi and BMW have exceptionally talented products in this class.
Other premium hatchbacks struggle more for sales than these three, but there are still a few. The Lexus CT200h offers a self-charging hybrid option, and while Infiniti has shut-up-shop in Europe now, it was still punting out the Infiniti Q30 when the latest A-Class was released. And then, of course, there's always the Volkswagen Golf that bridges the gap between premium hatchbacks and more mainstream ones.
Comfort and design: Mercedes-Benz A-Class interior
"All A-Classes have supportive seats, but the sports seats you get in AMG Line cars and upwards are especially good."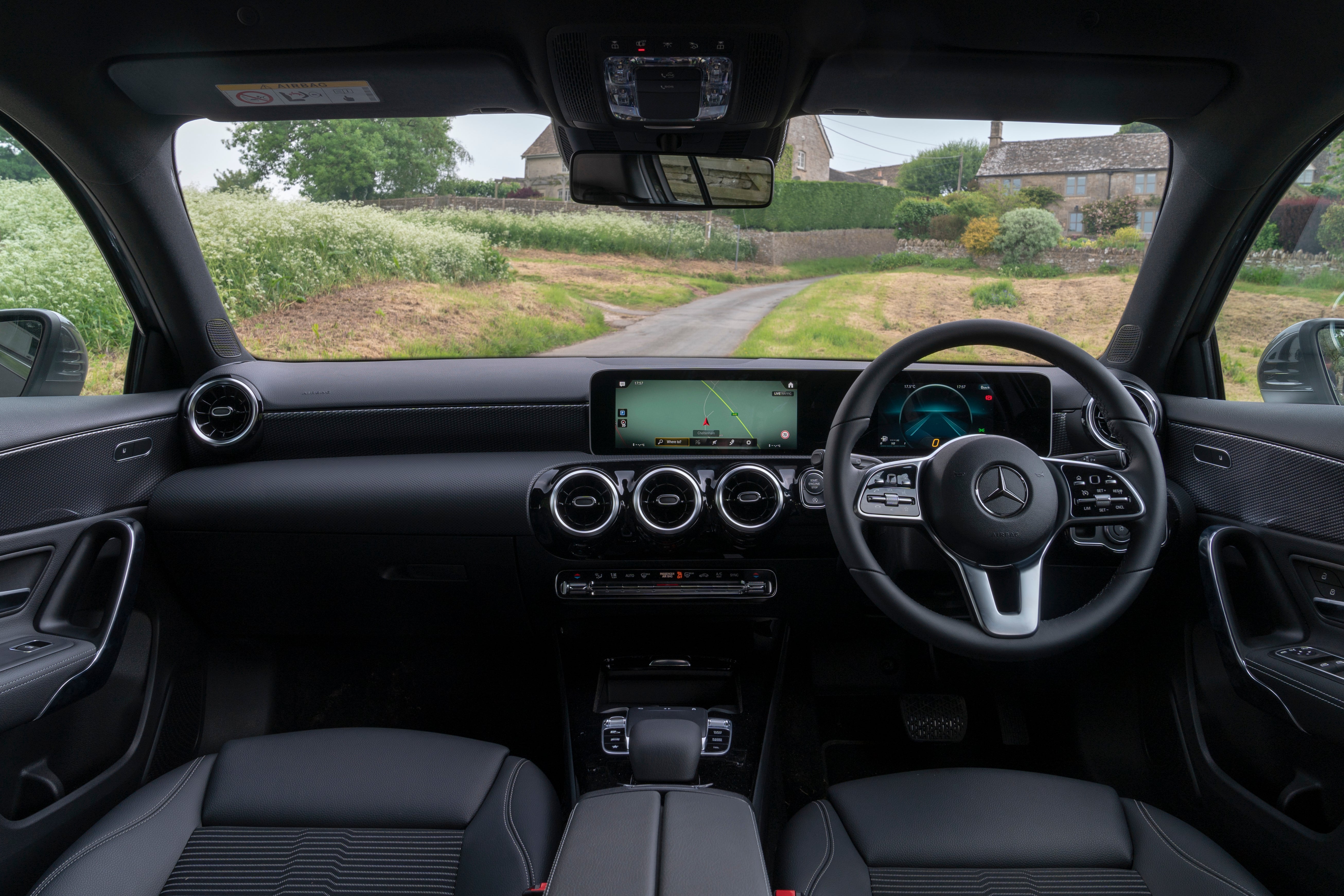 There's a huge amount of adjustment for the driver's seat and steering wheel, so drivers of all shapes and sizes should be able to get comfy in the Mercedes A-Class, although some might wish that the seat went a little lower: you feel perched higher up than you do in rivals. That said, this does help give you a clear view of the road ahead, although the view behind you is slightly impaired by the bulky pillars that flank the rear screen. Happily, all versions come with a reversing camera to make parking manoeuvres easier.
The dashboard of the Mercedes A-Class is dominated by the two digital screens that we'll discuss further in the Infotainment section, but we like the fact that the air-con controls are physical buttons that are separate from the infotainment system. This means you can make minor adjustments without having to scroll through menu after menu and the buttons themselves are logically placed and easy to use. However, the multi-function steering wheel is absolutely covered with various buttons and switches, and the sheer number of them means it's tricky to remember what everything does.
Quality and finish
This may be the cheapest car that Mercedes-Benz offers, but the A-Class doesn't feel like a poor relation, not by a long shot. The quality of the materials used makes you feel like you're in an executive saloon rather than a family hatchback, and importantly, they're as good as anything else in the class. The twin screens and big, substantial-feeling air vets also help give the interior design plenty of theatre, more so than in rivals, and the various injections of stitched leather, wood, chrome and glossy black panelling means there's real variety in the colours and textures on show. Aesthetically, then, this really is as good as it gets in the class.
However swish, though, the A-Class' interior doesn't feel quite as solid or substantial as rivals from Audi and BMW: pokes and prods in certain places result in a few more creaks and flexes than they do in the other German cars, meaning the Mercedes-Benz doesn't feel quite as dense or as solid. It really isn't far behind, though, and you'll certainly have no reason for complaint.
Infotainment: Touchscreen, USB, nav and stereo in the Mercedes-Benz A-Class
Like all of Mercedes-Benz's latest cars, the A-Class' cabin is dominated by two screens that are mounted side-by-side in front of the driver. Know as MBUX, these take most of the car's various functions, plus the information that would usually be delivered on conventional analogue instruments, and presents them all in one integrated unit.
The system is controlled by tapping and swiping at the left-hand screen, or by using the laptop-style touchpad and shortcut buttons located on the central partition between the front seats. The graphics are really sharp and the menus have a fairly logical layout, so it's pretty easy to find your way around the system, but the touchpad controller is less precise, and more distracting than the iDrive rotary dial you get in a BMW 1 Series.
That said, you can also operate the system via a sophisticated voice control system that's designed to recognise natural speech rather than specific commands, and happily, it works well.
The exact nature of your system will depend on the trim you choose. In SE, Sport and AMG Line trims with the Mercedes-Benz A-Class, both screens measure 7.0 inches, and the system supports DAB radio, Bluetooth and hard-disk navigation, but not Apple Carplay/Android Auto.
Smartphone integration is provided - along with wireless phone charging - if you upgrade to Sport Executive or AMG Line Executive trims, and what's more your left-hand screen is upgraded to a bigger 10.25-inch item. Upgrade further to AMG Line Premium or Premium Plus, and your right-hand screen is upgraded to the same size as the left-hand one, and you also get an upgraded 225W sound system and augmented reality for your sat-nav. This overlays instruction graphics over a camera image of the road ahead of you, pointing out precisely where you should be going. It looks really cool, and it's also really handy.
Space and practicality: Mercedes-Benz A-Class boot space
Whether you wind up sitting in the front or the back of the Mercedes-Benz A-Class, you'll get a very similar amount of space to that which you get in the car's main rivals from Audi and BMW. There's virtually nothing to pick between the three here, with each of them providing enough headroom and legroom for tall folk to be comfortable in any of the seats, but without going the extra mile. If you can survive without a premium badge, then less prestigious rivals including the Skoda Octavia and Ford Focus provide more interior space. If you're interested, the Mercedes-Benz A-Class measures 4419mm long and 1796mm wide.
Space aside, though, there are subtle differences. On the plus side, carrying three across the rear bench will be slightly more comfortable in the Mercedes-Benz A-Class due to its lower transmission tunnel, equating to improved rear foot space, while on the negative side, the Benz's small, oddly shaped rear door openings make getting in and out of the rear seats slightly awkward.
It's a similar story with the boot. There's virtually nothing in it for size, and all three cars should cope well enough with the needs of a small family, but there are other small nuances between the three. The A-Class's back seats can be folded 40-20-40 to extend the load area, which is more versatile than the 60-40 split you get in the 1 Series and most A3s. The Mercedes-Benz A-Class has a boot capacity of 370 litres - 10 litres less than the Audi A3, while with the seats down that capacity increases to 1210 litres. Again, 10 litres less than the Audi A3.
However, the backrests lie at a slight angle on the Mercedes A-Class, and there's an annoying lip at the entrance of the boot that you'll need to lug heavy items over. That's also the case in the Audi And BMW, but these cars also provide a removable false floor to level the step out, while the Mercedes-Benz A-Class doesn't. Bear in mind, too, that the PHEV version's boot loses 60 litres of space due to the batteries.
Handling and ride quality: What is the Mercedes-Benz A-Class like to drive?
"The precise suspension configuration you get on your A-Class will depend on which engine you choose (more powerful versions have a more sophisticated setup on the rear), but the character of all cars is very similar."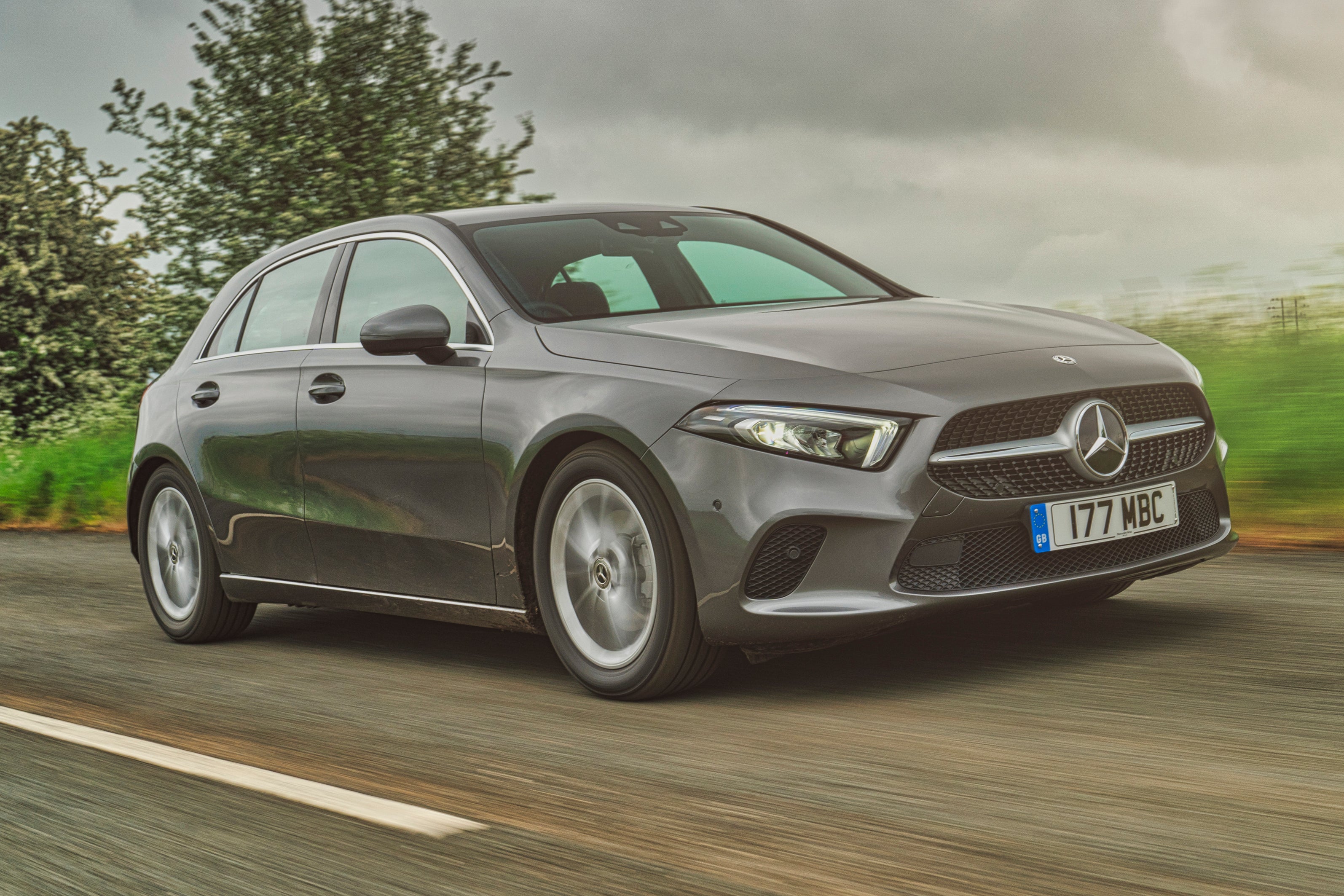 And happily, that character is an appealing one. While both the Mercedes A-Class's main competitors - the Audi A3 and BMW 1 Series - have a slightly firm, sporty edge, the A-Class takes a slightly softer, more relaxed approach.
That means the Mercedes A-Class soaks up minor road imperfections a little more effectively, and it doesn't thud too much over sharp-edged potholes, either, making it one of the more comfortable cars in the class. You will feel the body float a bit more on undulating roads, but not to a degree where you'll be bouncing around like a Teletubby in a soft-play.
You will feel a bit more body lean in bends in a Mercedes A-Class than you do in Audi A3 and BMW 1 Series, too, so it doesn't feel quite as sharp or as agile. Having said that, though, the A-Class is no slouch here either. The body roll is progressive and predictable, so fast direction changes aren't unsettling, while there's plenty of grip and precise, accurate steering. True, the steering might be a little light for some tastes, but it does help make life easier when pottering through tight urban environments.
What's more, we've tried the A-Class on a range of different wheel sizes, which can often have a profound effect on how a car rides and handles. But, on the cars we've tried, it makes very little difference.
What engines and gearboxes are available in the Mercedes-Benz A-Class?
The A180d is a popular option with diesel buyers, and it has a 1.5-litre engine with 116PS. It feels very perky and keen to react initially, which gives it a pleasingly peppy character, but if you really put your foot down, you'll find that you won't get quite the level of performance promised by your initial prod of the pedal. That said, it'll be more than brisk enough for most drivers, and it's our favourite of the engines we've tried so far in the Mercedes A-Class.
The petrol range of the Mercedes A-Class kicks off with the A180, which uses a turbocharged 1.3-litre engine that produces 136PS, followed by the A200, which is a 163PS version of the same engine. Again, it feels fairly responsive from low down in the rev range, making your progress easy and relaxed, but if you work it harder, you might be surprised that it doesn't deliver more.
Like all the entry-level engines in the range, the A200 comes with a six-speed manual gearbox as standard, but can also be had with an optional seven-speed twin-clutch automatic. We wouldn't bother with the latter. Regardless of which driving mode you select, it's rather hesitant to shift up and rather too keen to shift down, meaning that the engine is worked needlessly hard for too much of the time.
The gearbox is also slow to engage when you're pulling away. This means nothing happens for a second or two after you press the pedal, and just as you start wondering where all your go went, you lurch forward much more strongly than you meant to.
If you ignore the sporty AMG 35 and AMG A 45 models (which we will for the purposes of this review, as those versions have their own bespoke reviews), the range-topping petrol engine is the A250, which has a 2.0-litre unit with 224PS. We haven't tried it yet, and unfortunately, neither have we tried the most interesting version, the A250e. This plug-in hybrid uses the 1.3-litre petrol engine found in the A180 and A200, and combines it with an electric motor to produce 218PS. We really can't wait to have a go in this one.
Refinement and noise levels
It's the A180d diesel that impresses more than the A200 petrol. The diesel isn't the quietest or smoothest engine of its type, but it's good enough on both counts to keep life civilised enough for even the most demanding of Mercedes A-Class buyers. The petrol, meanwhile, is less successful. There's a boomy quality to the noise it makes at all times, and when you work it harder, it becomes thrashy and strained. Not what you want in a sophisticated car like the A-Class.
You'll hear a shade more in the way of wind- and road noise at a steady motorway cruise than you will in an Audi A3 or BMW 1 Series, and you also hear more from the A-Class's suspension. However, the differences are far from catastrophic, and the A-Class is still a civilised way of getting around.
Safety equipment: How safe is the Mercedes-Benz A-Class?
The Mercedes A-Class has already achieved the maximum five-star rating after being smashed to bits by the experts at Euro NCAP, and when you consider the super-impressive amount of standard safety equipment on board, that's no great surprise. As well as all the usual airbags and stability aids, you get automatic emergency braking, lane keeping assistance, and a speed limit display in your instrument panel.
There's also an active pop-up bonnet on the Mercedes A-Class to give better protection for pedestrians if one has the misfortune to connect with the front of your car. Sport cars and upwards have super-bright LED headlamps, while AMG Line Premium Plus cars have cleverer multibeam ones with an active high-beam function.
There's an option package that bundles up a range of even cleverer driver assistance systems on the Mercedes A-Class, including blind spot monitoring, cross traffic alerts, adaptive cruise control and automatic adoption of speed limits, but you have only add it to the very top trim level. There's no spare wheel on any version, either, with a pot of tyre sealant provided in each case.
MPG and fuel costs: What does a Mercedes-Benz A-Class cost to run?
"The A250e is the stand-out performer according to official WLTP figures, because it managed a return of up to 282mpg in laboratory tests."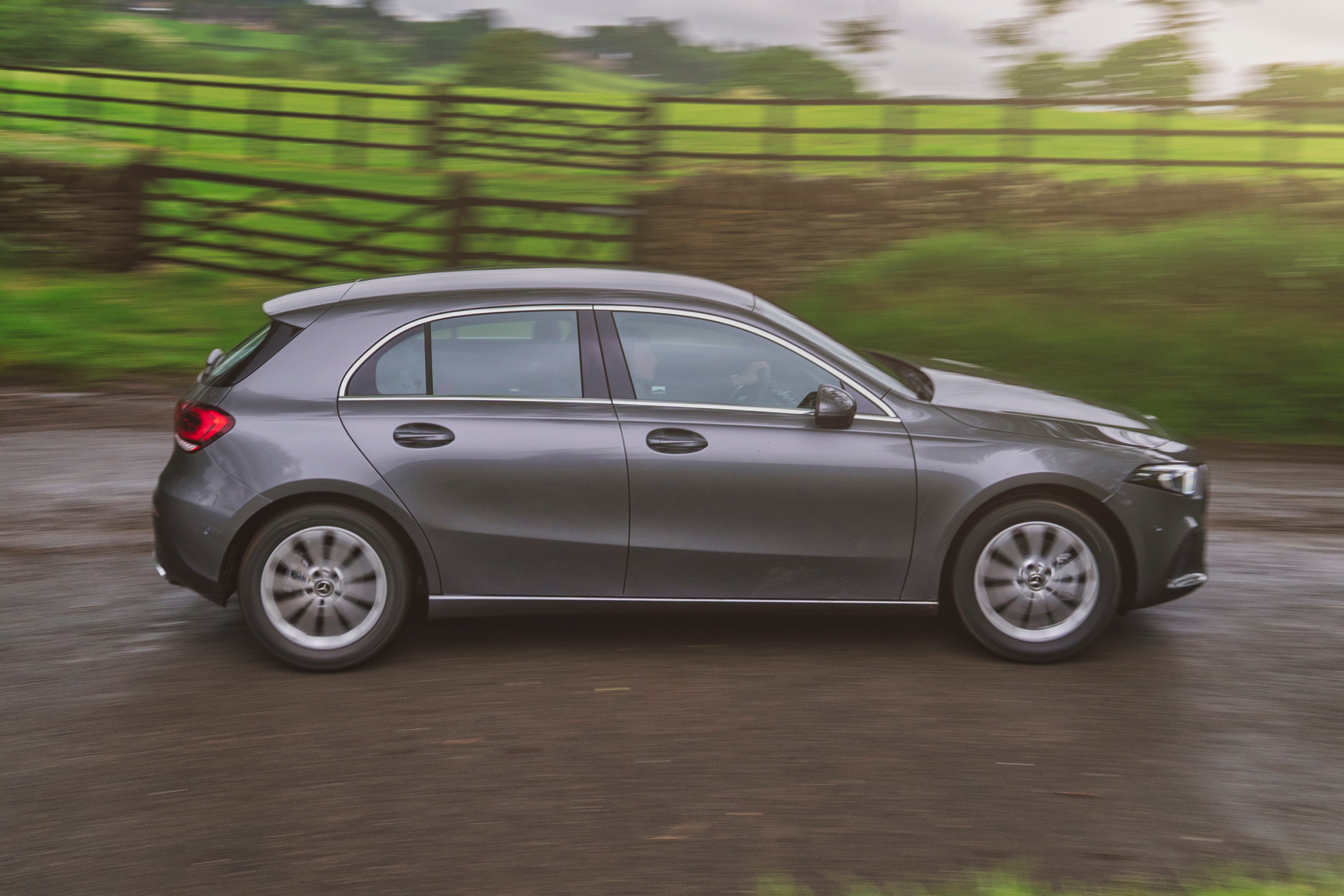 Good luck matching that figure in the real world, though. Spending as much time as possible travelling on electric-only propulsion will maximise your return, but as with many similar systems from other manufacturers, as soon as the petrol engine fires up, your economy will plummet.
Otherwise, the diesels get the best returns, the A180d with a figure of up to 62mpg, while the A200d gets 57mpg and the A220d gets 55mpg. With the petrol, the A180 and A200 both deliver figures of 47mpg, while the A250 does 41mpg. It's worth noting, too, that on the engines where you have the choice of a manual or automatic gearbox, it makes very little difference to your fuel return.
How reliable is the Mercedes-Benz A-Class?
Other than a few reports of of the driver's instrument display going black, we've heard of now common problems with the Mercedes-Benz A-Class.
Mercedes-Benz as a brand has a good reputation for reliability, coming in ninth out of 34 manufacturers in Honest John's latest Satisfaction Index, with a Satisfaction Index Rating of 87.3%. BMW achieved the same rating, while Audi was a little lower at 87.1%.
Insurance groups and costs
If you eliminate the racy AMG models from your thinking, then insurance groupings for the A-Class start at 17 and top-out at 31. However, most versions sit closer to the bottom end of that scale than to the top, so as long as you keep your choice of engine reasonably humble, your insurance premiums should be nice and affordable. You might find our guide the cheapest Mercedes to insure if you're in the market for a car from the famous three-pointed star.
VED car tax: What is the annual road tax on a Mercedes-Benz A-Class?
In their standard forms, all versions (except one) of the Mercedes-Benz A-Class will cost you £150 per year to tax. That's because this generation of A-Class was launched in 2018 after the tax rules had changed to apply a flat rate to all petrol and diesel cars, and as standard no version is pricey enough to tip over the £40,000 threshold that brings a five-year surcharge of £325.
The one exception is the plug-in hybrid version, the Mercedes-Benz A-Class A250e, which gets a discount of a whole ten quid, thanks to its clever hybrid system. However, bear in mind that some versions sail quite close to that £40,000 threshold, and if the original owner added enough optional extras to your car to take it over the edge, you will be liable for the surcharge. Worth a quick online check of your registration before you buy.
How much should you be paying for a used Mercedes-Benz A-Class?
"New A-Classes start at just over £25,000 for the entry-level A180d SE manual, and rise to £37,500 for the A250e AMG Line Premium Plus. The version that we reckon makes most sense, meanwhile, the A180d Sport Executive, checks in at a shade over £28,000."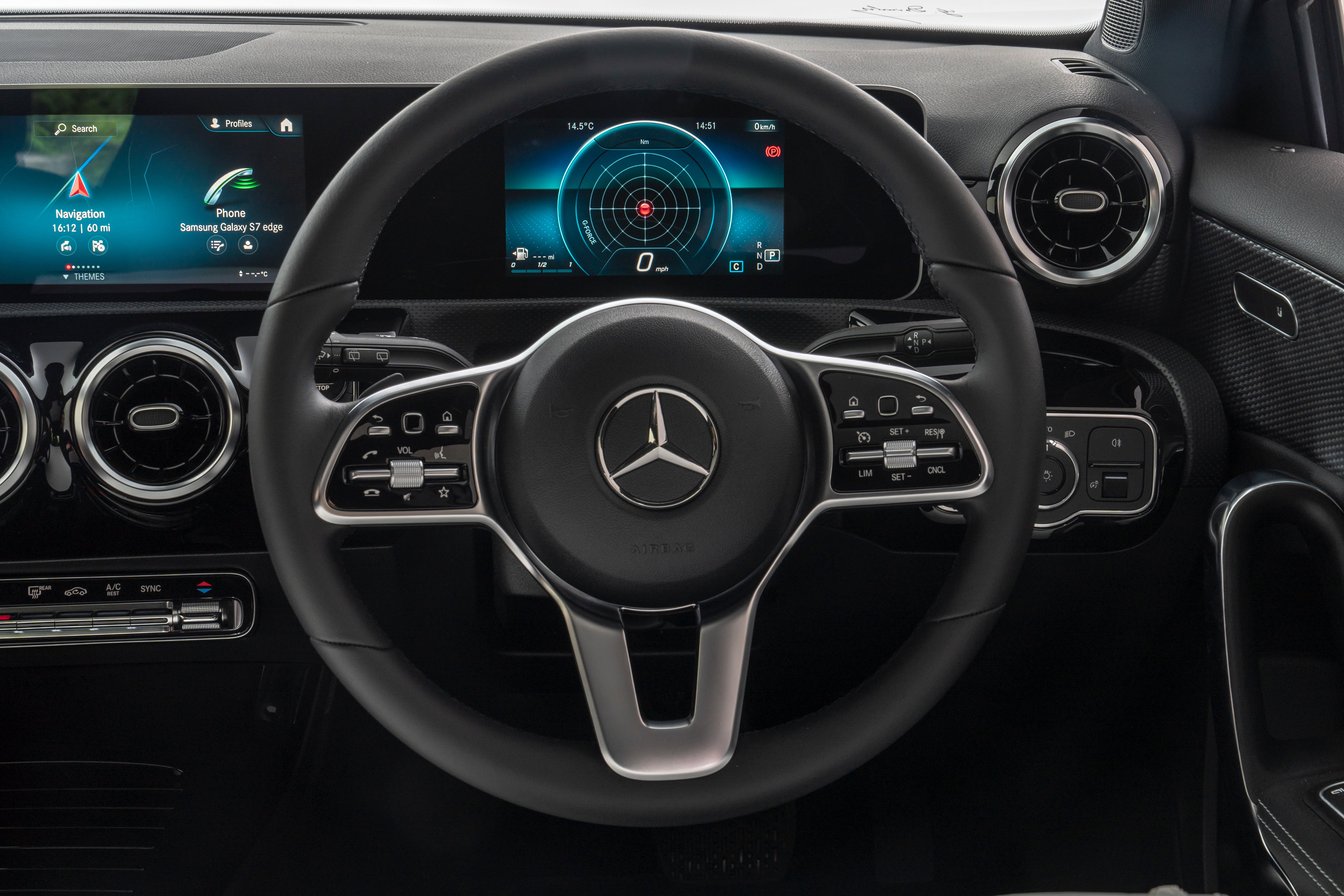 As you might expect, there's very little to pick between the Mercedes-Benz A-Class and its premium rivals on price. All three options will be considerably more expensive than more mainstream hatchbacks, but buyers will be more than prepared for that.
The good news for used car buyers is that the Mercedes-Benz A-Class won't cling onto its value quite so tightly as the Audi A3 or BMW 1 Series, meaning used examples will be that much more affordable, but we're talking fractions here. Check out our listings, and you'll find quite a few early A180d Sport models for below the £18,000 mark.
Trim levels and standard equipment
Mercedes-Benz has a fondness for confusing trim structures, so you might have to bear with us on this one. The entry-level Mercedes-Benz A-Class is the SE and it actually comes with a very good level of standard kit.
Aside from all the infotainment and safety kit mentioned earlier, you get alloy wheels, cruise control, four powered windows, part-leather-effect upholstery, a leather steering wheel, heated front seats, keyless go, a reversing camera and single-zone climate control. Upgrading to Sport trim adds two-zone climate, LED headlamps and a chrome strip actress your radiator grille, but that's about it, although it adds plenty to the car's price.
The Mercedes-Benz A-Class in AMG Line trim adds a more comprehensive range off sporty styling upgrades, along with privacy glass and sports seats. Then there are Sport Executive and AMG Line Executive trims, which take their respective trims and add front- and rear parking sensors and a system that helps steer you into parallel parking spaces, along with upgraded infotainment kit.
The Mercedes-Benz A-Class AMG Line Premium upgrades your infotainment further and adds 64-colour ambient lighting, while the ludicrously named A-Class AMG Line Premium Plus trim adds an electric panoramic roof and electric front seats.
Ask the heycar experts:
common questions
What does 4MATIC mean?
Put simply it's the name that Mercedes-Benz uses to show that a car has all-wheel drive.

What engine size is the Mercedes-Benz A-Class A200?
In petrol form, the A200 is a 1.3-litre, as a diesel the A200d is a 2.0-litre.

Which is the best Mercedes-Benz A-Class?
The entry-level engine, the A180d diesel, is the one to go for. In terms of trim, entry-level SE trim gives you everything you really need, including climate control, cruise control, part-leather upholstery, built-in sat-nav and a clever infotainment system.

Mercedes-Benz A-Class cars for sale on heycar
3,948
Number of cars available
£11K - £57K
Price bracket of these cars
Colours available on heycar
Keep me updated by email with the latest advice, news and offers from heycar
By submitting, you agree to our
privacy policy
.