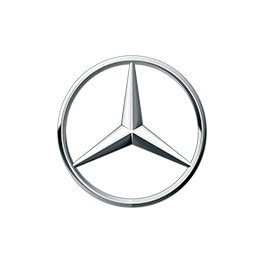 Mercedes-Benz A-Class (2012-2018) Review

Written by
heycar editorial team

heycar rating
Appealing, attractive premium-brand hatchback
Best bits
Sporty styling
Feelgood interior
Economical to run
Not so great
Limited rear-seat space
Pricier than many rivals
BMW 1 Series is better to drive
Read by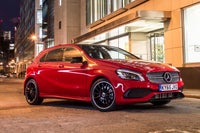 Overall verdict
On the inside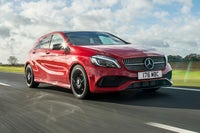 Driving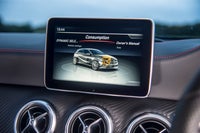 How much does it cost to run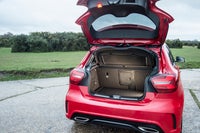 Prices, versions and specification
Overall verdict
"Mercedes-Benz finally hit the premium hatchback bullseye with this generation of A-Class. Even today, it still looks fresh and attractive, and has a coupe-like feel inside, yet is surprisingly affordable to run. It's not the most practical of cars, which will hinder its appeal for some, but otherwise it's hard to find fault with a model that proved to be deserved sales success."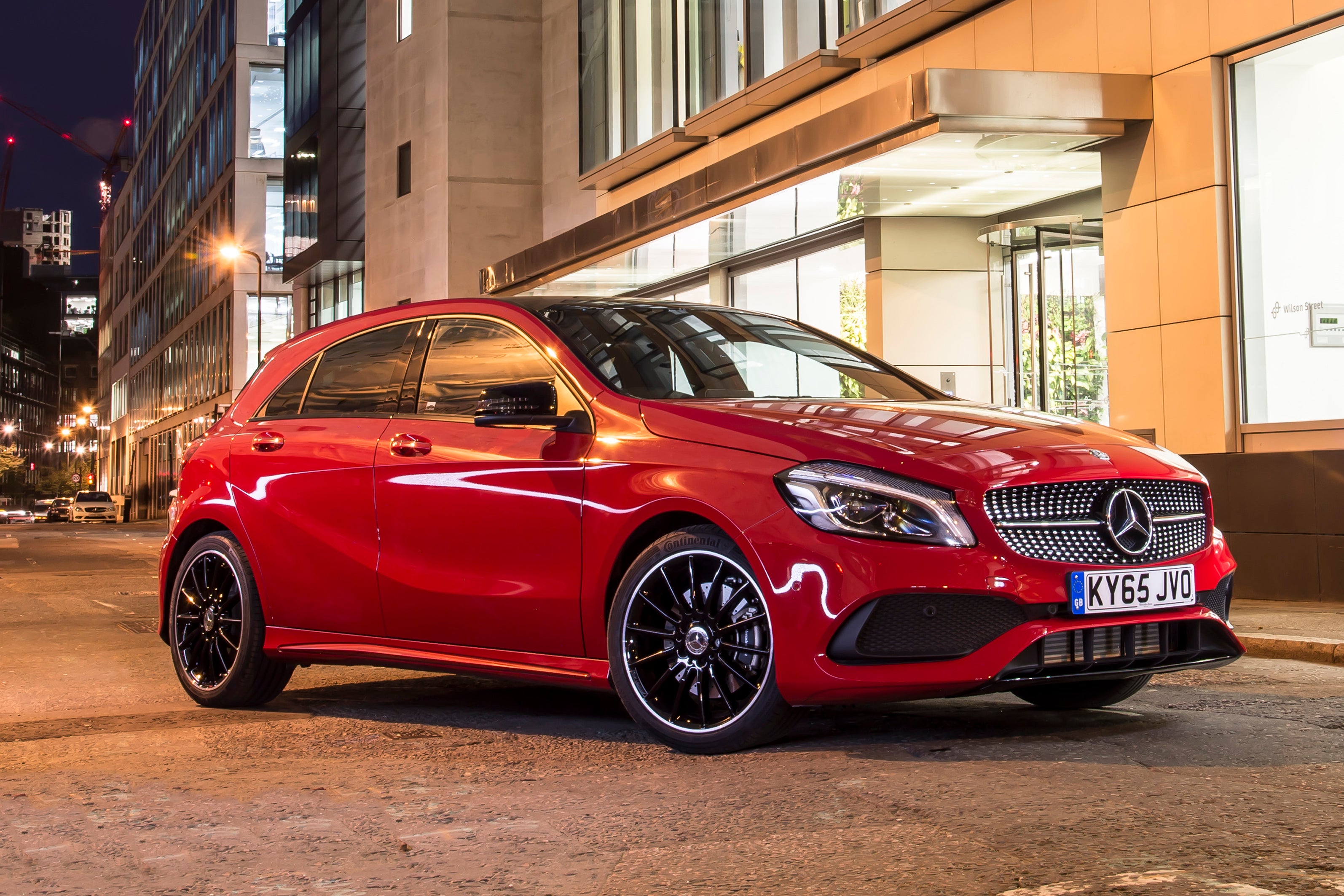 The third-generation A-Class was a breakthrough car for Mercedes-Benz. Launched in 2012, it marked a radical departure from the previous two models, which were more like small people carriers. These had boxy bodies and lots of room inside - clever, but increasingly less appealing to buyers who preferred style over space.
The revised A-Class had style by the bucketload – it still does today, in fact. The squat, sporty stance is very appealing, with great proportions and some bold details. Check out the feature lines on the body sides, the Mercedes-Benz coupe-style grille and the pert rear end.
It feels good inside as well. Gone is the boringly bland set-up of before, and in its place came a dashboard that could come straight from a higher-ranking Mercedes. It looks great, with bold metal air vents, sporty dials, a neat steering wheel and a high-mounted infotainment screen slap-bang in the middle.
It also delivers on the quality front, that inbuilt Mercedes-Benz robustness helping set it apart from more commonplace mainstream alternatives. Where it can't quite measure up is in terms of rear-seat space. In complete contrast to the original two A-Class models, it feels pretty claustrophobic back there, and the door openings aren't very large. At least the boot is a decent size.
Engines are all four-cylinder motors, with a range of petrol and diesel options. The entry-level ones aren't very powerful, and it took Mercedes a few years to explore the sort of potency BMW offers in its 1 Series rival. Later Mercedes-AMG variants rectified that, and how! The A 45 AMG is genuinely explosive and quickly gained a cult following.
The A-Class handles in a neat and tidy way – again, much better than the top-heavy original cars (remember how the very first A-Class toppled over in the infamous 'elk test' in the 1990s?). The low-slung chassis is stable and safe, and models with bigger wheels offer a lot of grip.
The front-wheel-drive set-up isn't as engaging as a rear-driven BMW 1 Series, though, and arguably isn't as much fun as something like a Ford Focus. Ride quality is also pretty firm, and you pay for the grip of models with bigger wheels with a crashier feel.
In 2015, the A-Class was facelifted, with jewel-like headlights, new engines and a comprehensive update for the infotainment system. An enlarged screen of up to 8.0 inches was now available, making the interior even more appealing and stylish. And that A 45 AMG version was launched, its monstrous 381PS fed through a 4Matic all-wheel-drive system.
The new Mercedes-Benz A-Class arrived in 2018 to continue the successful formula established here. Its predecessor remains a very appealing buy – to some eyes, it's actually a better-looking car. And with second-hand prices now starting from less than £10,000, now is the time to bag a bargain.
If you're looking for the newer version, you need our Mercedes A-Class (2018-) review.
Comfort and design
"The Mercedes-Benz A-Class feels great to sit in. It doesn't just look like a quasi-coupe from the outside, it feels like one inside as well. The seats are mounted nice and low, and they feel chunky and bolstered even in basic guise. SE models and above get even more appealing sports seats."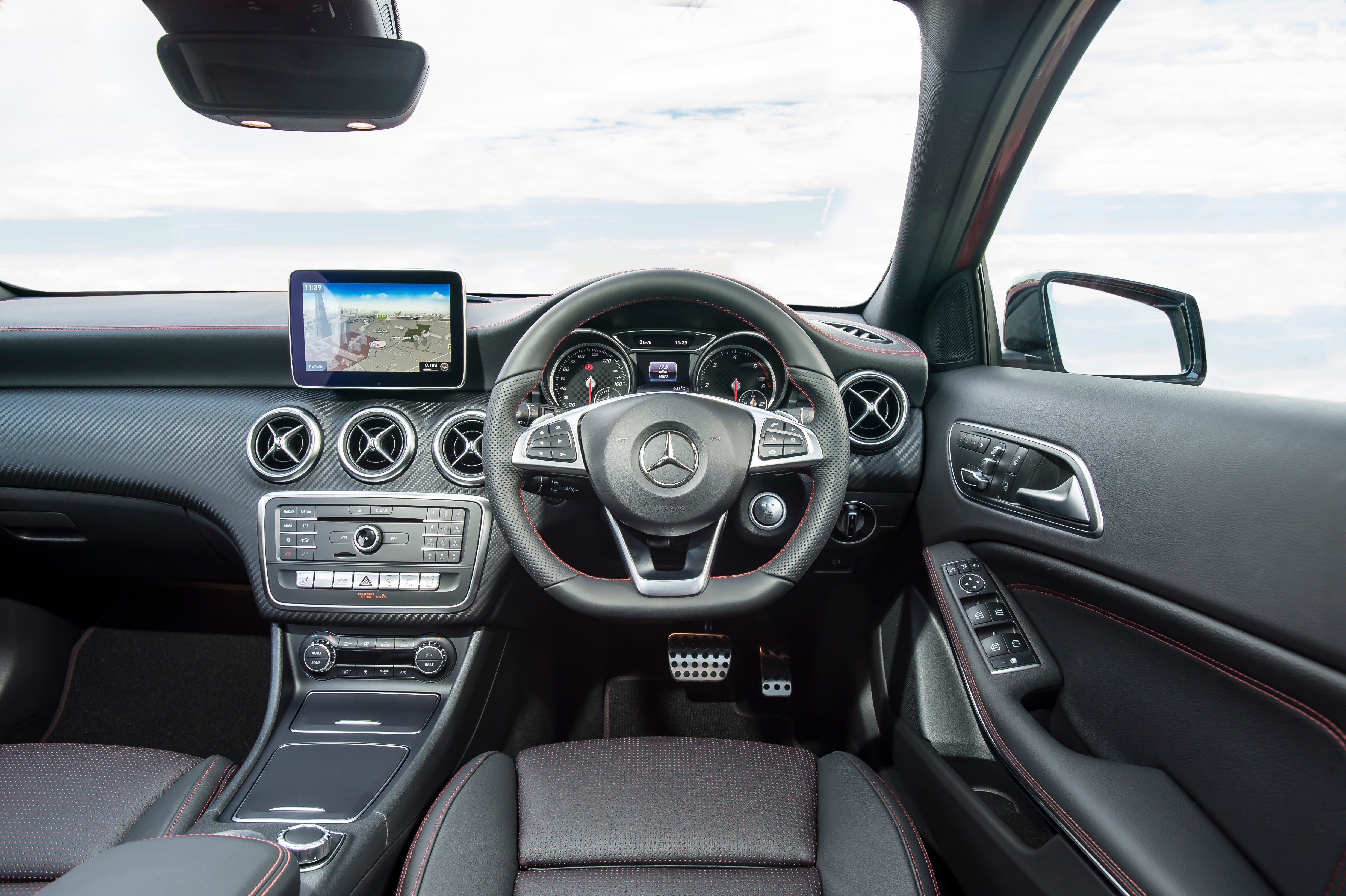 The overall design is superb. The meaty steering wheels are good to hold – the flat-bottomed wheel in AMG Sport and 'Engineered by AMG' models is terrific – and we love the watch-like round instruments, which are clear and easy to read. There's a big screen in the middle displaying trip computer details and other information.
Mercedes-Benz' single column stalk takes a bit of getting used to, though – instead of separate stalks for indicators and windscreen wipers, it's all built into one twist-and-flick item on the left-hand side. Automatic models have a stalk on the right-hand side for changing gear.
You get a modern-looking freestanding infotainment screen on all models, with those cool air vents positioned below. The stereo panel is a bit more dated, as it's packed with buttons, and the heater controls are buried at the base of the dashboard. Still, it's a bold design that's easy to understand, and one that frees up a good amount of space for stowage.
Handling and ride quality
"In complete contrast to the original A-Class, Mercedes-Benz focused on making this generation a much sportier and livelier machine to drive. The objective was to support the bold styling with a similarly enthusiastic feel from the front-wheel-drive chassis. It was only partly successful in achieving this."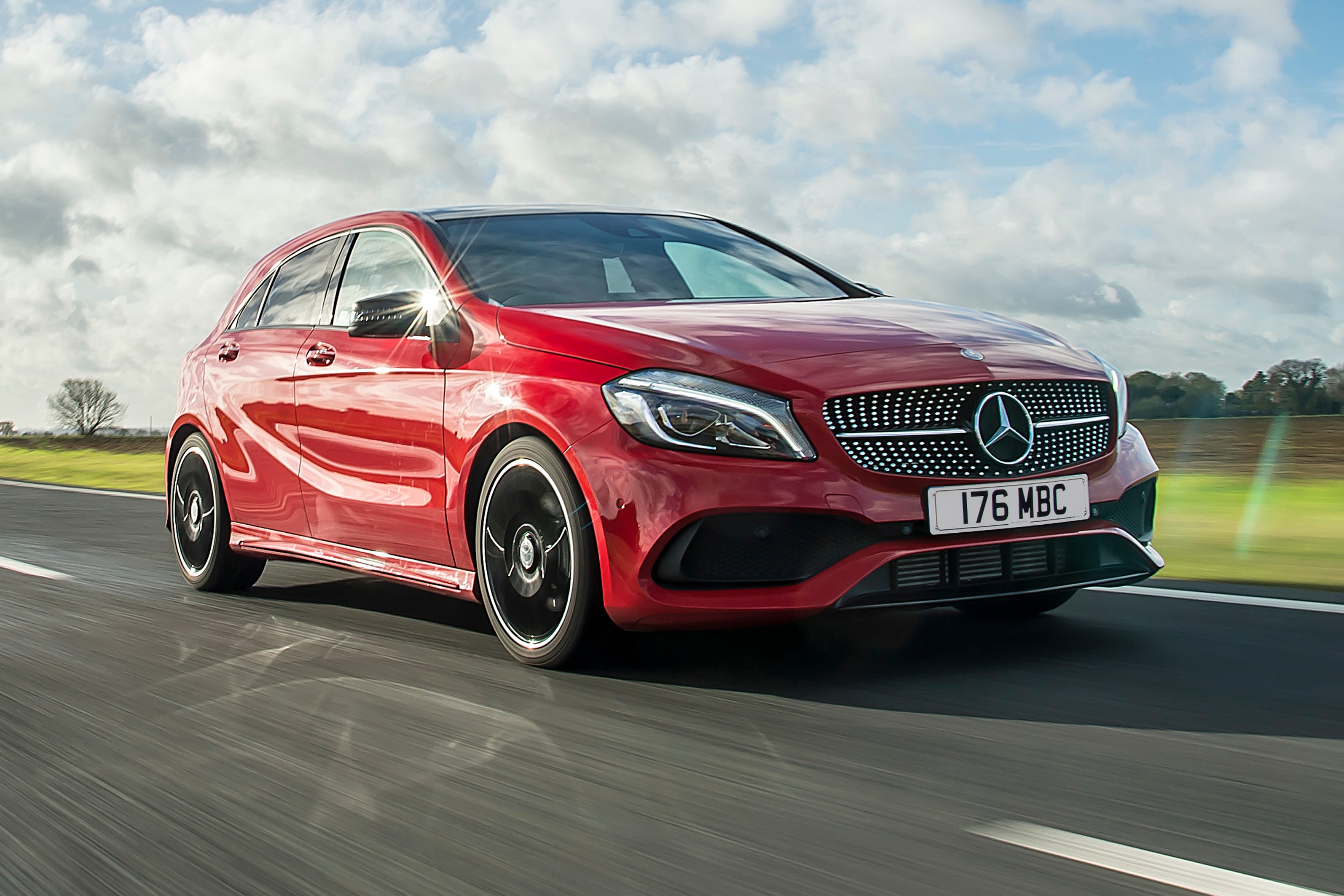 Certainly, the A-Class has a lot of immediate appeal. Its steering is quick, and it feels nimble and keen to respond. Even regular models which run on 'comfort' suspension seem agile and surprisingly roll-free, making them more engaging and interactive than an Audi A3 or Volkswagen Golf.
However, the A-Class doesn't have the purity of a rear-wheel-drive BMW 1 Series, and actual feel, feedback and sophistication are lacking. Yet it was still a surprise given what went before, and things can be notched up a stage further on AMG Sport versions, which have firmer sport suspension, clever selective damping and retuned power steering. They are more fun on a snaking road, with the sort of reactions you wouldn't expect from a luxurious Mercedes-Benz.
There is rather a stark pay-off for this, though: ride quality. Even models on 'comfort' suspension don't feel worthy of the term. All cars have a firm, unsettled ride, and will regularly bang into bumps – something accentuated on cars with larger alloy wheels. These can become positively harsh, to a degree that's hard to ignore – and is something else you wouldn't necessarily expect.
Lowered AMG Sport and even-more-lowered Engineered by AMG models, you'd suspect, would be the worst of all. However, they're not quite as bad as some lesser versions, because of their more sophisticated suspension components, Yes, they have big alloy wheels, and yes, they are undoubtedly stiff. But the suspension seems to have a bit more bandwidth to keep the very worst of the harshness at bay. Instead, be wary of Sport-grade versions running on larger 17-inch or 18-inch wheels. And be sure to take a test-drive to make sure you're happy with the ride quality.
A few versions come in 4Matic all-wheel-drive guise. If you want a guarantee of all-weather traction, it's worth looking out for these, although 4WD is only offered with higher-spec engines.
MPG and fuel costs
"There are some very fuel-efficient engine options within the A-Class range. The early A 180 petrol was offered in a special low-drag BlueEfficiency version, which averages 51.4mpg. A special eco version of the A 180 CDI can manage 78.5mpg and a regular manual A 180 CDI cracks 70mpg (autos are less economical, averaging 65-68mpg)."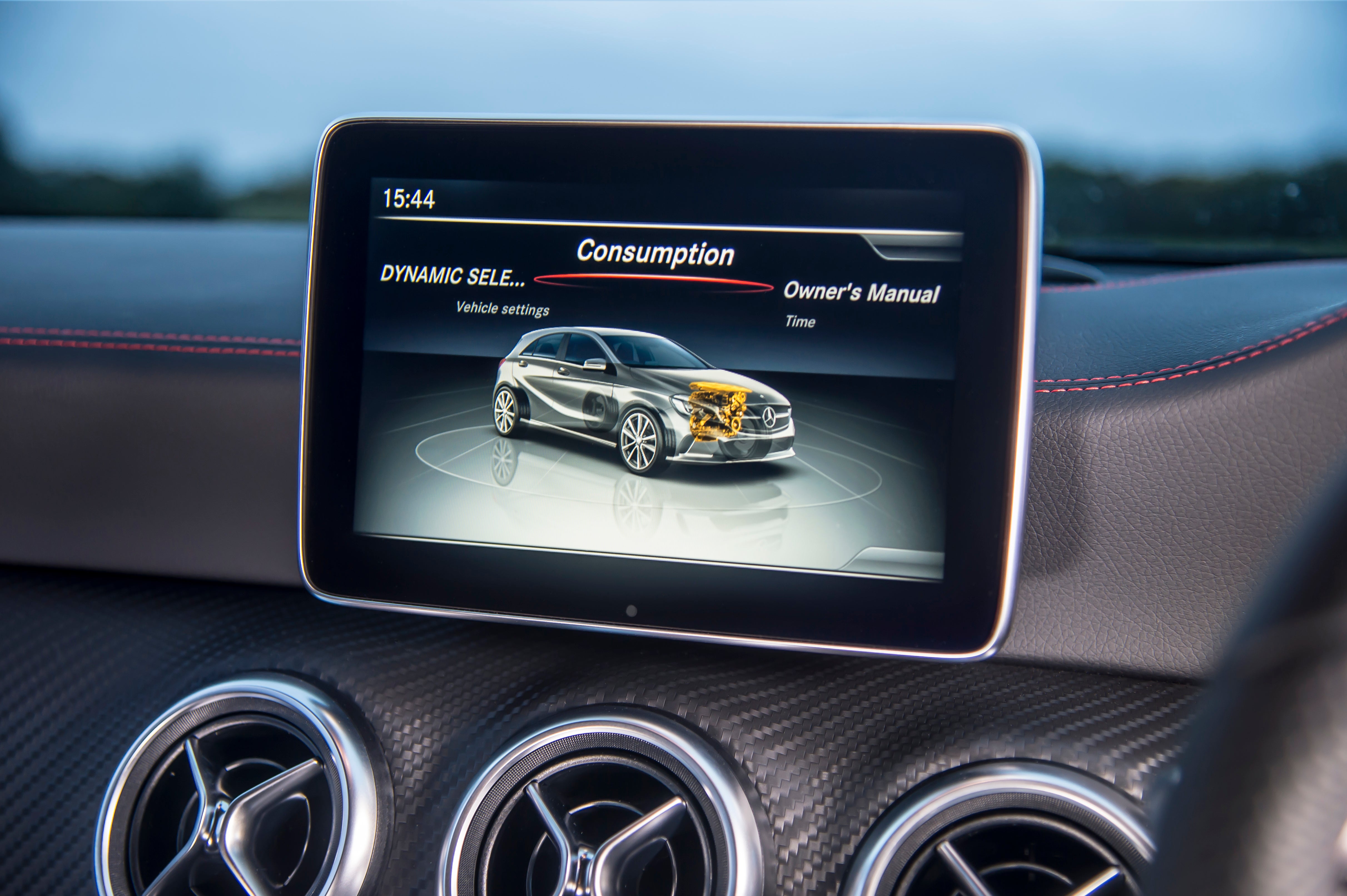 A 200 CDI models all return more than 60mpg, while the faster A 200 petrol can just about hit 50mpg. Thirstiest of the pre-facelift cars is the A 250, but we don't think 47.1mpg is too bad given its 211PS output.
Economy took another leap when facelifted cars arrived. Now, the A 180 d could return as much as 80.7mpg, and even the autos can manage 76mpg. The A 160 averages 54mpg in automatic guise, and the A 200 almost matches it with 52mpg from the auto. Unusually, A 250 models actually became less fuel-efficient.
How much should you be paying for a used Mercedes-Benz A-Class?
"If you don't mind higher-mileage motoring, it's now possible to buy a 2013 A-Class from around £9000. These cars will largely be diesel versions, most likely the A 180 CDI, with a good spread of Sport grade (more desirable than the also-seen SE). "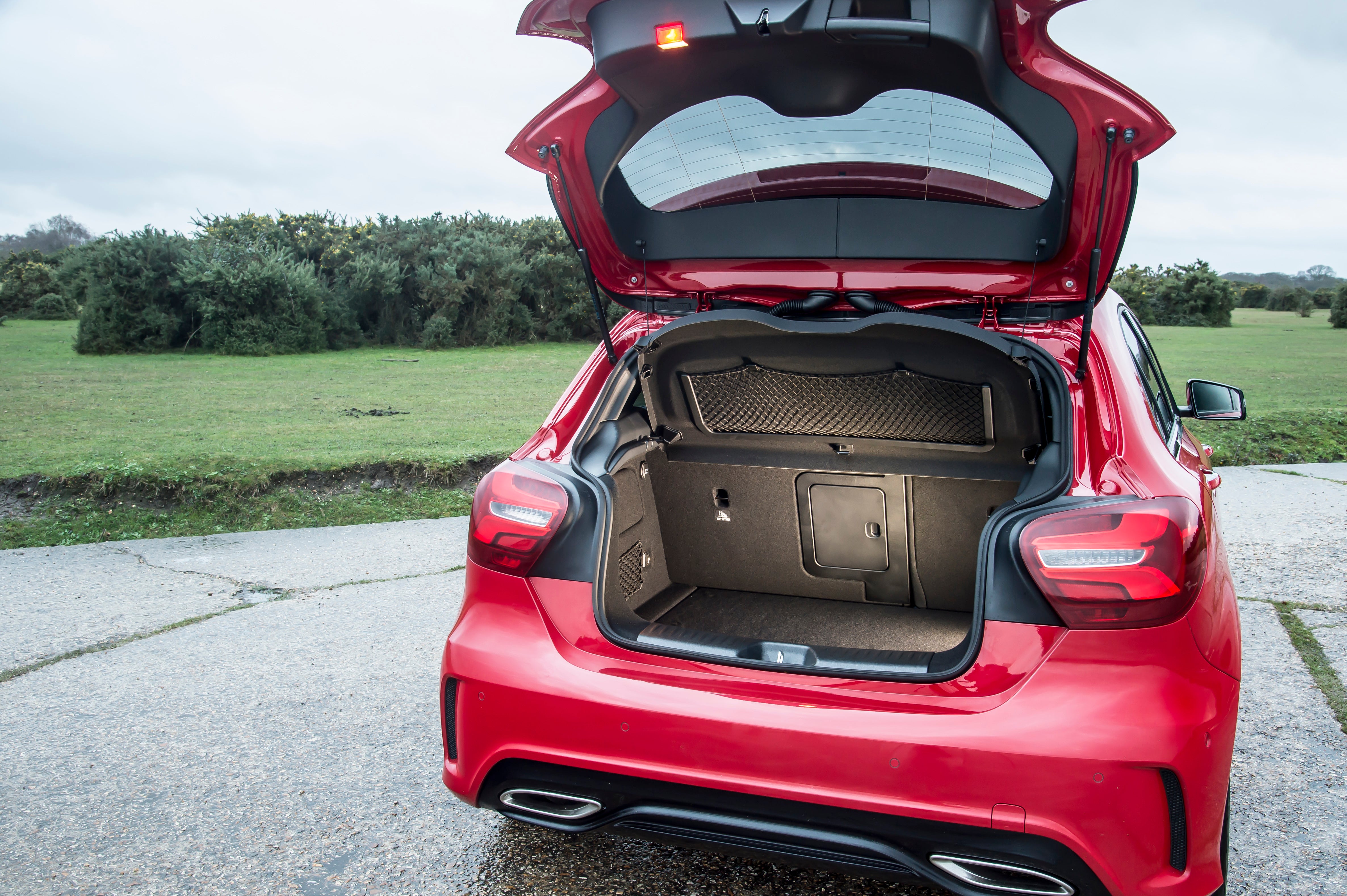 If you can find just £1000 more, there's a wider selection of cars, with 2014 models within reach. Mileages become more palatable, too, with around 50,000 on the clock a common sight.
AMG Sport variants are rare for much less than £12,000, and you'll need a five-figure budget to buy a more powerful A 200 CDI (remember, the A 180 CDI is a bit on the slow side). Facelifted cars start from around £13,000-£14,000 – you'll spot the diesels because 'CDI' changed to simple 'd' badging on the tailgate, and these cars have both a larger, better touchscreen and more silver detailing for the interior trim.
The most outstanding bargain of the range, for those who can afford it, is the A 45 AMG. Prices are now down to around £20,000 for the first 2014 cars. That's a tremendous amount of performance for the money.
Is the Mercedes-Benz A-Class right for you?
If you want a head-turning hatchback wearing the Mercedes-Benz three-pointed star, it's hard to deny the appeal of the A-Class. It's a refreshing alternative to a more humdrum hatch from a mainstream brand, because it looks so good on the outside and feels so special inside.
It's pretty economical to run, too. The engines don't use too much fuel and insurance ratings start from a relatively low group 13 – much cheaper than a larger Merc. It is set to enjoy continued strong resale values, and there are lots of Mercedes-Benz specialists out there to help keep maintenance costs in check.
If you regularly need to carry rear-seat passengers, however, it isn't the best choice. It's not as practical as something like a Volkswagen Golf, and nowhere near as roomy as the original A-Class. Mercedes-Benz does have an answer, though: check out the B-Class instead.
What's the best Mercedes-Benz A-Class model/engine to choose?
Because it has such a sporty design, even base-spec versions of the A-Class look good. It won't be all that obvious you're driving the entry-level version either. Equipment levels are pretty good across the range. We like the sportier appearance of Sport models – and can't help but find the racier AMG Sport version very alluring (albeit pricier to buy).
Engines are fine: A 180 petrol and diesel, A 200 petrol and diesel, A 220 diesel and A 250 petrol. Later on, a more economical A 160 petrol arrived, although performance is pretty weedy. We'd stick with the A 180 for best value, stepping up to the A 200 versions for better performance.
The A 250 turbo is a lot of fun and the A 45 AMG is brilliantly entertaining – although you'll pay for it, particularly with the highly sought-after A 45. A quick test drive will soon reveal why.
What other cars are similar to the Mercedes-Benz A-Class?
This generation of A-Class belatedly enabled Mercedes-Benz to offer a genuine challenger to two other direct rivals: the BMW 1 Series and Audi A3. Both had been cleaning up in terms of sales for years, and this A-Class provided some long-overdue competition.
Those who don't want to spend on a premium brand can find a similar experience in the slightly more affordable Volkswagen Golf. The Volvo V40 was also a contemporary alternative, although production has since stopped and the firm hasn't (yet) replaced it.
For maximum value for money, try a mainstream brand – the Ford Focus is brilliant to drive, the Toyota Auris is boring but ultra-reliable, the Honda Civic is also ultra-reliable but a bit more interesting, and the SEAT Leon offers a sporty look for thousands less than the Merc. There's a wildcard if you're feeling particularly brave, too: the Alfa Romeo Giulietta.
Quality and finish
You can feel the Mercedes-Benz quality throughout the interior. There's a robustness you don't necessarily find in a mainstream model – it feels like the quality of larger Mercs such as the E-Class has transferred down.
The plastics aren't necessarily overly indulgent. They're soft-touch where they need to be, but Mercedes-Benz doesn't go to the level of obsessively fine finish that, say, Audi does in the A3 and A3 Sportback. It doesn't feel cheap, though, and everything has a proper sense of built-to-last solidity. This is particularly good news for second-hand car buyers, who will certainly notice the solid sense of substance within the A-Class.
As you move up through the range, it gets posher and more standout, thanks to some really interesting trim inlays – you can even get carbon fibre-style plastic for the dashboard, which looks really convincing. The glow of the backlit instruments at night is attractive, giving the same vibe that drivers of larger models, such as the C-Class, also enjoy.
Pick an AMG Sport version and the seat upholstery is terrific, feeling just like a genuine AMG model. It's the same in the A 45 AMG itself, with more than a passing resemblance to the finish you get in the Mercedes-AMG GT supercar.
Infotainment
All Mercedes-Benz A-Class models come with a colour infotainment screen on top of the dashboard. It's operated not via touch, but through a centrally-located controller next to the cupholders. It's a neat set-up, using the same menu structure as larger models. Owners can boast they are using essentially the same system as a Mercedes-Benz S-Class.
Sat-nav was optional and is a nice addition worth looking out for – particularly as the system didn't offer any form of Apple CarPlay or Android Auto integration. With the 2015 facelift, the infotainment systems were improved. Now, Apple CarPlay was built in, making the lack of sat-nav a less glaring omission. MirrorLink functionality enabled other smartphone users to control their devices through the screen.
The touchscreen itself grew in size and resolution for the facelift, with nicely animated display screens and improved telematics. The higher-grade system now had an 8.0-inch screen, giving it a more modern appearance than the basic set-up. By today's standards, the latter looks a bit malnourished and low-res.
Space and practicality
In the front, good space for the driver and passenger has been prioritised. Typically for a Mercedes-Benz, the seats have a tremendous amount of fore-aft adjustment, so people of all shapes and sizes should be able to find a comfortable driving position. Naturally, the steering wheel adjusts across a wide range for rake and reach.
The seats are mounted low, which adds to the sporty feel, but they are height-adjustable, so shorter drivers aren't at risk of not being able to see out. Forward visibility is OK, but that sporty rear end does restrict the view for reversing: the rear pillars are thick and the screen is shallow. Park assist was optional, although all versions from SE grade upwards got a reverse parking camera, which makes life a lot easier.
In the rear, things are tighter. The coupe-like curving roofline means you have to duck to get in and out, and this also restricts the view through the side windows. The front seats can also block the view out and the dark trim makes it feel even more claustrophobic. There isn't as much space as an Audi A3 Sportback, with tight headroom and legroom for taller people. It's not as cramped as a BMW 1 Series, but it's still a bit of a squeeze.
The boot is better. The claimed capacity of 341 litres doesn't sound great, but the space itself is very useful, with ample width and depth. You can make the most of what space is on offer. Fold the rear seats and the boot space extends to 1157 litres – again, a little way off the class best, but handy enough (and still a lot more practical than the BMW). Our biggest criticism is a load aperture that's rather on the narrow side.
Mercedes-Benz doesn't fit a spare wheel, instead offering a tyre repair kit. There are Isofix mountings for child car seats on the rear seats, but that plunging roof will make it trickier to get kids in and out.
Engines and gearboxes
The volume petrol engines are reasonable performers. The A 180 has a 122PS motor and does 0-62mph in just over nine seconds, which the 156PS A 200 cuts to less than 8.5 seconds. Fastest in the launch range was the A 250, which hits 62mph in 6.5 seconds. It has an automatic gearbox as standard, which is optional on other versions. Cheaper models were usually manuals, but we prefer the auto (it's a seven-speed DCT).
The base A 180 diesel is slow. With just 109PS, 0-62mph takes well over 11 seconds, which is a bit embarrassing for a car that looks this sporty. You're better off with the A 200 CDI: power still isn't great, at 136PS, but it can at least accelerate to 62mph in less than 10 seconds. The A 220 CDI needs just over eight seconds, courtesy of its 156PS.
Engines were improved following the 2015 facelift. The A 180 d was now a 1.5-litre (sourced from tech partner Renault-Nissan), barely any faster but quieter and more economical. Both A 180 and A 200 models got a turbocharged 1.6-litre with improved acceleration, while the 2.0-litre turbo petrol in the A 250 was even faster. The A 45 AMG is ferocious, with 381PS and 4Matic all-wheel drive accelerating it to 62mph in just 4.2 seconds. That's Porsche levels of performance in a five-door family hatchback.
In complete contrast, avoid anything badged A 160. The A 160 d might be cheap and economical, but it has a mere 90PS and really doesn't deliver a true Mercedes-Benz experience. The same goes for the A 160 petrol, which has a measly 102PS and doesn't even have diesel-like torque to back it up.
Refinement and noise levels
The A-Class is a bit on the noisy side for a premium car. It's not as smooth-running as an Audi A3, for example. Partly, this is due to the car's sporty focus. There's more road roar from the tyres, and at motorway speeds, it's generally a little louder than the best in this class. Mercedes-Benz didn't feel the need to chase peerless executive-level refinement here.
Firmer suspension brings with it more bump and thump from the road surface. If you frequently drive across rough roads, you might find it too much on the 'sporty' side in terms of refinement and comfort.
The A 45 AMG engine sounds tremendous, with a super-smooth rotary-like nature and plenty of exhaust burble and howl. It's just what enthusiast drivers want from such a car. Lesser engines are less aurally appealing, though. The petrol motors are a bit bland and can get thrashy when revved, while the diesels are gruffer than those from BMW.
At least the car's decent aerodynamics help keep wind noise relatively low when travelling at speed, although the rumble from the road surface and tyres does a good job of drowning it out anyway.
Safety equipment
This generation of Mercedes-Benz A-Class was awarded a full five-star safety rating by Euro NCAP in 2012. It scored 93% for adult occupant protection, 81% for child safety, 86% for safety assist and 67% for pedestrian protection.
All models have front, side and curtain airbags, plus a driver's knee airbag. There's a seatbelt reminder for all five seats, electronic stability control and an optional speed limiter. Impressively, all A-Class also come with a driver attention assist system, which detects the onset of drowsiness and sounds a warning chime to suggest a break. A little coffee cup icon even illuminates in the information display.
Another worthy standard feature is collision-prevention assist, which can automatically brake at slower speeds to avoid an accident. It works for both cars and pedestrians and is a potential life-saver highly praised by Euro NCAP. Standard hill-start assist is a useful everyday safety feature, stopping the car from rolling backwards on hills. This helps overcome the fiddly handbrake, too.
Insurance groups and costs
The cheapest A-Class to insure is the A 160, influenced perhaps by its complete dearth of power and performance. It comes in at insurance group 13, but we'd recommend you look for an SE-grade A 180 d instead, which is also group 13 (earlier A 180 CDIs start from group 15). The A 180 is in insurance group 18.
Faster models will be more expensive to insure. The A 200 AMG Sport is group 24, the A 220 CDI is group 25 and the A 250 jumps right up into group 33. This actually makes the A 45 AMG seem pretty reasonable at group 36, given the massive leap in performance it offers.
VED car tax
The A 180 CDI's low CO2 emissions of less than 110g/km mean it costs a measly £20 a year to tax. Opt for one of the Eco models, and sub-100g/km CO2 mean free VED car tax. It's a similar story for the A 180 d that succeeded it – and the A 200 d is slightly cheaper to tax than the A 200 CDI.
The A 180 petrol costs £150 a year as a manual and £125 a year as an auto. The A 200 is no more expensive, though - it's the A 250 that jumps up to £205 a year, although the 4Matic version doesn't go any higher.
Trim levels and standard equipment
The Mercedes-Benz A-Class has a generous amount of standard equipment that reflects its premium image. All versions have engine stop-start, air-con, auto headlights, Bluetooth and USB, daytime running lights and a multi-function steering wheel.
SE grade adds 16-inch alloys, flashier air vents, sports seats and Mercedes' artificial leather trim on the sides of the seats.
Sport brings cruise control with a speed limiter, automatic wipers and 17-inch alloys, while AMG Sport brings 18-inch wheels, an AMG bodykit, sport suspension and more extensive fake leather for the interior, including red stitching.
Engineered by AMG versions have a diamond radiator grille, xenon headlights and LED tail lights. Suspension was also lowered further.
Learn more
On the inside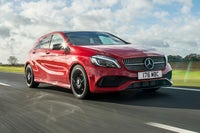 Driving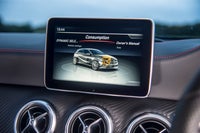 How much does it cost to run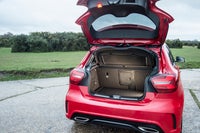 Prices, versions and specification
Reviews of similar cars
Quality checked, all cars less than 8 years old and warranty included
Looking for other Mercedes-Benz cars?
Quality checked, all cars less than 8 years old and warranty included