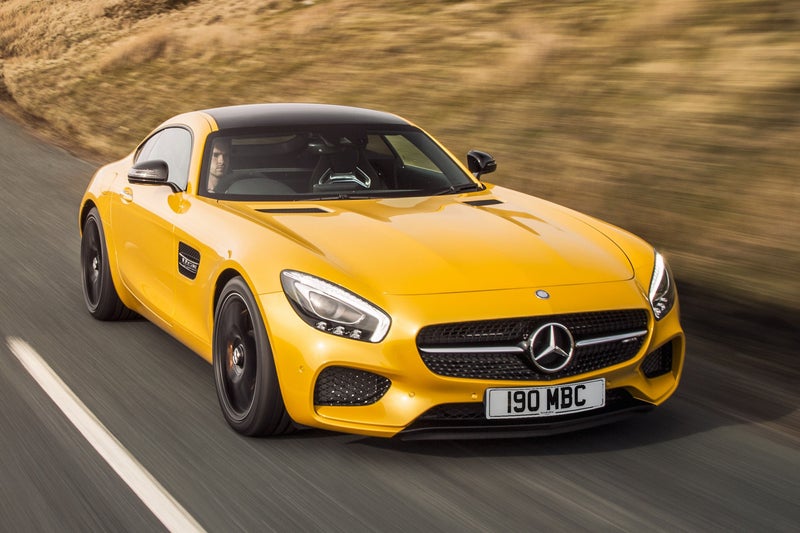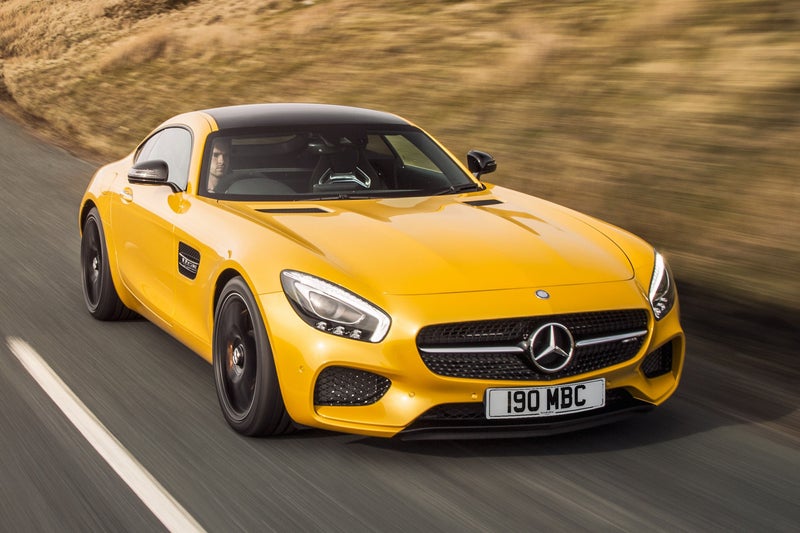 1/10
heycar rating
"Brawny, muscular AMG sports car "
Launched: 2014

Performance

Petrol
Quick overview
Pros
Incredible engine offers big performance and rousing sounds
It looks absolutely sensational, and it's not a, yawn, Porsche 911
It might not be as impressive to drive as its competition, but it will certainly leave an impression
Cons
Not as sharp to drive as its very impressive rivals
The interior is fussily laid out and some of the materials feel cheap for such an expensive car
That interior isn't just fussy, it's pretty cramped, too
Overall verdict
On the inside
Driving
Cost to run
Prices and Specs
Overall verdict
"A muscular sports car that's rippling with emotive appeal, the AMG GT looks great, sounds sensational but is let down slightly by a haphazard and cramped interior and a drive that, while entertaining, just isn't able to offer quite the polish of many of its rivals. An entry-level GT is worthwhile, but it gets more difficult a purchase to justify the more you spend. Buy a GT Coupe Edition 476 and you'll love it, spend more and you might just end up regretting it..."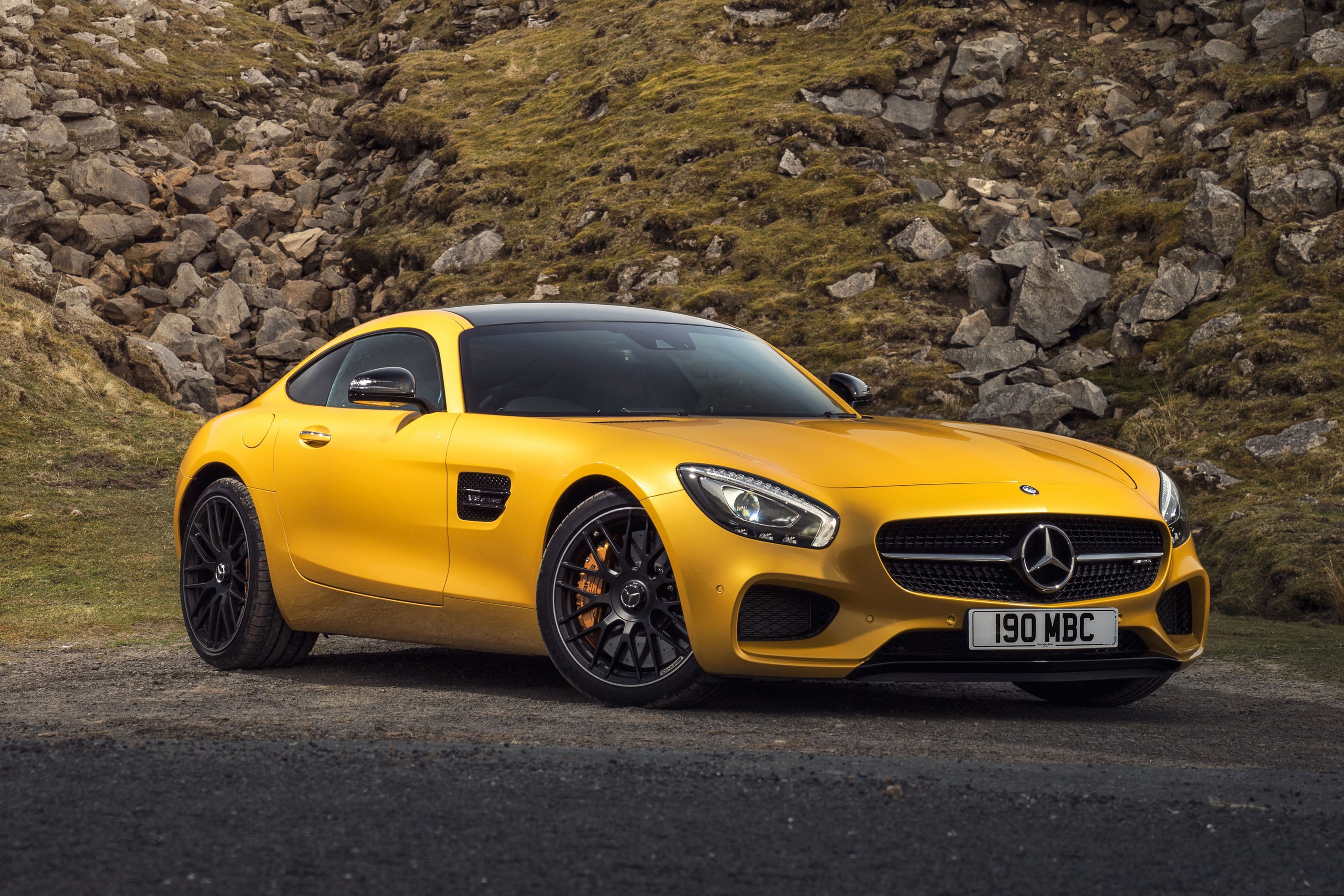 "Mercedes-Benz is a curious premium brand, at one end of its wide spectrum it makes trucks, vans and buses, and at the completely opposite end there's cars like its two-seat sports car, the GT. Technically it's a Mercedes-AMG GT, but as the slightly unhinged AMG performance division comes under the huge Mercedes-Benz umbrella, we'll not worry about business semantics here. The GT muscled into the range in 2014, where it replaced the SLS.
The GT follows the SLS here, it's not a modified Mercedes-Benz, but a standalone model in the Mercedes-AMG line-up. It's cheaper than the car it replaced, AMG sensibly pushing it down the price spectrum, to open it up to a wider audience to compete better with cars like the Porsche 911 and Audi R8. That's cheaper, as in still a few pounds shy of £100,000 for the AMG GT Coupe Edition 476, which is the entry-point to AMG GT ownership. Take a, wild, ride up the range and you could spend double that.
Introduced as a coupe in 2014 in GT 462 PS form and GTS 510PS guises, AMG took a while to get around to taking the roof off it, but a Roadster version did follow in 2017.
Unlike the SLS before it, with its cool gullwing doors, the AMG GT and its Roadster alternative make do with conventionally opening doors, but the GT does follow the front mid-engined format of that SLS. AMG does also sell a 'four-door coupe' under the GT badge, but that's like Porsche claiming its Panamera is a 911, so if you're looking for that AMG GT, you'll want to read our review on that instead.
The engine is positioned far back under the bonnet, indeed, pretty much in the middle of the car. The compact, but powerful 4.0-litre V8 features a pair of turbos which nestle within the channel between the V8's cylinders in what Mercedes-AMG dub a 'hot V'.
That has a number of advantages for not just performance, but emissions and economy, that are way too detailed to get into here. Key thing is, it's a sensational engine, indeed, it's so good Aston Martin came knocking at AMG's door when it needed power for its Vantage and DB11 models. Like all AMG engines, each GT's V8 is hand assembled on AMG's production line in its Affalterbach home town, lifting the bonnet and reading the plaque underneath highlighting which technician did it for you.
Being turbocharged, it's not too difficult for AMG to coax more power from it, and being Mercedes-Benz, it's created a range of models to justify that. At the entry point is the GT Coupe Edition 476, that 476 relating to its output in PS, the GT C Coupe above that ups the output to 557PS, and if that's still not enough there's a pair of track focussed models with 585PS, these being the GT R and GT R Pro.
The Roadster choice isn't quite so expansive, with just two models offered, the GT C Roadster with the same 557PS of its identically named coupe, and the GT R Roadster, again with power matching its closest relation. All offer huge performance, sensational sounds from the V8 and while they're not as precise as some to drive, their brawnier nature giving them a unique, not unappealing character that's pleasingly different from the sports car norm.
Is the Mercedes-AMG GT right for you?
It's difficult to argue against if you've read this far. AMG's take on a sports car is a little bit different to that of some rivals. The name might say GT, but it's definitely more sports car than big cruiser, but similarly, it's not as precise and engaging as the best of its sports car competition. Mercedes-Benz has never really stuck to convention when placing models, its SL a classic example, and the Mercedes-AMG carves its own, not unsuccessful path, through everyone's concept of a sports car.
It's difficult to question with the result, either; a big, characterful V8 powering the rear wheels via a paddle-shifted 7-speed automatic transmission, that looks sensational and sounds phenomenal. It makes more sense at the lower end of the line up, the GT R and GT R Pro too close to more talented rivals to really make sense, but AMG's a brand with broad appeal, and its flagship sports car is well worth considering.
What's the best Mercedes-AMG GT model/engine to choose?
The AMG GT struggles to justify its place among competition as you climb up the range, but at its entry-point it's definitely a compelling choice. We'd not feel short changed driving out of an AMG dealership with that GT Coupe Edition 476, indeed, compared with the GT C above it and the GT R it looks like something of a bargain. Its 476PS version of AMG's V8 allows it a 0-62mph time of 4.0 seconds and a top speed of 189mph, the 557PS GT C above it only 0.3 seconds quicker on that sprint and gaining 8mph to its top speed.
The £40,000 you've saved in your pocket from buying that Edition 476 will quickly salve any regret you might have as a GT C pulls slowly away from you on the Autobahn in Germany, and you'll still stand out from the crowd of ubiquitous Porsche 911s with the Edition 476's slightly, we're talking millimetres here, narrower body than the more powerful models. If you want a Roadster it's GT C only, as there's no Edition 476 version, making it a bit trickier to recommend.
What other cars are similar to the Mercedes-AMG GT?
There is the obvious Porsche 911, indeed, pick any sports car and Porsche has a compelling answer. Thing is, if you're even considering the AMG GT then you'll likely have owned one or two of them, and fancy a change, or just don't want another or to follow the norm.
Other potential rivals include Audi's R8, the McLaren 540 C, 570 S and even the 600LT topping out against that GT R Pro. The 600LT makes that GT R Pro look a bit heavy handed and blunt. You could buy an Aston Martin Vantage, too, it way more appealing than the upper models in the GT line-up, if significantly more than those at the entry-level point. That's true of Ferrari's offerings, too.
Comfort and design
"You'll have other cars offering more overall comfort, but the AMG GT isn't entirely lacking if you take into account its performance potential."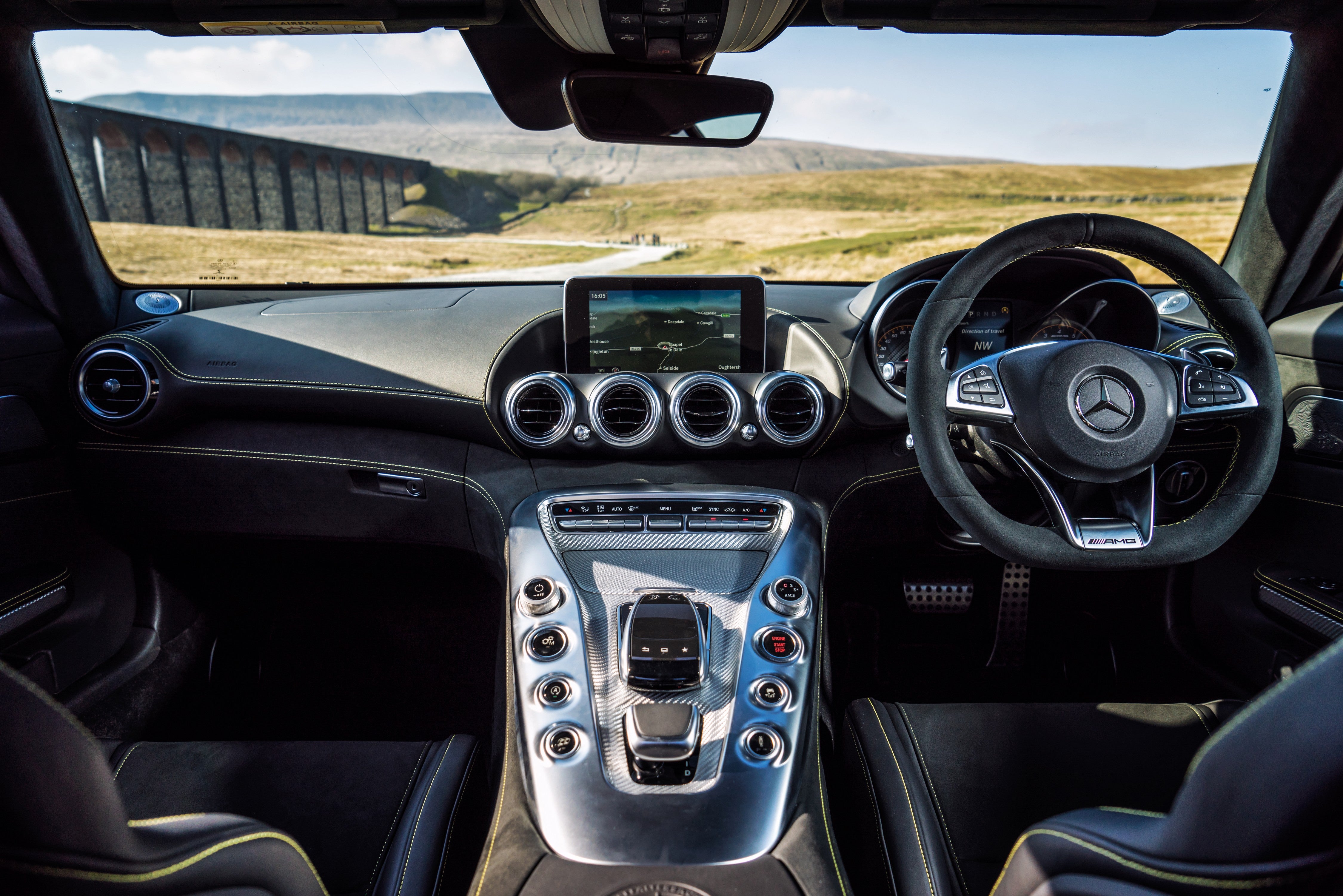 Mercedes-Benz makes excellent seats, and the Mercedes-AMG GT is no exception. You'll find plenty of comfort and support from the seat, and they come heated in the Edition 476 and GT C coupe and Roadster, while that Roadster comes with Mercedes-Benz's Airscarf, which blows warm air over your neck and shoulders from the seatback. They, and the steering column, are all power adjustable and feature a memory setting to enable a good driving position.
The GT R and GT R Pro models get different seats. The GT R retain power adjustment, but in keeping with their greater performance are more heavily bolstered for support, these being 'climatised' in the Roadster, which is Mercedes' way of saying heated and ventilated.
The PRO model does without electric adjustment, and instead gets a lightweight carbon fibre bucket seat that wouldn't look out of place in a racing car, these holding you in all the right places, and hugely comfortable, despite the lack of adjustment.
The interior design is best described as bold, and busy, the centre of the dashboard is dominated by four big air vents, topped above by a screen, while the engine's position so far back under the long bonnet does mean there's a huge, high transmission tunnel between the driver and passenger seat. The gear selector for the automatic transmission is placed far back on that transmission tunnel, making it fairly difficult to reach, a rare ergonomic oversight on Mercedes-Benz's part, but a significant one.
Quality and finish
Mercedes-Benz has a hugely broad range of models and that means it's got a sizeable parts bin to dip into. By and large, that's acceptable, but the AMG GT does find itself in a class where it's up against rivals with bespoke interiors, and that does rob it of some appeal inside. While most surfaces are covered in upmarket materials, there's the odd bit of cheap plastic on display, silly details, too, like the back of the rear-view mirror, or the lid that covers the cup holders in the centre console – areas you're likely to touch.
Those materials aside, the quality is good, the fitment inside all tight, but there's no denying that the AMG GT's interior feels like one that comes from a large volume manufacturer, albeit it a premium one, rather than a more exclusive company.
Whether you see that as a virtue or not is down to your take on it, but the overall effect just doesn't feel quite special enough in a car costing in excess of £100,000 and up against some more rarefied machinery as a result.
Infotainment
The interior might carry the legacy of being just another Mercedes-Benz model, but it pays dividends when it comes to the infotainment.
Yes, it'll be familiar to you if you've sat in any other Mercedes-Benz, but that's a good thing, as it works well, even if it's not the very latest development of Merc's infotainment tech. The 10.25-inch screen isn't touch operated, instead its functions accessed by a touchpad sat on the transmission tunnel. It works, with practice, that touchpad replacing Mercedes-Benz's familiar knob which was far easier to use, Mercedes-Benz's slavery to the fashion for touchpads not entirely welcome here.
At least the screen and system it operates is relatively simple to navigate, with sensible sub menus to the extensive features it offers. All come with Bluetooth music streaming and hands-free telephony, DAB, Apple CarPlay, a pair of USB slots and an SD card slot, Sat Nav and a range of on-line services though Mercedes me connect – which is free for the first 10 years.
Other services within, and requiring subscriptions after either one or three years, include In-car office, live traffic and map updates as well as additional navigation services. Some of the centre screen's content can be viewed additionally via the configurable digital instrument display in front of you, AMG even including an iOS Track Pace App to record lap times and suchlike if you want/need such a thing. The Burmester surround sound system, standard in all but the Edition 476 sounds phenomenal, too.
Space and practicality
A combination of that front mid-engined placement and the wide and long transmission tunnel dissecting the cabin and you'll hardly be surprised to find that the GT's interior isn't exactly vast in its dimensions. It's tight in there, which is true of many sports car rivals, but unlike mid-engined sports cars where the engine is behind you and there's no huge transmission tunnel, the GT does feel compromised by its layout.
You look down the long bonnet from inside, sitting, on what feels like the back axle because you're situated so far back. All forgivable, though, as this is a sports car after all, and buyers will put up with compromises because of it.
There's very little storage space in the cabin, the glovebox small, the door bins being pretty much useless and the cup holders in front of the touchpad being so close to the dashboard that you'll need to make sure you're happy with the ventilation settings before you pop your mocha, choca, double shot, soya milk, latte to go in there. Forget it, you'll not need the caffeine to keep you alert, there's a punchy V8 for that.
The boot will hold a reasonable amount, with a maximum capacity of 350 litres, which is actually more than a Ford Focus, there's a but though, that being that the GT's boot is flat and shallow, with a good portion of that measured space actually being behind the rear seats.
It's accessed via a hatchback, just like that aforementioned Focus, but unlike it, you'll have to heft any luggage over a high backside and drop it in from above. The usual 'squashy bag' proviso applies here, then, as in stuff them in what you can into the GT's space, rather than fail miserably at boot space Tetris with hard luggage.
Handling and ride quality
"AMG does have its own idea on the way things should be, and the GT underlines that. It's a different sports car experience, one that lacks the outright finesse of the very best of its rivals, but as one that's not without a good bit of appeal."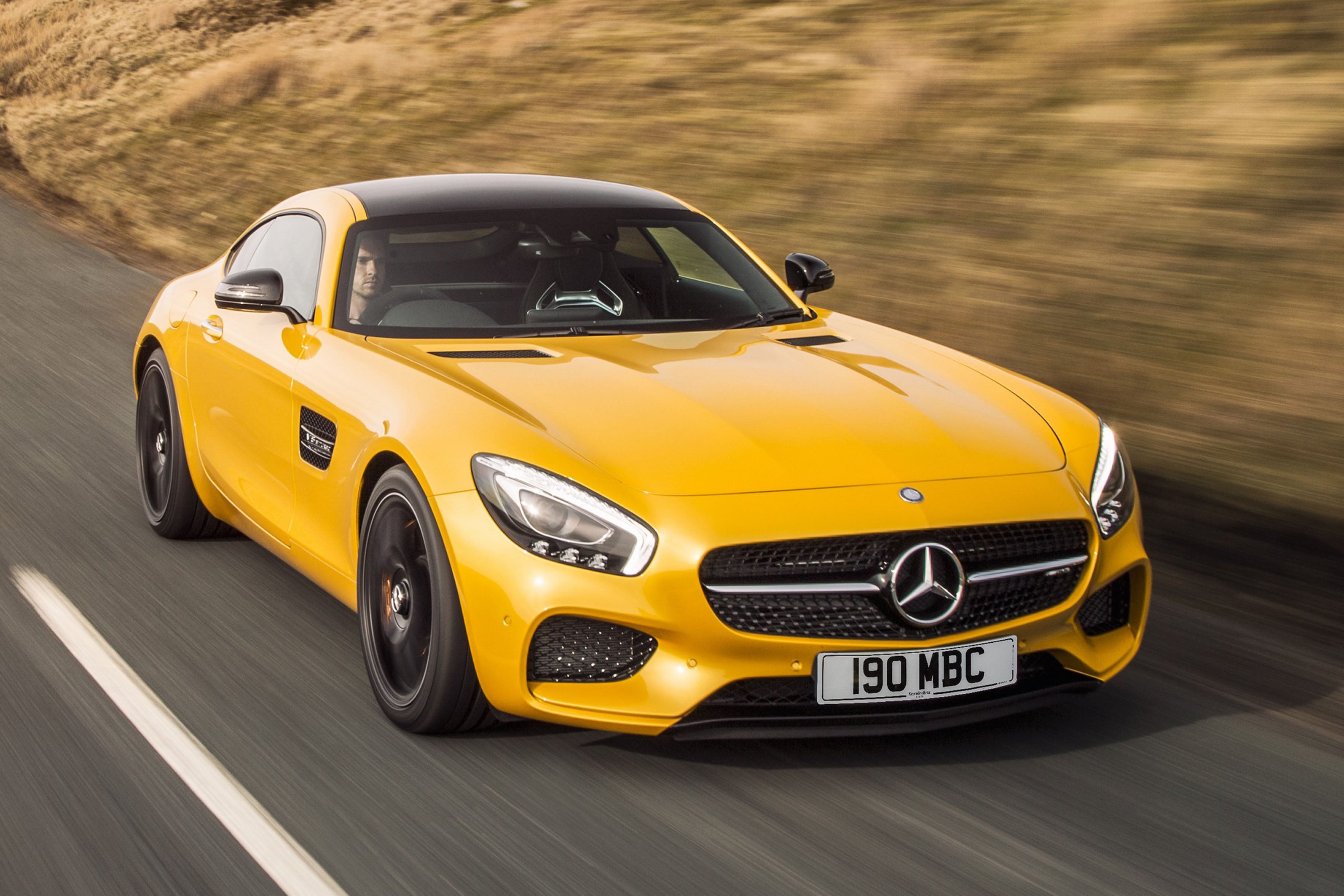 You sit far back over the rear wheels, and you feel like you're some way away from the front axle, which is obvious behind the wheel. The GT coupe Edition 476 does without the GT C (Coupe and Roadster's) rear-axle steering, it also making do with a simpler mechanical locking differential instead of an electronically controlled one, while the suspension is a passive AMG Sport set up, rather than the GT C's AMG Ride Control with adaptive damping adjustment.

You'll notice the more sophisticated set up of the GT C's suspension if you're really pushing it, like you might on a circuit, but on the road the entry car doesn't feel like it's overly compromised thanks to its simpler specification. Indeed, the turn-in response of the simpler car feels more natural, the rear-wheel steer car feeling edgy and a touch nervous.
The GT R and GT R PRO get AMG's Ride Control with an adjustable damper system, this most focussed of set-ups arguably offering the best ride on the road, thanks to the more sophisticated dampers doing a better job of controlling both the wheels and body.
There's a multitude of driving modes on offer, the range actually too broad to be useful at times, though the GT R and GT R PRO's adoption of a dial with 9 selections for the traction control system might sound like a gimmick, but it works well in practice. In all, the biggest shortcoming is its weight, no amount of chassis tuning, or mighty power, able to truly mask its bulk, the AMG a different take, that's got a bit of muscle car unruliness and lack of sophistication, but, that's arguably why it'll appeal to those who buy it.
Engines and gearboxes
One man (or woman), one engine, is AMG's engine philosophy, each built from start to finish by a highly skilled technician. It might sound like nonsense, but some buyers love the idea of it, and actually ask that specific, favourite, technicians build the engines for their various cars.
In the GT it's a case of one engine, three different outputs, from the 476PS of that entry car, through the GT C's 557PS to the 585PS of the GT R and GT R PRO. There are differences to the engine to achieve that, but, they're largely identical, and, really it's a law of diminishing returns as you head up the range.
If you're not wowed by the 476's 4.0 second 0-62mph time, then you need help, especially as it's achieved in such a raucous manner, it sounding fabulous and punching hard throughout its entire rev range. It's fast enough, the gearbox, a seven-speed automatic, lacks the blink-shift speed of some, but you'll be too busy managing the rest of the GT to worry about it.
It's a fabulous engine that's as ample in power and torque as it is glorious in voice, which, given its setting, is a good thing. It takes centre stage, its greater power output versions doing everything the same, only with a little bit more intensity – the GT R and GT R PRO only shaving 0.4 seconds off that Edition 476 for a circa £100,000 premium. The greater power only asking things from the chassis that, even the range-topping models with all their motorsport pouting looks and technology don't really feel like they can exploit, nor, crucially, add any greater actual excitement.
Refinement and noise levels
Mercedes-Benz will sell you any number of hushed saloons if refinement is what you're after, the AMG boisterous and noisy, and all the better for it.
That's not to say it's entirely compromised as a result of its focus, as it'll all calm and quieten down on a longer cruise, the engine's ample torque from 630Nm at the lower end of the range, to 700Nm at the upper, combined with seven gears meaning it'll maintain good motorway progress without pulling big revs.
There's a bit of tyre and road noise, again, hardly surprising given the amount of rubber on the road and the suspension's taut settings, while even on a cruise you'll still get the odd flutter and crackle from the exhaust when you lift off just to remind you it's ready and waiting for the next time the roads get interesting.
Safety equipment
The AMG GT represents perhaps the ultimate contradiction, as while it might be a bit unruly it's still produced under the three-pointed star, and at that company's core is safety.
The list of standard safety equipment is huge, all coming with huge brakes, those on the GT C Coupe up being standard carbon ceramic items, there's traction control, Active Brake Assist, Anti-Lock Brakes, driver and passenger front and combined side thorax/pelvis airbags and knee airbags, three stage electronic stability control, Traffic Sign Assist, front and rear cameras, variable speed cruise control, tyre pressure monitoring.
Mercedes-Benz takes safety hugely seriously, it a certainty that the company will have crash tested, simulated and actual, more GTs than rivals from smaller sports car manufacturers, chiefly because they have the capacity and facilities to do so.
It's always been a safety pioneer, and the GT comes fully loaded with its safety kit, even things like Attention Assist, which monitors the driver's steering behaviour to help alert to fatigue on a longer journey – suggesting a break if it detects the driver getting drowsy. If you manage to crash it with all that kit on board, it'll do its very best to protect you.
MPG and fuel costs
"If fuel's a concern you might want a BMW i8, if you're not bothered, then carry on."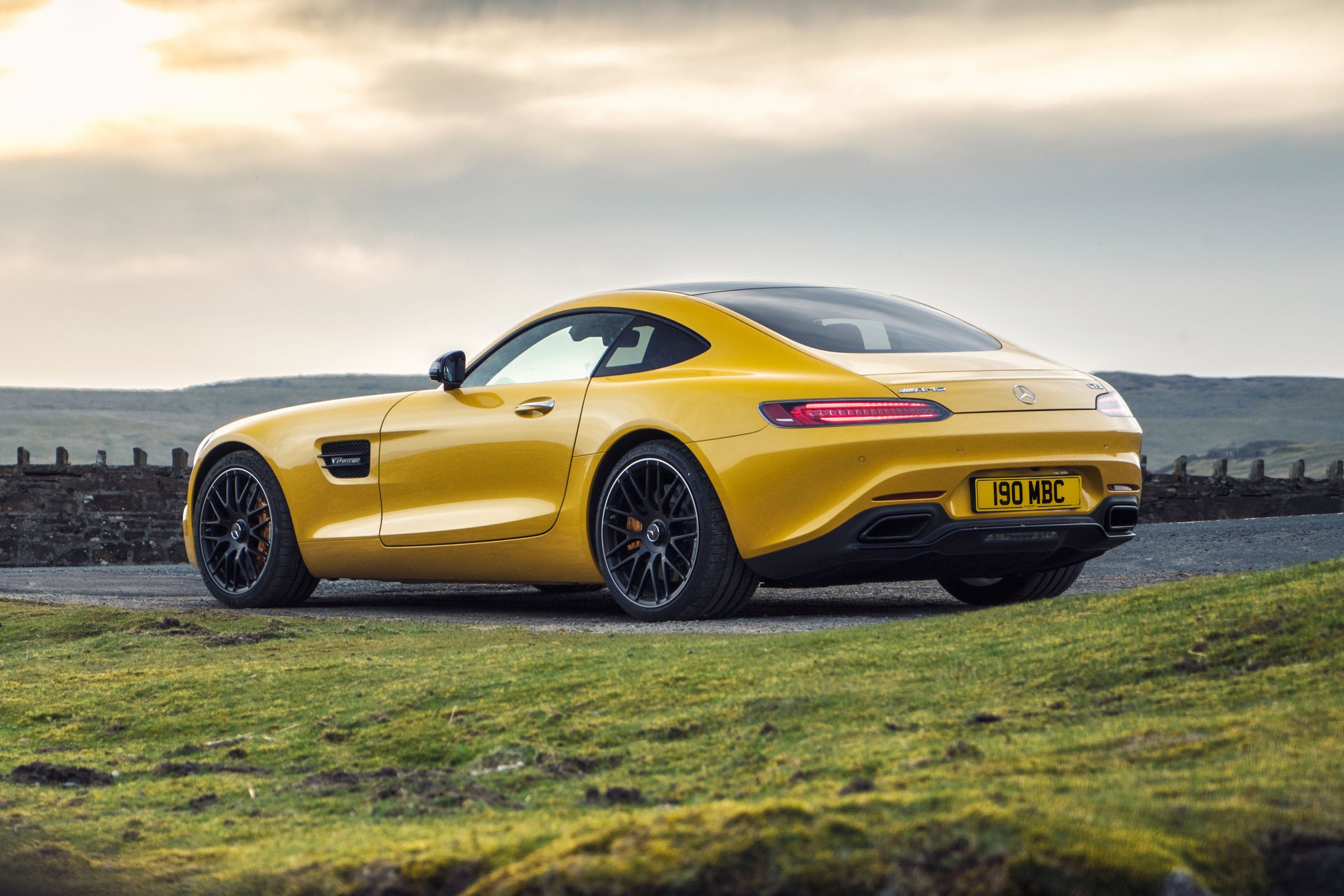 The AMG GT will chew through fuel voraciously, the official numbers, for what they're worth, all suggest consumption in the 20-23mpg sphere, tested to WLTP standards. Expect mid-late teens in daily driving, and if you've a particularly heavy of foot, occasional trips into the realm of single figure consumption.
Insurance groups and costs
Given your lack of concern for the fuel you'll be hosing into it, the likelihood is you'll be all good on the insurance, too. The group is incidental, it'll not be cheap, but you're unlikely to have jumped straight from something like and A-Class into an AMG GT, so you'll be more than au-fait with the costs and complexities of insuring sports cars.
Mercedes-Benz offers its own insurance, too, which is a possible route, but it's inconceivable that you'll not already have an insurer who's up to speed on your previous and current other cars of the same value and performance, and be able to find you a premium that's acceptable.
VED car tax
All have CO2 emissions in excess of the Band M 255g/km which means a not insubstantial £2,135 for your first year of road tax, while it'll cost you £465 a year for five years. After that, happy days, at £145 annually, until the government inevitably changes it to squeeze a little bit more out of you.
How much should you be paying for a used Mercedes-AMG GT?
"The model line up has changed a bit since it was introduced in 2014, the original GT having two models, the GT (462PS) and GT S (510PS), it being these you'll find at the bottom level of the price curve. Around £55,000-£60,000 seems to be the lowest price you'll pay for a GT in 2020."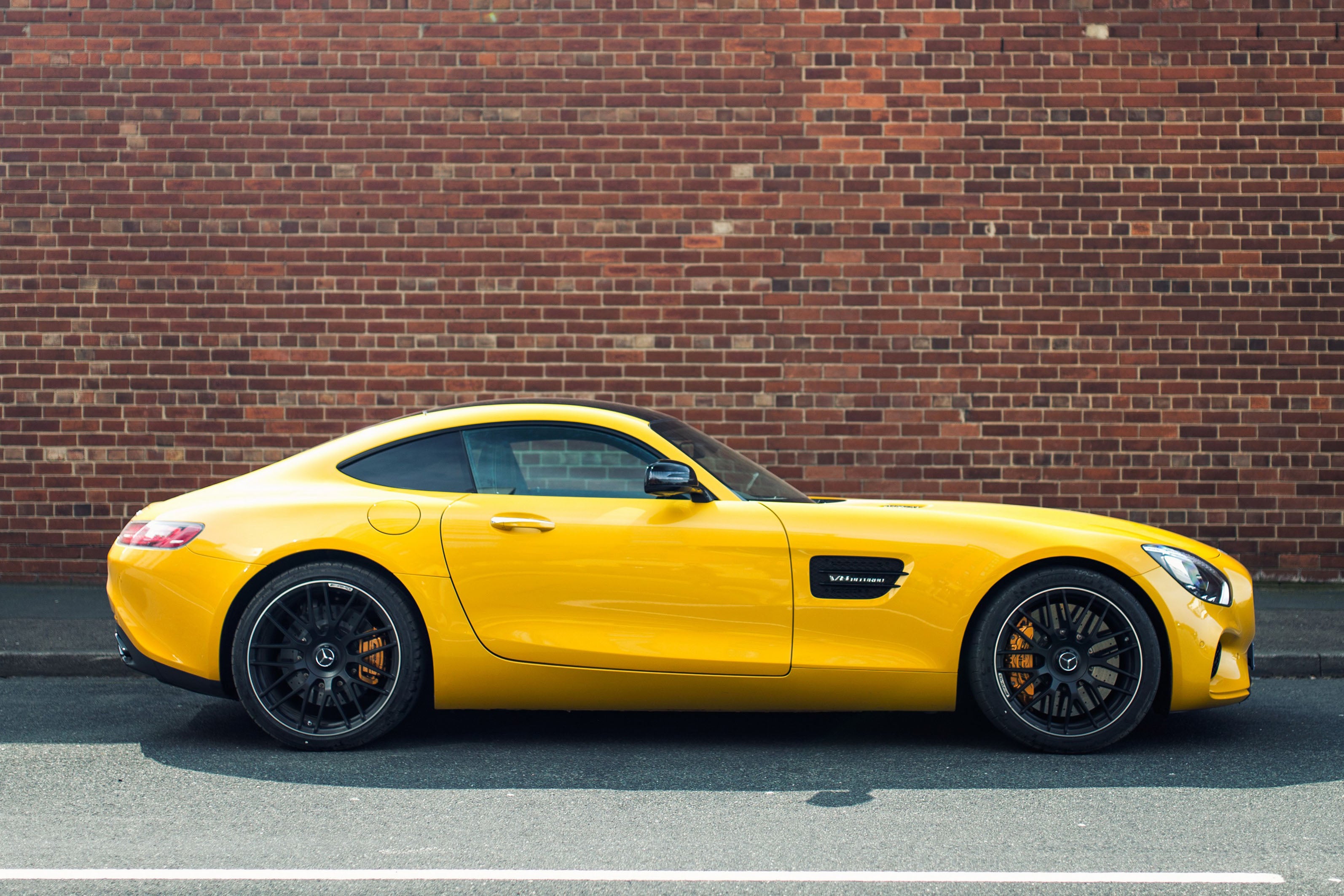 Roadsters will cost more, because there's less stock and they're newer, having been introduced later. Starting prices are around the £75,000 mark. GT Rs seem to depreciate heavily, with these having shed about a third of their price since their introduction back in 2017.
Trim levels and standard equipment
GT Edition 476, GT C, GT R and GT R PRO in coupe, with the Roadster offered in GT C and GT R trims. They differ very little in spec, real world at least, the differences nuanced, the price differential relating more to the increased performance. The Edition 476 does without variable damper suspension and the Burmester stereo, and it lacks the slightly wider body of the C, but it's still got that brilliant V8 and plenty of thrills.
The GT C gets more power, AMG variable suspension and that improved audio, while the GT R and GT R PRO get racier accoutrements to suit their more hardcore focus.
Mercedes-Benz AMG GT cars for sale on heycar
3,914
Number of cars available
£71K - £119K
Price bracket of these cars
Colours available on heycar
Keep me updated by email with the latest advice, news and offers from heycar
By submitting, you agree to our
privacy policy
.