Mercedes-Benz B-Class Review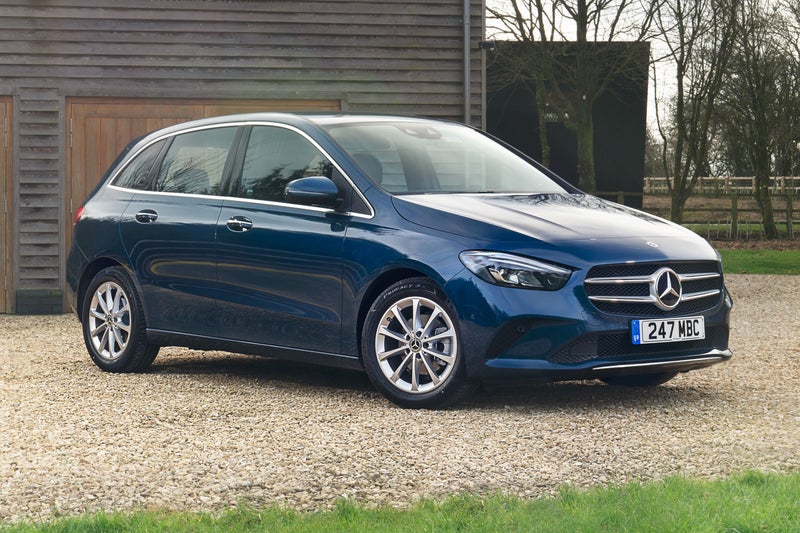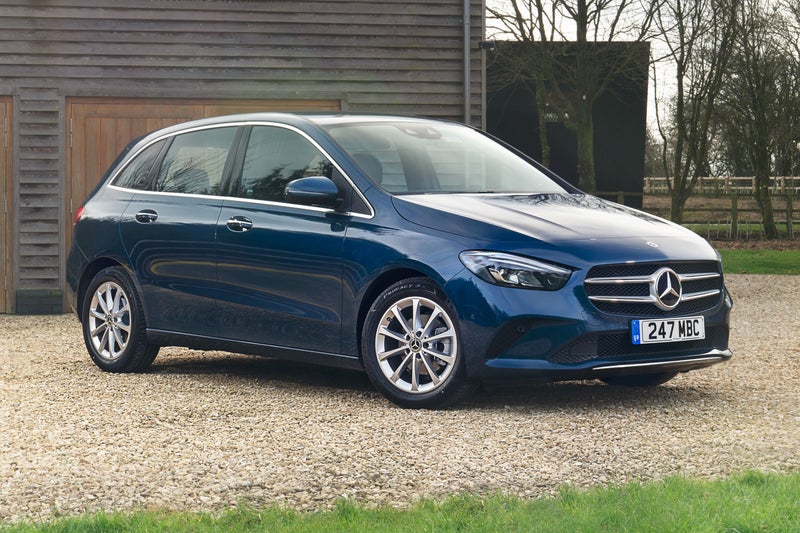 1/10
heycar rating
"Practical, premium five-seat motoring"
Launched: 2019

MPV

Petrol, Diesel
Quick overview
Pros
Passenger-focused interior
Brilliant infotainment screen options
Demonstrates all the familiar Mercedes-Benz integrity
Cons
It's hardly a head-turner
It's not an SUV
Thrill-seekers, look elsewhere
Overall verdict
On the inside
Driving
Cost to run
Prices and Specs
Overall verdict
"The steadfastly sensible B-Class ignores on-trend fads and focuses on what matters in a five-seat MPV: practicality and comfort. For those who value space higher than style, it's worth checking out, even if it won't jump out as a must-buy straight away."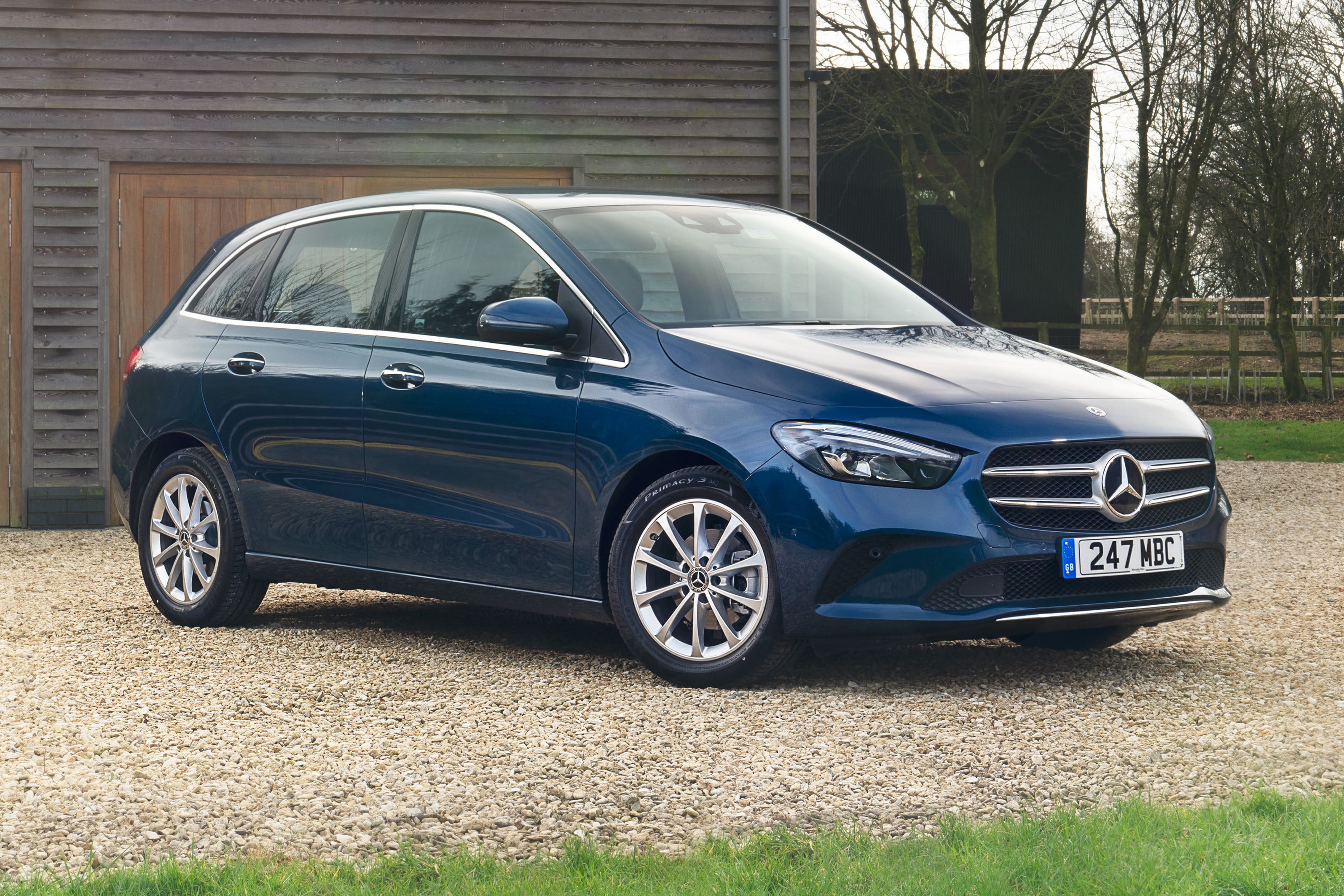 The MPV is the victim of the SUV surge. A decade or so ago, people carriers were the must-have vehicle for growing families looking to step up from a regular five-door hatchback. Now they barely get a look-in, such is the allure of the SUV – and many car manufacturers who once did well with MPVs have unceremoniously dumped them for good.
Mercedes-Benz is a rare exception. The world's oldest carmaker is also one of the largest, with one of the broadest model ranges. So, although Mercedes offers several family-sized SUVs such as the GLA and GLB, it also offers an option for those seeking a five-seat MPV with all the strengths such vehicles provide: maximum space and maximum practicality.
This is actually the third generation of B-Class. Mercedes-Benz has stuck to the formula, and not changed it much in the intervening years. Like the original, the latest model is derived from the A-Class hatchback, with a taller body, longer wheelbase and a decided focus on space rather than style.
If that sounds a bit harsh, it's not meant to be. The B-Class is actually a fine-looking thing, with the appearance of a tall hatch rather than a van-like MPV. It doesn't have the tough, rugged stance of an SUV, but it's still a neat and tidy shape, with the three-pointed star badge featuring boldly in the grille, and the chrome-finished side window frames giving a clean, tidy look.
The oily bits are all sourced from the A-Class. Here in the UK, Mercedes-Benz has chosen to offer the B180 petrol as an entry-level version, with the B180d a basic diesel alternative. The B200 and B200d have more power, while the B220, B250 and B220d all serve up impressive acceleration. All of them come with an automatic gearbox.
Its A-Class roots mean the B-Class delivers a high-quality drive. As you'd expect, it's not the most thrilling car, but it's very stable and secure, with a taut ride and direct steering. Mercedes-Benz has softened it up just a bit compared to the A-Class, so you might sense it rolls a touch more through corners, but it's anything but objectionable.
So long as you're driving smoothly and steadily, your passengers won't mind. Those in the rear have ample space to relax, with loads of headroom and good space for feet. The raised-up seats give a better view out than the lower-slung A-Class hatchback, and they're easier to step in and out of.
The boot is a really good size. There's an option to slide the rear seat, taking minimum dimensions from impressive to exceptional. Folding them flat really puts the 'van' into 'minivan'. And if that's not very exciting, check out the MBUX infotainment system. It's fit for the luxury S-Class limousine (and the B-Class actually beat its flagship sibling to getting it as standard).
Fine, MPVs are out of favour. Tempted eyes will still flutter at the rugged Mercedes-Benz GLB in the showroom. But don't dismiss the B-Class. The more you check it out, the more sense it makes. For growing families who are keen to stay within the M-B brand but have outgrown the A-Class, it demonstrates common-sense appeal by the bucketload.
If you're looking for the older version, you need our Mercedes B-Class (2012-2019) review.
Is the Mercedes-Benz B-Class right for you?
The Mercedes-Benz B-Class is a car with a clear purpose in mind, one arguably more focused than any number of crossover SUVs. It's about giving maximum space and practicality to five people while taking up the least possible road space outside. It's the family Tardis of the Mercedes-Benz range.
That it draws so heavily from the A-Class in terms of underpinnings, suspension and infotainment systems is reassuring. Cross-pollination is no bad thing when the seeds are this good. It helps Mercedes-Benz dealers have the perfect response up their sleeve to those who grumble the A-Class is too cosy. "A ha! Have you tried the B-Class?"
The only thing you won't get is the standout SUV stance so many seek these days. It's too sensible and focused on efficiency for that. But sometimes, life's priorities must take over. Don't cram the family into something that's not suitable: enjoy the fact you still own a Mercedes-Benz with a B-Class.
What's the best Mercedes-Benz B-Class model/engine to choose?
Mercedes-Benz model badges make no mention of engine size any more. The B180 isn't a 1.8-litre motor: it's actually a 1.3-litre turbo, also found (via a circuitous corporate arrangement) in the Nissan Qashqai. The B200 is a higher-powered 1.3-litre, while the B180d is a 1.5-litre diesel. The B250, B200d and B220d are 2.0-litre engines.
Don't worry. The turbocharged motors have surprising power, and the B180 offers perfectly reasonably pace. We'd happily drive one, and even find the regular Sport trim more than acceptable. AMG Line spec looks sportier trim, but that's arguably irrelevant on an MPV. Meanwhile, if you want more kit you can get the Executive upgrade pack on Sport, and Executive, Premium or Premium Plus packs on AMG Line (it's less confusing than it sounds).
What other cars are similar to the Mercedes-Benz B-Class?
Mercedes' direct rival is the BMW 2 Series Active Tourer, and it goes one better than the B-Class with the seven-seat 2 Series Gran Tourer. Audi is too teutonically cool to offer a five-seat people carrier, so the A3 Sportback (a five-door hatchback) will have to do instead. Or perhaps the Volkswagen Golf SV, if you want a similarly premium-feeling five-seater for less money.
Speaking of value for money, the original five-seat MPV, the Renault Scenic, is still on sale (for now), and has distinctively SUV-infused styling of its own.
The Peugeot 3008 is another five-seat MPV that's become more SUV-like in style, which risks diverting us off into other rivals such as the Honda CR-V, Nissan Qashqai, Volkswagen Tiguan and so on. Choices in this price bracket are vast – but options for pure MPVs are far fewer, which is actually where the B-Class stands out.
Comfort and design
"The Mercedes-Benz B-Class may well have a conventional-looking exterior, but its interior is much more exciting and tactile. The centrepiece is the widescreen digital display, which we'll go into detail about below: it instantly gives the B-Class a modern and sophisticated feel."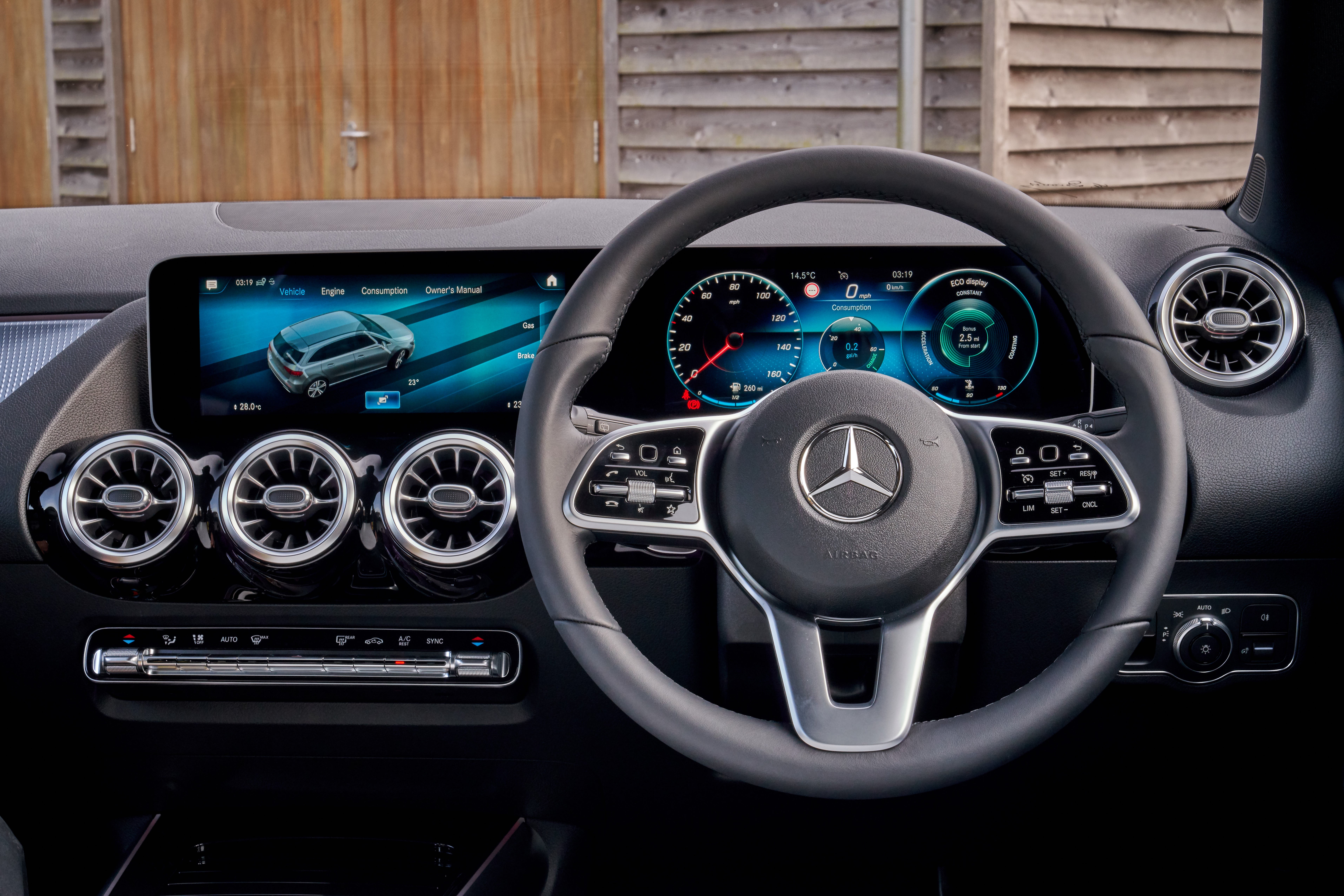 The rest of the interior is very contemporary, too. We like the jet engine-style round metal air vents, metal-effect climate control buttons and a beautiful-to-hold steering wheel with buttons and rotary controllers that wouldn't look out of place on an S-Class limo.
There's just one column stalk for both indicators and the wipers (most owners set wipers to auto and forget about them), while on the other side is the gearshift stalk. Along with the lack of a physical handbrake, this frees up the centre console for a massive central stowage bin with a smart concertina sliding cover. Behind this is the infotainment controller, plus buttons for audio volume, parking cameras and other controls. The start button is tucked behind the steering wheel.
The B-Class doesn't just have a nice, high driving position with a commanding view, but also extremely comfortable and supportive seats. They're firm, in the usual Mercedes-Benz way, but offer good support and are a treat for long-distance comfort. Even the regular seats in Sport models have a good amount of side bolstering - AMG Line chairs are even nicer.
The rear seats are well-shaped for two, with each outer occupant getting a degree of bolstering and a nice, supportive extra cushion for under-thigh support. With the seats nice and high off the floor, and plenty of legroom, it's a very comfortable place indeed – if you have lanky teenagers, they'll love how much more comfort they get compared to a normal family hatchback. The middle seat is less indulgent and feels more 'perched', although the fifth passenger still gets to enjoy plenty of space – and the full blast of the twin rear air vents.
Quality and finish
If you buy a Mercedes-Benz, you expect a step-up in quality over a mainstream car, and the B-Class doesn't disappoint. OK, it's not quite as indulgent as an S-Class, and rivals have narrowed the gap in terms of plastics and some of the tactile treats. But it still displays a good level of integrity and feels built to last, with solid surfaces and switches.
The full-width screen looks like something from a tech show, and is flanked by soft-touch plastics and a 3D-style trim panel on the passenger side. The seat upholstery feels sturdy and even closing the doors gives a high-precision thunk that shows this is a well-finished car. It looks amazing at night, too, with the optional ambient lighting bathing the interior in a soft glow. Even the air vents light up (much more tasteful than it sounds).
Paint quality on the outside is deep and thick, and the B-Class certainly looks a well-made car, with no uneven panel fit. Throughout, it demonstrates the sort of quality you'd expect of a car wearing the three-pointed star on its nose.
Infotainment
A spectacular infotainment system called MBUX is the highlight of the latest B-Class. It offers a huge amount of personalisation and can be operated via the central touchpad or touchscreen. It even works via voice activation: simply say "Hey Mercedes". This intelligent voice control will learn your accent and understands indirect commands such as 'I am cold'. It's an extremely advanced system that's at the cutting edge of in-car infotainment.
The Mercedes Me smartphone app is another feature. This allows you to track where your parked vehicle is – or find out what it's doing when someone else is driving. Doors can be locked and unlocked remotely, and each owner's favourite settings can be personalised and stored through the app. These driver profiles mean favourite radio pre-sets will be ready to go each time you step in, for example.
There's the option of an amazing augmented reality overlay for the sat nav. Using a camera behind the windscreen, this records what's ahead of you and overlays arrows and other directions onto the view itself, so you can see exactly which road you should be turning into. Truly, it's a next-level type of navigation that's particularly useful on crowded roads.
Even base-spec cars come with dual 7.0-inch displays. Sport Executive versions upgrade the central screen to a glamorous-looking 10.25-inch touchscreen. Upgrade further to a Premium model and the screen directly in front of the driver grows to 10.25 inches as well. Both are fully configurable and include Apple CarPlay and Android Auto connectivity. All but base-spec models have wireless smartphone charging included.
Space and practicality
Space is the name of the game with the B-Class. It's why people choose this five-seater over the sportier and more cramped A-Class. You only have to step into the front seats in order to discover this. They're positioned in a nice, lofty way, with loads of space for legs to lounge in, while the high roof gives an airy feel.
The view over the bonnet is similar to that of an SUV, which many will like, although you might find the windscreen pillars a bit thick and intrusive at roundabouts. Unlike some cars, there's no little window at the base of the pillar to assist your view.
Compared with an A-Class, there's a significant amount of extra rear-seat space. The high-set bench seat is very comfortable, with far more support than you normally get in a lower-riding hatchback. It seems there is acres of knee room and lots of space for big feet under the front seats. Those in the back certainly shouldn't feel squashed in, not least because the windows are large enough to give a clear view out.
Although the middle seat isn't quite as comfortable as the outer two chairs, the extra space in the B-Class means the third passenger should at least be a bit more comfortable than in a hatchback – more 'economy plus' than genuine economy.
The rear seat slides back and forth as well, so you can balance load space with rear passenger room. Even with the seat fully back, giving maximum space to passengers, there are 455 litres of luggage space. Tip the balance completely over to the boot, though, and this volume grows to 705 litres. No estate car with the seats up offers this much space.
The seats fold flat in a 40:20:40 split. This creates 1540 litres of space, which is estate car-standard. There's the option to fold the front passenger seat backrest as well, to slide in super-long loads with ease. The shape of the B-Class may not turn heads in the DIY store car park, but the sheer amount of stuff you can squeeze in most certainly will.
Handling and ride quality
"The Mercedes-Benz B-Class serves up a sensible, safe and very Germanic drive, which we'd imagine is exactly what buyers are looking for. There are no surprises, no unpleasant quirks, just a reassuring and predictable drive that takes almost everything in its stride."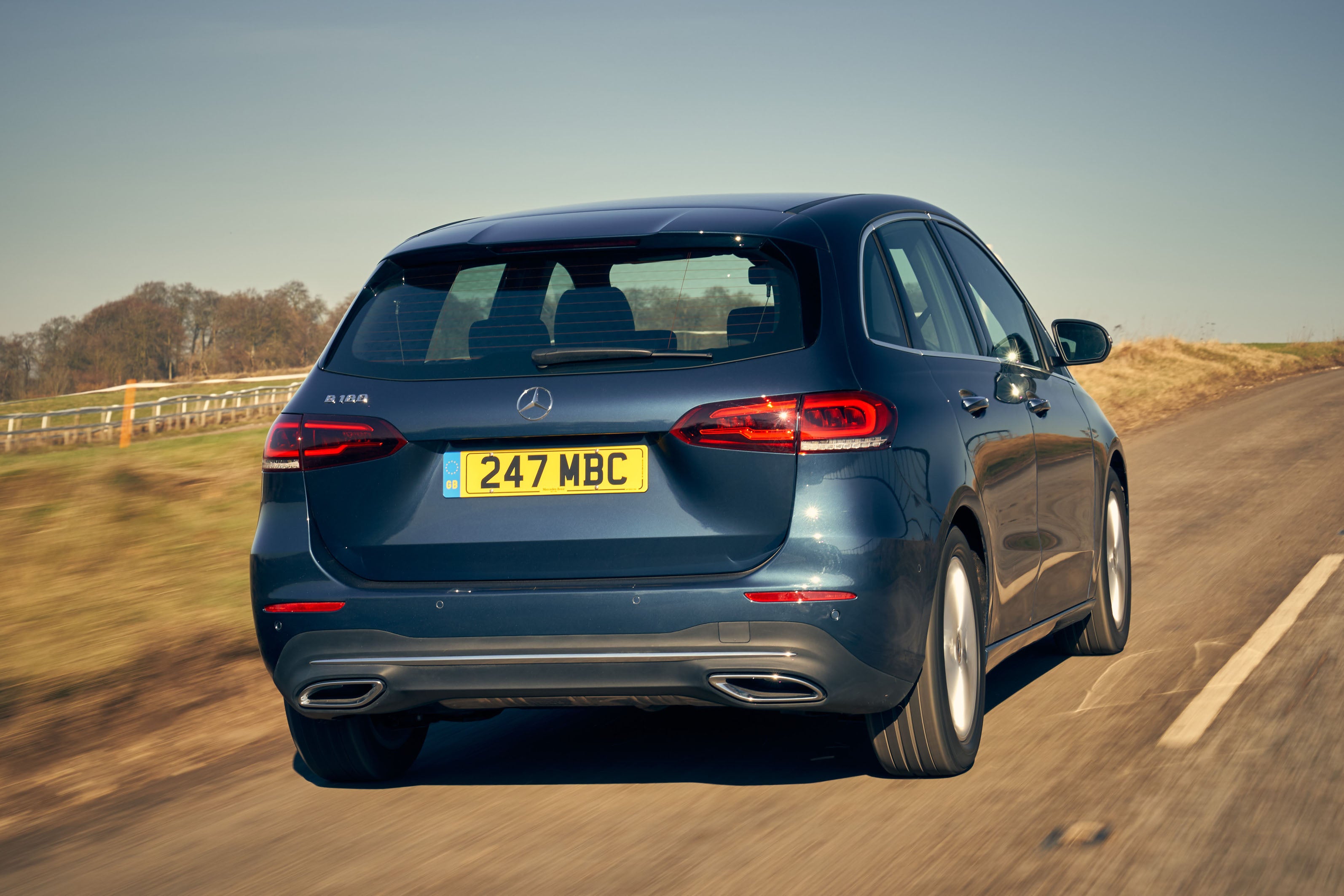 Although it's quite tall, the body doesn't lean too much in corners. You're unlikely to be chucking it around, but if the mood does take you, it won't immediately start wallowing or heaving like an oil tanker. Steering is effortless and gives a decent feeling of accuracy to the front wheels.
AMG Line models have larger 18-inch wheels and are a bit firmer and sportier. They have more grip, so if you enjoy fast-road motoring, perhaps choose one of those. They have lowered sports springs and use a more sophisticated type of rear suspension that copes better on challenging roads.
The ride quality of the B-Class isn't as soft and supple as something like a Citroen C4 Spacetourer. That's not the Mercedes-Benz way. But it's comfy enough all the same, with extra suspension travel and slightly softer settings giving a more supple feel than the equivalent A-Class. There's a bit more lean in corners, but it's not excessive. It remains stable at speed too, with a confident cruising feel on the motorway.
Engines and gearboxes
The base B-Class engine is a 1.3-litre turbo four-cylinder motor producing 136PS. It comes with a seven-speed automatic gearbox as standard, and will accelerate from 0-62mph in a brisk 9.0 seconds. It has OK overtaking power, too, although the B200 does offer more grunt thanks to its 163PS output.
There is a marked step up with the B250. Its 2.0-litre turbo engine blasts the B-Class to 62mph in just 6.4 seconds. That's not far shy of hot hatch acceleration. It has significantly more pulling power through the gears as well.
The starter diesel engine is the 1.5-litre B180d that produces 116PS. This makes it the slowest B-Class you can buy, with 0-62mph taking 10.7 seconds. It has a similar amount of overtaking power to the B180 petrol, although if you're planning on driving frequently with the family on board, you might find the 150PS 2.0-litre B200d a more rounded alternative. This accelerates from 0-62mph in 8.3 seconds, with the 190PS B220d dropping it down to 7.2 seconds.
Both the B200d and B220d also have an eight-speed gearbox, rather than the regular seven-speeder, which is just that bit more flexible. Both gearboxes are DCT dual-clutch transmissions, and deliver very fast and unobtrusive shifts.
Refinement and noise levels
B-Class engines are not the quietest in the world. When you accelerate, you will notice it a bit more than in some rivals. Thanks to the relaxed automatic gearbox, though, they do cruise with a good level of refinement, and the torquey turbocharger pull means the gearbox won't have to let the engine roar in order to carry out an overtake.
Noise from the road surface is generally kept at bay – the Sport, with its smaller wheels, is better than the AMG Line here – and the very slippery, wind-cheating body keeps annoying wind noise out of the picture. This means families of five won't find it too difficult to speak with one another on long trips – this is, after all, a family-focused vehicle.
AMG Line Premium cars get an upgraded sound system with a central front speaker and a subwoofer in the boot, for a more booming sound. Perfect for when the chatter from the kids is getting just a bit too much.
Safety equipment
From the car company that was first to use features such as driver airbags and ABS, the Mercedes-Benz B-Class is well equipped with safety kit. Active brake assist is standard across the range, which includes a front collision warning system and autonomous emergency braking if someone suddenly steps out, or stops in front of you.
A lane-keeping assist system is included. Some find such systems annoying, but as a safety aid for drivers who may be distracted on long journeys, they are useful aids. The steering wheel vibrates if you drift out of lane and active assistance can help you steer back in. Attention assist monitors driving behaviour and alerts you to take a coffee break before you start drifting off.
Many owners really appreciate the standard speed limit assist, which detects the speed limit of the road you're on and displays it in the instrument panel. All cars up from the base Sport also get a 180-degree bird's-eye-view parking camera.
The optional driving assistance package includes features such as blind-spot assist, lane-change assist and cruise control that looks ahead and automatically alters your speed ahead of curves, roundabouts and junctions. Active cruise control is clever, too, and it enhances the standard system with radar-based distance control from the vehicle in front.
MPG and fuel costs
"Fuel economy for the B-Class is very impressive, with all cars tested to the latest, stricter WLTP standards. The most fuel-efficient, with the lowest fuel costs, will be the B180d diesel, which averages up to 60.1mpg - an outstanding figure for a vehicle this roomy and practical. B200d and B220d versions are also commendable, averaging 56.5mpg and 55.4mpg respectively."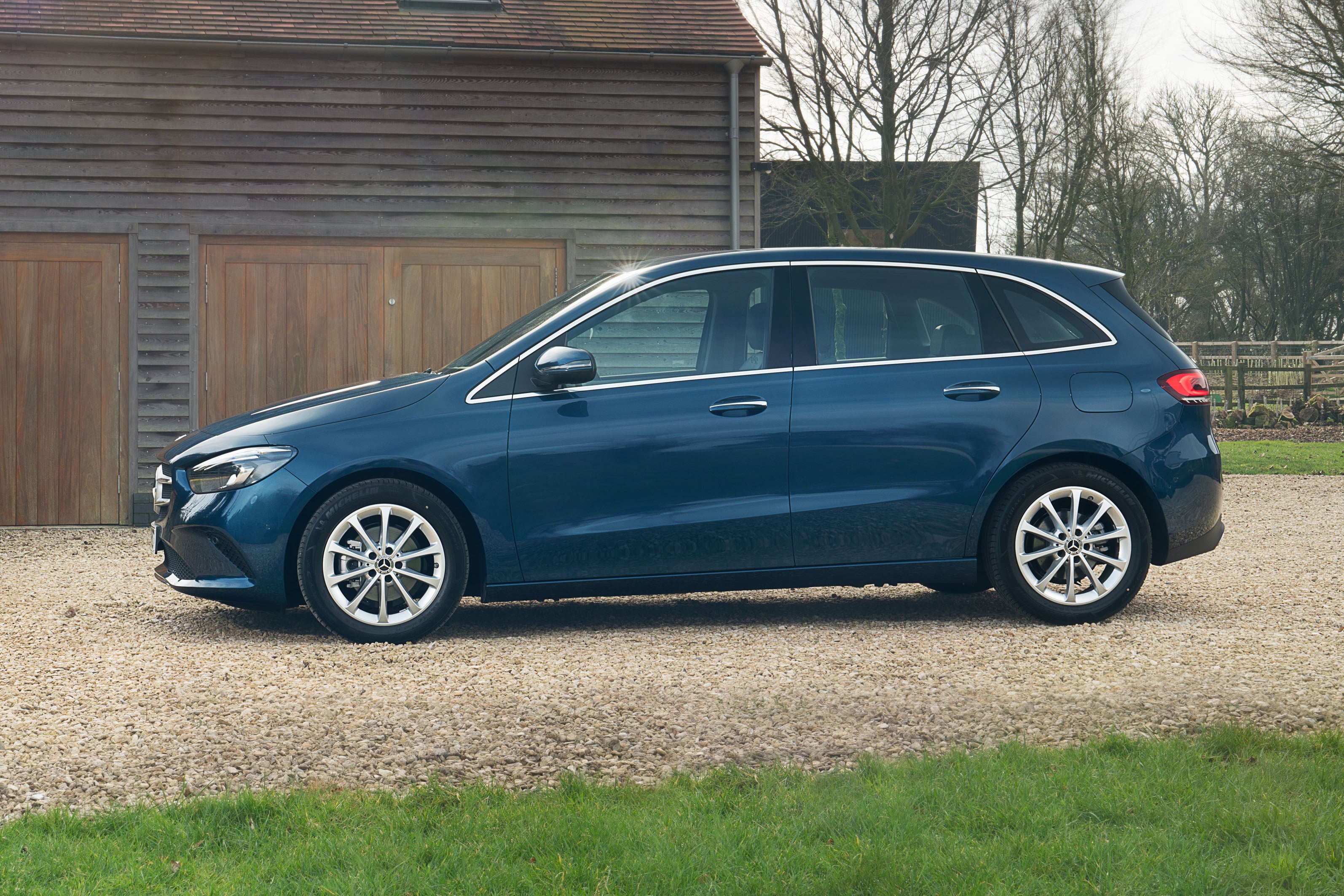 The petrols are thirstier, but they're still OK considering the performance they deliver. The B180 will average 45.6mpg and, even though it's that bit faster, the B200 actually matches this combined fuel economy. The one standout in the range, perhaps inevitably, is the B250, whose rapid performance goes hand-in-hand with average economy of 39.8mpg.
The B-Class has a small 43-litre fuel tank as standard, but a larger 51-litre tank is available as an option.
Insurance groups and costs
Premium vehicles have more 'premium' insurance ratings, and the B-Class is no exception. If you're used to the cost for a mainstream family hatchback, you might be surprised to learn even the cheapest-to-insure version, the B180d Sport, has a group 19 rating. This increases to group 22 for the B180 Sport petrol, with the B200 and B200d both coming in at group 25.
The B220d is group 29 and the performance of the B250 petrol pushes it up to group 31. It's worth noting that AMG Line models generally come in one insurance group higher than Sport versions.
VED car tax
The first-year tax rate for the B180d is the cheapest in the range, costing £175. That's thanks to low CO2 emissions of 122g/km. VED prices for the B200d and B220d are both £215 (they emit 132g/km and 133g/km respectively), which is matched by the B180 and B200 petrol versions – both emit 141g/km.
The standout exception is the B250, with 160g/km CO2 emissions that attract and eye-watering £540 first-year tax rate. At least all B-Class models escape the first year 'expensive vehicle' tax rate, so will cost £150 a year after that.
How much should you be paying for a used Mercedes-Benz B-Class?
"Prices for the third-generation 2019 B-Class are now starting to drop below £20,000."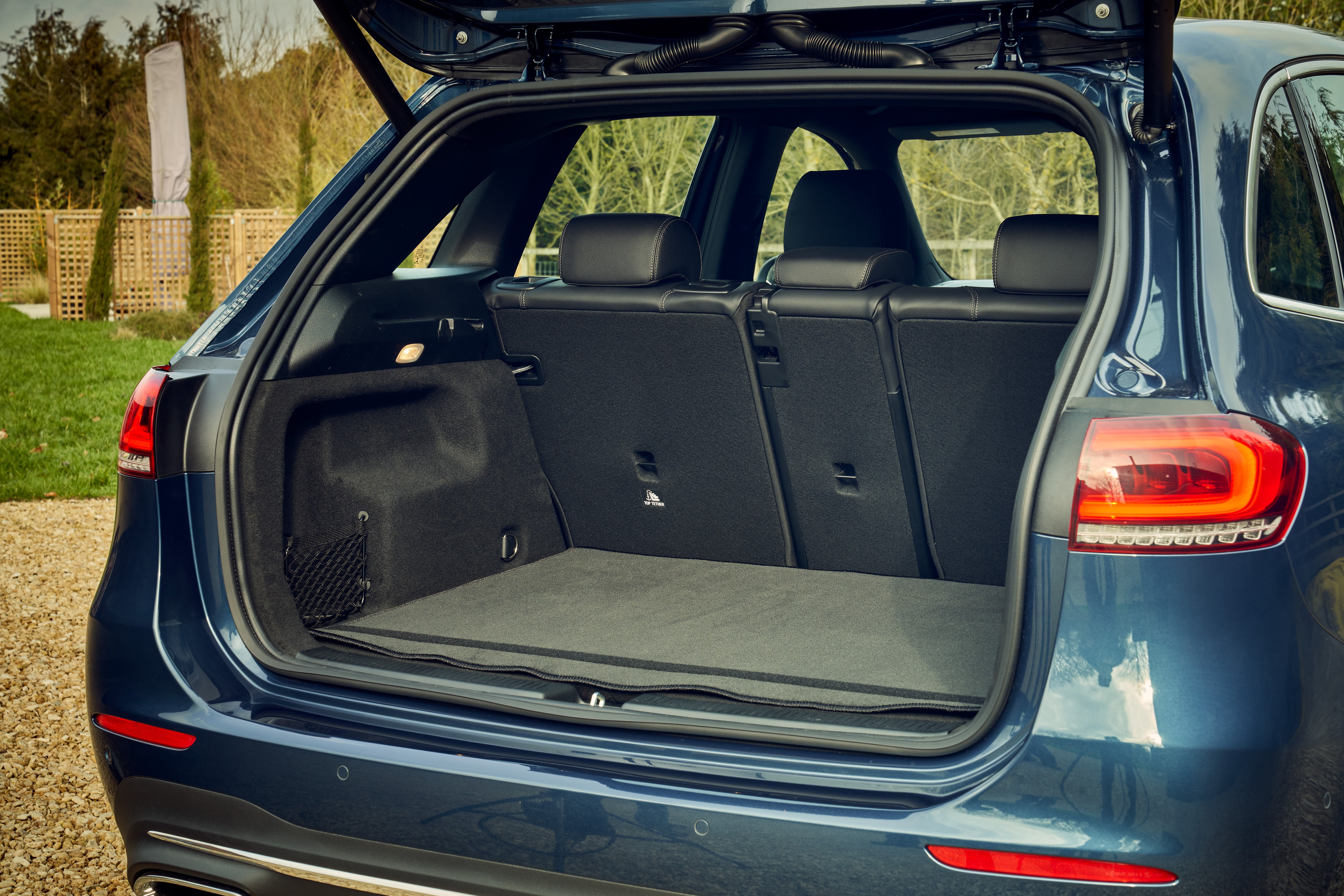 This will secure a B180 Sport auto, and if you're prepared to break the £20k barrier, you'll find plenty more choice of colours and specs. There's even the odd B180 AMG Line at this level, although you need to budget upwards of £22,000 for diesel-engined B200d Sport – even more for the desirable AMG Line.
Executive and Premium Plus trim levels still carry used car premiums of around £1000 and £2000 respectively, but the extra features they offer as standard will quickly justify the extra spend for many. For the very lowest-mileage B200d AMG Line Executive and Premium Plus, budget on spending £27,000 – but you will get a genuinely executive-feeling five-seat MPV for your money.
Trim levels and standard equipment
The B-Class range comprises the core Sport version, with a Sport Executive upgrade pack available on the base variant, then AMG Line Premium and AMG Line Premium Plus upgrades offered on the sportier version.
All have an automatic gearbox, alloy wheels, LED headlights, two-zone climate control, hard-disc sat-nav, an electric hands-free tailgate and heated front seats trimmed in Artico 'man-made leather'. Sport Executive adds the larger central touchscreen, 180-degree parking camera, wireless smartphone charging and, notably, Apple CarPlay and Android Auto (base versions lack this).
AMG Line Executive is based on Sport Executive and adds AMG goodies including 18-inch wheels, an AMG body styling pack, rear privacy glass and a diamond radiator grille. Sports seats and a flat-bottomed steering wheel are nice interior add-ons. AMG Line Premium has keyless entry, a 1.25-inch instrument display, interior ambient lighting, an upgraded sound system and the augmented reality pack for the sat-nav. And AMG Line Premium Plus goes all out with LED headlights, electric front seats and a panoramic glass roof.
Mercedes-Benz B-Class cars for sale on heycar
3,947
Number of cars available
£11K - £40K
Price bracket of these cars
Colours available on heycar
Keep me updated by email with the latest advice, news and offers from heycar
By submitting, you agree to our
privacy policy
.