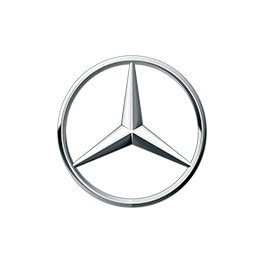 Mercedes C-Class Review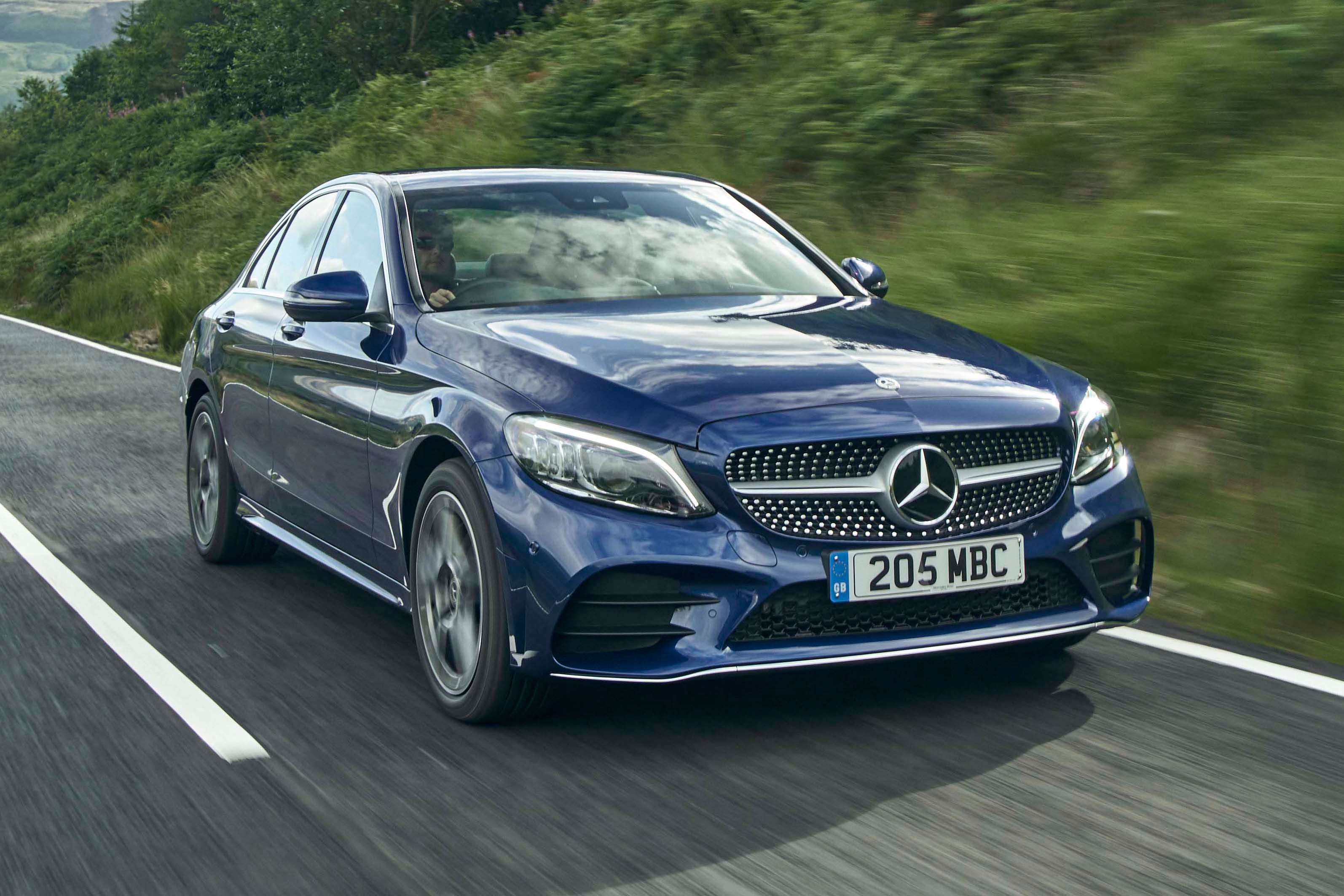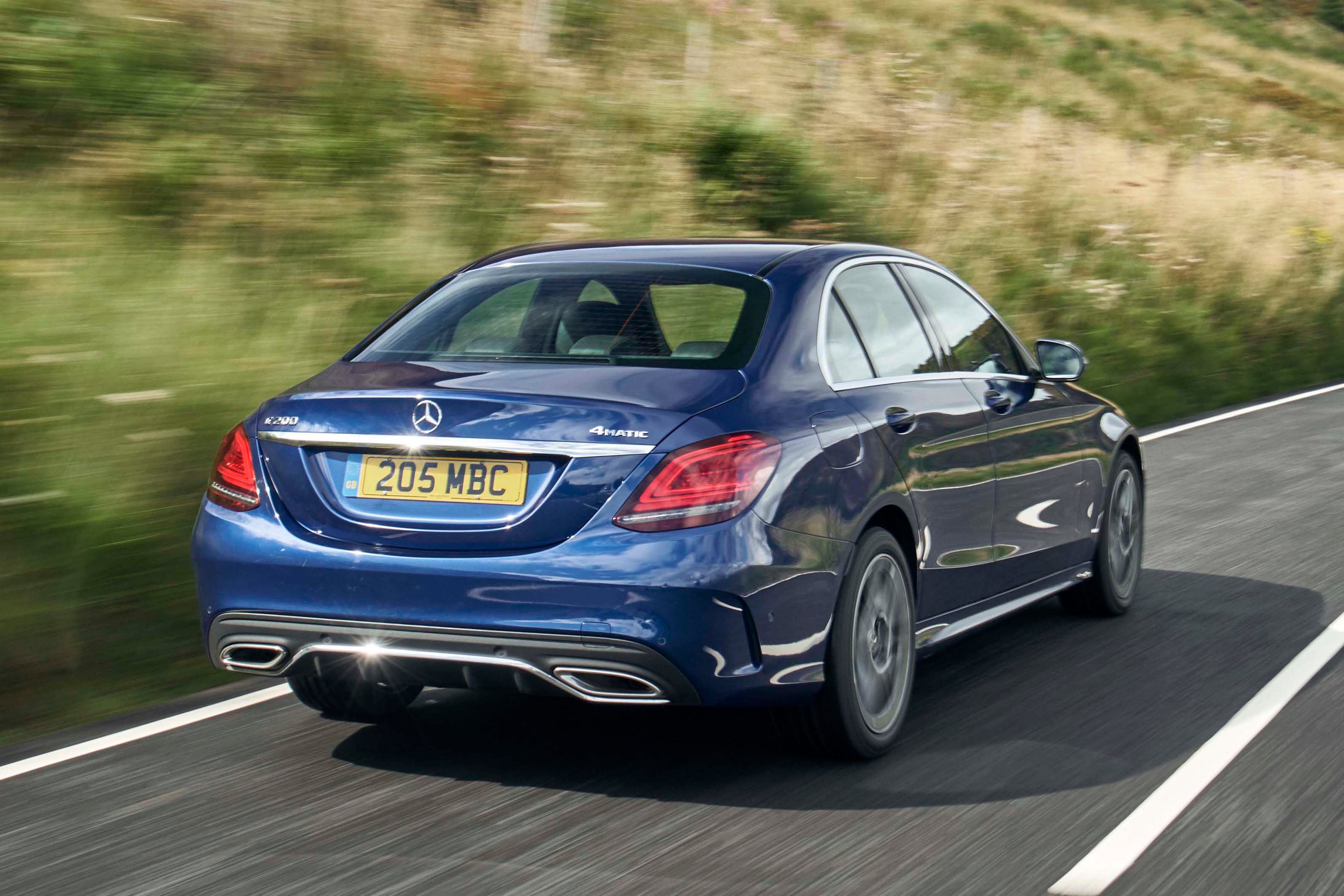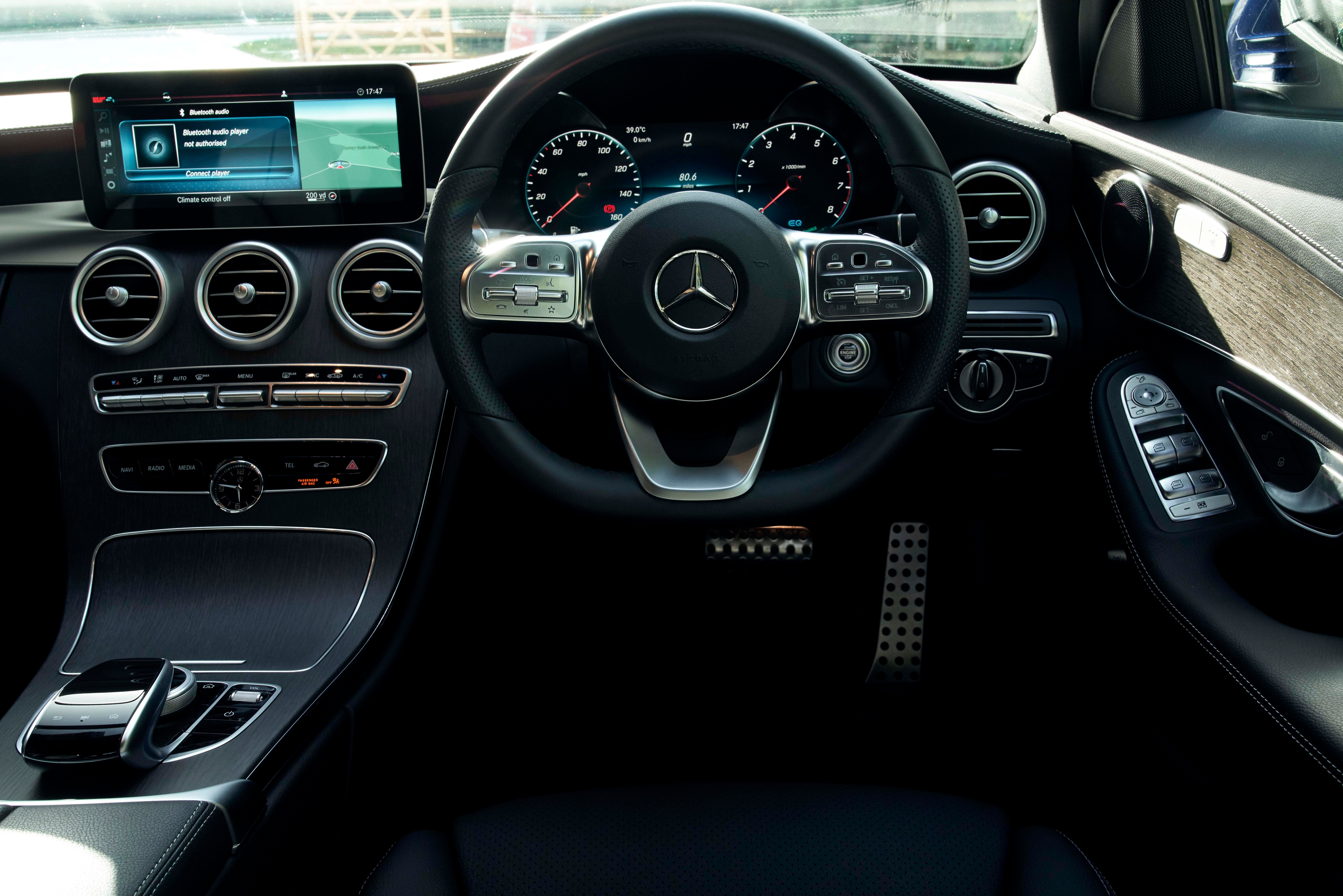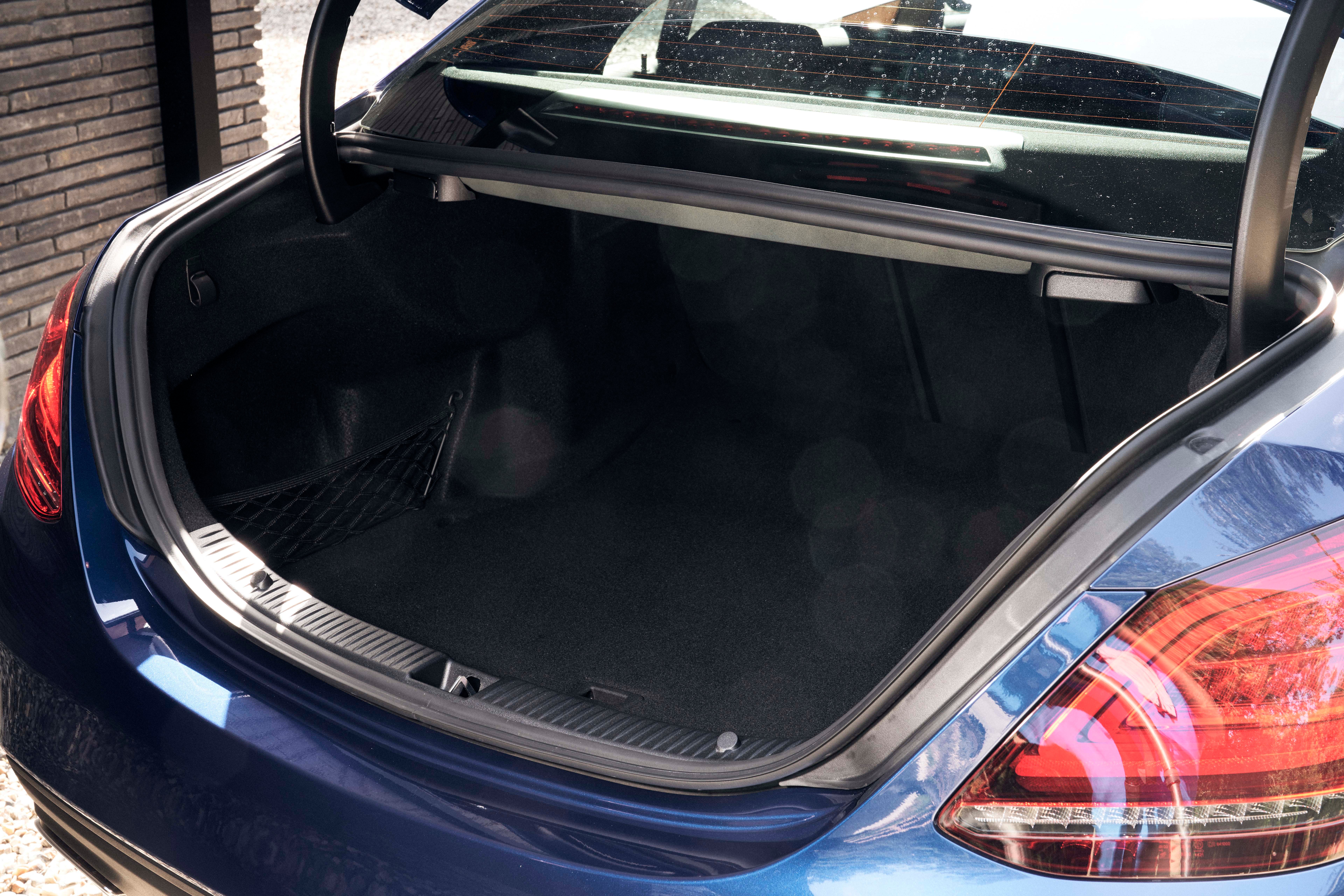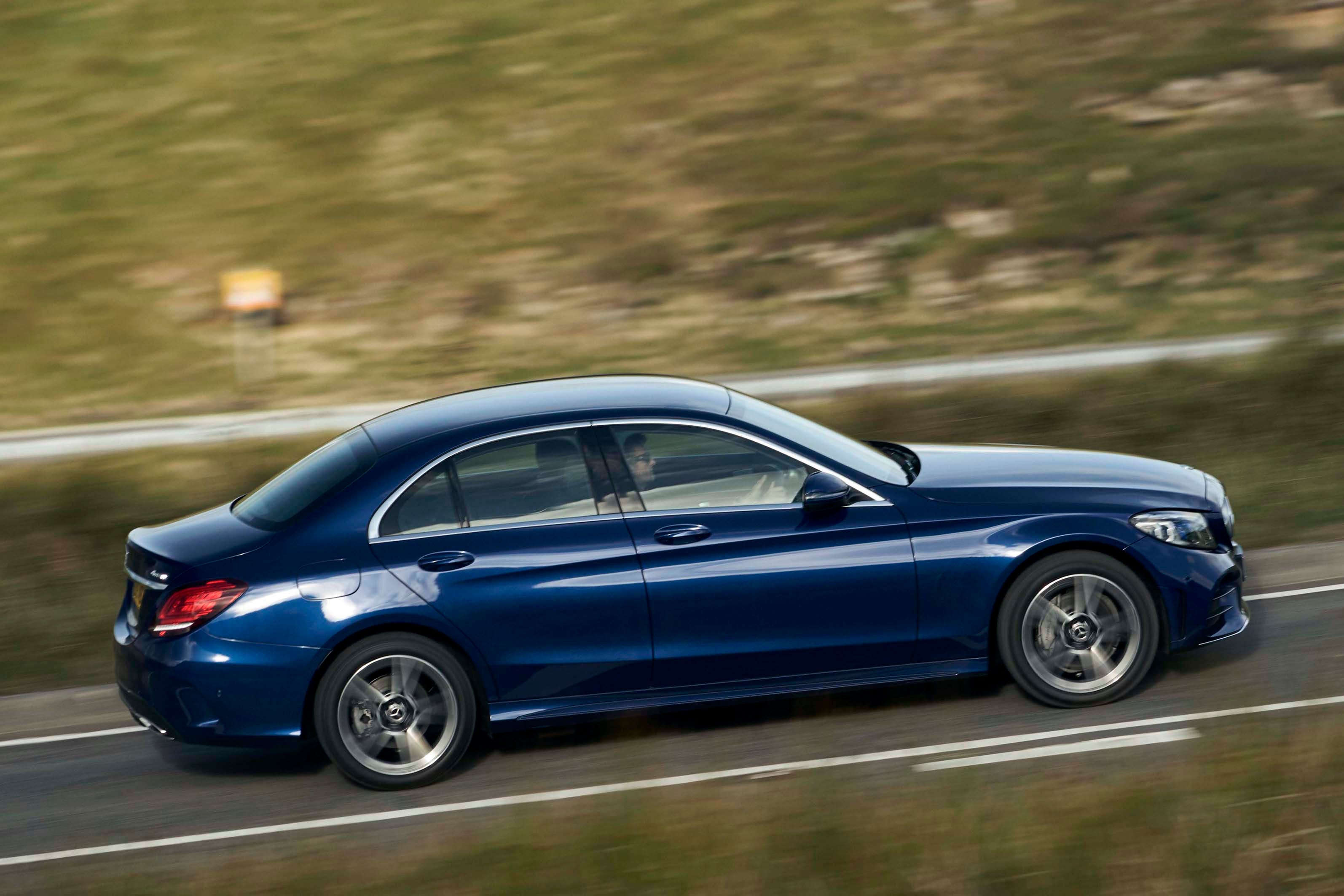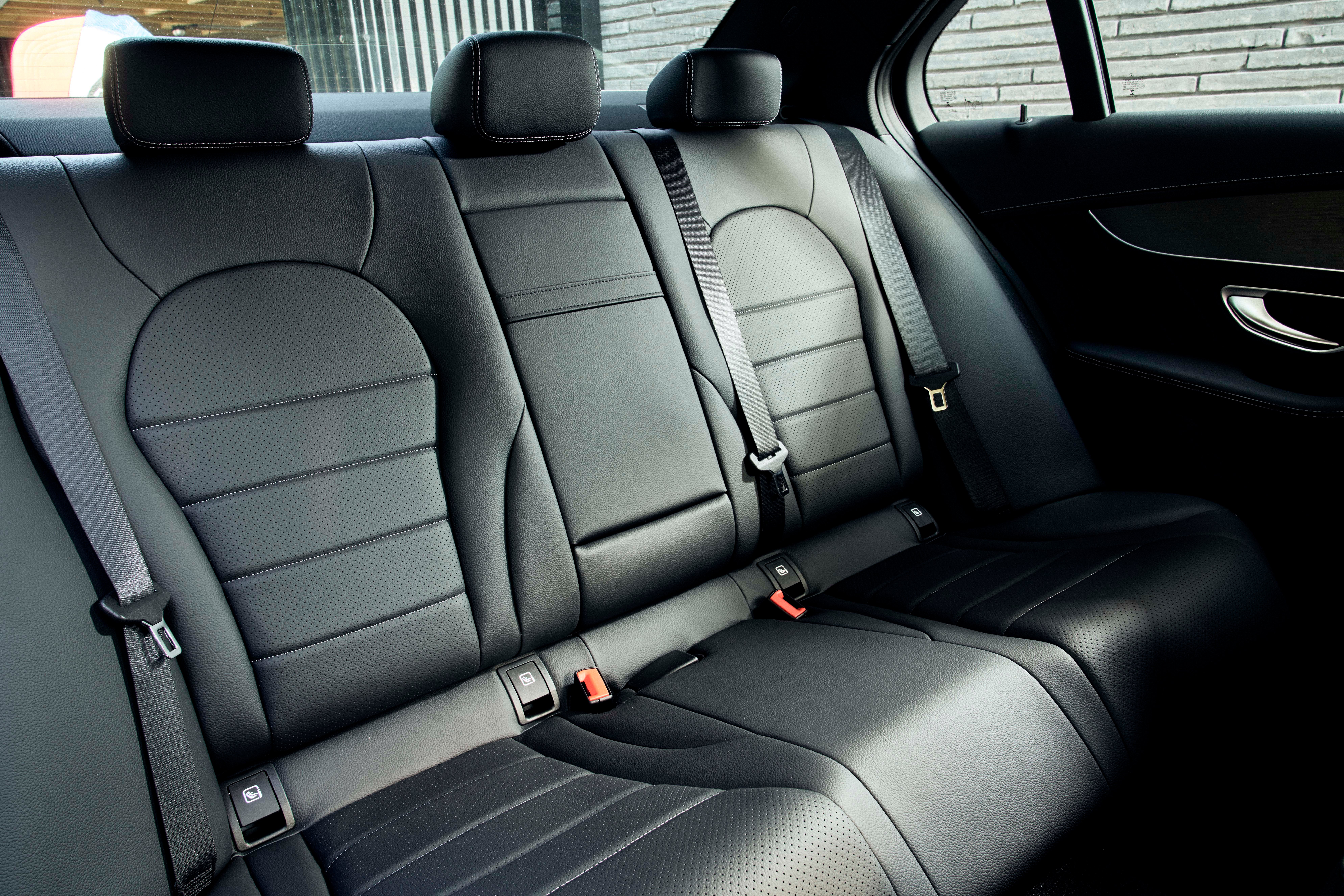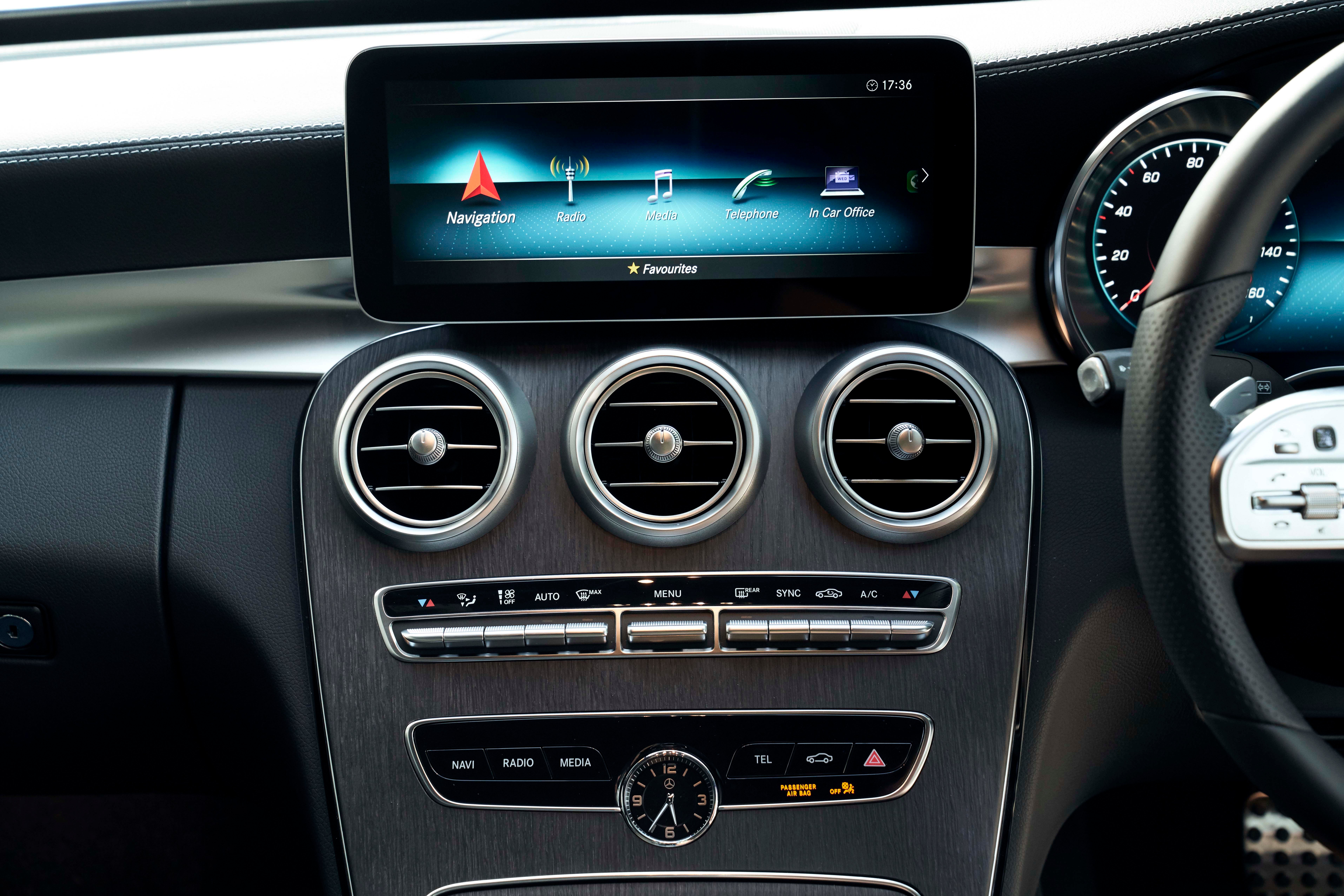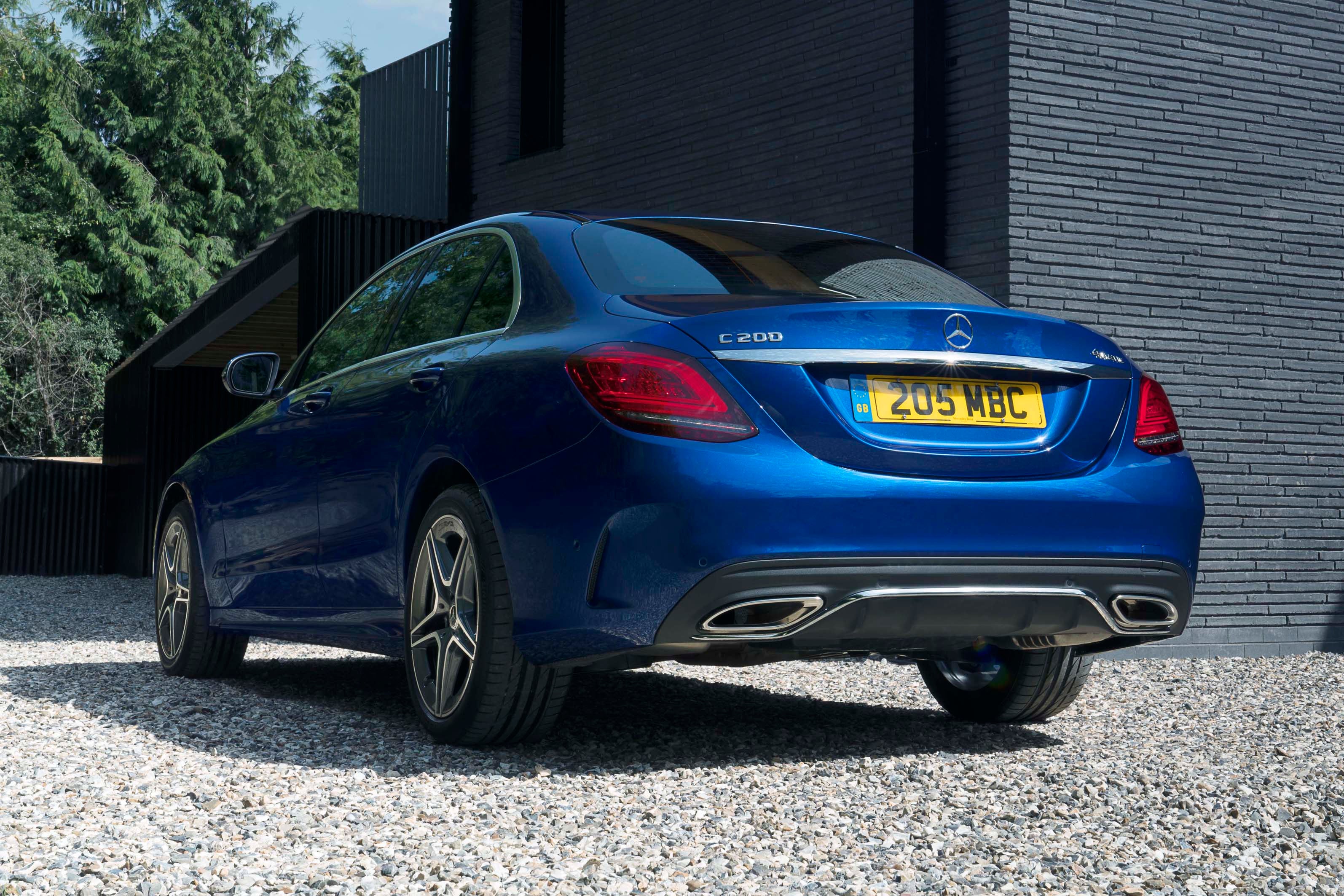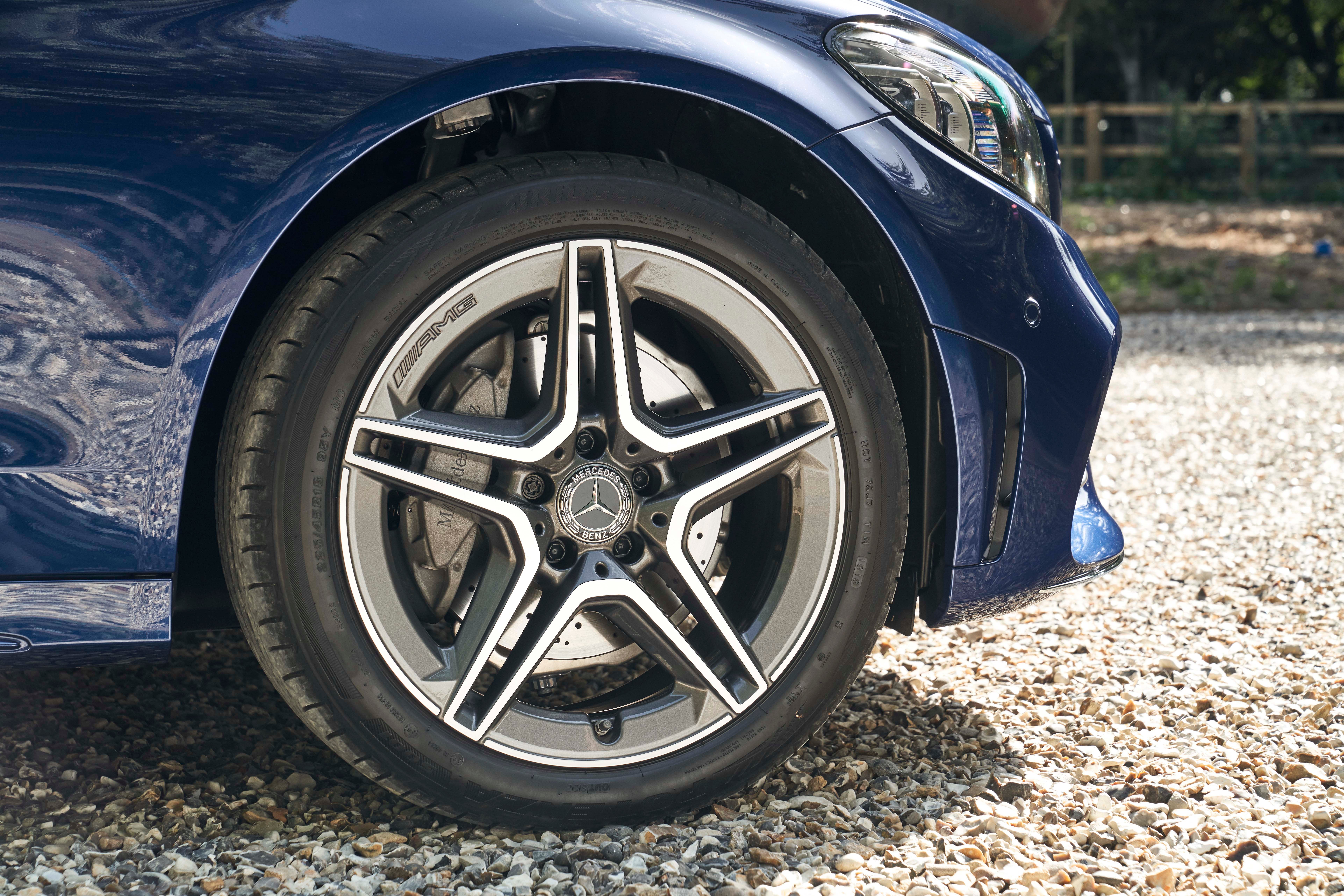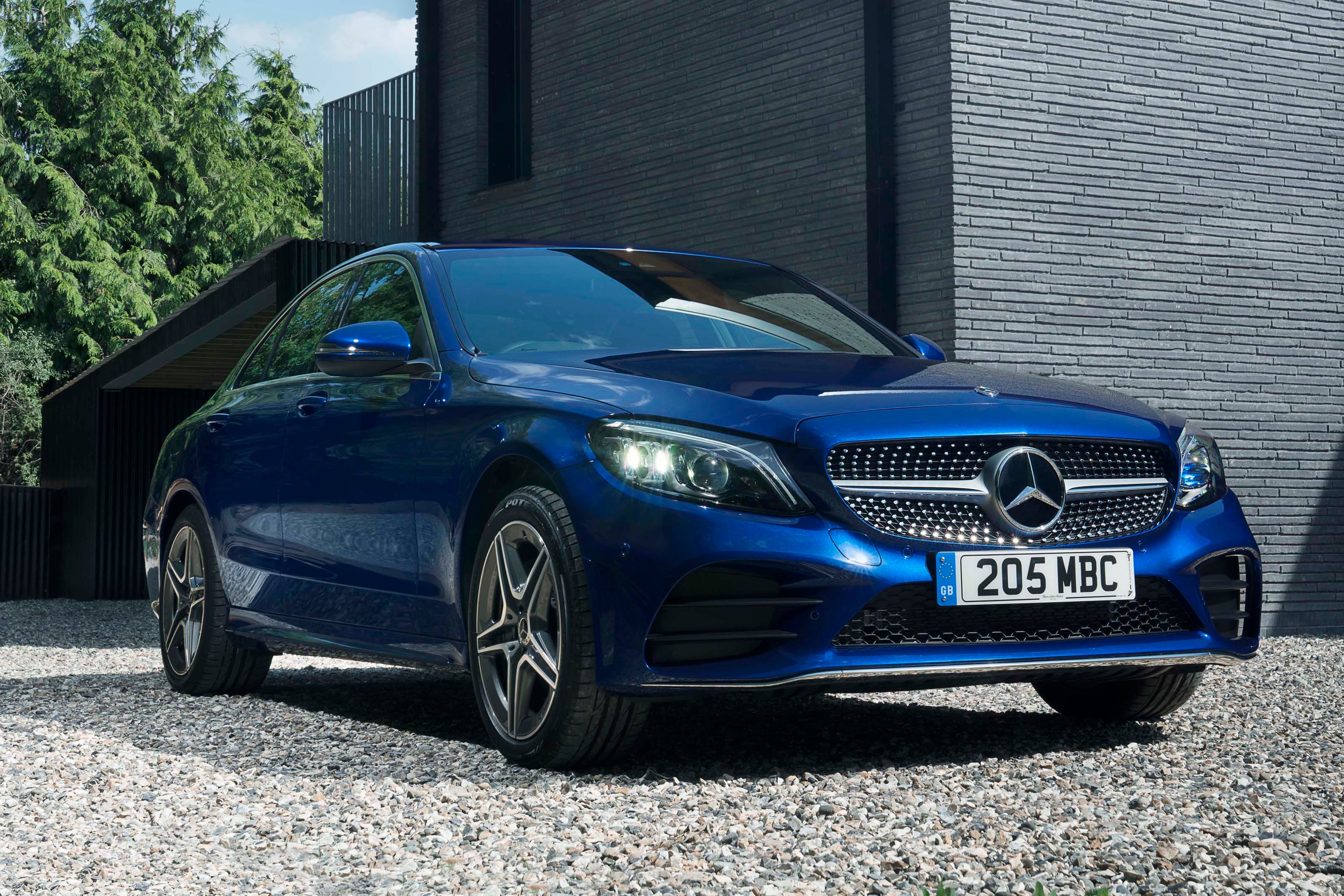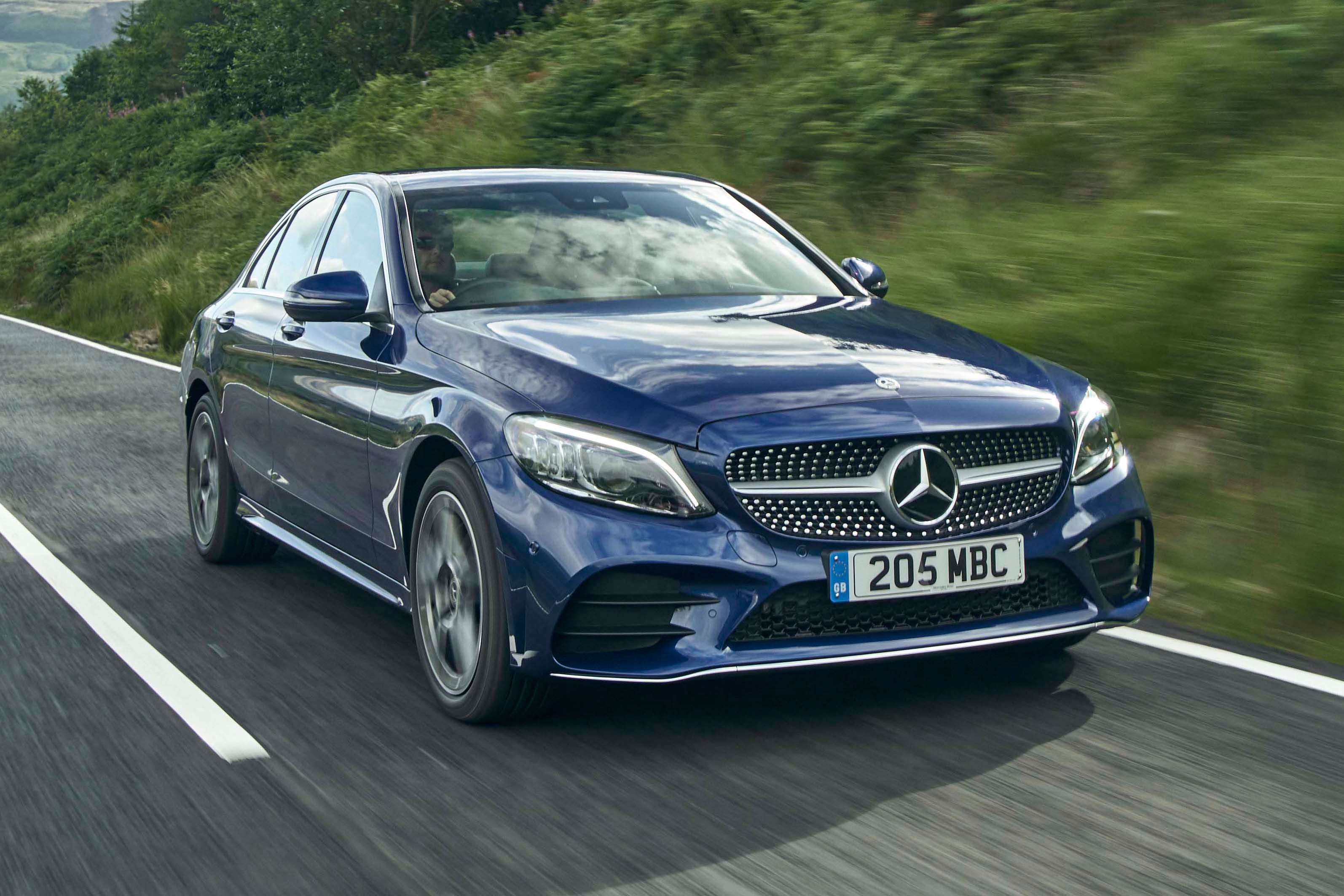 1/10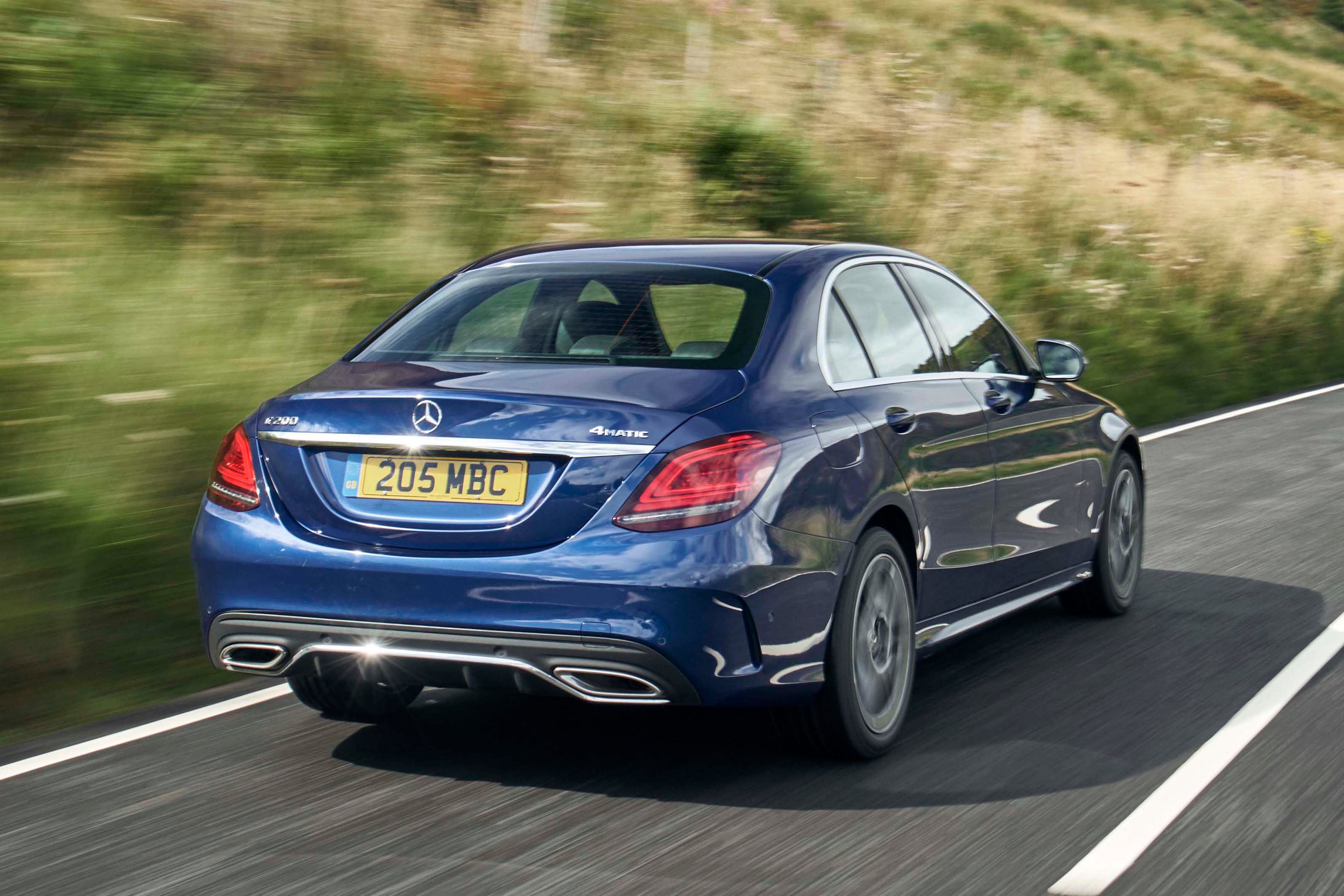 2/10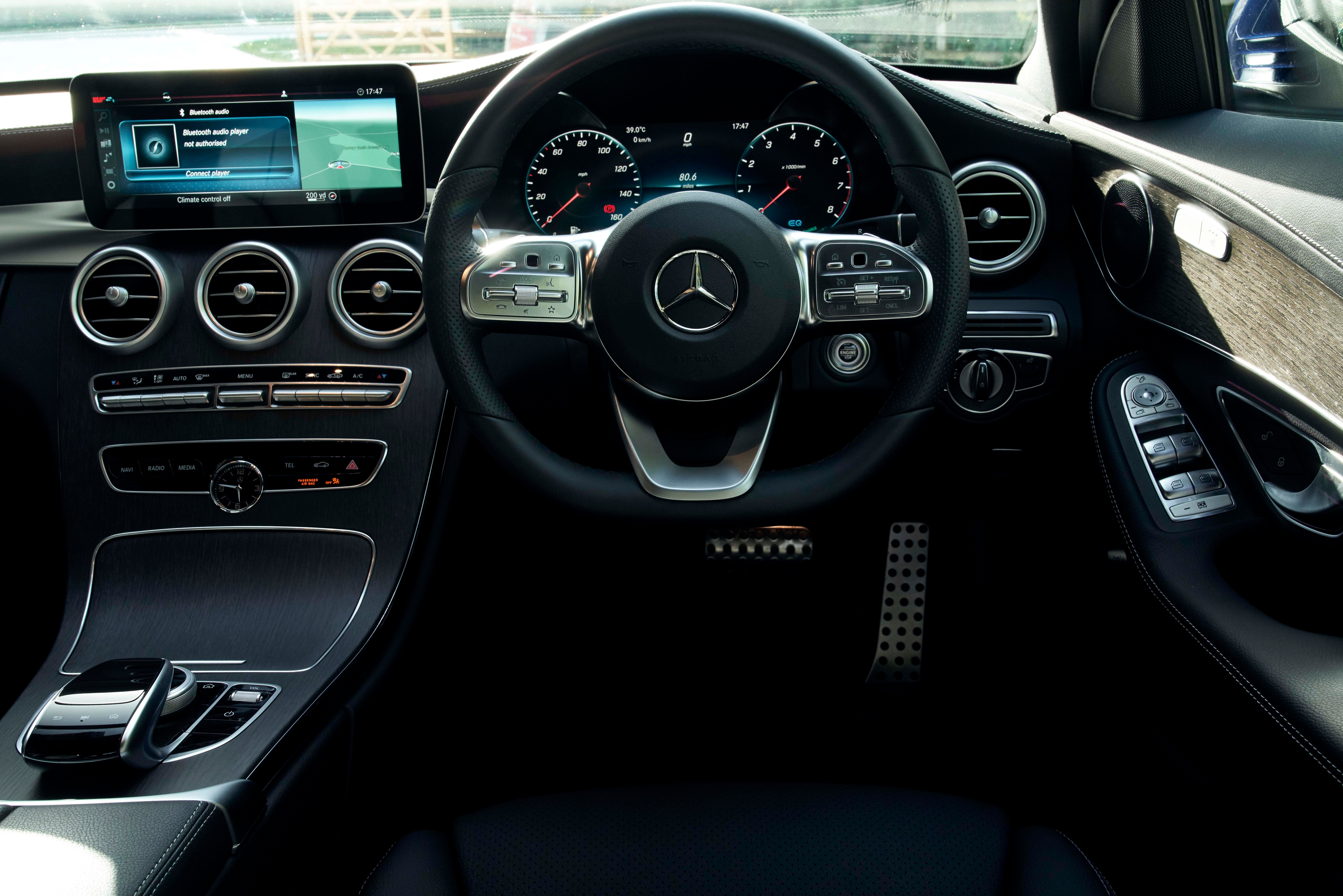 3/10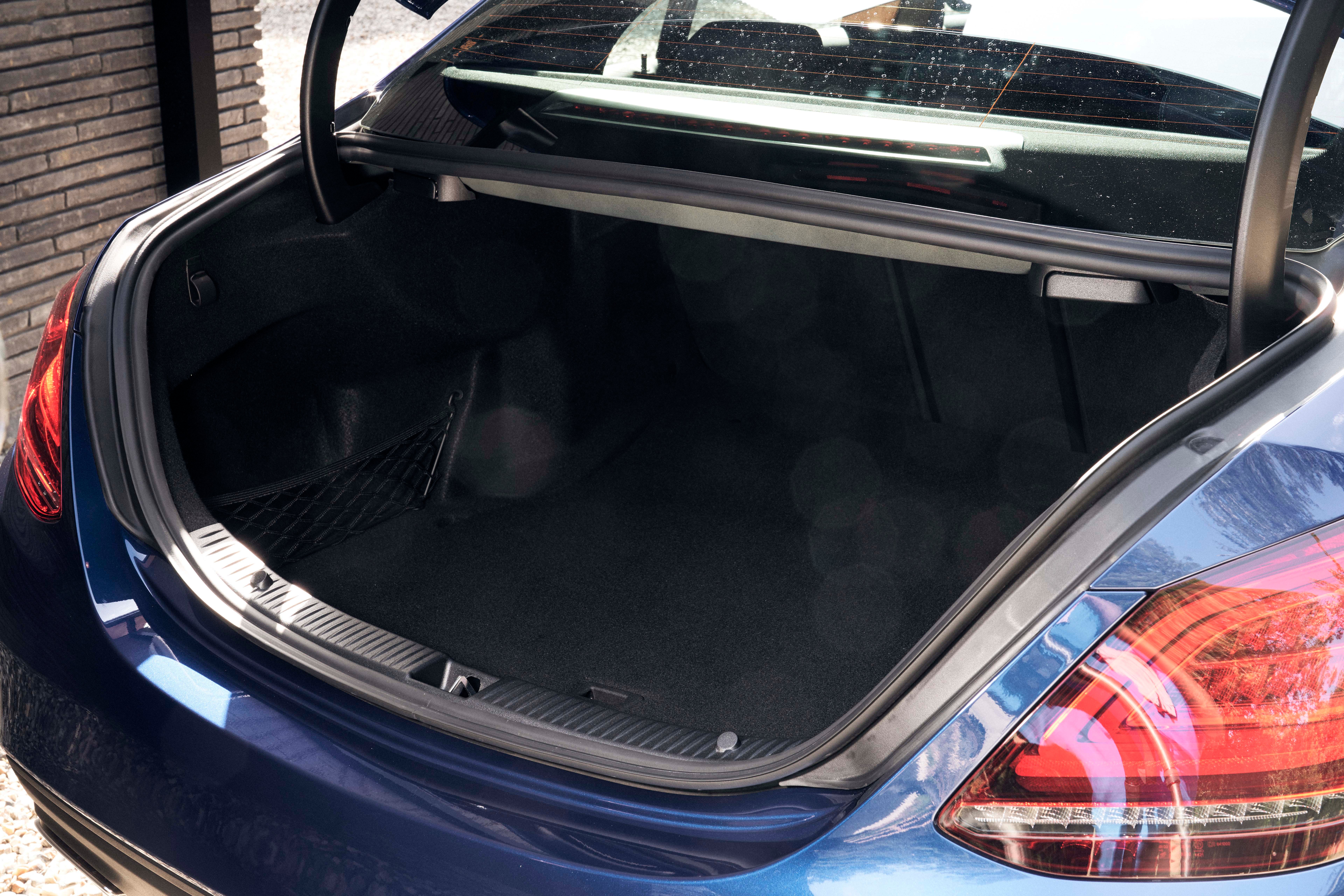 4/10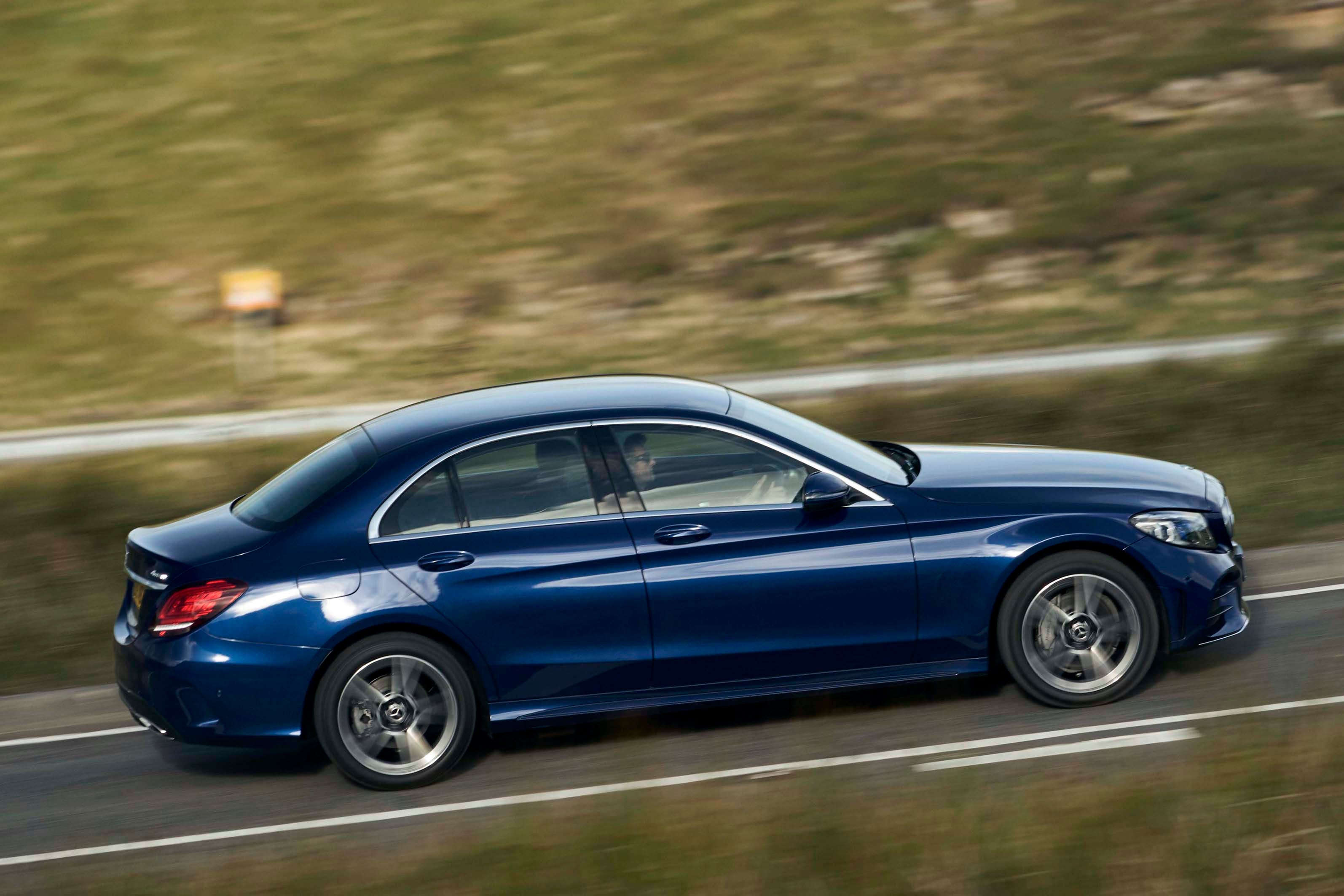 5/10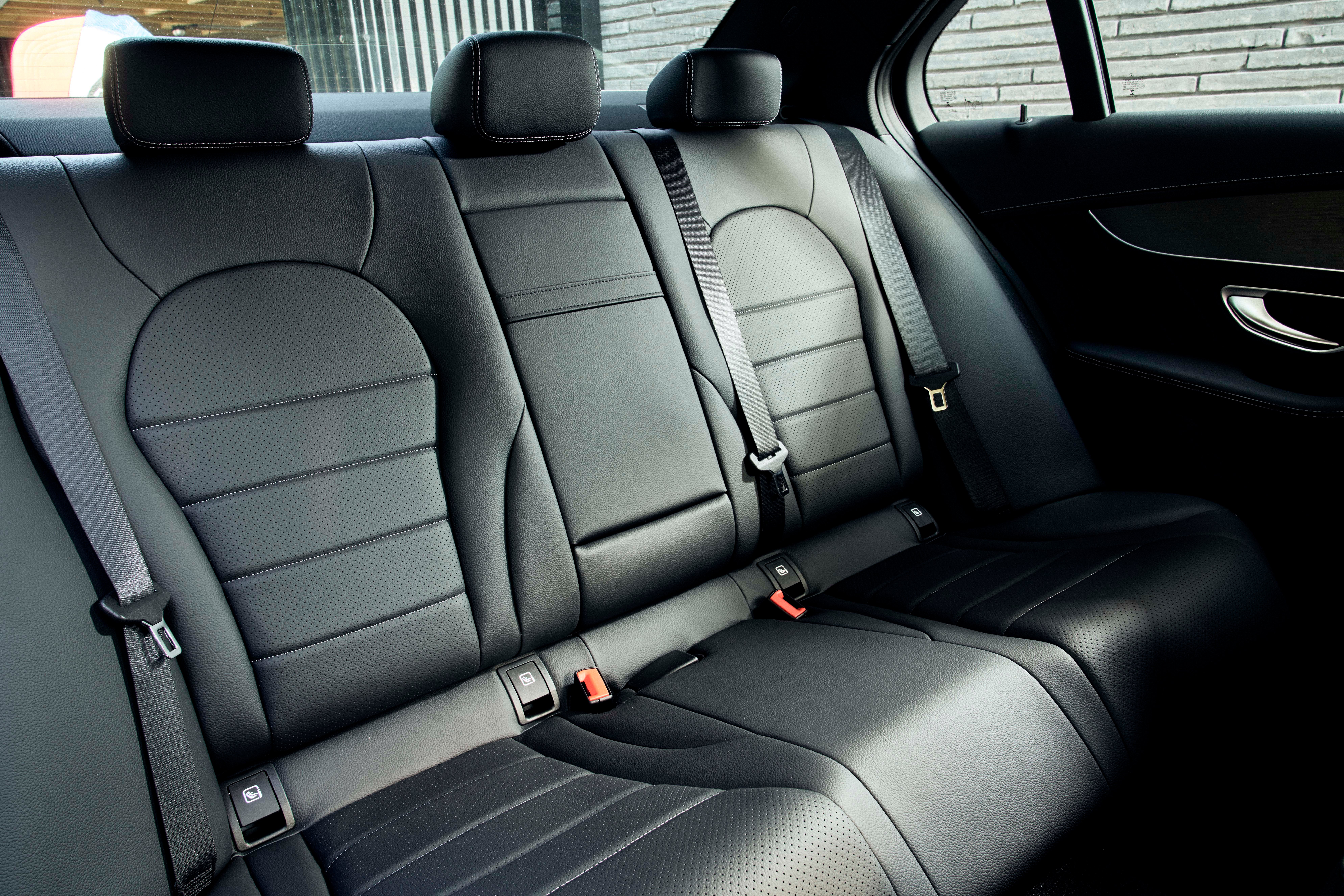 6/10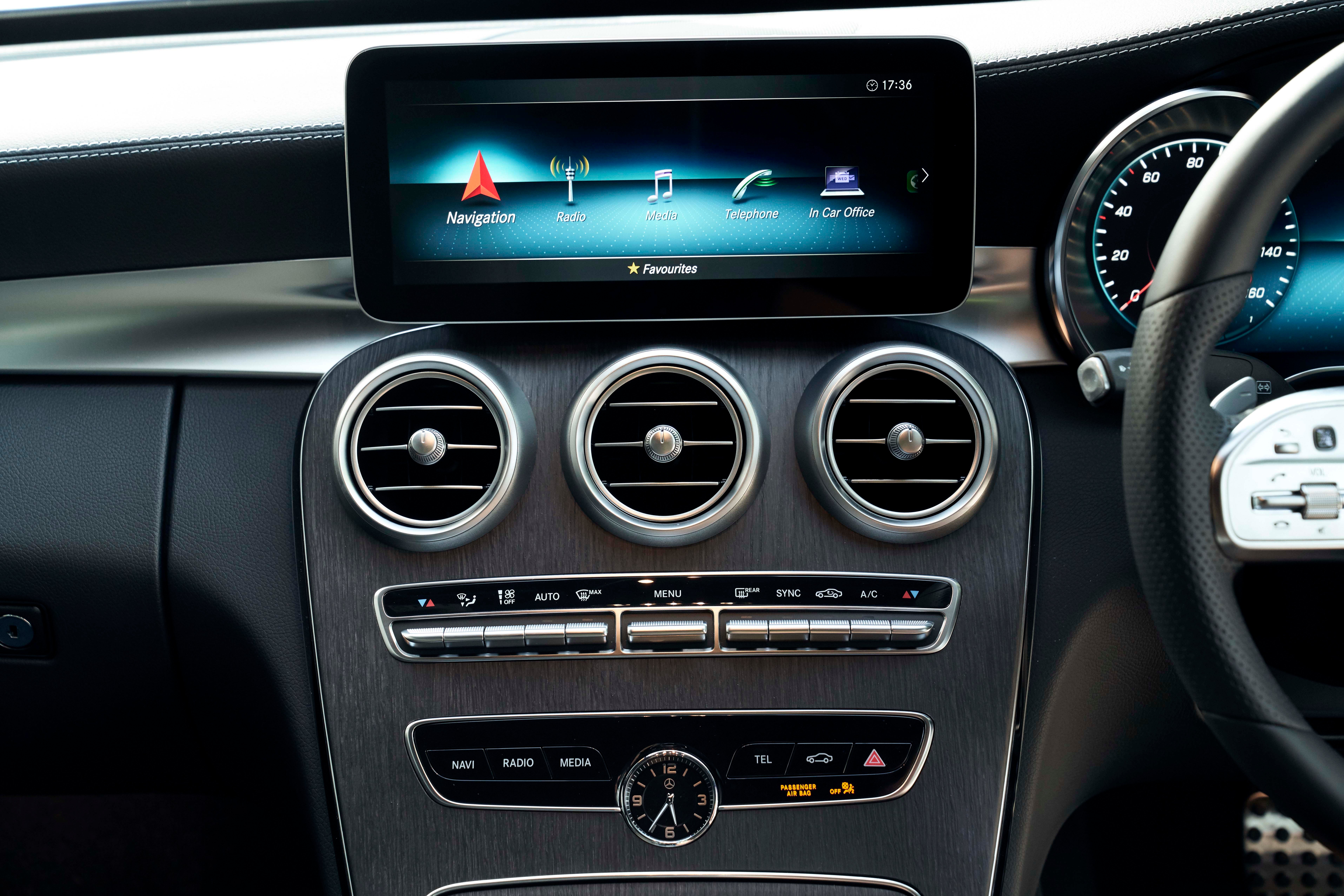 7/10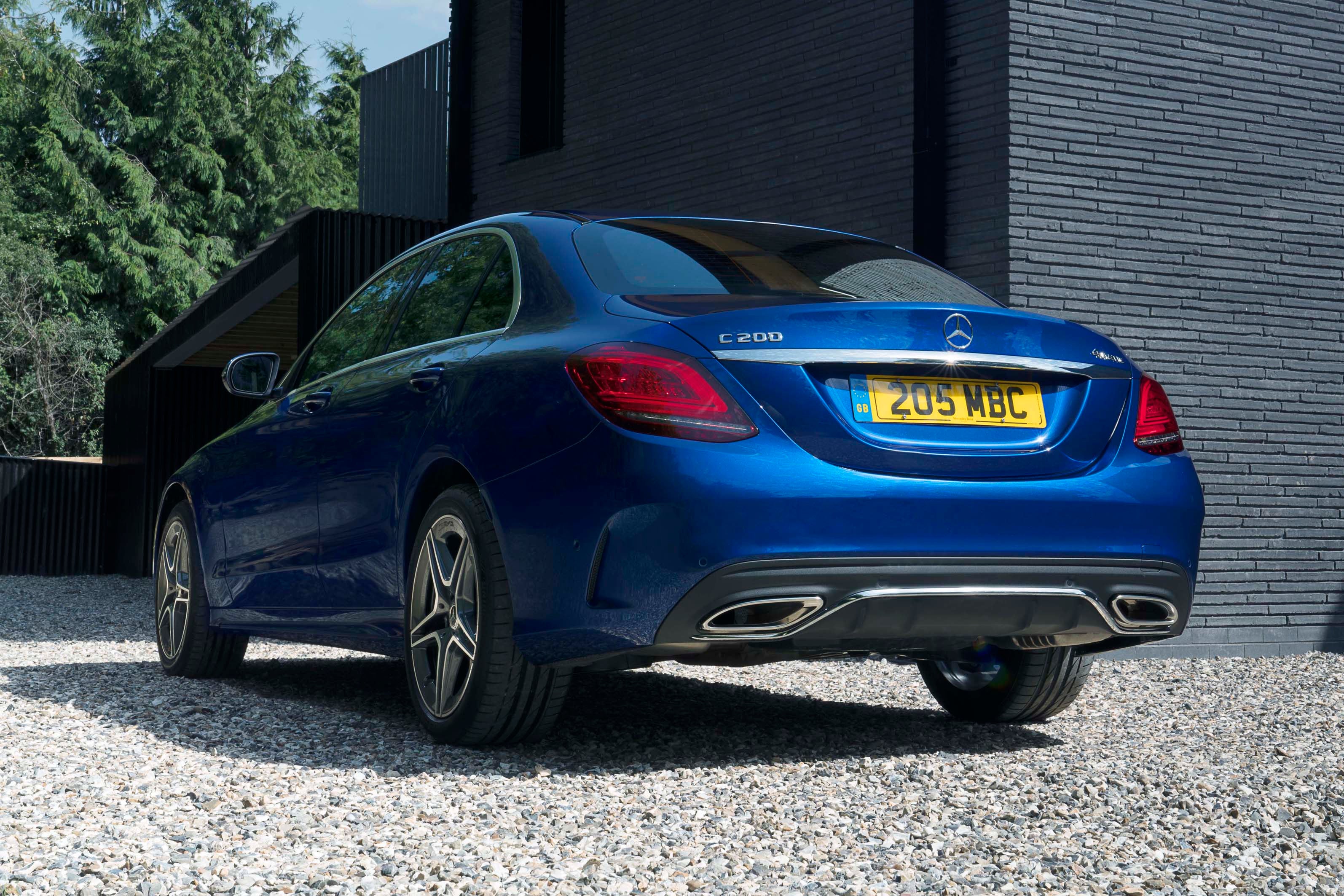 8/10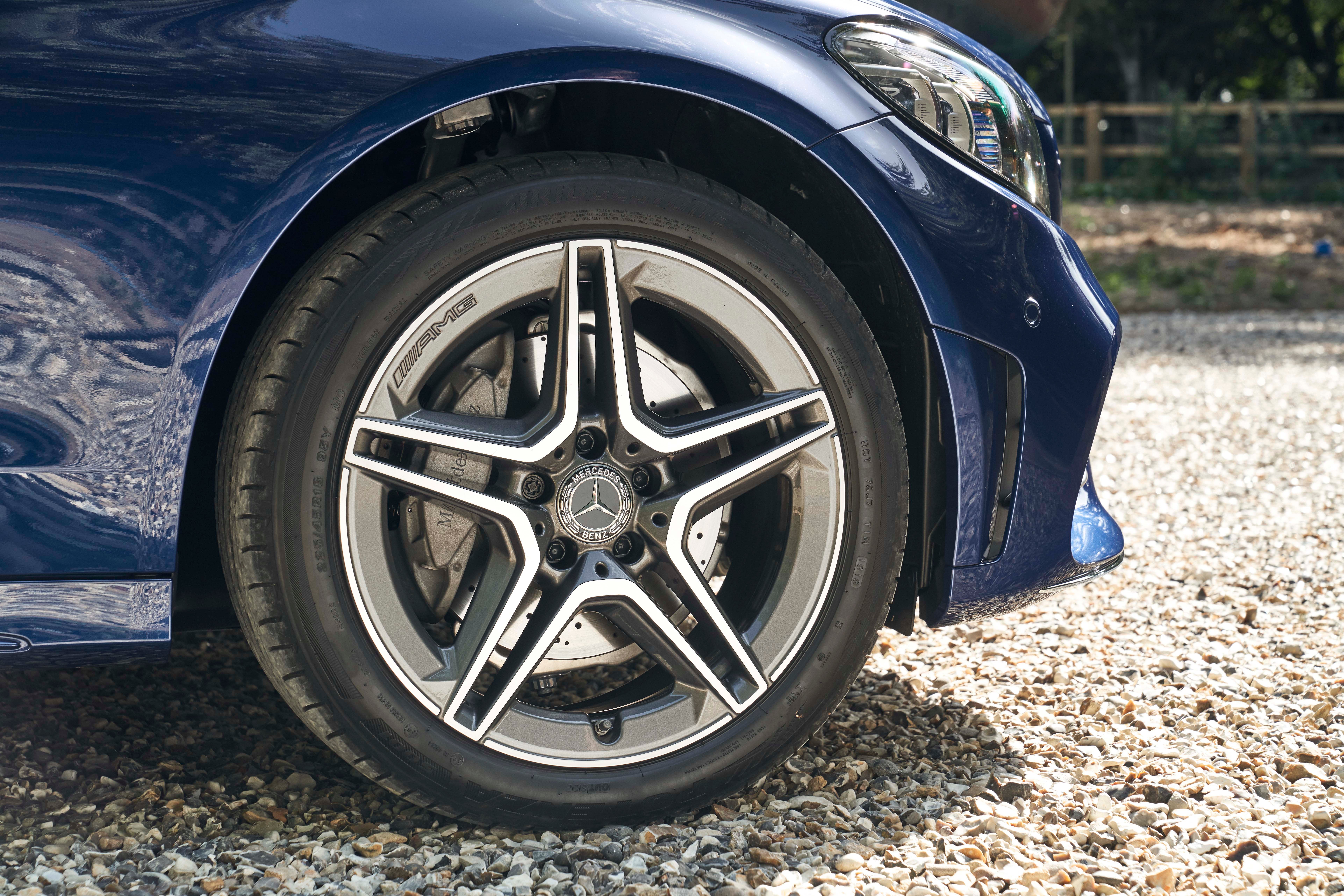 9/10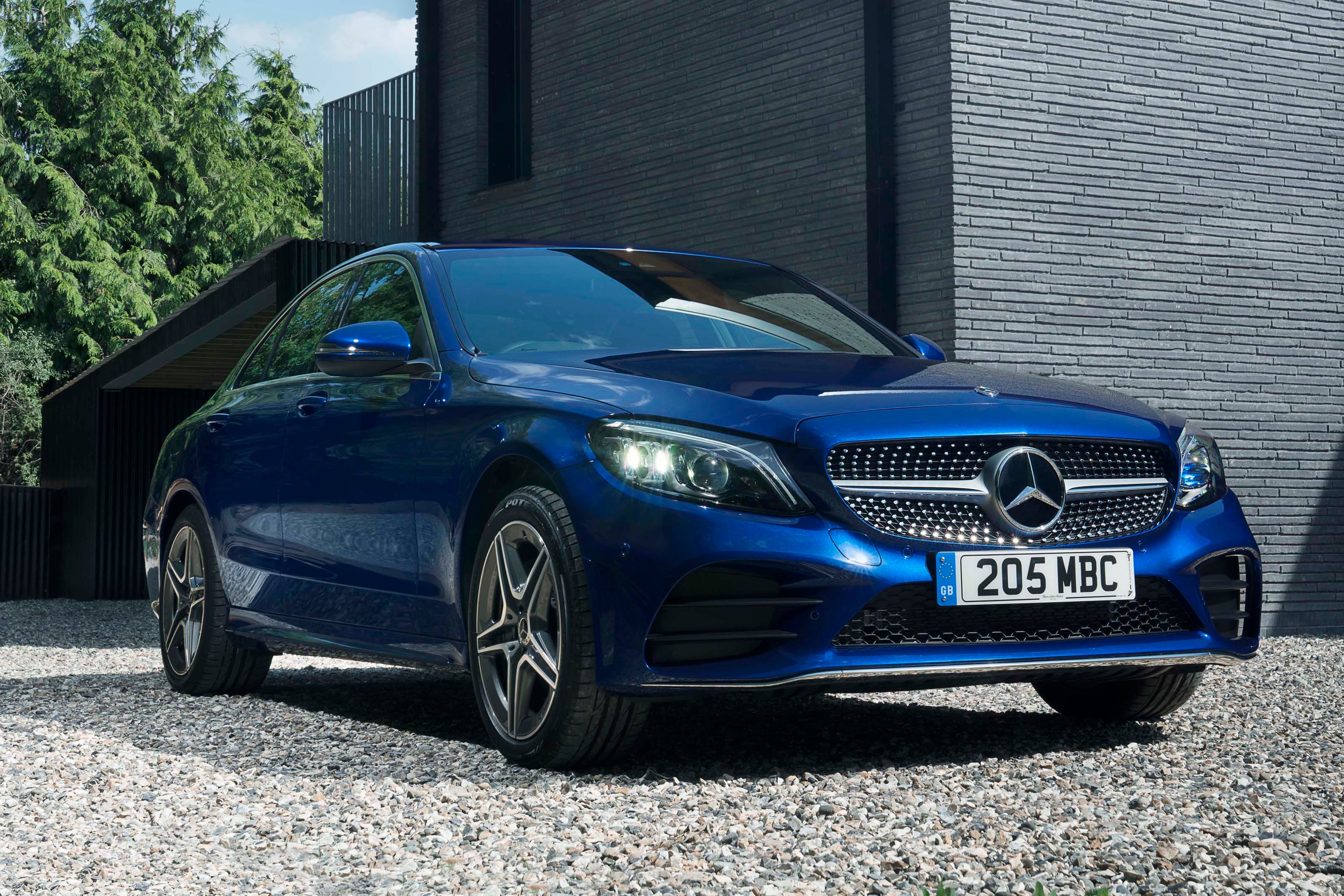 10/10
Launched in 2014

Premium

Petrol, Diesel, PHEV
Launch year

2014

Body type

Premium

Fuel type

Petrol, Diesel, PHEV

Written by
heycar editorial team

heycar rating
Big selling premium quality saloon
Best bits
Classy, understated looks inside and out
Two excellent plug-in hybrid options
Superb brand image, decent specification even on entry-level cars
Not so great
Not as fun to drive as its key rivals
Infotainment starting to feel dated
Interior quality feels a little sub-premium in places
Read by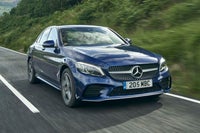 Overall verdict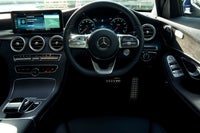 On the inside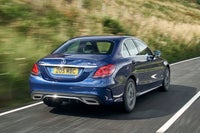 Driving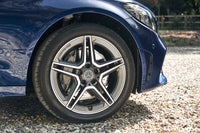 How much does it cost to run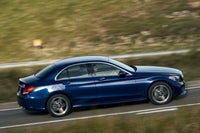 Prices, versions and specification
Overall verdict
"The C-Class remains hugely appealing, even if it has lost a bit of its sparkle as it enters its twilight years.  It's still classy and still competitive, particularly if you go for a plug-in hybrid model or the multi-talented C220d diesel."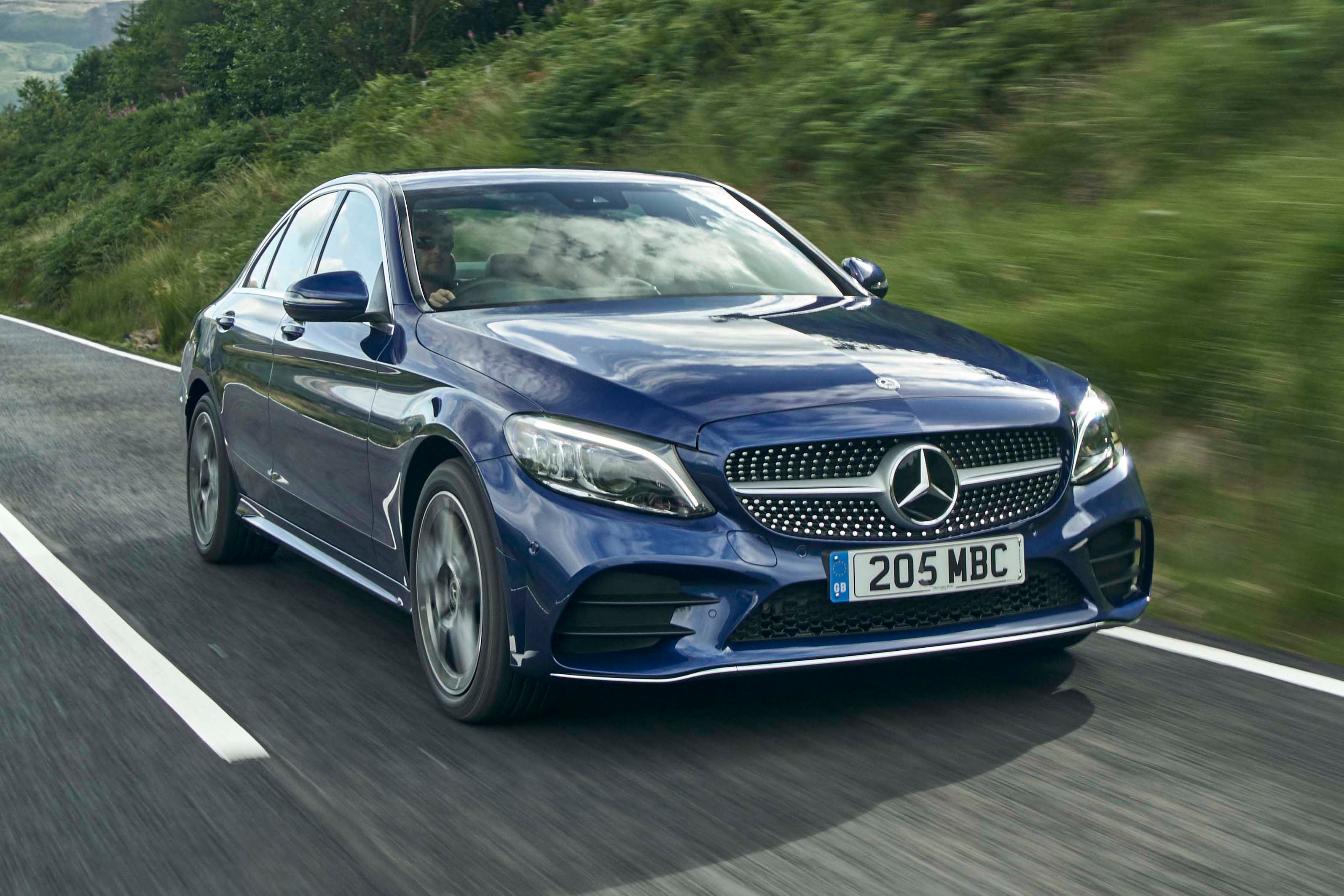 Introduced in 2014, but significantly overhauled in 2018, the Mercedes-Benz C-Class is an absolute mainstay in the mid-sized executive class (there's a new one on the way), competing with predominantly German, premium badged rivals such as the BMW 3 Series and Audi A4.
That's the C-Class's heartland rivals, but you might also consider the Vauxhall Insignia, Ford Mondeo among others, though the Mercedes has the more upmarket badge, which means it holds its value better and is cheaper to own over a three-year period.
That means the C-Class has even broken into the UK's top ten selling models on occasion, mixing it on the list with Ford Fiestas, Volkswagen Golfs and Vauxhall Corsas, that's quite an achievement for a premium badged saloon. Globally, that success has been replicated, with the C-Class accounting for one in every five of Mercedes-Benz's sales – which when you consider the sheer volume of cars Mercedes produces, is quite remarkable.

The C-Class' key virtue being its comfort and understated classiness. That, on first glance, it looks like a scaled down S-Class – the S-Class being Mercedes-Benz's biggest luxury saloon – is no bad thing. The sweeping dashboard brought a whole new level of luxury to this size of car though you'll need to splash the cash on options to get the Mercedes' interior looking at its best.
Decent practicality comes as standard, though. So you'll have no trouble squeezing four people into the car's cabin, the boot is large and there are plenty of smaller storage areas that can keep the interior looking tidy.
You also get a huge range of engines covering everything from cheaper-to-buy petrols to frugal diesels, hybrids that can run on electric power alone for short journeys, and powerful AMGs with a mixture of eight and six cylinder engines.
That AMG link doesn't hurt the C-Class one bit. Indeed, across the line-up there's the option of AMG-Line Edition trim, which adds sporty bodystyling, sports suspension and a smattering of badges, so even a 2.0-litre diesel can look like an unhinged AMG model.
If you want a sporty drive, though, you'll need to go for the AMG C43 or C63 models, which have sharper steering and firmer suspension. Most of the Mercedes C-Class range prefers to focus on comfort so if you're looking for fun in corners combined with affordable running costs, you'll be better off with a BMW 3 Series.

If you're after a classy, good looking and surprisingly cost-effective saloon though, then the C-Class should still be at the top of your shopping list.
Comfort and design
"If you get into a C-Class after sitting in any current Mercedes-Benz first then you'll be in for a shock."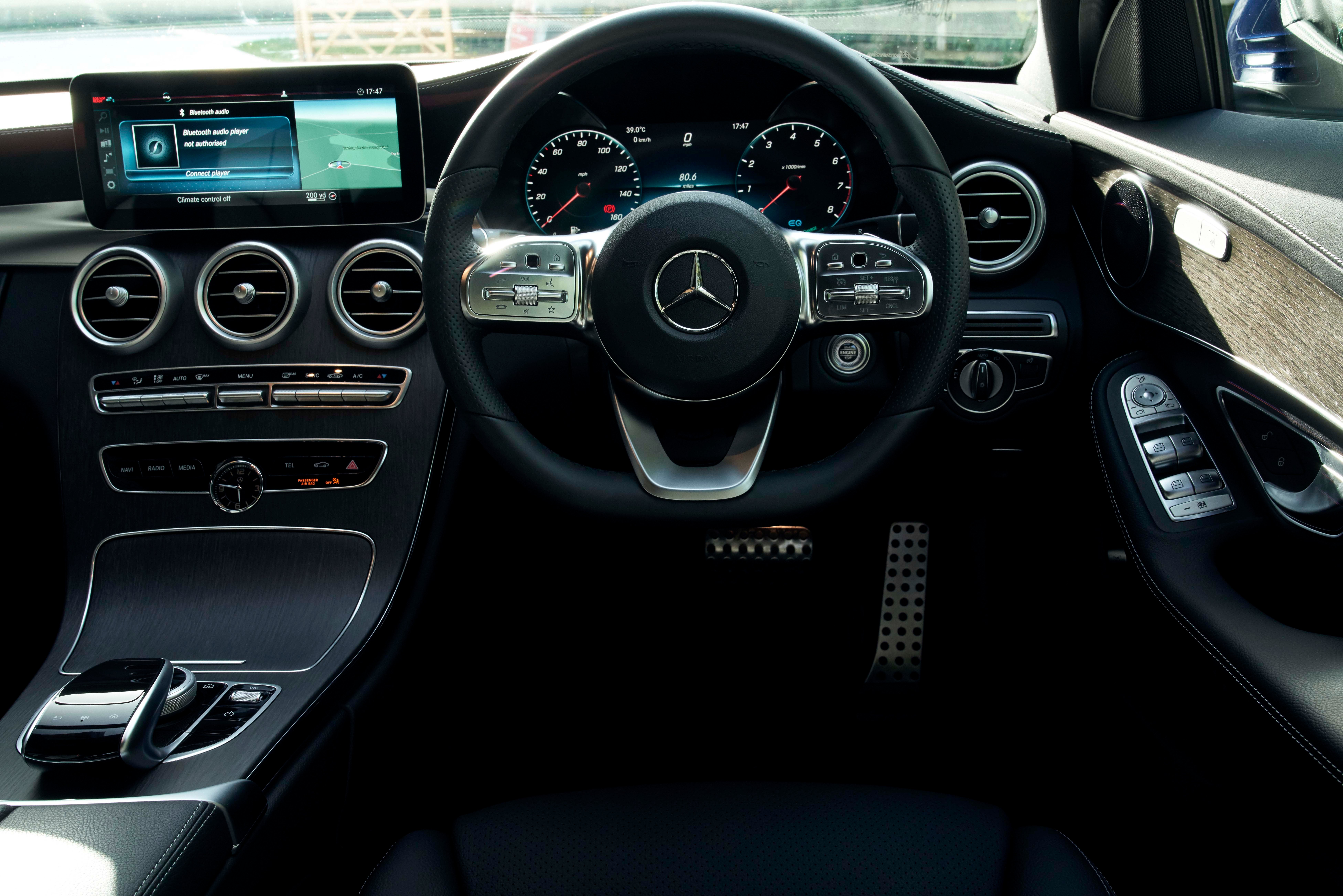 While even something like an A-Class has infotainment screens big enough to double as a home cinema, the C-Class is notably impotent. A single 10.25-inch (7-inch on the base S) screen sprouts up from the dash top, and that's it.
We're not saying that's a bad thing, though. If anything the C-Class's interior underlines that there's no substitute for neat, understated design. It's a very pleasing place to sit, the bold, large metal effect air vents contrasting with the black behind them, the centre console neatly sweeping up the dashboard and having all the heating and ventilation controls sensibly positioned, and with proper switches.
All C-Class models come with a Seat Comfort Package, which brings electro-pneumatic four-way lumbar support, electrically adjusted backrest and height and manual seat depth adjustment. The steering column adjusts manually for height and reach, too, all of which makes getting comfortable behind the wheel very easy. All but the C180 S model come with seat heating, too.
There's a convincing man-made leather on the S and SE models, with real leather from Sport upwards, the AMG Line models also gaining more sportingly contoured front seats. The C-Class' interior is a smart, and comfortable place to be as a result.
Handling and ride quality
"Mercedes-Benz dubs its standard suspension Agility Control comfort suspension. The focus is on comfort, the C-Class appointing itself adequately through the bends, but not managing to excite in the way a BMW 3 Series, Jaguar XE or even the front- or four-wheel driven Audi A4 can."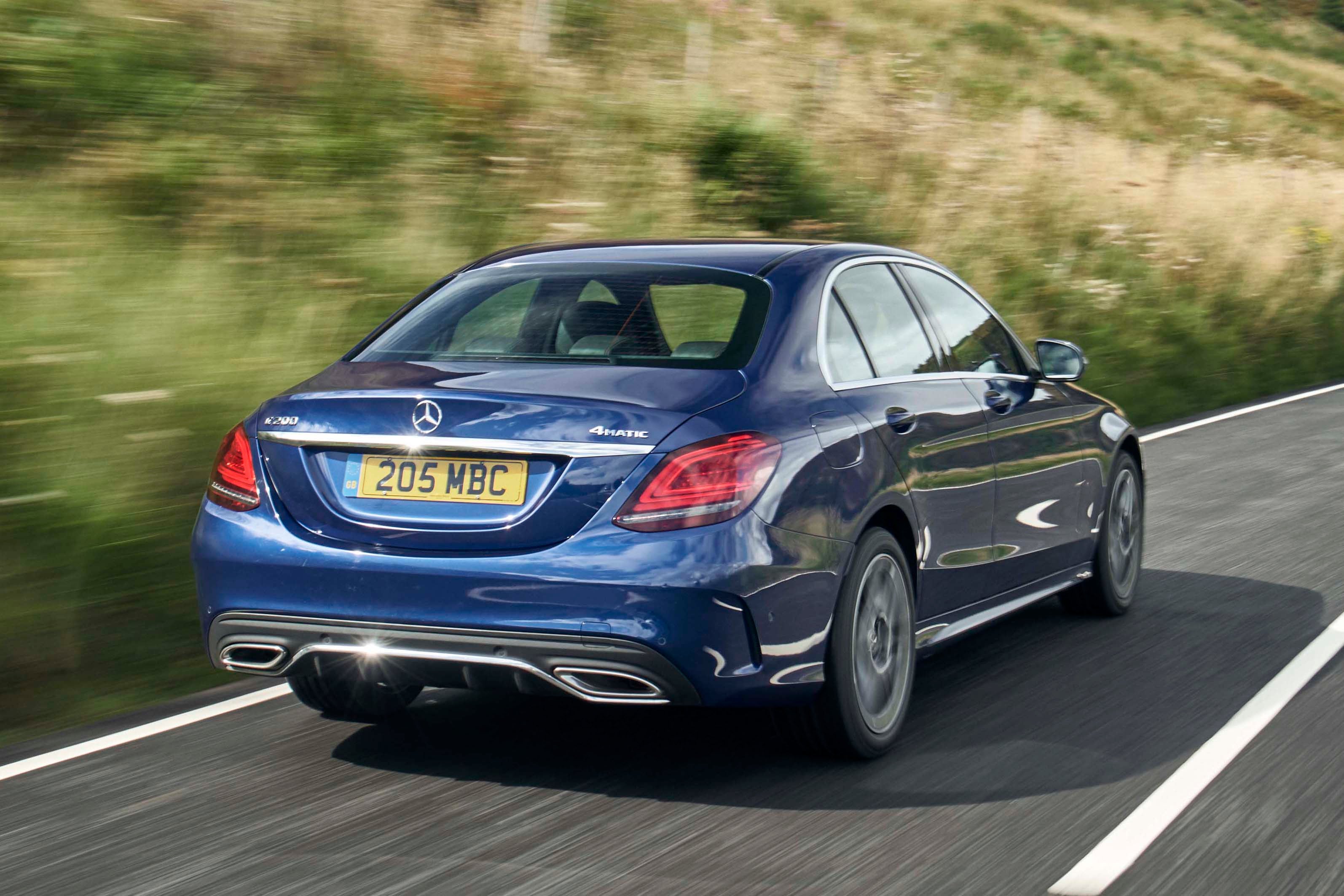 The steering is a touch inert, it doesn't give you the confidence to push into to corners at the limits of grip and there's a fair bit of body roll, but the suspension otherwise provides decent comfort on poorer road surfaces.
As you climb the model line-up the suspension is variously offered in comfort specification but lowered by 15mm or firmer sports suspension lowered by the same 15mm. You also low-profile, wider tyres which make the Mercedes feel more alert.
The hybrid models get air suspension as standard – a rare addition in this size of car. It doesn't make the Mercedes feel any more eager to corner – if anything it makes it's a tad less connected – but the ride you get in return is worth the sacrifice. Particularly on the motorway, the air suspension glides over bumps and doesn't transmit as much noise through the car's structure as the conventional coil springs fitted to the rest of the range.
Going for either of the AMG models changes things entirely. The AMG C43's steering is alert, like the standard car's setup has cleared a heavy hangover, and it's stiffer sports suspension makes the car feel more responsive. It's actually great fun to drive and the standard four-wheel drive system means you can make the most of the car's twin-turbocharged 3-litre engine – that, by the way, sounds glorious – without having to worry about any nasty consequences.
You'd wonder how the C43 could be bettered until you try the C63 which does all of the above, but simply ramps it up to 11.
MPG and fuel costs
"Obviously it's those plug-in hybrids that are the fuel consumption champions, with the C300d e EQ Power returning official combined consumption figures of between 176.6-217.3mpg and a CO2 figure of just 32g/km."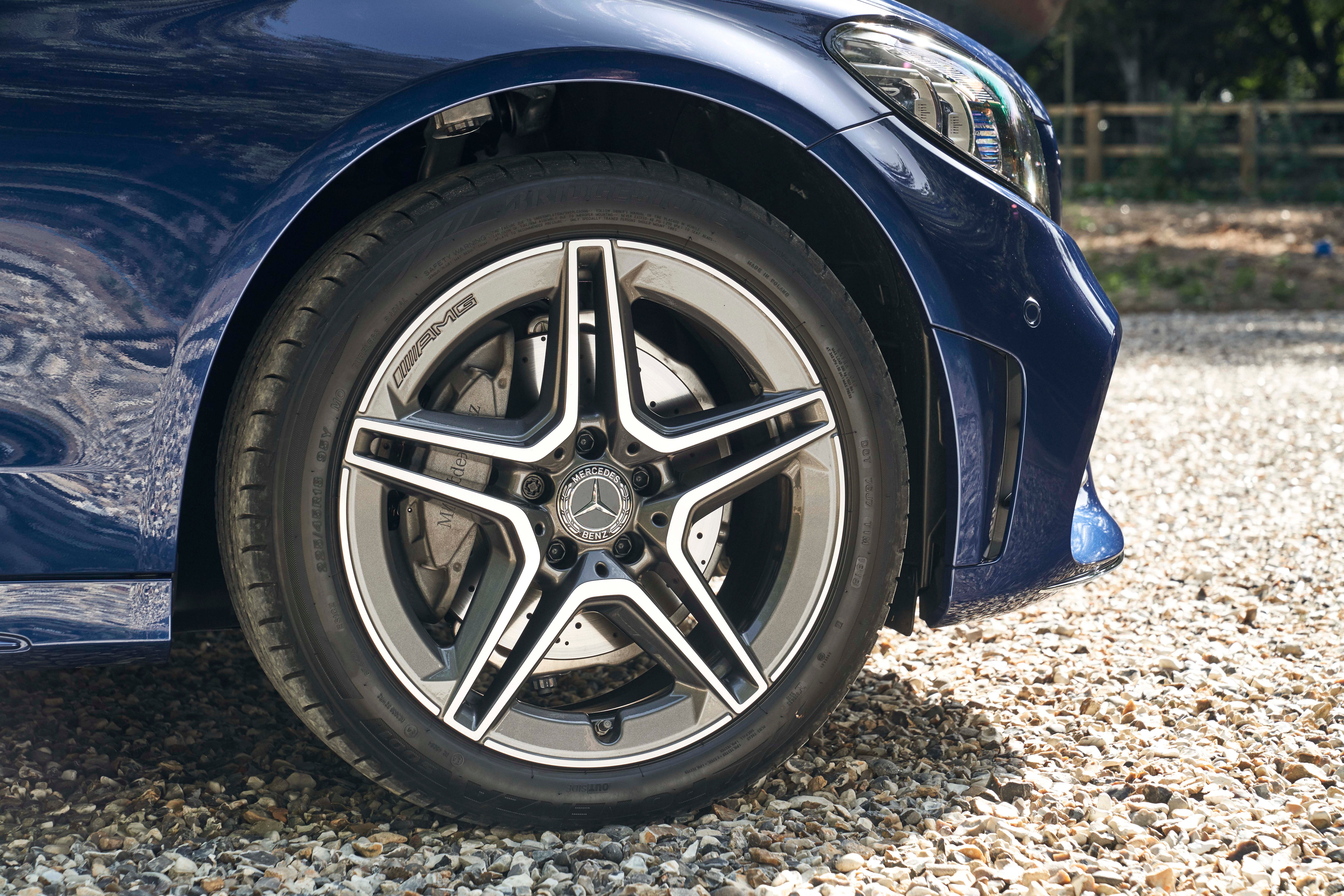 The C300 e manages CO2 emissions of 41g/km and a combined consumption figure of 148.7-176.6mpg. Take those figures with a fistful of salt, the reality likely to be significantly worse – think around 80mpg in mixed, normal driving.
Elsewhere the range the C200 d will get you the potential to reach 50mpg with relative ease, the best petrols only managing between 34-38mpg officially, and likely less in real-world driving. Charging time for those hybrids will be around 4 hours to fully charged on a proper 7kW household plug-in wallbox.
How much should you be paying for a used Mercedes-Benz C-Class?
"Our report focuses on the 2018 and onwards version of the C-Class but it's been around since 2014. The earliest examples start at around £7000, the majority being the fleet favourite C200d and C220d models, with big miles."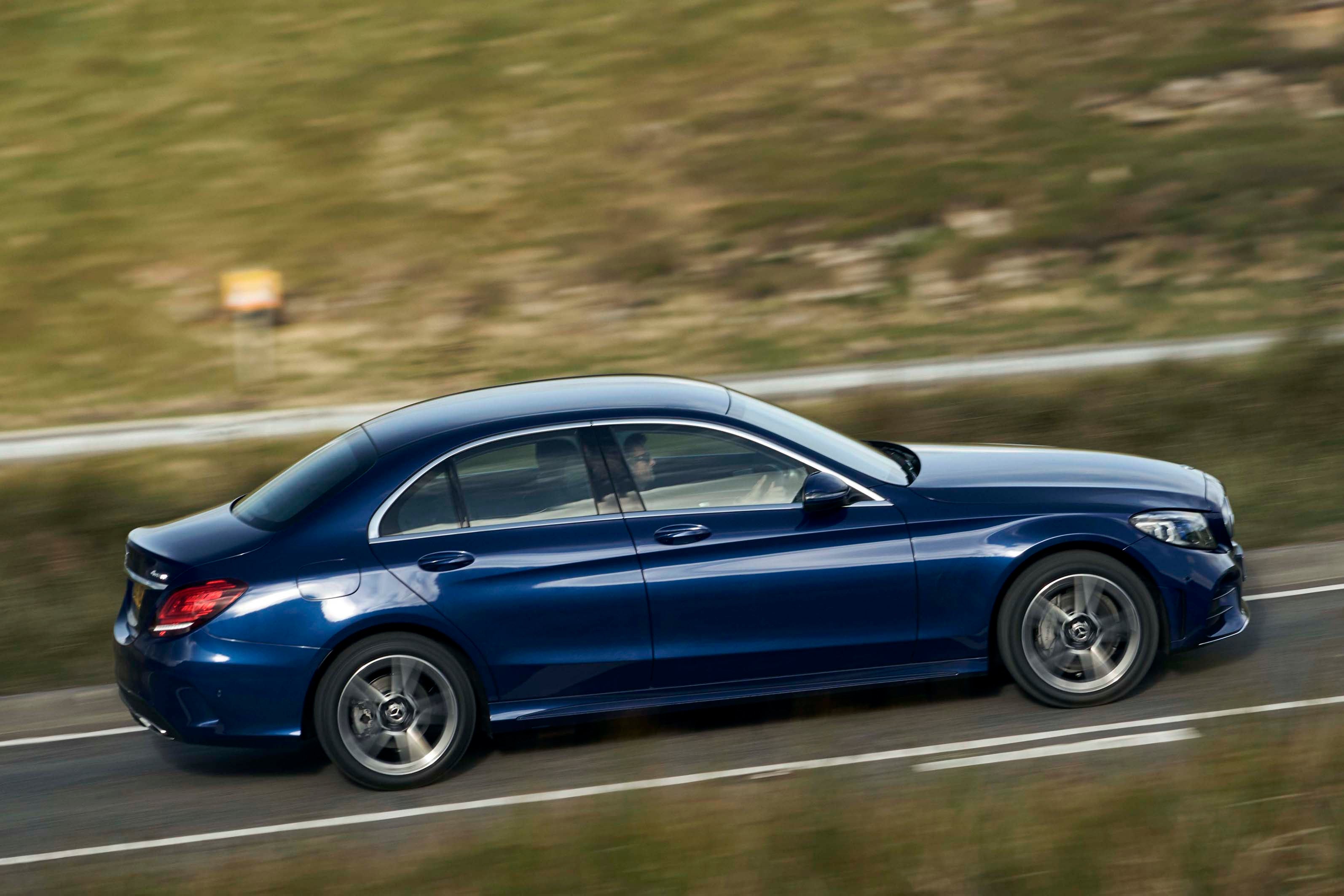 To sample a C-Class at its best though, you'll want a newer model. We found a 2019 post-facelift C-Class with just over 20,000 miles in desirable AMG Line trim and with a handful of options up for £22,500 – saving you more than £10,000 on the new cost. That particular car was fitted with the C220 diesel engine which gives an excellent mix of fuel economy and performance.
Ready to get your top quality Mercedes-Benz C-Class?
All cars come with a warranty
Selected dealers only
All quality checked
Mercedes-Benz C-Class
C220d AMG Line Edition Premium Plus 5dr 9G-Tronic
Manufacturer Approved
Mercedes-Benz of Blackburn

Lancashire, BB13HT
PCP: £584.36/mo
Representative example: Contract Length: 36 months, 35 Monthly Payments: £584.36, Customer Deposit: £5,847.00, Total Deposit: £5,847.00, Optional Final Payment: £17,834.36, Total Charge For Credit: £5,153.96, Total Amount Payable: £44,133.96, Representative APR: 6.9%, Interest Rate (Fixed): 6.69%, Excess Mileage Charge: 10.8ppm, Mileage Per Annum: 10,000
Mercedes-Benz C-Class
C300d AMG Line Edition Premium 4dr 9G-Tronic
Mercedes-Benz of Shrewsbury

Shropshire, SY13TG
PCP: £512.44/mo
Representative example: Contract Length: 36 months, 35 Monthly Payments: £512.44, Customer Deposit: £5,249.00, Total Deposit: £5,249.85, Optional Final Payment: £16,487.44, Total Charge For Credit: £4,673.69, Total Amount Payable: £39,672.69, Representative APR: 6.9%, Interest Rate (Fixed): 6.69%, Excess Mileage Charge: 10.8ppm, Mileage Per Annum: 10,000
Is the Mercedes-Benz C-Class right for you?
Given the sales, then the C-Class saloon could be the answer to anyone's 'what car should I buy?' question.
If you're a company car driver, or even a private buyer, then the C-Class will likely be on your radar, then, and the breadth of choice makes it almost certain there'll be one that suits your particular needs.
It's a premium car that does manage its upmarket status without carrying some of the negative baggage that comes with its key rivals, think BMW and Audi drivers, here. It's classily understated, being more comfortable and smart than thrusting and overt, and that's quietly appealing.
The C-Class saloon also hails from Mercedes-Benz's pre-MBUX (that's Mercedes-Benz User eXperience) interiors, so while it's not lacking in connectivity and technology, it's all contained in a screen that's sensibly-sized and easily operated with a rotary controller rather than a touchscreen. It could be ideal if you're a bit of a technophobe. If that sounds good to you, and it does us, then you'd better hurry, as with the soon to be revealed new C-Class, that'll change.
If you need more space, the Mercedes C-Class Estate should fit the bill while Mercedes also offers the C-Class Coupe and C-Class Cabriolet.
What's the best Mercedes-Benz C-Class model/engine to choose?
Such is the breadth of the Mercedes-Benz C-Class range you'll find something to suit your needs. The C43 AMG 4Matic is quick and capable if performance is your thing, the C220d will chew up huge motorway miles while sipping fuel.
If you've a bit of urban driving at either end of your commute, then there's a choice of petrol or diesel plug-in hybrids that can drive on electric for short periods of time. That C220d diesel is arguably the best all-rounder though, mixing performance with economy.
Trims? Again, that's budget depending, but Sport Line or AMG Line are worth considering because they have less anodyne looks than the basic SE models.
What other cars are similar to the Mercedes-Benz C-Class saloon?
The BMW 3 Series and Audi A4 are the C-Class's most obvious competition, though the Jaguar XE is worth considering.
Smart, more mainstream contenders like the Volkswagen Passat, Volvo S60, Alfa Romeo Giulia and Mazda 6 also fit the brief, albeit without quite the brand kudos of the three-pointed star.
We'd be remiss not to mention the Tesla Model 3, the US electric upstart brand catching the premium market by surprise. It's a great choice if you live in a city where you'll be charged to drive a petrol or electric car.
Quality and finish
Nothing quite says 'quality' like the three-pointed star on the Mercedes C-Class' grille and steering wheel, so the expectation is of high quality materials, finished beautifully.
And that, by and large, is the case, in the C-Class. It all looks good, and the material quality is fine throughout, but push some of the trim pieces with any force and there's a bit of movement that hints the Mercedes isn't perhaps screwed together as well as you'd like it to be.
Given something like a more mainstream Volkswagen Passat feels more substantial, that's a bit disappointing. An Audi A4 betters the Mercedes substantially inside, for solidity and tactility, if not necessarily the design, likewise the BMW 3 Series, but we're talking degrees here – the C-Class is still a fine place to while away the miles.
Infotainment
It might not have more screens than a futures trader's desk, but you have to remember that the C-Class came out when the Apple iPhone 5S was the hottest smartphone.
S models make do with a 7-inch screen, so likely actually smaller than the smartphone screen in your pocket these days, SE and above models getting a larger 10.25-inch display. And do you know what, it's big and useful enough, indeed, by not dominating the dashboard it's not a distraction, and – lacking a good deal of the functions other cars offer – C-Class's infotainment is actually refreshingly simple, and easy to use.

All have DAB as standard, there's Bluetooth connectivity, and a central Comand controller rather than a touchscreen, that's easy to master and navigates simple menus. Upper AMG Line trims gain Comand Online, which adds things like topographic mapping and live traffic, while all come with plenty of USB ports and even a couple of SD card slots.
From 2019 onwards the C-Class comes with Apple CarPlay and Android Auto. All but that S come with a reversing camera, and from AMG Line Edition up the conventional instruments are replaced by a 12.3-inch configurable digital display.
Space and practicality
The premium mid-sized saloon has traditionally been a bit more compact inside than its mainstream rivals, and so it proves here.
Part of that is attributable to the C-Class's rear-wheel drive layout, which sees the transmission tunnel run the length of the car, but for front seat passengers it's not really an issue. There's plenty of space up there, the airy feeling aided by the relatively slim pillars around the windscreen.
Those in the rear aren't so well accommodated, the C-Class's sloping rear roofline meaning those over 5ft 10 will find it lacking in headroom, while there's not a great deal of leg or foot room under the front seats, either. That rear bench really is only suitable for two, the middle rear seat not only flat and high, but perched high in the middle you'll have little place to put your feet.
Two ISOFIX seat mounts are fitted on the outer seats. The rear doors have door bins in them, with the central armrest being lidded for storage. Up front there's a useful cubby with a split lid between the front seats a lidded compartment in front of the automatic transmission selector, a glovebox and a pair of cupholders and door pockets.
The boot isn't quite as big as some rivals, but 455 litres is enough for most users, the rear seats folding in a 40/20/40 split-fold manner, creating a large, relatively flat through load space.
You lose some bootspace with the plug-in hybrid models, the volume dropping to 300 litres, the battery adding quite a pronounced hump in the boot floor. The boot access is okay for a saloon, and if you want a more capacious, practical C-Class then there's always the estate model.
Engines and gearboxes
There's a sizeable range of engine choices with the C-Class saloon. Indeed, ignoring the C63's V8, there's eight engine options available to you, from a four-cylinder 1.6-litre petrol right up to the 3.0-litre V6 in that AMG C43 model.
A 1.5-litre petrol, badged C200 adds a EQ boost system adding 14PS worth of electric power, via a mild hybrid system, to help improve both economy and performance.
If you're after proper electric power, Mercedes-Benz offers a pair of plug-in hybrids, one the C300 e EQ Power, which mates a 211PS turbocharged petrol four-cylinder engine with a 122PS electric motor for a combined system output of 320PS and a huge 700Nm of torque.
The second plug-in hybrid sees the same 122PS electric motor join a 194PS turbodiesel, combined it offers 306PS and the same 700Nm of torque. They offer electric only driving, as well as a long range. And when both the diesel and electric motor are working in unison, it's quick, with the C300 de able to reach 62mph in 5.6 seconds.
Tempting as those hybrids are, they're expensive, and the conventional engines don't trail them too far on performance, with the diesel C300 d and C220 d getting from 0-62mph in 5.9 and 6.9 seconds, respectively.
Only a couple of C-Class models come with a standard six-speed manual. A nine-speed automatic is standard elsewhere and it shifts quickly and smoothly.
Refinement and noise levels
The C-Class's focus on comfort is apparent in relation to refinement. It's quiet inside, as you'd hope in an upmarket saloon. At higher speeds you might get a bit of wind noise from around the door mirrors, and on rougher road surfaces there's a bit of tyre noise, but that's only really noticeable on cars with the larger wheels and tyres.
Refinement improved considerably when the car was refreshed in 2018, Mercedes-Benz finally replacing its old 2.1-litre turbodiesel with a smoother new 2.0-litre unit. It's not the quietest diesel, but it's significantly more refined, in relation to both noise and vibration than the engine it replaced.

Cruising around in EV mode in the EQ Power plug-in hybrids underlines the C-Class' fine refinement. They're silent at town speeds and hushed even when their combustion engines kick in to assist.
Safety equipment
Mercedes-Benz can genuinely lay claim to inventing a lot of the safety systems that are now commonplace across all cars.
Safety kit includes dual stage driver and passenger front, pelvis airbags, a driver's knee bag, and a full curtain airbag for front and rear passengers. There's even an active pop up bonnet to help protect pedestrians in an impact and you get automatic emergency brakes that should stop you having an impact all together.
There's also the option of a Driving Assistance Package with the Premium or Premium Plus model lines, which means the Mercedes can drive itself on the motorway and in slow moving queues of traffic. When it was tested in 2014, the C-Class gained a full five-star Euro NCAP crash test rating.
Maximum EV range
Choose one of those plug-in hybrid models and you'll add as much as 34 miles of electric-only range to your C-Class. If you have a short commute, this could mean you can do it using cheap electric power alone. It also means both the diesel and the petrol hybrid models are free from paying tariffs like the London Congestion Charge.
Insurance groups and costs
With the C-Class spanning a huge spectrum of prices and performance the cost to insure it will vary wildly. The hybrids and that AMG C43 will attract the highest premiums, with the huge volume models doing a lot better.
The C200 d models are the cheapest of the lot to insure, they sit in Group 24 while a C63 S will cost you double, sitting in Group 48 insurance.
VED car tax
A fleet favourite, the C-Class performs well when it comes to tax. Those hybrids are the best here, but the C220 d will keep the taxman at bay, it comfortably sneaks under the £40,000 penalty tax banner in SE, Sport or AMG Line Edition (just) and emitting 134g/km, costing £540 for the first year and £150 thereafter.
Go for a V8 C63 S and you'll pay a lot more starting with an £1850 initial payment and followed by a hefty £475 premium charge every year after that.
Trim levels and standard equipment
S versions of the C-Class come with a manual transmission, air conditioning, DAB and a man-made leather interior. We'd avoid them though, because they look plain and miss out on key equipment. The C-Class is also much better when fitted with an automatic gearbox.
SE models are the real starting point in the range. They come with a larger 10.25-inch infotainment screen, 17-inch alloys, a reversing camera, sat nav Active Parking Assist and electrically folding and dimming rear-view mirrors. Unfortunately, they still look very plain on the outside.
Sport Edition models get the looks that the Mercedes C-Class deserves. Their 18-inch wheels fill out the car's arches, they get lowered suspension along with powerful (and cool looking) multi-led headlights. Inside, the vinyl 'leather' makes way for the real deal.
AMG Line Edition models take the visuals a step further thanks to their tinted windows and slightly more aggressive body kit. Inside, they also get sports seats and a 12.3-inch digital display replaces the conventional dials behind the steering wheel.
AMG Line Night Edition Premium cars look even moodier. They have big 19-inch alloy wheels and get gloss black exterior highlights. Inside, the seats and steering wheel slide into your preferred position electrically you get a connected sat-nav system – which has live traffic updates – and wireless phone charging
Finally, there is the AMG Line Night Edition Premium Plus model. It looks just as distinctive and adds yet more kit including a 360-degree camera and a stonking Burmester surround sound stereo. These models also get a glass roof, which makes the Mercedes feel light and airy inside.
Learn more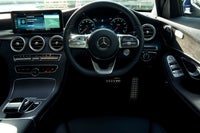 On the inside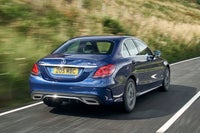 Driving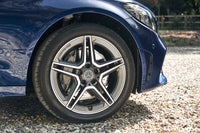 How much does it cost to run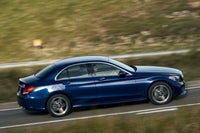 Prices, versions and specification
Reviews of similar cars
Quality checked, all cars less than 8 years old and warranty included
Looking for other Mercedes-Benz cars?
Quality checked, all cars less than 8 years old and warranty included