Mercedes-Benz C-Class Review 2022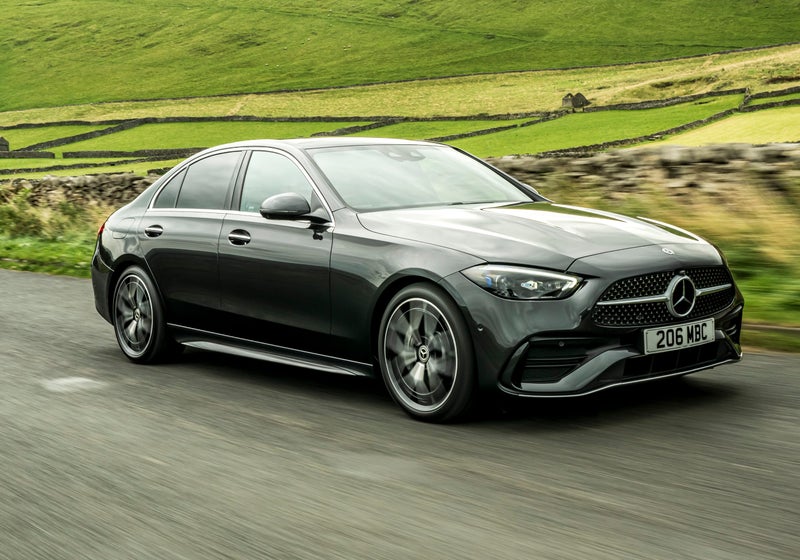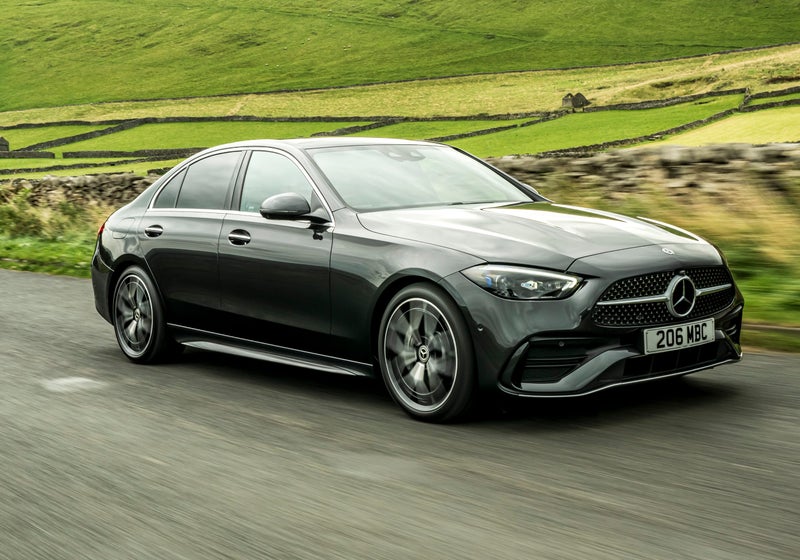 1/10
heycar rating
"Honey I shrunk the S-Class"
Launched: 2021

Premium

Petrol, Diesel, Mild hybrid, PHEV
Quick overview
Pros
Sublime interior
Powerful and frugal engines
Great for long journeys
Cons
Firm ride with big wheels
Augmented nav isn't standard
Autonomous driving aids cost extra
Overall verdict
On the inside
Driving
Cost to run
Prices and Specs
Common questions
Overall verdict on the Mercedes-Benz C-Class
"The years at uni are behind you, the grad scheme's going great and it's time to get your hands on the ultimate prize – that Mercedes C-Class saloon you've always promised yourself."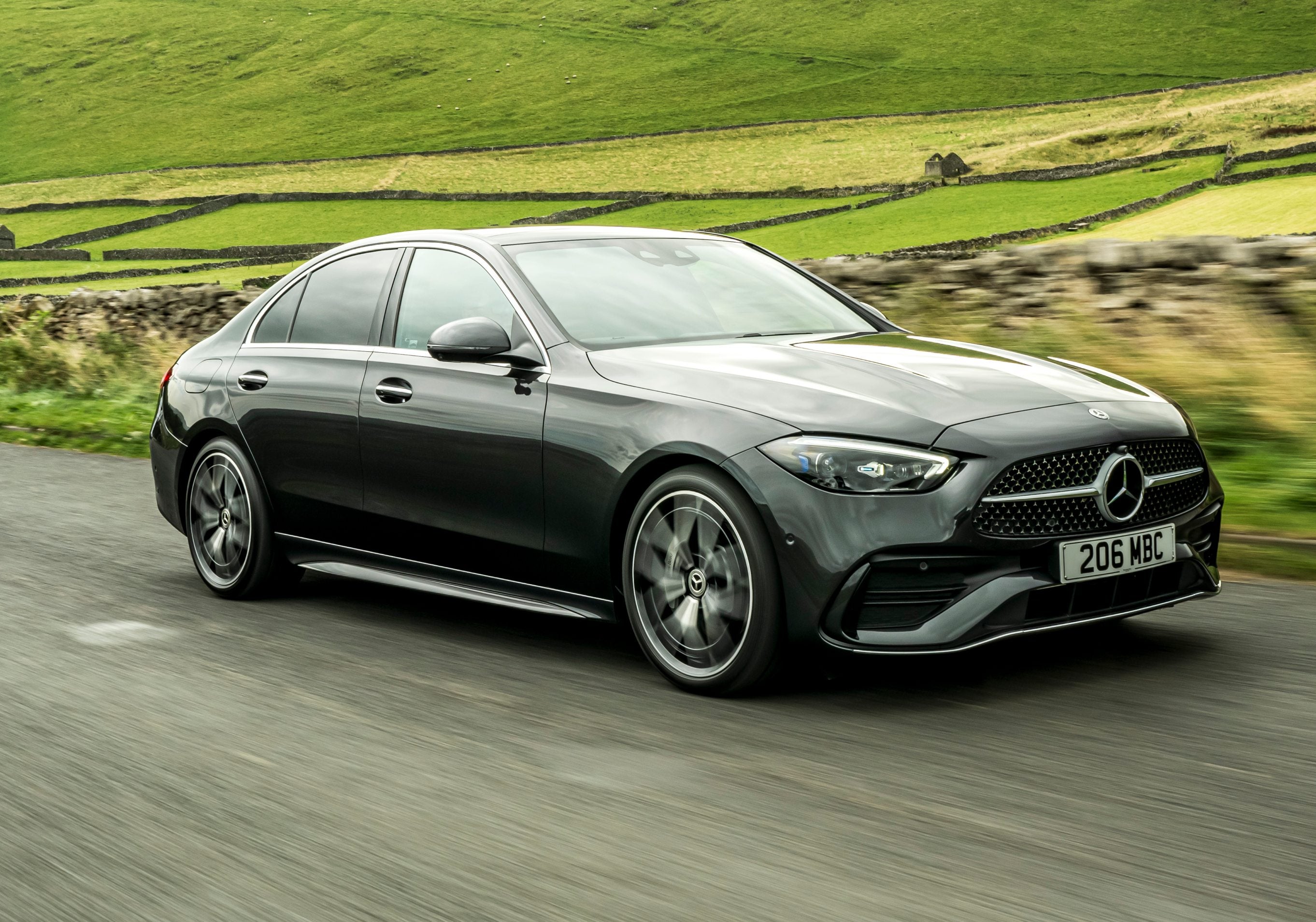 That's one way to start this 2022 Mercedes-Benz C-Class review, but you could easily copy and paste the same sentence swapping the C-Class for a rival – like the Audi A4 or BMW 3 Series. They're all desirable saloons that serve as a gateway to their respective ranges.
Choose the Mercedes C-Class in your 20-30s and, all being well, you'll graduate to a Mercedes E-Class in your 40-50s when your kids need the extra legroom and, once they've flown the nest and you're touching retirement, what better car to waft you down to your second house in France than a range-topping Mercedes S-Class? The Mercedes C-Class isn't a one-off sale, it could be your first in a lifetime of Mercedes purchases.
Will it reel you in? More than likely. We mention the Mercedes S-Class because the 2021 Mercedes C-Class looks and feels like an S-Class that has shrunk. Inside, it gets Mercedes' new interior design with a huge tablet screen that controls almost everything. It looks great and its voice activation system is probably the best in the business – there's rarely a need to fiddle with the touchscreen when you're driving.
So far so Tesla, but what the Mercedes C-Class does is embed this tech with the kind of swanky surroundings that makes a Tesla Model 3's cabin feel about as inviting as a dentist's waiting room with whirring-drill background music. The Mercedes' sculpted shapes and flowing lines contrast the Tesla's sterile environment.
The 2021 Mercedes C-Class gets the basics right. The driving position is spot on, you get loads of seat adjustment and what seems like an endless amount of legroom. Heated seats and lumbar adjustment are standard.
You get the same sense of quality in the back as you get in the front and tall adults will be happy even if you and your front passenger are of similar height. With the car full of people, there are plenty of places to neatly hide their stuff and the boot is large and easy to fill.
Out on the road, the Mercedes C-Class makes its brief as luxury (not sports) saloon abundantly clear – it's designed to soak up the daily grind and deposit you at your destination as unflustered as possible.
The steering anaesthetises road harshness and the standard automatic gearbox shuffles through its gears extremely smoothly. Its ninth gear means the Mercedes C-Class's engine is barely working on the motorway.
Long drives are its forte. It feels rock solid at a cruise, it's very quiet and the optional autonomous driving aids can pretty much do all the driving for you. The suspension also has a level of polish it doesn't serve up at slower speeds. The Mercedes is a breeze to drive in town and a tad forgettable on country roads, where a BMW 3 Series has sharper reactions and more grip.
There are no complaints when it comes to performance. From launch the Mercedes C-Class gets four engines split equally between diesel and petrol which all have 48v mild hybrid technology to improve fuel economy and performance. We've only driven the entry-level C 220 d diesel but it's hard to imagine the other three serving up a better combination of effortless everyday performance and excellent fuel economy.
If you hadn't already gathered, we're keen on the Mercedes C-Class. Sure, it's not quite as nice to drive as a BMW 3 Series but as a car to live with everyday, it's the best small saloon currently available.
If you're looking for the older version, you need our Mercedes-Benz C-Class (2014-2021) review.
Is the Mercedes-Benz C-Class right for you?
If you want a small posh saloon the Mercedes-Benz C-Class is perfect. From its posh understated exterior to its techno-fest and snazzily appointed interior, the Mercedes C-Class gives you a full-bore serving of what Mercedes has to offer. It supplies comfortable motoring by the bucket full and engines that are both quick and cheap to run.
What's the best Mercedes-Benz C-Class model/engine to choose?
The Mercedes-Benz C-Class' engine range will swell in the coming months, but even without trying all the options, the C220d diesel is easy to recommend.
It offers powerful performance and real-world fuel economy of nearly 60mpg. AMG Line Premium trim gets the augmented nav and adds kit such as a 360-degree parking camera, electric seat adjustment and cool ambient lighting. It's how we would have ours.
What other cars are similar to the Mercedes-Benz C-Class?
The Mercedes-Benz C-class is a rival to cars such as the sporty-driving BMW 3 Series and Jaguar XE, tectonically built (but somewhat dated) Audi A4 and the electric Tesla Model 3. The Mercedes has the nicest interior of the lot, combining the technology of the Tesla Model 3 with the sculpted shapes and premium feel of Mercedes' larger models. Its ability to cocoon you away from the world makes it the ideal choice if comfort's what you're looking for from a car.
Comfort and design: Mercedes C-Class interior
"The old Mercedes-Benz C-Class had to suffer the indigence of having an interior that didn't look as fresh and wasn't as clever as the smaller, cheaper and of course newer Mercedes A-Class."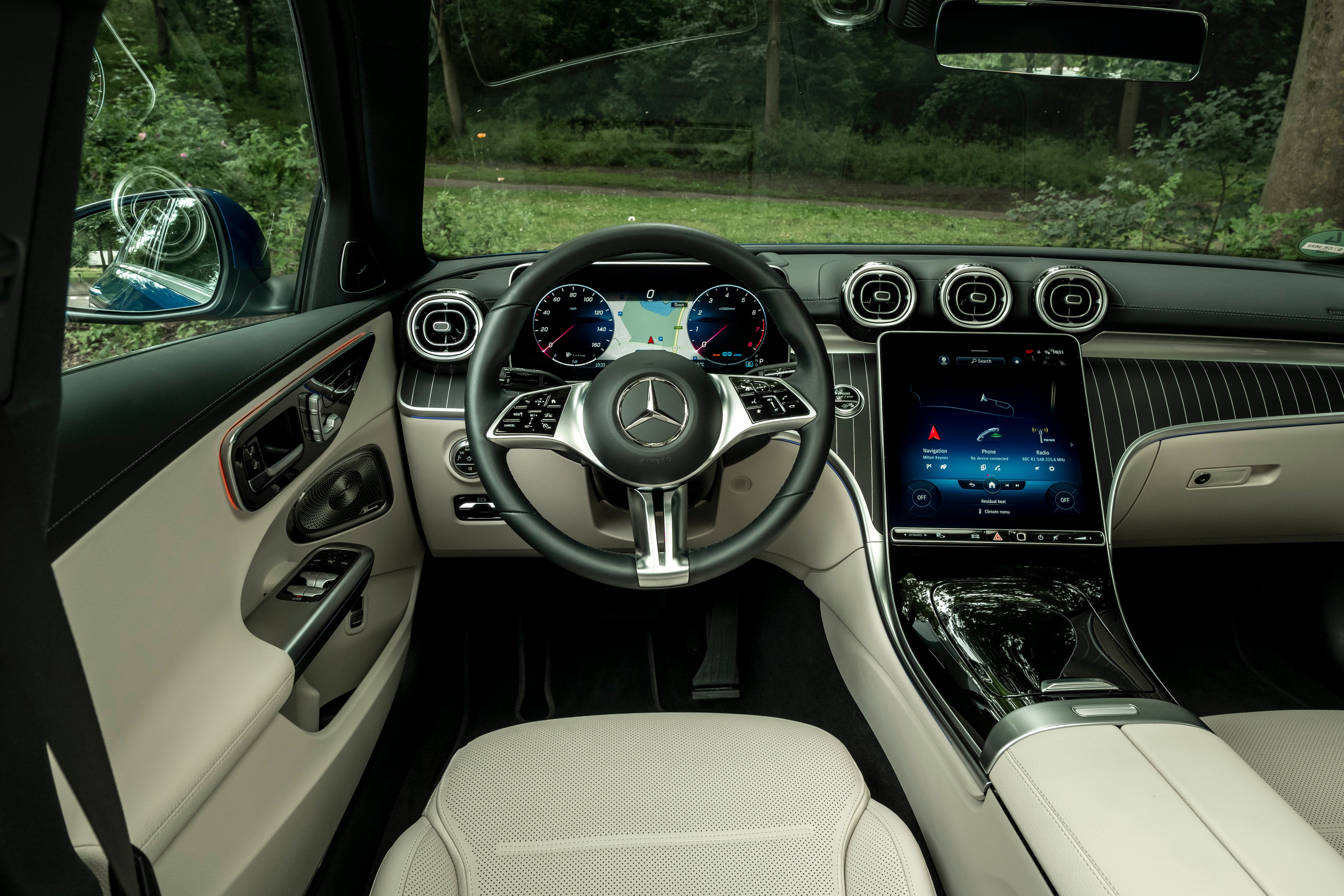 It's not a problem the 2021 Mercedes C-Class has. If its interior was going to be compared to any other Mercedes' cabin, it would be the range-topping new Mercedes S-Class and no one is going to complain about that.
Huge infotainment screens take the place of rows of buttons and the augmented nav available in the A-Class since 2018 can now, finally, be had in the Mercedes C-Class, too. Its interior takes much inspiration for the minimal design you'll find in a Tesla saloon, although it's tarted up significantly.
Leather seats are standard and the large swathes of trims look great even in the basic model. Mercedes C-Class AMG Line models get a leather-look dashboard trim that ups the auntie and Mercedes AMG Line Premium trim buys you ambient lighting and welcoming light-up kick plates. Cool air vents come as standard although the turbofan-style design you get in older Mercedes models has made way for a new 'thruster' look.
Other parts are more familiar. On models that have them, you'll find the electric seat controls on the doors – where they should be because it makes it far easier to adjust them – although the actual buttons you got on the old car have been replaced with touch sensitive versions that aren't quite as intuitive.
Meanwhile, the strip of touch sensitive buttons under the infotainment screen reveal themselves to be plain button, buttons. It's the kind of thing that's annoying on a two hour test drive, but will likely become second nature on week two of ownership.
Quality and finish
Tesla may have had a monopoly on smart saloons with infotainment-centric, minimalist interiors but the Mercedes C-Class brings that to an end and feels a cut above in terms of build quality. The Merc's sculpted shapes, smart trims and chrome finishes probably won't keep Elon Musk awake at night, but they should.
As ever though, there is a sense that money has been saved in some areas to help cover the cost of the sizeable screen-age. Bits like the control stalks that have a brittle finish give the game away, as do the plastic speaker covers that are a poor relation of the metal Burmester versions in the old model. Our car also had a faint but annoying squeak from behind its infotainment screen.
Infotainment: Touchscreen, USB, nav and stereo in the Mercedes C-Class
The Mercedes C-Class is an infotainment screen with a car thrown in for free – its interior displays are that big. The centre screen is 11.9 inches in size and the screen behind the steering wheel is 12.3 inches.
The centre screen looks like an iPad and it works exactly like one. The screen in front of you, meanwhile, is controlled by tiny touch pads on the steering wheel which work reasonably well.
The whole shebang is controlled by Mercedes' MBUX operating system which has a voice activation system that's better than any of its rivals and just as accomplished as the likes of what you get from Google and Amazon. Saying the words "Hey Mercedes..." followed by your request can be used to control almost anything – from programming the nav to turning up the heater.
It's clever, too, say "Hey Mercedes, I'm freezing" and the C-Class will send all hands to the pumps getting the cabin hot. But say "Hey Mercedes, I'm a bit cold" and it will only turn the heater up a few degrees.
Apple CarPlay and Android Auto are fitted but – and we've never said this before – we'd rate the in-built system just as highly.
That's even more true if you buy a AMG Line Premium or Premium Plus model – both of which have augmented reality nav fitted as standard. It's the same tech that's been available on the Mercedes A-Class for years now, but it looks even better on the Mercedes C-Class' huge screen and has yet to be bettered by any other manufacturer. Plus models are the only ones to also have a head-up display.
Space and practicality: Mercedes-Benz C-Class boot space
Even if you and your front seat passenger are over six-feet tall, passengers of the same height will be able to fit in the back without brushing their knees off the seats in front. There's also plenty of headroom and there's no shortage of elbow and hip room. The back seats are also more supportive than in rivals like the Audi A4.
The downside of the supportive back seats is that the chair in the middle is hard and sits higher so you get less headroom. It'll still be fine on the rare occasions you have three people in the back and you also get two Isofix points for the safe mounting of child seats.
The interior is sprinkled with plenty of storage. That includes obligatory cup holders (in a cubby that's lid sinks down and back into the centre console), a large box hidden under the front centre armrest, large pockets in all four doors and a big glove box that's split by a shelf.
Loading big stuff in the boot is helped by a large opening that's makes it easy to use every last litre of the Mercedes C-Class' 455-litre boot capacity. The boot has handy features like tie-down and shopping hooks, plus a netted compartment on the left hand side.
The back seats fold electrically by pulling a couple of buttons at the front of the boot and they leave a smooth floor that means you can push long items into place.
In terms of the exterior, the 2021 Mercedes-Benz C-Class' dimensions are 4793mm long, 1820mm wide and 1446mm tall.
Handling and ride quality: What is the Mercedes C-Class like to drive?
"While BMW gives all its models a sporty bent, Mercedes-Benz tends to leave that to specific models like the yet-to-be-revealed Mercedes-AMG C43 and C63."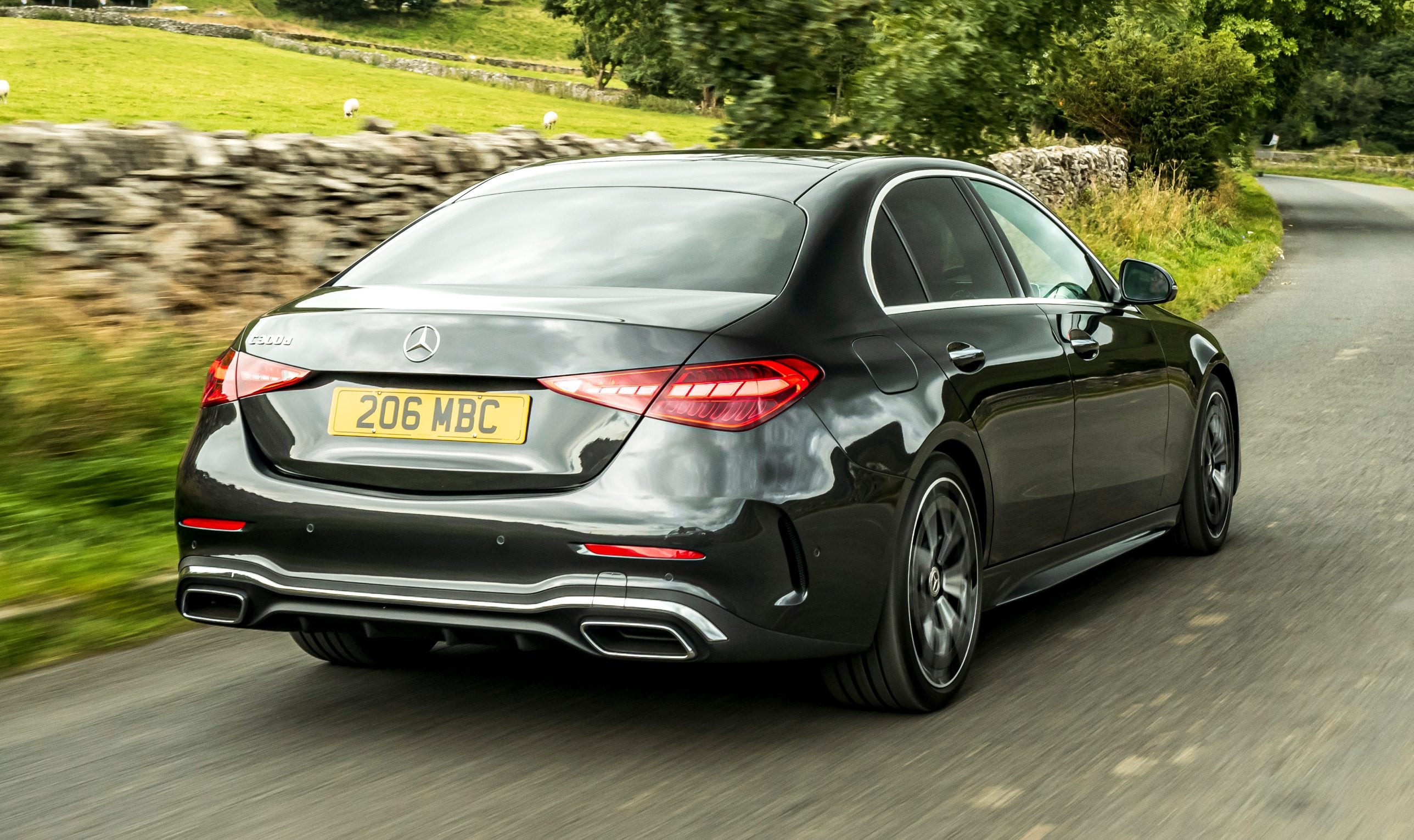 The rest of the range focusses on being very comfortable which, if the C 220 d we drove is anything to go by, it does very well.
The Mercedes C-Class is a car that likes to be driven with one hand on the wheel as you scooch down in the thickly padded seat. Quick steering means a twist of the wrist is all you need to negotiate tight turns and the steering has been setup to filter out chatter. Brakes that are easy to modulate make smooth stops easy.
Ramping up the relaxation factor is the standard nine-speed automatic gearbox. You'll have to concentrate to even feel it slush up and down its gears, but it drops its cogs quicker than the old model when you do need a burst of acceleration.
The gearbox creeps in town which makes parking a doddle and all Mercedes C-Class models come with a reversing camera with a huge display that's crisp and clear – so you won't find yourself squinting at the screen as you inch the car into position.
C-Class AMG Line Premium models' 360-degree camera goes a step further by giving you a bird's-eye view of the area surrounding you and then augmenting the car on top. It looks unreal but is also super handy when negotiating width restrictors and parking tight to the kerb.
The only thing we didn't like about the Mercedes C-Class in-town performance was its jiggly ride, going for 17 or 18-inch wheels would doubtless add compliance. The trade off of the low profile tyres is that the car is well behaved in corners – there's no lean, squat or pitch, although the threshold of grip is lower than you might expect.
It positively loves a motorway though. Close your eyes at cruising speeds (figure of speech, please don't) and you could easily be in a Mercedes S-Class. The 2021 Mercedes C-Class feels unshakable at high speeds and there's very little wind or road noise.
The £1695 Driving Assistance Package Plus seems like a no-brainer. It can drive the Mercedes down an A road or motorway with spooky efficiency accelerating, steering and braking for you. It follows speed limits and can slow for corners and junctions automatically. If the road gets congested, it can drive you in stop-go queues and even pulls to the outside of the road automatically to let emergency vehicles get to an accident.
What engines and gearboxes are available in the Mercedes C-Class?
The 2021 Mercedes C-Class launched with four engines – the 204PS C 200 and 258PS C 300 petrols, as well as the 200PS C 220 d and 265PS C 300 d diesels. They all come fitted as standard with a nine-speed automatic gearbox that is slick and responsive in equal measure.
We've only sampled the entry-level C 220 d, but we're struggling to see why you'd need anything else. It gets from 0-62mph in 7.3 seconds, 440Nm of torque means it has plenty of mid-range grunt and it tops out at 152mph.
The C 220 d is a smooth operator that only reveals some classic diesel clatter high in the rev range where you'll rarely need to venture. The fact that it does all this while returning up to 60mpg confirms it as the choice for shrewd owners.
Refinement and noise levels
The new C-Class comes into its own on the motorway where you'll hear barely any road, wind or engine – it's the quietest of all it's rivals and not far off the cathedral-like calm you get in the range-topping Mercedes S-Class.
Safety equipment: How safe is the Mercedes-Benz C-Class?
The 2021 Mercedes-Benz C-Class has yet to be crash tested for safety by Euro NCAP, but we would be surprised if it didn't get awarded five stars.
Standard safety kit includes automatic emergency brakes, active lane assist that keeps you in lane, a blind spot warning system and a bonnet that pops up in an impact to protect pedestrians from the hard engine below. You also get numerous air bags.
You can boost safety even further by opting for the Driving Assistance Package Plus (£1695) which adds active cruise control that can steer the car around corners and operate the car's accelerator and brakes.
MPG and fuel costs: What does a Mercedes-Benz Class cost to run?
"The Mercedes C-Class launched with a range of four engines to choose from, split equally between petrol and diesel models. All models have 48v mild-hybrid technology that gives a light electrical boost under acceleration, allows the car to coast on the motorway and means its start-stop system can work more efficiently."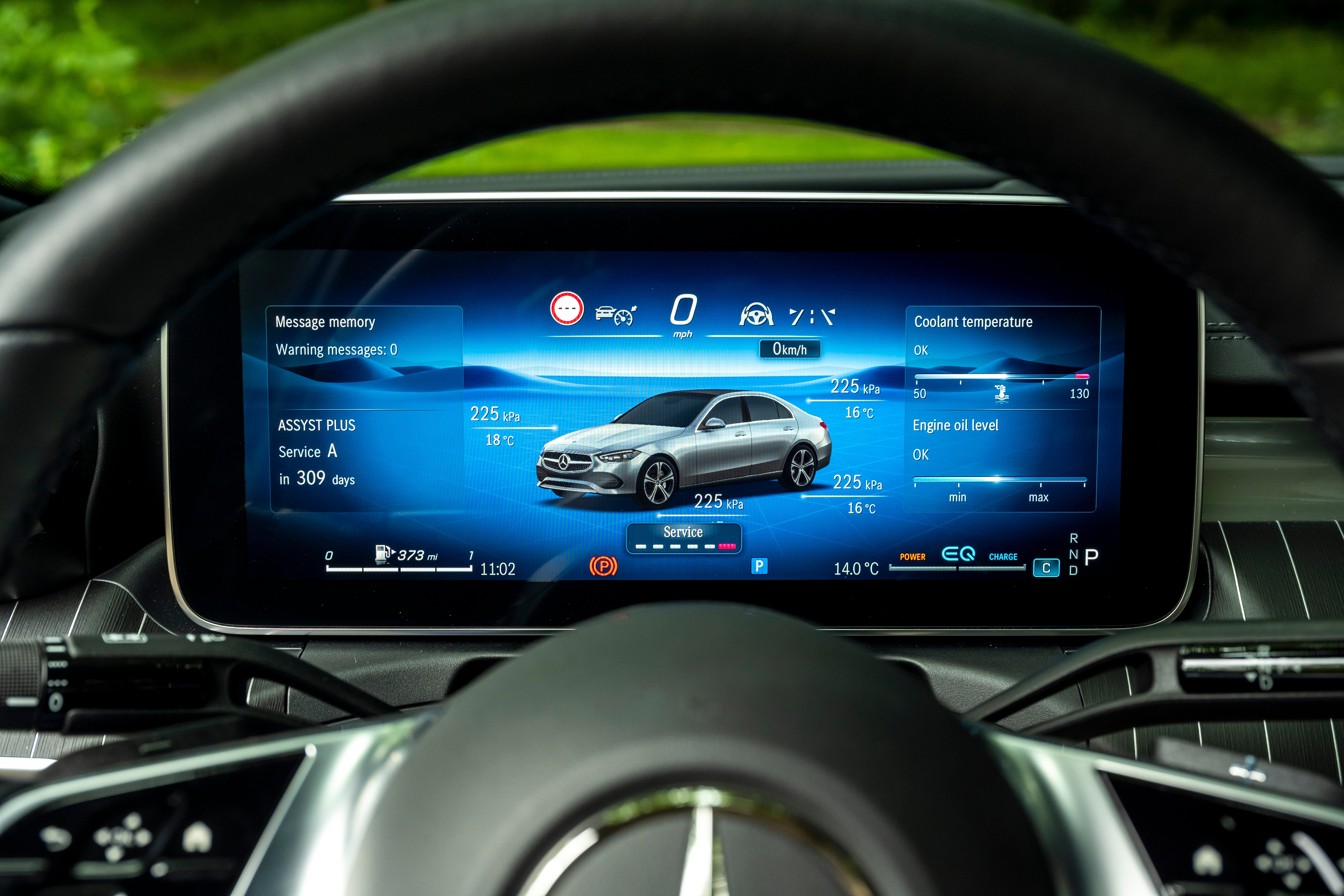 The entry-level model is the C 200 petrol, which can return fuel economy of up to 44.1mpg. The C 300 petrol's boost in power – up from 204PS in the C 200 to 258PS – only comes at a slight cost to fuel economy. It should return up to 42.2mpg.
Unsurprisingly, the diesel models are the most frugal of the lot – the 200PS C 220 d can return up to 61.4mpg while the 265PS C 300 d gets 55.4mpg.
How reliable is the Mercedes C-Class?
It's too soon to say exactly how reliable the 2021 Mercedes C-Class will be. That being said, Mercedes-Benz was rated ninth in rhe 2020 HonestJohn.co.uk Satisfaction Index with a score of 87.3%.
Insurance groups and costs
Insurance groups for the new Mercedes C-Class are still to be announced.
VED car tax: What is the annual road tax on a Mercedes-Benz C-Class?
Mercedes-Benz has yet to reveal CO2 emission for the Mercedes C-Class but you can expect year-one road tax to cost between £180 and £220. It'll cost £155 every year after that.
How much should you be paying for a Mercedes-Benz C-Class?
"The current worldwide semiconductor shortage has put the brakes on manufacturer supply chains meaning there are currently no second-hand 2021 Mercedes-Benz C-Class models on sale."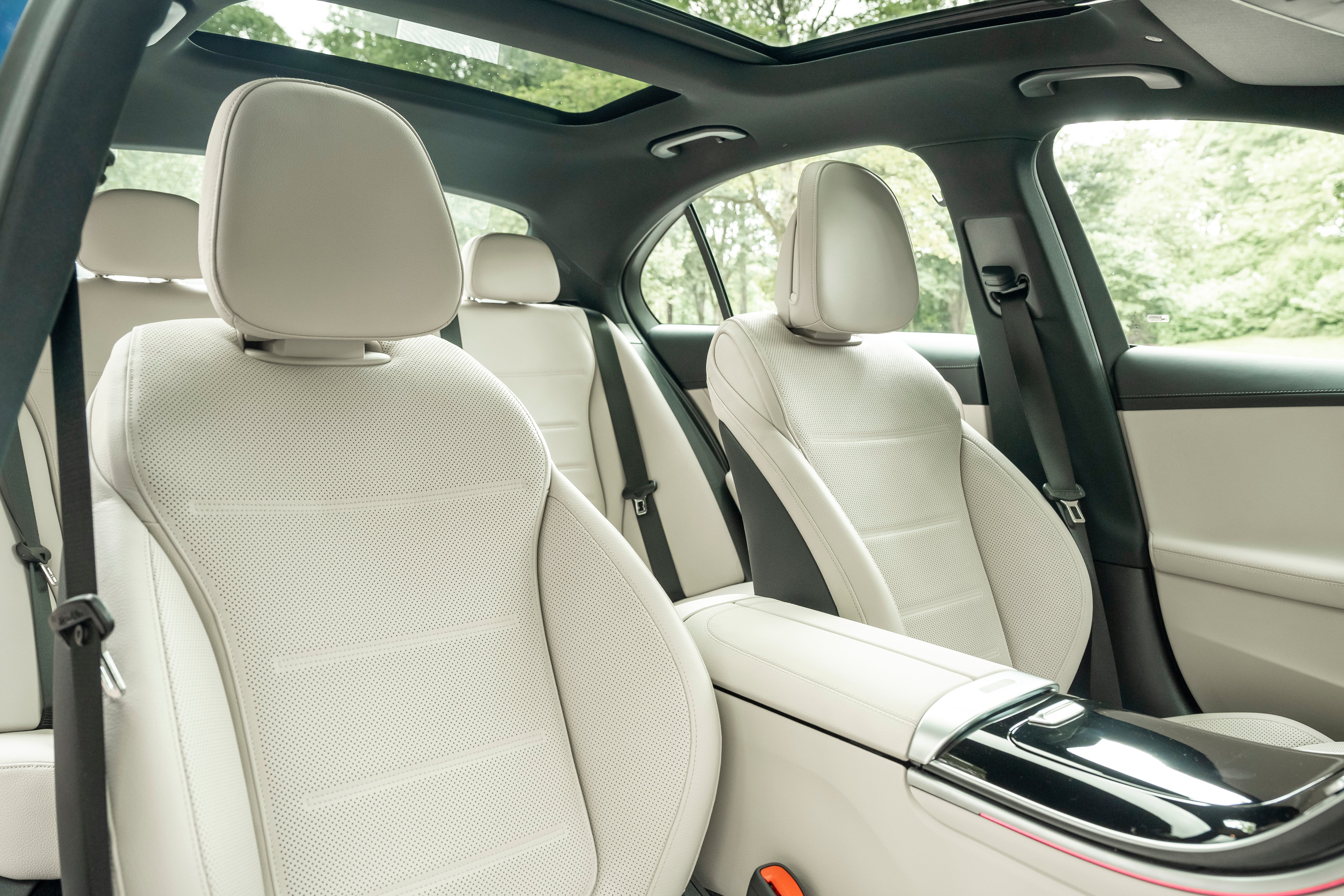 On the bright side, it does mean you'll get strong money if you're trading in your old Mercedes C-Class. Prices for the new model start from £38,785 for the basic Mercedes C-Class Sport, while the AMG Line is £40,165, the Mercedes C-Class AMG Line Premium is £43,250 and £46,700 buys you the C-Class AMG Premium Plus. You can expect to make significant savings once the cars are a couple of years old and have a few thousand miles on the clock.
Trim levels and standard equipment
The 2021 Mercedes-Benz C-Class is available in four trim levels.
Mercedes C-Class Sport is the entry-level trim. It has restrained styling courtesy of 17-inch alloy wheels and basic auto-dipping LED headlights, but with a sporty slant thanks to suspension that is lowered by 15mm compared to standard. Inside, you get carbon-fibre-like interior trim and two huge infotainment screens. Kit includes heated front seats with lumbar adjustment, two-zone climate control, keyless start, wireless charging and a reversing camera.
Mercedes-Benz C-Class AMG Line models look a touch more aggressive. They get a revised body kit which includes a more imposing grille, 18-inch wheels, larger front brakes and tinted windows. The inside continues in a similar vein with AMG branded floor mats, a nicer looking multi-function steering wheel, metal pedals and a dashboard that is wrapped in man-made leather.
Mercedes C-Class AMG Line Premium models jump another step. They get 19-inch multi-spoke wheels and Digital Lights that can shape their beam to the road and around other road users, as well as being able to project messages onto the road – to advise when your route requires you to change lane, for example.
Getting in is easier thanks to keyless entry and as you open the door you're welcomed by the cool glow of illuminated kick plates. Once in, you'll find the cabin is boosted by augmented reality sat-nav and a handy 360-degree camera display. The front seats and steering wheel are also electrically adjustable and have a memory function.
Climb to the top of the tree and you'll find the Mercedes-Benz C-Class AMG Line Premium Plus with sportier looking 19-inch wheels and a panoramic glass sunroof. Interior kit includes a head-up display and four-zone climate control which gives all four passengers separate controls.
Ask the heycar experts:
common questions
Is Mercedes launching a new C-class?
Mercedes has launched a new C-Class. The new model is on sale as of summer 2021 and comes sporting sharper looks and a tablet infotainment screen that's straight out of the Tesla Model S's playbook.

What's the difference between the Mercedes-Benz C-Class and the CLA-Class?
The Mercedes-Benz CLA is based on the A-Class, so it's smaller than the Mercedes-Benz C-Class saloon and the majority of models are front-wheel drive, while most C-Class models are rear-wheel drive.

How much will the new Mercedes-Benz C-Class cost?
The Mercedes-Benz C-Class has a starting price of £38,785.

Mercedes-Benz C-Class cars for sale on heycar
4,152
Number of cars available
£12K - £85K
Price bracket of these cars
Colours available on heycar
Keep me updated by email with the latest advice, news and offers from heycar
By submitting, you agree to our
privacy policy
.