Mercedes-Benz C-Class Cabriolet Review

Written by
heycar editorial team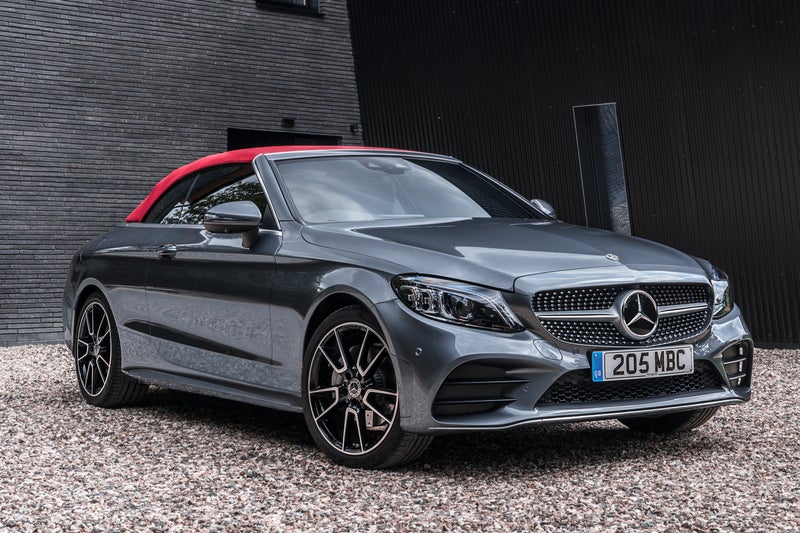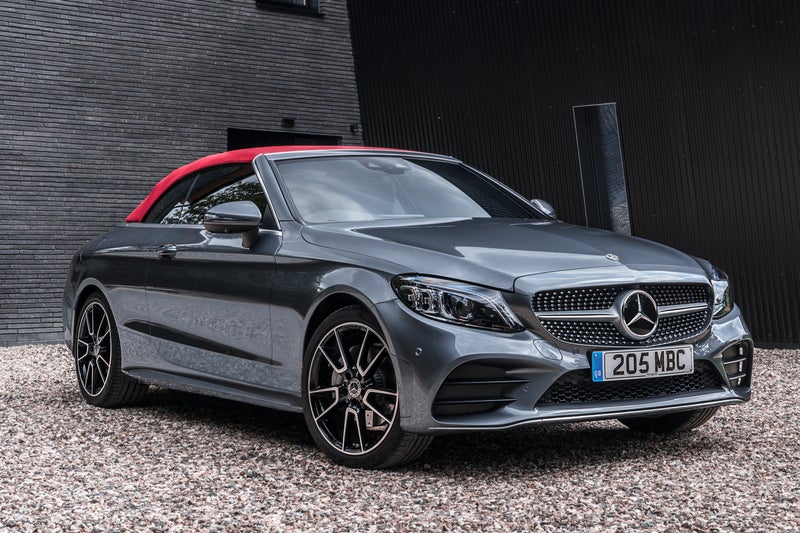 1/10
heycar rating
"Premium four-seat convertible cruiser"
Launched: 2016

Convertible

Petrol, Diesel
Quick overview
Pros
Refined and relaxed to drive
Generous levels of standard equipment
A relatively affordable luxury experience
Cons
Ride can feel firm, especially on sportier models
Rear seats are compromised for adult passengers
AMG models are much pricier
Overall verdict
On the inside
Driving
Cost to run
Prices and Specs
Overall verdict
"In a tightly competitive marketplace, the Mercedes-Benz C-Class Cabriolet demonstrates strengths in a number of areas. Its handsome styling is combined with a classy interior, while a premium badge and generous equipment add to the impressive package."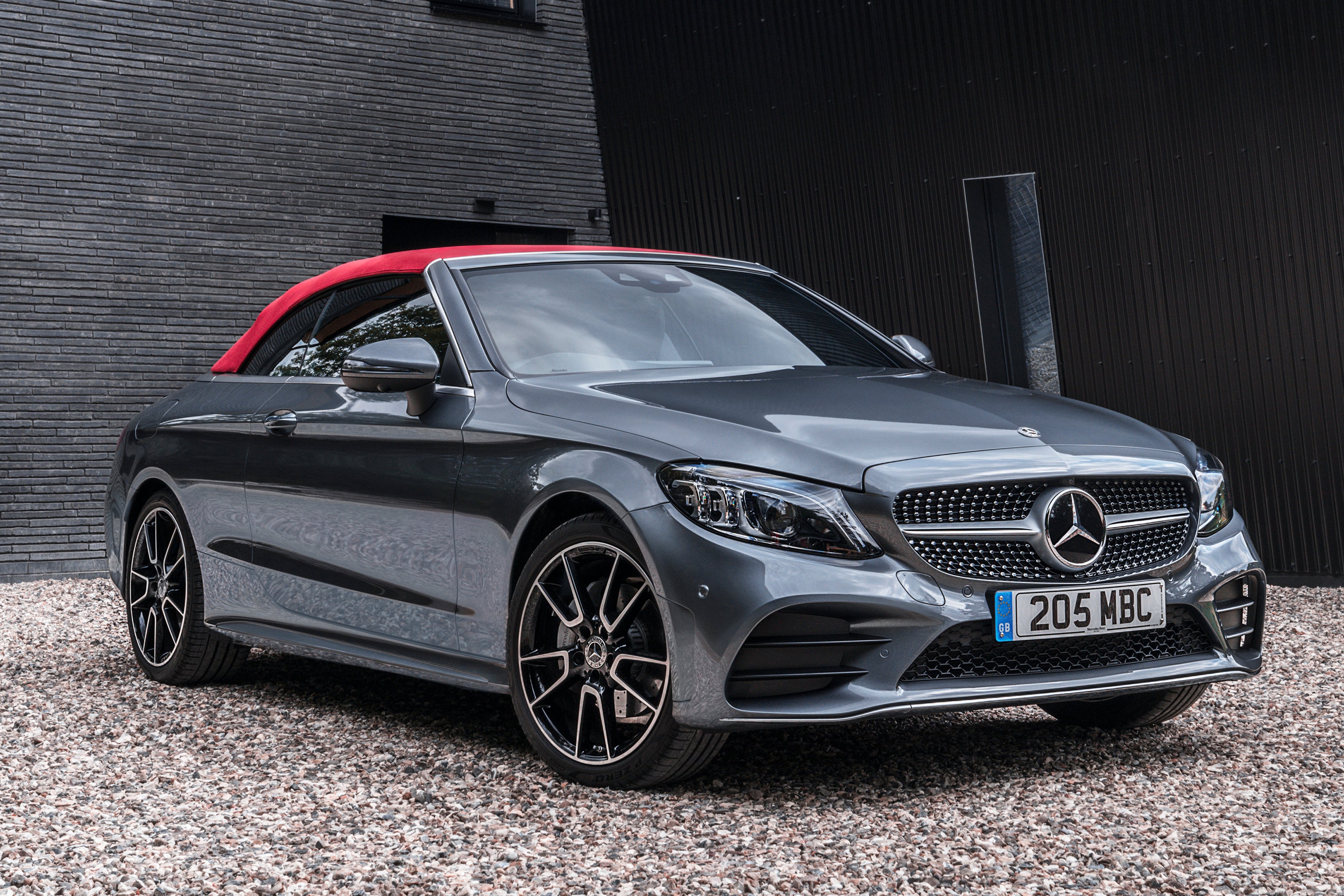 Buying a convertible is all about treating yourself. That makes the Mercedes-Benz C-Class Cabriolet a strong contender, combining a premium badge with a price tag that is relatively affordable. Throw good looks and plentiful technology into the mix and it's easy to see why the C-Class is one of the best convertible cars.
That handsome styling is shared with the Mercedes C-Class Coupe, with the transformation into a convertible proving a sleek success. Unlike some rivals, the roof on the C-Class Cabriolet is a folding fabric soft-top. This has advantages when it comes to weight and saving space, although some may prefer the added security of a solid metal roof.
Mercedes-Benz does brand the C-Class Cabriolet as a full four-seater. However, that claim should be taken with a pinch of salt. While it may have two seats in the rear, you will need to be selective about who sits there. Legroom is in short supply for anyone beyond child size, while headroom (with the roof up, obviously) can feel quite tight for adults.
Occasional use of the back seats by kids, or as an extension of the boot, means the C-Class does still have practical appeal. It is certainly more useful than the Mercedes-Benz SLC roadster, for instance. Just be aware that lowering the roof does diminish boot space. At least Mercedes has worked hard to make things refined in the cabin with the roof down.
Indeed, refinement is one of the key features of the C-Class Cabriolet. Features such as the small spoiler on top of the windscreen help keep buffeting to a minimum, as does a pop-up wind deflector. Unlike some convertibles, the approach taken by Mercedes also means the small rear seats remain accessible with the wind deflector in use.
Driving the C-Class Cabriolet also demonstrates how Mercedes-Benz has attempted to balance sportiness alongside comfort. Extra strengthening to counter the lack of a solid roof means the C-Class can feel quite stiffly sprung on the road, especially on versions with bigger wheels. It certainly feels harder than the C-Class Coupe, but never to the point of being too uncomfortable for daily use.
Light but precise steering is another key factor in how the C-Class Cabriolet drives. It suits the 'cruiser' image of the car, even if performance AMG versions deliver a serious turn of pace. Engine options begin with four-cylinder petrol and diesel units, rising to a range-topping V8. Rear-wheel drive is standard, but four-wheel drive is also available on many versions, along with an excellent nine-speed automatic gearbox.
Inside, the C-Class Cabriolet comes with a range of technology mounted within a stylish and well-made dashboard. Satellite navigation, keyless entry, parking sensors and electrically adjustable seats are all standard, with plenty of safety equipment also included.
The C-Class Cabriolet is a good bet for those looking for classy convertible. Whether you're making trips around town or covering longer distances, the C-Class offers a luxurious experience with very few drawbacks.
Is the Mercedes-Benz C-Class Cabriolet right for you?
What sets the C-Class Cabriolet apart from many rivals is its overall combination of style, performance, technology, and usability. It does so much, so well.
Beyond the limited rear-seat space (something that affects many convertibles) there are no major compromises to be made. The firm ride may take some adapting to, but this can be minimised with a careful choice of options. A fabric soft-top may be of concern for some, but Mercedes has overcome the main issue of inferior refinement.
The car could be used daily for commuting, yet would still feel like a treat when you head into the country at weekends for driving pleasure. Unless you are looking for a convertible that can double-up as a practical family car, there are no real limitations to choosing a C-Class.
What's the best Mercedes-Benz C-Class Cabriolet model/engine to choose?
Many buyers will find the petrol C 200 more than enough for their needs. The four-cylinder turbocharged engine produces 184PS, which helps it feel brisk, if not a true performance machine.
For those who cover longer distances, the C 220d diesel makes a lot of sense. With 170PS, it has almost as much power as the petrol C 200, but benefits from more low-down torque. It can also achieve up to 51 mpg, saving you money at the pumps.
Regardless of fuel type, we would recommend a model with the 9G-Tronic automatic gearbox. It suits the nature of the C-Class perfectly, and helps boost efficiency. AMG Line trim also delivers notable value for money, combining lots of equipment with fancier styling for little extra cost.
What other cars are similar to the Mercedes-Benz C-Class Cabriolet?
The BMW 4 Series Convertible is the closest rival to the C-Class, offering four seats and superb driving dynamics. However, the BMW uses a folding metal roof. While this adds security, it does also bring a penalty of extra weight and a smaller boot than the Mercedes.
Audi's A5 Cabriolet delivers an even classier interior than the C-Class, and also makes use of a fabric soft-top roof. The Mercedes edges the Audi slightly for ride comfort, but the margins between all three German cars are small.
The Range Rover Evoque Convertible offers a leftfield take on the premium cabrio concept, even if it remains a rarity. And if performance matters most, the Ford Mustang Convertible offers serious power at a bargain price.
Comfort and design
"The exterior of the Mercedes C-Class Cabriolet is elegant and handsome, a theme that is continued inside. It looks more impressive than a BMW 4 Series, even if the standard upholstery is Artico artificial leather, rather than the real deal."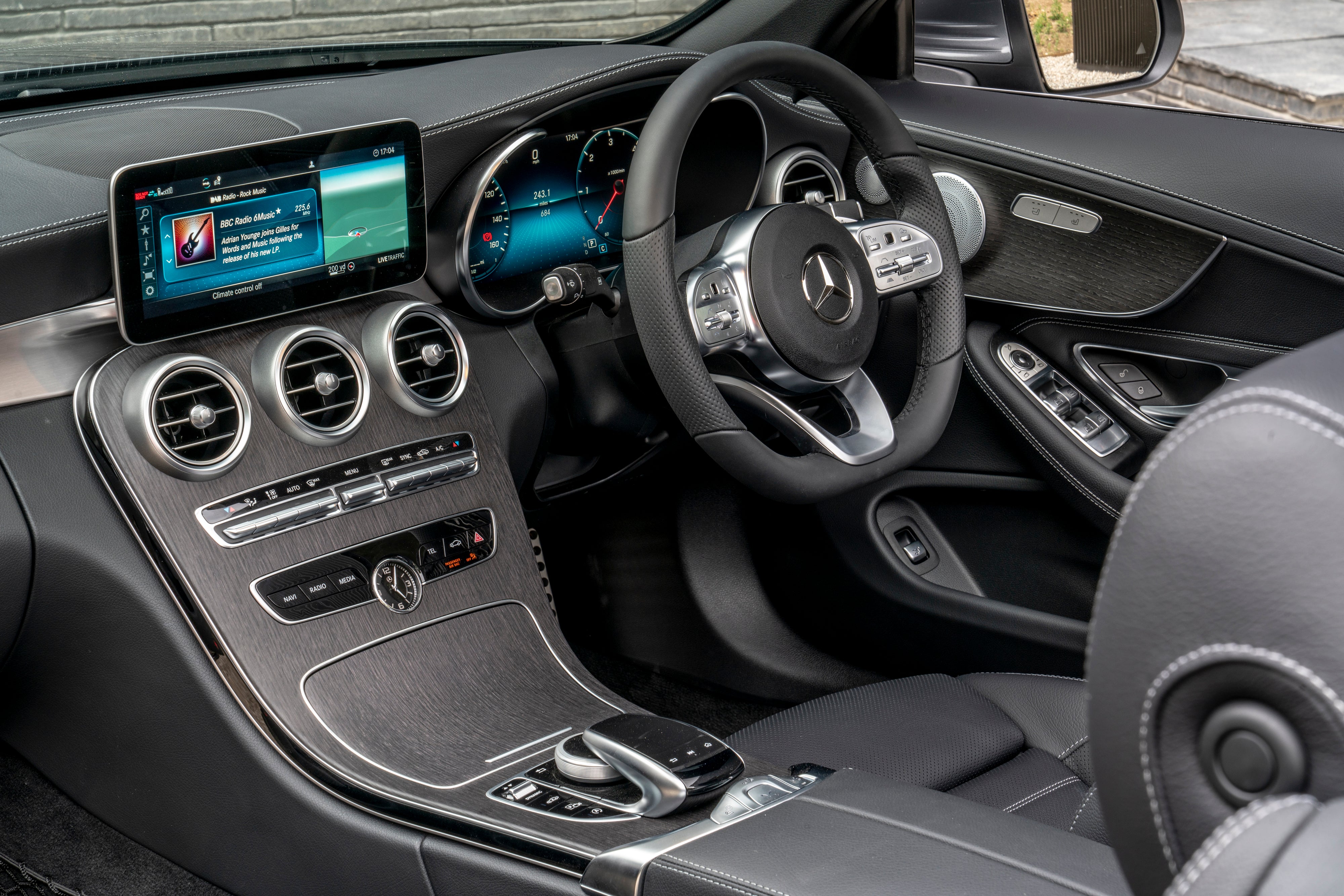 All versions of the C-Class Cabriolet come with front seats that are electrically adjustable in some form. These can be adjusted for both height and backrest angle with ease, and come with a memory function as standard. The steering wheel can also be adjusted electrically for reach and height, so drivers of all sizes should be able to get comfortable.
Aiding the feeling of comfort for driver and front-seat passenger is the standard Mercedes-Benz Airscarf system. This transforms the ability to use the C-Class with the roof down whatever the season, with vents mounted in the seat-backs that blow warm air across your neck. It really does feel like having a warm scarf wrapped around you.
The rest of the C-Class cabin is well designed. Heated seats are fitted across the range, boosting all-weather comfort further. In fact, the only thing lacking is a heated steering wheel for toasty fingertips in winter.
Cruising with the roof down is aided by the Mercedes Aircap system, which deploys a spoiler from the top of the windscreen. It may look a little dramatic when in use, but is certainly effective. At low speeds, draughts are excluded sufficiently that you can hide the spoiler and cruise around town in maximum style.
Quality and finish
It might sound like a cliche to suggest that a Mercedes-Benz has a well-built interior, but that is genuinely the case here. The latest models in particular have an extremely high-quality interior, so you will instantly feel like this convertible is worth the money.
Seats clad in either artificial or real leather add to the impression, and the dashboard is finished with impressive materials. Earlier examples featured a mixture of gloss black trim with aluminium elements, whilst later cars used contemporary looking black ash wood.
The leather-wrapped steering wheel feels suitably pricey to hold, while all the important buttons give the sense they are built to last. Some of the plastics lower down the cabin may feel a little cheaper, but you will need to make a deliberate search to find them. Performance AMG models gain a dashboard finished in Artico, making them look even classier.
Ambient lighting is another impressive feature, offering LEDs that surround the door trim, cup holders and footwells. The colours and brightness can be changed, allowing an extra degree of personalisation for the inside of your C-Class.
Infotainment
With the C-Class Cabriolet range spanning a wide range of prices, Mercedes-Benz fits a varying level of multimedia connectivity depending on the car chosen.
All feature a digital display screen unceremoniously tacked to the top of the dashboard. This makes it easy to read, but it can look like someone has left a tablet device there. It's also not a touchscreen, so don't start jabbing at it.
Cars made before the 2018 facelift use a 7.0-inch display, apart from the range-topping AMG C 63 with its larger 8.4-inch unit. All cars sold after the facelift have a substantial 10.25-inch screen instead.
A rotary controller is used to change settings on the screen in basic Sport and AMG Line models. Some higher-specification cars use an additional touchpad, while those sold after the facelift even have individual touchpads on the steering wheel. It can feel a little overwhelming at first, but familiarity will demonstrate how user-friendly it really is.
Satellite navigation, DAB radio, Bluetooth, USB ports and iPhone connections are all included as standard. Higher trim levels gain the Comand Online system, which can access live traffic data and other useful information via a mobile internet connection.
If you have the choice, go for a car with the Burmester surround-sound audio system. With 13 speakers it packs a serious punch for audiophiles.
Space and practicality
Most buyers will not be considering a convertible for trips to the recycling centre or transporting all the family on a regular basis. Like many rival four-seater cabriolets, the Mercedes-Benz C-Class has limits to its practicality, but it should be useful enough for most people considering one.
Room up-front is plentiful, with the highly adjustable seats allowing both driver and passenger to get comfortable. Interior storage comes in the form of sizeable door bins, along with a lockable glove box and space beneath the centre console armrest.
Those in the back will feel less accommodated. Although the seats may appear adult-sized, they lack legroom and have very upright backrests. It means longer journeys are likely to result in complaints. Headroom with the fabric roof up is also limited, although that's clearly not an issue when cruising topless.
Children are far more likely to be happy in the rear of the C-Class Cabriolet. Isofix attachments for child seats are also fitted as standard.
Using the back seats as an extension of the boot is perhaps the most practical option. With the roof up, there is a total of 360 litres of space in the boot of the C-Class. However, as with many convertibles, the soft-top partly eats into this space when lowered.
It helps the rear deck of the C-Class Cabriolet look smooth, but it drops actual storage space in the boot to just 285 litres. That is less space than a typical family hatchback, but that's also true for the BMW 4 Series and Audi A5.
The C-Class does at least benefit from rear seats that fold down. This allows longer items, such as skis, to be fed through from the boot.
Due to the limited luggage space, Mercedes-Benz does not fit the C-Class Cabrio with a spare wheel. Most models have a tyre-inflation compressor to cope with punctures, while AMG models use run-flat tyres instead.
Handling and ride quality
"The C-Class Cabriolet has a Jekyll-and-Hyde personality, depending on the model picked. Regular versions are perfectly suited to calm and composed cruising, while the AMG C 43 and C 63 are serious performance machines."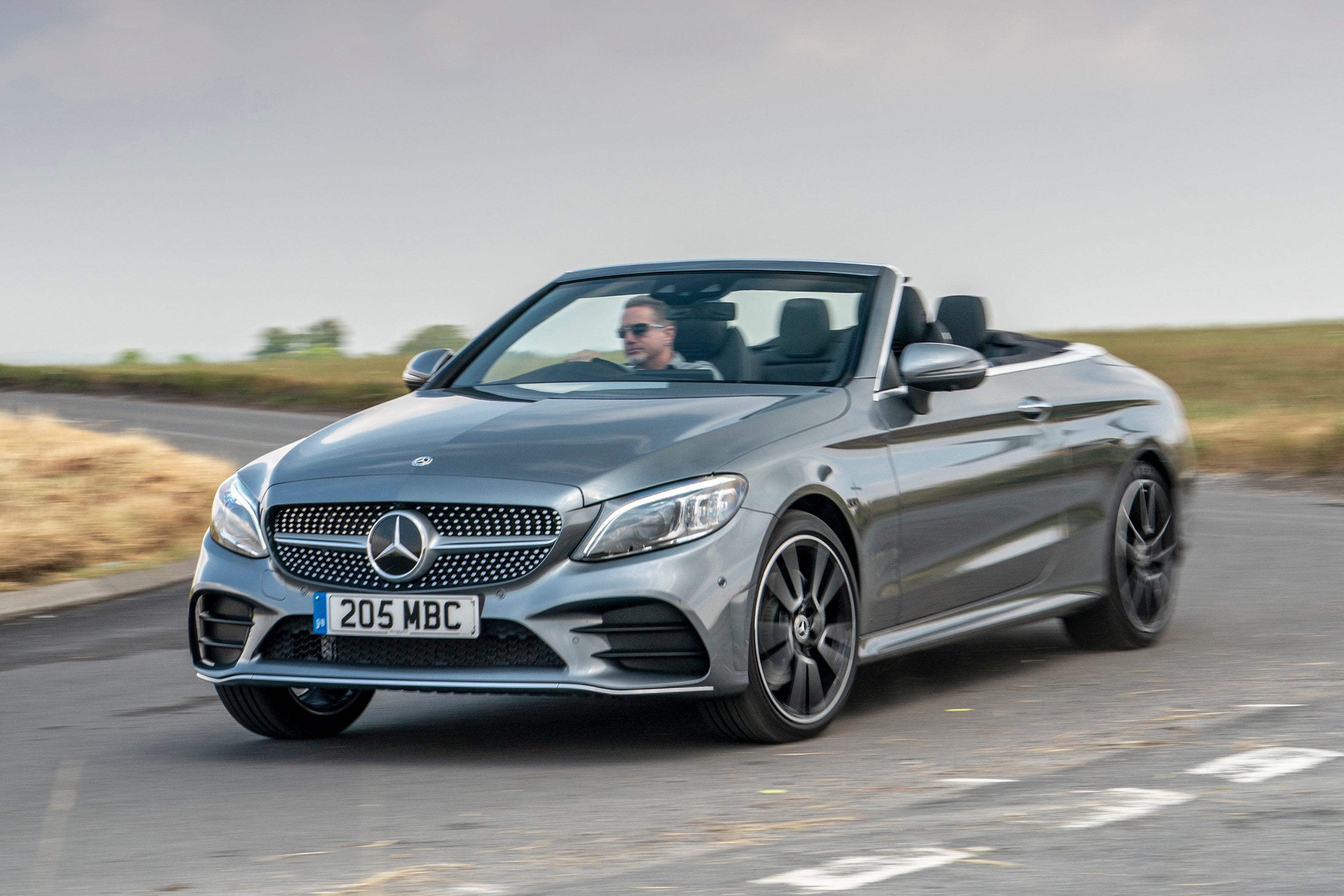 All the additional strengthening Mercedes-Benz added to the C-Class in its transition to a cabriolet has worked. It feels sharp and solid, with virtually none of the shake and flex associated with older drop-tops. On the flip side, this adds a feeling of stiffness that even Sport models with their comfort-oriented suspension cannot overcome.
The optional Airmatic air suspension system proves to be a decent compromise, allowing differing levels of stiffness to be selected. Hunting for a car with this fitted can make a real difference to the driving experience, as it smooths out the worst of the harshness.
In the range-topping AMG C 43 and C 63 versions, adjustable suspension comes as standard. Engaging Sport or Race mode in the C 63 S toughens up the ride, but brings benefits in better handling.
Steering across the range is generally light and easy to use, and is speed-sensitive on all models. AMG cars gain an uprated system with selectable levels of assistance, plus added weight to increase the feeling of sportiness.
Sport and AMG Line cars may not be the ultimate in driving excitement, but they will be excellent for commuting and cruising. Even the hardcore AMG versions are unlikely to be a pain if used regularly, though, thanks in part to their adaptable suspension. It speaks of the split-personality found in the C-Class Cabriolet that a car with a thundering V8 engine can also be used happily on a trip to the shops.
Engines and gearboxes
Engine options in the C-Class Cabriolet include four petrols and two diesels, ranging from the mundane through to the outright ridiculous.
Pre-facelift diesels use the same twin-turbocharged four-cylinder unit. The C 220d has 170PS, and can be ordered with optional 4Matic four-wheel drive. Slightly more expensive is the C 250d version with 204PS.
Later facelifted cars see the C 220d boosted to 194PS, with a new C 300d also introduced. The latter has 245PS, becoming the hottest diesel model offered.
Petrol engines for pre-facelift cars start with the tame C 200 and C 300 turbocharged four-cylinder models. The C 200 has 184PS, and can run from 0-62mph in 8.4 seconds with the standard manual gearbox, or 7.8 seconds with the optional 9G-Tronic automatic.
The more powerful C 300 comes with 245PS and the automatic transmission as standard. Capable of 0-62 mph in 6.4 seconds, it presents a notable step up from the C 200 without a major increase in fuel consumption.
After the facelift, the C 200 gained 'EQ Boost' mild-hybrid technology, adding an extra 14PS. The C 300 model was upgraded to 258PS, while an entry-level C180 with 156PS was introduced, using a manual gearbox.
Kicking off the AMG models is the C 43. With four-wheel drive as standard, it uses a turbocharged 3.0-litre V6 to deliver 367PS. Later facelifted versions benefit from even more power, at 390PS.
Topping the range is the AMG C 63. With a turbocharged 4.0-litre V8 it generates a hefty 476PS, increasing to 510PS for the AMG C 63 S. It makes the C-Class terrifying quick, and comes with a roaring exhaust note that sounds even better with the roof lowered.
Refinement and noise levels
Not having a metal top causes no problems for the Mercedes C-Class Cabriolet when it comes to refinement. Driving the convertible should be no less relaxing than the coupe version.
The substantial fabric soft-top manages to insulate the outside world almost as well as a solid roof. Wind noise is generally hushed, although some does come from the wing mirrors.
Tyre noise can be detected on those with the biggest wheels. AMG C 43 and C 63 models with their 19-inch alloys are worst affected, although the exhaust note does help mask it. None of this is sufficiently annoying to detract from refinement inside the C-Class.
Naturally, lowering the roof does open up the potential for buffeting and draughts inside the cabin. The standard Aircap system works brilliantly to eliminate this, using a pop-up spoiler mounted at the top of the windscreen. It looks a little odd when raised, but its effectiveness is hard to ignore.
A more traditional wind deflector also rises from behind the rear seats, further helping isolate draughts. Unlike designs used by rivals, the Mercedes draught stopper still allows access to the rear seats.
Safety equipment
Mercedes-Benz has built a strong reputation for safety, and the C-Class Cabriolet does nothing to dispel it. When tested by Euro NCAP, the C-Class managed to score 89 percent for adult occupant protection, 79 percent for child occupants, 66 percent for pedestrians and 53 percent for safety assist technologies.
A total of seven airbags can be found inside the C-Class. This includes one that protects the driver's knees, plus window bags that deploy from the tops of the doors. These are all combined with a strengthened front windscreen, plus pop-up roll hoops that hide behind the rear seats. The rear seats feature Isofix attachment points for child seats, including top tether mounts.
Stability and traction control systems are standard, as is Attention Assist to detect if the driver shows signs of falling asleep at the wheel. Mercedes also offers an additional Driving Assistance Package, including features such as Blind-Spot Assist, Active Lane-Keeping Assist, an Active Brake Assist.
Collision Prevention Assist is an important standard feature. This scans the road ahead for potential hazards, and automatically applies the brakes should the car sense an imminent collision. A pop-up bonnet is fitted to help prevent harm to pedestrians.
Front and rear parking sensors are fitted to all models, and supported by a standard reversing camera. Active Parking Assist, which allows the C-Class to steer itself into parking spaces, is a feature across the range.
Tyre pressure monitoring is another standard-fit item. This is particularly important, given the lack of a standard spare wheel. AMG models use run-flat tyres, while lower models have a compressor kit designed to repair minor punctures.
MPG and fuel costs
"With such a diverse range of engine options, there is a C-Class Cabriolet to suit almost any wallet when it comes to fuel costs."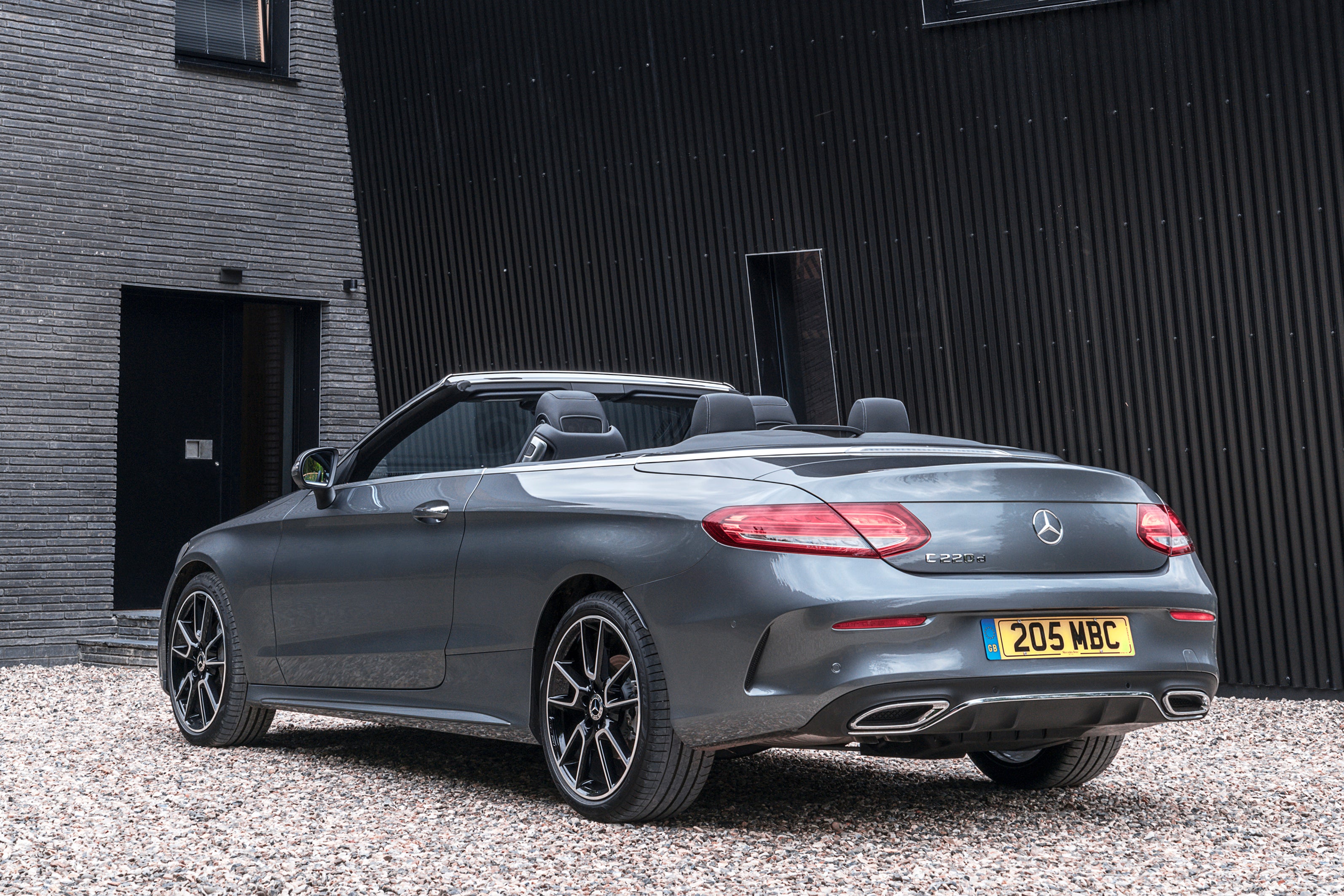 For those making big journeys on a regular basis, the most economical diesel is the C 220d. It is officially capable of up to 62.8mpg with a manual gearbox, allowing for a plentiful range when combined with the standard 50-litre fuel tank of the C-Class.
If a petrol engine suits your lifestyle better, the C 200 offers the best overall blend of fuel economy. Pre-facelift cars fitted with a manual transmission achieved up to 47.1 mpg in official tests.
At the other end of the scale, the V8-powered AMG C 63 S offers up to 30 mpg officially. However, keep enjoying the noise and grunt from that big engine and fuel use will increase dramatically.
Insurance groups and costs
As a premium four-seater convertible, the Mercedes-Benz C-Class Cabrio is always going to be towards the expensive end of the scale when it comes to insurance costs. This is clearly not a car aimed at those who have just passed their driving test.
The cheapest petrol models to insure are early C 200 versions in Sport specification, fitted with a manual gearbox. These should fall into insurance group 32 out of 50. Early C 220d diesels sneak into group 31, potentially making them marginally cheaper.
Moving up in power brings higher group ratings. This reaches a maximum with the AMG C 63 S, which scores the top group 50 insurance rating thanks to its incredible speed.
VED car tax
First launched in 2016, the Mercedes-Benz C-Class Cabriolet finds itself falling across multiple VED (road tax) schemes. For cars registered before the VED changes introduced in April 2017, the C 220d Sport attracts the cheapest tax. With CO2 emissions of 116g/km, it grabs the desirable £30 per year tax bracket.
Many of the C-Class Cabrio models start just above the £40,000 threshold. This adds an additional £325 charge, payable for five years, to the standard £150 VED rate. Applicable to cars registered after March 2017, this will affect almost all nearly-new models on sale.
Company car tax rates also vary substantially across the range. The C 200 Sport attracts a 31 percent benefit-in-kind rate, increasing throughout the different models to the AMG C 63 S at 37 percent.
How much should you be paying for a used Mercedes-Benz C-Class Cabriolet?
"With list prices when first launched spanning from around £39,000 to more than £73,000, there is plenty of range in the cost of used or nearly-new models."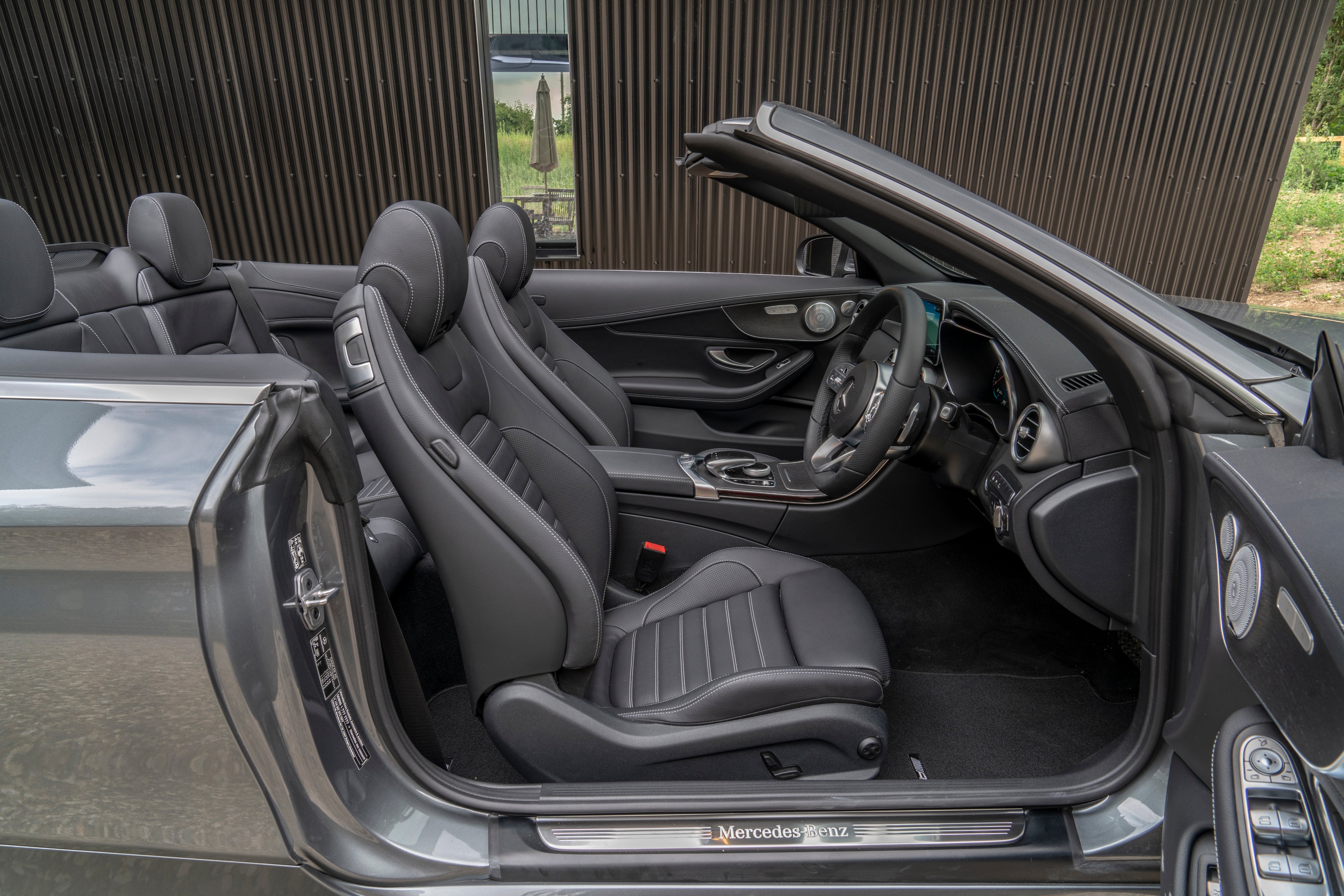 Those searching for a diesel are likely to be in luck, with the C 220d the most popular model on the used market. The earliest launch cars can be had from less than £19,000, with newer examples commanding up to £40,000. Sport versions are notably rare, with the AMG Line most plentiful on the used market.
Those looking for a nearly-new petrol C 200 should be prepared to pay upwards of £28,000 for an AMG Line specification car. Range-topping AMG C 63 S Cabriolets are very hard to find, and you should be prepared to travel to track one down. Facelifted examples require more than £60,000 at present.
Trim levels and standard equipment
Pre-facelift specification started with Sport trim, although this was dropped after September 2018. These cars have 17-inch alloy wheels, comfort-orientated suspension, LED headlights, Artico artificial leather upholstery and satellite navigation as standard.
Original AMG Line brings 18-inch alloy wheels, a sportier design for the front and rear bumpers, plus a fancier front grille. Sports suspension, sports steering and a flat-bottomed steering wheel were also included.
After the 2018 facelift, Mercedes-Benz began offering Premium versions. AMG Line Premium cars benefit from a 12.3-inch digital dashboard, ambient LED interior lighting and wireless charging over the regular AMG Line version.
Topping the range is AMG Line Premium Plus. This adds keyless entry and start, a 360-degree camera system and the impressive Burmester sound system. In terms of value for money, AMG Line is arguably the best option on cars before or after the 2018 facelift. It includes plenty of standard equipment, but still maintains a level of relative affordability.
Keep me updated by email with the latest advice, news and offers from heycar
By submitting, you agree to our
privacy policy
.