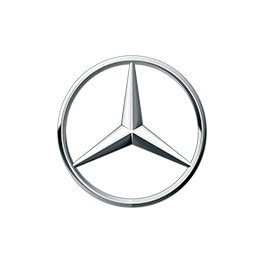 Mercedes-Benz C-Class Coupe Review

heycar rating
Slinky four-seat prestige coupe
Best bits
Plush-feeling interior
Cracking diesel engine
Comfortable on the road
Not so great
You need option air suspension for best results
C200 engine is rather thrashy
Rivals are marginally more practical
Read by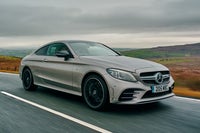 Overall verdict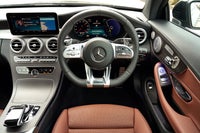 On the inside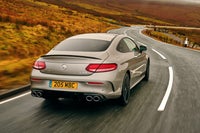 Driving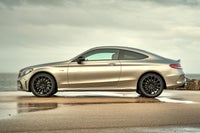 How much does it cost to run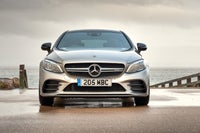 Prices, versions and specification
Overall verdict
"Putting looks before what's on the inside doesn't automatically make you a shallow person. Just look at the Mercedes C-Class Coupe for proof. Granted, it will only hold four people rather than five like the C-Class Saloon will - and the boot can't swallow as much luggage either - but when it looks this good, you can really see why some people would happily make the trade."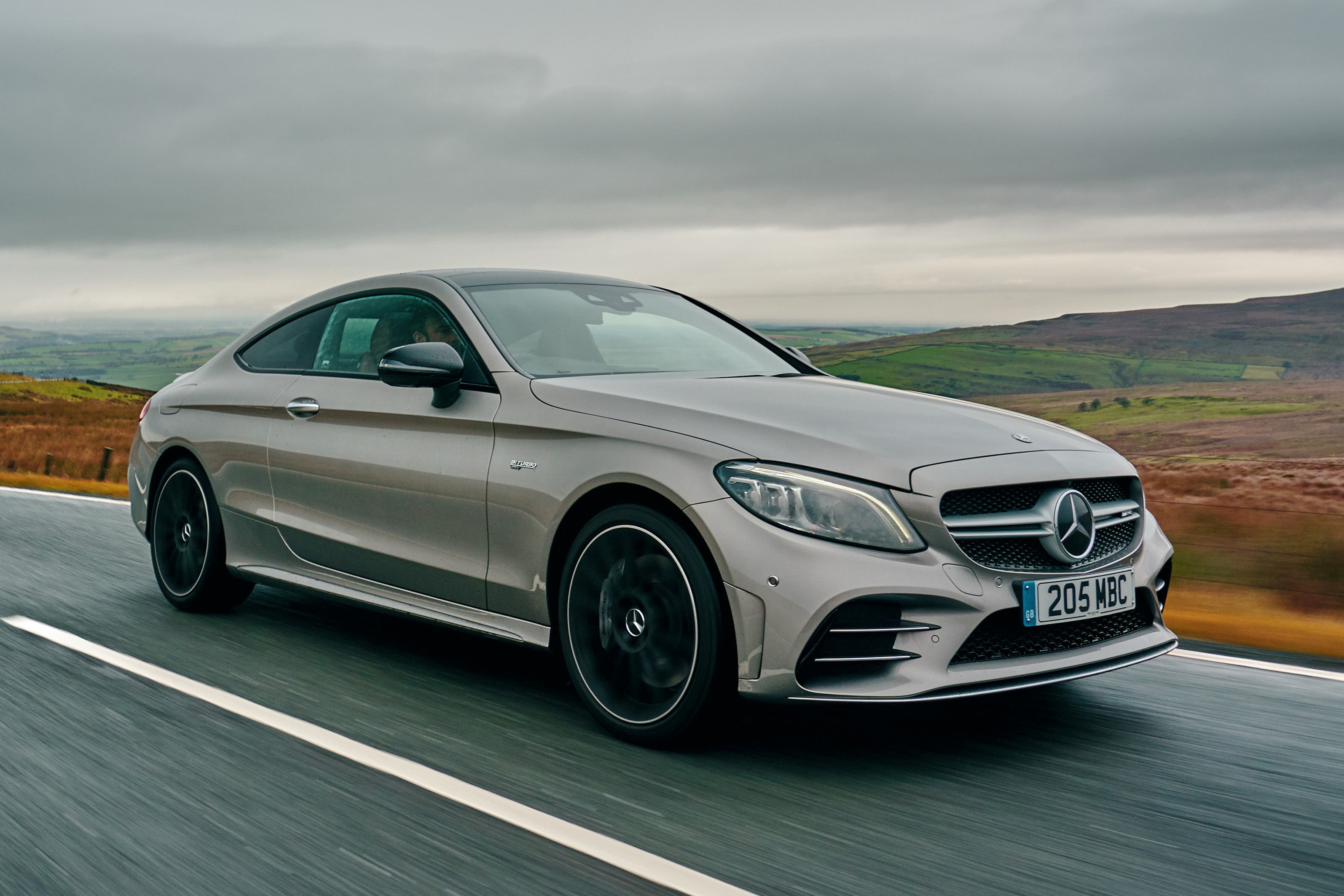 A stylish two-door take on the premium saloon is hardly a new idea. The German 'Big Three' have been punting out cars like this for years, and these days, things are very tight between the C-Class Coupe and its big rivals, the Audi A5 and BMW 4 Series, in terms of size, space and price. In fact, it's pretty much nip-and-tuck in every area, so what does the Mercedes do that the others don't?
Well, for starters, it delivers a more relaxed driving experience, with a softer, more absorbent suspension and a greater emphasis on refinement. Find an example fitted with optional air suspension - as we suggest you do - and you'll live an even more comfortable and sophisticated life. You'll need to choose your engine carefully, as some of the smaller petrol ones don't really deliver on performance and quietness, but go for the C220d diesel, and you can't really go wrong.
It feels pretty sophisticated in other ways, too. The interior quality is great, with plush materials and thoughtful, stylish finishes, while the amount of standard luxury kit you get is generous enough to hammer home the feeling of luxury. You get plenty of safety kit, too, so even though your brood will be more cramped than they would be in a Mercedes C-Class Saloon, they shouldn't be any less safe.
Drawbacks? Well, the car uses Mercedes' older-school infotainment system, so the super-clever functionality on other models isn't available here, while not all versions get Apple Carplay or Android Auto as standard. Like we said, a couple of the engines aren't really up to muster, and when push comes to shove, rivals from Audi and BMW are a shade roomier and more entertaining to drive.
That said, there is a lot to like about the C-Class Coupe, and if it's the one that catches your eye most out of the three - which it might well be - then it's a very solid choice.
Comfort and design
"The C-Class Coupe's dashboard layout is very simple and uncluttered, with only a few switches lined up on the centre console. Most of these are for the ventilation system, which is good because it means you don't have to delve into the infotainment system's vast array of menus to make minor tweaks to the cabin temperature."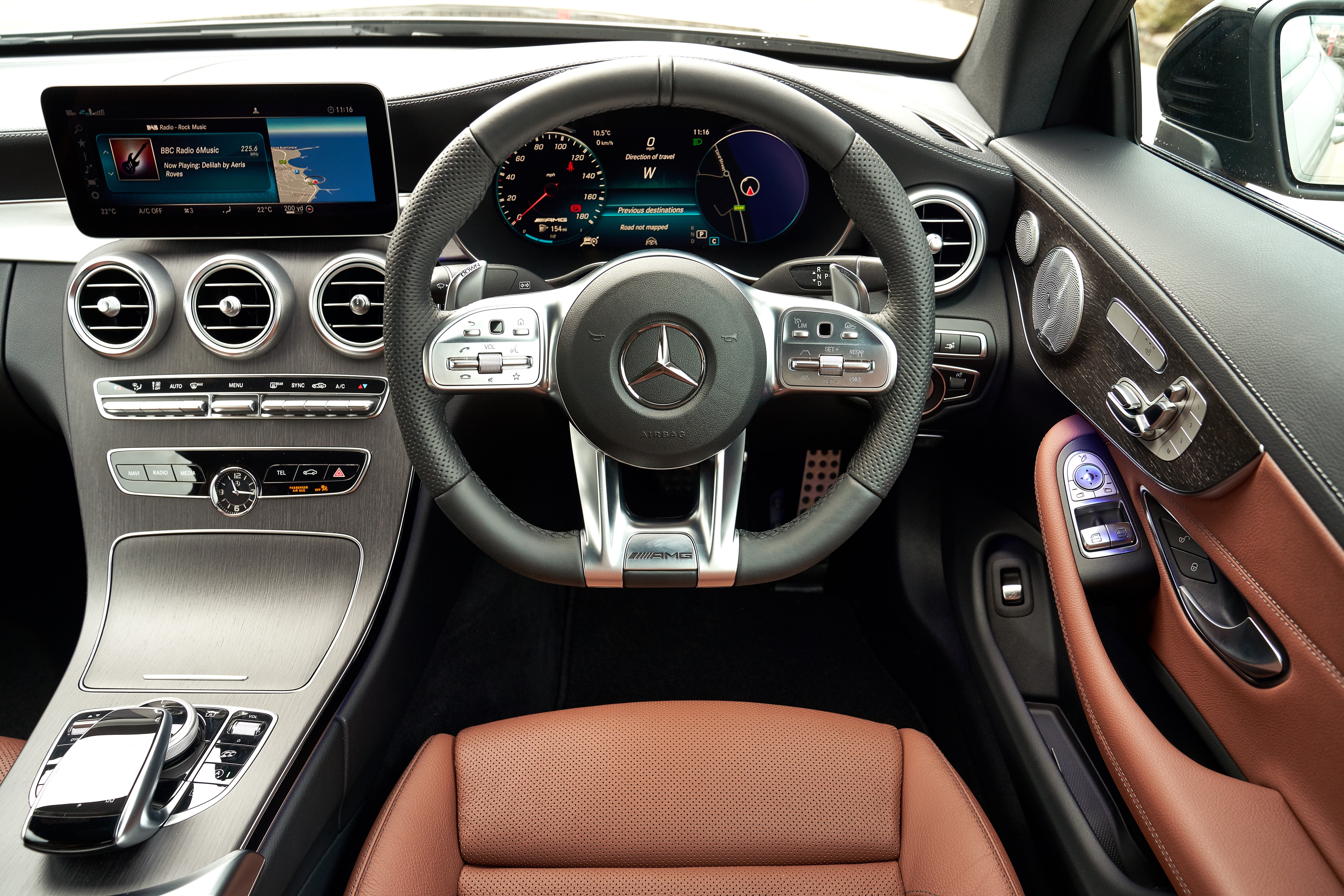 What's more, these - and the other - dashboard switches are clearly marked, so it's easy to see which one controls which function. That said, the steering wheel has lots of smaller, fiddlier controls on it, and it's less clear what everything does.
The seats are very supportive, better than those in the regular C-Class saloon, and your seat height and backrest angle are set electrically, making it easy to find your desired driving position.
There's also bags of manual adjustment in the steering column, so drivers of all shapes and sizes should find it easy to get comfy. Front visibility is fine, although the slopey design of the rear end means more bodywork and less glass, which hampers your over-the-shoulder view. However, that's the case with all coupes of this type, and parking sensors and a reversing camera are provided as standard.
Handling and ride quality
"While many coupes of this type try to offer a sporty drive, the C-Class goes for a more easy-going approach. There's more give in its suspension than that of a BMW Series, so it rides bumps and potholes in a more settled way."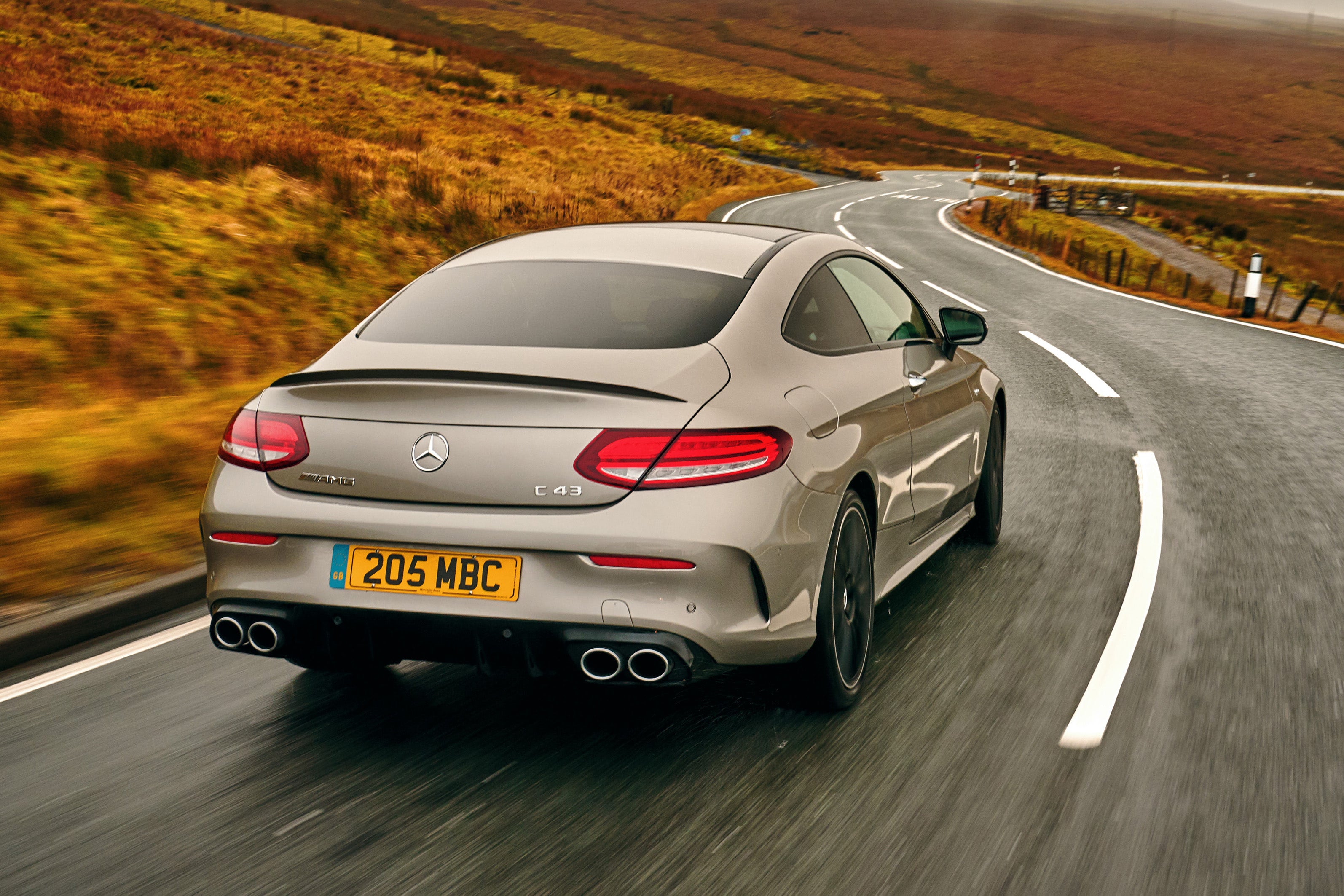 That said, it's rather more fidgety than an Audi A5 over smaller ridges and ripples, so it's not the comfiest car of its type, although you still won't have much cause for complaint.
It isn't the sharpest handling, either. There's more body roll than you get in the rivals mentioned, and the steering is a little slower, so fast direction changes aren't quite as crisp. But it still handles corners securely, and with a fair amount of poise. The four-wheel-drive versions have some useful extra grip and traction on the road, but the rear-driven cars are still very good on that score, and are actually more fun.
If you can be bothered with the detective work, we'd really recommend hunting down a car fitted with the optional air suspension, which allows you to stiffen things up or soften them off according to the driving mode you select. Regardless of the mode, it rides a lot more fluidly than with the standard suspension, keeping you more comfortable in all situations. There's keener control over body movements in the corners and it shouldn't add very much to the price of your car, either.
MPG and fuel costs
"A lot has happened on this score over the course of the C-Class Coupe's life. As explained earlier, there's been some chopping and changing with the car's engine range, and also, the official NEDC testing procedures were swapped for tougher WLTP ones to give figures that better reflect real-world driving conditions. "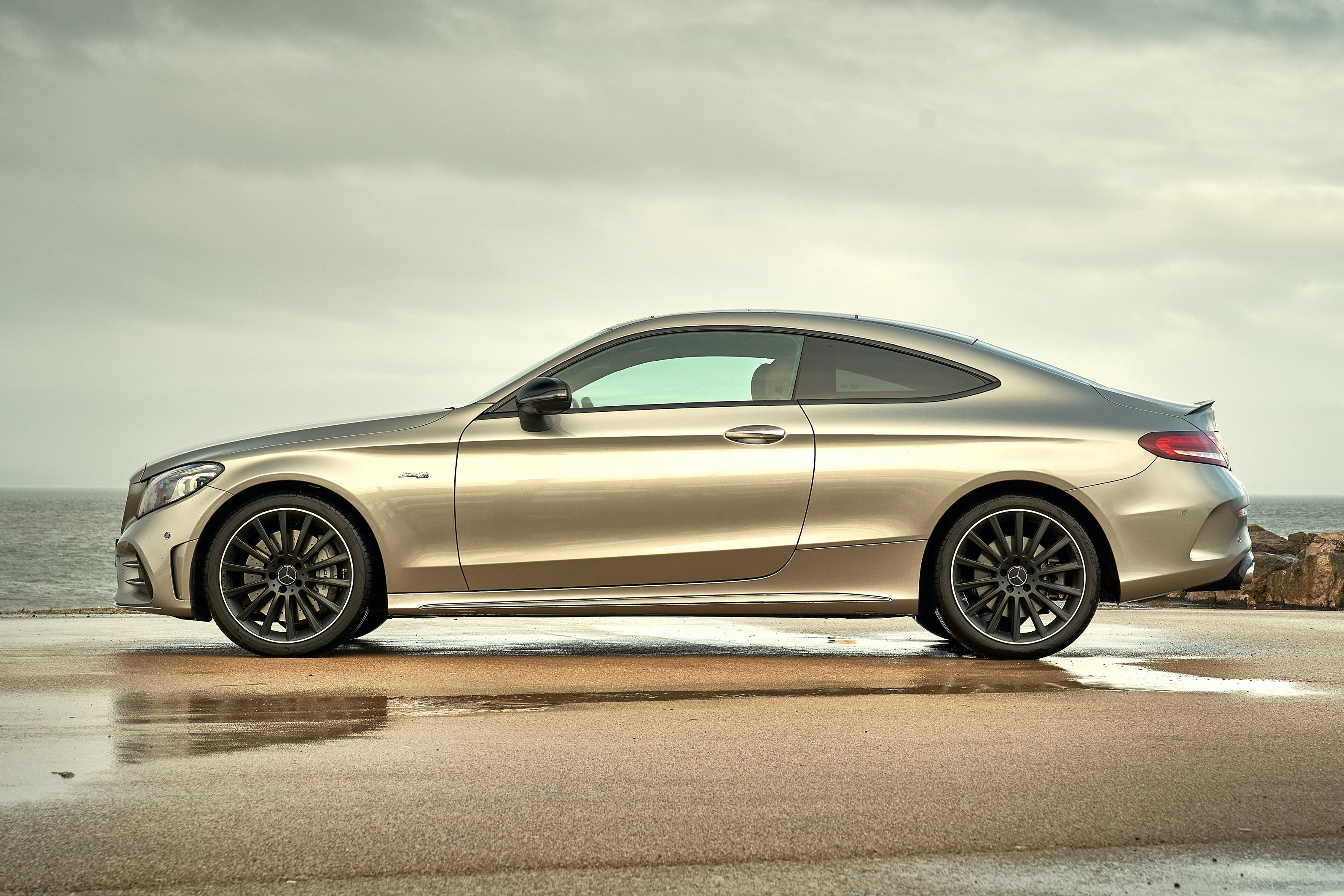 That makes comparisons between early and late cars very difficult, so for now, we'll simply concentrate on the newer examples.
Unsurprisingly, it's the C220d that returns the best average figure with 54mpg, while the 300d does 49mpg, but bear in mind that both figures drop significantly with the addition of 4 Matic four-wheel drive. The C200, meanwhile, will do 42mpg according to official stats, while the C300 does 40mpg. Compared with rivals, the C-Class Coupe's efficiency figures are pretty good.
How much should you be paying for a used Mercedes-Benz C-Class Coupe?
"At the time of writing, prices for brand new versions of the C-Class Coupe started at just under £39,000 for the C200 AMG Line and rose to more than £49,000 for the C300d 4Matic (four-wheel drive) AMG Line Premium Plus."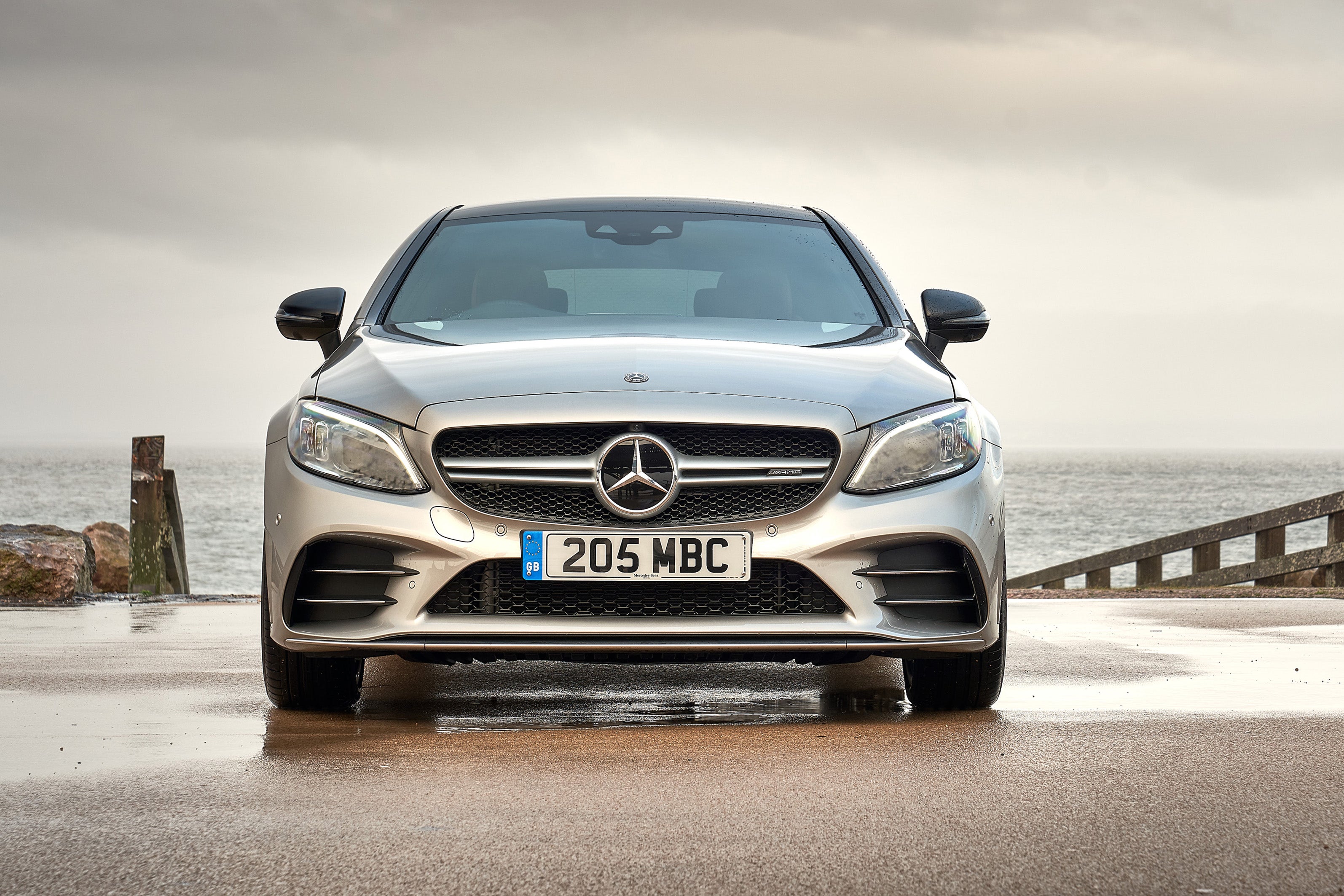 That's the maximum if you ignore the faster AMG Line versions, which for the purposes of this review, we will. If you're after a diesel version, the cheapest one - and also the version we recommend - is the C220d AMG Line at just under £42,000.
Compared with rivals, the C-Class is a fraction more expensive, but there really isn't much in it, and there's also very little in it for how quickly the cars depreciate, so used prices will be just as tight. Our listings show quite a few early diesels (diesels will be the most common one you'll find) at around the £18,000 mark.
Is the Mercedes-Benz C-Class Coupe right for you?
If you're attracted by the glamour of a prestige badge, but you want even more glamour from how your car looks, then the Coupe version of the Mercedes C-Class could well fit the bill. Its curvaceous rear end has real style, and with only sporty AMG Line trim levels offered, there's a racy feel to the looks as well.
The interior provides just as much glamour, with gorgeous materials, solid assembly and a generous dollop of luxury equipment. Yes, it's not as practical as a C-Class Saloon, but it still has four seats fit for (reasonably sized) adults and a pretty big boot. Overall, it's a close-run thing between the Mercedes and its main rivals from Audi and BMW, but there's no bad choice to be made.
What's the best Mercedes-Benz C-Class Coupe model/engine to choose?
Bit tricky to be absolutely sure on this one, because we've only tried a couple of the four engines available, those being the C200 petrol and the C220d diesel. Of those, the diesel is without doubt the pick, despite being considerably more expensive. It's muscular, refined and economical, while the petrol is frustratingly flat and disappointingly noisy.
In terms of trim, base-level AMG Line trim is all you really need because it comes loaded with creature comforts. However, we wouldn't blame you if you wanted to step up the AMG Line Premium trim for its cool 64-colour ambient lighting, digital instrument screen, upgraded sound system and standard Apple Carplay/Android Auto, although it's a bit rubbish that all trims don't get smartphone integration.
What other cars are similar to the Mercedes-Benz C-Class Coupe?
Wherever you have a Mercedes model, it's fairly inevitable that you'll have an equivalent from both Audi and BMW to consider as well, such is the rivalry between the three companies.
And so it proved with the C-Class Coupe. The Audi A5 and BMW 4 Series are very similar to the Benz in terms of price and size, so this is about as direct as rivals get. It's not just limited to German companies, though. Lexus also offers an alternative in the form of the Lexus RC, so if you fancy the sound of a self-charging hybrid that'll be faultlessly reliable, that's a really good shout.
Quality and finish
You'd expect the cabin of a car like the C-Class Coupe to deliver a fair amount of glamour, and it doesn't disappoint. Everything you see and touch is finished soft-touch plastic, stitched leather, grained wood, genuine metal or high-gloss panelling. It all feels very tactile and appealing, and the range of tastefully selected surfaces and textures combine to make things look interesting, and well as classy.
All versions get the same part-leatherette upholstery, too, so there isn't much of a disparity in poshness between the bottom-level trim and the top.
Inspect super-closely, and you will find one or two surfaces in the lower reaches of the cabin that aren't as solid or as substantial as those in an Audi A5, but they're hidden away out of sight and do nothing to undermine the impressive feeling of quality.
Infotainment
While most modern Mercedes have been given the company's latest MBUX infotainment system - which employs twin high-definition screens for your infotainment and instrumentation, along with a touchpad controller and natural-speech voice control - the C-Class Coupe makes do with an older system.
Whether this is a good thing or a bad thing will probably depend on how much you like touchscreens, which is used extensively by MBUX. In the C-Class Coupe, meanwhile, you scroll through on-screen menus using a simple rotary controller on the centre console, and in our book, it's a much better, less distracting way of doing things, especially when you're driving.
It still isn't quite as user-friendly as the equivalent system you'd find in a 4 Series because the menus are a bit more complex and convoluted, but it gets better the more you use it. The graphics are sharp enough and quick enough. Early cars got a 7.0-inch screen, while later ones got a 10.25-inch one that made the on-screen icons bigger, improving useability.
All versions have DAB radio, a Bluetooth phone connection and nav of some variety. However, early cars didn't have Apple Carplay/Android Auto, and even with today's models, you only get it if you upgrade from AMG Line trim to AMG Line Premium or above. That upgrade also earns you an upgraded 225W sound system and a 12.3-inch digital instrument panel to replace the physical dials in the entry-level car.
They're very clear (although so are the basic items, to be fair), but they're not as widely configurable as those found in some rivals. Upgrade further to AMG Line Premium Plus, and you'll also get a 590W Burmester surround sound system.
Space and practicality
You don't buy a coupe if practicality is of major importance to you, but it's still important to have an element of real-world useability. And the C-Class Coupe provides it.
Space up front is as generous as you would expect, and although the rear seats - of which there are only two - are rather snug on both headroom and legroom, there's enough space for a pair of moderately sized adults to sit in reasonable comfort. Climbing in and out of the back takes a little bit of bendiness and dexterity, but that's the case in all coupes.
If you're a six-footer or above, though, make sure you call shotgun nice and early. Similarly, bigger kids in booster seats will fit okay, but if you have smaller ones in bigger chunkier child seats, then it might be a squeeze.
The boot is a very decent size, too, and with a relatively wide opening the space is reasonably easy to get at. There's a load lip to negotiate when loading heavy items, but that's the case in rivals, too.
Handily, the rear seats fold in a 40/20/40 configuration, which is more versatile than the more common 60/40 arrangement, and although the extended loadbay you get is sloped, there are no steps in it. However, while the C-Class Couple is competitive with rivals on both interior space and boot space, it's worth noting that rivals from both Audi and BMW are marginally better on both scores.
Engines and gearboxes
The choice of engine you have in your C-Class Coupe will depend on the age of the car you're looking at. Early examples came with 2.0-litre petrol engines including the C200 with 184PS and the C300 with 245PS, or 2.1-litre diesels in the form of the C220d with 170PS and the C250d with 205PS.
Later on, the diesels were replaced with 2.0-litre units giving either 194PS (C220d) or 245PS (C300d). With the petrols, the C300's output rose slightly, the C200's 2.0-litre engine was swapped for a 1.5 with both a turbocharger and an electric motor to give 184PS, and a C180 was added to the range, using a turbocharged 1.6 with 156PS.
So far, we've only tried a couple of them, the C200 and the C220d. The C200 doesn't really have the character you want in a glamorous car like the C-Class Coupe. Despite its extra mild-hybrid boost, it's really flat, so you have to rev it really hard for even moderate performance. That doesn't make for a particularly relaxed experience.
However, the C220d is much more like it. It's hugely muscular right from the bottom of the rev range, so it never needs more than a gentle tickle of the accelerator to get you going at a decent rate, and it has a very tidy turn of pace when you work it harder.
Most versions come with a nine-speed automatic gearbox as standard, and it's excellent. It swaps gears smoothly at most speeds, and although it can take its time to kick down when you ask for a sudden burst of acceleration, it usually picks the right ratio for the job at the first time of asking.
Of course, being a Mercedes, you also have the choice of various V6- and V8-engined high-performance AMG models, known as the C43, C63 and C63S.
Refinement and noise levels
As we've already said, you have to work the C200 really hard to extract even moderate performance, so you'll find yourself thrashing it to its limits most of the time.
And when you do, it becomes noisy and strained, which doesn't really match with the C-Class Coupe's otherwise sophisticated nature. Again, the C220d diesel is much more like it. With a generous slug of low-down torque, it pulls you around in a far more relaxed manner, and even when you do work it harder, it still stays quiet and smooth. An Audi Q5's diesel engine is even better, but the margins are very tight indeed, and you'll still lead a very civilised life.
Take to the motorway, and the sound of the diesel engine melts away to barely a murmur. Wind noise is well contained, too, but you will hear rather a lot of road noise rumbling away beneath you.
Safety equipment
The C-Class Coupe itself hasn't yet been driven into things by the experts at Euro NCAP, but both the C-Class Saloon and the C-Class Cabriolet have, and both emerged with a maximum five-star score, along with several dents that wouldn't buff out. Standard safety kit is pretty generous.
Automatic emergency braking, tyre pressure monitoring and a system that detects whether the driver needs a break, are all on hand to help prevent you having an accident. If one becomes unavoidable, there are seven airbags and Isofix child seat mounting points to help keep you from harm.
There's even a pop-up bonnet designed to give better protection for any unfortunate pedestrians. All versions have super-bright LED headlamps, but on AMG Line Premium trim and upwards, you get cleverer multibeam ones that flood the road ahead with light, but bend their beams around oncoming cars so as not to dazzle fellow motorists. Tyre pressure monitoring is standard across the board, but you only get a repair kit to address any problems on that score, rather than a spare wheel.
Insurance groups and costs
You wouldn't expect a glamorous car like the C-Class Coupe to be cheap on insurance, and it isn't. Not including the most powerful AMG versions, insurance groupings start at 31 and rise to 42, and when you consider that group 1 is the cheapest one and group 50 is the most expensive, you can see that all versions sit towards the higher end of the scale, despite the modest power of some.
VED car tax
The key date with VED tax is April 1st 2017, because this was the date when the Government changed the tax rules to implement a flat rate of tax to all petrol and diesel cars.
So, if your C-Class Coupe was registered after this date, you'll pay the flat annual rate of £150, and if the version you pick cost more than £40,000 when new (including any optional extras fitted), you'll also pay an additional annual surcharge of £325 on top of that between years two and six of the car's life. On cars registered before this date, you'll pay tax based on CO2 emissions.
Go for one of the diesels and you'll pay just £20 or £30 per year, but this jumps to £125 if you go for a version with 4 Matic four-wheel drive. The C200 jumps from £125 to £205 when you add 4 Matic, while buyers of the C300 pay £165.
Trim levels and standard equipment
Early cars came in Sport and AMG Line trims, but later, AMG Line became the entry point and you could then upgrade through AMG Line Premium and AMG Line Premium Plus trims. AMG Line cars come with most of the luxury toys you need in a glamorous car like the C-Class Coupe.
That includes two-zone climate control, alloy wheels, rain-sensing wipers, parking sensors, a reversing camera, keyless go, electric front windows heated and electrically adjusting front seats, cruise control and part-leatherette upholstery.
However, we wouldn't blame you if you wanted to upgrade to AMG Line Premium trim for its 64-colour ambient lighting, multibeam LED headlamps and upgraded infotainment kit (wireless phone charging, digital instrument cluster and 225W sound system). AMG Line Premium Plus trim adds keyless entry, a powered bootlid, a 360-degree camera, a panoramic roof and an even more powerful 590W Burmester stereo.
Learn more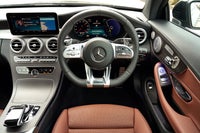 On the inside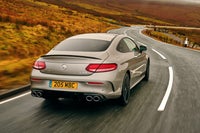 Driving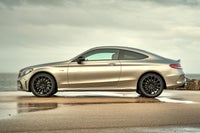 How much does it cost to run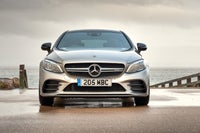 Prices, versions and specification
Reviews of similar cars
Quality checked, all cars less than 8 years old and warranty included
Looking for other Mercedes-Benz cars?
Quality checked, all cars less than 8 years old and warranty included