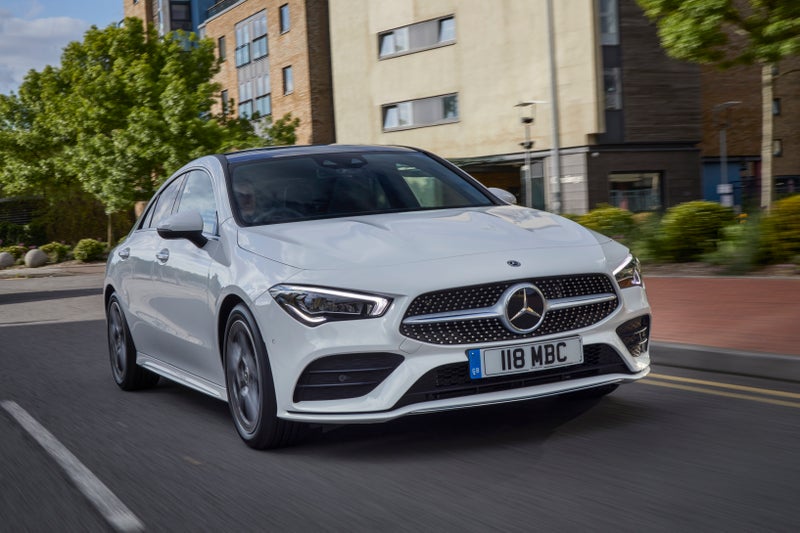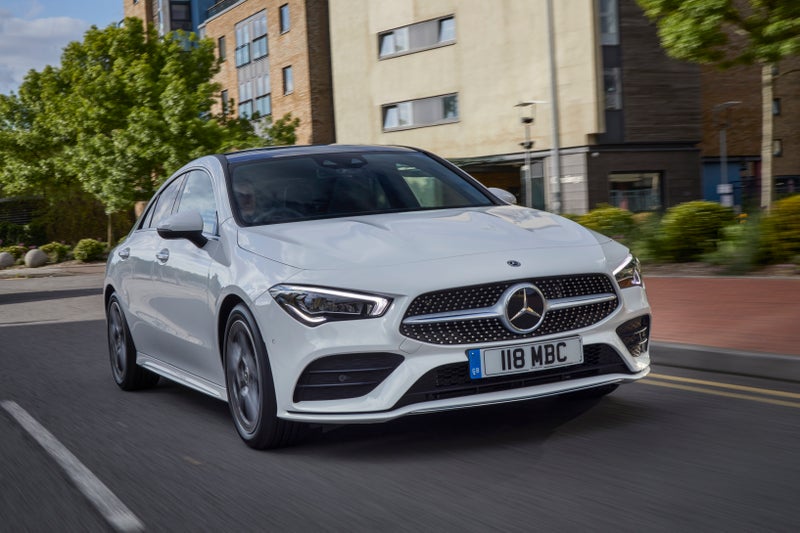 1/10
heycar rating
"Small, posh four-door coupe"
Launched: 2019

Premium

Petrol, Diesel
Quick overview
Pros
Innovative infotainment system looks great
Plush interior
Comfortable to drive
Cons
Rear headroom is tight
Access to the boot space isn't great
A200 petrol engine lacks refinement
Overall verdict
On the inside
Driving
Cost to run
Prices and Specs
Overall verdict
"When is a coupe not a coupe? Why, when it's got four doors, of course."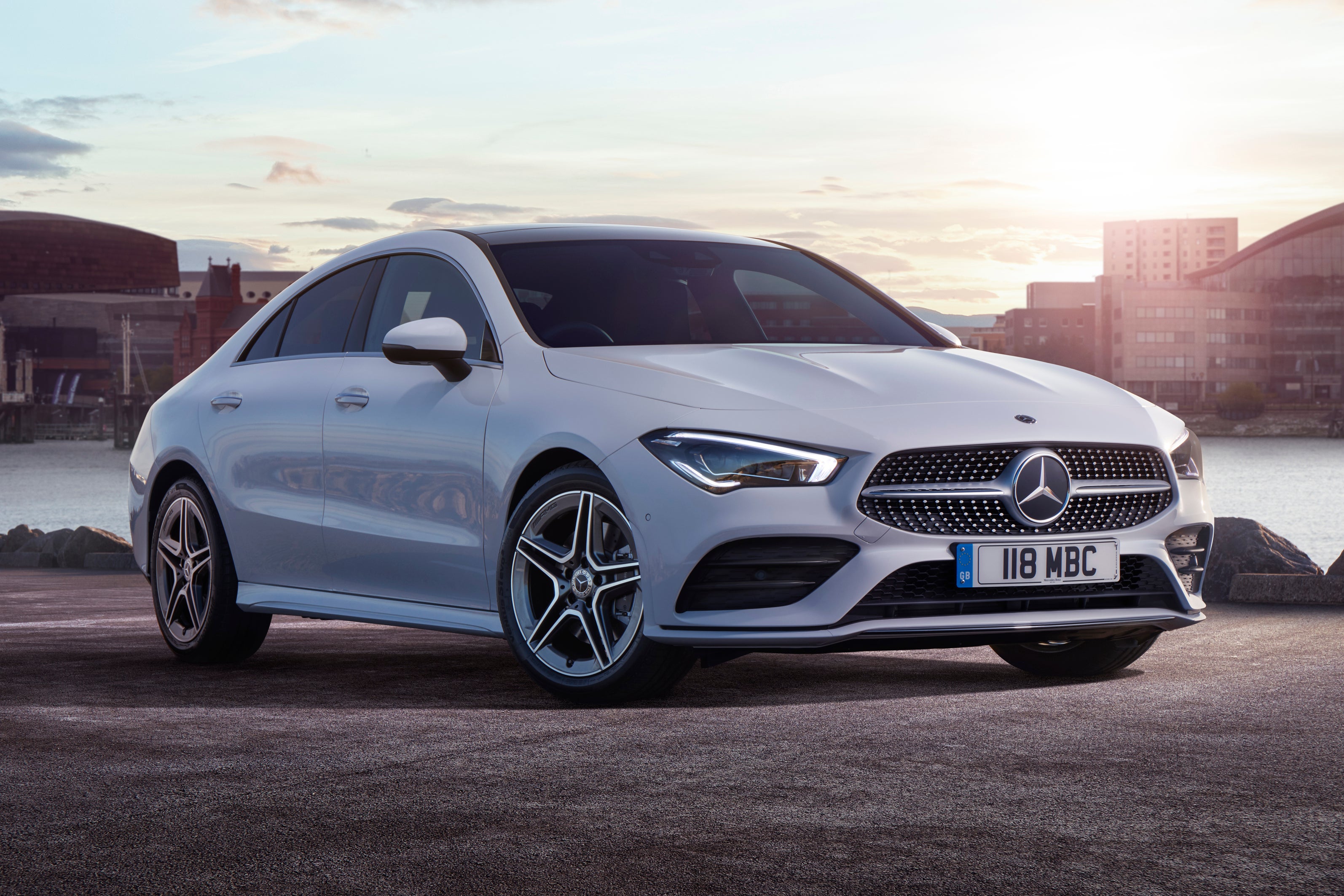 Not the funniest joke, perhaps, but it raises a valid question. Purists and pedants will argue until the cows come home about whether a car with four doors can ever really be described as a coupe, but does it really matter? Besides, a victory either way won't stop car makers applying the term to their slinky styled saloons.
And yes, Mercedes has plenty of form in this area. The first CLS - a swoopy version of the E-Class - didn't invent the phrase but certainly bought it into the modern-day public consciousness, while this, the smaller CLA, is now in its second generation.
Based on the A-Class, the previous CLA didn't have much of a start in life, because the mechanicals that lay underneath were a bit rubbish. The latest A-Class, though, is much more like it, so does that translate into a higher level of dynamic excellence for the CLA, too? Happily, yes it does.
Now, before you go assuming that the CLA's slinky lines guarantee it to be some sort of sports car, we'll scotch that particular rumour from the get-go. Yes, it handles capably and securely, but this car is more about comfort and refinement than agility and speed, and as a result, it's a really nice, relaxing car to spend time in as the miles slip by. Granted, the entry-level engines could do with more poke and better noise isolation, but stick with the perkier versions and you'll lead a very quiet life.
You'll also be bedazzled by what sits directly in front of you, because the CLA, like every other modern Mercedes-Benz, is packed with high-tech infotainment kit. It works well and looks absolutely fabulous, while it also supports all the functionality you could reasonably expect from it. Other luxury kit is in plentiful supply, too, and if anything, the huge amount of standard safety kit on board is even more impressive.
The interior is also really impressive for quality, even if it's not quite so impressive for practicality. Rear headroom is tight, particularly in versions with the panoramic roof, and while the boot is a decent size, the space is a little difficult to get at. That said, if you want ultimate practicality, you buy a saloon or an estate instead, and the CLA will be roomy enough to customers who only use their rear seats occasionally, or exclusively for kids.
No, it's not a cheap option, with prices similar to those of bigger rivals like the Audi A5 Sportback and Volkswagen Arteon. Even so, a very appealing choice that's well worthy of your consideration.
Is the Mercedes-Benz CLA right for you?
Have you been seduced by the lure of a prestige badge, but you don't want to drive the same ubiquitous hatchback choices as everyone else? Are you much more focused on style than you are on practicality, and as such, you don't want anything too big? If the answer to all those questions is yes, then the Mercedes-Benz CLA could well be the answer for you.
As a four-door coupe, it looks slinkier than its hatchback rivals, and unlike other four-door coupes like the Audi A5 Sportback and Volkswagen Arteon, it's smaller and more compact. Granted, it's not a lot cheaper, either, but it does come packed with generous luxury and safety equipment, and it's as good as anything else in the class for interior quality.
What's the best Mercedes-Benz CLA model/engine to choose?
Bit tricky to say, really, because we've only tried a couple of the four engines available, those being the CLA200 petrol and the CLA220d diesel. Of those, the diesel is easily the pick despite being considerably more expensive. It's muscular, fast and refined, while the petrol is comparatively flat and sounds thrashy when you work it harder.
In terms of trim, base-level AMG Line is all you really need because it comes loaded with creature comforts. However, we wouldn't blame you if you wanted to step up the AMG Line Premium trim for its cool 64-colour ambient lighting, huge instrument screen, upgraded sound system and 'augmented reality' navigation. More on that later.
What other cars are similar to the Mercedes-Benz CLA?
Picking rivals for the CLA is quite a tricky one, because as a compact four-door premium coupe based on the A-Class hatchback, it doesn't really have any direct ones. Well, at least not until the BMW 2 Series Gran Coupe arrives.
However, while the CLA might be appreciably smaller than other four-door coupes such as the Audi A5 Sportback and Volkswagen Arteon, it's not actually that far off on price, so these cars are what the CLA will be competing against.
Comfort and design
"All CLAs come with sports seats as standard, and they're wonderfully supportive, pinching you and cradling you in all the right places."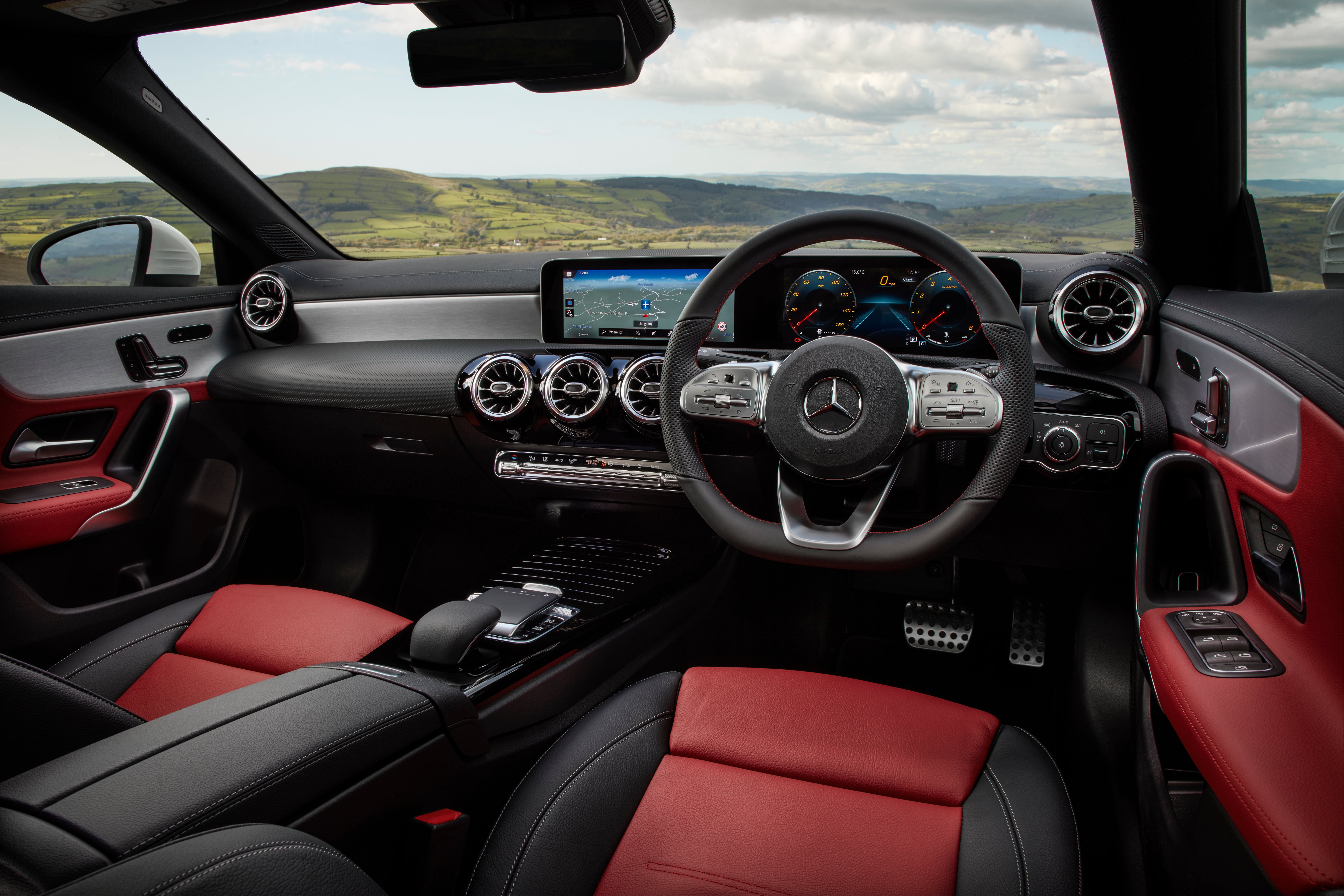 There's a huge amount of adjustment for the driver's seat and steering wheel, so drivers of all shapes and sizes should be able to get comfy, and if you fork out for the range-topping AMG Line Premium Plus trims, your front seats move electrically
You get a clear view of the road ahead, although the view behind you is slightly impaired by the bulky pillars that flank the rather shallow rear screen. Happily, all versions come with a reversing camera, font- and rear parking sensors and a system that'll take care of the steering during parallel parking manoeuvres.
The dashboard is dominated by the two digital screens that we'll discuss further in the Infotainment section, but it's good that the air conditioning controls are physical buttons that are separate from the infotainment system. This means you can make minor adjustments without having to scroll through dozens of menus. The buttons themselves are logically placed and easy to use, too. However, the multi-function steering wheel is absolutely covered with small, fiddly controls, and the sheer number of them means it's tricky to remember what everything does.
Quality and finish
This may be one of the cheaper cars that Mercedes-Benz offers, but in no way does it feel like a poor relation. The quality of the materials is high enough to fool you into thinking that you're travelling in an executive saloon, and importantly, it's good enough to match any of its rivals.
The twin screens and big, blingy air vents also help give the interior design plenty of theatre, more so than in rivals, and the various injections of stitched leather, brushed aluminium, chrome and glossy black panelling means there's real variety in the colours and textures on show.
However, while it's a match for an Audi A5 on swishness, it doesn't feel quite as solid or substantial: pokes and prods in certain places result in a few more creaks and flexes. It's really not that far behind for build quality, and you'll certainly have no reason for complaint.
Infotainment
Like all of Mercedes-Benz's latest cars, the CLA's cabin is dominated by two screens that are mounted side-by-side in front of the driver. These take most of the car's various functions, plus the information that would usually be delivered on conventional analogue instruments, and presents them all in one integrated unit.
You operate the system by tapping and swiping at the left-hand screen, or by using the laptop-style touchpad and shortcut buttons located on the central partition between the front seats. The graphics are super-sharp and the menus have a fairly logical layout, so it's pretty easy to find your way around. However, the touchpad controller is less precise, and more distracting, than the iDrive rotary dial you get in a BMW. Alternatively, you can also operate the system using a sophisticated voice control system that recognises natural speech rather than specific pre-set commands, and it works well.
In all models, the middle screen is a large 10.25-inch item. In AMG Line cars, the instrument screen measures 7-inches, but if you upgrade to AMG Line Premium or above, this becomes the same size as the centre screen.
In all models, the system supports DAB radio, Bluetooth and hard-disk navigation and Apple Carplay/Android Auto. You also get wireless phone charging, a USB port and two USB-C ports in the back for charging devices. And again, upgrading from AMG Line trim to AMG Line Premium or above brings dividends. You get an upgraded 225W sound system, along with 'augmented reality' for your navigation. This overlays instruction graphics over a camera image of the road ahead of you, pointing out precisely where you should be going. It looks really cool, and it's also genuinely helpful.
Space and practicality
You very rarely struggle for space in the front of any car, and it's the same in the CLA, but things aren't quite so roomy in the back. That slinky roofline means that rear headroom is rather on the tight side, and if you're six-foot tall or above, you'll find the top of your head brushing the ceiling of the car. There's bags of kneeroom, so taller passengers can scooch down a bit in their seats, but this will only provide so much relief.
The CLA's small, oddly shaped rear door openings can make getting in and out of the rear seats slightly awkward. However, a pair of bulky child seats will fit fine and there are Isofix child seat mounting points to help fix them securely.
Things are a little mixed in the boot. There's a very decent amount of space, although it's not quite as much as you get in an A5 Sportback, and considerably less than in an Arteon, but it's rather hard to get at. That's because the boot opening is decidedly narrow and shallow, and there's a hefty old lip that you'll need to drop heavy items over. The rear seats split-fold in a 40-20-40 configuration, but the car's slinky shape means that not all that much more space is opened up.
Handling and ride quality
"While both of its main competitors - the A5 Sportback and the Arteon - have a slightly firm edge to how they ride in the pursuit of sportiness, the CLA takes a slightly softer, more relaxed approach. It's all the better for it, too. It soaks up minor road imperfections very effectively, and it doesn't thud too much over sharp-edged potholes."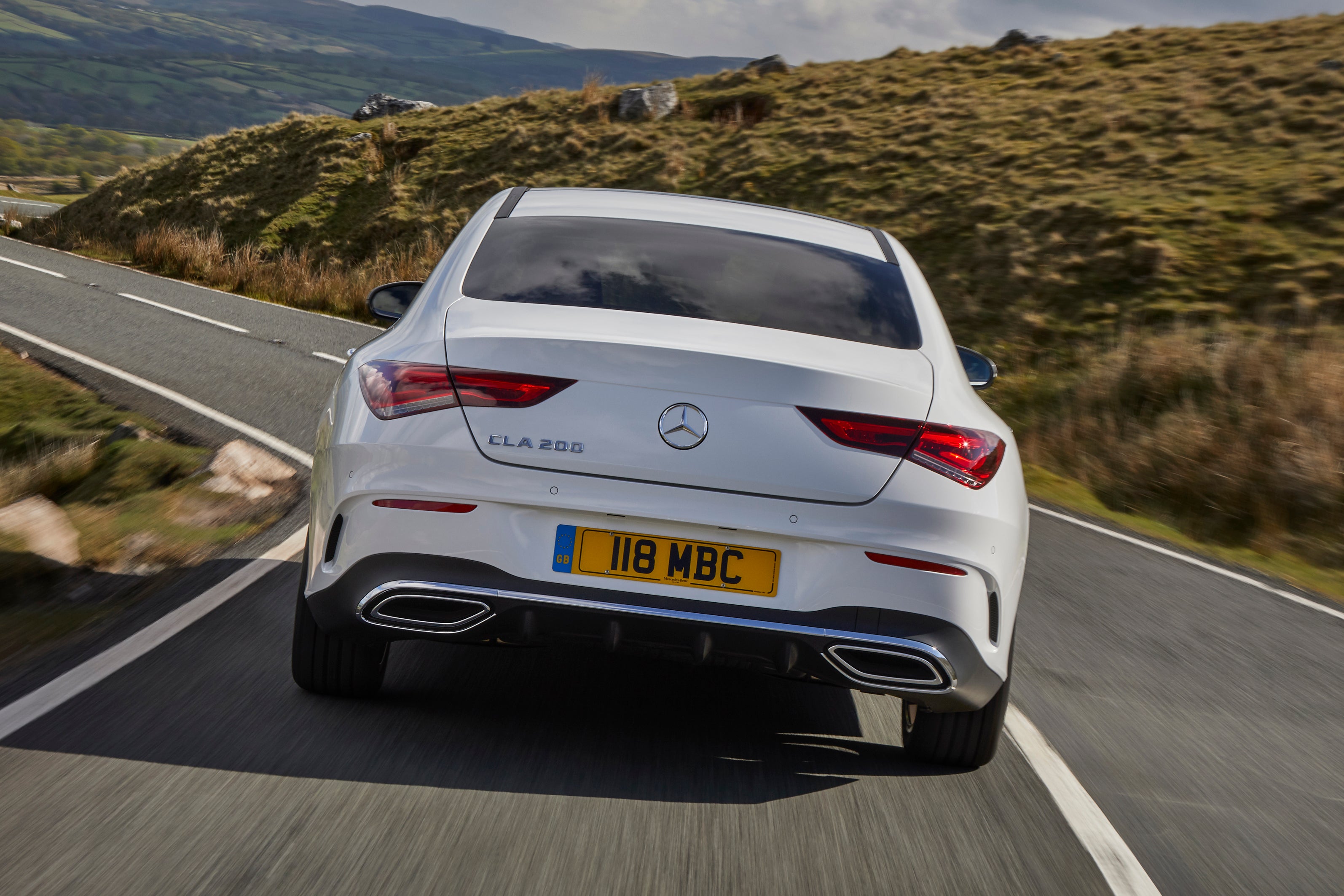 Take to an undulating road, and you will find that the CLA's body floats around a bit over the dips and crests, but it's nothing that'll have the kids going green around the gills. You will feel a little bit of body lean in bends, so it doesn't feel quite as sharp or as agile as the sporty styling might suggest. Having said that, the body roll is progressive and predictable, so fast direction changes aren't unsettling, while there's plenty of grip and precise (if not quite as much as rivals) and accurate steering.
True, the steering might be a little light for some tastes, but it does help make life easier when pottering through tight urban environments, the CLA's smaller dimensions compared with rivals help here, too.
Engines and gearboxes
The petrol range kicks off with the CLA180, which uses a turbocharged 1.3-litre engine that produces 136PS, but we haven't tried that one yet, either. We have, however, tried the CLA200, which has a 163PS version of the same engine. It feels fairly responsive from low down in the rev-range, making your progress fairly easy and relaxed, but if you work it harder, you might be surprised that it doesn't deliver more.
If you ignore the sporty AMG 35 and 45 models (which we will for the purposes of this review, as those versions have their own bespoke reviews), the range-topping petrol engine is the CLA250, which has a 2.0-litre unit with 224PS.
The one diesel option in the CLA is the 220d, which comes with the same 190PS 2.0-litre engine found in the C-Class and E-Class. It's hugely muscular right from the bottom of the rev range, so it never needs more than a gentle prod of the accelerator to get you going at a decent rate, and it has a very tidy turn of pace when you work it harder.
All the petrol engines have a seven-speed twin-clutch automatic, while the diesel gets an eight-speed automatic. Both are fine in their normal driving modes, slushing through the gears smoothly enough, but select the sporty mode and things deteriorate. You'll notice them being rather hesitant to shift up and rather too keen to shift down, meaning that the engine is worked needlessly hard for too much of the time.
Refinement and noise levels
Of the two engines we've tried, it's the A220d diesel that impresses more than the A200 petrol. The diesel isn't the quietest or smoothest engine of its type, but it's not far behind and easily good enough on both counts to keep life extremely civilised. The petrol is less successful, though. There's a slightly boomy quality to the noise it makes at all times, and when you work it harder, it starts to sound thrashy and strained. Not what you want in a sophisticated car like the CLA.
You'll hear a shade more wind and road noise at a steady motorway cruise than you will in an Audi A5 Sportback or Volkswagen Arteon, and you'll also hear the odd clonk from the suspension. However, that's splitting hairs, and the CLA is still a civilised way of getting around.
Safety equipment
The CLA has already achieved the maximum five-star rating after being smashed up by the experts at Euro NCAP, and with the super-impressive amount of standard safety equipment on board, that's really no surprise. As well as all the usual airbags and stability aids, you get automatic emergency braking, lane keeping assistance, and a system to detect whether the driver needs a break. There's also an active pop-up bonnet to give better protection for pedestrians in an impact.
All cars have super-bright LED headlamps, while AMG Line Premium Plus cars have cleverer multibeam ones that can beam their light around oncoming cars so as not to dazzle fellow drivers. There's also an option package that bundles up a range of even cleverer driver assistance systems, including blind spot monitoring, cross traffic alerts, adaptive cruise control and automatic adoption of speed limits, but you can only add it to the very top trim level. There's no spare wheel on any version, either, with a pot of tyre sealant provided in each case.
MPG and fuel costs
"It'll come as no surprise that the sole diesel offering, the CLA220d, performed the best on this score according to the official figures."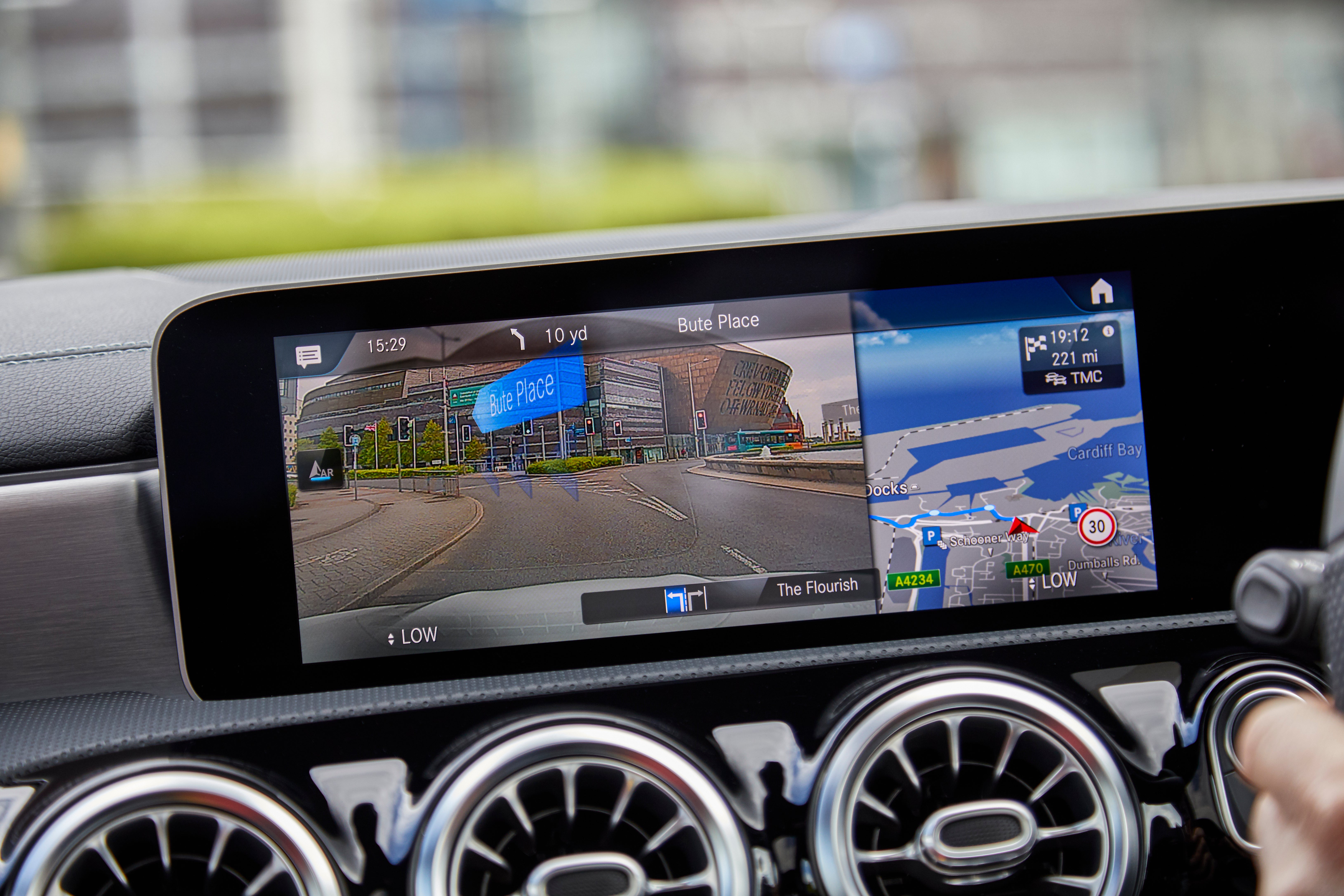 The latest WLTP tests reckon an average of more than 56mpg should be achievable, and while this figure is probably rather optimistic, you should be able to get reasonably close to that in the real world if you treat it very gently. All the petrol, meanwhile, will better 40mpg according to the figures, with the CLA180 and CLA200 giving you more like 46mpg.
Insurance groups and costs
You wouldn't expect a desirable car like the CLA to cost a pittance to insure, but you wouldn't expect it to be ruinously expensive, either, and that's about how it shakes out.
The CLA 180 is the cheapest to insure, sitting in group 27 (of 50), while the 200 is only a fraction higher in groups 29 or 30, depending on trim level. The priciest ones to insure (assuming you ignore the high-powered AMG 35 and 45 models) are the 220d and 250, sitting in groups 34 and 35, respectively.
VED car tax
This generation of CLA was introduced in 2019, long after the Government changed the tax rules to apply an annual £150 flat rate to all petrol and diesel cars. So, with most of them, that's exactly what you'll pay. Be careful, though, because cars that cost more than £40,000 when new are also subject to an additional surcharge of £325 between years two and six of the car's life, taking annual bills up to £475. Avoid the powerful AMG 35 and 45 models, and all base prices fall under this threshold. However, the price of optional extras are included in this, so if you buy a pricier version with enough options to tip it over the threshold, you will get clouted with the extra. Always worth a quick check of the car's registration online before you sign on the dotted line.
How much should you be paying for a used Mercedes-Benz CLA?
"At the time of writing, prices for brand new examples of the CLA kick off at just over £31,000 for the CLA180 in AMG Line trim, which rise to almost £33,000 for the CLA200. The CLA250 cost closer to £35,000, while the CLA220d diesel was marginally more expensive than that."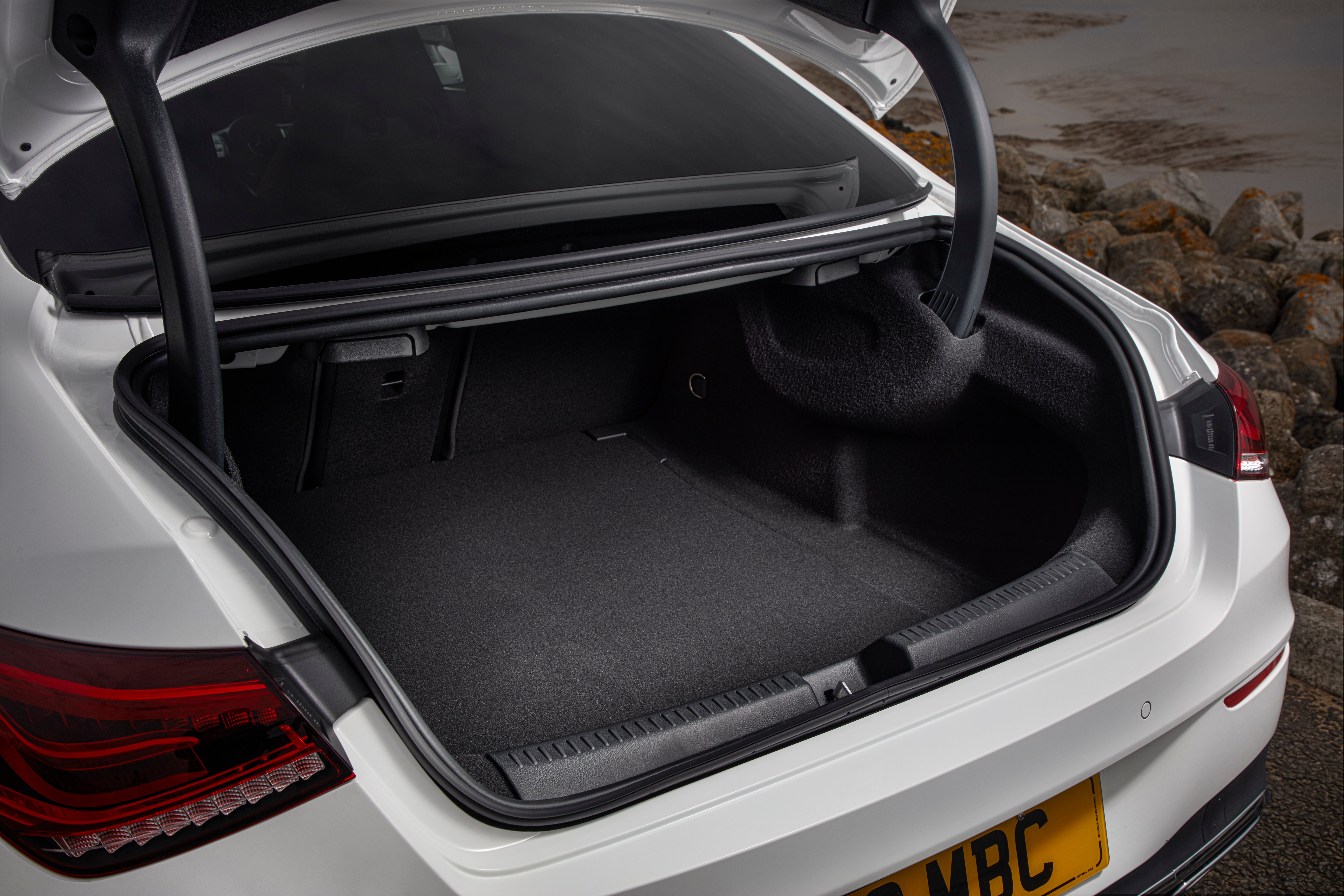 Compared with prices for the A5 Sportback and Volkswagen Arteon, these prices are a little lower, but not by all that much. However, used buyers should note that the CLA holds its value better than its rivals, and if you were looking to buy three-year-old, 60,000-mile versions of all three cars, the Mercedes-Benz would actually cost you marginally more than the others. Not that the CLA - only launched in 2019 - has been around long enough to make that a possibility, anyway. Still, our listings show a few lower spec examples kicking off from around the £25,000 mark
Trim levels and standard equipment
The CLA is intended to be a posher product than the A-Class on which it's based, so only top-end trims levels are offered. The AMG Line trim is the first of them and it comes with pretty much everything you need. Aside from all the infotainment and safety kit mentioned earlier, you get alloy wheels, sports seats, cruise control, four powered windows, leather upholstery, a leather steering wheel, heated front seats, keyless go, dual-zone climate control, a reversing camera, front- and rear parking sensors and a system that helps steer you into parallel parking spaces.
Stepping up to AMG Line Premium upgrades your infotainment system with more speakers and augmented reality navigation, and it also adds 64-colour ambient lighting and keyless entry. At the top of the pile is the AMG Line Premium Plus trim, which adds a panoramic roof and electric front seats.
Mercedes-Benz CLA cars for sale on heycar
3,914
Number of cars available
£13K - £66K
Price bracket of these cars
Colours available on heycar
Keep me updated by email with the latest advice, news and offers from heycar
By submitting, you agree to our
privacy policy
.