Written by
heycar editorial team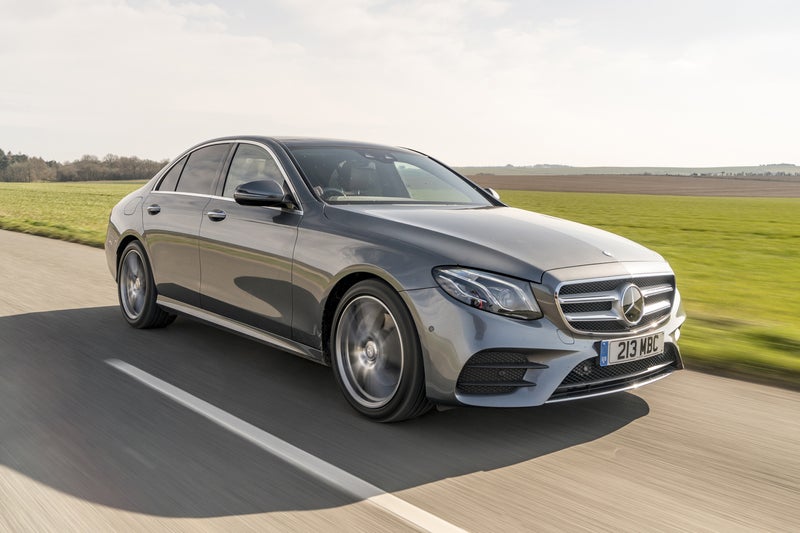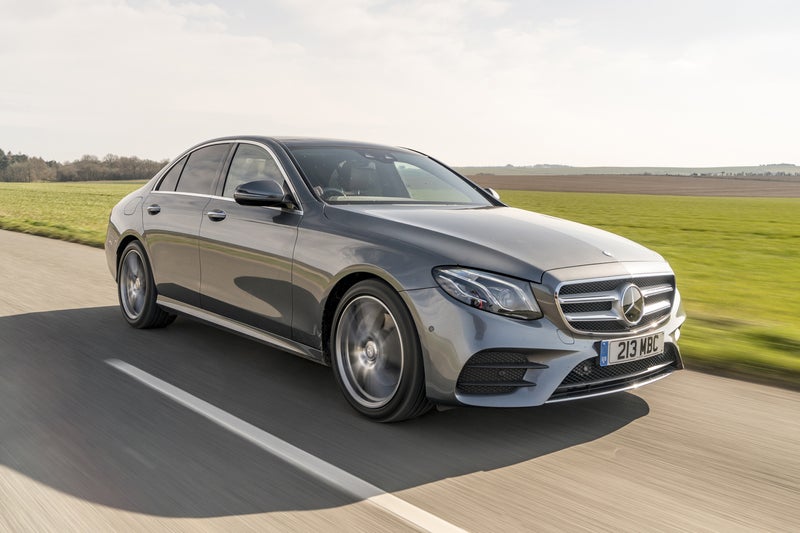 1/10
heycar rating
"Wondrously smooth and efficient exec"
Launched: 2016

Premium

Petrol, Diesel, Hybrid
Quick overview
Pros
Elegant cabin design
Passenger space
Hybrid option
Cons
Cost of some options
High list prices
Some safety kit remains optional
Overall verdict
On the inside
Driving
Cost to run
Prices and Specs
Overall verdict
"This Mercedes-Benz E-Class among the most sophisticated cars the German brand has ever made. It even gives the luxury S-Class something to think about such is the level of comfort, space, quality and technology now included with this executive contender to the likes of the Audi A6 and BMW 5 Series."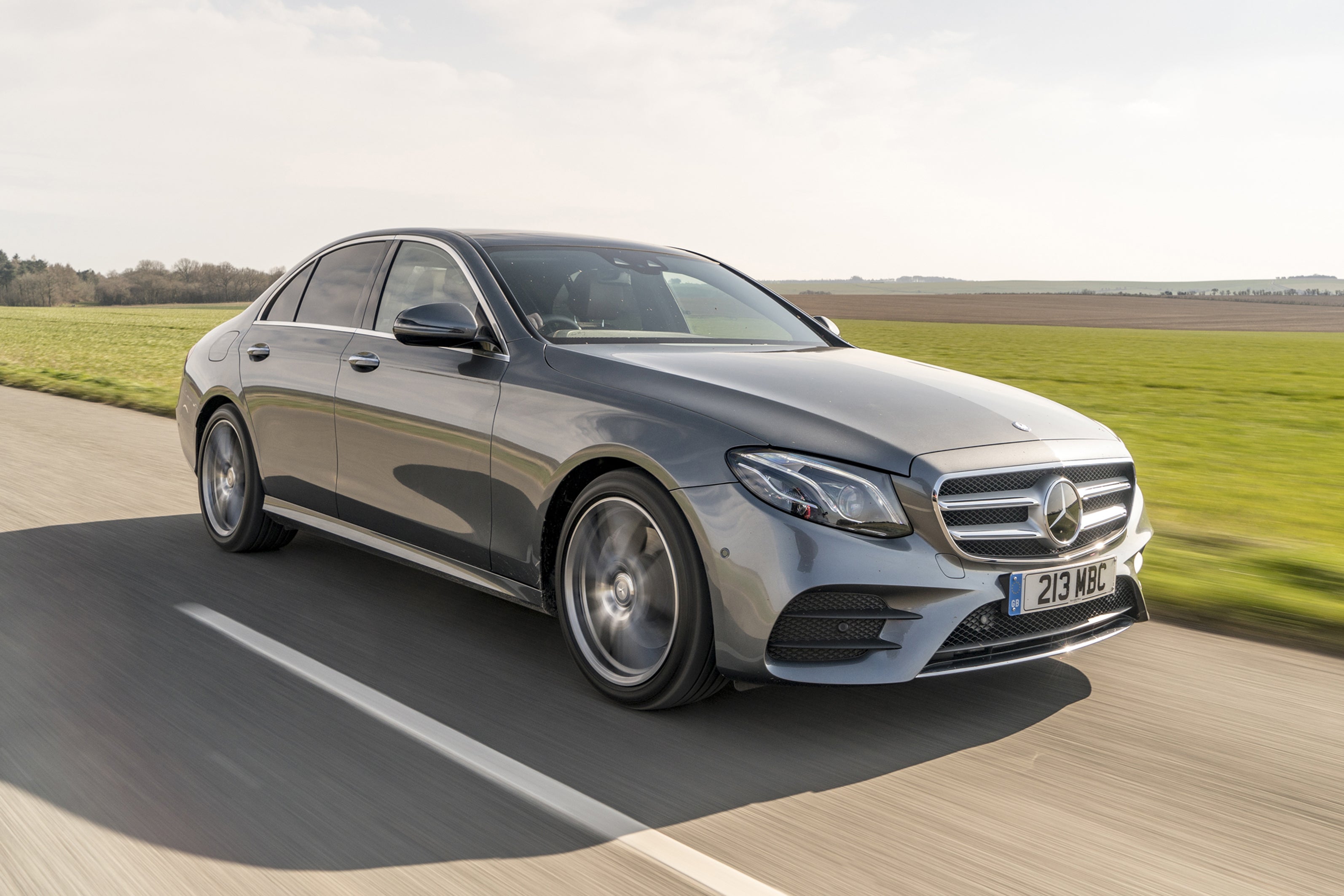 The result is a class-leading contender for your attention and cash. It does this by being a car more refined, of higher quality and significantly more luxurious than the Audi A6 and BMW 5 Series with which it competes.
It also has to be noted the Mercedes comes with a very broad engine range, covering everything from the company car fleet-pleasing E220 d all the way to the mightily fast E63. There is also a plug-in hybrid model in the range now, so the E-Class has one of the widest, most advanced offerings when it comes to propulsion. You also have a choice of rear- or four-wheel drive depending on the engine you choose, so the E-Class is taking the fight directly to Audi and BMW on this front as well.
One of the superstar choices undoubtedly remains the basic E220 d model, powered by a four-cylinder 2.0-litre diesel engine that boasts an official 53.3mpg. That would be impressive even if the engine clattered like the generator at a budget campsite, but the fact the E220 d is actually quite pacey and extremely composed make it a remarkable feat of engineering. It's a board-level car with factory floor running costs.
If more pace is required, the six-cylinder diesel in the E300 d offers huge low-rev pick up or you could go the whole hog with the impressively swift and smooth E400 d.
Then again, more people will be looking to the plug-in hybrid model offered with the E300 de EQ. It produces carbon dioxide emissions as low as 34g/km. It can travel up to 32.9 miles on battery power alone, which is more than enough for most urban commutes to be completed with zero tailpipe emissions.
Generously equipped across its various trim levels, the basics you'd expect like navigation, climate control, Bluetooth, a leather-type interior, a nine-speed automatic gearbox, LED headlamps and radar cruise control are all present and correct. It's a shame, though, that the stuff that really takes the E-Class into the luxury car stratosphere is left on the options list.
That includes a twin-screen panoramic display, which places two 12.3-inch HD widescreens side by side, and a function that allows the owner to remotely un-park the car from a garage or parking bay using a smartphone app, which also means your phone becomes your car key.
All of this clever stuff is underpinned by the E-Class getting the basics spot on, so it's still a comfortable, roomy and very classy executive saloon.
Is the Mercedes E-Class right for you?
There is something reassuring about the three-pointed star on the bonnet of an executive class car and the Mercedes E-Class understands this. It's a symbol of quality, comfort and engineering solidity and all of that is embodied in the E-Class to perfection.
All of this stand-up citizenry is far from skin deep with the E-Class as it really is made as strongly and solidly as its appearance suggests. There are also superb engines, a wonderfully smooth drive and excellent comfort, though you have to fork out extra for the brilliant air suspension on most models.
Other reasons the E-Class should be on your list of contenders? How about loads of cabin space, lots of standard equipment, top drawer refinement and engines that are hushed and economical. Of course, if you like your thrills, there's always the AMG models with their brutally powerful engines that still manage to come across as gentlemanly than thuggish in their delivery.
If you need more space, look at the Mercedes E-Class Estate.
What's the best Mercedes E-Class model/engine to choose?
If you want the outright speed and acceleration of the E53 and A63 models from AMG, nothing else will suffice. However, in the mainstream of the E-Class range, we reckon there are two absolute pearls.
The first is the entry-point E220 d turbodiesel model that is the darling of the company car fleet. It's easy to see why as the engine is a willing performer and superbly smooth while offering wallet-soothing economy and emissions that mean you don't get hijacked every time road tax is mentioned.
Alternatively, and we mean this in every sense, there is the E300 de EQ hybrid model. It uses a 2.0-litre turbodiesel the same as the E220 d but with a 122PS electric motor added into the mix. This is able to run for up to 32.9 miles on battery power alone and contributes to combined economy and emissions of 217.3mpg and 34g/km respectively in its most efficient form.
What other cars are similar to the Mercedes E-Class?
You cannot think about the Mercedes E-Class without considering its arch-rivals, the Audi A6 and BMW 5 Series. The Audi is a very classy bit of kit, with build that speaks of precision and care in its manufacture. Yet, it's not as refined as the Mercedes.
BMW has the edge when it comes to driving enjoyment with its 5 Series, but comfort and quality are closer calls. Also, the BMW is not as generous as the E-Class when it comes to rear passenger space. Also consider the Jaguar XF and the excellent Volvo S90.
Comfort and design
"As well as the usual saloon suspects, the E-Class these days competes with a host of premium SUVs, all of which offer a superior sense of space and practicality by virtue of their basic square bulk. In that company, the modern E-Class doesn't feel quite as majestic or practical as it used to, but there's still more than enough of the feel of the S-Class about its front quarters to still come across as very special."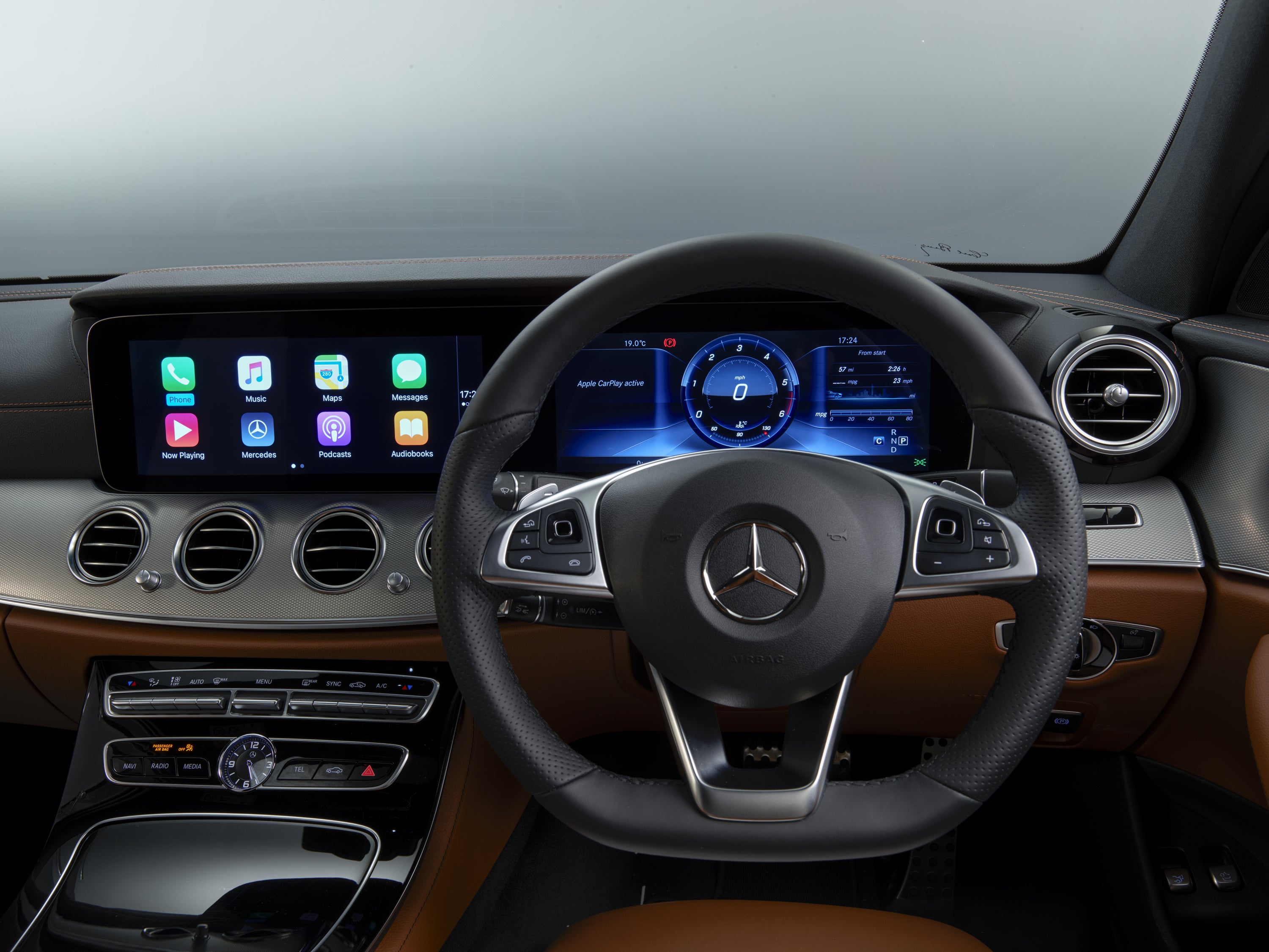 Some of this sense of luxury is down to the E-Class offering its driver a great deal of space. It's an underrated quality when so many others try to convince you of their upmarket appeal with fancy finished and gewgaws. Sure, the E-Class can compete on this front with its optional large infotainment screen, but it also serves up masses of leg, shoulder and headroom, along with a whole host of adjustment. This is completed with partial electric movement, while the steering wheel also moves for height and depth.
With the driving position all sorted in the E-Class, you'll find it offers a fine view of the road ahead and to the sides. Like others in this class, the vision over the driver's shoulder is limited by the thick rear pillars, but that is negated by parking sensors and a reversing camera fitted to all models that saves straining your neck and worrying about marking that expensive and sleek bodywork. There's even the option of remote parking using an app on your smartphone.
Quality and finish
Mercedes has built its entire business on the idea that its cars are built to a standard that's more than just a cut above the common herd. In the E-Class, this impression is more than justified as the attention to detail and quality of build is second to none. We mean that absolutely, not just in the executive sector but across the board and even including Mercedes' own S-Class.
It means the fit and finish of the E-Class is a source of much pleasure to its owners and the materials used are also of a very high grade. On some models, the seat upholstery is a man-made hide, which Mercedes has been using for decades. You'd be hard-pushed to tell it's not real deal hide such is its comfort and feel.
Mercedes also imparts a sense of high-end finish to its drivers and occupants in the way all of the controls, buttons, switches and levers operate. There is not so much as a squeak or creak to be heard in the E-Class and everything works with a weighty, considered action.
Infotainment
One of the few disappointments with the Mercedes E-Class' cabin is also one of the interior's big party pieces in the shape of the panoramic twin-screen display. The dismay is this is an option rather than standard across the board. If you do get it, you'll enjoy two HD 12.3-inch widescreens, housed in a shared casing. One replaces the traditional instrument binnacle and floods the driver with clear, well-presented information.
If the setup has a weakness, it's that the graphics are occasionally naff and the COMAND rotary control system, as refined as it's become since its clunky first outings, is still a fundamentally flawed way of navigating the screens, like drawing with an Etch-A-Sketch when really you just want to put a pencil to the screen itself. However, the Mercedes me connect voice control is simple to use.
If you stick with an SE or the AMG Line Hybrid model, you get a more basic system altogether presented on the 12.3-inch screen. It does have the control wheel to operate it and Bluetooth connection, as well as pairing with your smartphone. However, only the most expensive E-Class AMG Line Night Edition Premium Plus gets the brilliant Burmester surround-sound stereo as standard with its 13 speakers.
Space and practicality
The Mercedes E-Class has always been one of the most accommodating of cars in the executive sector, which explains its popularity with private hire drivers. This latest generation is no exception, so when you pull on the wide-opening rear doors, you're presented with a large passenger space.
The wide bench has more than enough width for three kids and even a trio of adults will fit without banging elbows too much. The middle seat in the rear has a scooped-out base to make sure you don't bash your head on the ceiling, though headroom in the E-Class is a little more limited than in the Audi A6, especially if you choose the optional panoramic glass sunroof.
There's also not quite as much room under the front seats for adult feet as we'd like, but overall the E-Class does a sound job of coping with two adults in the back sat behind another pair in the front. The transmission tunnel is broad and this also butts into the space for the middle passenger's feet.
Turning our attention to the boot of the E-Class saloon, it is one of the largest in the class with a capacity of 540-litres. That puts it ahead of the BMW 5 Series by a margin of 10-litres and the Mercedes also scores with it long, flat floor.
However, it's not all plain sailing for the E-Class as the boot opening has a pronounced curve to its lower edge that makes loading bigger cases and boxes more of a faff than it should be. It also makes the whole boot aperture seem much smaller than it is. A powered boot is an option unless you choose either the AMG 43 or 63 models.
There are a couple of storage cubbies in the boot for smaller items, while the split and fold rear seats are an option rather than standard as they should be. With them fitted, it's easy to tumble the rear seats forward with just one tug on a lever to free up more room.
Handling and ride quality
"There are no prizes for guessing the Air Body Control air suspension is an option for all but the E63 model. This is a shame as it endows the E-Class with a truly magic carpet ride that elevates this saloon from merely great executive into a class leader."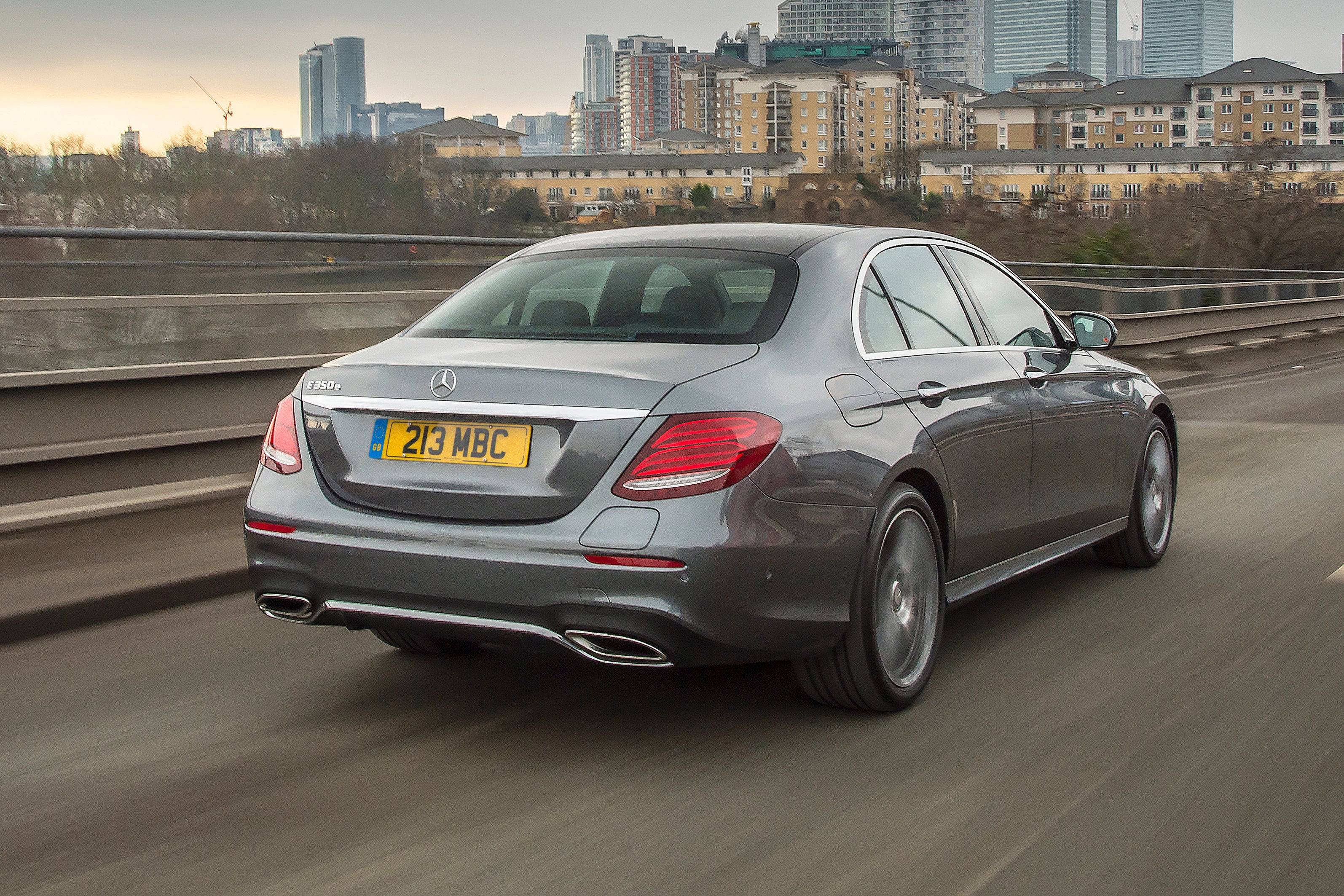 What you get as standard, instead, is Agility Control suspension with Dynamic Select for the damping. This lets you choose between ECO, Comfort, Sport, Sport+ and Individual settings. On most roads, most of the time, the Comfort mode is the one to stick with as the E-Class still has good control and flow as it works its way along rutted roads. In town, you will notice the occasional smaller bump that would not upset a BMW 5 Series, but the payoff is the Mercedes is absolutely in its element on the motorway with excellent stability even if there's a stiff side wind.
Also, wheel choice affects the ride quality of the E-Class, so we'd stay on standard 17-inch wheels for the big-selling E220 d and have the smoothest driving experience.
The E-Class is, of course, rear-wheel drive and has an innate balance as such, but Mercedes-Benz has wisely opted to focus on comfort rather than competing like-for-like with the known dynamism of the BMW 5 Series. As such, the steering is light and lacks sharpness. Even in selectable Sport mode, which firms things up, there's a distinct feeling that the E-Class doesn't really want to be driven hard.
Engines and gearboxes
The 2.0-litre four-cylinder diesel engine in the E220 d and the 300 d are near-silent at 70-80mph, both settling at well under 2000rpm. This is thanks to the nine-speed automatic gearbox that is used in every version of the E-Class. The hybrid E300 de EQ uses this engine too but coupled to a 122PS electric motor for rapid performance and impressively low emissions and fuel consumption.
Move to the E350 d and 400 d and they share a 3.0-litre six-cylinder turbodiesel with immense power and shove for relaxed cruising and muscular overtaking ability.
Petrol fans are well catered for with the E200 and 2.0-litre turbo four-cylinder engine with 184PS. It does a good job but doesn't have quite the pace we'd like in an E-Class, so the 300 e with the same engine but the hybrid electric motor is a more sound choice for performance and the environment. This engine, along with the 300 de, means the Mercedes E-Class range is the only one in it sector, and possibly at all, to offer both petrol- and diesel-hybrid models in the same line-up.
Then there's the E450 with a 3.0-litre turbo V6 motor that is very brisk. Or at least is feels quick till you try the AMG models with the 435PS 3.0-litre unit in the E53 or the relentless pace and power of the 612PS twin-turbo 4.0litre V8 in the E63.
Refinement and noise levels
The E220 d is a very quiet car in every way as it keeps wind and road noise to a minimum. This is helped by its 17-inch alloy wheels that come as standard and generate far less road rumble than the bigger rims fitted to more upscale and expensive models. Sit on the motorway in the E63 and you will hear the tyres whirring along the road's surface far more than its huge V8 motor.
Other diesel models in the E-Class range are equally hushed, as are the non-AMG petrol models, but it's the hybrid versions when running in EV mode that do away with all noise. They are fantastically quiet and make light work of urban commuting as a result.
Park your backside in either of the AMG models and you will enjoy the soundtrack from their engines. The E53's six-cylinder motor has a cultured burr to its tone, but there's no getting away from the brutish and charming sound of the E63's V8 motor unless you have a very gentle right foot.
Safety equipment
Every Mercedes E-Class comes with dual front, side and curtain airbags, as well as a separate 'bag for the driver's knees. They also all have ESP, cruise control with speed limiter, and a tyre pressure monitoring system.
Mercedes fits all of the E-Class range with Attention Assis to warn if the driver is feeling tired, while Blind Spot Assist is also common to every model. Three-point seat belts are used for each of the occupants and there are Isofix child seat mounts on the outer two rear chairs.
Front and rear parking sensors work with a reversing camera, while autonomous emergency braking pulls on the brakes if the driver fails to notice a possible danger in the road ahead. Mercedes also fits an Active Bonnet that pops up in a collision to better protect pedestrians if they come into contact with the car. However, SE and AMG Line Hybrid models do not get Traffic Sign Assist included in their list price.
Maximum EV range
The Mercedes E300 de hybrid is able to drive for up to 32.9 miles on battery power alone depending on how much charge is in the car. That compares to 32.3 miles in the petrol-hybrid E300 e model that uses the same 122PS electric motor.
Both take around five hours to fully recharge using a domestic plug socket or this can be completed in a much quicker 1 hour 25 minutes using a wired-in wallbox at home. Both hybrids also come with cables to use public fast chargers that can achieve the same recharging result in as little as 30 minutes.
MPG and fuel costs
"Out of the non-hybrid models of Mercedes E-Class, the E220 d is the most fuel efficient. It turns in an official best of 53.3mpg combined consumption, which with a 66-litre fuel tank capacity means a potential range of more than 750 per fill. Real MPG figures show this engine is able to offer 50.6mpg in everyday driving, so it's very close to the claimed number."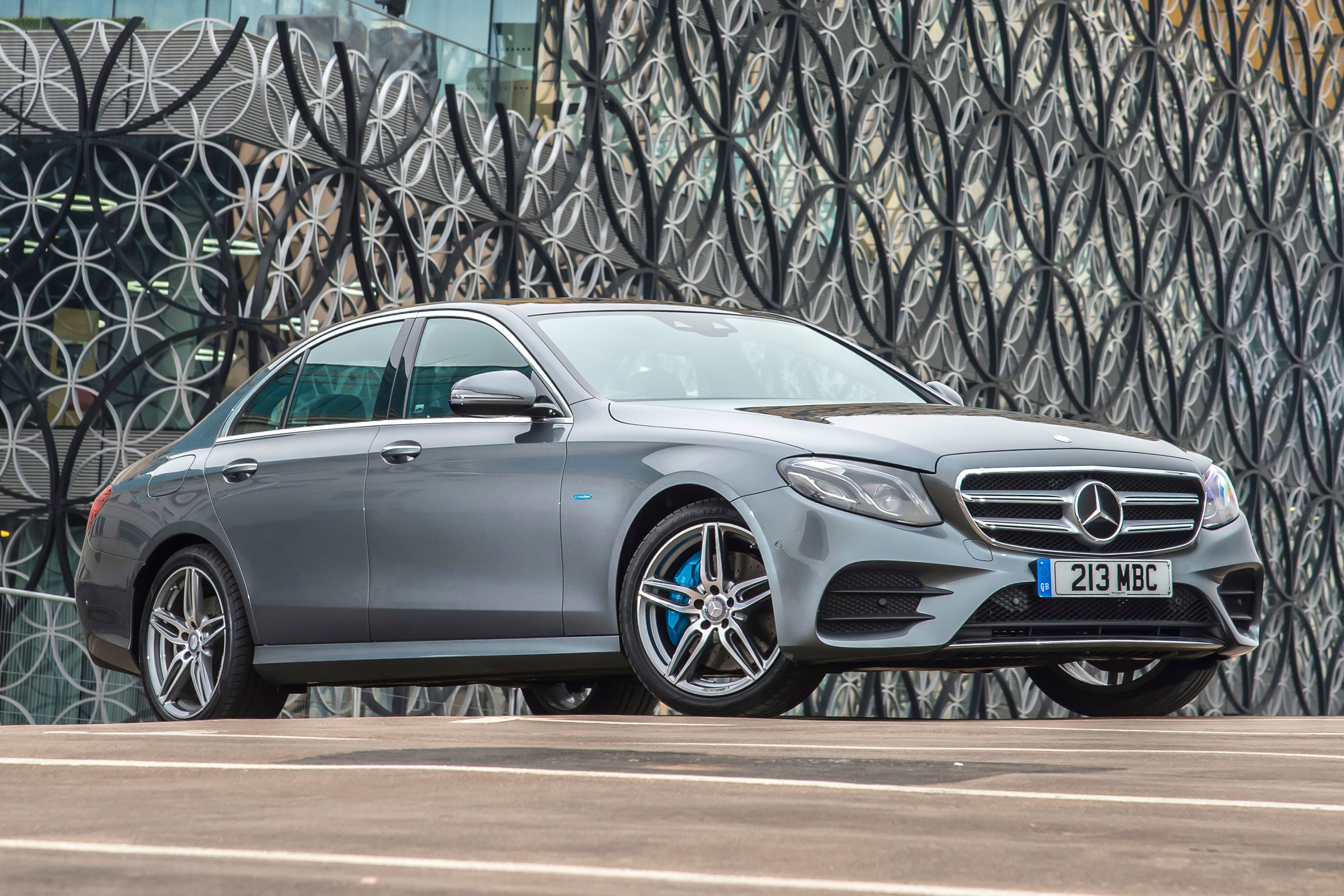 The 300 de is the best of the hybrid and provides a claimed best of 217.3mpg.
Insurance groups and costs
The cheapest Mercedes E-Class to get insurance cover for is the petrol-powered E200, which sits in group 28 in SE trim. Upgrade that to the AMG Line model and it goes up one banding to group 29.
Choose the very popular E220 d and it sits in group 31 for your premium whether you for the SE or AMG Line.
At the other end of the insurance scale is the AMG E63 that manages to avoid the top bracket by sitting in group 47, or group 49 if you take it with all the options packs.
VED car tax
If you like the idea of paying no Vehicle Excise Duty in the first year, the hybrid versions of the Mercedes E-Class are the ones to seek out. Thanks to their low carbon dioxide emissions and being classed as alternative fuel vehicles, they pay nothing in the first year and only £140 in subsequent years.
The E200 d will cost you £540 for the first 12 months' road tax and £475 for the following years. Most expensive of the lot is the AMG E63 that attracts a first yearly payment of £2175.
How much should you be paying for a used Mercedes E-Class?
"Launched in 2016, a four-year-old Mercedes E220 d can be yours from around £17,000 for one with 40,000 miles on the clock. There are others out there that are markedly cheaper but with much higher mileages as the E-Class can shrug of plenty of miles with ease."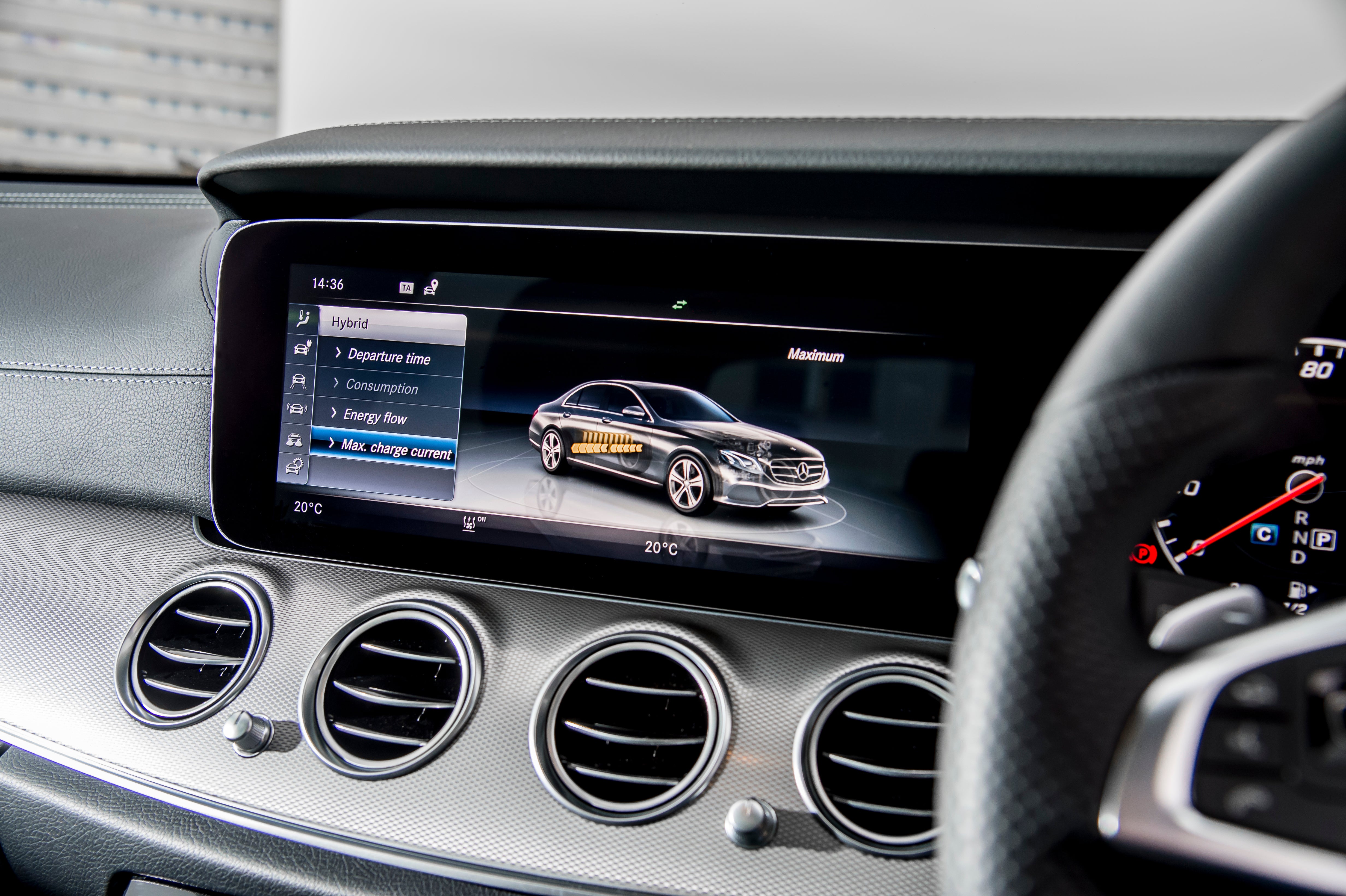 Look for a nearly new or pre-registered version of the E220 d and you will need to spend around £35,000 for an AMG Line Edition Premium with fewer than 5000 miles under its belt. That is a saving of about £7500 on the list price of a brand-new model.
Trim levels and standard equipment
The Mercedes E-Class trim range starts with the SE that has Agility Control suspension and Dynamic Select driving modes. You also get 17-inch alloy wheels, rain-sensing wipers, Led lights, all-round parking sensors and reversing camera. It also comes with keyless ignition, heated front seats, leather upholstery, cruise control and the 12.3-inch cockpit display. Go for the SE Hybrid and it gains 18-inch wheels, Seat Comfort pack and four-way lumbar support for the front seats.
AMG Line models have 19-inch wheels and an AMG body kit, while inside there's Artico man-made leather upholstery and a black roof liner. This model also gets the COMAND Online system with control wheel, internet access and the 12.3-inch colour display.
Trade up to the AMG Line Edition Premium and it has Multibeam LED headlights, Memory pack front seats with full electric adjustment and position settings. It also has the Parking package with 360-degree camera and wireless charging for enabled smartphones. The Premium Plus version of this trim further adds 20-inch alloys, keyless entry, panoramic glass sunroof, gloss black exterior trim and the Burmester surround sound system with 13 speakers.
The AMG models have their own unique specification that adds the Ride Control on the Air Body Control suspension and AMG Dynamic Select driving modes.
Mercedes-Benz E-Class cars for sale on heycar
4,488
Number of cars available
£13K - £88K
Price bracket of these cars
Colours available on heycar
Keep me updated by email with the latest advice, news and offers from heycar
By submitting, you agree to our
privacy policy
.