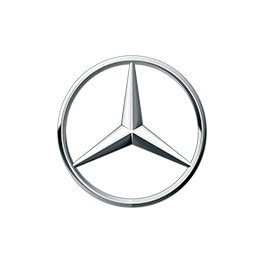 Mercedes-Benz E-Class Estate Review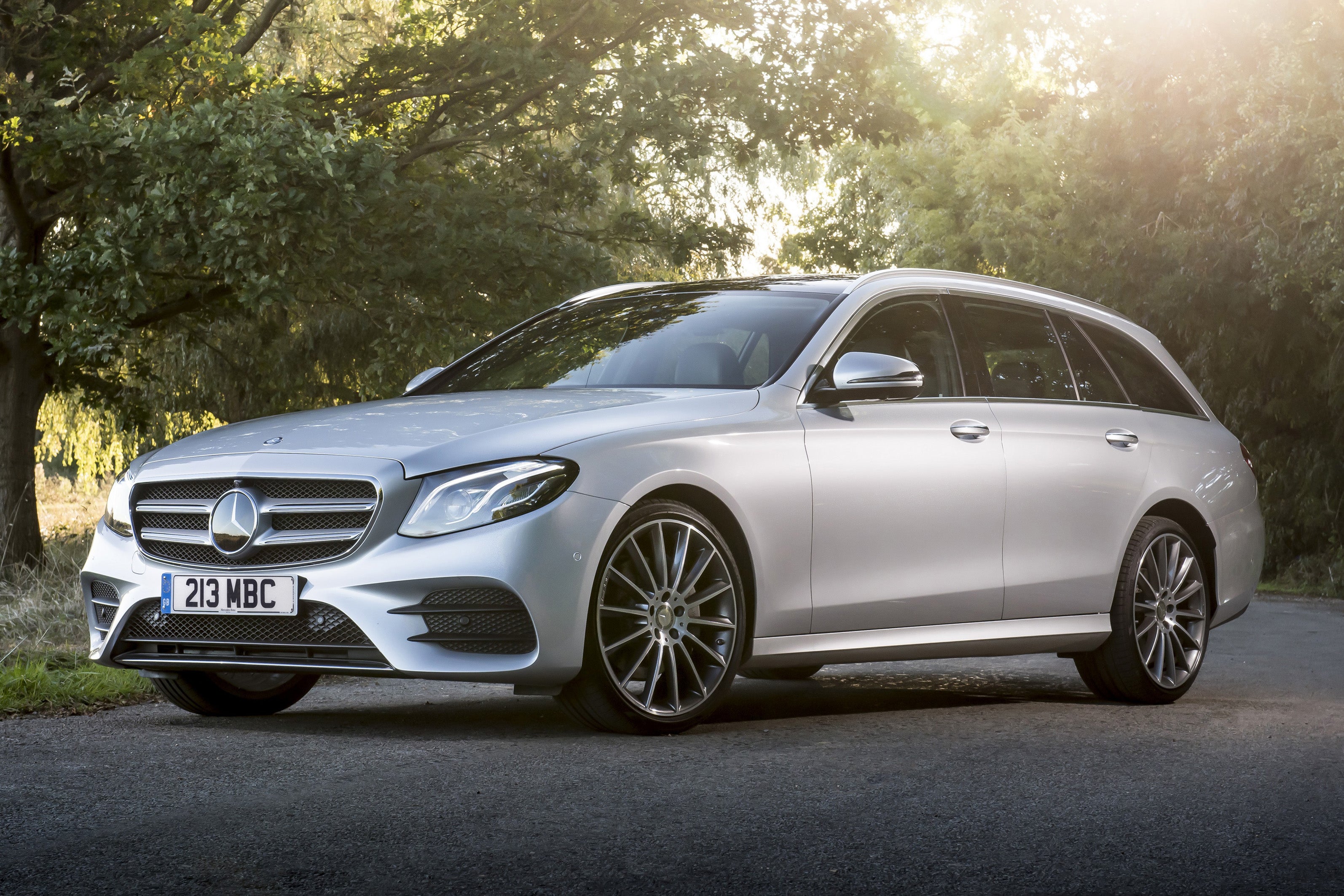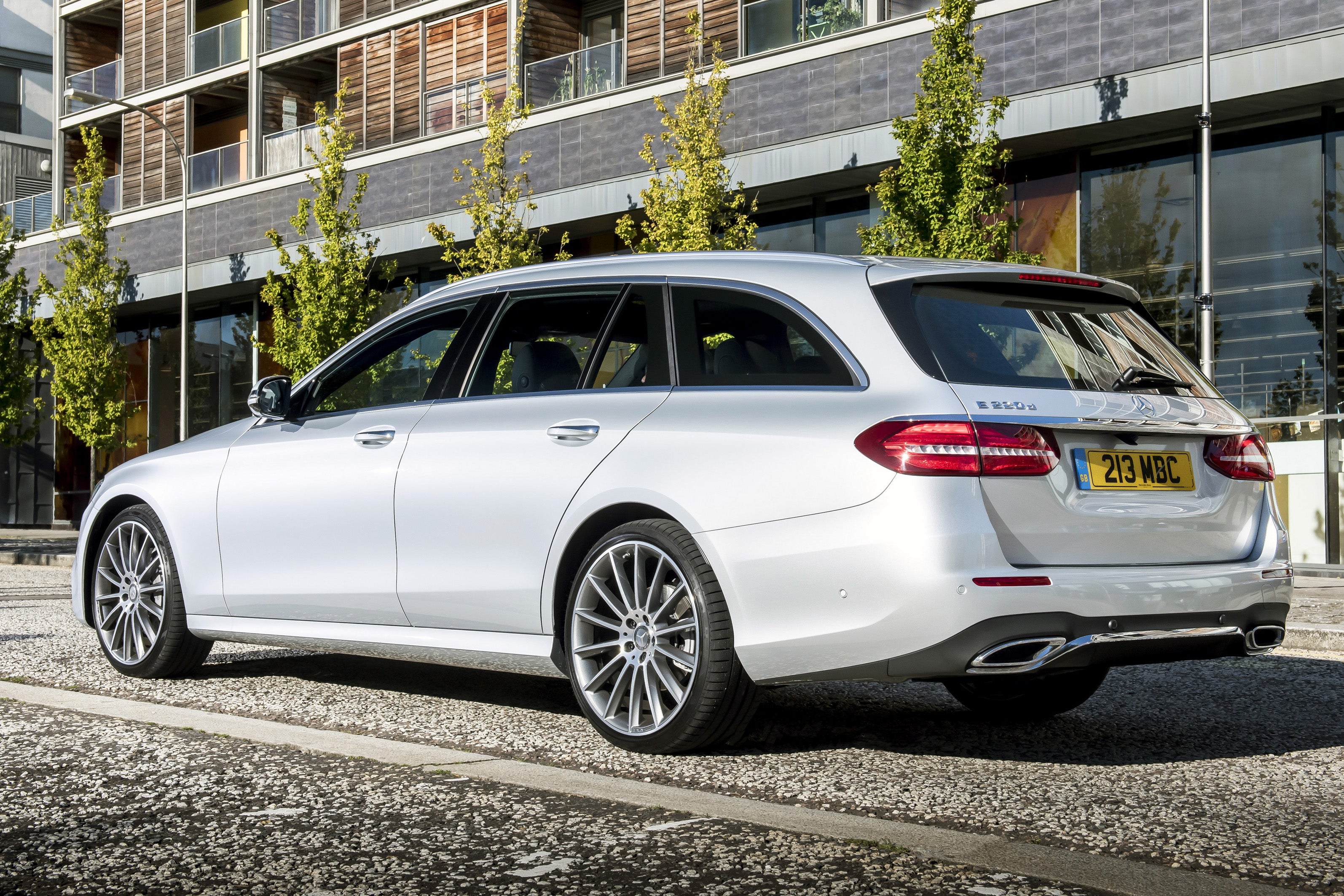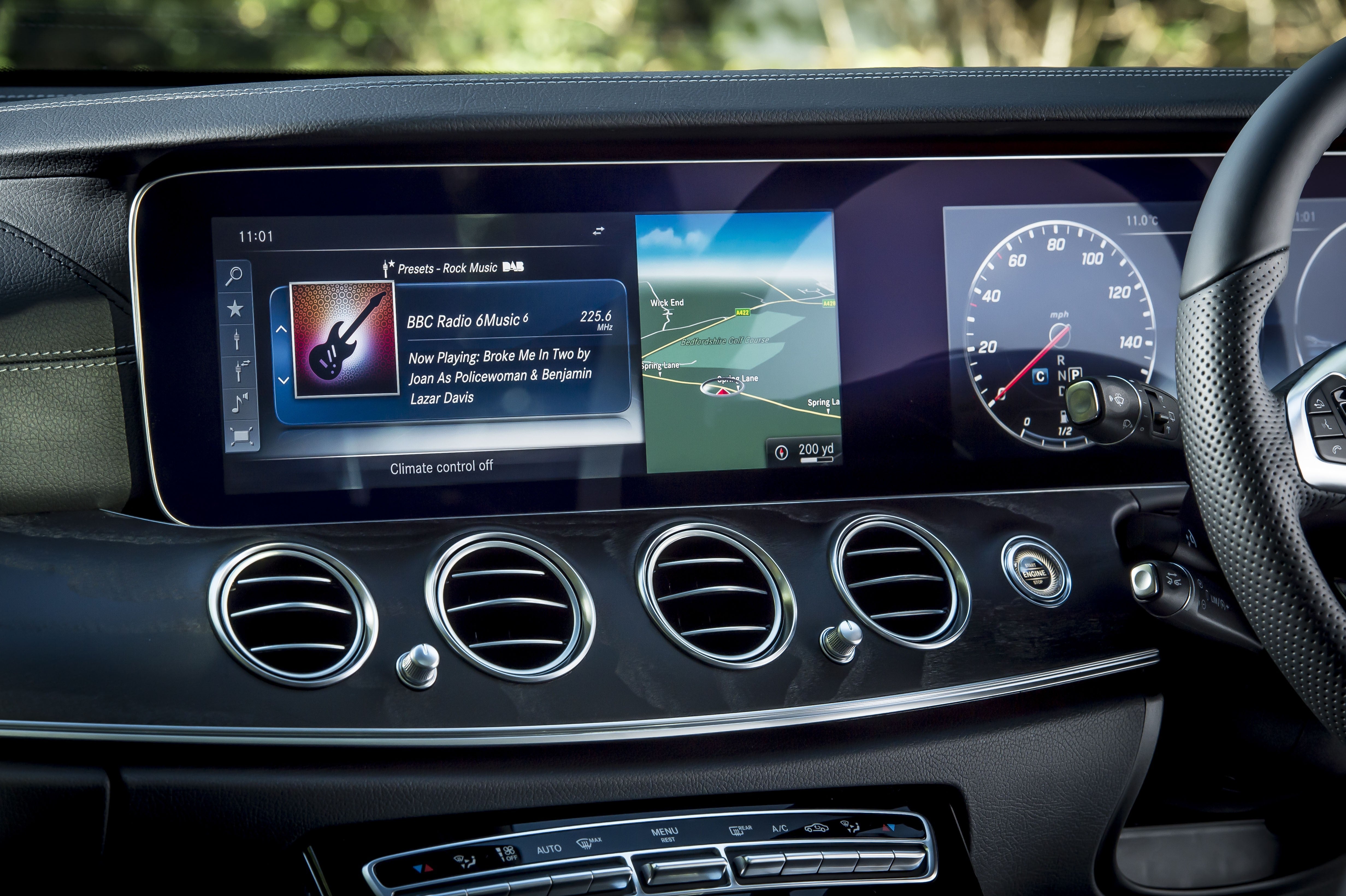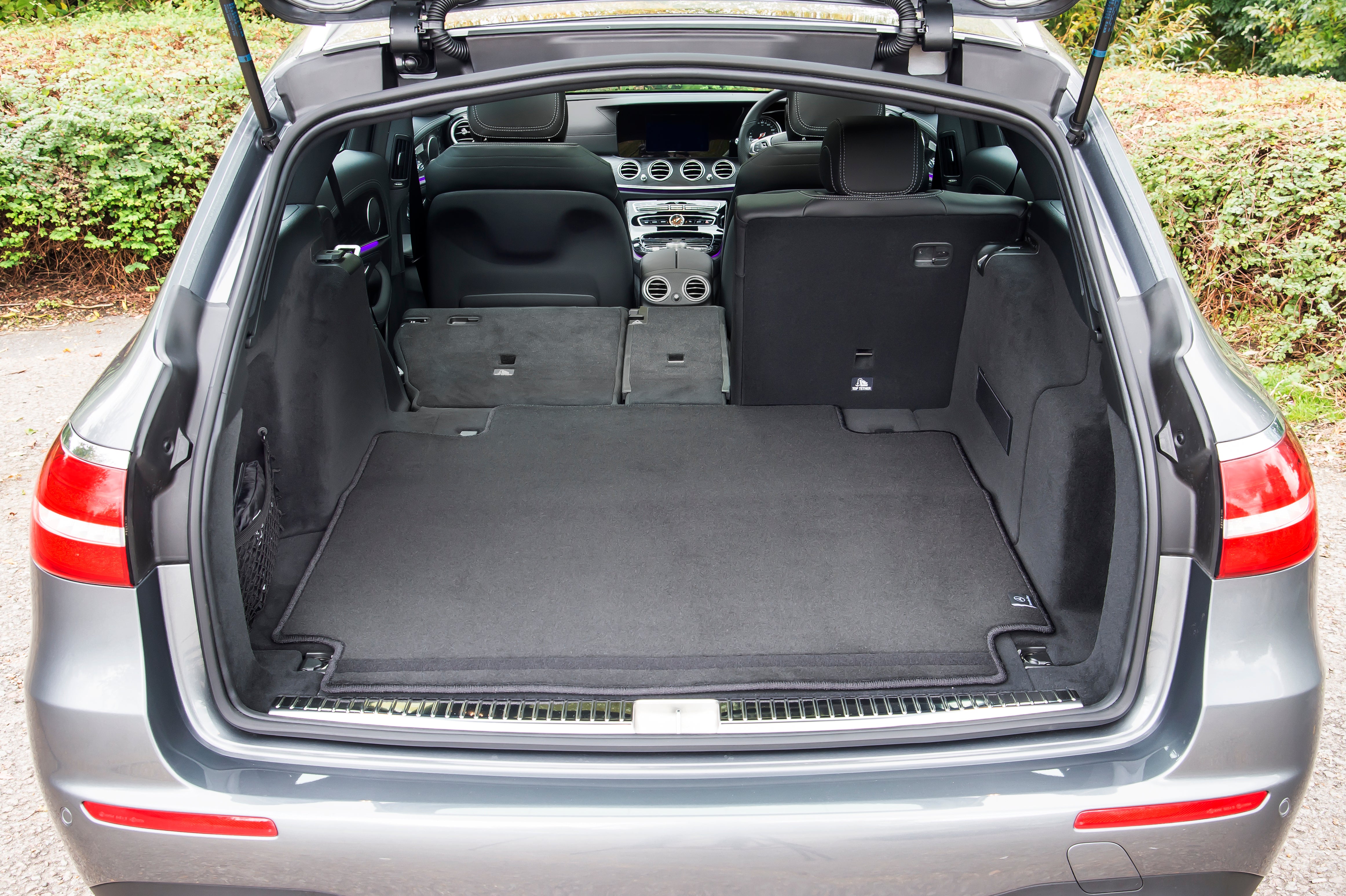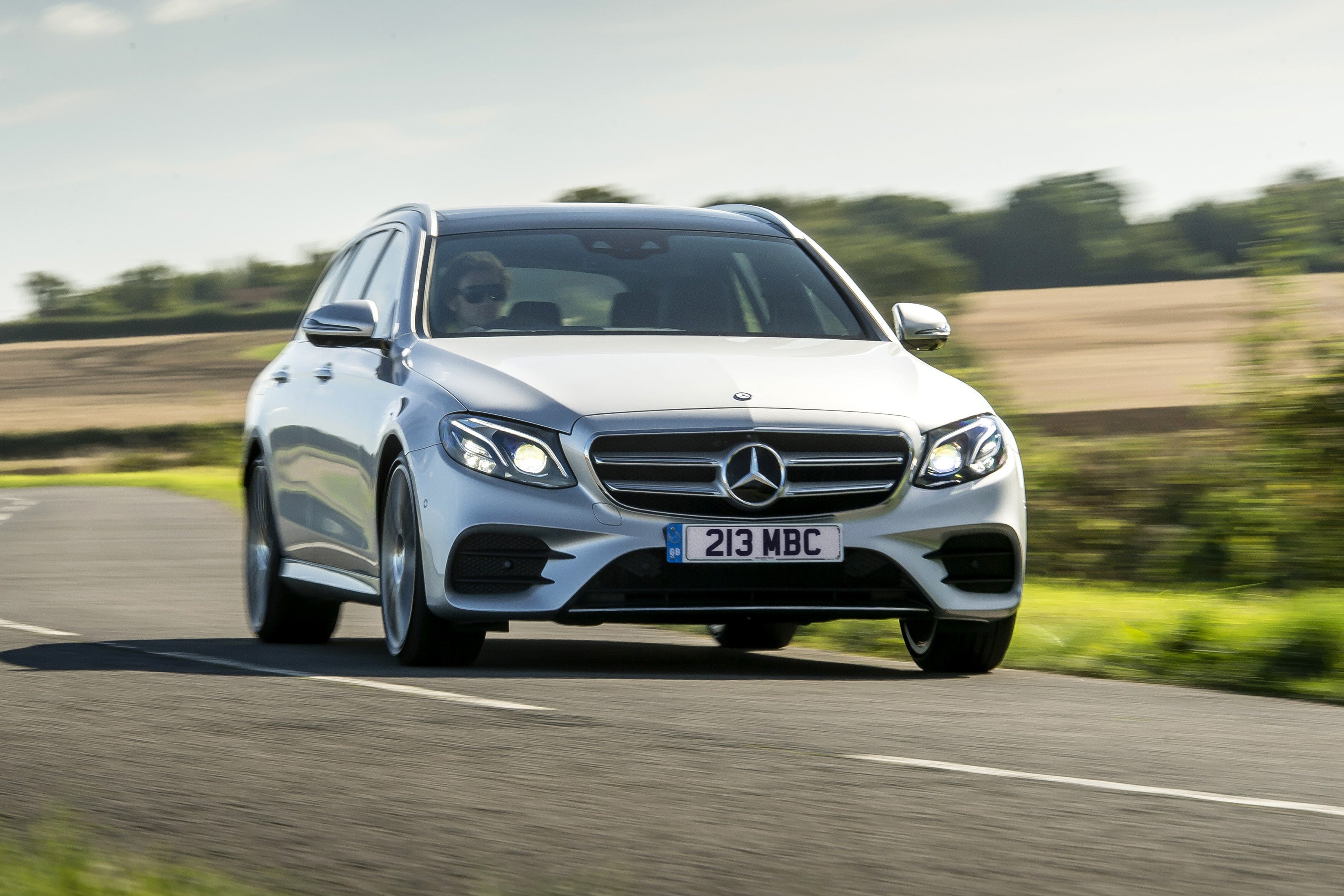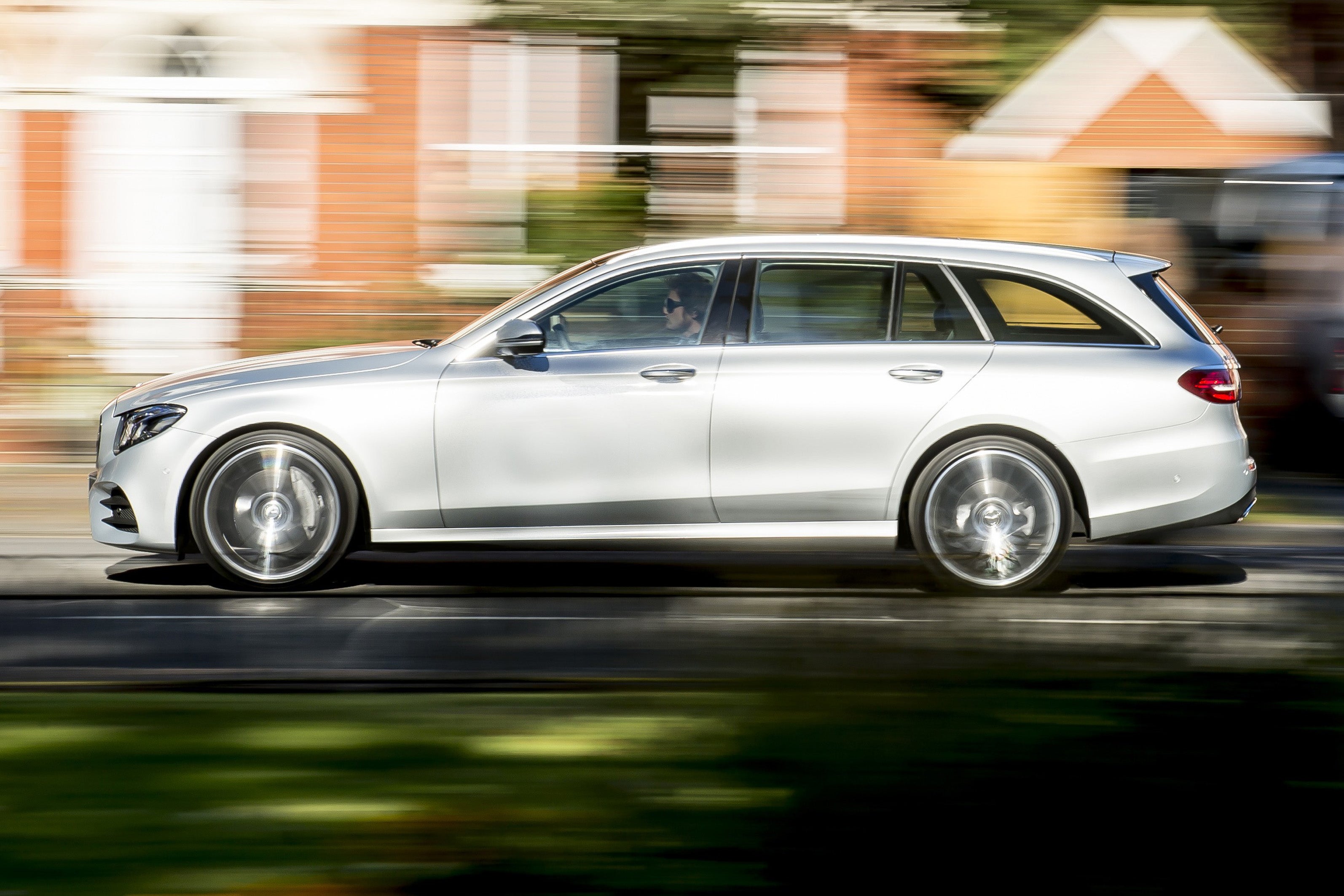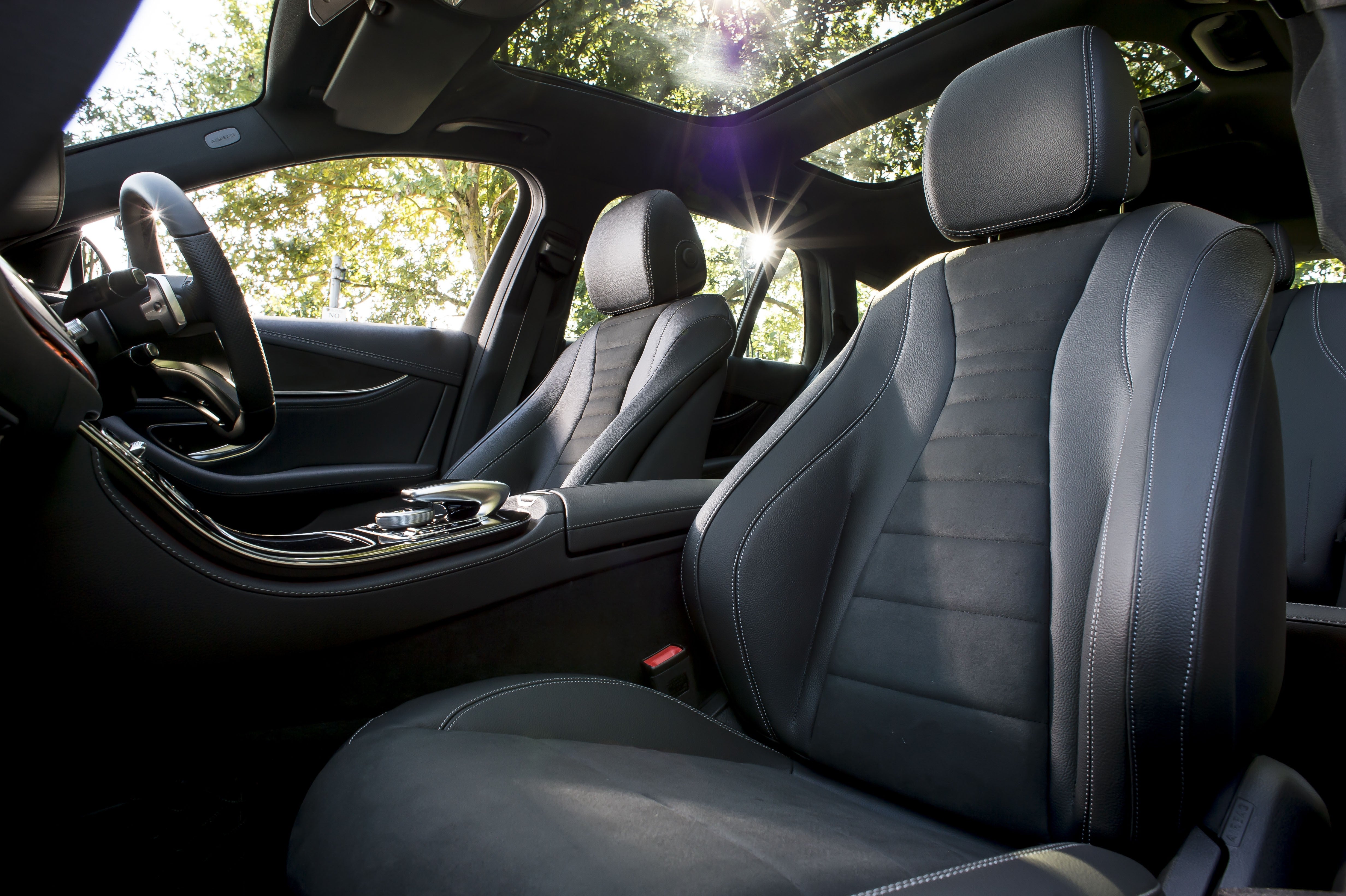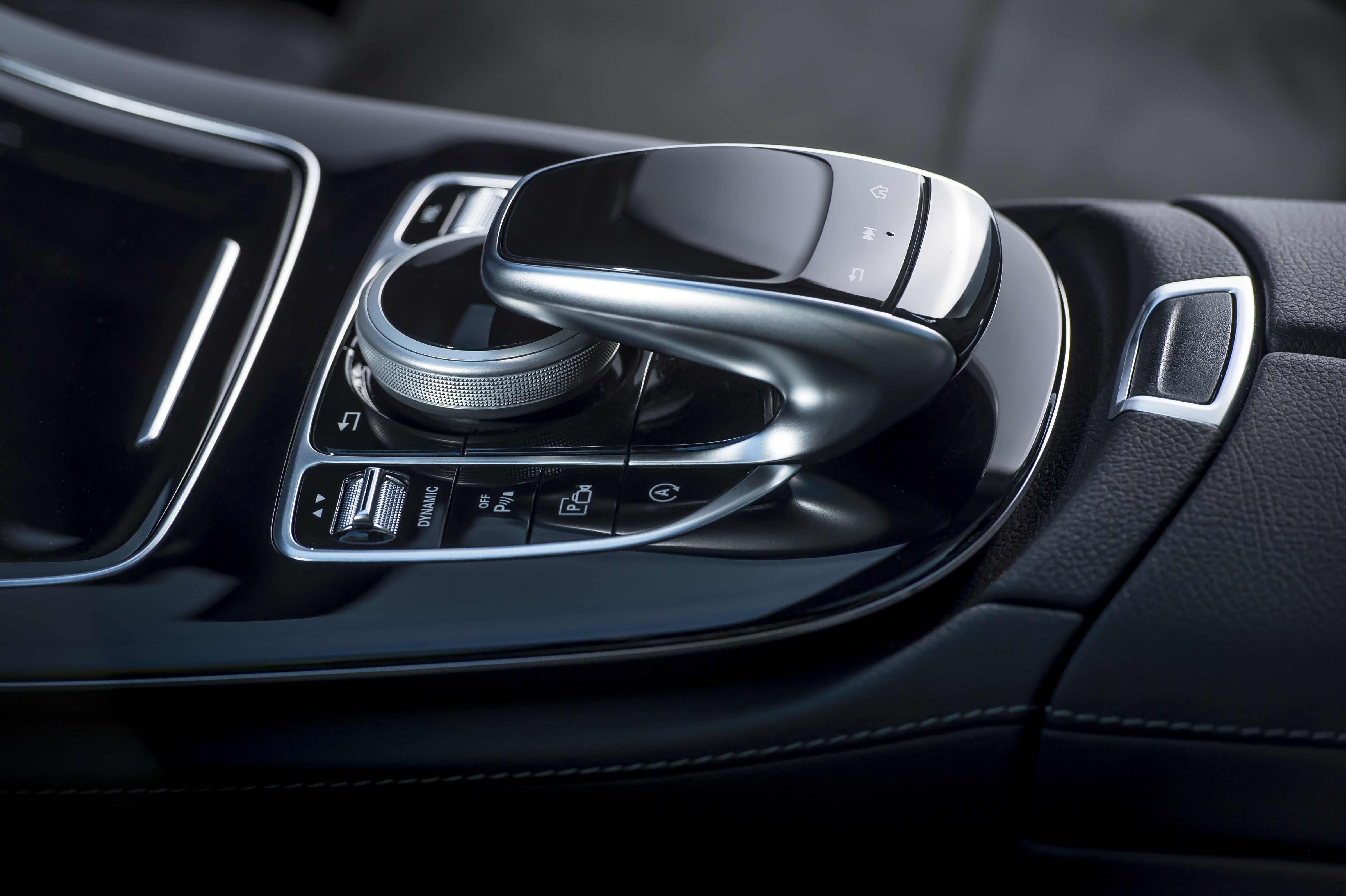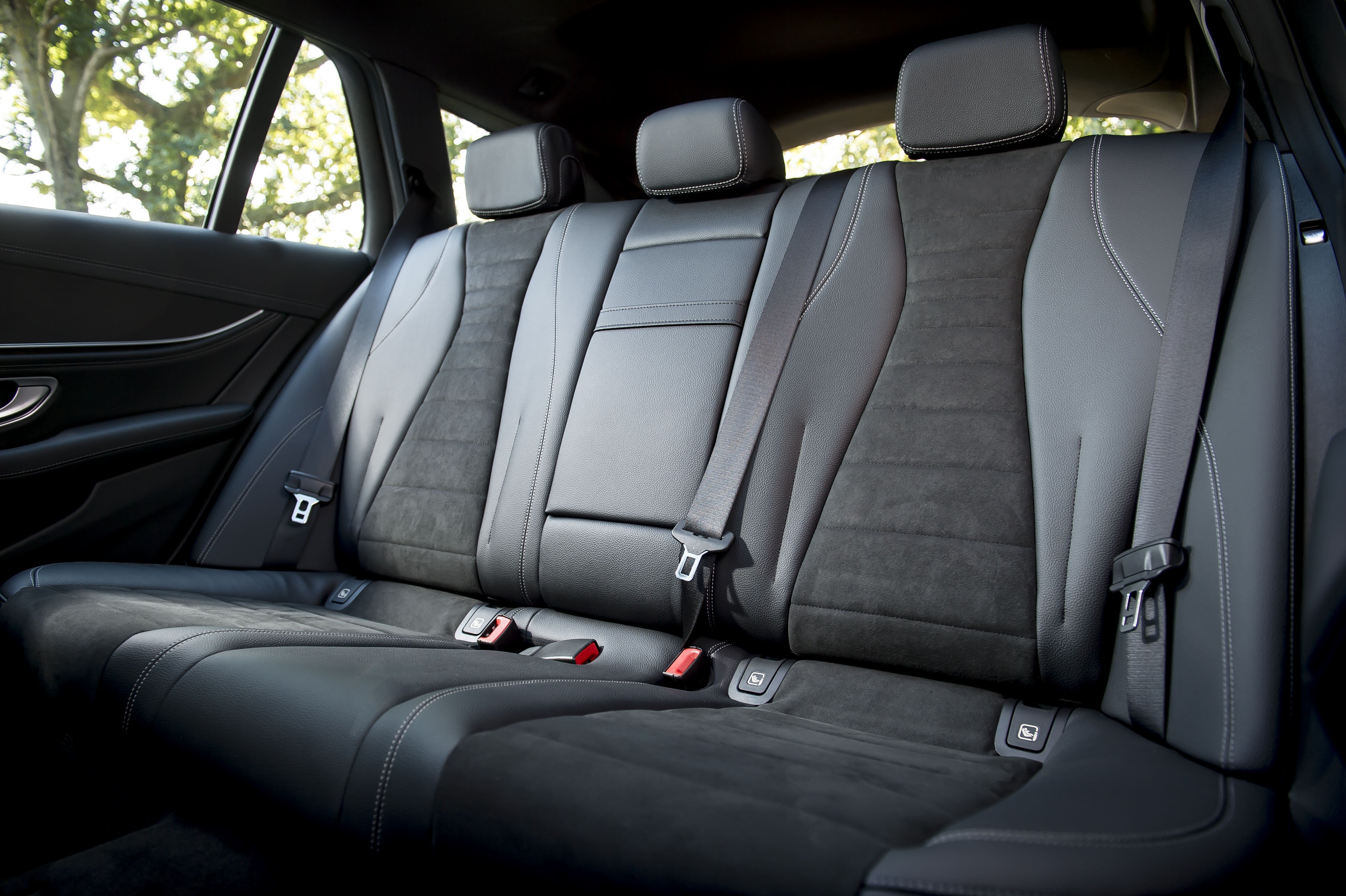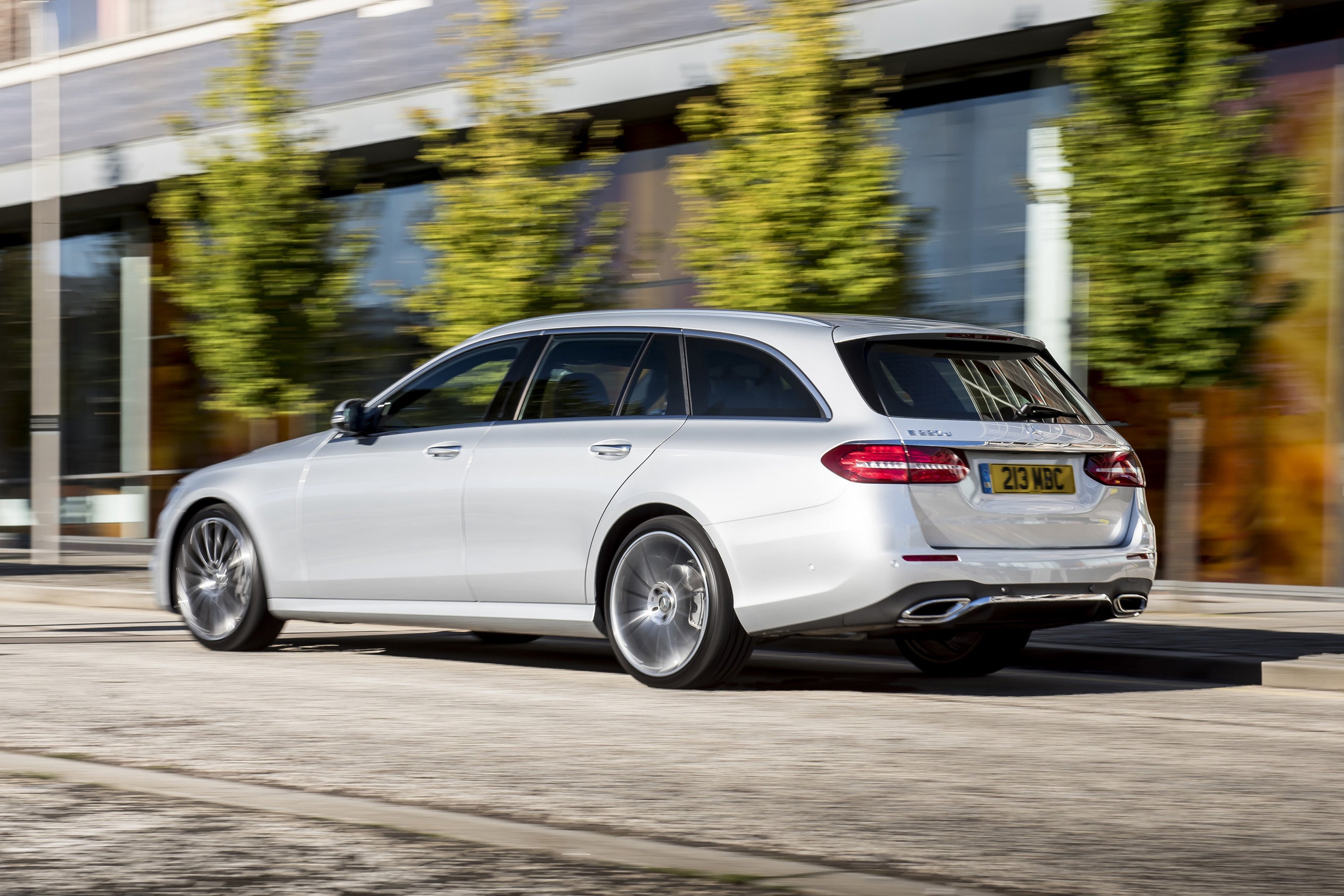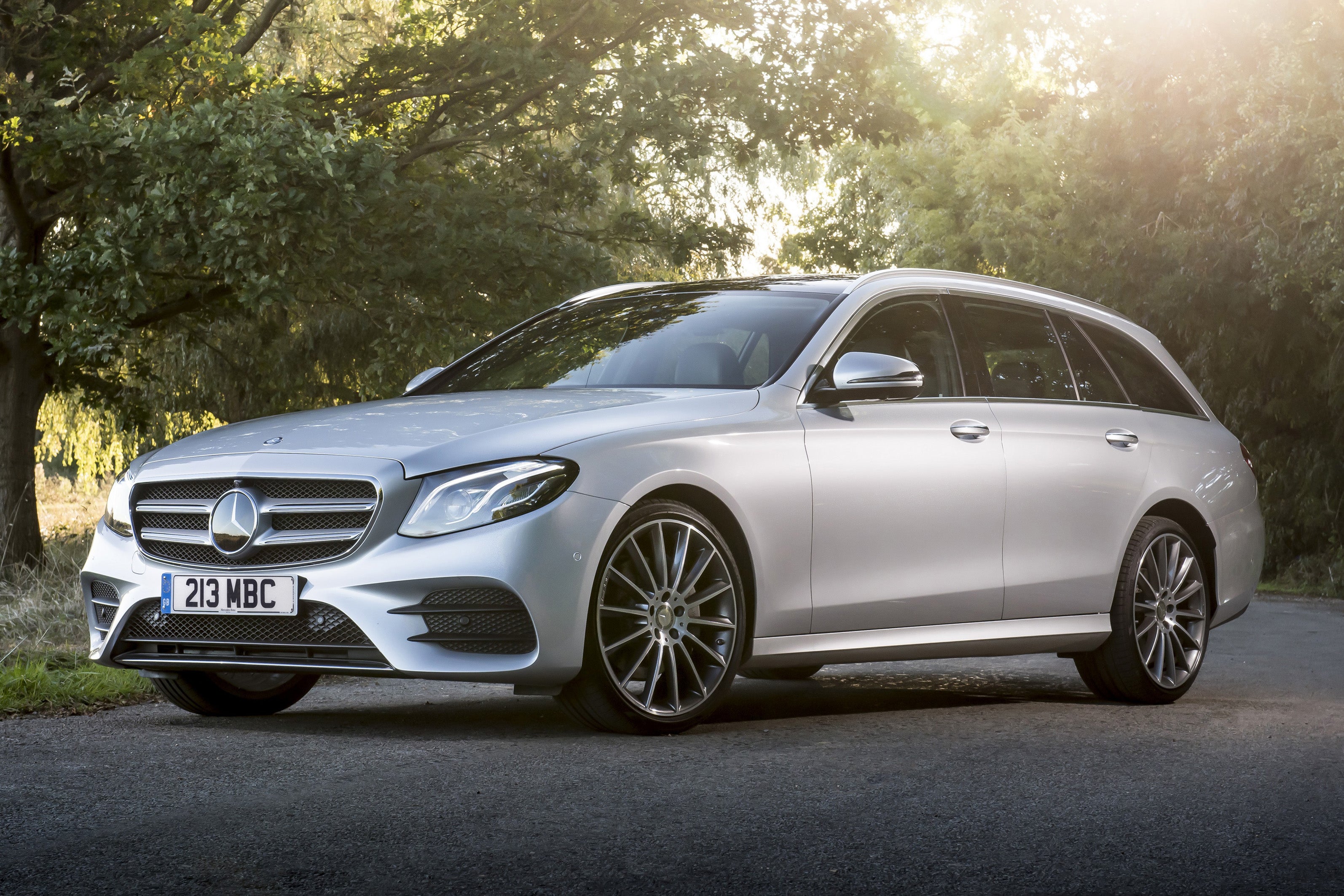 1/10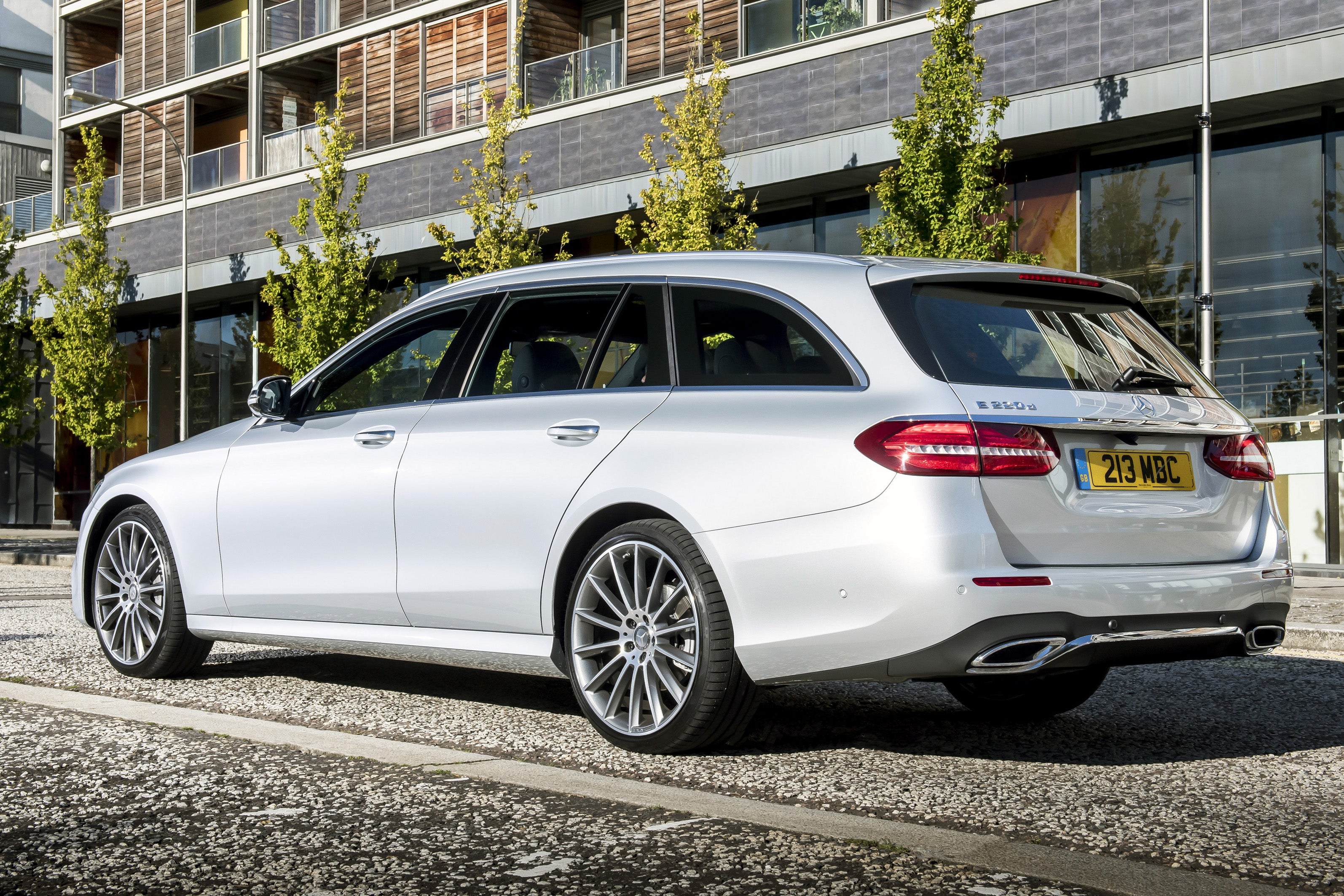 2/10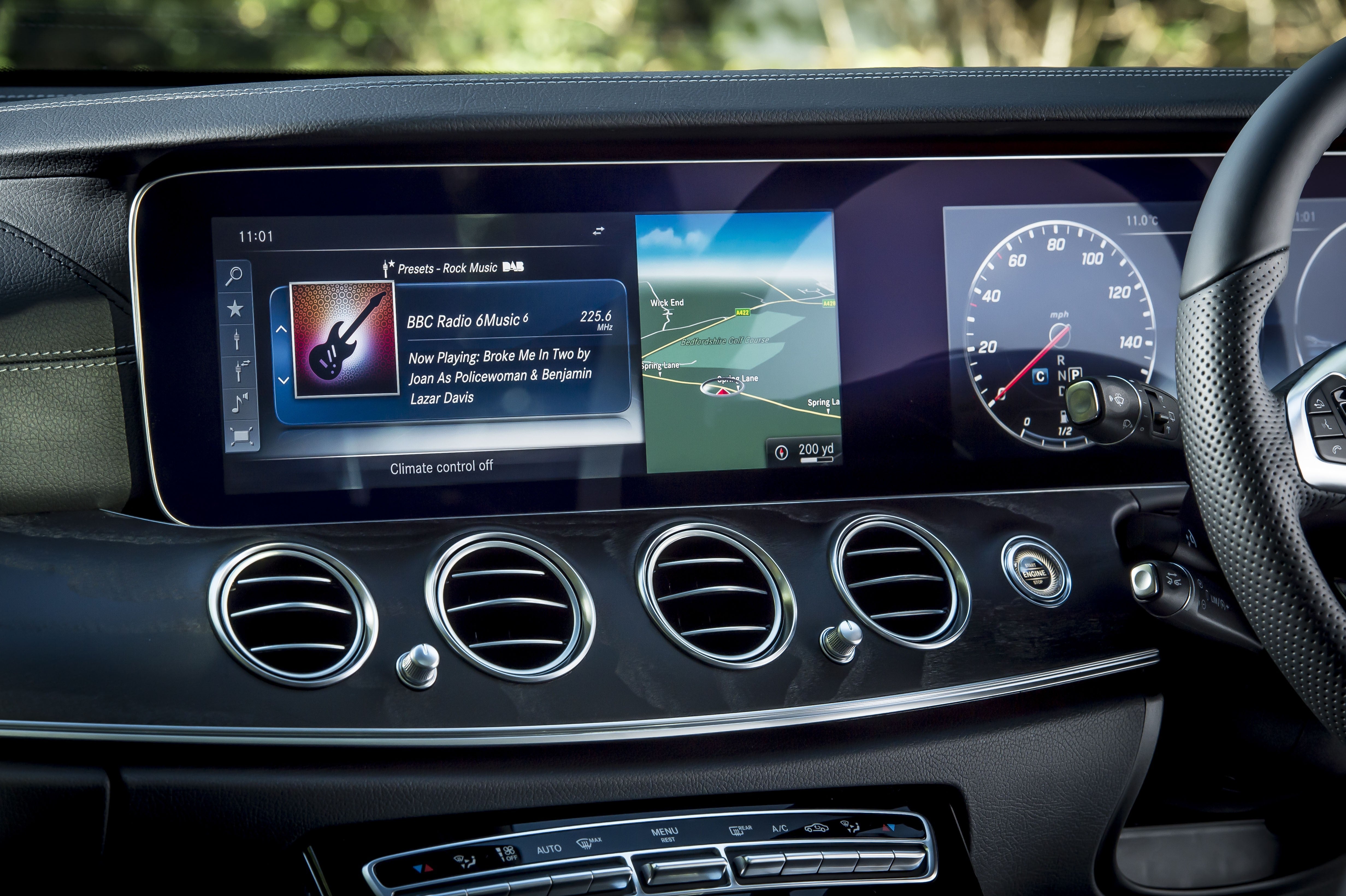 3/10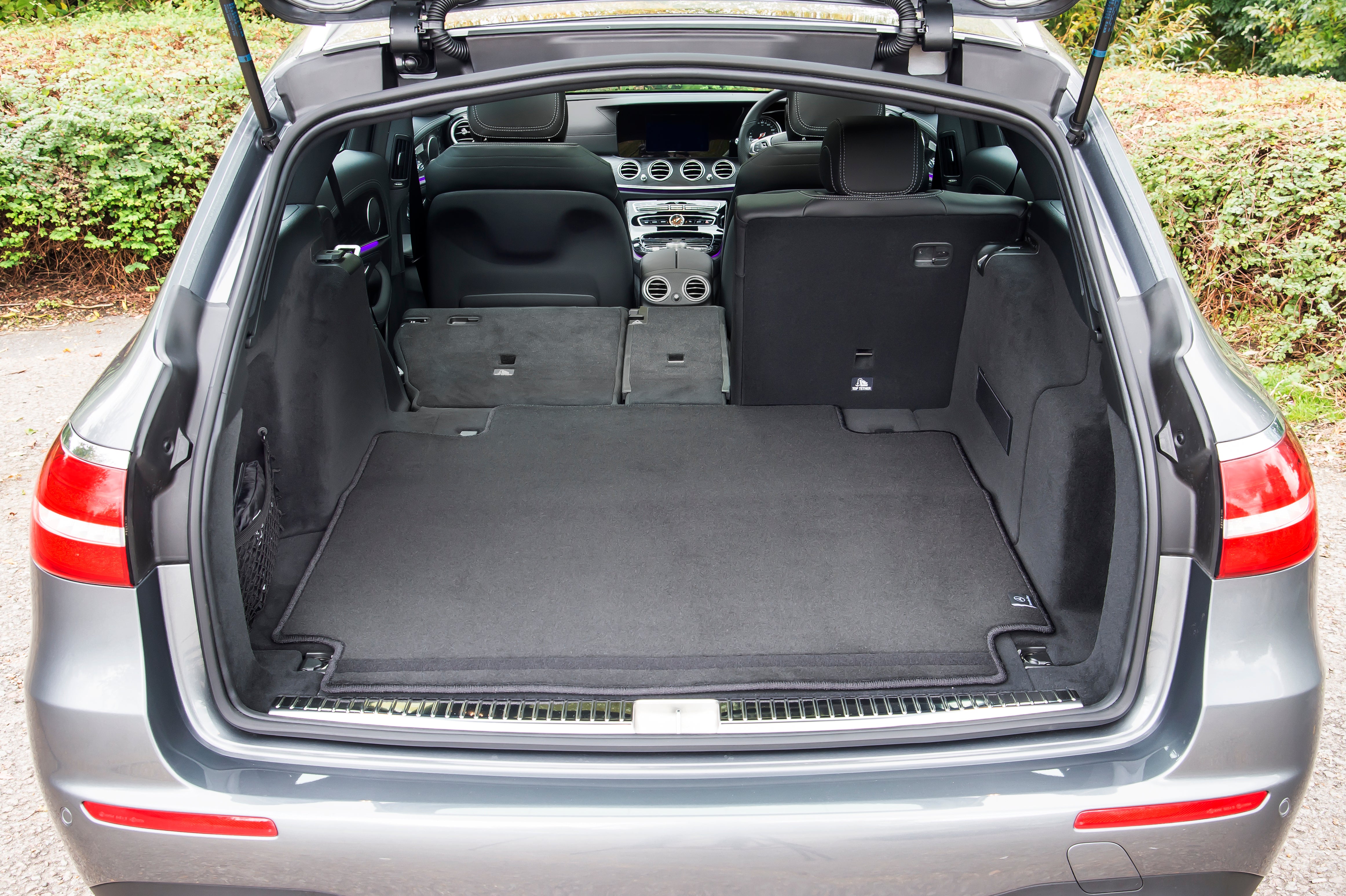 4/10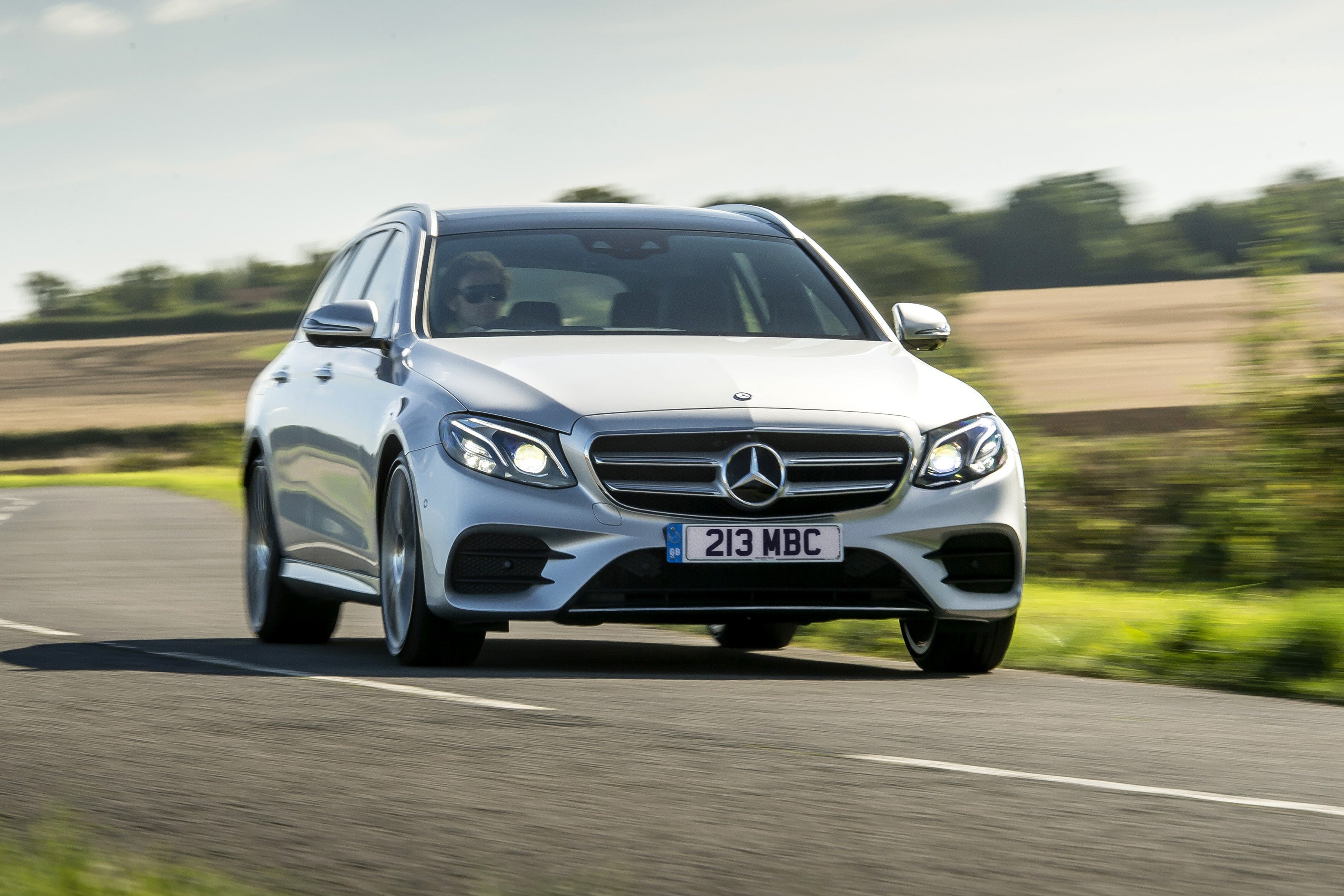 5/10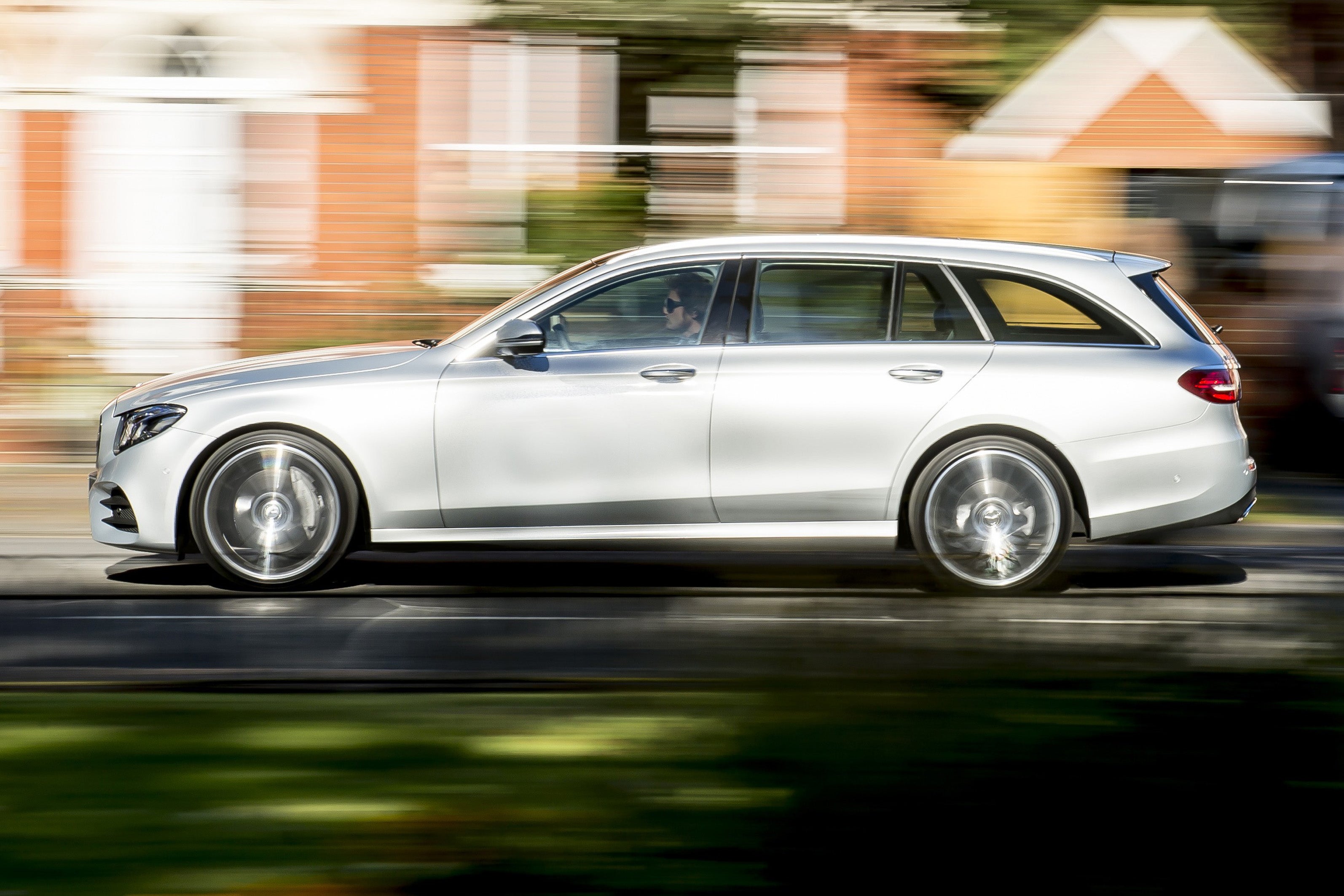 6/10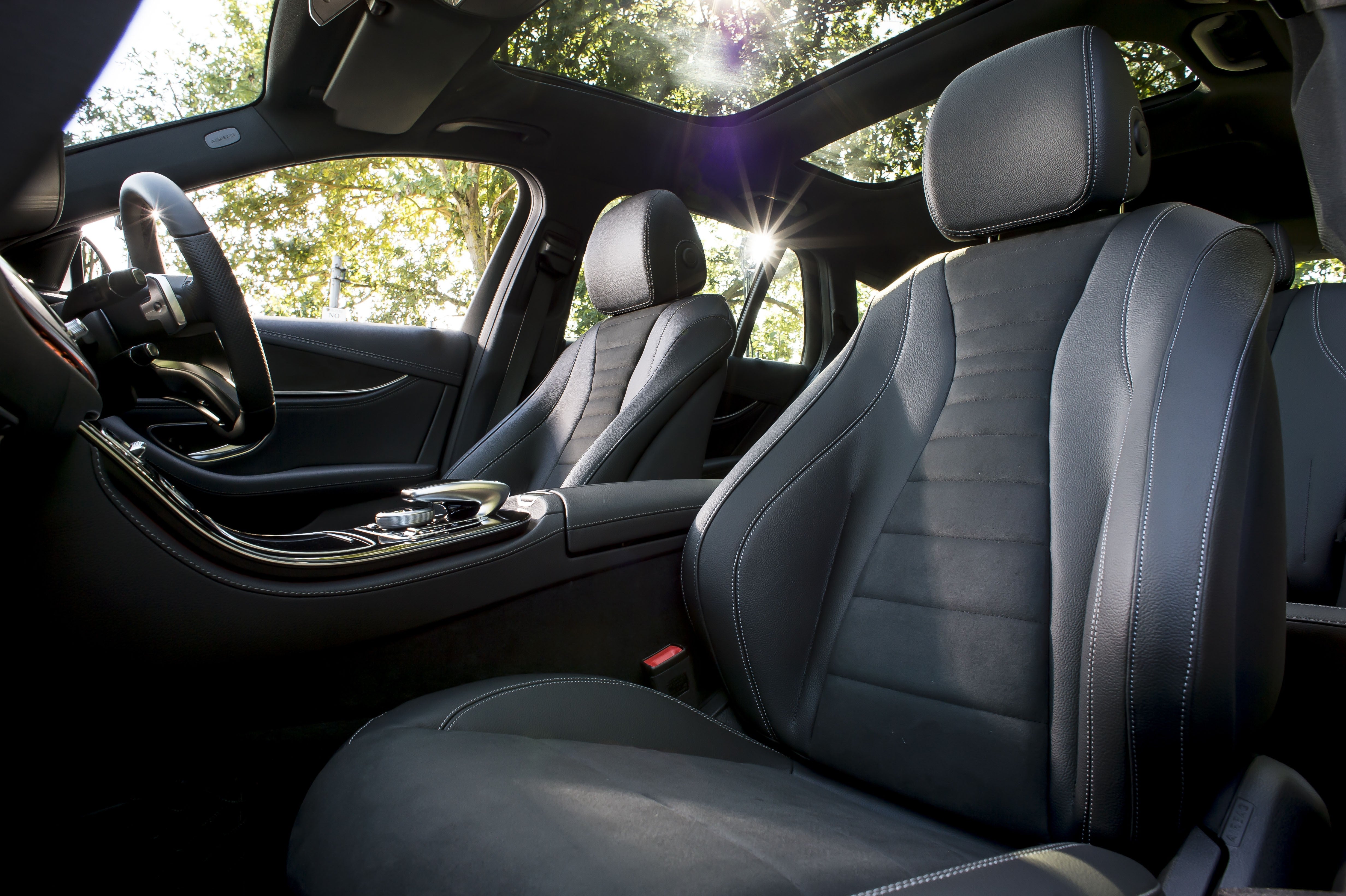 7/10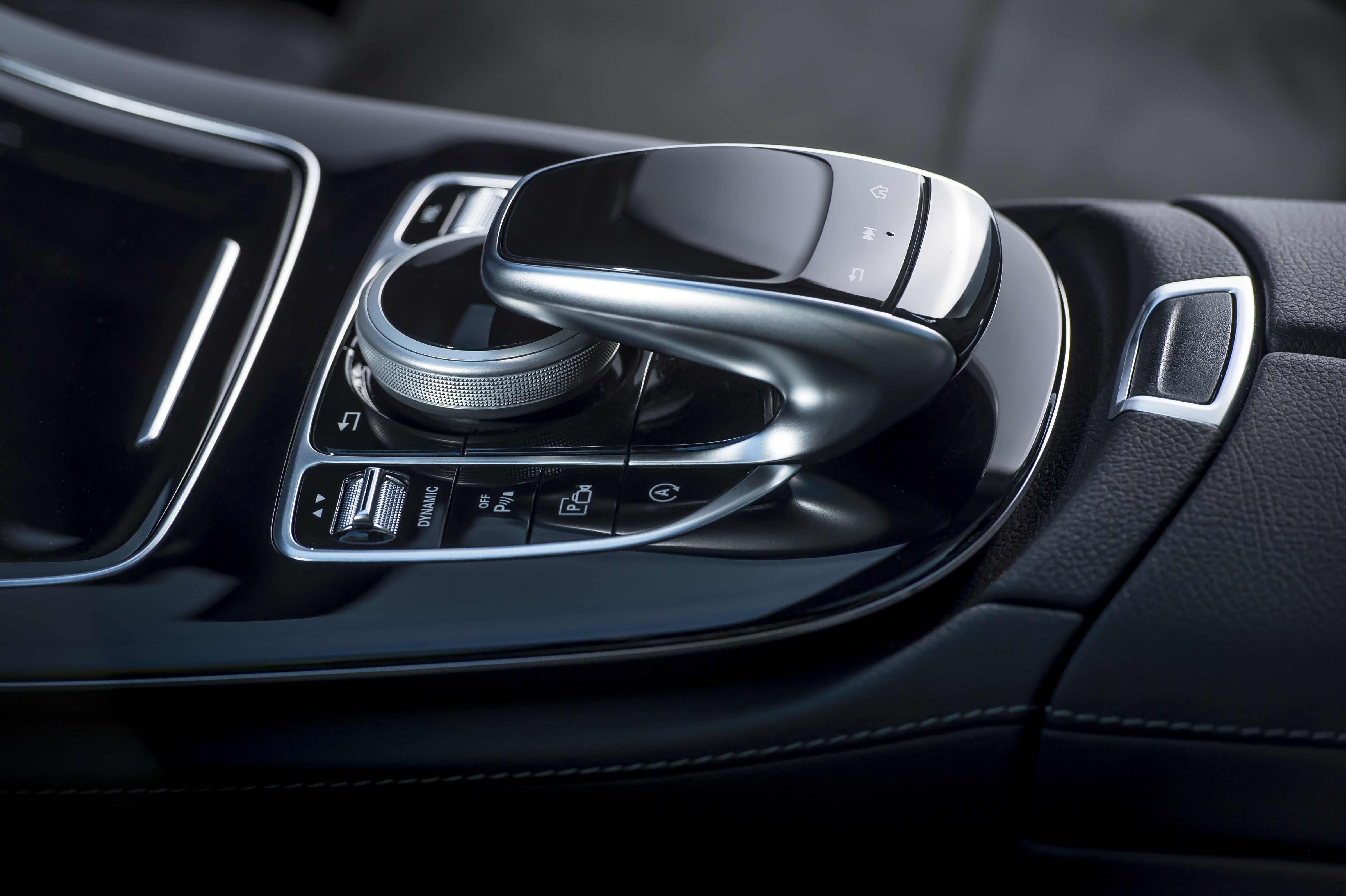 8/10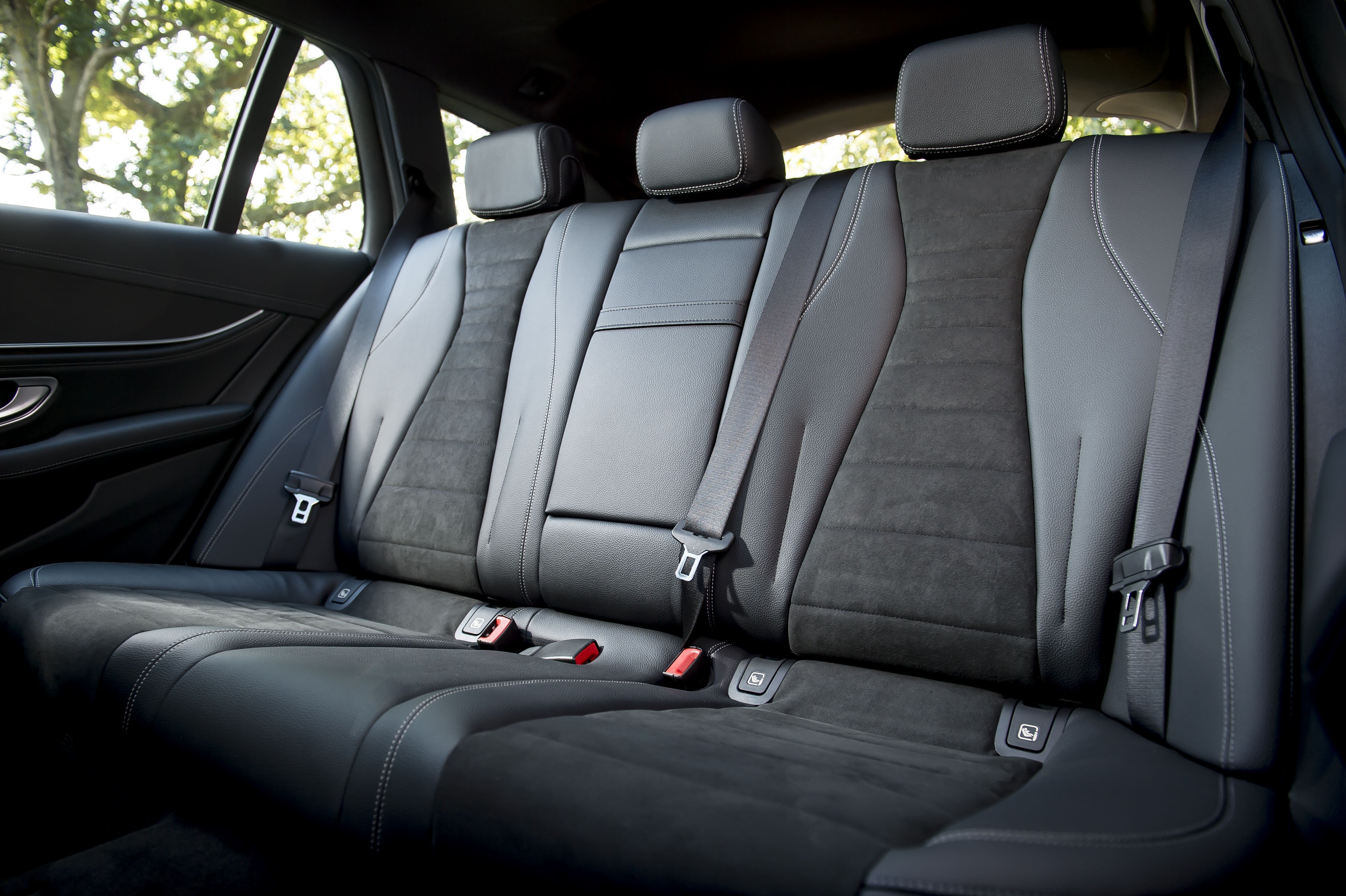 9/10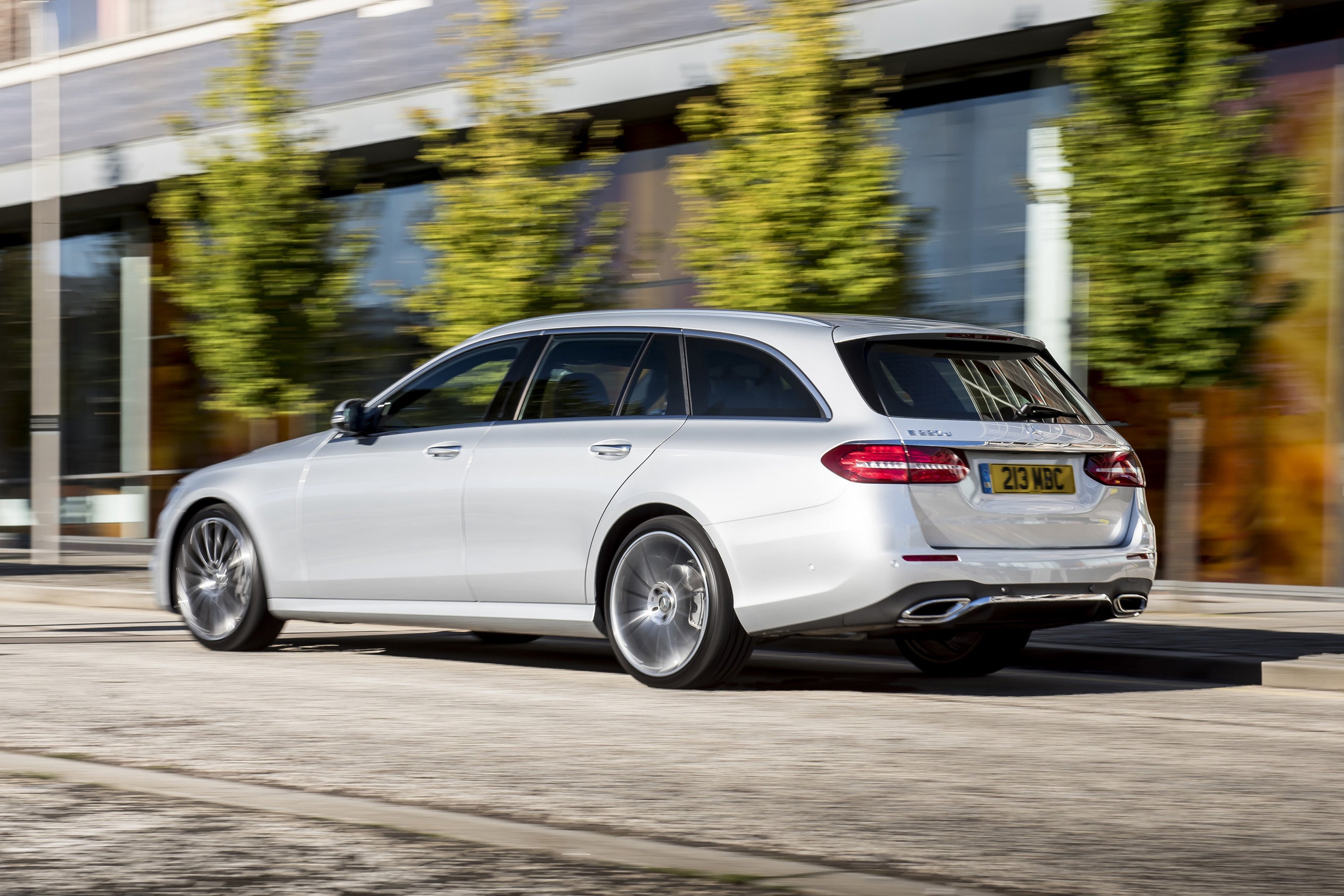 10/10
Launched in 2016

Estate

Petrol, Diesel, PHEV
Launch year

2016

Body type

Estate

Fuel type

Petrol, Diesel, PHEV

Written by
heycar editorial team

heycar rating
The gold standard for estates
Best bits
Cabin is well-built, luxurious and comfortable
Packed with useful technology
High level of refinement
Not so great
Ride quality is patchy on bigger wheels
Expensive whichever version you choose
Not as thrilling to drive as it could be
Read by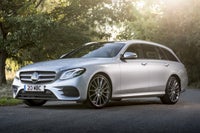 Overall verdict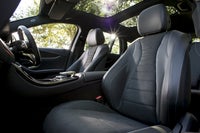 On the inside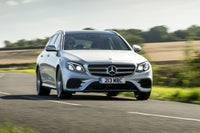 Driving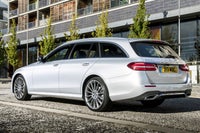 How much does it cost to run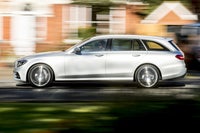 Prices, versions and specification
Overall verdict
"The E-Class Estate is a car that perfectly encapsulates what Mercedes-Benz is all about. It feels luxurious and has presence but isn't ostentatious. It's comfortable and spacious inside but is practical, and is loaded with modern technology without bombarding the driver with complication. It's not the most satisfying car in the class to drive and isn't cheap, but if you take the plunge you're unlikely to be disappointed."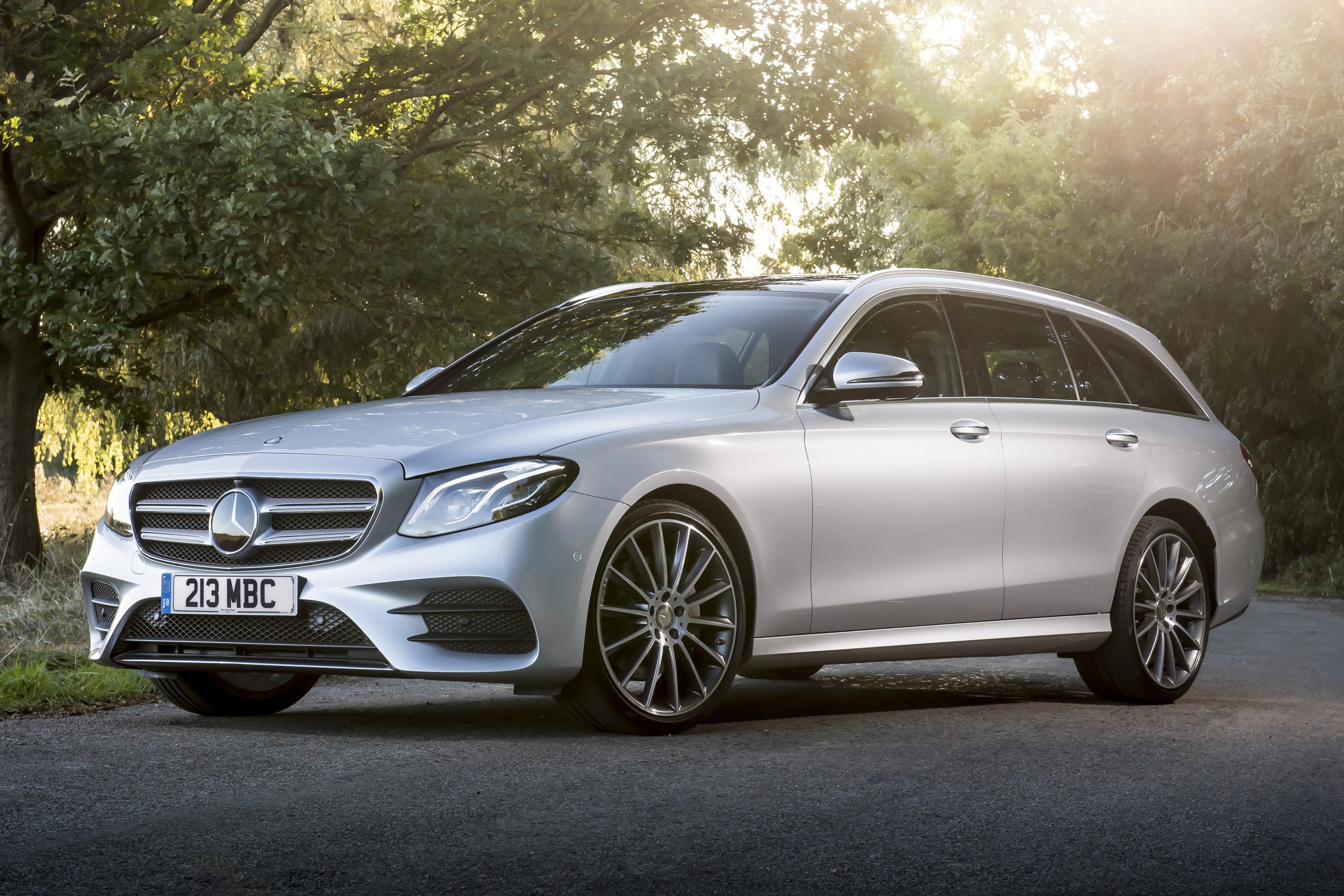 The Mercedes-Benz E-Class is as much a German institution as Oktoberfest and a strong economy. Few cars simultaneously flood the taxi ranks of German airports, batter down the outside lane of the autobahn and are also seen as a desirable thing to have on your driveway.
The estate version of the E-Class is also held in similar affection. Not only does it offer the same levels of luxury and comfort as the saloon version, it has typically been the best estate car in terms of sheer space and practicality too. For buyers who want to cram in as much as they possibly can, whilst also being in absolute comfort it is the default choice.
First introduced in 2014, the E-Class Estate builds on the qualities of the saloon version, with a strong exterior and interior design, an exceptionally broad range of engines and a commitment to offering the latest technology and safety systems.
You're unlikely to mistake the E-Class Estate for anything else, not least because the nose carries a large version of the famous three-pointed star on top of a large grille. Compared to some of the more radical-looking cars in the Mercedes range the CLA is quite conservative in its appearance but that's the way most buyers like it.
Inside, the E-Class is arguably a bit more radical than on the outside. Taking inspiration from the bigger S-Class executive saloon, it offers a combination of the latest technology and a strong design theme, with a graceful and attractive curved dashboard that stands apart from the more formal designs offered by much of the competition. It also offers lots of space - there's ample room for adults front and rear, while the boot space is one of the largest in the class.
The engine range is one of the most comprehensive you could wish for, with one petrol, four diesel and a PHEV, not including the two petrol-engined AMG models - the saloon E-Class has even more to choose from. What that means is that there is a version to suit the needs of virtually anyone, with an emphasis on torque and load-carrying given that it is an estate. As long as your budget is up to it, you can have as much performance and fuel economy as you want.
The engine you choose has a significant effect on the driving experience. The sole petrol engine is adequate rather than impressive. You have to work it relatively hard, especially if you have a load on board. The diesel engines offer the best compromise, with the E220 d and E300 d offering a good compromise between performance and economy.
The E-Class is still the most complete estate car in the class. It may not be as exciting to drive as some rivals, but it is comfortable, spacious, has an engine for everyone and is groaning with technology. It requires a substantial financial commitment to get one, but it'll pay you back in how well it looks after you.
Comfort and design
"If you're still wincing after signing on the dotted line for an E-Class Estate then stepping into the cabin should bring a smile to your face. It might be getting on a bit now having first been introduced in 2016 - and shared with the saloon which is older still - but the interior of the E-Class still has the capacity to impress."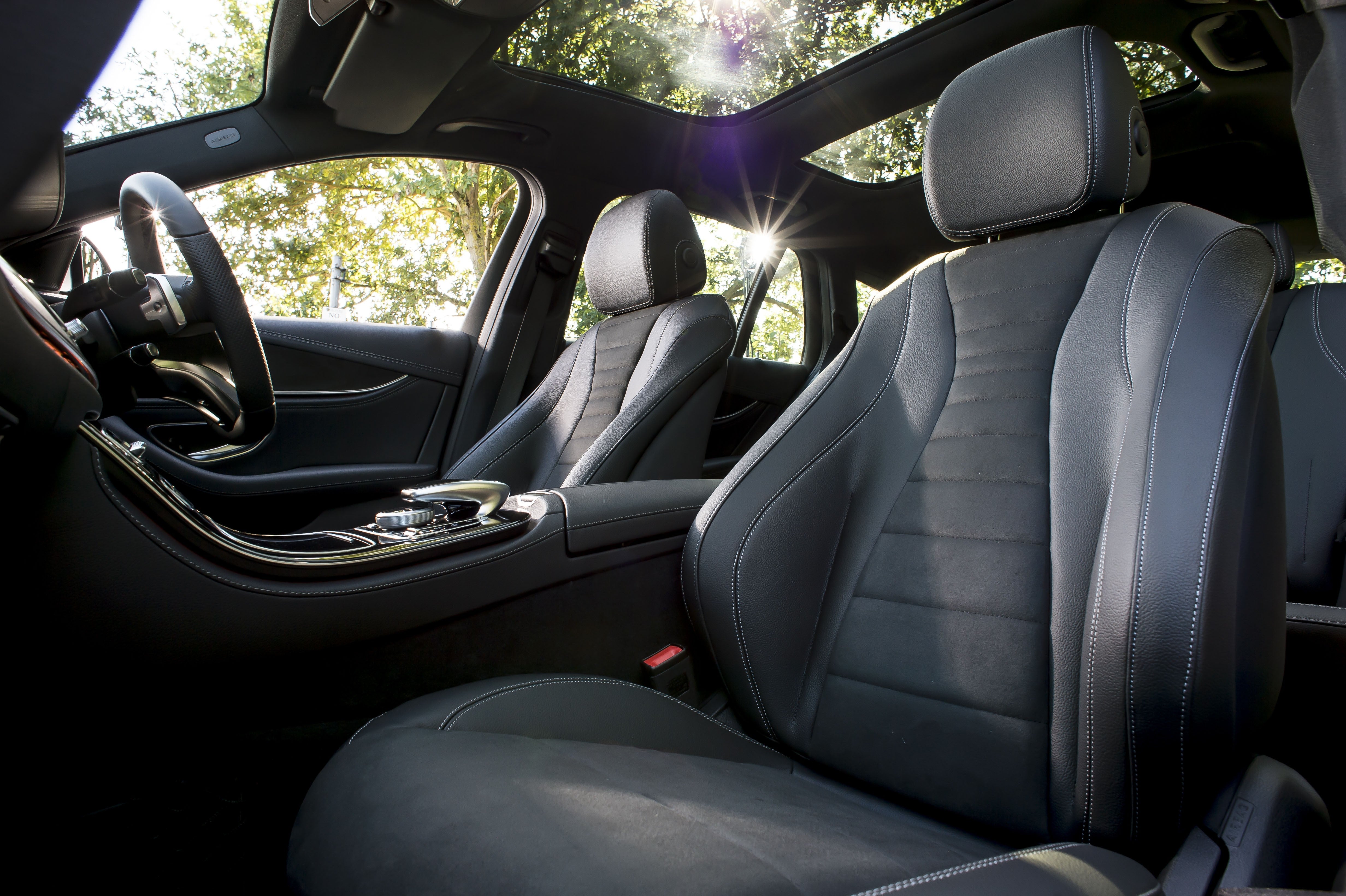 Unlike the uniform straight lines you'll find on much of the competition, the E-Class has a grand, sweeping centre console that flows into a heavily-curved dashboard. If that sounds impractical, it doesn't actually impact on the amount of space in the cabin in any significant way, and it still places all the important stuff exactly where you need it.
The E-Class was also one of the first Mercedes-Benz to offer its dual screen infotainment and instrument displays. It's not standard - a smaller screen and analogue instruments are - but it transforms the way the cabin works for the better.
Getting comfortable should be the work of a moment for the driver. All versions of the E-Class Estate have electric seat adjustment as standard, with lumbar adjustment included also. There's plenty of scope though, and the steering wheel offers a good range of adjustment too, although if you go for a lower-specification model it does without electric adjustment for this. Taller drivers may also find that the top of the steering wheel partially obscures the instruments, although this is less of a problem thanks to the digital instrument display.
Handling and ride quality
"Typically the E-Class and its predecessors have been seen as the comfortable option in contrast to the more sporty driving characteristics of the BMW 5 Series Touring, and the current version follows that same approach."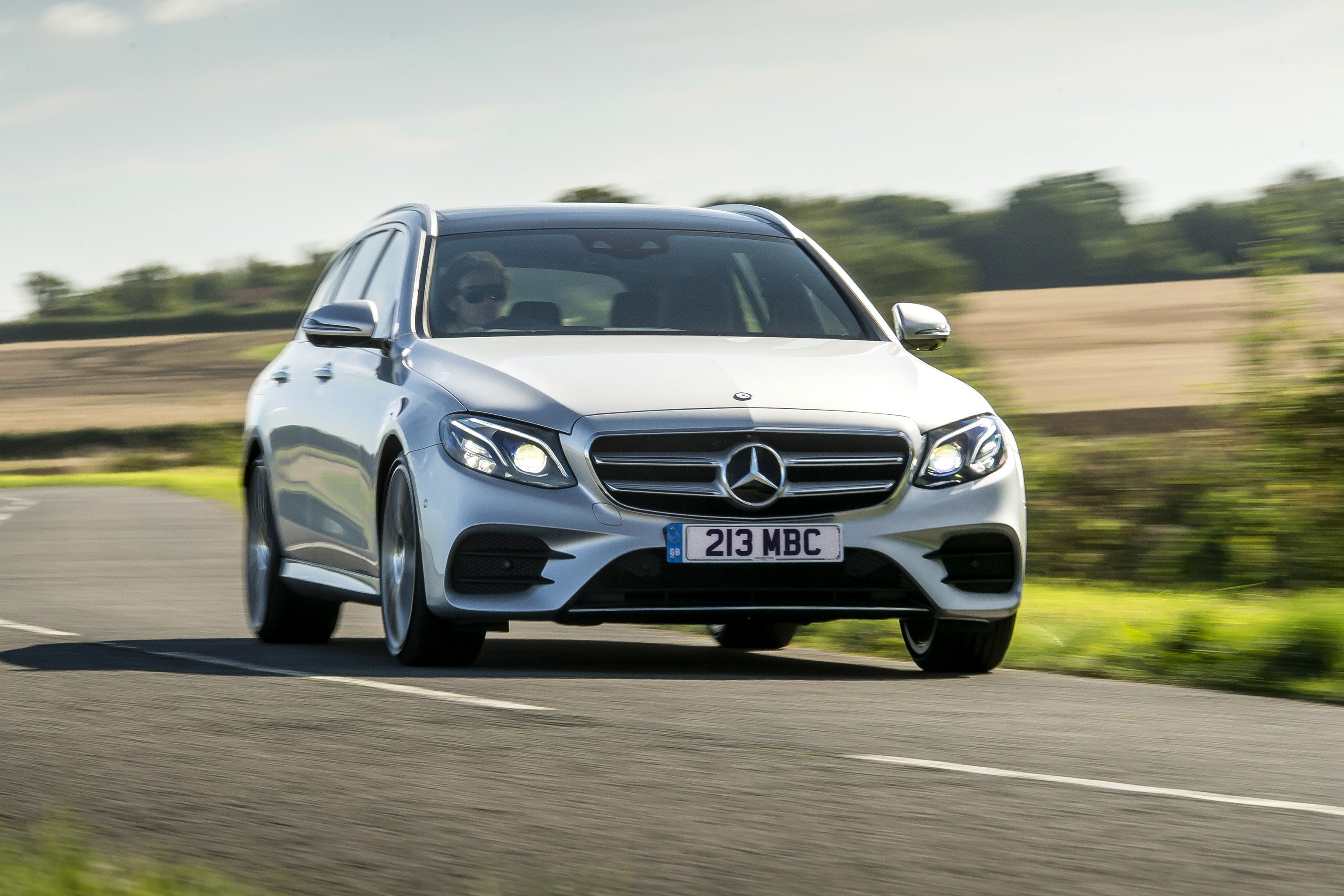 As standard, the SE model has air suspension at the rear with a self-leveling function to cope with heavy loads, with a conventional setup at the front. With smaller alloy wheels as standard too, this version gives generally good ride quality, although smaller, sharper bumps at lower speeds do cause a little disruption.
Move up to an AMG Line model however and it gets a stiffer setup, and although that gives slightly improved handling it also compromises the ride quality further, so that it fidgets substantially and doesn't really settle down until higher speeds. Optionally the E-Class Estate is available with full air suspension, and although it is not a cheap option it provides a greater level of composure and overcomes the question marks over ride quality.
In terms of handling, the E-Class is competent but not very exciting, pretty much regardless of which suspension option you go for. The E-Class's steering is good however, it has a reassuring weight to it and is quick to respond to inputs, giving the driver confidence. Even so, the E-Class has little enthusiasm for tackling bends. It is perfectly safe and predictable, but you are always aware of how much weight it is carrying and there is more bodyroll than is ideal even if you go for the stiffer AMG setup or the full air suspension arrangement.
You can also specify the E-Class with four-wheel-drive, and while that ensures plenty of traction it does little to improve the handling. Few buyers will be overly bothered, but there are better options for keen drivers.
MPG and fuel costs
"Although it has a range of efficient engines, the E-Class Estate is still a big and quite heavy car. The E200 d is one of the better-performing versions, with a claimed combined figure of 49.6mpg, which should translate into low 40s in the real world."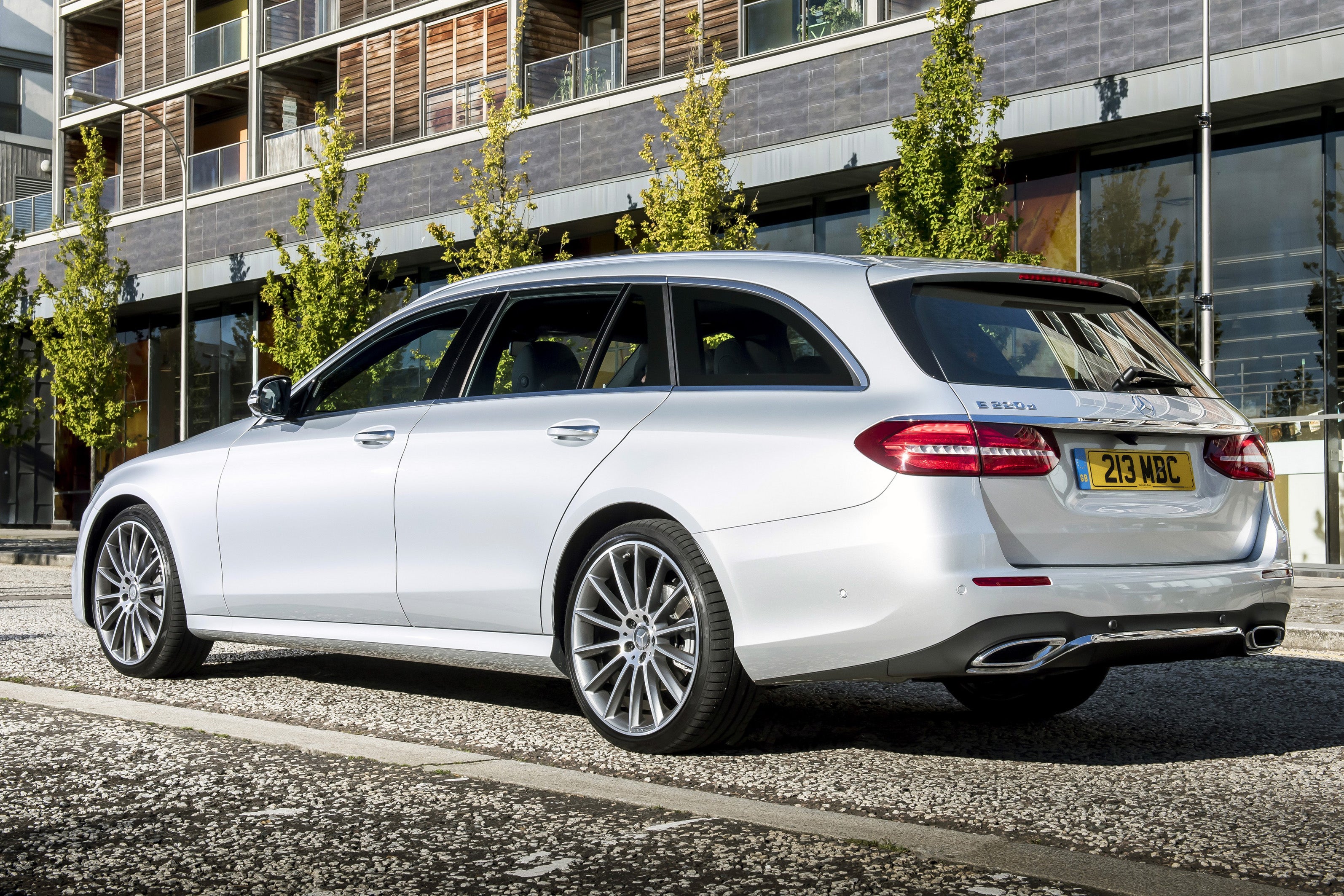 The more powerful diesel engines offer progressively worse average consumption, with the most powerful E400d and its four-wheel-drive system dropping down to 42.2mpg combined, so expect to see your own figures dipping into the 30s.
Because it is a plug-in hybrid, the claimed figure for the E300 de is way ahead of anything else - 188.3mpg combined - but it will be virtually impossible to achieve in the real world. However, if your journey regularly includes low-speed driving where it can run on pure electric power, you should find close to triple digits is possible.
How much should you be paying for a used E-Class Estate?
"Having been on sale for a number of years and being one of the more popular Mercedes models, you should have no trouble in finding examples at a range of price points and ages."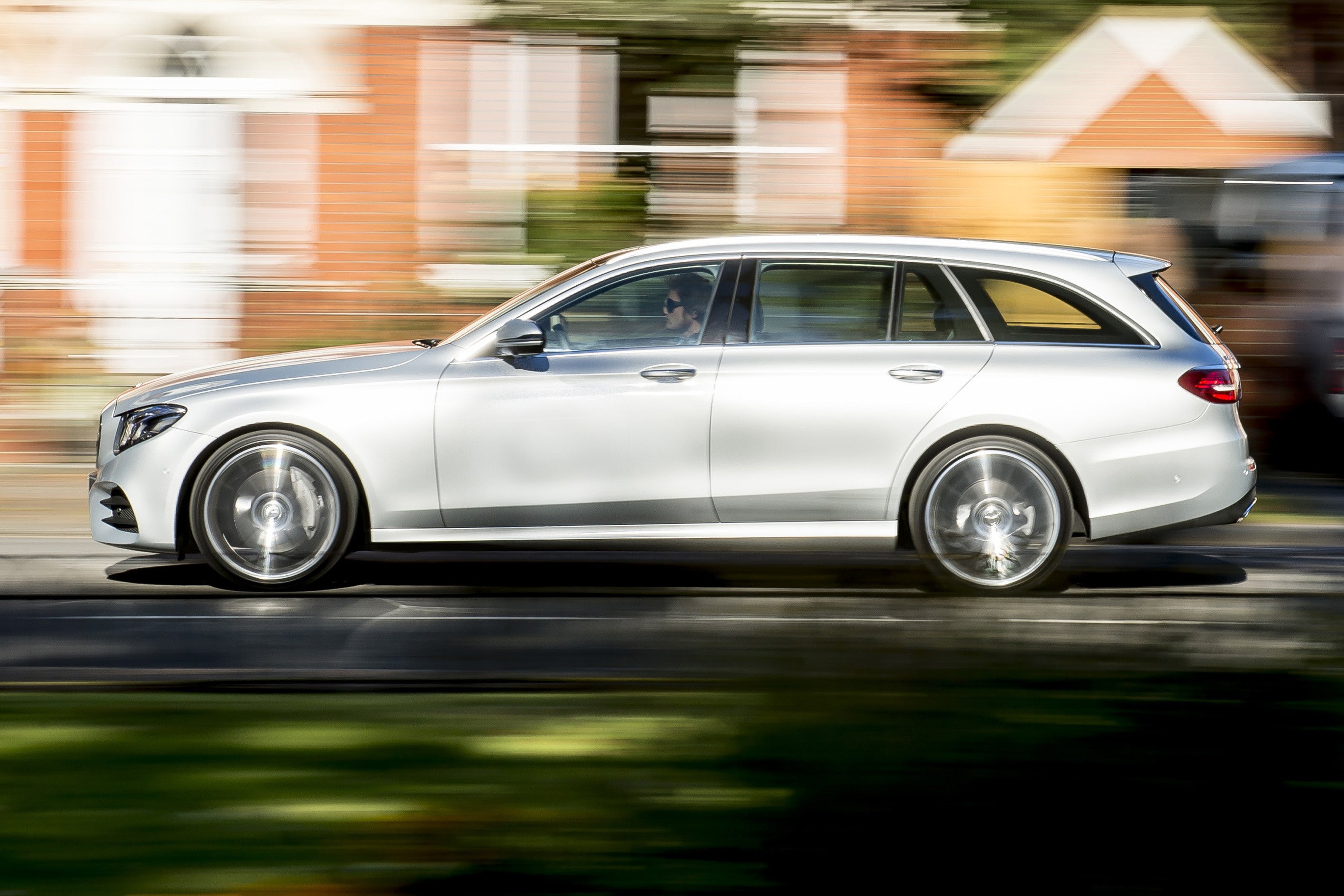 As it's still on sale as a new car there is the opportunity to grab a good deal on a pre-reg or nearly-new car and potentially save a significant chunk of money. A quick search of the classifieds provided a number of 2020-registered examples in a range of specifications - we found an E220 d in AMG Line Night Edition spec with the Premium Plus pack and 300 miles on the clock for a fraction under £40,000 - that's a saving of nearly £10,000 on the new list price.
At the other end of the scale, the earliest cars from 2016 are now close to half what they would have cost when new. We found a 2016 car in E220 d SE trim with under 50,000 miles on the clock for just £18,000.
Ready to get your top quality Mercedes-Benz E-Class?
All cars come with a warranty
Selected dealers only
All quality checked
Mercedes-Benz E-Class
E350d AMG Line Edition Premium 4dr 9G-Tronic
Manufacturer Approved
Mercedes-Benz Watford

Hertfordshire, WD172JG
PCP: £452.54/mo
Representative example: Contract Length: 36 months, 35 Monthly Payments: £452.54, Customer Deposit: £4,844.00, Total Deposit: £4,844.85, Optional Final Payment: £18,877.54, Total Charge For Credit: £7,262.29, Total Amount Payable: £39,561.29, Representative APR: 10.9%, Interest Rate (Fixed): 10.39%, Excess Mileage Charge: 10.8ppm, Mileage Per Annum: 10,000
Mercedes-Benz E-Class
E350e AMG Line Premium 4dr 9G-Tronic
Manufacturer Approved
Mercedes-Benz of Hull

Yorkshire, HU139PB
PCP: £362.32/mo
Representative example: Contract Length: 36 months, 35 Monthly Payments: £362.32, Customer Deposit: £3,300.00, Total Deposit: £3,300.00, Optional Final Payment: £9,702.00, Total Charge For Credit: £3,683.20, Total Amount Payable: £25,683.20, Representative APR: 8.9%, Interest Rate (Fixed): 8.54%, Excess Mileage Charge: 8ppm, Mileage Per Annum: 10,000
Is the E-Class Estate right for you?
There's no point in choosing the E-Class Estate over the saloon version if you don't need the extra space, apart from anything it's more expensive on a model for model basis. As a luxurious tourer the E-Class is ideal, as it is impressively comfortable on longer journeys even for families and larger groups of adults. It can certainly perform regular family duties too, although it is quite a big car which you may not want to be shunting around city streets all the time.
If you need a big estate for hauling large loads up and down the motorway, the E-Class is certainty capable, but Volvo's V90 is a little bit larger and less expensive to buy in the first place. Also, if you want your estate to be fun to drive as well as practical then the BMW 5 Series Touring is your best option.
Mercedes also offers a more rugged version, the Mercedes E-Class All-Terrain - a rival for the Audi A6 Allroad and Volvo V90 Cross Country.
What's the best E-Class Estate model/engine to choose?
Of the engine options, the diesel PHEV in the E300 de is hugely impressive, offering very strong performance, low CO2 emissions and impressive economy - the only downside is that it is very expensive to buy. For a more real-world solution it has to be either the E220 d diesel or the E200 petrol. The diesel hits a sweet spot of decent economy and useful performance, and although the E200 petrol can't match either of those, it is the best choice if diesel is ruled out.
Of the available trim levels, the SE is the most popular choice, and with good reason. The standard specification is strong, but unlike the AMG models it does without the larger alloy wheels and sport suspension that upset the ride in some conditions. The Premium pack adds a number of useful features but can't be added to the SE, so you need to look at an AMG Line model to include this, but if you include air suspension then you can mitigate the stiff ride. We would recommend comparing two versions on the road to see if they suit your needs.
What other cars are similar to the E-Class Estate?
If you're looking for an alternative to the E-Class Estate, look no further than the usual German rivals. BMW offers a Touring version of its BMW 5 Series, which is big, comfortable, well-equipped and crucially is also good to drive - one of the best in the class in fact.
Audi has its own big estate in the shape of the Audi A6 Avant, which ticks all the usual boxes of being comfortable, beautifully built and practical too. Non-German alternatives include the Volvo V90, which is stylishly understated but very spacious, and the Jaguar XF Sportbrake which is excellent to drive.
Quality and finish
There's little doubt that the interior of the E-Class Estate is visually impressive but the good news is that, unlike some other Mercedes-Benz products, the physical quality lives up the promise of how it looks. All versions come with leather on the seats and around the door and dashboard areas, which is of a good standard and feels pleasant to the touch.
The basic SE model gets a mix of black leather and aluminium trim which is attractive in itself, but move up to AMG Line or above and this changes to black ash, which is even more appealing. Somewhat unusually AMG Line models also switch to Mercedes' man-made leather Artico, which is somewhat inferior (although more ethically sound) so it pays to look closely at the options if you are buying new or used.
The overall quality of the cabin is of a high standard too, and it feels like it will last for plenty of miles. There are a couple of exceptions - some of the plastics lower down in the interior feel a little thin and insubstantial - but on the whole this feels like a well-constructed car that is built to last.
Infotainment
This generation of E-Class is something of a halfway house in terms of infotainment provision, as on the one hand it has the twin 12.3-inch screen setup was one of the first Mercedes-Benz to offer the system. However, more recent offerings like the A-Class and CLA models have the same screen arrangement but with added functionality and an updated control system, using a bigger and more responsive touchpad.
All versions of the E-Class Estate come with DAB, Bluetooth for telephone and audio streaming, Sat-Nav via SD card and the touchpad controller, with USB input also. Upgrade to the Premium package and you get the Command Online system, which has integrated wifi to give the system the ability to use connected services as well as allow passengers to connect to data services.
The capabilities of the system are high and the graphics are slick, and there is a wide number of functions and settings so you can tailor the system to suit your needs and wants, you even have the option to choose from three different design themes. What that does mean is that a little familiarity is required, and it can be a little intimidating at first. It's also worth noting that the control systems aren't perfect - the touchpad and wheel on the centre console isn't always as accurate as it could be, while the steering wheel controls can be overly-sensitive.
Space and practicality
No estate car worthy of the name can hope to compete unless it offers plenty of space for passengers and luggage. On most counts the E-Class Estate scores highly. Front seat occupants of all heights should find it easy to get a comfortable seating position. With plenty of adjustment in the seats and the physical leg, head and elbow room, it will suit pretty much everyone.
In the rear seats there's still a competitive amount of room, but it's not as convincingly spacious as it is up front. You can fit two adults in the rear seats with ease, as headroom and elbow room are generous. Legroom is not quite as abundant, so a six-footer is probably the tallest person you can comfortably fit in the back unless the front occupant has their seat rolled far forward. There is a centre seat but as is frequently the case, it's not a full size chair and the owner of the short straw will have to contend with the transmission tunnel under their feet too. Like most cars of this size, the rear is optimised for two rather than three.
Head for the boot and the E-Class plays its trump card. With the rear seats in place it offers a mighty 640 litres of load space - significantly more than even the Volvo V90 - with the rear seats folded this goes up to a huge 1820 litres, at least 100 litres more than the nearest rivals. What is more, the shape of the space is ideal, with little intrusion and a low loading lip.
There's also a false floor with a good space underneath, or optionally you can swap this for an extra pair of child seats - although it is important to remember that they are only suitable for younger children and cannot accommodate adults. This space is also lost if you go for the E300 de PHEV version as it is taken up with the battery system. You can also lower the rear seats (which are split 40/20/40) via an electric release.
Engines and gearboxes
There are several engine options available for the E-Class Estate, although it is worth noting that there are fewer petrol engines for the Estate compared to the saloon version. The sole sensible petrol option is the E200, a 2.0-litre turbocharged four-cylinder unit providing 184PS. That provides quite brisk acceleration, but the cost is fuel consumption, and most buyers will want an option that is more frugal than this engine can provide.
The most popular engine choice for the E-Class Estate is the 2.0-litre diesel option, and while it is one of the cheaper options it has a lot of positive aspects and is well-suited to estate car duties. With 190PS and an even more substantial 400Nm of torque it is surprisingly quick - it's capable of almost 150mph - which makes short work of pulling heavy loads or carrying a car-full of people and luggage.
There are three further pure diesel options - the E300 d, E350 d and E400 d - with outputs ranging from a heady 245PS to a borderline unnecessary 340PS and 700Nm of torque in the E400 d. The two bigger options use a 3.0-litre six-cylinder unit that is smooth and refined, and deliver a heady performance, but this comes at the expense of economy.
The ultimate blend of power and frugality comes from the plug-in hybrid E300 de model, which comes the 2.0-litre diesel engine with an electric motor to give a total system power of 306PS and 700Nm of torque. It has performance that is close to the E400 d, but economy far ahead of any of the non-hybrid versions. It's the most expensive non-AMG model and compromises boot space as a result, but on sheer numbers it is highly impressive.
Refinement and noise levels
Mercedes-Benz has built its reputation on producing cars that offer a level of refinement above the class standard, and the E-Class Estate continues this good work. The 2.0-litre diesel engine is arguably the least refined of all the options, but in the E-Class it rarely causes a stir in the cabin, with little vibration and noise even when extended. The more refined engines such as the PHEV and six-cylinder are even more impressive, and at cruising speeds the engine noise fades almost completely away.
The rest of the E-Class package also contributes to the overall levels of refinement, and the quality of the build and materials is reflected in how quiet the cabin is. Even on the occasions when you can hear the engine working hard, it sounds distant rather than up close, and that makes for a relaxing experience for the cabin occupants.
Road noise levels are quite well contained, although versions with bigger wheels tend to create a little more noise. Despite the frameless windows, wind noise is also well controlled, with just a little generated by the door mirrors at higher speed. Overall, the E-Class offers an impressive level of refinement - it's one of the best in the class.
Safety equipment
EuroNCAP tested the E-Class in 2016, and although the test was conducted on a saloon, the organisation ruled that the score was relevant to all E-Class and CLS variants.
The E-Class was awarded the maximum five stars, including an impressive 95 per cent score for adult protection and 90 per cent for child protection. The pedestrian rating of 77 per cent was also strong, although the safety assist rating of 62 per cent compares less favourably with newer Mercedes-Benz models and some of the competitors - the age of the E-Class is a contributing factor here.
However, it is important to note that specifications change regularly and that the E-Class has more safety equipment as standard than when it was first tested in 2016. All E-Class models are fitted with front chest and side airbags, a knee airbag for the driver and curtain airbags, an active bonnet, blind spot assist, the Mercedes-Benz Pre-Safe system that prepares the car if it detects an accident is imminent, traffic sign assist, and ESC.
The Driving Assistance Plus package can be added, which includes active blind spot assist, active braking assist with cross traffic function, Pre-Safe Plus and active emergency stop assist amongst other features, but this can only be specified on the AMG Line Night Edition Premium Plus, the All-Terrain Edition and the Mercedes-ASorted this.
Maximum EV range
The E300 de is a plug-in hybrid, so it is designed to have relatively limited range on pure electric for use in the city or low-speed cruising. Mercedes claims a range of 32.9 to 31.6 miles on a fully-charged battery, which is similar to other rival plug-in hybrids. While it offers relatively little pure electric range compared to a pure EV, it gives the E300de the flexibility to enter zero-emission zones and significantly improve fuel consumption, and for company car owners it also brings a significant saving in terms of taxation.
Insurance groups and costs
Insurance groupings for the E-Class Estate are inevitably high, with even the lowliest version in the range past the halfway point of group 25. The entry-level SE trim attracts the lowest grouping, ranging from 28 for the E200 and E220 d up to 43 for the E300 de. AMG Line trim starts at group 30 for the basic petrol and diesels up group 44 for the E350 d, E400 d and E300 de.
Given that the E-Class Estate is unlikely to be bought by younger people with short insurance history and little no-claims bonus, the high groupings are likely to be less of a problem, but it is worth considering what a different specification can have on your premium.
VED car tax
One immediate issue with the E-Class Estate is that even the most basic SE model costs over £40,000, which means it attracts the £325 levy for the first five years. Pre-April 2017 versions will cost less to tax, particularly if you go for diesel models. A E220 d can cost as little as £20 a year to tax on account of its low CO2 figures, but the more powerful diesel versions are still £165 and upwards depending on the specification. Even the E300de doesn't escape - it still gets hit with the £40,000 levy, just at a rate reduced by £10, so you'll have to pay £465 for the first five years.
Trim levels and standard equipment
SE comes with sat--nav, LED headlights, Agility Control suspension, Easy-Pack automatic tailgate, Parking Pilot including Parktronic and reversing camera, chrome roof rails, 64-colour selectable LED interior lighting, Keyless-Go starting function, heated front seats, DAB radio and 17-inch alloys with a five-spoke design. E 350 d models also come with Air Body Control and Comand Online as standard.
AMG Line adds AMG exterior styling with 19-inch alloy wheels in titanium grey, upper dashboard finished in Artico leather, black ash wood trim, brushed stainless steel AMG sports pedals with black rubber studs, and a three-spoke AMG steering wheel wrapped in Nappa leather.
Key options are the Premium and Premium Plus packages. The Premium pack (£2795) includes Keyless-Go Comfort package, Memory package and a panoramic glass sunroof. For an additional £1100, Premium Plus adds the Burmester surround sound system with 13 speakers and a Multibeam LED Intelligent Light System.
Learn more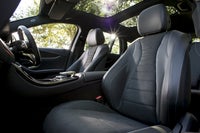 On the inside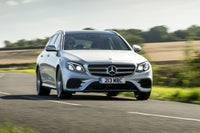 Driving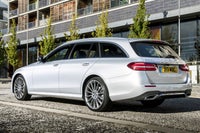 How much does it cost to run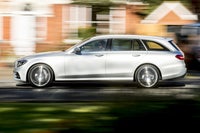 Prices, versions and specification
Reviews of similar cars
Quality checked, all cars less than 8 years old and warranty included
Looking for other Mercedes-Benz cars?
Quality checked, all cars less than 8 years old and warranty included