Mercedes-Benz EQA Review 2022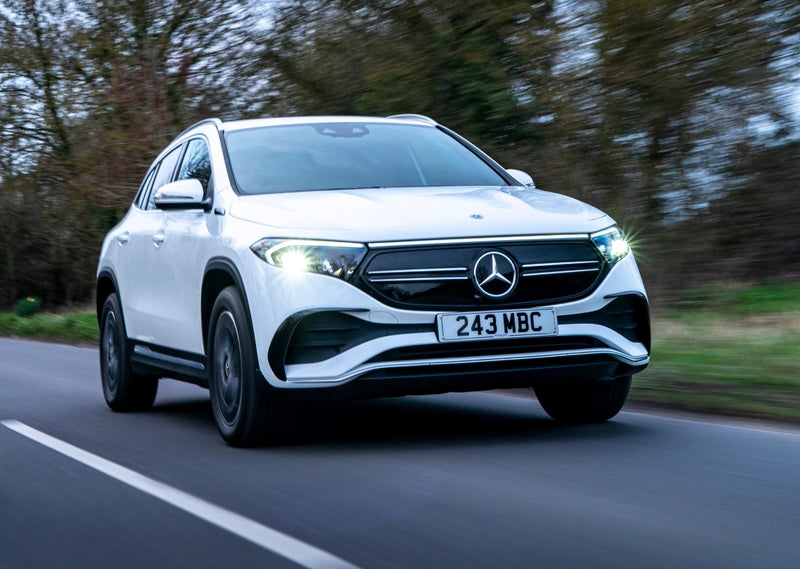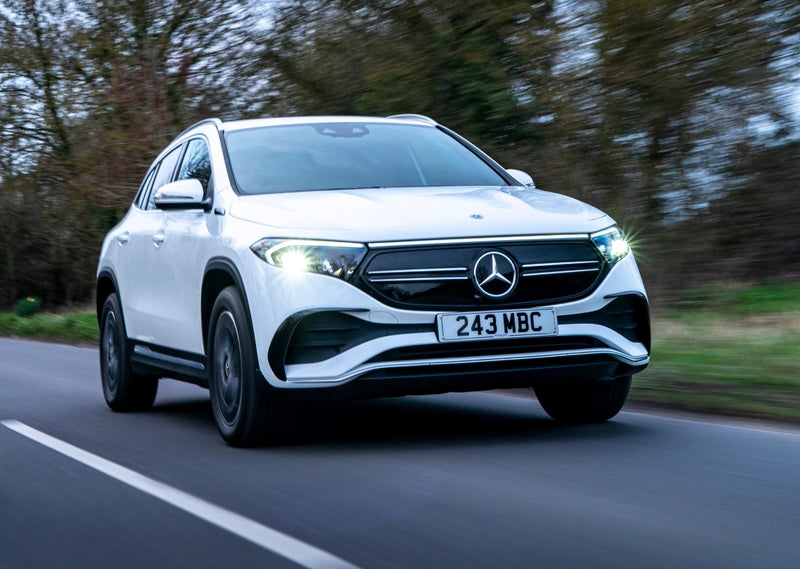 1/10
heycar rating
"A sign of what's coming"
Launched: 2021

Small SUV

EV
Quick overview
Pros
Effortless to drive
Quiet and comfortable
Trademark excellent interior and infotainment
Cons
Small boot and compromised rear seats
Rivals have a longer range
... and charge quicker
Overall verdict
On the inside
Driving
Cost to run
Prices and Specs
Common questions
Overall verdict on the Mercedes-Benz EQA
"The Mercedes-Benz EQA is the smallest electric car the company makes. It's an SUV that falls neatly into line behind the seven-seater EQB and range-topping EQC in the brand's electric range – it's a ripple in what will soon be a wave of new EVs that'll include the EQE and EQS saloons."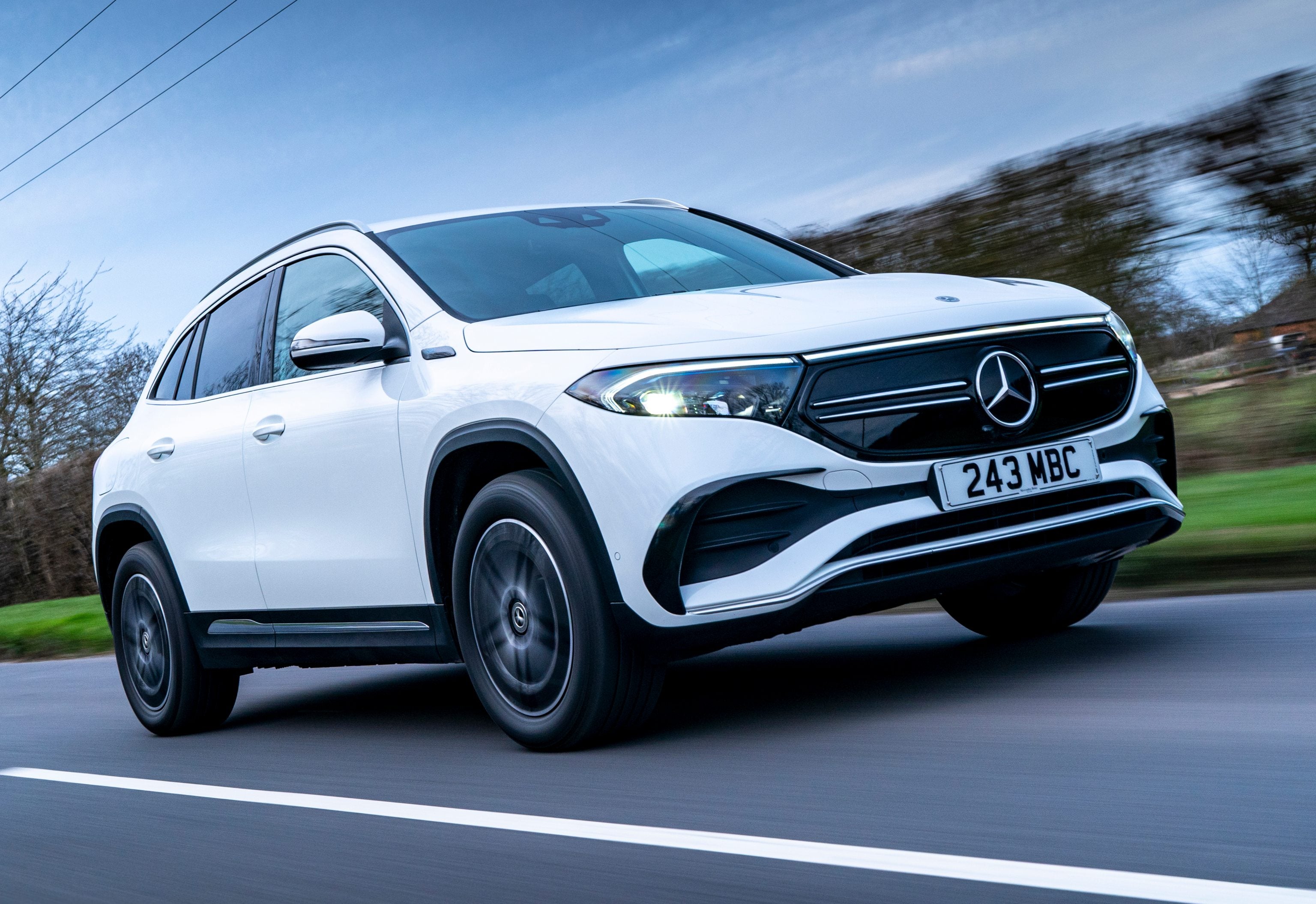 Petrol and diesel Mercedes cars will rapidly become a thing of the past but on the evidence of the EQA that's not such a bad thing – in fact, it's a mobile billboard for why all Mercedes cars should be electric cars. It's a rival to cars like the Audi Q4 e-tron, Volkswagen ID.4 and the Ford Mustang Mach E. Find out how it fairs in our Mercedes-Benz EQA review.
Electric power fits the Mercedes brief like a glove. Silent motors ramp up the comfort factor and their lazy instantaneous power takes the stress out of modern driving. In some respects, this small electric SUV is even more relaxing to drive than the firm's halo Mercedes S-Class saloon. Range and charge times will more often than not be a non-issue so long as you have a purpose built wall charger at home.
The Mercedes EQA thrives in town. You can drive it into the London Congestion Zone free of charge and its regenerative brakes mean it's at its most efficient in stop-start traffic. You get a good view out, it's easy to park and its raised suspension means you won't rip the underside of your car off every time you tackle a speed hump.
Long motorway drives will see the range plunge by comparison, but the Mercedes EQA's quiet cabin makes it a relaxing place to sit and the optional autonomous driving aids take a large portion of the monotony out of big trips.
If you're going to be spending hours behind the wheel, you may as well be doing it in a cabin that's as nice as the EQA's mixture of big and colourful infotainment screens, nice materials and neat details. Mercedes' MBUX voice activation system is relatively unique in the motoring world in that it actually works and you get Apple CarPlay and Android Auto fitted as standard.
The EQA's based on the same platform as the conventional Mercedes GLA so you don't get the same spacey feel as you get in electric cars that have been designed from scratch and the boot is also relatively small. On the upside, there's plenty of room for tall adults and no shortage of smaller interior storage space.
Electric cars will soon become unavoidable and the Mercedes EQA shows us there's nothing to fear – it's one of the best small electric cars currently on sale and a reassuring sign of what's to come in the next ten years from Mercedes.
Is the Mercedes EQA right for you?
We'd only choose the Mercedes-Benz EQA if you have somewhere at home to charge it, where you'll get the benefit of cheap electricity and the convenience of having a full battery every time you leave the house. The Mercedes EQA blends decent practicality with a posh interior and its electric power makes it an easy, quiet and comfortable car to drive.
What's the best Mercedes-Benz EQA model/engine to choose?
We would choose the basic 188PS EQA 250 model which has plenty of performance for everyday use and a decent range of 263 miles. The Mercedes EQA AMG Line trim is worth paying a little bit extra for because it give your Mercedes EQA sharper looks than the EQA Sport model, which is a blank canvas in terms of styling.
What other cars are similar to the Mercedes-Benz EQA?
Comfort and design: Mercedes-Benz EQA interior
"With its huge screens, smart design and pretty details, there's not much not to like about the inside of the Mercedes EQA."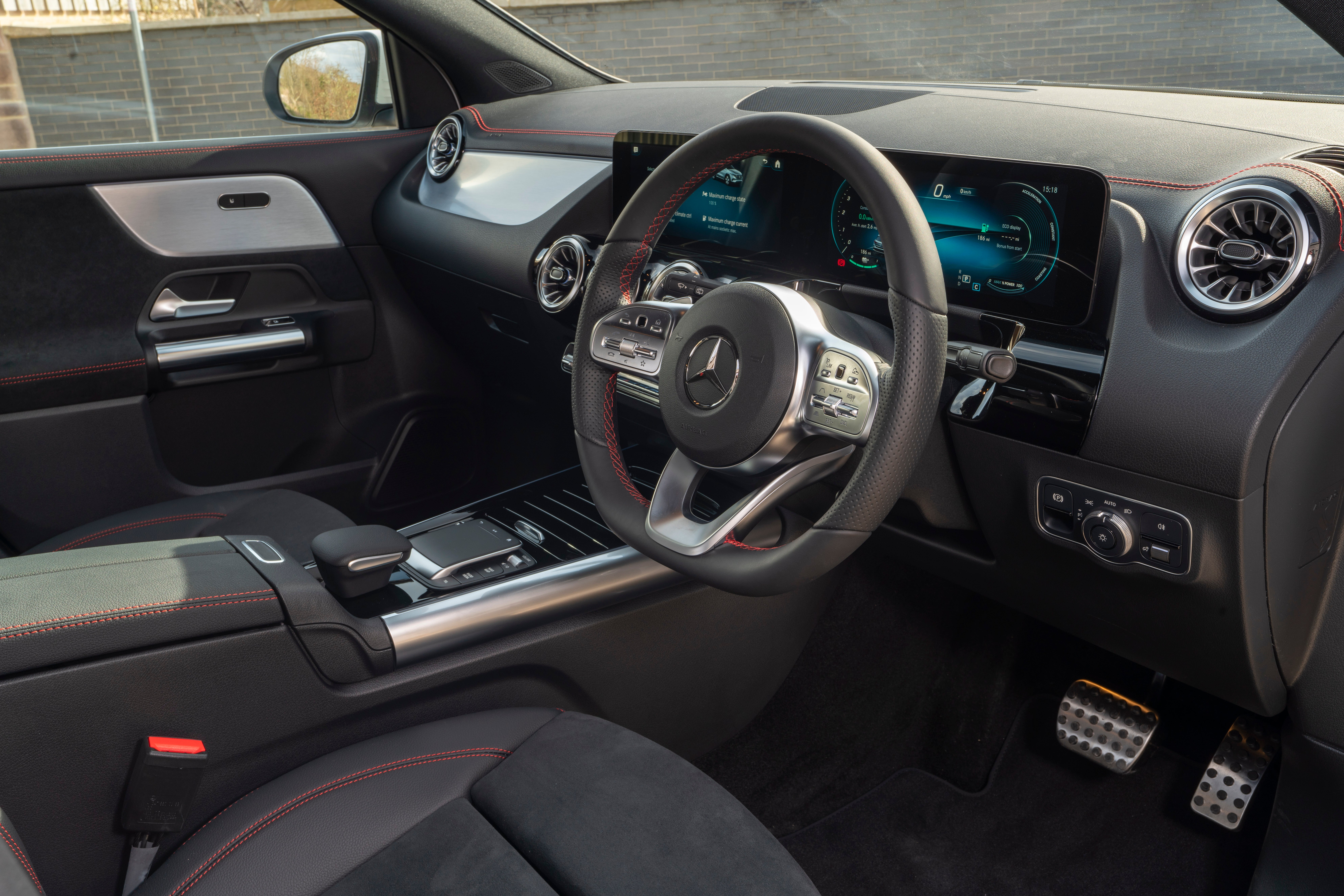 All Mercedes EQA models have front seats that move for height and have extending thigh support and this, combined with the steering wheel's wide range of adjustment, means all shapes and sizes can get a comfortable driving position.
Mercedes EQA sport models get Artico (vegan) leather seats and Spiral-look trim pieces, while Mercedes EQA AMG Line cars get upholstery made from a mixture of Artico and Dinamica microfibre, plus they have AMG door sill plates that glow invitingly at night.
Mercedes EQA AMG Line Premium models are even more convenient. They have keyless entry and start so you can get into and start the car without having to rifle your pockets for the key. Once in, you'll appreciate the panoramic glass roof that floods the interior with light and the handy wireless charging pad that means you can charge your phone without trailing cables through the interior.
Quality and finish
The Mercedes EQA feels posh inside with soft-touch plastics on all the higher parts of the interior, chrome finishes and Mercedes' trademark turbine-style air vents. Mercedes EQA AMG Line models are worth considering because they ramp up the poshness of the interior with leather-look padding for the dashboard and sporty red stitching. Metal pedals and a steering wheel trimmed in Nappa leather follow a similar theme.
Infotainment: Touchscreen, USB, nav and stereo in the Mercedes-Benz EQA
The Mercedes EQA comes with two ten-inch infotainment displays as standard and they merge seamlessly together to create one huge screen that's crystal clear and colourful. You can control it directly on the centre touchscreen or using the touchpad between the front seats.
Nine times out of ten, though, you'll use the Mercedes MBUX voice activation system that – believe it or not – actually works, it controls everything from the sat-nav and radio to the ventilation system and media.
If you'd rather stick with the more familiar menus of your smartphone then you're in luck because Apple CarPlay and Android Auto are fitted as standard so it is easy to use your phone's apps on the car's big screen.
Space and practicality: Mercedes-Benz EQA boot space
The Mercedes EQA is the kind of car that you could buy when your kids are young but will still be fit for purpose when they're cruising into adulthood.
We'll deal with the front seats of the Mercedes EQA first. Even if you're tall, you'll find you have loads of head, elbow and legroom and the multi-adjustable seats make it easy to find a comfortable driving position. Electrical lumbar adjustment is standard and the front seats are also heated.
There's more good news when you clamber into the back, because even if you're tall you'll find there's room to sit behind your driver's seat, leaving your knees a good inch of breathing room. There's also plenty of clear air between your head and the roof and there are no issues with elbowroom.
What you will notice is that your knees sit unnaturally high – it's a product of having a tall floor hiding the batteries.
On the subject of hiding things, the Mercedes EQA's cabin is teeming with storage spaces that make it easy to keep the place spick and span – there are large pockets in all four doors, a big glovebox and a lidded centre console that's deep and has two USB-C ports complete with adapters for all your recharging needs.
Even the boot has a 12v power socket – handy for a portable vacuum or compressor. It opens electrically, has a flat floor and a huge opening so making full use of Mercedes EQA's 340-litre boot capacity is easy, but in luggage-hauling terms, it lags well behind the 520-litre capacity you get in the Audi Q4 e-tron. At least the rear seats split 40/20/40 and fold flat into the floor when you release the catches on their back rests.
Further enhancing the Mercedes EQA clobber-shifting credentials is its ability to tow – the 250 model can haul up to 750kg while the 300 and 350 up that significantly to 1800kg thanks to being four-wheel drive.
In terms of dimensions, the Mercedes EQA is 4463mm long, 1585mm wide and 1620mm tall.
Handling and ride quality: What is the Mercedes-Benz EQA like to drive?
"While petrol heads bemoan the demise of engines, electric motors are much better for the majority of people who simply see their car as a way to get from A to B without ever having to mix with the public".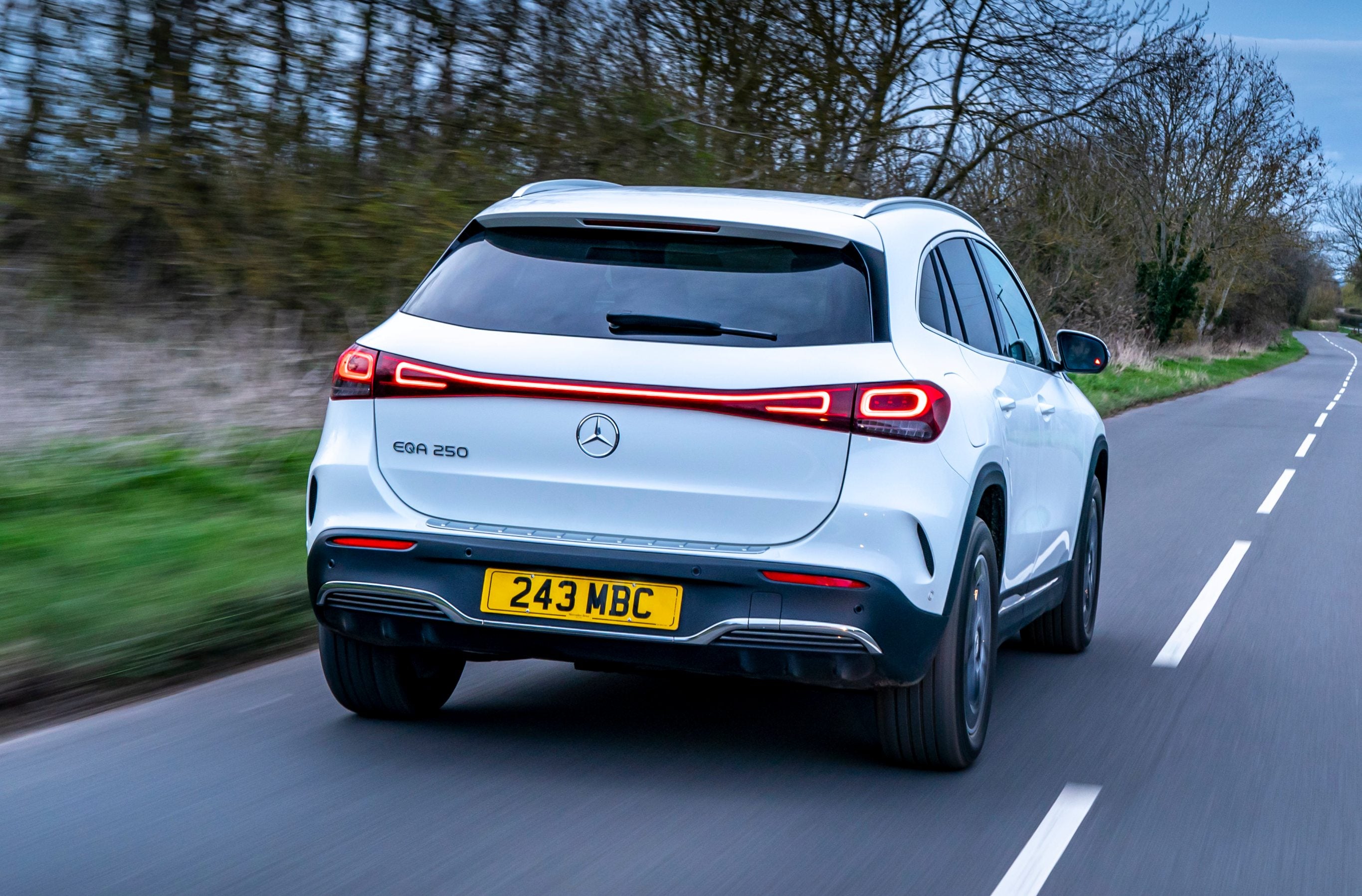 The Mercedes-Benz EQA couldn't demonstrate this more clearly. Its motor is silent and its power delivery instant – it means this entry-level electric car can teach the range-topping Mercedes S-Class a thing or two about sophistication.
As a way to get about the place with a little effort as possible, the Mercedes EQA is great. There's no need to wonder whether you have the power to make that overtake or how long the gearbox will take to kick down, you just push down on the throttle safe in the knowledge that it'll accelerate with the same predictable pace.
The regenerative brakes also save on thinking time. Sure, on their most invasive setting lifting off the throttle feels like a parachute has burst out the rear windscreen, but you soon learn to lift your right foot gently, progressively metering in the motor's recuperating forces. It also greatly reduces the wear of your brake discs and pads.
Introduce these electric car characteristics to an inner city driving environment and you'll find the two get on a like a house on fire. The Mercedes EQA makes mincemeat of the cut and thrust of city life and its raised ride height means it gobbles up speed humps. The excellent reversing camera is the sugar on top – it makes other car's cameras look like their permanently out of focus.
Technology plays its part on the motorway, too. If you spend hours cruising, it's worth considering paying £1495 for the Driving Assistance pack. Fit it and your Mercedes EQA can drive itself on the motorway and A roads, slow for corners and junctions, and make evasive manoeuvres in the event of an imminent collision. It makes long drives a lot less wearing.
On twister roads, the 200kg Mercedes EQA doesn't feel quite so at home. Its great at a steady pace but drive it like a teenager and there's a lack precision in the steering and body control that'll quickly encourage you to slow down.
What motors and batteries are available in the Mercedes-Benz EQA?
All Mercedes EQA models come fitted with a 66.5kWh battery, which sits between the Audi Q4 e-tron – you can have it with a 52 or 77kWh battery. You get three Mercedes EQA models to choose from – the front-wheel drive EQA250, plus the four-wheel-drive 300 4Matic and 350 4Matic models.
Honestly, we don't see much point in upgrading from the basic EQA 250. It's 190PS might sound modest on paper, but its 375Nm of instant torque gives the Mercedes EQA loads of get up and go at town speeds and leaves power in reserve for overtaking on motorways and A roads. It feels a lot quicker than its 99mph top speed (shared with the rest of the range) and 8.9-second 0-62mph time would have you believe.
If you did climb up the range, we'd skip the 228PS, 390Nm Mercedes EQA 300 – it gets from 0-62mph in 7.7 seconds – and head straight for the EQA 350, which has the hit-by-a-wave accleration that electric cars are famous for. It has 292PS, 520Nm of torque and slingshots from 0-62mph in 6 seconds.
Maximum electric range in the Mercedes-Benz EQA
The Mercedes-Benz EQA has a range of 250 miles largely irrespective of whether you go for the basic EQA 250 model or splash out on the top-of-the-range four-wheel drive EQA 350 4Matic.
Refinement and noise levels
Refinement is one of the Mercedes EQA's trump cards. You get a synthesised electric hum at low speeds which fades away as your pace builds and there's surprisingly little wind noise given its upright SUV body shape. What you will notice is road noise from the car's relatively large 18-inch wheels. Mercedes EQA AMG Line Premium models have 19-inch wheels that you would expect to produce more noise.
Safety equipment: How safe is the Mercedes-Benz EQA?
The Mercedes EQA has a five-star rating for safety from Euro NCAP. It comes as standard with cruise control that can observe speed limits, lane assist which nudges you into the centre of the lane, automatic emergency brakes and a variety of airbags including one for your knees .
Charging times: How much does it cost to charge the Mercedes-Benz EQA?
"The Mercedes-Benz EQA has a 66.5kWh battery that will charge from 10-80% in as little as 30 minutes using a 100kWh public charger, although cars like the Kia EV6 can do the same in less than 20 minutes."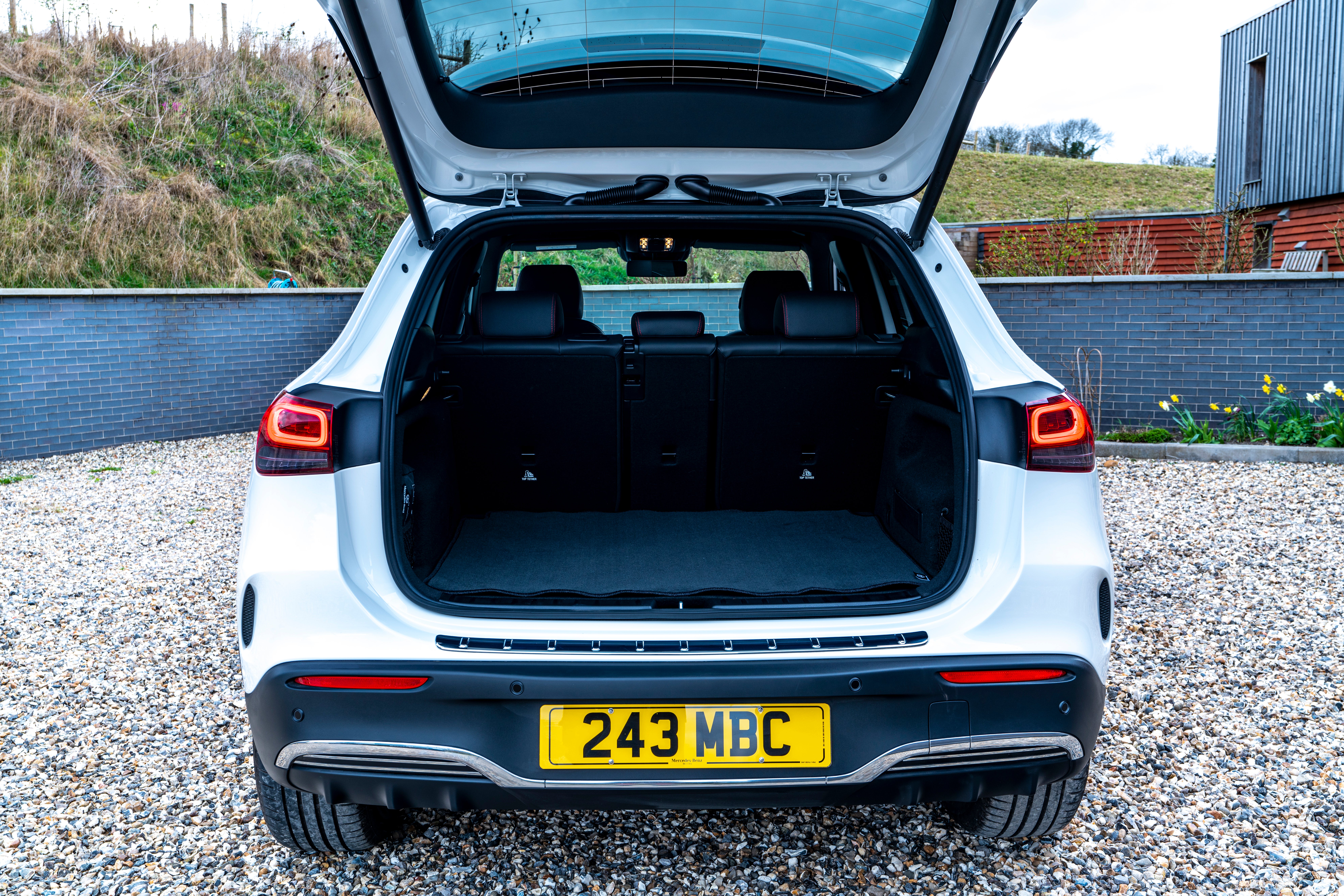 Using a fast public charger isn't cheap though, to get the best value electricity it pays to charge your EQA at home where using an 11kWh wall charger is enough to get the battery from 10-100% in 5hrs 45m and it'll cost you around a tenner to do it. The other option is a three-pronged plug although – as it'll take at least 30hrs to charge from flat – we don't recommend it as an everyday solution.
How reliable is a Mercedes-Benz EQA?
The Mercedes-Benz EQA is too new to make an accurate judgment on its reliability, however electric cars tend to be very reliable because they have fewer moving parts than petrols or diesels. The Mercedes EQA comes with a three-year/unlimited mileage warranty and an eight-year/100,000-mile warranty for the battery.
Insurance groups and costs
The Mercedes EQA ranges from insurance group 37 for the EQA 250 model to group 45 for the EQA 350 4Matic. That's pretty high when you consider the highest insurance group is 50, but the EQA is not alone. While electric cars can save you money in a lot of areas, insurance premiums are often a lot higher than petrol or diesel cars. The Jaguar I-Pace for example is in insurance groups 47 to 50, though the Audi Q4 e-tron starts a bit lower than the EQA, with the base model starting insurance group 26.
VED car tax: What is the annual road tax on a Mercedes-Benz EQA?
Because it's an electric car, the Mercedes-Benz EQA is exempt from paying any road tax. That's the good news. Because the list price of a new EQA is more than £40,000, it will be hit with a £325/year premium car tax for five years (from the second time the car is taxed). After that, it's free.
How much should you be paying for a Mercedes-Benz EQA?
"New prices for the Mercedes EQA start from £44,495 for a 250 Sport and rise to £54,145 for a EQA 350 4Matic."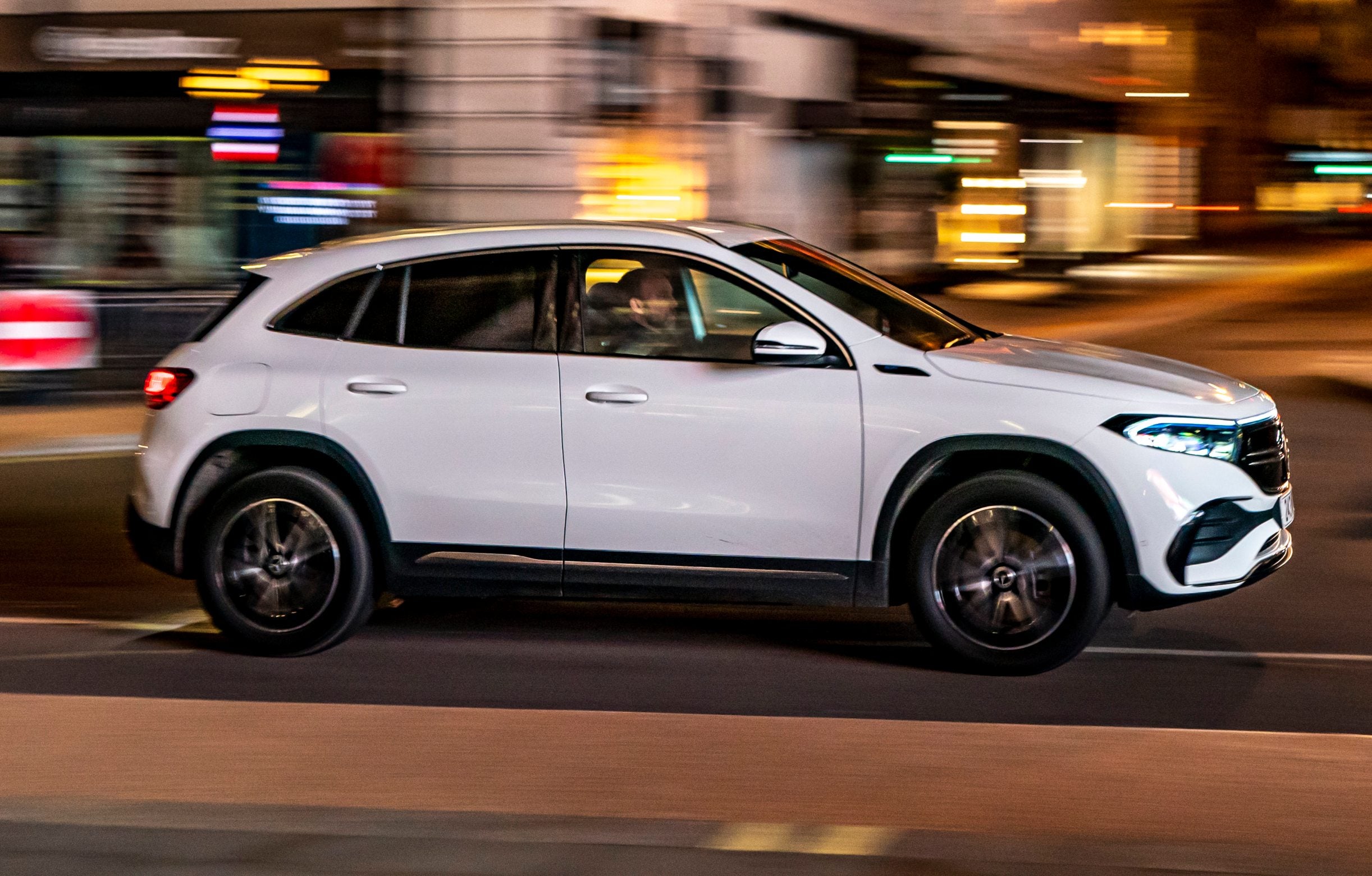 That said, the shortage of new cars means secondhand Mercedes EQAs actually command a premium at the moment. We saw an EQA 250 AMG Line (list price £47,090) advertised for £55,000 despite having 6000 miles on the clock. The rest of the range has yet to filter down to the used market.
Trim levels and standard equipment
The Mercedes-Benz EQA is available in three trim levels – Sport, AMG Line and AMG Line Premium.
Mercedes EQA Sport models are the most basic but they're not exactly lacking in standard kit. They get 18-inch wheels, tinted windows and LED headlights, while inside you'll find ambient lighting, heated seats and climate control.
Mercedes EQA AMG Line models look a lot sportier. Their 18-inch wheels have an eye-catching five-spoke design and their AMG body kits adds some much needed muscle to the EQA's exterior. Leather seats with red stitching, metal-trimmed pedals and a flat-bottomed steering wheel ensure the go-faster theme of the exterior is carried through to the cabin.
Mercedes EQA AMG Line Premium models get the most kit of all – their 19-inch wheels are the biggest clue that you didn't skimp on the configurator. Their panoramic sunroof makes the interior feel light and airy and you get useful kit like keyless go, wireless charging and a top-notch stereo with a 225W output, ten speakers and a subwoofer.
Ask the heycar experts:
common questions
How much will the Mercedes-Benz EQA cost?
The entry-level EQA 250 Sport is priced from £40,495 including the plug-in car grant (£43,495 excluding PiCG). The EQA 250 AMG Line is available from £41,995 (£44,995 excluding PiCG).

What electric cars does Mercedes-Benz sell?
Mercedes has a range of EQ-badged electric cars. They include the Mercedes EQA, EQC and upcoming EQB and EQE. There's also a range-topping EQS model on its way.

Is the Mercedes-Benz EQA four-wheel drive?
The Mercedes-Benz EQA is available as two four-wheel-drive models – the EQA 300 4Matic and 350 4Matic.

Mercedes-Benz EQA cars for sale on heycar
3,952
Number of cars available
£48K - £53K
Price bracket of these cars
Colours available on heycar
Keep me updated by email with the latest advice, news and offers from heycar
By submitting, you agree to our
privacy policy
.