Mercedes-Benz EQC Review 2022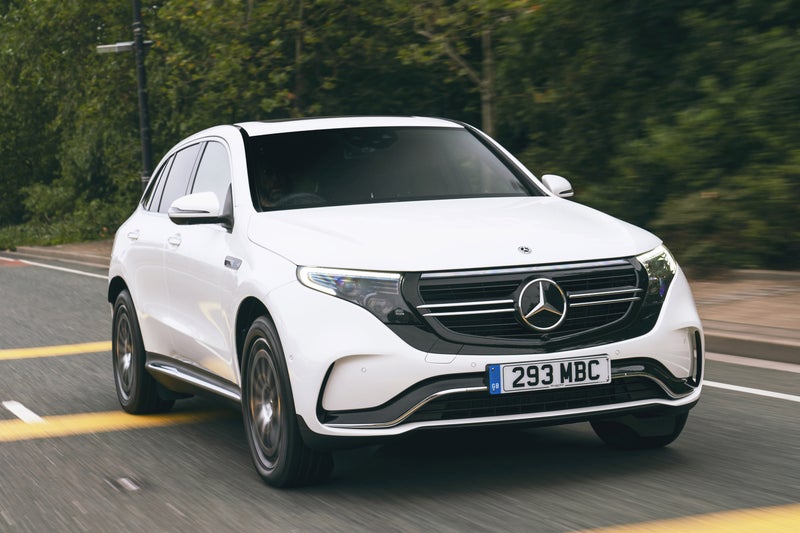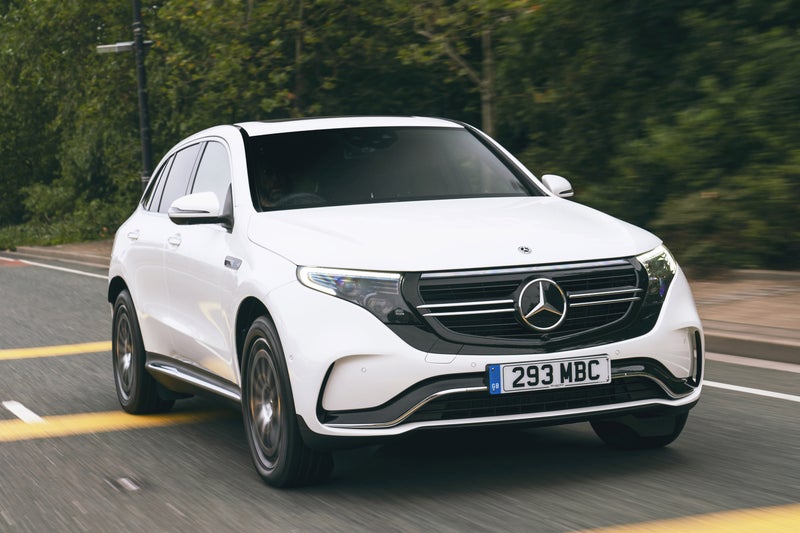 1/10
heycar rating
"Electric luxury SUV from Mercedes"
Quick overview
Pros
Great infotainment system with lots of functionality
Very quick indeed
Very quiet and serene on the road
Cons
Not as comfortable or as fun to drive as key rivals
Trails the Audi E-Tron on build quality
Limited range compared with some rivals
Overall verdict
On the inside
Driving
Cost to run
Prices and Specs
Common questions
Overall verdict on the Mercedes-Benz EQC
"Typical, isn't it? You wait years for an all-electric prestige SUV, and then several come along at once."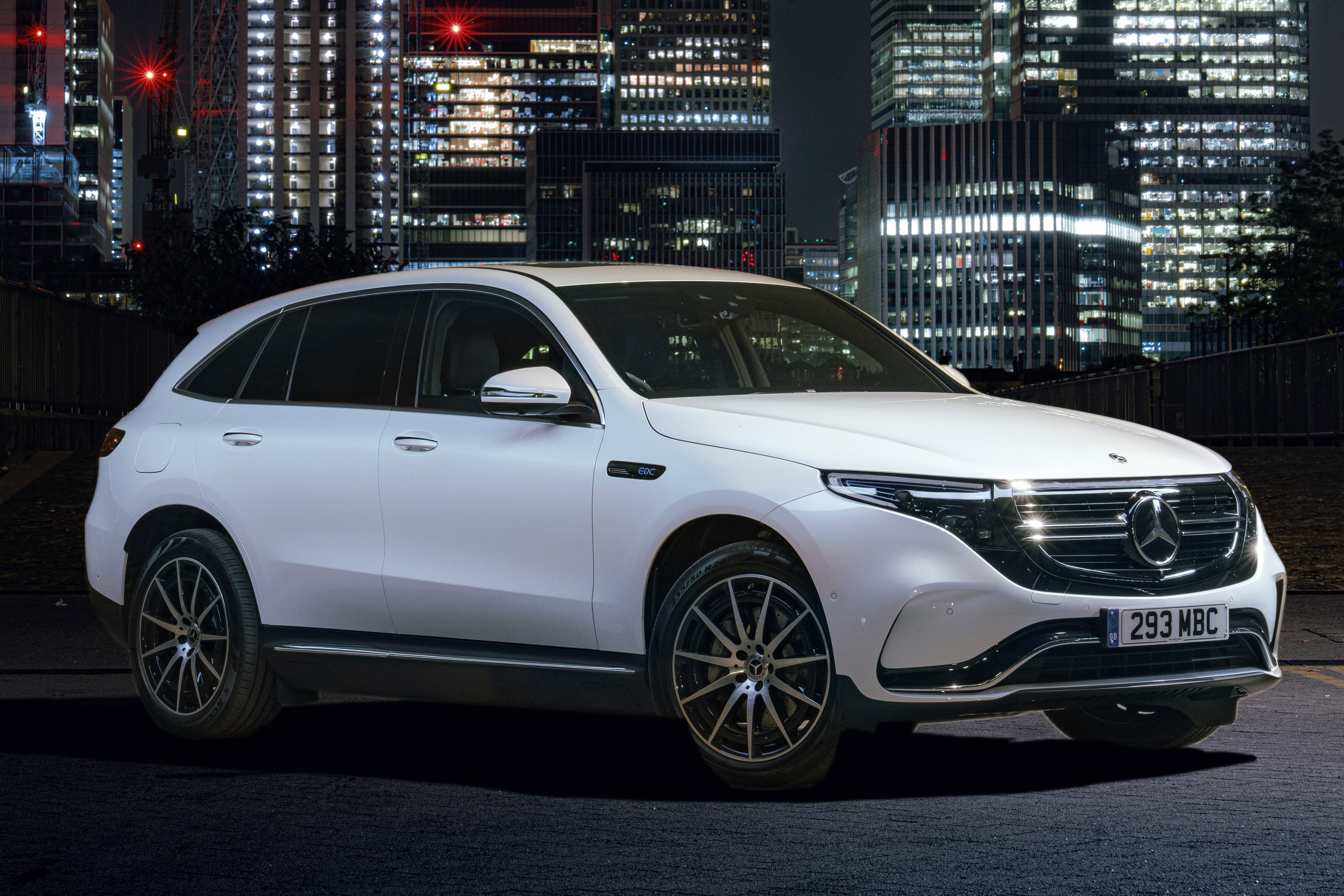 Okay, granted, the Tesla Model X has been around since 2016, but all the other rivals for the Mercedes-Benz EQC - those being the Audi e-tron and Jaguar I-Pace - came along at a very similar time to Mercedes' entrant in the class. So how does the EQC mark itself out from the competition? We'll look to answer this in our Mercedes-Benz EQC review.
First thing you should know is that the Mercedes-Benz EQC is smaller than most, so it struggles to match the best of them for practicality. Indeed, the Tesla even gives you seven seats as opposed to the five seats in the rest.
The Jaguar I-Pace has the sporty side of things sewn up thanks to its eye-widening speed and sharp handling, whereas the Audi e-tron majors on being an electric SUV that feels like a luxury limousine thanks to its cosseting ride, sensational refinement and impressive interior quality. So what trump card does that leave for the Mercedes-Benz EQC to play?
Step forward, MBUX. This is Mercedes' latest generation of infotainment tech, and it brings all sorts of different functionality together into one visually stunning and easy-to-use package.
Bear in mind that you'll want to buy a car of AMG Line Premium level or above to get the most out of it on this score (because entry-level cars miss a few desirable bits of functionality, unfortunately), but if you do, and you love your gadgets, then this alone will be a reason for buying the Mercedes EQC over its adversaries.
It's good in other areas as well. It comes loaded with standard equipment, has a high quality interior and it has enough space and practicality for a family, even if it can't do any of these things quite as well as the very best-in-class. Likewise, it's impressively quick, hugely quiet and refined on the road and the motorway ride is very smooth. However, it's not so comfy in a few other situations, it doesn't handle with the same precision or keenness as most of its rivals, and it can't quite match the best of them for driving range, either.
The fact remains, though, that the Mercedes-Benz EQC does a very solid job in every area, so it's a good all-rounder. And, if tech is your thing, then it has the wow-factor to steal your heart, and more importantly for Mercedes, your custom. Not quite one of the best electric cars, but well worth considering.
Is the Mercedes-Benz EQC right for you?
If you've made the decision to go for an all-electric premium SUV, it's fair to say that you've already come a very long way in your decision-making journey. Well done you. Now all you need to do is decide which of the small group of cars that fit the bill is the one closest to what you're looking for.
We'll keep this short and sweet. If you're looking for the sportiest car of this type, go for the Jaguar I-Pace. If you want the roomiest and most practical, it's the Tesla Model X, while if you want the one with the poshest cabin, the Audi e-tron is the one for you.
If, however, you want a decent blend of all those abilities, plus a comfortable motorway ride, and supremely quiet and serene driving experience and a seriously impressive infotainment system, the Mercedes-Benz EQC could well be the one for you.
What's the best Mercedes-Benz EQC model/engine to choose?
The engine selection is pretty easy with the Mercedes-Benz EQC. It doesn't have one, and all versions get the same 408PS output from their twin electric motors. The official WLTP range only differs by four miles between best and worst (accounted for mainly by the size of alloy wheel fitted to the various models), too, so that's not a decision-making factor, either.
The amount of kit you get might be, though. The entry-level Mercedes-Benz EQC in Sport trim gets plenty, and the AMG Line gets some sporty visual upgrades, but both miss out on the Apple CarPlay/Android Auto upon which some buyers will insist. You get it on AMG Line Premium trim with the Mercedes-Benz EQC, along with Burmester surround sound, a wireless phone charger and augmented reality navigation to make your car feel more special. As such, that's the one we'd go for.
What other cars are similar to the Mercedes-Benz EQC?
As an all-electric premium SUV, the Mercedes EQC has a very definite selection of rivals, albeit ones that range more in size than with other classes of car. It's closest competitor in that regard is the Jaguar I-Pace. Yes, the Jag is designed to be fast and sporty, while the Mercedes-Benz EQC is a more sensible, relaxed choice, but they're bang-on for size. The Audi e-tron, like the Merc, is more of a luxury car than a sports car, and it's also appreciably bigger. Bigger still is the Tesla Model X. It's also a sight more expensive and has seven seats.
Comfort and design: Mercedes-Benz EQC interior
"All drivers of SUVs - even electric ones - love a lofty driving position, and the Mercedes-Benz EQC delivers."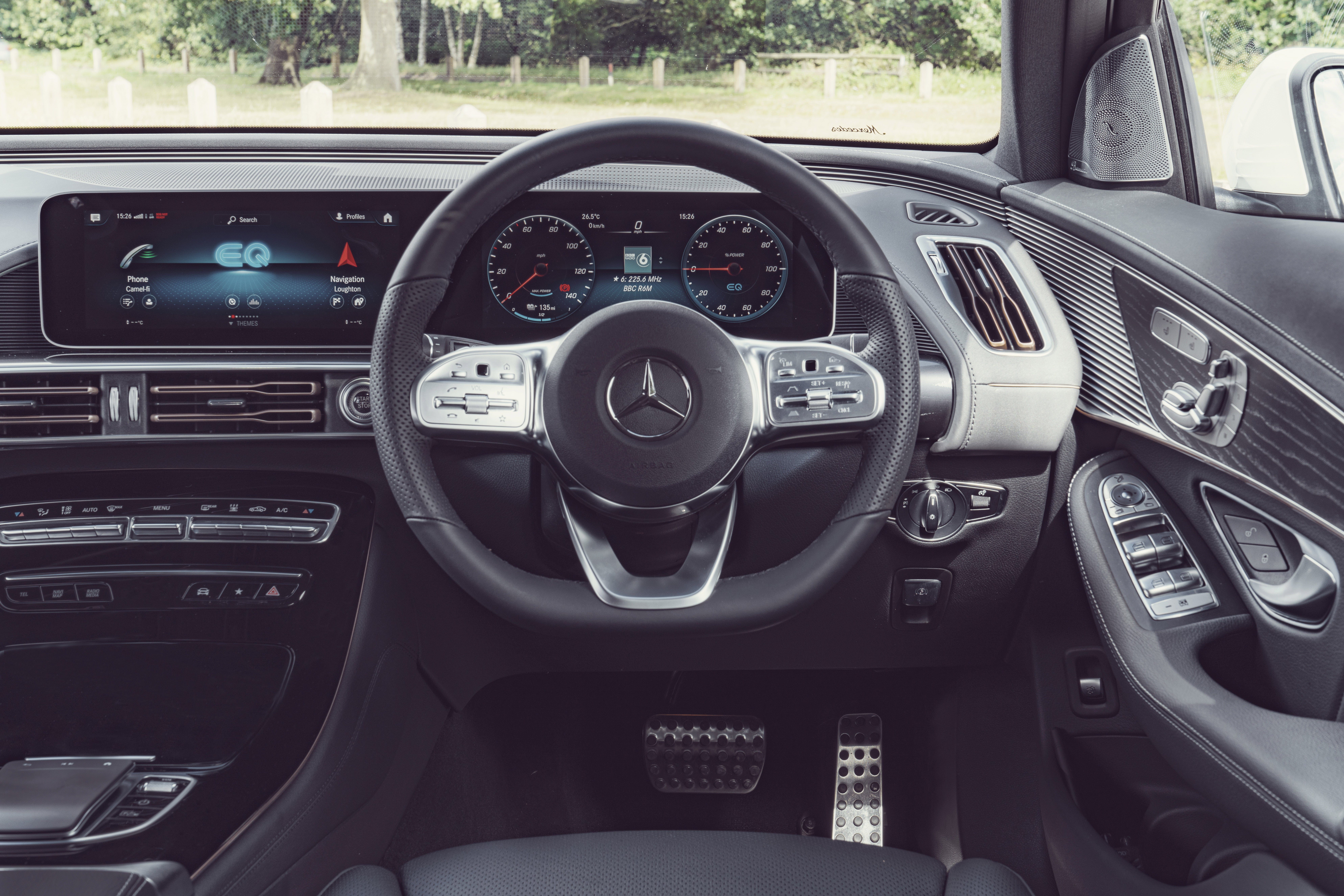 This helps give you a clear view out in most directions, although the chunkiness of the car's rear window pillars mean your over-the-shoulder view isn't quite as clear as it might be. All adjustment for the driver's seat is electric, making it very easy to fine-tune your seating position, and the chairs are comfy and supportive, too.
The dashboard of the Mercedes-Benz EQC is dominated by the two digital screens that we'll discuss below in the Infotainment section below, but it's good that the air-con controls are physical buttons that are separate from the infotainment system. It means you can make minor adjustments without having to scroll through a dizzying number of menus. However, the multi-function steering wheel is peppered with loads of buttons and switches, and the sheer number of them means it's tricky to remember what everything does.
Quality and finish
A luxury SUV needs to deliver a posh, sophisticated environment for its occupants, and in that regard, you won't be disappointed by the Mercedes-Benz EQC. In the entry-level Sport model, the seats are upholstered with a (very convincing) man-made leather substitute, while the other versions all get genuine leather.
All versions, meanwhile, get a dashboard that's wrapped in the synthetic stuff, along with plenty of polished metal finishes and glossy black panelling. It all looks and feels impressively high-grade, while those infotainment screens inject a high-tech feel, too.
If you're really splitting hairs, though, the GLE's interior doesn't feel quite as solid or substantial as the Audi e-tron's, because pokes and prods of various bits and pieces result in a few more creaks and flexes. That said, the EQC is still a sight better than the Jaguar I-Pace on build quality, and it absolutely crucifies the Tesla Model X in that regard.
Infotainment: Touchscreen, USB, nav and stereo in the Mercedes-Benz EQC
Just like in many other modern Mercs, the EQC's cabin is dominated by two glass-fronted 10.3-inch screens that are mounted side-by-side in front of the driver. These take most of the car's various functions, plus the information that would usually be presented on traditional analogue instruments, and delivers them all in one integrated unit.
The system is controlled by tapping and swiping the left-hand screen, or via a touchpad and shortcut buttons located between the front seats. The graphics are sharp and the menus have a logical layout, so despite the system being complex and having lots of functionality, it's actually pretty easy to find your way around.
The touchpad controller is a bit imprecise on the Mercedes-Benz EQC - and therefore distracting - to use on the move, though. However, you can also operate the system via a sophisticated voice control system that's designed to recognise natural speech rather than specific commands, and happily, it works well.
Most of the infotainment functionality you'd expect is supported on all EQCs, including DAB radio, sat-nav, Bluetooth and a whole bunch of connected services.
However, we reckon it's a bit cheeky of Mercedes that Apple CarPlay and Android Auto aren't included on the two most basic versions, and you have to upgrade to pricey AMG Line Premium trim to get them. Doing so also brings a wireless phone charging plate, a Burmester surround sound audio system and augmented reality for your sat-nav.
This overlays instruction graphics over a camera image of the road ahead of you, pointing out precisely where you need to go. It looks really cool, and it's also really handy.
Space and practicality: Mercedes-Benz EQC boot space
We've been comparing the Mercedes-Benz EQC with other premium electric SUVs such as the Audi e-tron, Jaguar I-Pace and Tesla Model X, but while these cars are all fairly similar in principle, they're actually rather different in size. The Mercedes-Benz EQC measuring 4762mm long and 1884mm wide, making it smaller than the e-tron and about the same size as the I-Pace. That means marked differences in the amount of space they provide.
If you find yourself in the front of the EQC, you'll have no shortage of space. Not unless you live at the top of a beanstalk, anyway. If you find yourself relegated to the rear seats, though, you'll find things rather more restricted. Don't worry, most adult passengers will be fine, even fairly tall ones.
But you have much less room that you will in the Audi e-tron and Tesla Model X, and a bit less than in the Jaguar. However, while head- and legroom are tighter, the Merc is actually better than the Jaguar I-Pace at seating three across the rear bench thanks to its wider cabin, and a pair of bulky child seats will fit easily.
Yes, the Tesla trounces the rest for overall practicality and versatility thanks to its seven seats and roomier cabin, but it is considerably bigger and more expensive than the others. Judged in isolation, the Mercedes EQC has a very decent 500-litre boot with enough space for a double buggy and a few soft bags.
Granted, the space is a bit shallow, but it's a good square shape and there's no load lip that you'll need to lug heavy items over. If you're after ultimate capacity, though, both the Audi e-tron and the Jaguar I-Pace give you more.
The Mercedes EQC comes with folding rear seats as standard, and they're split in a 40-20-40 arrangement for increased versatility. Dropping them is a doddle, too. Simply pull a catch and the spring-loaded seatbacks fling down quickly and easily, leaving a perfectly flat and flush load area. This increases the EQC's boot capacity to 1060 litres.
Handling and ride quality: What is the Mercedes-Benz EQC like to drive?
"Driven gently on your average road, the Mercedes-Benz EQC behaves quite well. The suspension is set up on the softer side of things, so it smothers small lumps and bumps pretty effectively, while the light-yet-precise steering makes life even easier when pootling around town. It feels stable and assured at a steady motorway cruise, too."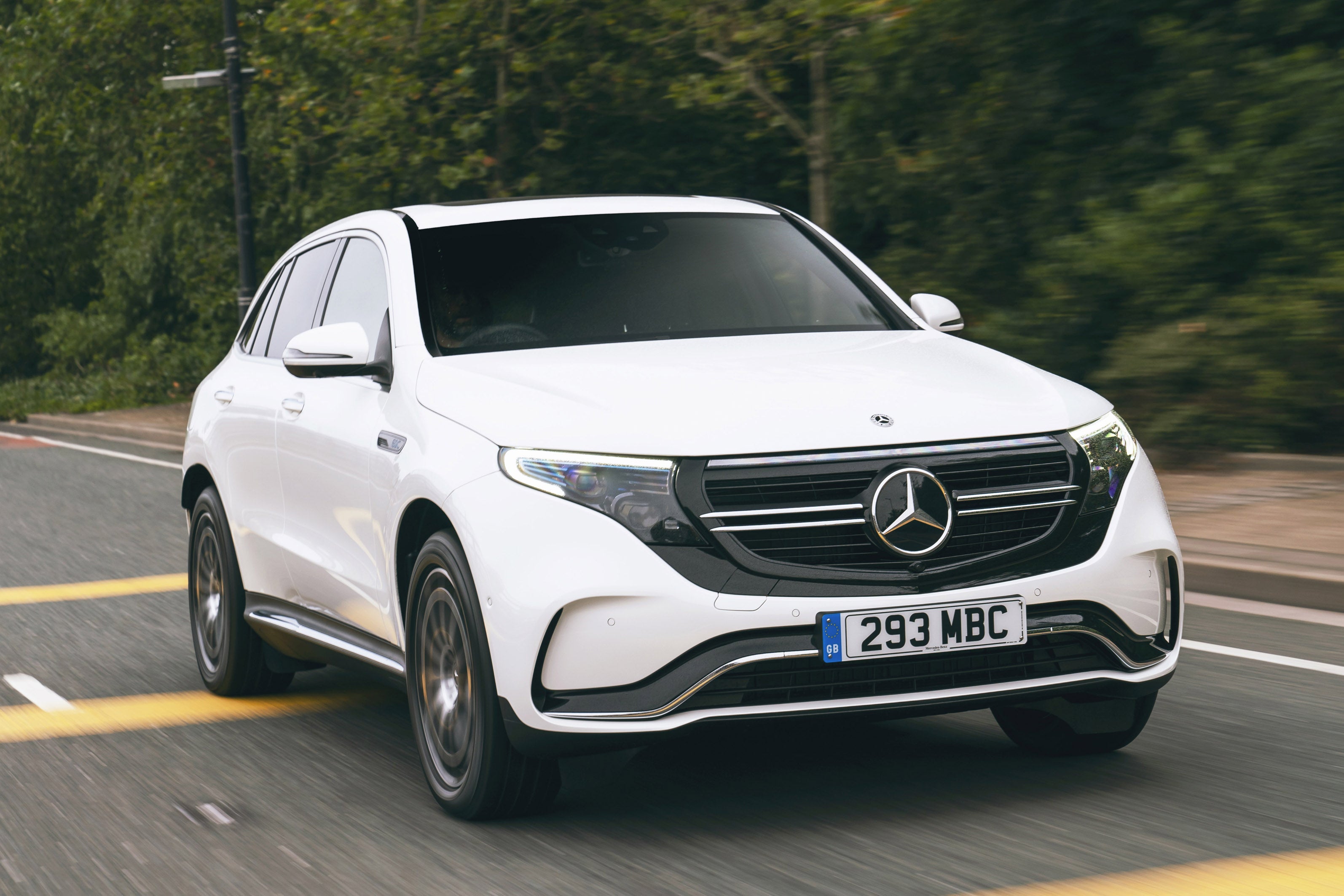 Things become a little different when the road - or your driving - become a bit more ragged, though. On rougher surfaces, with bigger bumps and potholes, the suspension starts to thump a little more, and the soft setup causes the body to bounce around more, which can get a little irritating.
Find yourself on an undulating country road with the Mercedes-Benz EQC, and things can feel even wobblier. And, if you try and hustle the car along in any way, it quickly starts to protest.
The cocktail of tall bodywork, soft suspension and considerable weight means this isn't a car that enjoys changing direction in a hurry. You'll find that it leans over more than a Jaguar I-Pace, and runs out of grip earlier, while the steering doesn't give you as much information, either.
What engines and gearboxes are available in the Mercedes-Benz EQC?
There's no dizzying choice when it comes to power for your Mercedes-Benz EQC. All versions are electric, obviously, and all have exactly the same output. And, it's quite an output, too. It's twin electric motors combine to produce 408PS, and there's torque of 760NM, and because the EQC is electric, this full torque figure is available the very instant that the motors start spinning.
So, despite this car weighing in at two-and-a-half-tonnes, the Mercedes-Benz EQC will still charge (geddit?) from 0-62mph in just 5.1 seconds. Most hot hatches won't match that, and more pertinently, neither will the Audi E-Tron. Other rivals, such as the Jaguar I-Pace and Tesla Model X, are faster still, but that's likely to make zero difference to your buying decision, as drag races usually sit fairly low down on the average EV buyer's to-do list.
The Mercedes-Benz EQC picks up speed on the move as strongly as it does from a standstill, and because there's no gearbox (it's just a single gear), the power delivery is smooth and uninterrupted.
Maximum EV range in the Mercedes-Benz EQC
The official WLTP figures suggest that the Mercedes-Benz EQC should be able to achieve up to 256 miles on a full charge of the batteries. However, these are figures gleaned from laboratory tests rather than in the real world, so that's not a figure you should ever be relying on in everyday life.
In perfect conditions (warm weather, no traffic, constant running, etc), we reckon you can expect a maximum of around 200-220 miles, but if your journey involves lots of stopping and starting, or the ambient temperature is considerably colder (as it often is during a harsh UK winter), then you'll get a lot less, maybe 150 miles.
Refinement and noise levels
This is an area in which Mercs often excel, so it's little surprise that the EQC has the edge here on pretty much all its rivals. You hear barely any whine from the motors as you pick up - or scrub off - speed, and even at motorway speeds, there's barely any tyre noise and just the merest lick of wind noise.
This is a quiet car even by the high standards of electric cars, let alone those raucous combustion-engined contraptions. It's a fraction disappointing, then, the suspension on the Mercedes-Benz EQC doesn't finish the job better. It may be because there's so little other noise kicking around to drown it out, but you can hear it knocking and thudding away as it deals with bumps.
Safety equipment: How safe is the Mercedes-Benz EQC?
Most versions of the Mercedes-Benz EQC get exactly the same suite of safety systems. The package includes a respectable collection of airbags, various traction and stability aids, automatic emergency braking, lane departure warning, a blind spot monitor and a self-parking function with rear-view camera.
Upgrade to the range-topping Mercedes-Benz EQC AMG Line Premium Plus, and you also get a head-up display and a 360-degree parking camera. No version gets a spare wheel, though: you have to make do with a sealant kit.
Various other pieces of clever safety kit are available, including a suite that effectively allows the car to drive itself under certain circumstances, but these are bundled up into an option pack that new car buyers have to pay extra for on all versions. The EQC has been crash-tested by Euro NCAP, and achieved the full five stars.
Charging times: How much does it cost to charge the Mercedes-Benz EQC?
"We'd never recommend trying to charge your high-capacity electric car from a regular three-pin domestic socket for fear of frying your home's circuits, but even if you did try, a full charge would take upwards of 40 hours for the Mercedes-Benz EQC, which is rather ludicrous."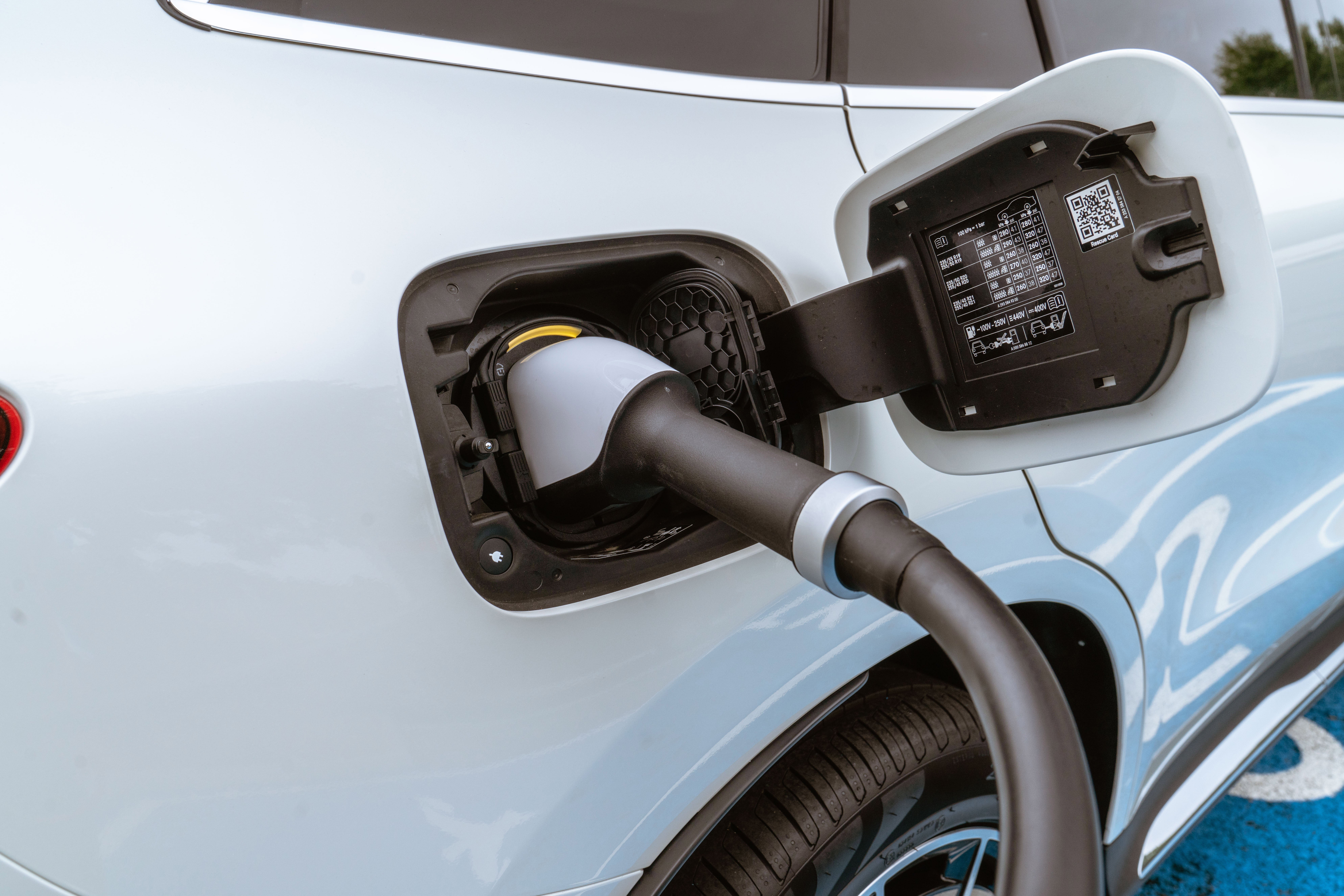 Most owners will install a 7kW wallbox charger, which will do the job in a much more palatable 11 hours. And if you do it overnight (which you probably will) when electricity is cheaper, that's likely to cost you less than a fiver.
Meanwhile, most public DC rapid chargers will boost your battery's charge from 10% to 80% in around 40 minutes, and because the EQC uses the CCS (Combined Charging System) socket standard, it's compatible with most connector types currently in circulation. For AC charging, a four-metre Type 2 cable is provided as standard.
How reliable is the Mercedes-Benz EQC?
As is the case with a lot of other electric cars right now, the Mercedes-Benz EQC is still pretty new, so it's tough to make an accurate judgment on its reliability at the moment. That said, electric cars tend to be very reliable overall as they have fewer moving parts than petrol or diesel-engined cars. For peace of mind though, the Mercedes EQC comes with a three-year/unlimited mileage warranty and an eight-year/100,000-mile warranty for the battery.
Insurance groups and costs
For those not in the know, insurance groupings for cars range between 1 and 50, with cars sitting in group 1 being the cheapest to insure, and cars sitting in group 50 being the most expensive.
But while choosing an EV saves you cash in a number of areas, insurance isn't one of them. All versions of the EQC sit in group 50, so premiums will be considerable. It's the same deal for the car's rivals though, and if you can afford to buy an EQC, you can probably afford to insure it, too. You might find our guide to the cheapest Mercedes models to insure if the EQC is a bit much for you.
VED car tax: What is the annual road tax on a Mercedes-Benz EQC?
Usually, used car buyers can feel smug about side-stepping the hefty first-year VED charge, or 'showroom tax', that new car buyers have to pay. But not so with the EQC. Because it's electric, there isn't one. From then on, between years two and six of the car's life, you'll pay a flat rate of precisely zero for VED by virtue of the Mercedes EQC being an emissions-free EV. However, because new prices started at more than £40,000, you will have to pay a £325 surcharge each year doing that period. After that, though, your annual payments drop to nowt.
Company car drivers, meanwhile, paid tax on 16% of the car's value during the 2019-2020 tax year, but that dropped to 0% for 2020-2021, and then will raise only 1% per year for the following two years, meaning company car tax will either be nothing or next-to-nothing.
How much should you be paying for a used Mercedes-Benz EQC?
"At the time of writing, prices for brand new EQCs kicked off at just over £65,000 and topped out at just over £74,000. Compare those with equivalent prices for the Audi E-Tron and Jaguar I-Pace, and they're broadly pretty similar, although all three of those cars are considerably cheaper (well, less expensive) than the (admittedly a lot bigger) Tesla Model X."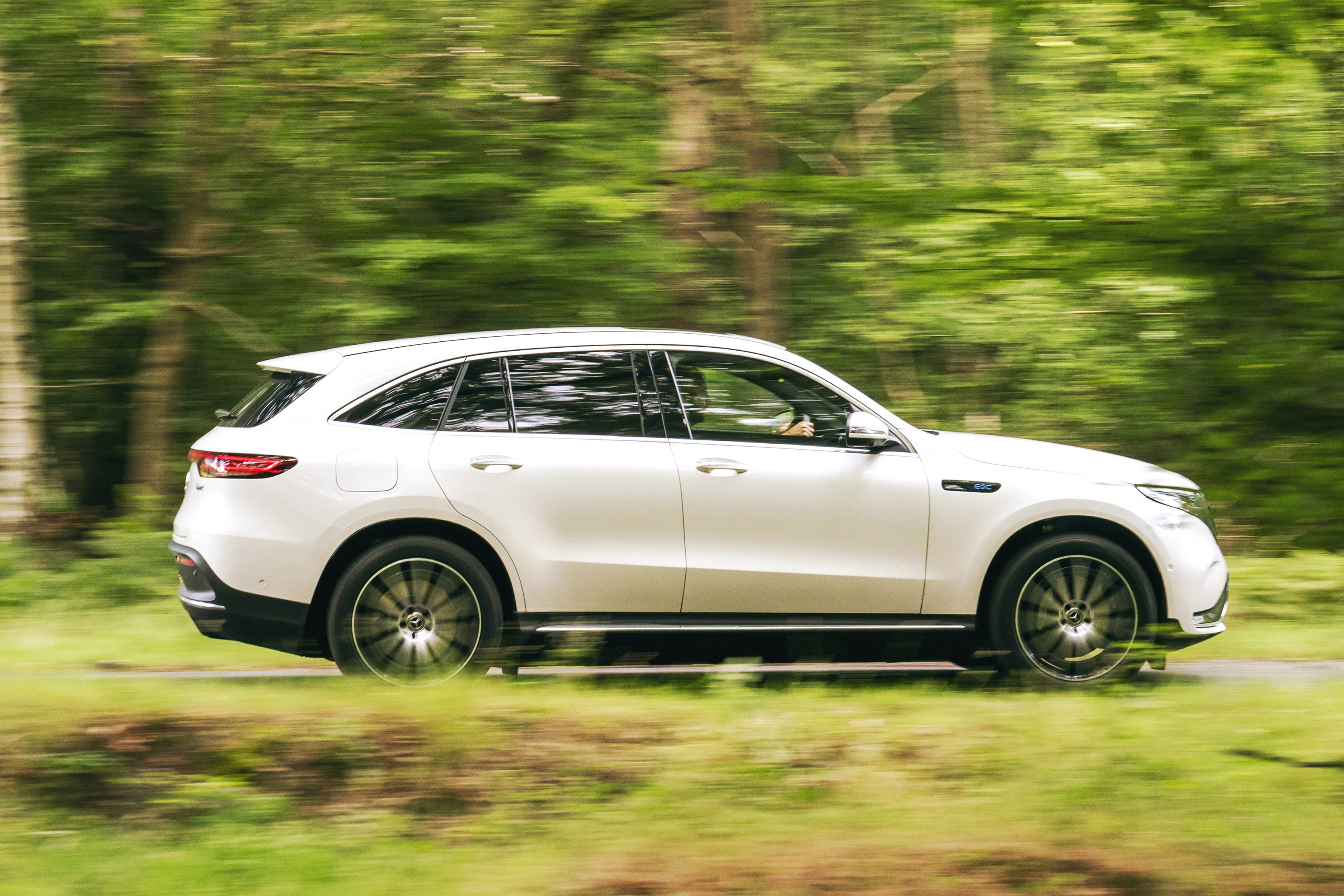 Looking at the resale values for the various cars, it looks like the EQC, e-tron and I-Pace all depreciate at a similar rate, meaning prices for used examples should also be much-of-a-muchness. The Tesla, meanwhile, suffers heavier depreciation than any of them, so despite costing much more originally, prices won't be all that dissimilar after three or four years.
Having only been released in 2019, prices for the Mercedes EQC haven't had enough time to come down by all that much yet. However, we've seen a few nice pre-reg examples knocking about with only a handful of miles on the clock, available for a very tidy discount against the new price.
Trim levels and standard equipment
The Mercedes EQC's trim structure kicks off with the Sport model, and this provides a decent amount of kit including keyless go, climate control, cruise control, a powered tailgate, heated leather-effect seats and ambient lighting in 64 colours. AMG Line is next up, but aside front sportier styling touches, all this really adds is genuine leather upholstery, and it has to be said that the fake stuff in the Sport is actually pretty convincing.
The AMG Line Premium version is probably the one we'd opt for if only for the extra infotainment kit (see Infotainment section), but it also adds an electrically sliding sunroof. And, aside from the head-up display and 360-degree camera already mentioned, all that AMG Line Premium Plus trim gives you is a memory package for your electric seats.
Ask the heycar experts:
common questions
What's the price of the Mercedes EQC?
Currently, prices start at £66,405 for a Mercedes EQC 400 4MATIC Sport spec car, rising to £76,894.99 for the top-of-the-range EQC 400 4MATIC AMG Line Premium Plus model.

What's the electric range of the Mercedes EQC?
The Mercedes EQC has an official range of 255 miles, though in real world conditions this can be quite a bit less.

What are the dimensions of the Mercedes EQC?
The dimensions of the Mercedes EQC are 4762mm long, 1884mm wide and 1622mm high.

Mercedes-Benz EQC cars for sale on heycar
3,951
Number of cars available
£54K - £80K
Price bracket of these cars
Colours available on heycar
Keep me updated by email with the latest advice, news and offers from heycar
By submitting, you agree to our
privacy policy
.