Mercedes-Benz G-Class Review

Written by
heycar editorial team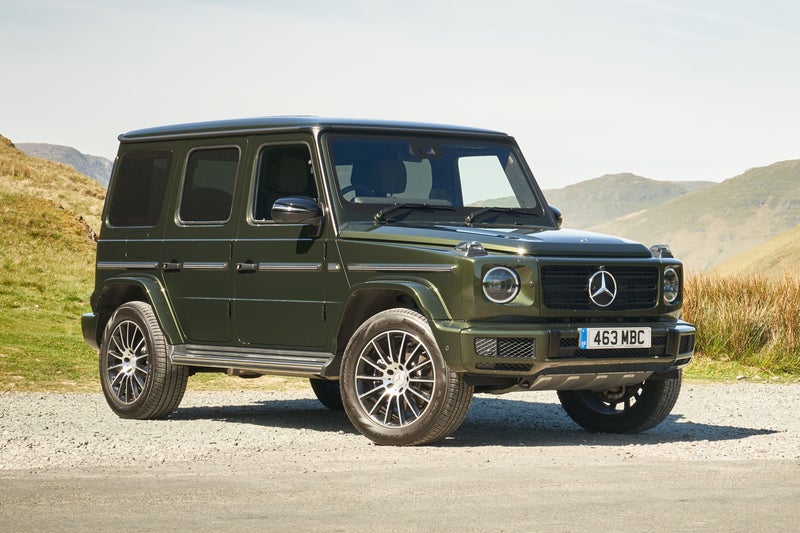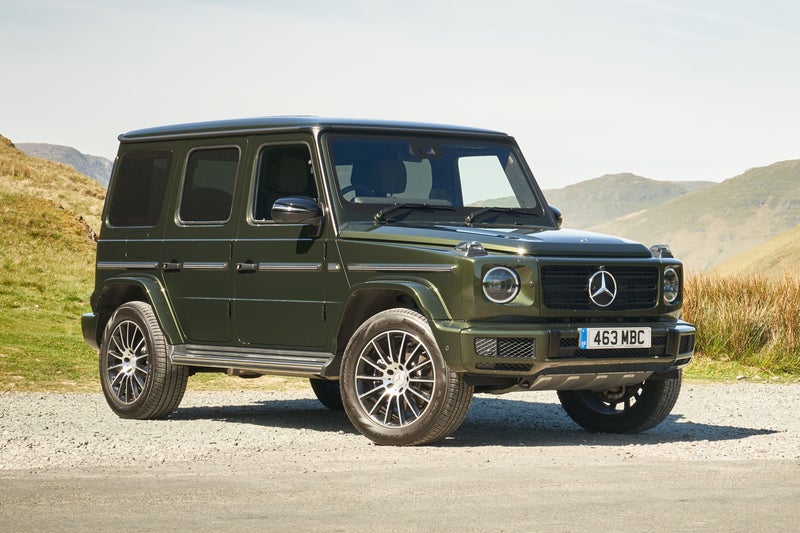 1/10
heycar rating
" Old school SUV, digitally remastered "
Launched: 2018

SUV

Petrol, Diesel
Quick overview
Pros
Huge charm and appeal from its old-style looks
It might look old, but it is bang up to date underneath that body, and inside
It now drives properly, which makes it capable rather than scary, particularly the G63
Cons
Yes, it no longer feels like it's going to kill you, but it is still a ladder chassis underneath there
It only seats five, there being no additional seats in its huge boot
It will cost a fortune to run it, but it's unlikely you'll care
Overall verdict
On the inside
Driving
Cost to run
Prices and Specs
Overall verdict
"The G-Class is an icon that Mercedes-Benz could have ruined with its clean sheet re-engineering and re-design for 2018, but it didn't. It is an incredible vehicle, looking to all intents and purposes like the car that preceded it for many decades, but being all new. It now drives properly, yet it retains all the appeal of its predecessor. We want one."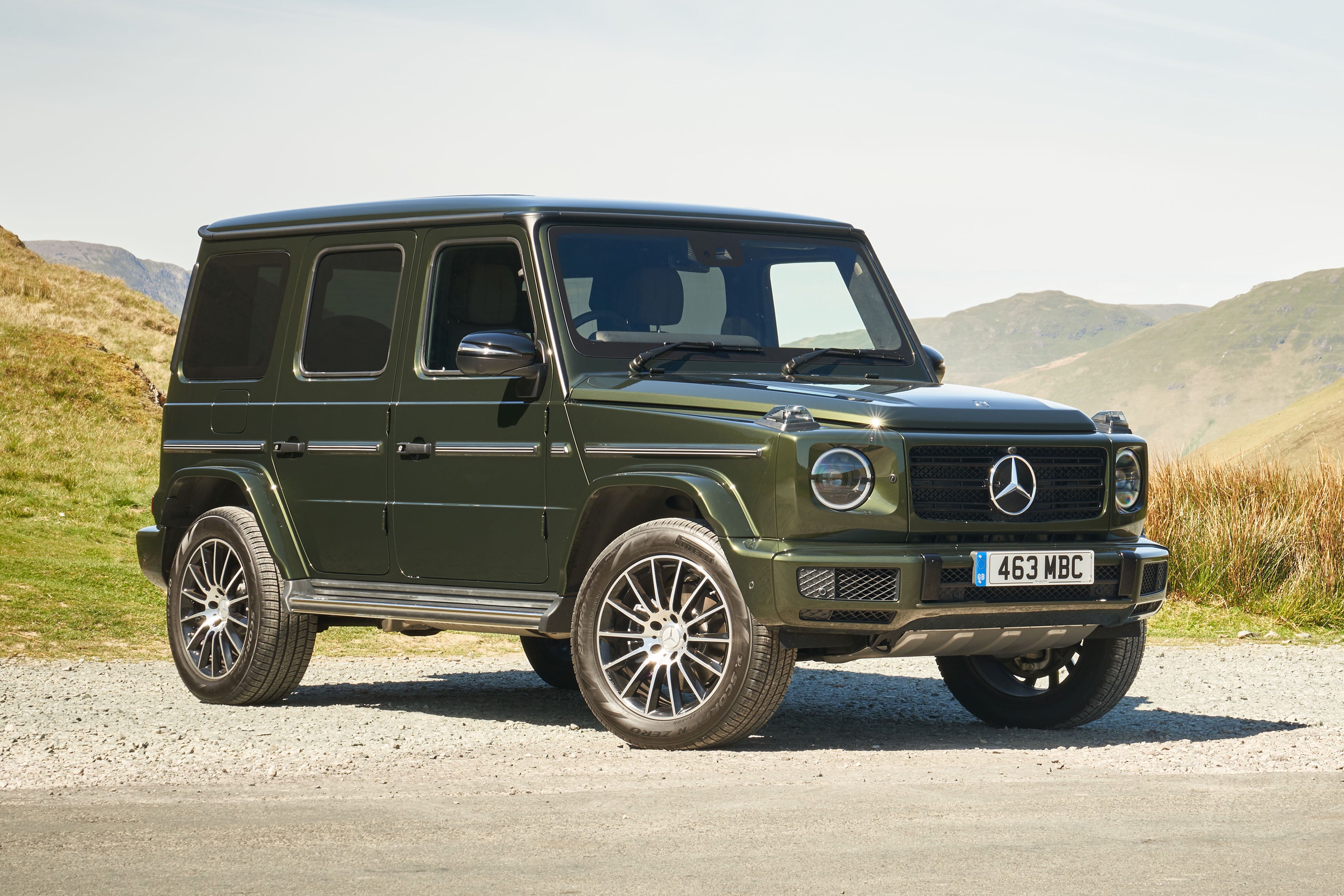 "You might think we're being disingenuous saying the Mercedes-Benz G-Class was introduced in 2018, you just need to look at its styling to suggest it wasn't. The original is much older, the G-Class, also known as G-Wagen is able to trace its roots back to late 1970s.
2018 was the year that Mercedes-Benz finally decided time was up for the G-Class, and replaced it. And what do you replace a 40+ year old iconic model with? Another, that looks exactly the same. The lengths the company went to do so are extraordinary, saving antiquated details like exposed door hinges, labouring for ages to produce wing-topping indicators that would pass modern crash regulations, and plenty more besides.
The result might look all but identical, but the current G-Class only carries over a handful of bits, and we mean a handful. The list includes just the headlight washer nozzles, the sun visors, the tow bar, spare wheel cover and the button for opening the door.
They sweated over that button, and the noise it makes when the door opens and shuts, Mercedes-Benz knowing to mess with the G-Class formula would be potentially ruinous to the G-Class's unique, and enduring appeal.
They pitched it exactly right though, with the new G-Class there's all the charm of the original, but with some expectation of a good drive.
They've achieved this too, all while retaining its incredible off-road capability, the G in G-Class standing for 'Gelandenwagen' which roughly translates to terrain vehicle, the original being developed as a working vehicle and for the military.
Sure, these days, that 'terrain' is more likely to be the carpark around the back of Harrods, under an apartment in Monaco or nothing more challenging than a steep driveway in Beverly Hills, but that it can still take on the G-Class's long-standing test route around the Schockl Mountain in Austria, underlines Mercedes-Benz's commitment to the G-Class's off-road legacy. It's certainly one of the best 4x4s going.
In the UK there are two engine choices, a 3.0-litre 6-cylinder diesel badged G350 d, and the Mercedes-AMG G63, it having an off-road developed version of the 4.0-litre twin turbo V8 that also sees service in cars like AMG's GT R and GT R PRO. Amusing madness, as a 585PS V8 in a vehicle that retains a ladder chassis shouldn't work, but Mercedes-Benz's band of G-Class obsessed engineers have somehow managed to make it do so.
Inside it's luxurious, and the touchscreen tech would have been the stuff of science fiction back when the original G-Class was introduced in the 1970s.
SUVs get a bad rep, and perhaps justifiably so, but the G-Class seems to be impervious to this, its ancient, boxy looks are charming, its retained ability somehow vindication of its existence. It's the ultimate SUV subterfuge, and incredibly appealing too, assuming you can afford it, as even that diesel will be knocking on £100,000 with a couple of options added, and the G63 adds around 50% on top of that.
In another 40 years we'll probably not be allowed vehicles like the G-Class, enjoy it while you can.
Is the Mercedes-Benz G-Class right for you?
Nobody, and we mean absolutely nobody, really needs a twin turbo powered V8 petrol SUV with 585PS, side exiting exhausts and the breadth of ability that'll allow it to both climb up mountains and blast down autobahns at ridiculous speeds.
Just because you don't need it, doesn't mean you don't want it. While we could all argue that the G-Class shouldn't exist, the sales figures underline that it should. We're unapologetic here in liking it, it's no less ridiculous than the supercars it so often shares company with, in concept though, we do concede that the G63 is more than a little bit silly.
The G350 d is the best one to have, if only to save you from stopping to fuel it up quite so often. What's the saying though? If you're going to be a bear, be a grizzly, and the G63 is the grizzly, and some. Do it.
What's the best Mercedes-Benz G-Class model/engine to choose?
The best, or the one you want? Quantifiably, the G350 d is the best G-Class, as it's the most faithful to the original's concept. The AMG has to concede to its diesel relation off-road (only a bit, though) thanks to suspension designed to help it contain its huge power, and the consumption is a bit punishing, even for those with pockets deeper than the Mariana Trench. In truth, as much as we, and many buyers, are seduced by the lunacy of the G63, it's the G350 d that's the one to have.
In truth, the G350 d is quick enough, 7.4 seconds to 62mph is plenty fast in something this size and weight, and it'll tow better, go further off-road, carry more and be a little bit easier to justify should the environmental activists, or your conscience, come knocking. Oh, go on, just by the G63 and go and enjoy it, you've worked hard for this.
What other cars are similar to the Mercedes-Benz G-Class?
The most obvious rival to the G-Class is Land Rover's Range Rover, which also has a rich off-road heritage and retained ability, even if it's unlikely ever to require it as it's morphed through time, convincingly, into a luxury vehicle.
Other big premium SUVs include BMW's X7, Audi's Q8 and a host of others, but none, not even that Range Rover, exude the sort of old-school charm, yet breadth of ability of the G-Class. You could pitch the new Land Rover Defender against the G-Class, but its renewal, while impressive, doesn't come close to the G-Class' abundant cool, though, likewise, neither does the Brit's price tag.
Comfort and design
"The seats are hugely comfortable and offer loads of adjustment, and they're heated both in the front and the back – not for any fifth, middle seat passenger, though."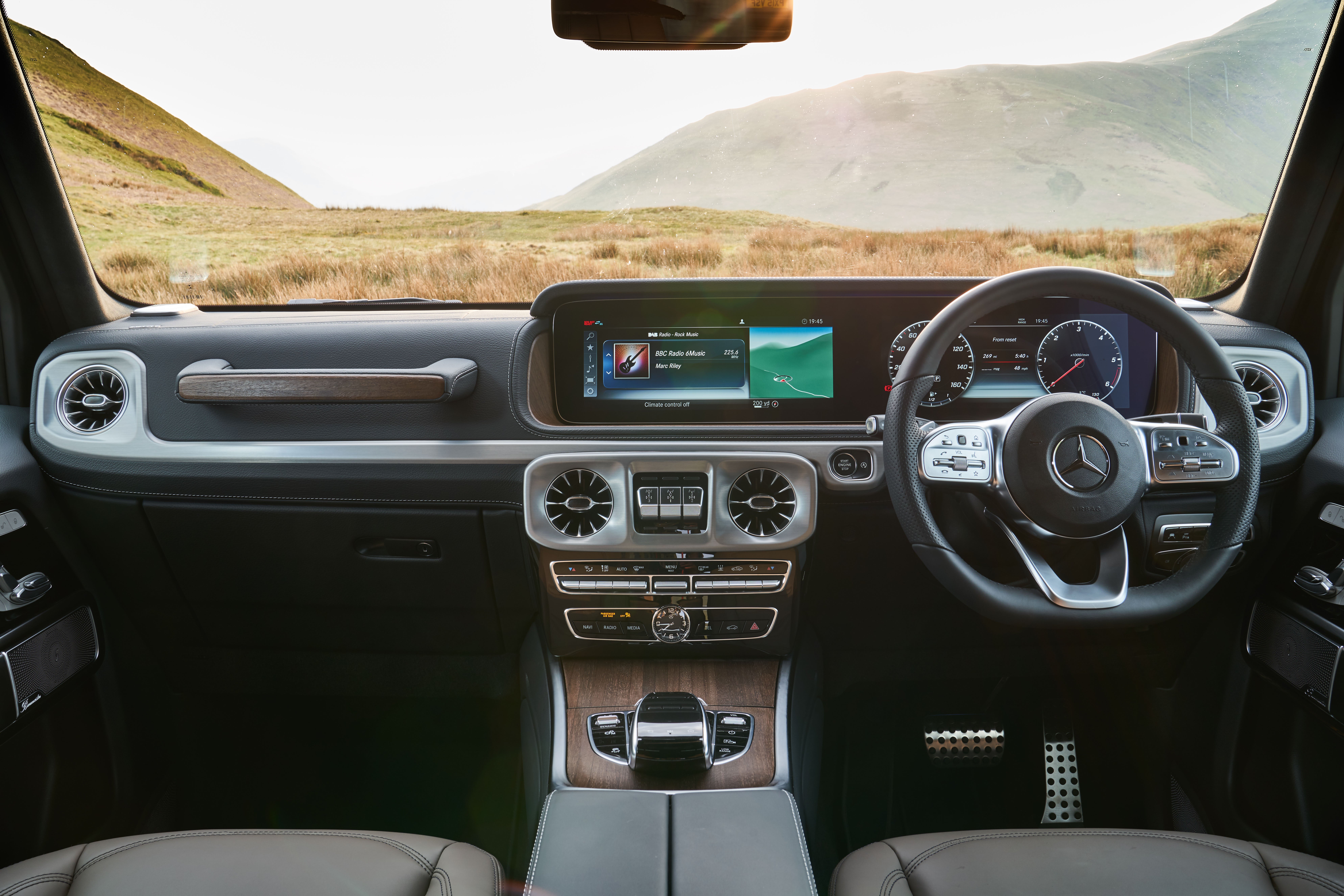 The front seats are fully electrically adjustable, as is the steering wheel column, these having a memory function to retain your preferred driving position.
There's three-zone climate control, those zones being the driver, passenger and rear passengers so you can set your preferred individual temperatures. If you're parking it outside your ski chalet, then option the Winter Package, which adds an auxiliary heater and heated windscreen for a toasty interior and clear view as soon as you get in it on the hunt for fresh powder...
Ambient lighting in the G350 d gives a choice of 8 interior colours, and the AMG's increases the offering to 64 choices, so if your kids want the interior of your car's ambient lighting to match Princess Poppy's hair then you'll be able to do just that.
The design, like the exterior is heavily influenced by the previous G-Class, so forget swooping flowing surfaces here, it's a bit more blocky and upright in there, and no less appealing because of that.
That clear functionality is a huge part of its draw, in fact, Mercedes-Benz even go so far as offering the opportunity to have conventional dials in front of you instead of a digital screen – depending on the market – for the most hardcore traditionalists out there. We are certain that nobody does this, and it'll quietly be dropped in time.
Quality and Finish
The G-Class is at the very top of Mercedes-Benz's model series, attracting the sort of buyers who lost count of the zeros on their bank balances many decades previously, and who are used to having exactly what they want. Given its relative volume then, the level of personalisation on offer is remarkable, Mercedes-Benz offering a huge number of trim choices to suit all tastes, and budgets.
It's all finished very well inside, too, the odd bit of cheap plastic, sitting uncomfortably in the cabin of something like an AMG GT or S-Class from elsewhere in the Mercedes-Benz range, a seemingly forgivable reminder of the G-Class's off-road, utilitarian backstory schtick. After all, the G-Class is the automobile equivalent of a self-made person, its working-class, practical background having made way for luxury and indulgence, all while not forgetting its roots.
There's an IWC clock in the dash of the AMG, it too getting a slightly more 'sporting' look inside. This basically means the bottom of the steering wheel has been flattened and a has fussier design, but regardless of model, it all feels like it'll last forever, which is entirely in keeping with the G-Class's tough image.
Infotainment
Given its looks you might rightfully expect a cassette player inside in a DIN slot, but the G-Class doesn't take its retro-looking theme so far as to rob buyers of modern conveniences and entertainment. Quite the opposite indeed, the interior puts many of its SUV contemporaries to shame when it comes to infotainment, and its operation.
There's a huge 12.3-inch screen spanning a good portion of the top of the dashboard, containing Mercedes-Benz's COMAND Online system, which is controlled either by touch pads and buttons on the busy steering wheel, or a touch pad with rotary controller – the G-Class, so far, escaping Merc's replacement of this useful, useable controller with a proper, and less good, touchpad.
There's DAB, Apple CarPlay and Android Auto connectivity, Mercedes me services for three years (a subscription required afterwards) and Sat Nav all as standard. The G63 adds a Burmester sound system over the standard one in the G350 d. Optional packages add rear-seat entertainment and more, should you need it.
Space and Practicality
With its replacement in 2018 came some necessary dimension changes – for crash protection – and another, a 40mm stretch in the cabin and a 121mm increase in width, as staying faithful to the original's would have been unnecessarily compromising inside.
There's loads of space and comfort in the front, helped enormously by the upright glass all around you and there's a decent, if still not overly generous, amount of space in the back, that 40mm stretch adding a bit of legroom in there, the increased width adding some shoulder room, too.
With utilitarian roots there's decent storage in the cabin too, with a deep twin-lidded box between the driver and passenger; removable double cup holder in the centre console; bottle holders in the door pockets, and map pockets (despite standard sat nav) on the back of the front seats. Need somewhere for your sunglasses? Leave a pair in the handy pop-down stowage compartment above the rear-view mirror. There are 12 volt sockets in the centre console, the rear and the load compartment, too.
That load compartment is accessed via a side-opening door with the spare wheel hanging off it. Despite its weight it opens and closes easily, all with the satisfying old thunk you'd recognise from the old G-Class.
The boot inside is 667 litres with the seats in position, or 1,246 litres if you drop the rear seats – these doing so in a one third/two thirds manner, though do leave a set in the floor. The space is very boxy, meaning it's hugely useful, only the relatively narrow opening limiting what you might be able to get in there.
It'll tow, a lot, and quickly in the case of the AMG model, it able to haul an unbraked trailer of up to 750kg, the braked trailer capacity being 3500kg, the ESP (Electronic Stability Program) recognising when a trailer's hooked up to the G-Class and firing up the trailer stabilisation mode from its files.
That towbar is standard on all. Add the ability to hang bikes, boats, boards and boxes via a variety of Mercedes-Benz and other, supplied accessories and it's about as practical as you could ask for. It's little surprise that the G-Class is so often spotted as a chase vehicle for baggage and friends who can't squeeze into their pal's super and hypercars.
Handling and ride quality
"If you've traded in your old G-Class for this new one it'll be revelatory. The old car was as vague and imprecise a vehicle as you could ever attempt to drive, somehow managing to deliver a bone-shaking ride, with responses so dim-witted that you'd swear it had four flat tyres."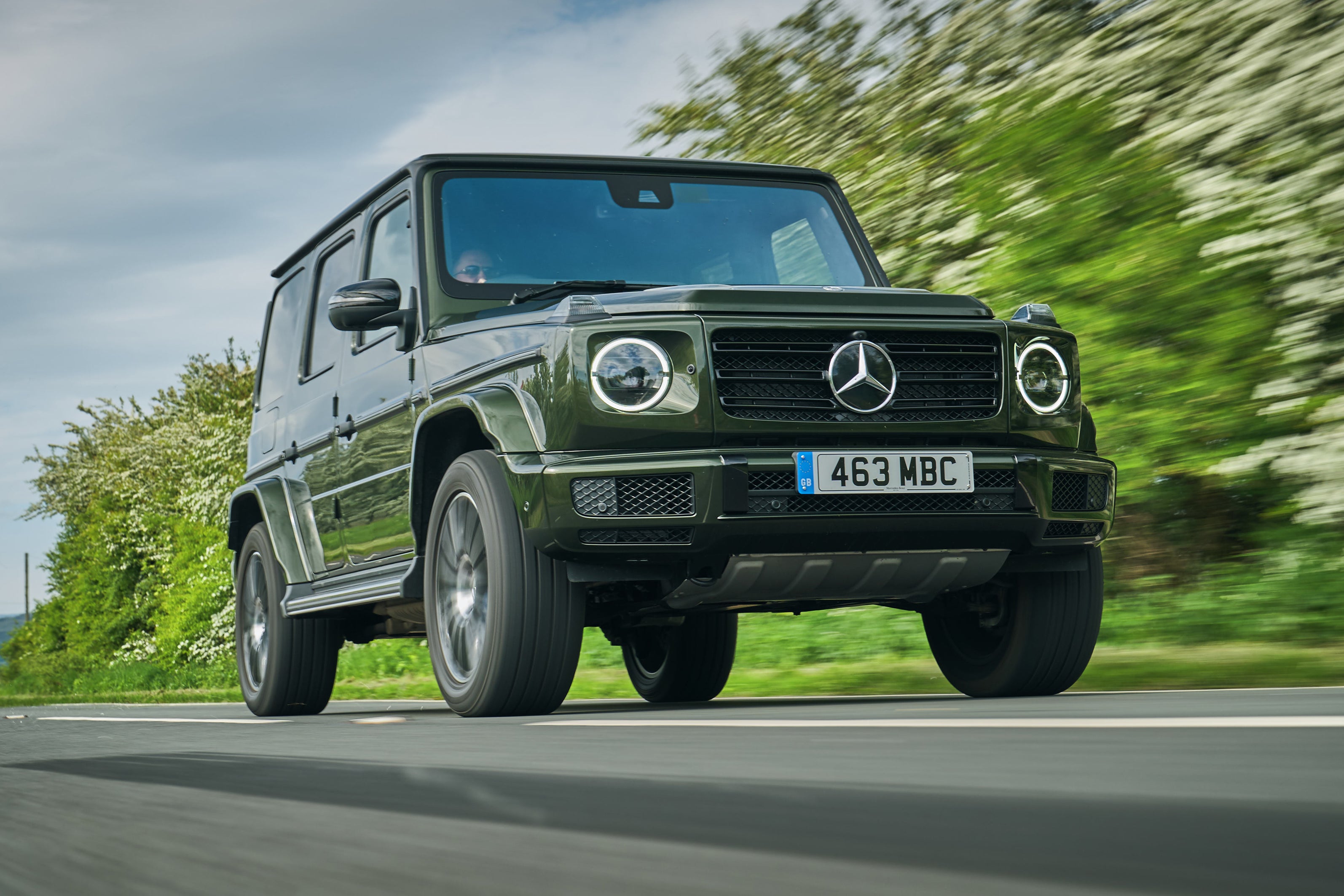 Forty plus years of chassis development has cured this. In the case of the G-Class, even though it rides on a separate proper ladder frame underneath (all its rivals being 'unibody'), that frame is way stiffer than the old one, as is the largely aluminium body that resides on top of it.
The G350 d as standard has a passively damped suspension set up riding on double wishbone front and multi-link rear. Optionally, you can upgrade that to have adaptive damping adjustment, bundled in with the Premium line equipment option. It's not cheap at just shy of £6,000, but you do add that suspension as well as Burmester hifi, an electric sunroof and the useful 360 degree camera parking package.
The steering response might have improved, and the ride is acceptable – it being more cosseting on the smaller of the wheel choices, these spanning 20-22-inches in size.
Naturally, you'll have a tauter ride with the AMG, in any of its variable damping modes, but it's not so compromised over its G350 d alternative to really single it out for criticism. Yes, all ride and handle convincingly now.
Surprising, even, with their agility. Mercedes-Benz, and AMG's chassis people having worked some magic to achieve some agility here, despite the masses they're dealing with. It'll not keep up with those supercars it so often chases if the roads get really twisty, but it'll make a decent stab of it elsewhere, and, crucially, it's so much more stable and readable on the road, which makes driving it at any speed enjoyable, rather than the vague, and, frankly, terrifying, responses of the car it replaced.
Engines and gearboxes
Two engine choices for the UK, us British buyers denied what's arguably the best all-round G-Class the G500, with a slightly de-tuned version of the 4.0-litre twin turbo engine from the AMG.
Still, it's a small potential audience, and the G63's a big draw to many, the G350 d working at the other end of the spectrum. Choose that G350 d and you'll have chosen wisely, the in-line six-cylinder turbodiesel might not have the AMG's prodigious firepower, but with 286PS and 600Nm it's not short of performance. Indeed, 7.4 seconds to 62mph and a 124mph top speed should be enough for most.
Thing is though, is there such a thing as too much power? Evidently not at AMG, as not only has the hot-rodding department of Mercedes-Benz added its 4.0-litre twin turbo V8, but it's dropped in its most potent version of it.
That means 585PS and 850Nm of torque, all that power and twist allowing a quite ridiculous 4.5 second 0-62mph time. Both drive through 9-speed automatic transmissions, the AMG one specific to it, while the non-AMG model gets a G mode in its driving programmes for all the locking differentials and low range transfer box for the ultimate off-road ability.
The AMG's driving modes are more road-biased, or, at least, more focussed to help contain all that power. Top speed for the AMG is 137mph, but ask nicely, and pay for the AMG Driver's Package and that speed increases to 149mph.
Refinement and noise levels
It's shaped like a big shoebox, with another smaller one on top, they've deliberately kept things like exposed hinges on the external bodywork for an authentic classic look, flush bodywork not even a thing here.
That, inevitably, means there's a bit more wind noise than something that's been designed in the wind tunnel first, rather than chucked in it afterwards to try and sort out the noisiest aspects of its design. You just won't care, even if you're driving it from London to St Anton, as you can drown out any wind and road noise with the excellent stereo.
If noise levels really are a concern, the diesel's the better option, as it's not got such a boisterous engine (the AMG vocal, and having side-exit exhausts) but the sounds that V8 makes aren't exactly unwelcome.
Safety equipment
Mercedes-Benz's safety record is enviable, and the G's tough, but that hasn't stopped Mercedes chucking all manner of active and passive safety equipment at it. There's Active Brake Assist with proximity and collision warning, with autonomous braking when spotting pedestrians, vehicles and cyclists, ABS and Brake Assist Plus. The brakes even recognise when it's wet, priming the system and pulsing the discs dry for maximum stopping power.
Electronic stability and traction control systems help maintain control even in extreme situations, while there's Active Lane Keeping Assist for those lengthy trips to the Alps. Likewise, the Attention Assist system will alert you to your drowsiness on longer drives.
Pre-safe primes all the systems in the event of an impending impact, tightening seat belts, closing the sunroof and even adjusting the seat to the best position for the seat belts and airbags to work. The airbag count is high, with driver and passenger front, side and window bags, too. Tyre pressure monitoring, Traffic Sign Assist, and Isofix seat mounts, as well as the Driving Assist Package, which includes Blind Spot Assist and Active Distance Assist are all standard. That's a lot of Assists…
MPG and fuel costs
"Two engines, one which isn't worth talking about if parsimony is your goal, the other doing a decent enough job at economy given the performance and scale of the G-Class."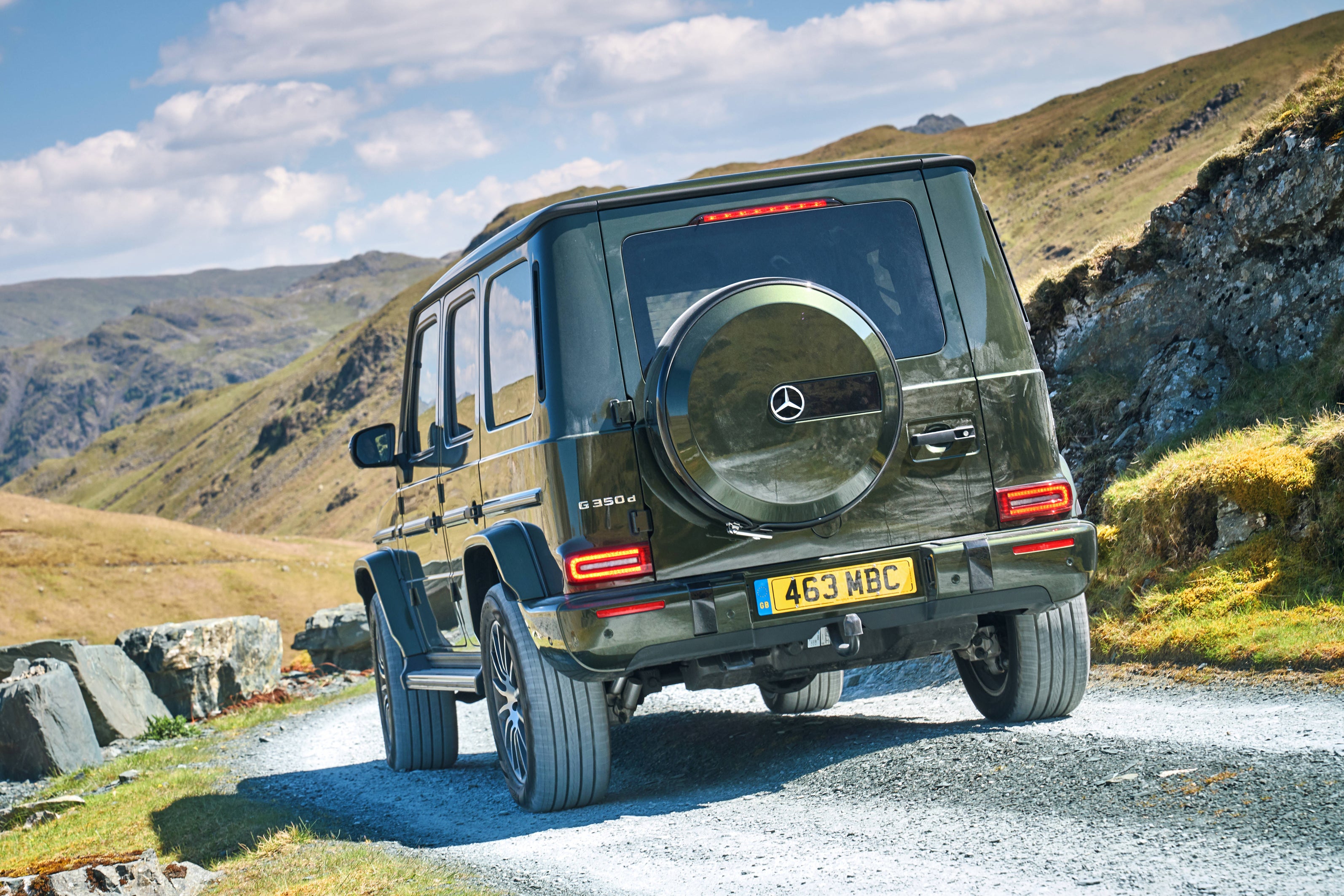 Let's have a laugh though, the G63 AMG recording an official WLTP measured combined consumption between 18.6 and 18.8mpg. There's hope if you don't want to stop so often, that being the 350 d, it having a combined consumption figure of 25.2-25.9mpg, so, better, but still pretty thirsty. Mercedes-Benz has let it slip that a hybrid version will be available sometime, but it's not a priority for now.
Insurance groups and costs
Group 50 for the AMG, and not much less for the G 350d. These are expensive cars to own and run, and insurance is no different. Given you'll be more than likely to have several other cars costing similar, and many multiples more, the costs of the G aren't likely to bother you, nor should they. Servicing isn't likely to be a worry, either, but Mercedes-Benz does offer both with a service plan, which spreads the cost of servicing with a monthly payment, it probably the best £44 a month you'll spend.
VED car tax
The 299g/km of the AMG put it significantly in the 255g/km Band M top rating which means a not insubstantial £2,135 for your first year of road tax, while it'll cost you £465 a year for the following five years. After that it'll be a bit more palatable, on the standard VED rate. The G350 d sneaks in, just with 252g/km, that putting it in Band L, so it should cost less, but it's not RED2 compliant, you'll need to pay the same tax as that AMG V8, regardless. Diesel...
How much should you be paying for a used Mercedes-Benz G-Class?
"You can pay as much as £100,000 (and more) over the £150,000 list price for a used G-Class if you're doing so from a tuner like Brabus, but that's a niche within a niche marketplace."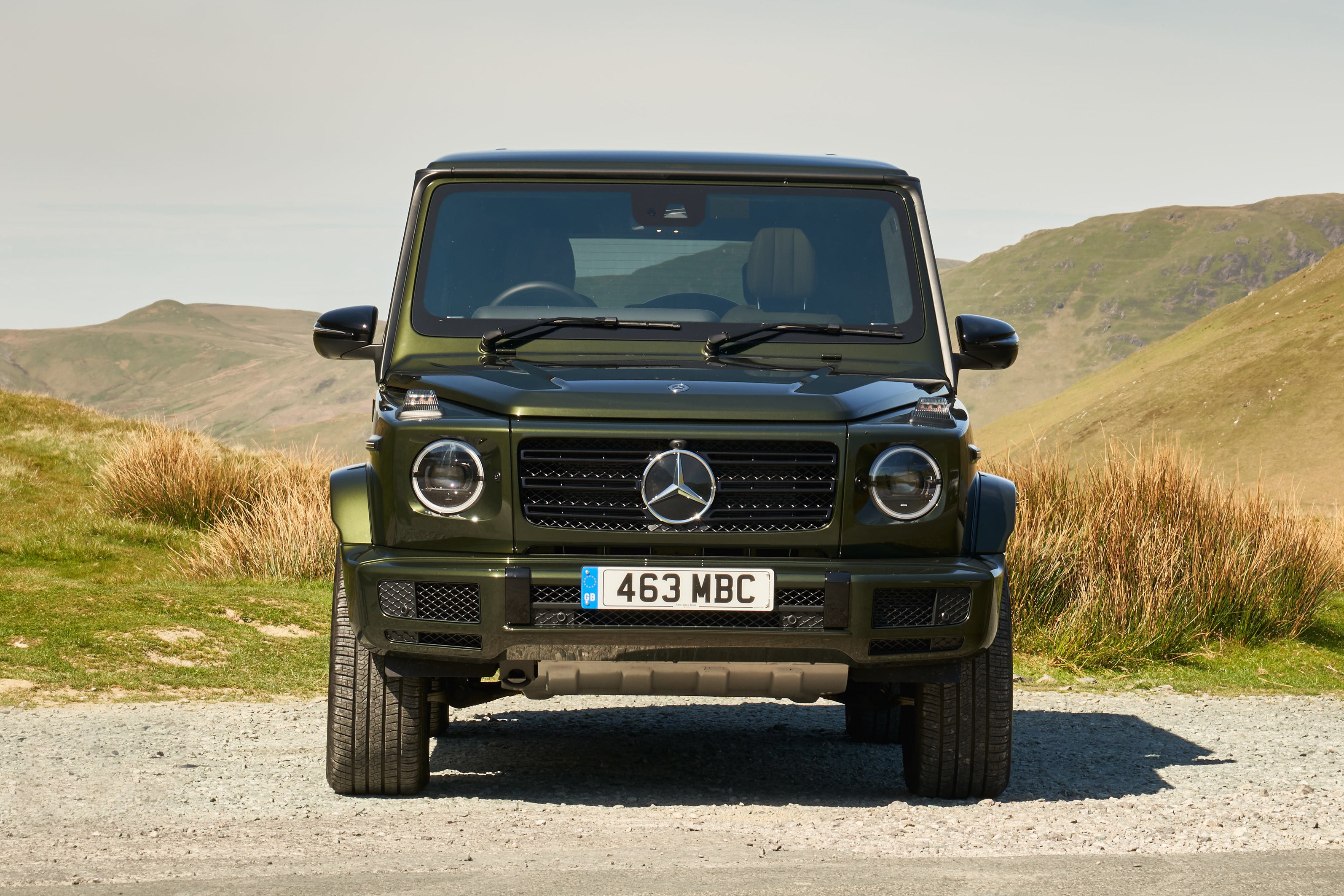 Delivery, and even relatively high – up to, say, 5000 mile – examples are priced anywhere, optimistically, from list price to above list, with sellers anticipating high demand from buyers wanting a car but not wanting to wait for it. Those cars asking 'overs' are typically at exotic and supercar dealers, where buyers might just pick one up while they're shopping for £1m exotica.
For more sensible used prices Mercedes-Benz dealers are the best bet, but even there you'll pay around list prices on delivery mileage stock. G350 ds are relatively rare compared to the G63 AMG models, so even examples with 5000-10,000 miles are able to command near list price.
Trim levels and standard equipment
There are two models, the G350 d and that G63 AMG. The G350 d is a few thousand pounds short of £100,000 so the specification is huge, though the Premium Pack is well worth adding, for the Burmster stereo, 360 degree parking camera and adaptive damping suspension alone, but the LED headlights and electric sliding sunroof also help justify the £6000 add-on cost.
The AMG gets all that, and more, along with its outrageous power and more pouting looks. There are some additional packages on both; Night Package, which add a bit of dark detailing outside, while there's the possibility of having the G's roof painted black, so long as you've specified that Night Package. We'd suggest the Winter Package, particularly as it adds the auxiliary heater, which allows you to heat the car to your preferred temperature before you get in it.
Mercedes-Benz G-Class cars for sale on heycar
4,702
Number of cars available
£78K - £220K
Price bracket of these cars
Colours available on heycar
Keep me updated by email with the latest advice, news and offers from heycar
By submitting, you agree to our
privacy policy
.