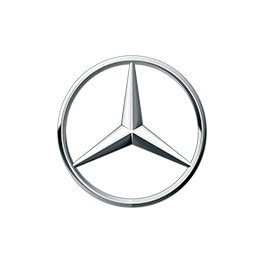 Mercedes-Benz GLA (2014-2020) Review


Best bits
Cabin feels top-notch
Won't cost a fortune to run
Ride quality better than the A-Class
Not so great
Unremarkable practicality
You'll sit higher up in most crossover SUVs
Automatic gearbox is frustrating
Read by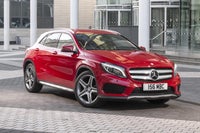 Overall verdict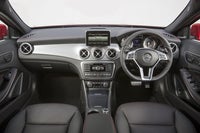 On the inside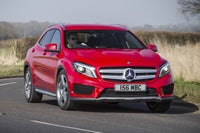 Driving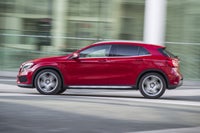 How much does it cost to run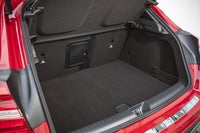 Prices, versions and specification
Overall verdict
"It might be a bit harsh to say that people only bought the GLA because of its Mercedes-Benz badge on the bonnet, but there's probably an element of truth there. It's not as practical as competitors, has an old-fashioned diesel engine and a clumsy automatic gearbox."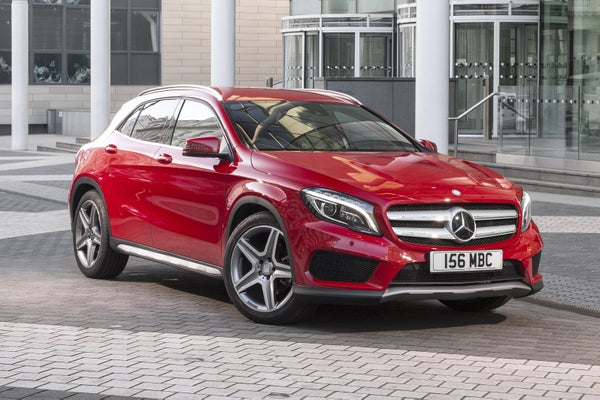 The Mercedes-Benz GLA was the brand's first attempt at a small SUV. You get a minor increase in ride height compared to the A-Class on which it's based and some body cladding which makes it look more rugged
Rivals include cars like the BMW X1, Audi Q3 and Volvo's brilliant XC40. But still, the GLA sold in good numbers and, if you're in the market for a small (yet premium) SUV, it's likely to be popping up in your searches.
So, is it any good? Well, the interior feels much classier than you'd get in a Nissan Qashqai. From the thick-rimmed steering wheel with the three-pointed star on its centre to the squishy materials on everything you're likely to touch, it's a car that feels like a premium product. Like a Tag Heuer watch or a Tesco Finest ready meal.
The inside looks a bit dated, though, compared to newer alternatives - but it did go on sale in 2014, so we can perhaps forgive it that.
It's also not a great deal more practical than the old A-Class that it's based upon, meaning you get a lot more in alternatives such as the Audi Q3. You'll struggle to get much more than the weekly shop in the boot and don't go expecting to lord it over other traffic. You sit almost as low down as in a hatchback like the, er, A-Class.
One advantage the GLA has is comfort. It's got a compliant ride, while it's an easy car to drive around town thanks to its compact dimensions. It's not so great on faster roads, though - the steering feels wooly and a BMW X1 is more agile.
While the petrol engines are pretty good and won't cost a fortune to run, the GLA's 2.1-litre diesel is more difficult to recommend. Sure, it's got plenty of torque which makes for relaxed driving, but the noise it makes is anything but relaxing. It clatters like a much older diesel and you'll notice a lot of vibration through the steering wheel and pedals, too.
The automatic gearbox isn't great, either. It'll hesitate when you want to pull out of a junction or build speed for an overtake. You'd be better with the manual transmission, but they're fairly rare and having to change gears yourself feels a bit laborious in a so-called premium car.
So, the Mercedes-Benz GLA is a car that's not without its faults. But a used example does represent good value for money.
If you're looking for the newer version, you need our Mercedes GLA (2020-) review.
On the Inside
"Unfortunately, the GLA isn't particularly spacious. It's not significantly more practical than the A-Class, which makes you wonder what the point of it is. You sit pretty low down for a car in this class, and adults in the rear will feel pretty cramped. The boot's average at best, with a small opening and a high lip."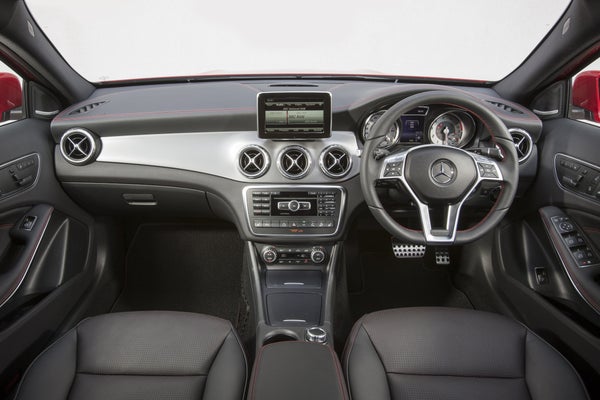 That said, it does feel significantly plusher insider than mainstream competitors, with premium fabrics and comfortable seats. The dashboard is bold with big, circular air vents and a slab of aluminium trim (or wood, if you prefer) running across the width of the car. There are lots and lots of buttons, which date it slightly compared to newer alternatives with minimalist cabins.
The infotainment screen stuck on the dashboard looks a bit of an afterthought but it's easy enough to operate, and comes with Apple CarPlay and Android Auto.
Getting a child seat fitted in the back is helped by the GLA's slightly raised ride height, but you don't have loads of room to work behind the front seats and the small back doors mean you have to squeeze the seat into place.
Ride and handling
"The GLA engine line-up includes a 156PS 1.6-litre four-cylinder petrol in the GLA 200 (available with a six-speed manual or seven-speed dual-clutch auto gearbox), and a bigger 211PS 2.0-litre unit in the GLA 250 4Matic (which comes with the seven-speed transmission and four-wheel drive as standard)."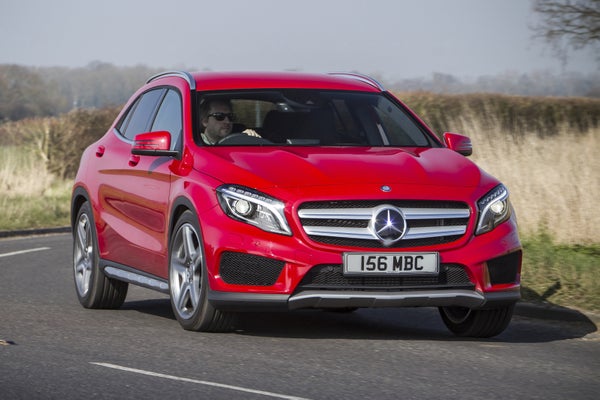 The diesel offerings are all 2.1-litre four-cylinder turbodiesels, with 136PS in GLA 200d models and 177PS in GLA 220d flavour. You can get the lower-powered engine with a six-speed manual or seven-speed automatic gearbox as well as two- or four-wheel drive. The more powerful engine comes with the dual-clutch auto 'box and four-wheel drive as standard.

While most diesel engines have a distinctive clatter, the 2.1-litre unit in the A-Class is even less refined than normal - particularly when cold. You'll notice quite a lot of vibration making its way into the cabin. It's not the refined Mercedes-Benz experience you might expect.

The petrols are better, especially if you don't cover many miles out of town. We quite like the GLA 250 as it feels pretty nippy, covering 0-62mph in 6.6 seconds. It is hampered slightly by the automatic gearbox and there's the AMG version for full hooliganism, but the standard petrol GLA models are still good fun.

An advantage of the GLA over the A-Class on which it's based is the improvement in ride quality. It generally soaks up bumpy road surfaces pretty well, especially on smaller wheels with the comfort suspension. It's also more agile than big, lumbering SUVs - but a BMW X1 is more fun to drive.

How much does it cost to run?
"Despite its desirable Mercedes-Benz badge, the small GLA shouldn't cost a fortune to run."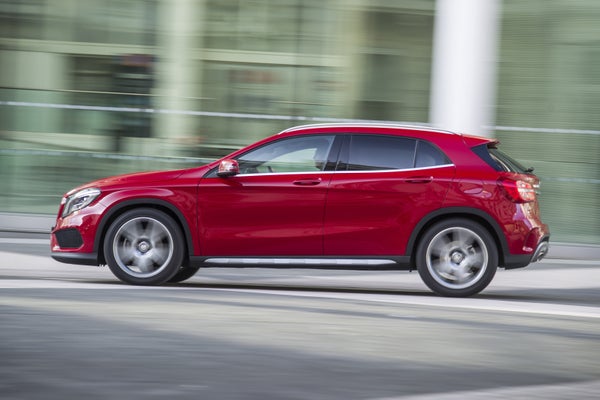 The most efficient model is the front-wheel-drive GLA 200d, which officially returns 67.3mpg - no matter whether you buy with the automatic or manual gearbox. The same 2.1-litre diesel engine returns 58.9mpg when paired with 4Matic four-wheel drive.
The petrols are, as you'd expect, a little thirstier - but they're still not going to break the bank. The 1.6-litre GLA 200 officially returns 48.7mpg with the manual gearbox, and 50.4mpg as an auto. Go for the 2.0-litre GLA 250 4Matic and you'll see up to 43.5mpg.
All the 2014 GLA's fuel economy figures were measured using old-school NEDC lab testing, as a result real-world fuel economy is likely to be 10mpg down on the numbers quoted above.
Insurance groups range from 21 to 31, which is comparable to rivals. Buy a GLA registered since April 2017 and you'll pay a flat rate of £150 a month in tax. Earlier examples will be taxed based on their CO2 emissions, so you might actually save money each year if you buy an older GLA.
Prices, versions and specification
"During most of its lifespan, there with three main Mercedes-Benz GLA models: SE, Sport and AMG Line."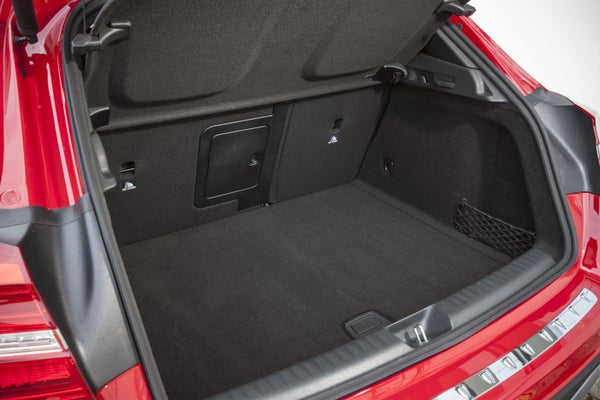 The SE models were fairly comprehensively equipped. Kit included 17-inch alloy wheels, a powered tailgate and 'comfort' suspension. Inside, you'll find faux-leather seats, a reversing camera and a multimedia system with Apple CarPlay and Android Auto.
As its name suggests, the GLA Sport is a sportier offering. This came with 18-inch alloy wheels, Dynamic Select (selectable drive modes), rain-sensing wipers and a twin-pipe exhaust system with chrome trim. Inside, there's an eight-inch media display, climate control and a three-spoke steering wheel trimmed in perforated leather. Sporty.
The AMG Line is the most desirable. Highlights include 19-inch alloy wheels with run-flat tyres as well as bespoke body styling. Sports seats (finished in part Artico leather) look the business, along with a flat-bottomed steering wheel and stainless steel sports pedals.
Is the Mercedes-Benz GLA right for you?
How much do you want an SUV with that Mercedes-Benz badge? The GLA isn't without its faults but, if you don't need anything that's particularly practical and are willing to compromise, it's quite an affordable way to get a Mercedes-Benz SUV.
What's the best Mercedes-Benz GLA model/engine to choose?
The petrol Mercedes-Benz GLA 180 will make the most sense for most buyers. An SE spec model ticks most of the boxes, but you might prefer the blingier looks of Sport or AMG Line models.
What other cars are similar to the Mercedes-Benz GLA?
Learn more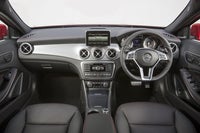 On the inside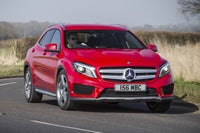 Driving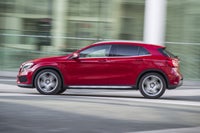 How much does it cost to run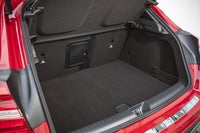 Prices, versions and specification
Reviews of similar cars
Quality checked, all cars less than 8 years old and warranty included