Written by
heycar editorial team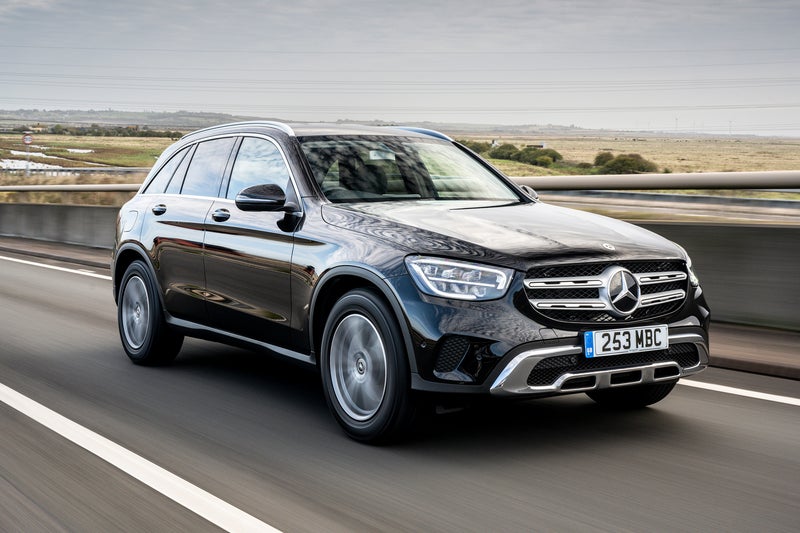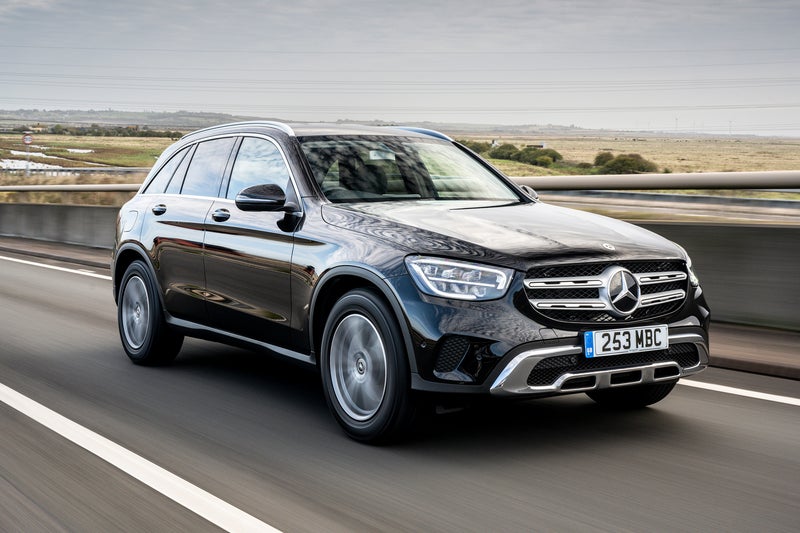 1/10
heycar rating
"Versatile premium mid-size SUV"
Launched: 2015

SUV

Petrol, Diesel, PHEV
Quick overview
Pros
Spacious interior can accommodate four adults with ease
Boot space is competitive with key German rivals
More capable than most SUVs when the going gets rough
Cons
Air suspension is needed to get the best ride quality
Seemingly endless list of trim levels can be confusing
High-performance AMG models have very high running costs
Overall verdict
On the inside
Driving
Cost to run
Prices and Specs
Overall verdict
"A stylish, highly premium SUV that closely rivals the Audi Q5 and BMW X3 for space and standard equipment. Only a harsh ride detracts from the sumptuous feeling of comfort."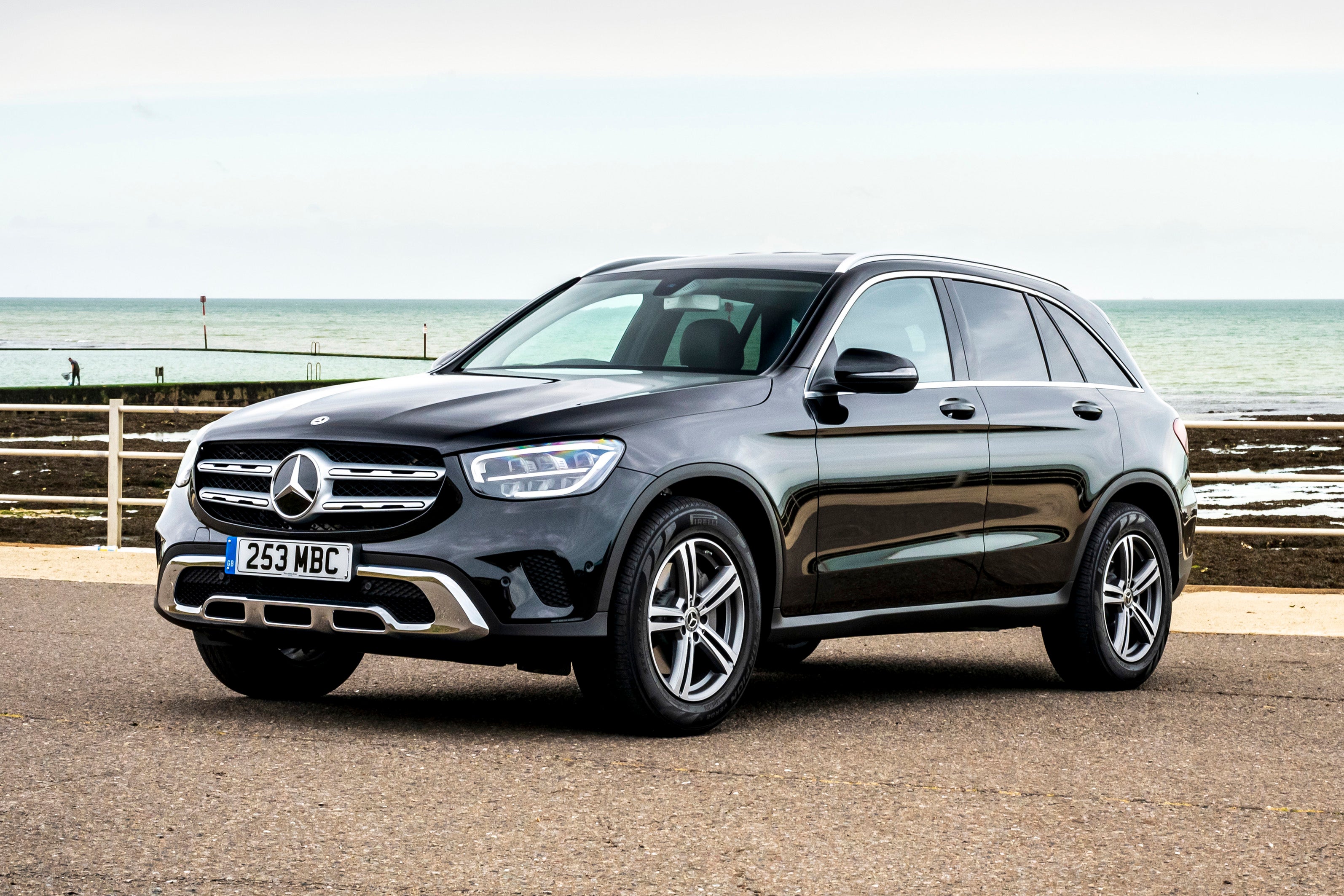 It's easy to see why the GLC holds so much appeal, with handsome exterior styling making it look reassuringly expensive. Yet it also manages to appear family-friendly, without the 'in your face' attitude of some rivals. Well, so long as you avoid the fearsome AMG performance models.
The diversity of the GLC range is one of the major strengths of this practical, mid-size SUV. With certain options, it can venture further off-road into the wilderness than many competitors, demonstrating the depth of engineering under its skin. Yet, elsewhere in the same range, the V8-powered AMG GLC 63 is capable of setting SUV lap records on race circuits across the world.
In the middle of all this is a useful family SUV, one that boasts an upmarket image and an interior packed with modern tech. Features like climate control, electrically adjustable seats and satellite navigation are standard on virtually all models, adding an extra layer of value to the GLC's repertoire.
Understanding just what comes standard on each model may take time. Mercedes-Benz has varied the trim levels during the lifetime of the GLC, meaning some optional extras have disappeared or been replaced.
The list of engines available for the GLC is also lengthy, but means there should be a model to suit most needs. The entry-level four-cylinder diesels deliver economy and respectable pace, while the petrol AMG models bring sports car performance to a practical SUV.
Just try not to get too carried away enjoying the abilities of the AMG versions with all the family onboard...
All versions use a superb nine-speed automatic gearbox, and every GLC comes fitted with 4Matic four-wheel drive. The wide range of engines also means you can tailor the running costs of the GLC to suit your budget. Buying a diesel will result in better fuel economy on longer trips, while a petrol may be better for those staying closer to home.
Mercedes-Benz also includes a plug-in hybrid GLC 300e as part of the model line-up. This can cover almost 30 miles on battery power alone, and has a regular petrol engine to banish concerns about range anxiety. Just be aware that the battery eats into boot space, making it slightly less practical than other models in the GLC lineup.
Non-hybrid versions of the GLC can hold 550 litres of luggage with the rear seats up. Curiously, that happens to be the exact same volume that the rival Audi Q5 and BMW X3 can accommodate. A coincidence?
The GLC offers a comprehensive package that should appeal to a wide range of SUV buyers. With so much choice, the greatest challenge may be deciding which GLC works best for you.
Is the Mercedes-Benz GLC right for you?
There are plenty of options available in the SUV marketplace, but owning a Mercedes-Benz always has strong appeal. The three-pointed star conjures up images of luxurious quality, setting it apart from most other manufacturers.
The GLC delivers on that promise, looking like a high-end product that will impress outside the school gates or in the office car park. It is also practical, being capable of seating four in comfort, and squeezing in an extra rear passenger if needed.
It can easily serve as a main family vehicle, with the boot more than big enough to swallow all the detritus of modern life. It will also go further off-road than you might imagine (with the right options fitted), opening up a wealth of adventure opportunities.
So, if a premium SUV is what you want, the GLC delivers the posh badge and all the usefulness to ensure it won't feel like a compromise.
What's the best Mercedes-Benz GLC model/engine to choose?
Buckle up, as the range of model lines and trim combinations available for the Mercedes-Benz GLC can start to feel like a rollercoaster ride. Developments from launch have seen twists and turns, with the AMG Line emerging as the most common version.
AMG Line brings the features that should appeal to most buyers, such as 19-inch wheels, smart body styling and a decent level of standard specification for the interior. A GLC with the optional air suspension appeals most, as this makes for a more comfortable ride in all conditions.
Picking an engine is tougher, but the post-2019 facelift diesels hold plenty of appeal. Opting for the most powerful version you can afford makes sense, as the fuel consumption penalty for higher outputs is minimal.
For sheer excitement, the petrol V8-powered AMG GLC 63 is hard to ignore, but it comes with steep ownership costs.
What other cars are similar to the Mercedes-Benz GLC?
The premium mid-size SUV market is hugely competitive, meaning there are plenty of rivals for the GLC.
Both the BMW X3 and Audi Q5 offer similar dimensions, along with identical boot space. The BMW is more engaging to drive on a daily basis, while the Audi benefits from an interior that feels better put together.
Other options include the Alfa Romeo Stelvio, Lexus NX, and the Volvo XC60, leaving buyers with plenty of choice. The Land Rover Discovery Sport offers more room inside, and can also be had with seven seats.
Comfort and design
"If the idea of owning an upmarket SUV conjures images of sitting comfortably atop a luxurious, high-riding throne, the Mercedes GLC will deliver on those dreams. "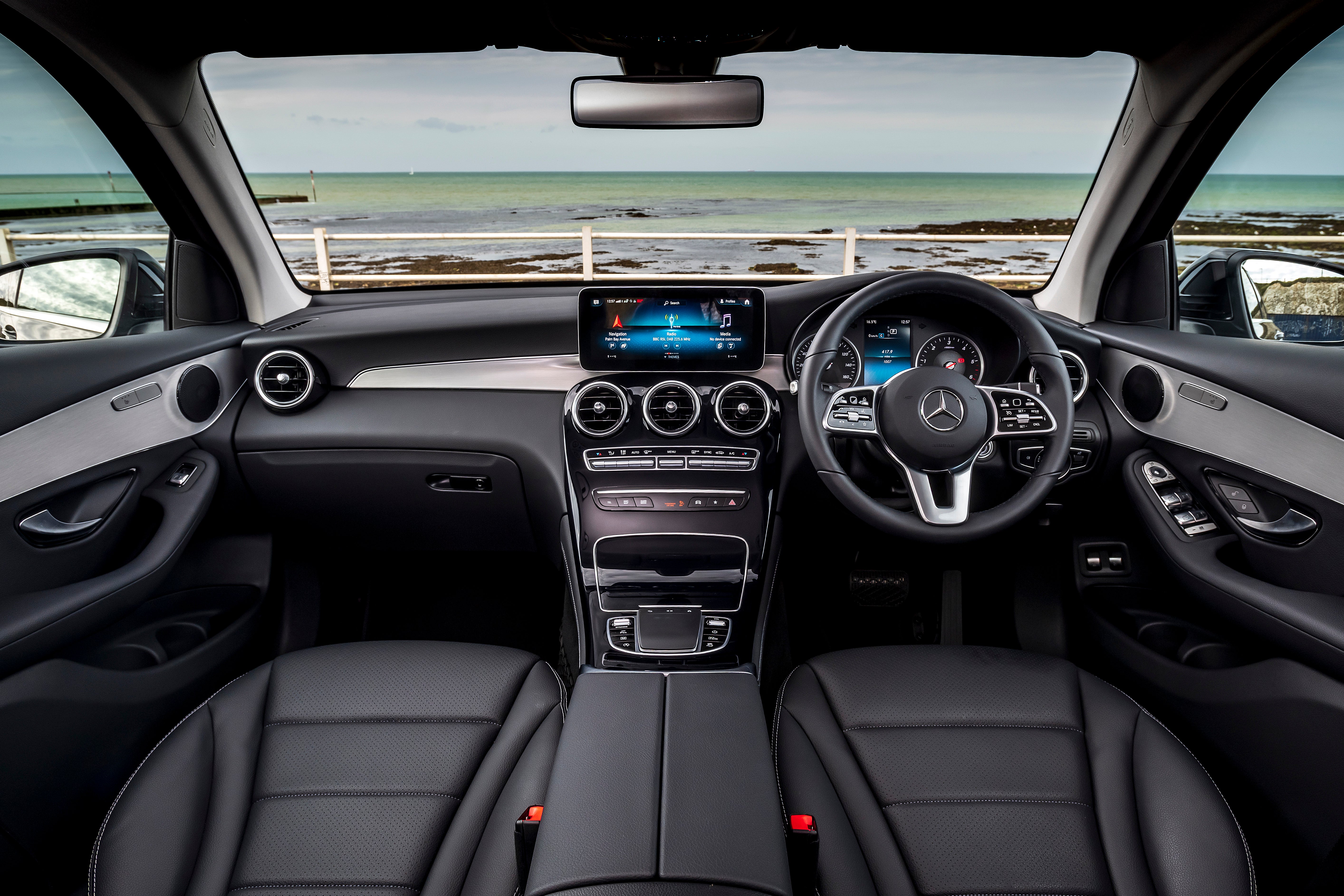 Its interior layout is shared with the Mercedes-Benz C-Class saloon, which happens to have one of best cabins around. It looks bold and modern, but without being confusing to use.
The layout is relatively minimalist, with only a handful of buttons for the standard climate control found on the main dashboard. Most other functions are controlled using a rotary dial further down the centre console, which also functions as a touchpad on later models. Familiarity will make it simpler to navigate, but nobody should havetrouble operating the GLC on first acquaintance.
Apart from the Urban Edition, all versions of the GLC benefit from seats that are at least partially electrically adjustable. Backrest angle, height, lumbar support and seat cushion angle can all be altered electrically, with seat cushion depth adjusted manually. That all means every driver should be able to make themselves feel at home behind the adjustable steering wheel.
After all that adjustment, you will also be pleased to know that the front seats are comfortable and supportive on long journeys. The adjustable lumbar support is a particular advantage, while heated front seats can be found on all but the entry-level SE model. Those in the rear should also feel relaxed, although they miss out on heated seats.
Quality and finish
Aside from a brief period in the early 2000s, Mercedes-Benz has a reputation for building cars with well-made interiors. The GLC helps uphold that perception, with a cabin that justifies its premium price tag.
The only negative comes from the potential for some squeaks and rattles, with the centre console being a notable cause. It should never be a major issue, but is something that sits at odds with an interior that features soft-touch materials and fancy attention to detail.
Most models feature some form of Artico artificial leather upholstery, which does a good job of imitating the genuine article. Real leather is available as an option, and comes as standard in the AMG GLC 63.
Interior trims differ slightly depending on the model picked, but most make use of either high-gloss black or black ash wood finishes. These work well with the contemporary cabin of the GLC, contrasting against the metal detailing throughout. An optional woodgrain package exists, but is best avoided.
AMG versions have a combination of black wood and aluminium trim, suiting their sportier nature. Carbon fibre trim can be specified for the AMG GLC 63 S, along with performance sports seats finished in Nappa leather.
Infotainment
The infotainment system offered in the Mercedes GLC differs depends on whether the car was made before or after the 2019 facelift.
Earlier examples had, at minimum, a seven-inch colour display at the top of the centre console, connected to an Audio 20 sound system. Controlled via a rotary touchpad, this includes DAB radio, Bluetooth mobile phone connectivity and USB ports in the centre console. Other than the entry-level SE, all models come with Garmin satellite navigation as standard.
GLCs fitted with the Premium Plus package benefit from the more advanced Comand Online system. This includes a fancier 8.4-inch screen, hard disk-based navigation and online services including live traffic information. It makes a difference, but is not worth paying a major premium for on the used market.
Following the 2019 facelift, all GLCs now come with the updated MBUX multimedia system. It includes a 10.25-inch display screen with a new touchpad that supports multi-gesture inputs. Revised voice commands also allow the driver to ask questions, or give instructions, simply by saying "Hey Mercedes". It works similarly to the personal assistants found on smartphones.
Navigation is standard on MBUX cars, including augmented reality instructions on AMG Line Premium and upwards. These versions are also the only ones to include Apple CarPlay and Android Auto connectivity, too.
Space and practicality
Aside from the allure of the upmarket image, space and practicality form a large part of the appeal of SUVs like the Mercedes-Benz GLC.
In the front, there should be no issue with the space on offer. Legroom is aided by electrically adjustable seats, and headroom should not be an issue for even the tallest drivers. Just be aware that the optional panoramic sunroof does eat into space a little.
A large glovebox, sizeable door bins and a substantial cubby beneath the centre armrest all offer storage solutions for those up front.
Jumping to the back reveals the GLC offers reasonable space for passengers. The rear bench features three seats, with the central one being more comfortable than in most rivals. It's just a shame the chunky transmission tunnel robs the third passenger of legroom.
Those in the two outer two seats should be perfectly happy, with enough legroom to accommodate adults without complaint. As with the front seats, the optional panoramic sunroof steals headroom, so be aware if you routinely travel with tall rear-seat passengers. An Audi Q5 will feel marginally bigger overall in the back, but these are minor differences.
Where the GLC does match the Audi Q5 perfectly is when it comes to boot space. The Mercedes offers 550 litres of storage, which is identical to the Audi and BMW X3. A Jaguar F-Pace offers more room, as does the Land Rover Discovery Sport.
Aiding the GLC's usefulness are standard-fit folding rear seats. These split 40:20:40, making it easier to slide longer items through from the boot. The seats drop from a switch just inside the tailgate, making it easier when wrestling with large luggage. Dropping all three seats takes total storage to 1,600 litres.
The plug-in hybrid GLC 300e loses a considerable 155 litres of boot space, due to the battery packs taking up space beneath the floor. While 395 litres is not to be sniffed at, it does make for a substantial compromise.
There is no spare wheel fitted to any GLC, with Mercedes favouring run-flat tyres or puncture repair kits instead.
Handling and ride quality
"The driving experience of the Mercedes GLC is heavily influenced by which version you pick. From the comfort-orientated SE and Sport models to the hardcore AMG versions, the range is certainly diverse."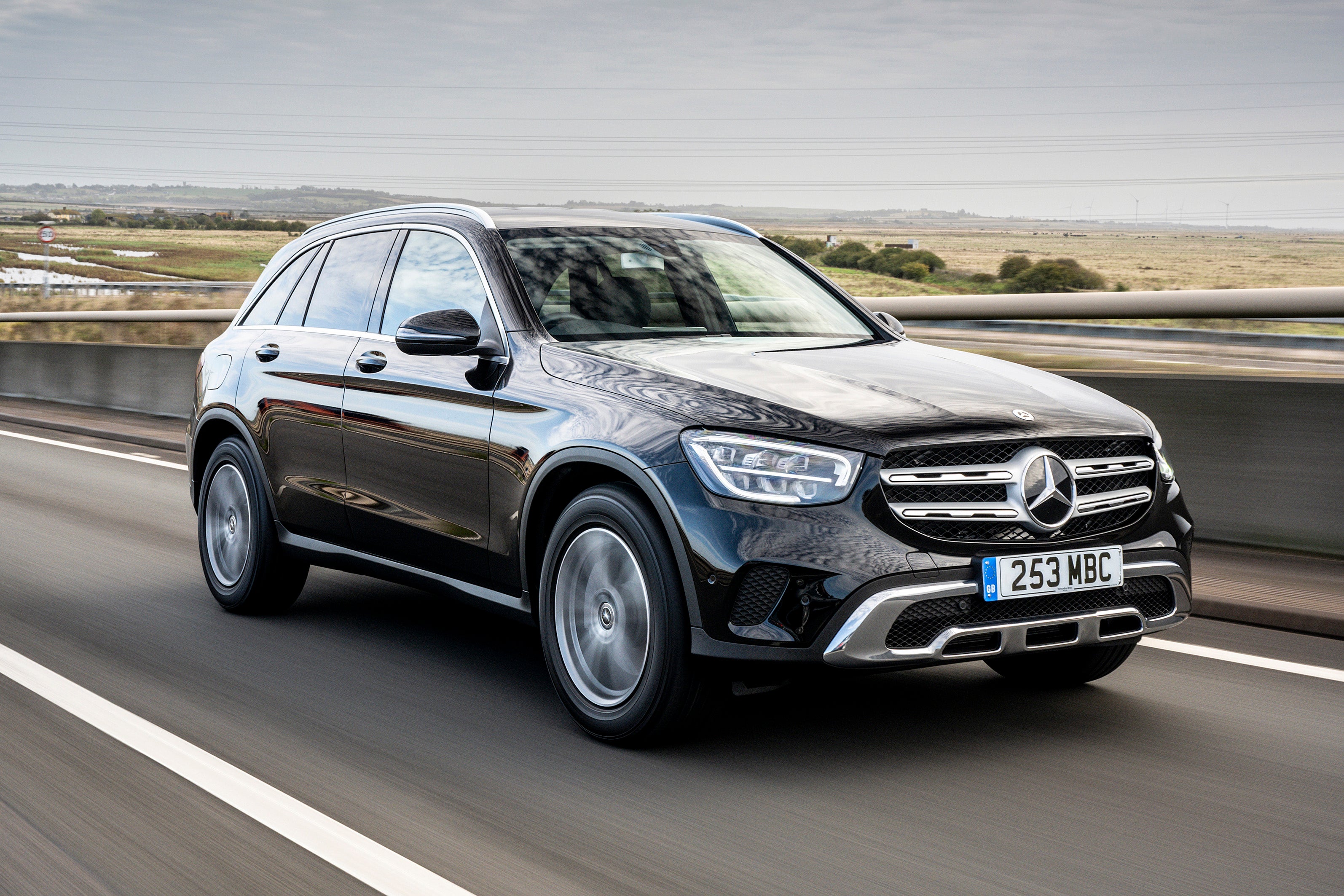 SE and later Sport models come with conventional steel spring suspension, which is tuned for comfort. It is mostly successful, but bigger bumps and ruts will filter back to the cabin.
AMG Line cars have a sport-tuned suspension, which results in a stiffer ride. The larger wheels of higher-grade models emphasise this harshness, especially at low speed.
Top-spec AMG Line Ultimate models have air suspension as standard. This makes a big difference, with Comfort mode removing all of the tautness from the GLC. It makes for the best-riding model and was offered as an option on pre-facelift cars. However, the 2019 facelift frustratingly saw it dropped from the options list.
When it comes to handling, the GLC offers reasonable feedback and precision. A BMW X3 will feel sharper to drive, and the GLC's speed-sensitive steering takes some getting used to. Moving the Dynamic Select switch to Sport adds extra weight, but with no effect on feel.
AMG models are entirely different machines, turning the GLC into something that could genuinely set quick lap times around a race circuit. The GLC AMG 63 has performance-tuned air suspension, and an electronic locking rear differential to aid traction.
Mercedes-Benz did offer an optional Off-Road package up until the 2019 facelift. This included suspension raised by 20mm, extra underbody protection and additional off-road driving modes.
It made the GLC into a surprisingly capable mud plugger, able to go much further than most buyers would ever consider. That the package was dropped as an option suggests that GLC customers were happier sticking to the tarmac.
Engines and gearboxes
The GLC range started small, with just three engine options, but has expanded rapidly since. All models have a nine-speed automatic gearbox and come with 4Matic four-wheel drive.
Early buyers could pick a 2.1-litre four-cylinder diesel in two flavours. The GLC 220d came with 170PS, with the 250d having 204PS. There is a slight difference in performance, with fuel consumption being exactly equal, meaning you may as well buy the more powerful version.
The 2019 facelift saw new GLC 220d and 300d four-cylinder diesels, based on a 2.0-litre engine. They are much smoother, with the 220d offering 194PS and the 300d 245PS. Capable of 0-62mph in 6.6 seconds, the 300d offers impressive pace.
A GLC 350d V6 diesel was briefly offered, producing 258PS. It disappeared from the range in April 2017.
The 211PS 2.0-litre four-cylinder petrol GLC 250 was also short-lived, being replaced by the GLC 300 in 2019. With 258PS, the 300 model offers improved performance over the older engine.
Mercedes also offers the GLC 300e plug-in hybrid. It combines a 2.0-litre petrol engine making 211PS with a 122PS electric motor. A 0-62mph time of 5.7 seconds makes it quicker than the regular GLC 300.
AMG models begin the GLC 43, which uses a 3.0-litre turbocharged petrol V6. Originally offering 367PS, it was upgraded to 390PS following the 2019 facelift, but retained a 0-62mph time of 4.9 seconds.
Powered by a twin-turbo 4.0-litre V8, the AMG GLC 63 is wild. With 476PS, it can accelerate from 0-62mph in 4.0 seconds and on to a top speed of 155mph. The GLC 63 S is crazier still, with a 510PS output. The 0-62mph sprint drops to 3.9 seconds, with top speed up to 174mph. In a family SUV!
Refinement and noise levels
Anyone buying a medium-sized premium SUV like the Mercedes GLC expects it to offer a degree of refinement behind the wheel. While we may not quite be in Rolls-Royce territory for quietness, there should be no complaints here.
Helping that overall refinement is a superb nine-speed automatic gearbox, which keeps the revs low when cruising on the motorway. It's aided by the fact that most of the engine options are all relatively refined, with any harshness filtered out before it reaches the cabin.
That is, apart from the pre-facelift 2.1-litre four-cylinder diesels. Used in the GLC 220d and 250d, these can sound a little rough. The modern 2.0-litre replacements are much better, and worth making the stretch to where possible.
Opting for the AMG GLC 43 opens up the potential for plenty of (desirable) noise from the chrome-plated exhaust tailpipes. Set to Sport mode, the turbocharged V6 makes pleasing pops and crackles when changing gear.
The V8-powered AMG GLC 63 and 63 S take this to another level completely. Later models have been made slightly quieter due to emissions regulations, but they still deliver a sports car sound in an SUV body.
Safety equipment
When crash-tested by Euro NCAP, the Mercedes-Benz GLC scored the maximum five-star rating. This is a vehicle that will keep its occupants safe should the worst happen.
Aiding this strong performance is the standard fitment of seven airbags. These includes a knee airbag for the driver, plus side window bags for passengers in the front and rear. Collision Prevention Assist also warns the driver of an impending crash, and can begin to autonomously apply the brakes to reduce the severity of an impact.
Attention Assist is standard, monitoring the driver for signs of drowsiness and warning them to take a break. Active Bonnet Assist raises the bonnet to cushion the impact should a collision with a pedestrian occur.
All GLCs come with a reversing camera, while models above base SE trim have front and rear parking sensors. Later cars see this upgraded to Active Park Assist, which can steer the GLC automatically into spaces.
Given the relatively bulky side profile of the GLC, the electronic stability control incorporates a useful Crosswind Assist. Should a sudden sidewind blow the car off course, targeted braking should pull the car back into line.
Tyre pressure monitoring is fitted to all models, and could come in handy given the lack of a spare wheel. Instead, Mercedes-Benz supplies a tyre-sealant puncture repair kit.
Isofix child seat anchors are provided on the two outer rear seats, along with sensors to automatically detect child seats if fitted.
MPG and fuel costs
"The diesel-engined GLC 220d is the most economical non-hybrid model, being officially rated at 47.9mpg in the combined test. The more powerful GLC 300d achieves 44.1mpg by the same measure."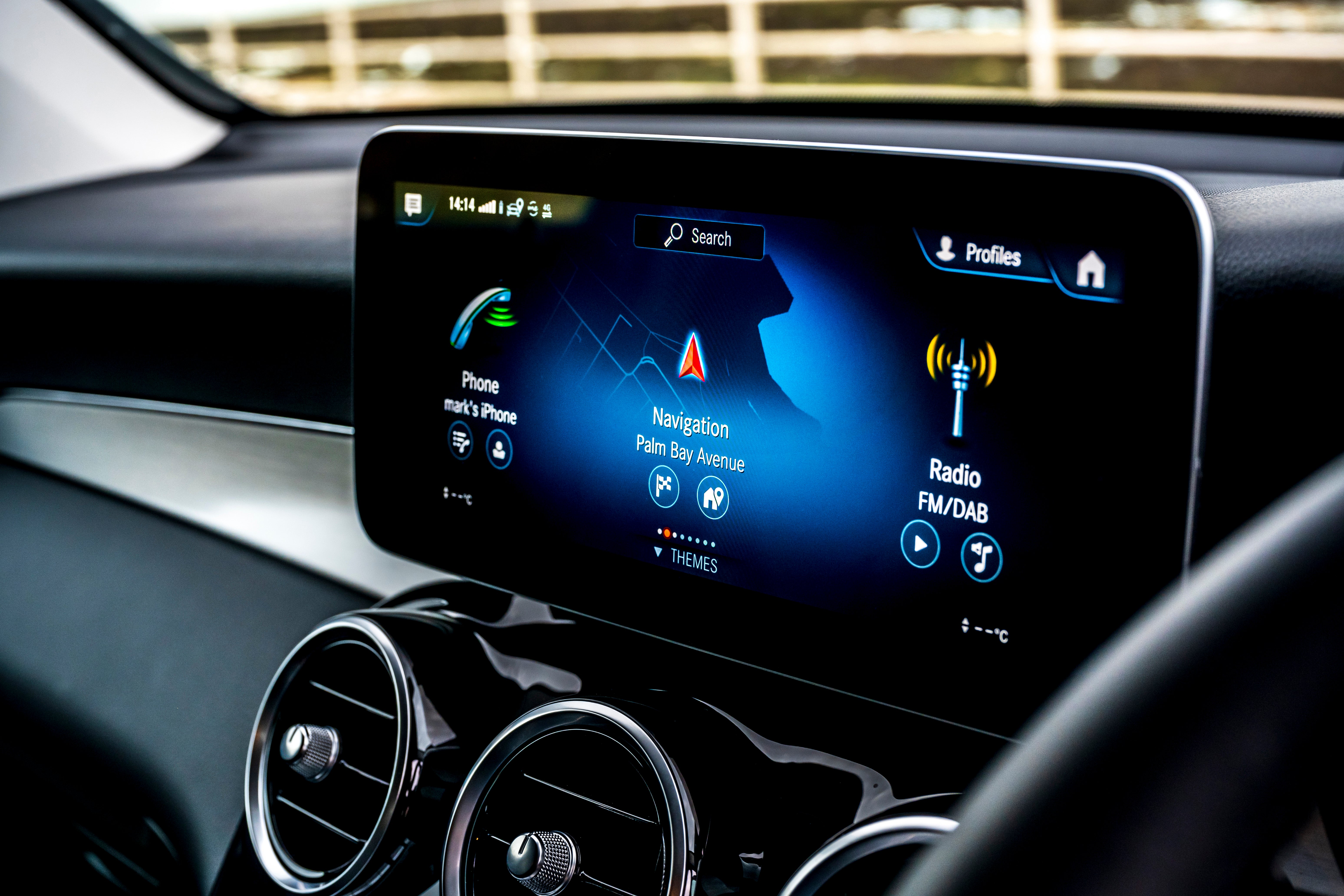 A petrol GLC 300 averages up to 34.4mpg, with the faster AMG models seeing a notable drop off. The range-topping AMG GLC 63 S officially manages just 22.1mpg.
The GLC 300e is the sole plug-in hybrid in the range, and can cover 29 miles on battery power alone. It also has an official fuel consumption rating of 117.7mpg.
It can be charged from a normal three-pin plug in five hours, or through a dedicated 7.4kW wallbox. Using the latter will see it fully topped up in two hours.
Insurance groups and costs
With such a wide range of engine choices for the GLC, there is a similarly broad spread of insurance ratings. As a premium Mercedes-Benz SUV, it will typically be more expensive to insure than cheaper alternatives.
The GLC 220d in SE trim should be the most affordable, being rated in insurance group 27 (out of 50). Different trim levels have an effect, with the same car in Sport spec in group 28, and AMG Line taking it to a group 29 rating.
With the huge performance on offer from its V8 engine, the AMG GLC 63 S in Premium Plus trim is the highest rated, at group 47.
VED car tax
Having been on sale since 2015, the Mercedes-Benz GLC crosses two different VED (road tax) schemes.
For cars sold before April 2017, both the GLC 220d and GLC 250d attract an annual rate of £125, with the GLC 350d at £205. The performance AMG GLC 43 will cost £305 per year.
The post-April 2017 VED regime introduced a premium for cars with a list price above £40,000. Only a few entry-level GLC 220d and GLC 250d SE and Sport models dip below this, incurring a standard rate of £150.
The remaining models sold after April 2017 see a £325 premium incurred for five years after the first year of registration. This gets added on top of the £150 standard rate, other than for the plug-in hybrid GLC 300e, which has a standard rate of £140.
How much should you be paying for a used Mercedes-Benz GLC?
"Given the popularity of premium SUVs, buyers should have plenty of choice when it comes to a used GLC. AMG Line trim makes up the vast majority of cars for sale, while diesels outnumber petrol engines."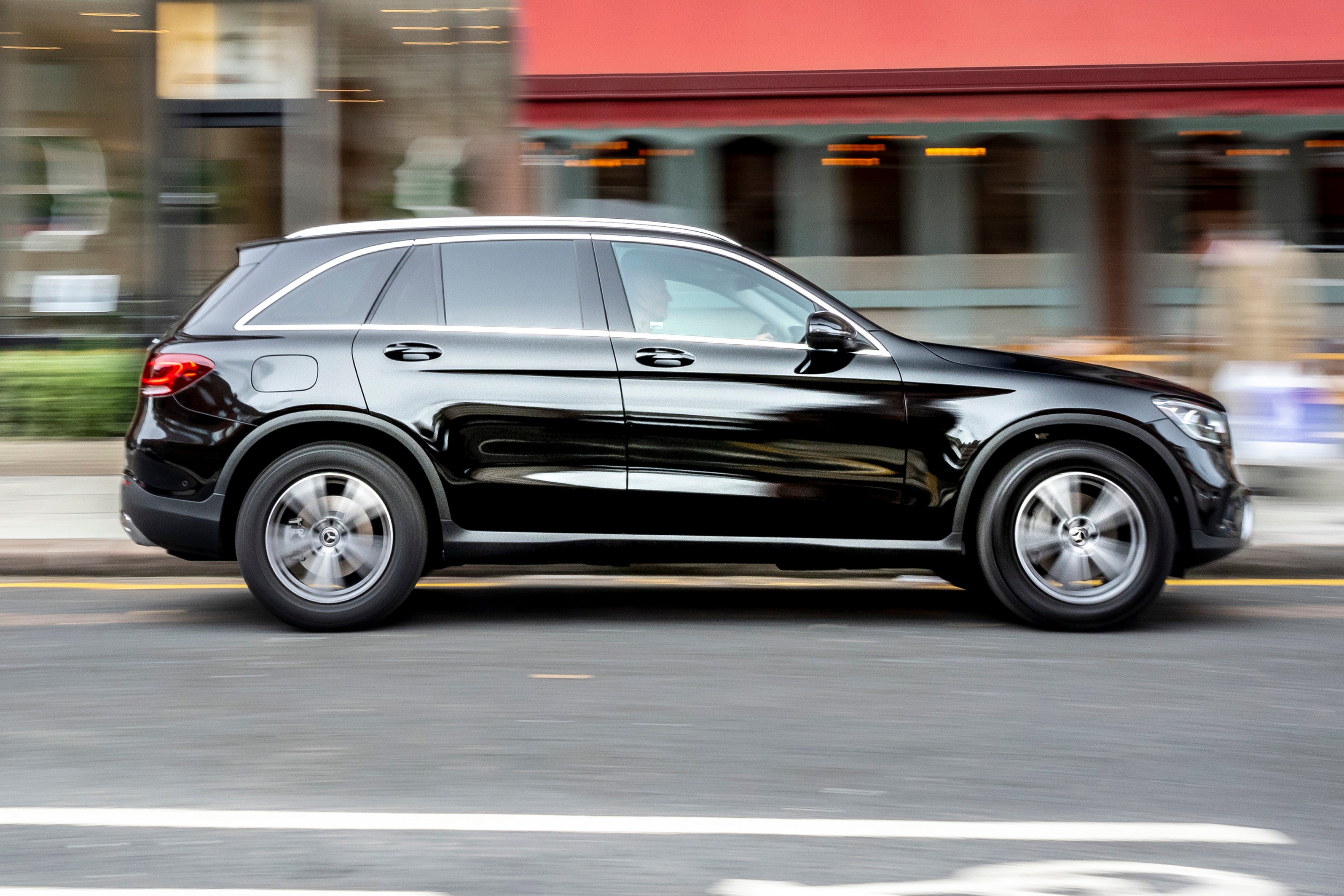 A nearly-new GLC 220d in AMG Line trim, with fewer than 5,000 miles on the clock, can be found on a Mercedes-Benz dealer forecourt from £31,000.
Opting for a similar example of the powerful GLC 300d, in AMG Line Premium specification, will cost from £36,000. Should you prefer petrol, a GLC 300 in entry-level Sport trim will start at £33,000, with AMG Line versions closer to £37,000.
The Mercedes-AMG GLC 43 is surprisingly common on the used market, with prices starting at £38,000 for low-mileage models. A fearsome AMG GLC 63 could be yours from £49,000.
Trim levels and standard equipment
Prior to the 2019 facelift, the model range for the GLC was relatively easy to understand. Entry-level SE models have 17-inch wheels, climate control, privacy glass, a reversing camera and artificial leather trim. Sport models add 18-inch wheels, Garmin satellite navigation, LED headlights and parking sensors.
The short-lived but popular Urban Edition comes with 20-inch wheels, intelligent LED headlights and sat nav, but no electrically adjustable seats. Pre-facelift AMG Line cars have 19-inch wheels, sports suspension, a black roof lining and special AMG body styling.
Following the 2019 facelift, the GLC model range was revised. Sport became the entry-level trim, with the new MBUX multimedia system adding a 10.25-inch touchscreen display to the previous features.
Post-2019 AMG Line cars also have sports seats with artificial leather and suede trim, along with a special diamond radiator grille design.
AMG Line Premium brings 20-inch wheels and adaptive LED headlights, whilst AMG Line Premium Plus models have a panoramic sunroof and digital dashboard. Finally, AMG Line Premium Ultimate adds Air Body Control air suspension.
The performance AMG GLC 43 and AMG GLC 63 S follow a similar hierarchy to AMG Line models. Opting for AMG Line, whether pre- or post-facelift, offers a great mix of technology and value for money.
Mercedes-Benz GLC cars for sale on heycar
4,701
Number of cars available
£20K - £95K
Price bracket of these cars
Colours available on heycar
Keep me updated by email with the latest advice, news and offers from heycar
By submitting, you agree to our
privacy policy
.