Mercedes-Benz GLC Coupe Review 2022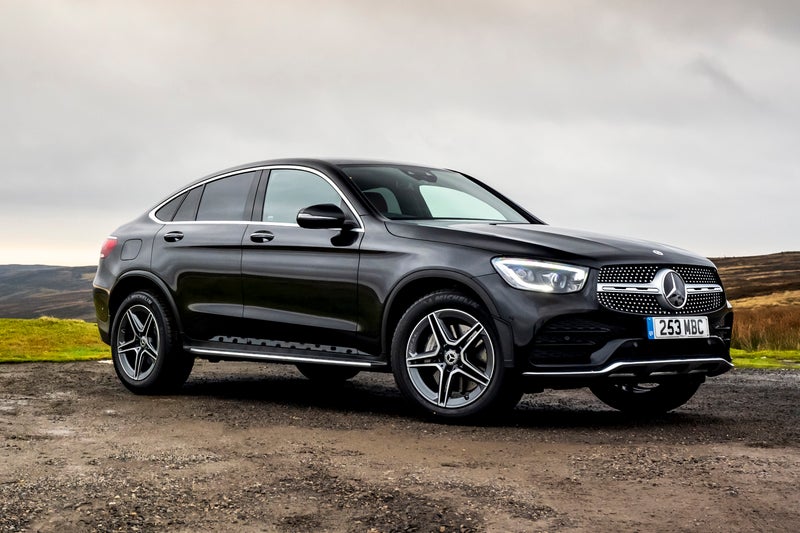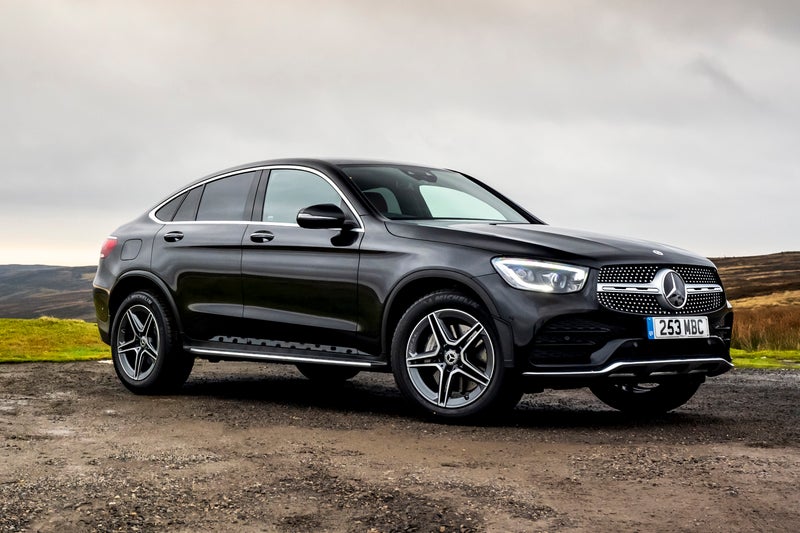 1/10
heycar rating
"Crossover coupe with fashion appeal "
Launched: 2017

Coupe SUV

Petrol, Diesel, PHEV
Quick overview
Pros
Still a practical family car
Impressive handling on sports suspension
Luxurious interior with plenty of standard equipment
Cons
SUV coupes have a divisive image
Agile handling results in a stiffer ride
Poor rear visibility due to sloping roofline
Overall verdict
On the inside
Driving
Cost to run
Prices and Specs
Common questions
Overall verdict on the Mercedes GLC Coupe
"The Mercedes-Benz GLC Coupe performs well against its direct competitors, with generous technology and a feelgood interior. But you pay a premium over the more practical GLC SUV model solely in the pursuit of style."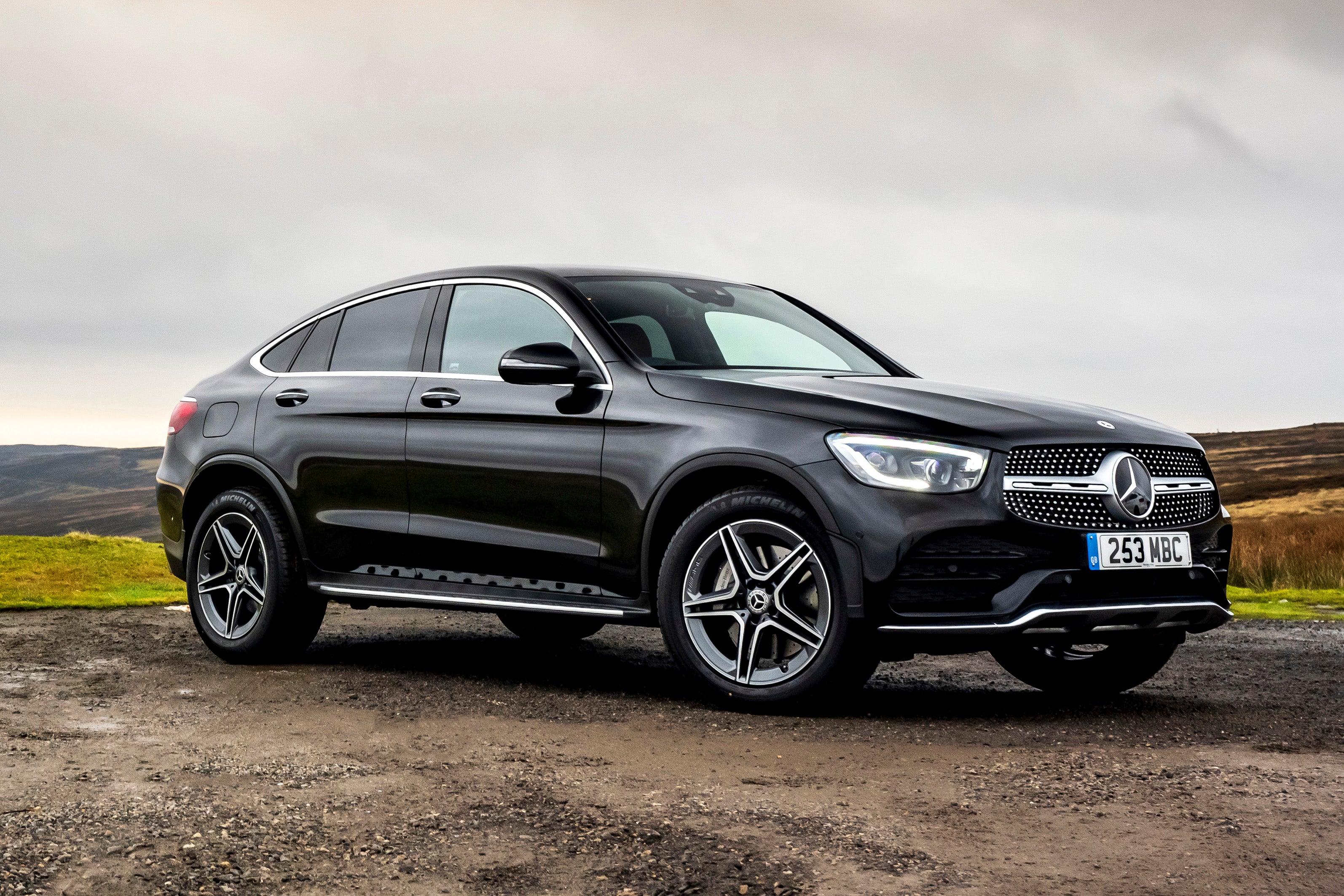 With SUVs seemingly now on every suburban street, it can feel hard to stand out from the crowd. But if you cannot live without an elevated driving position, and want something with a unique look, perhaps an SUV coupe will deliver the goods? The Mercedes-Benz GLC Coupe could be for you, as this review will reveal.
The GLC Coupe follows the path taken by its larger GLE Coupe brother. Starting with the already attractive GLC SUV, the boxy rear roofline is tapered down to leave a sleek coupe shape. The end result is a Mercedes that retains a raised ride height, but with more individual looks.
Styling is a matter of personal preference, and the GLC Coupe will not appeal to all. However, the Mercedes is arguably one of the more successful coupe conversions on sale, and is certainly less divisive than its main rival, the BMW X4.
A key part of creating the GLC Coupe was also making it feel sportier to drive. Mercedes has fitted stiffer suspension and lowered it closer to the ground, both in search of improved handling. It certainly feels sharper than the regular SUV version of the GLC, with an additional tautness and more immediate responses. While you might not be chasing sports cars behind the wheel of the GLC Coupe, it does feel mildly more engaging to drive.
This does come with a downside, though. Stiffer suspension means a harder ride, especially given the bigger alloy wheels the GLC Coupe wears. Potholes and bumps in the road will be more noticeable compared to the SUV version. Air suspension is the solution to the problem, but can only be found on top-end models or as an expensive optional extra. It's still a comfortable car in the grand scheme of things, but not as comfortable as it could be.
Mercedes-Benz has at least been generous with standard equipment on the GLC Coupe. Features such as climate control, LED headlights, satellite navigation and heated seats can be found in every model. Later versions gain upgraded multimedia systems, including the ability to give voice commands by saying "Hey, Mercedes" – like the voice activation on your smartphone.
All of this is wrapped up in an interior that, barring a few flimsier pieces of trim, looks and feels well worth the money. Just be aware that those sitting in the back of the GLC Coupe will have less headroom than in the GLC SUV, and that the central fifth seat is only suitable for short journeys. Boot space has also been reduced in the coupe conversion, but remains a useful 500 litres for all but the plug-in hybrid.
Engine choices range from respectable and economical diesels right through to fire-breathing turbocharged petrol V8s. The diesel engines will be preferred by those with longer commutes, but do not mean missing out on performance. All GLC Coupes come with 4Matic four-wheel drive, while an excellent nine-speed automatic gearbox is standard across the range.
The GLC Coupe is more than style over substance, with the transition to a more shapely design only having a limited impact on everyday usability. A bigger question is whether buyers are willing to pay a premium over the equivalent GLC SUV, solely for the benefit of that body shape.
Is the 2022 Mercedes-Benz GLC Coupe right for you?
If you think that normal SUVs with their upright looks are just too common outside the school gates, the Mercedes-Benz GLC Coupe could be for you.
Combining the effective four-wheel-drive setup of the existing GLC SUV, but chopping away the square rear end results in this Coupe model. It certainly looks different to most off-roaders, and is arguably more attractive than rivals like the BMW X4.
Being a fashionista does come at cost, both financially and practically. New GLC Coupes command a substantial premium over their conventional cousins. In addition, rear headroom and luggage space in the boot are reduced versus the GLC SUV. It will still prove to be usable for most families, but you need to sacrifice some space for style if the looks of the GLC Coupe really appeal.
What's the best Mercedes-Benz GLC Coupe model/engine to choose?
The Mercedes GLC Coupe shares engines and trim options with the GLC SUV. This means a somewhat overwhelming range to choose from, but there should be a model to suit all needs.
For pre-2019 facelift models, AMG Line offers a decent blend of value and features such as 19-inch wheels and AMG body styling. After the facelift, AMG Line Premium added an impressive digital dashboard, Apple CarPlay connectivity and an upgraded sound system.
If you regularly travel long distances, the GLC 300d diesel will offer pace and economy. Should you stick to the suburbs, a petrol GLC 300 will be rewarding to drive and not too costly to run.
Finding a GLC Coupe with the desirable Air Body Control air suspension is worthwhile. This reduces the otherwise firm-ish ride, and still maintains decent handling in line with the car's sporty image.
What other cars are similar to the Mercedes-Benz GLC Coupe?
BMW's smaller X4 is the most obvious competitor for the Mercedes GLC Coupe, being based on the regular BMW X3. Keen drivers will find the X4 more rewarding, and it also manages to be marginally more spacious inside. However, the interior of the X4 is not as luxurious as the GLC, and the ride can be harsh on M Sport models.
Also worth considering is the Audi Q5 Sportback, which is similar in size and price new. It's not been on sale for that long, however, so there's unlikely to be any bargains. It's competitive with the GLC, though, with a high quality interior, decent amount of space and a composed driving experience.
Other rivals include the Range Rover Velar and Porsche Macan, plus larger SUV coupes like the Mercedes GLE. However, the closest competitor is perhaps the regular Mercedes GLC. It has all the same engines and interior equipment, and offers better value for money.
Comfort and design: Mercedes-Benz GLC Coupe interior
"While Mercedes may have subjected the outside of the GLC to substantial changes, it has left the interior of the SUV model virtually untouched. This is undoubtedly a good thing, as the GLC Coupe's overall design and layout are excellent."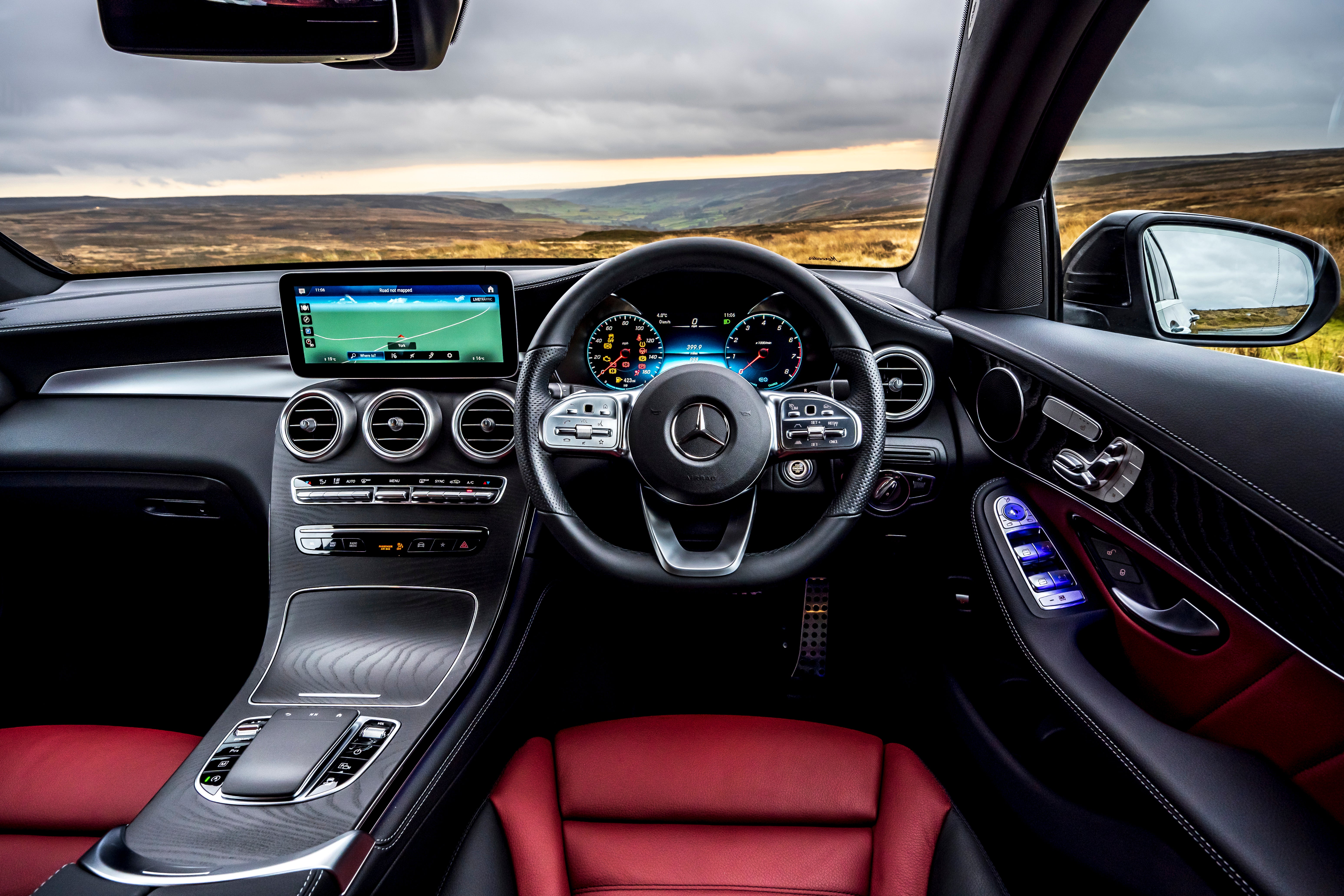 The original blueprints for Mercedes GLC Coupe's interior come from the previous-generation Mercedes C-Class saloon, from which the standard GLC borrows various components. With a sweeping centre console and round air vents, it looks distinctive and modern.
Using a rotary controller or touchpad for the multimedia system, the dashboard of the GLC is relatively light on buttons. Aside from the climate control, almost everything is operated via the infotainment screen. The controls feel logically placed, and should not leave anyone feeling baffled - although if you drive other cars you may end up activating their wipers instead of changing gear because of the GLC's column shift.
All GLC Coupes come with electrically adjustable front seats. These allow the driver and passenger to tailor their preferences for backrest angle, seat height, lumbar support, and cushion angle using the switches on the door. The steering wheel also adjusts manually for reach and rake, accommodating drivers of all sizes.
After all that adjustment, somewhat frustratingly, a memory package for the front seats can only be found as part of the optional Premium pack. Later post-facelift models see it included as part of Premium Plus and upwards.
Heated front seats are fitted to all versions, along with a heated front windscreen that'll defog in a flash. Standard privacy glass also adds an extra layer of comfort.
Quality and finish
As with the basic interior layout, the Mercedes GLC Coupe copies the materials and design flourishes used in the SUV. This means most parts feel made from quality components, although there are a handful of exceptions.
It is the centre console that causes most problems, with the cupholder design feeling a little flimsy. Squeaks and rattles can also occur, but these are relatively minor gripes in a cabin that otherwise feels very luxurious.
Mercedes-Benz prefers to use Artico artificial leather in much of its range, and the GLC Coupe is no exception. The unkind might refer to it as vinyl upholstery, but the reality is far better. It does a good job of imitating real hide, and comes as standard on all models except Premium versions of the AMG GLC 43 and 63. Real leather is on the options list, but there are better ways to spend your cash.
Black ash wood interior trim is featured on Sport and AMG Line models, with 'proper' AMG GLCs featuring high gloss black mixed with aluminium elements. Avoid the 'fineline light brown wood' option, though – it really does not work in the GLC Coupe's cabin.
Infotainment: Touchscreen, USB, sat nav and stereo in the Mercedes-Benz GLC Coupe
Modern infotainment systems are far more than just a simple radio, a point proven here. There are two multimedia setups used in the Mercedes GLC, determined by whether the car was made before or after the 2019 facelift.
Found inside the earliest models is the Audio 20 system, which includes a 7.0-inch display screen atop the dashboard. It might look like a miniature tablet device, but it does not have touchscreen capabilities, so save your finger jabbing. Instead, a rotary controller on the centre console takes charge.
DAB radio, USB ports, Bluetooth for mobile phone calls and Garmin SD-card satellite navigation are all included. Pre-facelift models could also upgrade to the Comand Online system, bringing a larger 8.4-inch screen, plus hard-disk navigation and online services such as live traffic updates.
GLC Coupe's made after the facelift in 2019 feature the new MBUX infotainment system. This has been modelled on smartphone interactions, allowing the driver to ask questions or give voice commands using the phrase "Hey, Mercedes". It also adds a larger 10.25-inch display with touchscreen technology, plus a new touchpad controller that can recognise handwriting.
One point to note is that Apple CarPlay and Android Auto connectivity can only be found on AMG Line Premium trim and upwards, which seems a bit stingy.
Space and practicality: Mercedes GLC Coupe boot space
One of the biggest questions about the GLC Coupe is how much practicality Mercedes-Benz has sacrificed for that lower roofline. The answer is surprisingly little compared with the regular SUV.
For those in the front seats, the chopped top has virtually no impact. Total front headroom in the Coupe drops by 19mm against the GLC SUV, but most other dimensions are unchanged. With standard electrically adjustable seats, there should be little concern about getting comfortable.
Just like the SUV, those in the front can access storage cubbies in the centre console, along with sizeable door bins and a glovebox.
The rear bench seat is where the transformation to GLC Coupe has a bigger effect. Here, the sweeping roofline cuts into headroom by a more considerable 33mm. This is not as terrible as it sounds, with only the tallest passengers likely to be concerned. Even then, their heads are likely to be close to the roof lining, rather than actually resting against it.
Knee room in the back is unaffected by the Coupe changes, but the GLC still works best as a four-seater. Although the fifth middle seat can accommodate adults in terms of width, the chunky transmission tunnel removes most of the legroom. It is best saved solely for emergencies.
The GLC Coupe retains a large hatchback-style boot, but the dropped roofline eats into how much space it offers. Mercedes has actually stretched the rear of the GLC Coupe to offset this, resulting in a boot that is not as compromised as you may expect.
With the rear seats in place, storage falls from 550 litres in the GLC SUV down to a still-generous 500 litres. Space with the rear seats folded flat is affected more, with the Coupe offering 1,400 litres against the 1,600 litres of the SUV. The plug-in hybrid GLC 300e has less boot space due to the batteries and electronics beneath its floor. It offers a mediocre 350 litres with the rear seats up, increasing to 1,250 litres with them folded down.
In terms of exterior dimensions, the Mercedes GLC Coupe is 4,731mm long, 1,890mm wide and 1,578mm tall. That's 75mm longer than the regular GLC, but 42mm lower to the ground.
Handling and ride quality: What is the Mercedes-Benz GLC Coupe like to drive?
"Compared with the traditional GLC SUV, Mercedes-Benz has endowed the Coupe with a sportier stance from the off. All models use sports-tuned suspension, making them sit lower to the ground. While this creates an agile-handling machine, it does come with drawbacks."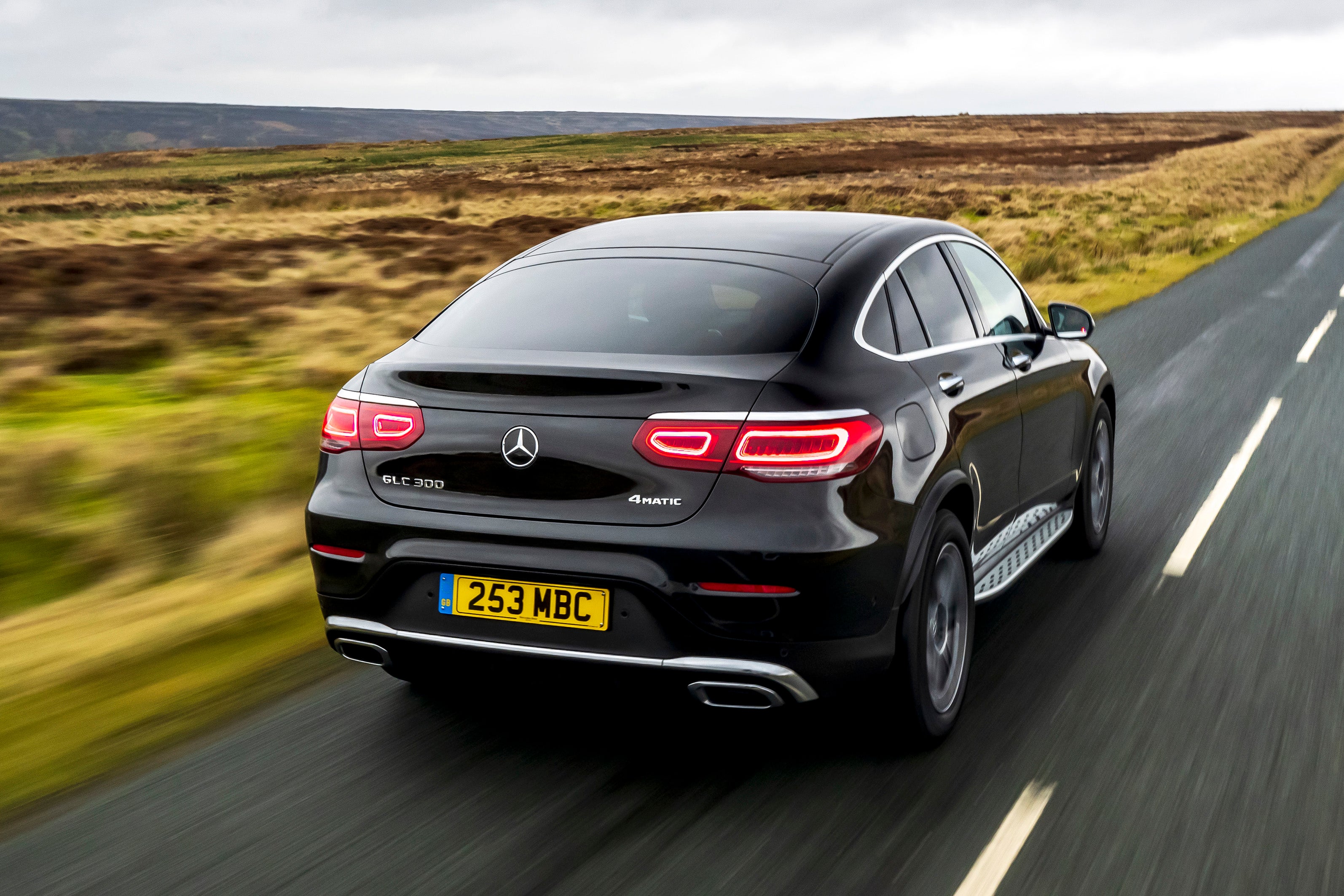 Standard on most Mercedes GLC Coupe models is a traditional coil-spring suspension setup. Mercedes combines this with its Dynamic Select adaptive damping system, allowing stiffness to be adjusted from Comfort, through to Sport and Sport+.
It does make a noticeable difference in the GLC Coupe, with Comfort keeping things calmer. But there is no escaping the overall tautness of the setup, with bigger bumps and road imperfections making their way into the cabin. Versions with larger alloy wheels amplify this effect, as does moving the Dynamic Select dial to Sport or Sport+ modes.
Best protection from potholes comes with the Air Body Control air suspension. Standard on AMG models, and optional on other trim levels, this ditches the regular coil springs and adds an extra degree of luxury. It can still feel stiff in Sport+ mode, but brings the benefit of much greater refinement in Comfort.
Finding a GLC Coupe with air suspension will make a substantial difference to the driving experience. It's an option worth hunting out if you're buying used.
Like the GLC SUV, the Coupe uses speed-sensitive steering. This alters the amount of effort needed depending on how quickly you are going, and takes some getting used to. It doesn't offer a great deal of feedback, although selecting Sport or Sport+ adds extra weight.
The AMG GLC 43 and 63 are more enjoyable to drive, and can be threaded through corners with precision. Rivals like a Porsche Macan or BMW X4 M40i will ultimately be more engaging, though.
Mercedes-Benz claims the GLC Coupe can tackle light off-roading, including wading through water up to 300mm deep. In reality, this is one car SUV kept to gravel tracks or tarmac.
What engines and gearboxes are available in the Mercedes-Benz GLC Coupe?
With sporty looks, Mercedes GLC Coupe buyers will expect engine options to be inspiring. There is certainly no shortage of choice, and all models come with a nine-speed automatic transmission and 4Matic four-wheel drive.
Initial diesel options included the 2.1-litre four-cylinder, offered in 170PS 220d and 204PS 250d flavours. Fuel economy is the same for both, whilst the 250d is 0.7 seconds quicker from 0-62mph, with a time of 7.6 seconds. Really, it's the 250d you want out of that duo to have the hope of it feeling even vaguely sporty.
A new 2.0-litre four-cylinder diesel was launched as part of the 2019 update. It is much smoother, and takes the 220d model to 194PS. A GLC 300d, with 245PS and a 0-62mph time of 6.6 seconds, replaced the 250d.
Mercedes briefly offered a 3.0-litre V6 GLC 350d, producing 258PS and managing 0-62mph in 6.8 seconds. It vanished from the options list in April 2017, which is a shame because it's smoother, more cultured and better suited to a premium car such as this.
Petrol options began with the 2.0-litre GLC 250, with 211PS allowing 0-62mph in 7.3 seconds. It was ousted from the range in 2019 by the newer and more powerful GLC 300, with 258PS and a mild-hybrid boost. The petrols are decent enough, and probably a bit more rewarding to drive than the diesels, but this isn't a light car and fuel economy won't be great.
The AMG GLC 43 is the entry-level performance model, originally offered with 367PS. Upgrades to the 3.0-litre turbocharged petrol V6 in 2019 took power to 390PS, but the 0-62mph time remained at 4.9 seconds. It makes a fantastic, rorty noise and feels brisk.
With a twin-turbo 4.0-litre V8, the 476PS AMG GLC 63 is seriously quick. Zero to 62mph takes 4.0 seconds, and it is limited to 155mph. Moving to the GLC 63 S unleashes 510PS, with 0-62mph in an astonishing 3.8 seconds, plus a top speed of 174mph. Seriously impressive straight-line pace combines with a thunderous V8 soundtrack, but it's very thirsty.
The GLC 300e is the sole plug-in hybrid, combining a 211PS 2.0-litre petrol engine with a 122PS electric motor. Not only can it cruise on battery power for up to 30 miles, but a 0-62mph time of 5.7 seconds is not to be sniffed at.
Refinement and noise levels
Despite the sporty exterior, the Mercedes-Benz GLC Coupe is a calm and composed vehicle on the road. The transition from SUV to Coupe has had little impact on refinement, meaning the GLC Coupe eats up long distances with ease.
For all the talk of grippy handling and quick engines, the GLC Coupe actually makes an awful lot of sense just cruising the motorway. Wind noise is almost non-existent, while even the fat rubber fitted to performance models fails to spoil the party with too much tyre roar.
Engine noise is also well contained, with very little making its way into the cabin. Only the earlier 2.1-litre diesels have a habit of sounding gruff when cold or revved particularly hard. The newer 2.0-litre diesels solve the problem, and are preferable as a result.
AMG models are another matter, generating much more noise, partly for the benefit of those outside. The GLC 43 has an exhaust system with two modes, altering how loud the chrome-plated tailpipes are. Put into Sport mode and you can expect plenty of rumble, along with crackles when changing gear.
With a twin-turbocharged V8 engine, the AMG GLC 63 is as dramatic as you might imagine and hope.
Safety equipment: How safe is the Mercedes-Benz GLC Coupe?
The Mercedes GLC Coupe has not been crash-tested by the Euro NCAP organisation. However, the regular GLC SUV scored the maximum five-star rating when it was evaluated. Given how much the two models share, we've no reason to believe the Coupe won't be every bit as safe.

There are a total of seven airbags fitted to the GLC Coupe, covering the driver and front-seat passenger, along with window bags that protect occupants both front and rear. Even the driver gets a special airbag just for his or her knees.

There are Isofix anchors for two child seats on the rear bench, with sensors to automatically detect their presence.

The bonnet of the GLC Coupe can pop-up automatically if it senses an impact with a pedestrian. Standard-fit Collision Prevention Assist attempts to stop this from happening in the first place, warning the driver and then applying the brakes automatically should it sense a crash is about to happen.

While the Coupe's curving roofline may help its looks (discuss), it causes real problems for rearward visibility. To try and counter this, Mercedes fits all GLC Coupes with a reversing camera and front and rear parking sensors. This becomes a 360-degree surround view camera on later AMG versions.

LED headlights are fitted to Sport trim Coupes and upwards. Intelligent LED lights incorporating Highbeam Assist are optional on pre-facelift models, and standard on later AMG Line Premium cars.

There is no spare wheel fitted to any model, with Mercedes-Benz relying on run-flat tyres or a puncture repair kit instead.
MPG and fuel costs: What does a Mercedes-Benz GLC Coupe cost to run?
"Fuel economy for the Mercedes-Benz GLC Coupe ranges from impressive-on-paper for the plug in hybrid, to wallet thumping for the GLC63."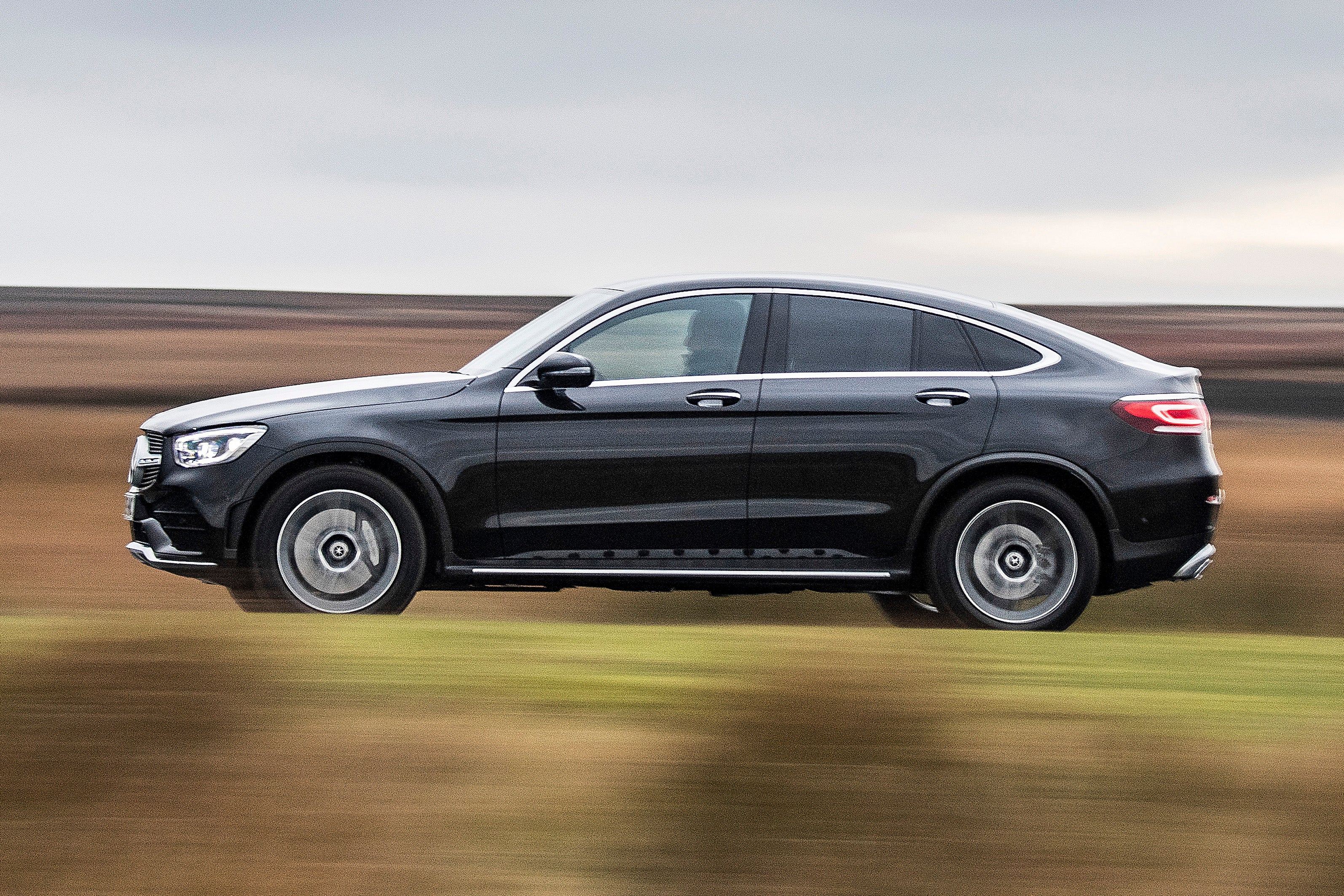 Mercedes-Benz launched the plug-in hybrid GLC 300e as part of the 2019 makeover. Capable of covering up to 30 miles on battery power alone, it officially achieves 113mpg (you won't get anything near that if you don't regularly charge it). A normal three-pin plug will see it fully charged in five hours, while using a 7.4kW wallbox will cut this to just two hours.
For diesel models, the GLC 220d is the most economical, with official fuel economy of up to 48.7mpg. The more powerful GLC 300d achieves 44.1mpg in the same test.
In terms of petrol cars, the GLC 300 achieves up to 34.9mpg. The GLC 43 is the most efficient of the AMG models at a reasonable-ish 28mpg, with the V8-engined GLC 63 S managing just 22mpg.
How reliable is the Mercedes-Benz GLC Coupe?
Mercedes-Benz finished in a decent (but not outstanding) 13th place in the latest HonestJohn.co.uk Satisfaction Index. That's ahead of most rivals such as Land Rover, Jaguar, Audi and BMW, which is a decent showing for the brand.
The GLC Coupe has been around for several years now, so the mechanical and electrical components are proven. That doesn't meant that every car will be trouble-free, and given this is a premium model with some complex systems we'd budget for the odd problem. One thing that owners have complained about is an annoying judder when driving in the cold on full lock, which is a common problem on sportier new cars with big wheels and tyres.
Insurance groups and costs
With sporty looks and a premium badge on the bonnet, insurance costs for a Mercedes-Benz GLC Coupe will be relatively high. Experienced drivers should be able to keep their premiums at a manageable level, but newer drivers may struggle with costs.
The cheapest model to insure is likely to be the GLC 220d diesel. It is rated in group 29 out of 50, with this being the same regardless of trim level.
For those wanting a petrol engine, the popular GLC 300 is group 40 for AMG Line specification, and group 41 for Premium Plus versions. With a powerful V8, the AMG GLS 63 S will be the most expensive to insure, falling into group 48.
VED car tax: What is the annual road tax on a Mercedes-Benz GLC Coupe?
Due to going on sale in late 2016, there was only a short period of time before the Mercedes-Benz GLC Coupe became subject to the new VED (road tax) rules.
For the handful of cars sold before April 2017, the GLC 220d and 250d both fall within Band E and attract an annual rate of £150 in Sport trim. AMG Line models get pushed into Band F, and incur a £165 per year charge.
The rare pre-2017 GLC 350d will cost £205 in Sport trim, and £240 in AMG Line spec. An AMG GLC of the same era will owe £305 per annum.
All other models, including the non-AMG petrols, fall within the post-April 2017 VED regime. This adds extra premiums for cars with a list price of over £40,000, affecting all GLC Coupes sold from April 2017 onwards.
For five years after the first-year registration, this sees an extra £325 charge added to the standard rate. Owners of all models thus pay £475 a year, other than the plug-in hybrid GLC 300e (£465).
The GLC 300e also gets a lower benefit-in-kind company car tax rate of 16 percent, with the rest of the range between 36 percent and 37 percent.
How much should you be paying for a used Mercedes-Benz GLC Coupe?
"When it comes to the used marketplace, the Mercedes-Benz GLC Coupe is much rarer than its SUV counterpart. This may mean searching a little further should you really want one."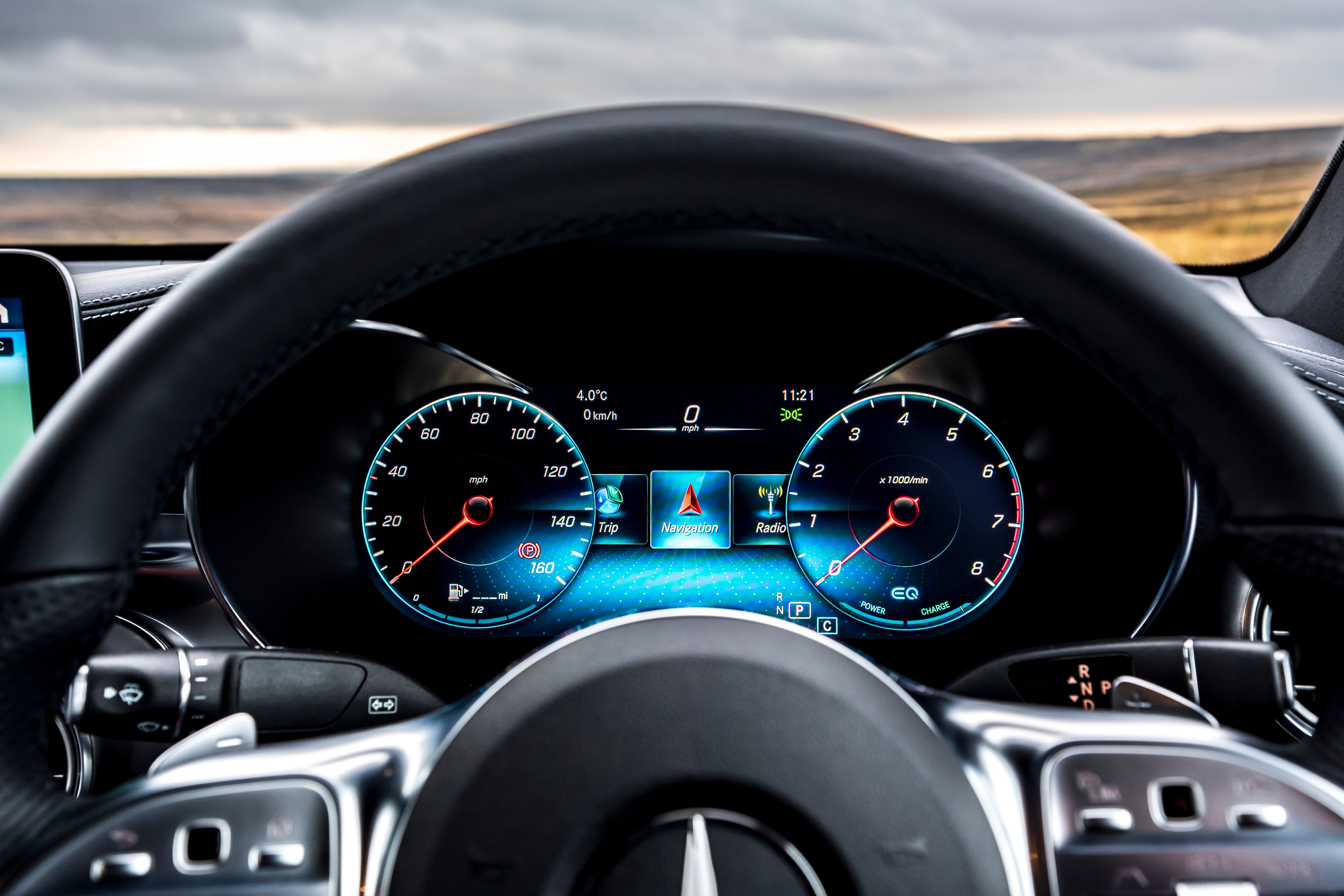 Older Mercedes GLC Coupes are more likely to be found with diesel engines, although the split becomes more balanced on later models. Almost all Coupes are AMG Line versions, with real detective work needed to find a Sport.
The earliest 2017 example of a GLC Coupe in 220d form with 60,000 miles on the clock is around £25,000, with the earliest 2018 petrol GLC 250 model with 40,000 miles from around £30,000.
A nearly-new diesel GLC 300d AMG Line Premium, with fewer than 5,000 miles on the odometer, can be found at a Mercedes-Benz dealership for around £45,000.
If petrol power is more your style, the GLC 300 is a popular option. Low-mileage, nearly-new examples of these, in AMG Line Premium specification, should cost around £47,000.
Should you want more performance, a nearly-new AMG GLC 43 should be available from £50,000, with the V8-powered AMG GLC 63 in the region of £65,000.
The plug-in hybrid was expensive to buy new, but has depreciated nicely, so a 2020 example with a mere 12,000 miles on the clock is around £41,000.
Trim levels and standard equipment
Compared with the regular SUV version of the GLC, Mercedes-Benz has made the trim levels for the Coupe slightly simpler. An update at the end of 2019 saw revisions made to the overall number of models offered.
For pre-2019 facelift Coupe models, things begin with Sport trim. Included here are 18-inch alloy wheels, LED headlights, sports suspension, Artico artificial leather upholstery and Garmin satellite navigation.
AMG Line adds 19-inch wheels, AMG-specific body styling, a black roof lining and AMG sports pedals. An optional Premium package includes ambient lighting and a sliding glass sunroof, while Premium Plus adds the Comand Online multimedia system and Burmester speakers.
The 2019 facelift sees the Coupe range start at AMG Line, with 19-inch wheels, AMG styling details and the new MBUX multimedia system. AMG Line Premium adds 20-inch wheels, adaptive LED headlights, genuine leather trim and a digital dashboard.
Moving to AMG Line Premium Plus brings a sliding sunroof and Burmester surround-sound to the Coupe, while range-topping AMG Line Ultimate adds the desirable air suspension. AMG performance models follow a similar hierarchy, with minor variations.
Ask the heycar experts:
common questions
Which is better: the BMW X4 or the Mercedes-Benz GLC Coupe?
It depends what you want. The X4 has the more striking (read: divisive) design of the two, with the Mercedes more classically styled. The BMW also has a firmer ride and sportier driving experience, whereas the Mercedes majors on comfort and class.

Is the Mercedes GLC Coupe worth buying?
If you're dead seat on a coupe SUV, the Mercedes GLC Coupe is one of the less controversial designs out there. It's a good car, but you have to question if you really want those looks and are willing to sacrifice some space, comfort and value over the standard GLC.

Answered by
Lawrence Allan
What's the difference between a Mercedes-Benz GLC and GLC Coupe?
Primarily, the main difference between the two GLCs is styling. The Coupe gets a lower roofline and altered rear-end design over the SUV, while inside there is less headroom in the rear. The Coupe is also longer for a sportier look, while it has a more sporting suspension tune too.

Mercedes-Benz GLC Coupe cars for sale on heycar
3,914
Number of cars available
£27K - £85K
Price bracket of these cars
Colours available on heycar
Keep me updated by email with the latest advice, news and offers from heycar
By submitting, you agree to our
privacy policy
.