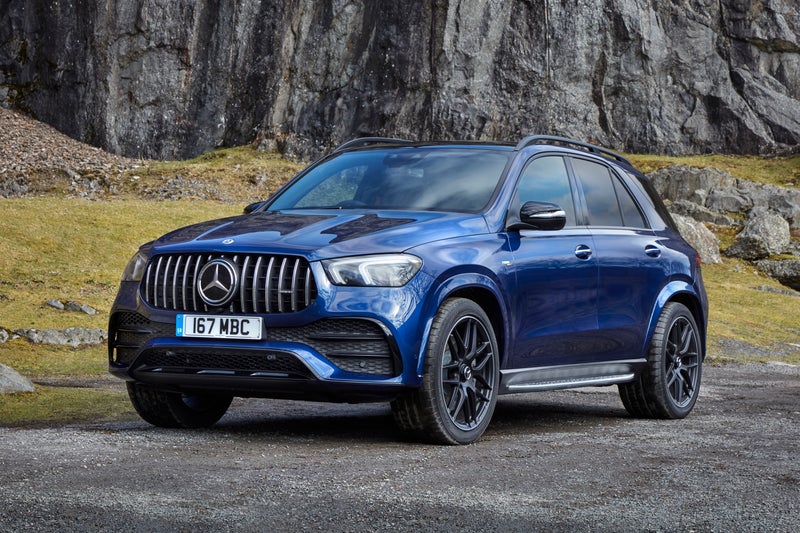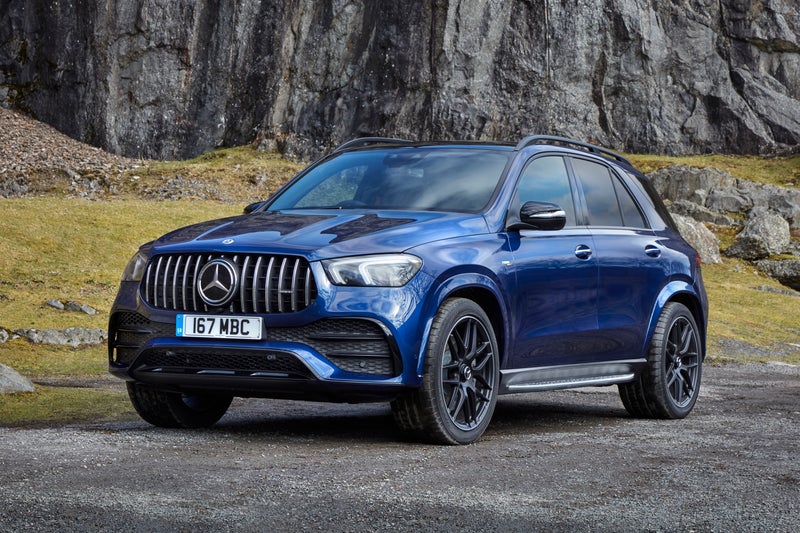 1/10
heycar rating
"Mercedes-Benz's BMW X5 rival"
Launched: 2019

SUV

Petrol, Diesel, PHEV
Quick overview
Pros
Innovative infotainment system that looks great
Appealing range of engines and really efficient PHEV version
Spacious for five people and luggage
Cons
Not as good as a seven-seater; rivals are better
Many rivals also more sophisticated to drive
Build quality can't quite match that of the best
Overall verdict
On the inside
Driving
Cost to run
Prices and Specs
Overall verdict
"This car has been known by quite a few different names over the years. It was originally launched in 1997 as the M-Class, and later became known as the ML, but as of 2015, Mercedes' large luxury SUV adopted the GLE moniker. So, although this latest version is technically only the second-generation GLE, you can trace its lineage back much further than that."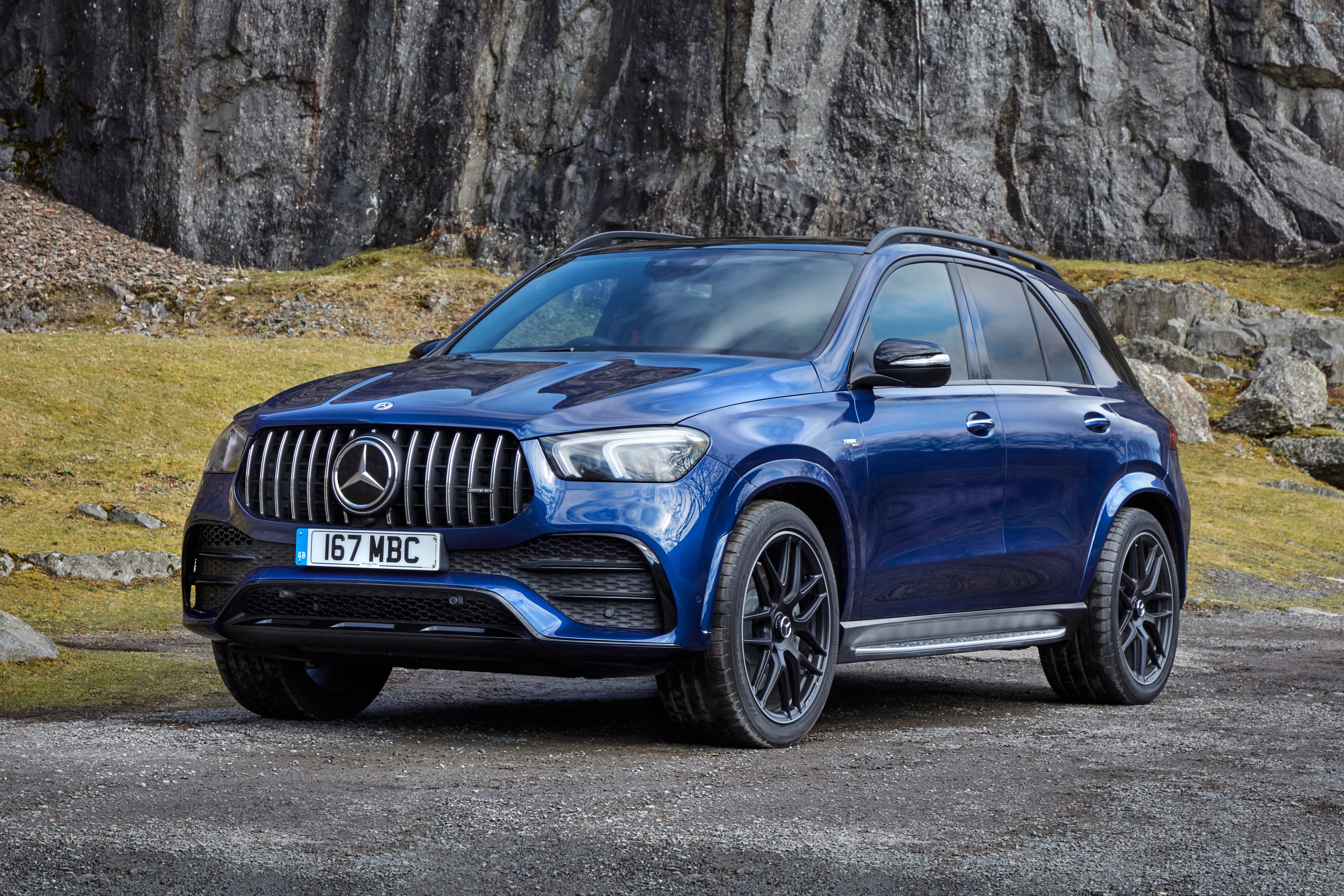 Early versions were very successful, too, because back then, big, luxury SUVs were just as desirable as they are today, but they were much fewer in number. These days, however, the GLE has to compete with a vast variety of very talented rivals, so its job is much harder. The question is, does the big Merc have what it takes to compete?
Well, one change with the latest GLE already makes it more competitive than before. Where the previous version had only five seats in a class of cars in which seven seats were the norm, the latest GLE gives you that same option. However, it's also true that the space surrounding these two extra seats is rather more cramped than it is in rivals, so it's not as practical or as versatile as the best seven-seaters: the extra pair of chairs should only really be viewed as an emergency measure, rather than an everyday one.
The GLE's cabin is very competitive with rivals' in other areas, though. It's classy enough to feel at home in such well-heeled company, and luxury equipment provided as standard is just as generous. What's more, the GLE's sophisticated infotainment system provides some real wow-factor, with two high-definition glass-fronted screens that work well and look great.
There's plenty of choice on engines, too, with various petrol and diesel choices that do a good job in combining prodigious power and impressive refinement with more-than-competitive economy. There's even a plug-in hybrid variant offered that the official figures claim will do a whopping 66 miles on electric power alone. That's a really impressive figure, and so are the combined CO2 emissions of 19g/km and fuel consumption of 257mpg (although both are laboratory figures that will likely never be met in the real world).
Unfortunately, where GLE can't match its very best rivals is on the road. Don't get us wrong, this is a good car to drive, with a reasonably comfortable ride and capable handling. It's just that its best rivals, most notably the Audi Q7, do such an incredible job on that score that the Merc can't quite measure up.
Overall, the GLE is an appealing and desirable car in its own right, and if you have your heart set on one, there's absolutely no reason that you shouldn't. However, we do think that the best rivals offer better practicality, marginally better build quality and a more polished and sophisticated driving experience.
Is the Mercedes-Benz GLE right for you?
If you've previously owned an M-Class, ML or GLE, then the latest GLE will feel like a real step on. It's posher than ever before, better to drive than ever before, it has bags of luxury equipment and, like many large SUV rivals, it now offers seven-seat practicality.
Granted, the seven seats aren't as roomy as those of rivals, so should only be used occasionally rather than habitually. Still, it's a useful option to have. And where the GLE really comes into its own is on its infotainment technology. It has loads of different functionality, and a good operating system - plus really clever voice control - makes that functionality easy to operate. Tech-heads will love it.
What's the best Mercedes-Benz GLE model/engine to choose?
For our money, most buyers will be best off with the entry-level 300d diesel engine. It's the cheapest version to buy, it's strong and refined on the road, and aside from the plug-in hybrid version, it delivers the best fuel economy. For long-distance drivers, it's definitely the pick.
However, if you only have a short commute, or you're a company car driver, you'll want to consider the 350 de PHEV. That's because it can do up to 66 miles on electric power alone, meaning short commutes will cost peanuts, and it also gives vastly reduced Benefit-in-kind tax bills for fleet customers. Bear in mind, though, that you can't have the PHEV with seven seats.
Trim-wise, there's not much you'd want that entry-level AMG Line trim doesn't give you, so we'd stick with that.
What other cars are similar to the Mercedes-Benz GLE?
Once upon a time, the GLE's rivals would've been pretty clear-cut: the BMW X5, Audi Q8, the Porsche Cayenne, the Range Rover Sport, and any other big, posh SUV that only offered five seats. However, as most rivals have diversified into offering seven seats, just like the majority of other big, posh SUVs, then so did the GLE. The means cars like the Audi Q7, Land Rover Discovery and Volvo XC90 are also in the GLE's crosshairs, and you could argue that bigger offerings like the BMW X7 and Merc's own GLS, are also in the mix.
Comfort and design
"All SUV drivers love a lofty, commanding driving position, and the GLE delivers. This helps give you a clear view out in most directions, although the slightly odd design of the car's rear window pillars mean your over-the-shoulder view isn't quite as clear-cut as it is in some rivals."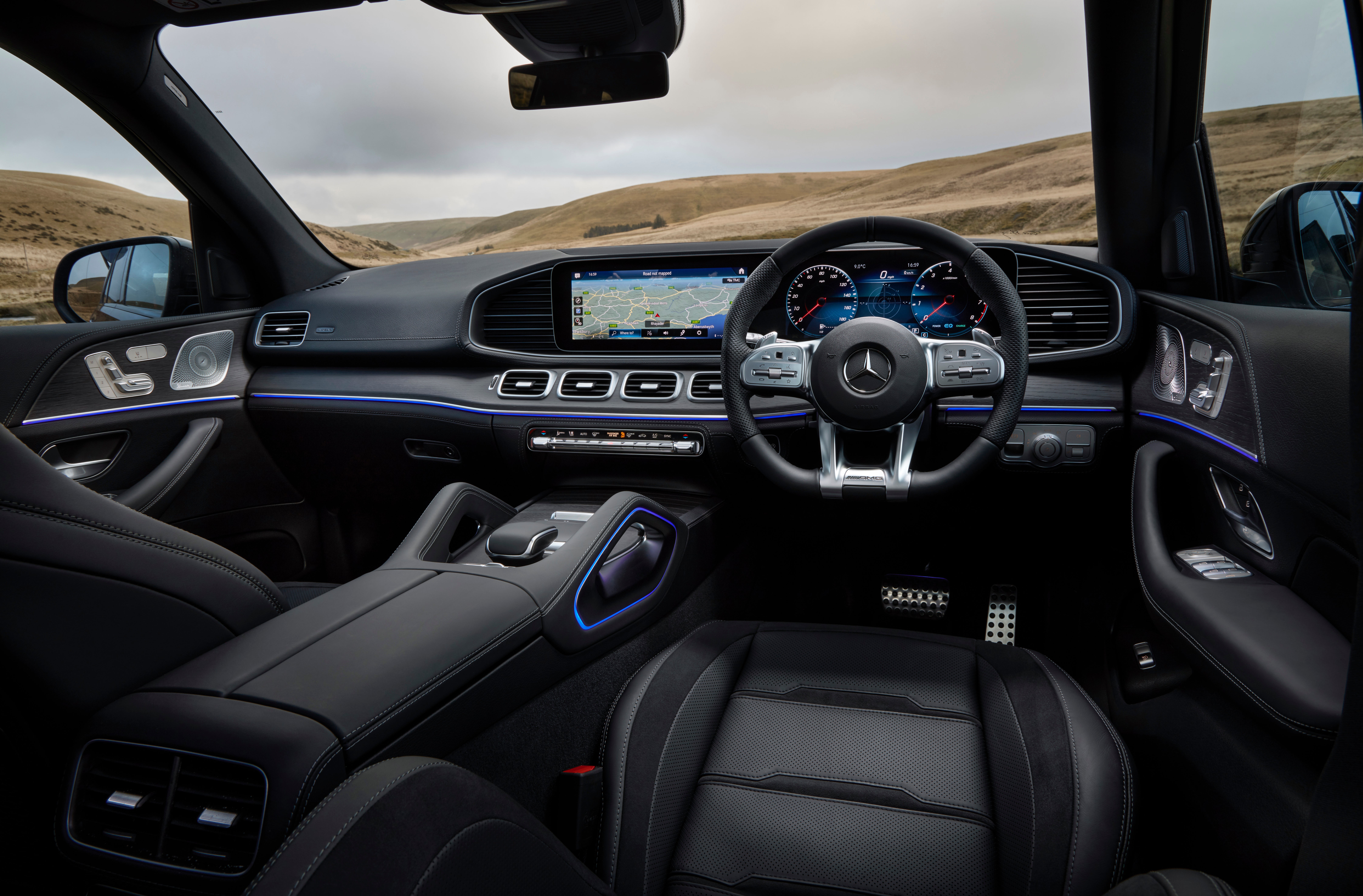 You slide your seat back and forth manually, but from then on, all adjustment for the driver's seat is done electrically, making it very easy to fine-tune your seating position. There's plenty of manual adjustment in the steering column, too.
The dashboard is dominated by the two digital screens that we'll discuss in the Infotainment section below, but we like the fact that the air-con controls are physical buttons that are separate from the infotainment system. This means you can make minor adjustments without having to scroll through menu after menu. However, the multi-function steering wheel is smattered with lots of buttons and switches, and the sheer number of them means it's tricky to remember what everything does.
Quality and finish
Any luxury SUV needs to deliver a classy environment for its occupants, and the GLE does just that. In all versions, the seats are upholstered in leather and the dashboard gets a plush-feeling covering made from a (very convincing) man-made leather substitute. Meanwhile, the dark wood trims that are standard on every version also help inject a sense of modern sophistication, while those infotainment screens inject a high-tech feel, too. All in all, the GLE's cabin is very pleasant, and in terms of poshness, it feels right up there with its rivals.
However swish, though, the GLE's interior doesn't feel quite as solid or substantial as rivals from Audi and BMW: pokes and prods of various bits and pieces result in a few more creaks and flexes than they do in the other German cars, so the Merc doesn't feel quite as dense. That said, it really isn't far behind, and you'll certainly have no reason for complaint.
Infotainment
The GLE's cabin is dominated by two glass-fronted 12.3-inch screens that are mounted side-by-side in front of the driver. These take most of the car's various functions, plus the information that would usually be delivered on conventional analogue instruments, and presents them all in one integrated unit. First things first, it looks fab.
The system is controlled by tapping and swiping the left-hand screen, or via a touchpad and shortcut buttons located on the central partition between the front seats. The graphics are really sharp and the menus have a logical layout, so it's pretty easy to find your way around the system, but the touchpad controller isn't a patch on the iDrive rotary dial you get in a BMW X5. It's less precise and more distracting as a result. On the other hand, you can also operate the system via a sophisticated voice control system that's designed to recognise natural speech rather than specific commands, and happily, it works well.
Most of the infotainment functionality you'd expect is supported on all GLEs, including DAB radio, sat-nav, Bluetooth and a whole bunch of connected services. There's also a wireless phone charging plate as standard. However, the basic AMG Line car doesn't get Apple Carplay or Android Auto a standard, and if you want it, you have to step up to AMG Line Executive trim, which gives you literally nothing else except some bigger wheels. Pretty cheeky, that.
Stepping up a trim further adds augmented reality for your sat-nav. This overlays instruction graphics over a camera image of the road ahead of you, pointing out precisely where you should be going. It looks really cool, and it's also really handy. Stepping up to the very top trim also adds a Burmester surround sound system.
Space and practicality
Predictably, nobody will struggle for headroom or legroom in the front seats, and things are even more impressive in the back seats, There's more space back there than in a Q7 or Discovery, allowing passengers to stretch out aching limbs if they need to. The middle seat of the rear bench isn't as wide as those either side, but it'll still be wide enough to keep life comfortable enough on short trips. The cabin is wide enough to accommodate three adults across the rear bench, too.
Some GLEs stick with a five-seater arrangement, but unlike the previous version, the latest car can also be had with seven. Pricier versions have seven as standard, while some cheaper versions require you to add them as an option pack. However, these bonus chairs are much tighter on space than those in a Q7, Discovery or XC90, and the access to them is also tighter, with only a small space to clamber through. That means the GLE can't match the best as a true-blue seven-seater.
The second-row bench in all GLEs - five- and seven-seaters - takes on a 40-20-40 split configuration. In five-seat cars, these portions are raised and lowered manually, but in seven-seat versions, it's done electrically, and the chairs slide and recline electrically, too. Seven-seat versions also come with four-zone climate control (rather than the two-zone that comes as standard) and some additional USB-C ports.
Boot space with all seven chairs in place is actually pretty good, with room for a few carry-on cases, and with five chairs, the boot is also impressively large, although not quite as huge as a Q7's. Two-seat mode brings a predictably enormous load bay, and all the seats fold flush into the floor, giving you a usefully flat and level load area.
Handling and ride quality
"While most versions of the GLE come with air suspension as standard, the entry-level 300d comes with more basic steel springs. Now, despite the fact we've tried the 300d (read about the engine below) we haven't tried the steel springs: the car we tried was fitted with an optional air suspension that's not offered in the UK. Odd, but there you go."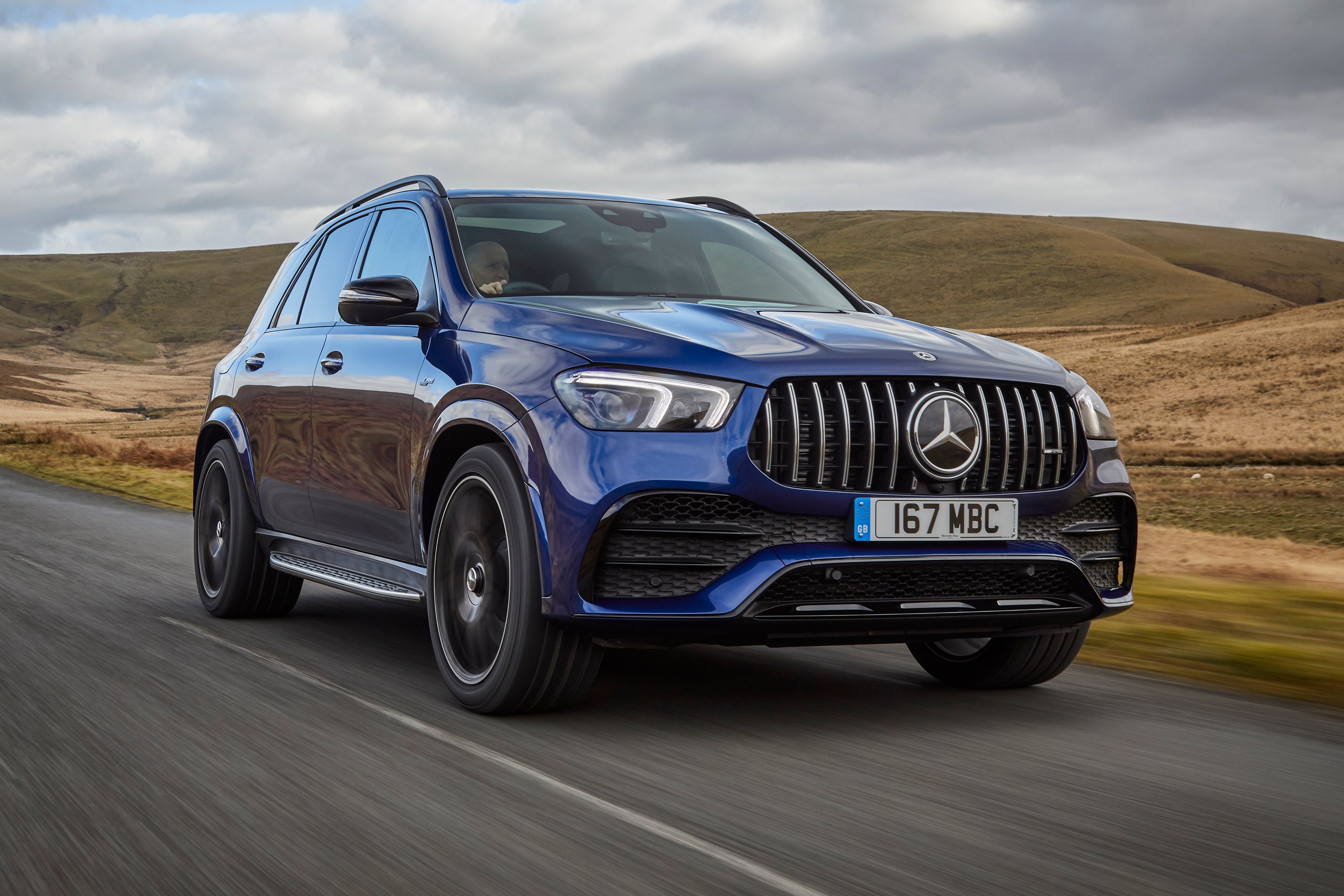 We have, however, tried the air suspension that is available on more expensive models, and it's really good. Uneven surfaces are mopped up very effectively, keeping you impressively comfortable, and body movements are tied down better than with some rivals, such as the Land Rover Discovery, making for a flatter, more even ride.
That said, these movements aren't quite so tightly controlled as they are in other rivals like the Audi Q7. By comparison, the GLE has a slightly wallowy, lumbering nature that still bounces you around more than some folk might like, and with a good deal more body roll to be felt in bends, it doesn't change direction with the same positivity or confidence, either. Similarly, the light steering that helps you with manoeuvres at low speeds starts to feel slightly vague and detached at higher speed, which further discourages you from pressing on. All in all, the GLE drives well, just not as well as the very best-in-class.
Engines and gearboxes
Bear with us here, because there are quite a few different engines to take you through. We'll kick off with the diesels as they're more popular.
The range starts with the 300 d, which has a 2.0-litre unit with 245PS. Arguably the most interesting version is the 350 de, which takes a down-tuned version of this engine, but combines it with an electric motor in a super-efficient plug-in hybrid package, delivering 320PS. Don't confuse it with the similarly named 350d, which uses a 3.0-litre six-cylinder diesel with 272PS, while the 400 d uses the same unit, but hikes power to 330PS.
There are just two petrol options for now, beginning with the 450. This uses a 3.0-litre six-cylinder petrol engine, which is sometimes given a wee bit of electric assistance (from what is essentially a posh starter motor) for a bit of extra shove. This makes it a mild hybrid. It's the same deal with the sporty one, the AMG 53, which uses the same hardware, but power is boosted up to 435PS. All versions use a nine-speed automatic gearbox and four-wheel drive as standard. Still with us? Good.
Unfortunately, we've only had the opportunity to try a couple of the engines so far, but we're keen to rectify that as soon as we can. One of them is the entry-level 300 d, and we reckon it's all that most buyers will need. Performance is thoroughly respectable, and with an eager power delivery, your progress is nice and easy. The other unit we've tried, the 400 d, is considerably quicker. You don't have to get too silly with the accelerator to have it properly racing down the road. In fact, only the AMG 53 is quicker against the stopwatch.
Refinement and noise levels
The GLE does an impressive job here. Of the engines we've tried, the 300d is definitely the noisiest, but it's still far from raucous, with only a small amount of noise and vibration making it through to the cabin in most circumstances. Yes, it isn't quite as hushed as the equivalent units in the Audi Q7 and BMW X5, but it's a lot more subdued than the engine in a Land Rover Discovery.
The 400d is quite a bit quieter and smoother. Its more eager acceleration means it doesn't need to be worked as hard as much of the time, which immediately makes it more relaxed, but also it takes more revs to make itself heard. And when you oblige, it sounds satisfying rather than strained.
The nine-speed automatic gearbox suffers the same affliction as those in all large SUV rivals. Bury the accelerator to ask for a sudden burst of forward motion, and it has to consider its options for a second or two before deciding which gear is right for the job, leading to a rather pregnant pause. However, this isn't nearly so bad in the big Merc as it is in some rivals, and otherwise, the gearbox goes about its work, briskly, smoothly and largely unobtrusively.
Road noise and wind noise are also pretty well isolated at most speeds, making the GLE a very capable motorway cruiser.
Safety equipment
AMG Line and AMG Line Executive cars come with a very solid amount of safety kit as standard, including seven airbags, adaptive high-beam LED headlights, automatic emergency braking, blind-spot monitoring, lane-keeping assistance, traffic sign recognition with automatic amendment of your speed, an active pop-up bonnet to better protect pedestrians and a self-parking system with sensors and a reversing camera. Not bad at all.
Stepping up to AMG Line Premium gives you cleverer multi-beam headlamps and an upgraded parking package with a 360-degree camera, while the range-topping AMG Line Premium Plus adds the Driving Assistance Package. This is, essentially, adaptive cruise control that brings in a whole bunch of other clever functionality, allowing the car to pretty much drive itself under certain circumstances. The GLE has been crash-tested by Euro NCAP, and achieved the full five-star rating.
Maximum EV range
Like we say, we haven't had the chance to try the 350de plug-in hybrid version yet, so we can't tell you what it's like, but the official figures suggest it can cover up to 66 miles on a full charge of the battery. That charge is said to take around 11 hours with a normal domestic three-pin plug, or a little over three hours on a 7kW wallbox. The actual range you're likely to get in the real world will differ according to the ambient temperature, traffic, road conditions and a whole range of other factors, but compared with those of rivals, the official figure looks really impressive.
MPG and fuel costs
"Predictably, the most economical of the conventionally-powered cars is the 300d, with an official WLTP figure of up to 46mpg. What's more, that figure is actually rather better than those of most rivals."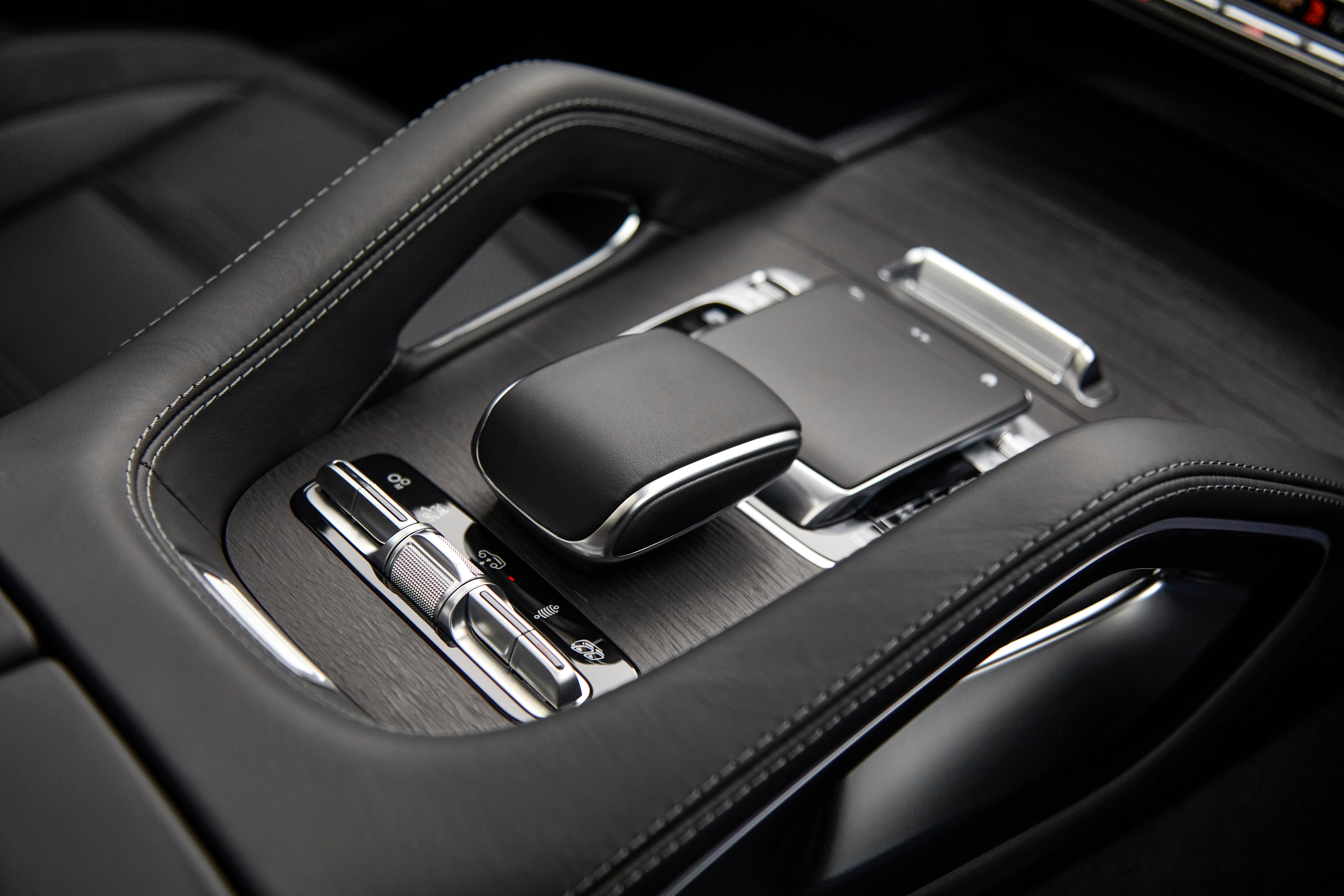 Well done Mercedes. Meanwhile, the figures for the 350 d and 400 d lie just either side of the 40mpg mark, while the 450 petrol is back on 33mpg and the AMG 53 only just manages to better 30mpg. And that's if you behave in the fast version. Which you won't.
By far the standout version according to the official figures, though, is the 350 de plug-in hybrid. The WLTP laboratory test resulted in a jaw-dropping figure of almost 260mpg. Now, obviously, that figure shouldn't be taken literally, and the economy you really get will depend on how much time you can spend driving your car on electric-only power. Obviously, the more the better. However, the car's impressive electric-only range should give you a greater chance of staying emissions-free, and as a comparative figure, it's really impressive, even compared with other PHEVs.
Insurance groups and costs
Insurance groupings for the GLE range between 44 at the bottom of the range and 49 at the top, and bearing in mind that group 50 is the priciest group there is, that shows you premiums aren't going to be cheap. That's the case with any car as expensive as this, though, so you won't be better off in that regard with any of the GLE's rivals.
VED car tax
The last big change in the VED tax rules brought in a flat rate of tax for petrol and diesel cars, but also imposed a £325 surcharge on cars that cost over £40,000 when new. That applies to all versions of the GLE, so between years two and six of the car's life, owners will be required to pay tax at a rate of £475 per year. After that, annual bills will drop to the £150 flat rate. However, used car buyers can take solace in the fact that that they've dodged the hefty first-year tax payments that buyers of new examples are required to pay, which amount to £1305 on most versions and £1850 on the AMG 53s.
Company car drivers will definitely want to go for the PHEV version. While the rest all command Benefit-in-kind tax payments based on 37% of the car's value, meaning very steep bills, it's just 6% on the 350de. That'll mean colossal savings.
How much should you be paying for a used Mercedes-Benz GLE?
"At the time of writing, it would've taken a minimum of around £58,000 to get you into a brand new GLE, the 300 d in AMG Line trim."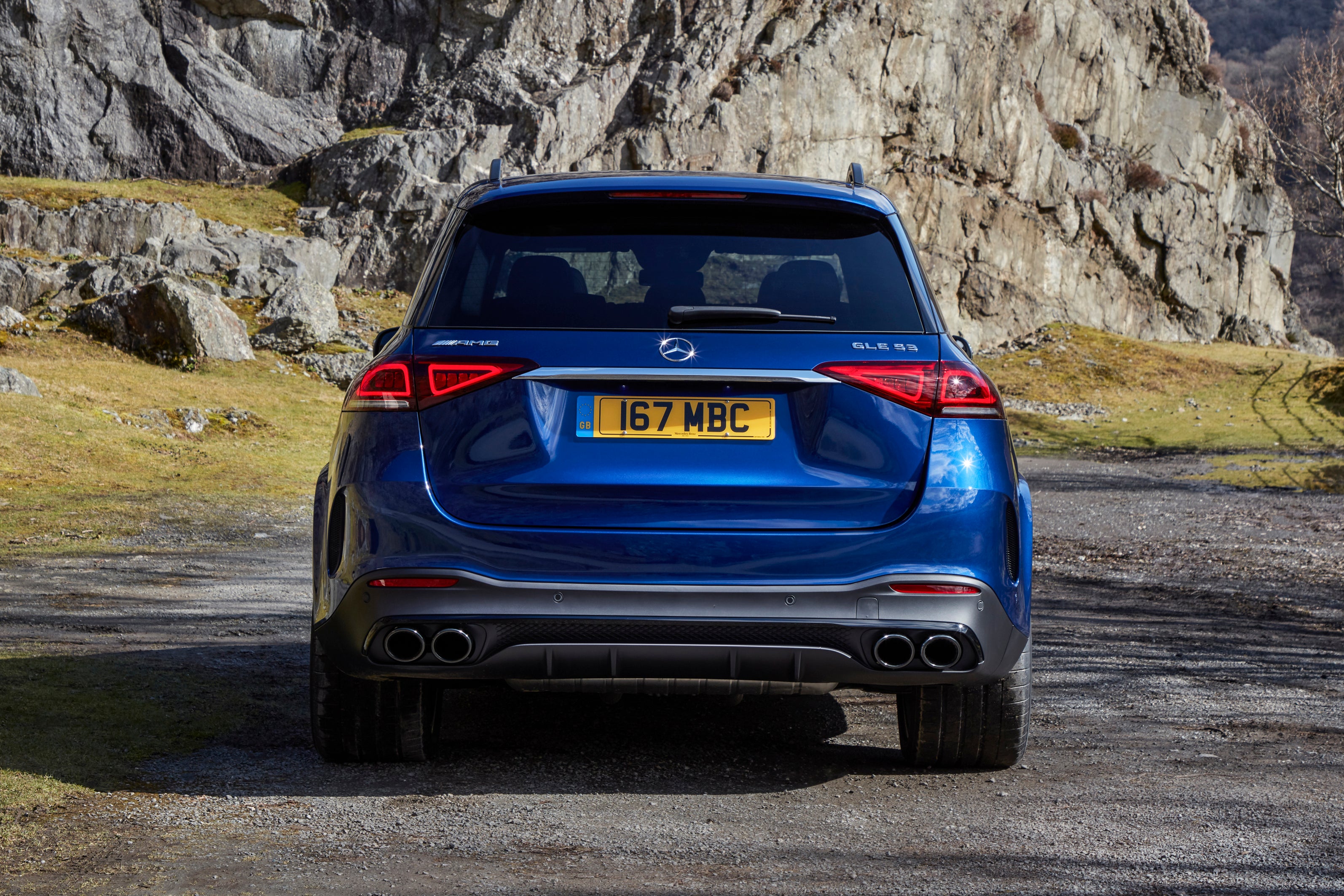 The price jumped to about £61,000 for the cheapest versions of both the 350 d and 350 de, and because the jump up to the 400 d also involves jumping up several trim levels, the cheapest one of those costs almost £73,000. The priciest version in the range, the AMG 53 in Premium Plus trim, was yours for just over £81,000.
These prices may sound steep, but when compared with those of rivals, they're actually pretty competitive. Having only been released in 2019, used prices for this generation of GLE obviously haven't had the chance to come down too far yet. But with very similar resale values to its rivals, you can be sure that prices will tumble at a similar rate across the board.
Trim levels and standard equipment
There isn't much that the entry-level AMG Line car doesn't give you. On top of all the infotainment and safety gear already discussed, your roster of standard luxury kit includes two-zone climate control, heated front seats, power-folding door mirrors, automatic lights and wipers, four powered windows, keyless go, cruise control, leather upholstery, a leather-effect dashboard, and ambient lighting with no fewer than 64 colours.
You could upgrade to AMG Line Executive, but all that really earns you is Apple Carplay/Android Auto (which should be included as standard, we reckon) and some bigger alloys. Every other step up the ladder also includes wheels that are either bigger or of a different design, by the way.
AMG Line Premium trim doesn't add much except the augmented reality navigation and a memory package for the electric seats, while AMG Line Premium Plus (got deja vu with the trim names yet?) adds a panoramic roof.
The GLE 53 versions have their own bespoke trims based on AMG Line Premium and AMG Line Premium Plus. They're pretty much the same with a few little tweaks, and all 53s get more sophisticated air suspension.
Specify the seven-seat option, and as well as a pair of extra chairs, you also get four-zone climate control, more USB sockets (of the C type) and powered seats in the second row.
Mercedes-Benz GLE cars for sale on heycar
4,166
Number of cars available
£22K - £80K
Price bracket of these cars
Colours available on heycar
Keep me updated by email with the latest advice, news and offers from heycar
By submitting, you agree to our
privacy policy
.