Mercedes-Benz GLE Coupe Review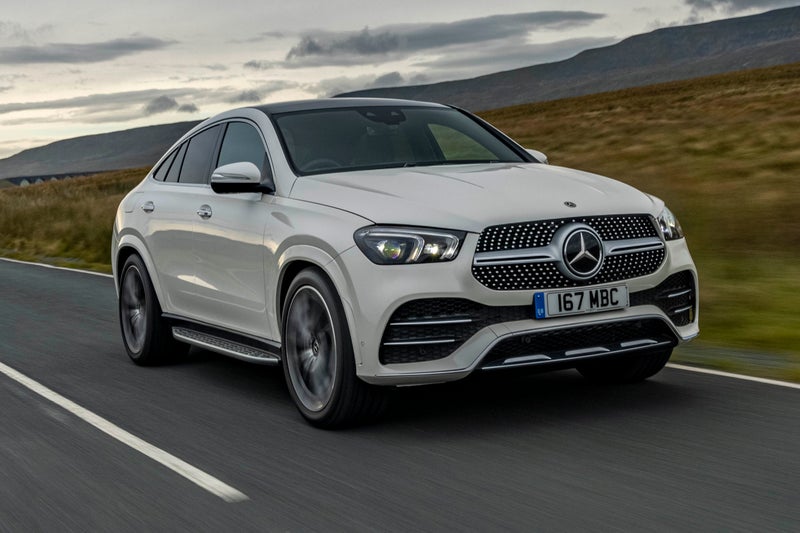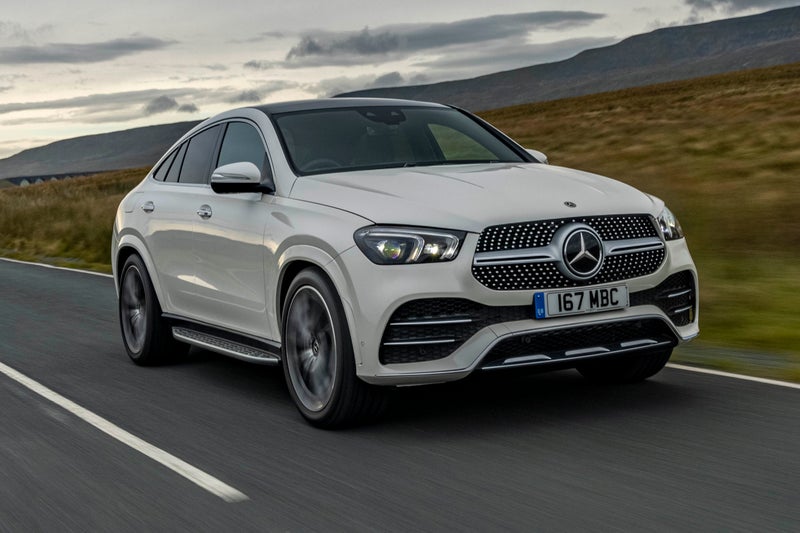 1/10
heycar rating
"Mercedes-Benz's BMW X6 rival"
Launched: 2019

SUV

Petrol, Diesel
Quick overview
Pros
Innovative infotainment system that looks great
Strong, powerful and refined engines
Spacious for five people, and a big boot
Cons
Coupe body impinges on practicality
Build quality can't quite match that of the best
Some doubt about how the car drives
Overall verdict
On the inside
Driving
Cost to run
Prices and Specs
Overall verdict
"Luxury SUVs come in all shapes and sizes these days, and the Mercedes-Benz GLE Coupe is about as sizeable and as shapely as it gets. While most SUVs have a boxy, upright stature, the GLE Coupe adopts a design that's driven more by style than it is practicality or versatility. "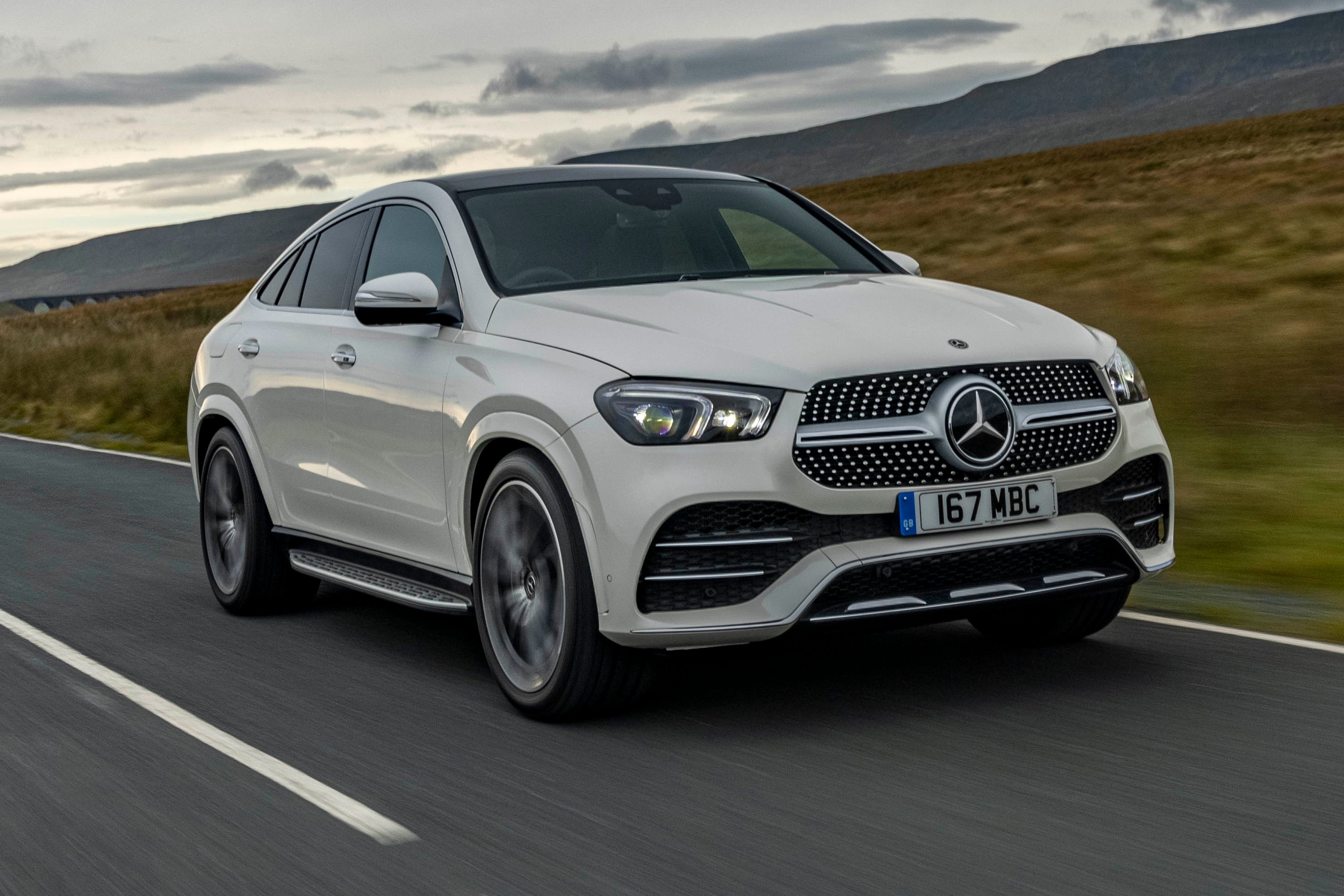 Although those with a taste for pedantry might struggle to call it a genuine coupe, due to the fact it has more than two doors, there's little doubt that the rakish appearance delivered by the car's sloping roofline catches the eye. Yes, it'll probably disgust as many people as it delights, but it sure won't go unnoticed.
The GLE Coupe isn't alone in occupying this part-SUV-part-coupe niche, either. The BMW X6 has offered a similar mash-up of conventions for a number of years, and although it's a relatively new kid on the block, the Audi Q8 offers style-conscious buyers another choice.
Another reasonably new entrant is the Cayenne Coupe based on Porsche's brilliant family SUV, while the Range Rover Sport has been joined by the slightly smaller Velar in Land Rover's offensive on the class. That's some pretty impressive company for the GLE to keep, so can it compete?
Well, practicality might not be the be-all-and-end-all here, but importantly, the GLE has generous space for five, provided those in the back aren't much over six foot, in which case headroom becomes a wee bit tight.
The boot is the biggest in the class, though, and access to it is easier than in most rivals. You could also argue it has the edge on infotainment, with its two high-definition glass-fronted screens - that handle a wide range of functionality - injecting some real wow-factor. The GLE's cabin is also classy enough to feel at home in such well-heeled company.
True, the big Merc might look a bit expensive, but there's a reason. While the regular Mercedes GLE - a conventional five-door SUV - offers a wide range of petrol and diesel engines, plus a number of different equipment grades to suit all tastes and budgets, the Coupe only comes in a couple of high-spec forms, with big powerful engines and loads of luxury kit. You'll want for nothing in terms of power and pampering, so it's no wonder you'll be required to pay for it.
Exactly how the car drives isn't quite so clear-cut yet, though. The only car we've tried was fitted with a suspension that you can't have in the UK, even as an optional extra, so a few questions remain unanswered. However, it'll have to be pretty special when in such prestigious company.
Regardless, the GLE Coupe is a desirable car, and makes a decent case for itself against rivals, especially if you're into your tech.
Is the Mercedes-Benz GLE Coupe right for you?
The GLE Coupe is a car you buy with your heart rather than your head. If your head were choosing a big luxury SUV, it'd choose one with seven seats, a big boxy cabin, a comfortable, quiet ride, decent fuel economy, and all at a relatively affordable price. Basically, your head would choose an Audi Q7.
But not everyone wants sensible. Some want fun. Some want eye-catching. Some merely want to be different to everybody else, and they're prepared to pay a premium to get it. If you're one of those people, then the GLC Coupe could well fit the bill. Compared with its rivals, it offers bags of luxury kit, powerful engines and a clever infotainment system that tech-heads will love.
What's the best Mercedes-Benz GLE Coupe model/engine to choose?
With only powerful high-end engines to choose from, and one lavishly stocked trim on offer, you don't have many choices to make with the GLC Coupe. It really just comes down to whether you want a diesel car or a petrol car.
Both have their positives. The petrol is faster and has a more sophisticated air suspension, while the diesel is cheaper to buy and run, but still stupidly fast. With a gun to our heads, we'd probably just give the nod to the diesel, not just for its economic advantage, but also for the fact you'll have to stop less often to fill it up with fuel. But that really is all there is to it.
What other cars are similar to the Mercedes-Benz GLE Coupe?
There was a time when a coupe was a coupe and an SUV was an SUV, and never the twain would meet. Those days, however, are over and it seems the slinkily-styled 4x4 is here to stay.
The BMW X6 is probably the most obvious and best-known rival, and the Audi Q8 will also be looking to tempt the same buyers. Land Rover have a couple of contenders at this kind of size and price, with both the Range Rover Velar and the Range Rover Sport fitting the bill for customers. Porsche will also have a say with the excellent Cayenne Coupe.
Comfort and design
"All SUVs - even swoopy coupe-like ones - should have a lofty driving position, and the GLE Coupe delivers. This helps give you a clear view out at the front, but the sloping design of the rear end and the shallow rear window mean your over-the-shoulder view isn't as clear as in other SUVs, although it's no worse than in rivals like the BMW X6."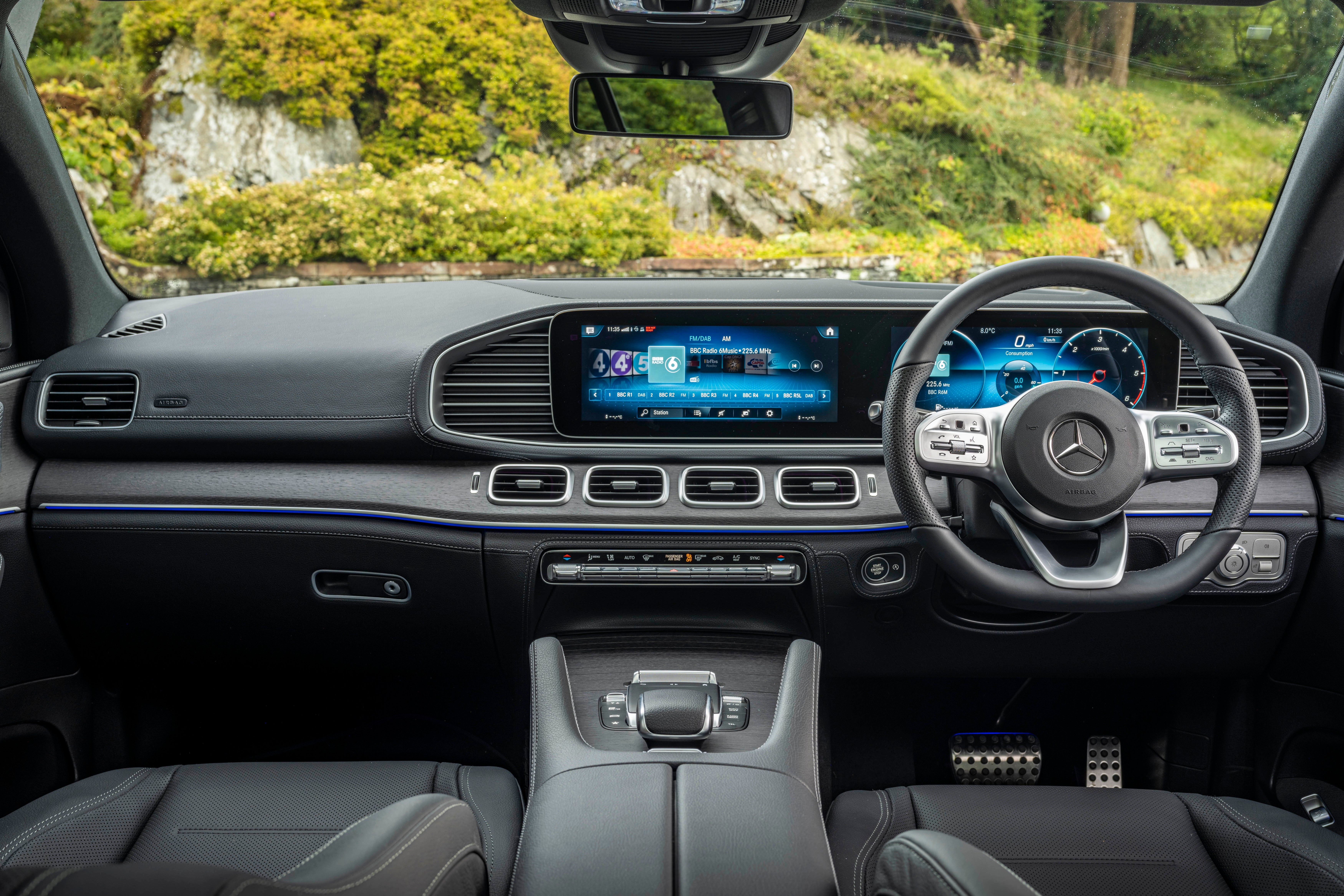 All adjustment for the driver's seat and steering wheel is electric, making it very easy to fine-tune your seating position. The seats feel chunky and supportive too, making life comfortable during long stints at the wheel.
Like in the GLE SUV, the dashboard is dominated by the two digital screens that we'll discuss in the Infotainment section below, but it's worth noting that the air-con controls are physical buttons that are separate from the infotainment system, unlike in some rivals. This means you can make minor adjustments without having to scroll through endless menus. However, the multi-function steering wheel is covered with buttons and switches, and the sheer number of them makes it difficult to remember what everything does.
Quality and finish
Any luxury SUV needs to deliver a classy environment for its occupants, and the GLE does just that. The seats are leather (naturally) and the dashboard has a plush-feeling cover made from a (very convincing) man-made leather substitute.
Dark wood trims inject a sense of modern sophistication, while those infotainment screens mean there's a high-tech feel too. In terms of poshness, then, the GLE's cabin feels right up there with its rivals.
However swish, though, the interior doesn't feel quite as solid as rivals from Audi and BMW: pokes and prods of various bits and pieces result in a few more creaks and flexes than they do in other German cars, so the Merc doesn't feel quite as dense or substantial. That said, it really isn't far behind, and you certainly won't feel like you're slumming it.
Infotainment
The GLE uses Merc's latest MBUX infotainment system, which centres around two glass-fronted 12.3-inch screens that are mounted side-by-side in front of the driver. These take most of the car's numerous functions, plus all the information that would usually be delivered on traditional instrument dials, and present them all in one integrated unit.
You can control the system in a number of ways. Voice control is the easiest, and the GLE's sophisticated system is designed to recognise natural speech rather than specific commands. For instance, you can just tell the car that you're too hot, and it'll knock the climate control down by a few degrees.
Otherwise, you tap and swipe on the left-hand screen, or via a touchpad and shortcut buttons placed on the central partition between the front seats. The graphics are sharp and the menus are logical, so it's fairly easy to find your way around the system. However, the touchpad controller is less precise, and thus more distracting, than the iDrive rotary dial you get in a BMW X6.
In the regular GLE SUV, the amount of functionality your infotainment system gets depends on which of the various trim levels you go for, but because the Coupe is only available in one high-spec version, everything is bundled in.
That means you'll get DAB radio, Bluetooth, a whole bunch of connected services, a wireless phone charging plate, Apple Carplay/Android Auto, a Burmester surround sound system and augmented reality sat-nav. This overlays instruction graphics over a camera image of the road ahead of you, pointing out precisely where you need to go. It looks really cool, and it's also very handy.
Space and practicality
Like in most cars, there's absolutely shedloads of headroom or legroom in the front seats, so nobody's going to struggle for space. Storage is also pretty good, with a decent glovebox, big door pockets and a variety of lidded storage areas to keep odds and ends out of sight.
Legroom is pretty good in the back, too. There's less than in the regular GLE SUV, admittedly, because the Coupe has a slightly shorter wheelbase, but there's still loads of the stuff to play with. However, headroom isn't quite so generous. That sloping roof line means that anyone much over six foot will find their head brushing the ceiling, so tall passengers will find themselves scooching down in their seat to fit.
While a seven-seat option has been introduced on the GLE SUV, the Coupe version is still exclusively a five-seater. Probably just as well when the roof line drops so rapidly. That does mean that the boot is a little shallower than in a conventional SUV, but it's still really good on size. It's bigger, in fact, than you get in the Audi Q8, BMW X6 and Porsche Cayenne Coupe, and easily enough to cope with a bulky buggy and a selection of bags. The flush load lip also means that the space is easy to get to.
The rear bench has a 40/20/40 split configuration, and when you fold them down, they lie perfectly flat, giving you a level load area. Obviously, the space you get in this configuration isn't as big as in the regular GLE, but it's still considerable.
Handling and ride quality
"Bit of a grey area, this. All GLE Coupes come with air suspension as standard, while the AMG 53 gets an even more sophisticated system, but the test car we drove was fitted with an optional suspension system that's not offered in the UK. Bit odd, but there you go..."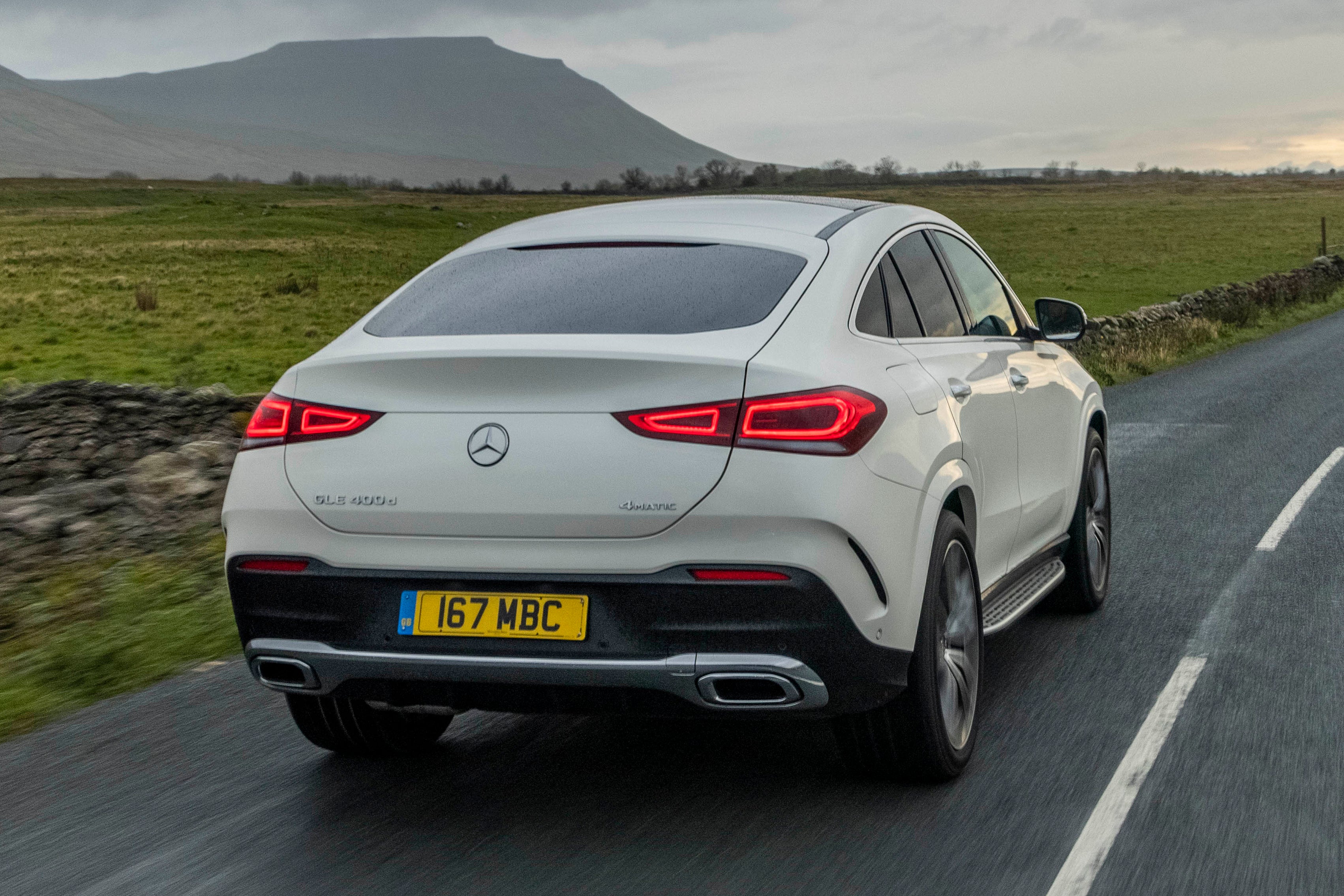 Judged on the basis of the car we drove, things look encouraging, with a good mix of comfort and control. Things feel a fraction stiffer than in the regular SUV, but in a good way. It's still very good at absorbing the effects of bumps and ruts, but there's more control over the body's up-and-down movements, so you're not tossed about quite as much, resulting in a more settled ride.
The extra firmness has been introduced to give the Coupe a more dynamic character than the SUV, but while it does a wee bit, you're still under no illusion that this is a sports car.
This is still an SUV, so the body is still tall and heavy, resulting in plenty of roll in bends. There is loads of grip and traction from the standard four-wheel-drive system, so things always feel secure, but it doesn't disguise its bulk as well as a Porsche Cayenne Coupe. It doesn't steer as sweetly, either, because things are rather light and vague.
Having said all that, the difference in hardware means we can't be sure whether UK-representative cars will behave in the same way, so we'll update this review once we've tried one. Do bear with us, won't you.
Engines and gearboxes
While the GLE SUV has a wide range of petrol and diesel engines to choose from (not to mention an interesting diesel plug-in hybrid) the GLE Coupe is offered - to begin with, at least - with only two engines. These are the highest-powered diesel and petrol engines found in the regular SUV, those being the 400d and AMG 53, respectively.
The 400d uses a 3.0-litre six-cylinder diesel unit with 330PS, but it's the generous 700NM of torque that makes the bigger difference, while the fact that it's available from just 1,200rpm makes a bigger difference still. Put any meaningful pressure on the accelerator, and it takes off like a scalded animal, belting towards the horizon at a seriously rapid rate. It picks up speed pretty viciously on the move, too, so this is one very brisk car all round.
The standard nine-speed gearbox isn't quite so responsive - bury the throttle for a sudden burst of acceleration and there's a brief pause before the engine's full fury is unleashed - but other than that, changes are fast and slick.
The AMG 53, meanwhile, uses a 3.0-litre six-cylinder petrol engine, which is sometimes given a wee bit of electric assistance (from what is essentially a posh starter motor) for a bit of extra shove. This makes it a mild hybrid. It delivers a very impressive 435PS, and on paper, it's even quicker than the diesel, and by a considerable margin of almost half a second. However, as we haven't tried it yet, we can't tell you what it feels like.
Refinement and noise levels
The GLE does an impressive job here. The engine we've tried, the 400d, is particularly good. Because it punches so hard right from the bottom of the rev range, you'll find that it barely needs to be ticking over to give you all the performance you'll need for most driving situations.
That keeps life very relaxed, and there's very little in the way of noise and vibration most of the time. Even when you do pile the revs on to see what the engine can do, it manages to stay wonderfully smooth, and it sounds satisfying rather than strained, too. Ease off to a gentle motorway cruise, and the engine settles into the background, and wind-and road noise are really well isolated too. Chuck in the smooth, barely perceptible gear changes from the automatic gearbox, and you have one very refined car.
Safety equipment
With the regular GLE SUV, the precise amount of safety equipment you get depends on which trim your car is. However, because the Coupe only comes in one high-end trim level that's equivalent to the regular car's range-topper, all the safety gear is thrown in as standard. It includes seven airbags, clever multi-beam LED headlights, an active pop-up bonnet to better protect pedestrians and a self-parking system with a 360-degree camera.
You also get automatic emergency braking, blind spot monitoring, lane keeping assistance, traffic sign recognition with automatic amendment of your speed, and super-clever adaptive cruise control that brings in a whole bunch of other clever functionality, allowing the car to pretty much drive itself under certain circumstances.
The GLE Coupe hasn't been crash tested by Euro NCAP, but the regular GLE SUV has, and achieved the full five-star rating. We can't see any reason why the Coupe should perform any differently.
MPG and fuel costs
"The GLC Coupe is a very new car, new enough that it's still too early for official fuel economy and CO2 figures to be available."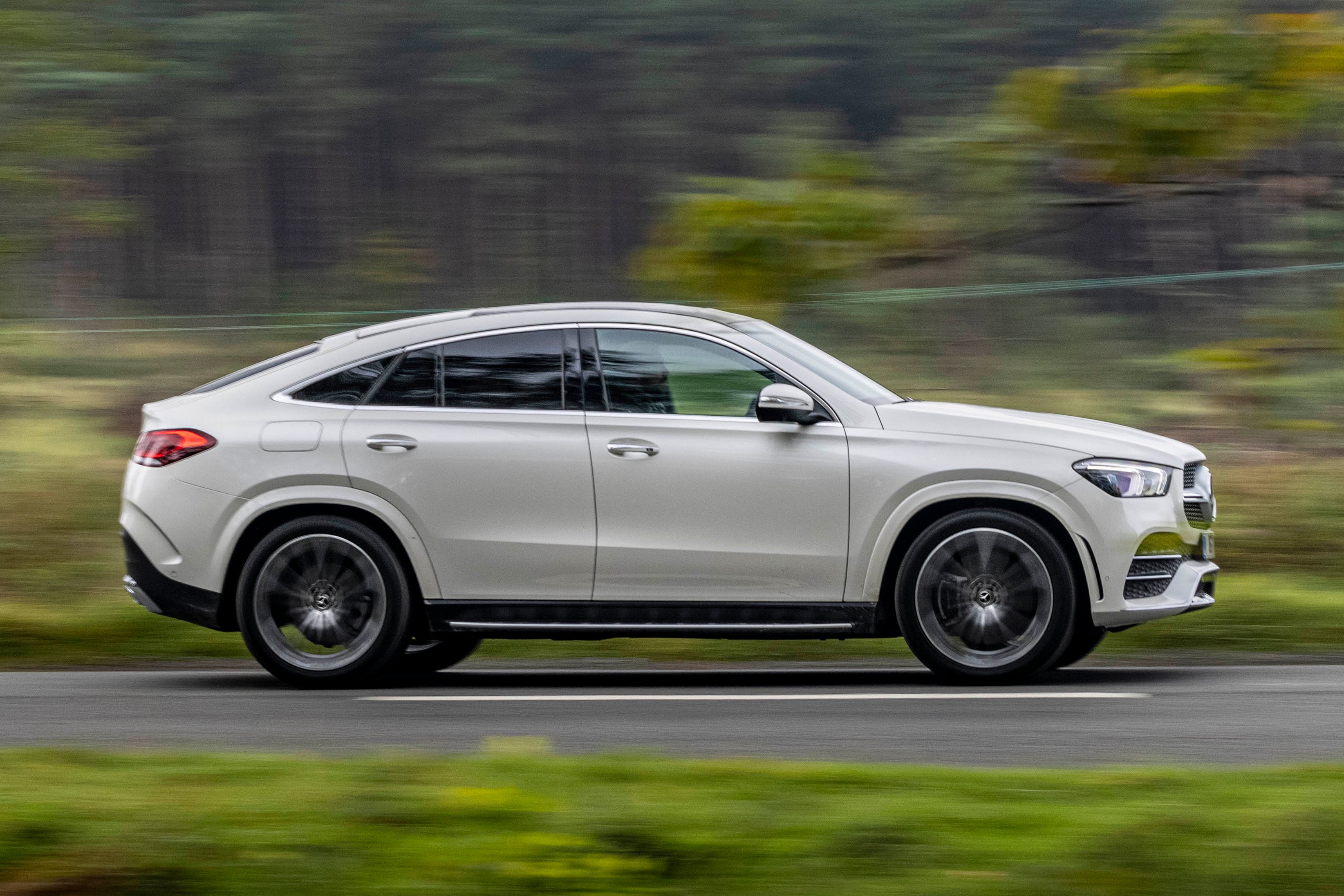 We'll update this review as soon as they are. It's fair to assume that the diesel will deliver far more mileage for every gallon of fuel you put in than the petrol, but it's too early to know how the car's efficiency compares to that of rivals.
Insurance groups and costs
In a similar vein, it's too early for insurance groupings on the GLE Coupe to be available. With the regular SUV, the most powerful version sits in group 49 of 50, making premiums very expensive, and because the Coupe only uses the most powerful engines, it's sure to follow a similar pattern. The precise grouping won't make much difference, though; just know that insurance won't be cheap.
VED car tax
The last big change in the VED rules brought about a flat rate of tax for petrol and diesel cars, but also created a £325 surcharge on cars that cost over £40,000 when new. That applies to all versions of the GLE Coupe, so between years two and six of the car's life, owners will be required to pay tax at a rate of £475 per year.
After that, your annual tax will drop to the £150 flat rate. However, used car buyers can feel smug that they've dodged the hefty first-year tax payments that buyers of new examples are required to pay, which amounts to £1305 on the 400d and £1850 on the AMG 53.
If you're a company car driver, then Benefit-in-kind tax payments are based on 37% of the car's value, meaning very steep bills.
How much should you be paying for a used Mercedes-Benz GLE Coupe?
"Prices look very high compared with those of the regular GLE SUV, but that's because the Coupe is only available with the most powerful engines and the poshest trim level."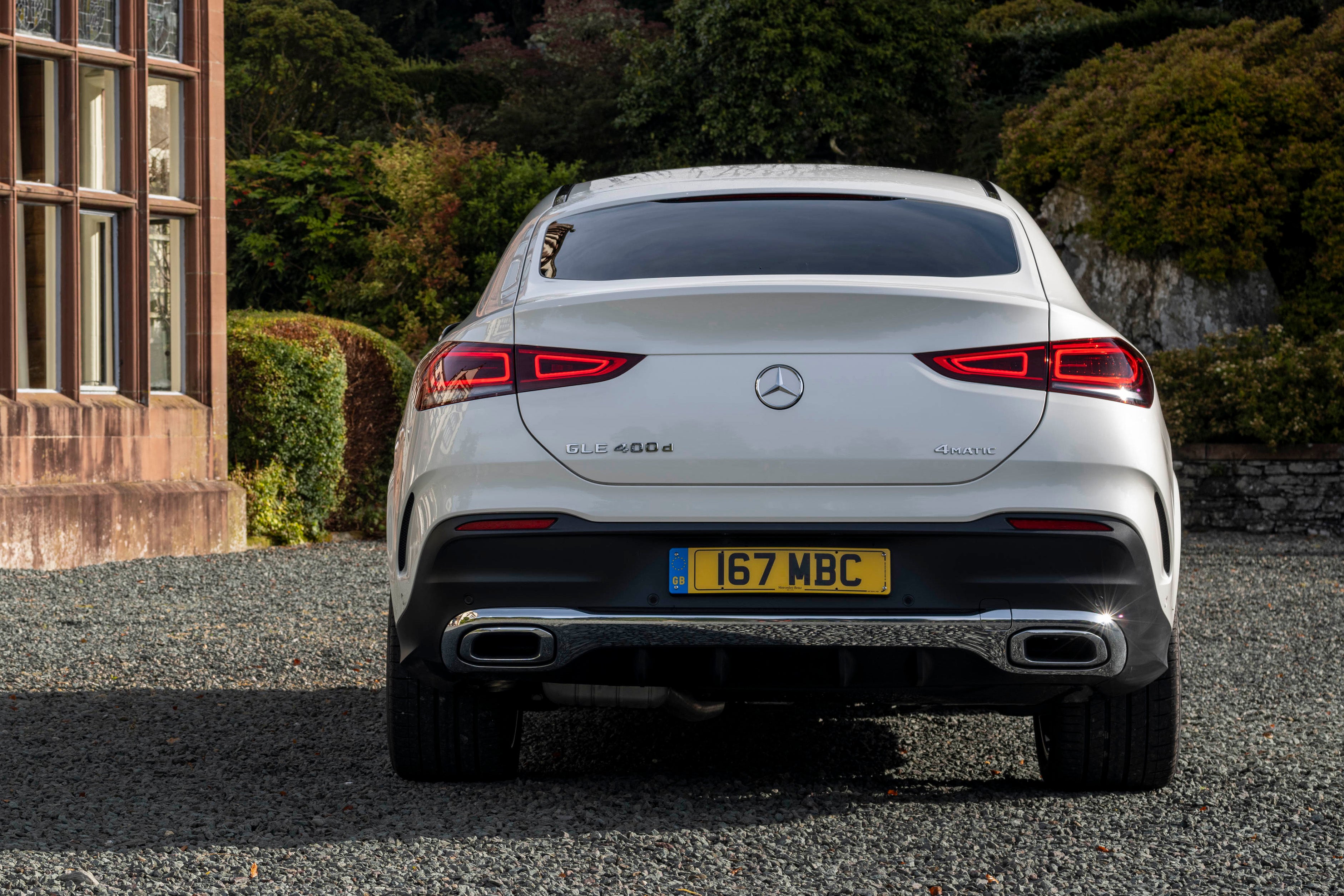 At the time of writing, prices for brand new GLE Coupes sat at around £73,000 for the 400d and £81,000 for the AMG 53. And again, yes, the Audi Q8 and BMW X6 can be had for less, but these rivals offer more modest engine options and/or trim levels that bring prices down.
It's a little early to know for sure how the Merc's resale values will stack up against those of its rivals, but with most of its models, the company usually puts in a very similar performance to Audi and BMW, so it's likely that values will fall at a similar rate, meaning used examples of equivalently high-end versions should be reasonably similar. However, as the car is still very new, prices haven't had the chance to come down very much just yet, and used examples will also be pretty few in number for a while yet.
Trim levels and standard equipment
While the regular GLE SUV gives you a range of trim grades to choose from to suit your budget, the Coupe comes in one all-singing-all-dancing trim that's equivalent to its stablemate's top-of-the-range version, meaning everything's included in the (admittedly rather high) price.
On top of all the infotainment and safety gear already discussed, your roster of standard luxury kit includes four-zone climate control, heated and cooled front seats, power-folding door mirrors, automatic lights and wipers, four powered windows, keyless go, a panoramic roof and ambient lighting with no fewer than 64 colours. The only optional extras on new cars were metallic paint, a towing package and a servicing package, so used examples will all be of a very similar spec.
Mercedes-Benz GLE Coupe cars for sale on heycar
3,914
Number of cars available
£34K - £117K
Price bracket of these cars
Colours available on heycar
Keep me updated by email with the latest advice, news and offers from heycar
By submitting, you agree to our
privacy policy
.