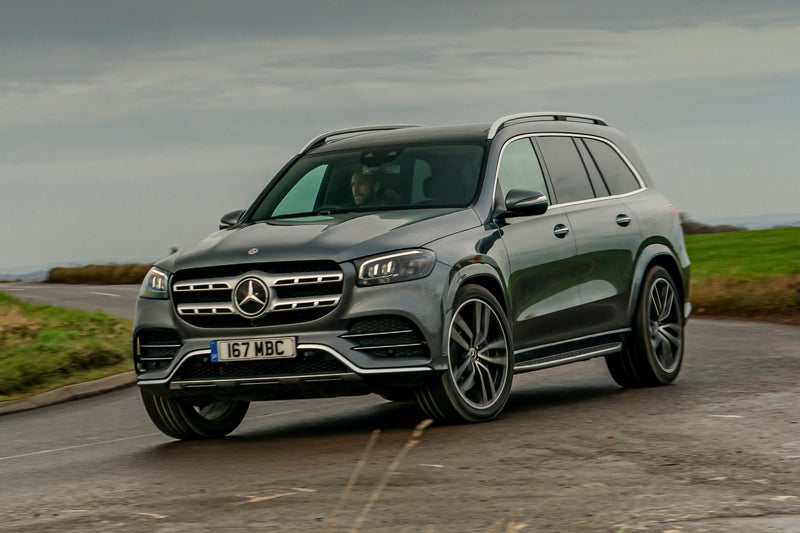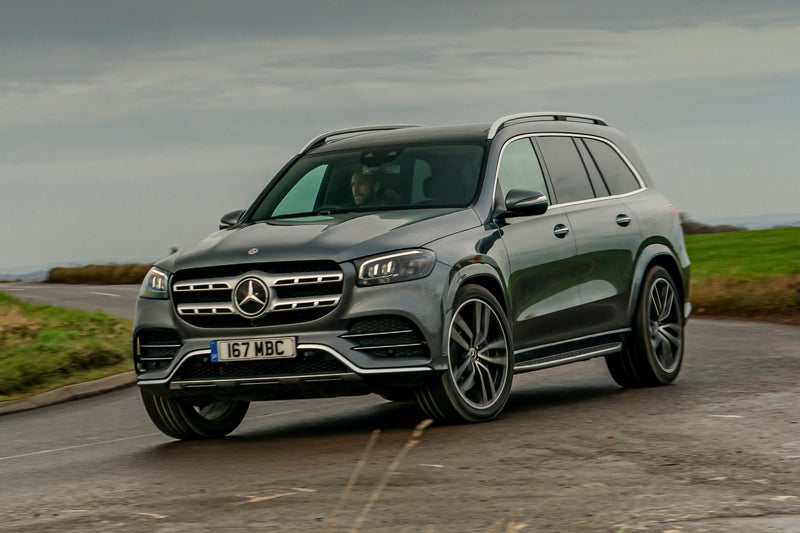 1/10
heycar rating
"Enormous seven-seat luxury SUV"
Quick overview
Pros
Hugely practical and versatile, even for a large family
Clever infotainment system and lots of toys
Much cheaper than a Range Rover
Cons
Some really good seven-seat SUVs cost much less
Not as good to drive as most of them
Can't match the best for build quality either
Overall verdict
On the inside
Driving
Cost to run
Prices and Specs
Overall verdict
"Few companies have embraced the SUV revolution with quite so much enthusiasm as Mercedes-Benz. The company offers no fewer than eight varieties: small ones, big ones, middle-sized ones, cheap ones, pricey ones, hardcore ones, lifestyle ones, coupe ones, you name it."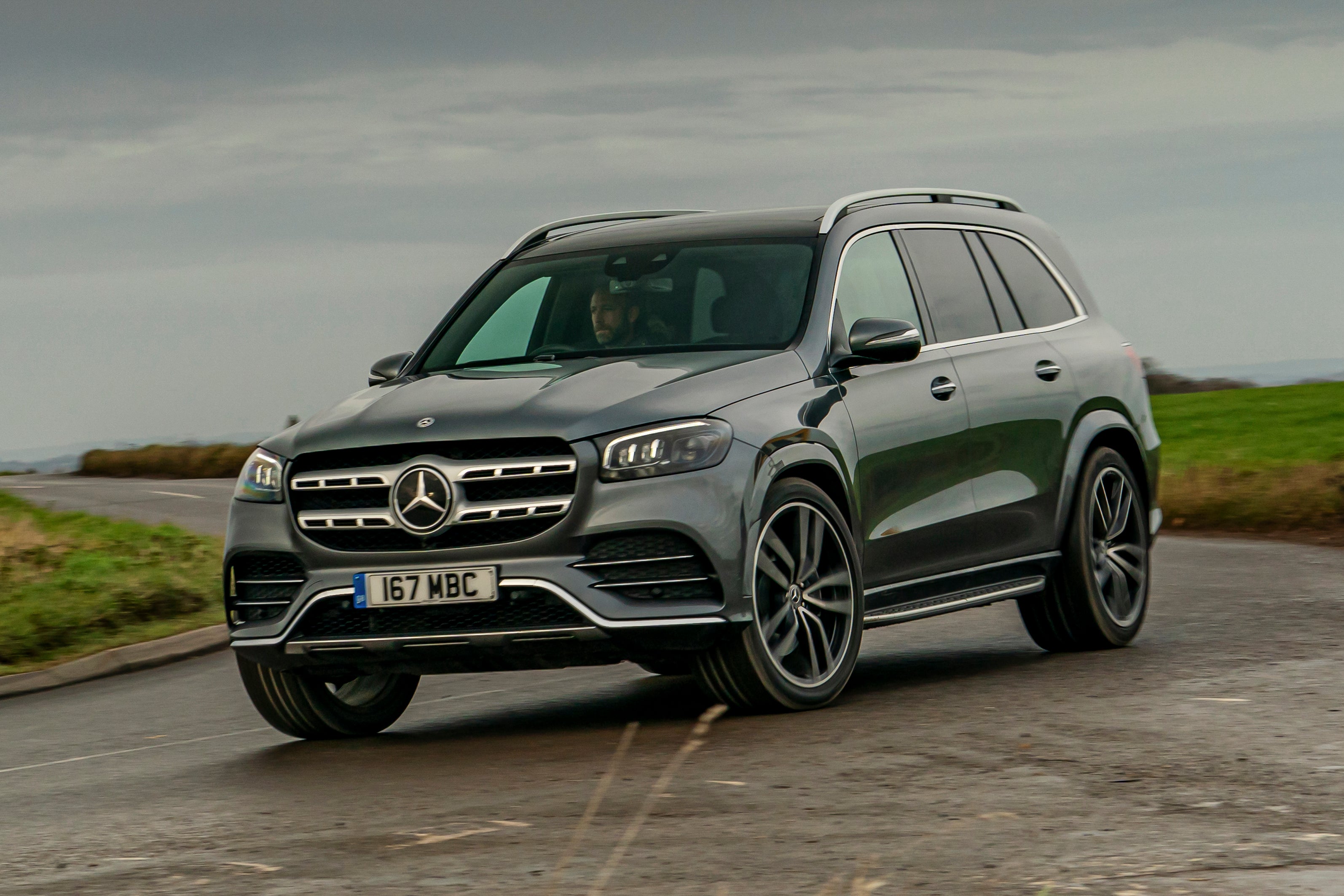 The GLS, though, is the flagship of them all. Labelled as 'the S-Class of SUVs', its job is to deliver limousine levels of class, quality, technology and luxury, but with all the desirability, image, practicality and versatility that you'd expect from an SUV. No mean feat, that.
Good job, then, that it's absolutely massive. Any car that can make a Volvo XC90 look puny has to be on the chunky side. Good job too, that it has a huge seven-seat cabin that's crafted from expensive-feeling materials, and stuffed with luxury equipment and a variety of interesting infotainment technology. Good job also, that it has a strong, muscular diesel engine that delivers superb mechanical refinement and competitive efficiency. That's plenty of those boxes checked already.
Unfortunately, the GLS has got one big problem, and it's called the BMW X7. Both cars are a bang-on match for each other in terms of size, price, appeal, and a whole host of other factors. And although the X7's nostril-heavy looks might not be to everyone's taste, anyone who's experienced the car will know that it's very, very good. And crucially, it's better - in a number of ways - than the GLS.
Cabin quality is one of them. Yes, the big Merc feels very posh and lustrous inside, but the BMW's greater solidity and attention-to-detail means it feels appreciably more dense and substantial. The Merc can't match the BMW on the road, either. It doesn't ride as comfortably, regardless of your surroundings or speeds, and it feels a good deal more cumbersome on the bends. And in a luxury car, that dynamic polish is essential in creating the right impression of civility and sophistication, and if it's not there, all the swanky touchscreens in the world can't make up for it.
There's also the challenge posed by smaller, cheaper seven-seat SUV choices such as the Audi Q7 and Volvo XC90, both of which are excellent, the Audi especially. Ask yourself: do I really need a car as big as a GLS? For most, the answer will be no.
If you do, then - don't get us wrong - the GLS is a very strong contender in a lot of ways. Tech-heads, in particular, will love it. However, the X7 is just a better all-rounder, while other excellent cars like the Audi Q7 do a very similar job for considerably less money.
Is the Mercedes-Benz GLS right for you?
If you need a seven-seat luxury SUV in your life, but an Audi Q7 or Volvo XC90 just don't have the space, the image or the theatre to cut it, then you need to kick things up a notch. That's where the Mercedes GLS comes in. This car is so enormous that it can't fail to get you noticed, while the desirable badge on the nose and the handsome styling will ensure that you're being noticed for all the right reasons.
There's enough space in the passenger compartment and boot to deal with the needs of any family, even one made up entirely of basketball-playing beanpoles, while the amount of luxury kit and clever infotainment tech on board will keep everyone entertained. In principle, a very similar car to the BMW X7, and if you're considering one of those, you're probably considering one of these.
What's the best Mercedes-Benz GLS model/engine to choose?
You don't get a choice with the engine of your GLS, because there's only one. Called the 400d, it's a 3.0-litre, six-cylinder engine with 330PS, and importantly, it's muscular enough to haul this huge car around briskly and easily. It's also smooth enough and quiet enough to ensure that life in the cabin stays as sophisticated and as civilised as it should in a luxury SUV.
There are three trim levels to choose from, all of which are ludicrously named (we'll come onto that later), but even the entry-level one has all the luxury gear that you could want from a car like this. Upgrading to the other ones adds lots to the price, and while some of the items (massaging rear seats, anyone?) are quite appealing, many of them are needless fripperies, even in a car like this.
What other cars are similar to the Mercedes-Benz GLS?
There's no shortage of options for luxury SUV buyers, but there's one car that's more of a direct rival for the GLS than any other. It's from that old enemy over in Bavaria, and it's called the BMW X7. The two cars are about the same size (enormous, then), cost about the same (new or used) and provide a very similar mix of quality, luxury, desirability and seven-seat practicality.
Also vying for your cash will be smaller, cheaper seven-seaters like the Audi Q7 and Volvo XC90, while buyers might also consider the daddy of the luxury off-roaders - the Range Rover - if they only need five seats.
Comfort and design
"The GLS delivers the lofty driving position that SUV drivers love, and you get a very decent view around you in all directions. The massive driver's seat is very supportive, and because it - along with the steering column - adjusts electrically, dialling in your perfect driving position couldn't be simpler."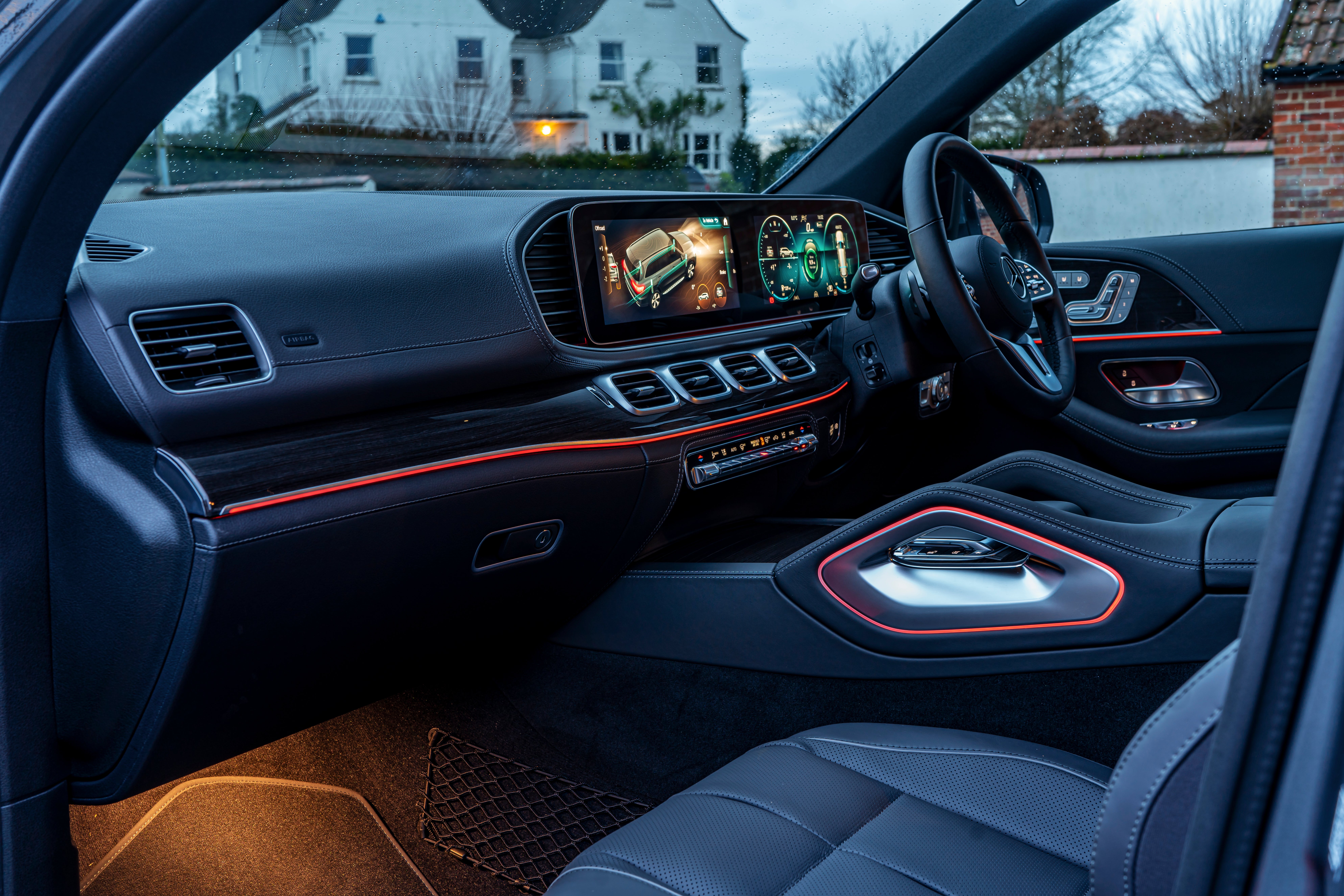 The dashboard is dominated by the two digital screens that we'll come on to in a moment in the Infotainment section, but we like the fact that the air-con controls are physical buttons that are separate from the infotainment system, so you can make minor adjustments without having to scroll through menu after menu. The numerous controls on the steering wheel are rather less clear-cut, however, and the sheer number of them means it's tricky to remember what everything does.
Quality and finish
As a big, luxurious - not to mention expensive - prestige SUV, you'd expect the GLS to be pretty strong here, and it doesn't disappoint. All the materials in your eyeline are sumptuously textured and thoughtfully finished, while even most of those that are more hidden away feel of a similarly high grade. Each trim comes with a subtly different combination of leather tones and wooden inlays, but all versions feel as posh as each other.
The build quality is very solid, too, although there are one or two places - like the window switches, for example - where things feel a little more lightweight and hollow than they do in an Audi Q7 or BMW X7, and as a result, the GLS doesn't feel quite as dense or substantial overall.
Infotainment
Aside from the quality on show, the cabin's wow-factor is provided by the two glass-fronted 12.3-inch screens that are mounted side-by-side in front of the driver. These take many of the car's various functions, plus the information that would usually be delivered through traditional analogue instruments, and presents them all in one integrated unit.
The system is controlled either by tapping and swiping the left-hand screen, or via a touchpad and shortcut buttons located on the partition between the front seats. The graphics are super-sharp and the menus have a fairly logical layout, but the touchpad controller isn't a patch on the iDrive rotary dial you get in the BMW X7 because it's less precise, and more distracting as a result. That said, you can also operate the system via a sophisticated voice control system that's designed to recognise natural speech rather than specific commands, and it works very well.
All the infotainment functionality you'd expect is supported - DAB radio, sat-nav, Bluetooth, Apple Carplay and Android Auto - as are a few things you might not expect. A wireless phone charging plate and a Burmester surround sound system are included as standard, while the navigation has augmented reality, which overlays instruction graphics over a camera image of the road ahead of you, pointing out precisely where you should be going.
The mid-range trim adds a pair of fixed entertainment screens in the middle row so passengers can get access to various parts of the infotainment system's functionality, while top-trim cars also get another wireless charging plate in the back and a detachable tablet.
Space and practicality
There's absolutely loads of space up front, and those in the middle row also get a vast amount of head- and leg room, allowing even tall passengers to stretch out. The GLS is more comfortable than most when seating three across the middle bench too, thanks to the sheer width of the cabin and a transmission tunnel that's flat and low so you can comfortably sit with your feet on top of it (although the BMW X7 is better because it doesn't have one at all).
The middle-row chairs slide, recline and fold electrically, and they move far enough out of the way to allow pretty good access to the third row. If they're much over six foot, those in the very back might want to ask those in front to use their electric seat sliders to donate a little bit of leg room, but there's still a shade more than you get in the Audi Q7 and Volvo XC90, although the BMW X7's third row is roomier on both leg room and head room.
That said, the boot is still a really impressive size even with all the seats in place, almost as big as a Ford Focus. Fold the third row down (electronically, of course), and you get an absolutely vast luggage space, while dropping all the rear seats gives you van-like carrying capabilities.
Handling and ride quality
"Most cars of this size and type are given a soft, mushy suspension in order to deliver a comfy ride, and the GLS follows suit. Most rivals are also very successful on that score, but unfortunately, the GLS is rather less so."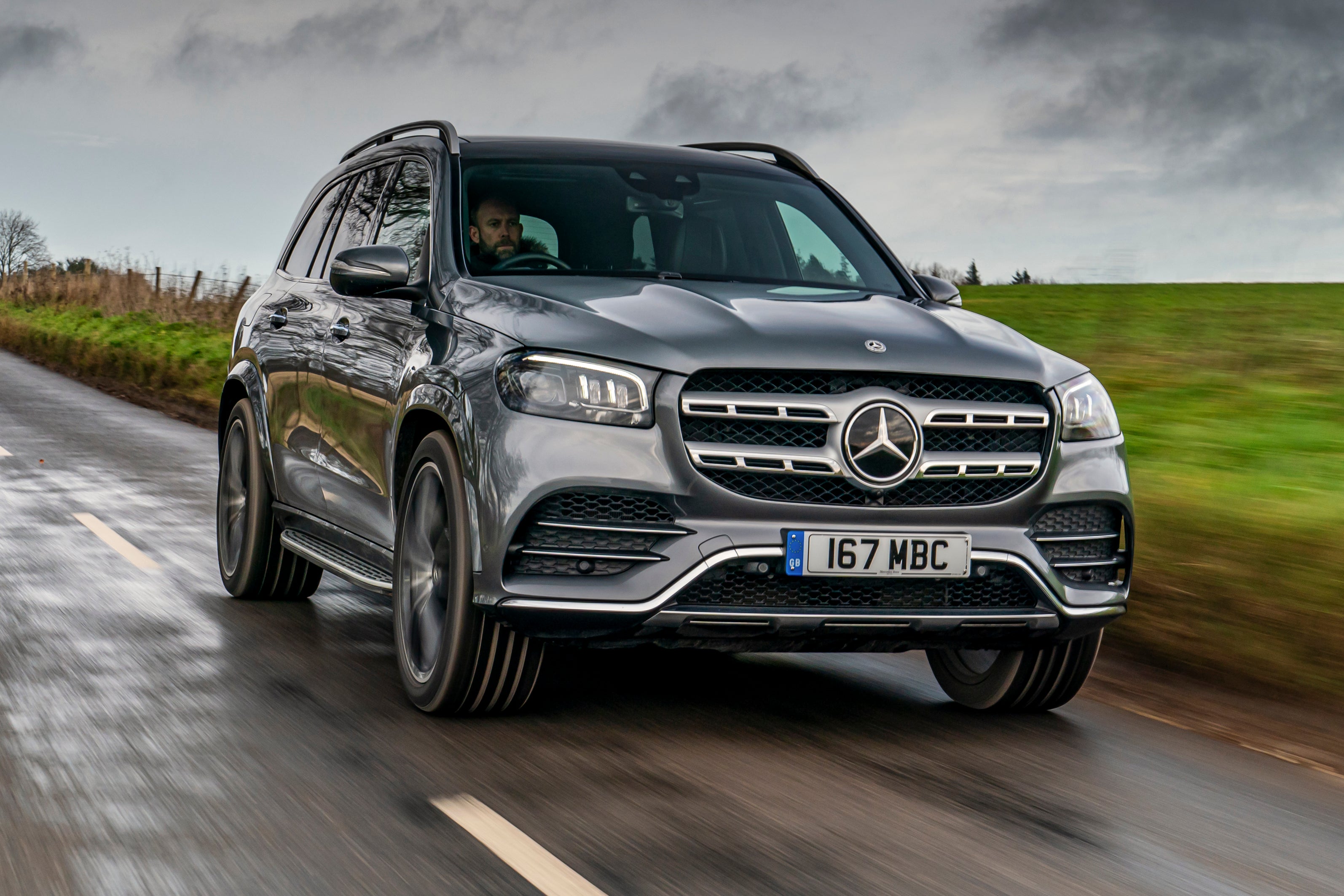 Whatever mode you select for the air suspension, it thuds and shudders over bumps and potholes that you'd hardly feel in most rivals. What's more, the body bobs around rather a lot when you hit a big bump, and feels like it's still bouncing halfway down the road. Put the car on an undulating road, meanwhile, and those prone to travel sickness may well go a bit green around the gills.
The handling is also pretty untidy. There's lots of grip and traction thanks to the standard four-wheel drive, but the body leans and lollops unsettlingly as you change direction, even at decidedly gentle speeds. The steering is a bit on the slow side too, and all that means that most rivals feel a good bit more eager to turn than the GLS does.
The four-wheel drive and lofty ground clearance should allow the GLS to cope with muddy tracks easily enough, but you don't get any particularly clever off-roading kit unless the optional off-roading pack is specified. Even then, don't expect the GLS to delve as far into the countryside as a Range Rover can.
Engines and gearboxes
There's only one engine available in the GLS, and it's a 3.0-litre, six-cylinder unit with 330PS. Considering the car weighs almost two and a half tonnes, it really has its work cut out, but it actually copes really well. The 0-62mph time of 6.3 seconds even sounds pretty racy, but in reality, the car builds speed in a brisk, effortless way. Picking up speed on the move isn't a problem, either, although if you bury the right-hand pedal to ask for a sudden surge of acceleration, the nine-speed automatic gearbox needs a second or two to decide which gear to give you. In fairness, this is something that also afflicts pretty much all the GLS's rivals, and it's nowhere near as bad in the big Merc as it is in some.
Otherwise, the gearbox behaves impeccably, switching ratios smoothly and cleanly and mostly getting its choice of gear right first time.
Refinement and noise levels
Refinement is another of the diesel engine's strong suits. It stays impressively smooth at all times, and in most circumstances, it's quiet enough that you might forget it's there. It's only when the revs rise - which they hardly ever do, given the engine's prodigious low-down torque - that it starts to make itself heard.
Wind noise is also really well isolated from the cabin, and that's even more impressive when you consider that the GLS's colossal size and upright front-end styling gives it all the aerodynamic slipperiness of a wardrobe. The fat tyres do kick up a bit of a rumble on the motorway, but it's nothing that'll bother you. Overall, this is a very quiet way to travel.
Safety equipment
The GLS hasn't been crash-tested by Euro NCAP yet, but every Mercedes tested since 2014 has received the full five stars and there's little reason to suspect that the GLS would be any different. Besides, you can take solace in the fact that if you crashed into a building in the GLS, you'd probably knock it over.
You can also take solace in an absolutely heaving list of standard safety kit. All cars get a suite of clever safety measures that includes automatic emergency braking, blind spot monitoring, active speed limit assistance and active lane keeping, along with at least seven airbags. AMG Line Premium Plus trim adds active stop and go (the car will automatically follow in line during traffic jams), while AMG Line Premium Plus Executive trim ups brings the airbag count to nine.
Parking a car as enormous as this could be a challenge, so there are sensors and cameras all around the car, along with a parking assistant.
MPG and fuel costs
"The official WLTP figures reckon you'll get between 28mpg and 32mpg from your GLS. That's very similar to what you'll get from the Q7, X7 and Range Rover. In reality, it's likely to be a bit less in the real world than suggested by these laboratory-gleaned figures, especially if you drive with a heavy right foot on a regular basis."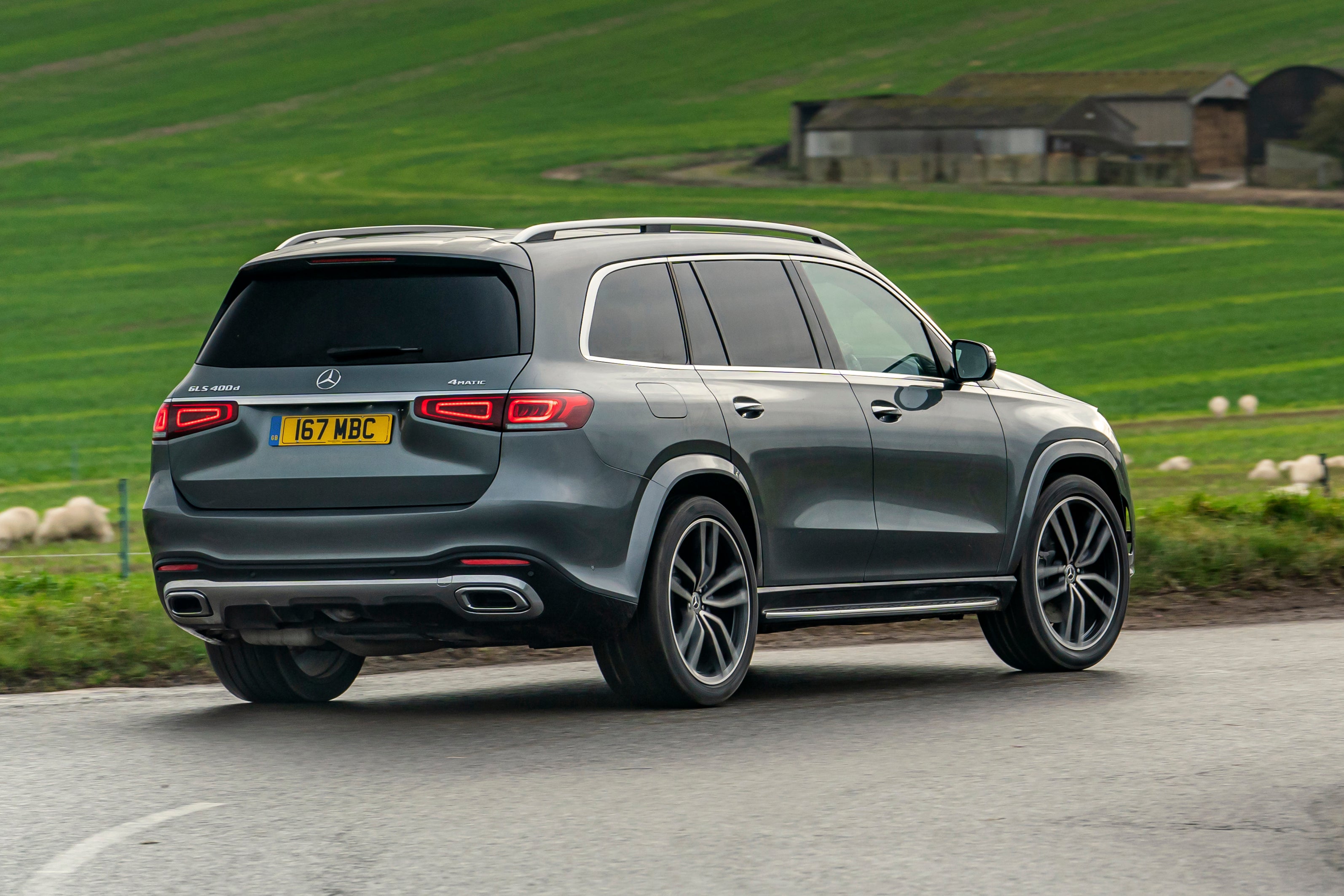 However, we've found from experience that cars like these, if driven sensibly, are capable of getting reasonably close to their target figures. That said, if you're spending this much on a car, then small fluctuations in how much motion lotion you're getting through aren't likely to make much difference to your coffers.
Insurance groups and costs
It'll come as no shock that a car as expensive to buy as the Mercedes GLS will also be expensive to insure. The car sits in either group 48 or 49 according to which trim you choose, and group 50 is the most expensive group there is. Still, if you're wealthy enough to even consider a GLS as your family charabanc, then shipping a few extra quid to the underwriters is unlikely to bother you too much.
VED car tax
If you buy your GLS used rather than new, you'll avoid the steep first-year 'showroom tax' charge that gets rolled up into a car's on-the-road cost. In the case of the GLS, this is £1850, which is always worth saving. After that, VED tax will be on exactly the same level as rivals. Because all GLSs of this generation were released after April 2017, and all cost over £40,000 when new, all are subject to a surcharge on their annual VED rate for being an 'expensive car'. That means you'll pay £325 on top of the flat rate of £150 for the next five years on the car's life, but from the sixth year onwards, it'll drop to just the flat rate.
How much should you be paying for a used Mercedes-Benz GLS?
"If you were to buy this car new then, at the time of writing, you'd have paid a minimum of £75,000 for the entry-level car, rising to around £92,000 for the range-topper. Not cheap, then. Having only been released in 2019, used prices haven't yet had the time to fall too far, but find a nice pre-reg example, and you'll still get quite a discount on what is still a very new car."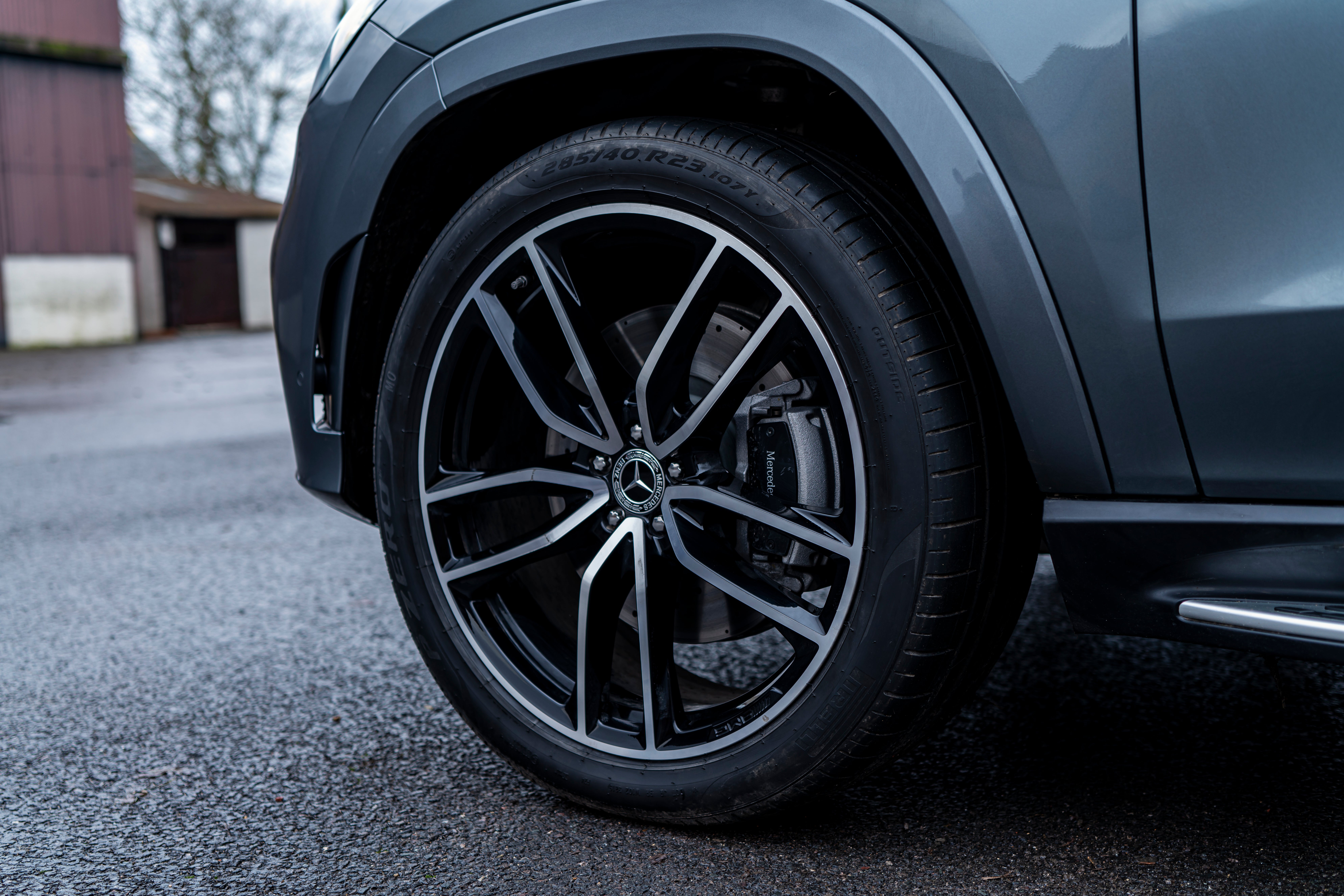 Compare the GLS to the BMW X7 - it's most direct rival - and there's virtually nothing to separate them. They cost the same, they depreciate at the same rate and they cost pretty much the same to own overall. Your choice will probably come down to which one you like the look of more.
However, both these cars are much more expensive than (admittedly considerably smaller) rivals like the Audi Q7 and Volvo XC90, but you can take solace in that both look like a bargain compared with the five-seat-only Range Rover.
Trim levels and standard equipment
Recently, Mercedes has embarked on a frankly ludicrous policy of calling all its trim levels pretty much the same thing on some cars. And as such, the GLS comes in three forms: AMG Line Premium, AMG Line Premium Plus and AMG Line Premium Plus Executive. Still with us? Good. From now on, we'll call them 'the first one', 'the second one' and 'the third one'.
The first one comes with pretty much anything you could ever want, even in a luxury car. Five-zone climate control, keyless go, a sliding panoramic roof, soft-close doors, a powered tailgate, heated front- and rear seats and an electronically deploying towbar are all included as standard.
Upgrading to the second one adds massaging front seats and a heated cup holder, along with the rear-seat entertainment system, while the third one gives you a heated steering wheel and heating for the third-row seats, while the middle row gets massaging seats, electric sun blinds and a heated cup holder.
Mercedes-Benz GLS cars for sale on heycar
3,872
Number of cars available
£38K - £88K
Price bracket of these cars
Colours available on heycar
Keep me updated by email with the latest advice, news and offers from heycar
By submitting, you agree to our
privacy policy
.